An old prophecy stated, "The geeks shall rise up and inherit the earth." Many of us didn't believe it…until Joss Whedon drifted down from the heavens and bestowed upon the world…The Avengers Franchise. Legend says, the clouds opened up that day and a single hawk let out a streaking cry as it soared high above the earth before circling and finally landing on Whedon's outstretched arm. These 25 Marvelous Avengers Foods and Crafts are to honor that great prophecy and to honor of all the geeks who came before us. You are welcome.
25 Marvelous Avengers Crafts and Foods
Thor hammer pops are a 'must have' at your next Marvel movie marathon party.
Or if you're craving something a little sweeter, check out these Hulk pudding cups. They're Bruce Banner approved.
If you have a geeky cosplaying kid (or maybe just a normal kid who likes to dress up), this DIY Iron Man t-shirt is an awesome and cheap way to up their superhero game.
And don't forget about these DIY Iron Man gloves. They'll complete the look, plus they really glow so they're awesome for any sleepover.

Hulk angry. You don't want to see Hulk angry. Hulk Punch when he angry. Then he drinks this. Hulk happy now.
Check out these awesome punching Hulk Cupcakes. They're what the Hulk would look like if he ever met that creepy old lady who lives in that ginger bread house. Just kidding. And kind of gross. But still…
Your life is not complete until you check out these snail Avengers. We geeks have to have our accessories and collectables, and this is a collectable you won't want to miss out on.
You've probably been tempted to pick up a pair of expensive superhero sneakers. Maybe you did, maybe you didn't. Either way, here's a way to make your own diy superhero sneakers and have as many pairs as you want.
This Thor hammer is amazing for cosplay or just to keep in your living room as a warning to anyone who might try to invade your house.

Back to those collectables. How awesome are these paper heroes? Basically, I've got an entire paper army sitting on my desk now and I'm not even a little ashamed.
Technically these aren't for adults, but technically I don't care. These Avengers beanies are the only thing I'll be wearing on my head next winter.
Sure, sure, I could say I wanted to make this Loki helmet and wear it to Comic Con, but I'd be lying. No, the truth is I'd want to wear this helmet all the time. Like, maybe taking a bath, sipping some hulk punch, watching the newest Avengers movie on my phone. Don't judge; you've been there.

Avengers hand puppets are what happiness looks like to me and to all of my geeky friends that I've shown them to. Seriously, who doesn't want these in their home? Think of all the movie reenacting you can do with these. Think about it.
When I saw this Avengers cake at first I thought, no way. Then I though, NO WAY! This thing is so easy to do and I can't believe I haven't made it for myself yet. Trust me, I'll be remedying that very soon.
Don't be the parent of an uncool infant. If you want your baby to make it in our new geekified universe, you'll need to check out these Avengers baby accessories. Bibs, burp rags, and more than enough diapers to make all their other baby friends totally jealous.
We geeks are serious about our t-shirt collections. It takes a lot of money to look this geeky-chic. Next time you're wanting to expand that t-shirt drawer, check out this stenciled Avengers shirt.
Seriously, my geeky friends…you have to HAVE TO see these Avengers, if they were hedgehogs, made out of books. You're welcome.
Have you been looking for those cool letters to hang on your basement wall? Check out these Avengers letters!
These crocheted Avengers hoodies are crazy sexy. Walk into your local game or comic book store wearing these and you'll be dubbed Leader of the Geeks.
These super hero pegs are more collectable geekery done right. Make a heroes and villains set and you can play chess with them!

This Thor cosplay is some of the coolest DIYery around. Seriously, I want to just make it and walk around everywhere wearing it.
Or instead you should check out this incredible Iron Man made entirely out of cardboard. Whoa and Whoa. Could you imagine this baby just hanging out in your living room? I can. And So It Shall Be.
Yes, yes, yes, there are TONS of Thor Hammer tutorials out there, but I like this one because it's made of softer material. Know what that means? Epic Asgardian battle. My backyard. Tonight.
I begin this next one with this: I do NOT endorse cutting up your Marvel comic books to make jewelry. That being said, if you get your hands on someone else's comic books, these bangles are A MUST HAVE.
Last, though not least, this super DIY lamp is pure happiness. Yes, you'll probably have to search a little to find Avenger's cloth, but with the journey comes great reward…
Sours: https://totallythebomb.com/25-marvelous-avengers-foods-and-crafts
15 Super Cool Avengers Crafts For Kids
I'm a great believer that if you want your kids to make something then you have to make it something fun and I'm certain that these Avengers crafts for kids tick that box! Captain America, Thor and Hulk crafts were some of the first kids crafts that I really shared on this blog and they were some of my kids favourite things that we've made, in fact when I told my son I'd be writing about them today he asked if we could make our Captain America shield craft again this weekend – always a sign of successes!
Avengers Crafts for Kids
All of the Avengers crafts for kids that I'm sharing today appear in the order that they appear in the image below, of course there's more crafts than are just shown in the collage so you'll want to take a look through as many as possible to find some new favourite activities for you and your kids! I must add that this has been one of the hardest round ups I've ever put together – there seems to be quite a few DC crafts and general superhero ones out there but less Marvel crafts for kids! I couldn't find any Black Widow or Hawkeye  crafts at all which I think is a shame. Maybe we should make some more?? As an aside yes I do know that I've added some Groot crafts and strictly speaking yes I know he's not in the actual Avengers but he is in Avengers Infinity War and also I really, really like Baby Groot so he's staying and I expect we'll be making the handprint craft this weekend too!
Want to make sure you don't forget any of these awesome ideas? Make sure you bookmark this page or pin an image for later so you have all these ideas to hand when you need them for an Avengers craft extravaganza!
Superhero puppets from Messy Little Monster
Spiderman handprint card from The Best Ideas for Kids
Thor helmet DIY from Crafts on Sea
Captain America Shield DIY from Crafts on Sea – we love this craft and it's one of my kids favourites, as well as the written instructions in the link you can also watch the video instructions here.
Hulk handprint craft from Messy Little Monster
Paperplate Spiderman from In The Playroom
Paper plate hulk mask from Crafts on Sea
Spiderman handprint craft from Messy Little Monster
Hulk bottle craft from The Inspiration Edit
Avengers mason jars from Kori At Home
DIY Thor's hammer from Doodlecraft
Hulk bag from Crafts By Amanda
Captain America shield wristband from Making Of A Mom
Groot handprint and torn paper crafts from Rise of the Geeklings
Paper plate Baby Groot from Simply Today Life
Filed Under: Crafts for kidsTagged With: avengers, crafts for kids
Sours: https://www.craftsonsea.co.uk/15-super-cool-avengers-crafts-for-kids/
When it comes to discovering new Marvel Avengers Crafts and Recipes, this is the list for you. You'll not only find super tasty recipes that you can easily chow down on and enjoy, but you'll also find great crafts that help with creativity as well.
Kids and adults will love the variety that this list offers and it's a great way to work together and create something amazing as well.
No matter if you're wanting to fill your time or your tummy, you're going to find something awesome here!
Make certain to check out our 16 Virtual Trips You Can Take With the Kids as well!
20+ Marvel Avengers Crafts and Recipes
As you can see, Avenger fans are going to be very happy with the list of Avengers crafts and recipes below! Some might knock these out on a weekend but for others, it's a great way to fill the time with creativity and fun treats, too!
Avengers Paper Plate Masks – Pink Stripey Socks
Because who wouldn't want to be from the Avengers if they could?!
DIY Avengers Infinity Stones Crayons – Comic Con Family
What a fun way to create simple crayons at home!
Avengers Bookmarks Craft – Crafts by Amanda
Reading rocks and having a good bookmark is just as important.
Avengers Donuts – Brite and Bubbly
These tasty donuts are one of the best ways to start the day.
Avengers Birthday Cake – Ashlee Marie
Having an Avengers Birthday Cake is perfect for an Avengers-themed birthday party.
Avengers Cupcakes – Crazy Little Projects
And having cupcakes are always a winning choice.
Thor Hammer Pops – Totally the Bomb
Have a Thor fan in the house? They're going to love these.
Avengers Felt Bag Tutorial – Eclectic Momsense
This craft is a great way to follow directions to create something new and fun.
DIY Avengers Tic Tac Toe – Sunny Sweet Days
Everyone loves a game of Tic Tac Toe!
Make your own Avengers tattoos – As the Bunny Hops
Avengers tattoos? Yes, please! (Don't worry, they don't last long!)
Hulk No-Churn Ice Cream – This Mama Loves
This simple ice cream recipe is certain to become a household favorite.
DIY Infinity Gauntlet Snack Cups – A Night Owl
Need a simple snack idea? This is it! This is one of my favorite easy recipes on this Avengers crafts and recipes list!
DIY Mason Jar Avengers – Kori at Home
You are going to love this adorable craft!
Avengers Party Game – Keeping it Simple Crafts
This party game will have everyone joining in on the fun.
Iron Man Treats – 3 Little Green Woods
Iron Man treats are a fun way to snack.
Captain America Fruit Platter and Hulk-amole – Kitchen Fun With My 3 Sons
Get some healthy treats in their tummies, too!
Tesseract Cookies – Whisky n Sunshine
These cookies are simple to make and taste amazing!
Avengers Themed Lunch – Meraki Mother
Themed lunches are a fun way to have everyone sit down together and eat.
DIY Avengers Superhero Shoes – Comic Con Family
Check out these fun shoes!
Captain America Bomb Pop Drink – Sunny Sweet Days
Quench their thirst with this delicious drink recipe.
Infinity Stone Slime – As the Bunny Hops
Homemade slime is fun, but this one is really, really cool!
DIY Avengers Wooden Tic Tac Toe – Frugal Fun 4 Boys
Sturdy and certain to provide hours of fun. (and friendly competition!)
DIY Captain America String Art – Second Chances Girl
Creative and unique!
Avengers Hulk Donuts – Lady and the Blog
We'll never so no to donuts in our house!
Talk about a lot of great options for Avengers Crafts and Recipes! Pick and choose where you want to start but make certain that you work your way through the list! You don't want to miss out on any of these.
Also, check out our Travel Games For Kids and Adults. They're great games to have on hand for when you're hopping in the car to get on the road.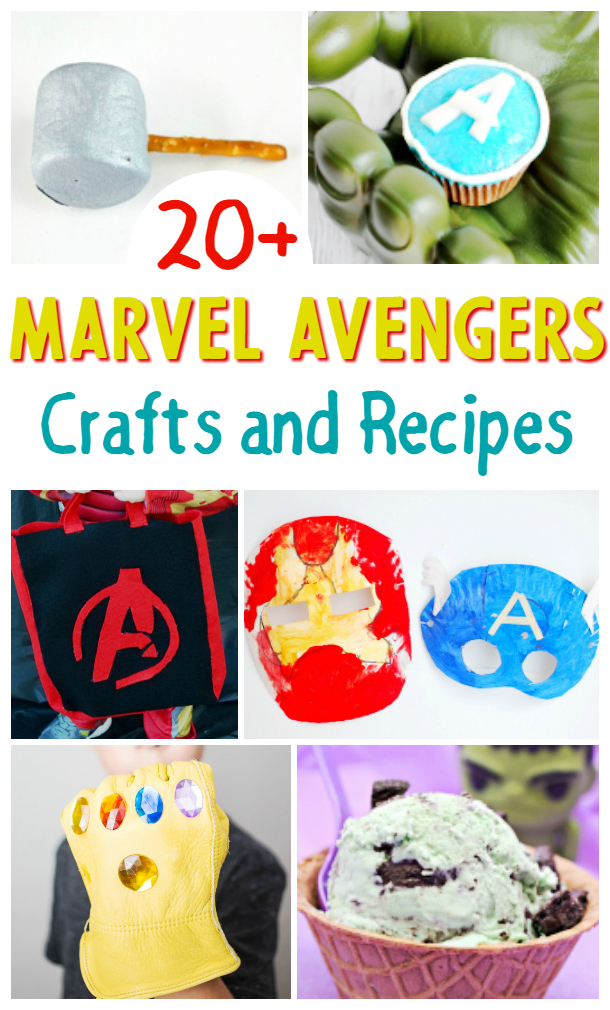 Sharing is caring!
Categories Disney Recipes, Disney Family GamesSours: https://bigfamilylittleadventures.co.uk/marvel-avengers-crafts-and-recipes/
Dima-ah-ah, Hurry up. Or I'll end up here. My head was spinning. Nauseated to be distracted, I watched as the future physician prepares a solution for an enema. Then a week of gloves, took an enema, dipped it into a saucepan with a solution, and took vazilin.
Arts and crafts avengers
This time. Next, we go with her to the city tourist club, madam. I gently took her arm: - Alla Markovna, but the most important thing now is, oddly enough, paperwork.
Creative Marvel Artwork That Is At Another Level ▶3
Therefore, three years later I was very surprised when my stepfather (this was already the third marriage of my mother), whom I had never seen, demanded that. I return to Moscow and live with my family. And so, at the beginning of June, I returned to my homeland, about which I knew so little and whose language I practically forgot (I spoke mainly German and French).
Mom looked great, she seemed almost the same age, but my stepfather was really waiting for me and was happy for me, an interesting young man.
Similar news:
We were accommodated in a garrison hotel, in very good rooms with TV and audio, he was deliciously fed, watered a lot and he received everything he. Just mentioned in passing. Well, and I, as a person close to the emperor, "also did not stand aside !!. On the evening of the third day, he sent all the lackeys who came to call on a small, narrow circle, a table (you should have seen how.
2235
2236
2237
2238
2239