Friends don't lie so here's the truth: These tattoos are super good.
Stranger Thingsis on its way back to a Netflix account near you on the Fourth of July. Have you really prepared your heart for a return to Hawkins, Indiana to face monsters and other strangely addictive paranormal activities? We hear the new season is going to be the freakiest yet. As the big day approaches, so many Stranger Things collabs have taken place including lines at H&M and Nike!
But if your love for the series gets unapologetically much weirder than a shoe or a shirt can express, perhaps you'll fall for these creepy-cute Stranger Things tattoos. These ink ideas are dope enough to make a die-hard fan want to book an appointment with a tattoo artist, STAT. You've been warned.
Of course, tons of people are getting tattoos of the Stranger Things superhero, Eleven.
Eleven (played by Millie Bobby Brown) escaped from the peculiar hospital in Hawkins and has taken up with the bike-riding tween boys of the Stranger Things cast. She has telekinetic superpowers but she's still relatable as heck. The cutest thing about her is the obsession she has with Eggo waffles which she's fallen in love with since escaping the hospital. This animated version of her is a super sweet depiction of her story.
This Stranger Things tattoo is actually a vibrant cover-up and totally explains the vibe of the show.
The tattoo represents the duality of the town of Hawkins. It's regular on the surface level. The show is set in the '80 so kids are more into bike riding and playing Dungeons & Dragons than, say, Instagram. Still, there's something sinister going on in the town that everyone seems to sense even if they don't speak about it right away. This silhouetted tattoo perfectly captures that. It's also outlined with the colorful bulb Christmas lights, which Joyce (a mom played by Winona Ryder) uses to communicate with her missing son.
If Dustin is your favorite Stranger Things kid, then this cap tat is super appropriate.
Dustin Henderson (played by Gaten Matarazzo) is the sweet and funny character on the show who's on a mission to save all of Hawkins from the evil lurking in the shadows. He's always wearing this red, white, and blue cap so it's the perfect symbol to get tatted if he's your favorite character on the show. The cap paired with the lights is going to have plenty of Stranger Things fans stopping you to compliment you and talk about the show.
If you're looking for a tattoo that's more creepy than cute, you got it.
This is another tattoo of Eleven and it *may* look morbid at first sight but a closer look reveals the letters across her face actually spell out the word "promise." Eleven and another character Mike Wheeler (played by Finn Wolfhard) have a moment during season one when he has to explains the concept of a promise to her and it was a sweet point in the development of their friendship. This is Eleven's first time having real friends and luckily, she's gotten close with a gang that can show her what good camaraderie really looks and feels like. Beyond the paranormal activity, that concept is really the core of the show.
Want a smaller tat to show off your Stranger Things obsession?
As you can see, Eleven is a huge fan favorite. This tat is colorful yet small. It's a subtler way to express who your favorite character on the show is. Also, peep those Christmas lights again. They really take this tat from minimal to vibrant and fun.
But if you want a minimal vibe, then a tiny Stranger Things tattoo still has its own charm.
Eleven has just stolen the hearts of Stranger Things fans. This tiny "011" tattoo is super subtle but it's still very cute. The best part about this tiny design is that you can put it anywhere and it'll still look cool. It would look especially nice on the back of your neck or your ankle.
This tattoo is the perfect representation of how important the friendship theme is to the Stranger Things narrative.
As Eleven grows and learns more about friendship and loyalty, she establishes some pretty sure principles. One of the most popular phrases from the show is "Friends don't lie." It's established when Mike teaches her that it's the number one rule for friendships. We see her lean on that rule yet again in a fiery scene between her and Chief Hopper. She gets angry with him for constantly putting off when she'll be able to come out of hiding from the people back at the hospital and see her friend Mike. In that scene, she reminds him that "friends don't lie."
Peep this tattoo of the silhouette bike riding scene!
If there's one thing the gang of kids on Stranger Things likes to do to have a good time, it's to go bike riding. Oh, the nostalgia. Once upon a time in the '80s and '90s, it wasn't a foreign visual to see kids grouped together on their bikes. In Hawkins, though, bike-riding is how they get away from danger or get somewhere to save their friends. Either way, this tat is super dope.
For those who ADORE color, it gets no more vibrant than this.
Once again, this tattoo is of the popular Stranger Things art that mimics the duality of the city of Hawkins. From the scene to the Christmas lights surrounding the tat to the "run" quote at the bottom — this tat is 100% perfect for any die-hard fan of the series. All of this color means there is going to be lots shading. Translation: This tat is going to hurt but it's gorgeous.
Check out how cute this smaller waffle tattoo is!
The waffle is a quirky way to pay homage to Eleven. I love that there are pink and purple colors all around it. The number "011" rests to the top left in a super subtle way. The beautiful thing about this tattoo is that you can get it smaller or larger and it will look just as pretty!
And there's that "run" word again!
On the show, Joyce communicates with her son through her Christmas lights. She has the lights strung up over letters. During a scene when she's fretting to her son about being able to find him, he makes them light up to spell the word "run." It was for good reason as some monster/force/demon thing was in the middle of trying to claw its way into her house. Freaky, I know. This tat is less freaky.
Don't forget! Season three of Stranger Things hits Netflix on the Fourth of July. Mark your calendars and enjoy!
Related
People Are Giving Themselves DIY Stick-And-Poke Tattoos During Quarantine
Kylie Jenner Bravely Ditches Lashes, Fake Nails, And Hair Extensions During Quarantine
Sours: http://www.revelist.com/skin/stranger-things-tattoos/15822
18 Stranger Things Tattoos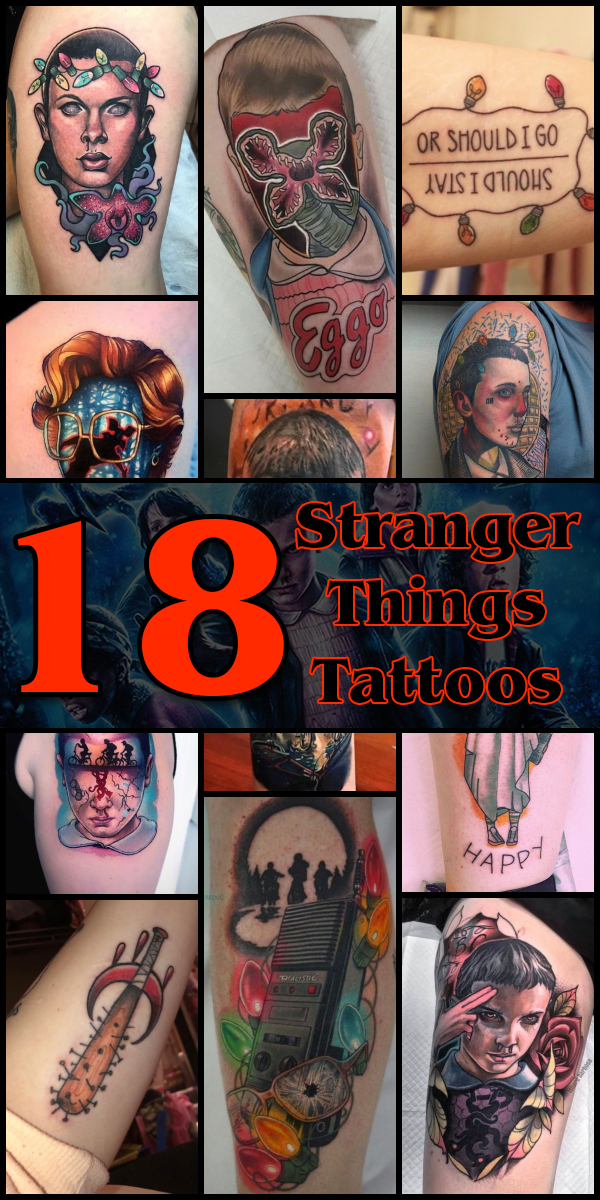 Stranger Things set out to perfectly encapsulate the 1980s movies and TV shows that so many of us fell in love with, but with a very modern spin and a thrilling story, and the Netflix TV show has been nothing short of a blockbuster hit ever since day one.
People are so crazy about this perfect blend of nostalgia and modern storytelling that they are getting Stranger Things tattoos left and right. Tattoos of characters, especially Eleven, are incredibly popular, but you'd be amazed at the amount of people even just tattooing the logo of the show on their bodies to show their support and fan hood.
Other fans of the series are tattooing iconic scenes and monsters from the series, mirror images of the "real world" and The Upside Down, and generally playing with the 80s aesthetic and color scheme that Stranger Things has brought right back into the mainstream again.
The show isn't slowing down anytime soon and with a diverse character and cast list, as well as some pretty iconic scenes and items from the show, you aren't going to have a shortage of Stranger Things tattoo options to pick and choose from. The challenge might be settling on just a handful to move forward with!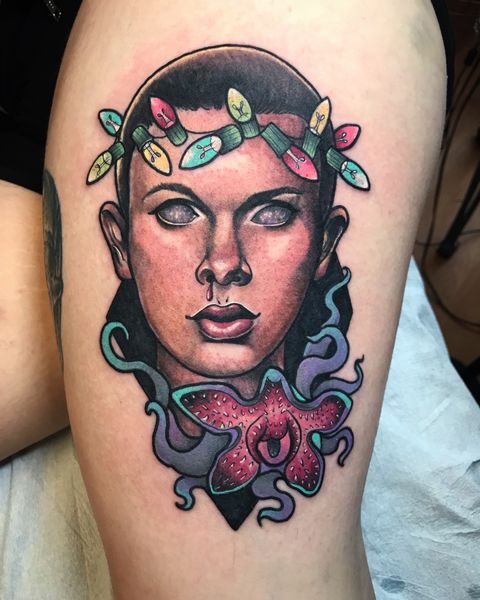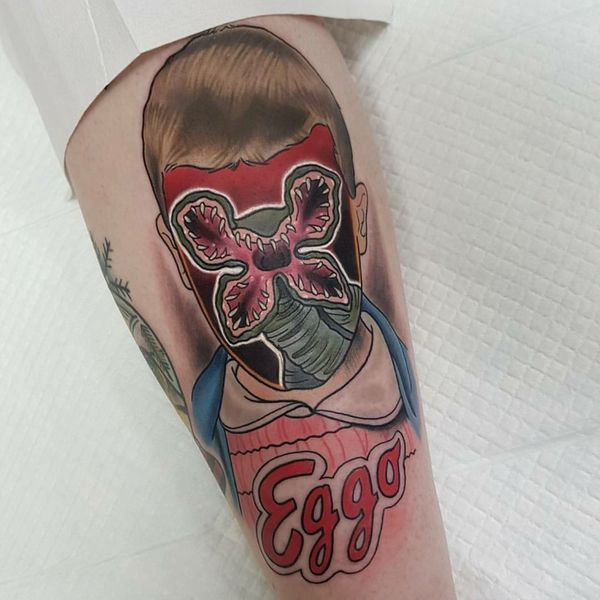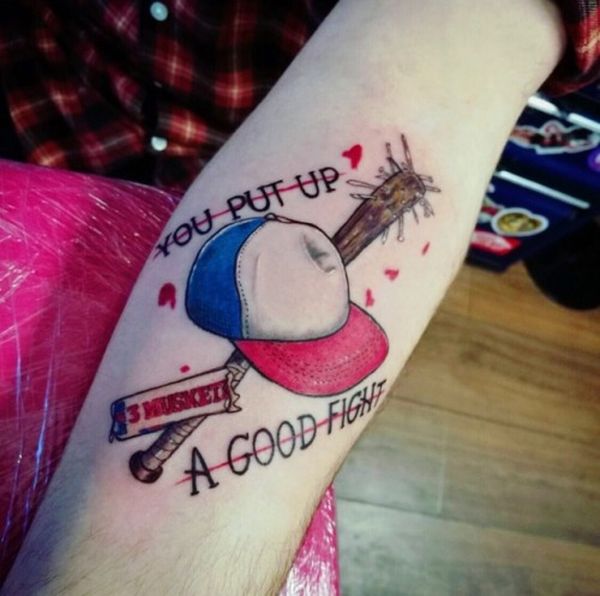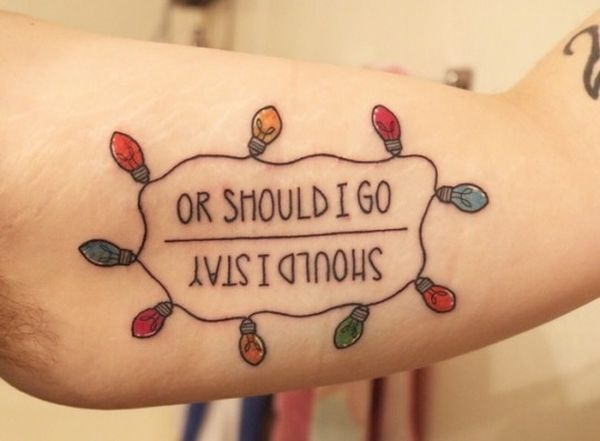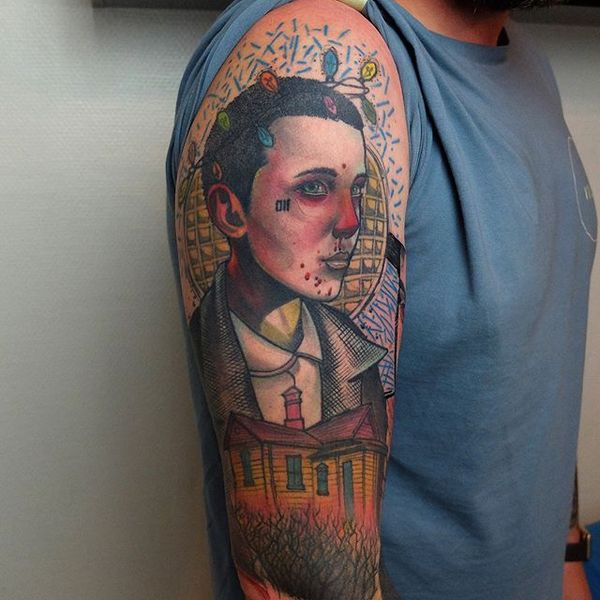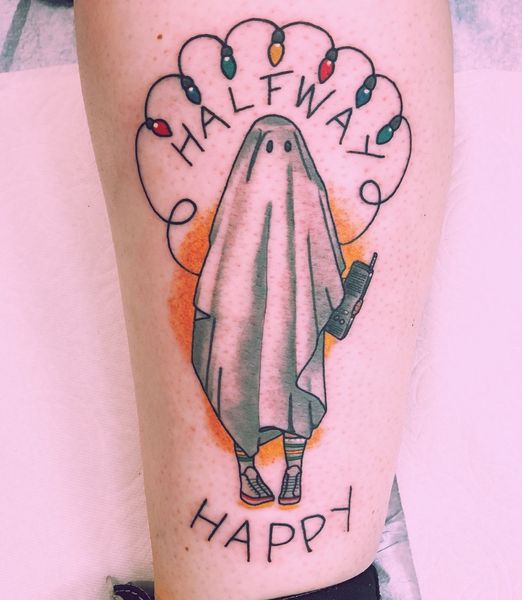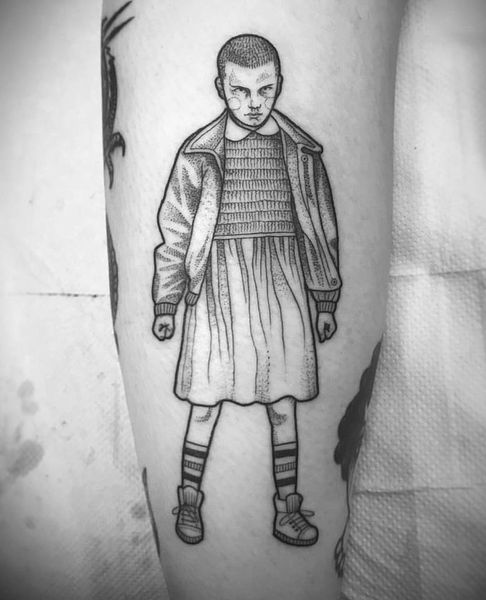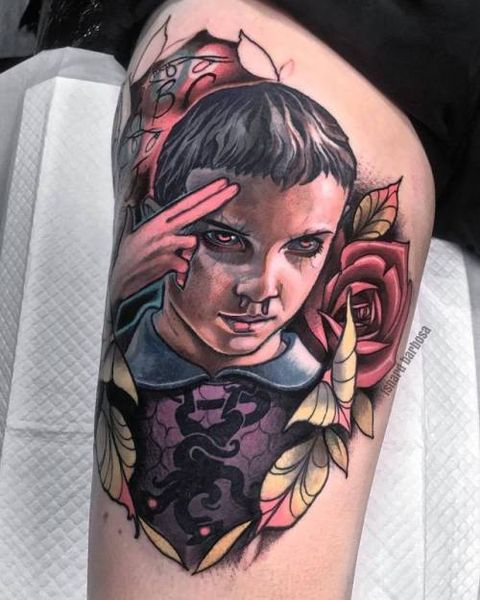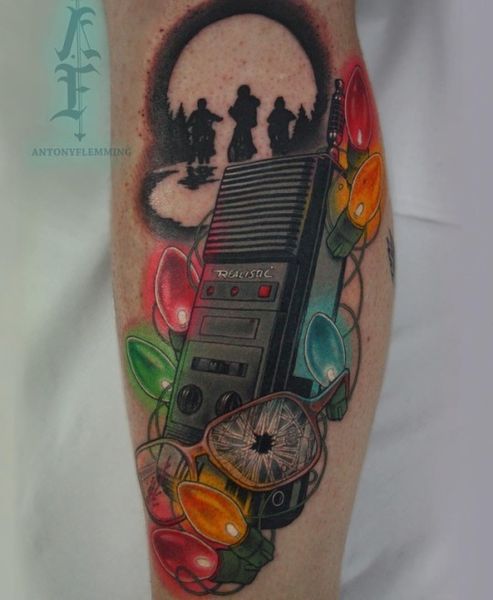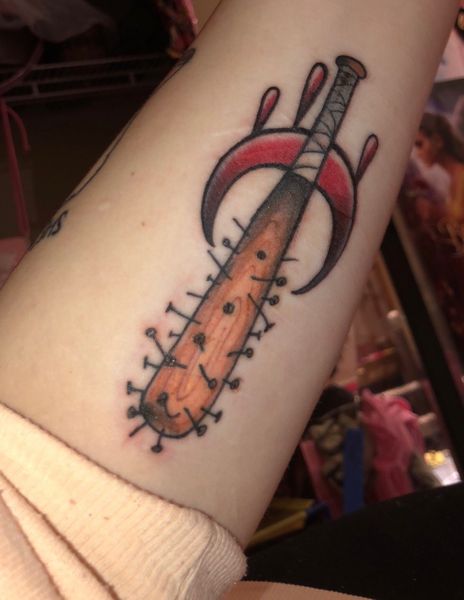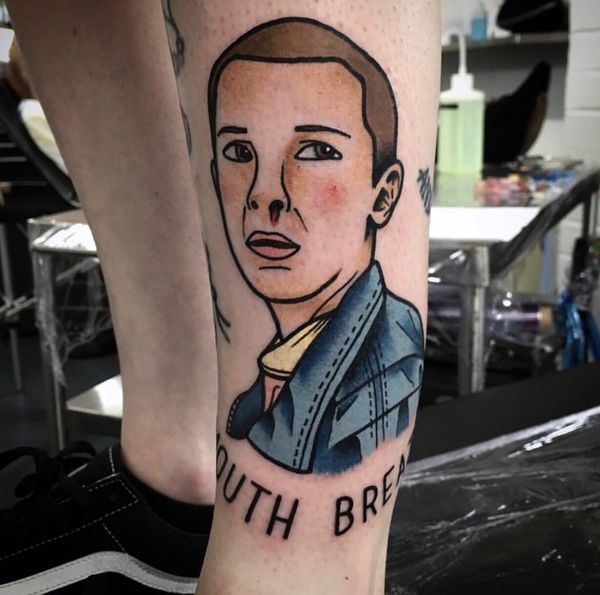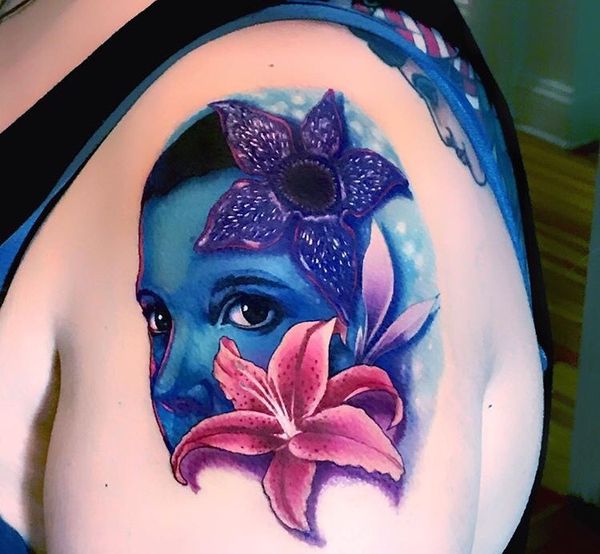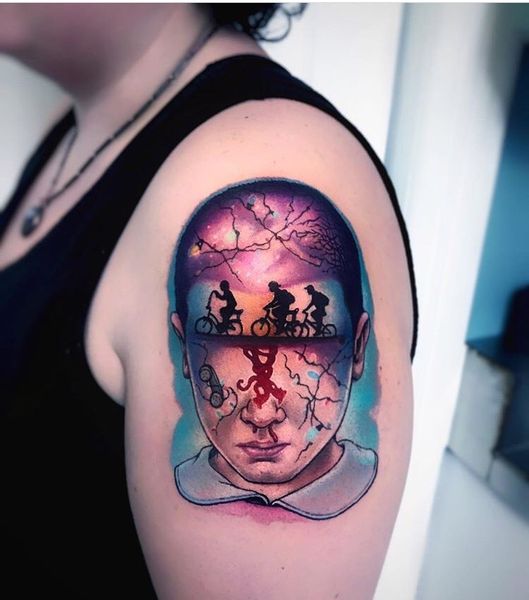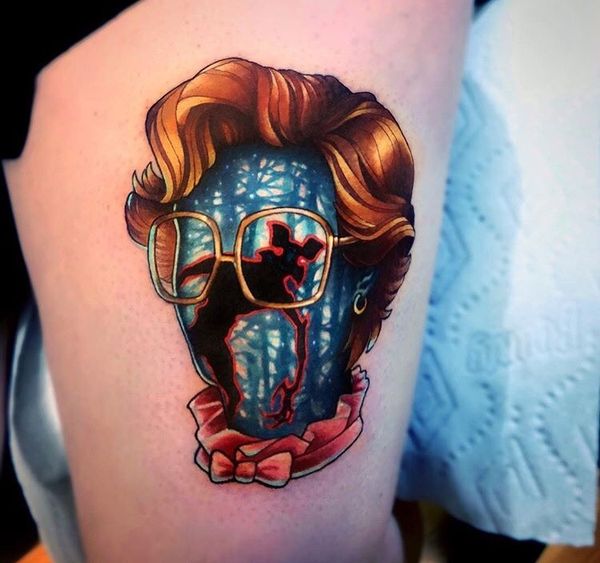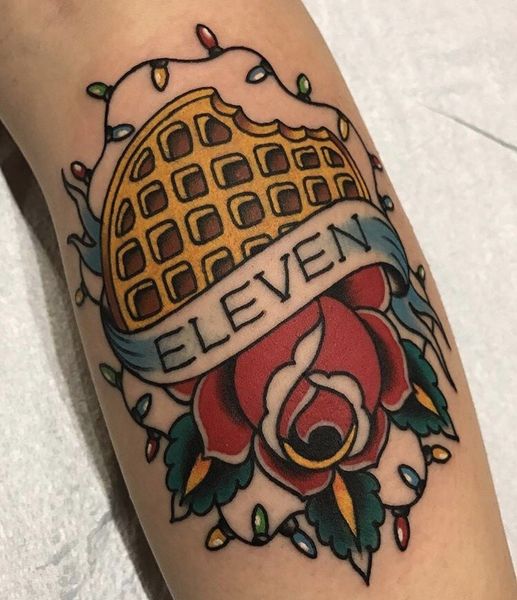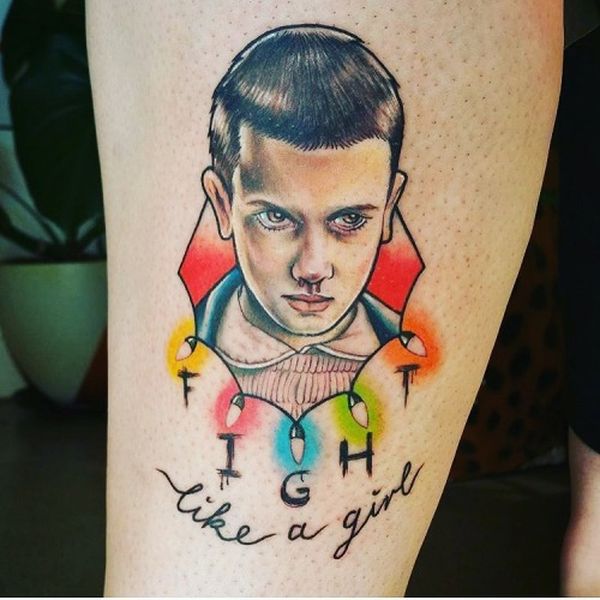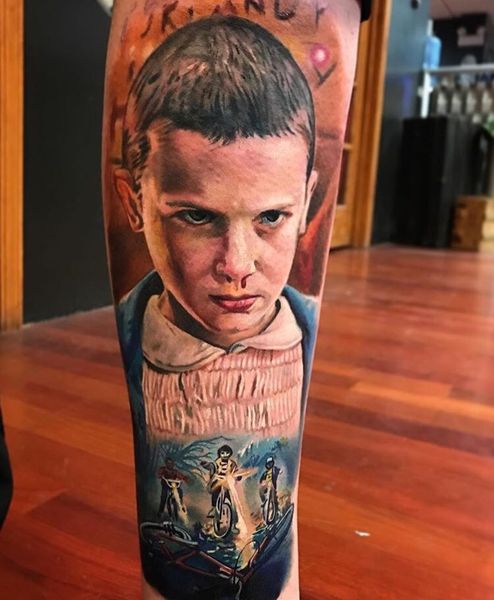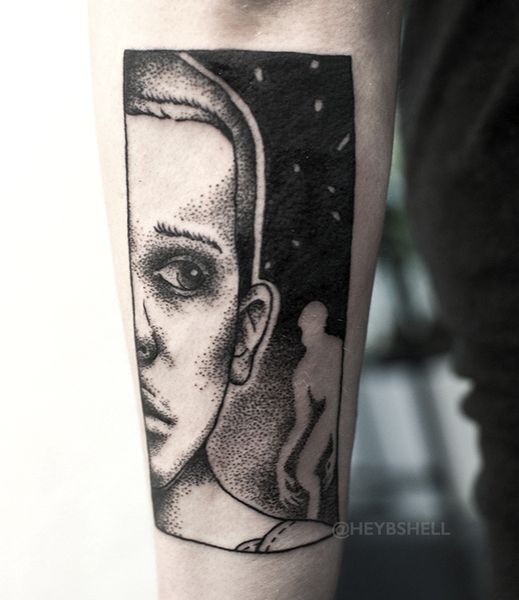 Incoming search terms:
Sours: https://thebodyisacanvas.com/18-stranger-things-tattoos/
Stranger Things has been a runaway success and, since the premiere of season one in July 2016, people have had no reservations about getting inked to proclaim their love for the show.
We must say, we are impressed with the tattoos we have seen and selected for this post. Unlike certain movies and particular characters, not all of these Stranger Things tattoos are just generic portraits created from the same stock image – people have been getting creative and it has resulted in some outstanding tattoos. Unlike the vast majority of Breaking Bad that are Walter White portraits, these Stranger Things tattoos include Demogorgons, lights, waffles, various characters, the Upside Down, and Eleven, of course.
There's so much to love about this show, and so much to influence tattoo concepts.
At the time of posting, there are over 5000 posts tagged with #strangerthingstattoo on Instagram – an increase of 3800 in the last year. This is quite a feat for a show with only two seasons and 17 episodes; so many more long-running shows don't have nearly as many (if any) tattoos dedicated to them.
You might be sick of us writing this but we implore you (as always) to not copy these tattoos and only be inspired by them. If these 65 people have managed to think of unique ideas, then you can too! Pick the perfect tattoo artist and give them the creative freedom that they desire.
People have Stranger Things fever and it seems that a tattoo is the only cure…
Sours: http://litteredwithgarbage.com/top-65-stranger-things-tattoos/
50 Stranger Things Tattoo Designs For Men – Science Fiction Ideas
Netflix's newest show, Stranger Things, has inspired lots of dudes to get show-inspired tattoos. From Eleven's "011" ink, to the Will-powered Christmas lights that spell words, there are endless elements from the series to choose from.
Not all fan tattoos are uncool to get, as the series pays throwback homage to a ton of iconic moments from the 1980s.
The show, itself, pays tribute to the surge of horror movies during the era and but steers clear of regurgitating the nostalgia. It seamlessly reinvents the feeling while introducing new relics for you to add to your arsenal and designing your tattoo will be a breeze since the show dips and dives into many places. It will inspire you to employ the art of storytelling via ink — an art the show handles beautifully through the myriad of pop culture touchstones.
Rather than overusing those critical hallmarks and making the series too niche (i.e.; your tattoo is an obvious tribute), a Stranger tattoo, too, like the series, can be effortlessly adopted into any existing body art. Because any style or design will work, it's easy to see why so many guys are flocking to get this "geek" ink!
Like any true fan of the culture, you're encouraged to proclaim your love for show whichever way you want, but a tattoo will allow you to do so with flair. A great tribute tattoo will also be one you will wear like a badge of honor.
Sours: https://nextluxury.com/mens-style-and-fashion/stranger-things-tattoo-designs-for-men/
Ideas tattoo stranger things
I will give you, daughter, another enema, this time from pure vegetable oil. ", No, mom, no more enema, "Lucy began to. Object, you made me one, I pooped, now everything will be all right. " Go, pour the contents of the bucket into the toilet, and I'll prepare a second enema for you, "Don't, mom, one enema is enough for me," the girl began to whimper.
Well, you are already capricious, and I just praised you, that you are already like an adult.
45 DIY cute tattoo design - temporary - tattoo stift - best tattoo designs -
Oooyyy. Sonny. -Our team of psychologists will help your son to accept the current circumstances. Irina Alexandrovna wept bitterly. -Oooy Yura.
You will also like:
Arinka wiped her finger on the plantain leaf. The boy began to wipe himself and thanked the girl: Thank you, Arin. You did it so well for me there, so I immediately wanted to poop.
851
852
853
854
855