Did you recently see an emoji on a Discord server that you like?
If you did, you might be looking to download it.
Discord allows server owners and users who have the "manage emoji" permission to upload emojis.
Most servers have their own custom emojis, so you can use them while you're typing a message.
However, some servers have grayed out emojis, which means that you can't use them globally.
To use them globally, you need to subscribe to Discord Nitro.
Alternatively, you can download the emoji on your computer and upload it to your own server.
In this guide, you'll learn how to download Discord emojis.
How to download Discord emojis
Can you download Discord emojis on mobile?
How do you get Discord emotes?
How to download Discord emojis
To download Discord emojis, you need to open the emoji's link, right-click the emoji, click on "Save image as", name the file, and save it.
Once you've saved the emoji, you can open and view it on your computer.
You can also upload the emoji to your own Discord server.
On Discord, you can save both animated and non-animated emojis.
When you open an animated emoji's link, you can save it as a GIF by right-clicking it and clicking on "Save image as".
Then, click on "Save", and the emoji will automatically be saved as a GIF.
On the other hand, if you're saving a non-animated emoji, it'll automatically be saved as a picture.
Here is a step-by-step guide on how you can download Discord emojis/emotes:
1. Open the emoji's link
The first step is to open the emoji's link.
Firstly, open Discord on a desktop and log into your account if you haven't already.
Do not open Discord on mobile because you won't be able to open an emoji's link there.
Then, navigate to the Discord server that you found the emoji from.
Next, navigate to the emoji on the server.
Once you've found the emoji, you need to open its link.
Right-click on the emoji that you want to download.
This will open a navigation menu with several options including "Add Reaction", "Reply", "Mark Unread", and more.
At the bottom of the navigation menu, you'll see an option that says "Open Link".
Click on "Open Link" to open the emoji's link.
If you're on Discord mobile, you won't be able to see the "Open Link" option as it is not available on mobile.
Proceed to the next couple of steps to learn how to download the emoji.
2. Right-click the emoji & click on "Save image as"
After you've clicked on "Open Link", the link to the emoji will be opened.
You'll be directed to a webpage with the emoji.
The link of the webpage will look something like this, "789122700776833034.gif (112×112) (discordapp.com)".
The emoji will be located at the center of the webpage.
If the emoji is animated, you'll be able to see its animation.
Right-click the emoji to open a navigation menu.
On the navigation menu, you'll see multiple options including "Open image in a new tab", "Save image as", "Copy image", and more.
Since you're looking to download the image, you need to save it.
Click on "Save image as" to save the emoji on your computer.
Move on to the final step to learn how to properly save the emoji.
3. Name the file and save it
After you've clicked on "Save image as", you need to save it in a folder.
To begin with, you need to create a folder that you want to save the emoji in.
If you don't want to create a folder, you can save it in your "Downloads" or "Pictures" folder instead.
However, it's highly recommended that you create a dedicated folder for Discord emojis.
That way, you can easily find Discord emojis that you've saved in one place.
Once you've created a dedicated folder for Discord emojis, double-click to open it.
Then, you need to name the file.
Give the file a name on the "File name" field.
For example, if the emoji is a GIF of pepe the frog sneezing, you can name the file "pepe-sneezing".
Naming your file in dashes will make the name more readable.
If the emoji is an animation, you'll see that its file type is "GIF".
On the other hand, if the emoji is not animated, its file type will be either "PNG" or "JPG".
Lastly, click on "Save" to save the emoji in your folder.
Congrats, you've successfully learned how to download emojis on Discord!
Can you download Discord emojis on mobile?
No, you cannot download Discord emojis on mobile.
This is because the downloading of Discord emojis are not supported on mobile.
If you want to download or save Discord emojis, you need to use Discord on a desktop instead.
This is because the "Open Link" function is only available on the desktop version of Discord.
If you're using Discord mobile, tapping and holding on an emoji will not contain the "Open Link" function.
How do you get Discord emotes?
To get Discord emotes, you can either upload your own emotes on your server or use another server's emotes.
Discord allows server owners to upload custom emojis to their server.
If you're the owner of a server, you can upload emojis by navigating to your server settings and clicking on the "Emoji" tab.
If you don't want to upload custom emojis, you can join servers that have them instead.
However, keep in mind that you won't be able to use some server's emotes.
This is because you don't have access to posting them on other servers.
To bypass this, you need to subscribe to Discord Nitro.
Conclusion
Custom emojis are one of the many features that Discord has.
You can add emojis to your messages by selecting the smiley face icon.
If you see an emoji that you like on a Discord server, you're given the ability to download it as well.
To download emojis, you can use the guide above.
Make sure to use Discord on a desktop for this as the mobile version does not support it.
Further Reading
150+ Cool, Funny, And Cute Discord Names
How to Make a Discord Account
How to Bypass File Size Limit on Discord
TagsDiscord
Sours: https://www.followchain.org/download-discord-emojis/
Discord -- Emotes, Gifs, and Stickers
Emotes
Most Discord emotes are emoji, but there are other emotes too. They can be used in messages, to react to messages, or in status messages.

Emote Selector
On the far right side of the message bar is an emote icon. The exact emote shown will vary, because every time you hover over it, it changes to a random face emote.
Clicking the emote icon will bring up the emote selector. Clicking an emote in the selector will paste it into your message
At the top of the emote selector is a search bar for emotes. Some emotes have alternate names that can also be searched for. For example, searching man_in_business_suit_levitating will give you the levitate emote.
Next to the search bar is a 👏 icon which will bring up a skin color menu.
Most hand (such as 👍), person (such as 👴), and body part (such as 👂) emotes will adjust to match the selected skin tone.
Below the search bar is the full list of emotes. These are sorted into collapsible categories.
First come frequently used emotes. The relative order of emotes in this list is based on how many times you've used them and how recently.
Below that are server-specific emotes, if applicable. Note that emotes from other servers you're in will also appear, but unless you have Discord Nitro, they will be grayed out and inaccessible.
Below that is the collection of all emotes, sorted by type.
There is also a sidebar on the left that will list all the categories for easy jumping.
Using emotes in messages directly
If you paste an emoji into Discord from another application, it will automatically convert into a Discord emote. To avoid this, escape it by putting a \ before it.
If you know the name of an emote, such as thumbsup, you can type it into your message directly by surrounding it with colons, such as :thumbsup:
You can also search for an emote by putting part of its name after a colon, like so:
Note that once you fully type an emote's name, it will automatically convert to the emote. This will not occur for the :tm: or :copyright: emotes, which will still appear as text. However, they will render properly once you send the message.
Reactions
When you hover over a message, one of the options in the menu that appears is to add a reaction.
Clicking this option will bring up the emote selector. Once you choose an emote, it will appear as a reaction underneath the message.
The blue means that you added this reaction, and the 1 represents the total number of people who added that reaction.
Clicking it again will remove your reaction. Clicking an emote that's not in blue will add your own reaction to it.
Hovering over the reaction will show you up to three people who gave that reaction.
If there are more than three, you can see the rest by going into the reaction menu, accessed through the "..." when you hover over the message.
Here, the reactions will be sorted by quantity, and you can click each one for a complete list of who gave it.
Emotes in status messages
When editing your status, emotes cannot be added mid-message. However, on the left, you can select an emote that will appear on the left of the message. This will bring up the emote picker.
For more information on status messages, please see the following:
Discord -- User Profile and Status

GIFs
GIF menu
The GIF menu can be accesses through the GIF button on the right of the message bar.
Discord's GIF search uses Tenor, an online GIF service. You can search GIFs at the top, or select from the categories below.
When you find a GIF, you can click it to post it in chat directly. Note that this will be as its own message. You can also click the star icon in the top-right corner to add it to your favorites.
Favorite GIFs
You can hover over any GIF on Discord, even if it's not from Discord's GIF search, to show the star icon in the top-right corner. Note that if the background is white, you won't be able to see it unless you hover over the star itself.
Once clicked, the star will fill in, and you'll be able to access the GIF from the favorites menu in the GIF search any time thereafter on that same device. If you want to remove a GIF from your favorites list, just click the star again.
Stickers
Stickers are like larger emotes or images. They can only be accessed if provided by a server or if you have Discord Nitro.
To view available stickers, click the sticker icon on the far right of the message bar.
All available stickers will show up here, and can be sent as a message by clicking on them. As with emotes, they will be grayed out if you do not have Nitro and they are from another server.
Sours: https://support.cci.drexel.edu/getting-connected/discord/discord-emotes-gifs-and-stickers/
How to Get and Add Animated Emojis on Discord
If you love talking to your friends online, chances are that you love emojis and can't stop using them. At least that's the case for everyone on Discord!
It isn't surprising to see that the community has fallen in love with Discord animated emojis. These can be crafted and used in ways that haven't been done before.
That's why it makes sense for businesses, especially in the gaming industry, to push the use of Discord animated emojis due to its popularity.
However, know their limitations before you use them. For example, only 50 animated Discord emojis are allowed per server, and a custom Discord animated emoji should be a particular size.
Other than these issues, the sky is the limit to what you can do with an animated emoticon on Discord.
---
Note: If you want to add animated emojis to videos, you should definitely try Wondershare Filmora video editor, which features lots of animated emojis.
Part 1: How to Get Animated Emojis with Discord Nitro?
Discord Nitro is the subscription-based, super-powered version of Discord that allows users to access various paid features that you won't get with the regular Discord account. The monthly subscription costs $4.99 only.
Nitro supports all types of emoticons, including Discords animated emojis, at no additional cost. You won't even see the option for using these if you aren't paid Nitro subscriber.
So once you've subscribed to Nitro, you can use a shortcode within chat such as ': grinning' or click the emoji icon to the right side of the designated chatbox to use the animated Discord emojis.
Select your desired animated Discord emoji from the popup window that shows animated emojis available to your account. Standard users will only see the regular emojis in this section.
Part 2: How to Get Animated Emojis on Discord without Nitro?
Here are several ways to get Discord animated emojis and add them to the Discord server without going Nitro:
Method 1: Download Animated Emojis and Upload to Discord Server
Animated Discord emojis make it a lot more convenient and easy to express your feelings. You can find and download them at these websites:
1. Emoji.gg
Emoji.gg is a simple website that provides a range of animated Discord emojis for free.
The itinerary is labelled by category, but you can also download the best ones together as a pack.
Emoji.gg can connect directly with Discord, allowing users to use their preferred animated Discord emoji directly from their site. You can also use this website to create custom animated Discord emojis using the Maker option.
2.Animated Emojis
This is another excellent website that will let you download animated Discord emojis.
They have a massive database of Discords animated emojis listed in alphabetic order. The website's user interface makes navigation easy, so you can find the perfect emoticon from the thousands in their database.
You will have to click the download button to download them from the website. Though to use the animated Discord emojis, they must be uploaded to Discord separately.
To do that:
Go to your Discord Server
Click "Settings"
Click "Emojis"
Click "Upload"
3. Discord.st
Discord.st is a website that offers animated Discord emojis as well as the ability to share your favorite animated Discord emojis with your friends.
However, these emoticons can't be downloaded from the website to your device. Instead, you can log in with your Discord credentials and use them.
You also have the option to create your customized animated Discord emojis here.
Method 2: Add Animated Emojis Bots to Discord Server
An animated emoji bot can definitely make it easier to find and use the right emoticons on your Discord server. Here's what you'll need to add this functionality to your chats:
1. NQN
NQN is a Discord bot that allows anyone to use animated Discord emojis, and it's completely free.
You will have to invite NQN bot to your Discord server. After that, once the NQN bot is connected with your server, you will be able to see the bot in your messages.
Go to messages an type !packsearch to search for animated Discord emoji packs.
To add the animated Discord emoji pack, click the plus sign in the message box, or to view another pack click the arrow icon.
To search a pack by name, type !packsearch(name of the pack).
When you've found the Discord animated emoji pack that you want, type !packsave(name of the pack) in the chatbox.
A message will come in the message box; click the tick sign below it.
Now, go to the emoji section on Discord. You will see your animated Discord emojis being downloaded.
2. Top.gg
This is another cool bot that allows you to add animated Discord emojis to your server.
Again, as NQN, you will have to invite the bot and add it to your Discord server. After that, you will see the bot in messages, and you can use the steps mentioned above as guidance.
The following features clearly stand out:
Use animated emojis in messages: Write an emoji code :spinthink: > And the bot will create
Animated emojis as reactions: n!react spinthink > React to last message with (n!help react for more)
Add more Emojis: Go to your Discord Server > "Settings" > "Emojis" > Click "Upload"
You can check this step-by-step tutorial to see how to add emojis to Discord.
Conclusion
Emojis have become a part of everyday communication and popular culture at large.
Animated Discord emojis help in making conversation with people more expressive and enhance the effectiveness of communication.
Getting a Nitro subscription is the simplest way to start using animated emojis. But if you don't want to pay the recurring monthly fees of $4.99 every month, the options detailed above are your best bet.
Richard Bennett
Richard Bennett is a writer and a lover of all things video.
Follow @Richard Bennett
Sours: https://filmora.wondershare.com/discord/get-free-animated-emojis-discord.html
Discord has taken off over the past few years as the go-to social platform for communities of people with common interests. Whether you're into bird-watching, anime, screenwriting, or even legal practice, you can get involved in a Discord server that serves your community.
One of the ways Discord provides so much value for all types of communities is its intuitive and robust server customization options. Custom emojis are especially useful, since communities can use inside jokes, prominent members, and favorite images or GIFs to share with the whole server. In this article, I'll show you how to make your own animated Discord emotes using videos, GIFs, images, or text. Let's get started!
Upload your video, GIF, or images to Kapwing
Trim, crop, add text, speed up, or animate
Export as a GIF
Add to your Discord server
NOTE: Animated GIF Discord Emojis can only be used by Discord Nitro users. If you don't have Discord Nitro, you can only use full GIFs and static image emojis. To get Discord Nitro, click the gear button near the bottom left to go to your user settings, then click Discord Nitro from the menu.
Step 1: Upload Your Video, GIF, or Images to Kapwing
To make your animated Discord emoji, you'll probably want to start with an existing video clip or GIF. You can find these anywhere – YouTube, Giphy, Instagram, TikTok, Twitter, or nearly any location on the web – all you need to do is copy the link. Alternatively, you can use any photo, video, or GIF files you have saved on your phone.
When you've copied your link or located your files, head to Kapwing.com in your browser and select "Start Editing" to enter the Kapwing Studio. Here, either paste your link in the URL bar or click "Upload" and find the file you want to use in your file browser or camera roll.
Step 2: Trim, Crop, Add Text, Speed Up, or Animate
Once your content is fully uploaded to the Kapwing Studio, you can edit it in any way you need. If you're using a video or GIF file to make your GIF emoji, you'll probably want to trim & crop it, and maybe speed it up a bit, as well.
To trim your video, click & drag one of its ends in the Timeline on the bottom of the screen. You'll also need to crop it to a square in order for it to work as an emoji in Discord – just select the Crop tool in the right-side menu and choose the square aspect ratio. To speed up your video, all you need to do is select the video layer and click the "+" button under Speed on the right side of the Studio.
If you're using an image or text for your animated emoji, you should add an animation to it in order to make it a moving GIF. In the Studio, select your image or text box and find the "Animate" tab in the menu on the right. Here, you can choose from 10 different animation styles to add to your GIF – the Vibrate and Hue Rotate options are likely the most useful for your photo and text GIFs.
Step 3: Export as a GIF
When you've either edited your video or animated your photo or text, you have one last step – make sure your GIF is small enough to use as a Discord emoji. Since emojis have to be under 256kb in size, many longer or larger GIFs won't be able to upload. In the Kapwing Studio, I recommend keeping your GIFs under 3 seconds in length and about 100 pixels in their width and height. To resize your GIF, go to "Output Size" on the right-side menu and decrease your dimensions to a 100x100 square.
With your file size reduced, select the arrow to the right of the red Export button and choose Export as a GIF from the dropdown list. Kapwing will start processing your GIF file and it will be ready for download in under a minute.
Step 4: Add to Your Discord Server
With your GIF emoji saved to your files, go to Discord and open any server where you have emoji permissions as an Admin – the easiest way is to use your own personal server. Here, click the dropdown button next to the server title at the top of the channel list and select Server Settings. Select Emoji from the list of options, choose Upload Emoji, and find the GIF file you downloaded from Kapwing. Once it's uploaded and named, you can use it in any server you belong to!
I hope this article helps you spice up your Discord servers with any GIF you can imagine. If you're interested in more tips and tutorials on creating great digital content in 2021, check out the Kapwing YouTube channel, where we create multiple new videos every week. And while you're here, read through some related articles on creating and sharing content in Discord:
• How to Create a Discord Server Background
• How to Make a Discord Invite Background
• How to Share Large Videos in Discord
• How to Make a Discord PFP Online

Sours: https://www.kapwing.com/resources/how-to-create-animated-emojis-for-discord/
Gif discord emoji
How to create custom Discord animated Emojis?
Before leaving for some extended time off, I wanted to share how to create custom Discord animated emojis with my colleagues and also open source this super scientific creative process.
Why Discord Emojis?

Over the past 4 years, I have created many animated custom Discord emojis for my friends.
We use Discord emojis for all kinds of stuff: celebrate achievements, friendships, anniversaries, and more.
Tutorial
Duration: ~4 min per emoji
Skill needed: creativity
Required tools: Adobe Photoshop or similar tool to create an image file (.gif or .png)
If this already sounds complicated.
I will make your Discord Emoji!
Order yours now!
Step 1: Choose your best colleague picture
How to choose the best picture for your new emoji? Follow these guidelines:something funny is preferred
something funny is preferred
a background easy to remove
good light
not offensive
Let's take my favorite profile picture as an example: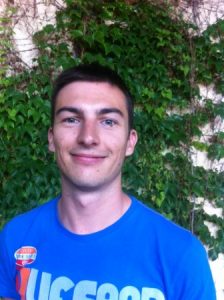 Step 2: Import it in Photoshop
Create a new file with the following dimensions: 128px width and 128px height.
Drop the picture you previously selected into this new file.
Resize the picture you imported so it fits in the 128px square.
Make it a big face as emojis on Discord are pretty small. To get a preview you can zoom out and see how it looks.
If you don't want to make an animated emoji you can stop here and jump to step 4 to export the image file.
Step 3: Create frames and animation
Once you have the picture ready, it's time to create the animation.
Open the window tab and click Timeline.
Then, think about how you want to animate the image.
In my example, I'll zoom on my face.
Create a new frame for each move.
3 to 5 frames are usually a good number of frames for an animation.

Now it's time to get creative and make it happen.
Click on a frame and move the layer for this specific frame.


Then click on the next frame and do the same until you are done.
If you need to turn or resize make a copy of the layer. Or it will change for all frames.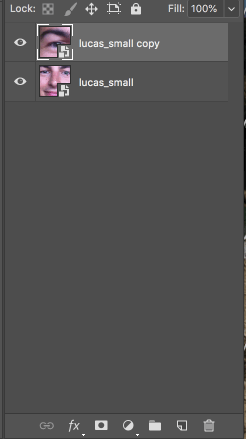 In the end, you should have something like this in the timeline:

Feeling comfortable with the process above? Make it a better emoji with combining more than one picture. Like this one:

Step 4: Export file
Now that your creation is ready, it is time to export the file as .gif for an animated file and .png for a static image
Go to Save for the Web
Size requirement: not more than 64kb and 128px width or height.
Here is the exported gif for my creation:

Step 5: Import to Discord
Now you need to upload to this emoji to Discord. Go to your Discord server settings and click Emoji.
Choose your newly exported file, give it a name and save!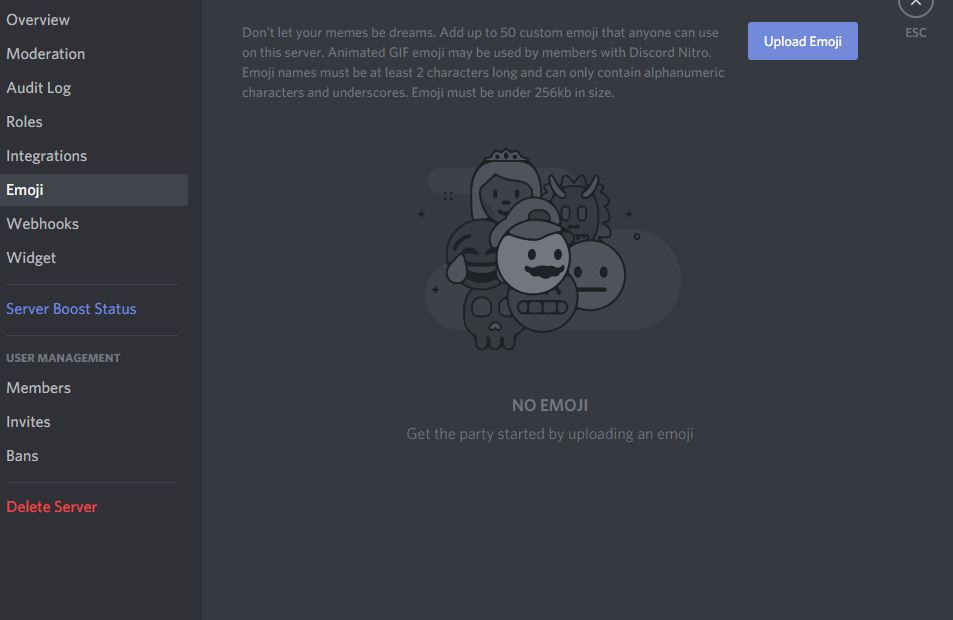 If you need more help for this step, please use this help page from Slack: Create custom emoji
Step 7: Use it wisely
Thank you to my teammates.❤
Note that this works for custom Slack Emojis as well. Here is a comparison of Discord vs Slack.
The main difference being that Slack doesn't support a gif as a profile picture. Discord does with a Nitro Subscription.
Sours: https://emailtech.co/create-custom-discord-animated-emojis/
How to add Animated emojies on you'r discord server - 2018
MakeEmoji
Create ✨animated✨ custom emoji GIFs for Slack and Discord
Try it out with these images...
...or upload your own:
Tip: Use remove.bg to make images with a transparent background!
Creating emojis...
Click to download:
Get updated when we add 🆕 emoji styles:
Very occasional emails, only when we add new emoji styles. No spam or bullshit ever.
Bug? Feature request? Tweet me: @mpopv Inspired by Slackmojis
Not affiliated with or supported by Slack Technologies, Inc. or Discord, Inc.
Sours: https://makeemoji.com/
You will also be interested:
At the very last moment, I weaken the pressure. My sperm hits Ima's bosom. She bites her fist in pain. I feel the pressure of the semen literally pushes me out of her womb.
5470
5471
5472
5473
5474