Is Trane AC Worth the Extra Money?
If you're here, you probably just searched the phrase: Is Trane worth it? Is Trane AC worth the extra money? Or, you may have even spelled it "Train" AC – don't fret you're not the first and won't be the last! In this article, we review some of the differences between Trane  air conditioning units and some of the other air conditioner brands on the market.
Important Note: This article was updated in June 2021. Originally written 3-years earlier, a lot has changed so be sure to pay attention to original text and new updates which impacted our updated answer to the question – Is Trane worth more money?
What's a Trane AC worth? An Unbiased Review from a Contractor Who Sells Many Air Conditioner Brands, Not Just Trane.
Before I go any further, for those who've never read my blog articles before…
I've owned an air conditioning company in Mesa, AZ – Magic Touch Mechanical, for over twenty years. We sell a lot of Trane air conditioners, furnaces, and heat pump units. However, we also sell a lot of Lennox, Bosch, Goodman, Mitsubishi, Amana / Franklin, Day & Night (a Carrier brand), First Company, the occasional Fujitsu, and then some as well. In other words, this is an HVAC contractor's opinion, not a Trane Dealer's opinion.
We "sell" Magic Touch Mechanical and the service we deliver, not Trane, Lennox, Goodman, etc. We choose to sell the brands, more specifically models, that we feel offer the best value, reliability, and performance.
The reason we choose to offer our customers multiple brands is we believe in providing multiple options, not ultimatums. Bluntly said, I feel that any company that only offers their client one or two brands to choose from is offering what they want to sell, not always what's best for the customer.
That said, there are brands, and even particular models from brands we do sell, that we flat out will not recommend…those that we have found to have a particularly high failure rate. Years ago, we stopped selling brands like Rheem and Maytag for this very reason. I realize there will be contractors that sell one or both of these brands that read this and disagree, however I base that on our experience with the brands.
Is Trane Better Than Carrier, Goodman, and Lennox?
When someone asks me this question (which is often), I always answer with a question. Which models are we comparing?
Technically, I should start by asking how well it will be installed because that makes a much bigger difference than the brand or model. For the purposes of this article, let's assume Magic Touch Mechanical installed it – then I know it was installed per exact manufacturer specifications, ACCA guidelines, and to higher standards than code requires.
Our motto is "We do it better than it has to be", and our Installation Manager, Quality Control Supervisor, and myself make sure we live up to that promise.
Back to the "which model" question:
If you read my article, How Much Does a New AC Unit Cost, (updated post-pandemic June, 2021) you know that the price range is huge. In that article I stated (variables aside), you can expect to pay as little as $6,800 for a new ac unit, all the way up to $15,000+. Note these are post pandemic prices caused by shortages and manufacturer price hikes. This same equipment cost significantly less only 18-months ago!
Since that article was written, there have been a few newcomer models that get into the $16,000+ range – yes, you read that right!
Lennox released the world's newest "most efficient" system which touches on $16k installed!
Post-pandemic, shortages of everything from steel and circuit boards combined with shipping issues, labor shortages and long delays at our ports have resulted in quickly rising costs. Here in the Phoenix, AZ area and around the nation, contractors and homeowners are feeling the pinch with component shortages affecting even A/C repairs.
Trane Entry-Level Air Conditioners & Heating Systems (Good)
Most air conditioning contractors offer a good, better, best scenario when proposing a new ac and heating system.
On the lower end of the price range (good), we are talking about entry-level efficiency and features. The truth is, in this range, there really isn't a whole lot of difference between the brands.
When it comes to the base models, the manufacturers are more "assemblers" than they are "engineers". The design is pretty much the same it has been for years, most of the components are similar if not exactly the same and are built by third-party manufacturers not the AC manufacturer themselves.
At this level, the big separator is really the quality of the design and the materials used to build the cabinet and coils. There are a few exceptions in a few models, and one worth pointing out is Trane.
Trane is one of the few brands that still manufactures its own compressor, the Climatuff.
UPDATE 2021:Unfortunately, many previous models that included the Trane Climatuff compressor no longer do. In recent years, Trane has replaced the Climatuff with a 3rd party compressor. This changes our original opinion in this article as the Climatuff compressor weighed heavily into all factors considered.
"It's Hard to Stop a Trane" – Their Slogan Rests on the Back of the Trane Compressor
While modern air conditioners consist of dozens of components, the compressor is still the "heart" of the unit. I don't think you would find many HVAC service technicians that would argue that the Climatuff is a tank. If you know Trane's slogan, "It's hard to stop a Trane", you may know they built that slogan on the Climatuff compressor back – it can take a lot of abuse.
That said, most of the other manufacturers nowadays are using Copeland brand compressors, a great component in its own right, but the Climatuff takes the prize as best in class in my opinion and I'd guess probably most other HVAC experts' opinions as well. (Update 2021 – Trane now uses the same Copeland compressor as their competitors in many models that used the Climatuff when this article was originally written.)
Aside from the compressor, of the three "premium" brands (Trane, Lennox, and Carrier), you will not find a whole lot of differences in the components themselves.
I recommend politely shying away from most of the non-name brands because although the differences in materials and design may be subtle at first glance, combined they usually add up to a unit that doesn't last as long and/or is prone to frequent failures.
To the end user, even a minor failure means "no cooling" or "no heat" regardless of how minor the failure may seem to an experienced HVAC service technician.
I'd be remiss if I failed to mention the behemoth, Goodman – now owned by Daikin. I have mixed emotions regarding this brand (and yes, we sell it). Several Goodman models offer good bang for the buck, which can be good for clients with a tighter budget, or perhaps someone selling their home soon.
However, after years of recording failure rates (from minor to major), Goodman comes in last place of all the brands we install. Not quite high enough to stop selling them as we have with other brands, but it should be said because there's a reason Trane costs more than Goodman. Note: the failure rate is approximately 2% higher than the rest, so by no means out of line nor reason to not consider the brand.
In fairness to Daikin, I should mention the commercial Daikin Packaged Rooftop Unit has proven as reliable, if not more reliable as a few of the premium brands commercial products in recent years.
Does the AC Brand Name Matter?
Keep in mind I'm still only talking about entry-level equipment when I say yes, the brand name matters, but not for reasons you may have already considered. The differences in mid-tier and premium-tier models become more apparent later in the article, but what about some of the less tangible issues? Are you just paying for the name?
If you've searched homes for sale lately, you'll notice one of the things realtors use in home listings now are phrases like "new Trane AC" or "new Lennox air conditioner".
Rarely do you see; "new Goodman AC" or "new York air conditioner". Instead they just say "new air conditioner".
So, there's a consumer perception that names like Carrier, Bosch, Lennox, and Trane are more premium or desirable than Goodman, York, or Ruud, whether it is based on real data or not.
Since the title of this article is, Is Trane Worth the Extra Money? – even in the entry-level tier, it just might be when you consider this fact.
Other things to consider:
How much is selling your home in 5-days vs. 45 days' worth to you?
How much is a failure rate of under 5% compared to a failure rate of 10% worth to you?
How much is a unit that lasts 15-years vs. a unit that lasts 10-years' worth to you?
Mid and High-Efficiency – Where Trane AC Units Start to Rise Above the Rest
Trane Mid-Level Air Conditioners & Heating Systems (Better)
When I think about the "better" tier of comfort systems or any other consumer product, I think about products that offer a lot of bang for the buck. I'm talking about equipment that's not the most efficient, but fairly high efficiency, not the most feature rich, but with plenty of worthwhile features, not the quietest unit on the market, but pretty darn quiet, etc.
This is where we start to see the cream rise to the top, and by cream, I mean Trane for one.
You'd be hard pressed to find a major air conditioning brand that doesn't make a 16 to 18 SEER air conditioner or have at least one model with a 2-stage compressor, variable speed blower motor, etc. – but put most of them physically side by side with a Trane unit and you start to see the differences pretty quickly.
Aside from the Climatuff compressor, you start to recognize the devil is in the details (or lack thereof in some brands). Even physically shaking the machine itself, you can feel the Trane unit is going to remain a much sturdier machine than most over the course of time.
In my opinion, Trane only has a few competitors when we start talking about "better" HVAC systems. In recent years, my opinion is Bosch and Lennox are Trane's fiercest competition.
Lots of small details like Teflon coated screws that help prevent rust (so they won't loosen up and cause rattling noises), to fully accessible condenser coils so a service technician can really get to all the nooks and crannies for cleaning (meaning less loss of efficiency over time), and so on, are details that add to the quality and value of Trane many of their competitors are lacking.
Trane builds a stout machine that is clearly well engineered and as I've witnessed with my own eyes after multiple visits to the factories they build them in…well tested.
The HVAC Brands I Personally Own
For what it's worth, I own several properties (both commercial and residential), of seven total air conditioning and heating units, I personally own three brands. I own 1 Trane system , 4 Lennox systems, and 2 Mitsubishi systems. On the Magic Touch office building in Mesa, AZ., 1 Trane & 2 Lennox units will need replacing soon as they're getting old. The remainder of the building is conditioned by a multi-zone Mitsubishi mini-split heat pump. The 3 units needing replacement soon are all heat pumps and frankly, there are several brands that offer a better value than Trane in this category in my opinion. I'm not just a contractor, I'm a business owner and a consumer too, so I like everyone reading this want the best value for the least money. That said, I'll most likely replace all three with Bosch or Lennox as the Trane price premium isn't justified in this category anymore.
Granted, I do this for a living so I purchase my equipment at wholesale contractor cost, but – most brands would gladly give me equipment for personal use just to get their foot in the door with Magic Touch Mechanical. Breakdowns, noise, and short-lived units are things I don't want for myself either so I buy the peace of mind these brands offer me.
Speaking of practicing what I preach, it's probably also worth noting that all of my residential equipment is the "best" tier models. Don't get me wrong, there are circumstances where I will recommend a base model, but if someone is going to be living in the home for a while, and budget allows, the case can usually be made why the homeowner and residents will be happier with a "better" or "best" model air conditioner and heating unit.
It's also worth mentioning, I'm talking specifically about conventional central air conditioners and heaters in this article. If we were discussing ductless air conditioners or VRF (variable refrigerant flow) units, we would be discussing Mitsubishi (who ironically recently announced a joint venture partnership with Trane).
Trane Premium-Level Air Conditioners & Heating Systems (Best)
When we are discussing the "ultimate" air conditioners, furnaces, and heat pumps; 18+ SEER units with variable speed inverter compressors, fully-communicating systems, Wi-Fi controls, ultra-quiet, etc. – Trane takes one of the top spots with models like the XV20i.
To be fair, the XP25 (heat pump) and XC25 (split gas/electric) from Lennox are an equal match for the XV20i with some features, even besting Trane in a few areas. However, there are a few features and capabilities in the Trane unit nobody can touch…and I mean nobody. Lennox, Carrier, York, Goodman, Rheem, Maytag – all take a back seat to this model in some categories.
Update: The Lennox SL28XCV released in 2021 is now far and away the class leader in efficiency (as high as 28 SEER). Additionally, all Bosch models are quieter than Trane's premium models in the same class (variable speed inverter class). A lot has changed since 2018 when this article was originally written and Trane has fallen behind the competition in several categories.
Quiet– At this level, quiet is an understatement. Trane's premium models are extremely quiet. (Update 2021 – while the premium Trane models are still very quiet, that attribute is shared by several competitors now that are as quiet or quieter)
Comfort– Trane's variable speed inverter driven compressor can maintain room by room temperatures in your home to within one-half of one degree of your temperature setting…seriously. This is true of most inverter driven variable speed systems today.
Efficiency– Only Lennox can claim higher efficiency ratings with the XP25 and XC25, but the Trane is no slouch in this area, and far and away more efficient than the majority of their competition. (Update 2021 – The Lennox SL28XCV has taken the top spot for the world's most efficient A/C with SEER ratings up to 28.00)
So…Is Trane Worth It & Is It Worth… Extra Money?
As I stated earlier, I personally own several brands of air conditioners and Trane is one of them. In years past I've owned several… and there was a point in time when I only bought Trane. When I originally wrote this article, my answer was yes, Trane is worth the extra money. Unfortunately for Trane, in 2021 I have to change that answer (in some situations). As you can see with all the 2021 updates, a lot has changed in the 3-years since I wrote this article. Mainly, several brands have either caught up to or surpassed Trane in the categories we discussed. Lennox is making significantly more efficient systems, Bosch is making quieter systems (that cost as much as $5,000 less than Trane), and Mitsubishi (now under the same company umbrella) now makes a superior replacement. So, a few years later, the tides have shifted and Trane is falling behind in my opinion – frankly there are better "values" on the market in 2021.
That said, you'd be far better off with Trane than many of their competitors in my opinion. It really depends on the system type, application, model and who you're comparing them to. Scenarios and applications do exist where Trane may be your best bet. However, in the vast majority of applications there are a number of competitive models that offer similar features and stats for less money… some far less money.
Verdict: In 2018 I said – yes, Trane is worth the extra money.In 2021, I say maybe not.
If efficiency is the most important to you than no – there's more efficient competitive models in the same price range.
If quiet is the most important to you than perhaps? Several Trane models are VERY quiet – but there's quieter competitive models.
If overall bang-for-the-buck is most important to you (combining cost, efficiency, sound rating, warranty, support, etc.) then hard no. Trane can cost as much as $5,000 more than equally viable options in some classes (specifically mid to top-tier classes). Again, Magic Touch has been recommending and installing Trane for 20-years and still do. I'm by no means saying don't buy Trane – they make a great product and have exceptional reliability for the most part. Some of my closest friends in the industry are longtime Trane employees so I know the caliber of their people. This article is strictly about; is that name and reliability worth MORE money, not is it good or bad. In 2018, compared to their competition I said yes, the price difference was worth it, in 2021 I say no (in most cases), perhaps in a few years it will shift again!
Lastly, this is my opinion based on 34-years experience and current model offerings. For many years I purchased mostly Ford trucks, now I own a GM. Would I buy another Ford? I sure would. At the time I bought my latest truck, the GM offered more bang for the buck for the features and benefits I wanted. Perhaps in a few years when I need a new one the tides will have shifted again!
Buying a new A/C & Heating System? You may also like:
The Best New AC Unit – A Complete Guide
Is Variable Speed AC Worth the Money?
How Much Does a New AC Unit Cost?
Sours: https://www.airconditioningarizona.com/is-trane-ac-worth-the-extra-money/
Trane vs Goodman: an air conditioner comparison guide
Do you like this article?
Quality Services
Where do you need services?
What service do you need?
Which service are you interested in?
Get up to 3 estimates for FREE!
Provide your contact information to compare estimates from top professionals in your area
By submitting my information, I agree to the Terms of Use and Privacy Policy and authorize Buyerlink and home improvement companies, including Improvenet, CraftJack, HomeAdvisor, their contractors, partners and affiliates to contact me with offers about their products or services by telephone calls, emails, artificial voice, and pre-recorded/text messages, using an automated telephone technology, to the number and email I provided above, even if my number is a mobile number or is currently listed on any state, federal or corporate Do Not Call list. I understand that my consent here is not a condition of purchase. Message and data rates may apply.
Enter Project Details (Required)
Please complete this last step to receive your contractor estimates
Got It! We'll get you connected with a local pro ASAP.
Thank you for allowing QualitySmith to assist you. Come back and see us again soon!
If you're looking for a new air conditioner, comparing Trane vs Goodman is a smart choice. Both home improvement companies have been providing high-quality products to homeowners for decades.
Before you install an air conditioner, you should speak with a contractor who specializes in the HVAC market. Reply! can help you find a contractor in your area that will give you an air conditioner estimate, as well as give you a good idea of what the air conditioner prices and installation fees will be.
What is a SEER rating and what does it mean to you?
SEER stands for Seasonal Energy Efficiency Ratio. It's a measure of the efficiency of an air conditioning unit. It can be a good benchmark to start from, but there is a reason to be cautious about making it the focal point of your decision.
These ratings are derived by looking at how much cooling an air conditioner does per unit of energy. The problem is that these tests are run at 82℉. Every air conditioner becomes much less efficient when the outside temperature becomes 90-95℉.
Look at the SEER rating, but also look at warranties, durability, and the overall reputation of the company. It would be better to have an air conditioner that runs for decades and is a bit less efficient than one that lasts 7 years, but saved you a bit of power.
Trane air conditioners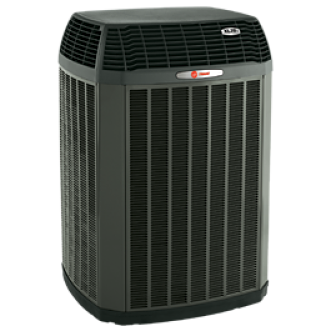 Trane has been serving customers for over 100 years. Since that time, the company has introduced a wide range of air conditioners to the market, with a range of sizes and features.
Trane specializes in creating air conditioners that are energy efficient. Trane's XL20i unit has a 20 SEER rating, making it one of the most energy-efficient cooling units in the AC industry. Trane has models that have lower SEER ratings, and although these units are not as energy efficient as the XL20i, they're extremely durable and designed to last for many decades.
Trane XL20i Air Conditioner
The energy-efficient models are the most expensive units offered by Trane, but customers willingly pay whatever cost necessary to own energy-efficient units because it enables them to save money on their utility bills.
Connect with a contractor and ask about Trane vs Goodman air conditioners!
Related resources:
Goodman air conditioners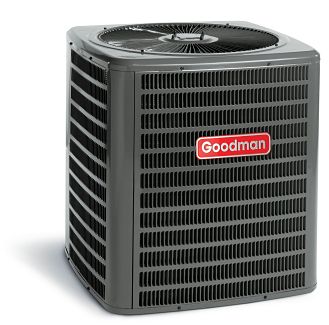 Goodman has been serving the home improvement industry since 1982. The company manufactures six air-conditioning units, with SEER ratings ranging from 13 to 18.
Goodman is known for providing durable units that are less expensive than similar units offered by the competition. They've succeeded in creating cooling units that are reasonably priced and highly efficient, which is why the Goodman name is known throughout the heating and air-conditioning industry.
Goodman SSX16 Air Conditioner
Goodman is also recognized for having some of the most durable and long-lasting miniature cooling units in the industry. These extra-small units can be placed on countertops, shelves or in enclosed spaces that heat up very quickly. They work with a remote control and have the ability to cool a very large space. 
When comparing Trane vs. Goodman, it's important to note that both companies offer extensive warranties. Your Trane vs. Goodman research will reveal that each company offers a limited warranty for up to 10 years, You can extend the warranty if you choose. These warranties include parts and labor, which is an added benefit.
Both companies also have units that are specifically designed to improve the overall quality of your indoor air. The units reduce indoor allergens, pet dander, dust mites and other pollutants. 
If you need more information or want to do a more extensive Trane vs Goodman comparison, search Reply! for a contractor who's familiar with both brands. You can also visit a local hardware store that carries Trane and Goodman products.

Sours: https://www.qualitysmith.com/
Best Air Conditioner Brands
Frequently Asked Questions
Do air conditioner brands really matter?
When installing a new central AC unit, top air conditioner brands and associated costs can be an important decision factor. Brands usually can offer a price point to fit any budget from low cost AC units to top performing units. Some brands offer extensive warranties, boast incredible customer support teams, and offer smart home technology for your new air conditioner.

It really depends on your budget and what you value the most in a new AC unit and the brand of it. Like most things, you get what you pay for and should plan your budget accordingly.
What is a good SEER rating for an AC unit?
A SEER rating indicates how energy efficient your new central AC unit will be. Higher SEER ratings can mean a higher initial price for the air conditioner itself and total installation, but you will save in the long run on energy bills.

The minimum SEER rating you can get is a 13 SEER AC unit. Most of the best air conditioner brands will have a SEER rating from 14 to 21. The highest energy efficient air conditioner can go up to a 26 SEER rating offered by high tier brands like Lennox and other best AC brands discussed on this page. Understanding the basics of SEER ratings will help you choose the right AC unit for your home and budget.
How do you find a reliable local AC contractor fast?
When you need to install a new central AC system, it can become an urgent situation if your home's temperature starts to become extremely cold or unpleasantly warm. Finding a reliable local AC contractor fast is possible.

The best strategy is to ask friends and family for recommendations. It is then smart to vet those contractors by using a service like Modernize to instantly compare multiple quotes from the top contractors.

We provide information on local service professionals along with their current Google business ratings, Better Business Bureau ratings, and even recent reviews from homeowners in your neighborhood who also completed HVAC projects with those same AC contractors that install the top AC brands. You can also use our HVAC contractor checklist to make sure you hire the right person for efficient and smooth run for your home project.
Can you negotiate AC installation costs?
Negotiating the costs of your air conditioner installation with your contractor is definitely possible. You should always have backup resources to justify the local costs in your area for a new AC unit. HVAC installation costs typically range from $3,500 to $7,525.

Homeowners can often reduce costs of the contract estimate and terms by getting multiple installation price quotes in their area. Homeowners can also leverage our HVAC cost calculator to get average local prices to use as a strategic negotiation tactic.
What is the average lifespan of a new AC unit?
A new air conditioner can last anywhere from 12 to 15 years. As your AC unit gets older it is smart to have annual HVAC checkups on your system by a service professional to make sure you get the most out of your new air conditioner. The best HVAC brands will last at least 15 years or longer if maintained properly throughout their lifespan.
Ready to get free quotes from local contractors?
Sours: https://modernize.com/hvac/best-air-conditioner-brands
What are the best central air conditioner brands to consider when replacing a system?
We should begin answering the question with another question – What makes an AC brand one of the best?
Characteristics of the Best Central Air Conditioner Brands
Here are five traits to look for in central air conditioner brands:
1). Quality Components
As a consumer, you understand that every product you shop for is available in a range of options: Basic, better and best.
This is true with automobiles, appliances and furniture. It is true with central air conditioners.
But this might surprise you – Many major brands use internal components made by the same part suppliers like Emerson, Carlyle and Copeland. The issue of internal components is discussed in the the section of Top AC brands Reviews below.
2). Durability
Well-known independent testing group Consumer Reports found that the average central air conditioner repair was more than $200 per event. Good air conditioners break down less over the 14-20 years most last, so that's fewer $200+ repair bills.
3). Good Warranties
A warranty lets you know what the manufacturer thinks of its equipment. The best 2019 central AC brands have general parts warranties of at least 10 years. Some offer longer coverage or extra advantages that put them among the best warranties in the industry. These issues are also discussed in the brand reviews below.
4). Value
Did you know that most Carrier and Heil ACs are nearly identical? But Carrier air conditioners are priced significantly higher. So, which is a better value? Heil, of course. That's what we mean by value, and it is discussed on a brand-by-brand basis in the top air conditioner brand reviews.
5). A Proven Installer
What does the AC mechanic have to do with the brands? Simply this: The quality of the installation is at least as important as the brand.
One owner of a large heating and air conditioning company said this based on his 20+ years of experience: "Premature failure of components is almost always the result of improper installation. There is a right way, and there is a wrong way."
We revisit the topic of proper installation at the end with tips for finding a proven installer to ensure you get the best durability and efficiency from your new central air conditioner.
2021 Best Central Air Conditioner Brands
Heil
Goodman
Daikin
Bryant/Carrier
American Standard/Trane
Maytag
Mitsubishi
York
These 8 brands best combine the traits above. See their scores in each category and total scores in this table.
Brand
Components
Durability
Warranty
Price/Value
Total Score
Max Efficiency
Heil
Excellent
18-22 years
Very Good
Excellent
11
19 SEER
Goodman
Very Good
15-20 years
Excellent
Excellent
10
19 SEER
Daikin
Excellent
18-22 years
Very Good
Very Good
10
23 SEER
Maytag
Excellent
18-22 years
Very Good
Very Good
10
20 SEER
Bryant/
Carrier
Excellent
18-22 years
Good
Very Good
9
21 SEER
American Standard/
Trane
Excellent
18-22 years
Good
Very Good
9
22 SEER
Mitsubishi
Excellent
18-22 years
Good
Very Good
9
21 SEER
York
Very Good
15-20 years
Very Good
Very Good
8
20 SEER
Excellent & 18-22 years = 3 points
Very Good & 15-20 years = 2 points
Good = 1 point
Here is a closer look at each of the best AC brands.
#1 Heil
Heil central air conditioners do well in all categories, so top our list of best AC brands. They are very similar to Carrier models, as we explain below, but cost less.
They are priced below Carrier and Bryant to attract budget-oriented consumers.
Components
Heil mostly uses universal parts including highly rated Copeland compressors. Components are top of the line, and if there is a need for repair, parts are readily available.
Warranty
The general parts warranty is 10 years, and that qualifies only as a Good rating.
What boosts the overall score to Very Good is the Heil unit replacement warranty. Called a No Hassle warranty, it provides for the replacement of the entire air conditioner if the compressor or coil fails.
The No Hassle warranty ranges from 1 year to 10 years on top models.
Model Options
Heil makes a complete line of central air conditioners from 14 to 19 SEER. Single-stage, two-stage and a five-stage model are offered.
Features range from quite basic in less efficient models to advanced options like communicating technology and WiFi connectivity in the top models.
Notes: Heil is a brand owned by International Comfort Products (ICP), which makes identical brands Day & Night, Tempstar, Arcoaire, Keeprite and Comfortmaker. The sister brands have the same score as Heil.
Additionally, ICP is owned by Carrier's parent company, UTC. The components in ICP and Carrier/Bryant air conditioners are mostly the same. But Heil costs less and has better warranties, so ranks higher.
Get Local Heil Costs
#2 Goodman
Goodman was known for decades as cheap equipment with great warranties. The low cost and excellent warranty made the brand very popular. However, the brand had a reputation for mechanical failure. Those days are over.
In 2012, Daikin bought Goodman to get into the North American residential market. Quality has improved significantly. Warranties aren't quite as good as they were, but they remain the best in the industry. Goodman is still among the most affordable air conditioner brands.
Components
Goodman also uses many universal parts like Copeland compressors. This includes the Ultratech, perhaps the most popular compressor in heating and air conditioning.
Goodman makes proprietary coils that are good but not great, so the total rating for components is only Very Good and durability might suffer.
Warranty
The compressors in many models have a lifetime warranty. This includes replacement of the entire AC in the first 10 years if the compressor fails. All other parts are covered for 10 years.
Model Options
Daikin streamlined Goodman's lineup to 5 air conditioners from 14 to 19 SEER. Single-stage and two-stage models give you a performance choice.
Features include the new ComfortBridge communicating technology that can be installed in the split system's furnace. It uses algorithms to optimize efficiency and performance. However, before you purchase a communicating technology option from any brand, see our review of it.
Notes:Daikin and Amana central air conditioners are identical to Goodman ACs, but the cost is slightly higher and the warranties aren't quite as good.
Goodman remains the low-cost leader of the group, marketed to homeowners that want value and won't pay higher prices regardless of the brand.
Get Local Goodman Costs
#3 Daikin
Daikin is one of the world's largest manufacturers of heating and cooling equipment. Rather than develop its own products for the North American market, Daikin acquired Goodman.
While keeping the Goodman brand, it also branded the same equipment as Daikin. The lines are identical except for Daikin's best AC, the DX20VC.
Daikin also makes a complete line of ductless, mini split air conditioners and indoor units.
Components
Like Goodman, Daikin uses quality parts. The DX20VC is the only unique Daikin model. It employs a Daikin inverter-type compressor that modulates are variable speed. This is the technology used in mini split system air conditioners.
Warranty
The 12-year parts warranty is better than the industry average. But there isn't any unit replacement warranty. The compressor warranty is just 12 years too.
Model Options
In standard split systems, 8 models from 14 to 23 SEER and single-stage to inverter-driven are available.
Notes: Daikin does not yet use ComfortBridge communicating technology. The older ComfortNet option is available.
Get Local Daikin Costs
#4 Maytag
Maytag and its sister brands are among the most overlooked in the industry. They deliver an appealing blend of benefits.
Components
Maytag uses mostly high-quality universal components. You won't have to wait on repair parts if needed.
Warranty
You'll be covered for 12 years on all parts. If the compressor fails during those 12 years, Maytag will replace the whole AC.
Model Options
Seven models are enough to cover the ground from single-stage 14 SEER models to 20 SEER air conditioners with variable-capacity inverter cooling.
Notes:Maytag is owned by Nortek Global, a worldwide HVAC manufacturer. Nortek Global makes several other brands that are identical to Maytag: NuTone, Broan and Frigidaire. Nortek has retired Tappan and Westinghouse brands.
Get Local Maytag Costs
#5 Carrier/Bryant
Carrier is the most recognizable name in air conditioning. The brand and Bryant are owned by United Technologies Corporation (UTC). Most Bryant AC models are identical to Carrier.
Cost is about the same too. That is why we list them together rather than separating them like Heil.
The concern about cost is that Carrier and Bryant have some of the highest price tags in the industry. The quality is excellent, so durability is very reliable. Plus, the brands require installers to certified. This means that proper installation is more likely.
Components
Bryant and Carrier air conditioners are built with the best parts available. Copeland compressors are used in most models. You pay a higher price, and you get a superior product.
Warranty
Carrier and Bryant offer a mediocre 10-year parts warranty. There are no AC replacement warranties. You can buy an extended warranty, but we do not recommend them for these reasons.
Model Options
Carrier was the first major brand to offer variable-speed air conditioners. That technology has been improved, so Carrier and Bryant variable-capacity models are among the most reliable.
The brands also offer one of the best selections of single-stage and two-stage central air conditioners.
Notes:ICP brands including Heil and Day & Night are very similar to Carrier and Bryant models and cost less. That potentially equals better value. We say "potentially" for this reason: Carrier requires that their products be installed by factory-trained and certified contractors. The ICP brands are less choosy about who installs their products.
The point is that you might get better installation with Carrier than with the other brands. Proper installation and the quality of the components are the two main factors in central air conditioner durability.
Get Local Costs
#6 Trane/American Standard
If reliability is your top priority when buying a central air conditioner, then these are your brands. They are built with quality parts and are installed by factory-certified technicians.
The downside is higher cost and so-so warranties.
Components
These brands build their own compressors, called Climatuff, and their own "Spine Fin" coils. The coils are among the most unique in the industry. The pros and cons of Trane coils are discussed in our Trane AC Price and Buying Guide. They should be reviewed before buying a Trane or American Standard central AC.
Warranty
The brands offer a 12-year compressor warranty and 10-year general parts warranty. It's slightly better than the industry average.
Model Options
There are 9 models from 14.5 to 22 SEER, single-stage through variable capacity. The brands make a compact model too, which fits nicely where space is limited.
Notes:Ingersoll-Rand owns the Trane and American Standard brands. The brand models and costs are nearly identical.
Get Local Trane Costs
#7 Mitsubishi
Mitsubishi is a top-rated mini-split/ductless air conditioner manufacturer. The brand produces one of the largest selections of outdoor and indoor mini-split systems.
If your home doesn't have ductwork or if you're building a new home or addition, then a ductless system is worth considering.
Components
Because Mitsubishi manufactures its systems overseas, it is more difficult to research the origin of the parts. However, it is clear from reliability data that Mitsubishi uses high-quality, reliable components.
Warranty
12 years on the compressor and 10 years on other parts is better than average for the mini-split market.
Model Options
Single zone and multi-zone systems with a wide range of indoor units are available.
Note:Our Mitsubishi Buying Guide has comprehensive details about options and costs. Ductless systems eliminate the need of ductwork, which costs $1,500 to more than $4,000 depending on the size and shape of your home. That's their advantage.
The disadvantage is that most ductless systems require two to eight indoor units, each with its own installation cost. Total cost for the system can be higher than for a ducted split HVAC system.
Get Local Mitsubishi Costs
#8 York
ork and other Johnson Controls brands have had issues with quality and reliability. The problem has been with their micro-channel coil that was prone to leaking.
However, since upgrades were made in recent years, leaks have decreased and durability has improved.
Components
York uses mostly universal parts except for coils. Problem with leaking coils was the major reason to avoid York in the past.
Whether the upgrades have been effective won't be known for a few years, but indications are that York has fixed leaking issues.
Warranty
The Affinity line, York's best, offers a lifetime compressor warranty and 10 years on all other parts.
Model Options
York makes ACs in 13 SEER to 20 SEER efficiency. Single-stage, two-stage and variable-capacity air conditioners are offered.
Notes:York, Luxaire, Coleman and Champion are brands owned by Johnson Controls. Their models are identical to York's.
Get Local York Costs
What About Lennox?
Lennox is the elephant in the room because it's a name everyone knows. But it doesn't make the list.
Here is our explanation.
Lennox makes the most efficient central air conditioners available. We review them in our Lennox AC Price and Buying Guide.
The brand uses mostly Lennox proprietary parts. This is a disadvantage that keeps it off our list.
First, the durability of Lennox parts isn't better than the durability of universal parts. Some HVAC professionals suggest Lennox parts are inferior.
Secondly, the parts can be hard to get. If your AC is down during a sweltering summer heat wave, do you want immediate repair (or a day wait at most), or are you willing to wait up to a week for repairs? Supply chain issues with Lennox have been improved, but there are still problems that might delay your repair.
What About Rheem and Ruud?
Rheem is a name most consumers know. Ruud isn't as widely known. The Rheem and Ruud central air conditioner models are exactly the same.
It has been publicized that these brands have a 2% to 4% worse durability rating than average, which is small to begin with. The ratings are within the margin of error, so we are not convinced the brands are inferior. Ruud and Rheem air conditioners are built with many of the same components other top brands use including quality Copeland compressors. Coil design, the Achilles heel of many brands, has been improved.
Our recommendation is this: Don't shy away from Rheem and Ruud without getting estimates from local dealers. If properly installed, Ruud and Rheem air conditioners should prove quite durable.
Get Local Costs
What Difference Does Installation Make?
These best central AC brands are only as good as their installer. Consumers Report says these brands are nearly equal in reliability but the quality of the installation has a major impact on durability, efficiency and performance.
Some HVAC contractors harp on the importance of quality installation and then make a claim like, "And we're the only company in town that does it right."
That's a bit over the top, but you get it. "If you want it done right the first time, call us." That's more common.
If you read reviews on Google, Facebook, Yelp, the BBB, Angie's List or many others, you know that there is a wide range of quality out there. Some companies get close to 5-star ratings while others barely make 3 stars.
HVAC and specifically air conditioner installation is no different.
Not hiring an installer with a track record for excellence can lead to:
Efficiency levels lower than expected
Early mechanical failure
An installer you can trust will be:
1). Properly licensed and insured
Factory trained or have a technician training certification
Certified by the National Association of Technician Excellence
2). Trained, Certified and Experienced
Some companies employ well-trained and experienced installers. Others make their living by offering low costs, but to offer those low-ball estimates, they use poorly qualified installers.
Choosing a Qualified Air Conditioner Installer
Here's a 5-step plan to be sure your central air conditioner is installed by a technician that knows what they are doing.
Step 1 - Check Reviews of Local Contractors
Ask your contacts including friends and family for recommendations about heating and cooling companies.
Read reviews on Google, the BBB and other sites mentioned above.
Step 2 - Get 3-5 Local Estimates
Call 3-5 air conditioning companies. Set up appointments for agents to visit your home and give you estimates.
Step 3 - Check Qualification & Compare Costs
Choose the installer with a good blend of ratings and price. Make sure the crew that will install your central air conditioner has years of experience.
Step 4 - Make Your Choice
Make your choice based on installation experience, a reputation for good work and a fair price. This plan usually takes 2-3 weeks.


A Faster Approach
If your AC isn't working and you need immediate help, or you want to cut out the hassle, there's a faster way to find a qualified installer.
Our Free Local Quote Tool is quick and convenient. It is free, and you have NO obligation to accept any estimates offered.
Fill out a short form about what work you want done. It takes a few minutes.
Then your information is sent to pre-screened air conditioner installers in your area. They will respond with estimates for air conditioners and installation costs.
You can discuss air conditioner brands, models and prices. They should help you decide on a model with the right size and efficiency for your needs.
See our Central Air Conditioner Prices Guide for much more information on choosing the right efficiency AC and the right size unit for your home and climate.
Central Air Conditioner Cost
How much does a central air conditioner cost?
Fair prices for installed central air conditioning cost are $2,800 to more than $7,000. Most homeowners pay $2,600 to $4,500 based on these central air conditioning cost factors.
Here are recent examples from homeowners that shared their central AC installation costs with our PickHVAC and our readers:
https://www.pickhvac.com/central-air-conditioner/#Submitted_AC_Unit_Cost_and_Reviews
Cost of an Ameristar AC: A homeowner in Phoenix, AZ paid $4,100 for an Ameristar 3 ton (36,000 BTU) 16 SEER AC with a 10-year warranty. This is a fair price.
Cost of a Rheem AC: A 15 SEER Rheem AC was installed in a Miami home for $4,390. We're not sure of the size, but for the home's size (2,000 square feet) and warm Miami climate, it is probably 4 tons. This price seems fair.
But the next homeowner had a different experience.
Cost of a Lennox Elite AC: A homeowner in Chicago paid $6,150 for a Lennox Elite 4 ton (48,000 BTU) central AC. The unit was the right choice for Chicago's moderate/warm climate, but in our opinion, the price was too high.
This is an example of why we always encourage homeowners to get written estimates from several HVAC/AC installers in their area.
Cost Factors
1. AC Size – With units ranging from 1.5 tons, or 18,000 BTUs, up to 5.0 tons, or 60,000 BTUs, there is a wide range of capacity.
2. Brand – Goodman is the low-cost leader. Daikin owns Goodman. Its units are very similar but cost 35% more. It's similar with Day & Night, a brand almost identical to Carrier but with a price tag much lower. Both brands are owned by United Technologies Corporation. Why are similar ACs priced differently? To give consumers options. It's a marketing tool – nothing more, nothing less.
3. Efficiency – The least efficient central air conditioners from most brands are now 14 SEER or 15 SEER units, though a few still make 13 SEER air conditioners. The most efficient range from 19 to 25+ SEER depending on brand. Cost rises as efficiency goes up. In a hot climate, the higher cost of an energy efficient air conditioner will be recouped in 5-10 years through lower energy costs.
4. Performance – You have three options, single-stage, two-stage and variable capacity central air conditioners. These represent basic, better and best performance and indoor comfort control of temperature and humidity. Cost goes up significantly as performance increases.
There's a link between performance and efficiency too.
Single-stage ACs: 13-18 SEER
Two-stage ACs: 16-20 SEER
Variable-capacity ACs: 19-25+ SEER
All these important AC cost factors are discussed in greater detail in our Central AC Reviews and Buying Guide.
The Guide includes central air conditioner prices by brand and unit size plus the cost of AC installation. You might benefit from the section on costs submitted by homeowners. Their projects are explained along with the prices they paid.
Be aware that many extras can be included that aren't part of the unit and installation. These include UV germicidal lights, air purifiers, ventilators and changes/repairs to ductwork.
Central Air Conditioner FAQs
These units are also called split system air conditioners. Here are frequently asked central air conditioner questions and responses from our professional HVAC consultants.
How long does a central air conditioning unit last?
The average age when an AC is replaced is about 17 years. A central air conditioner lasts 15-20+ years based on these factors.
How heavily it is used. This is the most significant factor on central AC longevity. If you live in Arizona, plan on replacing your AC in 16-18 years. In Minnesota, a good-quality AC might last more than 20 years with regular maintenance.
Initial quality. Most AC manufacturers make basic, better and best models. For example, consider Carrier. It makes the Comfort Series (Basic), Performance Series (Better) and Infinity Series (Best).
How well it is maintained. The cost of maintenance – cleaning the coils and checking/repairing minor repairs – is an investment in the durability of your central air conditioner. But, if repairs start to build up, we recommend putting your money into a new condensing unit/indoor coil.
Top models are worth considering in very warm climates. In moderate and cool climates, it isn't worth paying more for "best" central air conditioners.
Should I repair or replace my old central air conditioner?
If your AC is under warranty – most are 10 years – then repairing it is usually the best approach. But be aware that while the new part will be provided at no charge, warranties do not cover labor.
Once your air conditioner is out of warranty, then AC replacement becomes a more attractive option. The most common reasons to replace rather than repair are:
Age & Repair History: The AC is 12+ years and has already needed repair
Performance & Efficiency: The AC is 10+ years and you want an air conditioner that is more efficient and/or has better performance. For example, in a warm climate, it is common to replace a single-stage, 14 SEER AC that is 12-15 years old even if it is in good condition, with something like a two-stage 16 SEER unit.
Moving soon? Then repairing the unit might be a more cost-effective option. If you think prospective buyers will be concerned about the age of the AC, here are a two options that might alleviate concerns:
Give them money back at closing to put toward a new unit.
Buy the new homeowner a 1-year to 3-year home warranty like this one (not affiliated with PickHVAC) that would cover replacement of the AC.
Should I replace the central ac and heater together?
If they are both 12+ years old, then we recommend replacing them together.
Many air conditioners and heaters/furnaces are designed to work together. For example, a two-stage AC is best served by a heater/air handler/furnace with a variable speed blower. The combination will allow you to maximize the dehumidification and precision temperature balance they offer.
If one of the units is significantly younger and in good condition and/or offers the performance you want, then replacing both isn't essential.
There are a lot of factors in this decision, so it is a question best answered by an HVAC pro that can inspect the current system and make a recommendation. Use our free service partner to get estimates and advice from three licensed, experienced pros in your area.
There is no cost or obligation, and you'll get answers to consider that are customized to your HVAC system and home's needs.
Want to replace your furnace together? You can also read our Best Furnace Brands.
What is the best time to buy central ac units?
Let's approach this from two angles.
Time of Year: Central air conditioners go on sale at the end of the cooling season and before harsh winter weather hits (if applicable to your area).
In the North, this period is mid-September through October. In the South, it's during the winter months.
Pre-emptively: This is the second option and also takes the time of year into account. We recommend replacing your central air conditioning system before it has the chance to break down on you during a really hot summer.
If the air conditioner is 15 years old or more and has already needed repairs, then consider buying a new unit. The replacement AC will be more reliable and come with a warranty. You'll also have options on models that are much more efficient, so summer cooling bills will be lower.
What is a best seer rating for central ac units?
It depends on two factors.
The first is where you live. The hotter the climate, the more efficient the air conditioner should be. Here are our suggestions based on this climate map.
Image Source: basc.pnnl.gov
Zones 1-3: 18 SEER or higher
Zones 4 & 5: 16-18 SEER
Zones 6 & 7: Up to 17 SEER
In the second scenario, SEER rating is secondary to performance. If, for example, you want the indoor comfort control and better dehumidification offered by a two-stage or variable capacity AC, then it will be a higher-SEER model.
2-stage ACs start at 16 SEER and range to 21 SEER
Variable capacity or modulating ACs range from 19-25+ SEER
See our Central Air Conditioner Reviews and Prices Buying Guide for complete information on AC performance and how it impacts indoor comfort.
When should I install a ductless air conditioner?
Mini split, ductless air conditioning systems are ideal for a couple settings:
1. Home additions – Your current central AC likely won't have enough cooling capacity to also serve the addition. Rather than install ductwork and a separate split system, a ductless AC will cost less to install.
2. Garage conversions /Attic conversions – Ductless systems are the #1 choice when turning a garage or attic into living space. Installation is simpler and less expensive than a ducted AC system.
3. Existing rooms that aren't well served – Are some rooms in your home warm all the time? These rooms are usually on the second floor and/or far from the home's air handler.
4. New home construction – Ductless systems are commonly used in new homes. Just keep in mind that any air conditioning system is most cost-effective when a single outdoor unit is used. If you need two outdoor units to serve the home when a single standard split system AC would be enough, then a traditional split system will cost less.
Still, it makes sense to get estimates for both types when building a home.
Is an air conditioner service agreement worth the money?
We recommend them for a few reasons.
First, your AC warranty might state that it is necessary to have your AC serviced in order to keep the warranty in effect. That's a surprise for most homeowners.
The Carrier (Bryant, Heil, Day & Night and many others) AC warranty reads, "Installation, use, care, and maintenance must be normal and in accordance with instructions contained in the Installation Instructions, Owner's Manual and Company's service information." We added the emphasis.
Maintenance requirements range from yearly to every 3 years. Know your warranty!
Secondly, having the AC serviced and cleaned will keep it running as efficiently as possible and might prevent significant mechanical failure. For example, if the unit is low on refrigerant, it will run inefficiently, be prone to freeze-ups and could lead to the death of the compressor.
What to look for in an AC service agreement: We like agreements that promise a discount on repairs (usually 10-15%) and priority status on repairs. That status means that if your AC breaks down in 90-degree weather, homeowners with a service agreement will be served ahead of those who don't.
Expect service agreements to cost $79 to $150 per year. Those with a higher cost usually have better perks. But it's worth shopping around.
My AC is making noise. What's wrong?
There are several potential issues. We've covered them in a post called Central AC/Heat Pump Repair Common Problems and Troubleshooting Guide 2021
Sours: https://www.pickhvac.com/central-air-conditioner/best-brands/
Ac vs trane goodman
I need to replace the HVAC system in my house due to cracked heat exchanger in original 18 year old Carrier system (compressor replaced 13 yrs ago with a Tempstar) in a 2100 sq ft ranch with 24 windows in Atlanta, GA area. I have quotes from two dealers so far. One Goodman, one Trane. I need to know if Trane is worth the extra money and thus which quote to pursue. Or if I it would be worth my while to get more. I'm leary of the Goodman, given what I've read on the Internet for reliability and customer service. I've checked local reviews of both dealers and with BBB and both look pretty good. Don't have any personal referals for either. I don't have all the part numbers but hope the info I have will be enough to help guide me to pursue or continue to search.
Goodman Quotes (no Manual J, just phyisical inspection - guessing sq ft of house, no discussion of duct sealing or anything else):

Option #1 - 13 seer 3.5 ton complete system R-410A with 80% 75,000 BTU furnace 5" filter media ($4,595.00, not eligible for tax credit). most similar to old system
Option #2 - 16 seer 3.5 ton complete system R-410A with 95% 75,00 BTU variable speed furnace, 5" filter media, includes running new copper pipe from inside unit to outside unit down ouside wall with decorative cover (I don't like this idea) ($6,535.00 less $1,500 tax credit = $5,035.00)).
Trane Quotes (Computeried Manual J completed showing 30% loss of efficiency - recommending 3.5 ton a/c system and variable speed, prices include proablably $2,000 of extras not included in Goodman quote including "touchpad" thermostat, duct sealing of $1,000, plus approx 15 new ceiling registers replacing wall registers that were used in ceiling.) Also includes one year maintenance (spring & fall checkup) - $176 value. Extensive measurements and drawings made of house layout. Assuming R-410A
Option #1 - XL15i for A/C and XV80 variable speed for heater. Equivalent to 16 SEER and 80% eff. I believe we figured 80,000 btu. Includes Aprilaire 5000 air cleaner (electronic? more expensive than Goodman quote?). Cost $10,766, less $300 rebate, less $1,500 tax credit = $8,966. Deduct additional items not included in Goodman of $2,000 would bring this down to $6,966 for comparison purposes).
Option #2 - Same as above but with equipment XL15i for A/C and XV95 for heater. Equivalent to 16 SEER and 95% eff.

Cost $12,103, less $300 rebate, less $1,500 tax credit = $10,303. Consider $2,000 of extras = $8,303 for comparison to Goodson units.
There, obviously, is a tremendous difference in immediate outlay of cash. We plan to stay in the house for the forseable future, but are on a limited budget for this. Before starting this search had never heard of Goodman. I'd like to get one of the Trane systems, but I'm just not sure I can justify the extra money. I do agree that the ducts need sealing and the registers need replacing. I suggested I could change out the registers myself, but rep indicated they'd sell those at cost, which I'll be reseaching. He also indicated I needed the thermostat that was designed for the Trane system as it was what hooked it all together. Does anyone have an opinion here? Thanks.
Sours: https://www.houzz.com/discussions/2428888/replacement-hvac-goodman-vs-trane
Goodman HVAC - Good and Bad. What's the pros and cons of Goodman Equipment vs other AC brands.
A Fair Heat Pump Comparison of Trane Vs Goodman
Trane XL20i Versus Goodman DSXC18 – Like System Vs. Like System
When comparing heat pumps and other air conditioning equipment one against the other, Arizona homeowners deserve real facts that offer frank product comparison data. No one wants to read a biased A/C battle report wherein one manufacturer is favored over the other merely because the installer has better connections with that specific heat pump manufacturer. Serious buyers look for a price-balanced honest report that details which HVAC system can best suit a given home environment, housing structure, and the buyer's budget.
This report offers Phoenix A/C buyers an accurate side-by-side Trane to Goodman heat pump comparison of similar models with similar features. We do not purpose to promote the cheapest model air conditioning system over the one with the most bells and whistles. Neither do we devalue the benefits of choosing a performance and convenience enhanced Arizona home heating and cooling product.
The following units are of similar quality and features. Perhaps this information will enable you to make an informed decision for your Phoenix regional home air conditioning purchase, replacement or upgrade.
Trane XL20i Versus Goodman DSXC18 – Choosing the Right Phoenix HVAC Contractor
From compressor work on a 1936 Chrysler Airtemp to servicing the environmental control system of an Airbus 380 commercial aircraft, workmanship is the core component for effective and reliable component installation and product repair. Hire a lousy A/C technician and your equipment may never function effectively. Get on an Airbus 380 that was serviced by a tech who lacks understanding of the A3XX ECS four-stage air cycle system, and you can expect some very unhappy results.
Likewise is the efficiency and reliability of your home Arizona HVAC equipment. Hire a half-trained heat pump installer and you can forget about brand name. Incorrectly installed heating and cooling equipment will not function efficiency or effectively. Furthermore, an incorrectly installed system may actually fail prematurely, forcing you to spend unnecessary dollars due to an early system replacement.
Quality HVAC contractors offer:
· Free Estimates
· 24-Hour Service
· Trained and Skilled Technicians
· Lifetime Warranty on Workmanship
· Support and Sales of All Brands of Air Conditioning and Heating Systems
· Broad Choice In Equipment and Equipment Options
· Evidence of Bonded, Insured and Licensed Qualifications
· Connections With National Quality Assurance HVAC Contractor Groups
· A Strong History of Proven Better Business Bureau Ratings
· Honest Sales
· Open Product Discussion
· AND Much, Much More.
To schedule your free Arizona heat pump installation product discussion and pricing estimate, contact American Cooling and Heating now.
Trane XL20i Versus Goodman DSXC18 – The Comparison
Let's start by taking a gander at the HVAC buying experience. It's much like buying a car wherein some salesmen tend to jockey for your business by leaving out small details of the final product. Likewise in the A/C business, buyers can select anything from a bare-bones heat pump with minimum performance to a unit that comes complete with an optional electronic air cleaner, a "smart" thermostat system, and a whole home humidifier. And for most homeowners, the salesman holds the key to efficiency at a reasonable price.
Furthermore, if you go for an energy-rated system while failing to correctly smart-match the air handler to the condenser, you can end up with less than you deserve. So when pricing your Phoenix air conditioning system, get the facts on paper, the model numbers in detail with all options listed, and exact features that will be included in your system. Don't save two hundred dollars on the low-bidder while getting shafted on the thermostat control system.
Point-By-Point Comparison of Goodman DSXC18 versus Trane XL20i.
External Communication provides system support for remote access to your air conditioning controls via dial-up modem. Both the Trane XL20i and the Goodman DSXC18 support this optional feature.
Humidity Control enables the fan on a heat pump or condensing unit to operate at a reduced speed. This feature helps the evaporator coil remove a greater amount of humidity from your home. The XL20i offers this feature via the Trane Comfort R™ controller. The DSXC18 comes back with Goodman's equally effective counterpart. For functionality, both units require that the condenser and the air handler install as a matched pair.
Two-Stage Cooling is offered with either system. The Trane XL20i ships with twin Trane Dual Climatuff® Compressors whereas the Goodman DSXC18 performs the same task via a single compressor running in a two-stage mode.
Charge Assist enables your technician to better ensure that your Phoenix home heat pump is right-charged for the most efficient performance. This feature is unique to the XL20i and may actually help the tech keep your system operating more efficiently.
Multi-Stage Fan enables more efficient operation of the system condenser fan motor and the system blower motor. Both Trane and Goodman offer compatible multi-stage fan/variable speed condenser and ECM blower motor controls.
Condenser Coil Construction comes in the Goodman as copper with aluminum fins whereas Trane includes the Two-row Spine Fin™ all aluminum system. Although either system is efficient, some techs favor all aluminum whereas other techs favor copper with aluminum fins.
SEER Ratings are defined in both systems as Energy Star, reaping up to 20 SEER for the Trane XL20i and up to 18 on the Goodman DSXC18. Ask your ACH tech to better define any further SEER differences in the units.
Enhanced Diagnostics can help an A/C technician more quickly identify an existing problem. However just as with the computer system in an automobile, an HVAC enhanced diagnostics system has limitations. Goodman lists this feature as a unique-to-Goodman value. However, as an Arizona homeowner you should focus more on the skills of the tech and less on the diagnostics features of the system.
System Warranties differ only slightly between the two units. Both Trane and Goodman offer a 10-year warranty. However Trane defines that warranty as 10-years parts/coil whereas Goodman defines that warranty as 10-years parts. Not much real distinction here. One point to notice: Trane warrants the XL20i compressor for 12 years limited whereas Goodman warrants the DSXC18 compressor with a Lifetime limited warranty. Again, wording in this area seems a bit cluttered. Suffice to say that both companies offer outstanding product support and warranty. Most important component of an HVAC warranty: the skill of the Arizona A/C installer.
Common Components includes use of R-410A refrigerant, weather resistant cabinet structure, and a product that is engineered for quiet operation. Trane steps a bit ahead by offering the DuraTuff™ Rust Proof base pan but don't count that as a sale-buster.
Conclusion, Trane XL20i Or Goodman DSXC18
In basic features, performance and efficiency either of these units make for a great and comparable buy. In either unit, a buyer can find some features that are unique to that unit. However, your final decision should be based upon finding a great Phoenix HVAC tech who will guild you into the best buy for your home environment, housing structure, and buying budget. Installation prices vary and can be affected by the structure of your home as well as the sense of expertise that the installer has with a given unit. But remember this: Professional Arizona HVAC service techs are trained and skilled with all makes and models of home heating and cooling equipment.
Sours: https://www.americancoolingandheating.com/2015/11/13/arizona-commercial-air-conditioning-hvac/a-fair-heat-pump-comparison-of-trane-vs-goodman
You will also like:
ComfortBridge is Goodman's Hi-Tech connected control system, and Trane has the ComfortLink II smart system. Both are similar in nature, although there are some key differences between the two, which you can read more about in our Goodman and Trane brand reviews.
Factory-installed filter dryers and louvered coil guards are common features found on Goodman systems along with several other manufacturers in the market today. While both company's systems are well-built, you can get extra protection on some models from Trane with their WeatherGuard top. Overall, you'll find a few more flagship features from Trane as Goodman's units are rather basic.
Variable Speed Air Conditioning Systems
Variable-speed air conditioning systems are ideal when you want total control over the comfort in your home. Most manufacturers have at least a few units with a variable-speed compressor, and this is an area where Trane is the clear winner. You'll find two variable speed systems from Trane, with the XV20i, and the XV18.
Both of these units are available in 2, 3, 4, and 5-ton capacities and rated at 22 and 18 SEER respectively. These Energy Star qualified systems have variable speed inverter compressors, ComfortLink 2 capabilities and feature all of the company's top features. As for Goodman and their variable speed systems, at this time, there aren't any, which means you'll need to drop down to the next tier for Goodman's first system.
Two-Stage Air Conditioning Systems
The companies are a little more comparable in this class. Both Trane and Goodman have two-stage air conditioning systems, all of which have the same SEER rating. The Trane XL18i is rated at 18 SEER with a WeatherGuard top and Climatuff(exclusive) two-stage compressor. It's the equivalent from a SEER standpoint of the GSXC18 from Goodman.
This system is rated at 19 SEER with ComfortBridge technology, so it's smarter and slightly more powerful than Trane's two-stage system. It has a Copeland Ultratech scroll compressor and all the companies' top-tier features as well. The Goodman GSXC16 has the same set of features but a slightly lower rating of 17 SEER.
That system is in-line with the Trane XR17 on paper aside from a few bells & whistles and smart controls. At this tier, Goodman has an advantage but only because this is their premium-class, considering they don't have variable speed systems. Trane also has a 3-phase variant of the XR17 in this class as well.
Single-Stage Air Conditioning Systems
With single-stage AC units, it's close when you exclude the 3-phase and low-profile variants from Trane. The budget-friendly models from Goodman are the GSX16, GSX14, and GSX13, while Trane has the XR16, XR14, and the X13. Most units from both brands have a slightly higher SEER rating then their names imply but are otherwise very similar.
Trane, however, has several variants available, including the svelte XR16 Low Profile and the XR16i with a protective top. You can also purchase 3-phase variants of the XR13 and XR14. Trane has an advantage in size as well considering all their single-stage units are sized from 1.5 to 5 tons while Goodman's units are not offered in as high of a capacity.
Pricing & Availability
By now, you may be wondering why we are even comparing Goodman and Trane at all. Well, this is where the two Brands begin to really separate themselves as Goodman air conditioning systems are widely considered to be budget-friendly, and the same cannot be said for Trane.
Not taking into account the installation, Goodman's systems are typically anywhere between $200 to $600 cheaper with their basic systems. The difference is a little more pronounced with two-stage systems, although it's impossible to compare variable speed units for obvious reasons. In a nutshell, you're going to pay more for any unit that carries Trane branding compared to Goodman.
Goodman also has an edge when it comes to general availability, although neither brand will be hard for you to find locally. Goodman AC units can be sold to contractors, homeowners, and distributors, whereas Trane is much more selective about who distributes, installs, and sells its products. Just how selective can vary by region, however.
Warranty Program
Trane has a tiered warranty program like most manufacturers in the industry. That means coverage will vary by the model number to a degree, so you'll get a slightly longer warranty with their variable speed compressors. The compressors and those units were guaranteed for 12 years while the rest of the parts are warrantied for 10. With other models, you can expect to have coverage for 10 years once you have properly registered your unit.
With Goodman, they take things a step further by providing consumers with a limited lifetime warranty on the compressor. Functional parts in their systems are guaranteed for 10 years, and you still have to register your product, just like with Trane. With both companies, you want to read the fine print in their policies, but overall we feel like Goodman has stronger coverage.
Verdict
Trane is a brand most associated with high-end units whereas Goodman has always been known to offer affordable air conditioning systems. Several of their AC units are actually fairly closing price at the lower tiers, but you obviously won't get as many features or a variable-speed compressor if you decide to go with Goodman. If you aren't concerned with having a smart system or don't need an unit with a high SEER rating than Goodman is a brand you will definitely want to keep in mind.
Sours: https://www.newairconditionerprices.com/goodman-vs-trane-ac/
5252
5253
5254
5255
5256