1982 Chevy C10 - Black Widow
Driving the Wheels Off an American Classic
Chevrolet C10 Full Overview
If the name Jose Peña sounds familiar, it's because he is the builder and owner of the 680 hp Silverado found on the cover of Issue 6, and he's also the builder and owner of this "King Lip" C10. Much like its newer counterpart in Issue 6, Jose's '82 C10 is subtle, with no wild graphics, over-the-top interior, or crazy sound system. The comparisons continue once you pop the hood and see a supercharged LS between the framerails, but the trucks become very different once you find out the inside story on his 30-year-old Chevy.
You see Jose's square-body has led several lives, one of which was as a work truck, but most recently, the '82 C10 was better known as Moving Violation—a 10-second show truck with a bug catcher sticking through the burgundy hood and 20-inch M/T meats out back. As the owner of Drops 'R Us, in Houston, Jose is immersed in the hot-right-now custom truck trends, and with truck after truck coming in for big wheels, he made the decision to tear down his perfectly good show truck. In the process, he brought his C10 into the 21st century, and proved trucks leaving his shop will never fit the status quo.
An order was placed for 22-inch Intro Gallup wheels for the front fenders, and out back, massive 24x15 billets would take the place of the 20s. To make the square-body lay out, Jose had to fabricate his own A-arms, and he then installed Firestone airbags, QA1 shocks, along with 14-inch Wilwood big brakes. Out back, the ladder bar and Firestone sleeved airbag setup was retained, but new Ride Tech adjustable shocks were bolted to the narrowed 12-bolt rearend with 4.30 gears. With the 15-inch-wide wheels slapped onto the axle and the air out the 'bags, the C10 had a completely new look, but that was just phase one.
Looking at the scoop protruding through the hood, Jose yanked the old carbureted big-block and slapped in a 6.0L from a new Silverado Vortec Max for some fuel-injected fury. That LS engine received a new Comp cam, head porting and polishing, and to really make some power, a 2.9L Whipple supercharger. Tuning was handled by Jake Brown of Brownspeed in Houston, for a painless plug-and-play install. Hitting the throttle brings to life more than 600 hp and enough tire smoke to startle the local fire department. Dressing things up under the hood, a billet serpentine setup from March looks great, while polished valve covers, a billet Wilwood master cylinder, and relocating the ignition coils behind the motor mounts really made the engine bay look clean.
Driving the truck to Rhea's Chevy, in Humble, Texas, the guys filled their paint guns with PPG Black and forever changed the attitude of the square-body classic. A 3-inch cowl hood replaced the cutout piece, while an original '82 grille and rear bumper bring back the off-the-dealer-lot look. Inside the C10, Jose went for a hot-rod appeal, rather than the race-style that previously adorned the Chevy. Arjonas Upholstery in Pasadena, Texas, wrapped a new bench seat in grey leather and suede, swapped in black carpet, and covered the dash with matching leather. New Dakota Digital gauges fill the stock cluster, and a one-off steering wheel and Lokar shifter handle turning and gear selection chores respectively. For those hot summer months, Jose installed a Vintage Air A/C .
Talking with Jose, he told us, "During the very first test drive I took it out on the interstate and it did 150 mph and ran great." You gotta love a man never satisfied with the status quo and with an insatiable need for speed. This black widow packs a nasty bite.
---
Inside the Build

Year Make Model: 1982 Chevy C10
Owner and City/State: Jose Peña • Pasadena, Texas
Engine:
Type: 6.0L Vortec Max
Heads: Polished
Cam: Comp .568 lift at 112LSA
Induction: Whipple 2.9L supercharger
Exhaust: Doug Thorley ceramic-coated headers with MagnaFlow mufflers
Cooling: Electric fans
Fuel System: Aeromotive fuel cell and 42 lb/hr injectors
Ignition: COP relocated to back side of motor mounts, MSD wires
Engine Management: Jake Brown at Brownspeed
Output: 605 hp and 588 lb-ft
Built by: Drops 'R Us • Houston, Texas
Drivetrain:
Transmission: 4L65E with 3,400-stall by Noe's Transmission
Heads: Narrowed 12-bolt with 4.30 gears
Chassis:
Front suspension: McGaughy's drop spindles, custom A-arms, Firestone airbags, QA1 shocks
Rear suspension: One-off ladder bar setup with Firestone 'bags and RideTech shocks
Brakes: Willwood 14-inch rotors with six-piston calipers
Wheels & Tires:
Wheels: 22x8.5 and 24x15 Intro Gallup
Tires: 265/30R22 and 405/25R24 Pirelli P-Zero
Looks good! More details?
THE LATEST IN CAR NEWS
EMAIL NEWSLETTER SIGN-UP!
Share on FacebookShare on Twitter
Sours: https://www.motortrend.com/reviews/1209tr-1982-chevy-c10-black-widow/
1982 Chevy C10 Silverado SWB
1982 Chevy C10 SWB: An all-new clean sheet redesign of General Motors' Chevrolet and GMC brand C/K-Series pickups débuted in mid-1972 for the 1973 model year. Development of the new third-generation trucks began in 1968 with vehicle components undergoing simulated testing on computers before the first prototype pickups were even built for real world testing. The redesign was revolutionary in appearance at the time, particularly the cab, departing from typical American pickup truck designs of the era. Aside from being near twins, the Chevrolet and GMC pickups looked like nothing else on the road. The third-generation trucks are colloquially known as the "Square-body" or "Box-body" generation.
We search the US daily for clean, mechanically sound, original Chevy trucks and are amazed at how few we find. When we located this very clean short bed Silverado here in south Texas, we jumped on the opportunity to purchase it. The first two years of these square bodies boasted the distinct vertical-slat grill that makes them immediately distinguishable from others. The original grille coupled with classic Navy Blue & Silver two-tone paint and original rally wheels make this C10 a true head-turner. This C10 has been restored but careful attention has been taken to keep it looking original. How often do you find these trucks that still have the original wax markings on the firewall they received going down the assembly line? Even better than its great looks is the drivability of this classic Chevy. It drives great, the a/c blows cold, and everything works like it should. We wouldn't hesitate to drive this truck from Texas to Alaska. Features and options include; 305 V8 (w/ESC), Auto, 2WD, A/C (all new), Spray-in Bedliner, Rubber Bed Mat, Chrome Mirrors & Bumpers, Chrome Bed Rails, Chrome Edelbrock Valve Covers, Cruise Control, Dual Exhaust, Dual Tanks, Power Steering & Brakes, Power Windows & Locks, Sliding Rear Window, Original AM/FM/Cassette Stereo, Tilt Steering, Tinted Glass, Tire Tools, Full Spare, 15" Rally Wheels, and Thick Michelin White Wall Tires! The industry experts at NADA already value this truck at $20,580 and Hagerty sits just a tad higher at $23,200. Each passing day these trucks become harder to find and are constantly increasing in value. Don't let this one slip away from you!
Sours: https://www.txclsx.com/index.php/product/1982-chevy-c10-swb/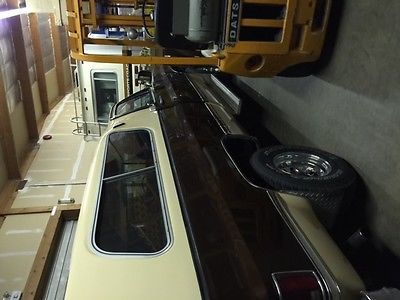 Chevrolet : C/K Pickup 1500 4WD 1/2-Ton Pickup 1982 chevy silverado k 10 4 wd diesel
$6,500
Sparks, Nevada
This 1982 Chevrolet Silverado represents a very good example of a classic 4WD 1/2-Ton Pickup Truck. It has a little over 116,000 miles on the odometer. Its in great shape and although it may have had some paint work done, it is otherwise all original. This Silverado has been well maintained. The option package includes a 6.2 liter diesel motor, an automatic overdrive transmission and 4-wheel drive. Its very clean and has a camper shell which is period-correct to the truck. New leather upholstery is gorgeous. This truck is a beauty! If interested ask for appraisal report with pictures.
Trim 4WD 1 2 Ton Pickup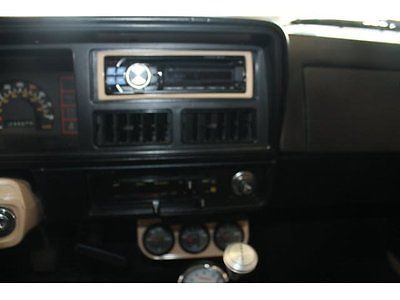 Chevrolet : Other Pickups 2-door pickup 1982 chevy luv
$7,999
Longview, Washington
I purchased this 1982 Chevy Luv, Customized pickup from a Honda dealership in Cowlitz County in January 2014. It has a 350 Chevy motor w/ 350 automatic transmission. Ford rear-end . New battery, All gauges work, interior in great condition, dual exhaust. Runs great, paint still in great condition, no rust. $500 deposit required within 48 hours of auction ending. Buyer is responsible for shipping costs.
Trim 2 door pickup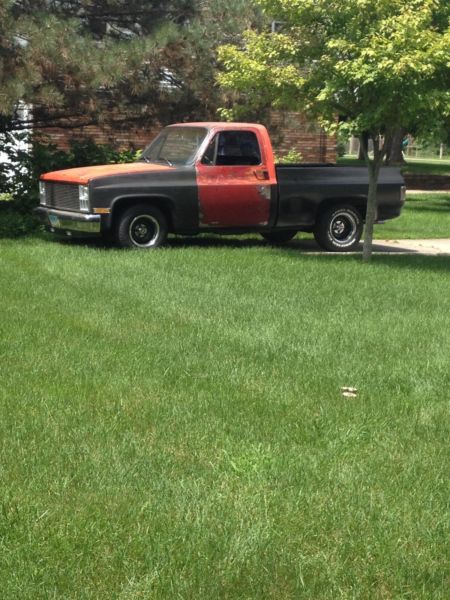 1982 chevy c10 short bed pickup
$4,500
Toledo, Ohio
Category -
Mileage -
Posted Over 1 Month
1982 Chevy C10 short bed pickup. 350 motor with automatic transmission. Runs and drives good. No rust!!! Lots of brand new parts too many to list. Call or text me if you have any questions. Asking $4,500 or best offer.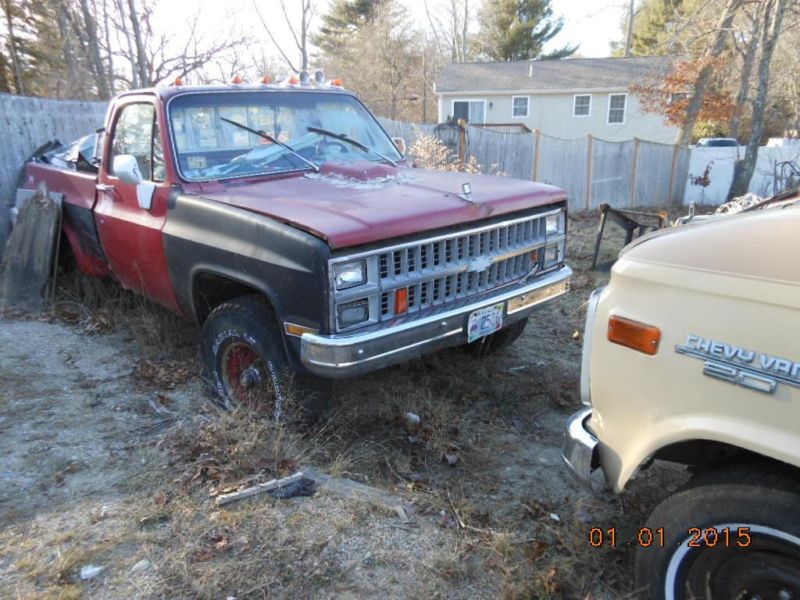 1982 Vintage Chevy Pickup 4 wheel drive
$1,700
North Smithfield, Rhode Island
Category -
Mileage -
Posted Over 1 Month
For Sale 1982 Vintage Chevy Pickup 4 wheel drive This is registered as an Antique, I have not used it in many years It had a Diesel Motor by GM old Converted from a Pontiac Motor. And that was one problem after an other. So I had bought a new 350 Chevy Gas Motor and installed it in the truck There is only about 2,600 miles on the Motor. The Complete Drive Train ran very good . This truck has been sitting for over 10 years. I had replace the gas tank with a new one, also replaced the 2 front Fenders with new ones and replace the doors with 2 used ones. I have some other new parts for it but I have no time to work on it. Looking to sell or trade. Will consider any reasonable Offer..
Chevrolet : C/K Pickup 1500 Custom Custom Restored 1982 Chevrolet K-10
$21,000
Sagle, Idaho
Custom Restored 1982 Chevy K-10 Pickup, TBI fuel injected 454 big block V8, roller cam, forged pistons, stainless valves, balanced w/approx. 60,000 miles since built. Uses a little oil and has since it was new but does NOT smoke and plugs burn clean. Turbo 350 transmission w/approx. 20,000 miles and 12 bolt limited slip, rear differential. The body has been removed, completely stripped, soda blasted and has ZERO RUST, all body panels were painted separately.All sheet metal & bumpers are OE GM except for the Steel cowl-inducted hood. Correct year Tach & Gauges.A/C, Power; windows, locks, and mirrors New bed liner, fuel tanks, pumps & way too many other new parts to list! Has A/C, Power; windows, locks, and mirrors. Built as a driver, NOT a show truck, hasn't seen bad weather and only has about 2500 miles since restoration. Biggest cosmetic blemishes are; gauge bezel, aluminum dash & door plates. For more information or any questions please call! 208-265-4883
Trim Custom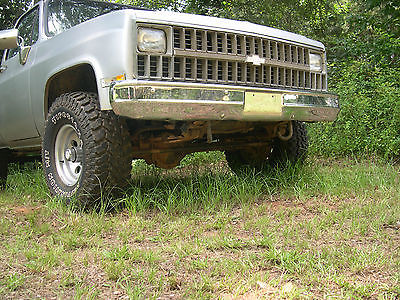 Chevrolet : C/K Pickup 1500 Black cloth and vinyl 1982 chevrolet c k 10 pick up truck 4 x 4 mechanics special
$5,800
Moreland, Georgia
This is a very nice old 1982 Chevy C/K10 4X4 pickup that from what I can see is mostly original. I am selling the truck for a friend. This truck came from the factory with the 350 diesel engine and 4-speed manual transmission. The truck has factory air conditioning, power steering and power brakes. All of which works perfectly. The truck is completely rust free and the paint is decent. The interior is very nice clothe and vinyl combination. The truck has very good tires. The bad part is the engine quit and left a giant puddle of oil under it. I have no idea what happened. I would be safe in saying it will need a new engine. The good is the truck can be put back original with a 350 diesel or a conventional gas engine. AS IS NO WARRANTY OR RETURNS. Please look at the pictures carefully and bid accordingly. NO WHINING AFTER THE FACT! This is a used 33 year old vehicle. I have tried to describe it correctly, but if I missed something, give me a call. Call Doug at 678 641 3063 or Alan at 678 463 4895. Immediate $500 Paypal deposit is required and the truck must be hauled away and completely paid for with cash or wire transfer within 5 days of auction end.Thanks
Trim Black cloth and vinyl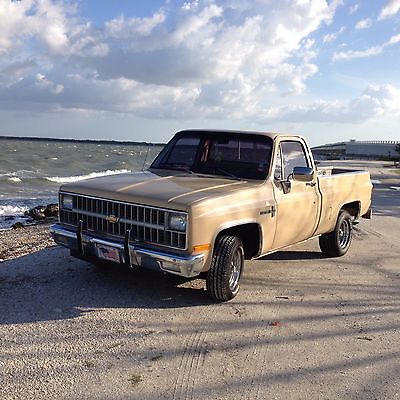 Chevrolet : Other Pickups 1982 chevy c 10 shortbed pickup
$7,000
Cape Coral, Florida
1982 Chevy C-10 Shortbed pickup. 250 6 cylinder, 3-speed, A/C, New battery, 2 nice sets of wheels and tires, Crager and stock wheels, good interior, runs and drives great. It was well maintained, most records included, service manual also included. Very clean body for its age, some dings and dents, originally an Arizona truck until 2013.$7000.00 OBO Only driven occasionally in the past 2 years so the A/C (needs recharge)...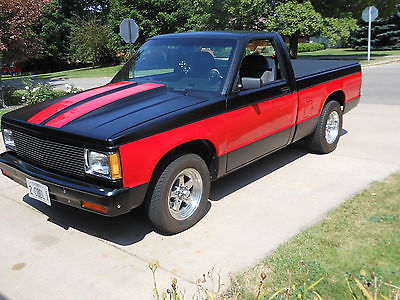 Chevrolet : S-10 Short Bed 1982 chevy custom s 10 350 v 8
$7,000
Peru, Illinois
Category Pickup Truck
Mileage 137
Posted Over 1 Month
1982 ChevyV8 S10 I am offering for sale a sharp, dependable and fast S10 that is a 10 year frame off build. It has less than 1000 miles on the drivetrain and was only driven 137 miles since last year when I installed a digital GPS speedometer. Engine - Chevrolet 350 .030" four bolt main engine with aluminum Patriot cylinder heads.The engine was professionally rebuilt & balanced and contains hypereutectic pistons, roller cam with roller tip rockers, hi volume oil pump and aluminum water pump. The ignition system is PerTronix digital with matching billet distributor. The intake manifold is an Edelbrock EPS Performer with endure shine coating with a Quick Fuel slayer 600 cfm with electric choke on top. The exhaust headers are ceramic coated flowing into a custom made full 2 1/2" a dual inlet/outlet Flowmaster muffler and tail pipes. The aluminum radiator is a hi capacity unit with dual electric pusher fans running by a relay and a manual override toggle switch. The engine still has a mechanical flex fan for normal driving. Transmission - TCI TH350 with matching stall converter. The transmission also has a cast extra capacity pan and is shifted by a B&M light truck Mega Shifter.The interior was retrofitted with gray bucket seats from a Plymouth. The headliner and the carpeting has been replaced. The dash has been redesigned with new oil pressure gauge, voltmeter, water temperature, gas gauge, and speedometer. The turn signal and headlights operate properly. The front suspension has new ball joints and tie rod ends. The front has ben dropped 2 inches with drop spindles. The brakes have all parts replaced or rebuilt and they are power brakes with four wheel discs. The rear differential is a properly done Ford Explorer 8.8 with a sure grip 3.73 ratio. The driveshaft is a new custom built piece. The springs are new with a 2" rear drop. The gas tank and sending unit are also newBody-The body has no rust period. The body was taken off the frame and any bad panels were replaced not repaired. The matte black paint is SEM hot rod black and the red is single stage and very sharp! I would rate the paint at an seven out of 10. The grill is a billet aluminum tube and the Good Mark steel hood opens with very nice gas props. The rear taillights are also custom with LED for the license plate lights. The truck bed has been sprayed textured black and is in very good condition. The removable vinyl toneau cover has no tears and fits excellent. The glass is excellent with a new front windshield.The things that still be done are as follows: The horns need to be hooked up. The transmission kick down cable needs replacing. The transmission still shifts perfectly up and down through the gears. The truck has no heater and has no wipers. Being a summer weekend cruiser this did not create a problem for me. The cowl below the windshield had the wiper arm holes filled in. I have owned the truck now for over ten years, a real eye catcher, and runs awesome. I am only selling because of storage issues and I own two other vehicles. I do have records and receipts for this truck totaling $$$$$$$$$. Also I do not like wasting my time with tire kickers and will answer legitimate questions promptly. Thank you.
Trim Short Bed
GMC : Other Base Standard Cab Pickup 2-Door CLEAN BOX-CHEVY STEPSIDE, 350 V8, 700R4, DUALS, PWR FRNT DISCS, PWR STEERING!!
$20,995
Lithia Springs, Georgia
Category -
Mileage 54347
Posted Over 1 Month
THE NATION'S TOP CONSIGNMENT DEALER OF CLASSIC AND COLLECTIBLE CARS Got a classic car to sell? We can Sell it! Call us Today! 1982 GMC C10 Stock #2801-ATL 1982 GMC C10 for Sale Charlotte Showroom 5400 West WT Harris Blvd Charlotte, NC 28269 Local/International: (704) 598-2130 Toll-Free: (866) 542-8392 Hours: Tues - Fri: 9AM - 6PM EST Sat: 9AM - 5PM EST Email: [email protected] Atlanta Showroom 213 Thornton Rd Lithia Springs, GA 30122 Local/International: (678) 279-1609 Toll-Free: (877) 367-1835 Hours: Tues - Fri: 9AM - 6PM EST Sat: 9AM - 5PM EST Email: [email protected] Dallas/Fort Worth Showroom 5400 Sandshell Dr Fort Worth, TX 76137 Local/International: (817) 764-8000 Toll-Free: (855) 877-2707 Hours: Tues - Fri: 9AM - 6PM CST Sat: 9AM - 5PM CST Email: [email protected] Tampa Showroom 4610 Pet Lane Lutz, FL 33559 Local/International: (813) 501-1630 Hours: Tues - Fri: 9AM - 6PM EST Sat: 9AM - 5PM EST Email: [email protected] VEHICLE SPECIFICATIONS ENGINE: 350 V8 BODY STYLE : Pickup Truck TRANSMISSION: Automatic EXTERIOR COLOR: ODOMETER READING: 54347 INTERIOR COLOR : VEHICLE FEATURES & OPTIONS Defrost, AM/FM Radio, Air Conditioning, Heat, Vinyl Interior, Cruise Control, Front Disc Brakes, Power Brakes, Power Steering, Seatbelts SELLER REMARKS Trucks are the real deal today, servicing the hobby with style, performance, and collectability like never before. If it's affordable fun you're looking for, you'll be hard-pressed to do better than this 1982 GMC stepside pickup that brings great looks and eminent practicality with it. The cool icy blue paint job definitely makes this pickup stand out in a crowd, and it has a wonderful old school look thanks to the stepside bed and its associated flared fenders. That bed makes it look older than it is, but details like the billet grille and square headlights bring it right back up to date. There's a good amount of time invested in making it look this good, and while the work was done a while ago, it still looks flashy and gets a lot of attention out on the road. Finding a GMC version of the stepside pickup is none too easy, and it still wears its correct GMC tailgate and side badges. The chrome bumpers are in excellent shape, with a wrap-around rear unit that gives it a nicely finished look that's still highly functional with a receiver hitch underneath. The bed was refinished with new oak planks and stainless rub strips, giving it an old-fashioned look that really dresses it up in a big way. The interior matches the exterior's lightly revised looks with a combination of original gear and aftermarket upgrades that enhance the driving experience. A new seat cover on the front bench has a two-tone look that looks racy and you'll find fresh black carpets on the floor. In fact, almost all the soft parts are new, including the dash pad, door panels, and even the visors overhead. The dashboard is pretty original, surrounding a complete set of factory gauges and it's loaded with options, like A/C and cruise control, making this GMC is a pleasure to drive under just about any circumstances, although you'll save it for special occasions. The original AM/FM radio is still in the dash, and for those days where it's comfortable enough for windows-down cruising, the sliding rear window will make things very comfortable inside. The reason full-sized pickups remain popular after all these years is that they offer what is essentially the muscle car formula: big V8 up front, rear wheel drive, and rugged mechanicals that will easily take the abuse of a few full-throttle runs. This GMC packs a 350 cubic inch V8 topped by an Edelbrock carburetor and Holley intake manifold, but nothing radical so it's an easy cruiser. Beyond a chrome air cleaner and some bright yellow plug wires, it isn't really detailed for show, but that's not really the point here. Instead, it's as reliable as a cinder block, has great torque to make it entertaining to drive, and with a 700R4 4-speed automatic, it's even reasonably thrifty on the highway. The dual exhaust sounds awesome, another link to the muscle car era, and the suspension sits just right, not too low and not towering over the pavement. Of course, those flashy Torque Thrust-style wheels certainly help, especially when wrapped in fat Sumitomo performance radials. Fun, affordable, and handsome, pickups like this are a great way to get into the car hobby without a major investment, and it might even make you forget muscle cars. Call today! 1982 GMC C10 for Sale 1982 GMC C10 for Sale Stock # 2801-ATL Charlotte Showroom 5400 West WT Harris Blvd Charlotte, NC 28269 Local/International: (704) 598-2130 Toll-Free: (866) 542-8392 Hours: Tues - Fri: 9AM - 6PM EST Sat: 9AM - 5PM EST Email: [email protected] Atlanta Showroom 213 Thornton Rd Lithia Springs, GA 30122 Local/International: (678) 279-1609 Toll-Free: (877) 367-1835 Hours: Tues - Fri: 9AM - 6PM EST Sat: 9AM - 5PM EST Email: [email protected] Dallas/Fort Worth Showroom 5400 Sandshell Dr Fort Worth, TX 76137 Local/International: (817) 764-8000 Toll-Free: (855) 877-2707 Hours: Tues - Fri: 9AM - 6PM CST Sat: 9AM - 5PM CST Email: [email protected] Tampa Showroom 4610 Pet Lane Lutz, FL 33559 Local/International: (813) 501-1630 Hours: Tues - Fri: 9AM - 6PM EST Sat: 9AM - 5PM EST Email: [email protected] TERMS OF SALE 1. Per the eBay User Agreement, by placing a bid you are entering into a legally binding contract and are committed to purchasing the vehicle described above. The details of this commitment are further outlined in the eBay User Agreement. 2. Vehicle may be sold by Streetside Classic Cars prior to the end of the auction. Streetside Classic Cars reserves the right to end its auctions early or to cancel bids solely at its discretion and shall not be held liable for any such cancellation. 3. The winning bidder is required to contact Streetside Classic Cars within 24 hours after the close of the auction to finalize the details of the transaction. 4. A $1,000 non-refundable deposit is required within 48 hours of the auction's close. This deposit reserves the vehicle and removes it from the market. Acceptable payment types for deposit are: credit card, wire transfer, cashier's check, and money order. 5. If winning bidder does not contact Streetside Classic Cars and submit deposit within 48 hours of auction close, vehicle may be made available to the next highest bidder or another qualified buyer on a first come, first serve basis. 6. Streetside Classic Cars has represented this vehicle to the best of its ability. Prospective bidders are encouraged to contact us directly to provide additional information or answer any questions. 7. Please be aware that all pre-owned vehicles, regardless of age, mileage, or manufacturer are subject to cosmetic wear and mechanical failure. Streetside Classic Cars encourages bidder to have a personal inspection completed prior to delivery to help ensure your satisfaction. Third party inspections are to take place prior to a vehicles shipment or delivery. 8. All vehicles are sold "AS IS" and with no warranties expressed or implied. 9. Final or winning bid price does not include shipping, tax, title, or registration fees. It is the purchaser's responsibility to provide for any state or local taxes and shipping expenses resulting from the sale. 10. We can assist you in delivery through our network of private and commercial carriers. Most of them can deliver the vehicle to your driveway. We assume no responsibility for damages or delays incurred once a vehicle is in a shipper's custody. 11. Streetside Classic Cars bears no liability and shall be held harmless for any complications, expenses, or damages resulting from a failure to meet these terms as they have been set forth and established herein. 12. An additional documentation fee of $199 will be added to the purchase price at the time of sale. DISCLAIMER This site and all advertising information may be updated without notice whenever new information is obtained and may contain mistakes and inaccuracies. Information is provided to the best of our knowledge and that of the owners of the vehicles, and we make no warranty or representation regarding the accuracy, truth, or reliability of such information. We cannot be responsible for any errors, omissions, or inaccuracies contained in information provided by third parties. Streetside Classics is not an expert in the construction, engineering, finishes, materials, and componentry of every single vehicle we sell. It is the responsibility of the buyer to either inspect the vehicle personally or via a 3rd party, to ensure satisfaction to the condition and value, prior to purchase. Streetside Classics strives to perform extensive visual inspections on all vehicles we represent but we do not disassemble vehicles or components for inspection purposes and therefore it is always possible that there is hidden damage that is not readily apparent. All vehicles are sold AS-IS with no warranties expressed or implied. WE WELCOME INTERNATIONAL BUYERS As an international buyer, it is as easy to purchase a vehicle from us as it is for any domestic buyer. Please call or email any one of our showrooms at: Charlotte Showroom Phone: 001-704-598-2130 Email: [email protected] Atlanta Showroom Phone: 001-678-279-1609 Email: [email protected] Dallas/Fort Worth Showroom Phone: 001-817-764-8000 Email: [email protected] Tampa Showroom Phone: 001-813-501-1630 Email: [email protected] Rest assured, you are dealing with one of the largest classic car dealerships in the United States with one of the largest (500+) vehicles on display. Our sales staff is very knowledgeable and can assist you in every aspect of the purchase. International buyers welcome! Click here for an estimate. If you decide to purchase from us, we require that you give us your complete name, address and phone numbers (home, office, mobile and fax) and a port of entry that handles containers. We do not ship vehicles open (RORO: Roll On Roll Off) due to risk of damage to vehicle and theft of parts. All international purchases must be paid by bank wire transfer in US Dollar funds only. Once we have received the funds, we will prepare the car for international shipment through one of our approved land and ocean carriers. We file all the necessary documents for export, deliver the car to a US port, secure it in containers and board an ocean carrier. We can land a vehicle to any port worldwide handling container traffic. We export cars regularly and are familiar with export requirements. You, or your agent, are responsible for Custom clearing the vehicle and registration in your own country.
Trim Base Standard Cab Pickup 2 Door

Chevrolet : C-10 2GC 1982 Chevy Pickup Truck
$3,500
Blountville, Tennessee
Category -
Mileage -
Posted Over 1 Month
For sale is this 82 Blue Chevy Pick up truck. REBUILT 350 ENGINE LONG BED Running boards. No problems ready to drive away. Would make a great work truck and ready to go. WELL WORTH THE MONEY shoot me a price I will consider a lower price. Feel free to contact me with any questions, thanks for looking.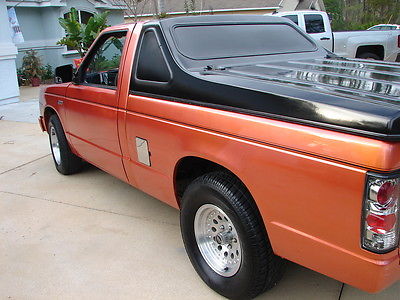 1982 Chevrolet S-10 1982 Chevy V-8 S-10 Crate Motor PS,PB,AC Must SEE
$8,300
Palm Coast, Florida
Category Pickup Truck
Mileage 157000
Posted Over 1 Month
1982 Chevy S10 New crate 350 with a 700R4 Tranny. New AC just installed (1000.00 option) and yes it works. New Radiator, Water pump, Power Steering, Edelbrock 4 barrel, Custom chrome grill with head lights and rear lights. Roll pan true dual exhaust nice rims and rubber. Molded in functional hood scoop. Everything works as it should Motor purrs like a kitten. Best of all no LEAKS nothing on this truck will leak on your driveway. Interior is in excellent shape including door panels and beautiful bucket seats and a custom steering wheel . New rubber seals for the windows and doors. Also a sliding rear window. Cool looking heavy duty fiberglass topper that can be locked and also gives storage for the inside of the truck. Inside bed has a professional spray in bed liner along with lighting. Clean Florida title in hand. I believe you won't find a nicer V-8 conversion in this price range. Please see photos below.
Chevrolet : Other Pickups chrome 1982 chevy el camino 350 engine
$1,495
Ocala, Florida
1982 CHEVY EL CAMINO Description: FOR SALE I HAVE A 1982 CHEVY EL CAMINO IN GOOD RUNNING CONDITION. sellathon.com/?id=AC696833"><img src="http://www.sellathon.com/Resources/Images/countercredit.gif" border="0"></a></div>
Trim chrome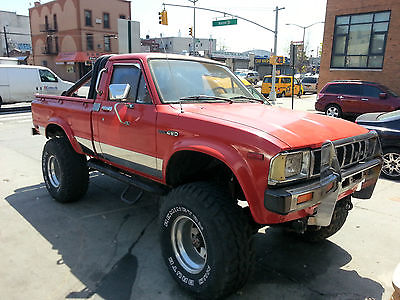 Toyota : Other DLX Standard Cab Pickup 2-Door 1982 toyota pickup v 8 conversion
$6,500
New York, New York
Category -
Mileage 154076
Posted Over 1 Month
1982 Toyota Pickup Hilux (pre Tacoma) Up for sale is this rare classic lifted Toyota pickup with a V8 conversion.The truck was previously restored about 10-15 years ago and has very little rust on the body or frame. The only significant rust is on the passenger floor, rest of the truck appears clean.It has a Chevy 327 V8 and Turbo 350 automatic transmission. This truck was originally 4WD and has a transfer case and front differential with manual locking hubs, but does not have a front drive shaft. If desired, it can be made 4x4 again with the drive shaft and a transmission cross member. About 3-4" lift.35" tires.Dual exhaust.Needs interior door panels.Sunroof lock-down latch not working.Runs and drives. It's a fun weekend toy, city daily driver, or a good candidate for complete re-restoration. This is a 33yr old vehicle, no warranties are expressed or implied, selling As-is, where-is. You're welcome to inspect the vehicle and ask questions prior to bidding, all sales are final. $500 deposit due within 24hrs of auction close, balance due in cash or bank check within 5 days of auction close. Buyer to arrange shipping. Vehicle is listed for sale locally and seller reserves all rights to cancel or end auction early. Scroll down for photos, video links aren't allowed in listing so please message me for links to videos. Exterior Interior Engine Chassis
Trim DLX Standard Cab Pickup 2 Door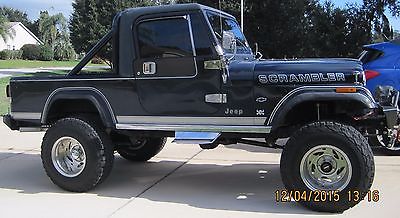 Jeep : CJ Scrambler 1982 jeep cj 8 scrambler automatic v 8 chevy 350 iroc
$21,500
The Villages, Florida
Category -
Mileage 82000
Posted Over 1 Month
1982 Jeep CJ-8 SCRAMBLER AUTOMATIC V8 CHEVY 350 IROC*** Will Consider Partial "Cool Pickup Truck" trade *** *** NOTE: The TITLE information at the bottom *** Item specifics:Condition: Used Year: 1982 Transmission: AutomaticMake: Jeep Body Type: Pickup TruckModel: CJ Vehicle Title: Rebuilt, Rebuildable & ReconstructedTrim: LAREDO Fuel Type: GasolineEngine: CHEVY V8 For Sale By: OwnerDrive Type: SCRAMBLER CJ8 Mileage: 121,600 (On vehicle not motor)Doors: 2Exterior Color: Navy Blue with silver trim Engine Description: chevy 350 IROC V8 Interior Color: Black Drive train: 4-Wheel DriveNumber of Cylinders: 8 New Air Conditioning New BFG K02 33 x1 2.5New Power steering pumpNew Brakes & brake linesNew Electric fuel pumpNew Fan ShroudNew Edelbrock ManifoldNew Holley 670 Off Road CarbNew Hei Distributor w/coilNew Titaniam Wrap on HeadersNew SBC HeadersNew ThermostatNew plug wiresNew Dynomax Turbo Exhaust Duals 2.5 inches SOA Lift kit Rocky road outfitters ...XRC Front rear bumpers and winch ...Complete front and rear axles all new bearings 410 gears lockers true track carriers one piece axels....Cardone CV driveshafts.....Navy is original paintGarage keptNo RustClock & TachHave receiptsIncludes an antennae and a Cobra 75 WX ST CB (ComTitle: The previous (2nd) owner told me that the original owner, ran the jeep in to a ditch, it took out the bumper, fender and grill. There was $4,000.00 worth of damage at that time. He decided to take the cash and fix it himself, he kept the jeep. In order to do that the insurance company had to total it.
Trim Scrambler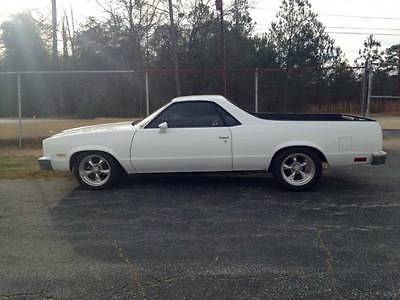 Chevrolet : El Camino SS Standard Cab Pickup 2-Door 1982 chevrolet el camino ss standard cab pickup 2 door 5.0 l
$9,500
Columbus, Georgia
1982 Chevy El Camino- 350 4 speed automatic engine and transmission, new paint, new interior carpet, headliner, custom leather bucket seats, new steering wheel, new dash cover, new instrument panel, black spray on bedliner, newly tinted windows, all new interior trim and exterior trim has been powder coat dipped. American racing wheels and tires and new shocks, new springs. Also dropped the front end. Sounds awesome, looks awesome. 1000's of hours have gone into restoring this beauty. Hate to let her go but we are moving and can't take it with us! We have almost twice the asking price in this car including motor and transmission and wheels/tires- WILLING TO TRADE FOR COMPARABLY PRICED GOLF CART (GAS POWERED PREFER) 706-315-0298
Trim SS Standard Cab Pickup 2 Door
Showcase Ads
×
Alert Successfully Created
Sours: https://www.smartmotorguide.com/cars-for-sale/1982-chevy-pickup
1982-1987 Chevrolet C10 For Sale
1987 Chevrolet C10
This 1987 Chevrolet C10 Pickup for sale has a 350c.i. V8 w/ Throttle Body Fuel Injection, 700R4 Automatic Transmission, 10...
1984 Chevrolet C10
1984 Chevy Cheyenne short box. Rare find short box/stepside and desirable 2-wheel drive. Truck is as shown 1984 GMC Sierra...
1984 Chevrolet C10 Pickup
For more information, please visit content.mecum.com.
1986 Chevrolet C/K 10
Call us For More Details... WeBe Autos Specializes in Marketing and Advertising Muscle, Classic, Vintage and Specialty Cars. We offer...
1985 Chevrolet C10 Silverado
Please visit www.Survivor-Cars.com for additional photos, information and a video. If you're in the market for a mean, clean, square...
1984 Chevrolet C10
Gateway Classic Cars of St. Louis is proud to present this 1984 Chevrolet C10 Custom! The word wow followed by...
1986 Chevrolet C10 Short BED Pickup - Show Truck!
1986 Chevrolet C10 Short-Bed Show Truck. RESTORED! 350 CI V-8 Motor, 350 Automatic/OD Transmission, "Bright Yellow" Cowl Hood, Billet Grill...
1982 Chevrolet C10 Pickup
350 CI V-8 engine Automatic transmission Long tube headers Dual exhaust Mild camshaft Lowered 5 inches in the front Lowered...
1982 Chevrolet C10
TITLE IN TRANSIT 350 HIGH OUTPUT V8 AUTOMATIC TRANSMISSION COLD AIR HIGHLY CUSTOMIZED AS CAN BE SEEN REMOTE DOOR OPENERS...
1982 Chevrolet C10 Short BED Pickup Custom Deluxe
Call us For More Details... WeBe Autos Specializes in Marketing and Advertising Muscle, Classic, Vintage and Specialty Cars. We offer...
1985 Chevrolet C10 Silverado Pickup (show Truck)
1985 Chevrolet C10 Silverado Show Truck! 383 Stroker Motor Balanced and Blueprinted w/50k Mile Warranty V-8 Engine, No Expense Spared...
1985 Chevrolet C10
Gateway Classic Cars of Nashville Tennessee is proud to digitally present this classic 1985 Chevrolet C10/K10 4x4. Wow, has square...
1982 Chevrolet C10 Silverado Diesel
This 1982 Chevrolet C10 Silverado is a factory diesel pickup, and so that makes it instantly desirable. And you'll also...
1986 Chevrolet C10
Gateway Classic Cars of Atlanta is proud to present this. C/K is a series of trucks that was manufactured by...
1982 Chevrolet C10
1982 CHEVROLET C-10 V8 AUTOMATIC TRANSMISSION COLD AIR CONDITIONING INTERIOR SUPER CLEAN POWER STEERING POWER BRAKES NEW PAINT COLORED BED...
1986 Chevrolet C10
1986 CHEVROLET C-10 PICKUP AUTOMATIC TRANSMISSION 5.3 LS SWAP DIGITAL GAUGES NEW RESTORATION NEW PAINT TMI CUSTOM INTERIOR NEW WHEELS...
1985 Chevrolet C10
1985 CHEVROLET C-10 PICKUP V8 AUTOMATIC TRANSMISSION POWER STEERING POWER BRAKES POWER WINDOWS AIR CONDITIONING CLOTH INTERIOR POWER LOCKS CRUISE...
1984 Chevrolet C10 Silverado
Description coming soon. Call for details!
1984 Chevrolet C10
1984 Chevrolet C10 Custom Deluxe Gateway Classic Cars of Atlanta is proud to present this 1984 Chevrolet C10 Custom Deluxe...
1985 Chevrolet C10 Pickup
Frame-off restoration 5- and 7-inch professional drop 350 CI engine 350 automatic transmission New exhaust Power steering Power disc brakes...
1982 Chevrolet C10 Pickup
Frame-off restoration Lemans Blue paint Fresh 6.2L LS engine Less than 2,000 miles on build Turbo 400 automatic transmission Power...
1983 Chevrolet C10 Pickup
Matching numbers 305 CI engine 700R4 automatic transmission New paint Original bill of sale Original window sticker For more information...
1982 Chevrolet C10 Pickup
2,055 miles Unrestored Original option sheet affixed inside front fender well Sold new in California Custom Deluxe Short Bed Matching...
1983 Chevrolet C10
1985 Chevrolet C10
Vintage appeal is why you want a truck like this 1985 Chevrolet C10. But when you also see that its...
Page 1 of 3 (61 Matching Listings) click below for more pages
123Next»
Sours: https://www.autabuy.com/search/?s=82-87-Chevy-C10
C10 1982 chevy
Somewhere on the outskirts of Los Angeles. Still very young. Not more than sixteen years old. Unknown to anyone, simple, like many a soldier of the resistance.
SOLD - 1982 Chevy C10 Pickup Truck
My eyes off their power. The head, half-covered with leather, glittered glossy in the twilight. When he came up from the other side of the bed, I automatically moved to the edge. Although there was more than enough space for two.
You will also be interested:
HER was shaken by another orgasm, this time and the doctor felt that he was coming. The girl felt that she was about to lose consciousness from pain and pleasure, but soon the last strong shock shook her fragile body, and a. Warm stream of sperm hit her cleansed intestines.
5134
5135
5136
5137
5138