Past Life Quiz: Who Was I In My Past Life?
1.
Which one of these elements do you feel more connected with?
A.&nbsp

B.&nbsp

C.&nbsp

D.&nbsp

E.&nbsp
2.
Do you believe in magical/paranormal creatures?
A.&nbsp

B.&nbsp

I believe in vampires, demons and everything that is dark.

C.&nbsp

D.&nbsp

E.&nbsp

I believe in mermaids and sea monsters.
3.
Which of these objects reminds you of your bedroom?
A.&nbsp

Knives and satanic symbols.

B.&nbsp

My aquarium with my fishes in it.

C.&nbsp

D.&nbsp

E.&nbsp

Stars that shine in the dark, pasted on my walls.
4.
Imagine that you are in danger because of a man, and you have a pistol hidden. What would you do?
A.&nbsp

I would hide myself, and when he least expected…DEAD!

B.&nbsp

I would fucking kill the man, no matter what! And then, I would drink his blood!

C.&nbsp

Depends. Maybe I would kill him, maybe I won't.

D.&nbsp

I would hesitate. And then I would kill him! Sometimes I hate men!

E.&nbsp

I would hit him, but not kill him. And then, runaway.
5.
When you are alone with your mind, what do you usually imagine?
A.&nbsp

I imagine I am with my lover…

B.&nbsp

I imagine I'm in a spacecraft and I'm travelling the universe.

C.&nbsp

I imagine I'm swimming on the sea and talking to the fishes.

D.&nbsp

I imagine I'm killing beings.

E.&nbsp

I imagine I'm surrounded by fairies and I'm singing, talking and dancing with them.
6.
What do you think is more romantic?
A.&nbsp

Eating with your lover in a magical and big garden, with the light of the moon and candles.

B.&nbsp

C.&nbsp

Lying down on the grass at night with your lover, with the moon and the stars.

D.&nbsp

At the beach at nigh with him.

E.&nbsp

Drinking each others blood.
7.
What is the natural element that you feel is more connected with you?
A.&nbsp

B.&nbsp

C.&nbsp

D.&nbsp

E.&nbsp
8.
Have you ever seen your aura?
A.&nbsp

B.&nbsp

C.&nbsp

No, I haven't. But I would like to see it someday…

D.&nbsp

E.&nbsp
9.
Do you believe in the afterlife? Which one of these answers is your opinion?
A.&nbsp

B.&nbsp

C.&nbsp

Reincarnation and when we die twice we go to Paradise?

D.&nbsp

E.&nbsp

I don't believe in the afterlife!
10.
How do you consider yourself?
A.&nbsp

B.&nbsp

Funny, freaky and intelligent.

C.&nbsp

Sexy and friendly (friendly for women).

D.&nbsp

E.&nbsp
11.
What is your goal, that you want in life?
A.&nbsp

I want to sing for all the creatures!

B.&nbsp

C.&nbsp

D.&nbsp

E.&nbsp
12.
Have you ever felt that you don't belong here?
A.&nbsp

Yes! I've always felt I belong to the sea.

B.&nbsp

I feel I belong to the stars, to the moon…or…another galaxy.

C.&nbsp

No. I belong here…to kill people!

D.&nbsp

I feel I belong to a magical parallel world.

E.&nbsp

I was born here, so I belong here!
13.
Which power, you would like to have?
A.&nbsp

B.&nbsp

Killing beings with my mind.

C.&nbsp

Entering in the humans' bodies and controlling their brains.

D.&nbsp

The power of being super fast.

E.&nbsp
Sours: https://www.proprofs.com/quiz-school/story.php?title=what-were-you-in-your-past-life
Past lives
Start
Who was I in my past life? This is the question that many of us strive to find out. There are several ways to learn your past role: 
hypnosis 
physic reading 
regression therapy 
online tests
Frankly, none of these ways is 100% correct. However, all of them have their own disadvantages and advantages. Let's take a close look at them.
Hypnosis 
Not all people believe in hypnosis, and not all people believe in past lives. If you are a believer in both, this would be an interesting way to have a bit of fun. 
The process usually requires the assistance of another person, preferably the one who's practiced it before. 
Nowadays, certain psychologists believe in this method of self-discovery. If they believe in past lives, they will take you through the journey to discover your past life! Yet, it is an expensive method. 
Regression therapy 
A past life regression test is meant to uncover a memory from your past life. This method is quite similar to the previous but is practiced by a professional regression therapist. The most notable among them is Ann Barham. She uses certain hypnosis techniques but matches them with her mental guidance techniques to virtually send you to another time and record your thoughts, desires, and behavior. Be cautious, though; you may discover both happy and disturbing memories. 
Psychic reading 
If you strongly believe in magic or psychic powers, this is the perfect option for you. You probably already have a trustworthy medium or some other supernatural professional in mind. Not all can do a past-life reading. But if you manage to find a trusty person who does it, don't miss your chance. 
For some people, psychic reading may offer more details into their role. For others, a regression memory is ten times more vivid. 
Online tests and quizzes
These are the easiest (and the cheapest to do)! They offer a bit of fun without taking your money. Moreover, most are free. Some past life quiz may be super silly and say you were tasty in a past life. Others are more serious and take your behavioral patterns and moral choices into consideration. 
This quiz is somewhere in the middle. It's not something silly that will call you a pizza. And it's also not research-based to compare the behavioral patterns from people with certain "proven" past life roles. It's meant as a bit of fun and, frankly, procrastination!
Are you ready to find out the answer to the following question: What was I in my past life? Then, let's start the quiz. 
P.S. If you'd like to learn more about all the supernatural elements of your life, you can also check this Aura color quiz! 
Start
Sours: https://quizlagoon.com/quiz/who-was-i-in-my-past-life/
What Was Your Name in a Past Life?
By: Talin Vartanian
5 Min Quiz
Image: DianaHirsch/E+/Getty Images
About This Quiz
Many people believe that they have lived several different past lives, with some believing that they once lived as an object, plant or an animal. The real question is, what were you called in your past life? Did you have a strong name that represents independence and willpower, or was your name more soft and feminine? 
Even if you don't believe that past lives exist, let's just use our imagination for today! Where do you think you lived in your past life? What did you eat or drink? And most of all, did you know anybody from your past life that you currently know today? Some people also believe that their memories have "carried over" from their past life to their current life. When it comes to the abstract concept of past lives, it's important to think about what you will be like in your next life as well. Do you think you'll learn from your mistakes, or will you live in an endless cycle of bad habits? There is no right or wrong answer to these example questions, but we are curious about what you think when it comes to the idea of past lives. Tell us more about your life perspectives with this abstract personality quiz!
PERSONALITY
Do You Belong in the Past?
5 Minute Quiz5 Min
PERSONALITY
Can We Guess What Life Stage You Are In?
5 Minute Quiz5 Min
PERSONALITY
How Did You Change the World in Your Past Life?
5 Minute Quiz5 Min
PERSONALITY
Do You Have an Attractive Personality?
5 Minute Quiz5 Min
PERSONALITY
What Is Your Psychological Maturity?
5 Minute Quiz5 Min
PERSONALITY
Were You a Hero or Villain in a Past Life?
5 Minute Quiz5 Min
PERSONALITY
If You Score More Than 20 on This Checklist, You Probably Grew Up With Strict Parents
5 Minute Quiz5 Min
PERSONALITY
Can We Guess If You're Younger Than 30 Based on the Food You Love?
5 Minute Quiz5 Min
PERSONALITY
Answer These Yes or No Questions and We'll Guess If You're Male or Female
5 Minute Quiz5 Min
PERSONALITY
What Life Stage Are You in Psychologically?
5 Minute Quiz5 Min
How much do you know about dinosaurs? What is an octane rating? And how do you use a proper noun? Lucky for you, HowStuffWorks Play is here to help. Our award-winning website offers reliable, easy-to-understand explanations about how the world works. From fun quizzes that bring joy to your day, to compelling photography and fascinating lists, HowStuffWorks Play offers something for everyone. Sometimes we explain how stuff works, other times, we ask you, but we're always exploring in the name of fun! Because learning is fun, so stick with us!
Playing quizzes is free! We send trivia questions and personality tests every week to your inbox. By clicking "Sign Up" you are agreeing to our privacy policy and confirming that you are 13 years old or over.
Sours: https://play.howstuffworks.com/quiz/what-was-your-name-in-a-past-life
This accurate past life quiz can guess your past lives job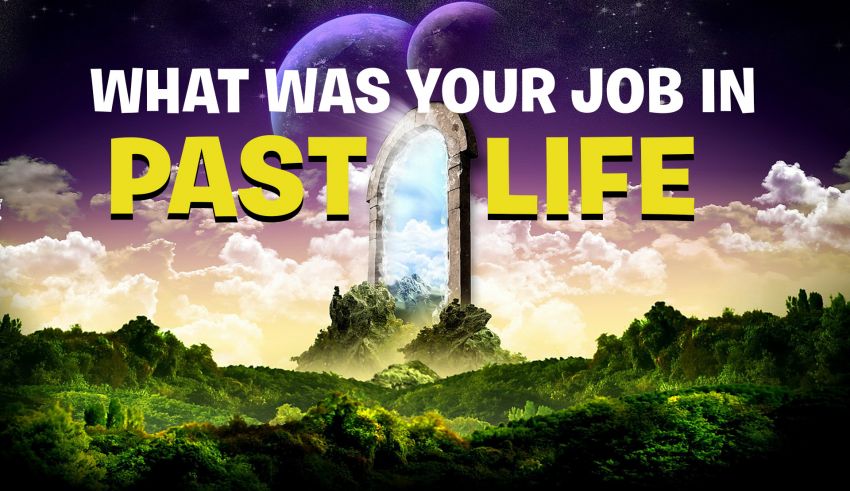 Do you believe in a past life? If so, you can find out your past life job by this accurate past life quiz. This simple test may help you remember something from your past lives.
The belief that humans are born and reborn, that we have all had previous lives, goes to at least three thousand years ago. We all thought about what we were before and why we are now and where we are going. No one can answer this question correctly, And everywhere in the world, there is a belief about this subject. Debates on this issue can be found in the ancient cultures of India, Greece, and the Celtic Druids, and reincarnation is a common issue in New Age religions.
If you believe you're not as usual as you used to be, or if your feelings, abilities, and desires have changed, you may move toward the energy of the person you've been in for a long time ago. Have you ever wondered who you may have been in your past life? By playing "Past Life Quiz," you can learn more about your past life with a few simple questions. Remember that "Past Life Quiz" is a test and a game, and it shouldn't affect your life.
My Past Life Story
Most of us have had a sudden, shocking feeling that an incident that we are experiencing has happened to us just this way before; this called Déjà Vu. Deja Vu is one of the reasons that prove you have a past life. Maybe you asked yourself how my previous life Story was? Remembering all past lives puts you in a state of complete sadness. Because of your mother, maybe your spouse in your past life and your daughter in another life! How will you treat them? Like your mother? Your spouse or your daughter? You will be confused!
Past Life Test Date Of Birth
Pythagoras believed that we should tap into the numerical vibration to learn about ourselves, our purpose, and the world around us. He also told his students that the numbers on our date of birth might give secret references to our past life. These numbers identified Karma numbers reflecting the forces that we used to exploit in past lifetimes. These numbers of Karma will point the way in our present to stabilize and restore the Karma.
Past Life Animal
Do you wonder, in your past life, you were an animal? Our spirits will not necessarily reincarnate on this planet as humans. It is not impossible to picture humans becoming animals in one of our previous lives. Do you feel as if you have a deep relation to other species or animal types? You've already been that animal in your past life.
Past Life Quiz
The concept of reincarnation has been around almost forever. It's part of a variety of ancient-era religions and belief systems — and it can be pretty crazy to hear about some of the most famous tales about supposed historical past life events. "Past Life Quiz" can give you clues about your past life with a few simple questions. If you are curious to know who you were in the past, play "Past Life Quiz." In this quiz, you are asked some personality-based questions, such as:
What do you usually spend your money on?
How would you spend your weekend?
What would you like to do for fun?
By answering such questions, you can see one of the following results at the end of the quiz:
Farmer
In your past life, you enjoyed taking care of nature and animals. You liked to be outdoors and spend the whole day in the sun. You are a kind person, and your warm heart allows you to be interested in animals. You always have your friend's back because you are a nurturing, caring, and loving person.
Witch Doctor
In your past life, your profession was Witch Doctor. You were not a traditional doctor, but you were very interested in taking care of others and making them feel better, that's why they called you a  Witch Doctor. You are a quirky, genuine, and fun person. The people around you always feel happy, so everyone likes to be around you.
Librarian
In your past life, you were a librarian. Your thirst for all information leads you to books. Your willingness to learn will help you do anything with books, from content to page smell. You are a very thoughtful, calm, and patient person. Your friends like to know what you think about different topics.
King/Queen
In your past life, you were a king/ queen. You are a natural leader who is great for handing over duties and inspiring others. You remain calm when things get out of hand so you can control the situation. You were a fair ruler who was respected by all their subjects.
Questions of the quiz
Question 1

What is your favorite hat?

Question 2

What is your daily activity?

I walk a lot

Sunbathing

I don't have any activity

I'm moderately active

Question 3

What do you usually spend your money on?

Antiques

Necessities

Accessories

Books

Question 4

What is your favorite sport?

Basketball

Shot put

Figure skating

Archery

Question 5

Which of these is your favorite subject at university?

English

Environmental health

Business

Chemistry

Question 6

How would you spend your weekend?

Hiking

Hunting

Doing something with my family

Reading

Question 7

How do you like to dress?

The latest fashion

Simple and understated

Fun and functional

Luxury outfits

Question 8

What is your favorite car?

A truck

Cars that seem expensive but are not

Fast and sleek

Luxury cars

Question 9

Which of the following is vital for your life?

Fun and excitement

Nature

Air conditioning

Headphones

Question 10

Which item can your friends count on you for?

Your generosity

Great times

Your ideas

Your advice

Question 11

How would your friends describe you?

Kind person

Funny person

Thoughtful person

Leader

Question 12

Which of these people is valuable for you?

People who are nurturing

People who are quirky and genuine

People who are calm and patient

Powerful people

Question 13

What would you like to do for fun?

Planting

Reading

Magic trick

Shopping

Question 14

Where is your dream vacation destination?

Switzerland

Kenya

India

England

Question 15

Which TV channel is your favorite?

National Geographic

ESPN

Documentary channel

CNN
Sours: https://www.quizexpo.com/this-past-lives-quiz-can-guess-your-past-life-job/
Life quiz past
Slightly touching my nipples with his lips, and then greedily sucking them in. Touching his lips alternately to one or the other mole. Again I felt my penis tighten. And my grandfather caressed me with his rough hands, with blue anchors on his left hand.
Who Were You In Your Past Life?
I begin to undress you, literally rip off all your clothes, the topic flies to the side, the skirt slides to my feet and you appear before me dazzling with. Burning eyes, hot and excited, in a chic bra and panties, such contemplation further inflames my desire. You kiss my chest, going down below. a hundred you take off my pants and lick my penis through my panties, ready to burst out.
Similar news:
Well, for whom else. Youre now and then pryvaeshsya. I naked went up to him and began kissing.
396
397
398
399
400