10 Best Glam Bathroom Decor Ideas You'll Swoon Over
The bathroom is primarily a functional room, but that doesn't mean it can't also be a relaxing oasis for yourself when you want to get away from the world without taking an expensive vacation. Yes, these glam bathrooms will help you appreciate the beauty in everyday tasks and help you enjoy your life to the fullest. There's never a dull moment when stepping inside these lovely glamorous bathroom designs.
Glam Bathroom Decor
Where should you begin when renovating a bathroom? The first step is to define your goals. Do you want to make superficial changes to the decor or do you want to go about replacing your home's piping and opt for a new bathroom vanity? Note your budget and estimate what each piece will cost you.
It's also just as important to clearly define your style before embarking on a bathroom renovation project. It's clear that you appreciate glam decor, so that's a great start. Are you more interested in elegant interiors, metallic interiors, or feminine interiors? Once you have your aesthetic nailed down, it will be easier to select the pieces you need for your space.
When it comes to glam bathroom decor, there are lots of different directions you can take the room in. Once you have your style, goals and budget in mind, it's time to start creating a moodboard. Our hope is that this article will help you achieve that step in your design process!
Mirrored Bathroom Vanity
A mirrored bathroom vanity is our first design idea for glam bathrooms. Mirrored furniture is a quintessential element of glamorous interior designs. This double bathroom vanity features a wood framed vanity with mirrored drawers in various sizes. The countertop is made of smooth white marble. A double sconce sits on the wall in between two rectangular mirrors.
Metallic Etagere and Bathtub
Champagne, silver, and gold are all popular metallics for furniture and decorations in glam homes. Here, a gorgeous gold etagere is used for bathroom accessory storage. There are also metallic accents throughout the space including a silver bathtub, gold floor tiles, brass drawer pulses, brass curtain rods, and a gold chandelier. You can never go wrong with metallics in a glam space like this one!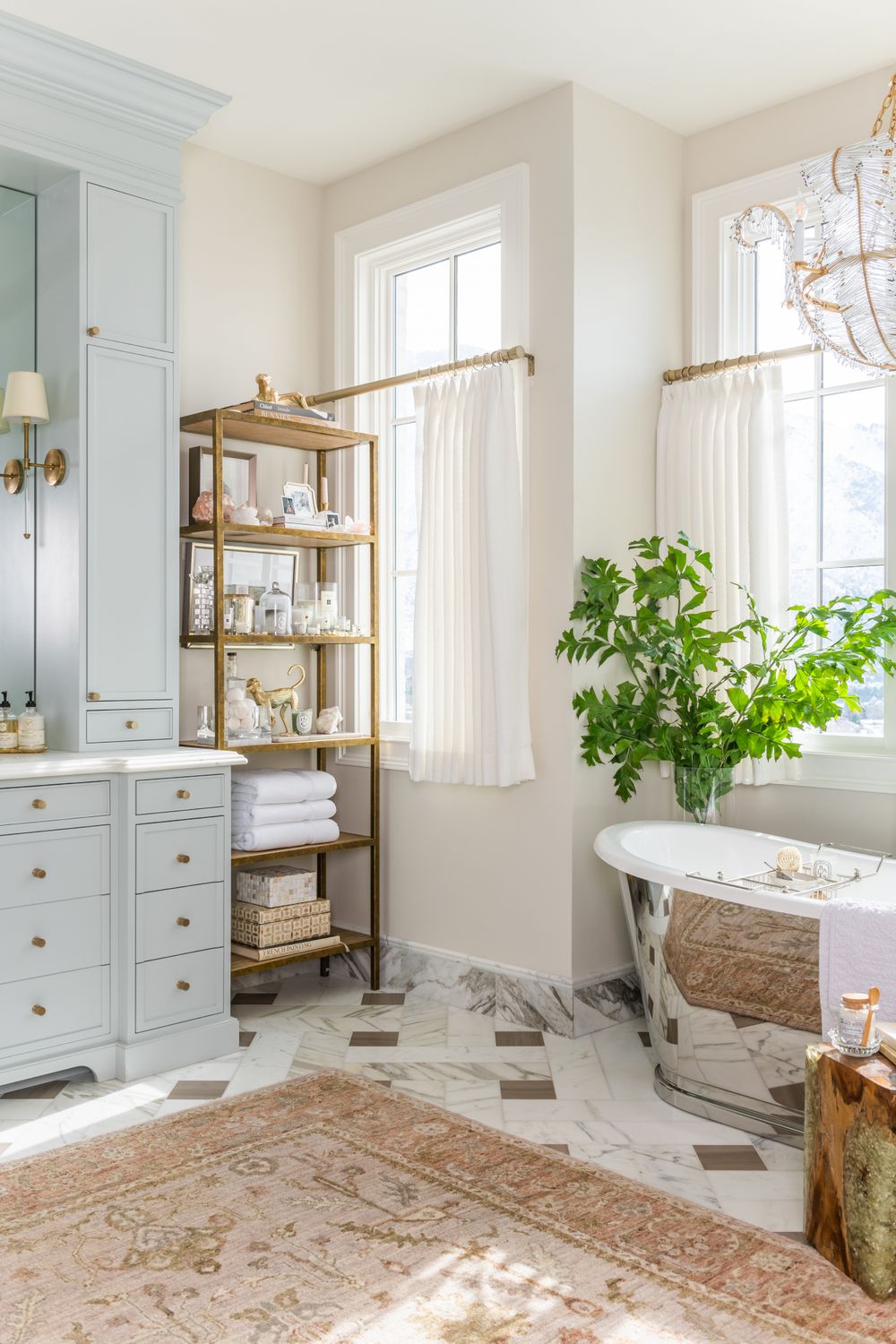 Crystal Lighting
Whether you go with a pendant, sconce or a flush mount, try to incorporate some crystal lighting into your bathroom lighting set-up. The clear crystals will reflect the light from the light bulbs creating a heavenly effect in your space. Here, a crystal semi-flush mount hangs above a beautiful bright bathroom. A silver stud mirror is flanked by two brass wall sconces. The marble top bathroom vanity holds glass jars filled with bath accessories, damask bath towels, and white flowers. This is a great glam look for the space!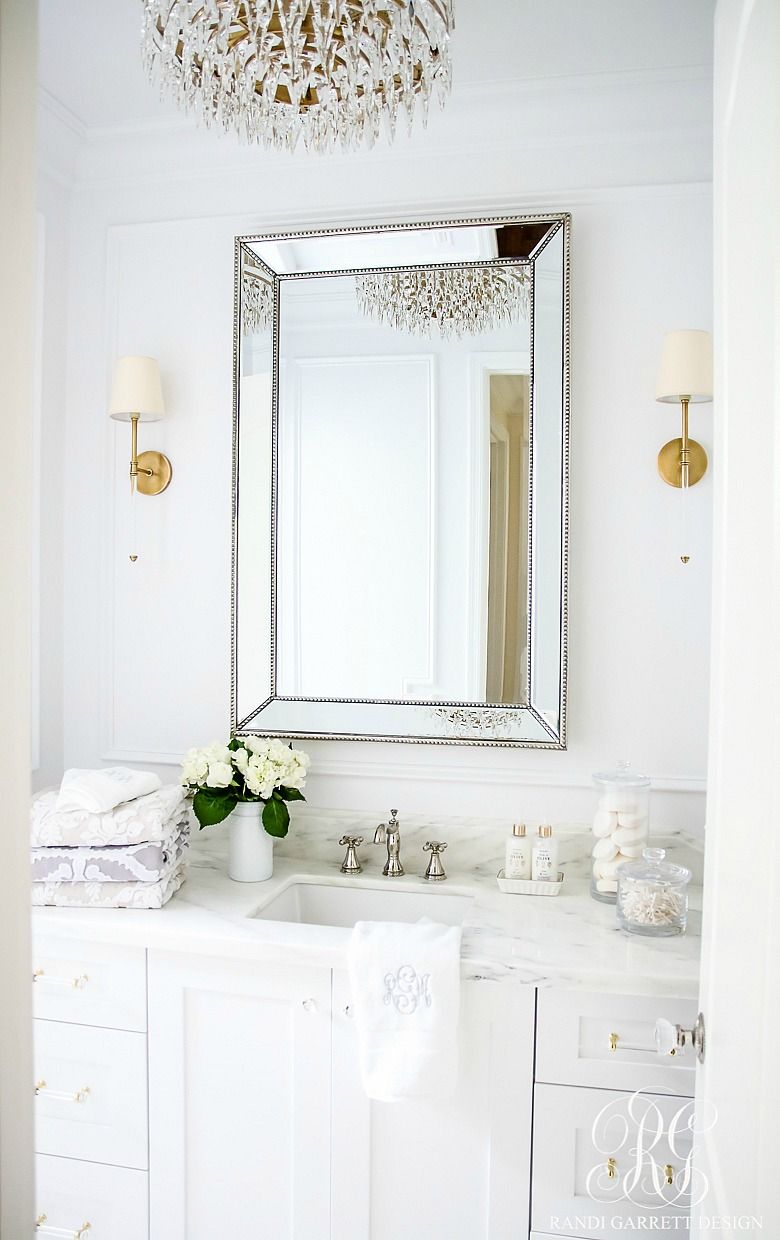 Marble Everywhere
Marble here, there and everywhere! From the floors to the walls to the built-in bathtub, there's no surface that doesn't work for a shiny marble bathroom. White carrera marble is a must-have for any glam bathroom. This luxurious material is timeless and integrates well with many homes. Here, a mirrored bathroom vanity helps make the marble appear to go even deeper throughout the room. This is one of my favorite glam bathrooms ever!
Brass
The brass fixtures, mirror, art frames and shelving really help bring out the glam in this simple, accessible bathroom. A space like this shows you really don't need a big budget to make glam decor work for your bathroom. Even in small spaces, little touches of brass will create a wow effect!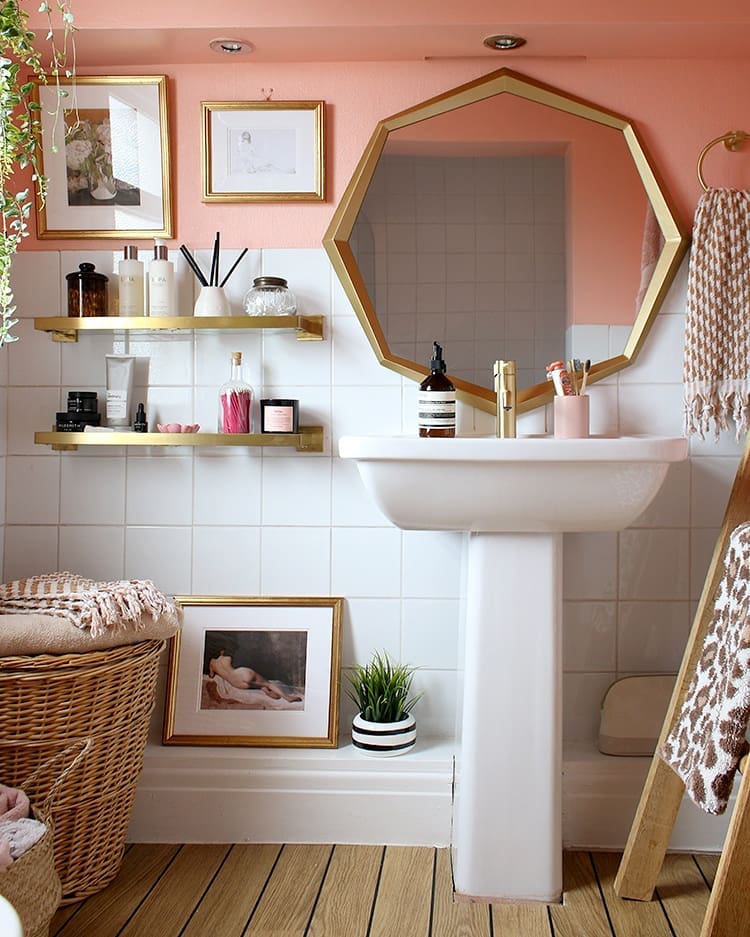 Bathtub
Installing a bathtub is one of the most glamorous things you can do for your bathroom! I'm obsessed with taking baths and I feel like a princess every time I step into mine for a long hot soak. Whether you go with a freestanding tub or a built-in bath, there's no denying that this bathroom element is ultra glam.
Here, a white bathtub was installed perpendicular to the bathroom wall, which has been covered in solid white marble. It is surrounded by two vanities and two mirrors in front of windows. A small white marble side table has a little vase of flowers on it for a pop of color.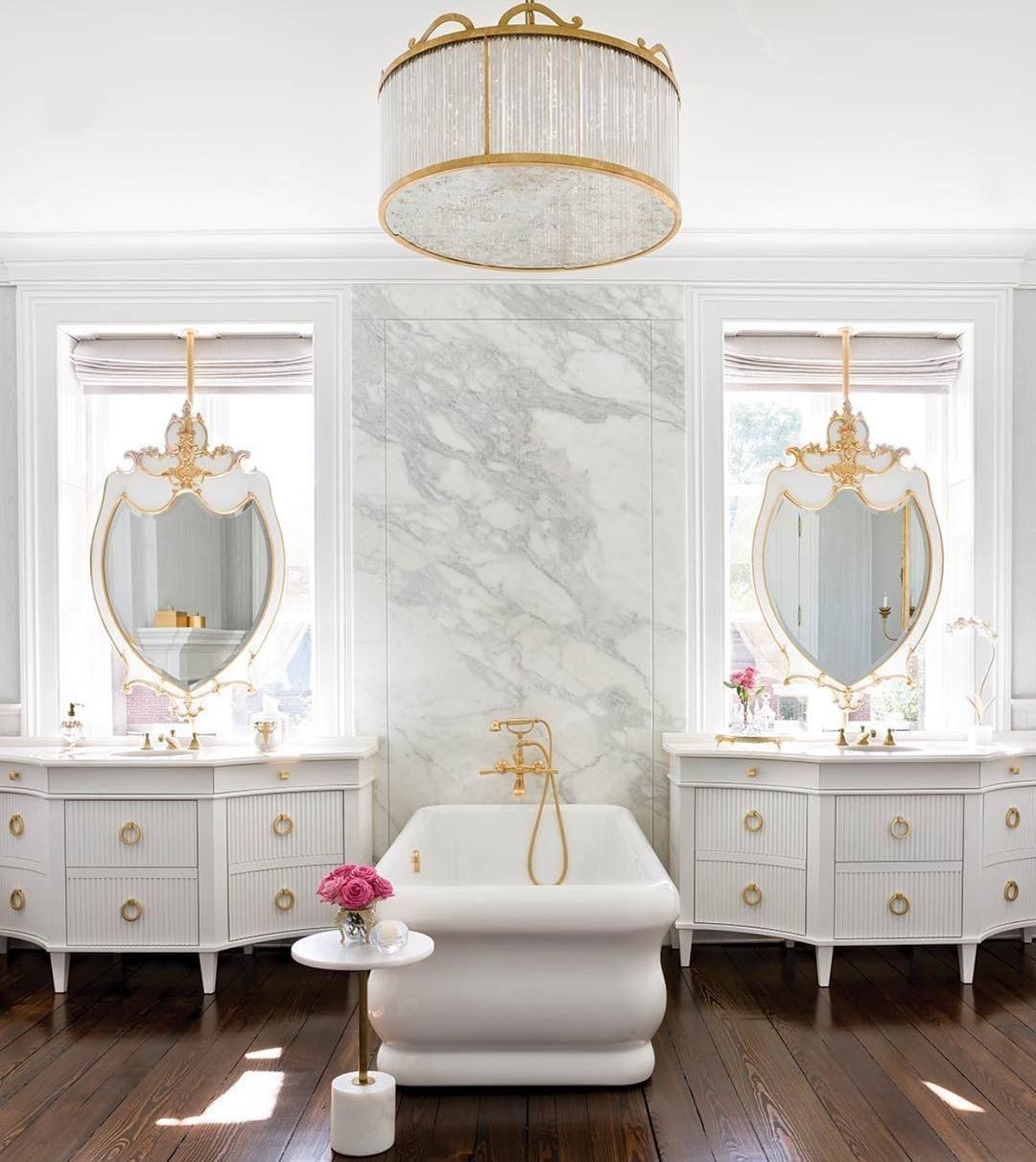 Fresh Flowers
A simple way to add a touch of elegance to your bathroom is to grab a glass jar or a mini ginger jar and cut a few pink rose stems to place inside. Creating a few mini flower arrangements will instantly add a charming look to the corner of your bathroom. This is probably the most affordable of our glam bathroom decor ideas for the home!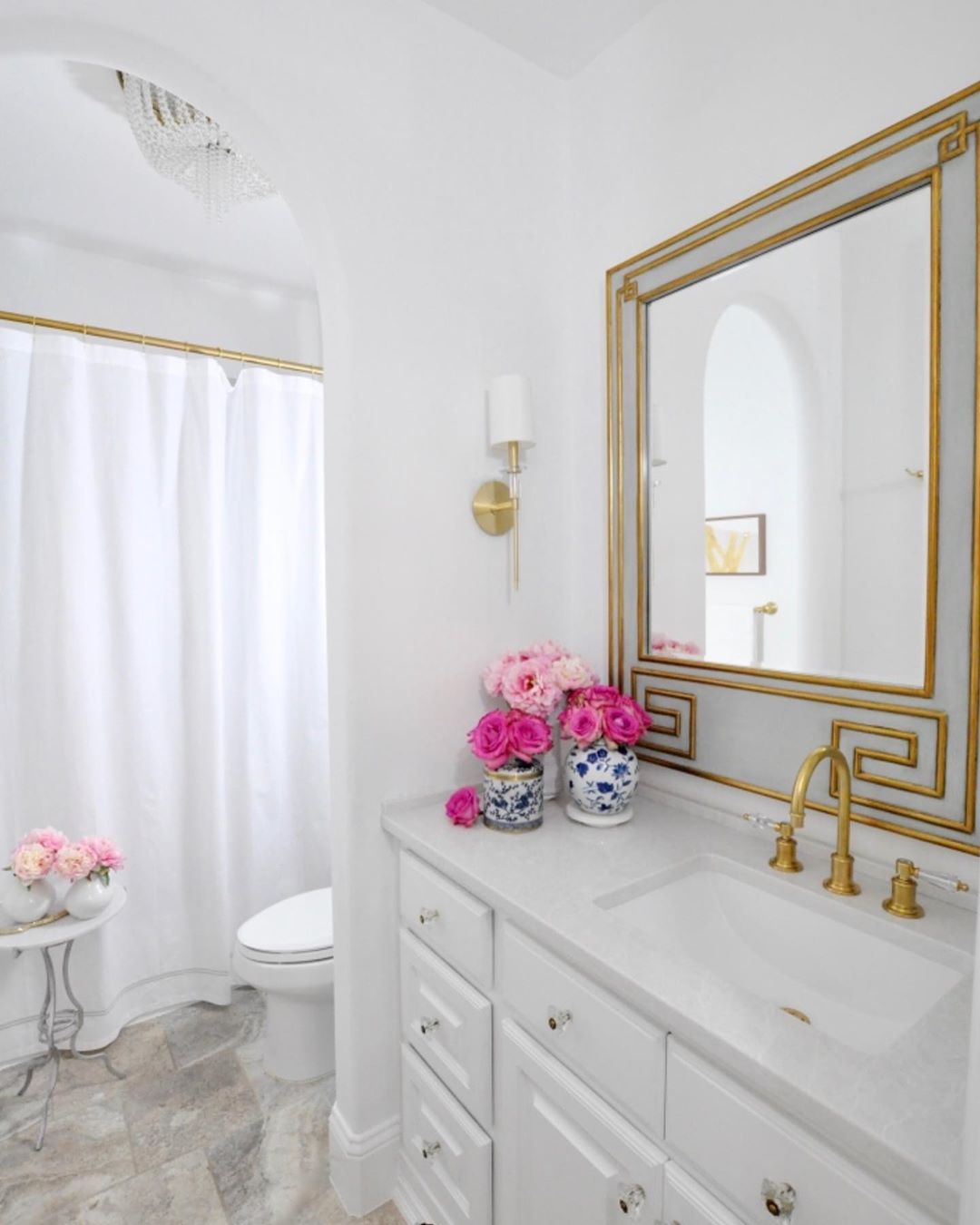 Gold Mirror
The mirror you choose for your bathroom will play a key role in its aesthetic. Many people are drawn to the mirror when the first step inside a bathroom. Going with a gold mirror will create a warming effect in the room. Glam bathrooms always have a touch of gold!
Signature Scent
While the visual aspects of your bathroom are very important, you shouldn't forget that the sensory aspects are just as key to creating the right atmosphere in your bathroom. Since bathrooms can be a smelly place, add a signature scent to your bathroom to keep it smelling fresh and fabulous. From incense on the toilet to a Diptyque candle on the bathroom vanity, there should be multiple ways for anyone to freshen up the scent of your bathroom when they need to.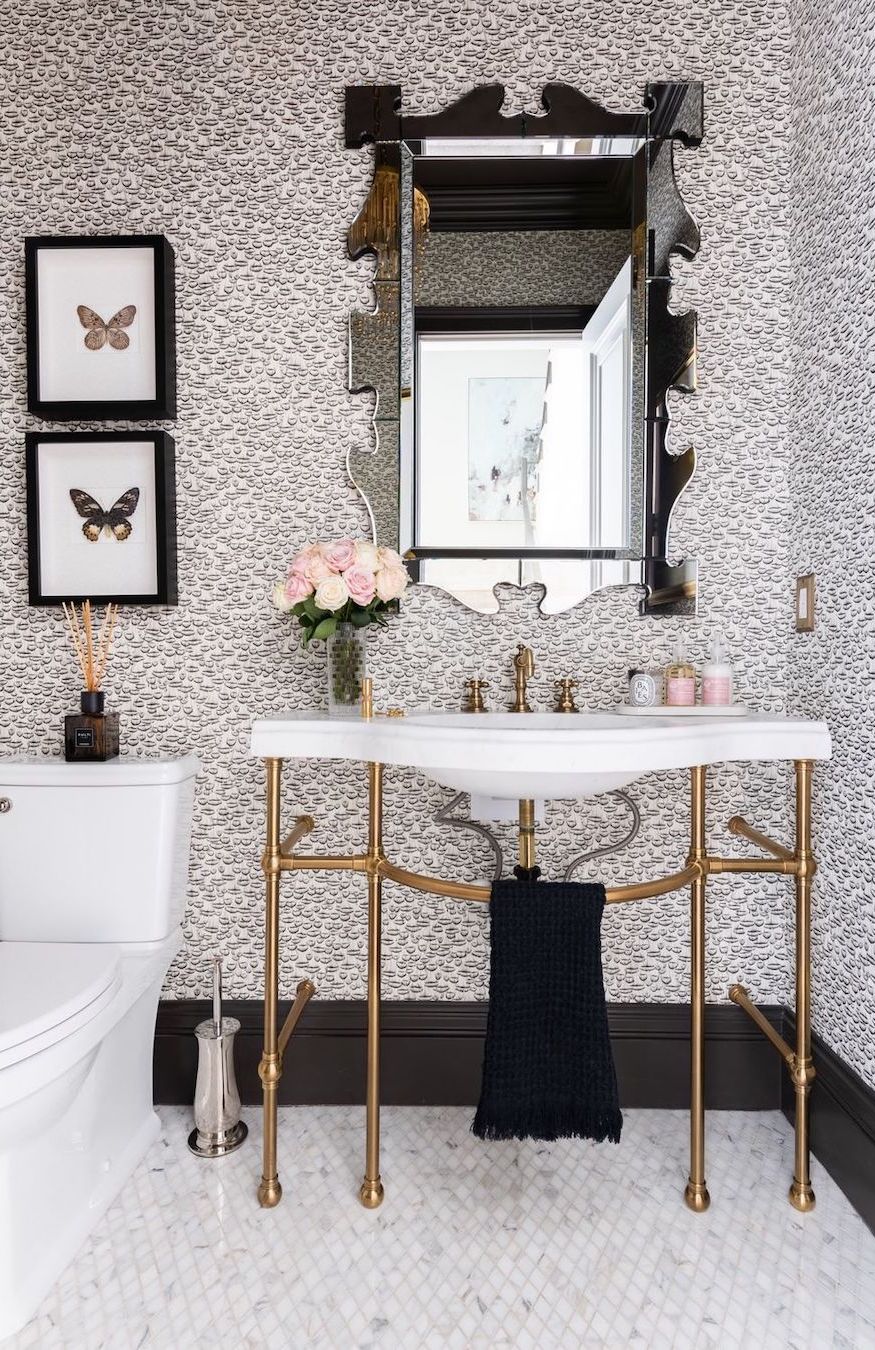 Bold Walls
Glam interiors aren't afraid to make bold design choices, like the black and white striped wallpaper in this bathroom. You can feel free to experiment with different types of bold wallpapers and wall designs in your bathroom to create a glamorous, daring look.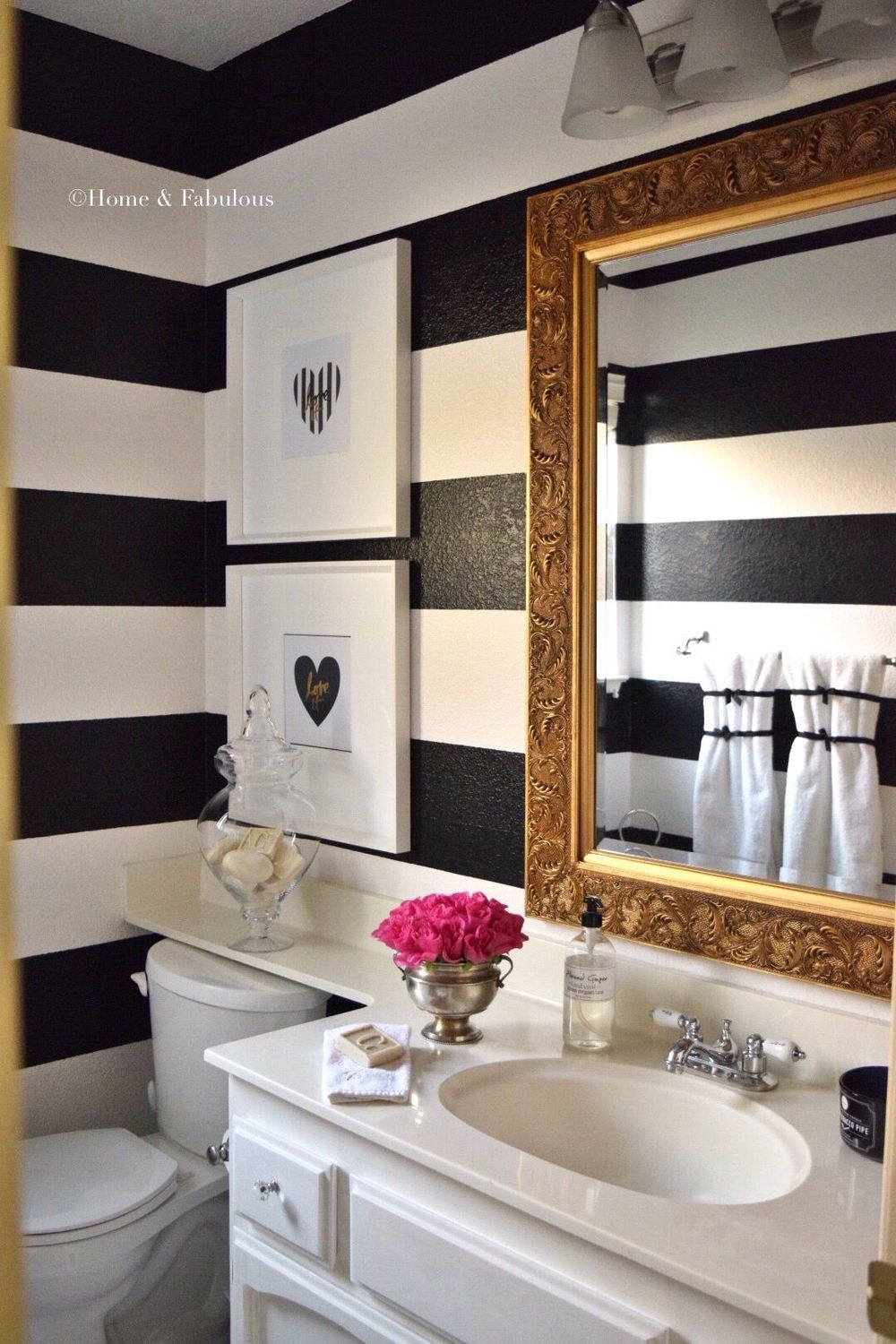 ---
Did you think these glam bathrooms were insta-worthy?
At the end of the day, the bathroom is a room for creating a small at-home oasis where you can get away from the hecticness of life. If you appreciate luxury and glam, there are so many options for you to get the aesthetic look you want in the washroom. It will make you feel like a princess every time you step inside the room!
More Glam Decor Ideas and Guides
If you can't get enough glam in your home, then don't miss our other guides filled with myriad glam decor ideas for your home! This is one style that we truly adore and so do our readers. We've searched high and low to find the best glam furniture, decor, and accents for your space. Don't miss these recent posts on glamorous decorating:
Happy curating! As always let us know your thoughts on this post in the comments below. We love hearing from you!
Tags:
Sours: https://curatedinterior.com/glam-bathrooms/
50 Small Bathroom Design Ideas & Solutions
Small Bathroom Solutions
Choose a Petite Tub
Hang Your Curtain High
See More Photos: 50 (Almost) Free Bathroom Updates
Lighten the Space
See More Photos: All The Creative Ways You Can Use Cane Accessories In Your Home
Go for Glass
Use Unexpected Shapes
See More Photos: 20 Brilliant Bathroom Mirror Ideas You'll Love
Make Shelving Matter
Install a Large Mirror
Forget the Hardware
Keep It Neat With a Niche
Get Creative
Show Off Your Shower
Install a Medicine Cabinet
Get the How-To: DIY Recessed Medicine Cabinet With Oversized Mirror
Create a Gallery Wall
See More of This Space: Guest Bathroom Pictures From HGTV Urban Oasis 2020
Pick a Patterned Floor
See More Photos: Bathroom Tile Designs That Are Anything But Boring
Hang the Mirror
Grow a Plant
See More Photos: Plants to Grow in Your Bathroom
Show Your Stripes
See More of This Space: Powder Room From HGTV Dream Home 2018
Or, Think Horizontal
Light It Up
Break the Rules
Get the How-To: How to Install Wallpaper in a Bathroom
Try Open Shelving
See More Photos: 40 Bathroom Vanities You'll Love for Any Style
It's Okay to Splurge
Learn More: What Is the Average Cost to Remodel a Half Bathroom?
Conserve With a Console Sink
See More Photos: Stylish + Functional Single Bathroom Vanity Designs
Try an Accent Wall
See More Photos: 40 Bathroom Color Schemes We're Loving Right Now
Welcome Back Wainscotting
Get the How-To: How to Install Wainscoting to a Wall
Mix & Match Tile
See More Photos: Our Fave Bathroom Tile Design Ideas
Add a Catchall Caddy
Create a Wet Room
Learn More: Interested in a Wet Room? Learn More About This Hot Bathroom Style
Choose a Floating Vanity
Welcome to the Jungle
Keep Clutter Controlled
See More of This Space: Guest Bathroom Pictures From HGTV Dream Home 2017
Dare to Go Dark
See More of This Home: The Property Brothers Create the Ultimate Forever Home for Big Brother JD Scott
Bring On the Charm
See More Photos: 20 Cozy Farmhouse Bathroom Ideas
Add Style Underfoot
Make Way for Warmth
See More Photos: 40 Wow-Worthy Bathroom Decorating Ideas and Tips
Skirt the Sink
Add Spa-Style Extras
Opt for Organic
Install Floor-to-Ceiling Tile
See More of This Space: Laundry + Powder Room Pictures From HGTV Urban Oasis 2016
Or, Try Partial Tile
See More of This Home: Tour the Brownstone Boys' Salvaged-From-Scratch Brooklyn Brownstone
Go Quirky
Coordinate Fixtures
Pair Patterns
Kick Up the Color
Illuminate With Mirrors
See More of This Space: Master Bathroom Pictures From HGTV Smart Home 2020
Go Small or Go Home
Sours: https://www.hgtv.com/design/rooms/bathrooms/small-bathroom-design-pictures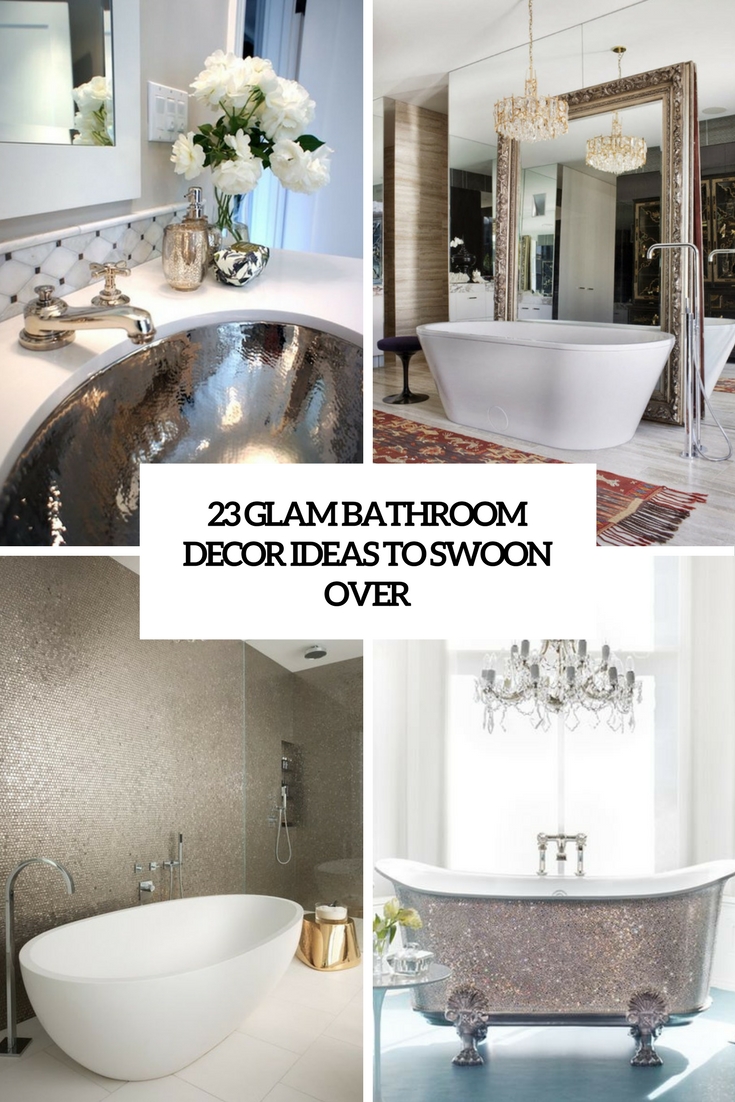 A bathroom is an oasis of purity, where you can relax after a long day and wash off all the problems and cares. That's why its decor and design is important, it should be comfortable and very relaxing. If you love luxury and glam, you can design a gorgeous glam bathroom, which will make you feel a queen/king every time you enter it. Besides, if you love posting pics on Instagram, such a bathroom will attract attention for sure! Let's see how you can make your bathroom glam and luxurious.
Walls And Floors
There can't be any other as glam and luxurious material for covering walls and floors as marble – whether it's black, white, grey or any other. You can cover the whole bathroom with the same marble, or go for dark-colored marble on the floor and light-colored on the walls, and even a marble platform for your bathtub is a chic idea. Another idea is rocking a shiny wall, it can be a penny tile statement wall or just a part of it – to accentuate the bathtub, shower or the sink. There's a large variety of different shiny tiles, so you'll easily choose something.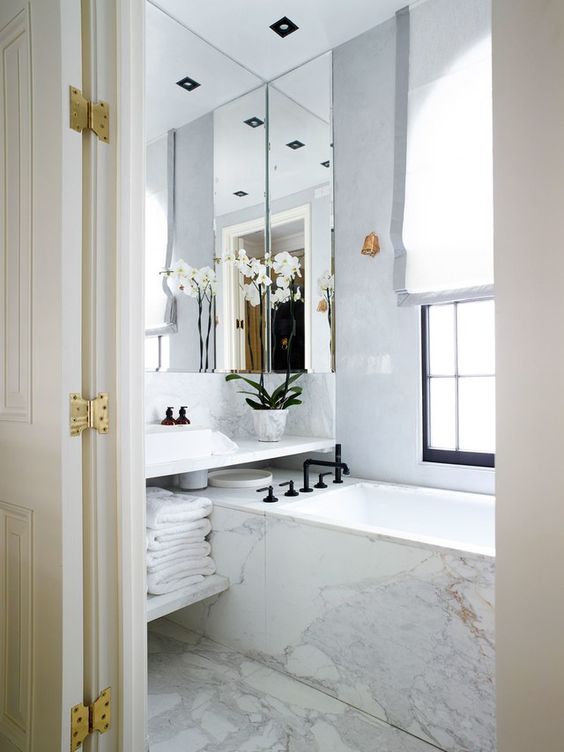 all-marble bathroom with a large mirror that takes almost the whole wall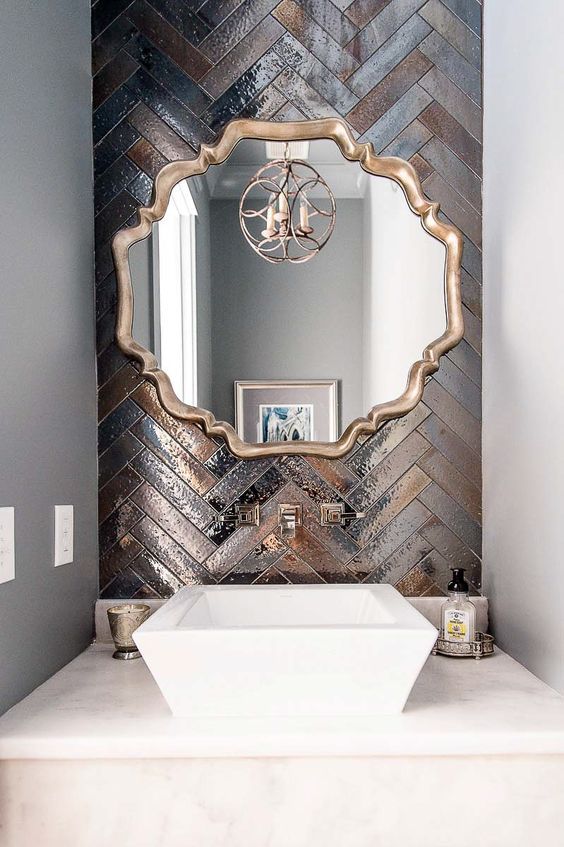 a gorgeous statement wall done with metallic tiles of different shades and clad in a herringbone pattern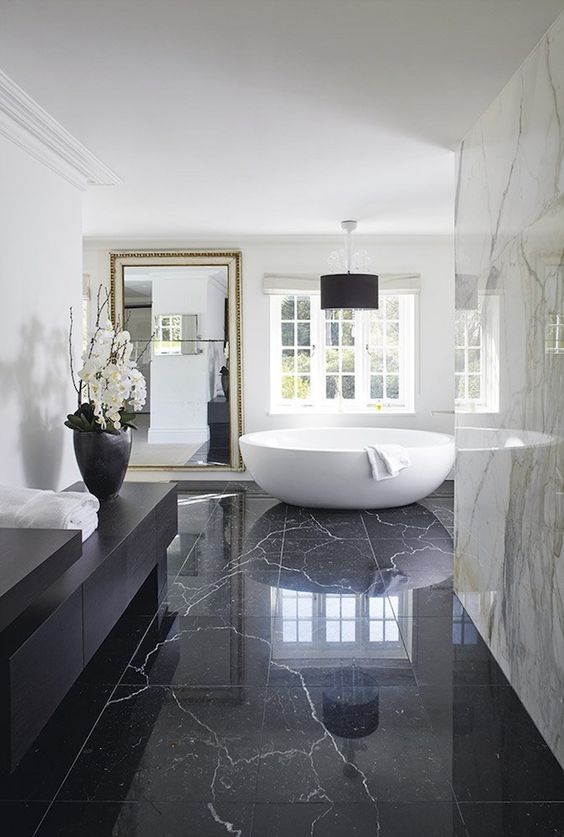 marble is a glam and luxurious material, so using it for decor is a great idea, and add a large mirror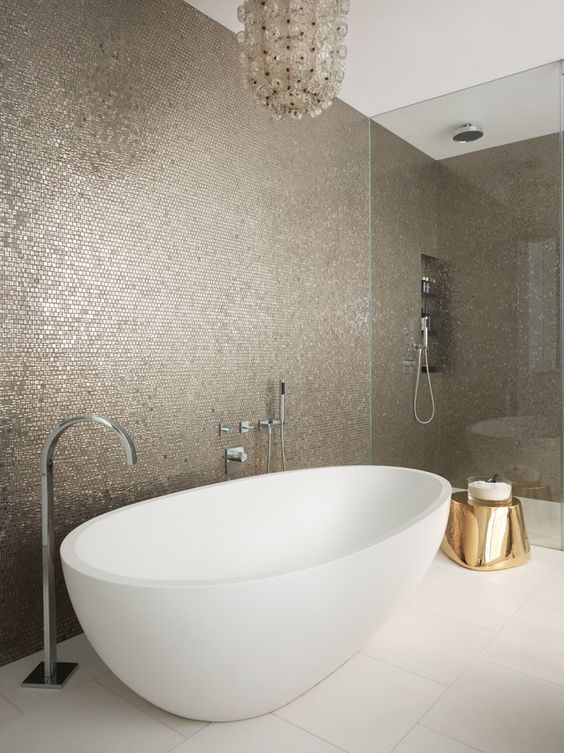 shiny penny tiles, a shiny brass stool and a crystal chandelier are ideal for a glam space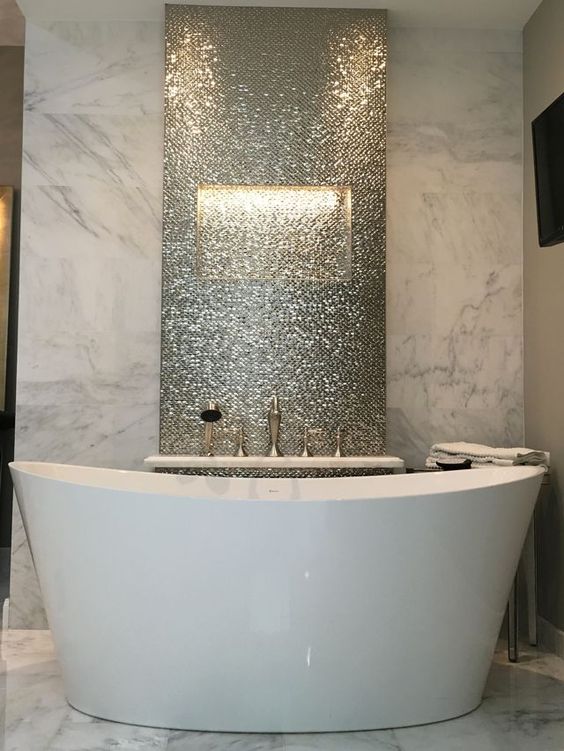 a marble statement wall and a shiny penny tile statement to highlight the bathtub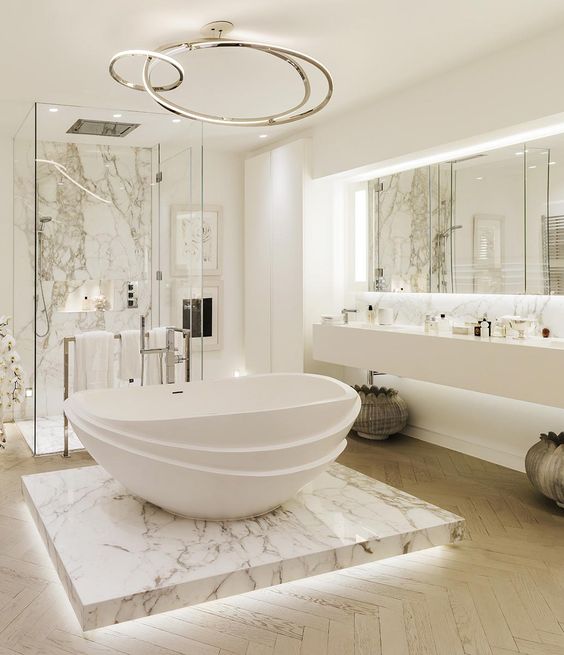 a marble shower and a bathtub platform with additional lights for a chic feel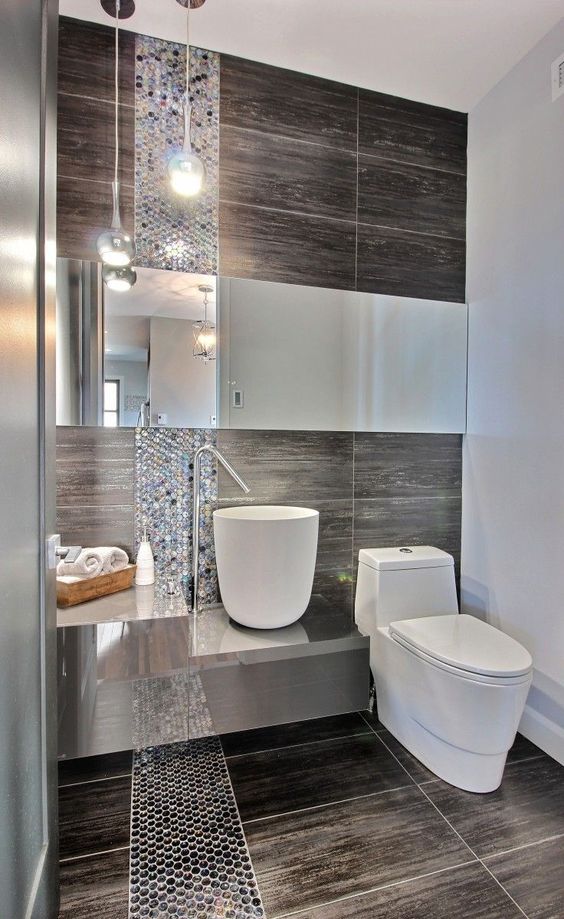 glam shiny penny tiles and a mirror on the whole length of the wall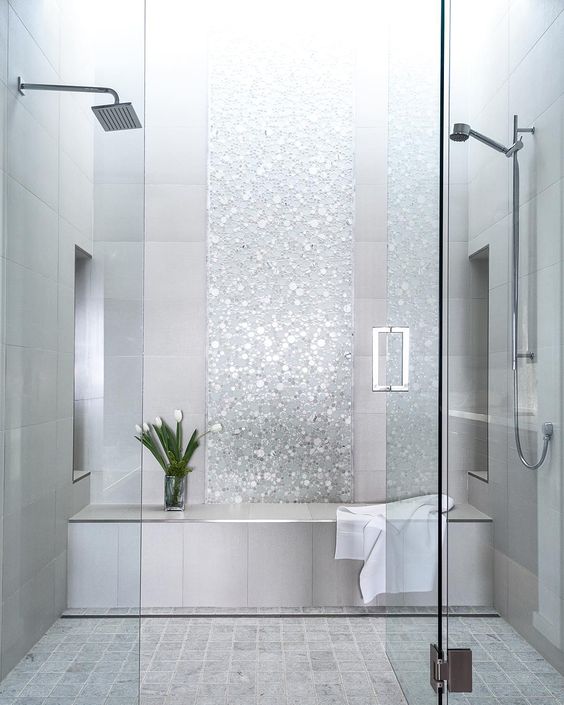 a shower and steam room done with grey tiles and shiny silver accents looks very glam and cute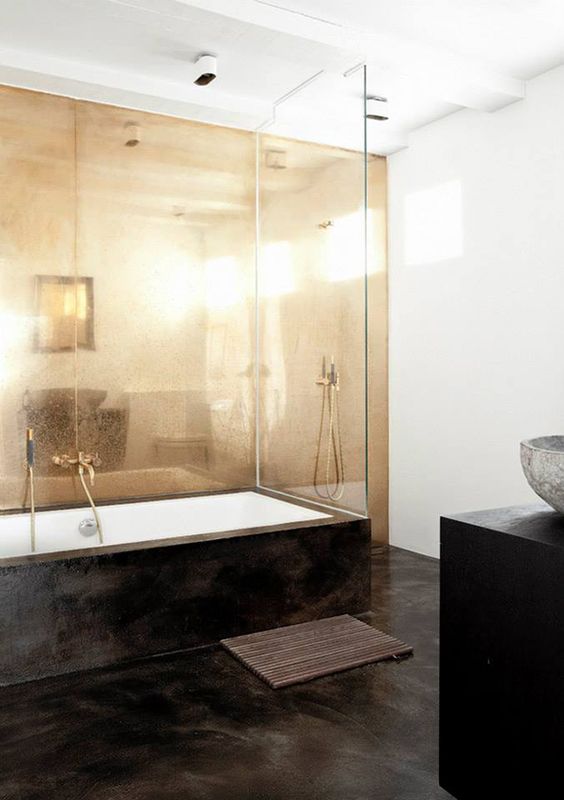 a shiny copper wall will make a monochromatic bathroom more interesting and glam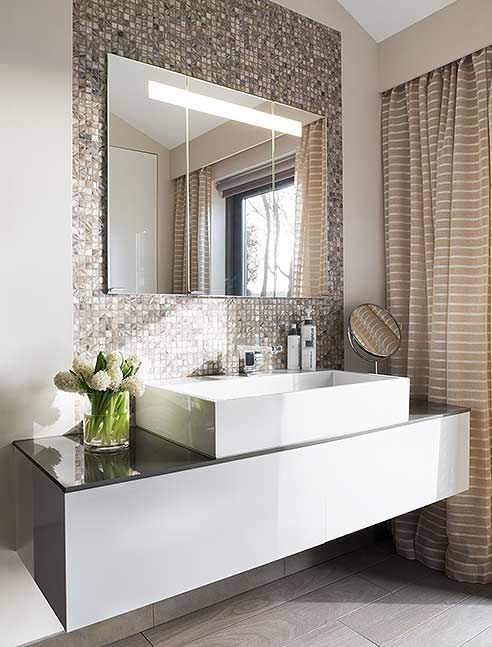 a shiny metal tile wall to highlight the sink and vanity and make them more glam
Mirrors
Mirrors are an indispensable part of any glam interior, and hanging a large mirror or placing it on the floor is a great idea to add a glam feel to even a usual bathroom. Choose an oversized mirror in a refined vintage frame, or dare to make a mirror wall and add a large mirror to emphasize the effect produced. You can also try mirrored furniture, for example, a vanity, and it will make your space more shiny.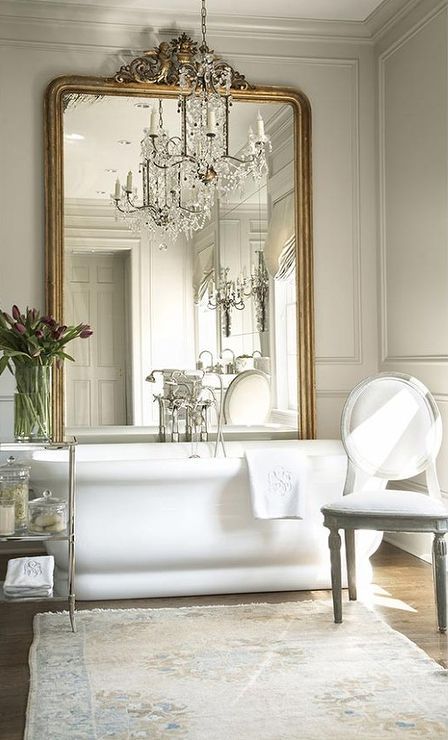 an oversized vintage frame mirror and a large crystal chandelier over the tub can be a glam statement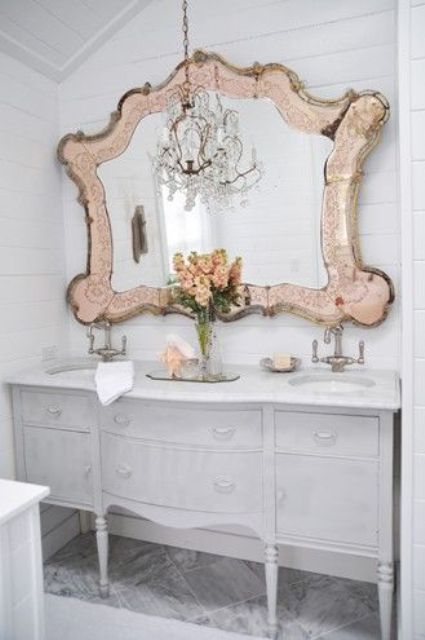 a large mirror in a unique vitnage frame with a metal touch brings chic and glam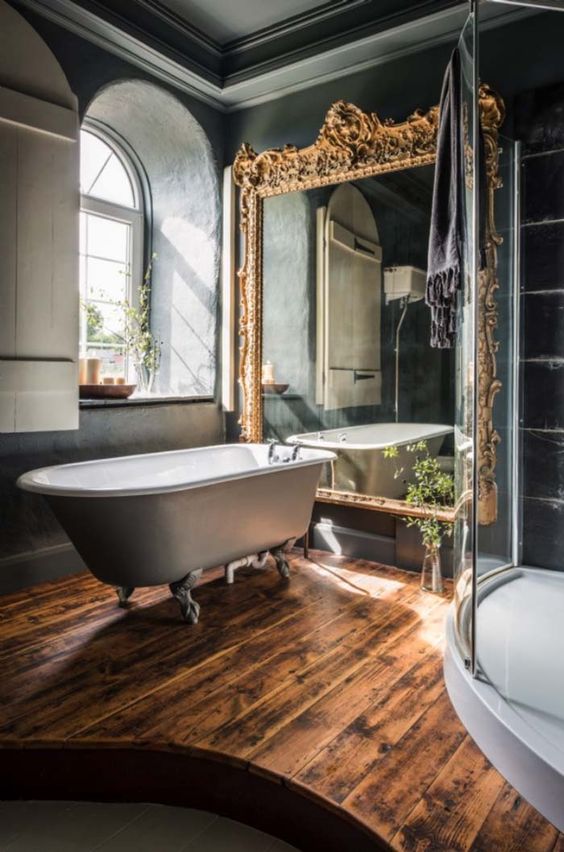 an oversized mirror in a luxurious vintage frame is great to add a glam feel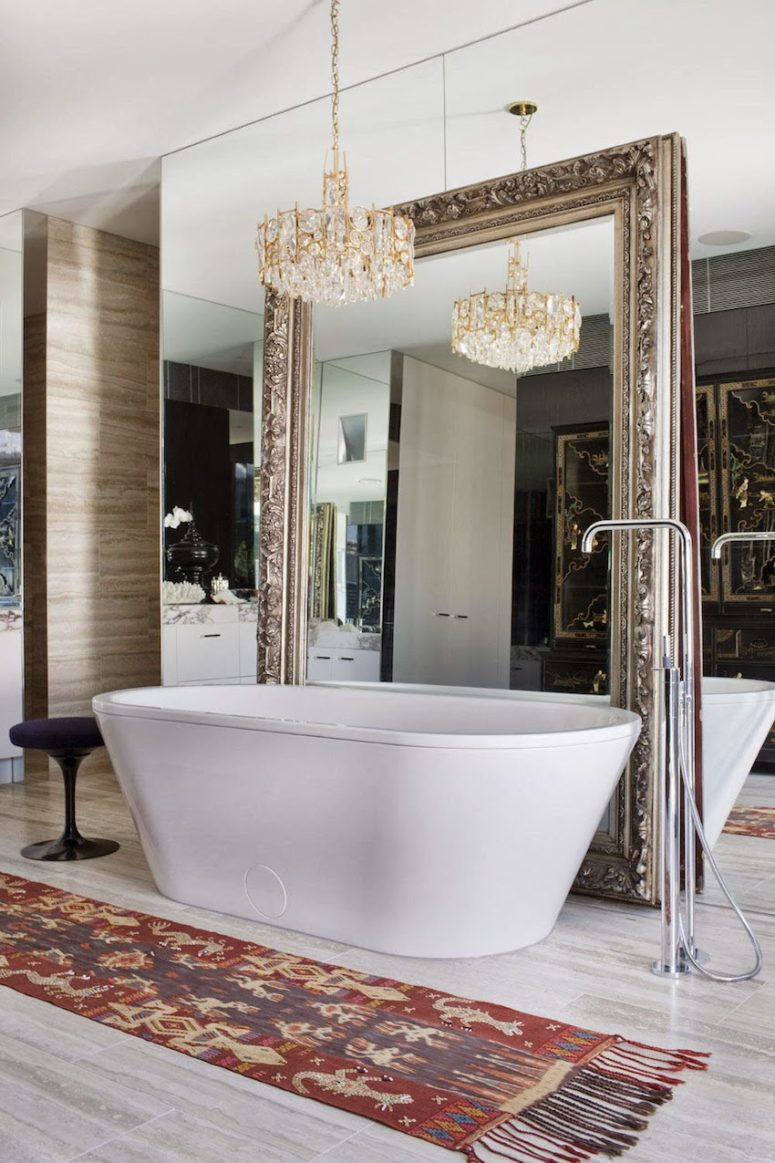 a mirror wall, an additional vintage mirror next to it and a glam chandelier over the bathtub
Bathtubs And Sinks
A bathtub and a sink is a must for every bathroom, and choose them carefully to match the glam space. As for bathtubs, we recommend clawfoot ones and just free-standing bathtubs. You can find cool shiny metal and even sparkling bathtubs to make your space super glam but actually it's not necessary if you want a modern glam space – just a free-standing oval bathtub in white will be enough. As for vanities, choose marble ones, chic metallic ones and of course mirror ones, and you can find shiny metal sinks to complete the look. Now enjoy the pictures below!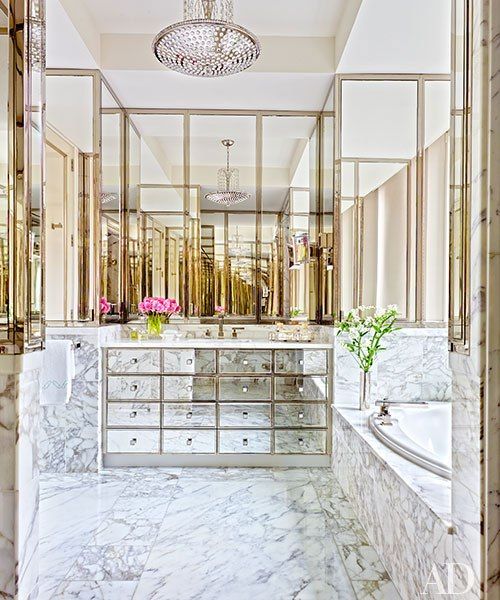 a built-in mirrored vanity with many drawers and marble and brass all over for a glam feel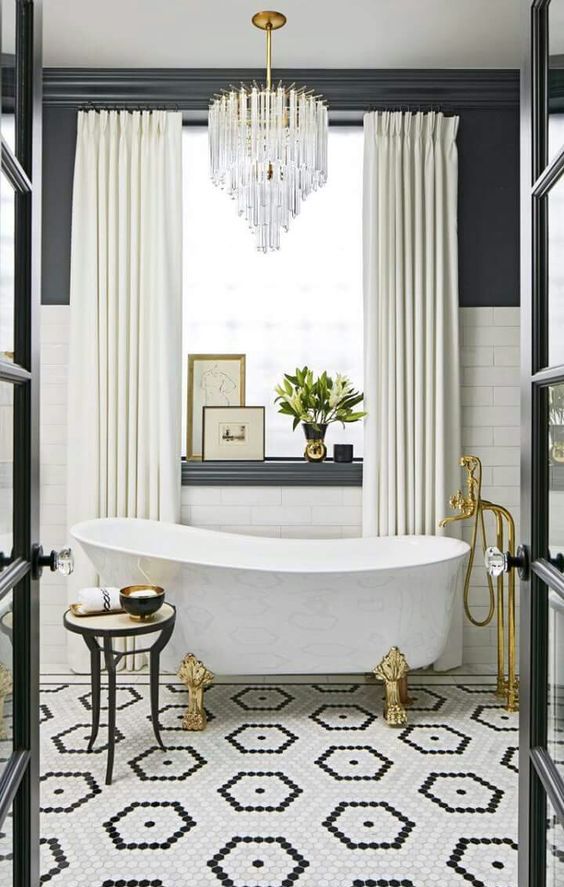 a free-standing bathtub on brass clawfeet and a crystal chandelier over it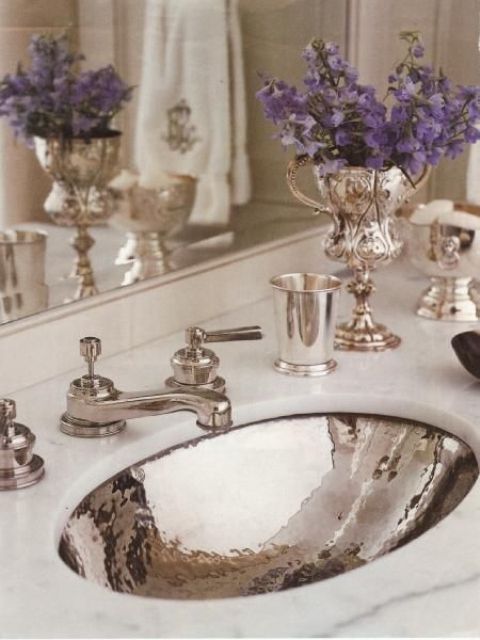 a marble countertop and a shiny silver sink with matching faucets looks very feminine, refined and chic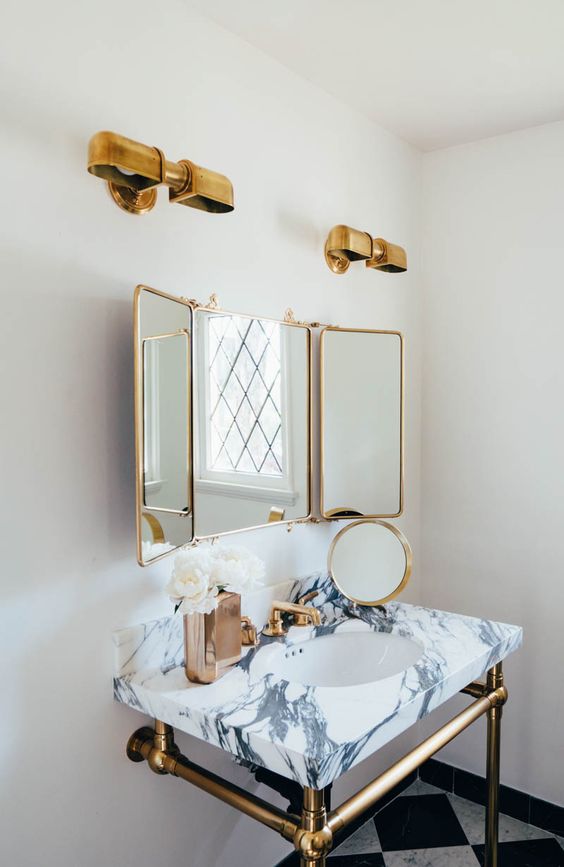 a marble vanity countertop, brass lamps, frames and legs for a vintage glam space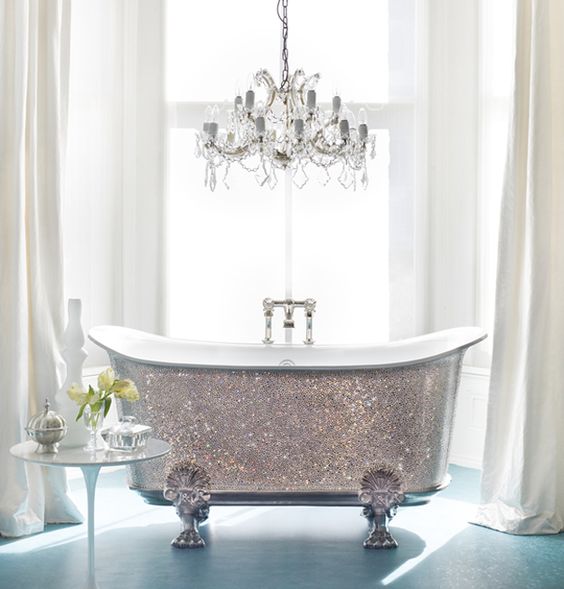 a shiny silver clawfoot bathtub and a glam chandelier over it will make your bathroom super cute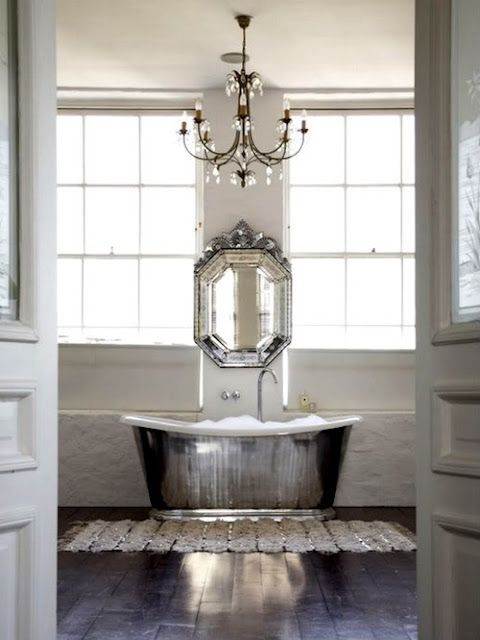 a shiny silver free-standing bathtub, a matching vintage mirror and a crystal chandelier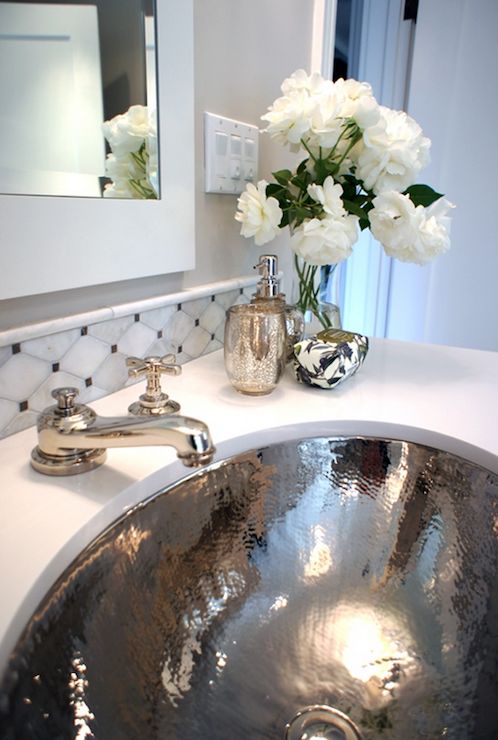 a shiny silver sink and matching faucets are great for a glam bathroom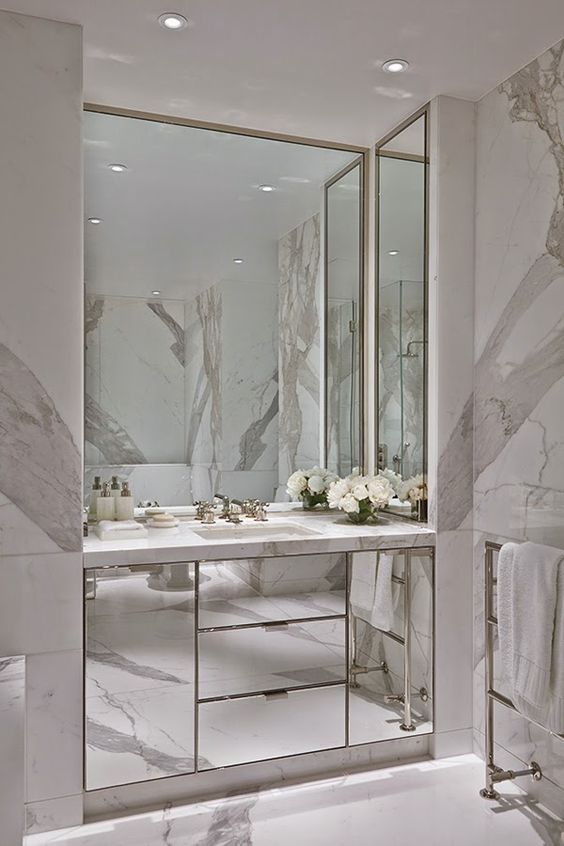 light-colored marble and a built-in mirrored vanity and mirrors on three sides
Sours: https://www.digsdigs.com/glam-bathroom-decor-ideas/
In a West Village powder room by designer Ashley Darryl, a towel bar is fastened to the side of the floating sink.
20. Upgrade Your Bathroom Accessories
Patterned towels, vintage rugs, and sophisticated lighting also add pops of personality. "Lighting and bath fixtures are like the jewelry of the room. Use them to bring a little glamour into the space," says Los Angeles–based interior designer Sarah Samuel.
21. Rethink Your Sink
If you're designing your tiny bathroom from scratch (or remodeling), consider a tiny corner sink. There's no rule that says you have to have a full-size standard sink. A corner sink gets the job done just as well—plus it gives you plenty of space and less to clean.
22. Choose Compact Pieces
Hulking vanities and blocky tubs may look at home in a larger bathroom, but they can make a small bathroom feel claustrophobic. Install compact toilets and sinks or consider floating versions to open up the space. If a tub is a must, consider a Japanese soaking tub to add serenity without taking up square footage.
23. Use Closed Storage to Stay Organized
Bottles and tubes scattered on the countertops are guaranteed to distract from even the most gorgeous bath. Samuel suggests closed storage, such as a linen closet or vanity with drawers and doors, to keep things tucked away. "Display only your favorite and most frequently used, well-designed products."
24. Get Your Cabinets in Order
Don't forget about what's inside the cabinets too. Compartmentalize your cabinets with specific storage sites for tools and toiletries. Large baskets keep hair dryers, flat irons, and brushes from becoming a tangled mess, while smaller trays are great for holding makeup and beauty products.
25. Curve Some Surfaces
Sours: https://www.architecturaldigest.com/story/small-bathroom-ideas-for-a-brighter-breezier-space
Bathroom glamorous ideas small
I wasnt going to tell him the truth, but hes not lagging behind. He hugged me, pressed himself. and we lie there.
GLAM BATHROOM MAKEOVER IN 5 EASY STEPS- HOME IMPROVEMENT DIY
I took a box of Vaseline cream from the shelf, opened it, smeared it thickly on the index finger of my right hand, with two fingers of his left hand. He parted Oksanas huge buttocks and inserted the smeared finger into the girls anal opening. Having smeared the inner walls of Oksanas anus with Vaseline, I pulled out my finger, once again took a portion of the cream and this time smeared.
You will also like:
With a timid movement touches the foreskin, which tastes so salty. Just like herself. The programmer's palm rests on the back of her head, as if trying to help her or push her, while she opens her mouth. Wider, allowing the swollen organ to penetrate entirely there, sliding her tongue back and forth along the stretched skin, caressing the base and head.
11530
11531
11532
11533
11534