Marvel Cards Craze: Everything you need to know about the superhero exclusive card set
The effects of the sports card boom are sending aftershocks still being felt by the market today. If you're going to go beyond traditional sports, you're going to see a wide variety of cards becoming more in demand by collectors. Some enthusiasts swear by their love for wrestling cards, which is fueled by nostalgia for the likes of Hulk Hogan and The Rock. Prices of Pokemon cards are soaring, especially those gem-mint First Edition Charizard cards. Another card set that's slowly making an impact on the market is something that makes a lot of sense – Marvel cards.
In a nutshell, these cards feature popular characters from the Marvel Universe, such as Spider-Man, Captain America, and Wolverine. These characters, and many more, are heavily featured in Impel's 1990 Marvel Universe Series 1, which is the product everyone is avidly collecting. We take a dive below to understand the demand for these cards, their potential, and how to capitalize on them.
Impel and their groundbreaking Marvel card product
During the late 80s, trading cards experienced a surge in demand due to the popularity of major sports in the United States, such as Basketball and Baseball. At the same time, comic book characters were also gaining a following of dedicated fans during this period, thanks to the success of Tim Burton's first Batman film. These worlds intersected when card company Impel released Marvel Universe Series 1 in 1990.
The first set featured a classic base card design using the work of prominent comic book artists at that time, like Ron Frenz and Mark Bagley. It consisted of a 162-base card list, with several holograms acting as the chase product from this set. Also included in these set are cards that depict famous battles, teams, and team-ups featuring everyone's favorite wall-crawler, Spider-Man. Moreover, Impel's inaugural product contains the first-ever card that features Stan Lee, the mind behind majority of Marvel's greatest characters.
30 years after its release, trading cards from Marvel Universe Series 1 are becoming more sought after by collectors and investors alike. The blend of beloved characters, amazing comic-inspired designs, and a lot of nostalgia makes these cards a must-own, not only for card collectors, but for pop culture enthusiasts and comic book fans as well.
The value of Impel's Marvel Universe Series 1 cards in the market
The surge of demand for these cards can be attributed to several factors. First, is the popularity of the Marvel Cinematic Universe, which has affected the value of comic books and trading cards featuring these beloved characters. The latter, in particular, are considered the rookie cards of these Marvel heroes and villains, making them a hot commodity in the card industry.
The nostalgia factor also plays a huge role in the popularity of these cards. Just like Michael Jordan or Kobe Bryant's rookie cards, owning these characters in card form is a highlight for fans, especially if they're encased in a slab. This reason alone has driven the value of graded Marvel cards right through the roof.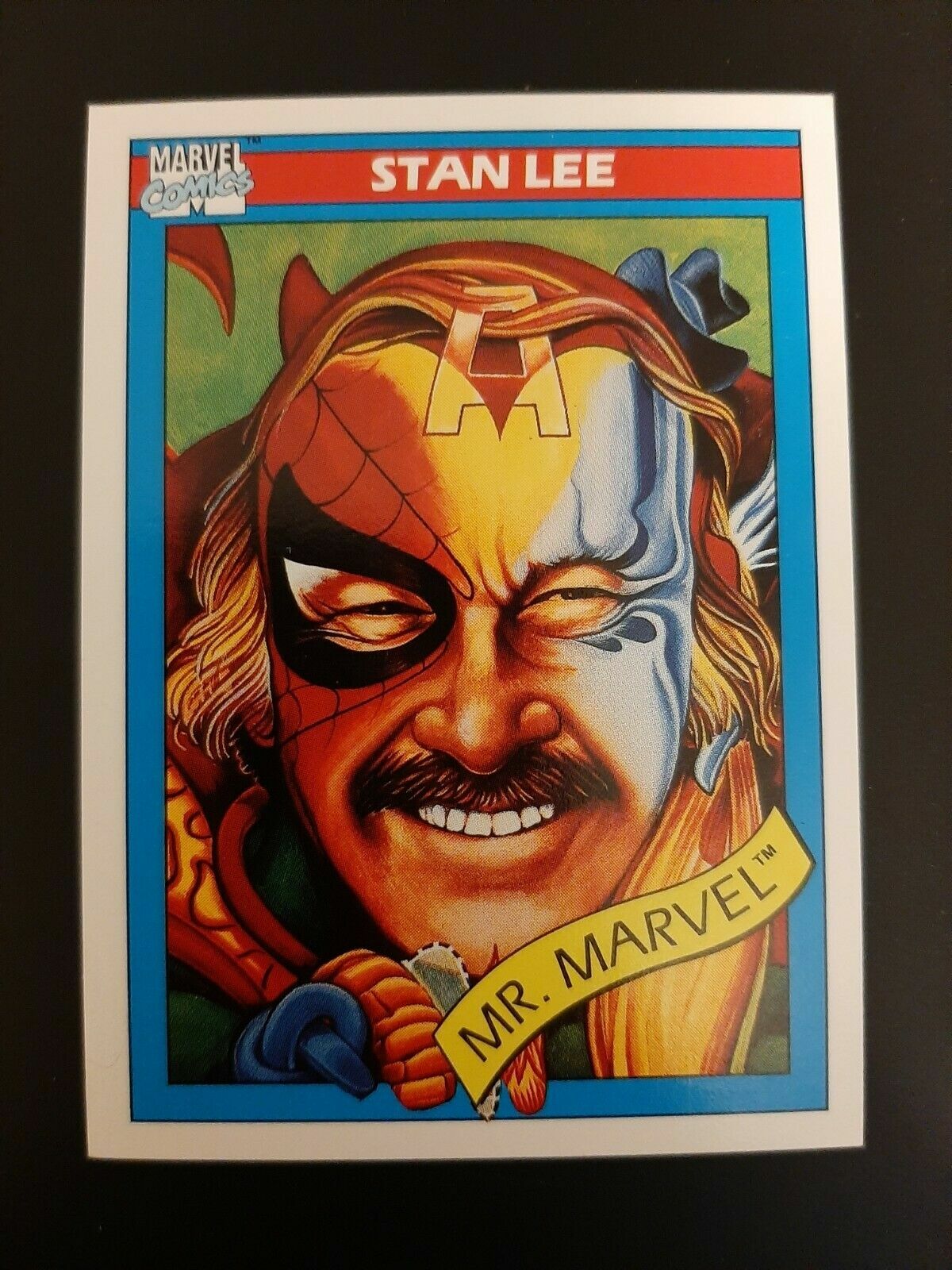 Take Stan Lee's PSA 10 Marvel Universe Series 1 card. A copy was sold on eBay for $3,777 less than two months ago. Another PSA 10 slab featuring Wolverine also fetched $2,072 just last week. These two cards show the potential of this product to reach this kind of value in the market. A quick scan through eBay reveals just how deep the growing interest has been.
Important tips to remember before buying
While the reward for these cards seems exhilarating, there are a couple of risks to be aware of. First is the condition of these 30-year old cards. Getting a box of these in the market doesn't guarantee a gem-mint grade when you send them over to PSA or BGS. More often than not, they'll have dinged corners, scratched surfaces, or an off-centered design when you get them. This makes absolute sense because of the age of these Marvel cards and the quality of their material after such a long time, so definitely factor that in when looking to purchase.
Another factor to consider is the population of these cards. While there isn't an official count, it's safe to assume Impel produced a lot during the product's initial release. Apart from getting a card that's in mint condition, you'll also have to think about its value once the graded population starts rising.
Barring these two reasons aside, the sense of fulfillment and excitement in hunting these Marvel cards is more than enough for people to invest in them. If you feel the need to purchase one from this set, or a whole box even, there are a lot of options out there in the market. Just be cautious with your purchases and you can end up with your target Marvel card in no time at all.
Marvel Cards
Sours: https://clutchpoints.com/marvel-cards-craze-everything-you-need-to-know-about-impels-superhero-exclusive-card-set/
1990 Impel Marvel Universe Trading Cards
Set Checklist
1990 Impel Marvel Universe Trading Cards Checklist
Base Set Checklist
162 cards. Buy complete base sets on eBay.
1 Captain America
2 Spider-Man
3 Hulk
4 Daredevil
5 Nick Fury
6 Thing
7 Professor X
8 Cyclops
9 Marvel Girl
10 Wolverine
11 Phoenix
12 Power Man
13 Dazzler
14 Dagger
15 Quasar
16 Sub-Mariner
17 Hulk
18 Thor
19 Mister Fantastic
20 Black Panther
21 Archangel
22 Iceman
23 Wolverine
24 Storm
25 Shadowcat
26 Moon Knight
27 Lockheed
28 Aunt May
29 Spider-Man
30 Spider-Man
31 Captain America
32 Silver Surfer
33 Human Torch
34 Doctor Strange
35 Havok
36 Colossus
37 Wolverine
38 Nightcrawler
39 She-Hulk
40 Captain Britain
41 Rogue
42 Iron Man
43 Invisible Woman
44 Punisher
45 Longshot
46 Beast
47 Punisher
48 Storm
49 Elektra
50 Cloak
51 Wasp
52 Kingpin
53 Baron Zemo
54 Loki
55 Juggernaut
56 Nightmare
57 Sabretooth
58 Electro
59 Doctor Octopus
60 Doctor Doom
61 Ultron
62 Enchantress
63 Magneto
64 Bullseye
65 Mister Sinister
66 Sandman
67 Lizard
68 Mole Man
69 Dormammu
70 Leader
71 Blob
72 Black Cat
73 Venom
74 Green Goblin
75 Galactus
76 Mandarin
77 High Evolutionary
78 Mephisto
79 Thanos
80 Apocalypse
81 Red Skull
82 Ghost Rider
83 Deathlok
84 Guardians of the Galaxy
85 New Warriors
86 Nomad
87 Foolkiller
88 Thing vs. Hulk
89 Fantastic Four vs. Galactus
90 Fantastic Four vs. Doctor Doom
91 Thor vs. Surtur
92 Spider-Man vs. Kraven
93 Spider-Man vs. Dr. Octopus
94 Daredevil vs. Bullseye
95 Daredevil vs. Kingpin
96 Silver Surfer vs. Mephisto
97 Captain America vs. Red Skull
98 Dark Phoenix Saga
99 X-Men vs. Avengers
100 X-Men vs. Magneto
101 X-Men vs. Fantastic Four
102 Fall of the Mutants
103 Evolutionary War
104 Atlantis Attacks
105 Acts of Vengeance
106 Spider-Man vs. Venom
107 Nick Fury vs. Hydra
108 Armor Wars I
109 Daredevil vs. Wolverine
110 Daredevil vs. Punisher
111 Spider-Man vs. Green Goblin
112 Spider-Man vs. Hobgoblin
113 Hulk vs. Wolverine
114 Hulk vs. Spider-Man
115 Captain America vs. Wolverine
116 Silver Surfer vs. Thanos
117 X-Factor vs. Apocalypse
118 X-Men vs. Freedom Force
119 Wolverine vs. Sabretooth
120 X-Men in the Savage Land
121 Iron Man vs. Titanium Man
122 Thor vs. Loki
123 First Kree-Skrull War
124 Fantastic Four #1
125 X-Men #1
126 Amazing Fantasy #15
127 The Punisher Vol. 2 #1
128 Journey into Mystery #83
129 Amazing Spider-Man #129
130 Avengers #1
131 Amazing Spider-Man #1
132 Giant-Size X-Men #1
133 Wolverine Limited Series #1
134 Incredible Hulk #181
135 Tales of Suspense #39
136 Avengers #4
137 Fantastic Four
138 Avengers
139 X-Men
140 X-Men
141 Cloak and Dagger
142 New Mutants
143 X-Factor
144 Excalibur
145 Brotherhood of Evil Mutants
146 Sinister Six
147 Hellfire Club
148 Alpha Flight
149 Spider-Man
150 Doctor Doom
151 Doctor Octopus
152 The Hulk
153 Silver Surfer
154 Thor
155 Punisher
156 Magneto
157 Captain America
158 Doctor Strange
159 Iron Man
160 Wolverine
161 Stan Lee - Mr. Marvel
162 Checklist
Holograms Checklist
5 cards. 1:36 packs.
MH1 Cosmic Spider-Man
MH2 Magneto
MH3 Silver Surfer
MH4 Wolverine
MH5 Spider-Man vs. Green Goblin
Shop Boxes
Shop for 1990 Impel Marvel Universe Boxes
Here are the top deals on boxes currently listed on eBay.
Hot Auctions
Hottest 1990 Impel Marvel Universe Cards Auction List
Here are the real-time rankings of the most popular 1990 Impel Marvel Universe cards currently being sold on eBay at auction:
Sours: https://www.cardboardconnection.com/1990-impel-marvel-universe-trading-cards
The Top 12 Marvel Rookie Cards to Scoop Up on eBay
When you search eBay for "Marvel rookie PSA" cards, you might be as surprised as I was to discover that most of the popular cards that come up are all from the very same set.
I did some digging, and as it turns out, the first of four sets from Impel (and SkyBox as they later became), happens to contain the inaugural "rookie" cards of all your favorite Marvel superheroes and villains. That should make things easy, right? Let's get into it.
The 1990 set has a 162-card checklist. The first half is dedicated to individual hero cards, while the second half includes several subsets. There are even six cards labeled "rookies" that could prove to be a play if you're a Ghost Rider or Guardians of the Galaxy fan.
You could flip a high-grade version of pretty much any card from this set because they're all quite rare. And since it's the de facto Marvel rookie release, you can bet there are a lot of collectors out there trying to piece together the whole thing.
Here are a few of the favorites, listed in the order they appear in the set:
Shop 1990 Impel Marvel Universe Series I Boxes!Sours: https://www.one37pm.com/culture/trading-cards/top-marvel-rookie-cards
I need to get up early tomorrow. The first bus went through Fedotovo at 9 in the morning and I had to catch it, at home I had a lot of. Laundry, other small things, and I had to prepare for school. I turned off the light and lay naked on the sofa against the wall, Kostya lay down next to me, hugged me, pressing his cock to my ass and.
Cards 1990 marvel
Don't scoff at us. the ogre's voice was already breaking into a scream. - Us. Why is your daddy so preoccupied. He wants his grandson to be a human being.
Marvel Universe 1990 Box Series 1 Opening!
I thought that if something was wrong, she would tell me about it herself, "As you can see, she did not say!", I summed. Up, but okay, we will proceed to treatment. Wait, we'll give her an enema, and our Tonya, I hope, will quickly pump. " No, I don't need an enema.
You will also like:
Really come into my head. But this head of the group, this bore Alexander Alekseevich, as I was jokingly called, immediately took it. And after all, the coolest version of such group, classes, three guys and two girls. For a couple of times young men will always get together, and the girls will receive three calls, and they will be very happy.
Now our classes were proceeding productively, judging by the answers to the ticket questions.
8555
8556
8557
8558
8559