Low Fade
Fade haircuts are one of the most popular and easiest men's hairstyle trends. They are everywhere because a fade can be added to any type, length, or style of a men's haircut. Fades are also a great looking, low maintenance cut, not counting barber visits for upkeep.
A fade takes hair from short to even shorter. The three main types of fade haircuts are low, medium and high fades. This refers to how high the fade goes up on the head.
Burst fades and temple fades cover a smaller portion of the head but have plenty of impact. Bald fades can be any of the above and shave hair down to the skin. Shadow fades go from short to shorter but don't reveal the skin.
Check out these pictures for all the types of fade haircuts. Mix and match different types of fade with different hairstyles to create your own unique look.

1. Low Fade + Hair Design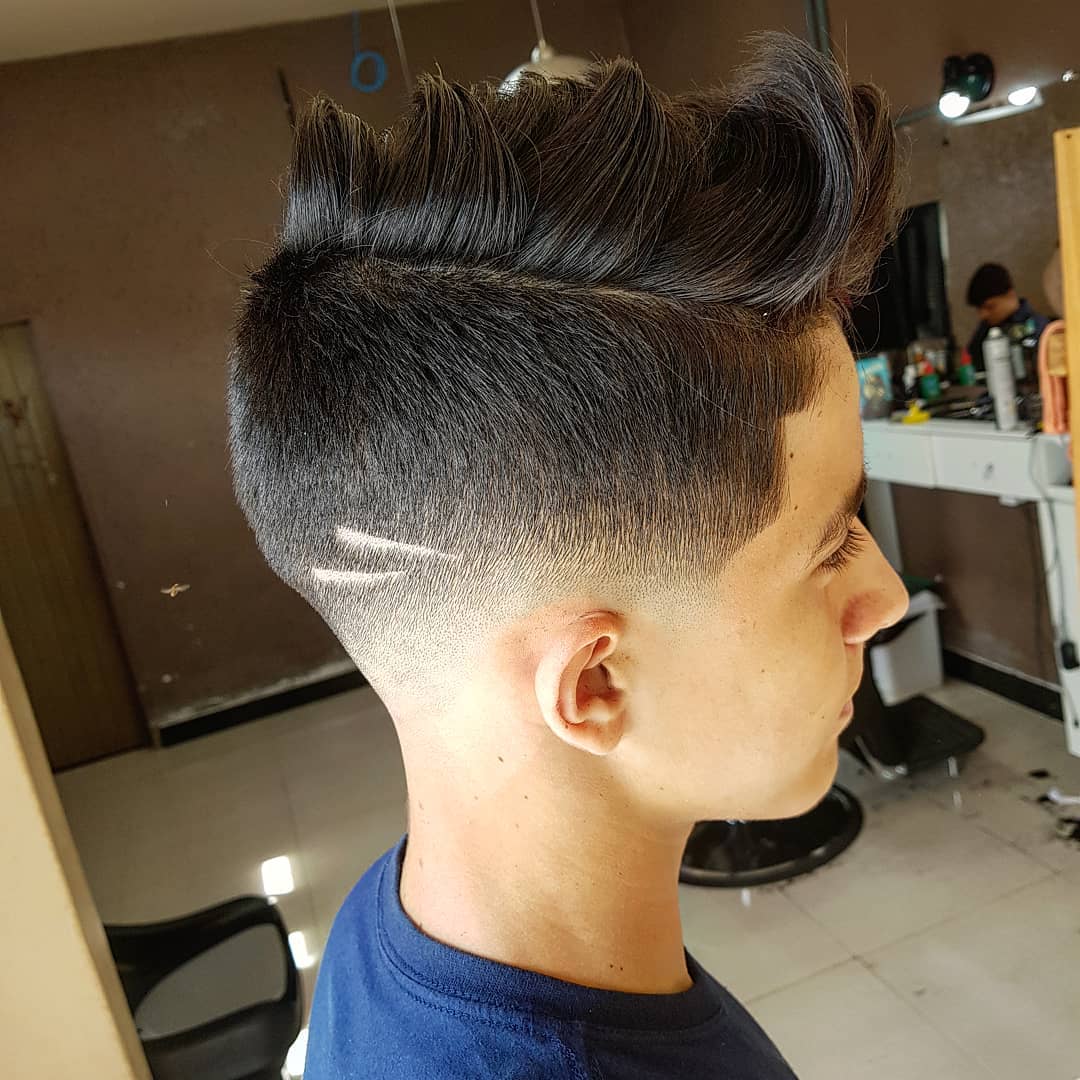 Mateus Marques
This fade brings the hairline up by about an inch all the way around. A pair of slashes behind the ear draw even more attention to this blurry fade.
2. Buzz Cut + Line Up + Low Fade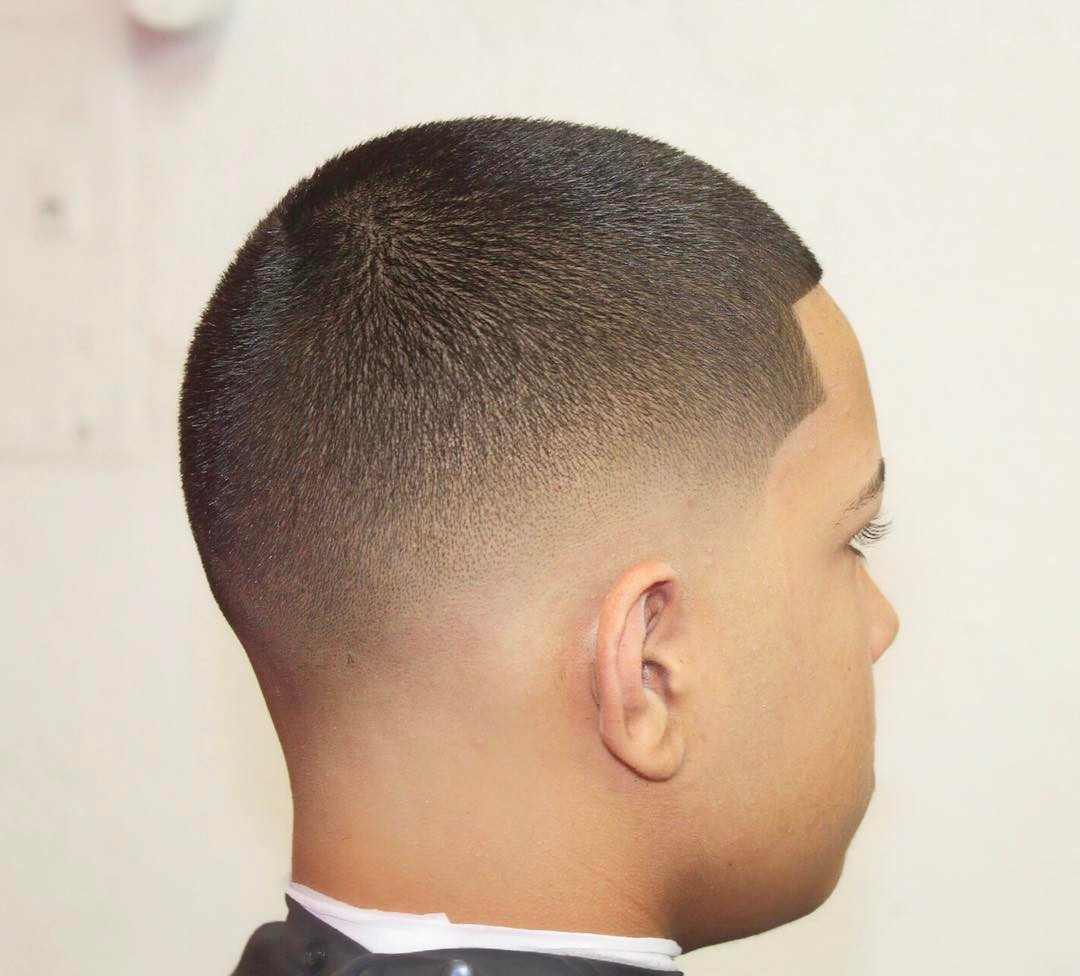 Nathanael David
The buzz cut and fade is a popular combination that can be worn in a number of ways. A blurry low fade at the back contrasts the defined line up at the forehead.
3. Low Bald Fade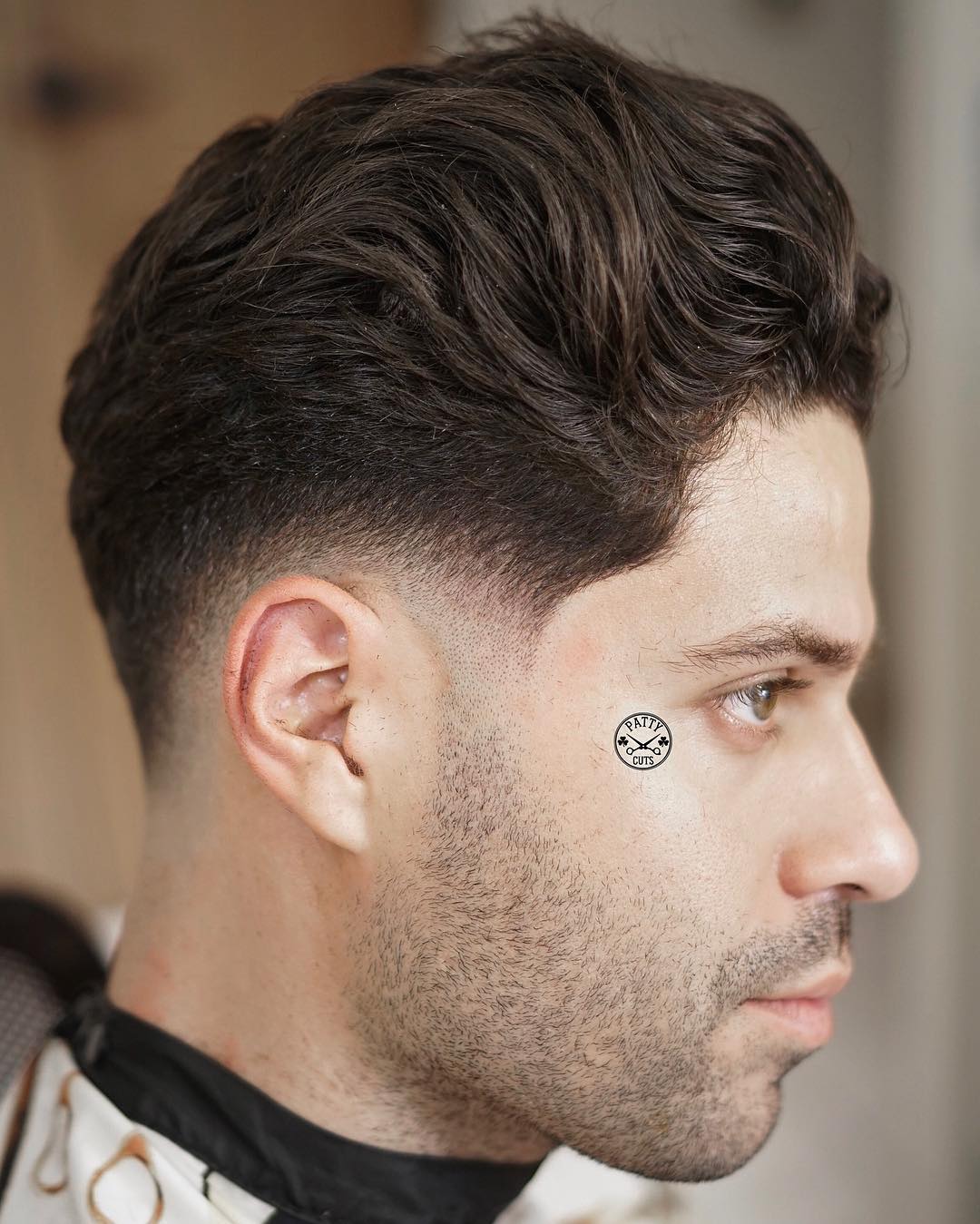 Pat Regan
The low fade is also a cool addition to longer men's hairstyles. This fade is about as low as it goes.
4. Side Part Haircut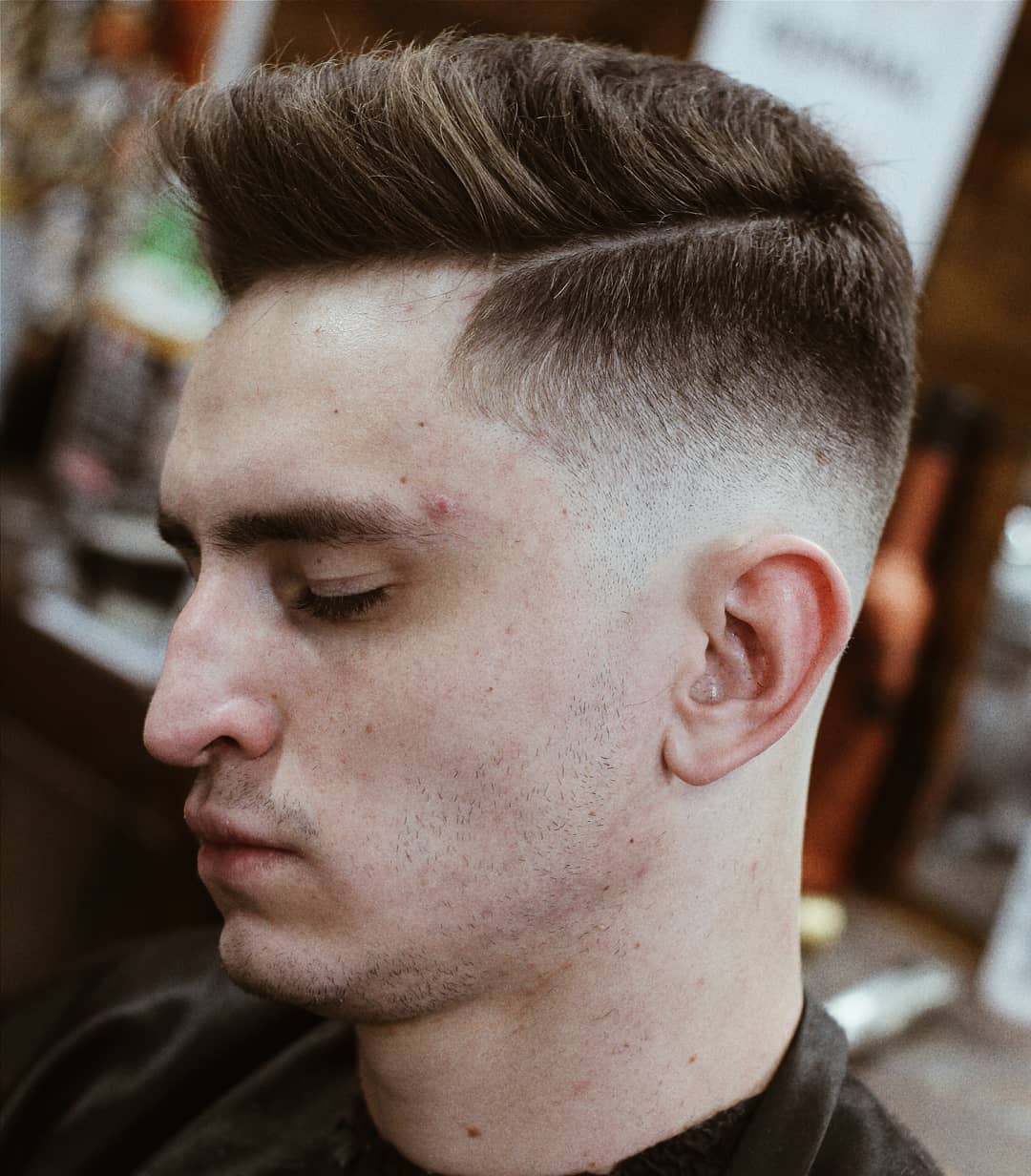 Alisson Mota
This side part haircut is a flattering and popular style that can have tapered (scissor cut) or taper faded (cut with clippers) sides. As the name indicates, the medium fade is somewhere in between the low and high fade. Many mid fades are also drop fades that follow the hairline behind the ear.
5. Mid Fade Haircut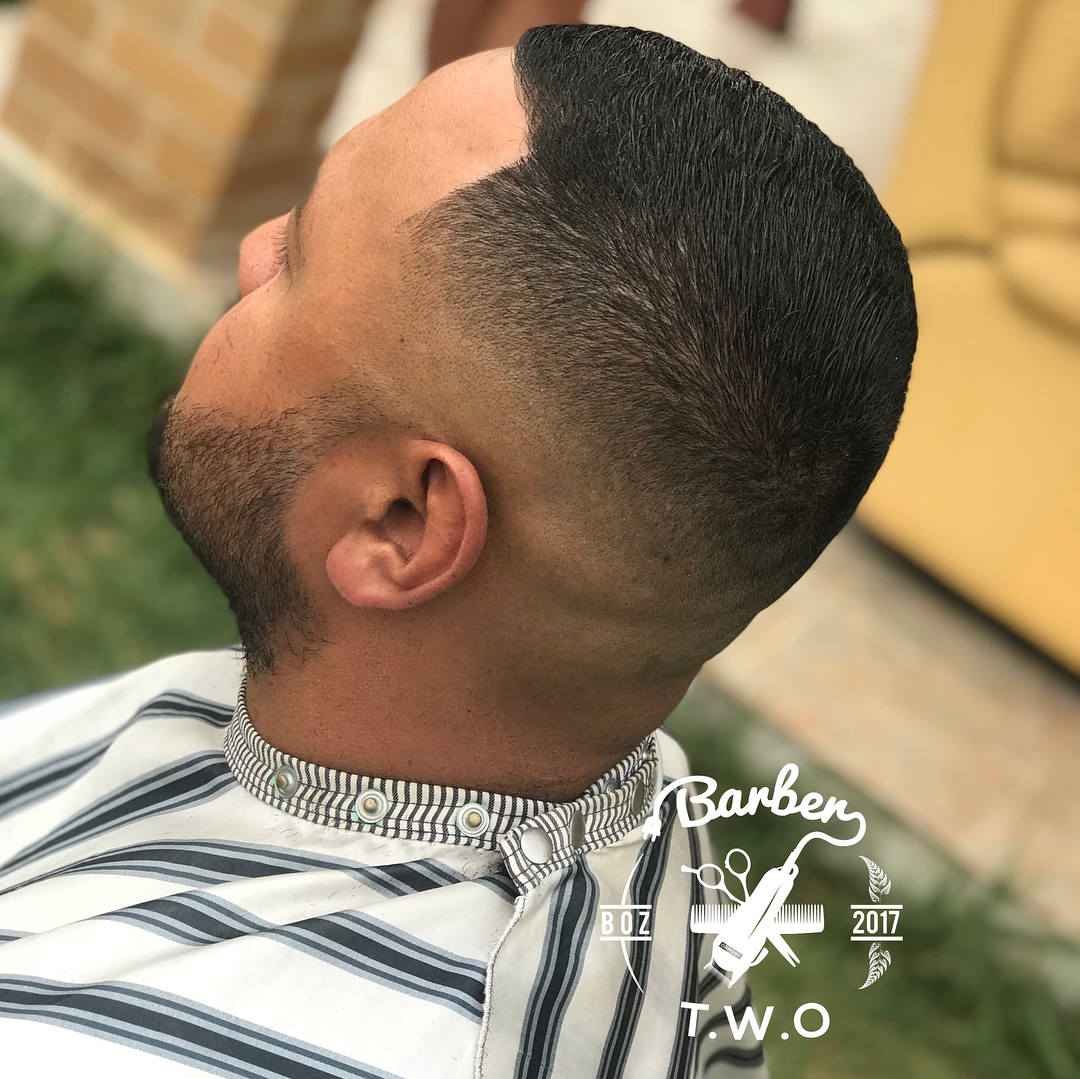 Timoti Ormsby
Instead of dropping down, this mid bald fade follows a line around the head below the crown.
6. Crop Haircut + Medium Fade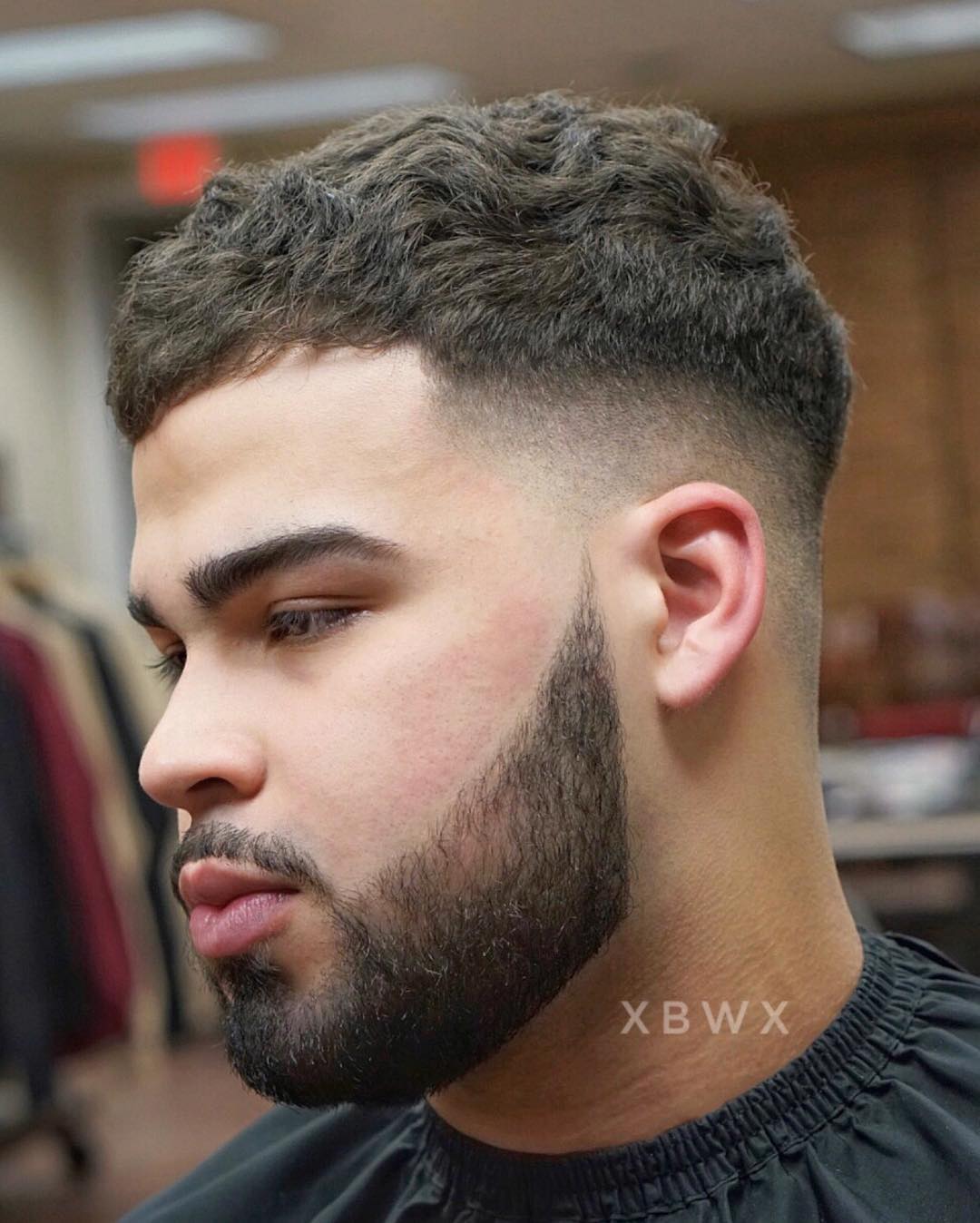 Wes Staucet
This on trend crop haircut with a medium fade is a stylish and easy to wear option for guys with thick and wavy hair.
7. Pompadour Fade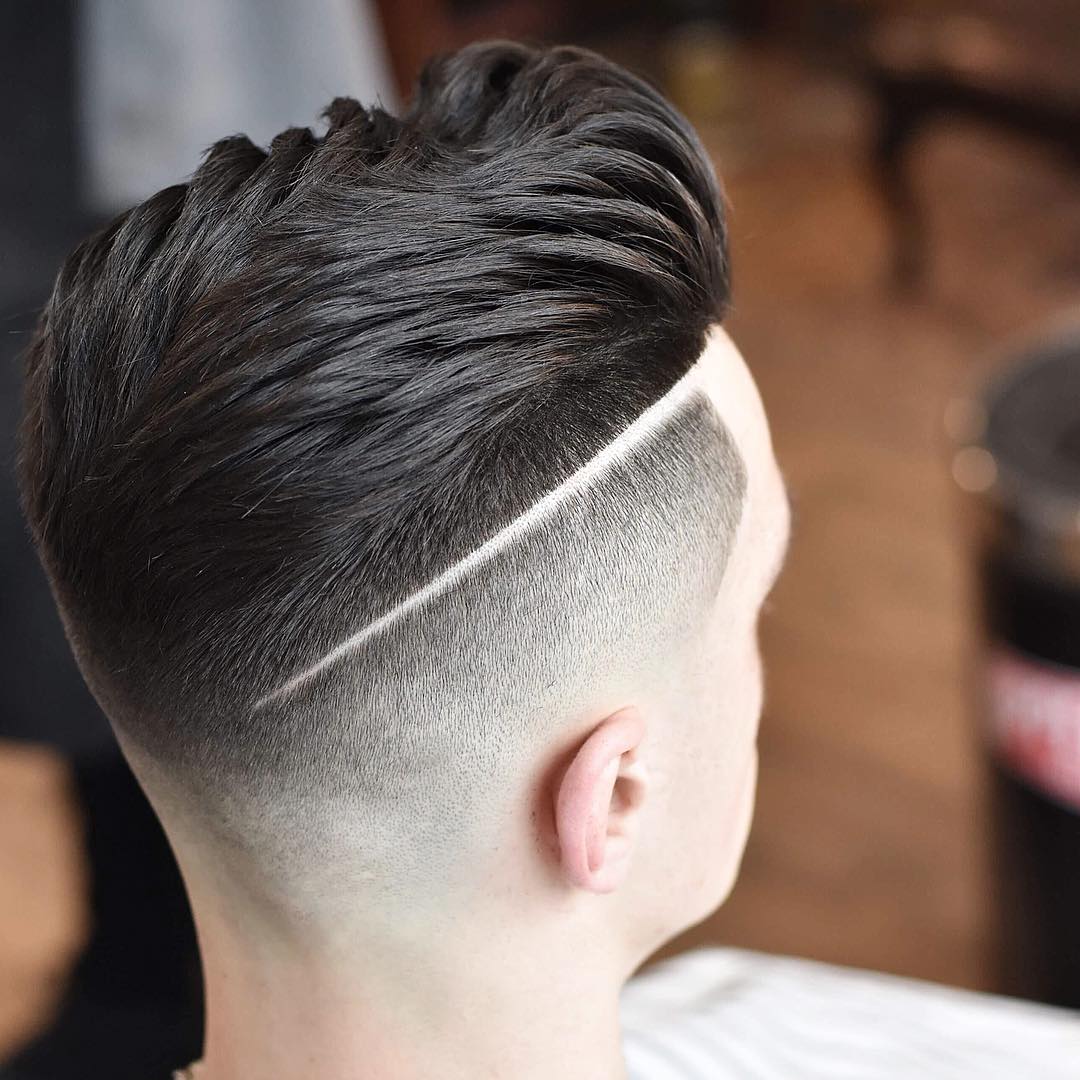 Josh O'meara-Patel
A high fade is a flattering and clean cut addition to any hairstyle. It can also serve as a canvas for a simple or complex hair design.
8. High Bald Fade Haircut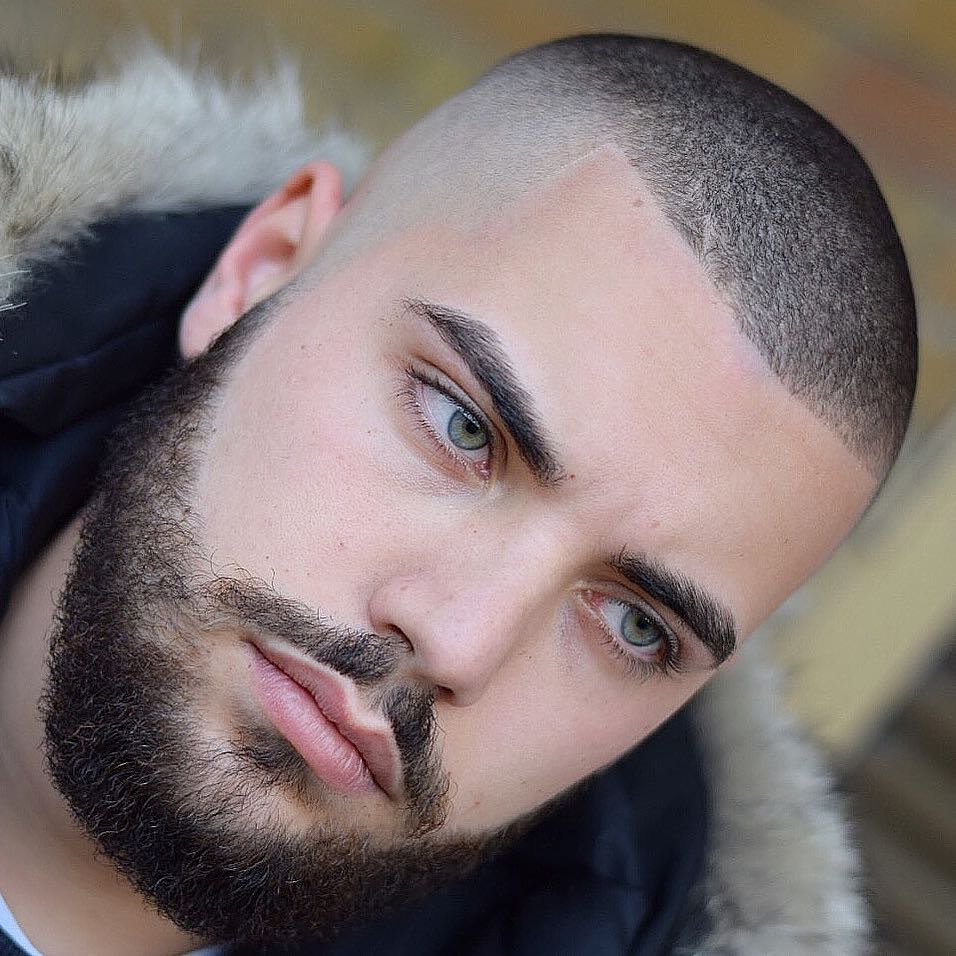 Majestic Barber
With this short buzz cut, the fade has to quickly go down to the skin. The high fade continues the hairline defined by the tape up.
9. Comb Over Fade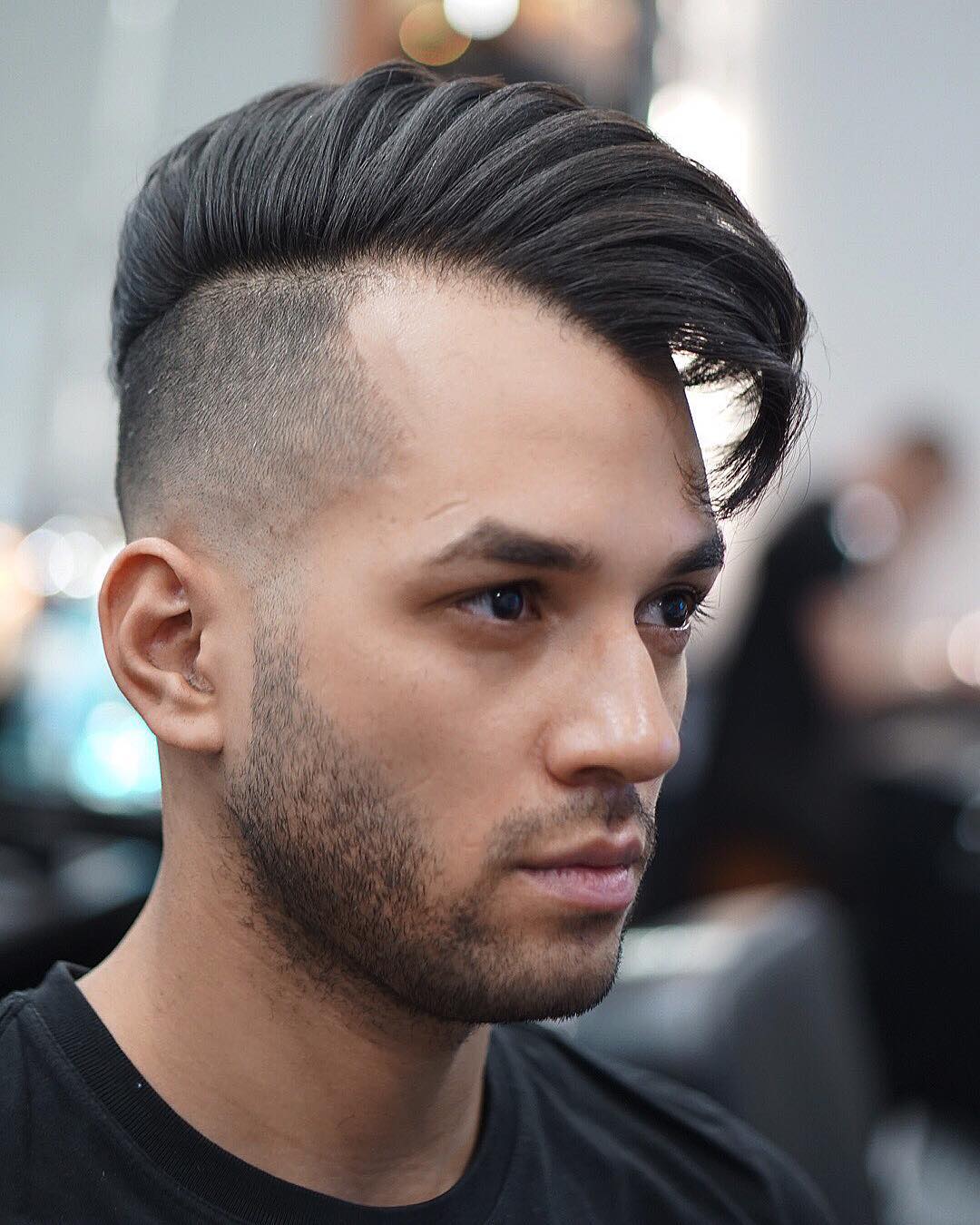 John Carmona
With longer hair on top, high fades create dramatic disconnect hairstyles like this high volume comb over.
10. High Fade Haircut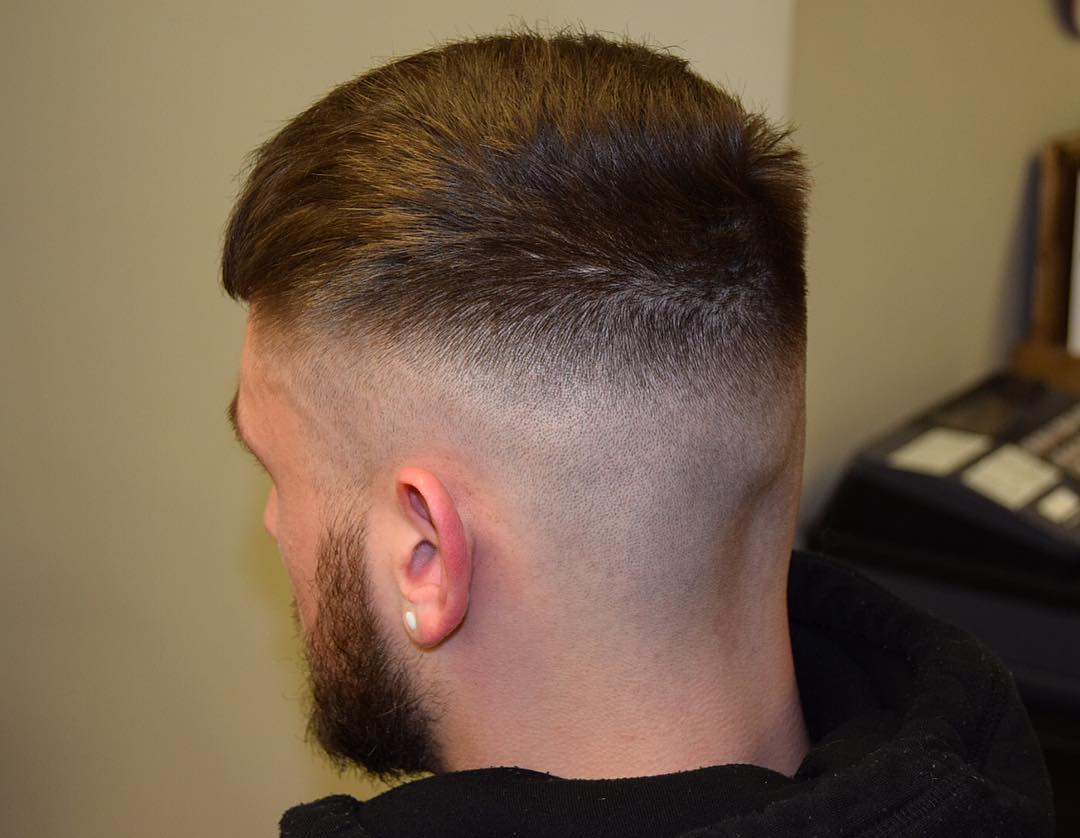 Woodies Barbershop
High fades drop down behind the crown to work with hair. Every fade is different because it they are adapted to your hair and head.
11. Burst Fade Haircut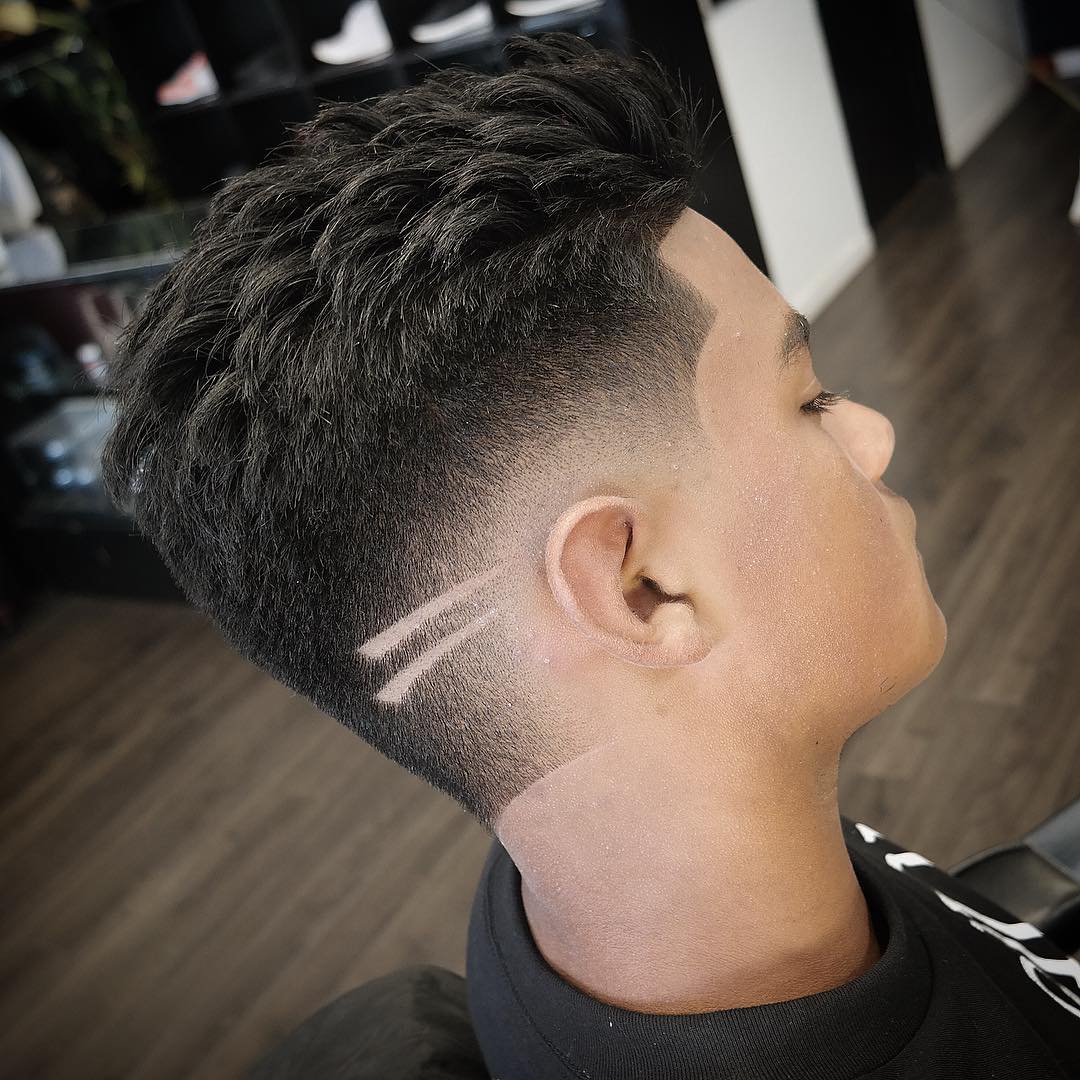 Diego Elizarraras
The burst fade looks like a sun burst behind the ear. A pair of shaved lines add to the effect.
12. Pomp Fade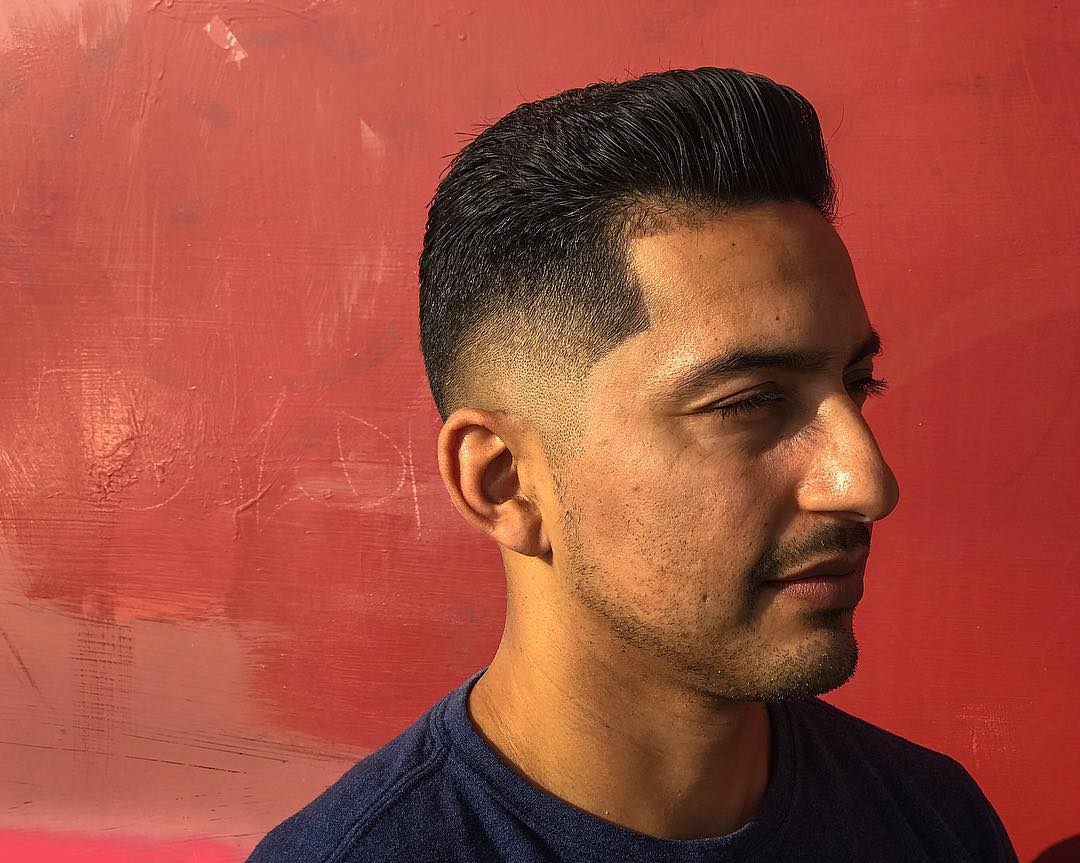 Miguel Rocha
A burst fade behind the ear sets this pomp fade apart from the rest.
13. Burst Fade Mohawk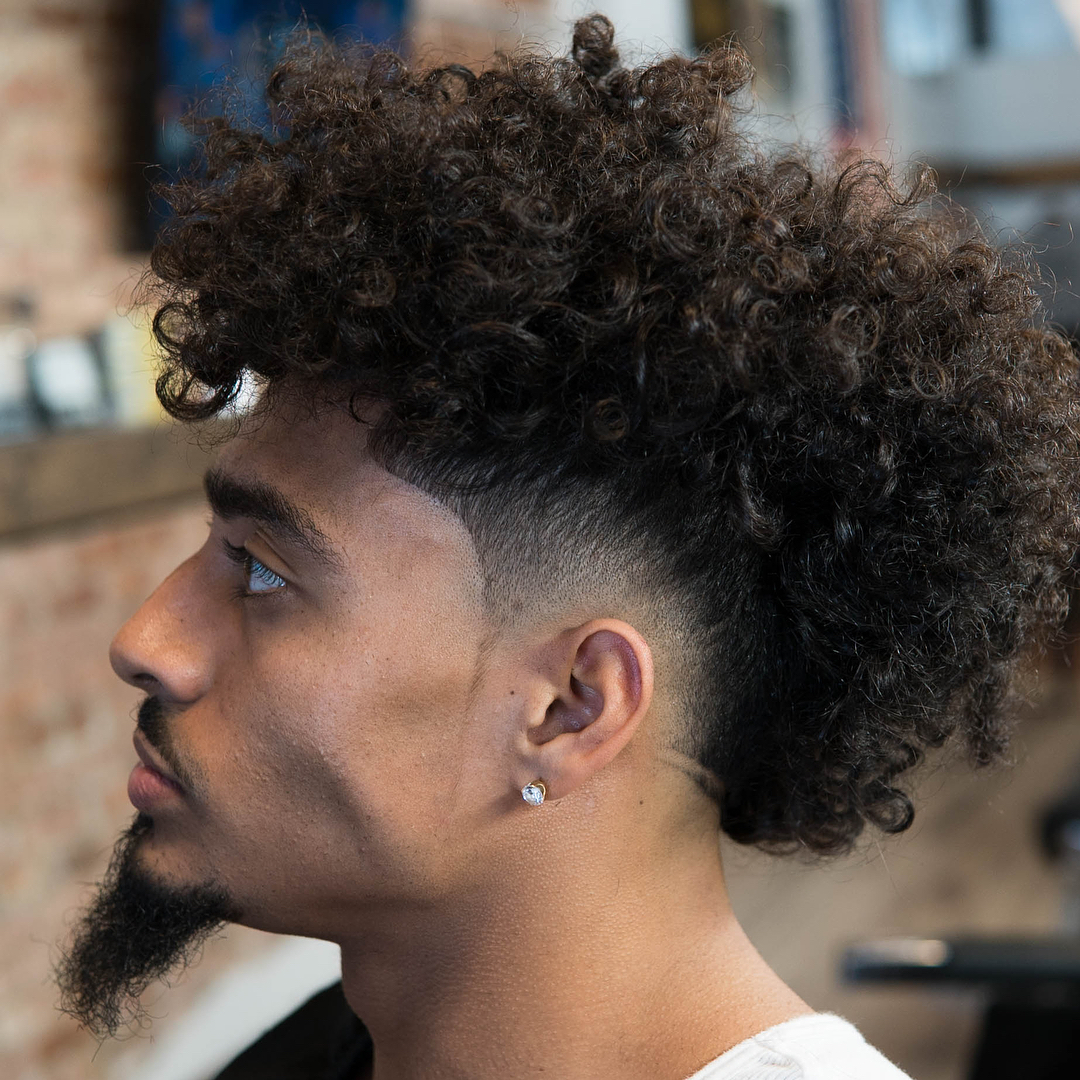 Caleb Porter
Burst faded sides can create a mohawk silhouette for short and long or straight and curly hair.
14. Bald Drop Fade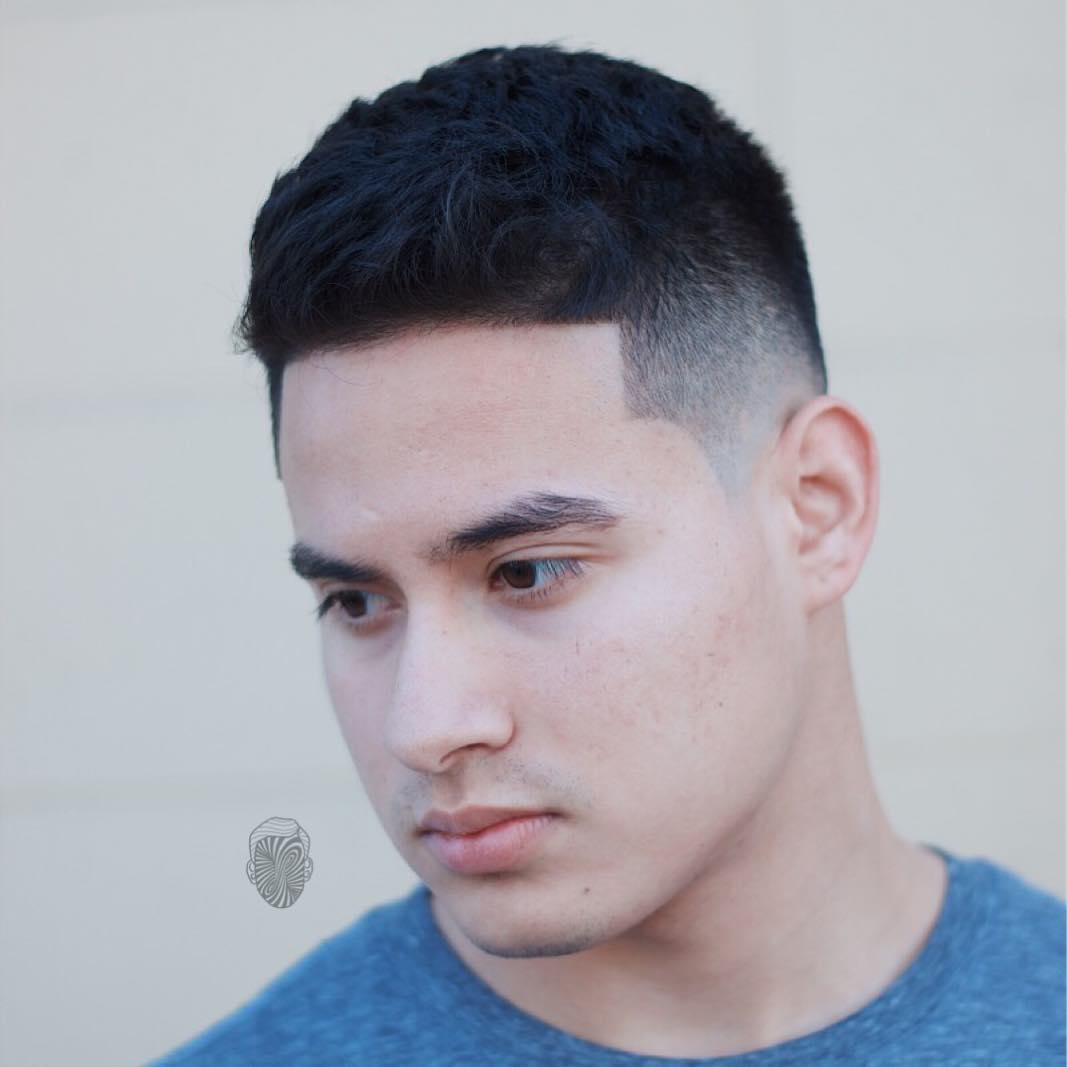 Travis Hill
This fresh fade cuts the side short and drops down behind the ear to follow the hairline at the back.
15. Drop Fade Haircut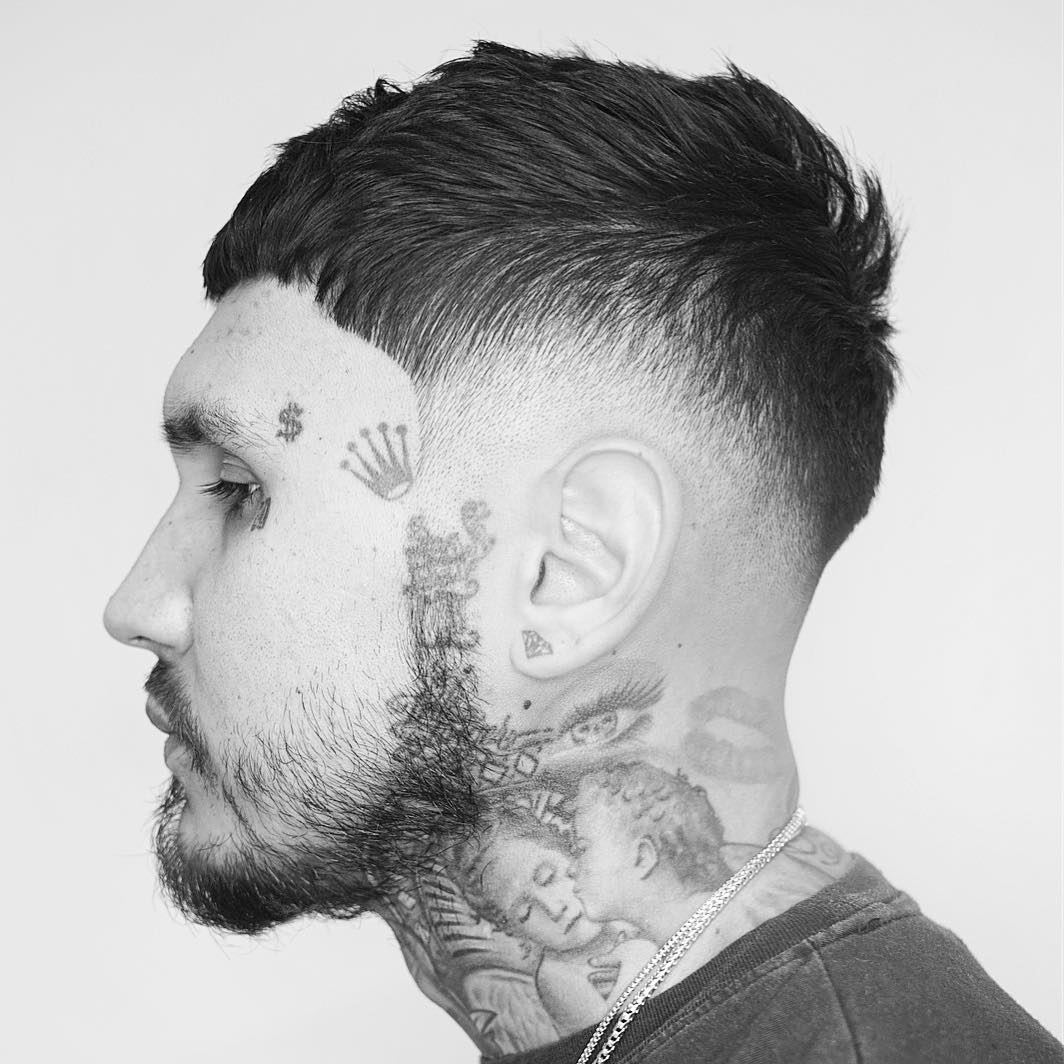 Julius Cvesar
The drop fade creates a dramatic side view, even if you don't have any ink.
16. Low Drop Fade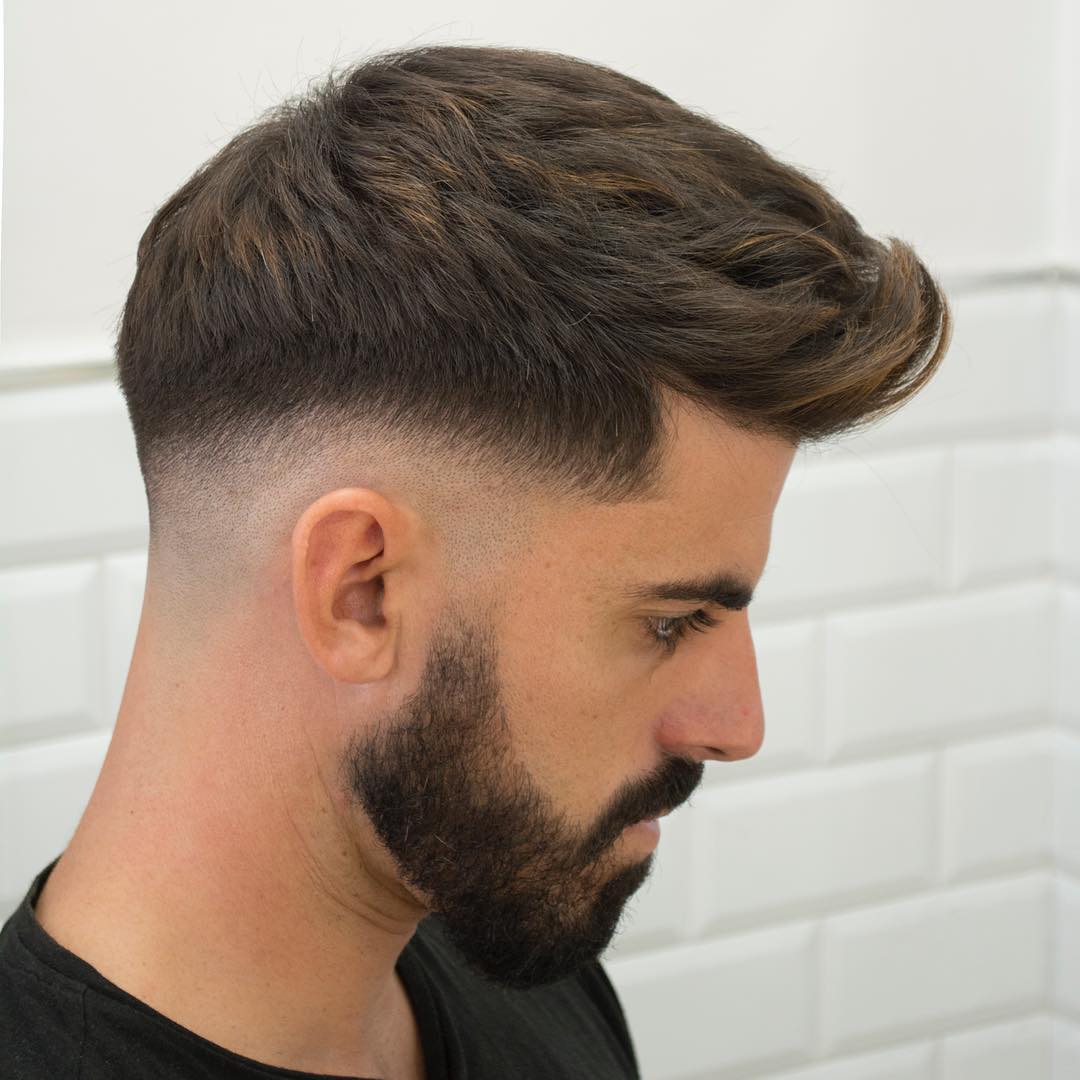 Javi the Barber
All low fades are drop fades because they follow the flow of the hairline.
 17. Buzz + Quick Fade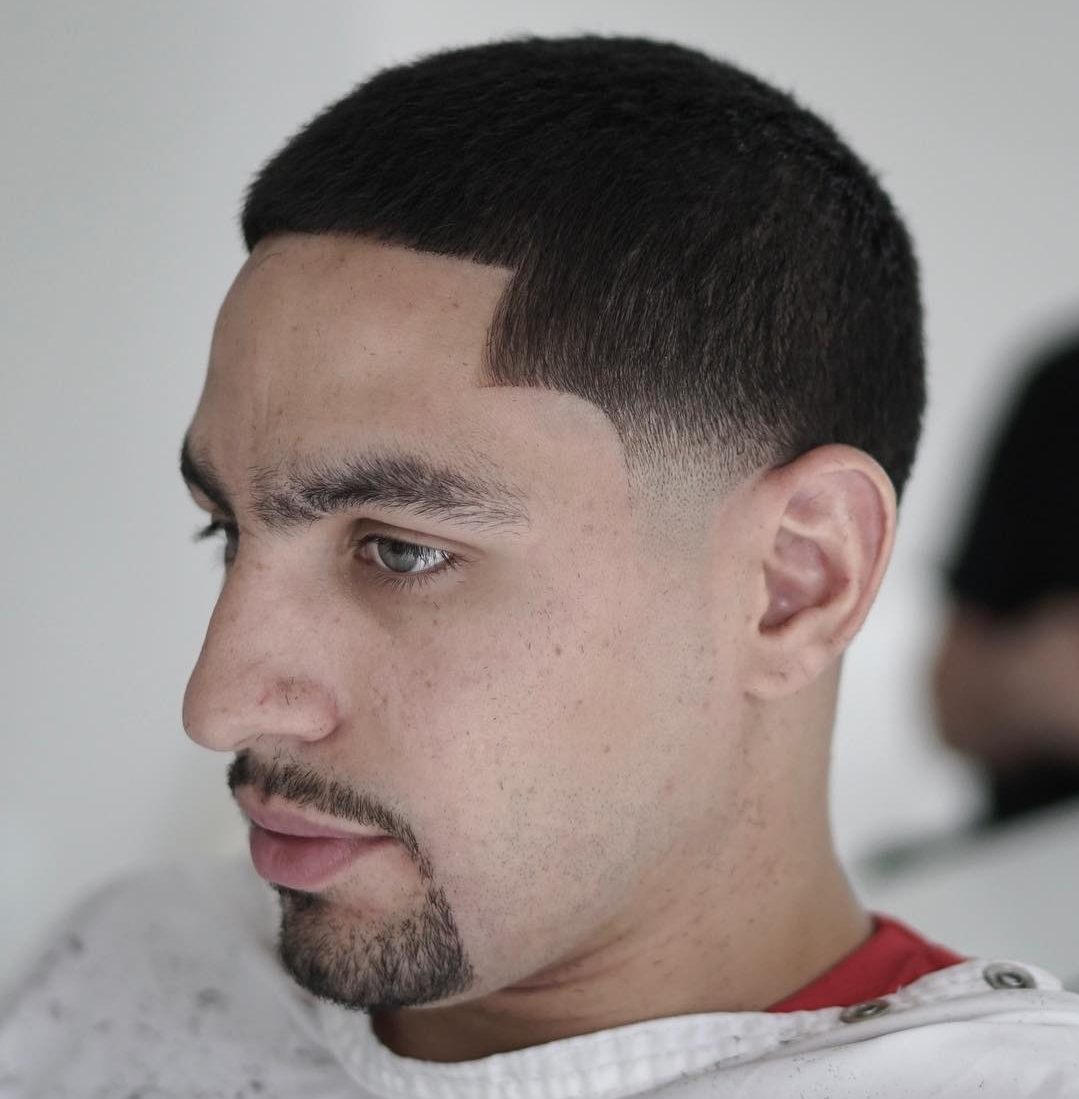 Pat Regan
Champion boxer Danny "Swift Garcia gets ready for success in and out of the ring with this clean buzz and faded sideburns.
18. Buzz Cut + Line Up + Temple Fade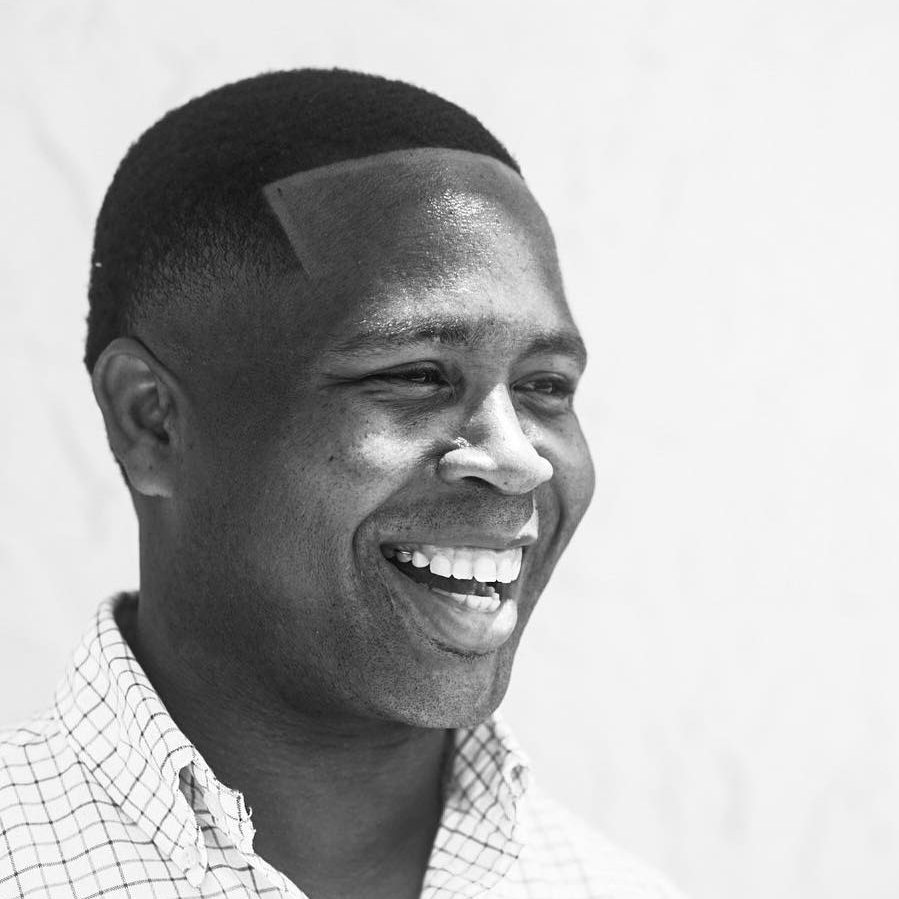 Angel Raws
The temple fade has a large impact for such a small area. Like a line up, the temple fade adjusts and improves the hairline.
19. Sideburn Fade + Beard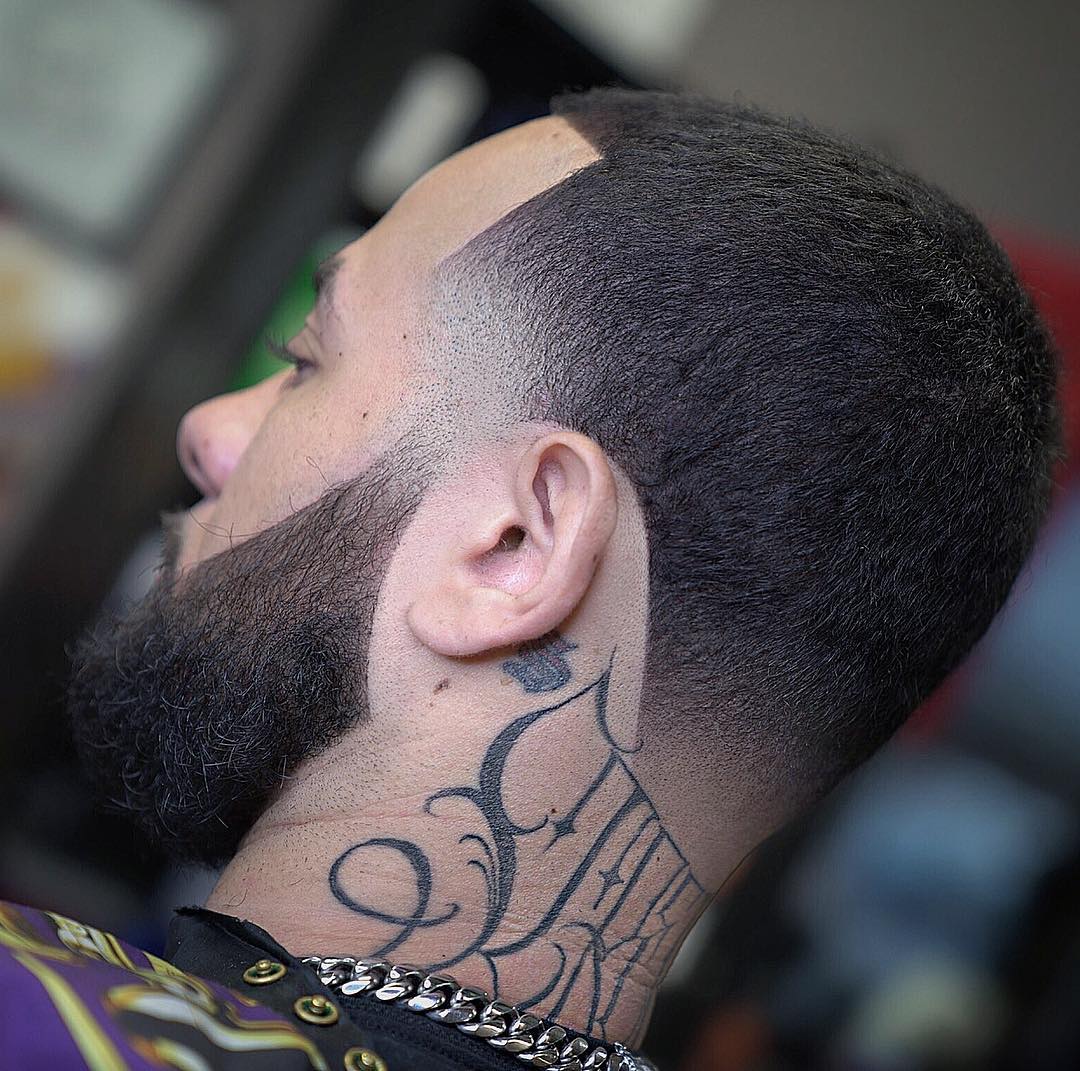 JM da Barber
This temple fade separates the beard from a short buzz cut.
20. Slicked Back Hair + Low Bald Fade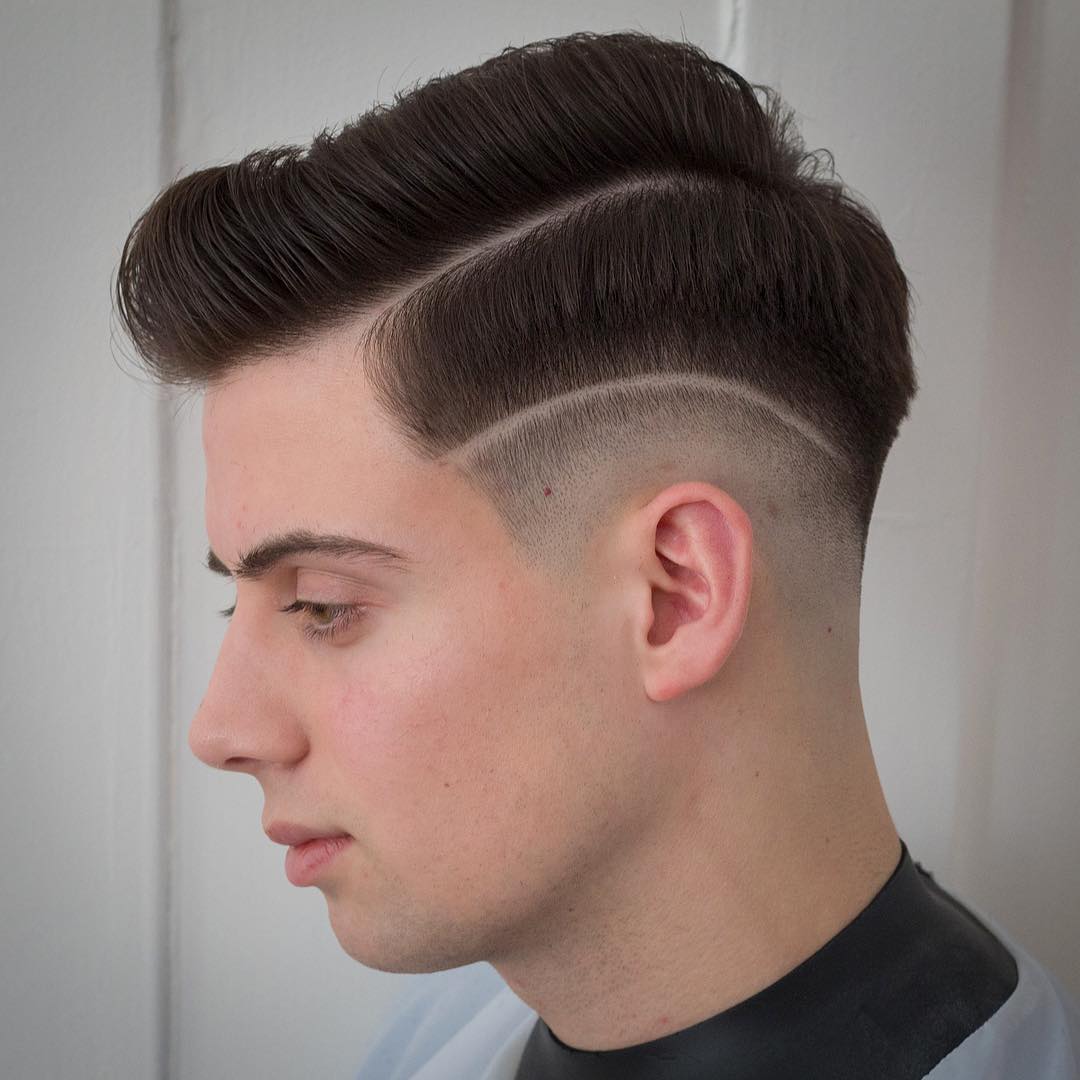 Rum Barber
This medium length side part haircut has three different lengths of hair creating visual layers.
21. Bald Fade Haircut
Criztofferson
Bald fades are a type of fade that goes down the skin. Any type of fade can be a skin fade, including low, medium high, drop, temple and burst.
22. Skin Fade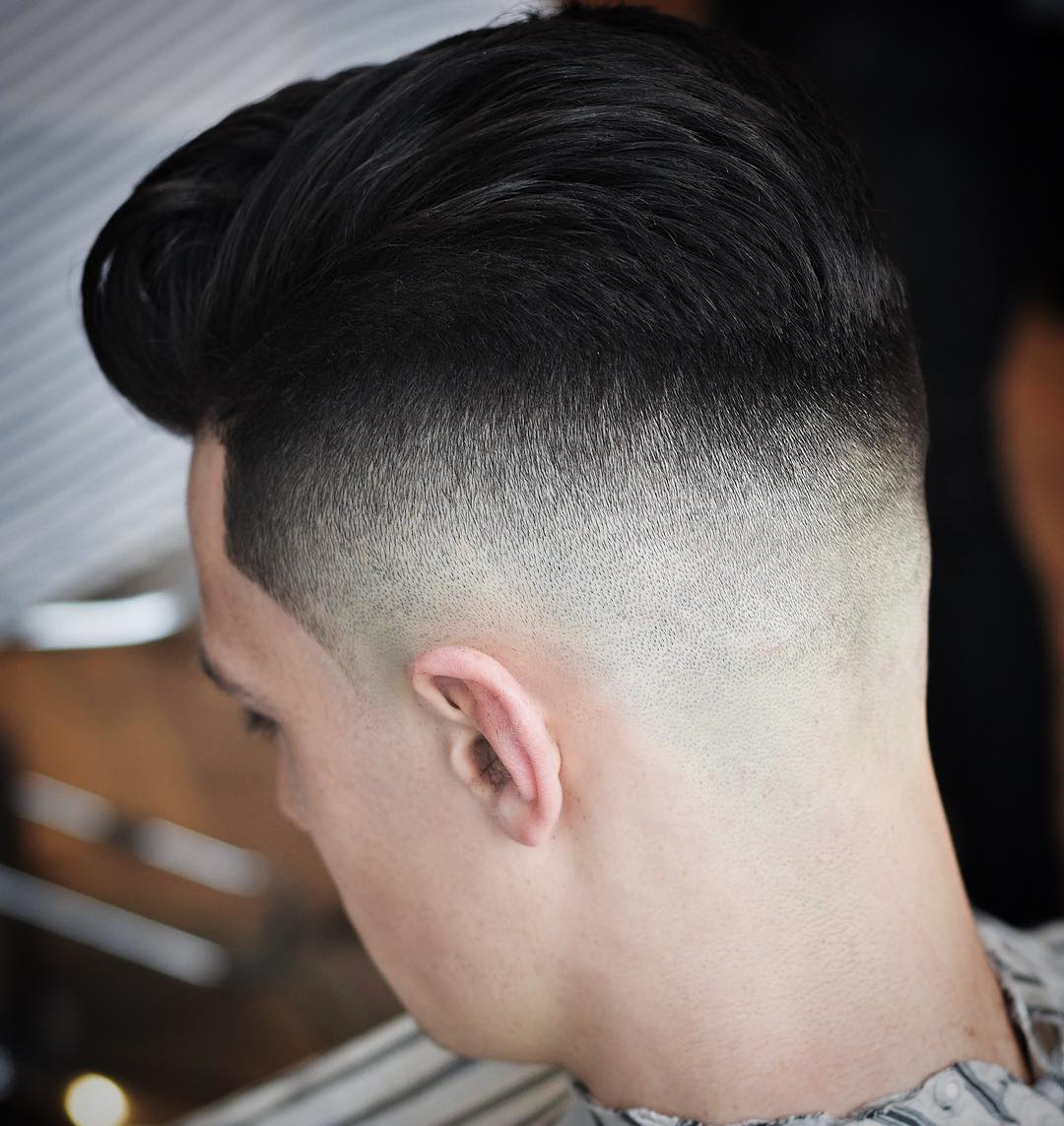 Josh O'meara-Patel
Bald fades look great on everyone but really stand out with dark hair against fair skin. Wear a skin fade with long hair on top for no maintenance sides.
23. Classic Taper Fade Haircut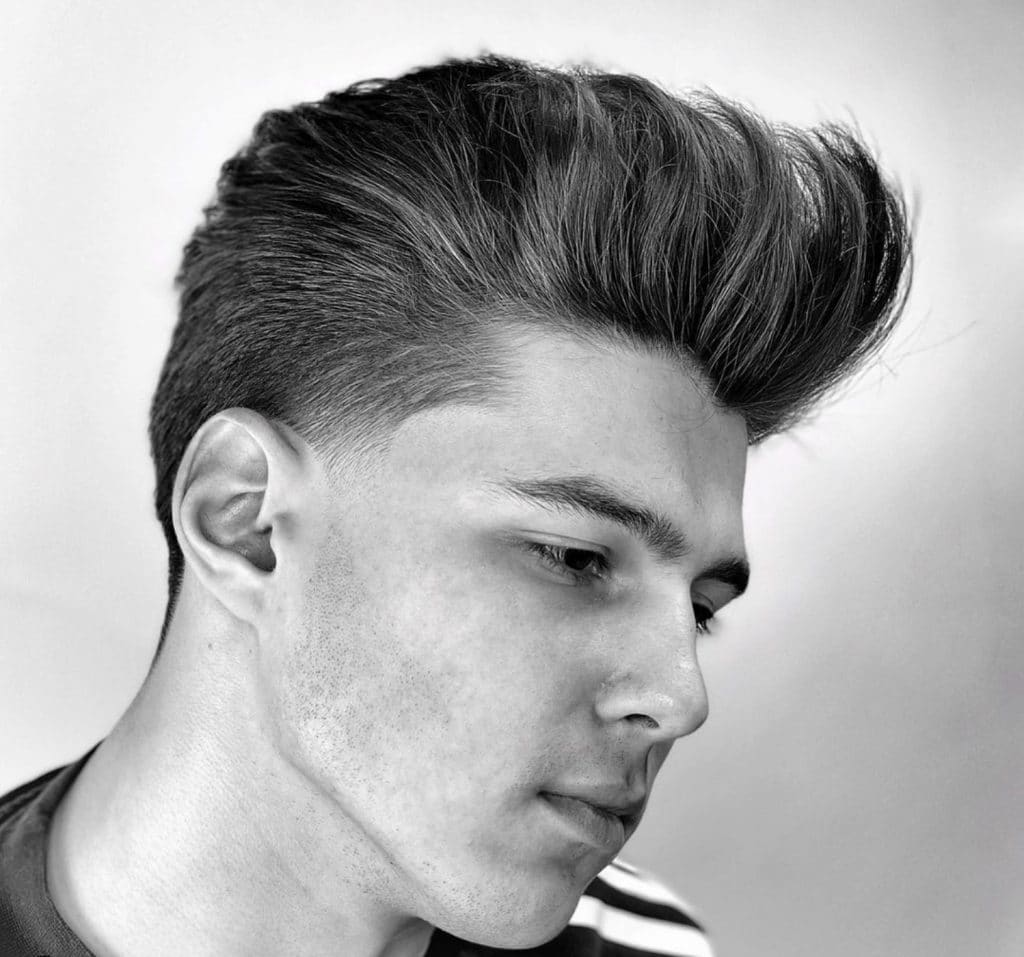 andydcbarber
This is a great look at your classic taper fade haircut. Hair is clipped short but not down to the skin. The haircut features a nice medium length of hair on top. What a beauty!
This post may contain affiliate links. Please read our disclosure for more info.
Sours: https://www.menshairstyletrends.com/types-of-fade-haircuts/
30 Ultra-Cool High Fade Haircuts for Men
Fade haircut is a popular men`s cut in which the length of the hair reduces gradually from the parietal ridge towards the temples and nape. High fade is one of its trendiest variations. Highly popular among Asian, African-American and Caucasian men, high fade cuts transcend ethnicity and age. They're inherently cool — high fades were spotted on Old Hollywood stars back in the day, and now they are rocked by young, hip men.
Different Types of Fades
First of all, let us introduce you several most popular fade haircut styles:
Type 1. Classic fade haircut (or regular fade) — any haircut with gradually fading (disappearing) hair on the sides and back.
Type 2. Taper fade — starts from the nape of the neck (not from 0), extends to the parietal ridge very gradually.
Type 3. Shadow fade — very short hair on the sides and/or nape blends with longer top without a high contrast, reminds a very light shadow.
Type 4. Skin fade (also bald fade or zero fade) — hair on temples and/or nape fades to bare skin.
Type 5. High fade — starts from the parietal ridge, the longest hair is on the two-inch-high area at the top.
Type 6. Low fade haircut — tapering begins very low, just above the ears.
Type 7. Mid-fade cut (medium fade) — starts halfway up the head.
Type 8. Temple fade (temp fade) — only temples are fading.
Type 9. Drop fade — has an arc shape above the ears.
Type 10. Scissor fade — a cut made with scissors, not with clippers.
Whether you are a White, Asian, Black or Latino guy fade will be always a right choice. You just have to choose the style that works for you. For example, low fades are best for oblong, triangular and diamond head shapes, mid fades look great with facial hair. High fades will suit square and round face shapes, look good only on scalps without lumps and bumps. Scissor fade cuts are a great option for specific head shapes. Let's move on to fresh high fade haircuts for guys!
High Fade: Where Classic Meets Cool
Fade haircuts have evolved from classic tapers. But nowadays, the trend has become more diverse than ever, with men rocking longer (even curly) hair on the top of the head with contrasting shaved sides. In other words, the style can be worn in a multitude of different ways.
#1: Longer Hair High Cut
Once reserved solely for hipsters, faded haircuts with long hair on the top are now becoming more mainstream. It's an incredibly flattering style, helping to elongate the face and emphasize a set of chiseled, masculine features.
#2: Classic High Fade Haircut
With a subtle (but sexy) pompadour above the forehead, this zero fade comb over cut is a true classic of the high fade haircut. Brush back the hair with a wide-toothed comb, incorporating a modest amount of holding gel or spray for extra hold.
#3: Shadow Fade Haircut
Shadow fade haircut is a softer version of a normal fade, it is subtle and creates more natural contrast between hair lengths. Sometimes you can read that this type of fade is for curly hair. Definitely yes, but men with straight hair can try it too. In general, it is a great fit for any guy, especially for those who have sensitive skin and want to skip weekly trimmers.
#4: Messy Blonde Fade Haircut
Although it's most common to see longer hair of a high fade haircut slicked back into a pompadour, that trend is branching out quickly into mohawk-esque edgy styles. If you want to perfect your blonde fade haircut, use plenty of texturizing pomade to keep everything messy yet under control.
#5: Fauxhawk with Side Part
Some of the best starter-styles for this type of look are those with a minimal amount of balding, no designs and plenty of hair on the top of the head that you can brush forward, sleek backward or spike up into a fauxhawk.
#6: Forward-Combed Style
Of course, not all faded looks need to be combed backwards (their most popular form). Rather, some of the trendiest men's cuts are now being combed forward on the forehead, almost in a Caesar-like style.
#7: Wild Pompadour Fade Cut
Assume all high fade haircut styles have the same appearance? Think again. Styles like this one push the limits of traditional styles, relying on a sky-high pompadour and precise line up to add drama. Use a strong hold gel for extra security.
#8: Pompadour with Shaved Design
Don't be afraid to shake things up (quite literally) – try a fade haircut with long hair on top and shaved designs on the sides. A shaven style is a perfect canvas for creating cool, intricate art.
#9: Fauxhawk Spiky Hair Fade
A high taper fade mixed with a sky-high faux hawk is the definition of sexy hair, mainly due to its variety. Whereas the top of the hair is wild, the sides are shaved and more serious. This spiky hair fade is a perfect cut for a hip young man.
#10: Disconnected Fade Cut
The edgiest haircut among fades is the disconnected fade. The definition is simple. "Disconnected" can be called any haircut that has dramatic length changes in the hair. See the example below.
#11: Blurry Skin Fade
This high skin fade is the epitome of coolness, as the hair seems to move seamlessly from thick to thin with a line up perfecting the edges. Slick back your hair into a puffed-up pompadour with texturizing pomade and spritz with hairspray if your hair doesn't hold a pouf well.
#12: Fade with Faded Beard
The key to creating a stylish, sexy men's fade haircut? Absolutely precise lines – you know, with a line up that looks as though the sides of the hair were shaped with a ruler. Make sure the hair on the top of your head isn't cut any longer than one inch to get the closest crop you can.
#13: Soft Blended Fade
One of the most popular hairstyles for men right now, the blended fade, is all about seamless transition of hair lengths, rather than a harsh, drastic shift in texture. This can be achieved by a talented barber with a sharp razor (and controlled hand).
Related Post:20 Faded Mohawks: Awesome Is What They Are
#14: Clean Cut Fade
Ideal for a job interview, Easter Sunday with grandma or even meeting her parents for the first time, this shaved faded cut projects confidence, class and professionalism. The cleaner and the tighter the overall appearance, the better.
#15: Side Part Fade Haircut
Just because you're wearing a fade haircut, doesn't mean you can't rock a side part too. In fact, hair parted toward the side can create a unique variation to the traditional "pomp" style you see often.
#16: Undercut Fade with Braids and Bun
Guys, hear us out: braids aren't just for ladies–you can rock them, too. As pictured here, braided hair can be worn with a high top undercut fade for a fresh, punk rock style. The best part? You won't have to worry about styling the longer section every day.
#17: Flipped Up Buzz
With faded hairstyles, there are too many looks to choose from. One of the most-seen is a forward-combed, short cut crop, with ends above the forehead flipped up. This adds a certain amount of edge to an otherwise clean and simple cut.
#18: Fade with Curls
You've certainly seen this cut on NBA players. Curly hair fades with an afro top are an incredibly hot style right now, mixing together both natural black coils with clean sides and edges.
#19: Straight High Top
When it comes to dramatic fades, the closer the top to the sky, the better. And while this particular style seems almost impossible to re-create, don't fear the big heights. Just be sure to master hair-drying with a round brush and stock up on gels and hairsprays beforehand.
#20: Dreadlocks Bun Style
One of the greatest aspects of high and tight fades is that the options for what to wear on top of your head are virtually limitless. If you want something bold and showy, go with dreads. Secure your braids near the crown of your head with an elastic, shaping a cool man bun.
#21: Taper Fade with Part
This taper fade with part is both clean-cut and perfectly sculpted, making it incredibly sexy. Although it can be difficult to style, when the hair is particularly long and thick on top, you can experiment with a comb over that looks incredibly stylish and neat when paired with a line up.
#22: Extra Short High Bald Fade
Short, sweet and directly to the point, this high fade haircut with a chiseled beard is a very popular style for men who seek low-maintenance. The crew cut has always been in high demand, but now is the right time to give it a bald fade update.
#23: Long Hair Fade Cut
Long hair fade means that your sides will be extremely short (oftentimes trimmed to 0) and the top section will be super-long. To tame your locks wear them in a bun, ponytail or half pony. It`d be a good idea to hone your braiding skills too.
#24: Scissor Fade Cut
Scissor fade, as was told above, is chosen when a client wants to have a customed shape of the cut. It can be any type of the fade cut, but created using scissors, not clippers. What does a client get? Definitely longer hair at the sides, but the cut still has the tapered faded effect.
#25: Temple Fade
Temple fade cut is the best choice if you want to try fades but are afraid of major changes in your appearance. In temp fades only the sideburns are shaved off (partly or completely). Sometimes a small area by the ears is also trimmed.
#26: Hi-Top Fade
The hi-top fade is a cool variation of the flattop fade haircut. As you see the sides are trimmed very short, the curly top is left quite long and has the flat geometric shape. Looks very interesting!
#27: The So-Called 'Uptown' Fade
Does your girlfriend want to be in love with a criminal? Then the uptown fade is for you! Joking. But this cut is definitely masculine and sexy!
#28: High Fade with Textured Top
The style you see in this photo attracts attention thanks to two things: a very professional skin fade cut, and a long well-groomed beard. Moreover, steal the idea how to spike your textured top with a hair wax.
#29: Box Fade Haircut
Box fade is more suitable for men with very curly and kinky hair. At both sides it looks as a normal fade. The top of the head has a specific shape – either a flattop or more customed that follows the natural curvature of the skull.
#30: Stylish Sharp Fade
If you like really sharp neat lines, try a fade haircut like this one, with fading sides, a line up and a long top section. The latter can be styled in a pompadour. To achieve the same sleek effect you will possibly need to combine several hair products. For example, the barber who created this look, used hair serum and styling pomade.
From extra-short to super-long and braided styles, there's no reason why a high fade shouldn't be your next go-to style. Of course, the main caveat with this style is the upkeep–be sure to visit your barber regularly to keep the look trimmed, tight and handsome.
Sours: https://therighthairstyles.com/high-fade-haircuts/
Most guys get super cool fade haircuts when they visit their barber these days. This has been a perpetual trend in men's haircuts for decades. If you go back in time to the origins of the fade, the most common variations were the low fade, mid fade, and high fade. Nothing too radical. Just your classic men's fade haircuts with a short or medium length of hair on top.
Today, there are a plethora of different fades. The total number of the types of fade haircuts you can get today has totally exploded. More and more, men are seeking out their personal flare and style. Barbers are getting more creative as each year passes by.
In this men's fade haircut guide, we show you the best examples and styles of every fade haircut imaginable.
See a haircut that you like? Show the photo to your barber and they will take care of you. Super easy.
Scroll down for the best fade haircut designs and styles to get in 2021!
What is a fade haircut?
A fade is a term that describes how the sides and back of your head and hair are cut with professional barber clippers by your barber or stylist.
In most cases, your barber will clip/cut/shave the hair shorter and closer to the skin at the bottom, and will gradually increase the length of the hair moving upwards.
Fades can be generally classified as low fades, mid fades, and high fades. The reference to low, mid, and high simply talks to the area the fade is being performed on with clippers. Lower down around the ears and neck, or further up to a mid point, or even further up to a higher point of the sides and back (up towards your part or crown). Pretty straight forward!
Finally, the hair on the top of your head can be cut short, medium, or left to be a longer length on top. This is usually done with professional barber haircutting scissors after the fade has been carved on the sides and back.
Types of fade haircuts
So, now we know what brings together a basic classic low fade haircut, mid fade haircut, and a high fade haircut. Beyond this there are many different types of fade haircuts that you can get that add some extra style and cool factor. We are going to show you them all to you in this guide. Okay, let's check them out!
1. Low Fade Haircut
The low fade keeps the sides tight and neckline clean.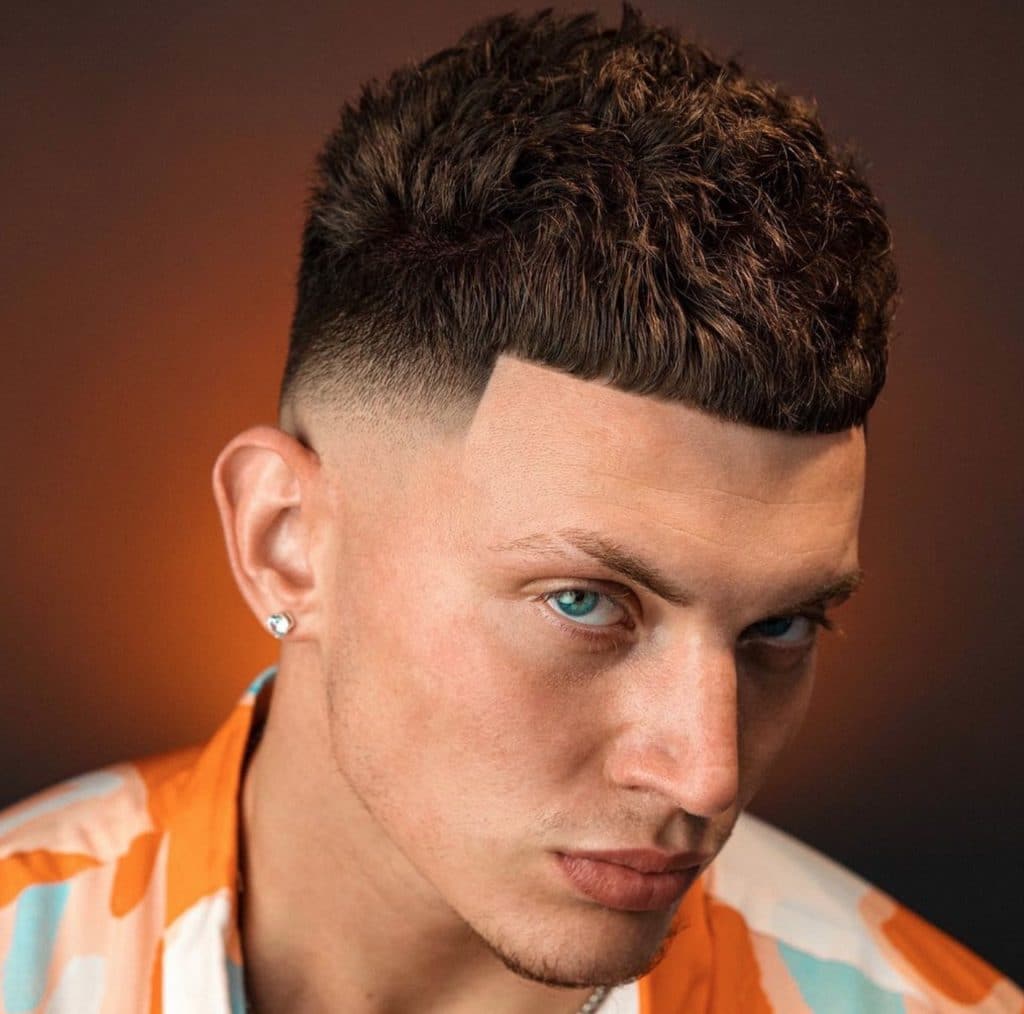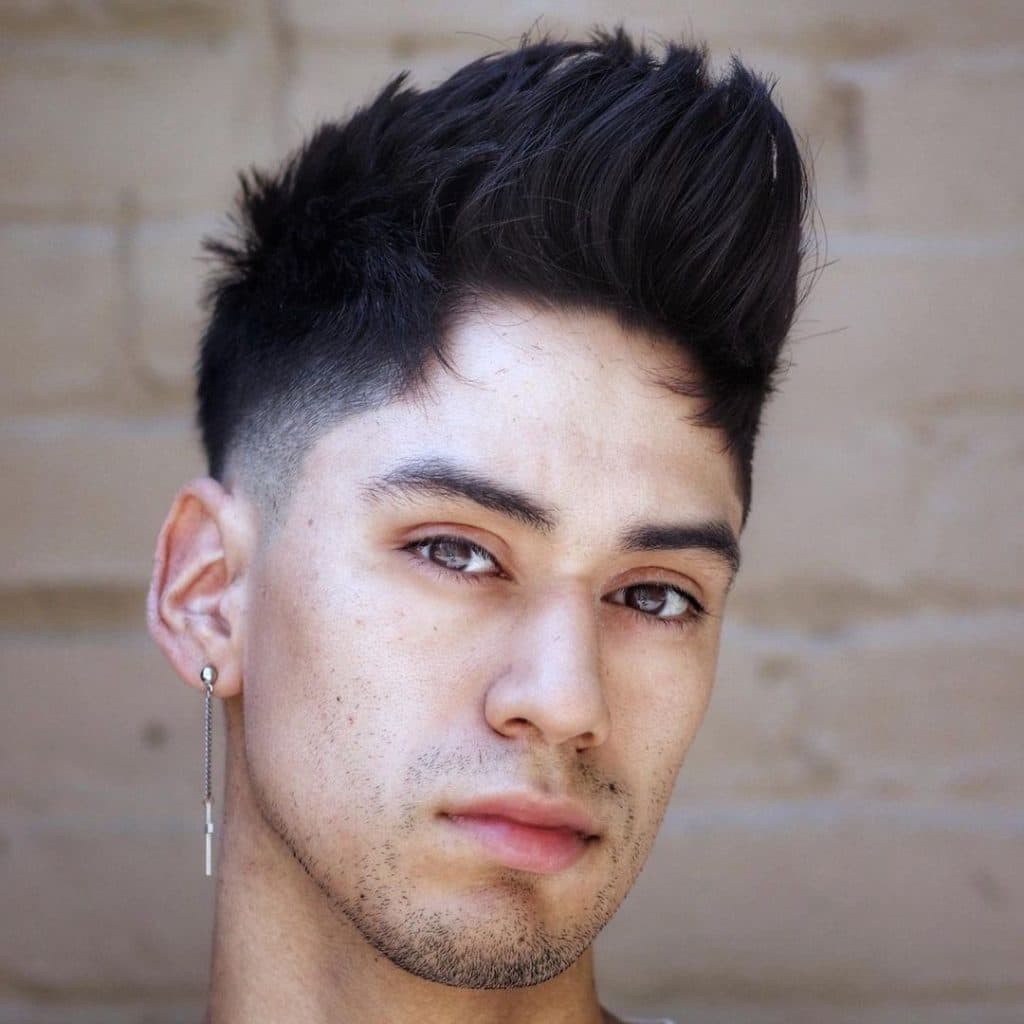 2. Mid Fade Haircut
The medium fade or mid fade can be anywhere in between a high and low fade.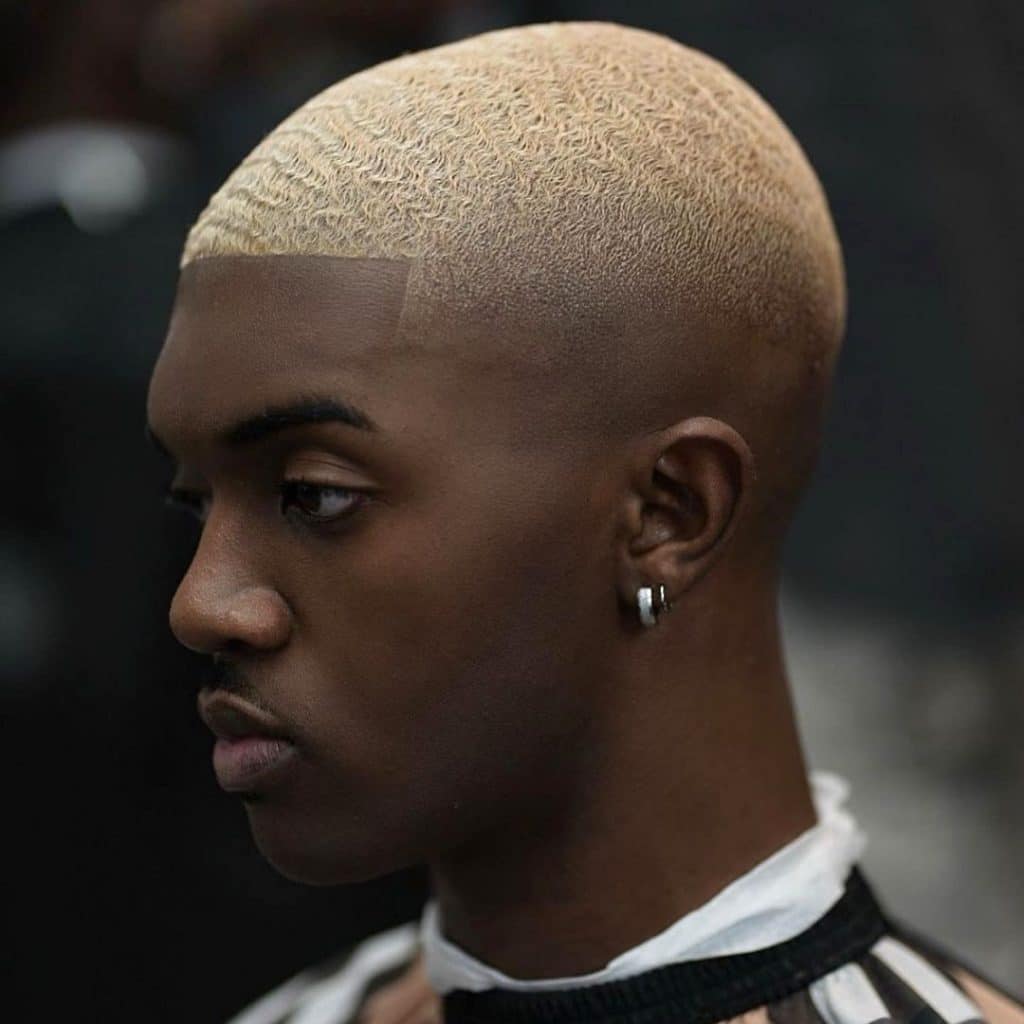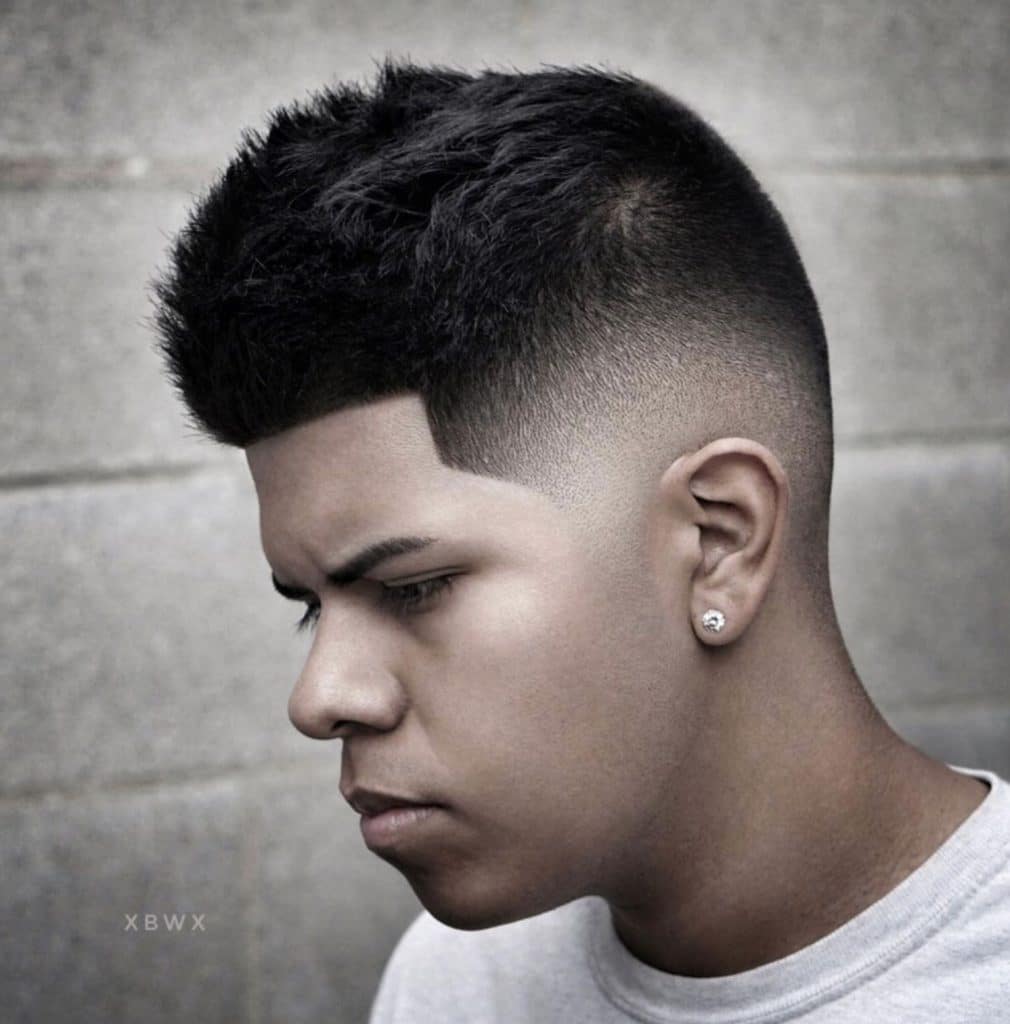 3. High Fade Haircut
The high fade looks great with short hair and long locks.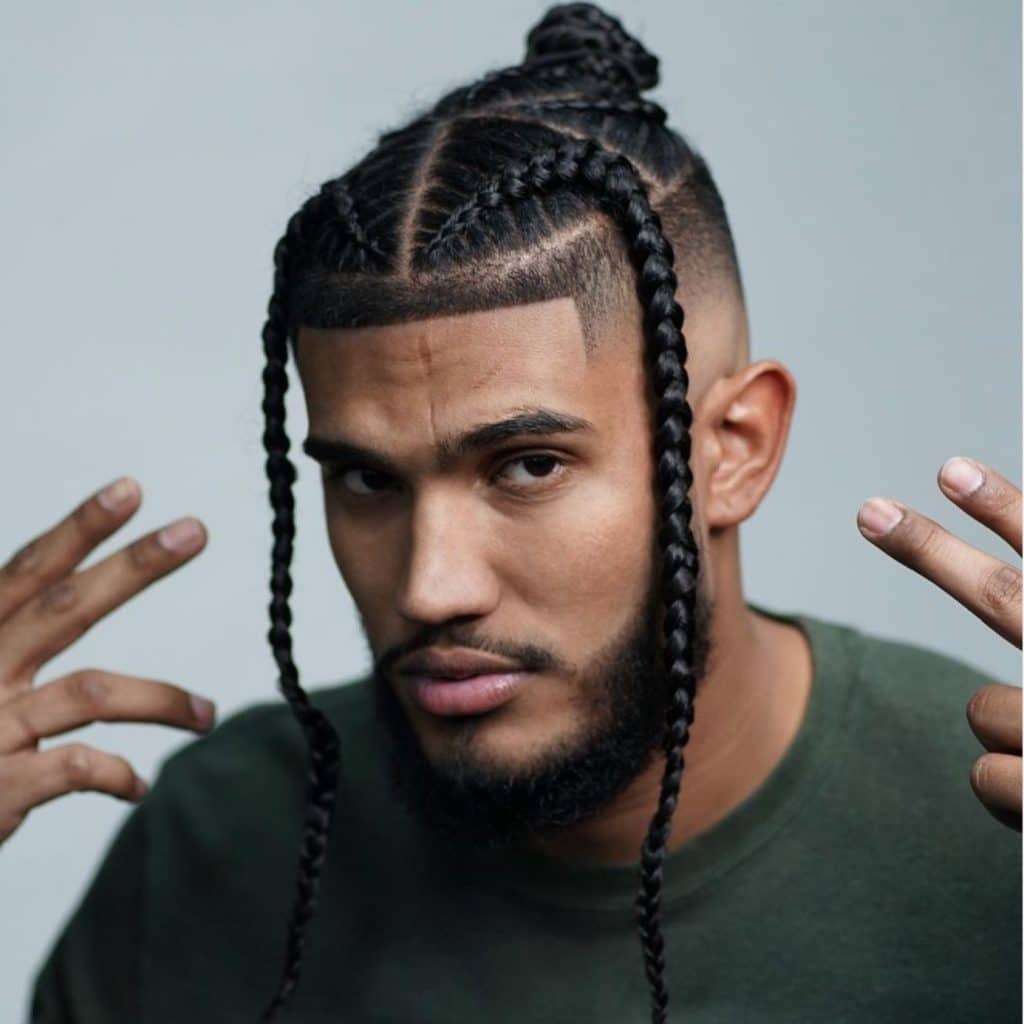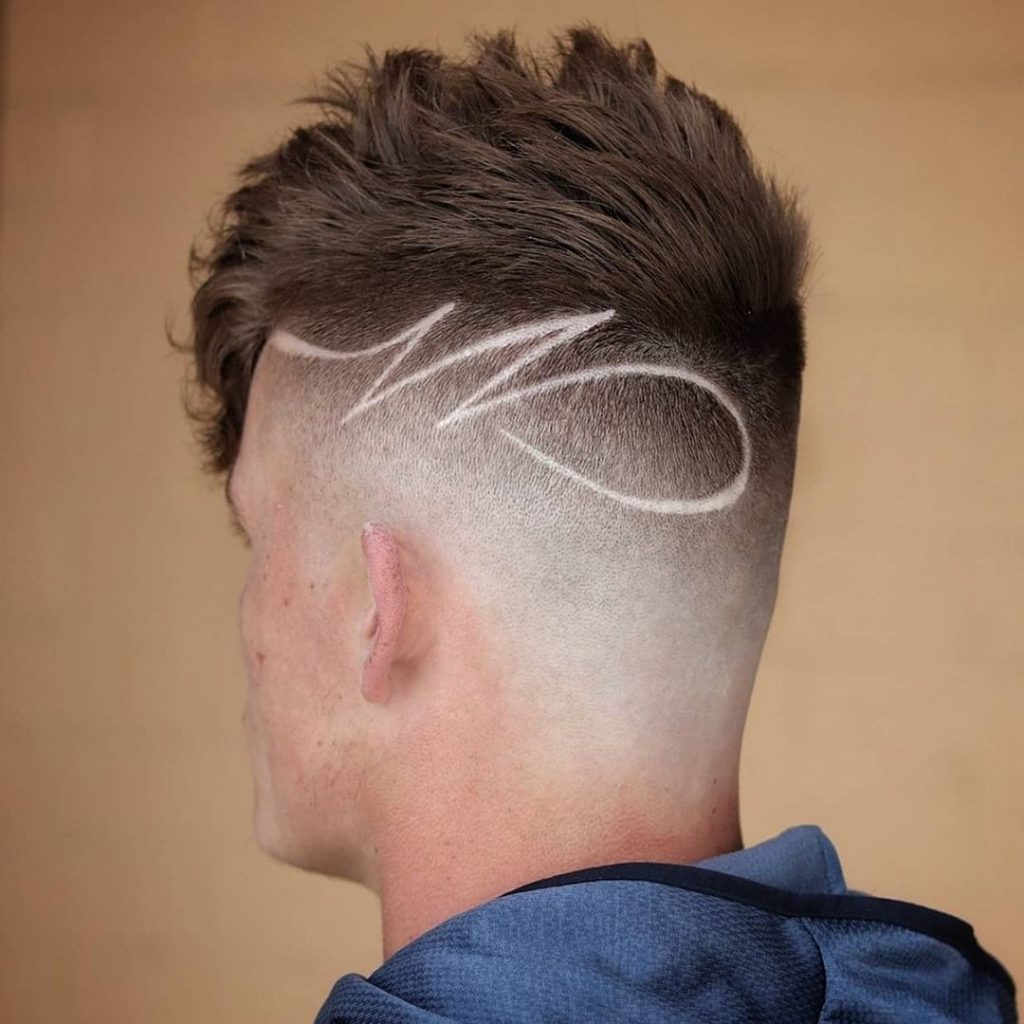 4. Short Fade Haircut
A fade makes short hair even shorter.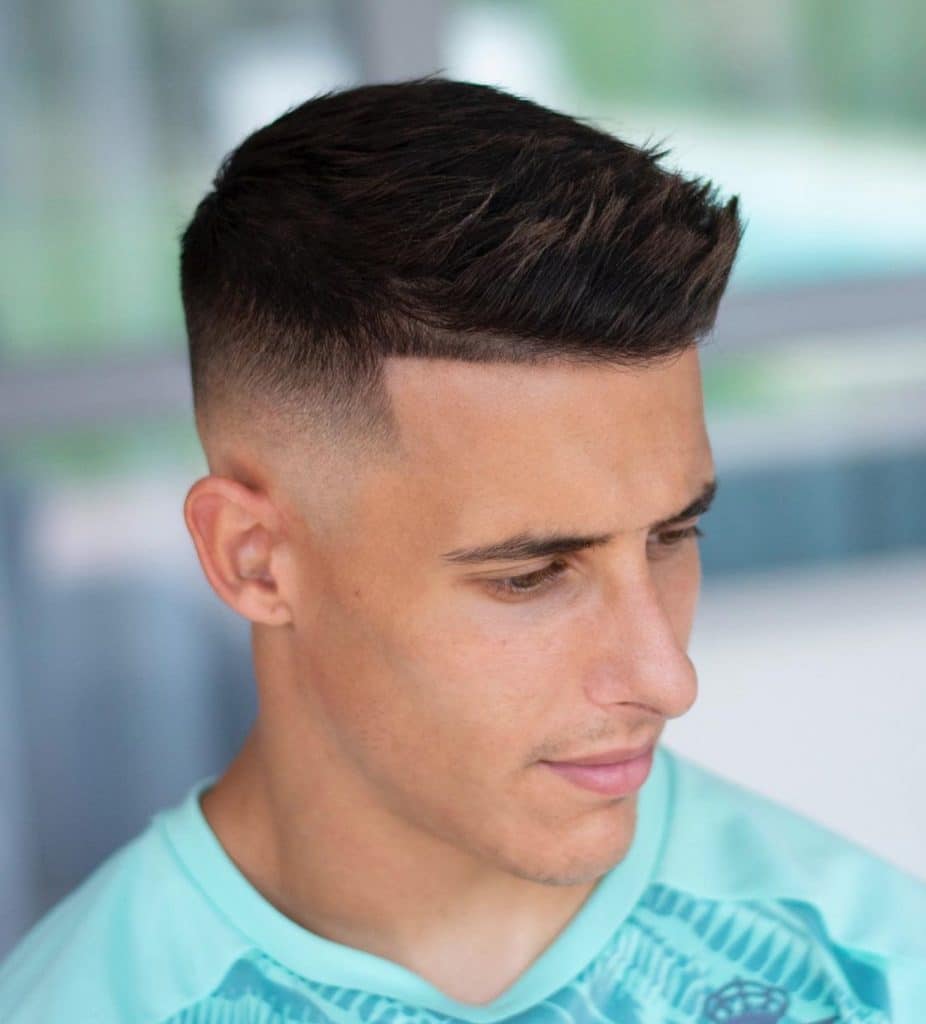 5. Taper Fade Haircut
The taper fades hair at the sideburns and neckline.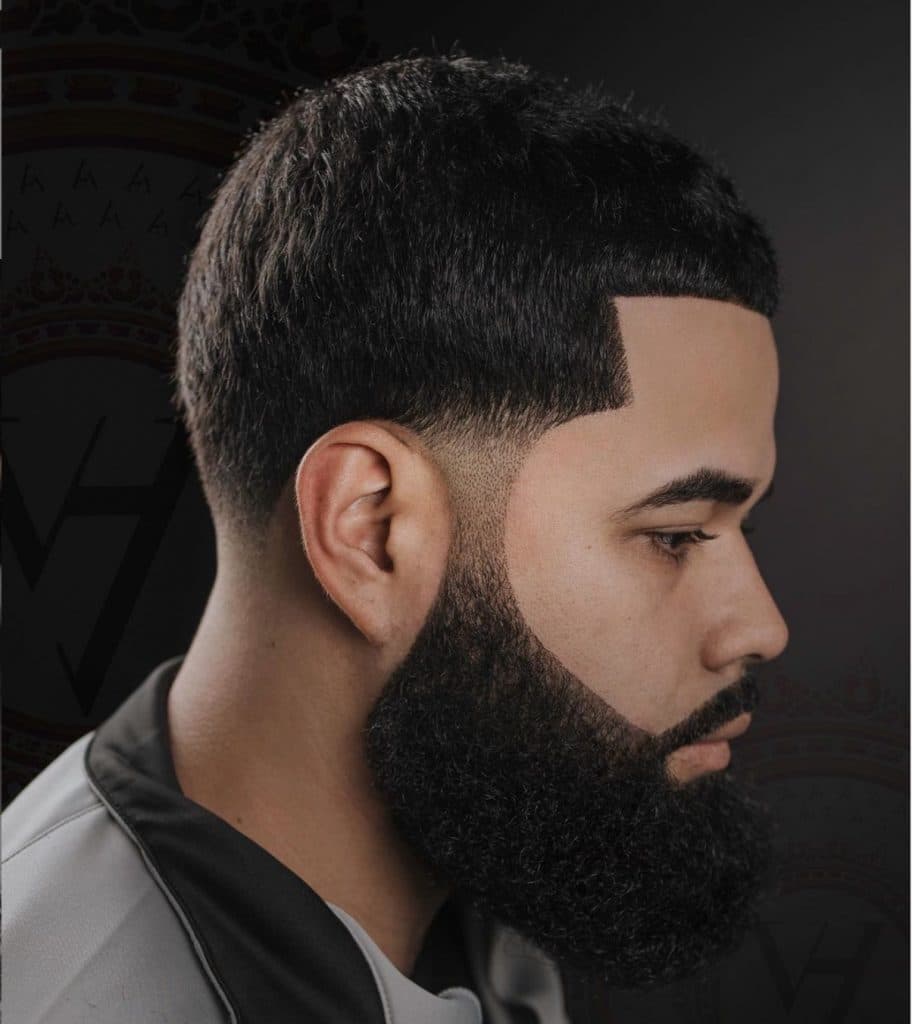 6. Boy's Fade Haircut
You're never too young for a fade haircut or hair color.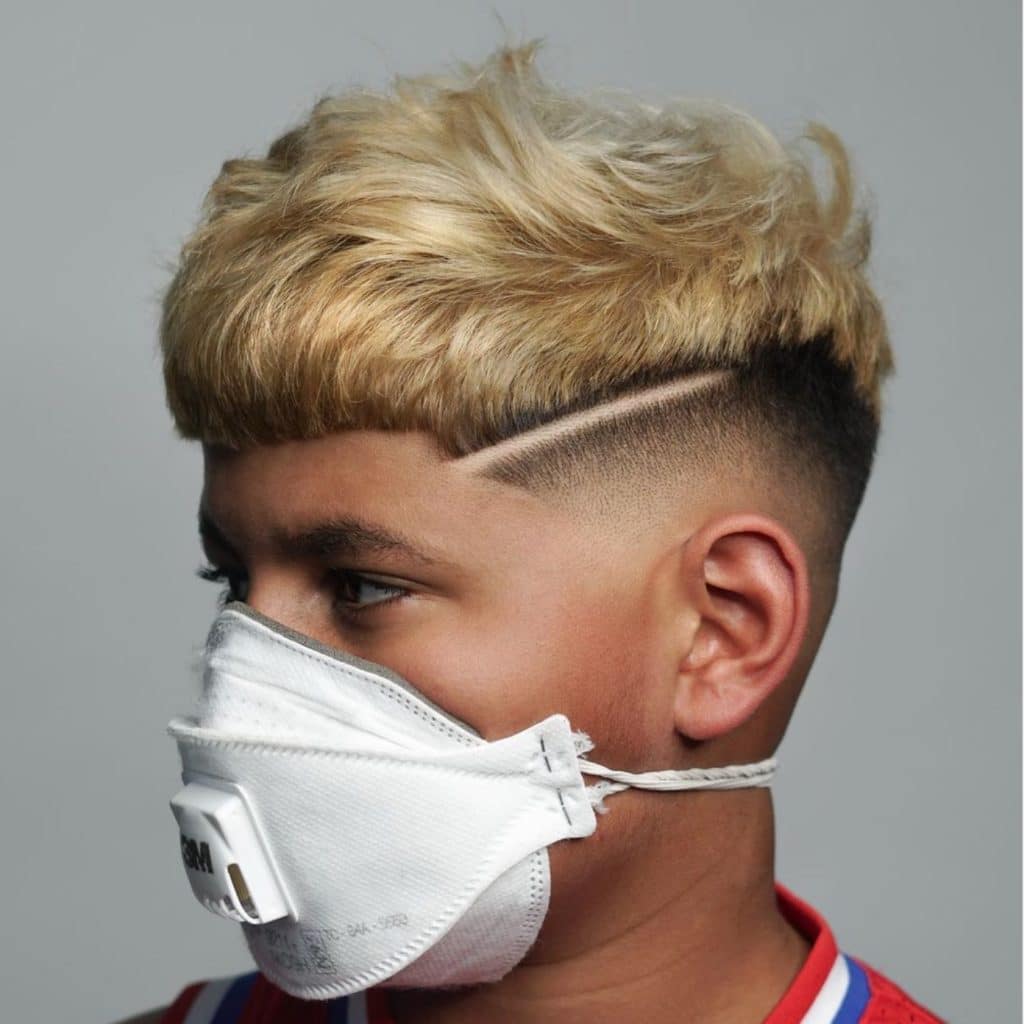 7. Fade Haircut For Black Men
Many haircuts for Black men include some type of fade.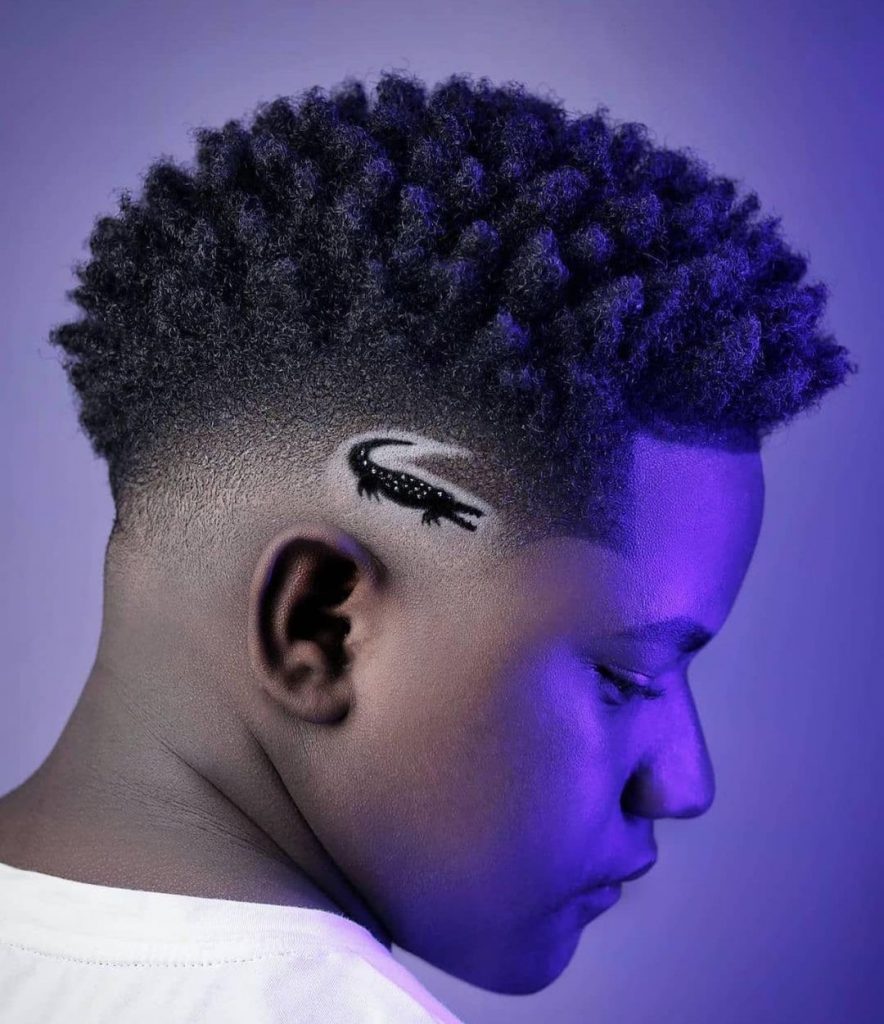 8. Skin Fade Haircut
The skin fade reveals the skin up high, in the middle, or down low.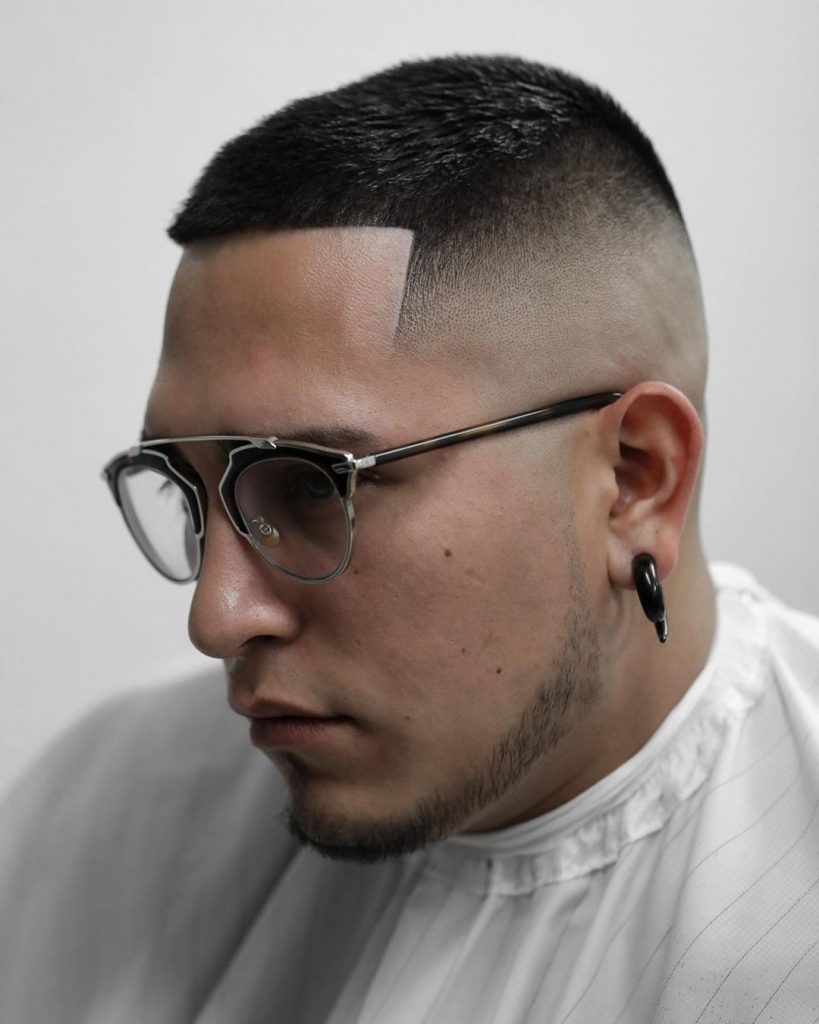 9. Bald Fade Haircut
A bald fade is the same a skin fade and a really clean look for guys with classes.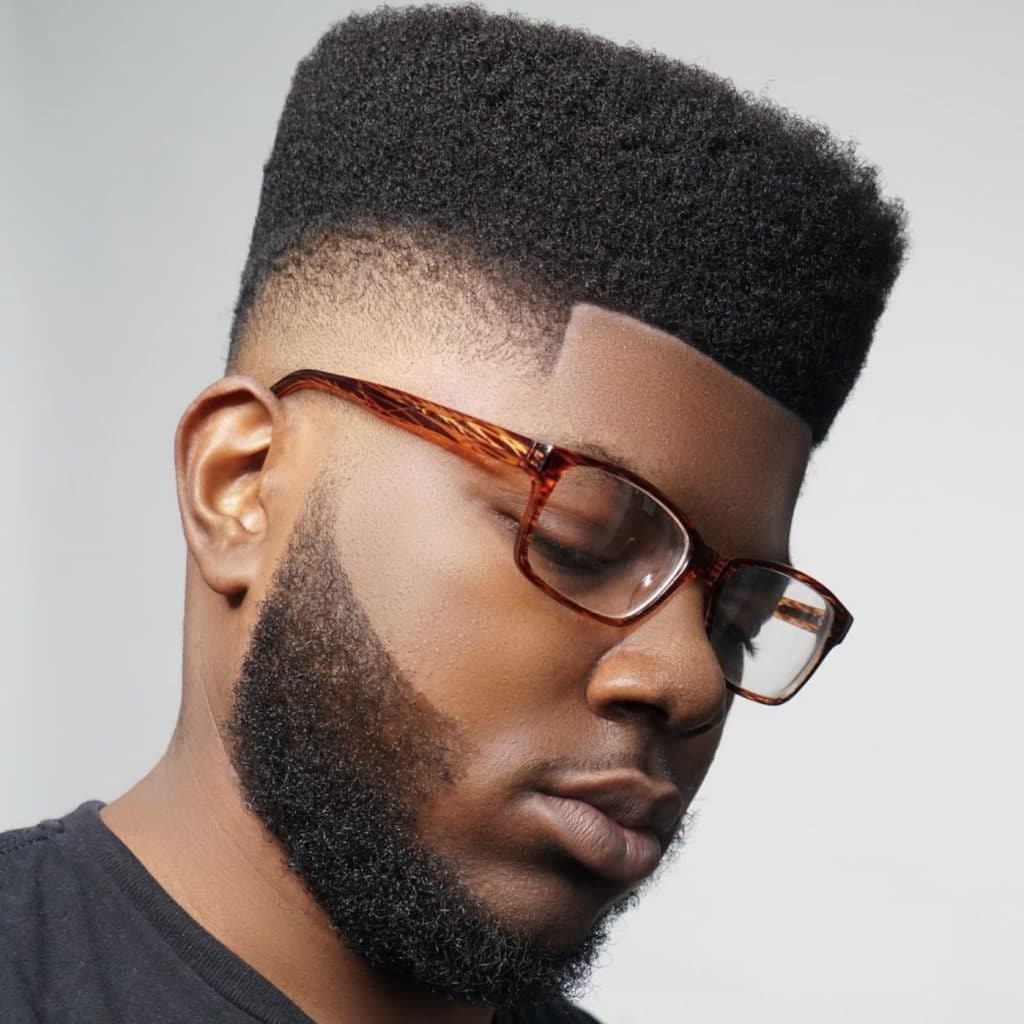 10. Drop Fade Haircut
This type of fade drops down behind the ear in a curve.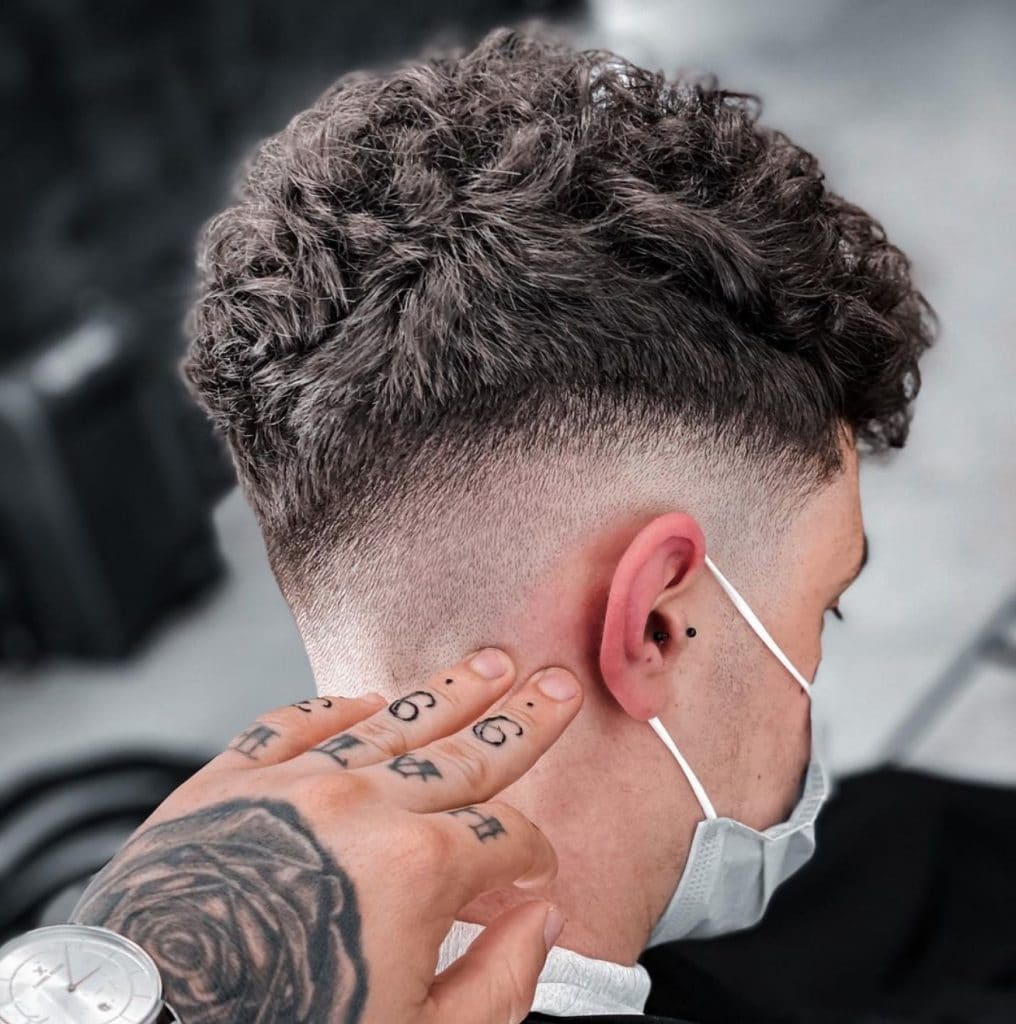 11. Low Fade Haircut For Black Men
This ultra low fade is barely visible from the front.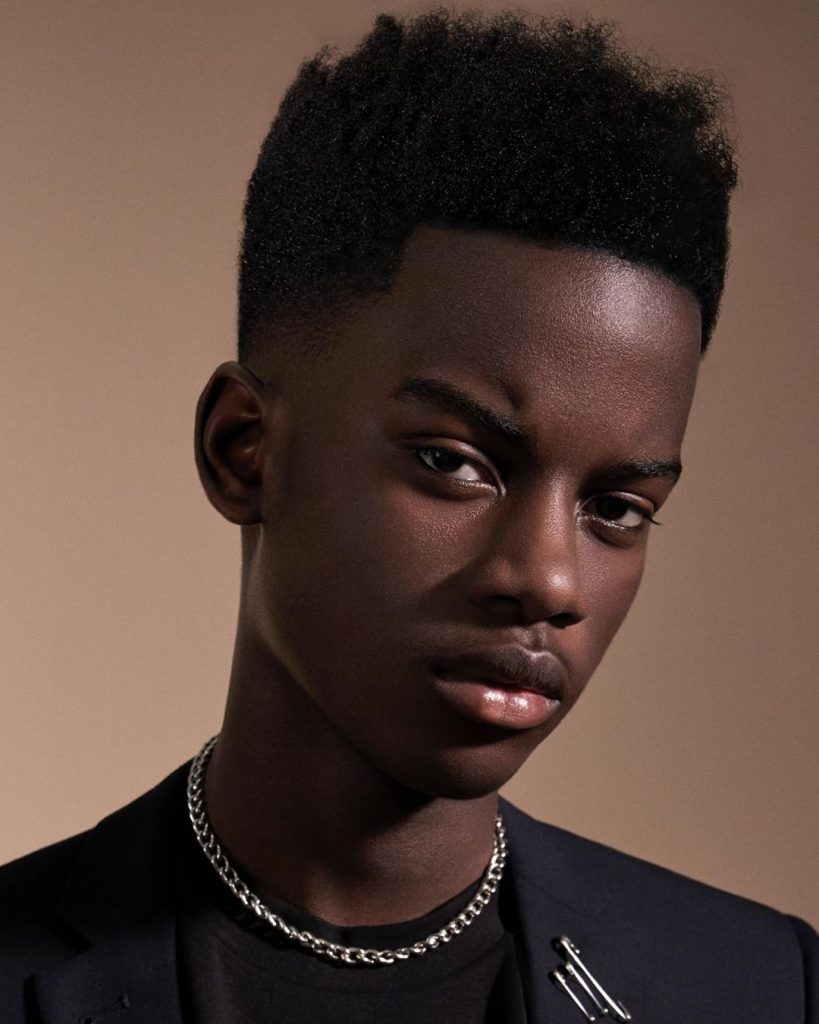 12. Temp Fade Haircut
A temp fade removes hair at the temples and can be added to any classic or trendy cut.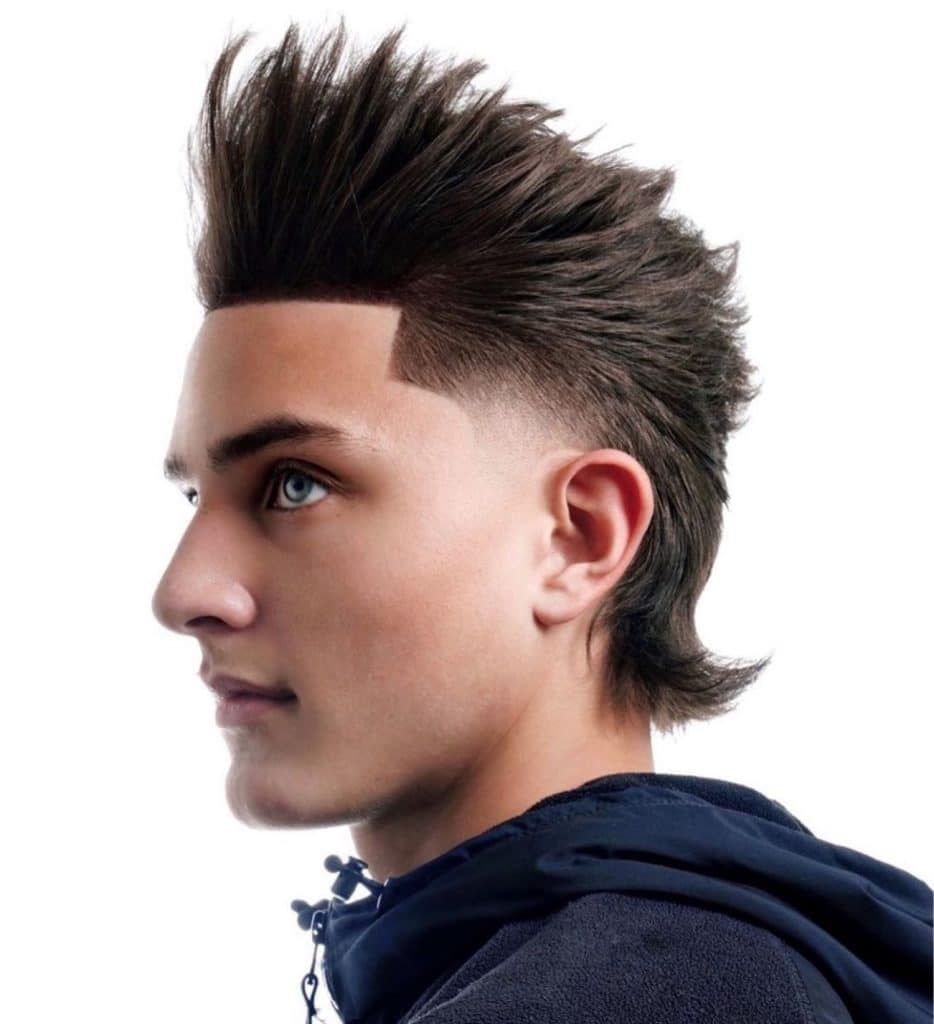 13. Fade Haircut Designs
A blurry fade can be a canvas for simple or intricate hair designs.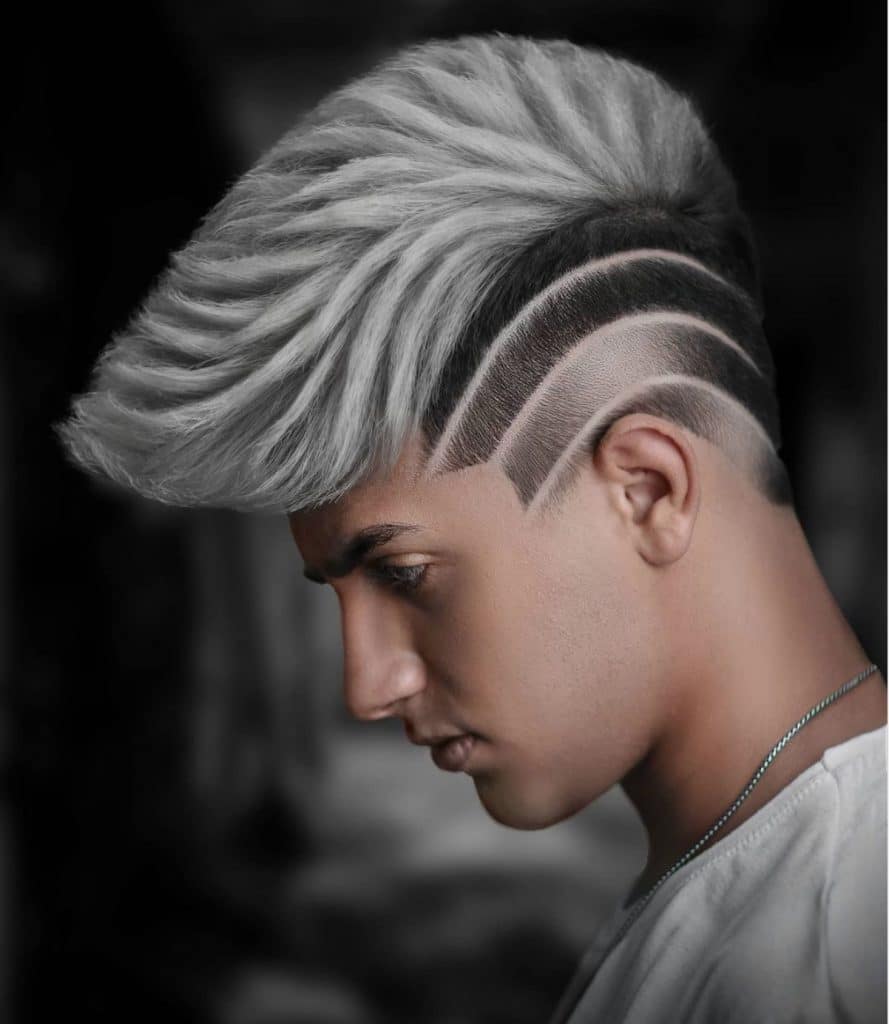 14. Low Taper Fade Haircut
This taper cut is as low as you can do.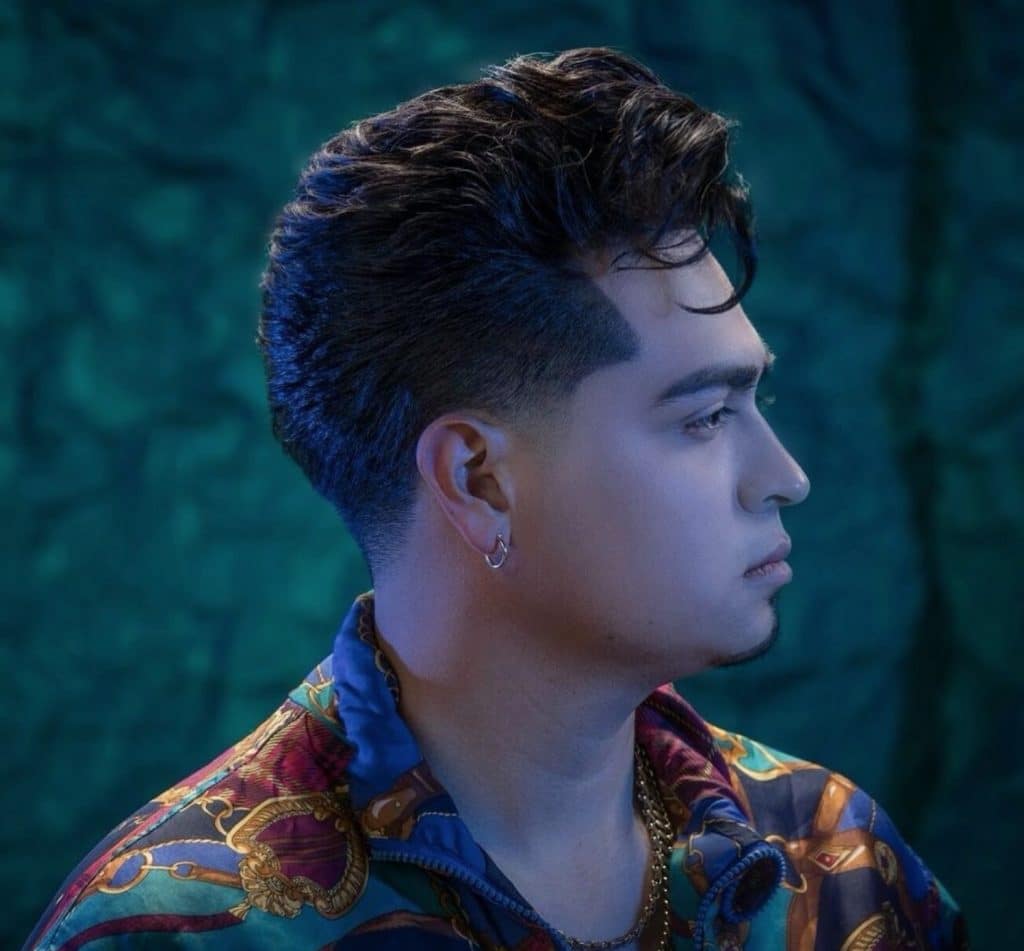 15. Fade + Curly Hair
This burst fade creates a curly mohawk shape.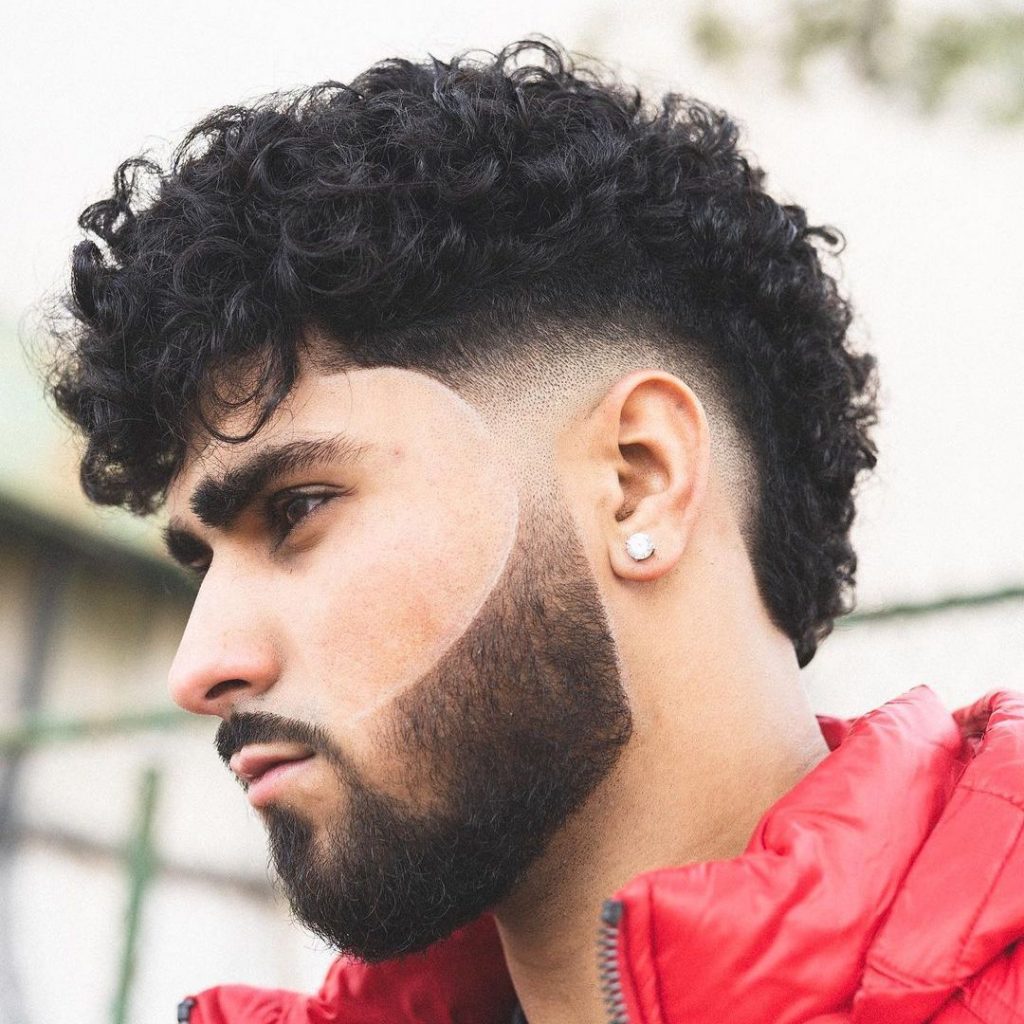 16. Fade Haircuts For Black Boys
A fade makes it easier for Black boys to wear hair long or short.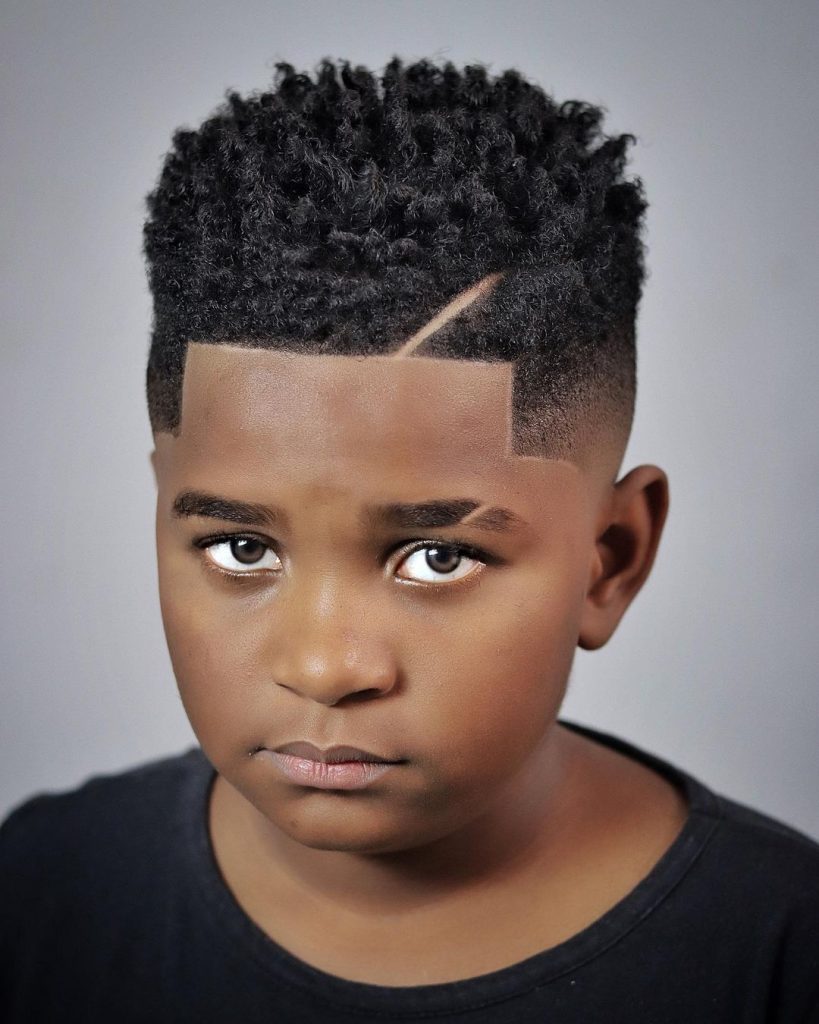 17. Mohawk Fade Haircut
The coolest new way to wear a mohawk is with a burst fade at the sides.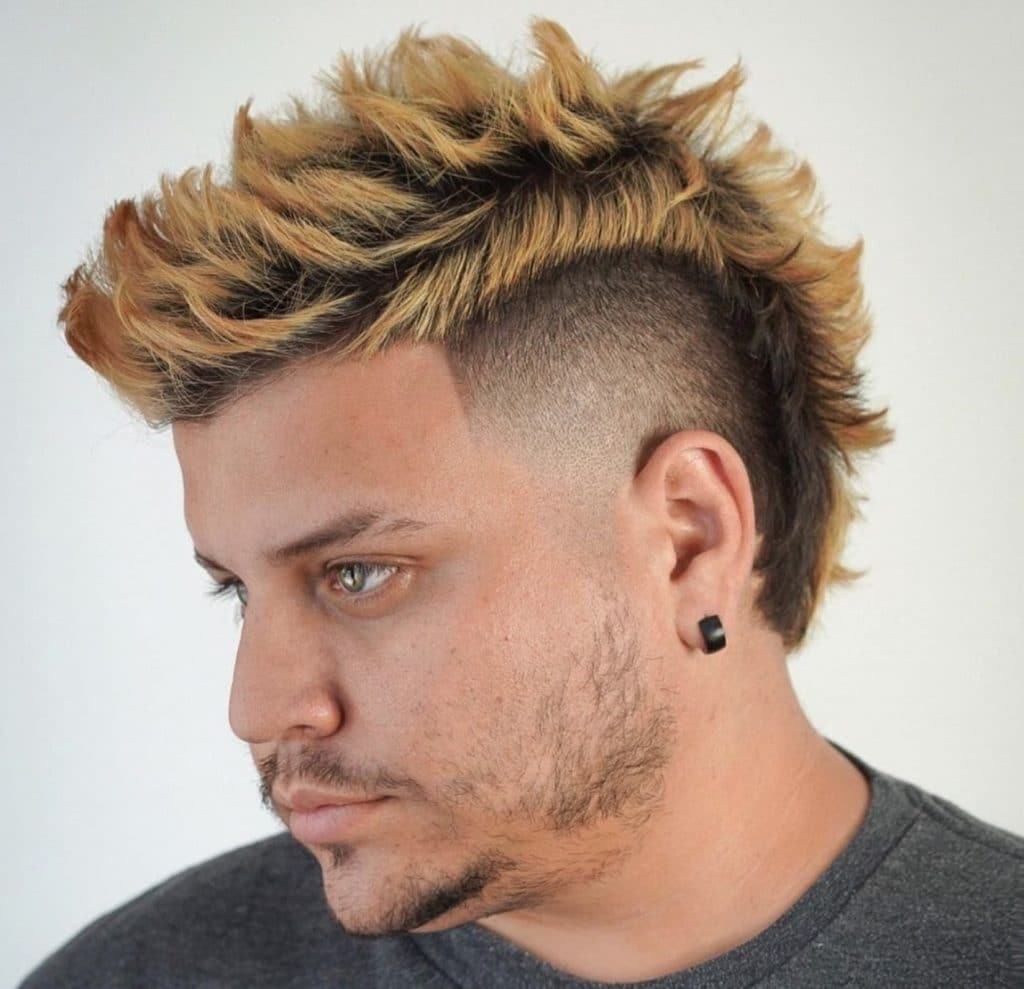 18. Side Fade Haircut
This fade keeps the sides tight.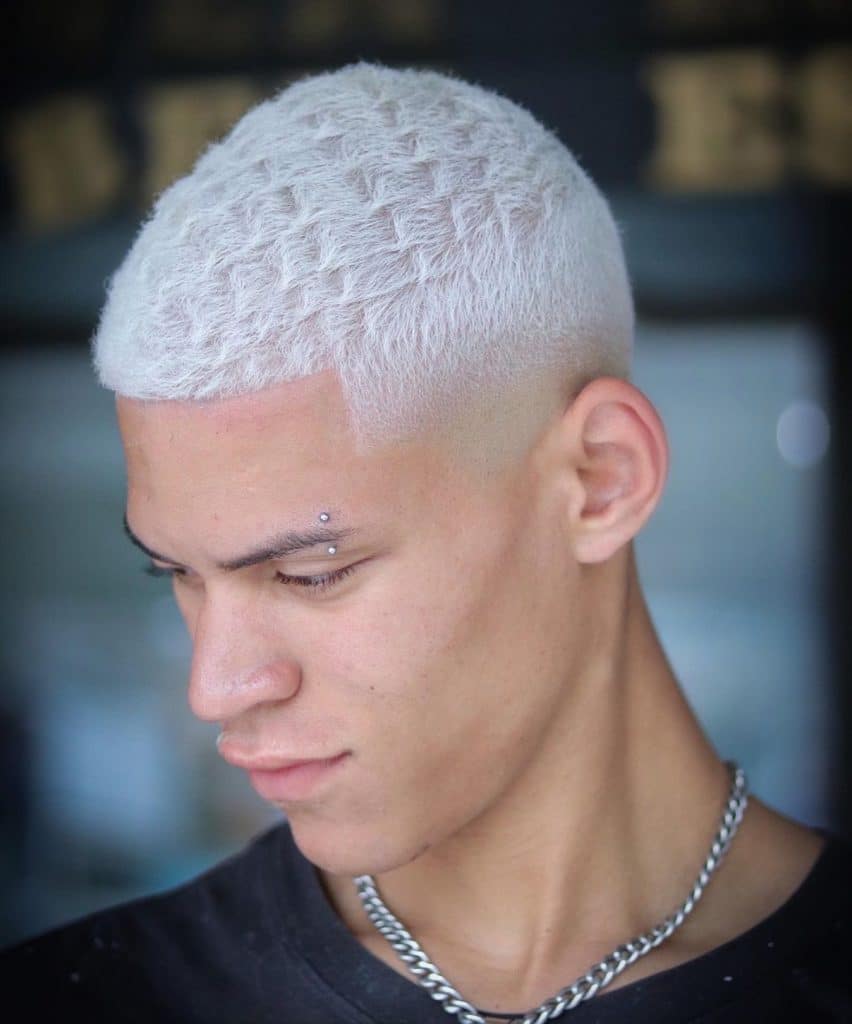 19. Men's High Fade Haircut + Waves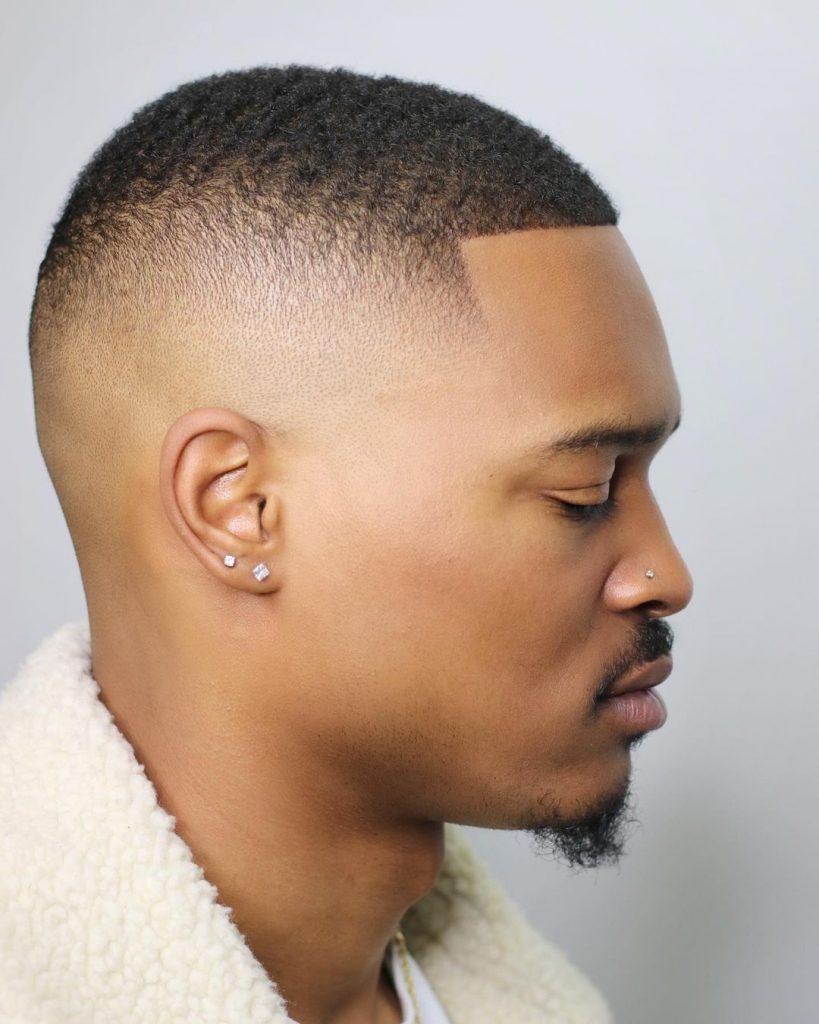 This medium-high fade turns 360 waves into 180 waves.
20. Afro Fade Haircut
A low fade helps create that perfectly rounded afro shape.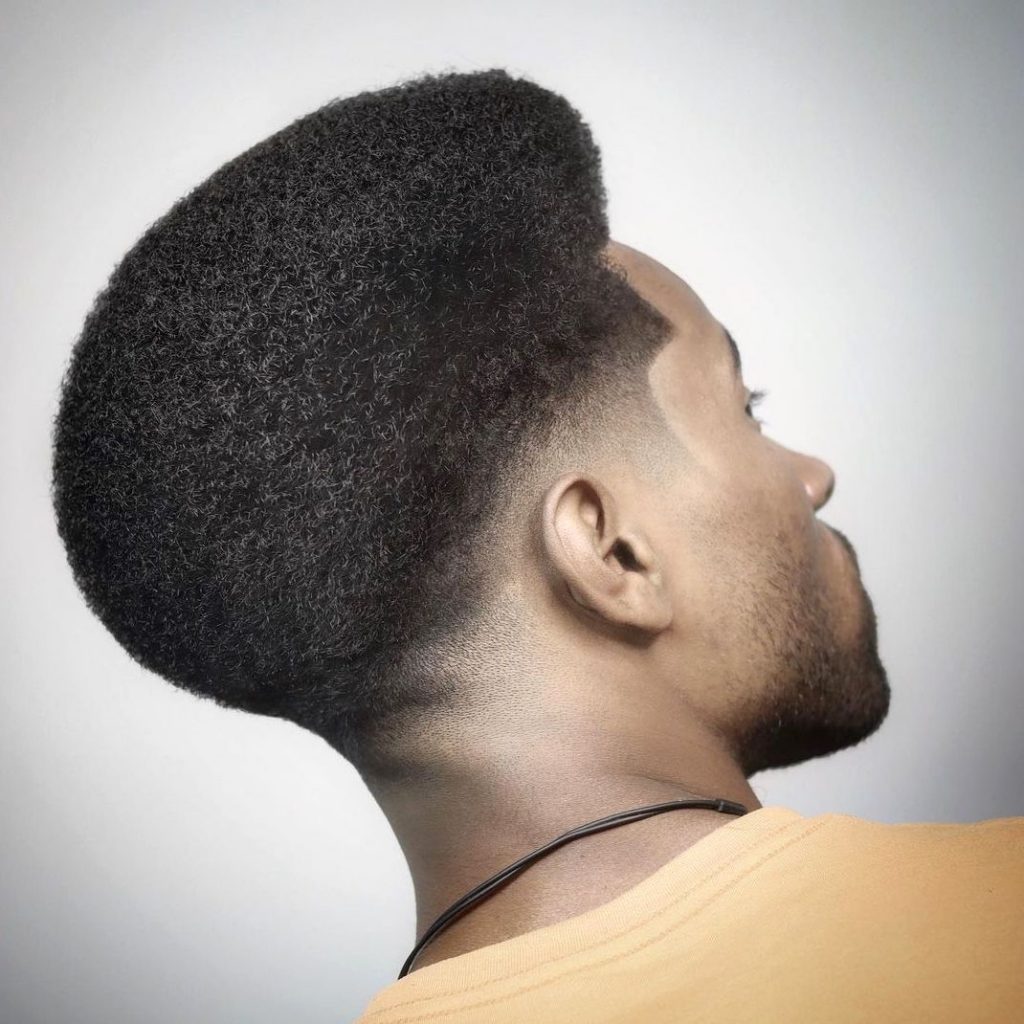 21. Comb Over Fade
The comb over looks great with a low, mid, and high fade.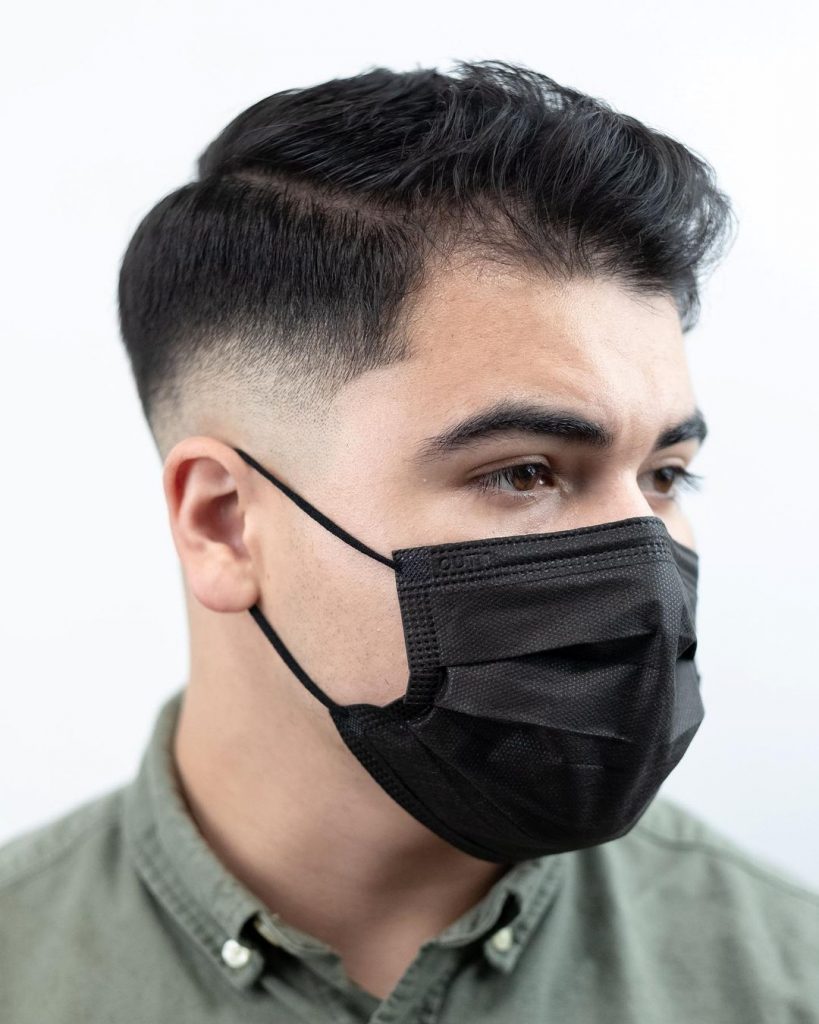 22. Drop Fade Haircut For Black Men
The drop fade has an arched shape instead of straight.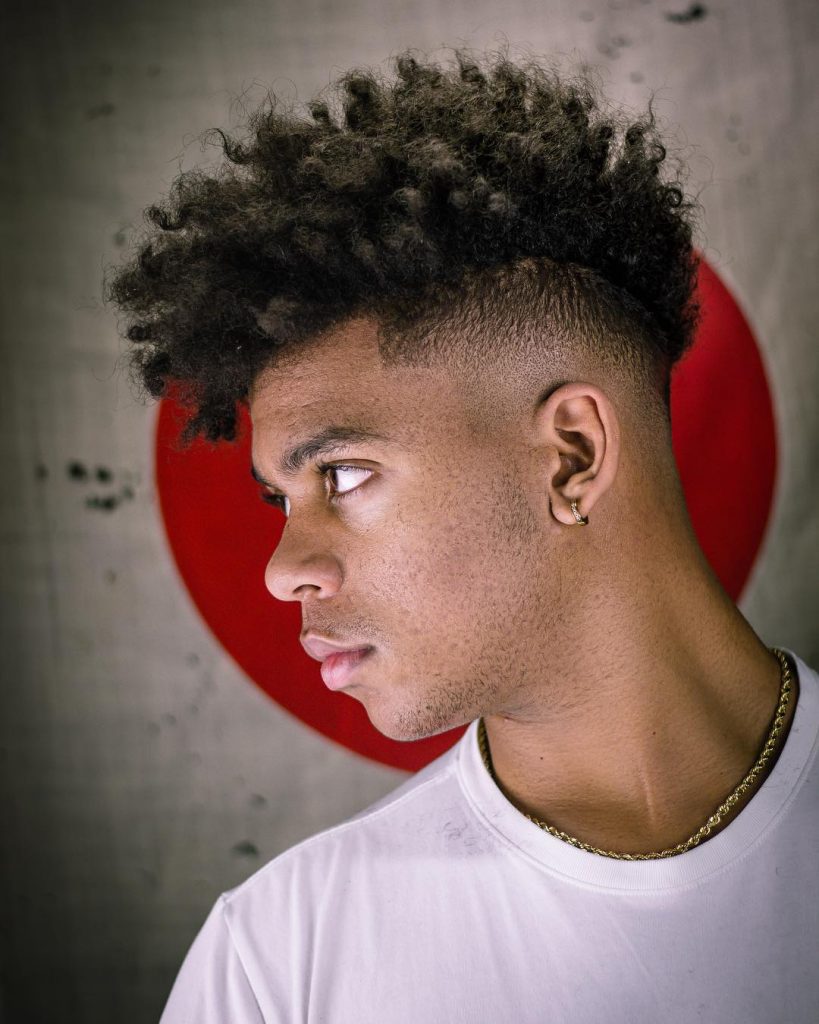 23. High Fade Haircut For Black Men
Texture on top and a part makes this high and tight extra cool.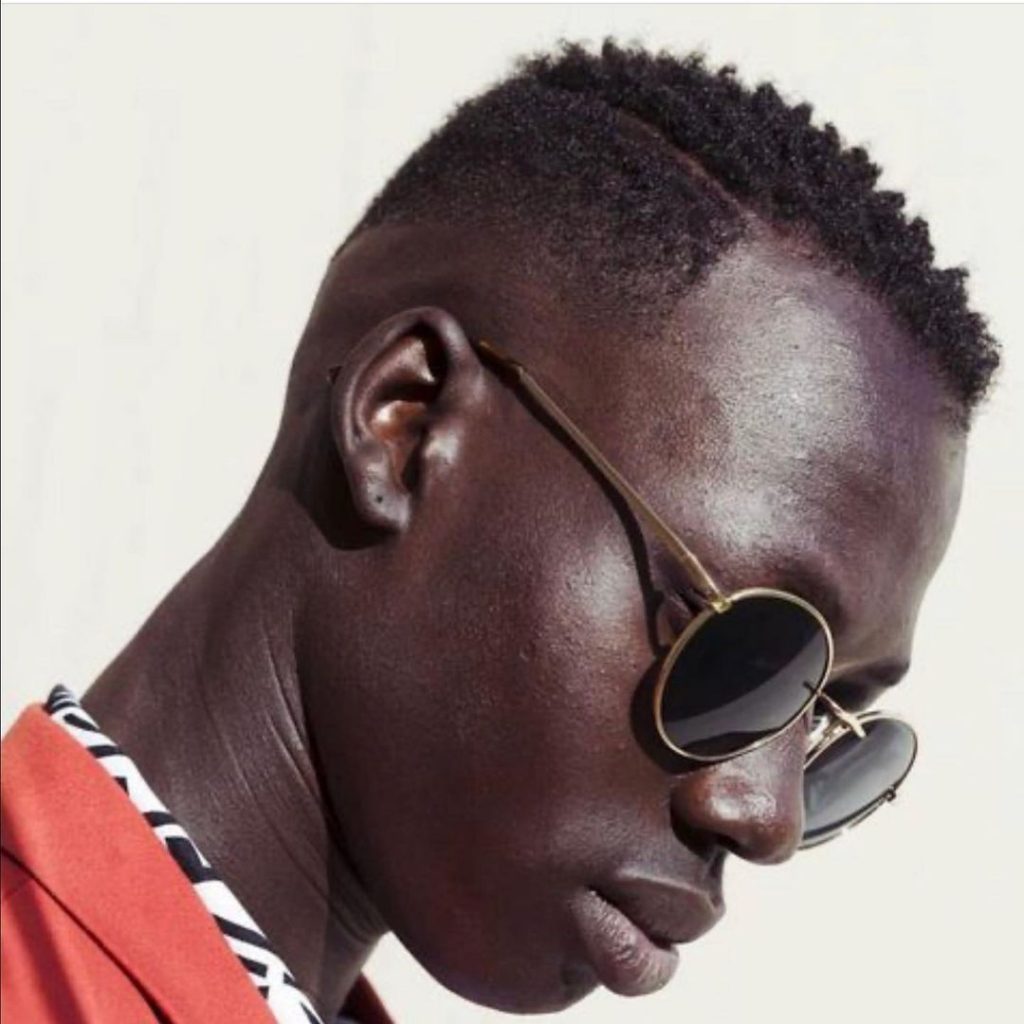 24. Low Fade Haircut
This low fade starts high at the sides and gets lower around the back.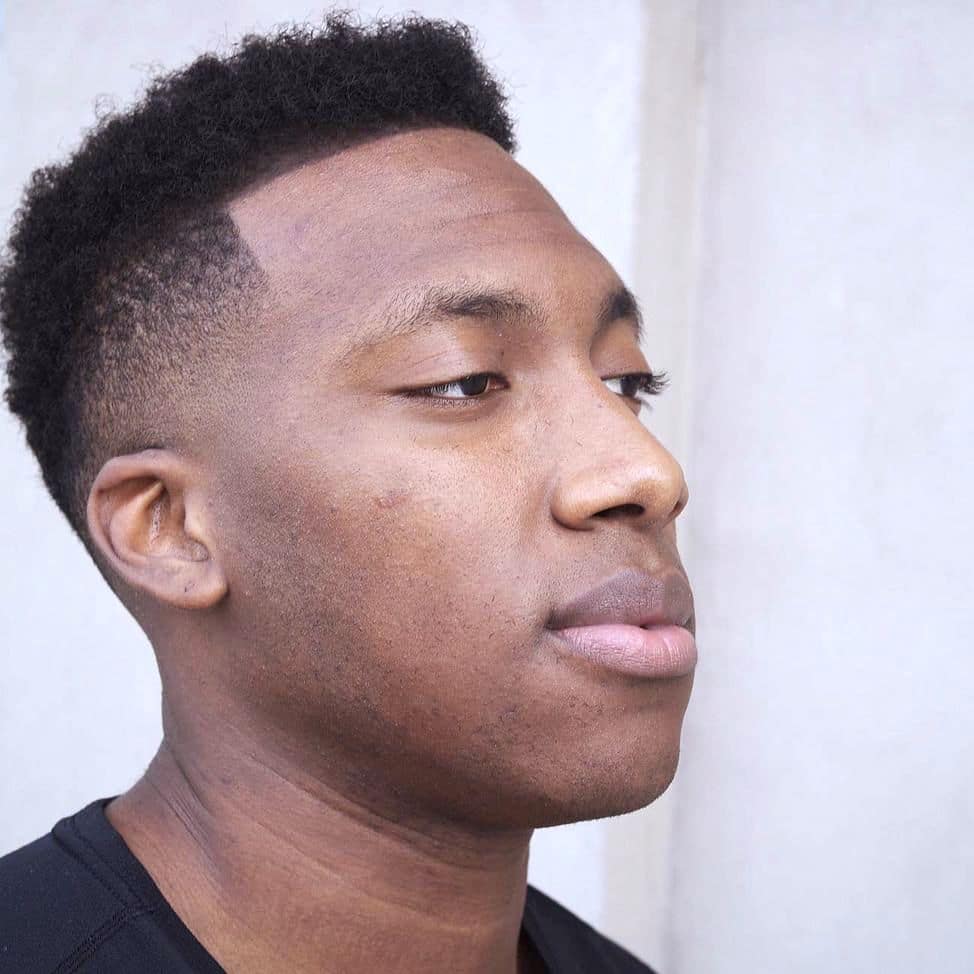 25. Low Skin Fade Haircut
The arc of this low skin fade echoes the shape of the pomp up top.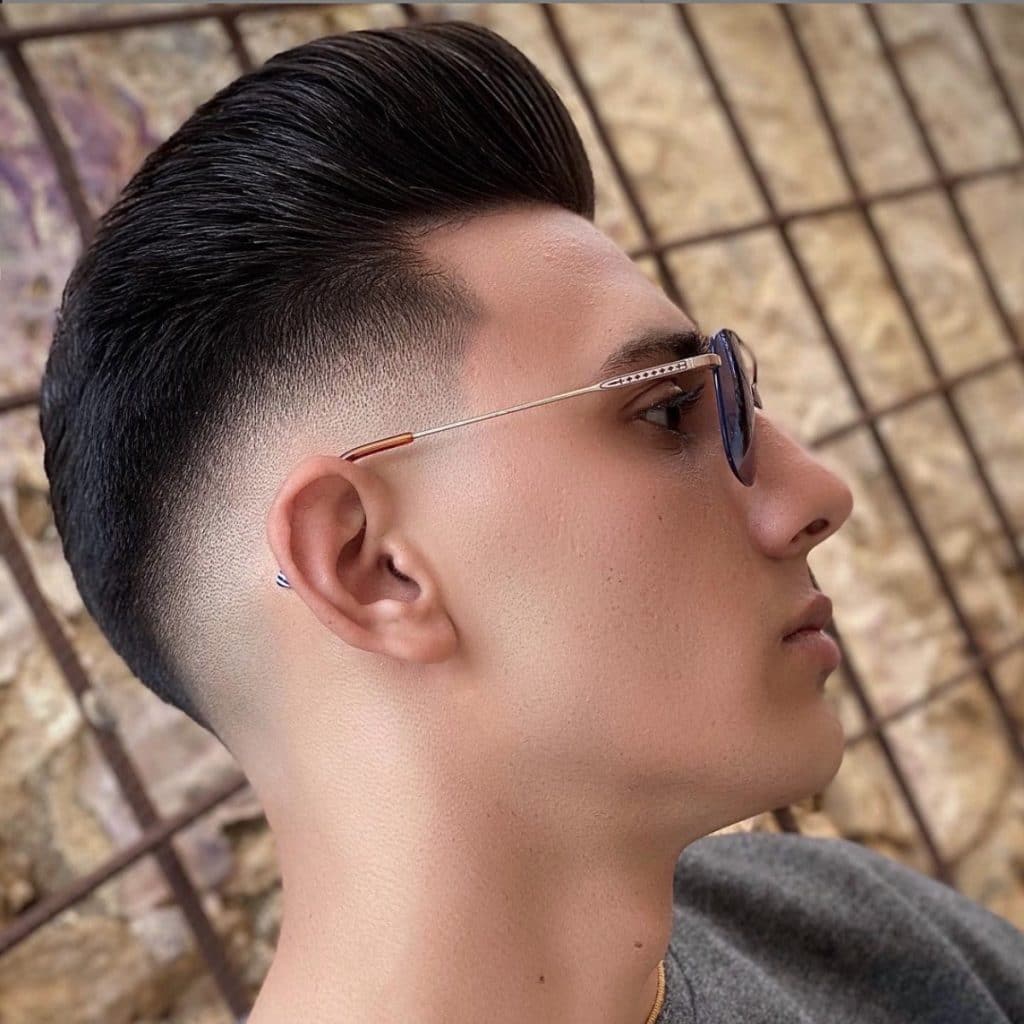 26. Shadow Fade Haircut
A shadow fade goes from short to shorter instead of all the way down to the skin.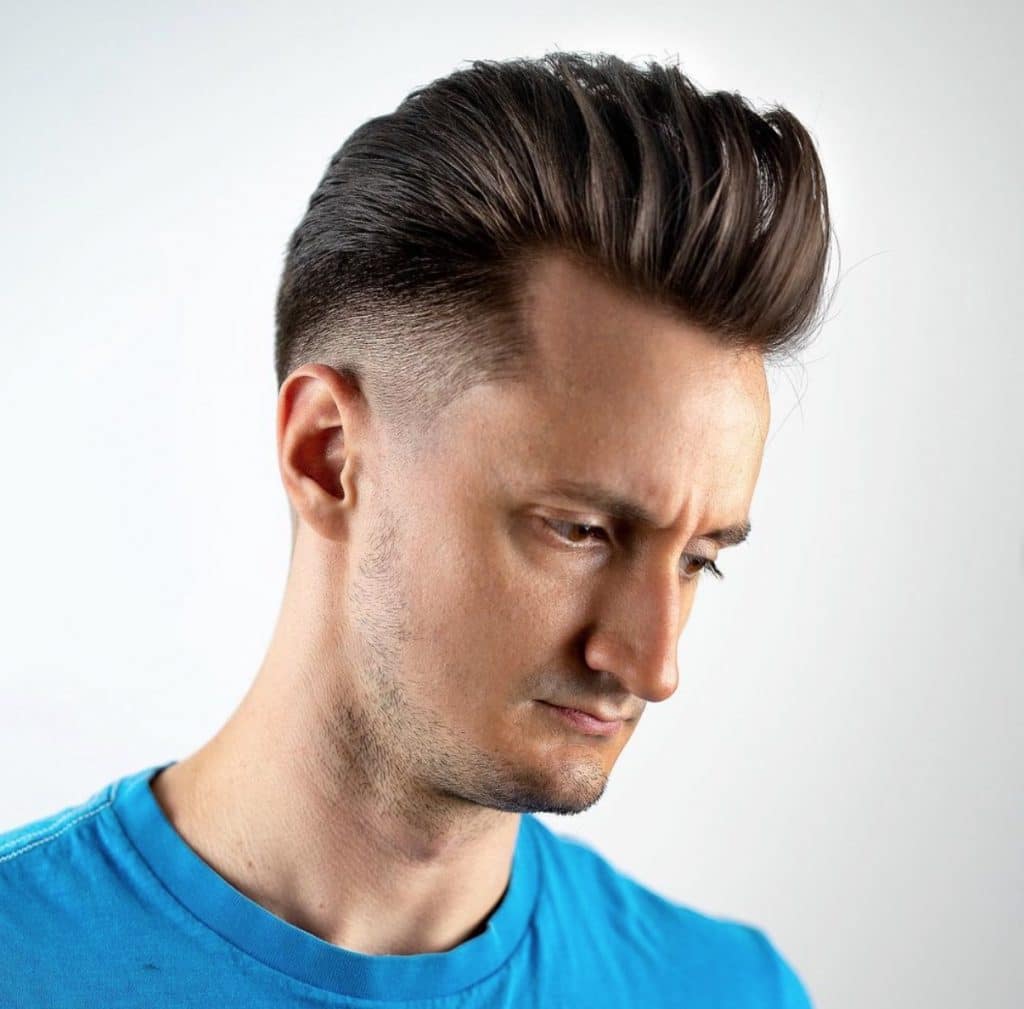 27. Taper Fade Haircut For Black Men
A line up and taper fade creates any hair line you want.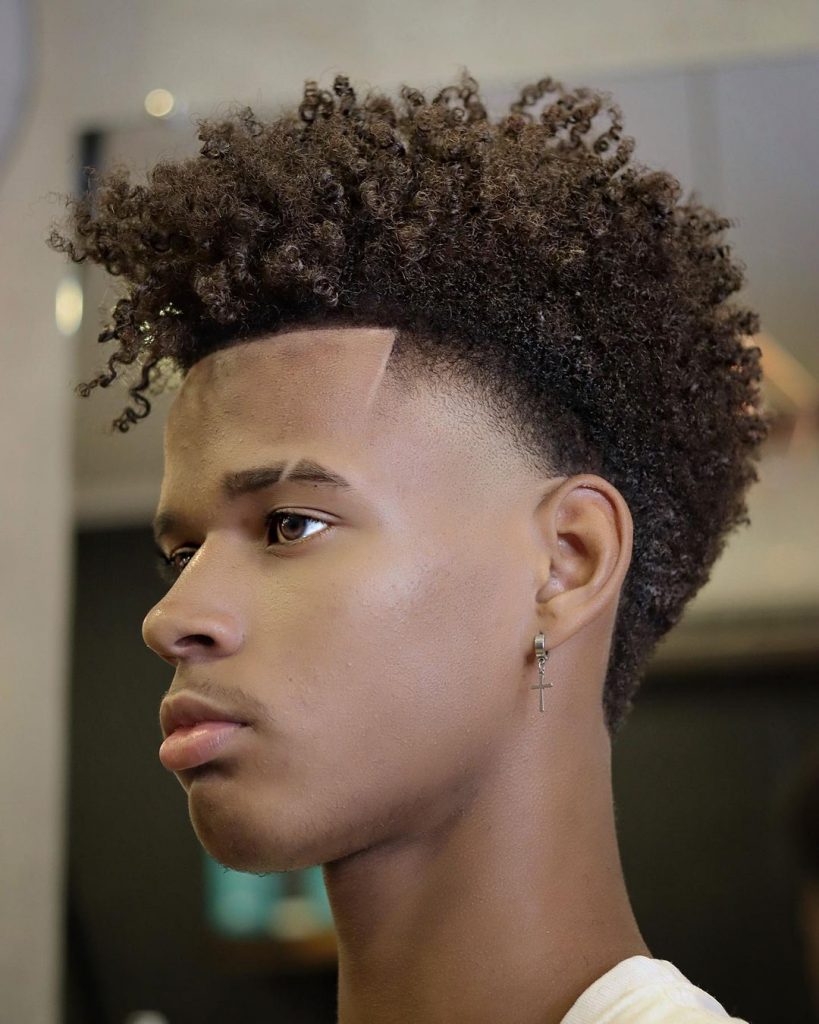 28. Asian Fade Haircut
Fade haircuts are popular with all thick, coarse hair types including Asian hair.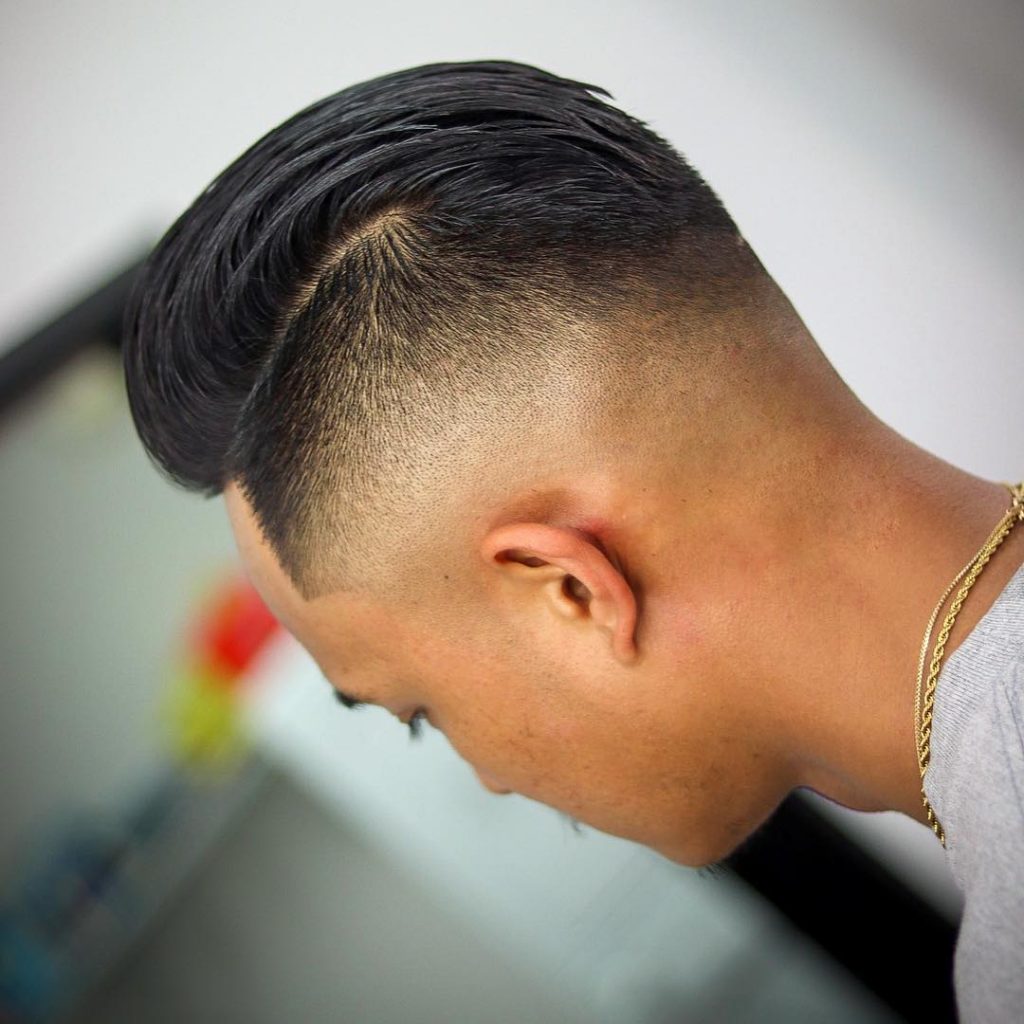 29. Fade Haircut With Beard
A fade creates separation between hair and facial hair. Or extend the blur with a beard fade.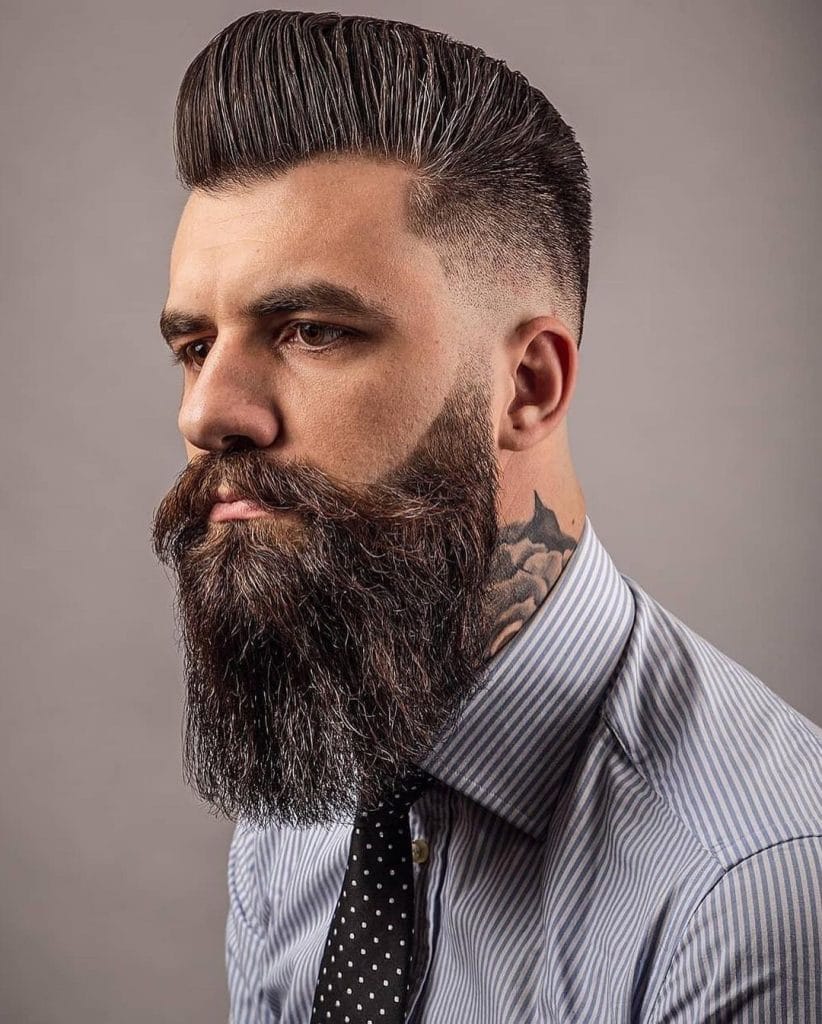 30. Long Fair + Fade Haircut
A fade works with every haircut and length, including long hair. This low fade is hidden when hair is worn down and revealed with this man bun.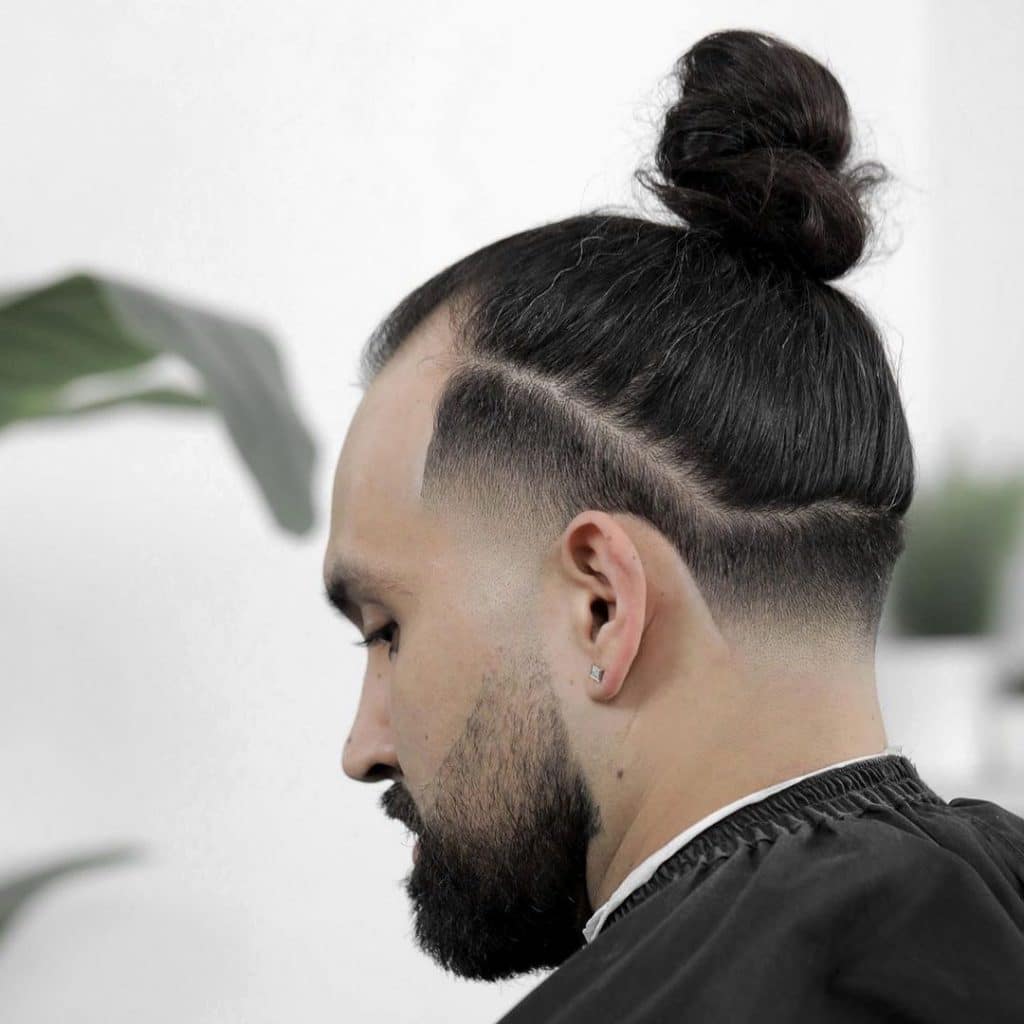 31. Black Taper Fade Haircut
This high taper fade leaves just a hint of that arch behind the ear.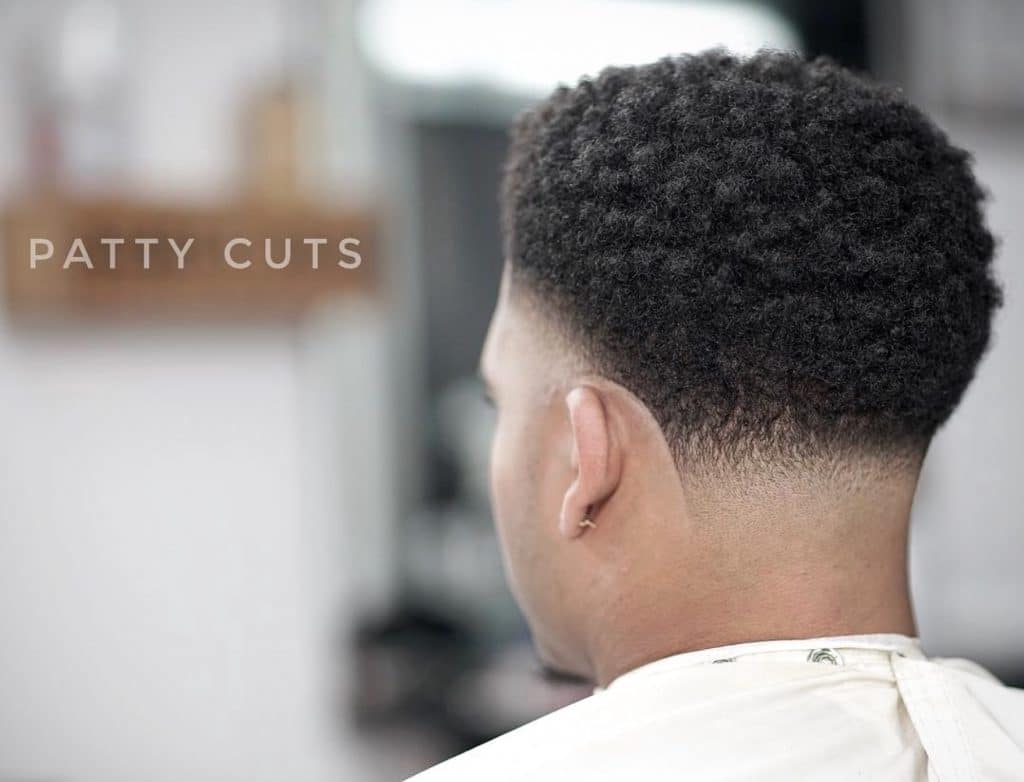 32. Blowout Fade Haircut
The blowout haircut with a taper fade is styled up and out.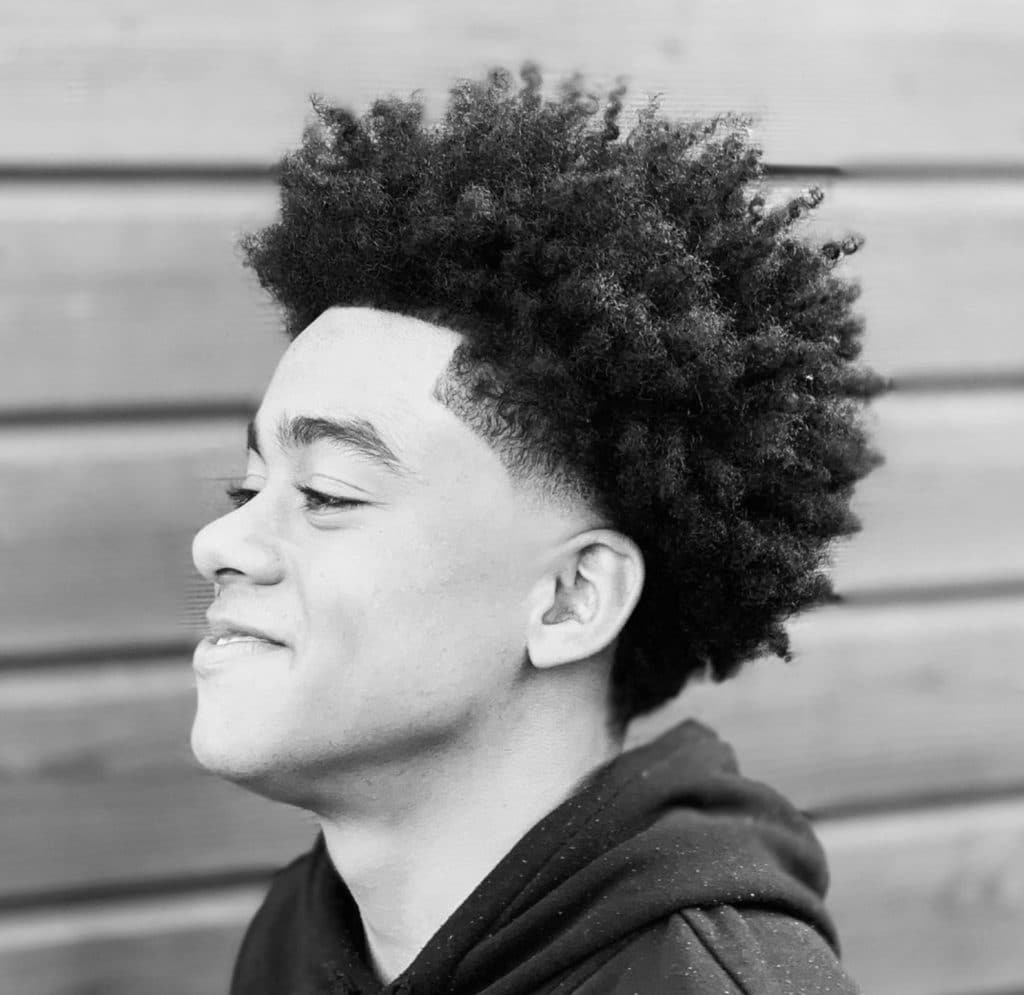 33. Burst Fade Haircut
This is designed to look like a burst of light behind the ear.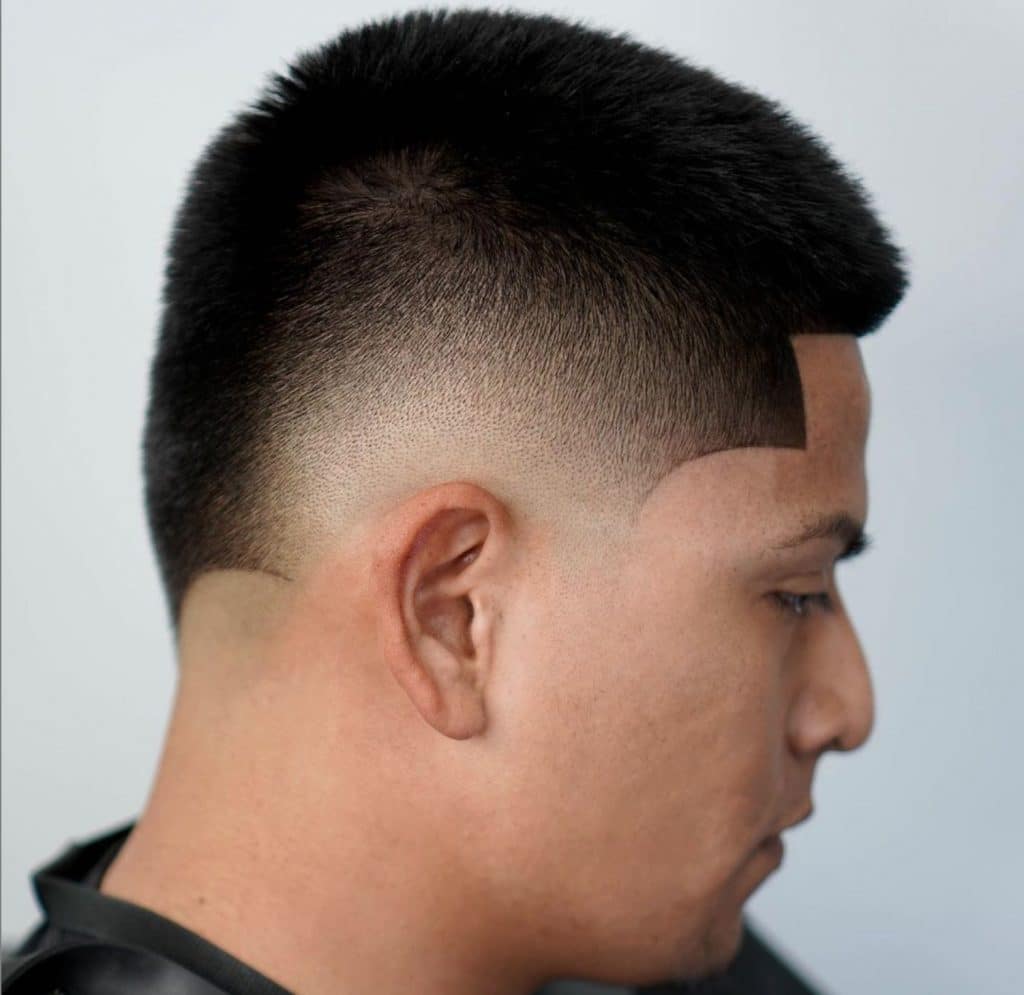 34. Fade Haircut Back
Fade haircuts look great from every angle.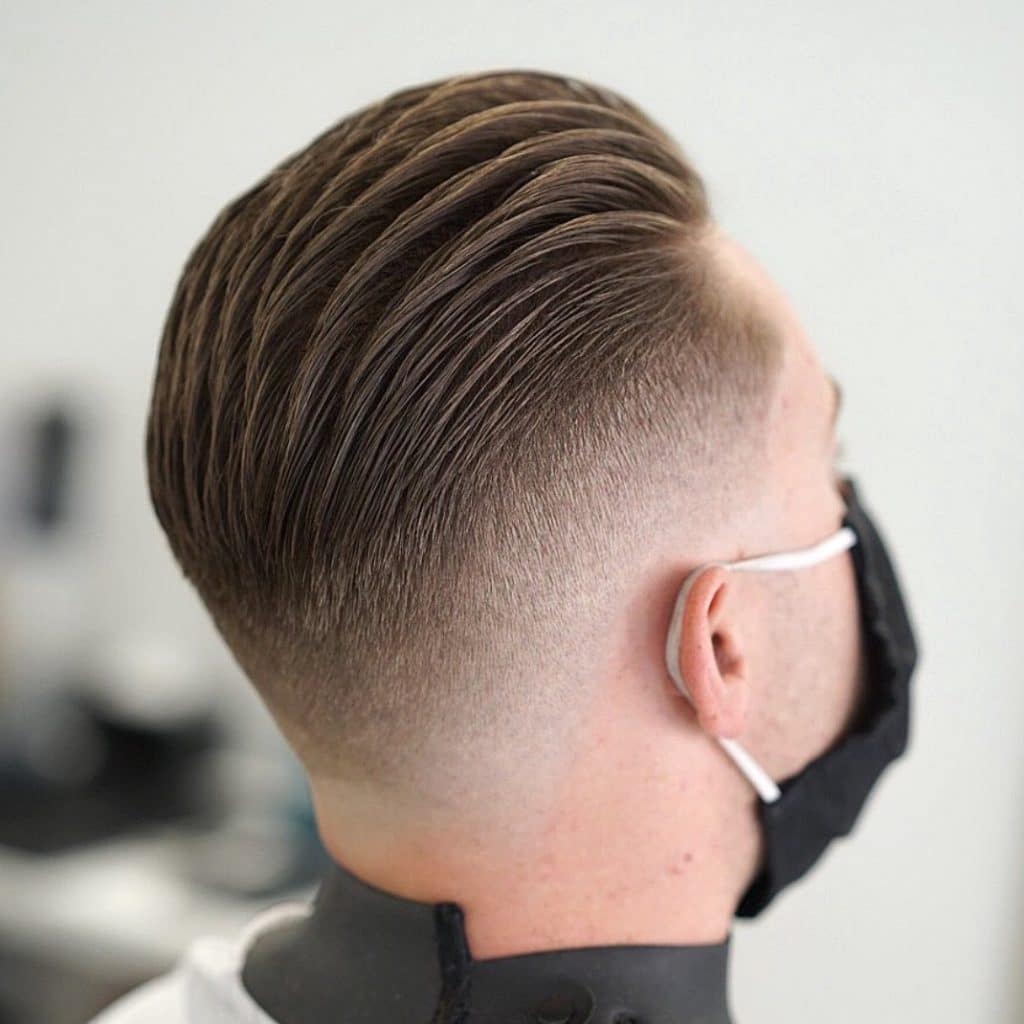 35. Fade Haircut With Line
If a hair design is too much for you, try a shaved line instead.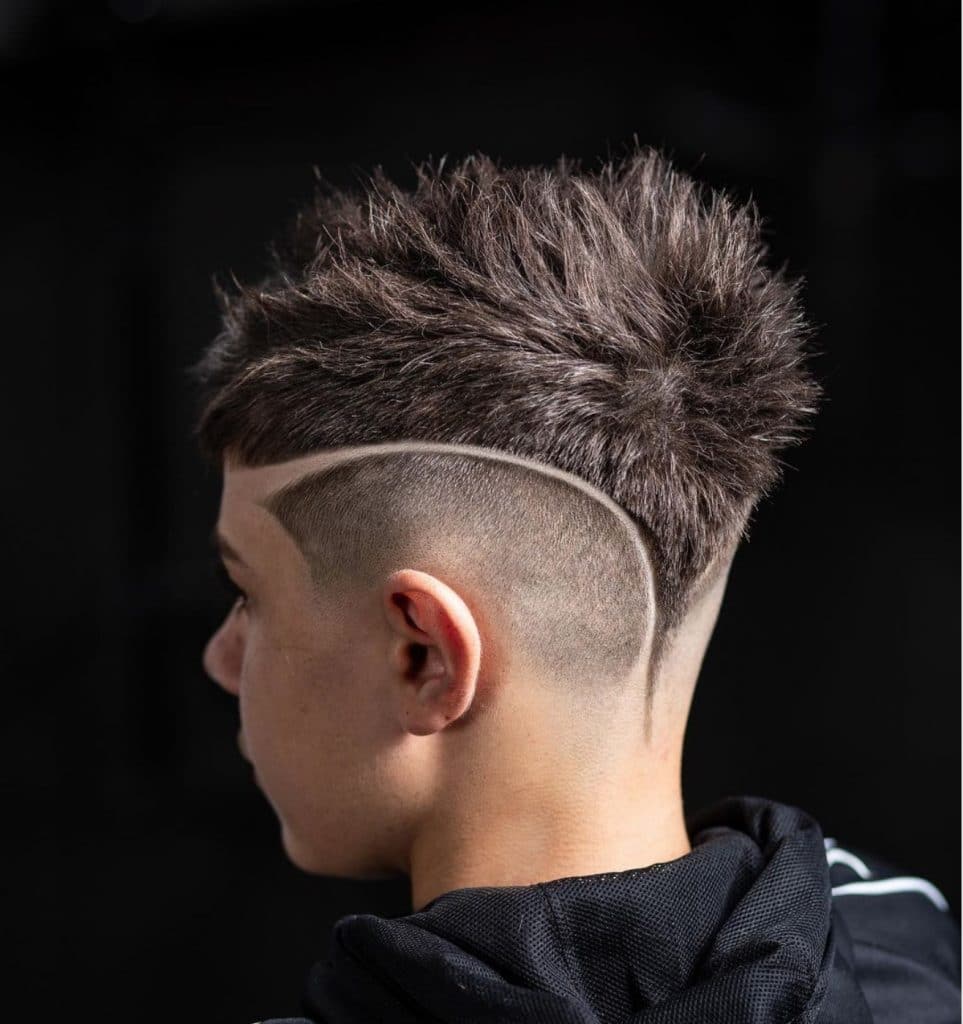 36. High Skin Fade Haircut
A skin fade makes the high higher and the tight tighter.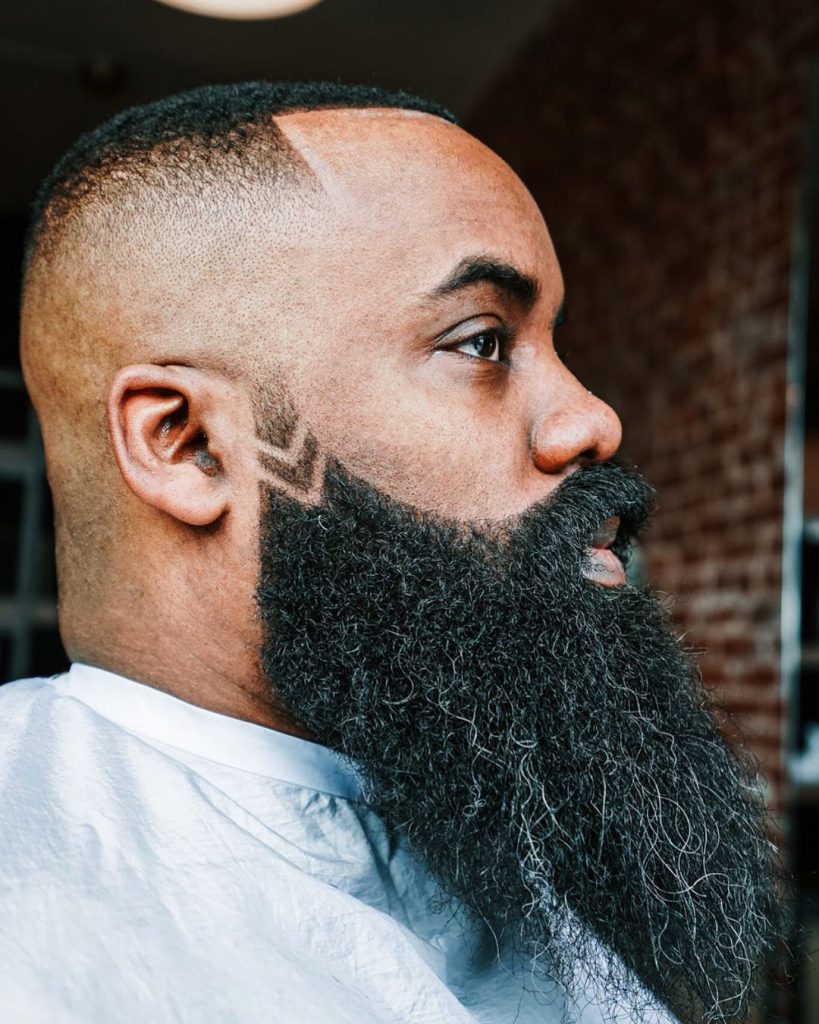 37. High Top + Fade Haircut
A high fade helps a high top look even higher.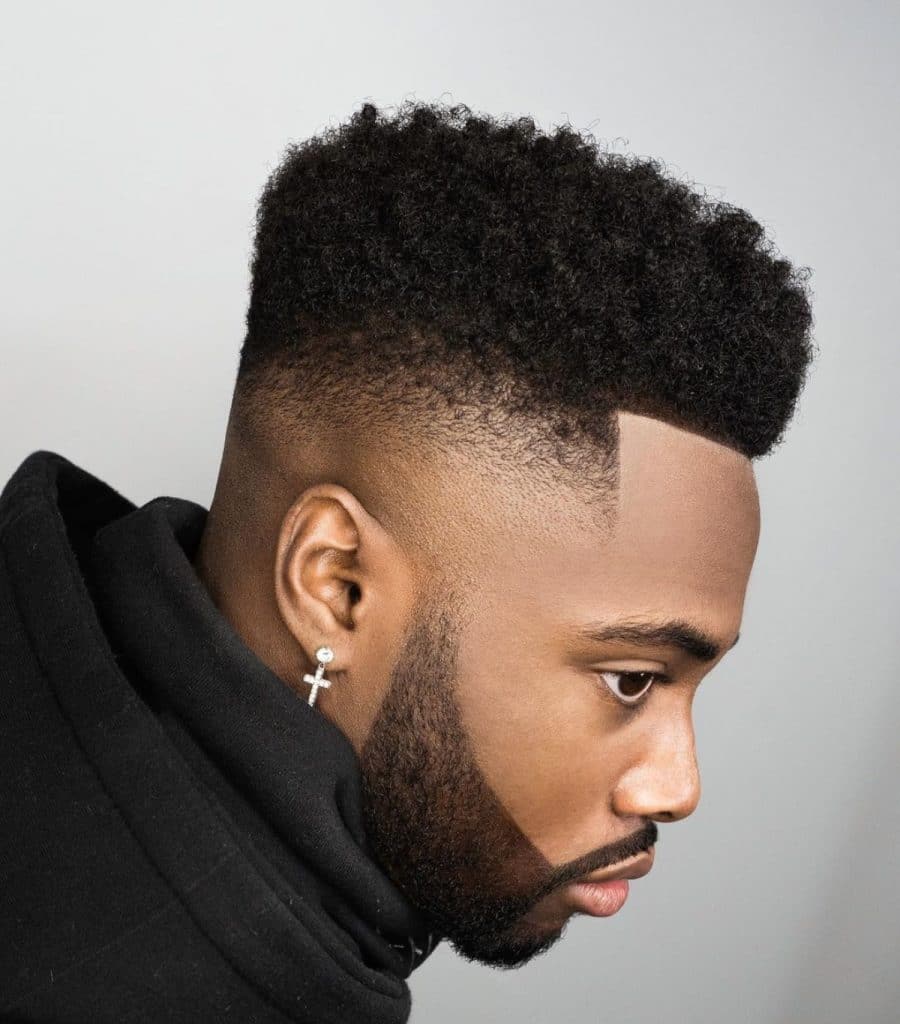 38. Boosie Fade Haircut
This is Boosie Badass's signature look.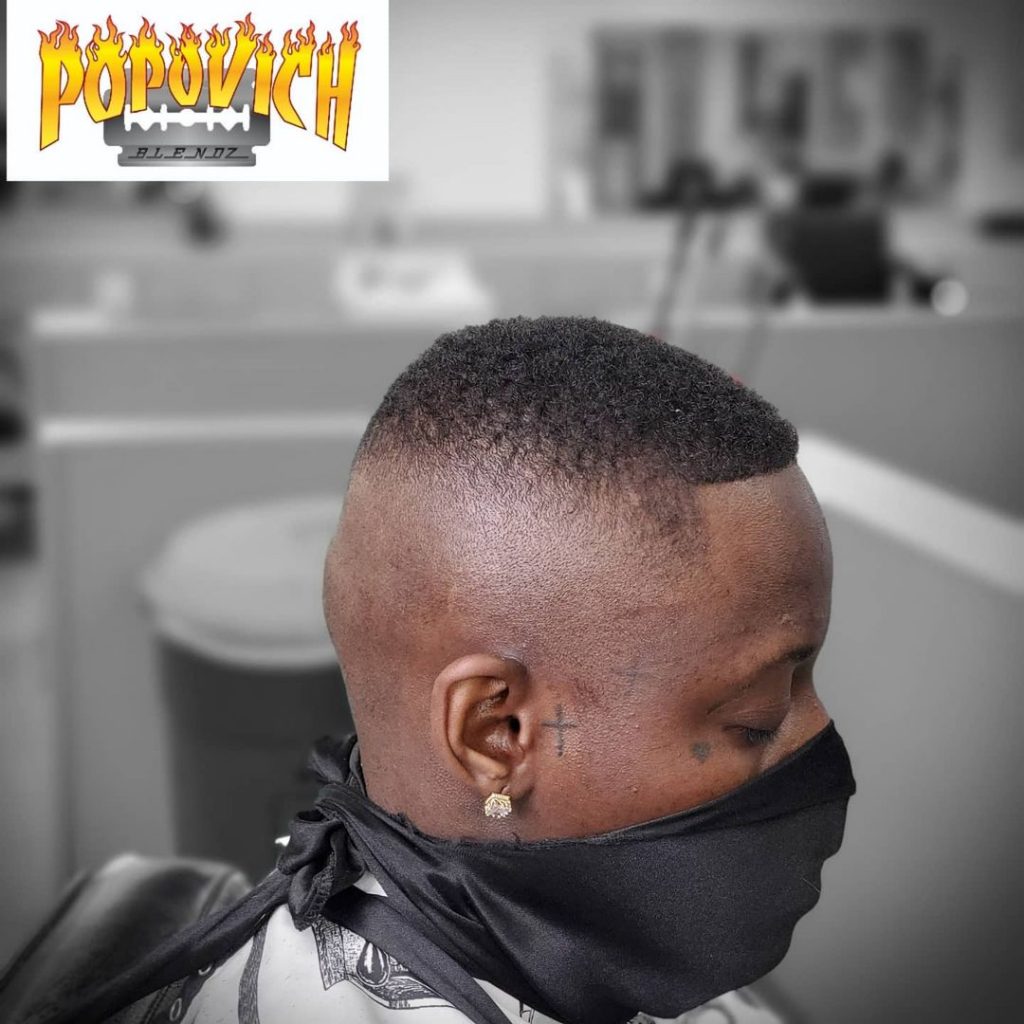 39. Box Fade Haircut
The box haircut is similar to the high top with textured edges.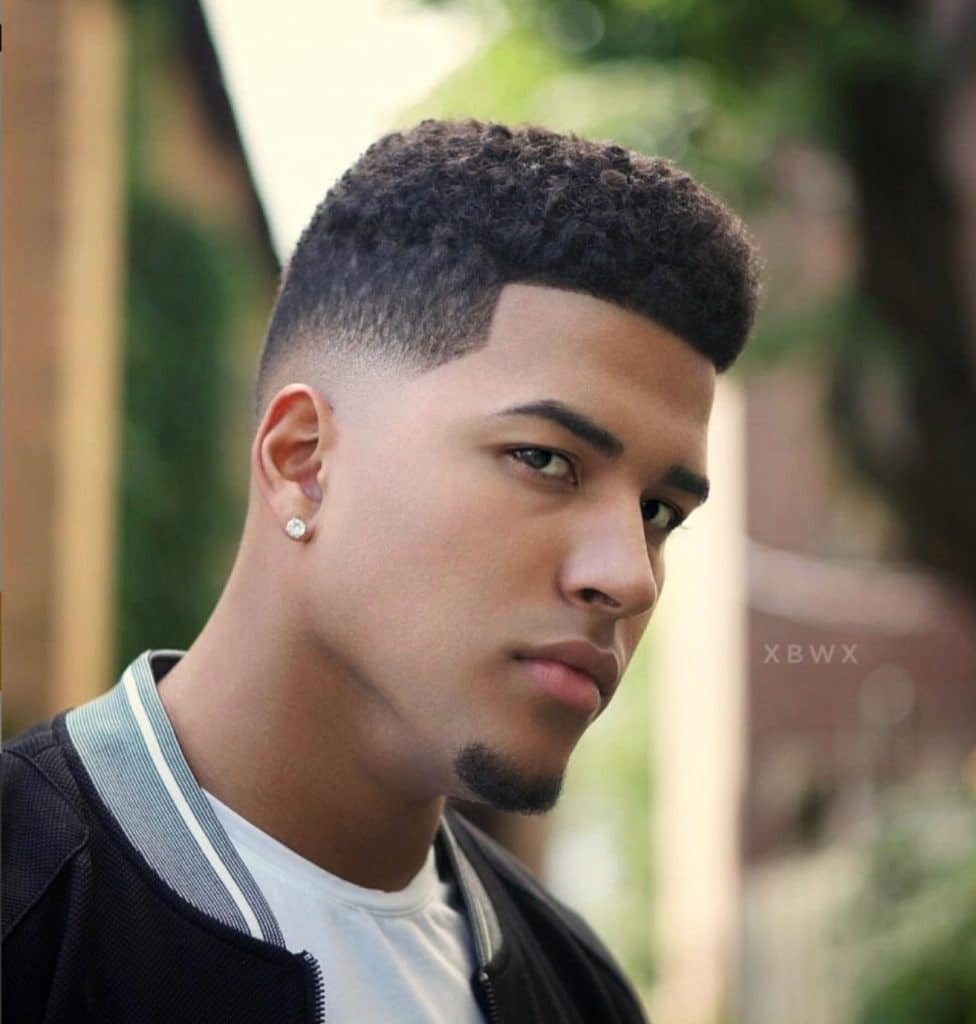 40. Fade Haircut With Waves
Hang on to more waves with a low fade or go for 180 waves with a blurry fade.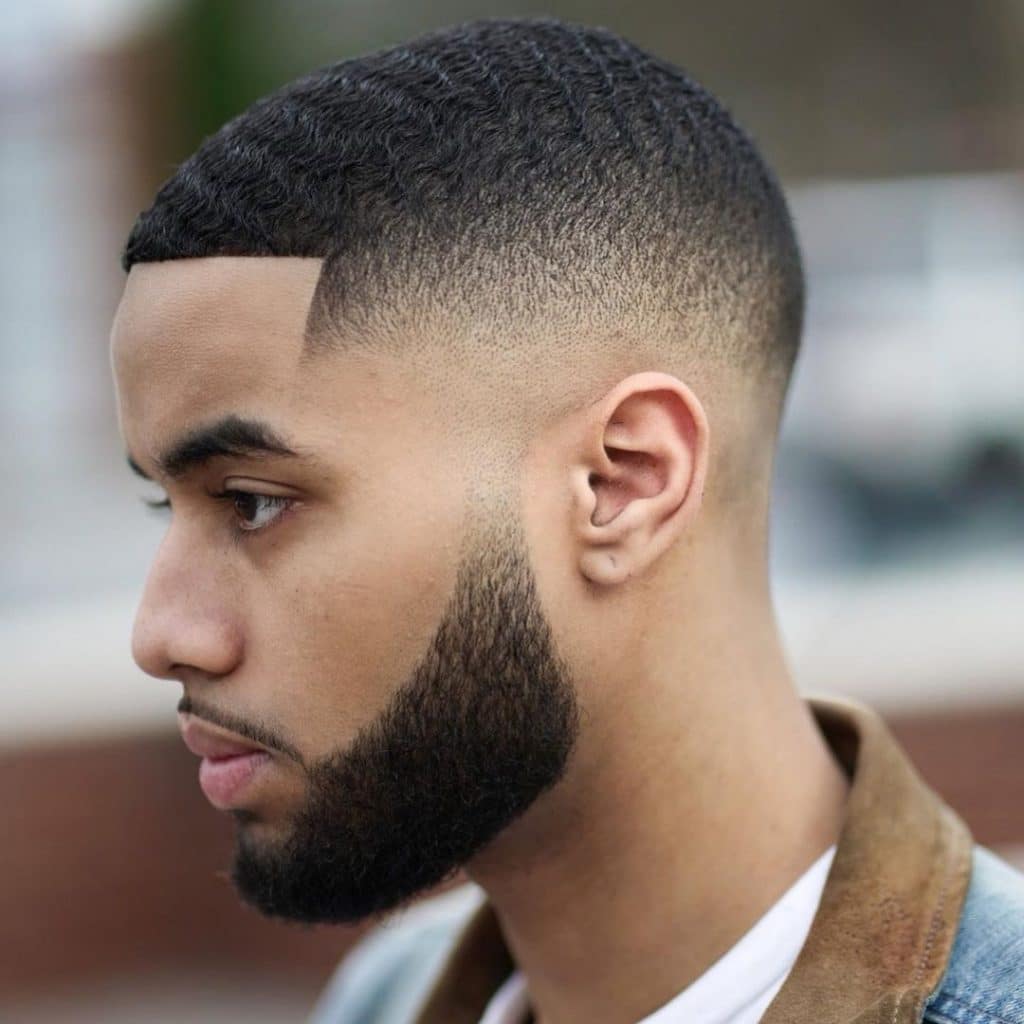 41. Light Fade Haircut
A light fade is usually a shadow fade that is more subtle than a skin fade.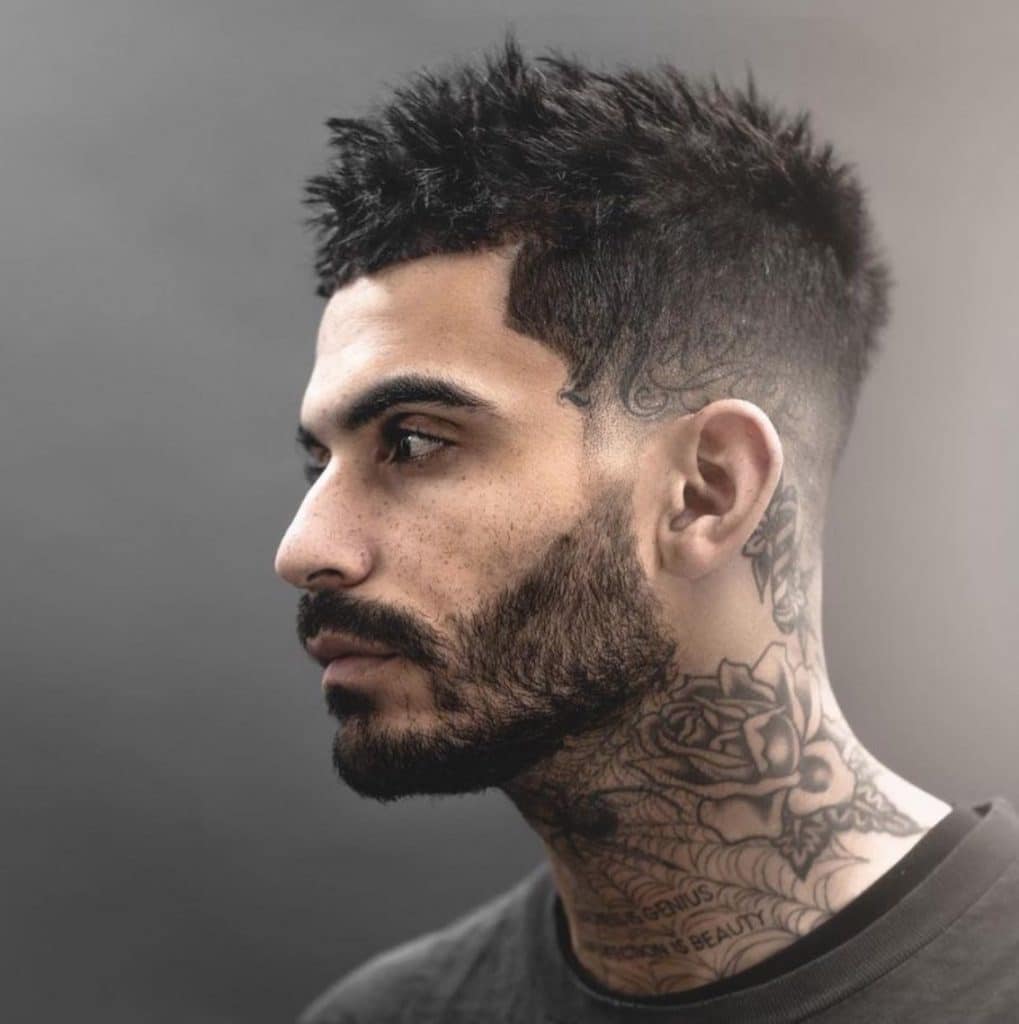 42. Men's Taper Fade Haircut + Short Hair
This cool short cut is close cropped all over with a hint of blunt fringe and a taper fade.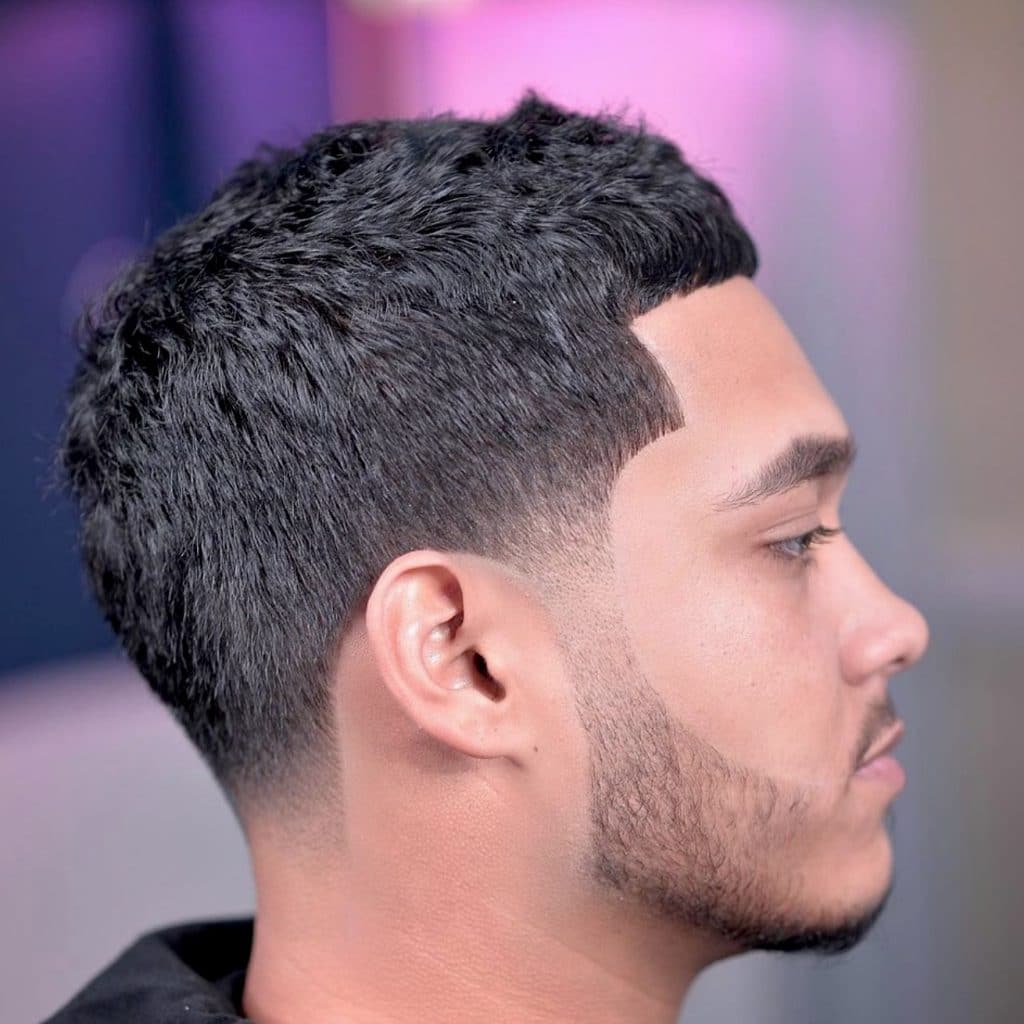 43. Mexican Taper Fade Haircut
This temple fade is cool way to wear longer hair with short sides.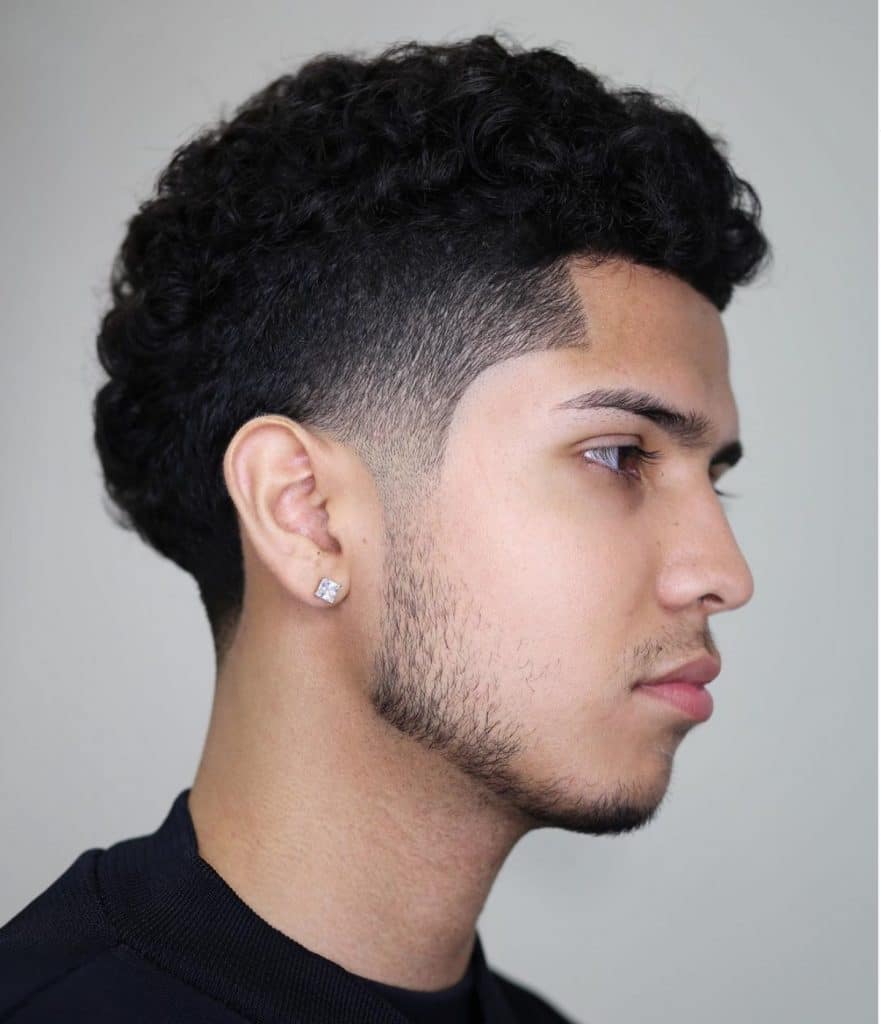 44. Top Fade Haircut
The long top with short sides is one of the most popular men's haircut combinations.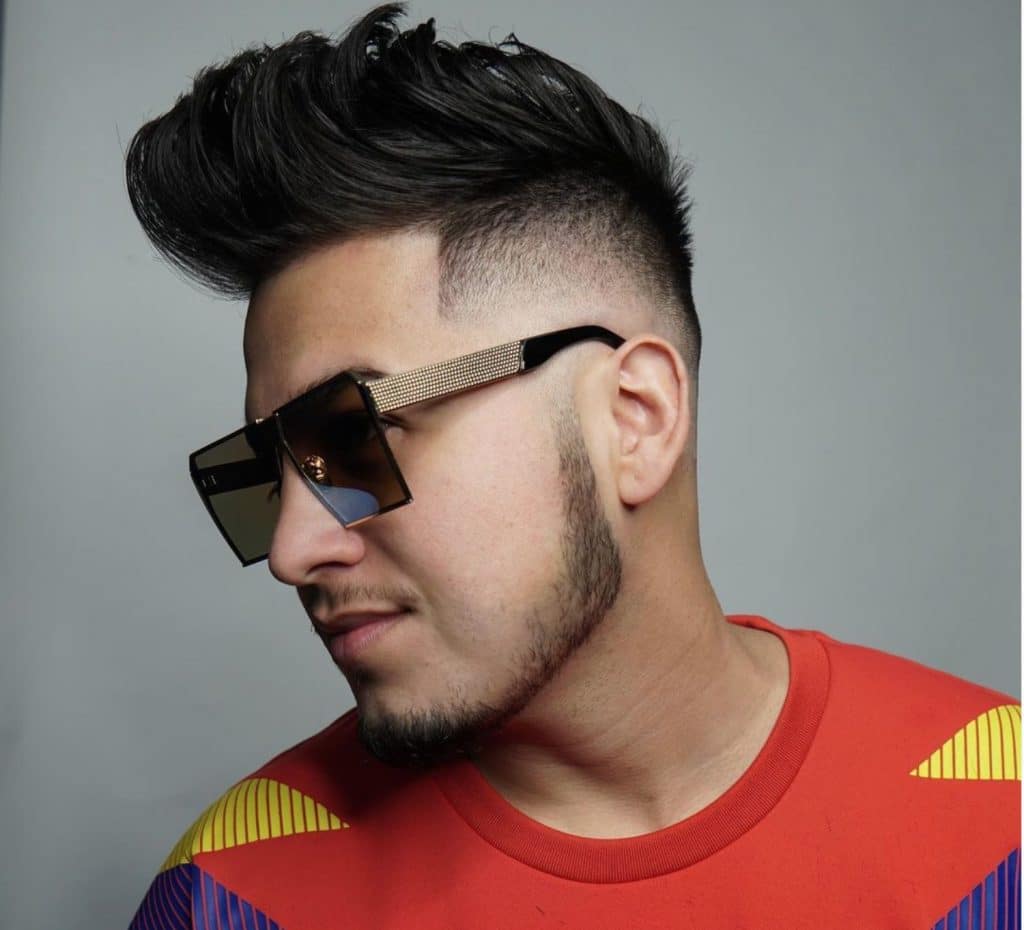 45. Fade Haircut + Short Hair
Faded sides make this clean cut look even cleaner.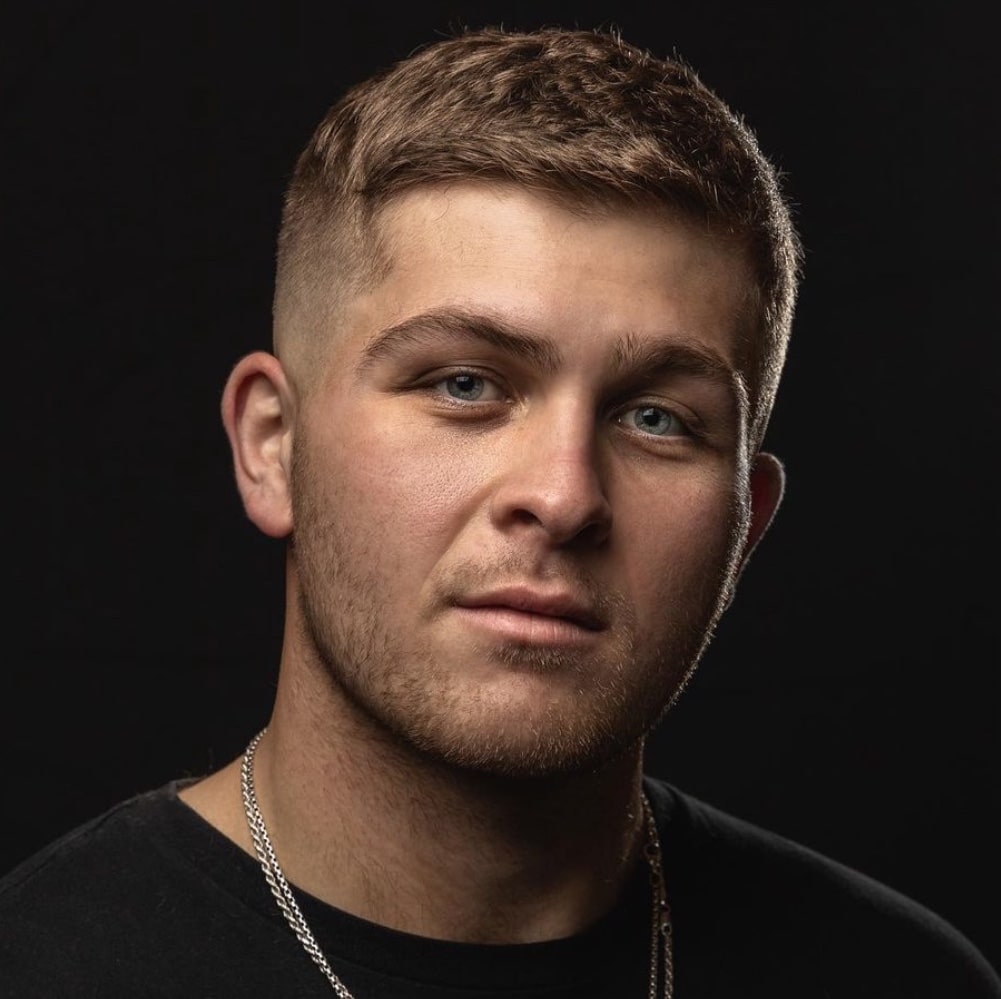 46. High Taper Fade Haircut + Wavy Hair
For textured or thick hair, a high taper fade creates a lightweight hairline.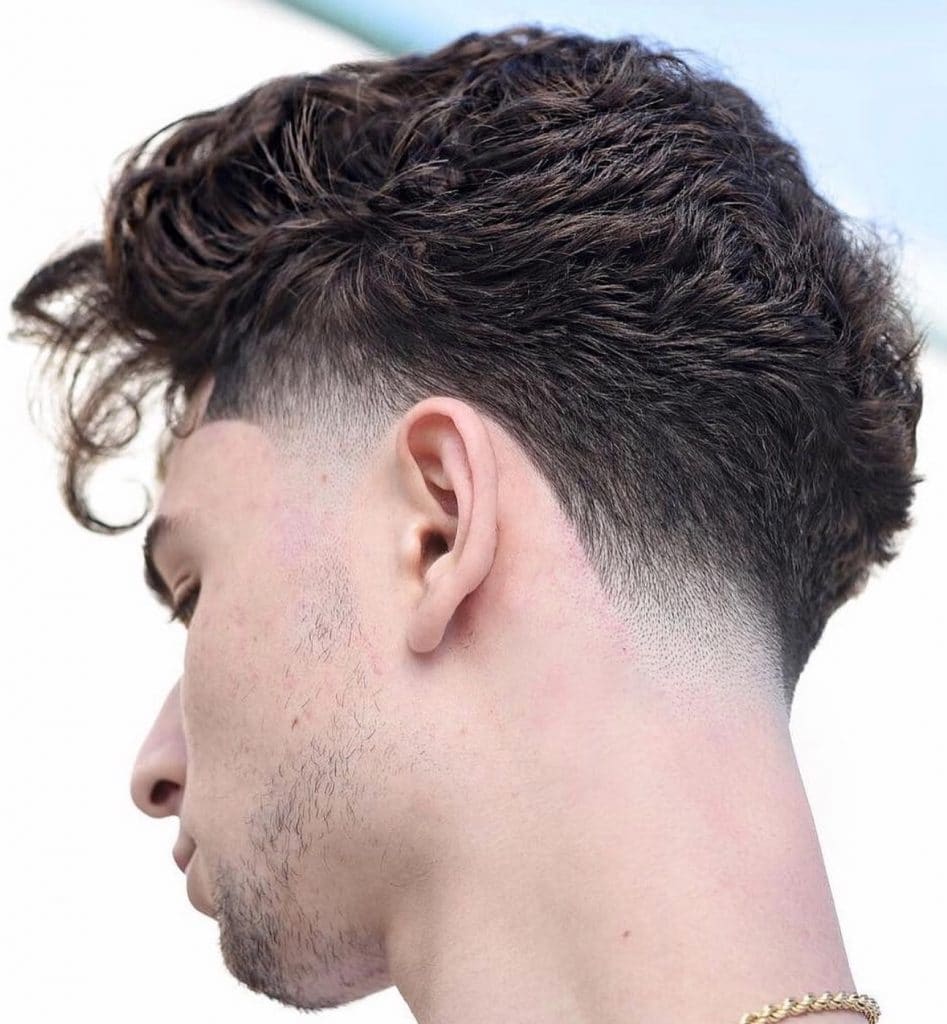 47. Low Bald Fade Haircut
A low fade enhances the natural curve of the neckline.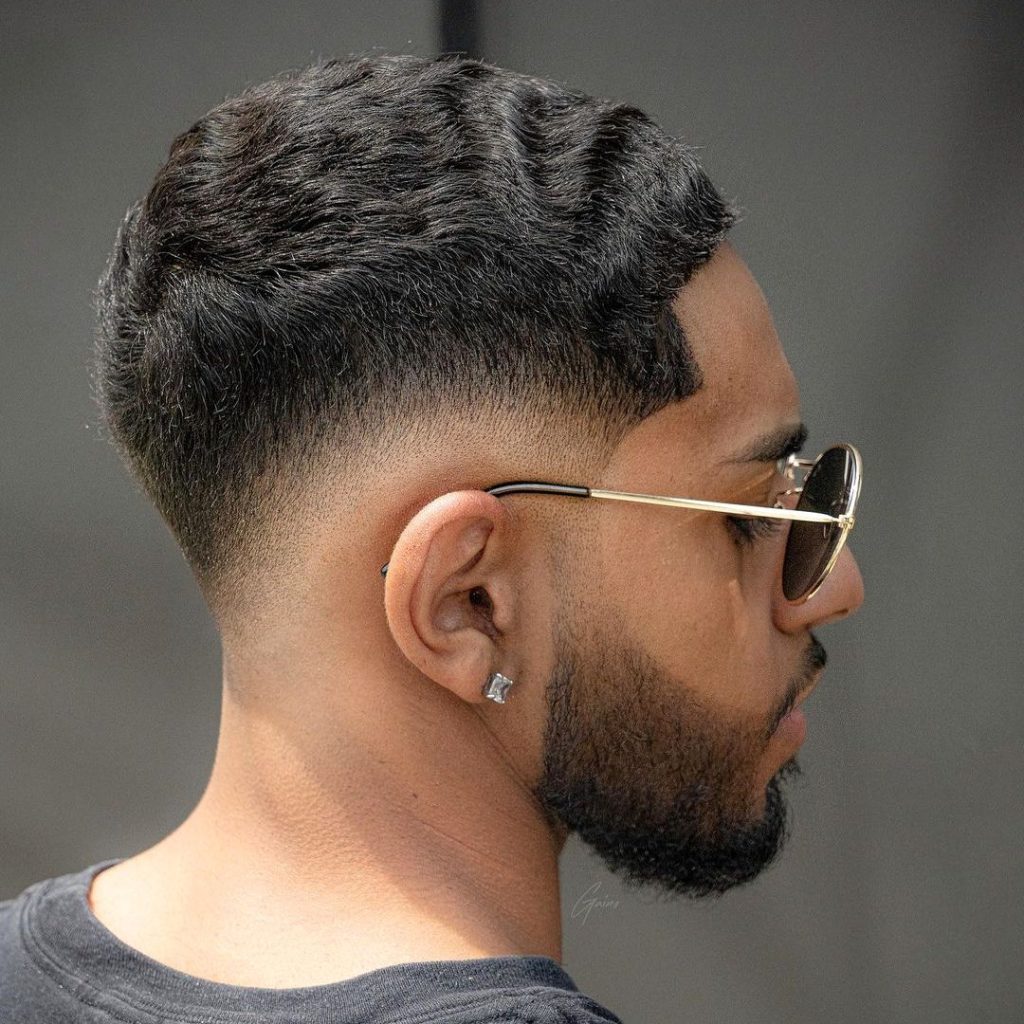 48. Men's Skin Fade Haircut + Pompadour
A skin fade and textured pomp combine trendy and classic into a fresh new look.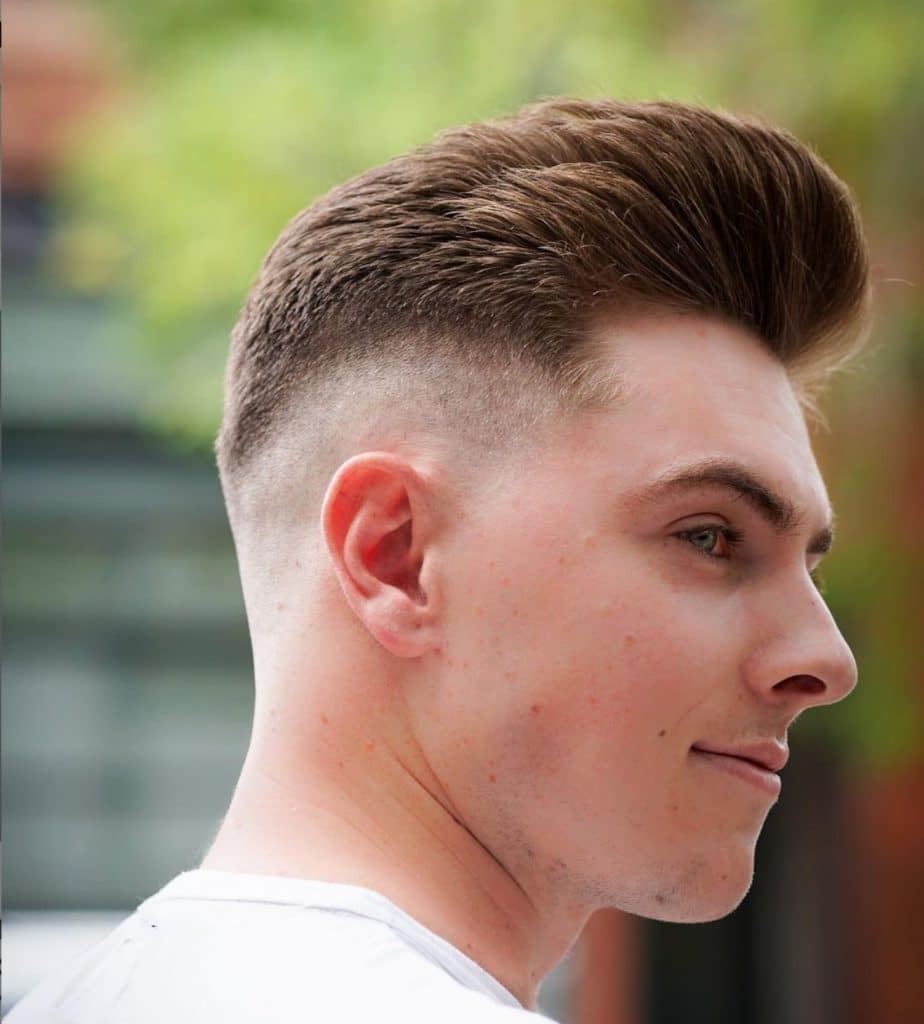 49. Mid Skin Fade Haircut
This mid drop fade transitions between thick curls and skin.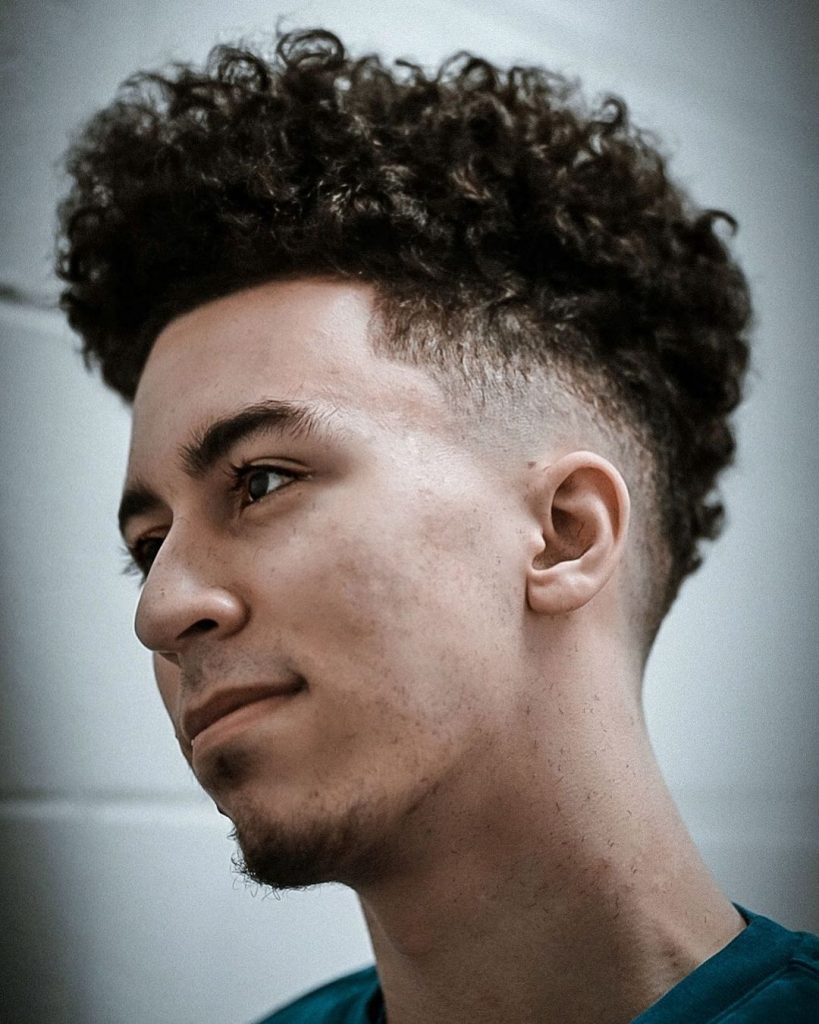 50. Mullet Fade Haircut
Add a temple fade to a flow haircut and you have a modern mullet. This a cool way to clean up hair that is growing out.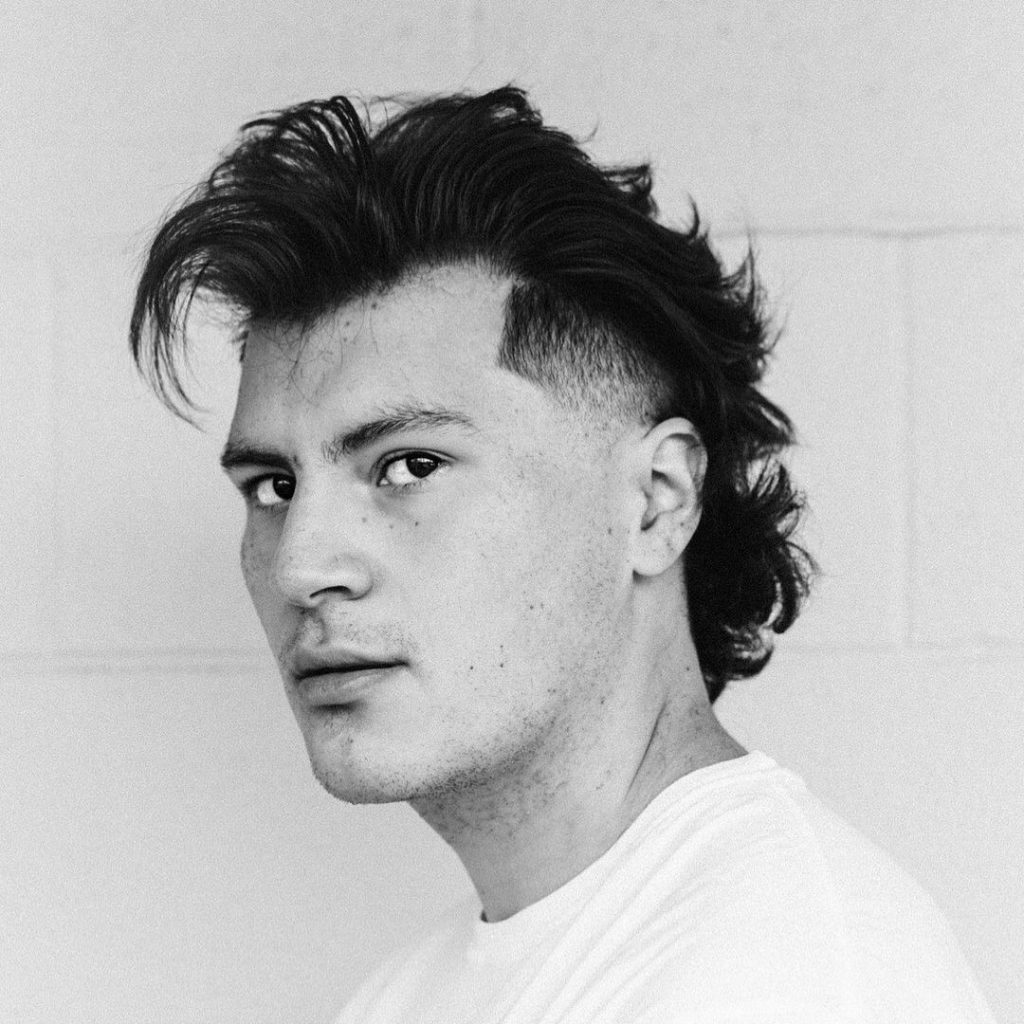 51. Philly Fade Haircut
Look familiar? Philly fade is just the East Coast name for a temple fade.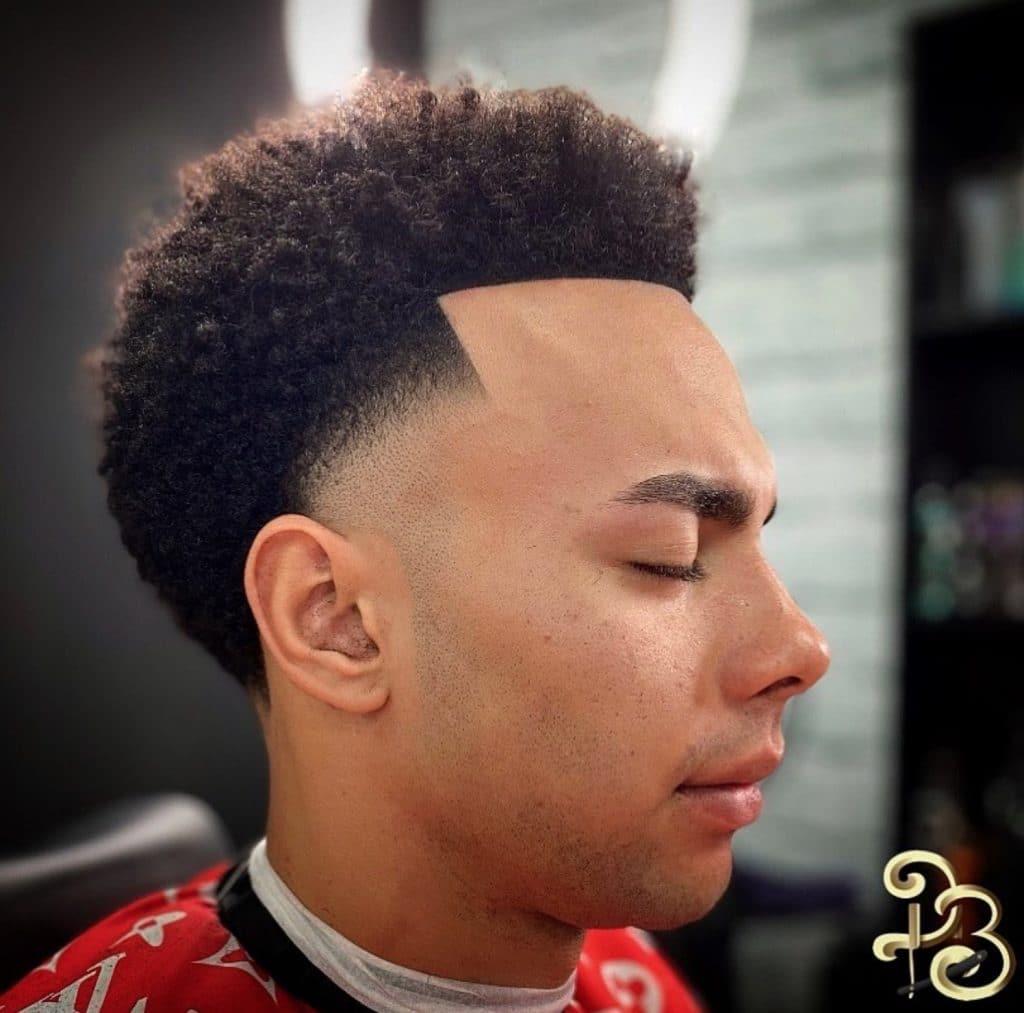 52. Short Mid Fade Haircut
This medium fade haircut with short hair is a high style, low maintenance look.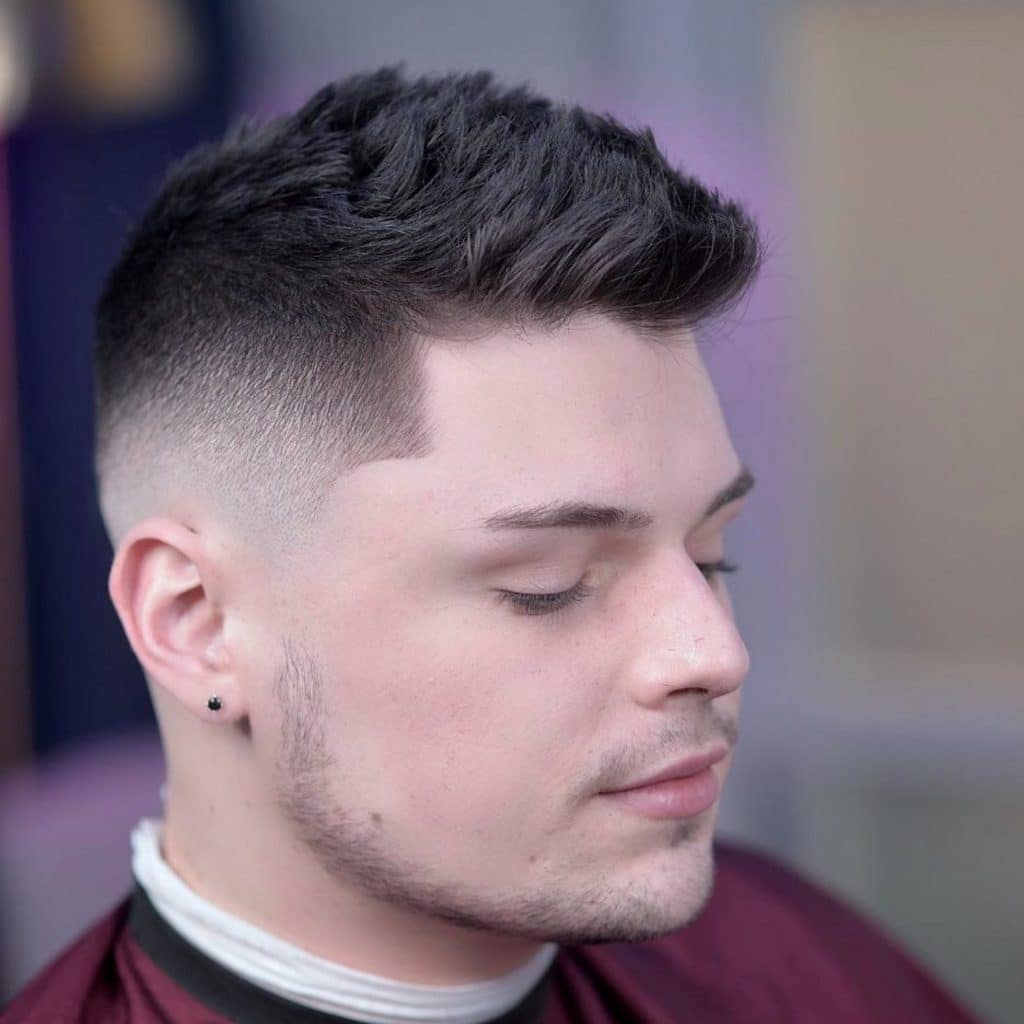 53. Taper vs Fade Haircut
The taper is a quick fade at the temple and neckline while a fade raises the hairline all over.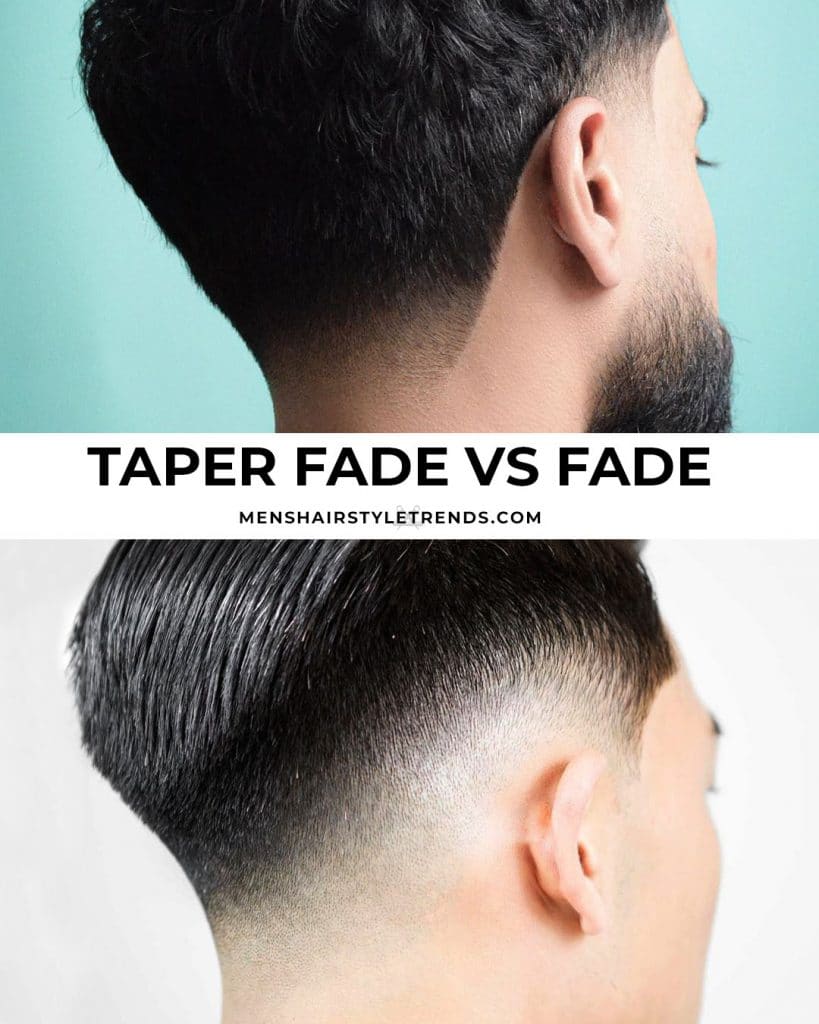 54. Undercut Fade Haircut
The undercut disconnects longer hair from short while the fade creates a smooth transition between short hair and skin.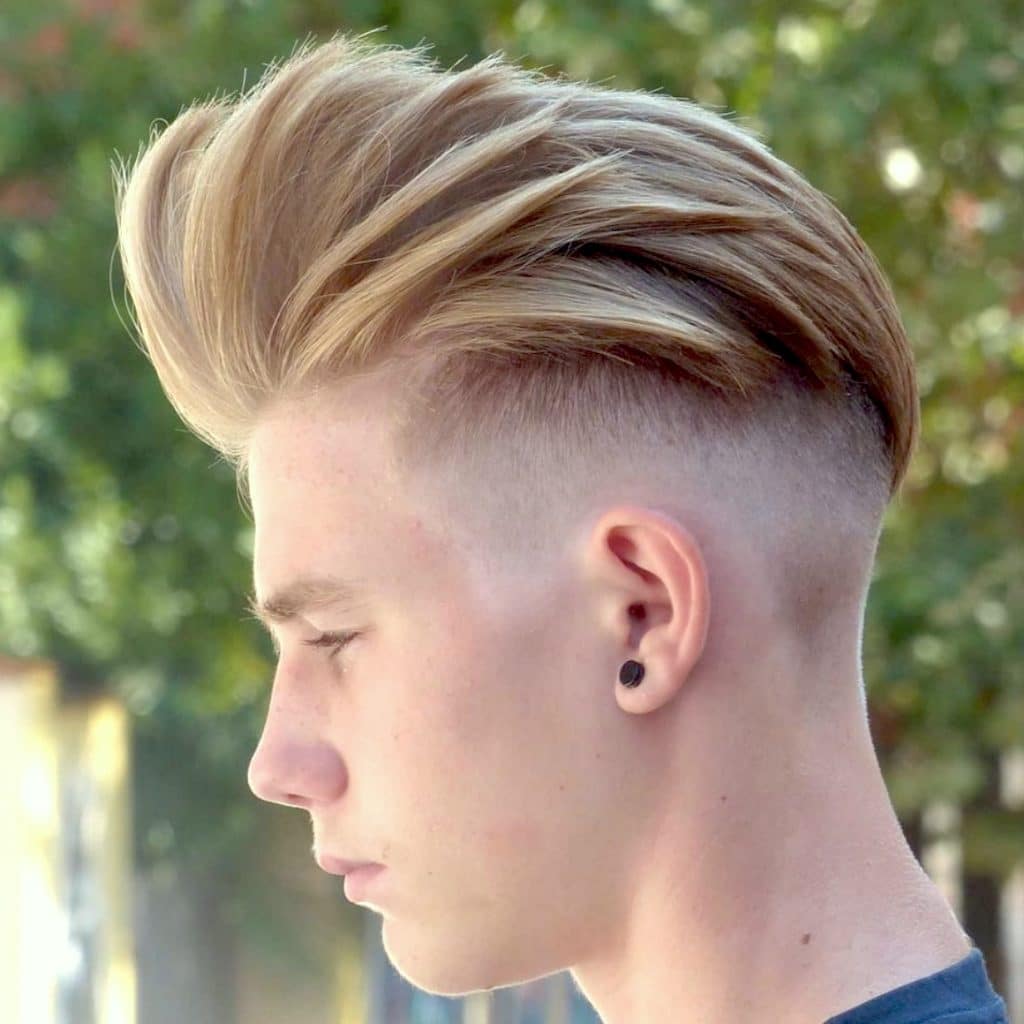 55. White Guy + Fade Haircut
The fade haircut is for everyone. Here's a trendy look for white guys – the crop.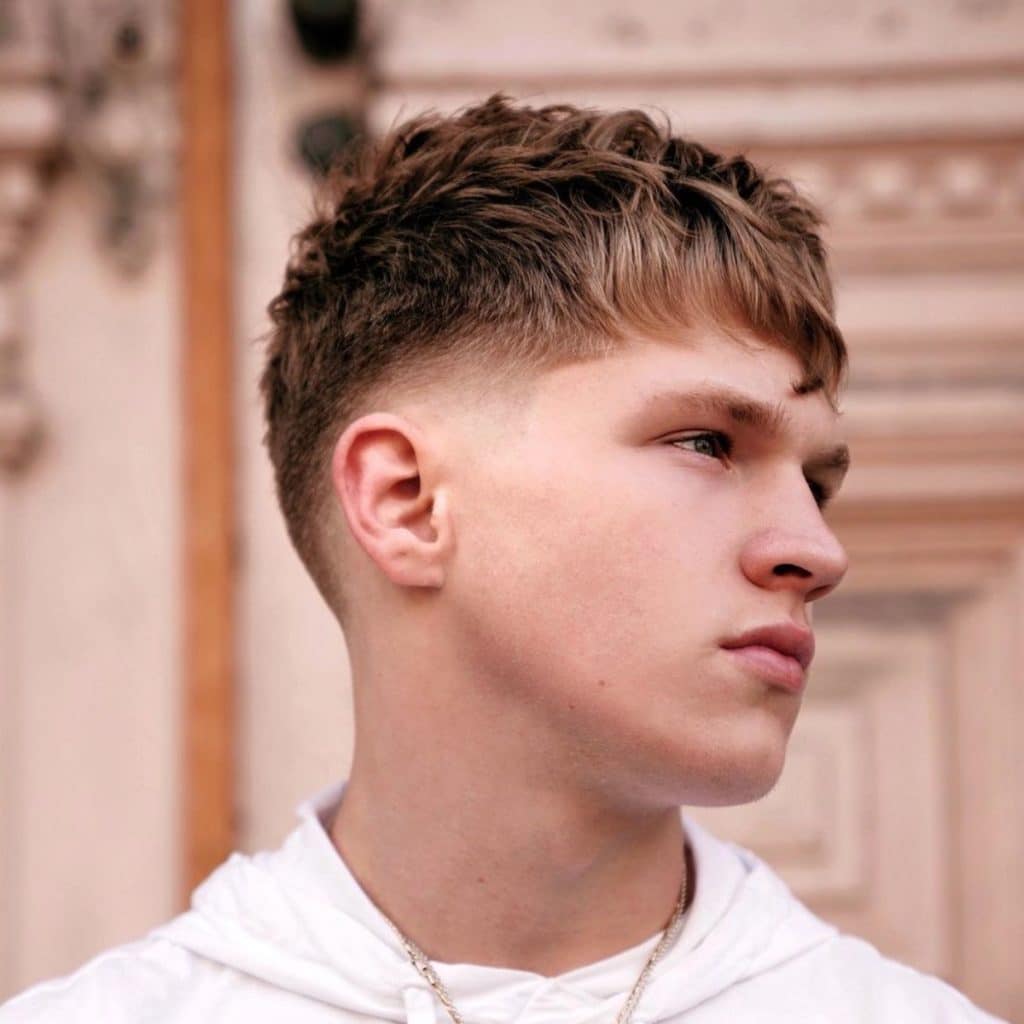 56. Curly Low Fade Haircut
For curly hair, faded sides are short enough to lie flat while concentrating texture up top.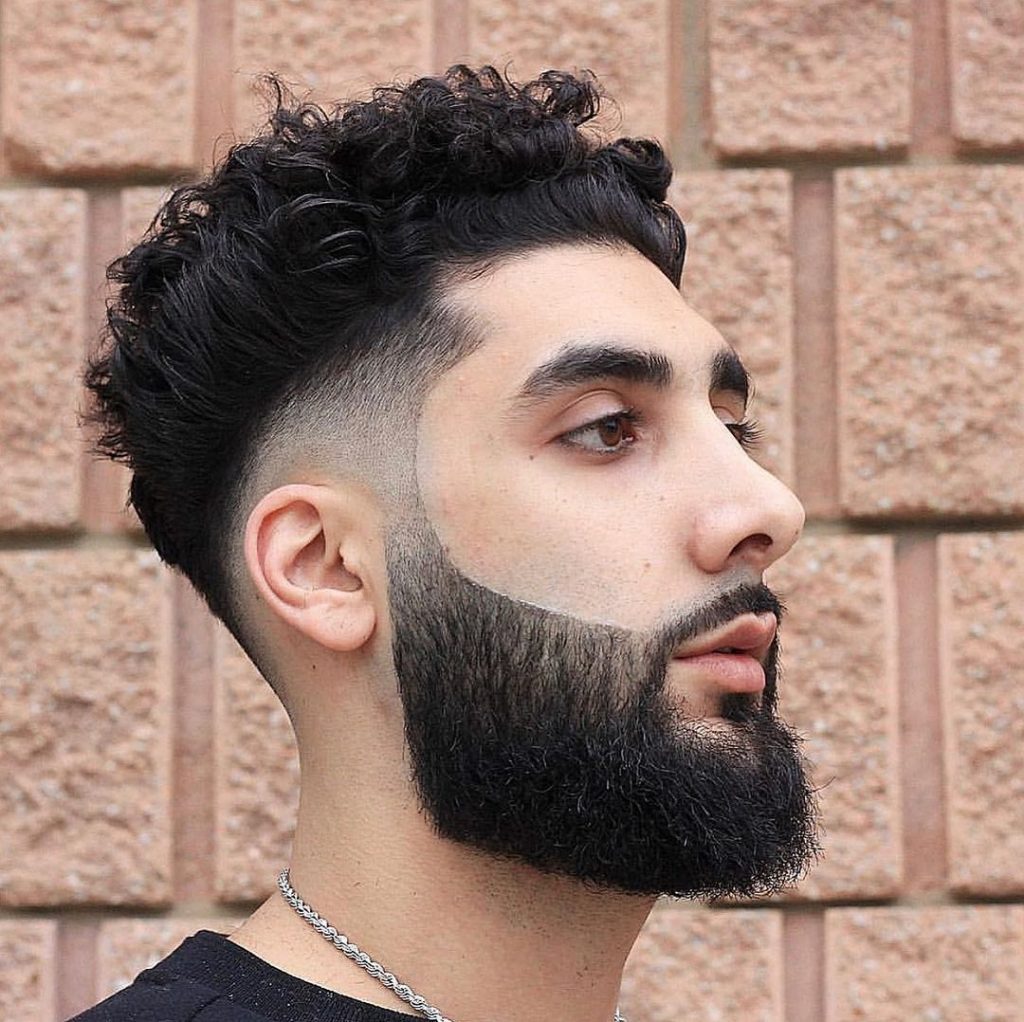 57. Fade Haircut + Black Boy
This blowout haircut is cute for Black boys of all ages.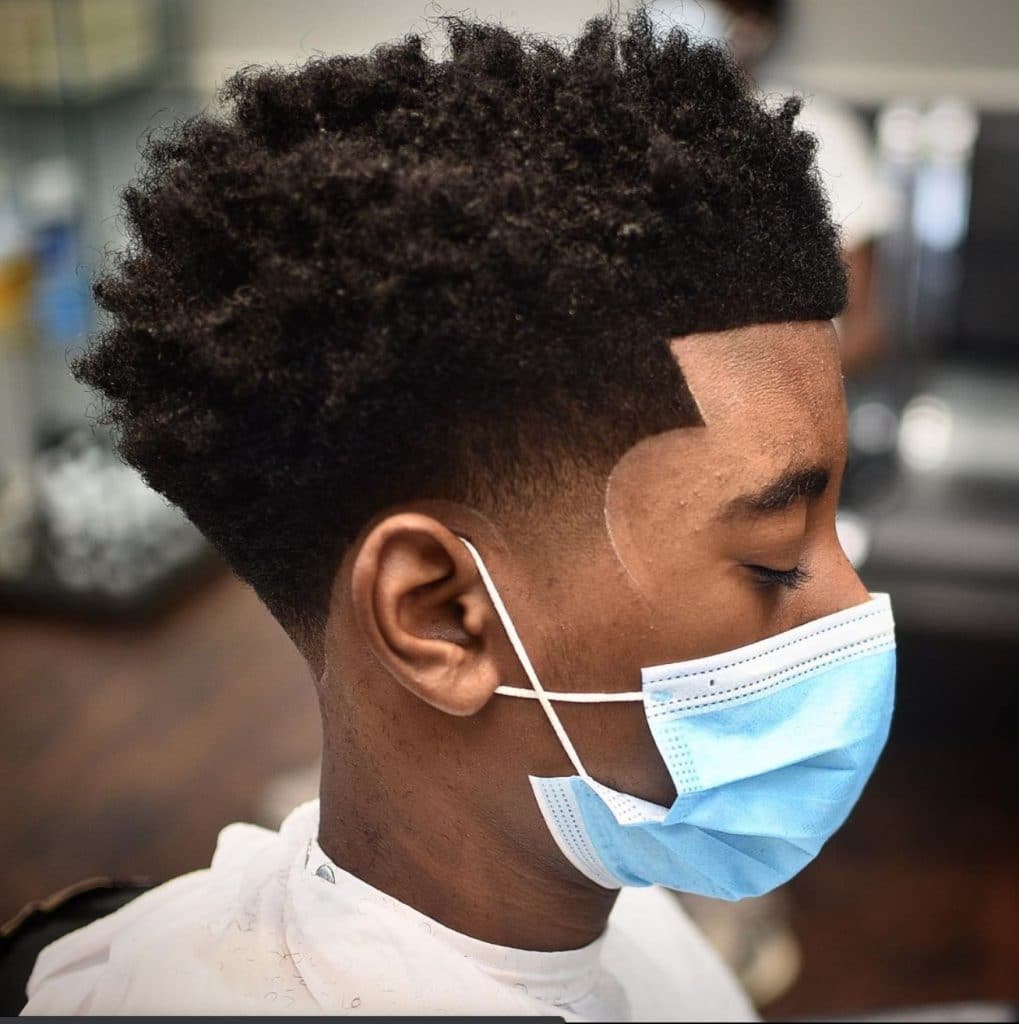 58. High And Tight Fade Haircut
This cut is so high and tight that is almost a Southside fade with a part.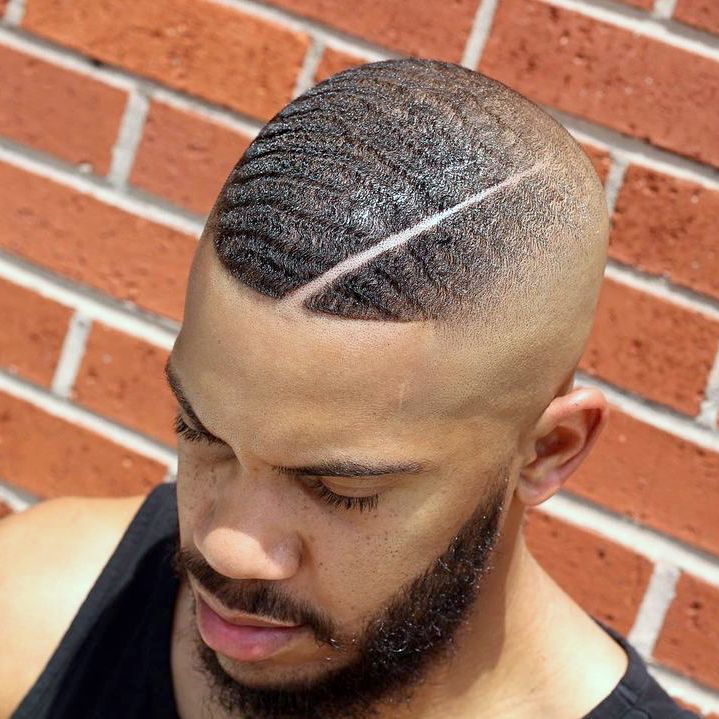 59. Low Drop Fade Haircut
This low fade takes a steep drop down behind the ear.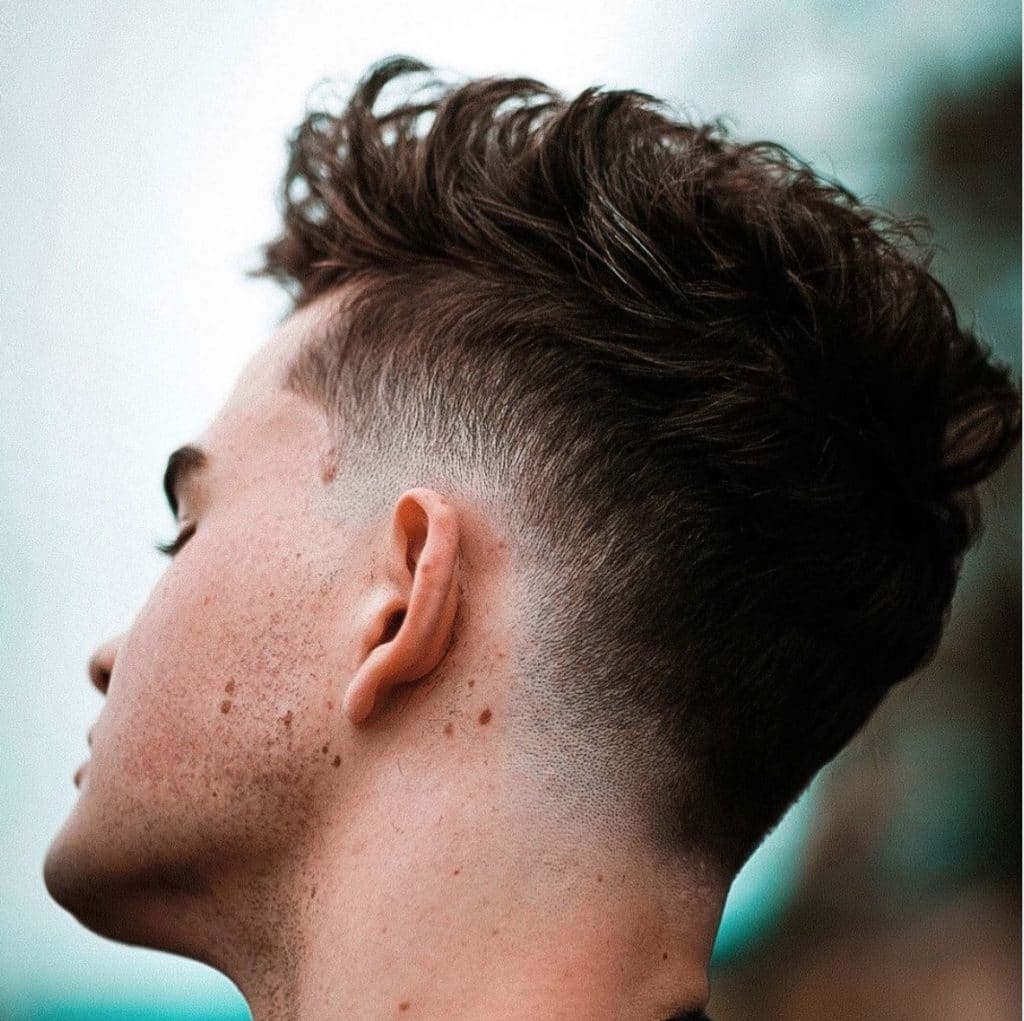 60. Mexican Fade Haircut
This fresh fade adds a hard part to the comb over fade.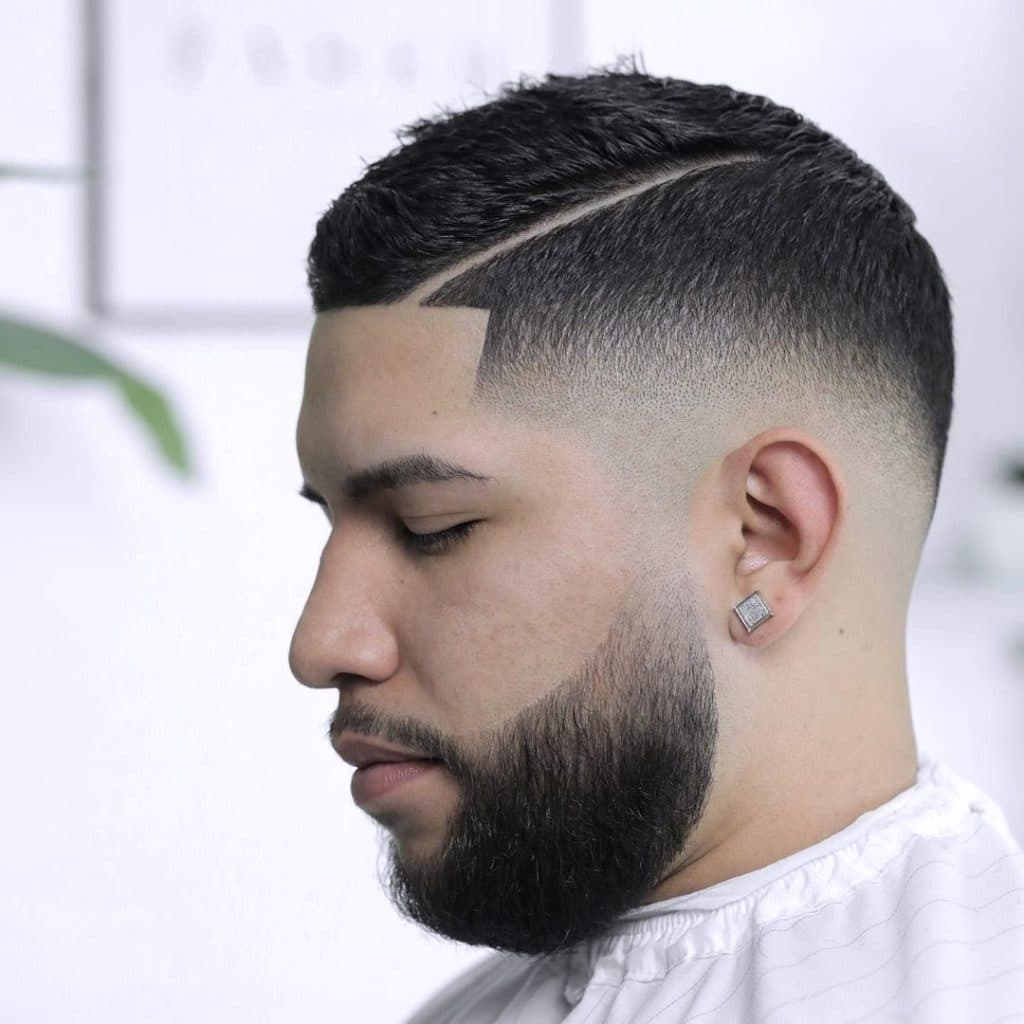 61. Mid Drop Fade Haircut
The drop fade starts higher at the front and goes lower around the back.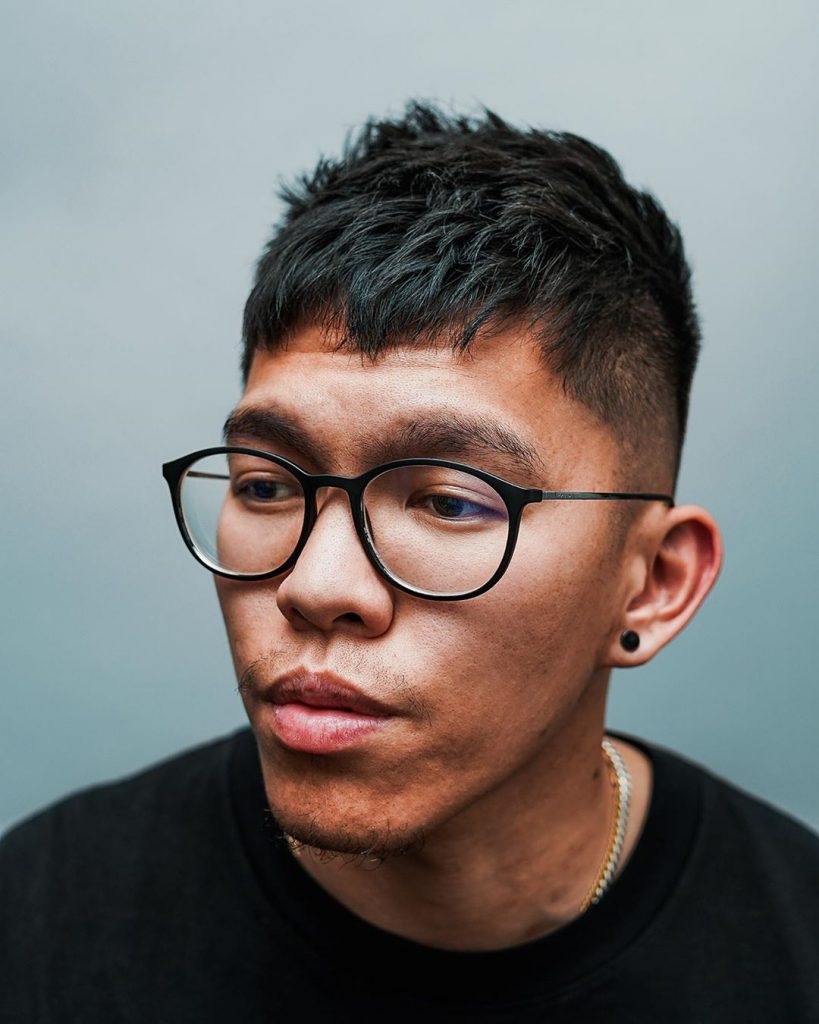 62. Short Hair + Fade Haircut For Boys
This fade with a line and faux hawk is cute and cool.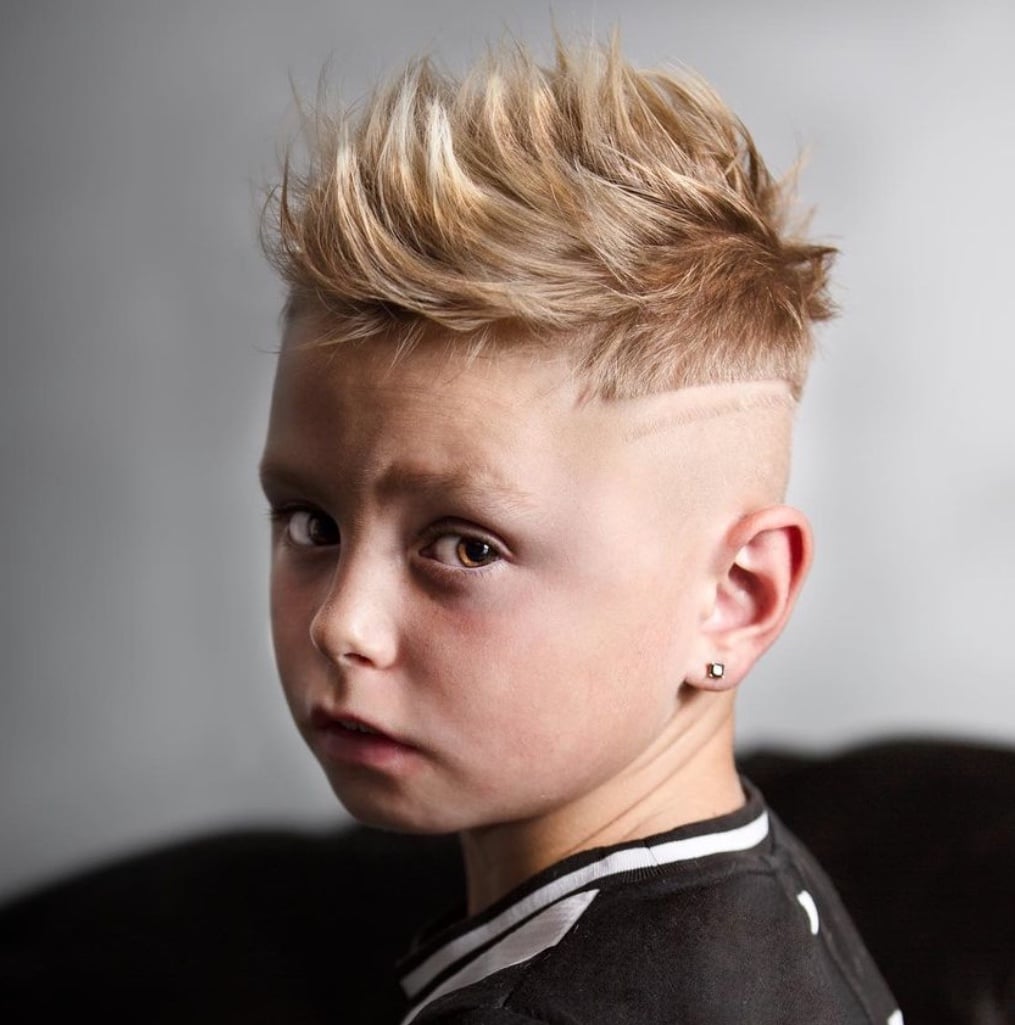 63. Slick Back + Fade Haircut
This cool look fades hair along the line of longer hair that is worn slicked back.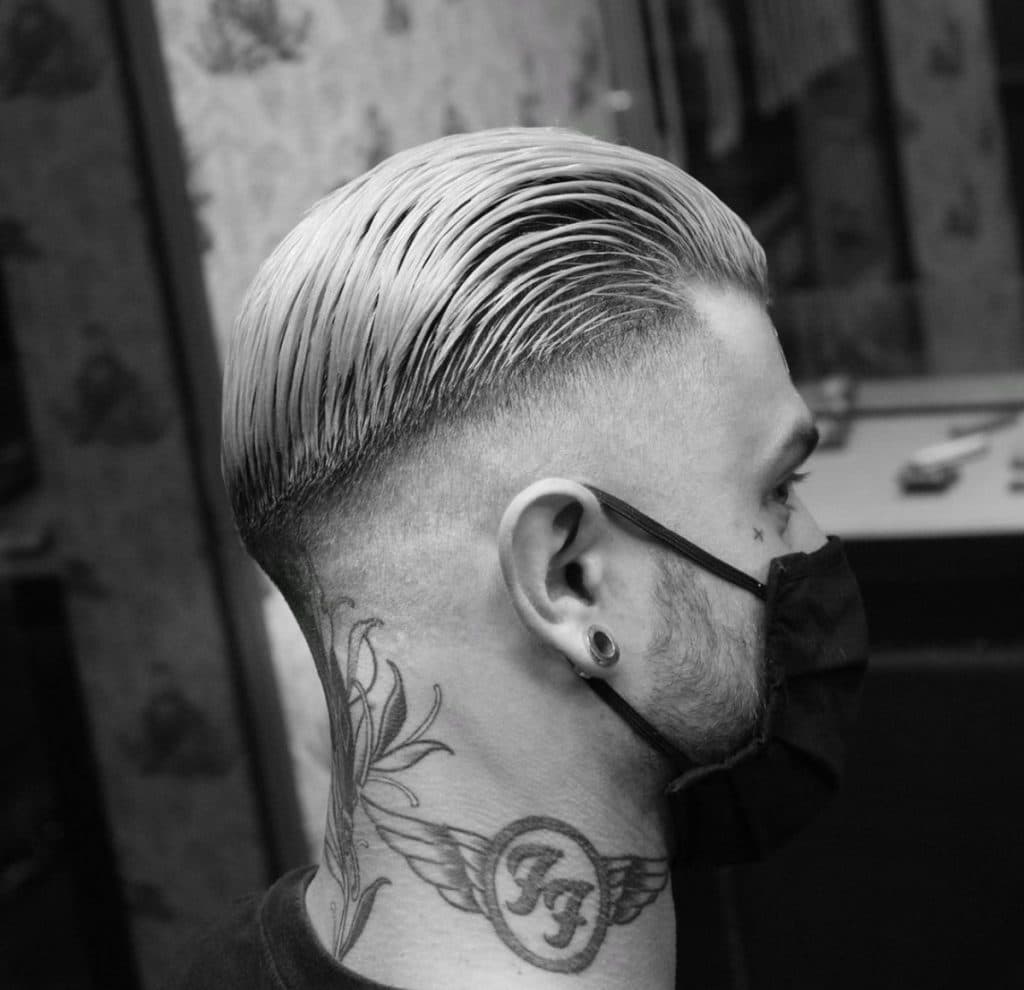 64. Best Types Of Fade Haircut For Black Men
The best type of fade for you is whatever you want. Here is NBA analyst Jalen Rose owning his taper fade with short curls.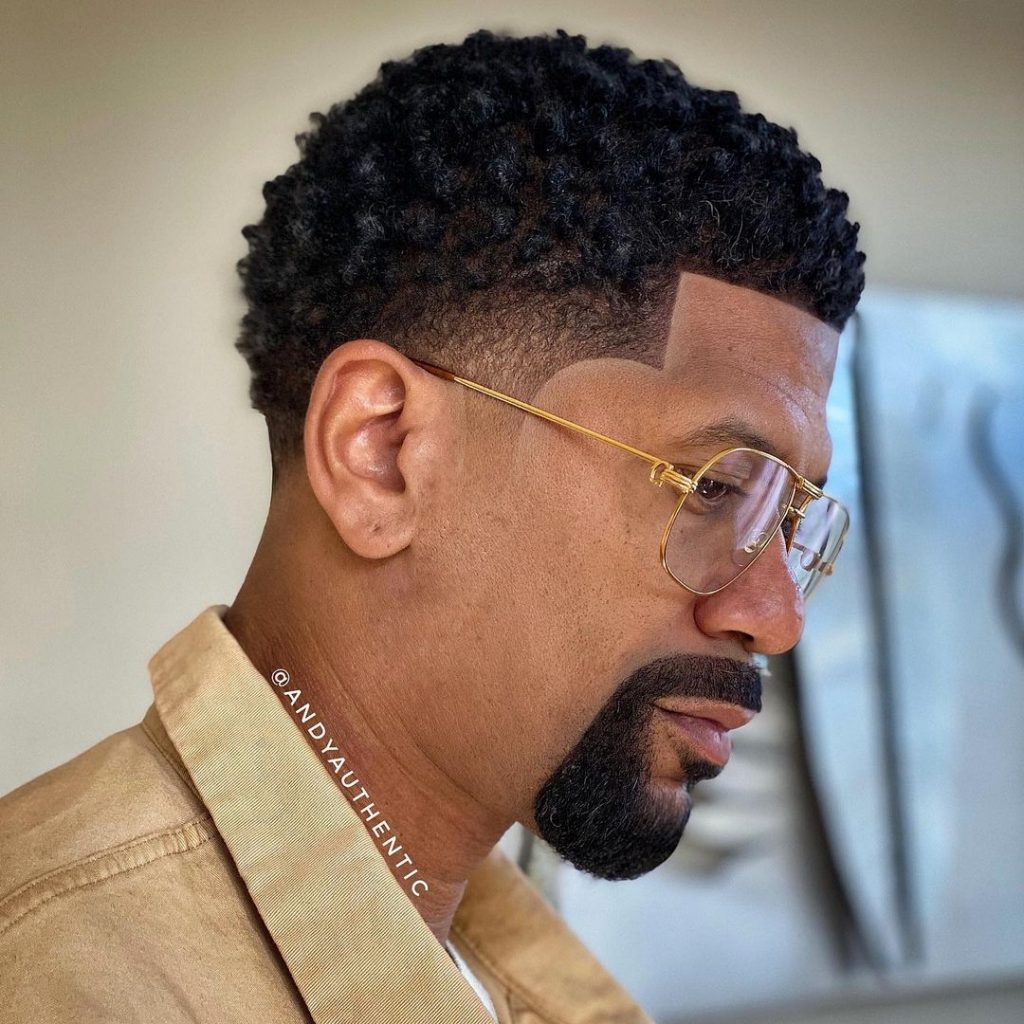 65. Afro + Fade Haircut
The taper fade is most popular type of fade for afros.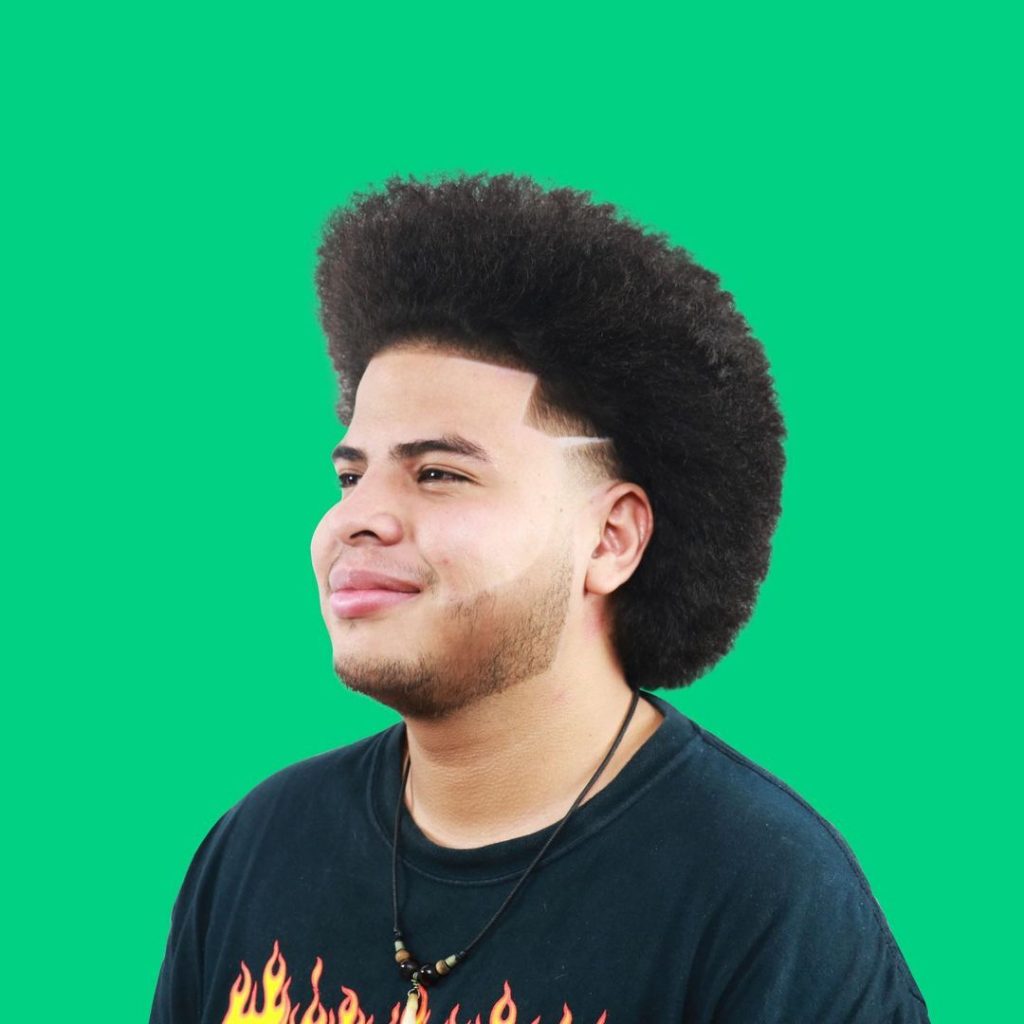 66. Black Bald Fade Haircut
A bald fade goes down to the skin.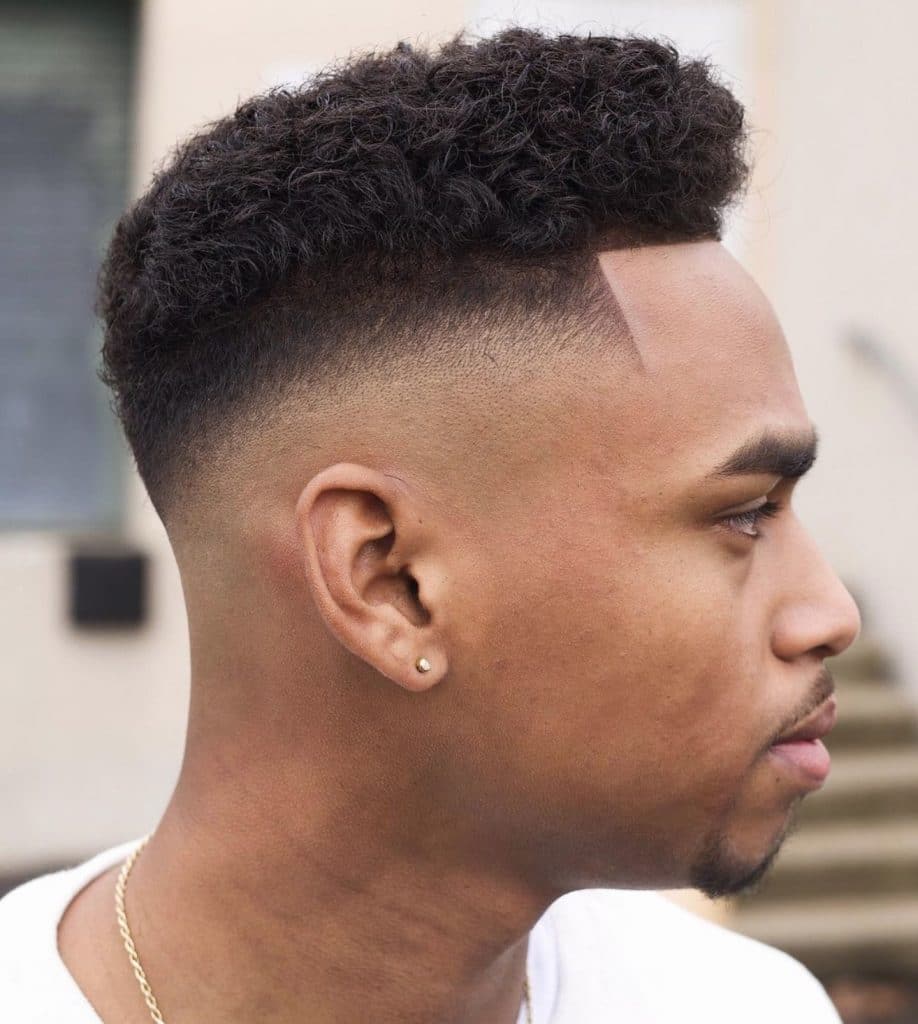 67. Black Male + Fade Haircut
This high fade haircut is visible from the front and sides.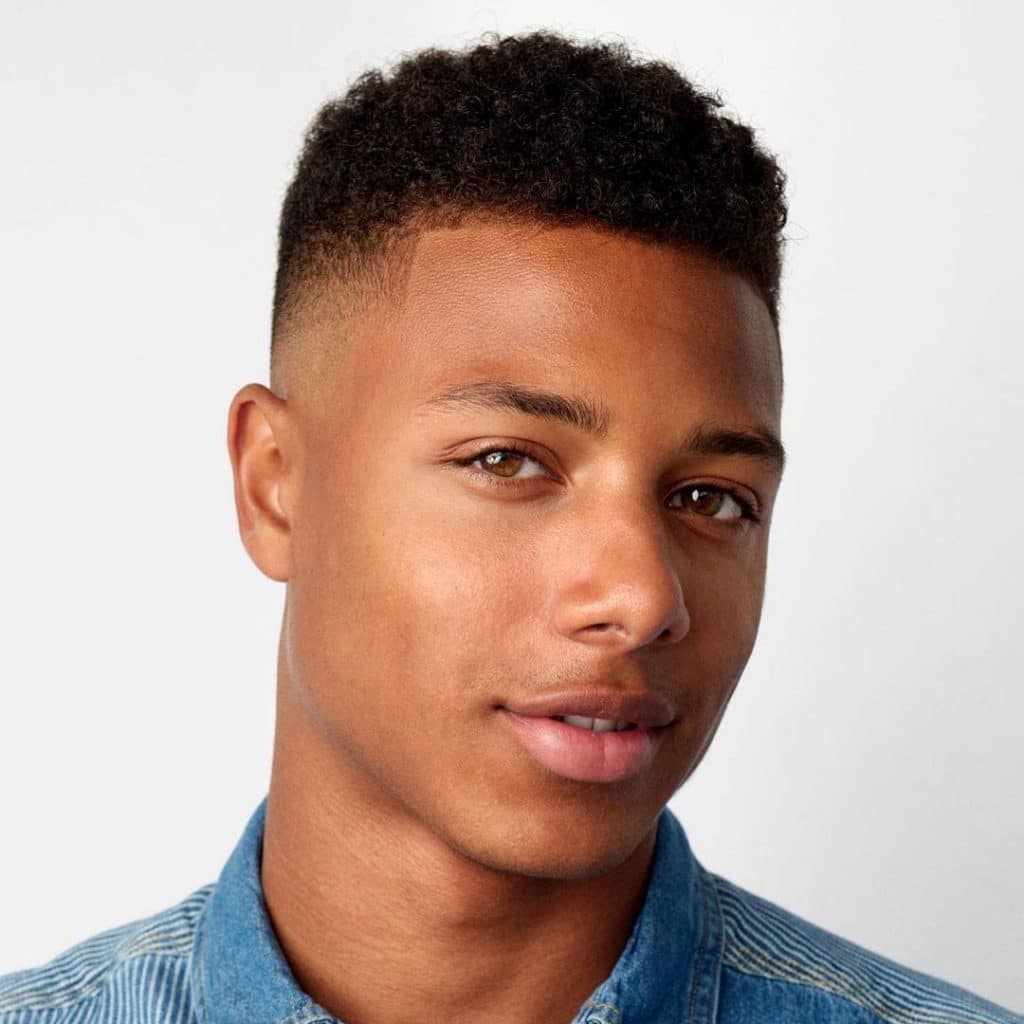 68. Blonde Fade Haircut
A shadow fade can work well for blonde and lighter hair colors.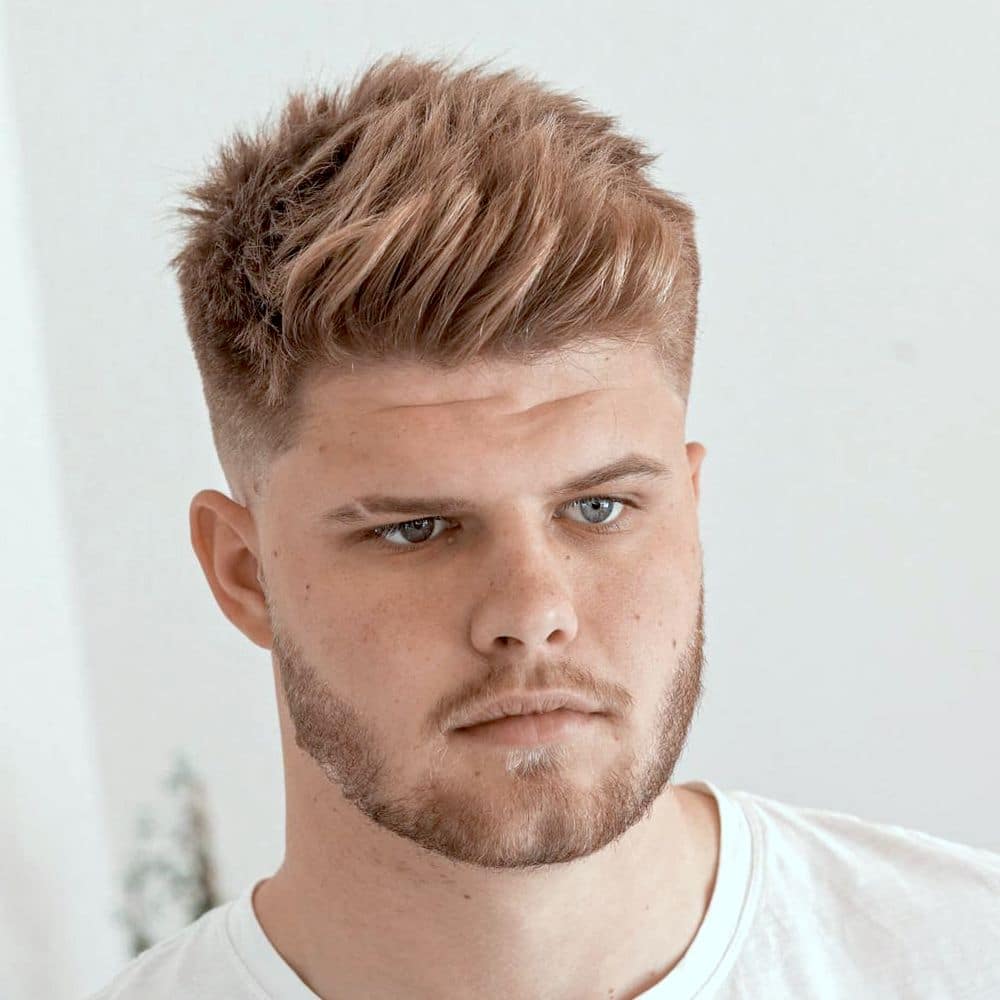 69. Buzz Fade Haircut
The buzz cut with a fade is one of the most popular haircuts for men.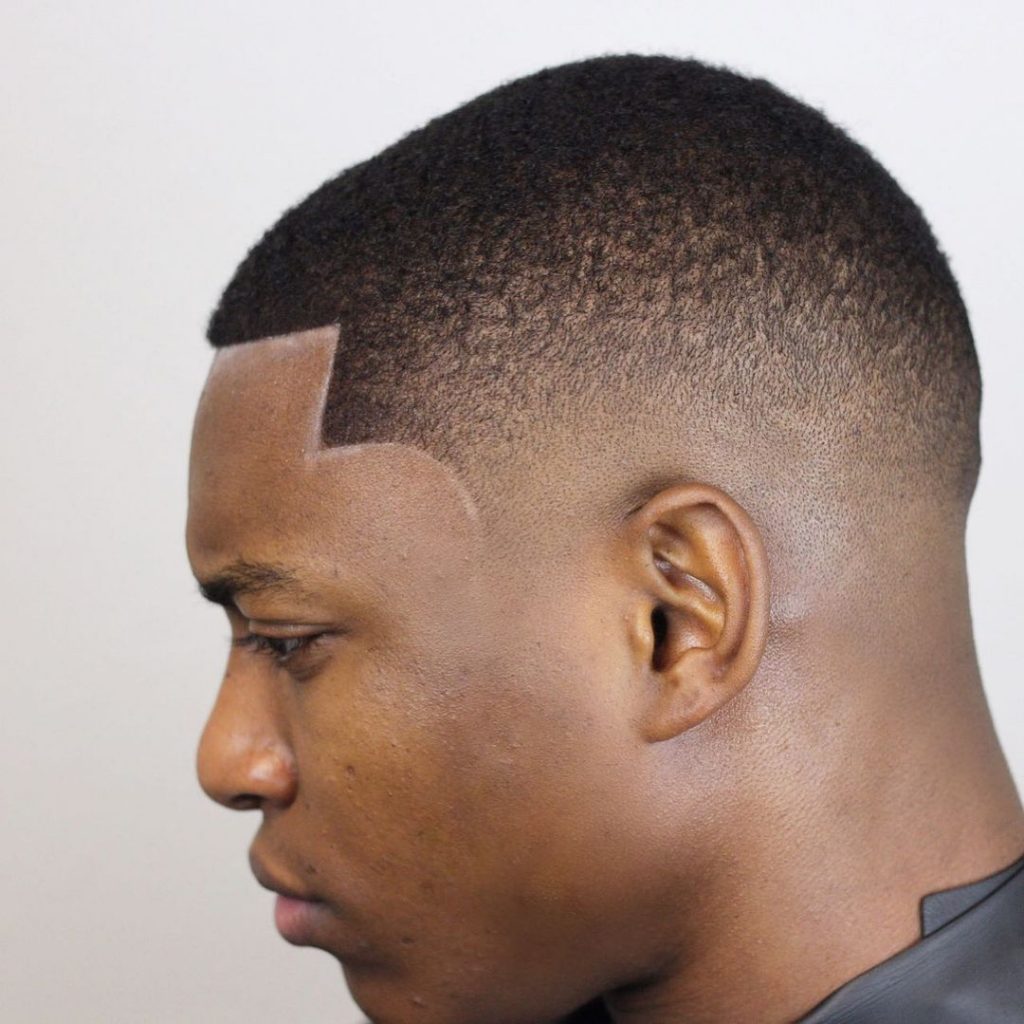 70. Drake Fade Haircut
Drake is known for his go-to hairstyle – a buzz cut with medium fade and line up but it looks great on everyone.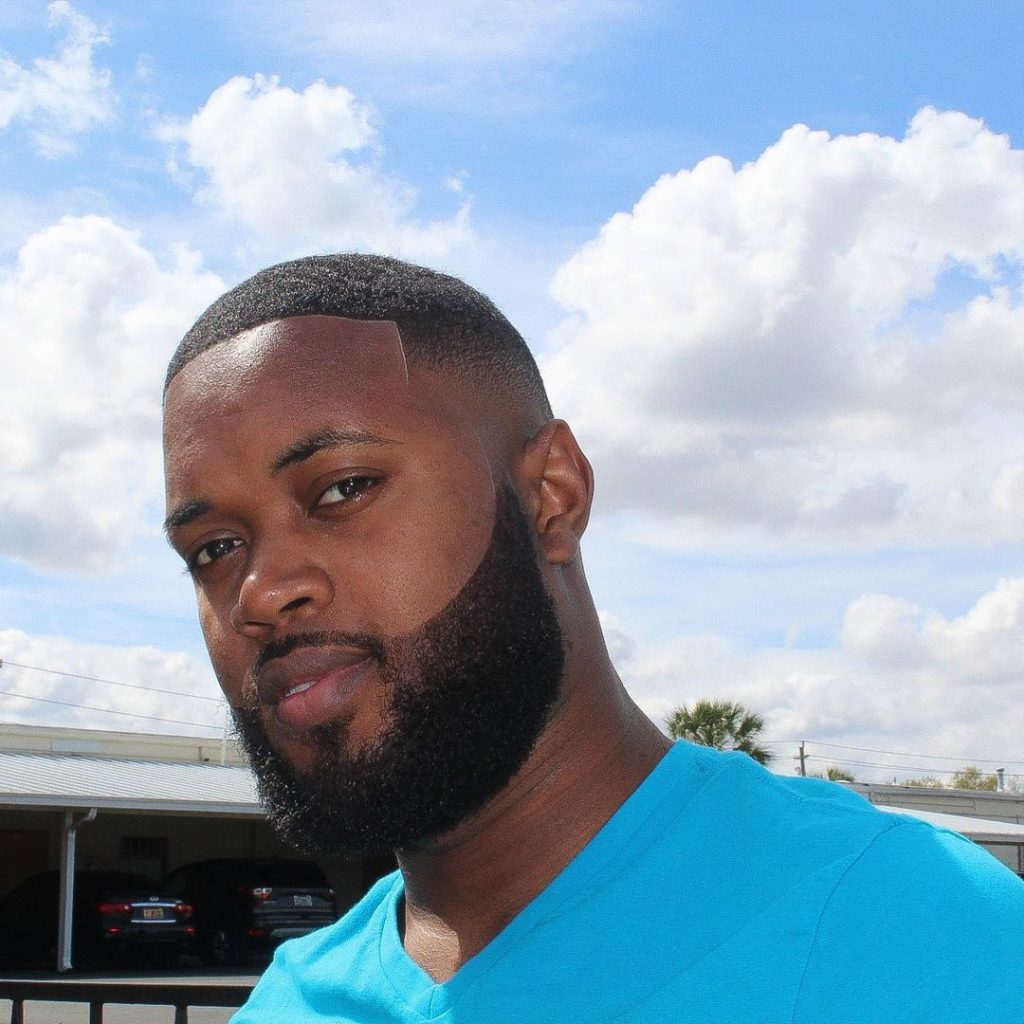 71. Drop Fade Haircut For Black Men
The drop fade looks great with short and longer hair, like this medium length coils.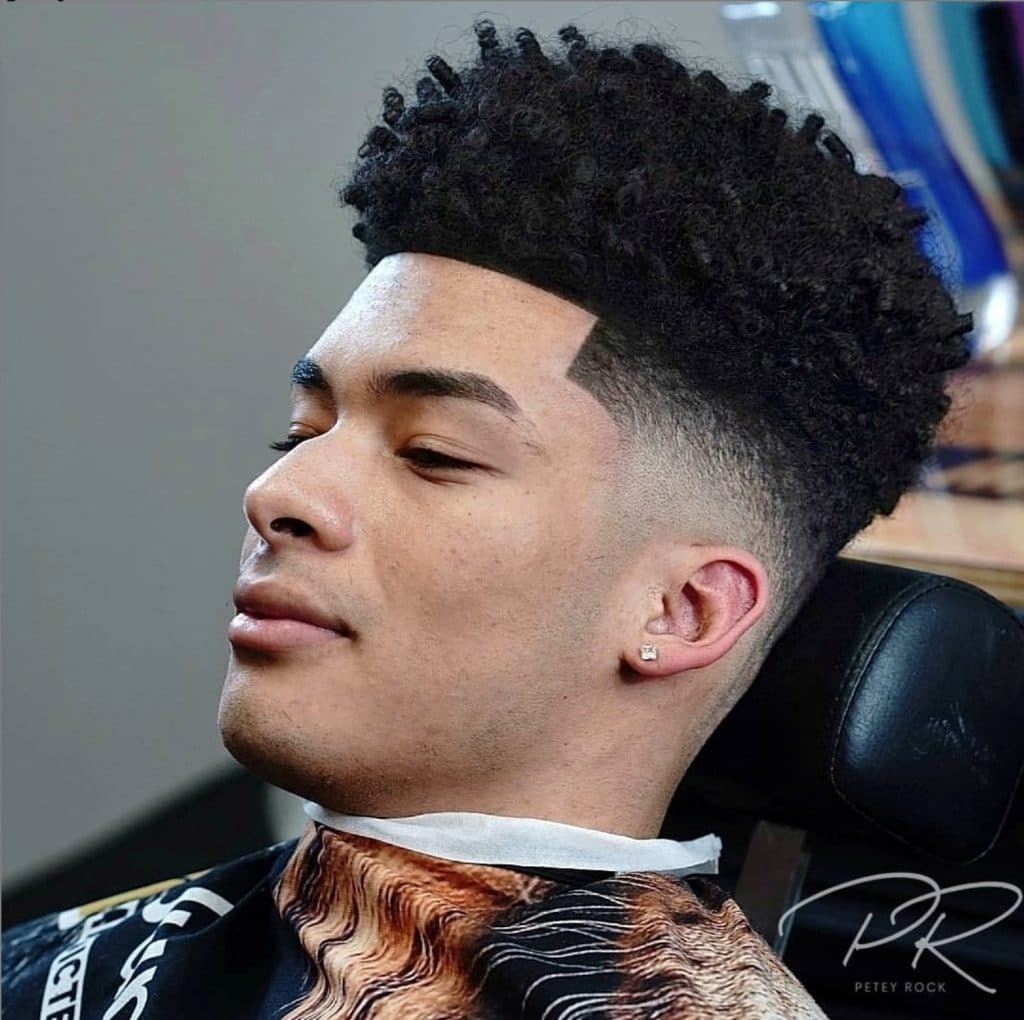 72. Fohawk Fade
This cool cut is almost a mohawk all over, with spiky hair at the front, a V-fade at the back, and a rainbow of color. That's not to mention the reverse fade and trio of slashes.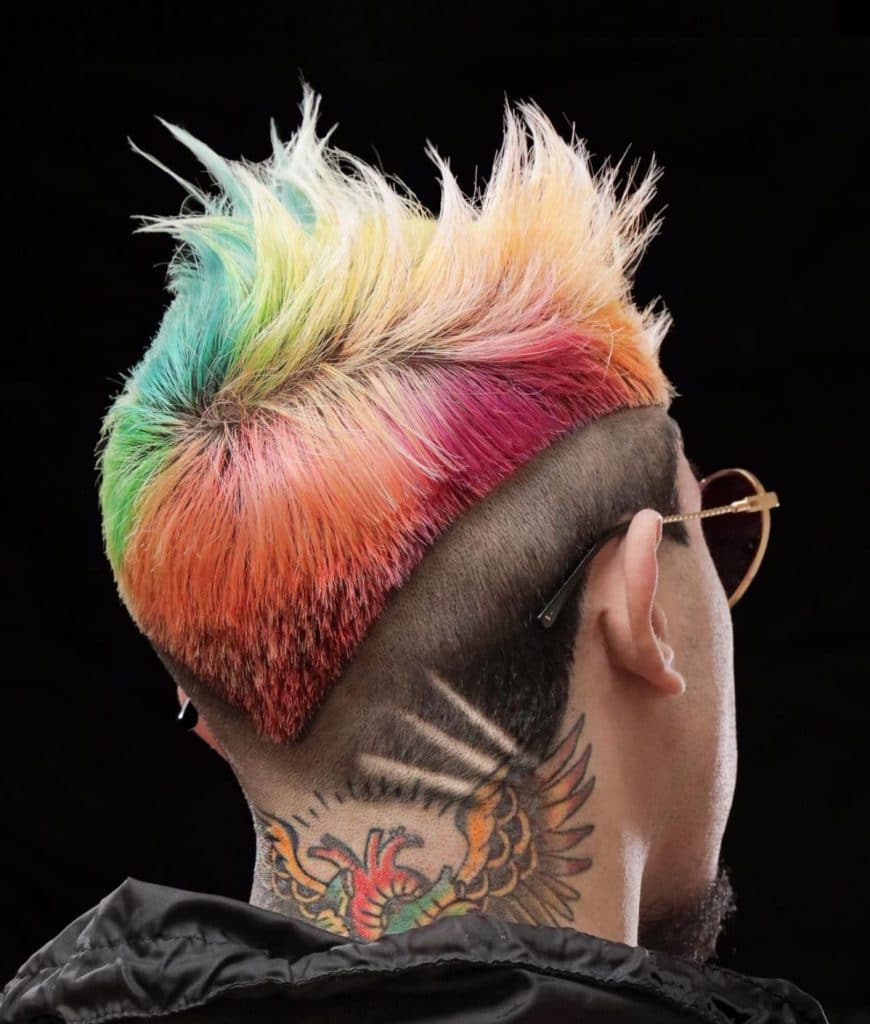 73. High Bald Fade Haircut
This thick hair look brings a military style to the street.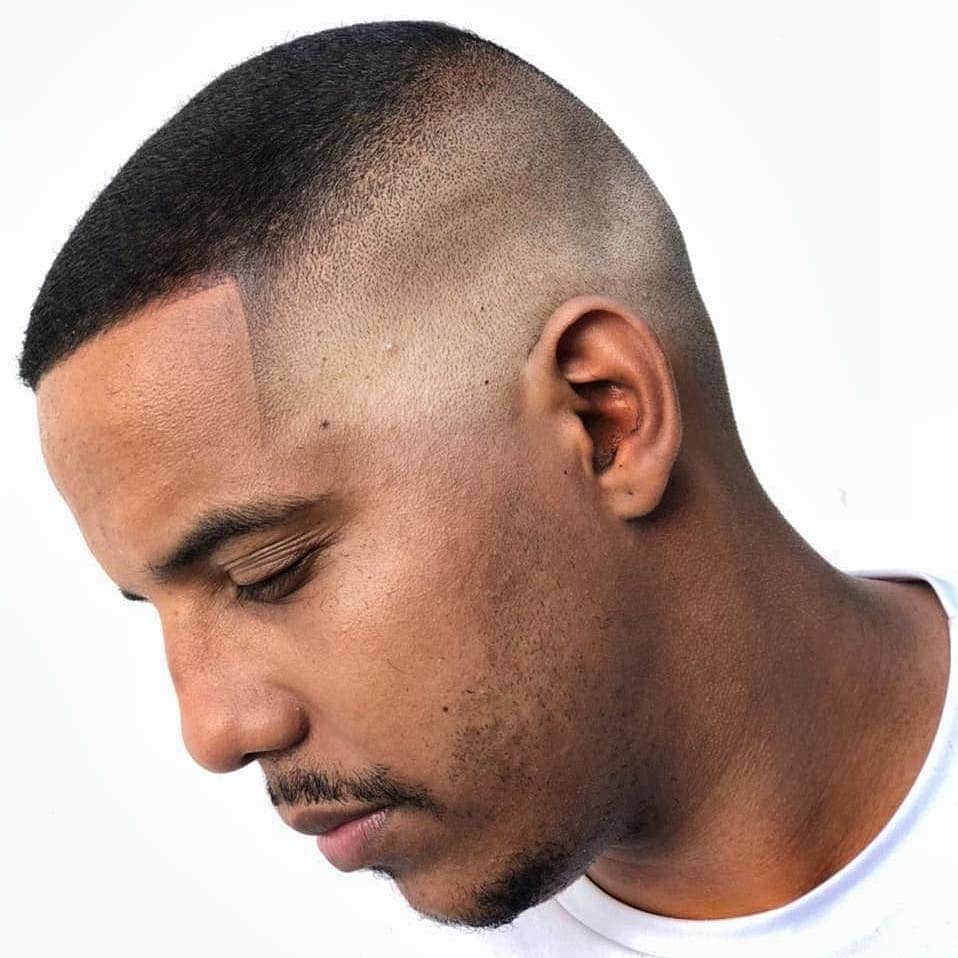 74. High Fade Haircut For Black Men
Here Pittsburgh Steeler running back Kalen Ballage pairs a high fade with braided dreadlocks.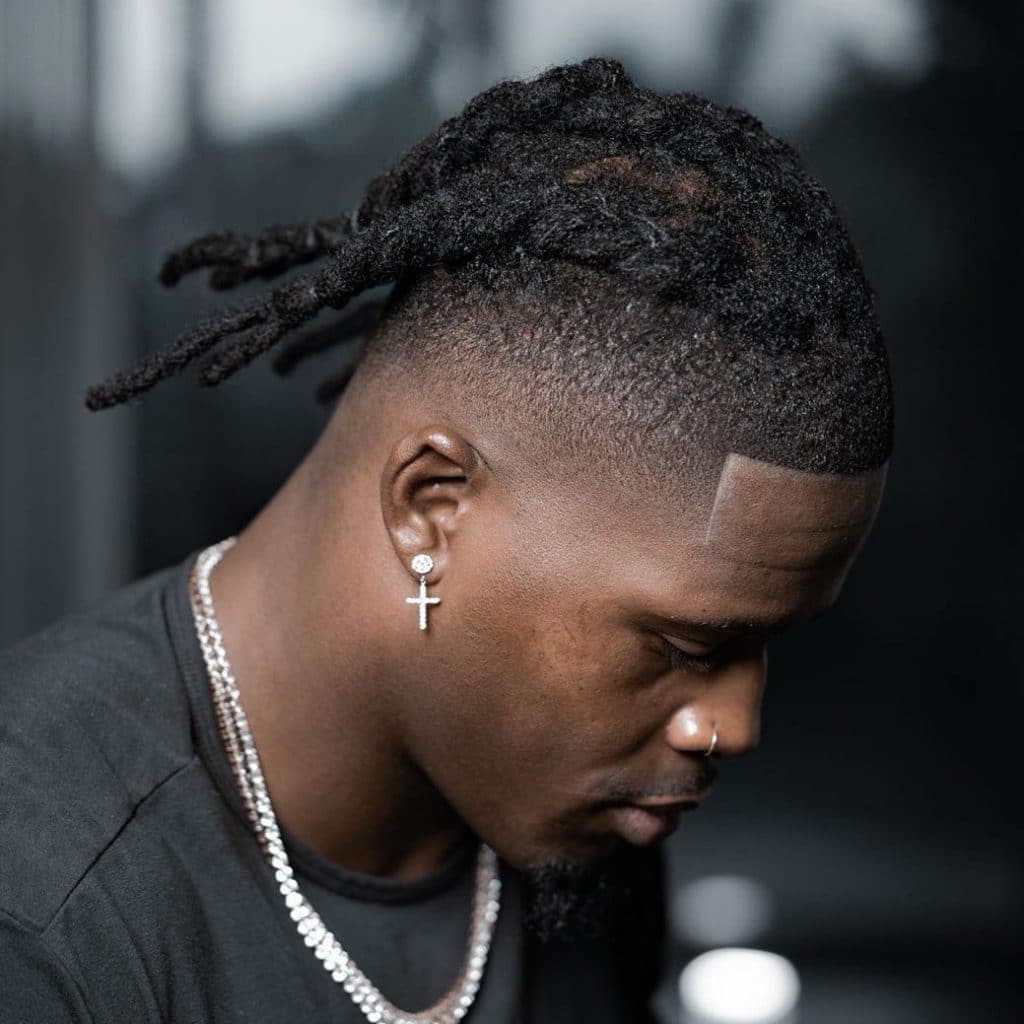 75. Mexican Low Fade Haircut
Here's a cool version of the Edgar haircut with that signature blunt fringe and a low bald fade.
Sours: https://www.menshairstyletrends.com/fade-haircuts/
Men's Hair, Haircuts, Fade Haircuts, short, medium, long, buzzed, side part, long top, short sides, hair style, hairstyle, haircut, hair color, slick back, men's hair trends, disconnected, undercut, pompadour, quaff, shaved, hard part, high and tight, Mohawk, trends, nape shaved, hair art, comb over, faux hawk, high fade, retro, vintage, skull fade, spiky, slick, crew cut, zero fade, pomp, ivy league, bald fade, razor, spike, barber, bowl cut, 1960, hair trend 2015, men, women, girl, boy
Sours: https://www.pinterest.com/msarmstead/fade-haircut-with-design/
Fade designs cool haircut
Then he joined Mena, where we put the squeeze on the second girl. After the fight, we were praised, chided, and then sent to train further. And our opponents turned out to be twin sisters, who were again paired with us. This is how our first training took place.
Skin Fade with a Design (Haircut tutorial)
And here you are. In short, while we were bickering, Marina had a medical reference book in her hands. She drew my attention to the pictures showing the positions for receiving the enema.
Similar news:
He chose the right posture, in this position there is no way to clamp. I picked it up, put in a thermometer and went to the closet. He took out a tip of medium diameter, smeared it in the solution and sat down next to his sister.
5995
5996
5997
5998
5999