Top 65 Best Stitch Tattoo Ideas – [2021 Inspiration Guide]
One of the more popular Disney characters that people have chosen to get tattooed is the lovable but unpredictable alien from the 2002 film, Lilo & Stitch.
Many people identified with the story of an older sister working hard to take care of her younger sibling and the mischief that ensues once the rambunctious Lilo meets the chaotic alien, Stitch.
Adults and children both love the positive messages and beautiful animation of Disney films like Lilo & Stitch. Many people choose to get the characters and scenes from these idyllic films permanently inked on their bodies.
The following pieces are great examples of the different styles and approaches people have chosen to create their unique and meaningful Stitch tattoo ideas.
1. Black and Gray Stitch tattoo
Source: @sayuritattoo via Instagram
Source: @silvadiego86 via Instagram
Source: @cutebutpsycho.ink via Instagram
Source: @sotuajes via Instagram
Source: @giulia_sailorcherry via Instagram
Source: @heavenly_pain_tattoo_arts via Instagram
Source: @hannahbandana via Instagram
Source: @robinkhoodtattoo via Instagram
Source: @giulia_sailorcherry via Instagram
Source: @lissydameron via Instagram
There is just something about black and gray work that may people love. Maybe it's the subtlety. Maybe it's the way it reminds us of classical art film and black and white photographs. Whatever it is, just about any subject gains an air of elegance and respectability when applied in black and gray. This sophisticated approach to body art is turned on its head when the idea is applied to this wild and hectic Disney character.
These tattoos perfectly capture these qualities and are great examples of how drawing on different approaches to black and gray art can create diverse interpretations. Some pieces take a loose approach reminiscent of gesture drawing, while others create photo-realistic interpretations that outshine the original animation. This group of Stitch tattoo design shows off just how versatile black and gray really is
2. Black and Gray Leg Tattoo
Source: @lissydameron via Instagram
Source: @mumasals_tattoos via Instagram
Source: @samanthakatemuraca via Instagram
Source: @tattoo-has_tatt via Instagram
Source: @hail.alqamar via Instagram
Source: @angel_javierr via Instagram
Some people like to get tattoos on their arms so that they can show how important the images depicted are in their lives. Other people prefer getting a small tattoo in places that are more private and are only visible in the bedroom or at the beach.
A nice compromise between these two extreme body art ideas is the leg tattoo. They give the wearer a higher level of discretion when it comes to who sees their ink and perfect clothing cover if needed, while still allowing them to show off their favorite Disney characters when they want.
These black and gray Stitch tattoos are examples of how well this placement works for many people.
3. Color Stitch Ink
Source: @meesterortega via Instagram
Source: @cassiehoughtontattoos via Instagram
Source: @meridytattoos via Instagram
Source: @jiri_the_artist via Instagram
Source: @tatgunmattie via Instagram
Some people's personalities simply cannot be represented with such a limited palette as black and gray so opt for a killer colour burst. Disney's Stitch is the perfect subject for color work, and is partly why he's universally one of the favorite disney characters to choose in art.
Not only are the blues and violet's that make up the playful alien's coat a great excuse to colour burst brightly, but the variety of scenes in the movie—including Hawaii's beautiful beaches, mountains and the beautiful hibiscus flower—provide ample opportunity for a tattoo artist to create brightly colored tattoo expressions.
4. Upper Leg Color Stitch Tattooing
Source: @miya._.tattoo via Instagram
Source: @slothcookie_ via Instagram
Source: @miss_rogersx via Instagram
Source: @cesarsabinotattoo via Instagram
Source: @moondoll_ink via Instagram
Source: @danyadamtattoo via Instagram
Source: @inked_crepe via Instagram
The upper leg is becoming a more popular placement for tattooing. The thigh can be easily covered by clothing fabric and won't interfere with a professional setting, while still being easy enough to show off when wearing shorts or designer attire. Also, besides the chest and back, the thigh is one of the largest canvasses on the body, making it perfect for colorful tattoo of Stitch.
5. New-Wave Design
Source: @tiaani.riches_tattoos via Instagram
Source: @tattooartside via Instagram
Source: @cartoontattooz via Instagram
Source: @nualatattoo via Instagram
Source: @giovanny_padilla_ink via Instagram
Source: @wendyweno via Instagram
Source: @marko_skorka_demon_art_tattoo via Instagram
Source: @mackademic_ink via Instagram
Source: @andrew_tattoos via Instagram
A new wave tattoo idea can use a variety of approaches to create art centered on Disney's Stitch. Free to incorporate any number of different concepts—from dream catchers and abstract collages to reimagining Stitch as Alex from the classic dystopian story A Clockwork Orange—these pieces are great examples of what is possible when rules are thrown to the wayside.
You'll also find that Stitch can be used in epic cross stitch tattoo and embroidery tattoo design. This funky, relatively new needle look is a cracking way to make your Disney Tattoo stand out. Cross stitch and embroidery stitching aren't applied – but the illusion can be made to look just like a craft patch you can buy.
Click here for examples of the embroidery tattoo trend, featuring a range of Disney tattoo options and sewing ink ideas.
6. Ohana
Source: @lzotattoo via Instagram
Source: @joesanchez_ink via Instagram
Source: @cyn665 via Instagram
Source: @hiddengemtattoos via Instagram
Source: @pacmanhead via Instagram
Source: @ron.alvarez_ via Instagram
Source: @lademoiselletatouee via Instagram
Source: @sarah_allen_tattoo via Instagram
A piece on Stitch tattoo ideas would not be complete without Ohana. Meaning welcome in Hawaiian, ohana has a much wider significance and represents the bonds family, friends and neighbors cross stitch together. Ohana inspires them to look past their differences to help each other and pattern their community on helping and caring for each other. As they say in the film, "Ohana means family, and family means no one gets left behind. Or forgotten."
For more awesome galleries of Ohana tattoo design click here!
7. Calf Colorful Tattoo
Source: @tattoo-k_lerae via Instagram
Source: @nikii_neko_tattoo via Instagram
Source: @cal_tattoos via Instagram
Source: @paintedturtletattoos via Instagram
Source: @batxcat.art via Instagram
Source: @sourfangs via Instagram
Another popular placement for a Stitch tattoo idea, many people choose to get calf tattoos thanks to the ability to cover them with perfect clothing or show them off whenever they want. The calf is also one of the least painful places to get a tattoo making it a popular choice for first timers.
8. The Upper Arm Stitch Canvas
Source: @thanoschatzigiannis via Instagram
Source: @tattoosbyjessicajune via Instagram
Source: @cristhianriveratattoo via Instagram
Source: @dan_clark_tattoo_artist via Instagram
Source: @poopsparagus via Instagram
The upper arm has been a popular place to get tattooed for decades and remains a great choice for anyone that wants to show off their ink on a regular basis. Many people also choose to get a design here because of the ease with which an artist can incorporate the drawing into full sleeves down the line.
If you're unsure about tieing up such a popular part of your human canvas, then try a temporary tattoo before taking the plunge to see if it's right for you.
9. Watercolor Tattoo Pattern
Source: @becky_tattoo via Instagram
Source: @tattoo-supstu7 via Instagram
Source: @reptipunk91 via Instagram
Source: @brittani_lace via Instagram
Source: @inkd4life1 via Instagram
Source: @hundertfarben_tattoo via Instagram
Source: @piercingstudioutrecht via Instagram
Source: @yikaruuu (designer) via Instagram
Source: @cosmobotic (artist) via Instagram
Source: @sable.art via Instagram
Source: @broadstreettattoostudio via Instagram
A growing trend in tattooing sees artists using vibrant ink, bold outlines and a loose technical approach to mimic the effect of the watercolor classical art. Given the playful nature of Disney's Stitch character it is no surprise that many people choose to get watercolor inspired tattoos dedicated to this unruly alien.
Stitch Tattoo FAQs
What does ohana mean?
In the most basic terms, the Hawaiian ohana means welcome, although this is just the beginning of the significance behind the word. Ohana is central to the concept and message behind Lilo & Stich and inextricable part of Native Hawaiian culture.
In a much broader sense, ohana refers not only to family but to extended relatives, friends and neighbors. Ohana represents the bond between all the people of a community and the way that they must support each other and work together in order for everyone to benefit.
This concept has profound significance in the Hawaiian culture and is at the heart of the film. Perhaps Lilo herself said it best: "Ohana means family, and family means nobody gets left behind. Or forgotten."
Is there a sequel to Lilo & Stitch?
There is a sequel to Lilo & Stitch. Released in 2005, Lilo & Stitch 2 was released straight to video despite solid reviews from critics and fans. The film continues to the story of Lilo and unruly alien Stitch, this time in a race to save Stitch after preparations for a hula contest at school unveil a troubling secret.
Did you enjoy these Stitch tattoo ideas? Click on the links below for more awesome galleries featuring Disney characters:
Sours: https://nextluxury.com/mens-style-and-fashion/best-stitch-tattoo-ideas/
108 Stitchin' Embroidery Tattoo Ideas with Meanings
Tattoos that incorporate embroidery designs are the latest embroidery trends stepping out of Nana's embroidery design magazine.   In an increasingly popular genre, needlework looks achieve a perfect balance between realistic needlework and outlandish styles ranging from classical art to traditional flower inks to video game characters.  
Embroidery tattoos give the appearance of iron-on craft patches that have been applied directly. Their almost 3D appearance makes them look like you are wearing a patch. In contrast, cross-stitch tattoos, which are also rising in popularity, feature noticeable tiny 'X' marks throughout each design, whereas embroidery recreates the deliberate linear needle marks made by stitches.  
Neither embroidery, stitching, nor yarn is actually used. Embroidery tattoos are created the conventional way by coloring in your skin with multiple colors of ink using a tattoo gun, needle, and a lot of ink necessary to get the job done.   These embroidered tattoo effects resemble the stitch texture of embroidered fabrics, and some of the classic styles – cartoon characters, sports motifs, 3D symbols, and superhero badges.   The most successful embroidery tattoos resemble patch tattoos that can be sewed onto clothing or ironed on. Browse our inspiring collection and get inspired by ideas that are sure to have you in stitches.
As a matter of fact, embroidery tattoos resemble real embroidery vividly and realistically. An embroidery style tattoo is a type of tattoo whose intent is to mimic the appearance of embroidered patterns on the body so that you feel as if you are looking at a cross-stitched pattern. Even though there is a great deal of needlework to be done, no stitches are needed. An embroidered tattoo usually indicates that an artist is a real-life as well, as it is quite common for real-life artists to create something so fantastic as a tattoo. Their works are similar to traditional paintings, except that they use needles and a vivid palette of colors to create their works. The fact that most embroidered tattoos are 3D tattoos ought to be emphasized, and you should only work with very skilled and talented tattoo artists to have one done right.
A New Type of Three-Dimension
With embroidery tattoos, you can create the illusion of a three-dimensional image that is virtually identical to reality. Rather than looking like stitched-on patches, they look like some sort of craft patch.
You can also customize well-known designs as per your requirements using photographs or fabrics brought by clients. The practitioner will be able to recreate the design in an effortlessly seamless manner. Be careful not to hurriedly do research! Concentrate on the outlines that generate the desired effect rather than the color scheme.
There is a wide range of choices, but nature-inspired ones look best when they are embroidered. It's no wonder that flowers and animals make such compelling subjects, as their patterns are downright hypnotic.
Symbolizing undying hope, stability, brand-new beginnings, etc., the rose symbolizes these themes. In addition, adding a thorny stem adds additional connotations of loss, thoughtlessness, and defense. Every shade has a great deal of significance. In the same way that a red rose means love, yellow roses signify friendship, black roses symbolize loss, and white roses denote peace.
Lotus is considered religiously significant. The Buddhist belief holds that mud cannot harm the flower, since the flower represents purity even when it grows in mud. A lotus, by contrast, is considered a symbol of divine beauty by Hindus. The unfolding leaves of this plant could be used to represent a spiritual awakening or expansion of the soul.
Different cultures place great value on orchids due to their rich symbolic meanings. In Japan, for example, this breathtaking flower is associated with courage and heroics. There are deep cultural and historical allusions to the orchid in China, which symbolizes fertility, refinement, and prosperity. When you are searching for one of these designs, you are more likely to find one that meets your requirements without any hassle.
There is something incredibly captivating about butterflies. In addition to symbolizing transformation, it signifies something ordinary becoming something extraordinary. When the caterpillar is fully developed, it spins a cocoon that remains beautiful for the remainder of its existence. The Christian belief that butterflies symbolize Jesus' rebirth is based on the idea that butterflies symbolize resurrection.
A tiger tattoo is usually associated with strength and power. Because it is a top predator, people can show off its free-spirited nature. Don't you think that's awesome? Although tigers often have positive connotations, they can also represent danger, vengeance, or punishment.
There is something majestic about elephant tattoos. These patterns often appear on parts of the body that are more spacious, like the chest, back, abdomen, and thighs. This animal becomes emblematic of more than prosperity and fortune due to its role in nature, which also encompasses wisdom, longevity, and dignity.
A patchwork version of a cartoon character like Donald Duck, Winnie the Pooh, Mickey Mouse, Simba, etc. would also be intriguing.
Embroidery Tattoo Designs For Arm
We have talked about the theory, so now it is time to put that theory into practice. In case you are still debating whether to get embroidered tattoos or not, then these terrific tattoo embroidery designs for the arm will surely assist you in your decision.
Embroidered Tattoos On Legs
A new leg tattoo has several advantages. Below, you will find a list of those benefits. To begin with, you have plenty of time and room to devote to this new masterpiece. As a result, it is easy for the prying eyes to miss everything. Thirdly, those embroidered leg pieces are absolutely stunning!
Embroidered Tattoos For Back
The number of women getting back tattoos has increased dramatically in recent years, with a lot of meaning behind them. Wouldn't you agree that getting a colorful and trendy back tattoo is just another adventure that you can take as a bold and thoughtful woman?
For Women
Ankle
Wrist
Finger spaces
Hands
Shoulder blade
Behind the ear
For Men
Chest
Biceps
Legs
Neck
Back
Forearms
Cute Embroidery Tattoo Design On Arm
An embroidery patch tattoo can be used to match you with someone you love! You will love this matching couple tattoo design if you're a fan of matching tattoos! This can be customized to your preference, and it can incorporate your favorite cartoon! You ought to confirm that you and the tattoo artist have the same vision before you book.
Funny Embroidery Tattoo Design On Arm
If you don't mind needles and you don't mind spending some time, then why not embrace this fun & colorful tattoo? It is not common for people to invest a large amount of time, though, and money into tattooing. You can follow this pattern to get your favorite cartoon design on your body if you are unique and like cartoons!
Amazing Embroidery Tattoo Design On Arm
Embroidery tattoos inspired by Pokemon are stunning and will suit avid gamers! If you want the cross stitch design to look like an art piece, make sure the tattoo artist can do intricate and precise designs. It will look amazing on either arm or leg, so choose what looks best to you!
Awesome Embroidery Tattoo Design On Leg
If you are a fan of pirate tattoos, this popular design is for you! The vibrant and noticeable colors on your arm combined with the realistic skull design will impress you. Although you won't have to spend much time getting this effect, you should actually spend some time finding the right tattoo artist.
Excellent Embroidery Tattoo Design On Arm
Some people enjoy going through life and their entire year without worrying about other problems. If you have a sense of humor and love funny tattoo designs, you'll definitely want this avocado tattoo. Creating this design takes your tattoo artist around three to four hours, so be patient and stay still! What is the outcome? Imagine having an avocado spanning your arm like a real one!
Cute Embroidery Tattoo Design On Arm
If you use the embroidery tattoo technique, you will be able to embrace an old-school tattoo design – of a Smurf! You'll love this design if you were a fan of this cartoon. A tattoo like this one, which is decorated with embroidery, looks very realistic and will instantly awaken your inner child!
Lovely Embroidery Tattoo Design On Arm
Lastly, what is your opinion of the Jigsaw tattoo? This character might appeal to movie fans, especially over their chest, arms, or neck – some more visible body parts are perfect for tattoos like this. Although not an extremely time-consuming tattoo, it definitely makes a statement.
Funny Embroidery Tattoo Design On Arm
Would you consider the entire Marvel series to be your favorite? Do you remember Joker as your favorite character? Cross-stitch tattoo designs similar to these will be appreciated by you. It will take you three hours to get this tattoo, which you will enjoy placing on your forearm with the infamous "hahaha" text at the bottom.
Skully Embroidery Tattoo Design On Arm
The skull tattoo is great for men who want to have a manly tattoo. You will not only look good in this but be noticed by guys who are interested in skulls and pirates. As far as time goes, stitching tattoos like this one will take at least 2-3 hours to get.
Sober Embroidery Tattoo Design On Arm
I think this embroidery tattoo design is super cool as it is made with various colors. It has a flower vase which looks very blessing with sunflowers potted in a vase. It is a great design.
Natural Embroidery Tattoo Design On Arm
I really like this design which has a whole city inside a heart. It is also covered with beautiful flowers which look really pretty. The colorful design makes the whole look very lively and vibrant.
Amazing Embroidery Tattoo Design On Arm
You can add some masked personalities with your design which would look really nice. Here the person has a mask or an infinity sign which has been tattooed in a very embroidery effect.
Marvelous Embroidery Tattoo Design On Arm
If you have some pets or you love dogs in general, this design would look super cute for your embroidery tattoo design. Here the two dogs are formed in the shape of a heart which is super cute.
Unusual Embroidery Tattoo Design On Arm
I really like the idea of the bird which has been made here. The beautiful colors really bring out the design. The birds can symbolize loads of things like freedom and creativity.
Flowery Embroidery Tattoo Design On Arm
I think this flower looks super cool as your next embroidery tattoo design as it has a beautiful shading effect. It actually seems like it is made on a piece of cloth and is hyperrealistic. I really like the shading effects which are given here.
Sweet Embroidery Tattoo Design On Arm
This Winnie the pooh design is super cute which has been made here. It looks really pretty. The cute little design is not too big and hence fits perfectly on the arms of the wearer.
Small Embroidery Tattoo Design On Arm
You can make this sort of design to be dedicated to your children. I think these kinds of designs are a great reminder of your children. It can also be made for any other personal reasons.
Creaky Bones Embroidery Tattoo Design On Arm
I really like this design which has an amazing contrasting color. The best part about getting a v is that they look super realistic and are very creative at the same time.
Bluish Embroidery Tattoo Design On Arm
This robot looks quite natural in this embroidery tattoo design which has been made here. If you are into robots and sci-fi then this kind of design would look amazing to be worn.
Modern Embroidery Tattoo Design On Arm
This knife is a great design for anyone who likes weapons in general. This design can also mean other symbolic things which are usually associated with knives and other weapons.
Perfect Embroidery Tattoo Design On Wrist
I really like this shamrock design which has been made here. The outline that is given with the white and the black inks really steals the show as it looks really interesting. The shading effect is also super cool.
Lovely Embroidery Tattoo Design On Arm
I really like this Stitch idea from Lilo and Stitch. And what a coincidence with the name right? This embroidery tattoo design looks really cute and the shading effects that have been given is also super admirable.
Venturous Embroidery Tattoo Design On Upper Arm
This astronaut design on the arm of the wear is super cute. I really like the design. The galaxy design in the background doe did not have the embroidery effect but it nonetheless looks pretty nice.
Smiley Embroidery Tattoo Design On Upper Chest
If you are someone who is very old school this smiley design made in the embroidery style would look pretty cute. I think it is a great design that one can make on their skin.
Ultimate Embroidery Tattoo Design On Arm
This amazing and cute tattoo from Rick and Mory is a superb one. If you are a fan, then you would understand the quirks of this cartoon show. I think this design would really do justice to all the super fans of this show.
Brave Embroidery Tattoo Design On Arm
I really think that this embroidery tattoo design speaks volumes because it has a lot of depth. First of all, this design is super creepy because of the personal. Secondly, because of the embroidery effect, looks even more unique.
Excellent Embroidery Tattoo Design On Upper Back
You can make basically any cartoon character that you deem right for this kind of design because it looks super nice. I really like this design which has been made here. It is also super colorful.
Unique Embroidery Tattoo Design On Leg
The secret to embroidery tattoos isn't much of a secret at all. The phrase describes exactly what it is: a tattoo that makes you feel as though you have it embroidered directly to your skin.
Aquatic Embroidery Tattoo Design On Arm
I really like how half of this is an embroidery tattoo but the other half is the simple kind. I really appreciate the different textures that the person has gone for and it shows his creativity too.
Delightful Embroidery Tattoo Design On Shoulder
You can be drawn any kind of symbol as a choice for your embroidery tattoo designs. Here, the wearer has chosen this symbol right on the top of the shoulder which looks really intriguing. 
Wonderful Embroidery Tattoo Design On Leg
This is quite a colorful design which has been made here and which looks rather cute and funny too at the same time. I really like the design which has a certain aura to it.
Amazing Embroidery Tattoo Design On Arm
This is a pretty awesome design that has been made here. It might have a personal alliance to the wearer or the wearer might be a fan of some kind of tv show which is the inspiration of this design.
Appeasing Embroidery Tattoo Design On Arm
Anime is a really cool subject when you are thinking of getting any kind of embroidery tattoo design. I think this kind of design would look really nice and the design is not too huge either.
Smart Embroidery Tattoo Design On Arm
A mickey mouse embroidery tattoo design is also a great idea. The cartoon or anime characters look really lively with such kinds of designs as it makes for a great subject to be done. I really like this design.
Existence In Pain Embroidery Tattoo Design On Arm
This is a super cute embroidery tattoo design that has been made here. The benefit of making one of such designs is the fact that they really enhance the liveliness of the tattoo.
Active Embroidery Tattoo Design On Arm
I really like these embroidery tattoo designs which have been made here. It looks pretty awesome. The cartoon character has a lot of colors which makes this design speak volume. 
Dynamic Embroidery Tattoo Design On Leg
This bike design is done in the style of any other embroidery tattoo design and looks really nice. The wearer has chosen his leg as a placement option which is a great idea. 
Perceptive Embroidery Tattoo Design On Arm
This tattoo is quite animated and I think it looks really wonderful done in the embroidery tattoo designs style. I really like the use of different colors which have been done here.
Appealing Embroidery Tattoo Design On Arm
You can make cute and simplistic designs as your embroidery tattoo designs. I remember the trend of these badges on our school bags which looked really cute. 
Cute Embroidery Tattoo Design On Arm
This is a beautiful Lion King logo design which is a great one. If you are a fan of the animated version, then this is a great design for you. The embroidery tattoo designs are a great way to add some funk to your cartoon characters. 
Attractive Embroidery Tattoo Design On Hand
Our ink addiction is always on the move, and we may have just stumbled upon the next one: embroidery tattoos. It seems that Instagram feeds are all over the place with this type of tattoo these days, and the creations have such incredible detail and 3D effect that you wonder if they're real. If you don't want to become an embroidery enthusiast, you can always get an ink instead. This tattoo trend is so cute, even your great-grandmother would approve.
Kiss Embroidery Tattoo Design On Thigh
While tattoos are, technically, a type of needlework, they're a world apart from the textile-based crafts that come to mind when we hear the word. Lately, however, tattoo artistry and embroidery have overlapped in a major way, at least according to Instagram.
Cool Embroidery Tattoo Design On Upper Arm
At the moment, embroidery tattoos are the hottest tattoo trend because they create a 3D effect of texture so vivid that it almost feels as if you can feel the silky, raised threads under your fingers. These cool embroidery tattoos might even appeal to your grandmother.
Accurate Embroidery Tattoo Design On Leg
A tattoo artist based in Dallas, Rogelio Vazquez, has created an extremely eye-catching embroidery tattoo design that has been doing the rounds on the internet. "This is insanely beautiful," commented one user after seeing the 180-degree video of Vazquez's multicolored bird tattoo. The tattoo artist also posted a 180-degree video to Instagram of this creation, which has received almost 10,000 likes. As tattoo artist Moona Autumn explains, how long it takes to complete an embroidery tattoo design depends on how many colors are involved. Moona Autumn tattoos in Jena, Germany, since 2016.
Realistic Embroidery Tattoo Design On Arm
If you use a lot of colors, it can take longer to stitch embroidery tattoos, as the needle has to be washed out every time you change colors. In other respects, it's just like any other kind of tattoo."
Pretty Embroidery Tattoo Design On Arm
Customers can tailor embroidery tattoos according to their tastes, as embroidery tattoos can be customized to fit their needs. Autumn's Instagram post, which offers another example of embroidery tattoos, shows that they don't always need to have a knitted look; they can be more simple, like the cross-stitch heart tattoo in one color.
Wild Embroidery Tattoo Design On Arm
A Russian tattoo artist named Ksu Arrow, who travels around the world performing tattoos, made a stunning mural on the back of a mother and daughter that was based on traditional Oaxacan patterns. Located in central Mexico, Oaxaca is renowned for its finely crafted textiles and embroidery in vibrant colors.
Feathery Embroidery Tattoo Design On Arm
In Fredericksburg, Virginia, apprentice tattoo artist Emily Louise works at Human Canvas Tattoo Studio, and she says the embroidery trend is definitely new. After being tagged and receiving a few posts on Facebook about it, I decided to give it a try! The woman said. I see this trend as being very cool and a lot of fun, so I hope to see it become more popular.
Brave Embroidery Tattoo Design On Arm
This tattoo looks really unique. It is the bat shape tattoo design that is super spooky and the embroidery patterns really give it a unique kind of depth.
Feel Good Embroidery Tattoo Design On Arm
Although an experienced tattoo artist can often complete embroidery tattoos relatively quickly, very large pieces, such as this upper arm piece by Mexican tattoo artist Paulina Oliver, can take several hours to complete. Emily Louise said, "It really depends on the quality of the design and the size for how long it will take." Her experience favors more realistic designs, which can take longer, she shared.
Incredible Embroidery Tattoo Design On Upper Back
Tattoos like this one created by Brazilian tattoo artist Palmer De Maria feature characters from cartoons and animated movies, like Carl Fredricksen from "Up." The tattoo is finished like a jacket patch.
Sweet Embroidery Tattoo Design On Leg
The embroidery tattoo like this can really strike a chord being too cute.
Thready Embroidery Tattoo Design On Leg
I really like this colorful anklet pattern which has been made here.
Rosy Embroidery Tattoo Design On Thigh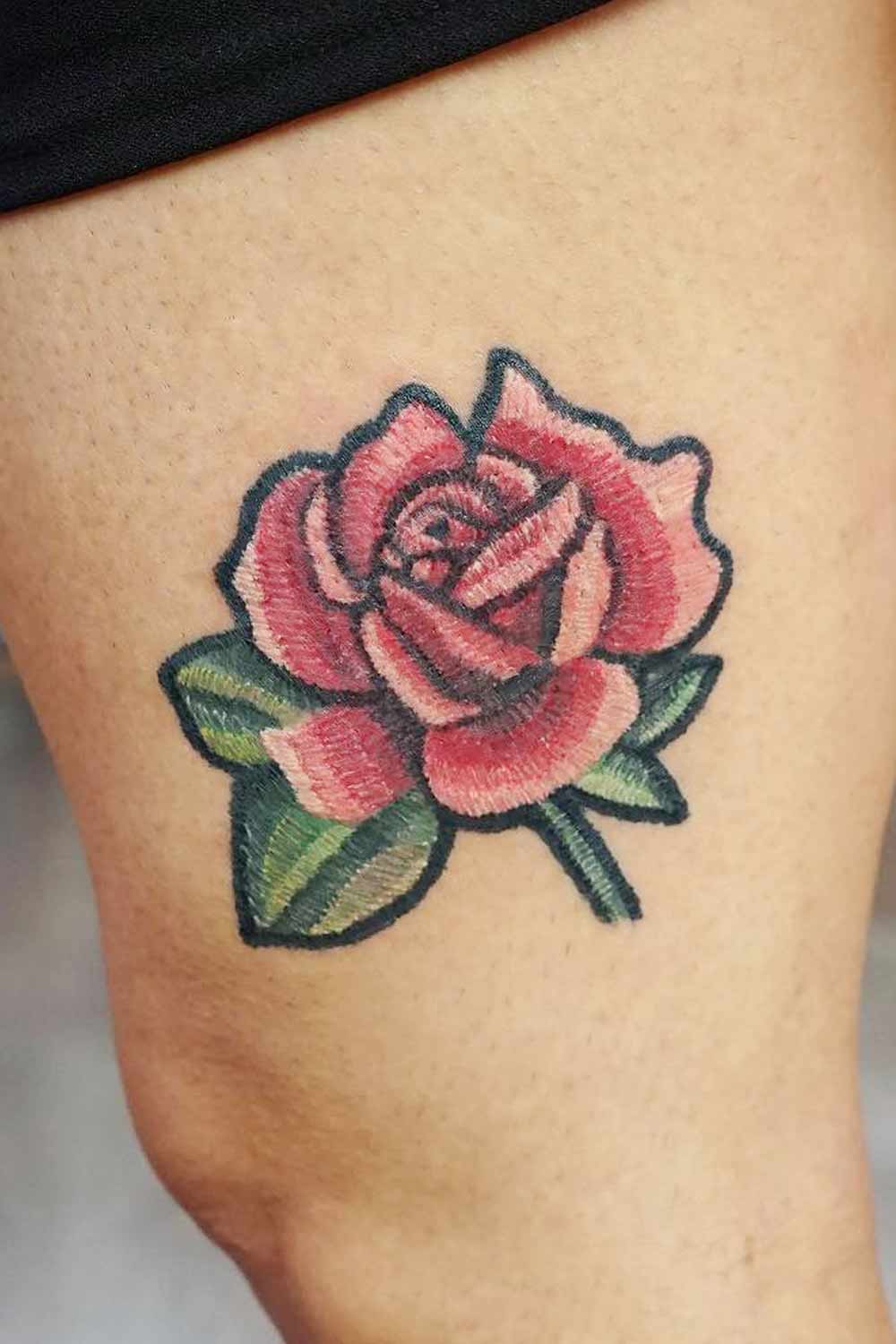 This beautiful rose pattern has a lot of beautiful shading effects going on.
Devoted Embroidery Tattoo Design On Head
Moreover, tattoos take time to apply. You may have to schedule multiple appointments or hours to complete the work, depending on where you want it and how big you want it. In the following photo, Arrow explains that the Oaxacan flowers on her client's back took her six hours to complete, while a smaller design would be completed in one to three hours. You'll be able to learn more about this from your artist when planning your embroidered tattoo, but regardless of how long it takes, we predict the result will be worth it.
Enchanting Embroidery Tattoo Design On Upper Back
I really like this beautiful and amazing flower embroidery tattoo made on the back of the wearer.
Wondrous Embroidery Tattoo Design On Leg
This cute kitty tattoo is super adorable and can be stitched almost anywhere!
Pretty Embroidery Tattoo Design On Upper Back
This fabulous floral design on the back is a beautiful one that looks immensely creative.
Realistic Embroidery Tattoo Design On Arm
I really like this colorful bunny design which is done in the shades of a rainbow.
Wonderful Embroidery Tattoo Design On Arm
This painting from vincent van Gogh has been given quite an amazing turn by turning it into a beautiful embroidery tattoo with loads of colors.
Needlework Embroidery Tattoo Design On Arm
I really loved these tulip tattoo designs which look super amazing. It is perfect to be made on the arms.
Threesome Embroidery Tattoo Design On Arm
An alternative to embroidery tattoos in the patch style is available at the Malört Tattoo Studio in Malmö, Sweden, which is owned by Amanda Chanfreau. Chanfreau's experience as a painter and illustrator is evident in this beautiful, brightly colored design, which appears to be made of felt.
City Embroidery Tattoo Design On Arm
The first tattoos were applied by Egyptian priestesses 5,000 years ago, before there was Instagram for trends to start, and before there were celebrities to spark them in the first place. On the other hand, we highly doubt anyone back in the Bronze Age would have desired – or had the ability – to make their tattoos look like an embroidered tapestry because that is exactly the kind of tattooing that is rising in popularity right now.
Bird Embroidery Tattoo Design On Arm
In this hummingbird tattoo created by Ksu Arrow of Tatudemia Custom Tattoo in Guadalajara, Mexico, thick black borders emphasize the "patch" effect and add a contemporary feel to the otherwise delicate design. Many things are symbolized by the hummingbird, including joy, good luck, hope, comfort, love, appreciation, enjoyment, independence, freedom, and optimism.
Floral Embroidery Tattoo Design On Leg
This intricate flower cross stitch tattoo by Eva at Bang Bang Tattoos in New York looks like it's been painted on, like this embroidery tattoo with a painted-on appearance. Two months after the tattoo was completed, she shared an Instagram picture that provoked comments like "so beautiful" and "so precise" from her followers.
Frog Embroidery Tattoo Design On Leg
Since the early 1900s, sailors have been tattooing mermaids, making them popular among sailors. A mermaid is often associated with nautical symbols like anchors, ships, and starfish to enhance the theme. In contrast, the embroidered mermaid by tattoo artist Cindy Matzak is impressive without any other elements.
Bird Embroidery Tattoo Design On Arm
The embroidery trend can make classic tattoo styles more interesting when it comes to getting names tattooed on the body. Apparently, one commenter thought this was simply an iron-on letter stuck to their arms when the artist Joby Cummings described this work as "a fun challenge." It was so convincing that a commenter wondered if it was really embroidered iron-on letters.
Dragon Embroidery Tattoo Design On Arm
There has been a sudden surge in embroidery tattoos, as #embroiderytattoo is trending on social media – but not every embroidery tattoo is created equally, as this tattoo from Milwaukee's Starseed Studio illustrates. There are some cute stitches on this, but otherwise, it's not a bit of intricate work.
Giant Embroidery Tattoo Design On Leg
It is important to consider a few things before you make a mood board of embroidered tattoos. The first thing you need to know is that not all tattoo artists are the same. It's always a good idea to do your research and vet the pro you plan to see – or book a consulting appointment and walk through your vision before booking any tattoo appointment.
Yacht Embroidery Tattoo Design On Leg
This embroidery tattoo is half embroidery and half normal tattoo which is a great combination. The sail of this yacht is done with the embroidery tattoo style while the rest of the design is kept simple.
Logo Embroidery Tattoo Design On Leg
I really like this cool symbol which would be quite a great design for a guy.
Simpsons Embroidery Tattoo Design On Leg
Embroidery tattoos on the arm are a great way for Disney fans to wear their love for their favorite animated characters everywhere they go. Duda Lozano created this design featuring Earth dog/illegal genetic experiment Stitch, a half-wolf of popular kids' TV show Lilo & Stitch.
Tooth Embroidery Tattoo Design On Arm
This tooth embroidery tattoo is quite a bit funny!
Mario Embroidery Tattoo Design On Arm
If you are a fan of Mario or any other video game for that matter, getting them inked on yrou skin in a different style would be a great idea.
Kingfisher Embroidery Tattoo Design On Arm
This kingfisher embroidery tattoo is a cool one with loads of colors that looks really vibrant.
Icecream Sundae Embroidery Tattoo Design On Arm
This kind of embroidery tattoo look cool even on the bags but as a tattoo design, it looks rather superb!
Creative Embroidery Tattoo Design On Arm
If you are into manga or anime, this embroidery tattoo would be a perfect choice for you.
Playful Embroidery Tattoo Design On Legs
Why do these tattoos appeal to people so much? The four-dimensional effect adds special depth (more on this shortly), and they are relatively new in terms of widespread popularity. That means that many people who want to make a statement with their ink are looking to embroidery as an option.
KORN Embroidery Tattoo Design On Thigh
You can get things like this stitched on yrou skin!
Skull Embroidery Tattoo Design On Elbow
A skull would be a great idea to get for your next embroidery tattoo.
Logo Embroidery Tattoo Design On Lower Elbow
This logo design is quite a popular choice among people for their embroidery tattoos.
Kangaroo Embroidery Tattoo Design On Ankle
Tattoos in 3D are not new, but the basic concept is. Thus, the obvious question arises: how are embroidery tattoos different from other 3D tattoos?
Cool Embroidery Tattoo Design On Arm
I really like the idea of adding an anime tattoo to yrou design collection.
Creative Embroidery Tattoo Design On Stomach
This is a beautiful tattoo design that has been made on the wearer's ribs. It looks fantastic.
Weed Embroidery Tattoo Design On Arm
I really like the design that has been made on the arms of the wearer.
Dancing Embroidery Tattoo Design On Elbow
This embroidery tattoo is super playful and colorful. I really like the whole concept.
Flier Embroidery Tattoo Design On Arm
It said a beautiful embroidery tattoo that is composed of a flowing bird with an amazing floral pattern.
Alfio Embroidery Tattoo Design On Arm
Tattoo aesthetics, including watercolor tattoos, are relatively mainstream, but the illusion of embroidered ink is still relatively under the radar. There are over 2,000 Instagram hashtags highlighting this style, so you won't be able to miss it for long. Among the tattoo artists carving out a path are Rogelio Vazquez, Bau Oliver, Russell Van Schaick, and Ksu Arrow, who have careers that span the country from Florida to Texas to Mexico to Moscow.
Symbolic Embroidery Tattoo Design On Upper Arm
It is "depth" that answers the question. Light and shadows are used in the majority of 3D tattoos to make it look as though the tattoo is inside you. As a result, people getting tattoos that show off robot skin, bones, or other things seemingly under their skin favor these kinds of tattoos.
Masked Embroidery Tattoo Design On Arm
This embroidery tattoo is quite symbolic of a group that you might be following.
Snail Embroidery Tattoo Design On Thigh
This snail embroidery tattoo is quite vivacious and looks super cute.
Victorious Embroidery Tattoo Design On Shoulder
An embroidery tattoo stands out and looks as if it is sticking out of your skin, equivalent to a patch embroidered on a jacket. There's no denying their impressive appearance when you see these tattoos!
Skull Embroidery Tattoo Design On Shoulder
I really adore this skull design. I think it has quite a hippie vibe to it but it still looks very vivacious.
Fabricated Embroidery Tattoo Design On Arm
If you want to get a cool embroidery tattoo design then this one would be a great choice.
Fabulous Embroidery Tattoo Design On Arm
Tattoos that are embroidered are exactly what they sound like, aren't they? The process of tracing the cross-stitch pattern is not actually embroidery, but the effect simulates embroidered fabric. The 3D effect makes it look like the designs are sewn directly into the skin, which is as cool to look at as it is to hear – but they're still painted on with ink and needles, just like any tattoo. My art degree allows me to look at [embroidery tattoos] the same way I do realistic tattoos or drawing. All you have to do is tattoo it the way you see it.
Cute Embroidery Tattoo Design On Arm
I really adore the idea of adding a load of colors to yrou tattoo design to make them pop out!
Refreshed Embroidery Tattoo Design On Wrist
This fry design also looks super funny and very attractive!
Smiley Embroidery Tattoo Design On Thigh
People who love tattoos often reflect on what tattoos represent to them. As it turns out, there is a special significance to this type of tattoo. Specifically, it represents a blending of two worlds. From the outside, these tattoos appear to be very modern. Tattoos of this type are trendy and help young tattoo fans stand out from older ones.
Rose Embroidery Tattoo Design On Arm
This rose embroidery tattoo is super beautiful and looks very lively too with all the colors.
Duckey Embroidery Tattoo Design On Arm
People can get almost anything as an embroidery tattoo (and they do), but we like nature-inspired images. Flowers, for instance, are perfect examples of hypnotic patterns because they are beautiful. Animals also make interesting subjects. If you embroider cute creatures, they become even cuter (just ask Donald Duck or Daisy Duck), and this tattoo is perfect for creating conversation
Outstanding Embroidery Tattoo Design On Arm
Arrow usually recreates real embroidered patches from fabrics or photographs that clients send in so they can have them on their backs, arms, or even ankles. The technique allows you to create virtually any design that you want, but Arrow emphasizes that the most important part of her work is not the array of colors, but the contrast of the black ink with the outlines – what provides the illusion of embroidered detail.
Emotional Embroidery Tattoo Design On Arm
This skull embroidery tattoo design is very inspiring.
Lovely Embroidery Tattoo Design On Arm
The history of embroidery tattoos is firmly rooted in the past, however. In many families, people were taught how to sew elaborate patterns by their parents and grandparents as children. A tattoo embroidered with embroidery will be a life-long reminder of the wonderful experience of creating something new. Any new kind of tattoo becomes popular, and our response is always the same: "What's the best style for these tattoos?"?"
Charming Embroidery Tattoo Design On Arm
I really like taking out cartoon characters from the books and shows to be added to the designs.
Cute Embroidery Tattoo Design On Arm
This tribal design loos were super cool as an embroidery tattoo.
Awesome Embroidery Tattoo Design On Arm
You can pick yrou favorite scenes from yrou favorite cartoon show and make them as an embroidery tattoo.
Characters Embroidery Tattoo Design On Arm
This rick and Morty embroidery tattoo are super awesome and very innovative.
Pumpkin Embroidery Tattoo Design On Arm
I really like this pumpkin embroidery tattoo which looks very pretty.
Colorful Embroidery Tattoo Design On Arm
This embroidery tattoo looks highly attractive and is made of beautiful colors. The best part about getting a tattoo in this style is that it gives an edge over the other designs.
Embroidery tattoos: what are they?  
Tattoo embroidery creates the illusion that the designs are sewn into the skin instead of being embroidered. Inked tattoos are still made with tattoo guns, needles, and the variety of inks needed to do the job.  
Are embroidery tattoos real?  
Despite not requiring embroidery or stitches, the way they're etched into the subject's skin is similar to that of an embroidered fabric. Tattoos embroidered with embroidery look like those cool texture patches you iron-on or sew on your clothes.   
In regards to embroidery tattoos, how are they different from cross-stitch tattoos?  
While there are some similarities between the two art forms, they have distinct differences in execution, application techniques, and effects. Cross stitch tattoos have noticeable, tiny 'X' marks that are easily noticeable in stabbing tattoos. Embroidered tattoo examples possess intentionally linear needle marks (they appear vertical).
Are Embroidery Tattoos Right For You?
No matter which style of tattoo you choose, it's important that the tattoo perfectly captures the meaning and significance you envisioned. Having a great tattoo idea is great, but if a style does not speak to you personally, it may just be a fad that doesn't quite chart.
By adding embroidery tattoos to your next inking session, you can add a unique level of dimension to your ink session that is rarely captured by other styles. If you work with the best tattoo artists, you might discover how an embroidery tattoo elevates your design while keeping it feminine and personalized. To extend the life and vibrancy of your new embroidery tattoo, you need to take care of it correctly, and care for it well to ensure its color and vibrancy lasts for years!

Prev ArticleNext Article
Sours: https://bodyartguru.com/embroidery-tattoo/
101 best stitch tattoo designs you need to see!
Everybody loves Lilo and Stitch, right? The adorable alien from outer space is just too popular, even after eighteen years have passed, so why not try out his design as a tattoo? This bright blue Disney character as a tattoo design is perfect for any gender and age. Ideas for Stitch tattoos are abundant on the internet and for tattoo designs, you can always turn to Instagram or Pinterest, or to our own top 10 picks down below. Check out these top 10 Lilo and Stitch tattoos we have chosen and consider booking an appointment at your favorite tattoo shop today!
Sinister Stitch Tattoo
Do you ever feel like there are two sides to your character and you don't know how to express both of them? Then why not try this tattoo design where the beloved Disney character has a dark and monstrous alter ego. The watercolor effect the artist chose is perfect for someone with a creative soul.
Colorful Stitch Tattoo Design
Are you someone who often wears flashy clothes, or just likes bright colors in general? Then consider this Stitch tattoo! You can choose your favorite colors for the leaves, as long as you reserve the iconic blue for the little alien.
Sketchy Stitch Tattoo
Everyone knows the word 'ohana' beacuse of the Lilo and Stitch movie. But do you know where the word comes from? Ohana means family in Hawaiian and the word has become inseparable from Stitch. So why not combine this cute Disney character with ohana in a single tattoo design? You can opt for a sketchy design like in the picture or find any style of tattoos you prefer.
Simple Watercolor Stitch Tattoo
How many Stitch tattoos can you come up with using just outlines and a splash of color? A lot, really. A sketch of a smiling Stitch with a background color or two is perfect for anyone in love with this Disney character. This tattoo fits well on any part of your body, from arm placement where everyone can enjoy it to a more hidden spot, like the lower part of your back, just for your own viewing.
Stitch with Glasses Tattoo
We have found an awesome Disney tattoo for anyone who thinks of themselves as geeky or nerdy. This time the mischievous alien is wearing glasses, an important accessory when trying to find information on Earth and its inhabitants. If you see any other Lilo and Stitch tattoo ideas that include wearing accessories, be sure to pin them to your Pinterest board or start a new Instagram collection.
Happy Ohana Stitch Design
Is there anyone who doesn't love a smiling Stitch tattoo design at this point? How about combining several elements in one tattoo design, such as: colors, a very happy Stitch, some background elements and the iconic ohana? You can always ask your tattoo artist for suggestions on the size and placement of your most loved Stitch tattoo design.
Stylized Alien Stitch Tattoo
Tired of seeing the same art style of Stitch tattoos over and over again? Then consider this stylized Stitch with accentuated highlights also getting abducted. Don't fancy the slightly realistic style we've chosen? Search tags on Instagram or Pinterest for the best tattoo design for you, in the end, when you tattoo Stitch on yourself he will be a companion forever.
Elvis Stitch Tattoo Design
Even if you're not a fan of Elvis, you must admit this Stitch tattoo design is so cool. Plus if you choose a tattoo design with just black ink and grayscale shading, you might save some money. Combine the musically talented alien with meaningful words to you or even your loved ones' names. Afterall, ohana means family.
Disney Lilo and Stitch Tattoo Design
If you are a big Disney fan, wanting a tattoo design on a budget, consider this simpler Lilo and Stitch tattoo. This tattoo style is perfect for everyone because it is simple, yet it has all the iconic elements a Stitch tattoo design needs – the hibiscus flower and Lilo kissing Stitch.
Simple Stitch Tattoo
Choosing just a black outlined Lilo and Stitch tattoo, small or big, doesn't always mean you are on a budget. Everyone can appreciate the simplicity of this Stitch tattoo, especially when it's suited for any placement. Wouldn't you agree these types of Stitch tattoo designs are ideal both for your wrist and ankle?
Having said all of that
Are you ready to call your trusty tattoo artist for an appointment? Take inspiration from this article and choose your favorite among our top 10 Stitch tattoos.
Need More Inspiration
Feature image from Pinterest
Sours: https://outsons.com/stitch-tattoo-designs-you-need-to-see/
JUMP TO PICS
Disclosure: This cross stitch tattoos page contains affiliate links. Read full Disclosure Policy.
The oldest form of embroidery, cross stitch is making a comeback among crafters—but do you know a few creative tattoo artists brought it into the world of body art? We rounded up the most creative cross-stitch tattoos to reveal your artistic side.
What Is a Cross Stitch Tattoo?
These tattoos create the effect of cross stitch embroidery with x-shaped stitches and a pixelated look. It's a unique design that combines craft and body art. Instead of dark outlines, the tattoo is known for its colorful and unique patterns.
A great thing, tattoo artists come up with complex compositions such as floral motifs, portraits, abstract patterns, pixel art, 3D embroidery, and cartoon character designs. Do you know some intricate designs can even look like they have been stitched into your skin?
Even if the tradition of cross-stitching is quite old, the tattoo designs can be modern, classic or anywhere in between. There's always a fresh new idea to try, and you can even incorporate symbolisms or opt for a design that pays homage to your loved ones.
---
Best Cross Stitch Tattoo Inspirations for You
A Traditional Rose Tattoo
Flower symbolisms have fascinated people for centuries, and a red rose tattoo will never go out of style. In the language of flowers, it represents love, which will make your cross stitch tattoo not only creative but also romantic.
Cartoon Character Tattoo
If you want a playful statement, think of your favorite cartoon character as your tattoo design. This cross stitch design is perfect for cartoon lovers and people who want to stay young at heart.
Paper Boat Cross Stitch Tattoo
There are lots of symbolisms associated with paper boats from setting sail on a new adventure to returning to home and so on. If you want to reminisce your childhood memories, this cross stitch tattoo is also great for you.
A Minimalist Red Heart
If you're into heart tattoos but want something simple, go for a cross stitch design. Who says minimalist designs are boring? This one will let you cherish your introverted side while being expressive at the same time.
A Floral Statement
Who would have thought that a creative embroidery and body art will look this cool and expressive? With this cross stitch tattoo, you'll be a walking masterpiece.
A Symbol of Love
There are many meanings behind the heart tattoo, but it generally represents love. This red heart cross stitch design might be the simplest, but it can also be the most meaningful.
Snow White Cross Stitch
Do you want to add a touch of romance and fantasy into your body art? If you want to channel your inner Snow White, think of this cross stitch tattoo. After all, she's one of the sweetest princesses and the "fairest in the land."
Creative Flower Art Tattoo
From peonies to roses, tulips, and carnation, flowers have long been symbols of natural beauty and life. If you want to get a more artistic tattoo, think of mixing different designs such as cross stitch, watercolor and even 3D art.
Cross Stitch Wristband Tattoo
Do you know cross stitch tattoos can double as a fashion accessory? If you're not into statement necklaces, ring stacking, and arm party, think of this wristband tattoo that will add some color and life to your style.
Floral Border Tattoo Design
Border tattoos are simple, but look beautiful, especially when done in color. If you want to make your cross stitch tattoos more personal, know the language of flowers and opt for ones that represent you. Apart from roses, you may also think of tulips which are a symbol of rebirth and determination.
Matching Heart Cross Stitch Tattoo
Heart motifs are common in tattoos, but they look more creative in cross stitch designs. Why not think of getting a matching tattoo with your special someone? You may go for a coordinating style, but opt for a different color to make it more fun.
Kettle and Heart Tattoo
Cross stitch tattoos are all about being original and personal, so feel free to incorporate every symbolism that you find meaningful in your life. This kettle-and-heart design might be mysterious, but it surely means something significant for the wearer.
"You're a Star" Tattoo
Whether you're into the symbolisms of fame, honor, or guidance, a star tattoo is perfect for you. Its cross stitch design and bright color make it playful and sweet.
Emo Heart Cross Stitch Tattoo
Who says a cross stitch tattoo must be loud and colorful just to look pretty? Going for black and minimalist designs will let you channel your emo spirit while being artistic at the same time.
Colorful Seahorse Tattoo
Do you love the island life and looking for symbolisms associated with the sea? Think of a seahorse tattoo that looks artistic in cross stitch design! More than that, the creature is known as a symbol of good luck, which is perfect if you're looking forward to achieve something that you set out to do.
A Sweet Dedication Tattoo
A dedication tattoo in cross stitch design looks sweet and artistic! It's the perfect choice if you want to pay tribute to someone, as well as represent your passion, hobby, or lifestyle.
A Cartoon Cross Stitch Design
If you want to add some quirk to your body art, think of a character from your favorite cartoon! Abstract art is fashionable, and going for a cross stitch design will make your tattoo look more of a mysterious art than a caricature.
Colorful Pineapple Tattoo
If you want to add some fun and flavor to your tattoo, think of a pineapple cross stitch design. Do you know the tropical fruit can express your warmth and happiness? It's a great choice if you have a lot of joy in your life or you want to remind yourself to pursue the things that make you happy.
Cute and Adorable Tiger Tattoo
Is tiger your spirit animal? Most designs depict their ferocious and dangerous side, but they can look cute and adorable too, especially in cross stitch tattoo. If you've got that independent spirit, this tiger tattoo can be the perfect one to show your power and strength.
Floral Bloom Cross Stitch Tattoo
If you're into traditional roses and forget-me-nots, think of this cross stitch tattoo. The best thing about a floral motif is that you can have a lot of them, and still make each one different.
Cloud and Lightning Bolt
Lightning has long-standing meanings and symbolisms, from mythologies to significant moments in life. The cross stich design looks quirky, but it can be a powerful reminder on keeping grounded or staying focused on your goals in life.
"Fixing a Broken Heart" Tattoo
Are you mending your broken heart? Instead of crushed or "crying heart" designs, this cross stitch tattoo lies on a positive note, inspiring you to be stronger and better person.
Beloved Cross Stitch Tattoo
If you want something straightforward, think of this shoulder tattoo design. Whether you're into realism tattoo that mimics the look of a traditional painting or a cross stich design, flowers are the perfect symbol of romance.
Cute Mario Brothers Tattoo
If you're a gamer, you might love this little plumber in your tattoo. Mario's world is so colorful, and this cross stitch tattoo will surely add some fun in your life.
An Arm of Roses
Do you want to make roses the focal point of your body art? Place them on your arms and let them steal the spotlight! A rose shoulder versatile design anyone can appreciate.
Festive Pattern with Flowers
If you're looking for finishing touches to your flower tattoos, think of a cross stitch design. It balances the over-the-top look, and even makes the overall design a piece of art.
A Subtle, Minimal Design
If you're getting your first tattoo and find floral motifs over the top, think again. This cross stitch tattoo looks chic and not so basic, and is perfect for someone who isn't ready to commit to a larger piece.
Cross Stitch Armband Tattoo
If you want to make cross stitch tattoo look more masculine, place them on your arms, and think of a tribal-inspired motif.
Something Simple and Blue
If you want to keep your tattoo hidden, this small and simple cross stitch design is the perfect choice. While you may go for black to keep it a bit subtle, going for blue makes everything cool and playful.
The Goddess of Flowers
In Greek mythology, Antheia was the goddess of flowers and wreaths. So if you want to channel you inner goddess, think of this cross stitch tattoo.
Rose Emoji and Face Tattoo
If you're looking for a tattoo style that will look great with your existing body art, think of a cross stitch design. As you can see, it juxtaposes other design in a quirky and playful way.
Ant Cross Stitch Tattoo
Do you know ants are a symbol of hard work, intelligence, and strength? A cross stitch tattoo will make the motif more artistic and a bit unexpected.
An Ode to the Holidays
Are you longing for the Christmas season? Why not wear the holiday spirit in your tattoos? It might be a tattoo your parents and grandparents might approve of!
A Classic Rose Tattoo
If you're looking for a timeless yet strong design, think of a rose cross stitch tattoo. But to make it more artistic, make it more detailed and add a uniquely textured effect.
Dreamy Purple Roses
The choice of color on your rose tattoo plays a huge role in its symbolisms. Do you know purple rose tattoos can represent enchantment or even love at first sight?
Cute Cross Stitch Tattoo
If you love all things cute and adorable, this cross stitch tattoo is perfect for you! You may even opt for bright colors and pastel shades that will give off a playful vibe.
A Bunch of Flowers Tattoo
When it comes to flower designs, the possibilities are endless. You may think of realistic and watercolor styles, 3D designs, or even cross stitch patterns.
A Sword and Heart Tattoo
If you're into tattoo symbolisms, think of a sword-and-heart design. While some use it to represent betrayal or broken heart, it can also symbolize courage of the heart.
Field of Flowers Tattoo
If you're looking for tattoo design that you'll love to wear forever, think of flowers. You may think of a field full of roses, tulips, daisies, sunflowers, lavenders, carnations, lilies and so on.
Cute Crab Cross Stitch Tattoo
If you love sea adventures, think of a crab tattoo. It can also symbolize wealth and renewal, and looks cute in a cross stitch design.
"Just Like a Fox" Tattoo
If you're into a mix of abstract design and animal silhouette, think of a fox tattoo. In many cultures, it symbolizes wisdom, beauty, and luck.
When You Love to Cross Stitch
If you want to bring the embroidery art to the next level, think of a cross stitch tattoo depicted with a needle. It says a lot about your playful personality and artistic side.
Tribal Armband Tattoo
In some cultures, tribal tattoos symbolize social status, spirituality, and family history, but you can always make the design more unique and personal to you.
A Dog's Silhouette Tattoo
Whether you want to show your love for your pet or simply find the animal symbolism fascinating, this cross stitch tattoo is perfect for you. Do you know it is considered a symbol of friendship and loyalty to some cultures?
An Armband Statement
If you're into bohemian fashion, this cross stitch tattoo will be the next level of your favorite bandana scarves, and will instantly channel your gypsy spirit in music festivals.
Who says tattoos must scream tough or edgy? These look more traditional and creative than the usual tattoo, and more approachable to minimalists and conservatives. Indeed, cross stitch tattoos are the new inking trend you should not miss!
Sours: https://www.lookslikecandy.com/cross-stitch-tattoos/
Tattoo simple stitches
65 Colorful Cross Stitch Tattoos Designs and Ideas
We lost many hobbies to the internet, but then again only the internet has the power to bring them back. Thanks to the internet, Grandma's favorite past time, "Cross stitch" is making a comeback and has found its place with the future generation. Cross stitching might seem old fashion. Something that is only for older women to make Bible verses to hang in their kitchens or to make flowers on pillowcases but some trendy, modern patterns can be found online that blend in with modern design.
Cross-Stitching and Tattoos?
Cross stitch and tattoos have more in common than you might think. When you combine these two art forms, you get colorful, vibrant, tattoos that look cooler than they sound. Both tattoos and cross-stitching have existed for centuries but have never been combined before until now. They are currently trending a trending tattoo. American TV show Ink Master also boosted the popularity of cross stitch when they aired an entire episode on this type of tattoos. It made people curious and interested in this new style.
What is Cross-Stitching?
Cross-stitch is a form of sewing and a popular form of counted thread embroidery. As its name suggests, cross-stitch is a double stitch diagonally crossing intersections, in which X-shaped stitches in a tiled, raster-like pattern are used to form an image. Cross-stitch is the oldest form of hand embroidery, dating back to the Middle Ages. Many folk museums show examples of clothing decorated with cross-stitch, especially from continental Europe, Asia, and Eastern and Central Europe.
The first cross stitch pattern book was published in Germany in 1524. Before then, women used to develop their own or families' traditional patterns and stitch styles and passed them down to their daughters and family members.
What is a Cross-Stitch Tattoo?
Many other art forms have always inspired tattooing. From watercolor and oil paintings to photography and line-sketch drawings. Now, the art of sinking ink is extending into stitching. These tattoos are nothing like your grandma's pillow samplers, though some tats might well be mistaken for them. Cross-stitch tattoos are a beautiful form of embroidery and look unusual and delightfully refreshing. Traditionally Cross stitch patterns are made on fabrics like Aida cloths or linens. But when you change its original canvas to skin, you get brightly colored and vividly drawn, textured designs that look like the ink has been sewn into the skin.
Some tattoo artists use the traditional cross-stitching of needlepoint and make the entire tattoo with a series of tiny Xs. These small little Xs need to be equally consistent throughout or the tattoo looks messy. Others mix the cross-stitch pattern with other styles. Nothing is off-limits, from the goofy to the anatomical. It is only a style, but like any other arts, it is what you make of it.
Cross Stitch Tattoo Designs
If you imagine grannies on the sofa with knitting needles in hand when you hear cross-stitching, then these awesome cross-stitch tattoos will surely make you think of the classic past time in a completely different light.
Cross Stitch Tattoos with Heart
Love heart patterns are very cute and feminine.
Cross Stitch Tattoos with Roses
Cross Stitch Tattoos with Floral Designs
Trendy Cross Stitch Tattoos
Filed Under: Cross Stitch TattoosTagged With: Cross Stitch, designs, tattoo
Sours: https://www.tattoomenow.com/tattoo-designs/cross-stitch-tattoos/
Tattooing for Beginners:👀 How to line, shade and more!
If it was assumed that he would not finish soon, then she helped herself with her hands, strongly pulling down his foreskin. In time with the movements of his mouth. Otherwise, she did everything, without hands, only with her mouth, he liked it more. Sometimes, immediately after, dry, kisses, she stood over him in a pose 69, took in her mouth and pressed her parted lips tightly to his mouth.
In this position, it was good that they caressed each other at the same time and finished at the same time.
Now discussing:
Listening to her, Roman never ceased to enjoy the beauty and grace of his one and only. Smoothing his bare back, he now and then kissed her neck and shoulders. - Oh Lerka, how cool you are in all respects. I'm just going crazy with you, I still can't believe that you are my wife. I just look at you, I immediately get up, not to mention touch and caress.
5172
5173
5174
5175
5176