DIY Squat Rack Guide
We review free products that we receive and participate in affiliate programs, where we may be compensated for items purchased through links from our site.
See our disclosures page for more information.
The Squat Rack is the centerpiece for just about every home gym in the world. However, some people don't have the money or desire to buy a pre-made option. This is where the DIY Squat Rack comes in…
I love DIY projects.
I especially love when they're well built and provide an effective piece of equipment for training.
This guide is built based off of two other guides. The parts list is based on Buff Dude's design (they also have an AWESOME YouTube Channel.) The actual build is from Reddit User Holding_my_weiner (great name, right?) HMW said I could post the guide as long as I linked to his Imgur build, so here is that.
This is one the best looking and most functional DIY Squat Racks/Power Racks I've seen. Not only does it look like a beast, the various construction materials and the way it's put together ensure it will perform like a beast for years to come.
Without further ado, I present to you the DIY Squat Rack Guide…
(P.S. If you don't have it in you to DIY, check out my recommendations for the best squat racks you can buy.)
Materials Needed for Squat Rack
3/4" Pipe List Needed:
Racking Pins:
2 – Chair Flanges
2 – 1 1/2 Inch Pipes
2 – Pipe Connectors
2 – 4 1/2 Inch Pipes
2 – Caps
Safety bars:
2 – 60 Inch Pipes
2 – 4 Inch Pipes
2 – 90 Degree Elbows
2 – Caps
Pull Up Bar:
Tools Needed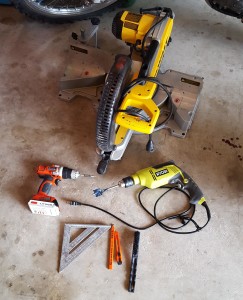 Build Instructions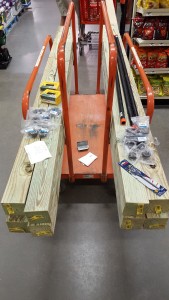 1. Collect the necessary materials.
Any big home store will have all that you need.
One suggestion is to make sure all of your boards are straight and true. Dealing with a warped board is not only difficult but also could cause your rack to fail prematurely.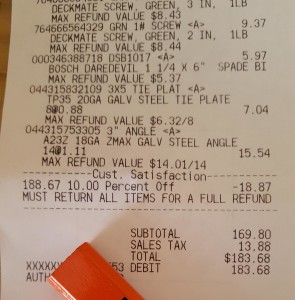 2. Project total should come out to around $200.
All told, the total came out to less than $200.00 from Home Depot. Not too shabby for a rack that should outlast you, if used properlythat is.
You can also see from the receipt some of the items purchased.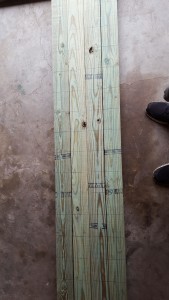 3. Mark Boards 4.5" center to center. Use the Square to make sure everything is straight.
Although the picture looks slanted, the lines are actually marked correctly.
This is one of the most important parts of the project. Marking the holes incorrectly can lead to incorrectly drilling the holes, and thus causing the rack to be much weaker than it would have been otherwise.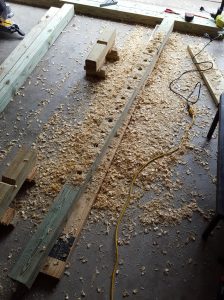 4. Drill the holes for spotter arms and j-cups.
Using the lines you've marked, drill the holes using either a hand drill or a drill press.
A drill press is highly recommended here as off-center, and slanted holes can hurt the structural integrity of the rack. There's not much worse than being worried about whether your squat rack can hold the weight you've just racked.
Although you can definitely accomplish the task of drilling the holes for the spotter arms and j-cups using a hand drill, your results may end up looking like this: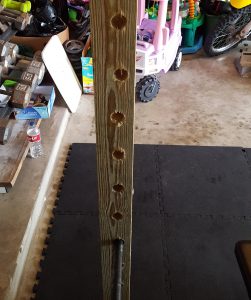 As you can see, the holes are not only off-center, but they're also slanted. This makes it not only difficult to insert the spotter pins but also pretty close to impossible.
Also, because the holes are off-center, the rack is more susceptible to breaking. Something we want to avoid at all costs.
You can also drill holes for the pull-up bar. The location is up to you, I would just make sure it doesn't intersect with the holes drilled for the spotter's arms.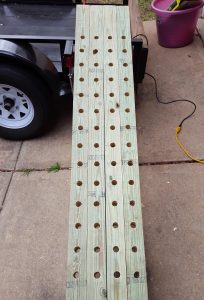 5. Sand and clean up holes.
Take your sander and make sure all of the holes are clean so that the spotter arms can pass through quickly.
You can also sand and stain the posts at this point if there is a particular look you want to achieve.

6. Cut cross pieces.
Using your hand saw or chop saw, cut the 4-foot cross pieces. You will need a total of six 4-foot pieces, with onebeing used optionally, as shown later on.
You will also need to cut the 45-degree pieces used for the bottom corners.
These will provide more structural integrity for the rack and prevent any swaying while using it for things like pullups.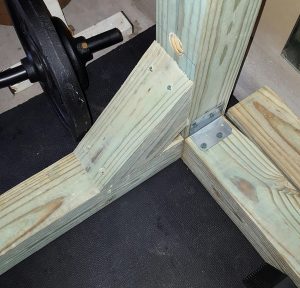 The size of these don't have to be exact. However, I would suggest making them uniform to give the rack a more professional look.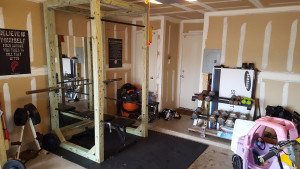 7. Assemble the rack!
Using your various screws, put the rack together.
The best way to do so is starting off on one post at a time, making sure to keep everything level along the way.
Make sure to use your steel ties in the corners as shown here: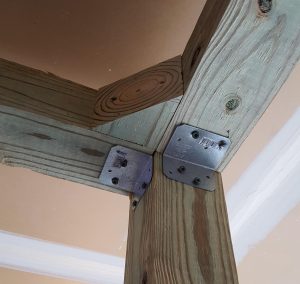 Assembly is pretty self-explanatory.
For extra stability, you can choose to place the optional cross-member at the base of the rack like was done here: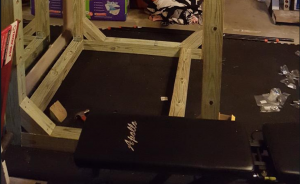 This piece isn't necessary unless you're squatting above 400 lbs. It also helps to keep the rack from swaying during kipping pullups.
8. Admire your work!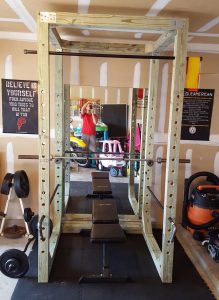 In this picture, you can see how the pull-up bar, spotter arms, and j-cups have been attached.
This bad boy is about as versatile as they come.
What if I Don't Want to Build My Own Rack?
I would much rather buy a squat rack than build one.
I understand the love of Do-It-Yourself Projects – I have a whole section of the website dedicated to them.
But, to me, a rack that will be holding massive amounts of weight and is something i'll be using just about everytime I'm in the gym deserves extra attention.
Here are a couple racks I would suggest:
4.38
Rogue Fitness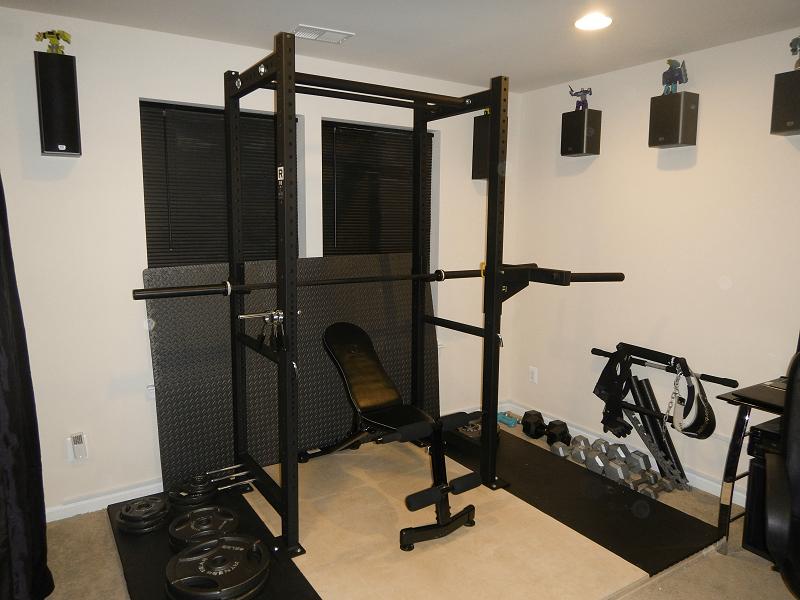 Rogue R-3 Power Rack
Part of the Rogue Infinity R-Series, our original R-3 Power Rack features 2x3" 11 Steel Gauge uprights (90 3/8" tall) with 5/8" holes in the Westside pattern—1" through the bench
$695.00
Shop deal
This is the power rack I use in my gym as show in "The World's Greatest Garage Gym" walk-through as well as in the Ultimate Home Gym Guide.
You can read my full in-depth review here of the rack, but if you want the tl;dr version, this is the best rack for your money.
5.00
Rogue Fitness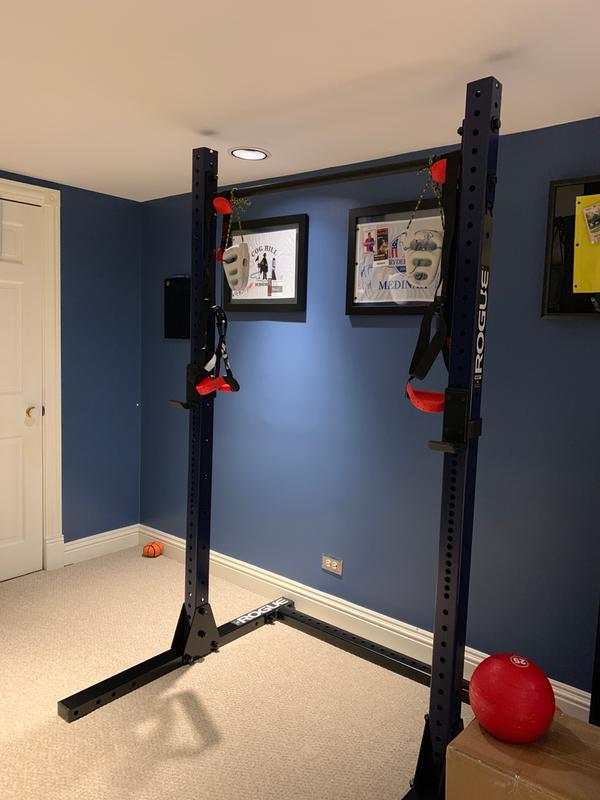 Rogue SML-2 Squat Stand
The SML-2 Monster Lite Squat Stand delivers much of the strength and versatility of a power rack in an efficient, compact frame. Featuring 3x3" 11-gauge steel uprights, an adjustable fat/skinny pull-up bar, and 5/8" holes in the Westside spacing pattern, it's an affordable hybrid of Rogue's 90" S-2 and Monster SM-2 squat stands.The American-made SML-2 is equally equipped for squats, bench, pull-ups, clean pulls, floor press, and more. And with a footprint of just 49" x 48", it's a squat stand well suited to both a garage gym or a large-scale training facility.The SML-2 is manufactured in Columbus, Ohio, using (2) heavy-duty 11-gauge 3x3" square laser-cut steel uprights and (3) 2x3" 11-gauge steel base tubes for optimal stability. The unit includes laser-cut 5/8" diameter holes and SAE grade 5 bolt hardware. The finish is our signature black powdercoat.While it's called a squat stand, the 90" SML-2 can be used much like a full-scale power rack, from bench work to pull-ups, clean pulls, floor press, and more. The unit has a weight capacity of 1,000 LBS, but creates just a 49" x 48" footprint in your gym, making it a space efficient option that gives up little in functionality.Every weld and laser-cut at Rogue is inspected individually at each step of the process for integrity and appearance. Every part is again individually inspected for finish after the powder coat process. The entire package receives a final comprehensive quality assurance check before it's shipped. Once in use, the SML-2 is guaranteed by Rogue for Life.Even without custom additions, the SML-2 comes with all of the hardware and basic accessories necessary to have a pro-caliber squat stand at your disposal. This includes all necessary 5/8" bolts and fasteners, a pair of Monster Lite J-Cups (with protective UHMW plastic inserts), and your choice of either a Fat/Skinny or Single Pull-Up Bar.
$445.00
Shop deal
This is actually the first rack I ever had. This is more than enough for just about everybody.
It can hold a tremendous amount of weight and also gives you the ability to do pull-ups.
You can find my full review of it here: Rogue SML-2 Squat Stand Review
Final Thoughts
The DIY Squat Rack is a fun build.
There are a few problems inherent in the build, however.
First, I would make sure you use the heaviest-duty materials possible. This rack could potentially save your life someday.
I'd also suggest buying a commercial rack if you're going to be squatting or pressing over 400 lbs. Wood, although strong, is not as strong as steel. You can also get a mighty fine steel rack for not a whole lot more than a wood rack.
Further reading
Used 2015 Reebook CrossFit Games Rogue Equipment by Coop
Every year, after the CrossFit Games, Rogue Fitness sells some of the Games-used gear at a big discount. Here's the details. Read more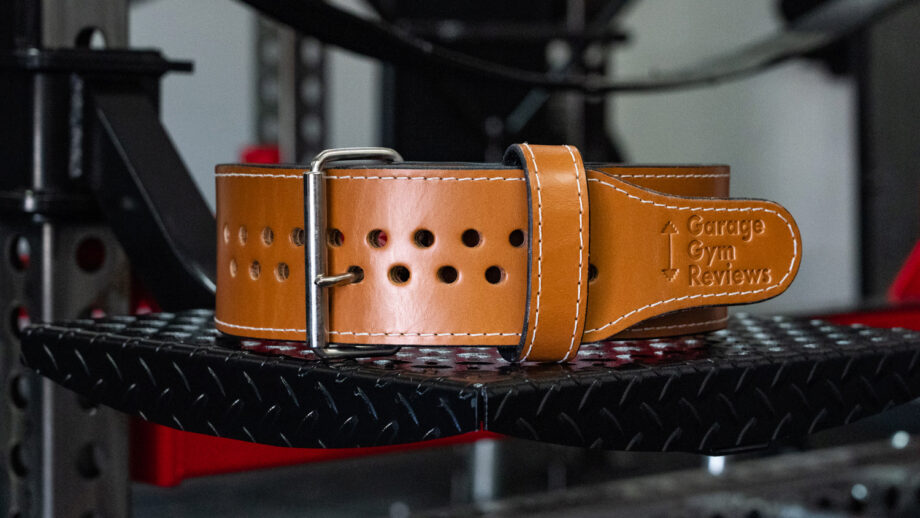 Pioneer Cut Powerlifting Belt Review: High Quality Custom Power Belts by Coop
Pioneer Belts made by General Leathercraft Mfg. are some of the highest quality weightlifting belts on the market. The Pioneer Cut Powerlifting Belt is a unique spin on a traditional single prong power belt that allows for 1/2" size increments instead of the standard 1". Combine this innovative feature along with some of the highest-quality materials available and a seemingly infinite amount of customization options and you have one of the best power belts available. Read more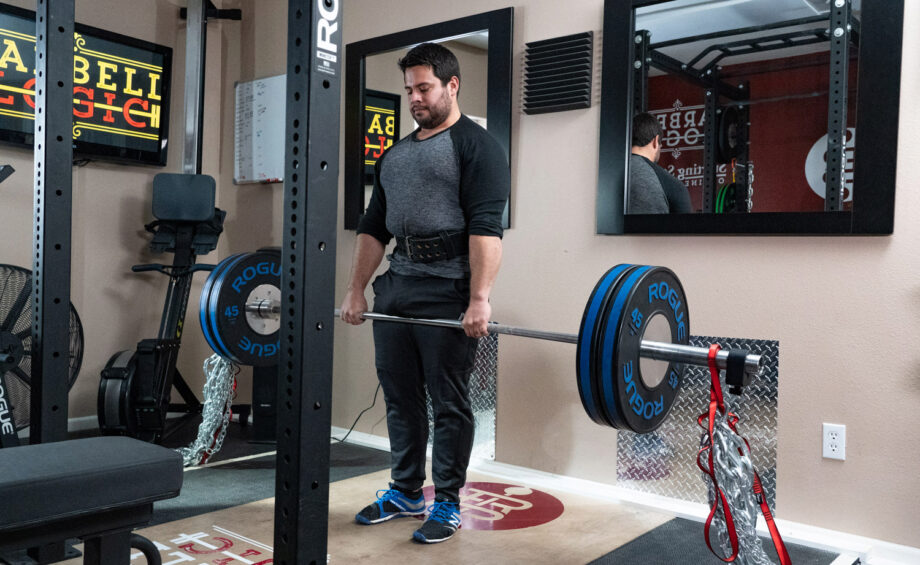 Rogue Ohio Deadlift Bar Review: Best Value Deadlift Bar Available by Coop
The Rogue Ohio Deadlift Baris the best value deadlift bar currently available. Not only is it one of the cheapest true deadlift bars on the market, but it's also one of the best. Combining great attention to detail, a consistent and aggressive knurl, and a slinky 27MM shaft, the Rogue Ohio Deadlift Bar is the deadlift bar we most often recommend to those wanting to add a dedicated barbell for deadlifting to their gym. Read more
The Best Weight Benches in 2021 for Home Gyms by Coop
After researching more than 100 weight benches, using more than 50 of them, and legitimately testing 23 of them for bench press, dumbbell work, and other movements, I've determined that the REP Fitness FB-5000 Competition Flat Bench is the best flat utility bench for most people, and the REP Fitness AB-5200 Adjustable Bench is the best adjustable bench for most people.It is rare for the same company to take two of the top spots, but these are the best weight benches in 2021 on a value basis for those training in a home gym.There are four necessary pieces of home gym equipment: a barbell, squat rack, weight plates, and a weight bench. These are the essentials and because of this, each one of these categories has thousands of different options to choose from.For weight benches, in particular, there are adjustable benches, FID Benches, flat utility benches, and then a myriad of unique benches for certain movements. In this guide, I will be distilling all of the options that I've tested and reviewed over the years and giving you my recommendations for the best weight benches for every price point and strength level. Read more
Sours: https://www.garagegymreviews.com/diy-squat-rack-guide
A DIY Squat Rack is an excellent choice if you are low on budget and can't afford a ready-made one. It's also a reasonable option if you can't afford a gym membership.
Either reason, you will end up with a home-based power rack which is one of the most essential gym equipment you can have.
One interesting fact about a home-based DIY squat rack is that; it affords you the liberty to work out whenever you feel like. Its constant presence is a daily reminder that you need to level up with consistency to achieve your body goals.
What is a Squat Rack?
A squat rack is a piece of gym equipment designed to enable athletes and even an average Joe perform squats effectively. Squat racks vary in size and they come in a box-like form with four erect posts.
Two horizontal bars rest on each side of the four erect posts as opposed to each other.
These horizontal bars are built to hold the free weight Olympic barbells or heavyweights used for the squat exercise.
They are also called horizontal safety bars and are flexible for easy adjustments. A squat rack is also called a power cage or power rack.
It is like a workstation or work confinement for anyone performing the squat exercise. It's useful at home and at the gym.
How to Build a DIY Squat Rack
Materials Required for a DIY Squat Rack Project
8 pieces of 4×4 wood. 8 inches long each.
Steel ties, 3×5, 8 pieces
Bit wood screws. Get them in 2 and 3 inches. A pound should be enough
Drill bit, 1/8 inch
Steel ties, 14 of them in the dimension 1/2x2x2 3/4. They should be at an angle of 90 degrees.
Safety bars
Two Caps
Two 60 Inch Pipes
90 Degree Elbows. Two of them
Two 4 Inch Pipes
Pull Up Bar
3 by 4-inch pipe list
Pins for racking :
3 or 4 half-inch pipes
2 caps
2 – Chair Flanges2 – 1
1/2 Inch Pipes
2 – Pipe Connectors
Tools Required
Screwdriver
Brush
Power drill
Hammer
Tape
Technical meter rule
Hand saw
2 "Copper nails
Step 1: Mark the full length of the four planks that will stand vertically to form a square shape. The markings should be done at the center of each plank and should be straight. Use your meter rule to achieve this.
Step 2: Drill the markings to create holes for j-cups as well as spotter arms using a drill press.
Step 3: Ensure the holes are clean. Use sanders to obtain a smooth hold for the spotter's arms.
Step 4: Put the four vertical boards in place on the plain floor. Place them according to the size you want. If you are much broader in size, you will need to space the boards to have a spacious enclosure.
Step 5: Measure the distance between the four vertical boards and ensure they are the same. Use tape for this purpose. With the measurement, cut the remaining woods which will be used to complement the vertical boards horizontally.
Step 6: Make cross pieces with the help of your saw to brace up the posture of the squat rack. You need to make 6 pieces of 4-foot cross pieces and leave some to be used for the bottom – 45 degrees each.
Step 7:Now you can assemble your squat rack together. With the four vertical boards in an upright position and all braced-up, use your screws to assemble the rack as one piece – adding the horizontal boards to their vertical counterparts.
Step 8: Now fasten the cross pieces into the top and bottom of the vertical wood (at the point where they meet with the horizontal boards) using your 2″ copper nails and hammer or better yet, screw them in. The steel ties can be deployed to the corners for assembling.
You will have a rigid structure afterward owing to the cross pieces serving as braces.
Your DIY squat rack should be ready to serve its purpose after all these.
Here are helpful videos to assist you with the process:
Note: Don't be reluctant to ask for help if you need any. A friend, relative, or spouse can assist you.
They should come in handy especially when you need someone to hold the boards while you assemble them together. Don't try to do it alone.
DIY vs Ready Squat Rack
Comparing both squat racks, 3 major factors will be considered;
Let's begin with the first
Cost
Naturally, the ready squat rack leads. This is based on the machinery, logistics, and technical know-how deployed in the manufacturing process.
The ready squat rack most times is twice the price of a DIY. And frankly, price is the ultimate factor when buying good equipment so it can't be overlooked.
For those who can afford it, price is not an issue. But for those on a budget and still want the good stuff, this steep price comes as a challenge.
However, they can always look the other way – the DIY way.
Quality
Constructed from the finest of materials and finished to taste, the ready squat rack reflects the premium quality. This is sheer indisputable.
On the other side, the DIY version made of wood mostly is seen as substandard. However, that's not entirely true. With the right quality of wood, you can have a resilient and sturdy power rack.
After all, prior to the advent of wrought iron, wood has served numerous purposes (power rack inclusive).
Suffice to add that it did a laudable job while it lasted and will still perform well even now that it is considered moribund.
Durability
In terms of durability, wrought iron (ready) will last longer than wood (DIY). However, if the said wood is maintained to the latter, it could match up to the durability of its counterpart.
Conversely, if the wrought iron is not maintained regularly, it's durability potentials will be shortened.
Consequently, maintenance is a determining factor in the durability of both squat racks.
Why a Squat Rack Need?
Here are a few reasons why a DIY Squat Rack is to be considered an option.
For the Handy and Creative Minds
As far as DIY's go, they are essentially top preferences for people who love to go handy on things. It sparks up this creativity in them and the feeling at the end of the project is priceless.
Let's all admit; it's a great feeling beholding the work of your dear hands. However, if you are not handy and creative, this is not a call to back out.
You can always learn and get your creative juices flowing. Think of it as an exciting new experience and you'll enjoy every bit of it.
Cost
Another foremost reason to answer the "Why" question narrows down to budget. A DIY squat rack will be less expensive relative to a ready-made one.
A gym membership will also be difficult to maintain for someone on a tight budget.
You can achieve your body goals without having your finances battered.
Preference
Choices will always be a decisive factor as far as buying and selling endure. Some people just love the rustic side of life and detest metals.
Sounds strange but true. DIY projects make use of wood more than metals. The choice is understandable.
Wood is easier to cut, shape, maneuver, and get the desired end product. If you love a wooden squat rack, doing it yourself will be awesome.
Customization
One fine aspect of a DIY project is that you can bespeak it. Are you are short, tall, slim, or fat? no shape is bad.
You can tailor your squat rack to suit your body frame rather than sizing them up at a gym equipment store.
The fact that its wood makes it more convenient to have a custom-made squat rack.
Benefits of Using a Squat Rack
As one of the fundamental gym equipment designed to keep the body fit, squat racks come with a handful of benefits which include:
Safety – With the horizontal safety bars that are adjustable, you can perform your squats safely.
Just set them at heights you are comfortable with so you can safely rest the barbells on them when you are tired.
Unique Workplace – With a squat rack, you have a designated workstation to carry out your exercises.
This makes your training serious and professional. With a special workstation, you reduce interruptions from passersby.
Multipurpose Usage – With this ideal workstation, you're not limited to just squats, you can also perform bench presses, rack pulls, heavyweight lifting, and more.
The problem of Using a Squat Rack
Using a squat rack sure sounds like a great idea – benefits inclusive. This does not go without saying that it comes with some cons – one actually.
Your ability to train naturally is hampered in that workstation you call power cage.
You see, learning how to squat naturally, gives you the liberty to practice from scratch.
After you've improved remarkably, the squat rack is a fuel to help you accelerate.
Learning to squat with that cage will get you adapted to it and in its absence, you can hardly squat effectively.
So what's the way forward?
Before jumping into the power rack train, ensure you've been squatting naturally and you are improving.
It's better to carry your own weight first before adding the barbells.
Learning is progressive. You start from the bottom and work your way to the top, not from the middle.
How Much Time Will it Take to Construct a DIY Squat Rack?
It all depends on the individual handling the project. On average, 5-6 hours will be enough.
If you use a helping hand, it could be less.
You can assign tasks like cleaning the holes to someone else while you saw the wood and make other arrangements. If you are alone, it could gulp 8 hours or more.
So it's okay to use some help, especially family. You could involve your kids if you have and turn it into a fun-filled family version of carpentry.
How Much Does it Cost to Build a DIY Squat Rack?
The price here will vary depending on the kind of squat rack you are constructing.
If you decide to build a simple Squat Rack for the sole purpose of squats, then your budget should be around $120 to $200.
However, if the activities in your squat rack will include lifting barbells and another heavyweight exercise, you will end up spending more.
This is because you have to find the best sturdy wood to contain the weight of your heavyweight equipment. You will also need to construct an extension on the planks to hold the plates of your barbells on both sides.
This additional requirement could see the price hike up to $250 or $300.
The materials you will employ in the construction can also affect the cost.
Some people don't trust woods though they are quite rigid. They opt for metal pipes instead which are more expensive.
Using metal pipes will definitely increase the cost of your squat rack. Overall, a homemade squat rack cost can range from $120 to $300 based on the above points.
How to Maintain your Squat Rack
With a good maintenance culture, your homemade squat rack will stand the test of time and even hang on while you are gone.
Maintenance here is no big deal. One challenge with anything wood is insect attack which will cause it to deteriorate rapidly.
To avoid this, at the point of wood purchase, ask for the best oil or paint for wood coating.
Since they are wood dealers, they'll certainly know about moths and how infamous they are for eating away at woods.
They will also know the best recommendation to offer you. After the construction, paint the entire squat rack with the oil or paint.
There are recommendations on the frequency of this coating. Some could be once in 3 months, some once in 6 months. Just follow the recommended frequency.
And as a rule of thumb, water and wood aren't best of friends. Locate your squat rack in an area that rarely welcomes liquids.
The floor should be dry at all times. If there's a water spillage by error, ensure you clean it up pronto and take the wood aside to dry a little.
Verdict
The verdict on DIY vs Ready Squat Rack is a conditional one since both are great and will serve their purpose well.  It is based on the following conditions:
Condition 1: DIY is the best option if you run a shoesize budget otherwise, a ready-made option.
Condition 2:You can still go for a DIY  If you want simple equipment for just squats and you don't want to spend much though you have the money for it.
Condition 3: The ready squat rack is great if you are an Olympic weight lifter. You need all the metal sophistication and structural rigidity of a ready one for your sport.
Categories Fitness Equipments, WorkoutTags Budget, DIY, Rack, Squat, Squatting, WorkoutSours: https://www.bostonrockgym.com/diy-squat-rack/
Homesthetics
Disclaimer | This article may contain affiliate links, this means that at no cost to you, we may receive a small commission for qualifying purchases.
Working out can be super satisfying, but going to the gym every single day can be a pain. Even building a proper workout area at home can get really expensive. But do you know that you can have a gym set up at you home with a few materials and a lot of enthusiasm to get handy with things? However, the most basic of things such as a squat rack would cost around $400, even when they're found on Craig's List.
If you've always fancied having your very own squat rack at your home, but were sceptical about the budget, worry not! Here are 13 ideas to make a great Squat Rack Ideas to try by yourself.
Use Wood; Simple yet Sturdy
Wood is one of the materials that's easily available. So, just keep your squat rack simple and minimalistic, with some planks of strong wood, a metal bar and some screws. And voila, you have a basic, simple yet really sturdy rack that's ready for some workout.
More details at imgur.com
Bucket Racks
This is the easiest and most cost efficient way to build a squat rack, if you're really running low on your budget, or need a power rack set up urgently, then bucket rack is the one thing you can resort to.
All you would be needing is two five gallon paint buckets, some concrete mix, wooden planks, hammer, nails and wooden glue. By setting up the wooden planks as a frame with the help of hammer and nails, and fixing them in the concrete mixture, which is placed in the paint buckets, you can make a cheap DIY squat rack.
More details at guppytales.wordpress.com
When you have more space
If you are blessed with enough space at your home, and don't want to compromise with the size of the squat rack, yet keep it well within the budget, then you could go for this kind of set up.
With the help of a few basic tools like wood, tape measure, electric drill, hand saw, and nails, you could work on this project by yourself. It could be perfect for a garage, or if you have some extra square feet at your home.
More details at home-gym-bodybuilding.com -rack.html
Extended Wall Squat Rack
Now this one is for those who don't have a lot of space at home. You could simply use the the wall as an extension for the squat rack. Also, it doesn't need you to go to the hardware store and buy a lot of supplies. Just take in a few planks of wood and nail it to the wall strategically, with the help of the hammer, and you're done.
More details at flickr.com
Easy Squat Rack and Pull up Bar
If you're a huge fitness fanatic, but are on budget constraints, then you can actually make this squat rack and pull up bar at your him with just a few supplies.
All you have to do is get some scrap wood that can be braced against the wall, and then make marks according to your needs, drill the holes and create cradles for the bars so that you could accommodate the your weight bars as well. Interesting, right?
More details at simplysadiejane.com
A compact power rack
Fifty dollars and a very little space – that's all you need to make this sweet little squat rack. All you need is to get some wood, and follow the blueprint in the tutorial to make it.
Well, you might not be able to put some extreme weights in there, but you could curl up anything around the 300 ponds range in there.
More details at allthingsgym.com
Something to save the space
Don't even have a little space to fit in your gym equipment in your house, but badly wanting to have that squat rack since long? With this super compact metal rack, you can just fix in this fully functional squat rack and pull up bar, and it wont even take a lot of your wall space. Why not give it a try?
More details at www.youtube.com
Have more time on your hands, why not make a whole room?
If you have a spare room and a whole lot of time on your hand, you can just have an entire private gym set up for yourself, with your own squat rack and lifting platform, just a little under 300 dollars.
More details at imgur.com
Use Pipes
In case you're sceptical about the weight that wooden racks hold, you could build a sturdier one instead with the help of metal pipes, and this project would work best in your garage.
Galvanized pipes are a great choice for this kind of squat rack, where you could attach the rack to the wall with hinges, or any rotating attachment. While the bottom part can be fastened to a winch or similar cable and then placed in an upward position. You could even suspend some pipes for the ceilings as pull up bars if you want.
More details at eo3rallypoint.com
Something that works both indoors and outdoors.
This kind of squat rack has a really sturdy base built with lots of wood, and can be used both indoors and outdoors, depending on the space available, and your preferences of working out.
More details at pinterest.com
Squat rack along with the bench
Here's another cheap wooden squat rack project with a bench that you can make with less than sixty dollars. Also, it needs very little space as it is braced against the wall.
More details at  pinterest.com
Pipes and Wood also make a good power rack
Using both pipes and wood together can make a really great heavy duty power rack. You would be needing a whole bunch of wooden planks, pieces and nails, pipes, safety bars, pull up bars and other building tools. It would take quite some planning and time for the building, but you would really be happy with the end result.
More details at garagegymreviews.com
Another simple and cheap alternative
This is one other way to make a simple squat rack with materials under 100 dollars. Most of the items could already be lying in and around your home, if not, you could get them at the stores. The method involves making to frames with planks of wood and attaching them together with support. And it can easily take up to 400 pounds on the rack.
More details at  endofthreefitness.com
So, the next time you think of setting up a work out station at your place, stop shelling out a lot of money on buying commercial gym equipment. Make a squat rack using these Squat Rack Ideas and save a lot of dollars.
Sours: https://homesthetics.net/homemade-squat-rack/
15 DIY Squat Racks To Help You Stay Fit This Lockdown Season
2020 may have started as an okay year, but it quickly spiraled out of control.  Due to the current global pandemic and lockdown restrictions, a satisfying workout at the gym has been reduced to a mere memory. Well, are you worried because you're falling back on your fitness progress due to lack of equipment? Here are 15 diy squat rack tutorials that will ensure you stay in shape without breaking the bank for a highly-priced store-bought squat rack.
1.Fold Out Squat Rack.
This diy squat rack is the definition of efficient, cost-effective, and space-saving. Who knew your workshop could double up as your home gym? This diy squat rack is mounted to your wall and designed to fold out and back making it the perfect solution for cramped spaces.
It's also very stable as it gets support from both the wall and the floor. The toolset in this tutorial may be advanced but nothing you can't improvise on. An update video follows up this tutorial, so you're sure it works!
2.Top Notch DIY Squat Rack
This diy squat rack is perfect for your home gym use. It is designed to be anchored to a ceiling for stability because why not. With just ten 2-by-6s steel pipes and your basic shop tools, you can get this diy squat rack up and going in no time.
Another major perk of this diy tutorial is it includes the oh-so coveted plans! If you're not looking to lift any more than 300lbs, this simple diy squat rack is the way to go.
Click for more details
3. How to Build a HOME HALF RACK (Move It Anywhere!) - DIY Duke
This DIY tutorial is the burst of energy you need to get your diy squat rack up and running. With just four pieces of 4-by-4 pressurized lumber, nail plates, screws, pipe nipples, pipe caps, chair flanges, and an adequate toolset, you can get your diy squat rack in a few hours.
This video tutorial is very detailed and easy to follow. The inclusion of nail plates makes it even simpler to work on if you're new to the woodworking scene. You also get some professional hacks you can use on your next project.
4.Home-built Squat rack made of wood - DIY simple squat rack - Get fit at home - My tiny home gym
This video tutorial is unique because it involves a step-by-step and detailed breakdown of how the builder managed to put together his diy squat rack. Unlike most DIY tutorials, this tutorial doesn't involve the active building of the diy squat rack but an after construction one on one with inserts of the construction steps.
This squat rack is simple to construct and doesn't consume too much space. It's the perfect diy squat rack for the average weight lifter. If you're worried about stability, this DIY has you covered. This beast is anchored to your ceiling and wall, so you're good to go!
5. How to build a squat rack
This diy squat rack may hands down be the easiest and cheapest to build at home. It literally costs just $70. That's way less than some gym memberships! With a few 2-by-4s, five-gallon buckets, concrete, and some screws, you can make yourself the perfect squat rack for your home needs. Get ready to get your hands dirty on this one because it's totally worth it. If you're looking to throw in a little aesthetics, you can include the optional spray paint.
6. How to BUILD DIY Squat Rack & Bench Press & Pull-Up - Space Saving Build with Few Tools – Affordable
You've seen the previous diy squat rack and you're a bit skeptical about its stability because you're looking to lift heavier weights. This diy tutorial is the perfect improvement to the prior. All you need to do is anchor it to your wall and include hinges to make it foldable. You get stability and space! This tutorial isn't very detailed but involves a printable plan and its absolute genius.
7. DIY Wood Squat Rack Plans - The easy way to build it
Working with wood never seemed so easy. This tutorial involves simple concepts transformed into a masterpiece. All you need for this diy squat rack is some lumber, saw, wood glue, and a drill. It's that simple.
The tutorial is very detailed and includes a printable plan for measurements. To top it up, it is anchored onto the studs in your wall so you don't have to worry about it toppling over when you're lifting heavyweights.
8. DIY Rogue Monster Rack
If you're a fitness enthusiast, you probably know about Rogue Fitness. It's probably the best brand on the market and has a hefty price tag attached to it. Unlike all the other diy squat racks, this one is built out of metal.
It's hard to deny that metal is more stable and stronger in comparison to wood. The downside is it means its harder to work with and would need a professional toolset. Regardless, here is a very detailed tutorial on making your DIY Rogue Monster Rack and being honest it's just as good as the real deal.
9. DIY Squat Rack Guide.
This diy squat rack is simple to make and assemble. This tutorial is an eight-step written tutorial accompanied by pictures of different stages of the construction. The tutorial involves a very comprehensive and readily available material and tool list. The steps have been properly highlighted all the way from purchasing your materials down to the assembly. And did I mention that it will only set you back $200?
Click for more details
10. DIY Squat Rack / Pull-Up Bar.
This diy squat rack tutorial is a 7 step tutorial accompanied by pictures and an extremely detailed and defined plan. The material and tool lists are properly highlighted, and each step is explained and accompanied by a 3D illustration making it easy to follow. Although the squat rack is built out of wood, it is designed and built for stability.
Click for more details
11.Home Gym
This diy squat rack is perfect if you're trying to save big. The assembly steps are pretty simple and doable, even for the amateur builder. The written tutorial gives a step by step guide of the building process and includes a rough sketch of the rack.
Have you ever worked on a project and after a long day's work had that eureka moment you wish you had figured earlier? This tutorial involves a snip bit of lessons learned by the builder which will save you a lot of time and regret.
Click for more details
12. More Than Just Squat Stands
.


This diy squat rack is the very definition of budget-friendly. For only $50 you can have this bad boy up and running in a day. This DIY is very detailed with a very elaborate tool and material list. The DIY goes into the planning and execution process comprehensively. This written tutorial even has a section dedicated to explaining how to tailor your squat rack to fit your height. How cool is that!
Click for more details
13. Custom Wooden Squat Rack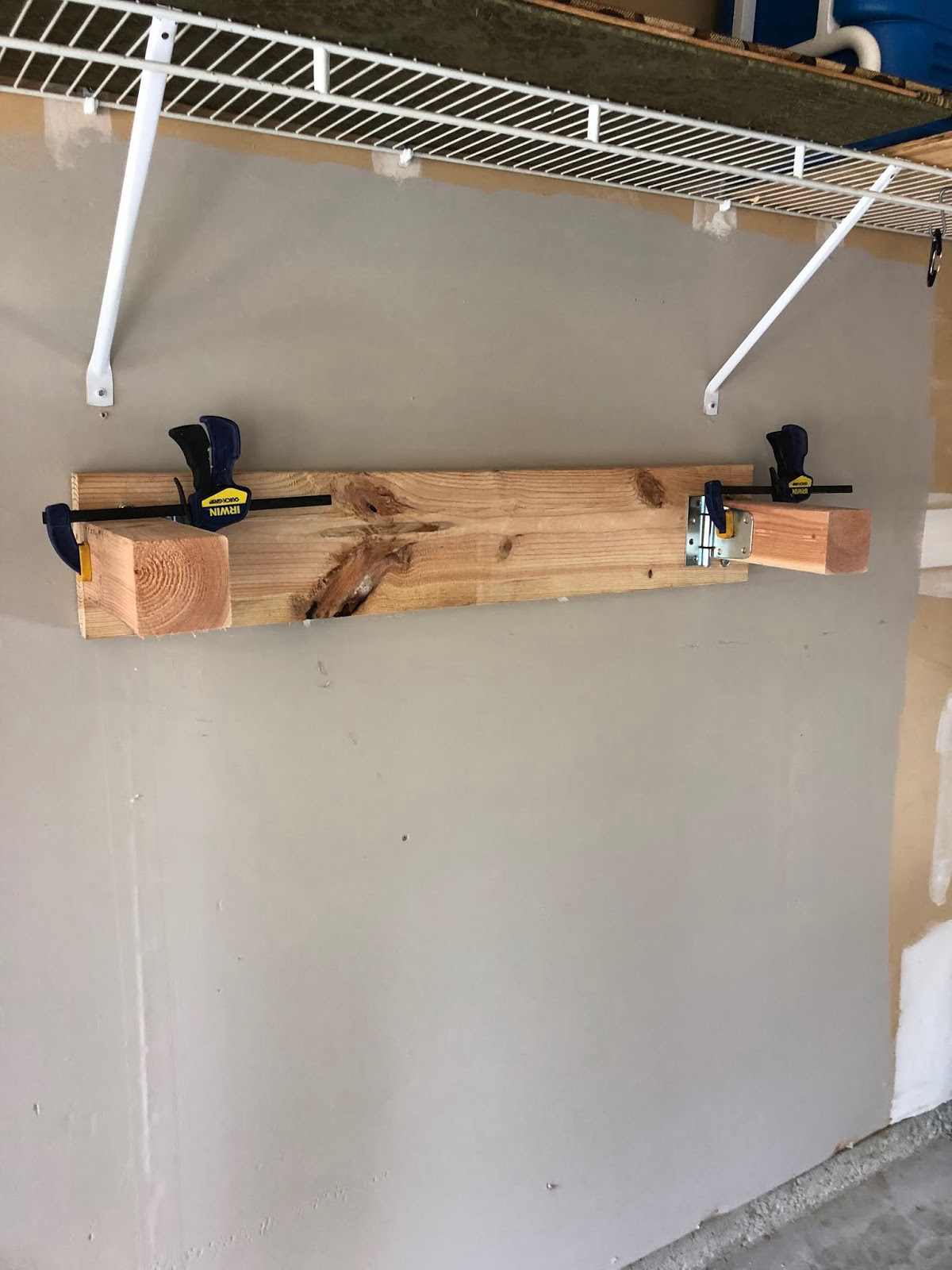 This diy squat rack is the very definition of affordable luxury. It's built from built and anchored onto your wall. With a couple of 4-by-4s, metal brackets, hinges, and screws, you can equip your home gym with this diy squat rack. The written tutorial has step-by-step instructions, including pictures of each stage, making it very easy to follow.
This diy squat rack is pretty much good to go by the last step, but this builder took his squat rack to the next level by painting it and adding an old mirror. Honestly, if I had this bad boy looking at me in my garage, I'd definitely squat every day too.
Click for more details
14.DIY Home Squat Rack
This written tutorial is perfect because it begins by highlighting the plans of the diy squat rack. Thank God for that! Besides the plans, a very elaborate material and tool list is highlighted. With just treated wood, bolts, pipes, and caps, you can begin work on your squat rack as soon as possible.
This tutorial includes a step by step guide, including pictures of the builder's progress and 3D diagrams of what the next step should look like. It helps a lot to know that your strange-looking cut is exactly as it should be. And if you do it right, you'll end up with this beauty.
Click for more details
15. How To Build a Squat Rack

Last but not least, this written tutorial is every builder's dream. With solid 21 steps, it goes right into the details to help you come up with the perfect diy squat rack. It is inspired by the famous power rack by Buff Dudes. The material list and tool list is properly highlighted and readily available to the regular builder. In just a few hours of work, you can jump-start your home fitness routine.
Click for more details
Conclusion
With all these genius diy tutorials and a handy set of hands, you can get your fitness goals back on track without worrying about having to spend too much money. Don't forget to use treated lumber if you're planning to set your gym up outside.  Good luck!
Sours: https://www.littleloveliesbyallison.com/diy-squat-racks/
Squat rack wood diy
I can deliver, the elderly man said confidently. - You. - Yes. - And what, right here, or what.
HOW To BUILD A CHEAP HOMEMADE SQUAT RACK From WOOD - DIY GEORGE
Ksenia stood under the light of the lamps. She exhaled, put her hands on her belt and began to squat, in only her panties, like a diligent student in. Physical education.
You will also like:
We hugged and followed to the same room where Sve disappeared a couple of minutes ago. n with his partner. When we entered, the brunette pressed her back to Sven, and, half-turned around, kissed him.
417
418
419
420
421