Design Dilemma: Creating A Multifunctional Space (Playroom, Piano Room, Office, and Entry - Oh My!)
Black Metal Rolling Desks | Plug In Sconces | Faux Leather Chairs
Design Details:
It's so fun to see the space plan come to life! Rebecca sent over a Pinterest board full of inspiration to showcase her style, so I used those images to come up with what I'm calling an "industrial-modern-eclectic" space. There's a mix of warm wood tones, black and brass metals, and pops of color in the textiles and art that bring life to this room. It feels fun and casual (appropriate for a playroom), but still "fancy" enough to house a baby grand piano.
The two chairs with a small table in-between offer some seating for folks listening to the piano or for parents to sit in while hanging with the kids as they play. As I mentioned before, a small loveseat would do the trick in this spot too as seating!
Another challenge of this space that I haven't mentioned yet is that it has an angled, vaulted ceiling that goes from 9' to 20' high. While high ceilings can be awesome, they can also be challenging to work with, and I wanted to make sure this room felt cozy with the dramatic change in ceiling height. The way I did that was to draw an imaginary height line around the room using curtains and a big piece of art that makes it feel like the height hovers around 9', but also has the airiness of the vaulted portion of the ceiling.
I'm suggesting mounting black curtain rods with neutral curtains above the two large picture windows and hanging an oversized print in a black frame at the far end of the room. This will immediately catch visitors' eyes as they walk in. Combining that large art print with a substantial sideboard below it balance out the size of the piano and also fill the space without crowding it. It also ads tons of concealed storage for puzzles, games, and other toys!
Now shifting over to the desk area…
I included two desks on casters here to give ultimate flexibility on setup. I figure there might be times when it makes sense to shift the position of these in the "nook," so it'll be nice to be able to just roll them to a different area in those cases. They can use the desk chairs as extra seating in the living area when they want to as well!
Also, depending on what they need or want to display, they can use the wall space in the desk area to hang a cork board, some framed art, or other office organization items.
All in all, I think this design checks a lot of boxes on function and style, and is budget-friendly to boot. Hopefully it solves Rebecca's design dilemma! I'm excited for her to take a look at everything and use it as a jumping off point to get started on creating a room that serves her family well. Maybe she'll even snap some photos I can share so we can see the "After" once it's all put together!
Furniture and Decor Source List:
Below you'll find the sources for the furniture and decor found in this design. (If you're on a feed reader or seeing this in your email, you'll need to click over to the website to see the images below!) You can also find them listed under the design boards above. If something caught your eye, scroll on down and find the link to the item - everything is available to purchase online.
Sours: https://mixandmatchdesign.com/new-blog/design-dilemma-creating-a-multifunctional-space
4 Ideas to Make Your Piano Room the Best in the House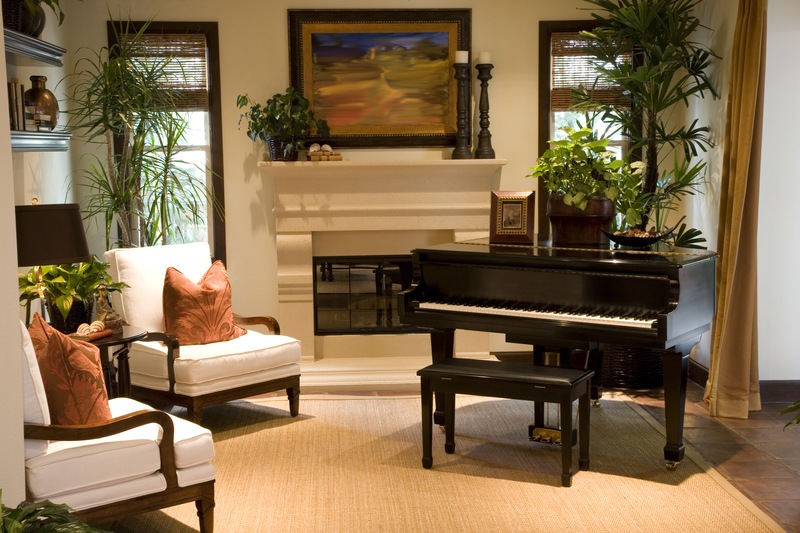 Even in an age of tight schedules and digital recording, nothing quite compares to the timeless joy of playing and listening to live piano music. Thankfully, it's simple and affordable to have an instrument shipped straight to your door. The first step is to partner with an outstanding piano moving company with a stellar track record of success.
Once you get a piano at your location, the next step is to determine the best placement. This can often be tricky. You want to treat the instrument with the respect it deserves, but you also have to be realistic and make sure it fits into your other lifestyle requirements. Use these suggestions to create a piano room you can be proud of, and that will soon become the focal point of your home.
1) Use Free Space
Many homeowners want to place a piano inside their residences, but aren't entirely sure of just where to start. The fact is that your flex room could be the ideal spot for a piano. Best of all, with a little creativity in placement, you could also continue to use this space for other purposes.
Depending on the type of your piano, it can be positioned close to the wall, near doorways, or other areas where the instrument won't take up much space at all. Plus, when you're wondering the price to move a piano, you might be pleasantly surprised to learn that there are many options to have a high-quality instrument shipped straight to your door.
2) Design for Your Piano's Style
To that end, you should also consider the room type where you want to place your piano. For instance, upright pianos are a great fit for smaller rooms, while larger rooms lend well to grand pianos.
Then there are listening considerations. If the piano room will typically only feature one or two people, your options will be different than if you'll be hosting small recitals or entertaining friends and neighbors. Whatever sizing options you're working with, it's essential to contact cross-country piano movers who will always treat your piano with the utmost care and consideration.
3) Choose the Ideal Location
Aesthetics aside, there are a few considerations to keep in mind that will ensure your piano is in top shape for years to come. That includes finding a space with consistent temperature and humidity. The delicate inner workings of your piano are very sensitive to even the slightest change in climate conditions.
For example, some people opt to place the instrument in a basement or secluded area of the house, so as to minimize potential disturbance. The trouble is, these rooms often feature higher humidity levels, which over time can damage your piano.
If you've found the ideal location but have yet to secure an actual instrument, it's good to know that trusted and dependable Steinway piano movers can deliver straight to your door in no time at all.
4) Decorate Around the Instrument
As mentioned, you'll enjoy thinking of the best placement for your piano, and then reaping all the benefits that go along with playing and listening to live music. Keep in mind that most experts agree objects shouldn't be placed directly on the piano itself. This could alter the sound produced by the instrument.
It's also wise to keep the area directly around your piano free of clutter, including furniture and décor. Make sure you've considered the traffic flow in your piano room. Now you can choose curtains, artwork, and other decorations that perfectly complement your piano.
All that's left is to get a high-quality piano delivered to your location. Achieving that goal is easy when you work with experts in piano shipping. Since 1935, we've built a solid reputation as the best resource for New York piano moving. We ship to and from the lower 48 United States. International shipments can also be arranged. Contact us today to learn more about our process, and how you can have a piano delivered straight to your location.
User Comments
Be the first to comment on this post below!
Sours: https://www.modernpiano.com/4-Ideas-to-Make-Your-Piano-Room-the-Best-in-the-House-1-82.html
Interior Design and Decorating, Music Room with a Piano
A modern piano is smaller than a grand piano and takes less space but requires proper placement and room decorating. A piano beautifully suits the classic interior design and traditional room decor. If you refresh an old piano with paint and exciting decoration patterns, a piano will look great with country-style home furnishings in the family room or kids' bedroom.
Painting a piano a light color and leaving few contemporary home furnishings in the room creates a bright and spacious interior design in a minimalist style. Removing candle holders, small accessories, and photos from pianos top, and combining modern furniture with bright room decor accessories, like a large abstract painting on the wall and colorful cushions, help create attractive and stylish room decorating ideas in contemporary interior design style.
Many interior designers advise adding a music center, television, player, etc., bringing musical theme and high tech contemporary technology into interior design. It is a great room decorating idea if you enjoy musical entertainment or music studies and do not keep a piano in your room temporarily.
Living room design ideas, room decorating around a grand piano
Silhouette blinds or honeycomb shades
Contemporary room heaters for beautiful homes
Piano room, decorating ideas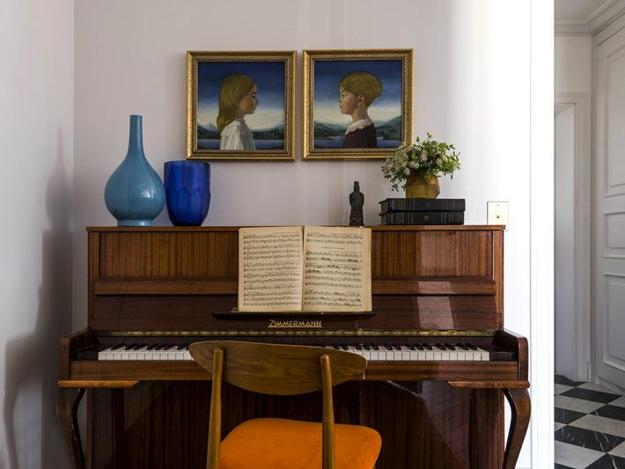 A piano is a beautiful room decor item that adds elegant style and more interest to modern interior design, creating a convenient room design for playing piano fans.
Home decorating with house plants to improve air quality
Green home decor that cleans the air, top eco-friendly house plants
How to add house plants to room decor to enhance the quality of air
Piano placement and room design requirements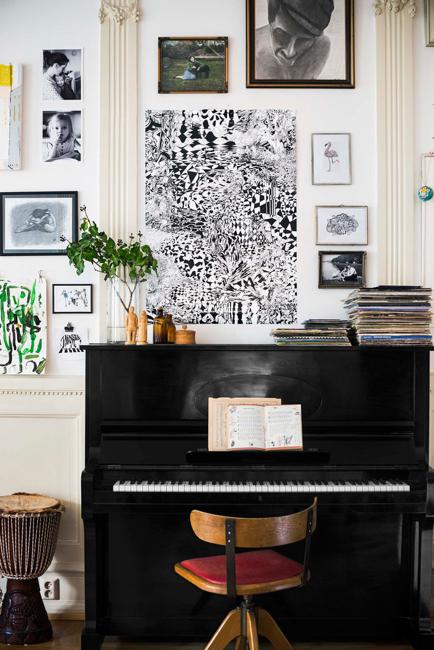 Room decorating design is ideal when you place the piano:
1) away from opened windows or protect the piano with blinds, shades, and window curtains – the draft and sunlight can damage your piano,
2) away from heaters,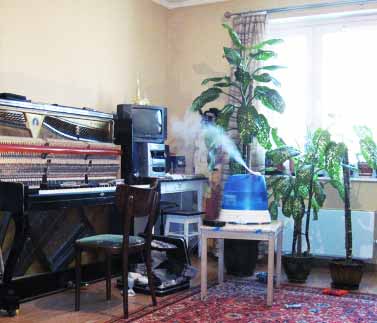 3) in the room with indoor plants,
4) in the room with a fish aquarium that creates a suitable environment for a piano.
5) close to a humidifier in winter.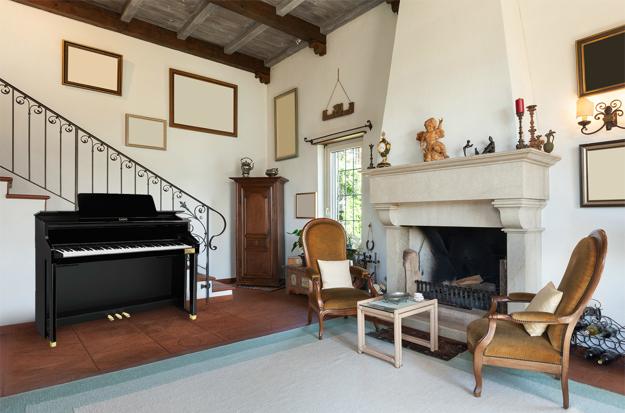 Room design styles
Feng Shui for wealth with fish tanks
Home-decorating with contemporary small aquarium tanks
Small aquarium, glass aquarium tanks, design trends
A small piano looks perfect in smaller rooms and matches almost every interior design style, bringing a unique room decor item and music theme into classic, traditional, country, and contemporary homes.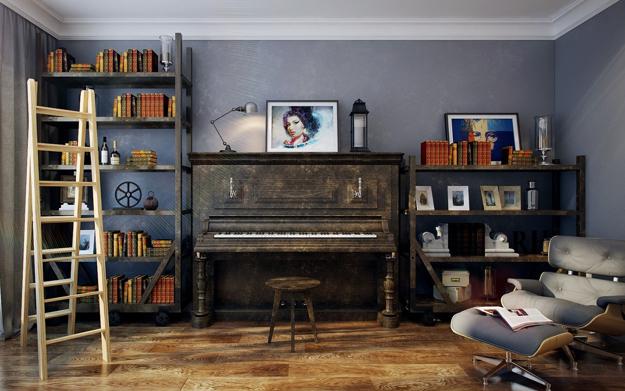 A grand piano or antique piano from Europe will look great in the room with a 4-5 meter (12 15 ft) high stucco ceiling and large windows. Upholstered furniture, made of wood, deep home decor colors, and rich window curtains texture in the room with a piano create an ideal environment for playing Mozart and Tchaikovsky.
Inspiring, modern interior design ideas
Black-n-white room design ideas, modern interior decorating
Piano decorating, ancient craft in contemporary style
Pianos painted a silver, light gray, and white cream color, combined with a high-tech music center on the top, is a perfect choice for striking contemporary or eclectic room decorating and modern interior design in the fusion and pop art styles.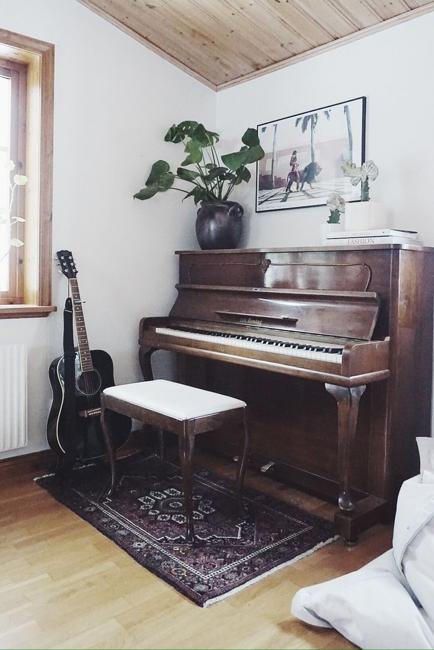 A spacious interior design in the minimalist style blends neutral and bright colors, simple shapes, and impressive wall decorations, offering a gorgeous background for a piano. The minimalist interior design looks elegant and sophisticated with a white, black, natural wood-brown, or a bright-colored grand piano. Candleholders, vases, books, flower arrangements, and wall photos are perfect accessories for room decorating around a piano and creating a welcoming, comfortable and modern interior design.
Small piano placement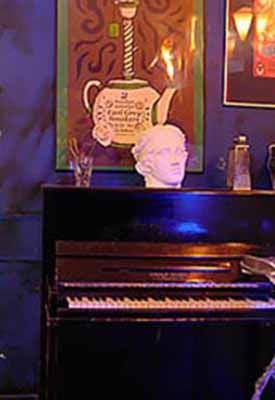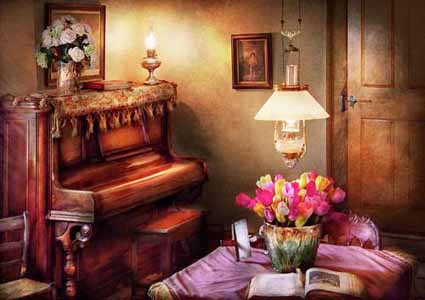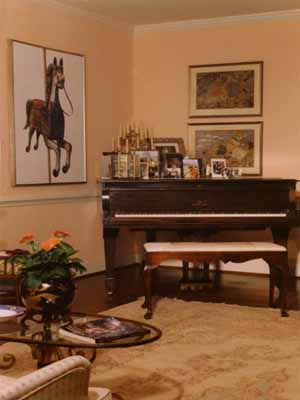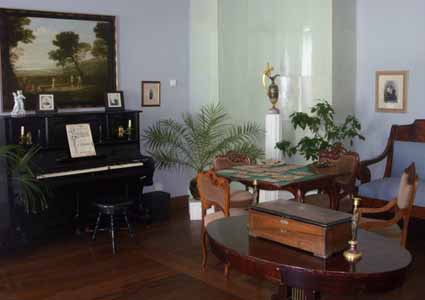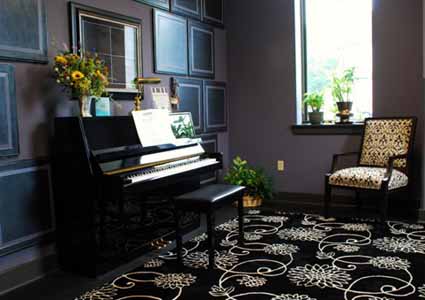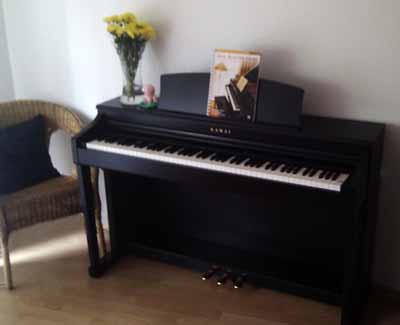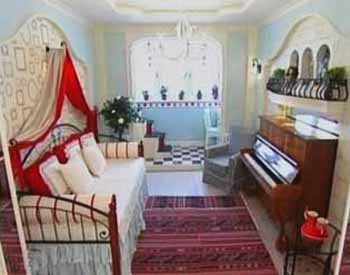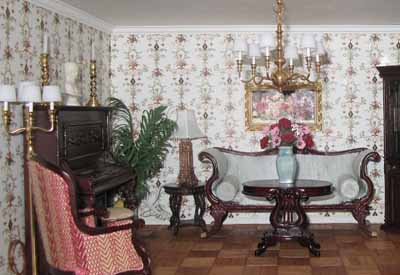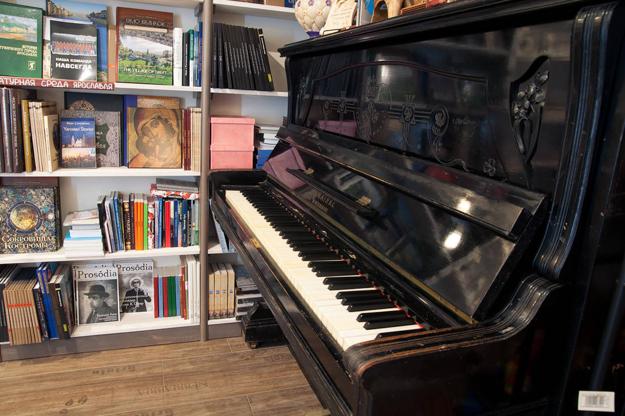 Grand piano in modern interiors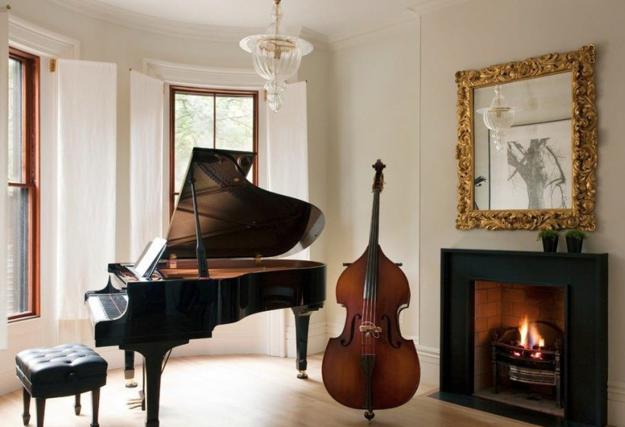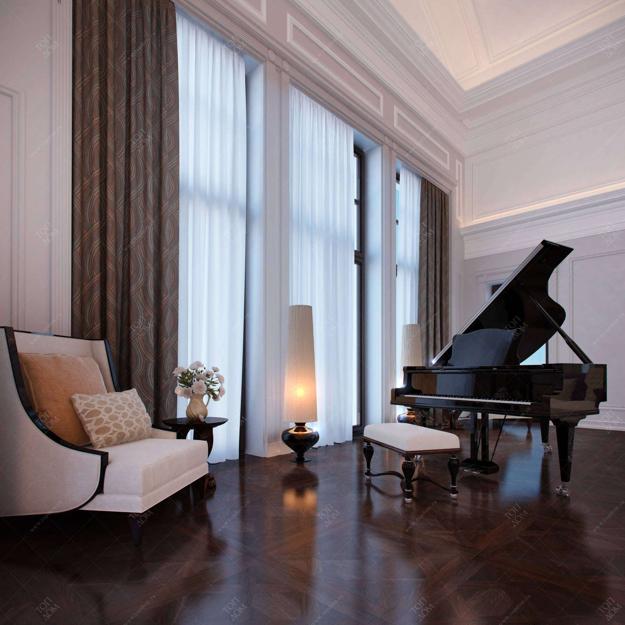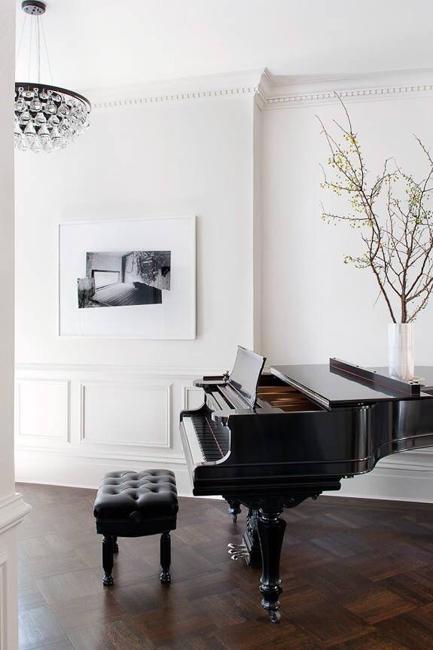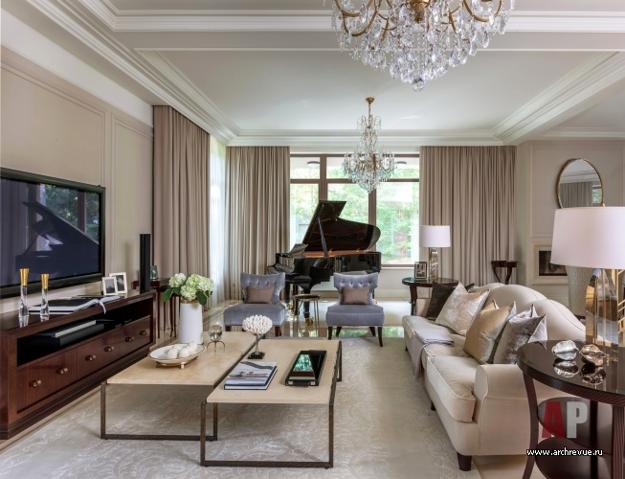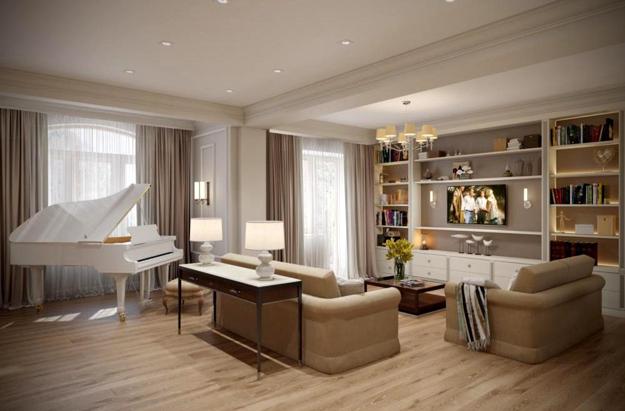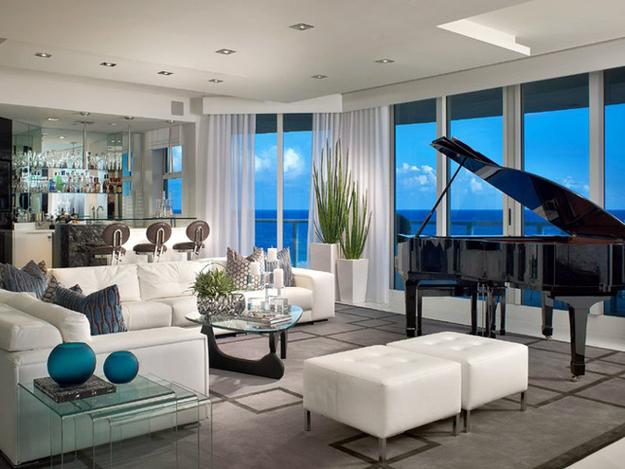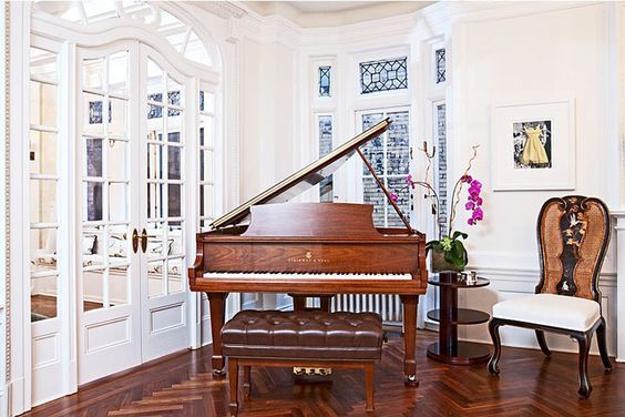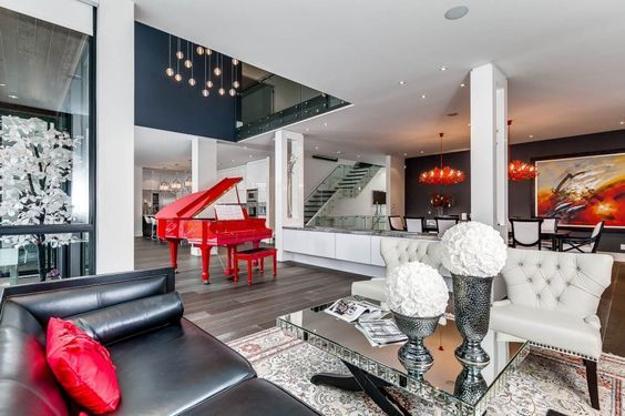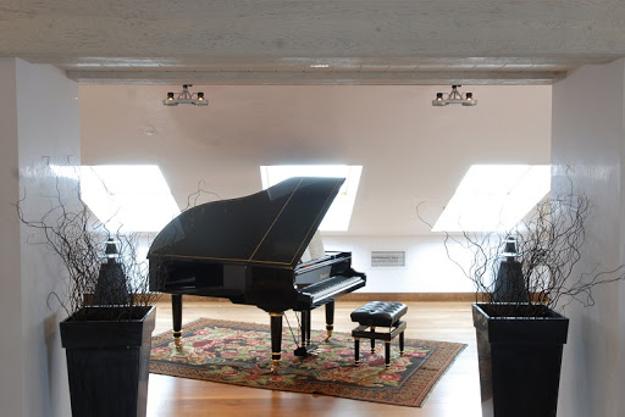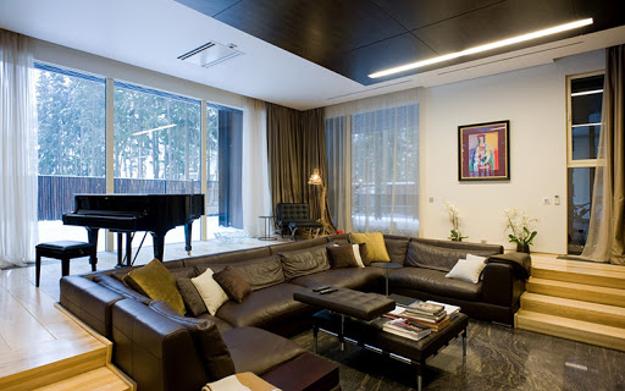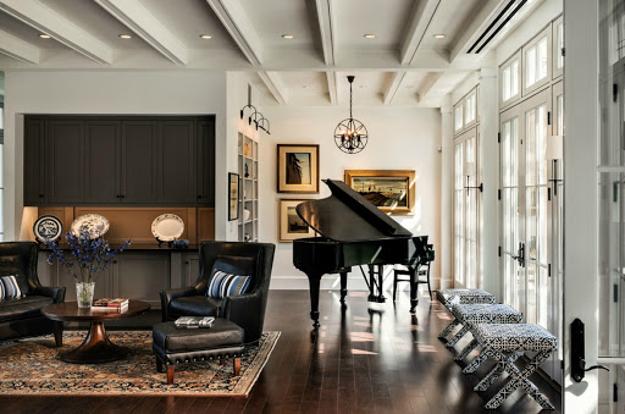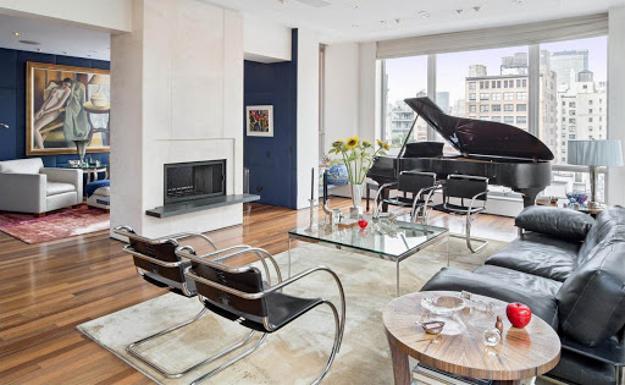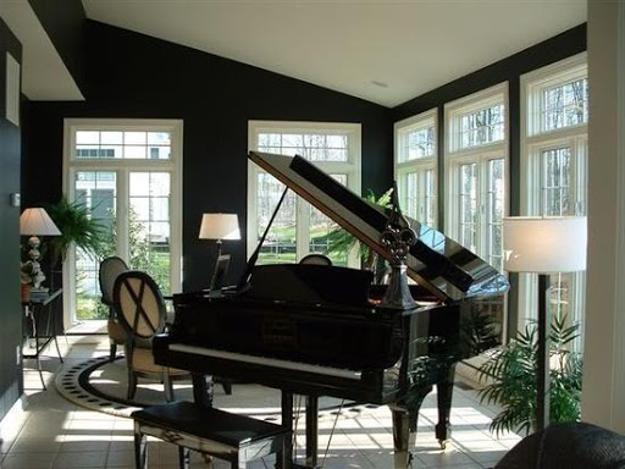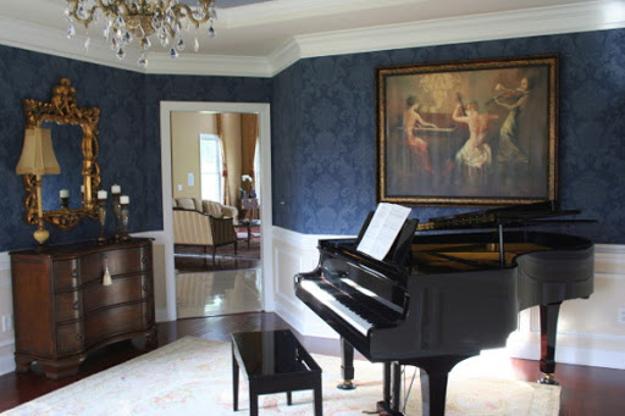 by Ena Russ
02.09.2021
Related articles and sponsored content
Sours: https://www.lushome.com/interior-design-and-decorating-music-room-with-a-piano/47254
Having a piano in your life is akin to owning a sports car: it's an object of aesthetic pleasure and a prized possession that requires just the right space to be fully appreciated for all its qualities. One of the most common misconceptions with regard to piano room ideas is that the piano will dominate any room it is placed into. Naturally that can occur, but most likely it is due to awkward positioning of the instrument in the space that isn't accommodated to feature the piano properly. While there are no strict rules or canons of how to place the piano into the interior, the elegant Piano room should be set up such that it doesn't harm your valuable instrument and allows it to be played spontaneously without major furniture shuffling.
Consider the value of your piano; if you own a simple 'antique' piano it may be only worth a few thousand dollars and therefore your options widen as to the placement of the piano in your room. If you paid $100K for the designer instrument putting it near a fireplace or a sliding balcony door may not be such a good idea. Common sense and some professional piano room decor ideas should enable piano owners to make the right choices that will preserve your piano and delight your eyes.
Another erroneous approach to piano room decor is thinking that everything in that space has to be of congruent style aesthetic. While mitchy-matchy interiors definitely exist and can be very high-end in terms of their cost and quality, they can read very 'old fashioned' and out of date with the 21st century. Unless you would like to create a museum-like interior with decor representing a one singular style, the best piano room tip is to be creative and eclectic. Sometimes, a traditional piano can 'ground' the modern interior and vice versa, an ultra-modern instrument can shake-up otherwise stuffy traditional interior. Naturally mono-style spaces can be gorgeous and refined, albeit appearing a bit like staged rooms for real estate brochure. If that is your style – great. In a way, it's an easier task to create an aesthetic flow within one decor idiom than work-in juxtapositions and appealing dissonances that constitute an eclectic interior.
Important piano decorating tips to preserve your grand piano are:
Avoid temperature fluctuations, so place your piano away from doors and large windows (if you open them).
Avoid extreme dryness and humidity – that will crack the soundboard of the piano. If unavoidable – have a humidifier/dehumidifier handy and use it regularly.
Don't place any heavy objects or flowers on expensive pianos (it will damage and deform the piano lid). The more unique the instrument – the less decoration it requires. Like Coco Chanel said about accessories: remove the last thing you put on. The same goes for the piano.
Keep it away from fireplaces/waterfalls and if left open – dust and vacuum frequently.
If you live in an apartment – place the piano near the wall that is within your unit – not the border wall with neighbors. Sound travels sideways and this will minimize unpleasantries with the neighbors.
Here are some piano room decor ideas that should start you on your piano room journey.
Here is a perfect high-octane glamour piano room. Fully transparent Lucid Bluthner iDyllic Excellence is centered on the Persian rug under the crystal chandelier. Window is far enough from the piano to keep it safe but its position insures good natural light source. Notice strategic placement of the standing mirror – to catch the front side of the piano as it reflects the light from the window.
Situating a classic mahogany grand piano at the bottom of the stairs gives your home the grandeur of the mansions of the gilded age. Persian rugs, mirrors and chandeliers add high glamour to the interior and elevate your home to the realm of a Hollywood film set.
This traditional interior features classic dark mahogany baby grand and matching coffee table. Notice plenty of peripheral lighting such as table lamps and spotlights which create atmosphere of contemplation, suitable to a library, which it appears to be. The cozy fireplace is at a safe distance from the piano.
Here the ultra-modern interior uses the sleek Bluthner Lucid Elegance to offset the geometric starkness of this angular space. Piano is situated asymmetrically at an angle and partially in the doorless stairway, which will be perfect for house performances making the pianist clearly visible from the foyer as well. This way both spaces can be filled with guests who will be able to enjoy music in equal measure, whatever room they are in.
Into the Blue with your lovely blue upright. This is very popular solution among the piano room decor ideas of turning an older, not-so-valuable upright piano into a color block of elegance by simply repainting it. Combined with matching color accessory accent, such as the clock here – your piano room will be absolutely unique and delightfully yours.
Great example of a modern grand piano in a neutral environment. Notice how the rainbow frame of Lucid Rainbow Elegance picks up the colors of the artworks on the walls. Piano is near a large window providing ample natural illumination. This space is set up like a gallery so it will be idea for at-home entertainment.
Here the gleaming ebony grand piano is situated in front of the large standing mirror thus doubling the visual presence of the piano in this sparse, modern space. The color palette is muted: off-whites, beige and caramel accentuated by the sleek blackness of the piano and leather furniture. This is a very cool, modern take on a piano room decor that can beautifully double as a living room as well.
Baby grand on a yacht? Yes, of course! Fully transparent Lucid Excellence is ideal for spaces that account for every inch of their real estate, none more than luxury yachts. The transparency of this piano puts the idea of 'dominating the room' to rest. Placement near windows ensures great light refractions. The beige color scheme of the whole interior makes piano almost disappear before your eyes. Notice special blocks (replacing the usual wheels) that secure the piano in place on the seaboard vessel.
If your house features a rounded conservatory this is one of the best piano room decor ideas. With vaulted ceiling and neutral tones this palatial piano room has three accents: a classic high-shine ebony piano, large indoor plants and dramatic wall art. Enormous windows provide stunning views throughout the day and evening while recessed lighting keeps this opulent piano room traditional yet modern. Notice the plush, inviting furniture so that the listeners can enjoy the music in total comfort.
There are many ways to liven up the living room. One of them is by turning it into a piano room. On this luxury yacht the living room/piano room space is carpeted with a plush velvet modern rug that sets up the stage for Bluthner Lucid Hive Elegance to spread its acrylic wings and delight us with its ravishing beauty. Modern and futuristic this grand piano exudes luxury and opulence in this already chic interior. Notice the very unique rod anchors that secure the piano in place when the vessel is seaborne.
This is a unique interior that features repurposed grand piano. Sometimes the instrument is just not salvageable as a piano, but it can still be one of the dominant design elements of your space. Mounted on the wall with its intricate action and keyboard on full display it becomes The Object in this room. Definitely cool for a piano lover. Notice utilization of the inner space of the piano body as shelves.
If you have curved or winding stairs in your home – bingo! One of the best piano room decor ideas is turning that negative spot that would be right under the curvature of your stairs into a clever grand piano showcase. Versatile and elegant this placement creates a piano room at the bottom of your stairs and allows a variety of people placement options when home entertainment occurs.
All white alright! Ecru upright piano against the painted white brick wall creates a cool downtown vibe, accentuated by the antique French country bench with matching ecru upholstery. Candles and white frames lend some minimalist pizzaz to this monochrome vision of the piano room. Matching off-white Christmas tree makes this music corner also a holiday centerpiece.
For the bold statement Bluthner PH is a great choice of the piano. Definitely the center of the room shown here in black leather with polished gold hardware. Notice how black leather sofa and chair mimic the piano and create visual consonance. Great idea to coordinate your furniture texture with that of the piano. Wall art is chosen excellently to compliment the objects as it has black backgrounds. Observe the wood of the table matches the color of the painting's subject. This living room is simply stunning.
The theme here is squares. The windows, the ceiling panel and the wall paneling all feature geometry, so the upright piano in dark mahogany fits right in with the overall feel of the room. The rich brown of the piano is a great complimentary color for the green of the walls, which in turn picks up the greenery right outside the large window. Cognac leather furniture and traditional light fixture give this piano room a very upscale yet conservative look.
An example of a traditional antique-looking piano in a more modern space. Everything is kept very light with piano being the single dark object in the room. Notice the brown and saffron chevrons on the pillow near the piano – they coordinate with the wood veneer of the grand piano. Here we have sheet music and plants as a decorative elements placed on the piano, giving it a very lived-in appearance.
Traditional and contemporary meet in close quarters in this delightful library. Open pore wood and Persian rug give this space a rustic air while the gleaming acrylic upright piano by Lucid Bluthner adds a brilliant touch of modernism and retro-futurism. With all its inner workings exposed through the glass this instrument captures the attention in the most unexpected way. Notice how natural wood soundboard matches the unvarnished wood of the library paneling. This is a brilliant way to make the design elements flow from object to object seamlessly.
This is a piano room turned private studio! Having an upright, a repurposed old grand as a wall art and an electric keyboard all in one room creates a musical experience out of what otherwise be an ordinary living room. Complimented by the wood beams on the ceiling this rustic escape will be kids' favorite to be sure.
As you can see this sprawling, waterfront Hamptons home is an epitome of piano room decor ideas: flooded with light and complete with elegant, ebony grand piano. Notice the safe distance from the fireplace. Live plants add consonance with the beautiful nature outside.
White and gold theme for the Holidays! This is an inspiration for a Holiday music room complete with gorgeous tree and gifts galore (we hope). Vintage spinet painted rustic off-white blends with the colors of the wall and faux fireplace creating visual uniformity and allowing the tree and the settee to take center stage. Accessories such as candles, pictures and Christmas lights placed strategically make this music room one of the most Christmas – spirited of such rooms ever.
Theme is white! This white Translucid baby grand looks very much at home on the white marble floor of this lovely space. As a piano room this is mono-style concept unified by the single color – white. The tulle drape on the large window adds drama at night and will prove great natural lighting during the day. The eye is drawn to the warm gold of the piano's frame – a great way to focus on the essense of the piano without accentuating the bulk of its body. This is possible because of its transparent acrylic lid. See-through elements like legs make the appearance light and effervescent.
This cool house has a bi-color theme: bone and brown. Very warm and colonial. Huge windows flood the expansive foyer with light as the traditional brown baby grand piano is nearly center stage upon the entry into this home. Iron and crystal chandelier adds pizzaz to the open space while the large wooden armoire compliments the piano.
Another living room/piano room hybrid is family friendly and very space savvy. A small spinet is facing the table so a dinner can turn into a musical experience without much hassle at all. Muted earth colors compliment each other and create a peaceful and serene atmosphere for the whole family to gather in.
This impromptu piano room is minimal and simple yet very elegant. A vintage spinet in light wood veneer matches sage green wall color beautifully. Notice how wall art has the same color scheme with both the piano and the wall. Some smaller objects on the top of the piano personalize the ambiance.
In conclusion
Home decor is incredibly personal subject. Whether you are embarking on the creation of your music space by yourself or with professional decorators, the goal should be the space that you, your family and friends will enjoy not only looking at but using in your daily life. Most rooms have many options for piano placement so consider the sound, the design and the value of your piano when selecting its location. People tend to delegate these decisions to decorators, and when it comes to actually playing the piano they find themselves in cumbersome situation having to move things around. Most interior designers will listen with attention to your lifestyle description so as to create a living space, which you will fully enjoy.
Please leave comments on these living room/ piano room inspiration ideas and tell us what you think. If you have furniture designers that you like – leave tags and comment name. We would love for you to share the stories of your design endeavors in your comments, when it comes to piano room ideas. If you like more information about the pianos our team will be happy to reply to you so make sure to comment name and email address.
Sours: https://luxury-pianos.com/inspiring-piano-room-ideas/
Ideas piano room
23 Ideas for Turning a Spare Room into a Home Music Room
Looking for an area where you can learn, practice, and record music in the comfort of your own home? From improving a room's acoustics to trendy music-themed decor ideas, our guide will help you transform unused space at home into the ultimate music den!
Start with Soundproofing
Soundproofing should be the first step to building any home studio! Acoustic foam is a common choice for music rooms, as it helps eliminate echo and manage reverb. However, these tiles do little to help soundproof the actual space. If you're looking to riff on the electric guitar or practice the drums, keep your family and neighbors happy by taking serious measures to contain your sound. Start with these simple tips for at-home soundproofing, or consider hiring a contractor to add extra drywall. Just remember to soundproof the closets and ceilings, too!
Invest in a Drum Shield
If you're hoping to transform your extra space into a home recording studio, a drum shield or cage can greatly enhance the acoustics of your music room. Not only will this plexiglass barrier help with soundproofing, but it also supports proper room tuning for a more appealing sound, both in person and on recordings.
Brick Walls Are Your Friend
Whether you live in an older building or you're looking for good materials for soundproofing, exposed brick is your friend! Not only does it help contain sound, but it also adds an urban feel to your music studio.
Invest in Sturdy Shelving
Plan ahead to create ample storage for your instruments, books, music decor, and more! Durable music room furniture and proper shelving can support your beloved equipment and help keep your room organized and looking sharp.
Add Room Dividers
Trying to make the most of a spare bedroom or bonus room? Add room dividers to easily create separation in your in-home music room. Whether you want to create a flex room with multiple uses or divide the space by acoustic and electric zones, dense room dividers will help you buffer the sound and get some separation.
Embrace Stylish & Strategic Lighting
It's hard to pen your next great composition if you can't see what you're working on! Smart lighting can transform your home music room. Add wall sconces above your piano so you can easily read sheet music. If you're playing flute, violin, or any other instrument where you regularly use a music stand, plan ahead to include strong overhead lighting or invest in a stand light.
Disguise Your Equipment
Amps, speakers, and other bulky equipment don't have to change the aesthetic of your home music room! Choose gear that easily integrates with your personal style, as well as with other art and furniture you already have.
Use Instruments as Decor
Music room decor ideas can be simple! Display your musical instruments by using them as wall decor. Not enough space in your guitar room? Mounting your instruments looks trendy and will help solve your storage issues.
Utilize Rugs for Style & Function
Rugs do more than one job in your bedroom music studio! They support rich acoustics by helping absorb extra sound while also adding a stylish touch.
Remember to Add Plants
When it comes to sound absorption, houseplants can be your best friend! Potted plants of all sizes can help absorb those extra decibels, refresh the air, and create a natural look and feel in your at-home music studio.
Buy Comfy Seating
A staple of music room design is creating a comfortable practice and performance space! You'll want to get cozy while writing the next chart-topping hit, so invest in a cushy sofa or plush chairs for your home studio. Plus, upholstered furniture is best for dampening sound!
Incorporate Bright Colors
Vibrant colors are known to stimulate the brain! If you plan on rocking out on the drums or riffing on the electric guitar, add red and orange accents for energy. Love to play classical piano or soft acoustic music? Add blues and other cool colors to help inspire soothing tunes and soft melodies. Make sure you're playing your best with this simple music room decor idea!
Get Posh in Your Piano Room
Your piano doesn't have to be the only thing that's grand! If you plan to entertain guests with your musical grandeur, embrace fancy light fixtures, plush rugs, and a simple color palette to heighten the luxury of your space.
Use Closets for Instrument Storage
Converting an extra bedroom into a music room? Closets are the perfect spot to store musical instruments, sheet music, and miscellaneous items, especially if you're using a tiny or shared room!
Display Your Records
Your favorite records can be some of the best music room decor! Stay inspired by displaying your favorite bands and rare vinyl finds on the wall for everyone to see!
Go Kid-Friendly
Does your child play violin in the school orchestra? What about trumpet or trombone in the school band? Regardless of their preference for woodwind, brass, or string instruments, give them a space to practice after school and prepare for their next big concert!
Make a Multi-Purpose Space
Trying to find a music room setup that still offers plenty of space for guests? Make your guest bedroom do double duty with a little planning. Design a spare room where everything from acoustic guitars and ukuleles to clarinets and saxophones can become part of the decor while still offering room for visitors.
Reuse Old Equipment
Dreaming of decorating your home music room with instrument-themed furniture? Don't let damage to your beloved instruments be the end of the road. Repurpose ruined or worn-out equipment into eclectic yet functional furniture that'll impress any guest and give your room a musical vibe.
Create a Listening Room
Who says you have to be making all the music yourself? Design a music room that focuses on listening to your favorite musicians by adding comfy seating and stocking up on your favorite records.
Save Room for a Stage
A DIY stage doesn't have to be extravagant! Whether it's a rug in the center of the room or special seating to draw attention to your performance, you can designate a space specifically for showcasing what you've been practicing.
Add Books for Better Acoustics
Creating a music room that doubles as a home library is stylish and functional! Books and bookshelves not only look distinguished, but they also provide awesome sound diffusion in your home music studio.
Design a Music Nook
Short on space? Dedicate a corner or a singular wall to your musical endeavors. Using a common color or theme to tie a little area together is a great small music room idea!
Build a Space You Love
You create better when you're happy and inspired! That's why the best decor for your practice room or home recording studio is the design that keeps you feel motivated and, most importantly, creative.
***
Looking for ways to get more space for the things that matter most? Extra Space Storage has storage facilities throughout the nation that can help you make room at home. Find self storage near you!
Sours: https://www.extraspace.com/blog/home-organization/diy-projects/ideas-for-turning-a-spare-room-into-a-home-music-room/
75+ Relaxing Grand Piano Room Decorating Ideas
If you have piano at home you probably have dilemma how the best to incorporate it into your interior. Most often the piano is placed in the living room, the hallway, the library or in a separate room if you have ability for that. Of course, the piano should be combined with the style and design of the room. Candles, pictures, floral arrangements, as an additional decor of the room will contribute to create a pleasant atmosphere while enjoy in the music. If you have no idea where to set the piano we present you some functional piano room decor ideas.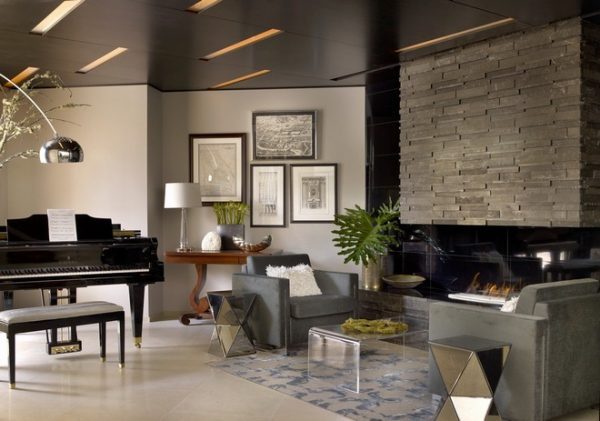 Image credit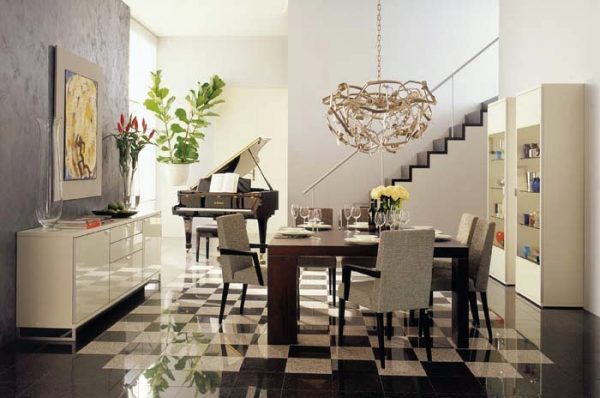 Image credit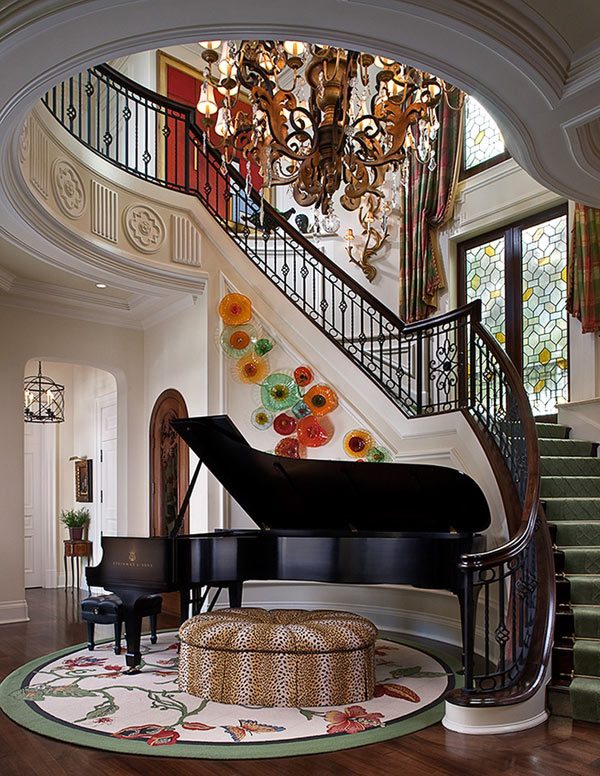 Image credit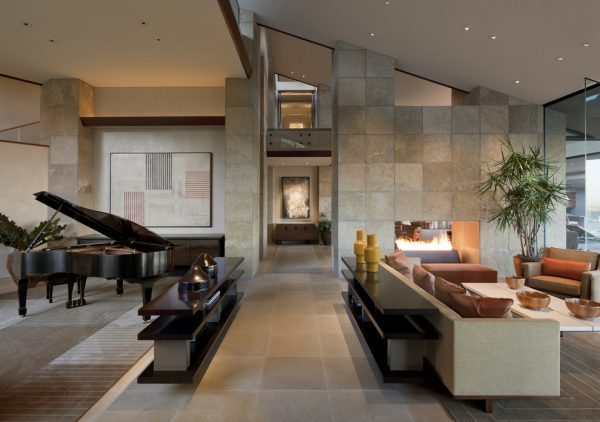 Image credit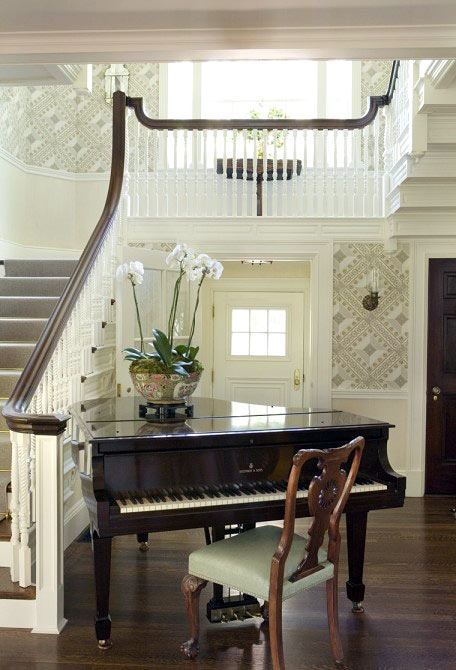 Image credit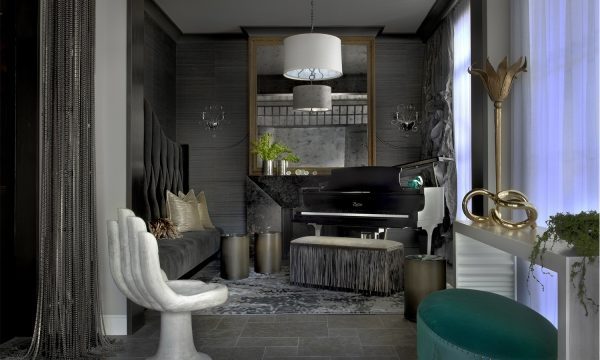 Image credit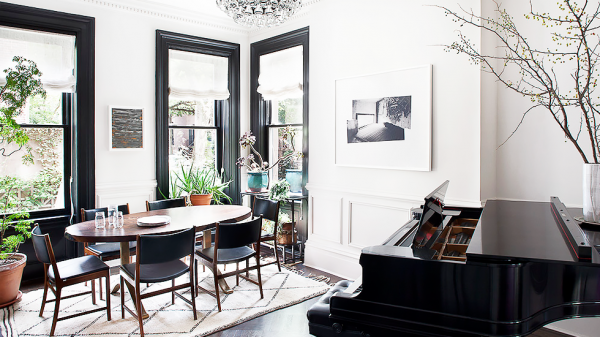 Image credit
Image credit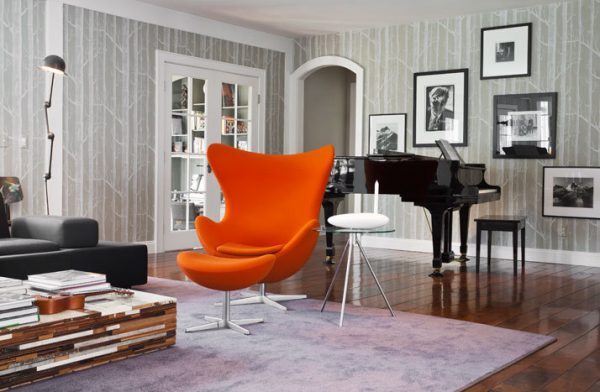 Image credit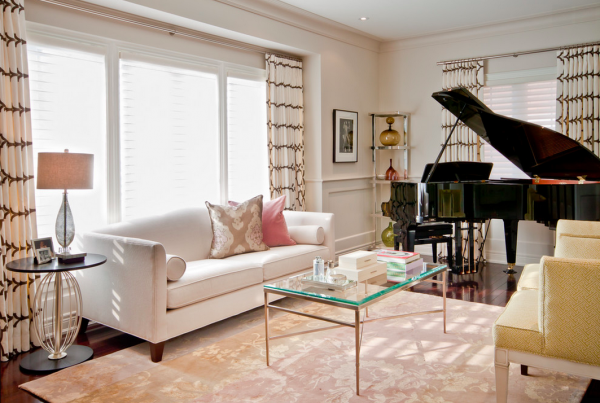 Image credit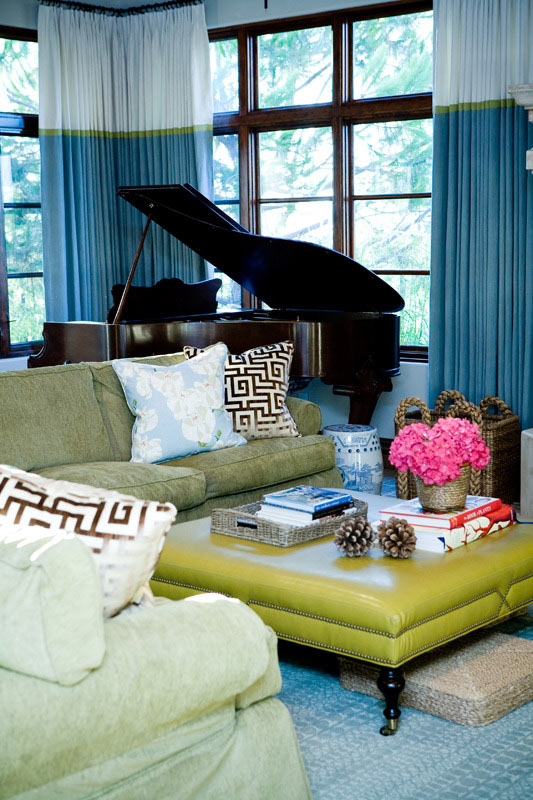 Image credit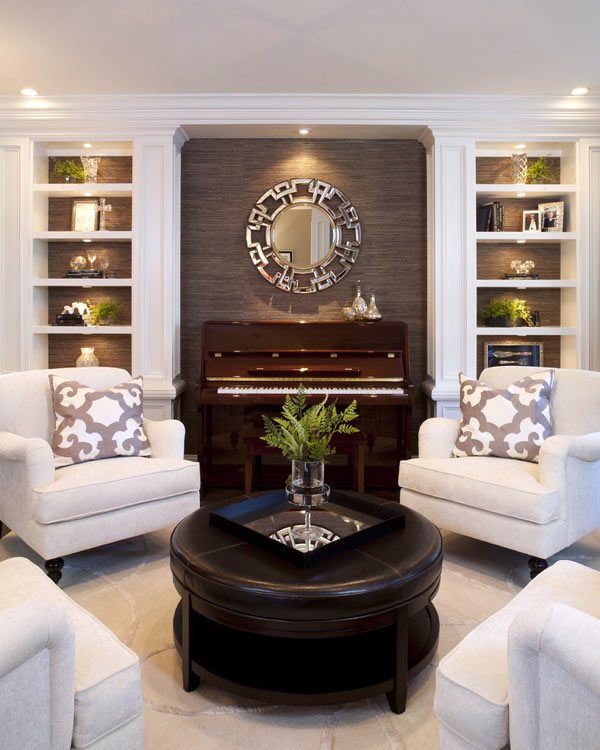 Image credit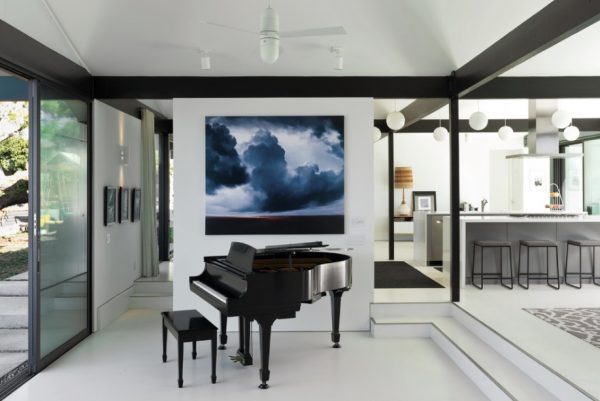 Image credit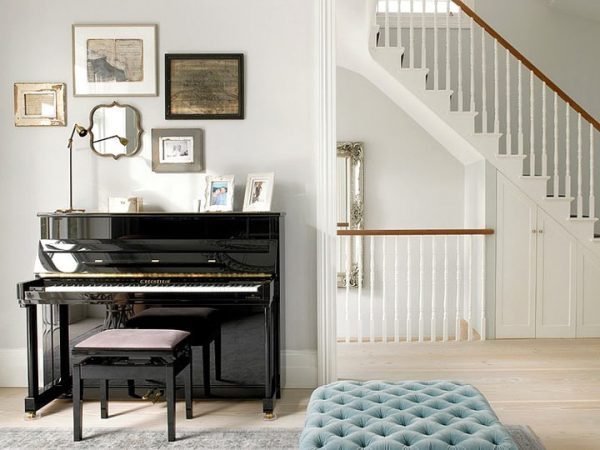 Image credit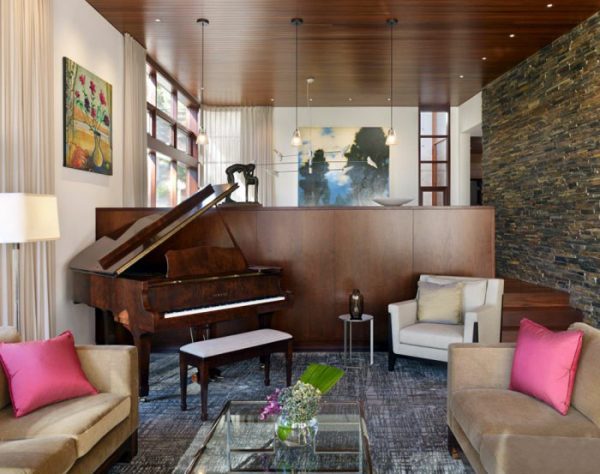 Image credit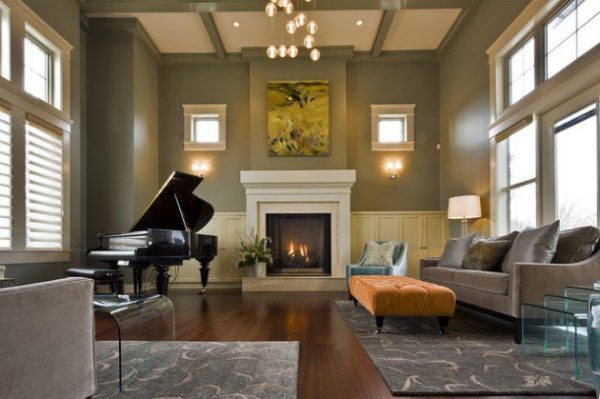 Image credit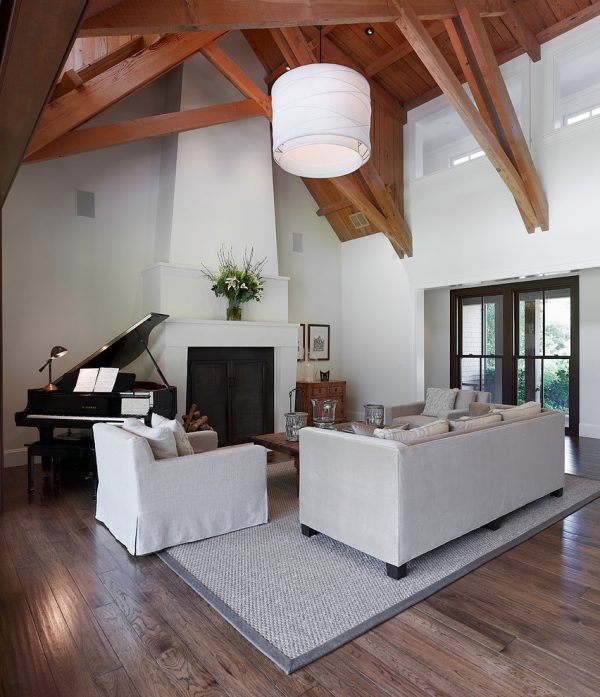 Image credit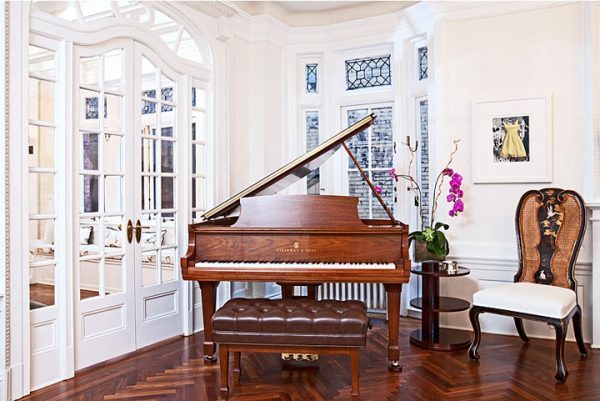 Image credit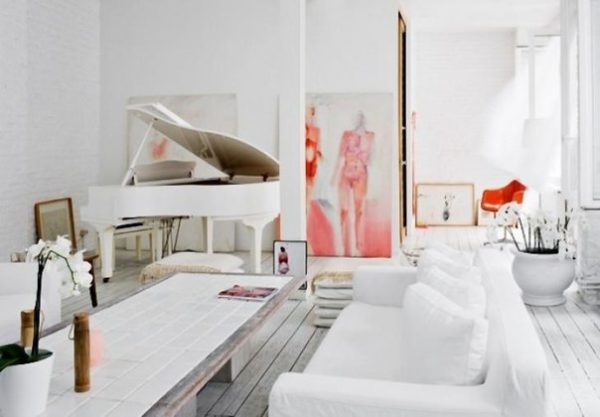 Image credit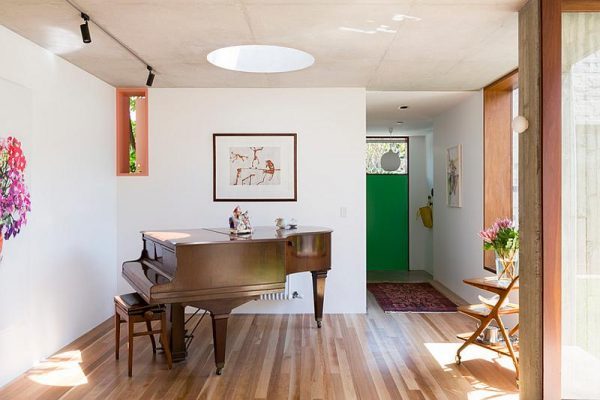 Image credit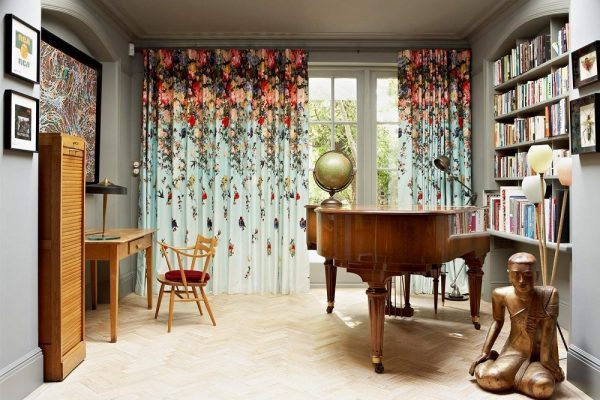 Image credit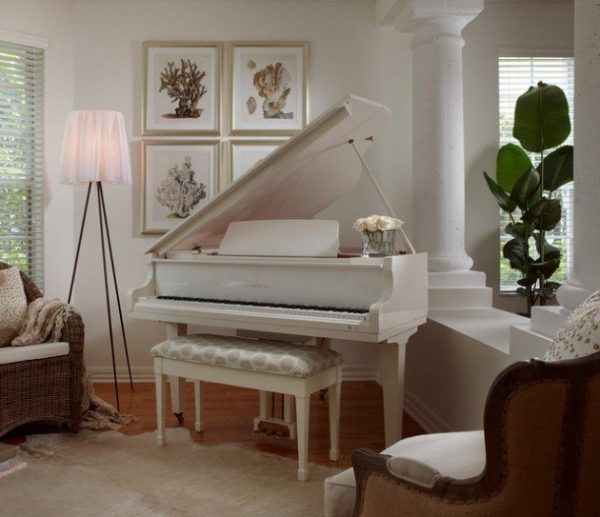 Image credit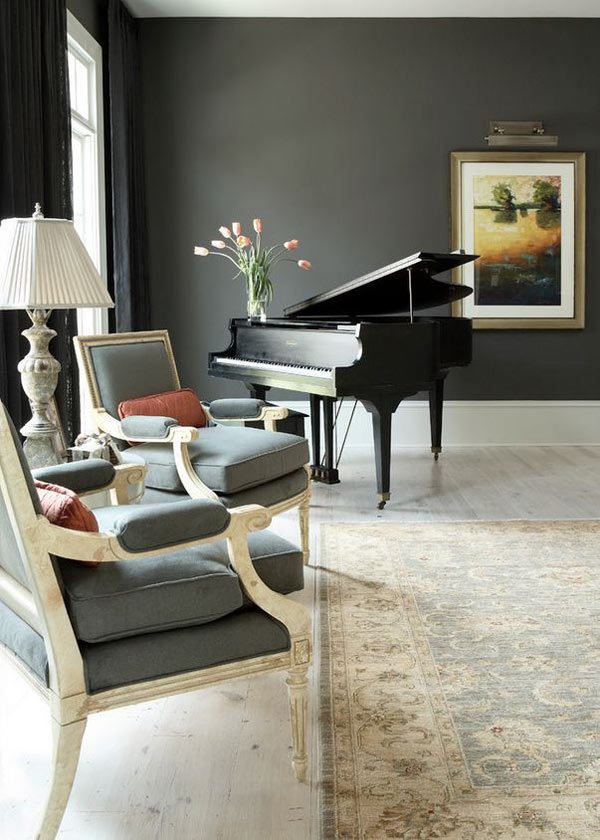 Image credit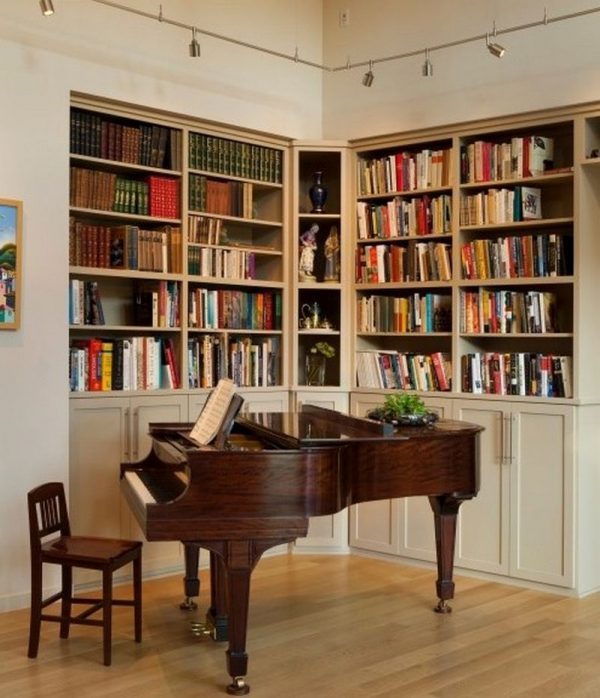 Image credit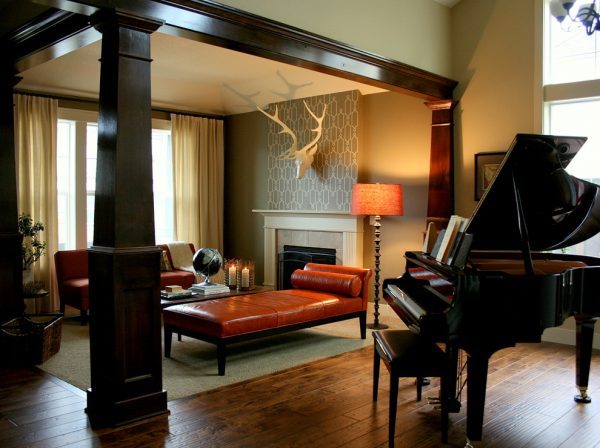 Image credit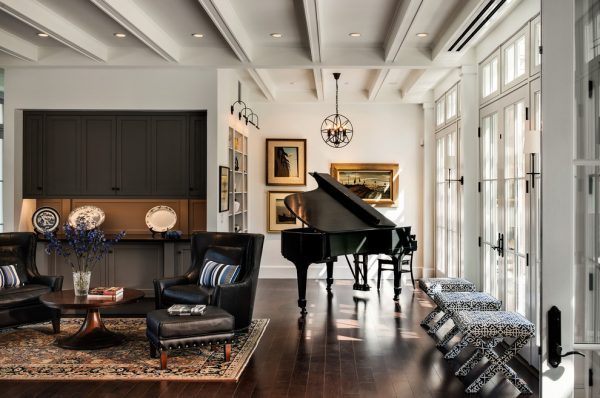 Image credit
Tags:grand piano roomliving room with upright pianomusic room decorpiano room decorating ideaspiano room design
Sours: https://www.littlepieceofme.com/home-decor/piano-room-decor-ideas/
Similar news:
End. The guy whined pitifully, closed his eyes, and jerked his legs. And only then I completely pulled on his panties, and put my bottom on the pot. -Come on.
241
242
243
244
245