I've always enjoyed blocking out noise when I sleep, and have often looked for the best ways to do this. Someone recently suggesting using noise-cancelling headphones for sleeping, and I wondered whether this was both possible and safe.
So, is it possible (and safe) to sleep with noise-cancelling headphones? Providing you're comfortable, it's possible, not bad and completely safe to choose noise cancelling headphones because they are a good alternative to earplugs, which can be harmful if worn at night. What's more, headphones mean you can also listen to music.
While blocking out noise at night is one thing, being able to listen to music is another. Some people love listening to music while they sleep, so there are some obvious benefits to using noise-cancelling headphones. In the rest of this article I look at their pros and cons, and whether they can be used to block out snoring.
As an affiliate, I may collect a share of sales or other compensation from the links on this page.
Also check out my post: Do noise cancelling headphones protect hearing?
Noise-Cancelling Headphones for Sleeping
I've tried plenty of ways to block out noise while I'm sleeping, and the best option I'd found previously was earplugs. However, there are some advantages to using noise-cancelling headphones over earplugs, aside from the ability to listen to music.
Light sleepers can get woken up easily by triggers. These noises are usually normal things that other people can sleep through, but there are few things worse than getting woken up in the middle of the night by a noise. The standard option most people go for is earplugs because these are widely known as an effective noise-cancelling option.
However, the main drawback of using earplugs while you sleep is in their very design. Unlike noise-cancelling headphones, which go over your head, earplugs go in your ears. This is generally fine in normal contexts, such as at work or in an exam, but isn't the best while you're sleeping.
If you roll onto your side while wearing earplugs, there's a high chance you could do damage to the sensitive parts of your ear. For the same reason you're told not to stick Q-tips in your ear, you shouldn't put earplugs too far into the ear canal. Doing so can burst the drum, which isn't ideal.
This is the main benefit of noise-cancelling headphones: they don't put unwanted pressure on your ears. Instead, they sit over your head and cover your entire ear with noise cancelling foam padding.
Noise-cancelling headphones are very effective at blocking out ambient noise, although they won't be great against very loud noises.
The main thing to remember with noise-cancelling headphones is that they're not really designed to do the same job as earplugs. Earplugs are designed to completely block outside noise, whereas noise-cancelling headphones also play music, which means their noise blocking ability doesn't need to be as effective.
However, if I were to choose between noise-cancelling headphones and earplugs, I'd choose the headphones every time. I've lost track of how many times I woke up with sore ears after sleeping with earplugs in, and noise-cancelling headphones have definitely solved this problem for me.
Do Noise-Cancelling Headphones Work for Snoring?
After I discovered how useful noise-cancelling headphones were at blocking out ambient noise while sleeping, I decided to find out whether they were effective against the ultimate foe of a light sleeper: a snoring partner.
So, do noise-cancelling headphones work for snoring? Noise-cancelling headphones are very effective at blocking out external noises, including snoring. Not only does playing music help to cover the sound, but the headphones have very effective noise cancelling foam. Not even the loudest snoring sleeper will be heard with noise-cancelling headphones.
At the end of the day, snoring is simply another noise, and noise-cancelling headphones are designed to block these out. The main thing to consider if you're buying noise-cancelling headphones for snoring is that the noise will be in close proximity to you, so make sure you've got a good fit.
Some brands market noise-cancelling headphone headbands specifically designed for sleeping. However, their ability to block out sound isn't as good as noise-cancelling headphones, so if you're looking specifically to block out snoring, then stick with the real deal.
If you're looking for a set of headphones that'll effectively block out snoring, I'd consider choosing an in-ear pair rather than an overhead pair. This is because you'll be able to get a tighter fit with in-ear buds, which is important when the source of noise is so close to your head.
The main downside of this is that ear buds have the same problems as earplugs. If you roll onto your side while wearing ear buds in your sleep, there is a chance you could damage your ear canal.
However, the thing to remember with noise-cancelling ear buds is that they usually have something holding them in place, meaning they can't be pushed to deep into your ear.
Also check out my post: Are noise cancelling headphones safe for ears?
The Pros and Cons of Noise-Cancelling Headphones for Sleeping
Overall, I've found that noise-cancelling headphones are one of the best options for blocking out sound while you sleep. However, this option might not be for everyone, so consider the pros and cons before buying yourself a pair. You never know, there might be a better option for you.
Pros
Here are the pros:
1. Listen to music
Not only do noise-cancelling headphones block out external noise, but they also let you listen to music. This is something I've largely overlooked so far, but it is an obvious advantage for some.
What's more, noise-cancelling headphones from brands like Bose (one of the few I'd recommend choosing) obviously come with excellent sound quality to boot. So if you're going to listen to music while you sleep, why not do so with great audio quality?
Check out the entire Bose noise cancelling product range on Amazon.
2. Reduced stress
On the back of that point, listening to music while you sleep is a great way to reduce stress. If you don't fancy music, why not try an audio book or something?
Your brain is surprisingly active while you're sleeping, so it can be a great time to learn something like a foreign language or motivational speaking.
Similarly, the very act of not getting constantly woken up by ambient noises will do wonders for your stress levels. Being able to sleep undisturbed means you'll wake up feeling fresher and readier for the day. So whether you're listening to music or just blocking out sound, expect to see your stress levels drop.
3. Blocks out snoring
One of the most important benefits of noise-cancelling headphones is their ability to block out snoring. Just remember that ear buds will be a better choice if this is your problem, as they'll give a tighter fit, which will be more effective at blocking out close proximity sounds.
4. Bluetooth options
Noise-cancelling headphones have a large portion of the market now, which means you've got plenty of options for customization. A useful feature if you're using headphones when sleeping is Bluetooth compatibility.
More than anything, this means you don't have to deal with wires in bed, which are not only annoying, but can be dangerous if they get wrapped around your neck. Wireless noise-cancelling headphones should really be your starting point if you're going to be using them in bed.
Cons
And here are the cons:
1. Cost
Some of the best headphones for sleeping are understandably quite expensive. When it comes to your budget, you have to decide whether either audio quality or noise blocking ability is your main priority.
If it's audio quality, then you'll definitely end up paying more money. As with many of their other products, Bose noise-cancelling headphones can set you back a few hundred dollars, although they will do a pretty good job.
2. Comfort level
My first choice for noise-cancelling headphones would be overhead ones because I find these are the best for blocking out sound. However, wearing overhead noise-cancelling headphones means you can't sleep on your side, which can lead to obvious comfort problems.
Another option is to use noise-cancelling ear buds. However, as I've mentioned, these can press into your ears, which can be both uncomfortable and potentially damaging. I'd do everything possible to avoid wearing these at night, but at least they mean you can lie on your side.
A final option is noise-reducing headbands. These are the most comfortable to use while sleeping because they're basically just a sweatband with headphones built in.
However, these headbands are nowhere near as effective as other noise-cancelling headphones. Consider these if your main intention is listening to music, but avoid at all costs if you've got a snoring partner you want to block out.
3. Hot ears
This might sound like a silly thing to suggest, but wearing headphones at night will make your ears very warm, which can become uncomfortable. The worst offenders are noise-reducing headbands, because these insulate your head and give out plenty of their own heat.
Some Final Thoughts
I found it very useful to know that it's possible to wear noise-cancelling headphones for sleeping. What's more, they're great for blocking out snoring. However, if safety is your primary concern, then avoid ear buds, as these can be damaging to your ear canals. Whatever option you choose, comfort should be your main priority.
Thanks for reading! You may also like to check out my article on best soundproofing materials.
Categories Soundproofing MaterialsSours: https://soundproofcentral.com/noise-cancelling-headphones-bad-safe/
Google has just announced the schedule of the launch event where the Pixel 6 series will be fully unveiled. Now, a major retailer in Europe may have revealed its starting price, along with the potential pre-order window and exact release date.
The company confirmed this week that it would host a Pixel Fall Launch event on Oct. 19, where the Pixel 6 and Pixel 6 Pro are some of the anticipated highlights. Now, a post on Reddit reveals that a major retailer is already gearing up to promote the device, revealing how much it likely costs in the region.
Reddit user u/the_amazing_rock shared a photo of what appears to be flyers for the Pixel 6 from Saturn, which is one of the biggest retailers in Germany. The promo material displays the dark gray model of the Pixel 6 that will cost €649. The device configuration for that price includes 8GB RAM and 128GB storage space. It is still unknown how much the device will cost in other regions.
Saturn is also offering a free Bose Headphones 700 for a limited time. The advertisement indicates that the offer is only available for customers who will purchase Pixel 6 from Oct. 19-27, suggesting it could be the possible pre-order window for the device. The Bose Headphones 700 currently costs $379 and features noise cancellation, high-fidelity audio support, capacitive touch controls, and up to 20-hour battery life on a single charge. But purchasing directly from Google or other retailers will unlikely have the same freebie.
With the potential pre-order window being Oct. 19-27, it appears that the Pixel 6 series could arrive in stores starting Oct. 28. This corresponds with an earlier report from Jon Prosser claiming that the new Pixel phones will be available on Oct. 28.
Saturn's advertisement may have also revealed some of the Pixel 6 technical specifications that Google has not announced yet. The flyer says the device will have a dual-camera with 50MP and 12MP sensors, along with an 8MP selfie camera.
XDA Developers reported that the Pixel 6 Pro will ship with a 50MP Samsung GN1 main camera, 12MP Sony IMX386, and 48MP IMX586 telephoto lenses. Except for the telephoto sensor, the regular Pixel 6 could sport a similar camera array.
Photo by JuniperPhoton on Unsplash
Sours: https://www.econotimes.com/Google-Pixel-6-Major-retailer-reveals-price-pre-order-window-and-possible-release-date-ahead-of-Pixel-Fall-Launch-1618744
Google Pixel 6 will start at €649; pre-order gift revealed
Google is all set to launch the Pixel 6 and 6 Pro smartphones on October 19. In the latest development, a Reddit user has leaked a listing of German retailer Saturn, revealing the Pixel 6's price as well as pre-order freebies. The handset will cost €649 (roughly Rs. 56,000) for the 8GB/128GB model and customers will get Bose 700 headphones for free on pre-orders.
The phone will have a 90Hz AMOLED display
The Google Pixel 6 will sport a punch-hole design, slim bezels, an aluminium frame, an IP68-rated build quality, and an in-display fingerprint sensor. The handset will come with a 6.4-inch Full-HD+ (1080x2340 pixels) flat AMOLED screen with a 19.5:9 aspect ratio, a 90Hz refresh rate, and HDR10+ support. The dual-tone rear panel will have a horizontal camera island.
It will offer a 50MP main camera
The Google Pixel 6 will be equipped with a dual rear camera setup comprising a 50MP primary snapper and a 12MP ultra-wide lens. For selfies and video calling, it will have an 8MP front-facing camera.
It will be powered by an in-house Tensor processor
The Google Pixel 6 will draw power from a custom octa-core Tensor chipset, paired with at least 8GB of RAM and 128GB of storage. Under the hood, it will run on Android 12 OS and pack a 4,620mAh battery with 33W fast-charging support. For connectivity, the device will offer support for Wi-Fi 6, Bluetooth 5.2, GPS, NFC, 5G, and a Type-C port.
Google Pixel 6: Pricing and availability
As per the leak, the Google Pixel 6's 8GB/128GB model will be priced at €649 (around Rs. 56,000) in Europe. Customers will also get Bose 700 headphones worth €279.99 (roughly Rs. 24,200) for free as a pre-order gift. In Germany, the pre-orders will be open till October 27, which means that the device will go on sale starting October 28.
Sours: https://www.newsbytesapp.com/news/science/google-pixel-6-s-price-and-pre-order-gift-leaked/story
European Retailer Details Surprisingly Reasonable Pixel 6 Pricing
We're so close to the release of the Pixel 6 and Pixel 6 Pro. Because of this, it's only natural that leaks from retailers would begin, with a German retailer potentially spilling the beans on the price of the smaller Pixel 6. With expectations set that pricing for these new Pixel 6 devices would be high, we're actually surprised at how reasonable it seems.
According to an image hitting the web, German retailer Saturn will have the Pixel 6 priced at 649€. Not only that, but your purchase will come with a free gift — a pair of Bose 700 headphones ($379 value). That's a total score as far as we can tell.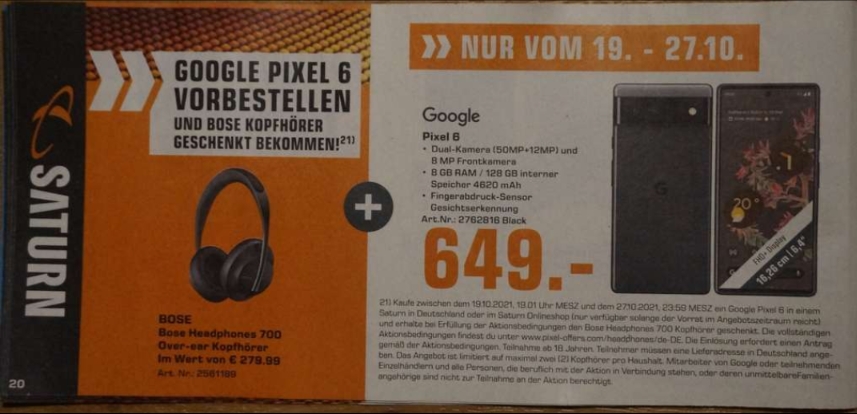 There's no rule on whether a device maker's European pricing matches that of North America's, but it's a good place to start. If the Pixel 6 comes in at $649, we think that's a good offer, but again, there's no way to know if that's what we'll see in the US. We also don't expect many retailers to offer up $379 headphones as a pre-order gift, but that would be very sweet.
We aren't seeing a Pixel 6 Pro price, but because I love guessing, I'm going to come in at $849. It's well under $1K and could get a lot of people on board with these devices. We already know Google is expecting to sell a good amount of them, so we shall see.
Thoughts?
// reddit
Sours: https://www.droid-life.com/2021/10/06/european-retailer-details-surprisingly-reasonable-pixel-6-pricing/
700 headphones reddit bose
Google Pixel 6 price, pictures and specs leaked
It's a big day for Google Pixel 6 leaks, as at least three separate ones have rolled in, revealing all sorts of details about Google's upcoming phones.
First up, we have some renders and marketing photos of the Google Pixel 6 range. These come from Evan Blass, who has an excellent track record for leaks, and they certainly look like the real deal. However, they don't show us much new, given that Google itself has already revealed the full design of these phones.
Still, we haven't seen many actual photos of the Pixel 6 or Pixel 6 Pro yet, so these are worth a look. Interestingly, one of the renders also lists the camera specs, which Google hasn't so far revealed. These are shown as a 50MP main, a 12MP ultra-wide, and a 48MP telephoto. That's for the Pixel 6 Pro, with the Pixel 6 expected to have the same lenses minus the telephoto one.
While we'd take these specs with a pinch of salt, we've seen these numbers leaked before, so there's a good chance they're accurate. Beyond that, some of the pictures show the Pixel 6 with water on it, basically confirming that it's water resistant, though we'd have been surprised if it wasn't. There are also images of the Pixel 6 charging on what's presumably a new Pixel Stand.
Next up, a Reddit user has spotted a listing for the Pixel 6 from a German retailer. This includes a price of 649 euros (around $750 / £550 / AU$1,030), which is something we've heard before.
Specs are also listed, including 50MP and 12MP rear cameras, an 8MP front-facing one, 8GB of RAM, 128GB of storage, a 4,620mAh battery, and a fingerprint scanner. This is all stuff that we've heard before too.
The Pixel 6 is also listed as coming with Bose 700 Headphones if you pre-order. They're a pricey set so that's quite a perk, but it may not be replicated in other regions. Interestingly, that pre-order offer is valid until October 27, suggesting that October 28 is the launch day, as has been rumored before.
Finally, we're in the territory of more sketchy leaks, with @AppleLe257 on Twitter claiming that the Pixel 6 range won't be alone when it's announced on October 19. Rather it will apparently be joined by the Pixel Watch, Pixel Fold and Nest Speakers, with a Pixel tablet possibly making an appearance too.
However, while this leaker has popped up occasionally in the past they don't have much of a track record, so we'd really take this with a pinch of salt.
---
Analysis: these Pixel 6 details look likely, but don't count on the Fold or the Watch
All of the Google Pixel 6 leaks above line up with what we've seen and heard before, so we'd say they're likely accurate, especially as they come from good sources (a reputable leaker and a retailer listing).
However, we're far from convinced that we'll see either the Pixel Fold or the Pixel Watch at this event. While both have been leaked (with leaks dating back years) we still don't have a remotely clear picture of either device, which we'd expect to if they were this close to launch.
So at most we'd think there will be a teaser for them, and even that we're not sure of. Certainly, we'd be surprised if you can buy either product this year. A Pixel tablet seems even more unlikely as there's been almost no sign of one in the works.
Via Phandroid and Phone Arena
James is a freelance phones, tablets and wearables writer and sub-editor at TechRadar. He has a love for everything 'smart', from watches to lights, and can often be found arguing with AI assistants or drowning in the latest apps.
Sours: https://www.techradar.com/news/google-pixel-6-price-pictures-and-specs-leaked
Bose Headphones 700: The King is Back!
Another leaked Google Pixel 6 price is more potential good news for your wallet
TL;DR
An eagle-eyed Redditor has spotted a new leak of the Google Pixel 6 price.
In Germany, the phone could go for €649 (~$758) and include a pair of expensive headphones for free from one retailer.
This matches an earlier price leak, making us pretty confident this is accurate.
Earlier this week, we finally got an official confirmation of when we'll see Google's next Pixel phones launch: October 19. With that date on the calendar, we now know pretty much everything there is to know about the phones. That is, except for one small thing — pricing.
Thanks to Redditor /u/the_amazing_rock, though, we now have a pretty good idea of what to expect. According to an image leaked from German retailer Saturn, one of that nation's largest electronics chains allegedly plans to set the Google Pixel 6 price at €649 (~$758). What's more, the leaked ad snippet claims you could get a set of Bose Noise-Cancelling Headphones 700 for free with your purchase. Those headphones cost $400 just on their own!
Check out the leaked ad image here:
The €649 price matches a previous leak we've seen. Judging from the consistency of these leaks, it appears to be a safe bet that that could the Google Pixel 6 price in the end.
Do note that the ad copy suggests this deal goes from October 19 — the confirmed Pixel 6 launch date — to October 27, roughly a week later. It's possible that could be the official pre-order window for the phones, meaning October 27 could be the day the Pixel 6 might be on store shelves.
Now, pricing very rarely carries over dot-for-dot across the pond. That means it is unlikely the Pixel 6 would cost $649 here. However, it could cost $799 or even $749, which would put it in direct competition with something like the Samsung Galaxy S21. That's not bad at all!
NewsGoogle, Google Pixel 6
Sours: https://www.androidauthority.com/google-pixel-6-price-germany-3036331/
Similar news:
Sign Up To Save
Being first always has its perks. When you sign up for their email newsletter, you'll unlock an exciting world of Bose discounts that you won't find anywhere else. Join for free to experience exclusive first looks at promotions, new products, members-only Bose coupons, and so much more, right to your inbox. It's the perfect way to get cheap Bose headphones or enjoy a Bose QuietComfort 35 II sale
You can even take it one step further by creating a full online account to track your orders and register your new Bose surround sound speakers or Bose QuietComfort earphones that you bought with our Bose promo codes for warranty. Get the best that Bose has to offer at special low prices with these tips!
Browse The Outlet
We know just how much you want to upgrade your Bose home theater or sound system to the latest electronics on the market, which is why we've discovered their best-kept secret. Just one look at the Bose outlet will have both you and your wallet jumping for joy! Whatever is on your wishlist, and no matter what your budget may be, these Bose sales will help you land everything for less. When you want to snatch up some Bose speakers for sale, this is the place to be.
There you'll find a ton of Bose refurbished products that are like-new, thoroughly inspected, and serviced to meet their strict quality standards. It's a great way to enjoy their sound for a lower price; plus, with a 90-day risk-free trial, you can't go wrong with these Bose deals.
Make sure that you also keep your eye out for the huge Bose Black Friday sale to snatch up the hottest tech solutions at unbelievable prices. When you shop with Forbes, anything is possible!
Placing Your Order
Choosing which home speaker system, Bluetooth speaker, or subwoofer is the hardest part. Once you're ready to go, all you have to do is decide on shipping. They offer free delivery on all orders of $50 or more, otherwise, standard shipping comes at an affordable $4.96. You may also select express delivery for $25 when you just can't wait. When you're looking to save on shipping, or your overall order total, remember to look here for the latest Bose coupon codes and Bose discount codes.
Previous Bose Promo Codes
| Discount Type | Coupon Codes & Deals | Discount Amount | Status |
| --- | --- | --- | --- |
| Online Deal | Bose student discount for up to $50 off | $50 Off | Expired |
| Online Deal | 10% off with a Bose military discount | 10% Off | Expired |
| Online Coupon | Bose QC35 discount for 15% off - Bose coupon | 15% Off | Expired |
Sours: https://www.forbes.com/coupons/bose.com/
10570
10571
10572
10573
10574