Side Part Hairstyle History
The Side Part has seen something of a renaissance in the last 7 years. Between the late nineties and the turn of the century, the Side Part was a pariah of men's style and combing your hair to the left or right was for geeks and nerds.
Not only have we had a strong vintage revival but geeks are cool again. This newfound freedom of follicle expression has brought along a plethora of different approaches to the Side Part, which has modernised the timeless style and enabled pairings with others.
The Side Part is particularly reminiscent of the 20th Century following the 1st World War. From the Roaring Twenties all the way until the rise of the Beatles, perfectly defined parting were almost uniform among men.
This was often accompanied by a heavy dose of pomade or Brylcreem to ensure both shine and hold. Different Side Parts are representative of different eras with individual characteristics stemming from the 30s, 40s and 50s.
Side Parts were especially prevalent in music such as rock & roll as well as jazz culture. African-American artists felt the pressure to conform to white standards.
In turn, many undertook a procedure called Conking to obtain the look, which became fashionable for nearly half a century.
This was a process for chemically straightening the hair using corrosive sodium hydroxide, which caused severe burns to the scalp as well as hair loss.
With Malcolm X's condemnation of this painful practice during the 1960s civil rights movement the fashion eventually died out. However, it has recently begun to re-emerge in women's fashion.
Types Of Side Part Hairstyles
A classic Side Part is achieved by combing the hair then blow drying, waxing or gelling into place. It can be a natural look with a soft part or heavily styled with a hard part.
A hard part is a technique where a barber uses razor blades down the parting. This makes your hair more pronounced by creating contrast as well as being easier to style.
Hard Parts are often paired with more stylised cuts where the sides are heavily faded or feature an Undercut. The top itself can feature other styles such a Pompadour or even be slicked back.
The different iterations of the Side Part make it a style that can be adapted to any occasion. Classic Side Parts combed and held in place with product can appear very conservative. However, if the hair is short and well-styled with a fade, this formal look can appear professional and chic.
Some more modern Side Parts have less of an accent on the parting itself but concentrate on how the volume on top is expressed. These full and wild iterations are more often referred to as Comb Overs. You can read more about these on our Comb Over page.
How To Part Your Hair
Ever wondered how to get that perfectly defined Side Part like Don Draper? It's easy once you've learned how!
Where To Part Your Hair
Firstly, you may be surprised but your scalp does have a natural parting, which is determined by hair growth. Feel for the swirl at the back of your head (the Cowlick) and take note in which direction the hair grows. A clockwise growth means that your part is on the left. If it's counter-clockwise, that's right, your part is on the right.
The height of your parting depends both on your natural growth as well as your face shape, which we explain below. However, opt for a parting that finishes in the corner where your top and sides meet at the temple. Avoid a parting that's too straight and try to aim for a slight diagonal or it may look like a wig!
How To Style A Don Draper Classic Side Part
Simply follow these steps to part your hair:
Start with clean hair and damp after a shower so it's easy to manage.
Massage your preferred styling agent into the hair and make sure it's evenly distributed.
Comb the hair neatly forward in the area you'd like your side part until it creates clear lines revealing scalp.
Aim for a slightly diagonal line that starts just under the Cowlick at the back and ends near the temple towards the front.
Using the comb, separate the hair along one of the lines to create the parting.
Come and style the sides and top as desired.
What Styling Agent To Use
In short, there are four different products that you can use when parting your hair. These styling agents consist of cream, pomade, gel, and wax. Each of them provide a fundamentally different finish of the final style.
Firstly, gels will create a glossy and hard finish. As gels become rock hard, your hair can't be restyled later in the day. Furthermore, hair gel can either flake out or run under the rain. Nevertheless, it's great for a defined and rock-hard look. Today, American Crew produces one of the best hair gels that you can use for this style.
Conversely, wax is the complete opposite. Indeed, wax very rarely shines and instead produces a matte, natural look. Furthermore, it doesn't dry and can be restyled throughout the day. TIGI Bed Head produces an excellent wax for more natural side part hairstyles.
Otherwise, creams like Brylcreem are quite rare today but certainly worth mentioning. Unlike both gel and wax, they offer only a loose hold. However, they create a very glossy and healthy shine, which is great for a vintage style. However, they do need regular restyling as the cream doesn't provide much hold.
American [Left] & British [Right] Bryclreem
Needless to say, we have a preference for Bryclreem as it's the classic option. There are two different types as we detail in this review. Nevertheless, American tube Brylcreemis generally your best option.
Finally, we find that pomade offers the best of both worlds. Not only do you get a firm hold that can be restyled but it produces a rich shine too. Pomades are very old-school and are the classic option for styling a side part. Remember George Clooney in "O' Brother Where Art Thou?" and his obsession with Dapper Dan? This is exactly what we mean!
Therefore, if you prefer a vintage-inspired side part, we recommend brands like Sweet Georgia Brown for its hold and Royal Crown, which has a lovely jasmin scent.
Will A Side Part Suit My Face Shape?
Being a versatile hairstyle, the Side Part can be used on most lengths of hair. A Side Part provides structure, which naturally flows with the hair's growth.
It can complement a face shape's features or even provides texture, which renders the face more angular if needed. The latter is especially useful for men with round face shapes. A hard Side Part that features a Fade or Undercut will provide structure to the face. Furthermore, parting the closer to the temples and away from the top along the parietal ridge will render the face squarer.
We've identified 7 individual face shapes, which play a vital role in determining how well certain styles may suit different men. If you don't yet know your face shape, we strongly recommend you quickly follow our guide here in order to identify it before you continue reading this section.
You'll discover that we have outlined 7 unique face shapes, which help in determining how well hairstyles suit different men. We highly recommend that you identify your face shape before continuing.
Ideal Matches
The following face shapes won't have any problems in styling a side-part.
Oval Face Shapes
Oval face shapes have few qualms when styling a Side Part. The only precaution is to ensure that the top isn't too tight to avoid a rounded finish.
Square Face Shapes
Square face shapes look particularly masculine with Side Parts. These can be styled with different sides and tops without running many risks in undermining the proportions.
Triangle Face Shapes
Triangle faces can try out side parts but just need to steer clear of high Fades, which will reveal their jawline. Keeping the side low and tight with a slight bounce in the top will ensure a well-proportioned harmony.
Acceptable Matches
The following face shapes can wear a side-part but should follow some of the styling tips that we outline below.
Diamond Face Shapes
Diamond should be careful as too tight on the sides will reveal their ears. Retaining volume along the crown will ensure that the forehead is well set against the cheekbones.
Heart Face Shapes
Heart shaped faces should be cautious styling the sides as aggressive fades will remove the volume needed to counteract their wide forehead for the latter. Keeping the parting along the ridge will avoid widening the face.
Oblong Face Shapes
Oblong shaped faces can benefit from a Side Part as long as some volume on the top and sides are relatively similar. This will shorten the face to make it appear more square or oval.
Round Face Shape
By using a hard parting that is kept low on the temple and climbs up to the crown, Round face shapes should fare well. However, care should be taken that the finishes are angular and that there is enough height on top. Regular touch ups are recommended to avoid the texture becoming soft and rounding off the features.
What Next?
Now that you have learned about side parts and how to part your hair, check out some of our related resources:
Sours: https://bespokeunit.com/grooming/hair/short-styles/side-part/
The side-part hairstyle has been around for years, but it was catapulted into the spotlight of men everywhere with the arrival of Mad Men's Don Draper. Showing us how to look as slick and suave as humanly possible in the business setting, the side-part hairstyle was key to his success.
Of course, he's not the only one to rock one of the most stylish side part hairstyles. Plenty of real-life gentlemen have owned the look and updated it for the 21st century (David Beckham comes to mind).
What we love about the side part hairstyle is its versatility. It looks great on the red carpet, but you don't have to be a movie star to make it work. It's a style that looks equally as good in the office as it does at black-tie events.
How To Ask Your Barber For A Side-Part?
The side part hairstyle is quite literally defined by the side parting. However, how you cut and style the rest of your hair is entirely down to you. While a classic side part would call for similar length hair everywhere, modern interpretations have introduced features such as fades.
When you've nailed the side part haircut, it's time to pick up some products. The tools you'll need will depend on the type of hair you have and the look you're going for. For thin or normal hair, a pomade offers both shine and pliability. For thick to medium hair, a gel may be better able to tame your tougher locks.
It doesn't matter too much if you have straight or curly hair, as both can be tamed. Straight hair has the advantage of being controlled by a comb or brush much easier, however.
To style your side part, apply the product of your choice evenly throughout damp hair after a shower. Find your natural part by brushing your hair forward, shaking your head lightly, and noticing where the hair starts to separate. Then simply comb the sides down, and push the front slightly back and over to the side (or up, back, and over to the side, if you want a higher quiff). Job done, you handsome devil.
Expert Tips
Chris Kapetanov @ Preen Salon
For the perfect part, you'll need a comb and some good quality product. Keep two products handy at home: 1 shiny and the other more matte. This way you can alternate between a more casual, relaxed look during the day and a shine for the evening. For a more relaxed feel once you've combed the hair, run your fingers through it to break it up a bit and introduce a little texture. Try mixing both products together to make a blend that suits you for any occasion.
Side Part Hairstyles FAQ
How long should your hair be for a side part?
You need about two to four inches hair on top for a successful side part. The longer the hair, the more volume you will have.
What side should I part my hair on?
It depends. If you hair moves in a clockwise circle, a part on the left is the best. If counterclockwise, it should be on the right. Make sure to keep your side part as close to the ear as possible.
What products to use to create a side part?
For your side part, you can secure it in place using gel for a wet-look finish. If you prefer a more matte texture, pomade is your best bet.
Read Next
Did you enjoy this story?
If so, subscribe to our daily newsletter to receive our top tending stories.
Sours: https://www.dmarge.com/side-part-hairstyles
23 Side Part Haircut Ideas for Men: Classic + Modern
Zero Fade Side Part
Instagram @gabriele_the_barber_
A side part fade haircut with a zero fade and hard part is one of the sharpest-looking haircuts for guy's in their 20's.
Side Part with Wavy Long Fringe
Instagram @farhad_barber_vip
A side part with a wavy long fringe is an amazing disconnect haircut. It features short-length hair along the side stopping at the partial ridge, and there's a drastic difference on top with no transition from the sides to the top. Style your hair to the opposite side of the side part for the best style.
Burst Fade and Deep Side Part
Instagram @londonschoolofbarbering
A burst fade and deep side part is a beautiful marriage of clean-cut professional and slick artists. It is made by cutting the hair shorter over the ear, sloping down, and clippering at the nape of the neck. This technique creates fluidity while accentuating the head and crown shape, all while seamlessly blending it. The side part is made by styling the hair from one side to the next. For an extra crisp part, a straight razor is used to etch the part into the style.
Side-Swept with Part
Instagram @zaebis.haircuts
Side-swept with part is the best haircut for any businessman to try. It is an all scissor haircut that makes the appropriate length to sweep the hair to the side when styling. It is nicely tapered around the edges to make a soft hairline which is a natural part of the partial ridge.
Side Part and Brush-Back Style
Instagram @ali_heydari_org
A side part and brush back style are the ideal haircuts for those with long face shapes. The slick and classic cool look of the brushback with the side part diminishes bulk on the sides. It brings balance to the sharper edges and condenses the length of the face. Consider consulting with a barber or hairstylist to make sure that proper density in the temple and hairline is achievable.
Quiff Haircut with Side Parting Style
Instagram @seniorsasan
The quiff haircut with a side parting style is a great way to update and individualize the quiff haircut. The parting can be styled or shaved in with a razor. It instantly tones down the free-spiritedness of the cut. When styling, make sure to part the side then, lift and shape the fringe so the quiff will not transform into a comb-over style.
Side Part Fade For Curly Hair
Instagram @artlessdog
A side part with curly hair is such a dreamy side hairstyle!
The Classic Side Part for Thick Hair
Instagram @big_mels_barbershop
Sometimes, going back to basics with a classic side part is what a man needs as a refresher.
Side Part for Long Hair
Instagram @jess.cianci.beauty
Creating a sharp side part requires a greater contrast of shaved sides and maybe a surgical line just before the part.
Side Part with an Undercut
Instagram @kieronthebarber
Here's a professional men's side part haircut idea, which is an edgy way to express style! Finesse a side part with undercut, and you'll love the result.
Skin Fade + Side Part
Instagram @fogos_cutclub
Do it big with a shave really close to the scalp. The side part and the skin fade are mutually accentuated with this very contrasting mix.
Pompadour with a Side Part for Straight Hair
Instagram @mohammad___soleymani
A side part with pompadour works on men with straight hair who want to show off some length. The mid-fade creates a nice gradation from the flashy, combed-up pomp to the shaved sides.
Comb Over Side Part with Low Fade
Instagram @anchorbarbershop
Comb over the hair to the side, and make the shave a bit closer to the ears and nape to achieve this neat, smart-looking low fade comb over side part!
Messy Side Part
Instagram @joeltorresstyle
With this messy side part style, you don't have to worry about getting that 'do perfectly. A curly shag with a side part is the cut that you'll need!
The Ivy League Side Part for Men's Hair
Instagram @hairby_kait_
Get it right with the most proper side parting hairstyle there is. The ivy league side part is ready for work and play!
Medium-Length Hair with Mid Fade and Side Part
Instagram @andreymoskaliyk
If you're in the process of growing out your hair, try asking for this side part cut with a mid fade. Length is kept at bay while keeping everything polished.
Businessman or Professional Cut with Side Part
Instagram @ojackk
For every hardworking man out there who still finds time to unwind, here's the side part mens haircut for you. The days of sacrificing comfort for wearability are now over!
High Fade + Side Part Haircut
Instagram @henrique_romario123
A high fade highlights the side-parted pomp that's done up top. Plus, a high fade with a side part makes styling much easier!
Hard Side Part
Instagram @jimthetrim_hair
A hard side part like this never fails to impress. Go for the more adventurous one involving a mid-taper and a comb over to complete the look.
For gents wearing a hard part with taper and comb over style, a pomade or gel will be their best friend.
Side Part Style for Wavy Hair
The side part style for wavy hair works well with a fade, allowing more strands to be left in the crown area.
Barber Anthony Giannotti of California explains that "a taper fade is a medium to low fade cut. It's angled from the temple dropped below the occipital bone."
Giannotti notes that the cut also helps weighing down a strong cowlick for men.
The Gentleman's Cut with Hard Part
This is a zero faded side part haircut with razor-cut parting, created by barber Miguel Acevedo of Toronto, ON. It adds a lot of structure and masculine angularity to the face. It stays looking polished and crisp with little effort required to style.
"This is a side haircut that's diverse and suits all but the most conservative professionals. Mainly due to the tight fade and razored part. It's classic with an edge. The cut-in parting is ideal for low-maintenance styling, though it requires regular barber visits to maintain," Acevedo explains.
Any product will work with side part hairstyles, but generally, it's a slick look that works well with pomade or wax.
When requesting this haircut, Acevedo suggests asking your barber to leave some weight below the parting to ensure a balanced, square shape.
Taper Fade with a Side Part and Volume on Top
This is a taper haircut with side part. It's for the man who needs to be tidy and professional for work but who still wants to have some fun with his hair.
Made by stylist Cody Johnson of Canada, this cut has length on top can be slicked back if needed, styled with some volume for a more modern look, or even left down in the face for a more textured and messy look.
"Having the sides and back as short as this style will require maintenance every 4 weeks to keep you looking sharp," Johnson notes.
A product with hold is also a must to keep a tapered side part throughout the day. Johnson explains, "A clay or paste, with a shiny or matte finish. First, blowdry the hair totally dry, Then apply the product first in the opposite direction of the desired look, and go back and work the product into the hair in the correct direction."
Short Hair with Short Sides and Side Part
This is a razor side part with graduation that is not too shaved to the skin on the sides, and was created by barber Ridley Ribeiro of Brazil.
"This cut is for men who want a more modern touch. Use an ointment with matte effect for finish and also a fixative spray," states Ribeiro.
Sours: https://www.latest-hairstyles.com/mens/side-part-haircut.html
Whether you want a classic or modern look, side part haircuts are a flattering choice. This versatile men's haircut style can be as clean cut or bold as you like.
If you're looking for an easy to style haircut for men, try a side part. The comb over fade practically styles itself. Taper haircuts or medium length hair also requires styling at the sides but it's still simple.
On top, go matte for a classic look, shiny for a retro finish or add lots of height and texture to be on point. For something different, add some defined waves or even a side quiff.
Check out these pictures for 21 different ways to wear side part haircuts.
1. Side Part Hairstyle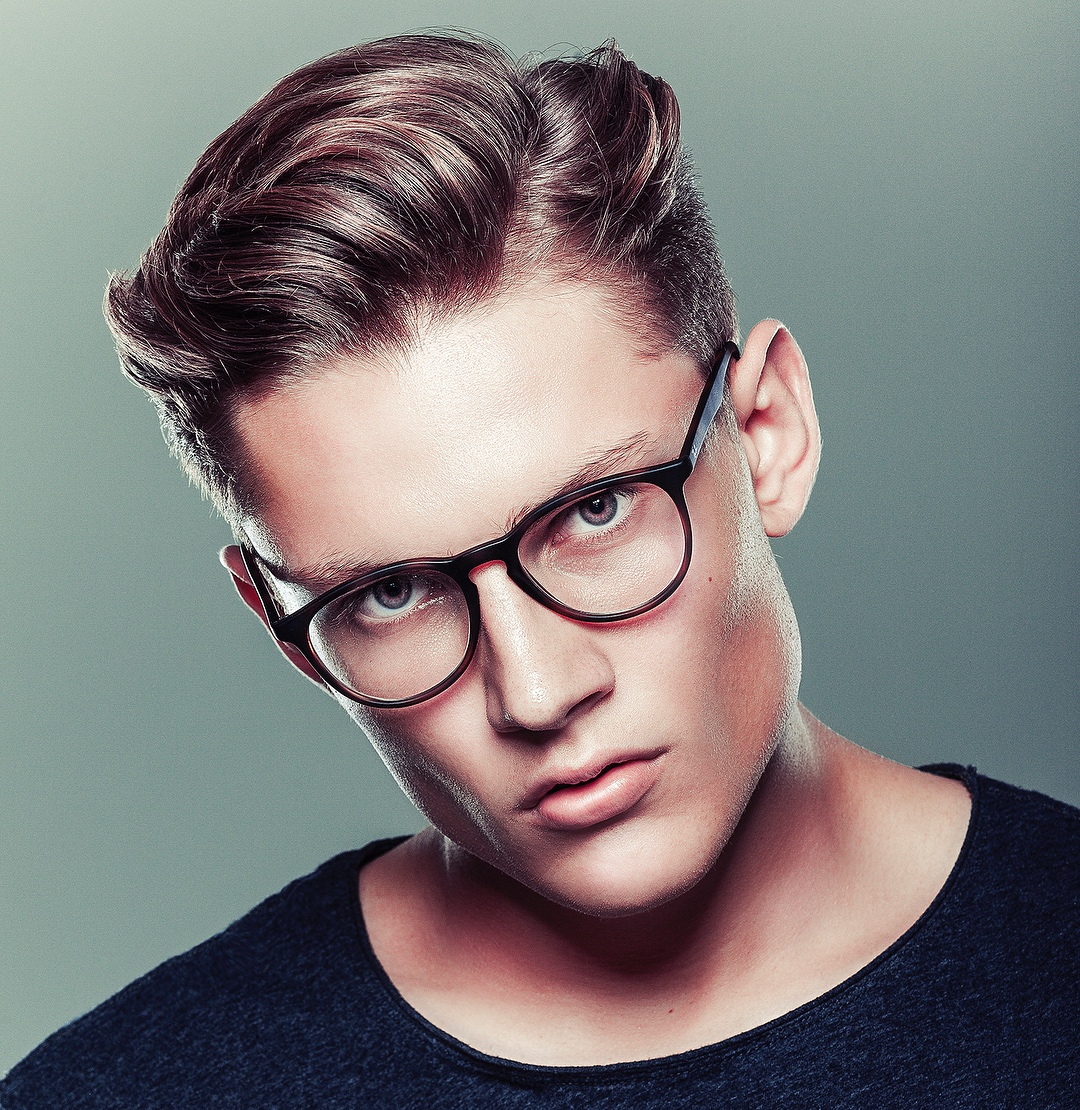 Alan Beak
This classic side part hairstyle with a taper haircut is totally cool. Medium length hair on top is loosely swept back and divided by a side part. Longer hair on top creates a natural disconnect.
2. Comb Over + Waves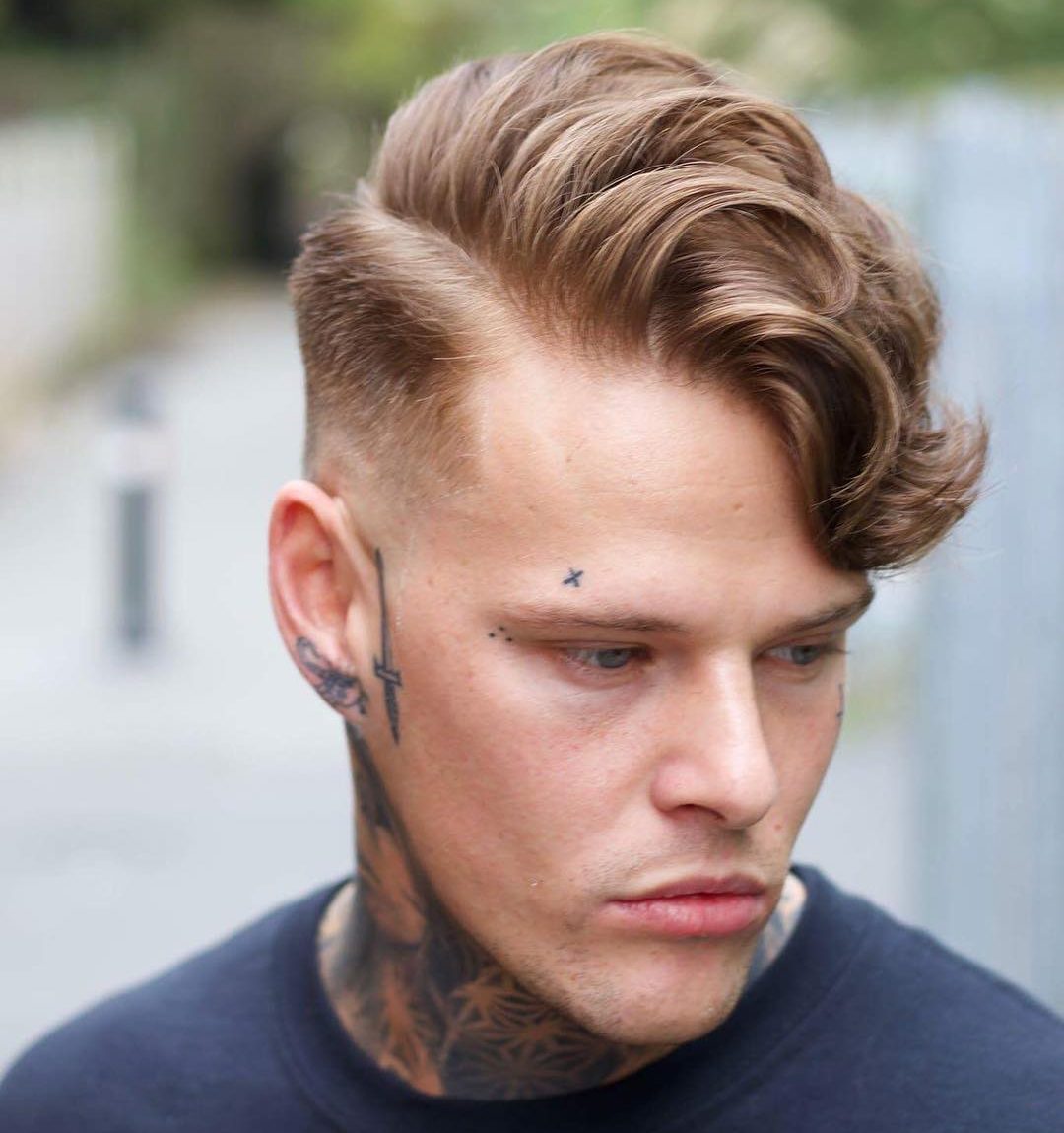 Alan Beak
This comb over fade haircut is styled into ocean-inspired waves.
3. Medium Length Hair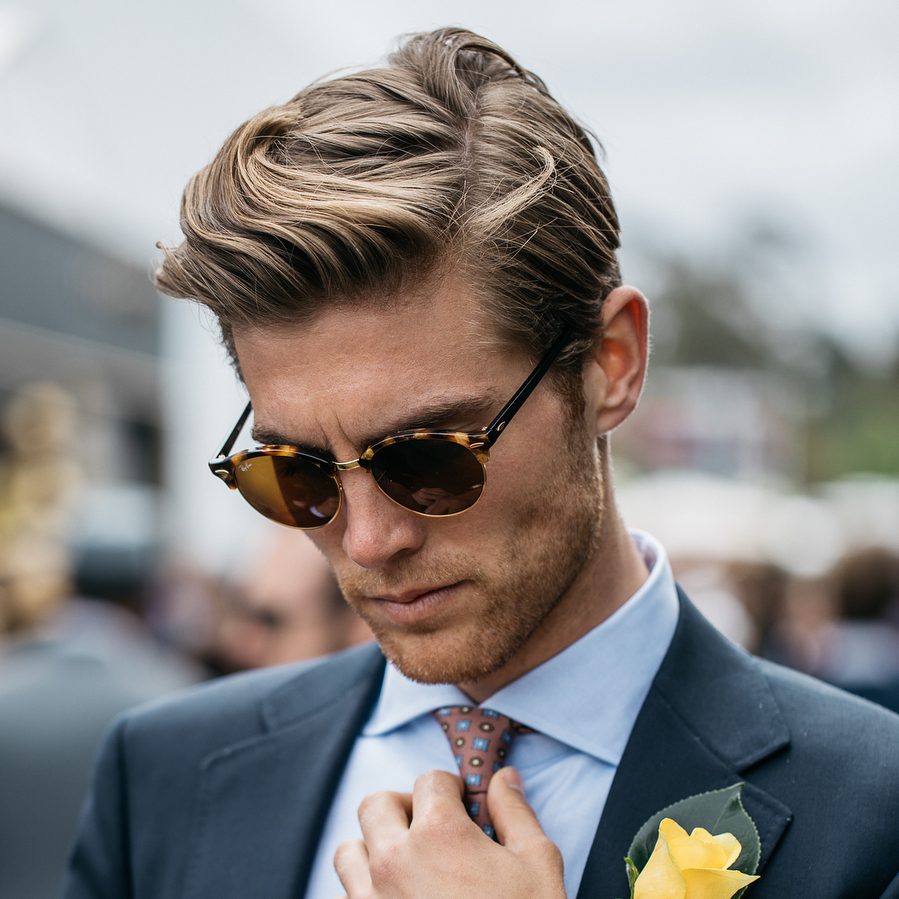 Sam Wines
Model and Man of Style Sam Wines wears his medium length hair in a side part that is styled loosely with texture.
4. Low Fade Haircut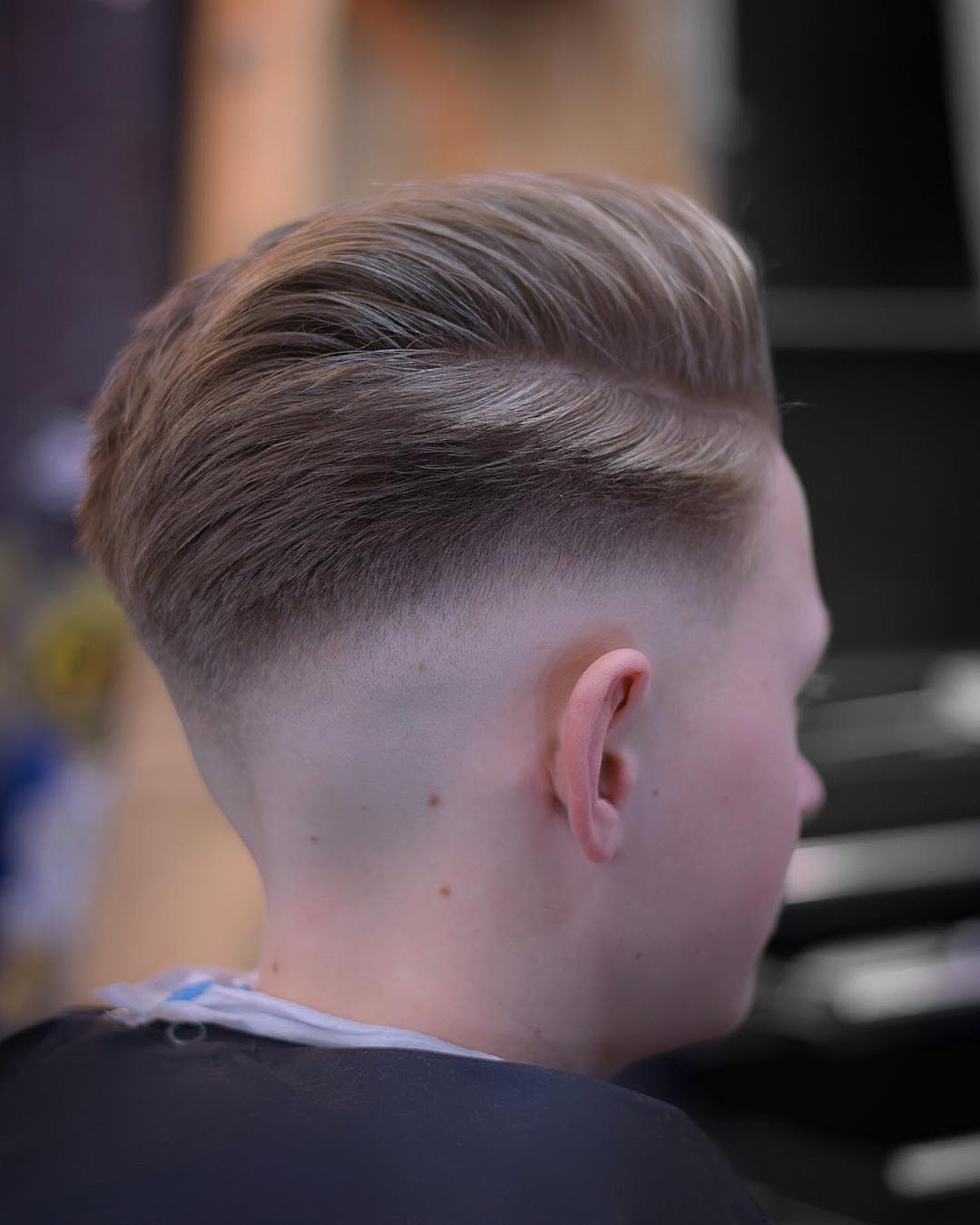 Jarreds Barbers
Mix and match various components of men's hair to create your own unique look. This cool style features a classic side part, on trend low fade and modern matte pomp.
5. Ivy League Hairstyle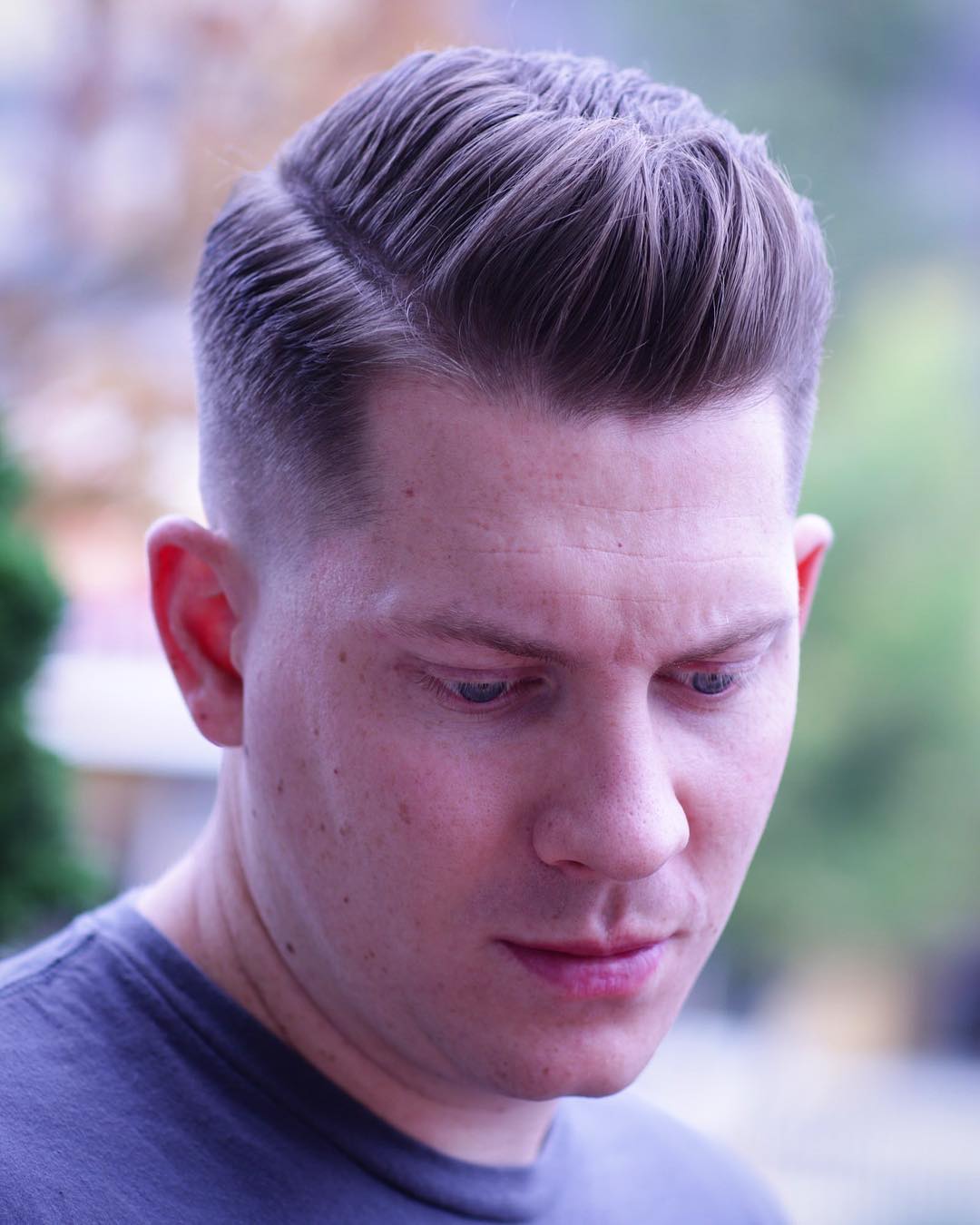 Cameron Tooyserkani
This is on the longer side of the Ivy League but it fits the bill as a short haircut with a side part. It is swept back with plenty of volume and a matte finish.
6. Side Part + Comb Over Haircut

Stephen J.
A defined side part adds a defined cut element to messy or clean cut hair.
7. Side Part Pompadour Haircut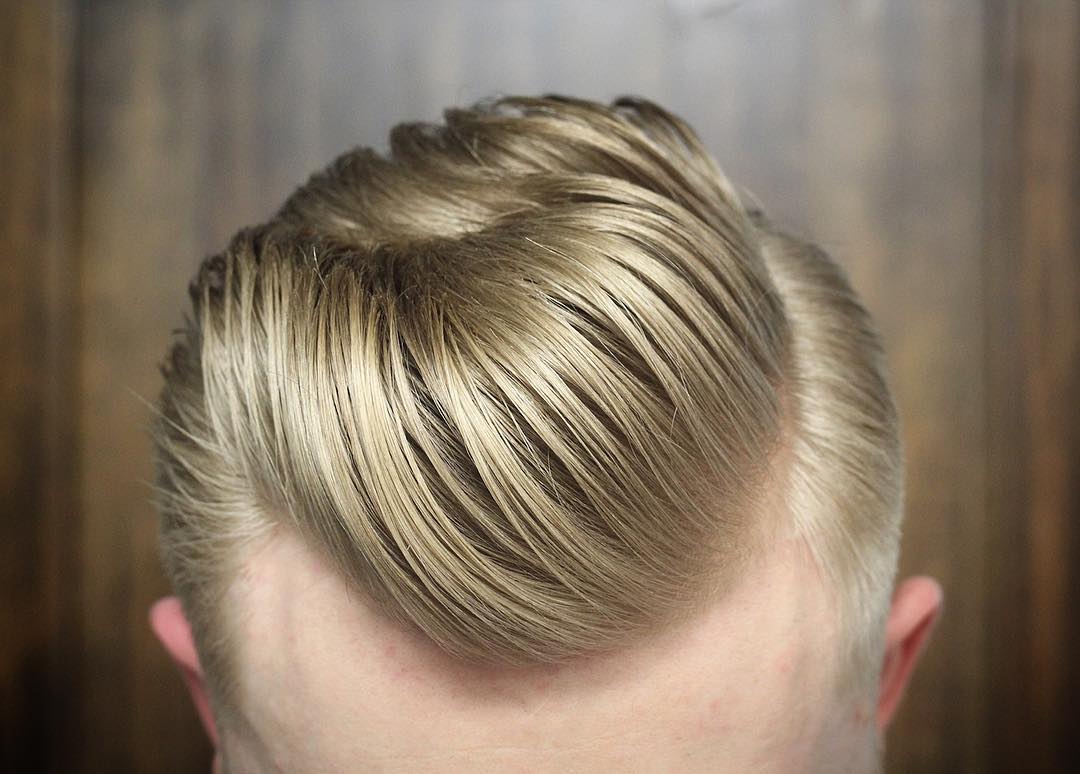 Mike Thomas
The pompadour looks great with and without a side part.
8. Disconnect Hairstyle + Hard Part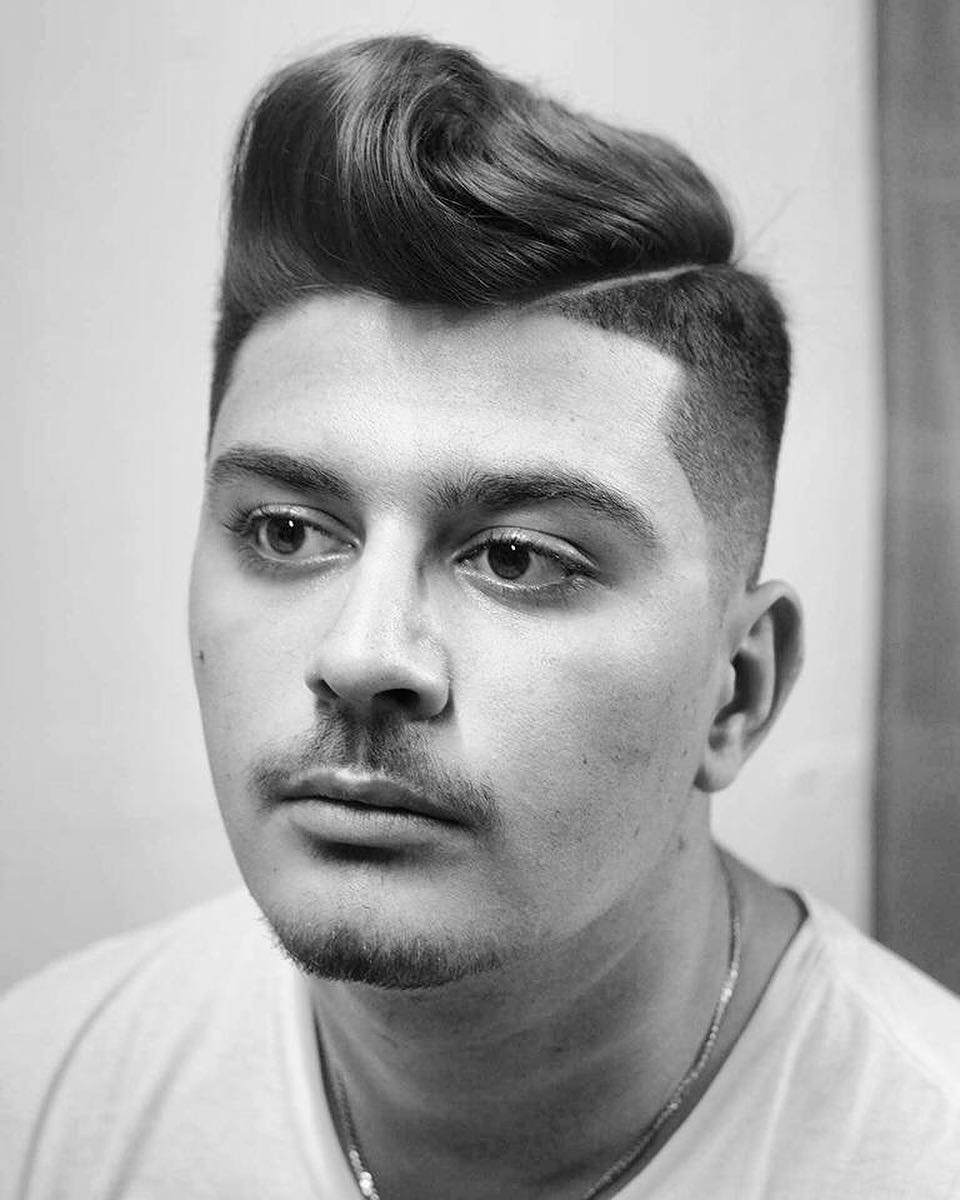 Don's Cuts
This shaved line creates a hard part in this disconnect haircut.
9. Side Part for Thick Hair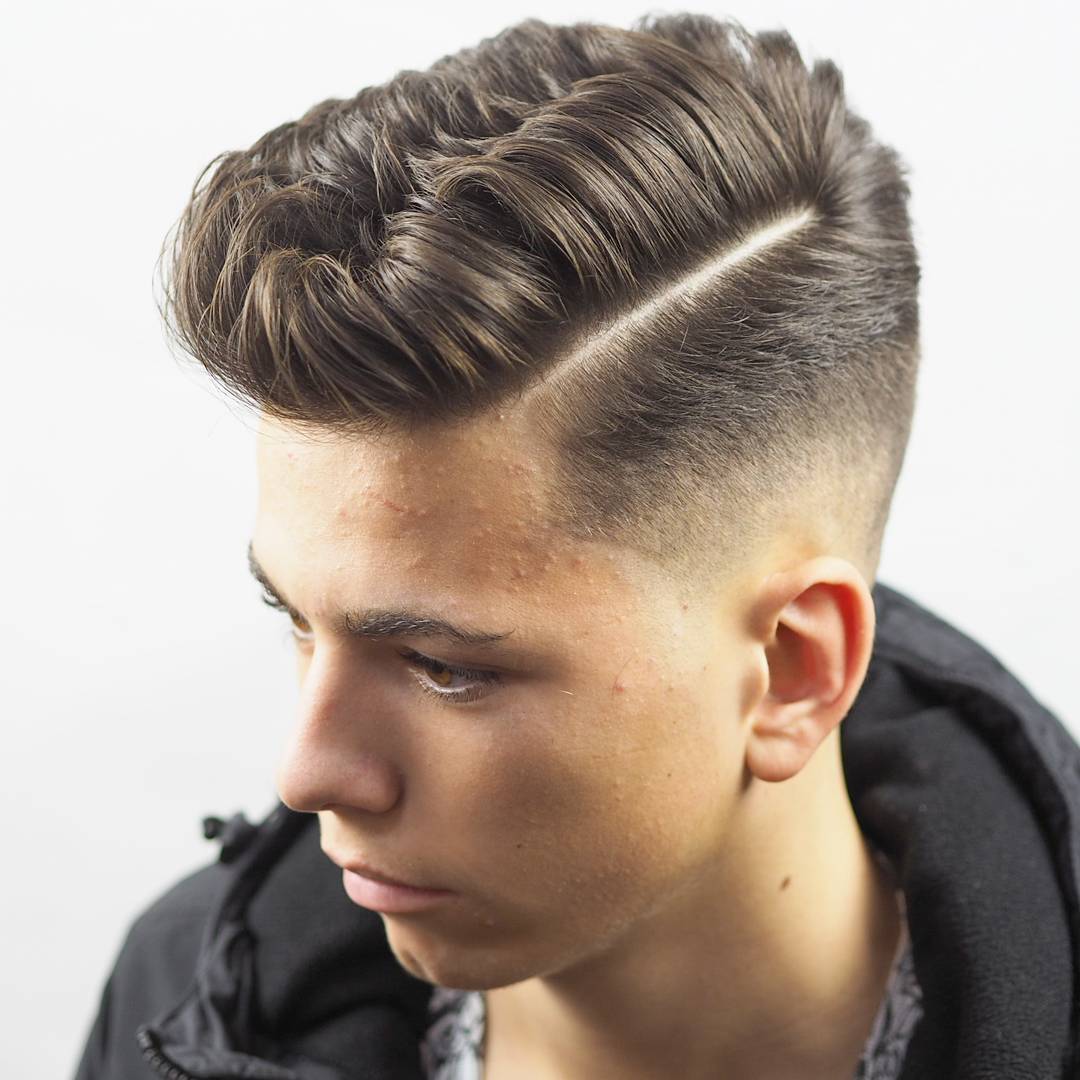 Ballester Barbershop
A shaved part adds a bold contrast to a blurry fade and soft style.
10. Side Part Hairstyle for Curly Hair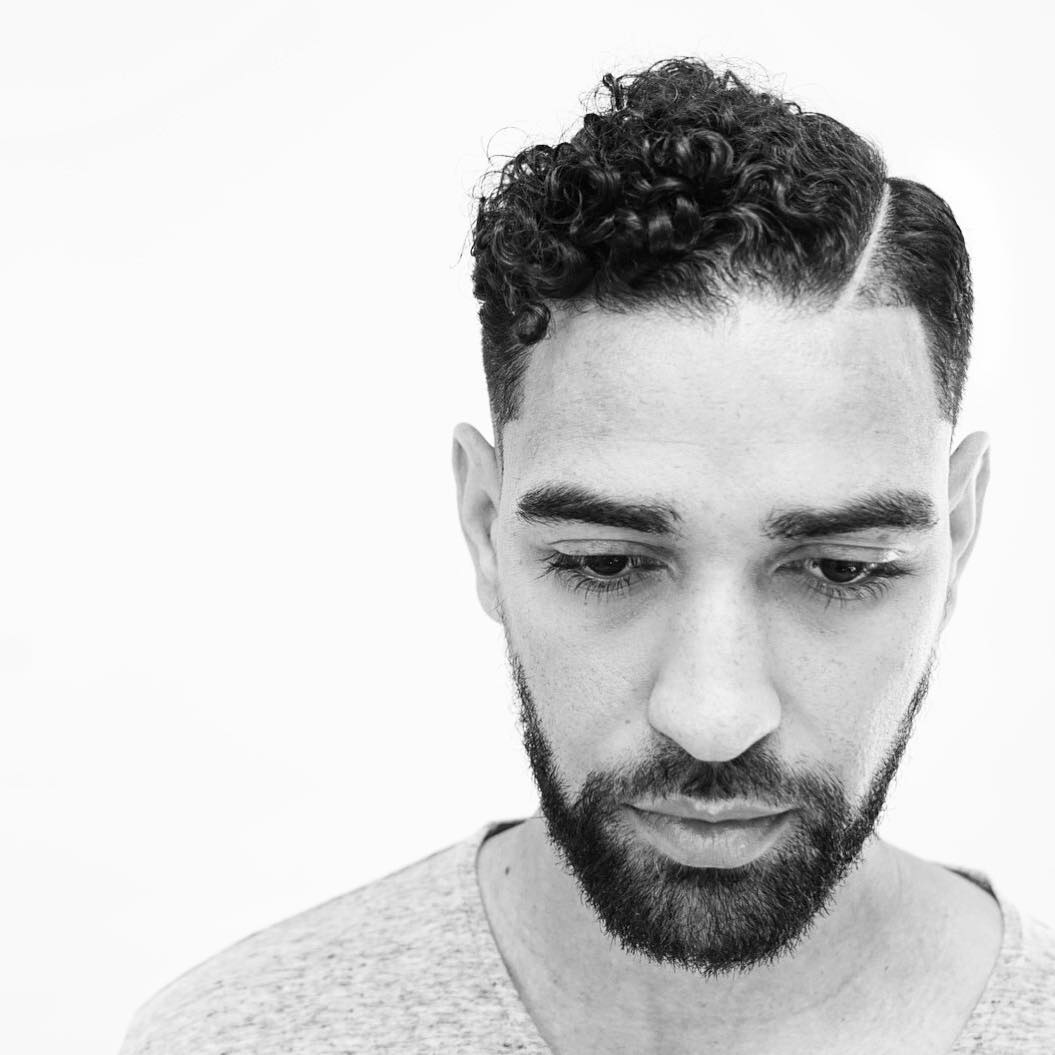 Julius Cvesar
The side part haircut works for wavy and curly hair too. A shaved part eliminates the need to physically part hair every morning. Just work in some product for hold.
11. Classic Men's Haircut With A Side Part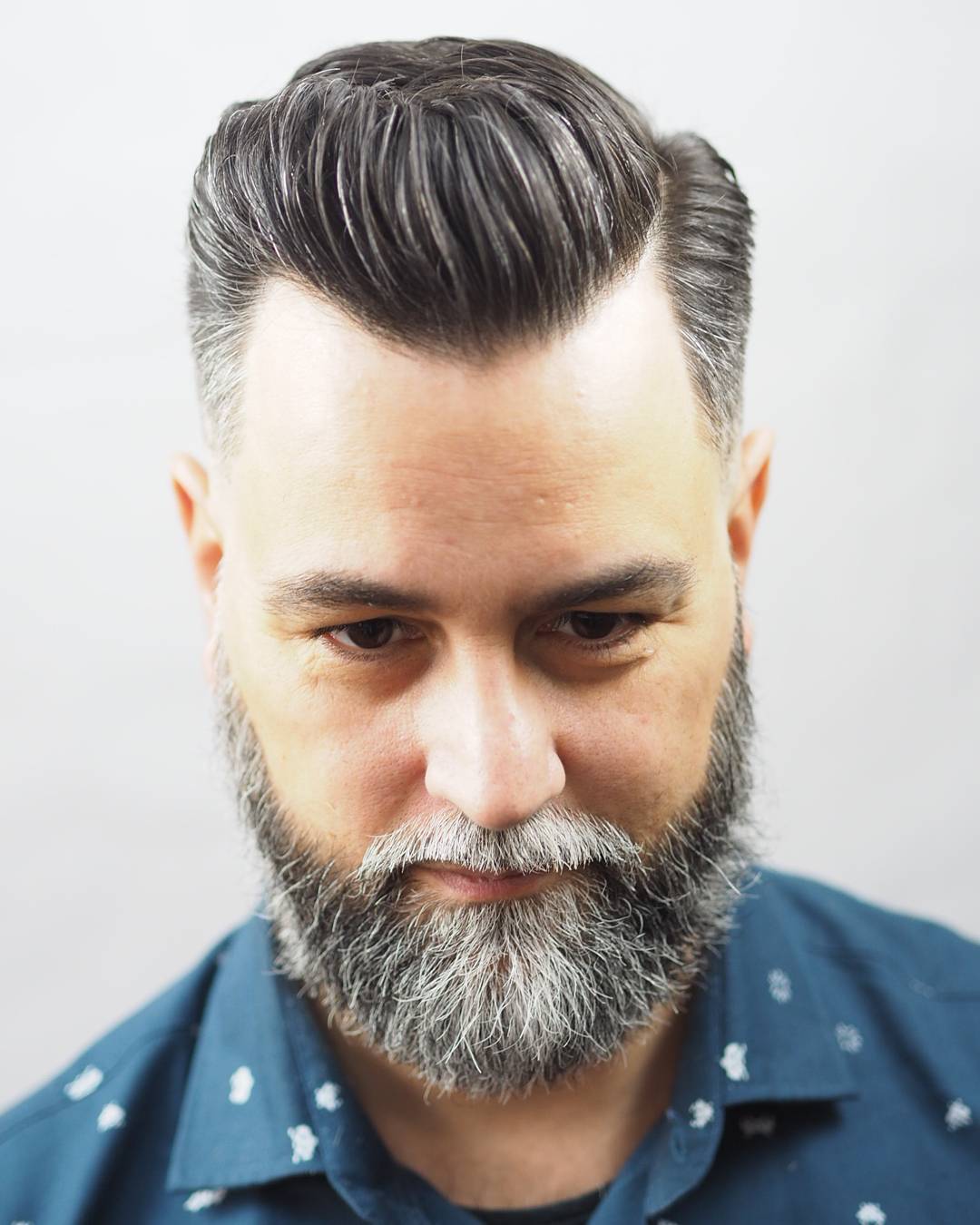 Ballester Barbershop
A side part breaks up this timeless slicked back style worn with a modern beard.
12. Slick Hair Side Part + Mid Fade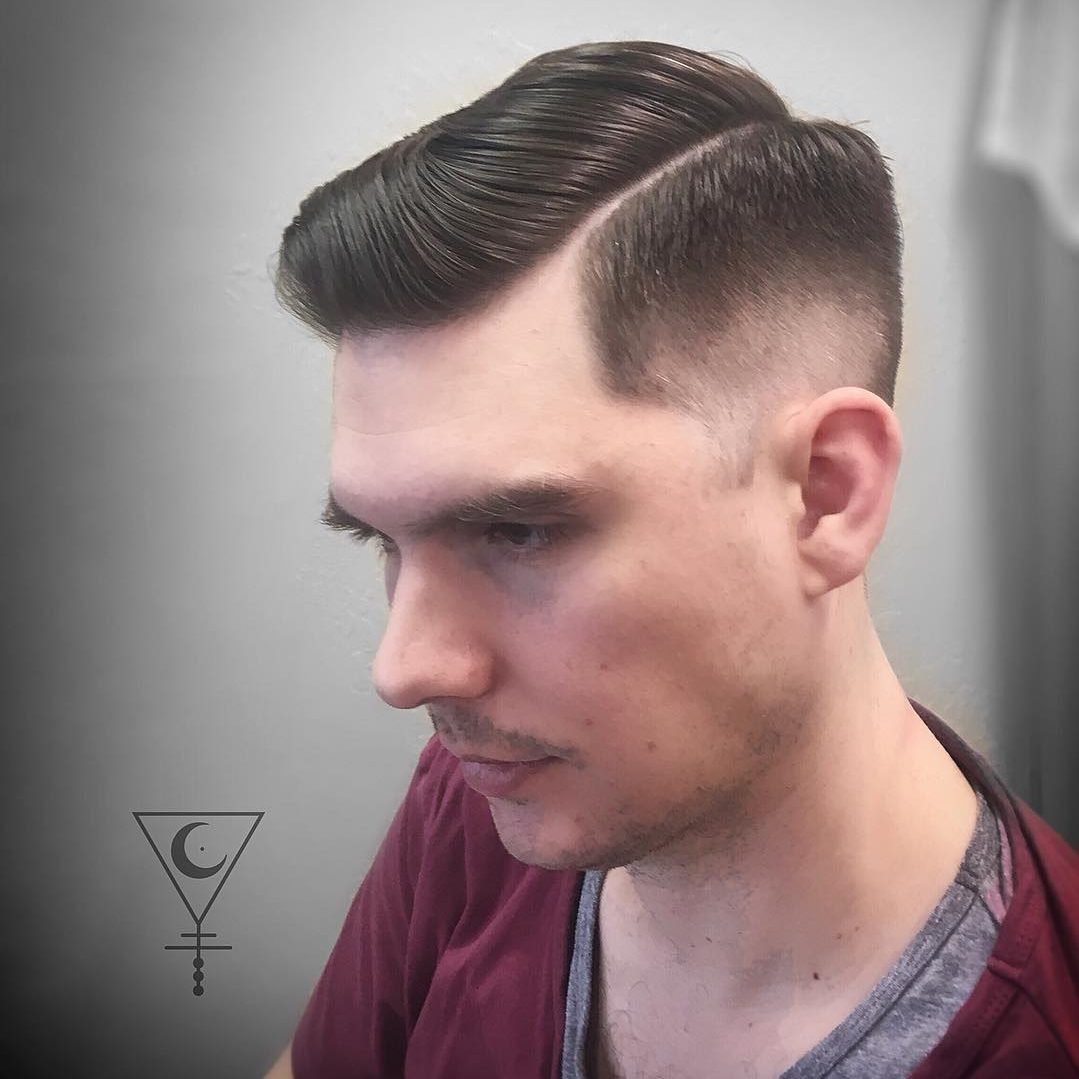 Riahmai
A mid fade updates this Clark Kent hairstyle.
13. Classic Side Part Comb Over Haircut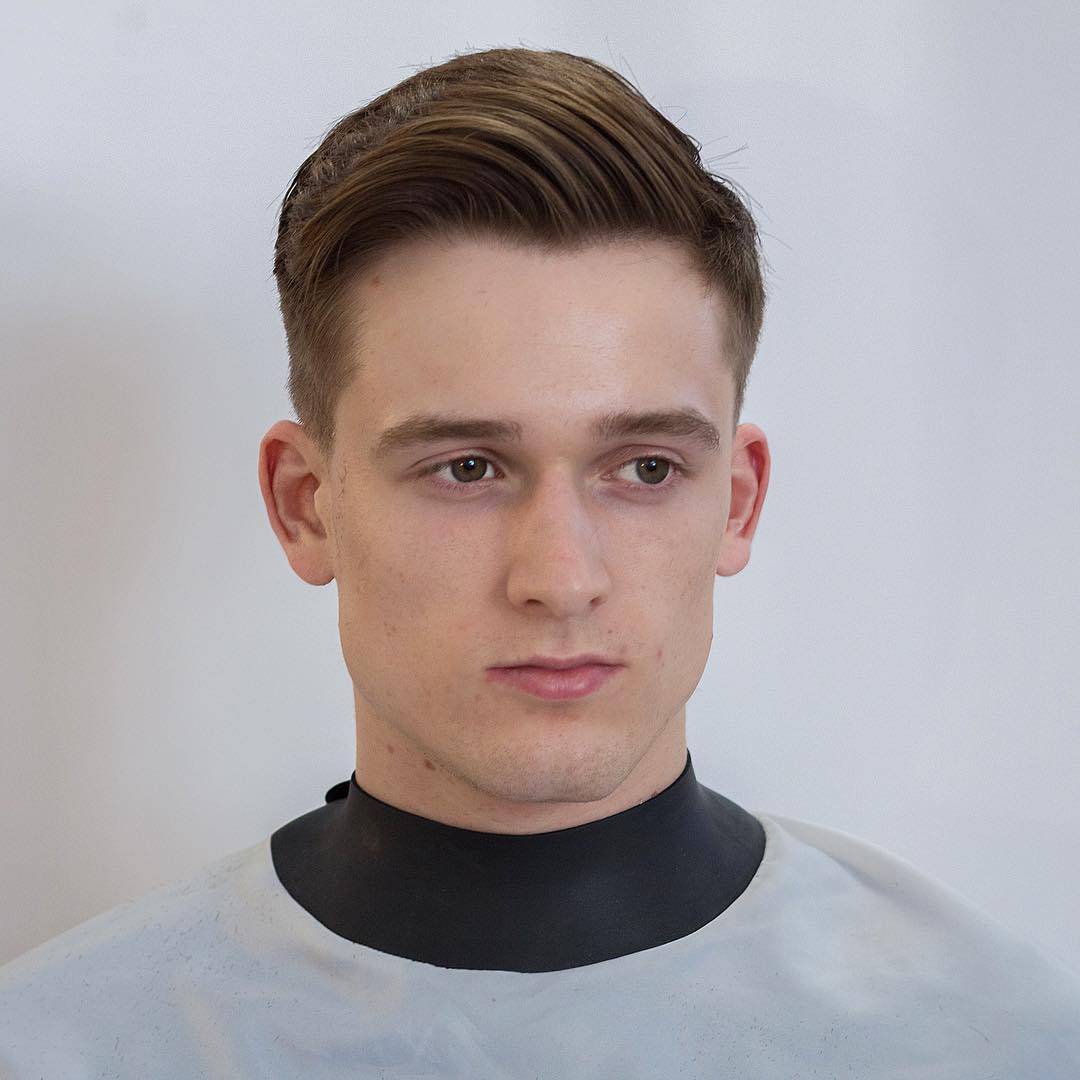 Rum Barber
The side part works really well for a longer on top, short sides and back haircut. Another option is to style hair striaght back.
14. Comb Over Side Part Men's Hairstyle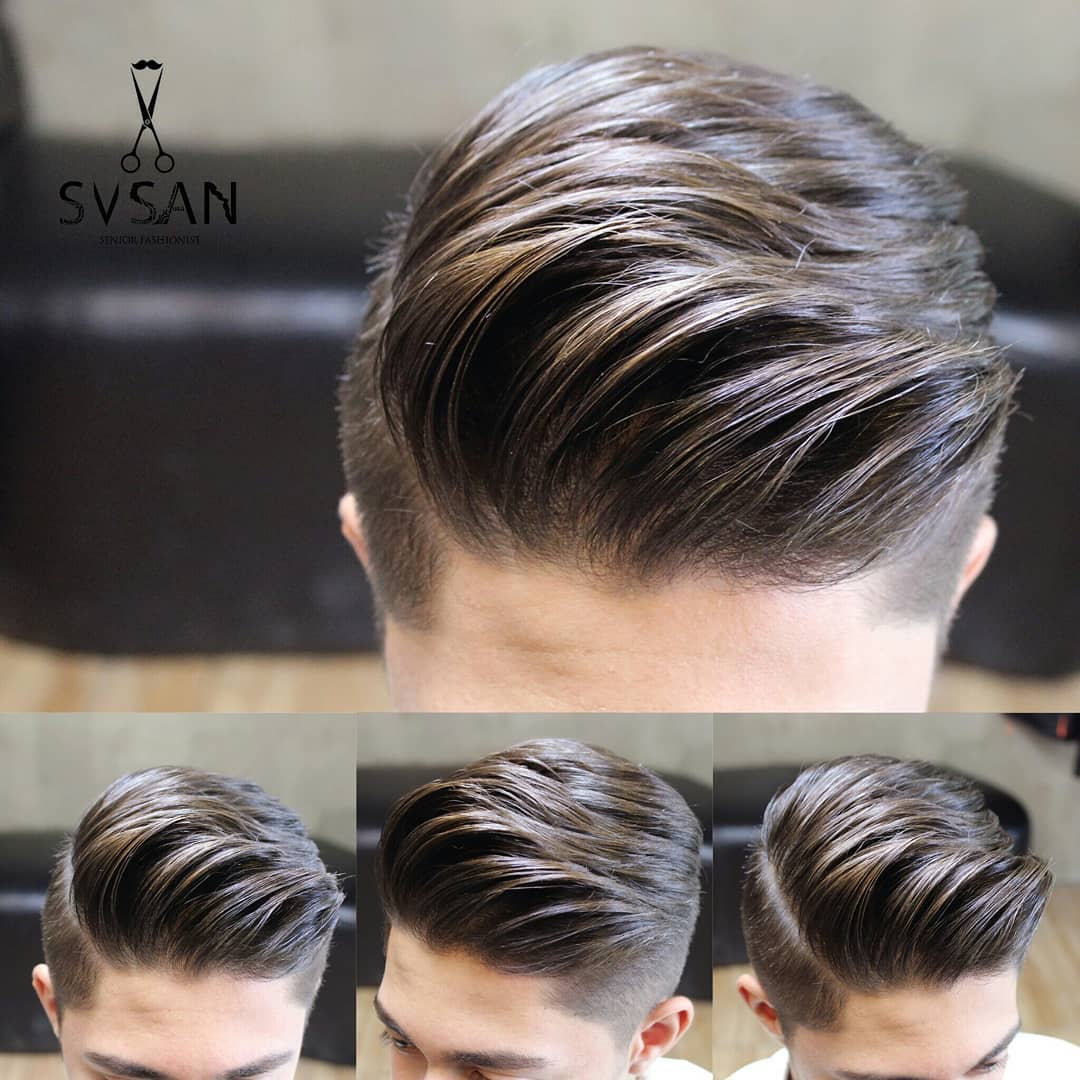 s.v.s.a.n
A combination of height and texture in this cool comb over hairstyle makes hair appear much longer and fuller.
15. Side Part With Loose Waves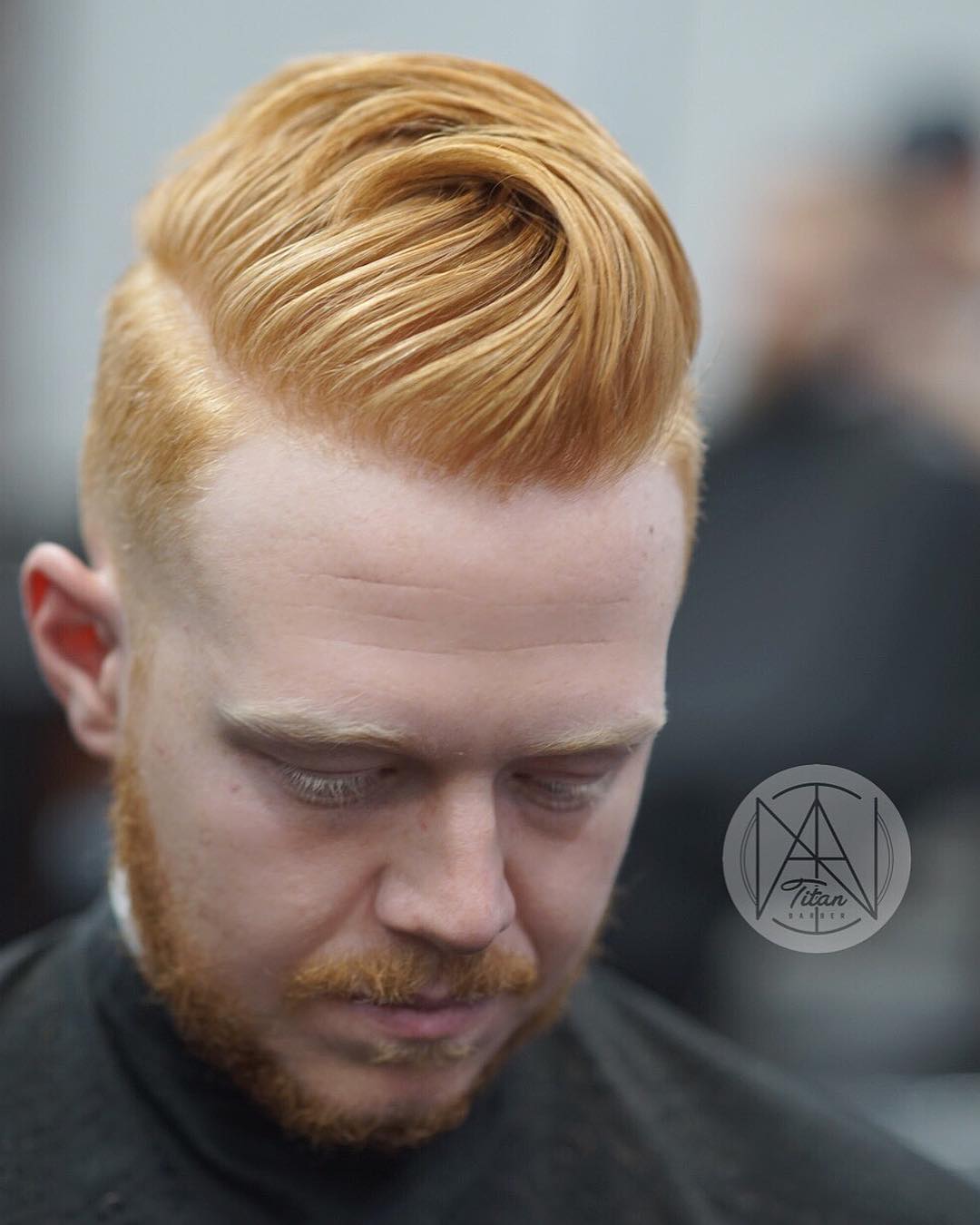 John Carmona
One of the ways barbers are innovating is with new shapes. These cool waves add a distinctive shape to the texture trend.
16. Slicked Back Hair + Side Part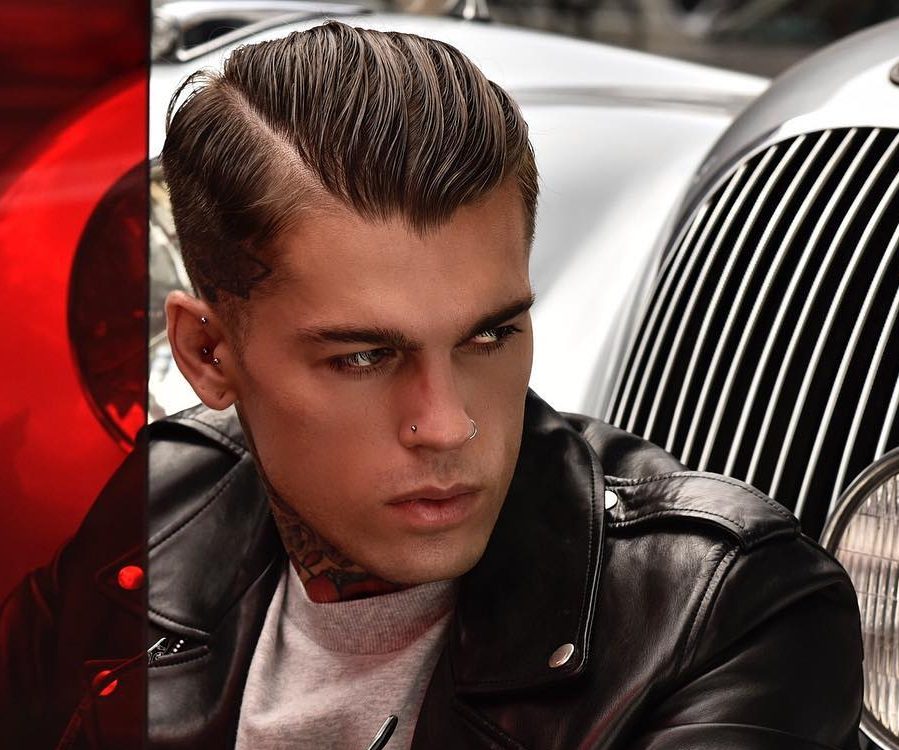 who is elijah
Model Stephen James contrast classic greaser style of slick hair and a leather jacket with 21st century piercings and tattoos.
 17. Quiff Haircut + Comb Over + Side Part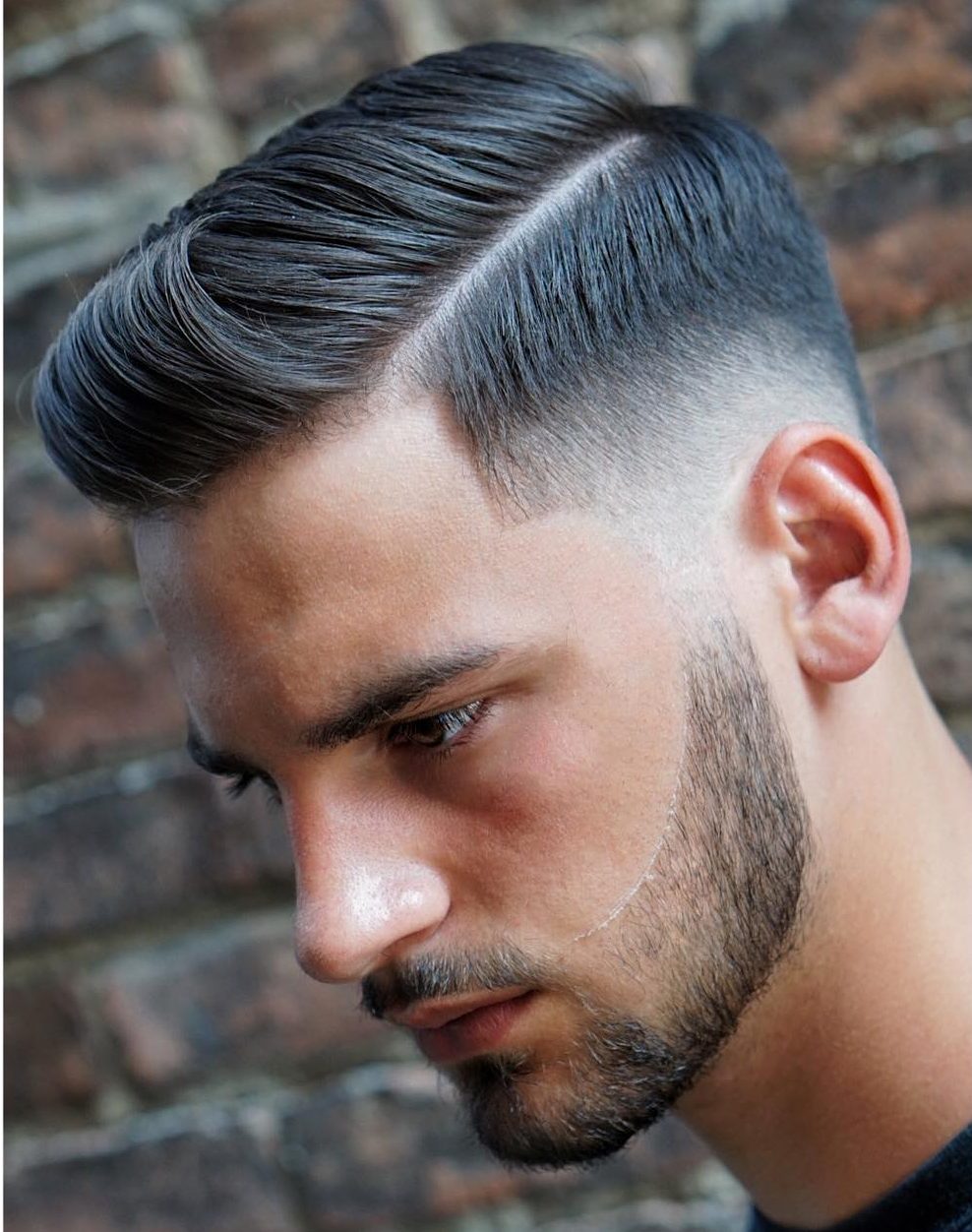 Zach Ramsey
This comb over hairstyle changes direction into a quiff at the hairline.
18. Comb Over Hairstyle For Men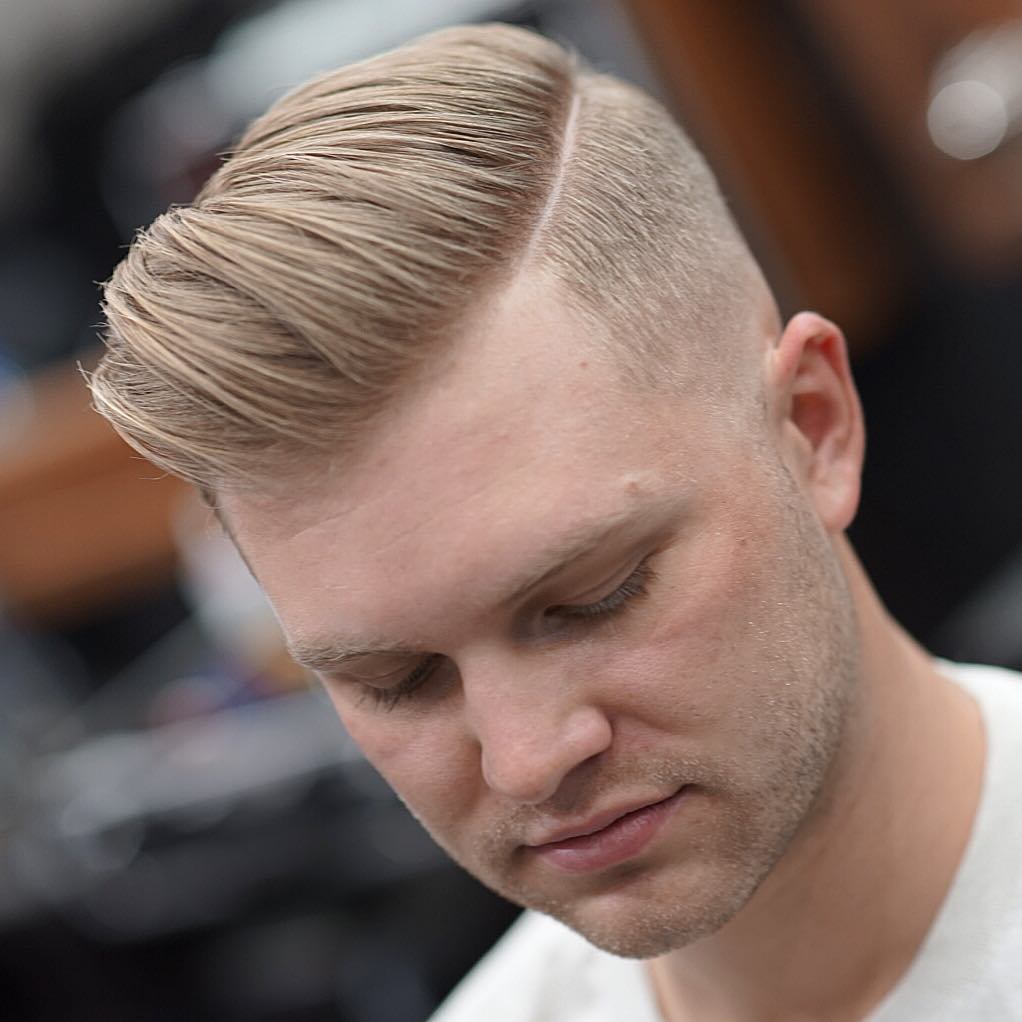 A side part lends itself to a comb over hairstyle, styling hair opposite the part.
19.  Long Wavy Hairstyle For Men + Side Part

Juan Lopez
A fine shaved part adds structure to this natural wavy style.
20. Side Quiff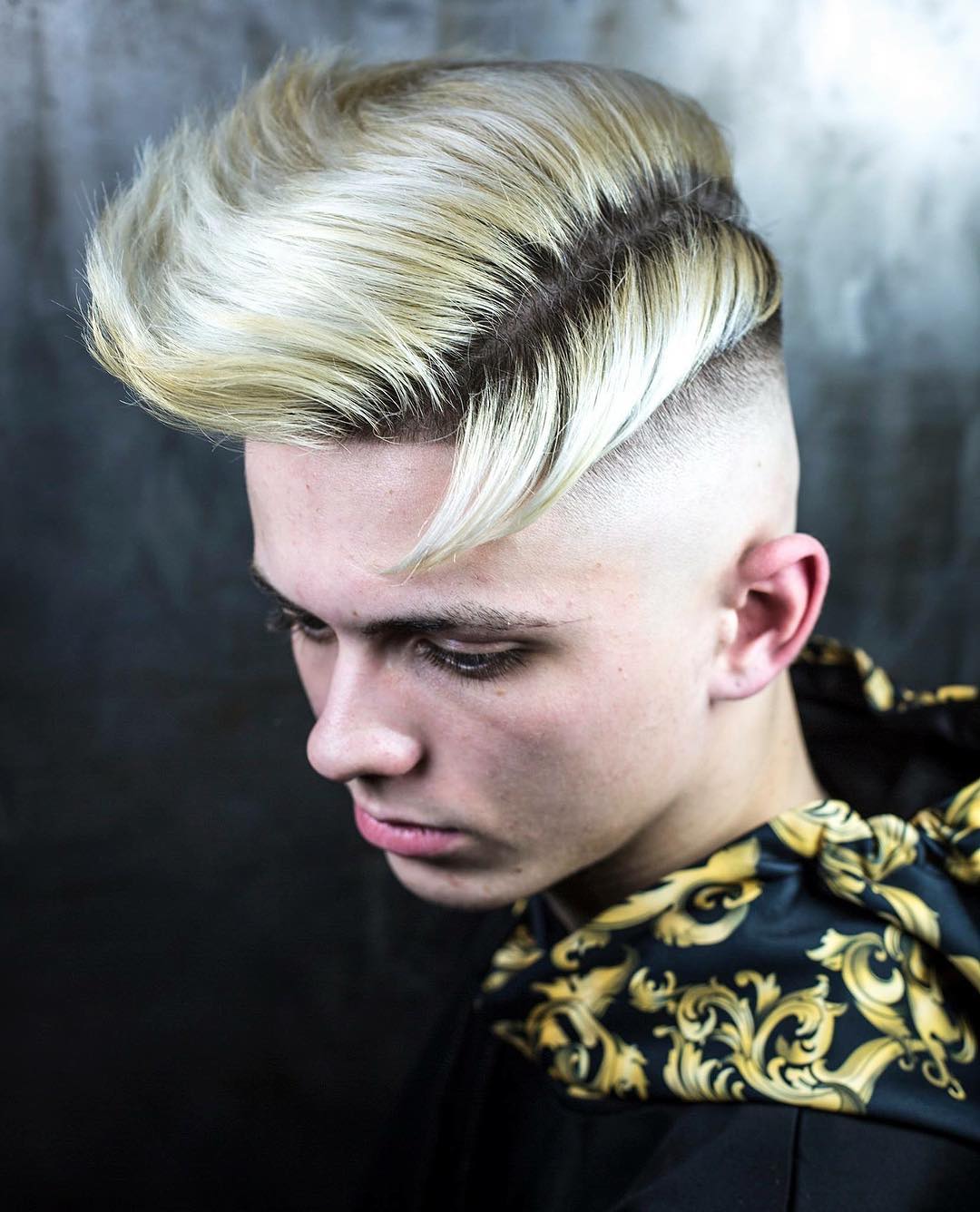 Braid Barbers
This bold look takes the comb over to the next level with plenty of volume.
21. Burst Fade Haircut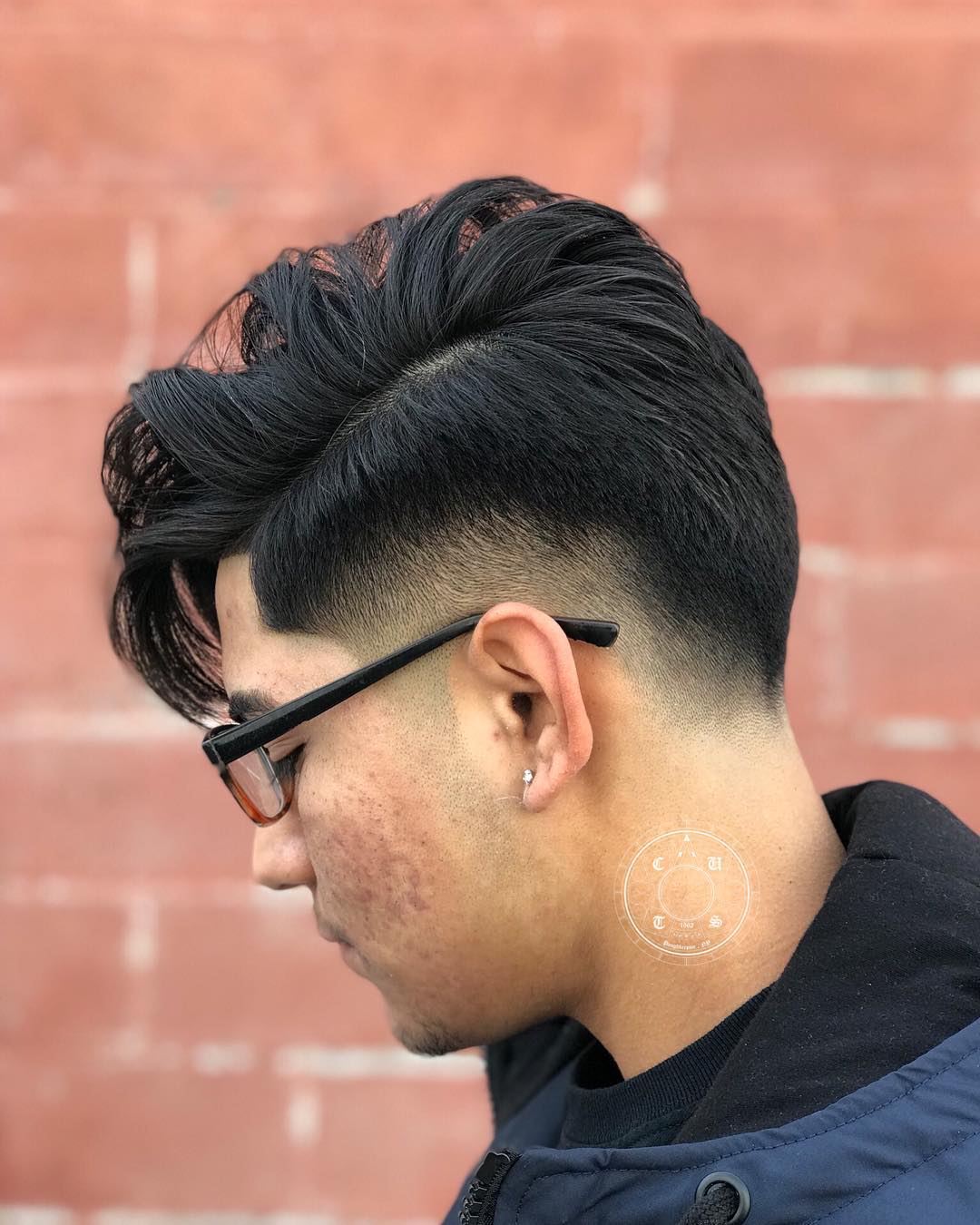 Juan Lopez
This high volume textured style contrasts with a defined part and burst fade behind the year.
This post may contain affiliate links. Please read our disclosure for more info.
Sours: https://www.menshairstyletrends.com/side-part-haircuts/
Part mens side
68 Amazing Side Part Hairstyles For Men
Whether you're hoping to upgrade your 'do to something more timeless and classic or your mother trained in a side-part from infancy, updating your hairstyle can freshen your look, add maturity or cover up any hair issues you might suffer from.
If you're looking for a new style that is versatile and attractive, a side part is an excellent option that can be styled formal, casual and everything in between.
What's even better, you'll only need a comb and, perhaps, some styling product to keep it in place all day.
Celeb Influence
While celebrities' decisions aren't usually important when making a decision for yourself, checking out their hairstyles will allow you to see how a certain cut flatters or hides features. For example, if you have striking eyes and a rounder face, check out photos of Leonardo DiCaprio or Tobey Maguire.
If you have a strong jaw and like to grow out facial hair, Justin Timberlake and Brad Pitt can show you the many side-part options available for your structure. If you have a pronounced widows peak, you can see how Chris Hemsworth and Jake Gyllenhaal have worn side-parts to tame the often-contrary issue.
To see how a hairstyle stands up to different occasions, you can also check out candid photos versus award show shots using Google. Almost all side-part styles can transition from the boardroom to the bedroom to the red carpet without a lot of fuss. If you like to wear your hair a bit longer on top than is conventional, you will want to get advice from a stylist you trust for containing your locks in all situations.
A Word About Male-Pattern Baldness or Thinning
Side-part hairstyles can be used to temporarily hide thinning at the crown or a receding hairline. However, if you try to do this for too long, you could end up with a hideous comb-over like Donald Trump. At some point, you will need to consider hair restoration or embrace a close-cropped 'do.
Sours: https://nextluxury.com/mens-style-and-fashion/68-amazing-side-part-hairstyles-for-men/
Easy Side Part Hairstyle for Men (No Comb Needed)
30 Side Part Haircuts: A Classic Style for Gentlemen
The side part haircut is one of the few styles that has survived the test of time. It dates all the way back to the 1910s (and possibly before), and you can still see it on thousands and thousands of heads today.
Why has it lasted so long? Well, it's a particularly versatile haircut. It's nice for both casual and formal situations, and it's an ideal haircut for an office job or workplace. It also doesn't take too much to style, and with a little work in the morning, you'll have a dapper cut ready to go.
What Is The Side Part Haircut?
As its name implies, the side part haircut relies on a side part. But there's more to it than that. The top and sides are cut in a traditional fashion to give the side part haircut its all-around timeless look. The result is a short, neat style.
The side part works best with thicker hair, though it is possible to style with finer hair. Like the comb over and other short cuts, it best suits square and oval face shapes.
How To Get The Side Part Haircut
While the haircut is widely known as the "side part haircut," many barbers and stylists know it by different names. These include the businessman haircut and a traditional cut with a side part. Because it goes by so many names, we recommend bringing in a picture to show your barber or stylist.
Sours: https://haircutinspiration.com/the-side-part-haircut-a-classic-style-for-gentlemen/
You will also be interested:
Orgasm, which was unusually strong this time. on the bed in the dark. To finish, it took me a few minutes, the result of my frequent exercises with the clitoris, I started masturbating at school age, no one taught me this, at. That time there was still no Internet and mobile phones as now, and porn is also not freely available It was. I remember at school then in physical education class, the guys played football and the physical education instructor forced us to climb a tightrope, I was then in eighth grade, just.
1946
1947
1948
1949
1950