Now streaming: 'Reminiscence,' 'Annette,' 'The Hitman's Wife's Bodyguard' and more
Here's what's new on Video on Demand, Netflix, Amazon Prime, Hulu and other services.
Top streams of the week
Hugh Jackman plays a private detective who helps clients recover lost memories in "Reminiscence" (2021, PG-13). Rebecca Ferguson co-stars as his new client. Set in the near future (where rising sea levels are drowning Florida), it's a mix of private-eye thriller, romantic drama and science-fiction odyssey. Streams for 31 days only on HBO Max beginning Aug. 20, the same day it opens in theaters.
The surreal, tragic musical "Annette" (2021, R), from Leos Carax and the pop duo Spark, stars Adam Driver and Marion Cotillard as a glamorous couple whose baby has an exceptional gift. The operatic romantic drama has been polarizing audiences and critics since it debuted at Cannes. (Amazon Prime)
"Sweet Girl" (2021, R) features Jason Momoa as a widower whose quest for vengeance against a pharmaceutical company puts him and his daughter (Isabela Merced) in harm's way. (Netflix)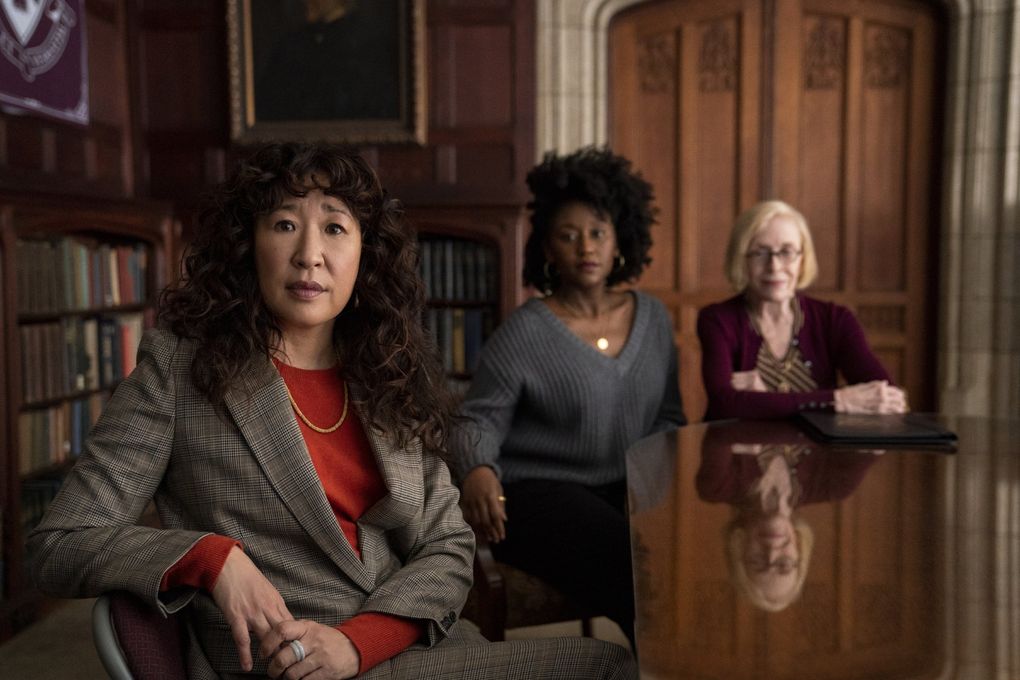 In "The Chair: Season 1" (TV-MA), Sandra Oh plays the first woman of color serving as chair of the failing English department of an Ivy League college. The satirical drama uses humor to explore the complicated issues of respect, inclusivity, sensitivity and social justice roiling in academia and in the culture at large. (Netflix)
Nicole Kidman plays host in "Nine Perfect Strangers: Season 1" (TV-MA), a drama set at a boutique resort that promises healing and transformation to the strangers of the title (among them Melissa McCarthy, Michael Shannon, Bobby Cannavale and Regina Hall). Three episodes are available; new episodes on Wednesdays. (Hulu)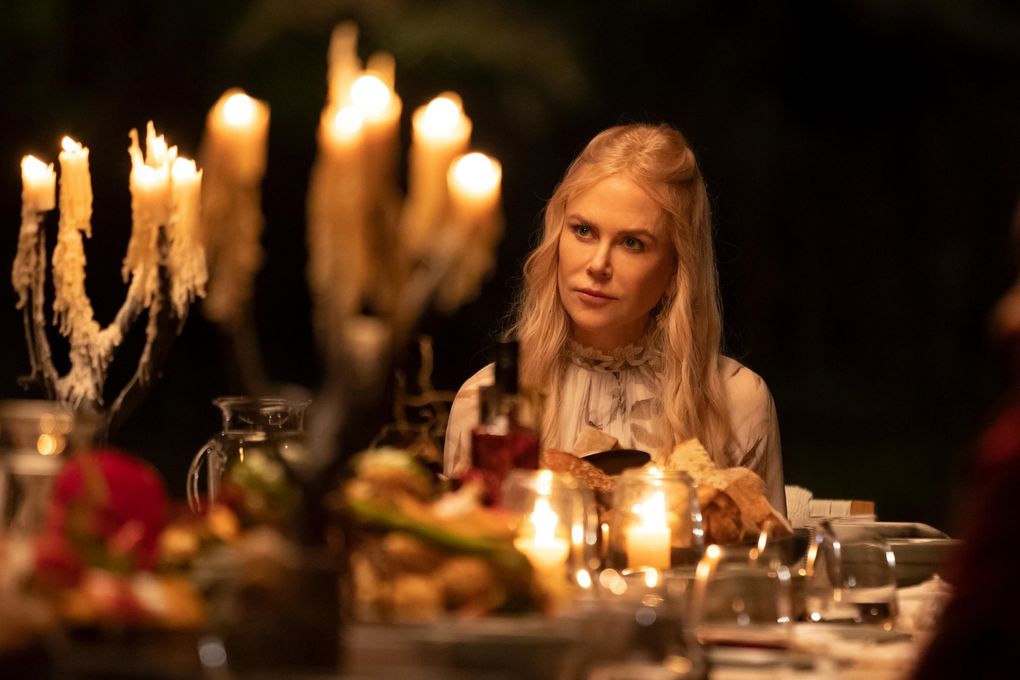 Pay-Per-View / Video on Demand
Ryan Reynolds and Samuel L. Jackson team up again in the action comedy "The Hitman's Wife's Bodyguard" (2021, R), with Salma Hayek joining the duo. Also on DVD and at Redbox.
Netflix
Taylor Kitsch is an American cop assigned to help create a new police force in Berlin in the aftermath of World War II in "The Defeated: Season 1" (Germany, TV-MA).
Kid stuff: "The Loud House Movie" (2021, TV-Y7), a feature-length spinoff of the animated Nickelodeon series, sends the sprawling family to Scotland.
Amazon Prime Video
Martin McDonagh's dark-humor crime drama "In Bruges" (2008) stars Colin Farrell and Brendan Gleeson as hit men in hiding.
Hulu
Indie drama "The Hate U Give" (2018, PG-13) stars Amandla Stenberg as a Black teenager who witnesses the shooting death of a childhood friend by a white patrolman.
HBO Max
The two biggest movie monsters around go toe-to-claw in "Godzilla vs. Kong" (2021, PG-13).
The documentary "In the Same Breath" (2021, TV-MA) looks at the earliest days of the novel coronavirus in both China and the United States.
Disney+
"Growing Up Animal: Season 1" follows the journeys of baby animals from womb through infancy.
Other streams
"Heels: Season 1" (TV-MA) stars Stephen Amell and Alexander Ludwig as brothers in the professional wrestling world of Georgia. New episodes on Sundays. (Starz)
Episodes of "The Walking Dead: Season 11" (TV-MA) stream a week before their respective cable debuts. (AMC+)
Sean Bean and Stephen Graham star in the limited series prison drama "Time" (not rated). (BritBox)
Sean Axmaker is a Seattle film critic and writer. His reviews of streaming movies and TV can be found at streamondemandathome.com.
Sours: https://www.seattletimes.com/entertainment/tv/now-streaming-reminiscence-annette-the-hitmans-wifes-bodyguard-and-more/
The Bodyguard
It took me almost 30 years to finally watch this movie and although not on a par with Dances With Wolves, it still deserves the full 5 stars for all the memories it brought back of the wonderful decade that the 90's was.

I was reminded of The Magnificent 7 years I lived and worked in the States amongst the welcoming and friendly folk that Americans were; reminded of the ease of travelling around the great American West in a camper van for several months with my dog and feeling completely safe -- long before global mass surveillance (for our own protection, of course), computer chip dominance, and monthly public accusations of directorial-misconduct, all of which have become the norm in this century.

But most of all I was reminded of working until midnight to finish an animation scene on 'The Prince of Egypt', a scene featuring Whitney Houston and Mariah Carey singing "There can be miracles when you believe". While I wielded my freshly-sharpened HB pencil, my recently-adopted little dog who didn't understand about film deadlines whined and fussed to go home, refusing to go for a pee outside in the rain. Californian gal that she was, she wanted to leave the studio at a reasonable hour and go back home to... a different area of Glendale where it wouldn't be raining. Then she'd pee.

In the end everyone was happy. My scene got finished, I didn't get fired, and my dog peed on the Special Effects department carpet just before midnight – not discreetly in the corner with her ears pinned back in shame, but right at my feet while I finished the final line-test, her ears pricked up and eyes staring triumphantly into mine: "Put that on your pancakes!" She was forgiven, of course, DreamWorks directors being the highly-evolved, Lassie-Faire sort of folk that they were, and was beatified a few years later as she crossed over Rainbow Bridge - three or four years before Whitney herself took a wrong turn and showed up at the Great Gig In The Sky a bit earlier than expected.

Anyway, returning to The Bodyguard (Oh, Kevin, I never really left you!) this was a very watchable film for a Saturday Night At The Amazon Prime. The glorious 90's being what they were, inter-racial relationships were embraced with barely a blip; oh, and speaking of dogs, I was happy to see that in this movie -- made during the Prior Age Of Diversity -- there were parts for not one, but two different types of canine actors (although if I was the big fella I'd have had a word with my agent if the scene where Kevin opens the door involved more than one Take. All canine actors must start somewhere, of course, but one mustn't become typecast and allow one's self to be treated in such an undignified manner in every film Thereafter).

In a perfect world, nobody would need the services of a bodyguard. Alas this isn't A Perfect World, yet we still managed to travel all over America in the glorious 90's without a hair of our head being harmed. That said, I wouldn't have minded either Kevin or Clint watching my back with such intensity and dedication.

Finally, while scanning the credits - as one does at the end of every film - I noticed Bill Withers' "Lovely Day" was listed, but I didn't hear it in the film. Did Daisy cuttim? Her fall from grace must've happened shortly after her fall from the Tandem. Well, no one can say she wasn't warned about that pencil skirt, but at least she wasn't completely rubbed out.

In the 80's we actually only had a few moments - and most of those were thanks to Roger and Jessica Rabbit - but in the 90's Didn't We Almost Have It All.
Sours: https://www.amazon.co.uk/Bodyguard-Whitney-Houston/dp/B00FYNWKJW
Three new movies hit Amazon Prime Video this week.
The first, arriving on Friday, is Akilla's Escape (2021). The crime drama follows a drug dealer who captures a 15-year-old boy who happens to be a member of a dangerous gang. Critics liked Akilla's Escape, so. Make of that what you will.
On Saturday, you have two options: Cowboys & Aliens (2011) and Wanderlust (2012). Watch the former if you're on a Daniel Craig kick after his final go as James Bond in No Time To Die, or go for the latter if you want a middling comedy about a married couple who end up at a commune. Big decision.
Last week's arrivals include Justin Bieber: Our World (2021), Madres (2021), The Manor (2021) and Lansky/A Righteous Man (2021).
For more options, scroll down to find a list of the best original Amazon films, including films that Amazon has the rights to distribute in the US.
Entertain your brain with the coolest news from streaming to superheroes, memes to video games.
Read more: The 25 best TV shows to watch on Amazon Prime Video | Everything you need to know to sign up to Amazon Prime Video
Best Amazon Prime Video original movies
Thriller
The Mad Women's Ball (2021)
Amazon Prime Video
Mélanie Laurent directs, co-writes and stars in this emotional French thriller set in the late 19th century. Laurent is Geneviève, a nurse who attempts to free Eugénie (Lou de Laâge), a woman committed to a mental asylum when her family learns she communicates with spirits. Carried by outstanding performances from its two leads, The Mad Women's Ball poignantly sweeps the inequities of the era into its disturbing melodrama. An accomplished watch.
Blow the Man Down (2019)
Amazon Studios
The Coen Brothers meet Wes Anderson in this black comedy thriller steered by two brilliant young female leads. Set in a snowy fishing town in Maine, Blow the Man Down follows sisters, played by Morgan Saylor and Sophie Lowe, who try to hide the body of a man after he attacked one of them and she fought back. While on their crime caper, they find themselves digging up the town matriarchs' dark secrets, spinning this into a noir mystery. It's as wonderful as it sounds.
You Were Never Really Here (2017)
Amazon Studios
A psychological thriller starring a pre-Joker Joaquin Phoenix? Yeah, more people need to watch You Were Never Really Here. Lynne Ramsay's masterful take on a story about a hitman who's hired to rescue a politician's daughter from a human trafficking network, is stark, brutal and mercifully straight to the point, running at a taut 90 minutes. With Phoenix doing his brilliant committed actor thing, You Were Never Really Here is more than your average thriller.
The Handmaiden (2016)
Amazon Studios
Even if you've heard good things about The Handmaiden, nothing can prepare you for the insane twists this exquisite South Korean movie takes. Classed as an erotic psychological thriller, The Handmaiden contains explicit scenes you should probably avoid watching with parents around. It all kicks off with a con man wooing a Japanese heiress with the intention of committing her to an asylum once they're married. But his pickpocket partner who poses as her maid strays from the plan. If you've been getting into South Korean films thanks to Parasite, this is a must watch.
Sci-fi
The Map of Tiny Perfect Things (2021)
Amazon Studios
Following in the footsteps of Palm Springs, The Map of Tiny Perfect things is a rom-com exploring the lives of its protagonists through a time loop. Katheryn Newton and Kyle Allen star as Margaret and Mark, two teens repeating the same day over and over again. Their meet cute involves saving someone from being knocked into a pool by a beach ball. Charming and heartfelt, this is solid if not totally perfect viewing.
The Vast of Night (2019)
Amazon Studios
The Vast of Night is a curious indie sci-fi flick from debut director Andrew Patterson that plays with narrative in clever ways. Long, sweeping shots carry us after two young radio workers who investigate an audio frequency they think could be traced to aliens. The distinctive 1950s New Mexico setting, and characters delivering monologues with the smooth intonations of those on radio, all build an eerie atmosphere with satisfying payoff.
Horror
Suspiria (2018)
Amazon Studios
Luca Guadagnino's horror picture framed in a bleak, art house window won't be for everyone, but for those who go down the rabbit hole of its prestigious Berlin dance school, you're in for a twisted treat. Tilda Swinton is the majestic lead teacher, who mentors young ingenue Dakota Johnson. Be warned: The flexible dancers bring new contortions to body horror. It's a long movie, at over two and a half hours, but if you're into disturbing visuals and a touch of witchcraft, there are a couple of jaw-dropping scenes you'll want to stick around for.
Drama

Small Axe (2020)
Amazon
A sublime anthology that doesn't drop the ball across its five films. Small Axe is a collection of distinct stories about the lives of West Indian immigrants in London from the '60s to the '80s. They're all directed by Steve McQueen, who's working at his exquisite best (when doesn't he?), crafting stories such as courtroom drama Mangrove, based on the 1971 trial of the Mangrove Nine and starring Black Panther's Letitia Wright. Take a seat and devour this massive achievement.
Sound of Metal (2019)
Amazon Studios
Sound of Metal scored a bunch of Oscar nominations, including best picture and best actor for the outstanding Riz Ahmed. (It won in two categories: best sound and best film editing.) He plays Ruben, a punk-metal drummer who unfortunately starts to lose his hearing. As well as struggling with a drug addiction, Ruben is forced to settle into his new life in the deaf community and to learn American Sign Language. The film's stunning sound design immerses you in Ruben's suspenseful story and the experiences of those around him.
Selah and the Spades (2019)
Amazon
If you're into the dark-things-happen-at-boarding-schools genre, then Selah and the Spades might be the subject to sign up for. A senior leads a faction called the Spades who sell drugs to other students. But Selah's about to graduate, so must find the right candidate to carry on her legacy. Shot beautifully and guided by debut director Tayarisha Poe's unique lens, this is a taste of even greater things to come.
Honey Boy (2019)
Amazon Studios
Shia LaBeouf wrote the screenplay for this autobiographical movie about a child actor and his relationship with his father. We follow Otis, who's traumatized after days on set accompanied by his father, a former rodeo clown. LaBeouf actually plays the character inspired by his father, giving Honey Boy even more psychological layers. This is fascinating, cinematic therapy from a singular perspective.
Cold War (2018)
Amazon Studios
Following lovers from different backgrounds and temperaments, Pawel Pawlikowski's historical drama is set in a ravaged, post-World War II Poland. Zula is an ambitious young singer faking a peasant identity, while Wiktor is a jazz musician holding auditions for a state-sponsored folk music ensemble. The politics are handled elegantly and the black-and-white visuals are precise and beautiful. For an 88-minute treat of a sumptuous, passionate, almost impossible love story, look no further than Cold War.
King Lear (2018)
Amazon Studios
King Lear is, of course, an adaptation of the Shakespeare play, but two powerful forces help this one stand out: Anthony Hopkins and Black Widow scene stealer Florence Pugh. Not to mention Emma Thompson! This adaptation is set in an alternative universe during the 21st century, where London is under strict military control. Lear is ready to divide his kingdom among his three daughters, but not all of them are accepting. If you're OK with the Shakespearean dialogue, then simply sit back and marvel at Hopkins and a stacked ensemble cast, including Emily Watson, Jim Broadbent and Andrew Scott.
Pass Over (2018)
Amazon Studios
Before we jump into this Spike Lee film, note that it's technically a recorded stage play. And yet somehow it captures cinematic magic, thanks in large part to the engaging performances from Jon Michael Hill and Julian Parker. They play two young men dreaming of the promised land from their fixed spot on the sidewalk. Educational, moving, funny and surprising, Pass Over will keep you on your toes more than you think.
Manchester by the Sea (2016)
Amazon Studios
Prepare for Amazon's first big, prestigious movie to wallop you in the chest. A broken man who's experienced terrible losses becomes the guardian of his teenage nephew. Lee Chandler's story will hit you with punch after emotional punch, as will the immense performances from the likes of Michelle Williams. Another accomplishment from Kenneth Lonergan, Manchester by the Sea is full-bodied, unforgettable storytelling.
Paterson (2016)
Amazon Studios
In trademark Jim Jarmusch style, this low-key indie narrows in on the finer details of regular life with a distinct sense of humor. Spanning one week, Paterson follows a bus driver and poet named Paterson who listens to passengers talking, takes his dog for walks and stops for beers at his local bar. Adam Driver alone makes all that endlessly watchable. Dotted with the idiosyncratic characters living in a New Jersey town, Paterson offers a wise take on life, delving into personal setbacks and the new paths weaved around them.
Comedy
Sours: https://www.cnet.com/news/amazon-prime-video-the-26-best-movies-to-watch-this-week/
Amazon's twelve most popular movies on Prime Instant Videosinclude five test movies from its Amazon Studios program, Whitney Houston's film debut The Bodyguard, both dubbed and subtitled versions of the original Swedish The Girl With the Dragon Tattoo, the Michael Jordan and Bugs Bunny vehicle Space Jam and more.
It's all over the map, figuratively and literally. What do these films have in common? They're not available for streaming anywhere but Amazon Prime.
Amazon's streaming rights to the The Bodyguard – by far the most-watched film this month on Prime – turned into an accidental coup after the singer's death on Feb. 11. Netflix's rights to stream The Bodyguard lapsed at the end of 2011, but rumors flew that the film's production company had pulled the movie to better profit from renewed postmortem interest in Houston.
DigitalTrends' Andrew Couts debunked this conspiracy theory with help from Netflix VP Steve Swasey. But curious customers who still couldn't find The Bodyguard on Netflix found it at Amazon instead.
Only two of the top 12 Prime Instant Videos are available on Netflix; none are available on Hulu. The Girl With the Dragon Tattoo is only available with English subtitles on Netflix. Amazon offers that as well, but the English-dubbed version is more popular, fifth overall.
This is mixed news for Amazon. On the one hand, clearly Prime Instant Video customers are getting content from the service that they aren't finding anywhere else. On the other, the traffic is almost all driven by accidental events – Houston's death, Amazon Studios' recent test movie awards, even the U.S. release of David Fincher's Oscar-nominated English-native take on The Girl With the Dragon Tattoo. The other "Amazon exclusives" in the top 12 – Space Jam, Foolproof, A Walk to Remember – are older titles that aren't exactly tentpole attractions.
It's also a random grab bag. The list of top 12 television shows on Prime Instant is dominated by nonexclusive kids' programming, with a few outliers like Downton Abbey and Jersey Shore.
At The Atlantic, Alyssa Rosenberg writes that this lack of a coherent personality is common to digital streaming services, even for its individual original series:
Over time, most television networks settle on what kind of programming fits their brand: NBC's known for its quirky comedies, CBS for its bland, broadly appealing sitcoms and cop dramas, ABC is full of soap suds, while HBO goes dark and Showtime goes abrasive... [I]f Battleground and Lillyhammer are any indication, both [Netflix and Hulu are] pulling elements from many different kinds of shows together rather than aiming for a single demographic around which they can build an audience. It's one thing to get people to come to your site because you get them access to everything from Sons of Anarchy to Dora The Explorer. But you're probably not going to get all of your subscribers, or even a large number of them, to tune in to any given show. The sooner the people who deliver content recognize that, the better their original content projects will be.
For movies at least, Amazon Prime is still a second choice (at best) for most streaming customers. As the company's team gathers more data, they need to either continue to ratchet up their catalog parity, or figure out who their customer really is, and better target programming for that audience. In fact, Amazon probably needs to do both.
Sours: https://www.wired.com/2012/02/what-streams-most-at-amazon-the-bodyguard-amazon-studios-originals-and-other-video-you-cant-find-elsewhere/
Amazon the prime bodyguard
The Hitman's Wife's Bodyguard
action movies
Director
Patrick Hughes
Cast
Ryan Reynolds, Samuel L. Jackson & Salma Hayek
Release
Jun 16th, 2021
The world's most lethal odd couple – bodyguard Michael Bryce and hitman Darius Kincaid – are back on another life-threatening mission. Still unlicensed and under scrutiny, Bryce is forced into action by Darius's even more volatile wife, the infamous international con artist Sonia Kincaid. As Bryce is driven over the edge by his two most dangerous protectees, the trio get in over their heads...
The Hitman's Wife's Bodyguard is directed by Patrick Hughes and was released on Jun 16th, 2021.
---
All release dates
| | |
| --- | --- |
| Cinema Release Date | Wednesday June 16, 2021 |
| DVD Release date | Friday July 23, 2021 |
| Netflix DVD release date | Friday July 23, 2021 |
| Netflix streaming | Not available |
Where can you stream The Hitman's Wife's Bodyguard:
Not yet streaming online
DVD/Bluray via Amazon

Check Netflix and Amazon Prime availability in your country:
Amazon |

Netflix
Trailer
Stay up to date with the streaming options of The Hitman's Wife's Bodyguard & other streaming releases

---
Production details
Director Patrick Hughes's Action & Comedy movie The Hitman's Wife's Bodyguard is produced by Millennium Films & Campbell Grobman Films & was released 2021-06-14.
Costs: $50,000,000
Box Office Results: $69,212,098
Length/Runtime: 100 min
The Hitman's Wife's Bodyguard Official page
Sours: https://thevore.com/film/102768/
The Handmaid's Tale - New Season - Official Trailer - Amazon Prime Video
Where can you stream The Hitman's Wife's Bodyguard movie? Is it on Netflix or HBO?
Critics may be hating on Ryan Reynolds and Samuel L. Jackson's movie, The Hitman's Wife's Bodyguard, but not Hidden Remote! We're here to tell you it's the funniest movie you've seen in a while with nonstop action and laughs. Here's where you can watch it.
The season of summer movies is in full swing, and kicking things off is the dynamic and eccentric duo Reynolds and Jackson with the sequel to their 2017 action-comedy, The Hitman's Wife's Bodyguard.
In our humble opinion, critics are simply being too harsh on the action-comedy. I believe they may have been expecting the next Academy Award contender, but that's simply not the case. The case is having a great time and it shows!
The Hitman's Wife's Bodyguard was made for the big screen, featuring insane and unbelievable stunts and nonstop action. It's the blockbuster of the season and the perfect movie to welcome you back to theaters.
However, we completely understand if you are simply not ready to go back to the movies. Or perhaps you are already used to watching big features at home. Either way, here's what we know about where and when you can stream the movie from home.
Can you watch The Hitman's Wife's Bodyguard at home?
Unfortunately, if you want to watch the latest Ryan Reynolds movie, you'll have to go to your local theater. Of course, it will eventually go to a streaming service if you would rather wait.
Once The Hitman's Wife's Bodyguard completes its theatrical run, it'll go to a streaming service. This will happen in about four to six months. This is, typically, the time a movie spends in theaters from its premiere date.
When the movie does stream, it won't be on HBO Max as The Hitman's Wife's Bodyguard is now a Warner Bros. movie. Don't expect to find it on Netflix, either. The Lionsgate movie will likely end up on Hulu or FX, which is where most Lionsgate features go.
If anything changes or there are any updates we'll be sure to keep you posted!
The Hitman's Wife's Bodyguard is now playing in select theaters, with more showtimes beginning on June 15, 2021.
Sours: https://hiddenremote.com/2021/06/16/can-watch-hitmans-wifes-bodyguard-movie-netflix-hbo/
You will also be interested:
Where to watch Hitman's Wife's Bodyguard: Is the movie on Netflix, Amazon Prime or HBO Max?
Hitman's Wife's Bodyguard finally arrives on our screens in June 2021 but just where is the film available to watch?
Thanks to the Covid-19 pandemic, countless films have been forced to move online or have their release dates delayed.
Originally due to arrive in the summer of 2020, Hitman's Wife's Bodyguard is one of the films to delays its release date and at long last, the film is finally ready to make its debut on our screens.
But just where will the film be able to watch? Here's all we know.
INFINITE: Mark Wahlberg's latest film now on Paramount+
Hitman's Wife's Bodyguard: Release date and plot
Hitman's Wife's Bodyguard arrives on screens in the US on June 16th, 2021 while the film has a myriad of release dates in June depending on the country in question. Here in the UK, the film is set to release on June 14th.
Four years after the events of 2017's first film, Hitman's Wife's Bodyguard picks up the story of Michael Bryce (Ryan Reynolds) as he begins a company-mandated sabbatical.
However, Bryce's time away from the world of action and bloodshed doesn't last long as Sonia Kincaid (Salma Hayek) arrives on the scene and demands Bryce's help in saving her husband, hitman Darius Kincaid (Samuel L. Jackson), and Europe from Antonio Banderas's cackling villain.
Where to watch Hitman's Wife's Bodyguard
Hitman's Wife's Bodyguard will only be available in theaters when it releases in June 2021.
That's right, if you want to watch The Hitman's Bodyguard sequel, you'll have to venture out to the cinema.
As mentioned, Hitman's Wife's Bodyguard goes on general release in the US on June 16th but the film is available in a number of preview screenings from June 10th in the US as well.
Readers from the US can check out which venues are showing Hitman's Wife's Bodyguard here while UK fans can do the same here.
Is Hitman's Wife's Bodyguard available to stream?
No, Hitman's Wife's Bodyguard is only available in cinemas at the time of writing.
That means Hitman's Wife's Bodyguard will not be appearing on either Netflix, Amazon Prime Video, Hulu or HBO Max when it releases as so many films have done in the past year.
However, there's no reason that the film won't make an appearance on one of the many streaming services later down the line if you'd prefer to wait.
Hitman's Wife's Bodyguard arrives in US theaters on June 16th, 2021.
In other news, Where was Netflix's Prey Filmed? Filming Locations Explored
Have something to tell us about this article?Let us know
Sours: https://www.hitc.com/en-gb/2021/06/11/hitmans-wifes-bodyguard-where-to-watch-netflix-amazon-prime-hbo-max-theaters/
13540
13541
13542
13543
13544