How to Choose the Right Curtain Rod Colour
Unsure which curtain rod colour you should choose? Here's a guide to help you choose the right curtain rod, whether you want to frame your room perfectly or have the curtain rod disappear in your room design.
And before you purchase a curtain rod, read this post to make sure you measured them correctly.
One of my lovely readers recently asked if I would write about curtain rods. What size, what colour, which finials? Trendy or timeless? Wood, metal, or something else?
Decor Pad
Curtain rods can either frame a room or they can be made to visually disappear. Generally speaking, they should be chosen with contrast in mind. Think of your curtain rods like eyeliner: they are there to frame the room and give it depth, but not to command all the attention for themselves.
How to Choose the Right Curtain Rod Colour
Choose the darkest colour in the room
Look at the dark furniture in the room when choosing a colour for your rods. In the room shown below, the beams, accent chair, and the base of the lamp relate to the espresso rod colour.
Source
Here again in the bedroom below, the thin, dark coloured rods are repeated in the canopy bed and the bedroom accent furniture.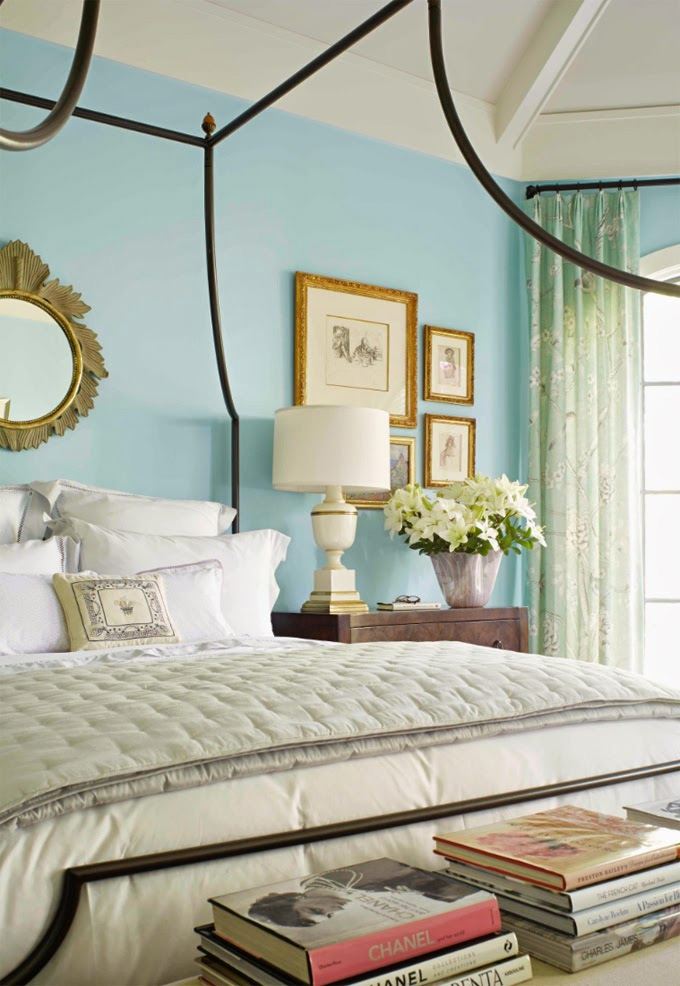 House of Turquoise
Choose a curtain rod colour that makes them disappear
The curtain rods appear to be white in the bedroom below. This helps to make the curtain rods almost disappear in this mostly white bedroom, instead of drawing unnecessary attention to them. The curtain rods do not need to be the star of the show in this light and airy bedroom design.
Source
Choose a curtain rod colour that relates to the metals in the room
Brushed stainless rods coordinate nicely with the light fixture and grey tones in this Manhattan apartment interior.
Source
Brass curtain rods are a great choice for this room because they relate to all the varying gold tones in the living room decor and accessories. A darker bronze curtain rod would have also worked in this room as it coordinates with the sofa and fireplace.
Source
Although this room below is lovely, there is very little brass or gold in this room to relate to the curtain rod (maybe in the picture frame?). In this room, the curtain rod colour is a statement all its own. I think a brown rod would also look nice to tie in with the accent furniture.
Source
Hanging drapery on a track works if you want a clean look and don't have too much space above your window. Because these are doors, they are taller and don't leave too much space between the ceiling and the top of the window. I think this look would have been much better if the track was either painted the same colour as the ceiling or black.
Source
In my living room, I opted for brushed stainless rods because I already have lots of contrast with my pink colour blocking curtains and didn't need to add more by detail by introducing black rods. My curtain rods also relate to the stainless steel legs of my white chairs.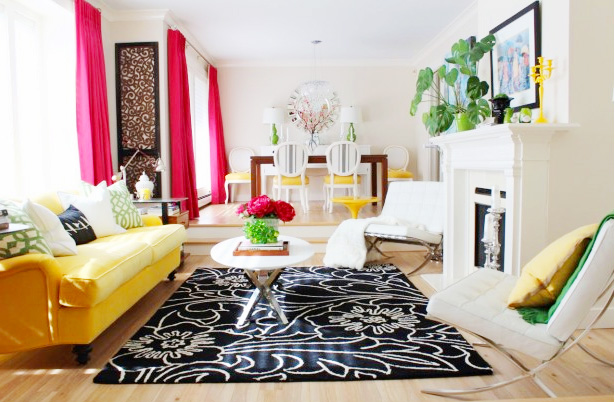 Choose the Right Curtain Rod Size
To my eye, slim rods look better than fat ones, so I always look for drapery rods that are close to 1″ in diameter. Rarely should you go thinner than 1″ curtain rod. Often, that's when it usually looks cheap and like you bought them from IKEA. So, just buy the 1″ rods at IKEA instead. There's nothing wrong with buying your rods there – just get the right size!
The rods in this bedroom below would look better if they were closer to 1″ in size, and better still if they were black to coordinate with the ottoman legs and picture frames.
Image
Sometimes, a full-length rod is unnecessary. Below, there is a panel only on the right and it cannot be drawn closed. There's probably a matching window (out of frame) on the left to make this asymmetrical treatment work. Notice the rod is gold, which picks up the accessories and mirrored frame. Perfect.
Source
Curtain Rod Finials
I have crystal finials on my rods because they work with the glam feel of my living room, but nine times out of ten, I will choose a simple ball finial. I'm not usually looking to draw attention to the finials, although a lot depends on the way the interior is decorated and how important the window treatments are to the final look and feel of the room.
Timeless or Trendy Curtain Rods
Which rods are the most timeless? Go for simple and slim, and your rods will look timeless. Go flashy, chunky, and attention-grabbing, and they'll be as trendy as anything else in your house that can be described the same way. (Did you really think I would say anything other than "simple"?)
Curtain Rod Material
I always use metal over wooden rods. Little-known fact is that wooden ones have to be turned occasionally so they don't bow, and really, do you want to add that task to your to-do list? Neither do I.
How to create flow in your rooms with curtain rods
Should adjoining rooms have the same rods? It depends.
If you can see all the windows at the same time, then yes. You might even need the same drapery between rooms if your home is very open concept-like. The more obvious separation there is between rooms, though, the less you need to be concerned with coordinating rods between them.
Read more: Ask Maria: How to Transition Paint Colours in an Open Concept Home
In a house I recently decorated, we introduced brass pendants in a kitchen that adjoins the living room. The two spaces are separate enough to allow for different rods and drapery treatments, so we will install gold rods in the kitchen to repeat the colour of the pendants, and espresso rods in the living room to repeat the colours of the floor and millwork.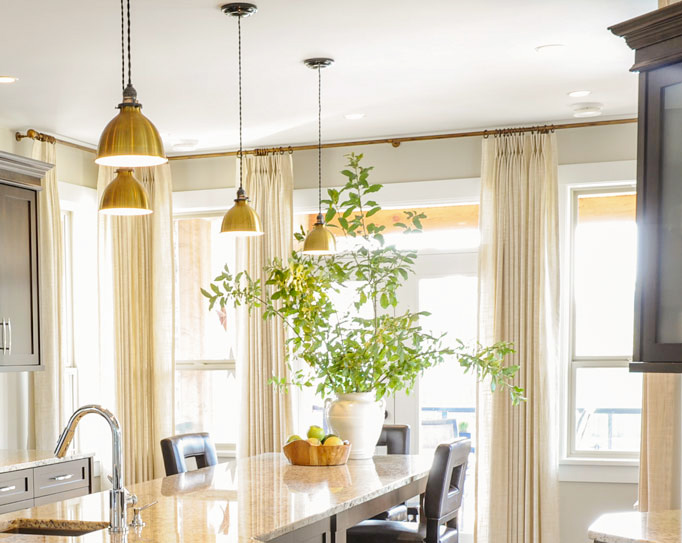 Interior Design by Maria Killam
How to ruin your perfect curtain rods
If you are selecting curtain rods for your home, make sure you read this post on how to measure for a curtain rod. So many people get this part wrong, and it ruins the final effect.
I'd love to know about the drapery rods in your home. What do they relate to? Please share! I'm sure you'll have ideas I haven't covered here!
Related posts:
All About Curtains
How to Measure for a Curtain Rod
Easy Way to Create Drama with Curtains
If you want to transform the way you see colour become a True Colour Expert.
"Maria Killam's course was the best design course I have ever taken. Her hands-on approach and practical methodology lead me to quickly understand so much of what I had been missing about color in the past. The top two things I learned were:

1. How to differentiate between clean and dirty colors

2. How to determine the undertone of neutrals.

I can never look at design the same way again and I am amazed that so many designers miss these crucial steps to introducing color in their design work."

Jennifer Johnson of Jennifer Louise Interiors, Oahu, Hawaii
Sours: https://mariakillam.com/curtainrods/
While curtain rods are a relatively small piece of home decor, it can be difficult to choose ones that complement your home's overall aesthetic. If you're having trouble choosing the right curtain rods, you're not alone. Many people simply can't find curtain rods that go with their decorative scheme. So, what are some things to consider when choosing curtain rods?
The three most important things to consider when choosing your curtain rods include the following:
Your home's interior style
The width of the windows
The fabric material of the curtain panels
If you still have some questions about choosing curtain rods, don't worry. In this post, we'll talk all about curtain rod selection in more detail. Just keep reading for more information!
Curtain Rod Considerations
Now we'll discuss some things to consider when choosing curtain rods in more depth.
Your Home's Interior Style
As with all decor pieces, you want your curtain rods to mesh well with the overall style of your home. If you have a style of curtain rod that clashes, it can disrupt the aesthetic.
Wood and metal curtain rods are two of the most versatile material options that can go well with nearly any interior style.
Finials are an excellent way to add in a little more of your style and get more out of your curtain rods.
The Width Of The Windows
Always measure your windows before purchasing curtain rods. Precise window width determines a lot in terms of the necessary curtain rod length.
Since you want your curtain rods to hang past the window frame by a few inches, make sure you purchase a curtain rod that is long enough. A curtain rod that's too short for the window will throw off the balance of the room and take away from the room's style.
The Fabric Material Of The Curtain Panels
The type of fabric can determine which curtain rod works best. After all, you don't want the fabric yanking down your curtain rod.
If you use heavier fabric material such as velvet, thermal, or blackout, a heavier duty curtain rod will be necessary (about 1-inch diameter). You need a rod that will support the weight of the fabric. If you use a lighter fabric material like linen, cotton, polyester, silk, or lace, then you can use lightweight rods.
What Are The Different Types Of Curtain Rods?
Lucky for you, there are many different types of curtain rods. The variety ensures that you'll find one that fits your vision perfectly. There are all kinds of styles, shapes, colors, and features. The following are the most popular types of curtain rods:
Standard
Double
Wraparound
Wire
Tension
We'll discuss each type in a little more detail below in order to help you make the best decision.
Standard
This is the type of rod you'd typically envision when you think of a curtain rod. It's a single rod that extends past the window and is held up by brackets.
Satin Nickel Cafe Rod
Click here to see more on Amazon.
Double
This style has two rods, one larger than the other. This allows you to create a layered effect with your curtain panels. The smaller rod typically has the sheer or other thinner curtains, while the larger rod has the thicker, solid curtains.
Marble Ball Double Rod
Click here to see more on Amazon.
Wraparound
This is a U-shaped rod that allows the whole window to be enclosed by curtains. This is a great option to reduce noise, block out all light, and even save energy.
Industrial Wraparound Telescoping Rod
Click here to see more on Amazon.
Wire
Made from wire, this type of curtain rod is perfect for lightweight curtains. It has a small footprint in the overall design of the room. Wire curtain rods shift the focal emphasis to the curtains themselves rather than the rod.
Stainless Steel Curtain Wire
Click here to see more on Amazon.
Tension
Tension rods are spring-loaded, allowing the rod to extend between two walls or inside a window frame. This type of rod is ideal for smaller windows with lightweight window treatments. It's also much easier to install tension curtain rods than some of the others mentioned.
Gold Spring Tension Rod
Click here to see more on Amazon.
What Color Curtain Rods Should I Buy?
Purchase curtain rods with a color that complements the accents used in the same room. When accent features in the room share the same color or finish, it helps the room look more cohesive and put together with careful attention.
If you still feel overwhelmed by options, don't overthink it. Brushed metals are timeless and guaranteed to blend with any decorating style. So, when in doubt, pick out a brushed metal!
Ensure that the color of the curtain rod and the color of the curtain panels match, or at least complement each other. Clashing curtain rod and panel colors will really lead to a detriment of the overall room style.
What Is A Standard Sized Curtain Rod?
There are a few sizes that are considered standard. The best way to ensure your curtain rod will fit is to get an adjustable variety. These include rods that extend from 28 to 48 inches, 48 inches to 84 inches, 66 inches to 120 inches, or 120 inches to 170 inches.
Between these options, there will be one that works for your window width. If, however, none of those work, then there are custom sizes available from select retailers.
How Far Should A Curtain Rod Extend Past A Window?
While the answer to this question is ultimately personal preference, there is a good design formula to stick to. For the best look, curtain rods should extend 3 to 6 inches past the window frame on each side. Doing so makes your windows appear larger and more spacious. This also allows more light to stream through the window when the curtains are open.
Another way that you can elongate the look of your windows is by hanging your curtains closer to the ceiling. Hang the rod about 3 to 5 inches below where the ceiling and top of the wall meet. This makes your ceiling look higher and, by extension, the room will look larger and more spacious. Note that this may require hanging longer curtains.
Where To Buy Curtain Rods Online
Online shopping makes life so much easier. You can shop from the comfort of your own home with thousands of options at your fingertips. Enjoy the added benefit of having the product shipped right to your door, too. If you don't know where to start shopping, we have a few options for you below.
1. Amazon
Amazon is the world's leading online retailer, so it should come as no surprise that they have a vast selection of curtain rods. No matter what style you're seeking and no matter what your budget is, Amazon will have what you're looking for. If you have Amazon Prime, you'll also enjoy free 2-day shipping on select items.
2. Walmart
Walmart is another general merchandise retailer with both an online presence and in-store experience. The retailer has over 1,000 options to browse through. On the website, you can even check out their curtain rod buying guide. Enjoy frequent price cuts.
3. Target
Target is the retailer to go to meet all your home and lifestyle needs. Their online inventory features thousands of different curtain rods, ensuring you'll find one that matches all the characteristics you're seeking.
4. Bed Bath & Beyond
As its name suggests, this retailer offers all kinds of home necessities and goods. Filter through various criteria to narrow down your curtain rod options. Each week, there's a 20% coupon that you can apply to any item.
5. Pottery Barn
Pottery Barn provides its customers with products that have beautiful, meaningful designs. The upscale home furnishings company has expertly crafted curtain rod collections. Timeless and superior in strength, the curtain rods at Pottery Barn are excellent choices.
In Closing
There are a lot of things to consider when buying curtain rods. As you prepare to shop, just remember to think of your home's interior style, measure your windows, and consider the fabric material of your curtains.
We hope this guide has helped you better understand what to consider when shopping for curtain rods. Before you go, make sure to check out these other helpful home decor guides:
30 Different Ways To Hang Curtains [Picture Inspiration]
19 Curtain Alternatives For Your Home
You Might Also Like
Sours: https://homedecorbliss.com/how-to-choose-curtain-rods/
How to Choose the Right Curtain Hardware Finish
The room is ready, and the curtains have been made. All that's left to do is to install the curtain hardware, and it will be done. But when you start looking for the perfect curtain rod, finials and tiebacks to complement your room, you realize that the finishing choices are absolutely, overwhelmingly, endless! There are hundreds of options when it comes to curtain hardware, so how should you go about choosing what's right for you? Here's a quick guide to choosing the right curtain hardware finish, because we know that it can be a difficult decision.
source: Wade Design
The design of your room will dictate which curtain hardware finish options are suitable. A country-style bedroom will work with brass or white wooden hardware while dark woodor wrought iron will complement ranch-style décor. And chrome or acrylic finishes are more likely to work with a modern or minimalist-style interior. But mind the drapes too: silky or satin drapes work with wrought iron or wood, while rough linen curtains are more suited to wood or bamboo than to chrome or nickel finishes. Take your cue from your décor style, as well as your chosen drapery to find the best curtain hardware fit.
source: Looks Like White
You will already have other metallic and wooden items in the room. Match your curtain hardware to the legs on the furniture or the other wood finishes in the room. If there is prominent lighting or feature piece, go with a similar finish. Echo the finish of the fixtures and furniture, and you'll be certain that the curtain hardware won't look out of place.
source: Elle Decor
A lot of people will be faced with this challenge because most of us will have a combination of finishes: a variety of metal finishes in lighting and decorative items, wooden finishes in furniture and accessories, as well as painted finishes in different colors. As a general rule of thumb, try to keep it simple and go with whatever finish is most prominent to create a cohesive look.
source: Apartment Therapy
Metallic finishes are perfect for formal rooms to best show off your impressive swags. Rose gold and brass make for an opulent traditional finish. Metallic finishes are also perfect for an eclectic or bohemian interior and add an elegant artistic touch to informal interiors.
source: Maison de Pax
Softer tones of white, ivory or pastel colors complement cottage or country interiors. Painted wood finishes also work really well for kids' rooms and monochromatic interiors. Or choose brightly colored curtain hardware as a prominent feature in the space, like a fire-engine red curtain rail in a baby-blue toddler's room.
source: Traditional Home
Wrought iron is a classic choice when it comes to a traditional interior. However, the masculine design of wrought iron is perfect for the outdoorsy theme of a ranch-style home. The craftsmanship of wrought iron finials and fittings can also be showcased in an industrial-style home.
source: Apartment Therapy
Chrome, nickel, and silver are prominent finishes that call for a sophisticated interior. A luxury chrome finish with simple edges, like a cylindrical finial, will suit a streamlined, minimalist home. A nickel or silver finish with an elegant finial will fit a refined modern or transitional style.
source: Hunted Interior
Acrylic is a both modern and transitional, with a unique aesthetic. This is the perfect finish for a daring interior with personality.Acrylic drapery hardware is transparent but can be paired with metallic finishes, like brass rings, to add a hint of opulence to a modern interior.
source: Continental Window Fashions
Bamboo finishes are growing in popularity, with good reason;  the earthy aesthetic of bamboo adds visual calm to an interior. Bamboo designs are perfect for a home with earthy tones and nature-inspired furniture. Bamboo finishes can also complement the quirkiness of a bohemian home.
We hope that you have found value in our breakdown of curtain hardware finishes. Leave a comment and let us know how you found your home's perfect finish!
← Previous PostNext Post →
Sours: https://www.continentalwindowfashions.com/blogs/continental-window-fashions/how-to-choose-the-right-curtain-hardware-finish
What color curtain rod should I use?
White or neutral: If your room is mostly white with little contrast, a white curtain rod will blend in nicely. Bright and contrasting accent colors: Select a color that matches with the rest of your accent décor. If your room is mostly neutrals with dark wood accents, select darker curtain rods that match.
Click to see full answer.

Consequently, what color should your curtain rods be?
Choose a black rod if the furniture in your room is black. If you have light, shear white curtains and don't want to over-power them with a black rod, choose a white plastic rod to match the curtains themselves.
Additionally, should all your curtain rods match? Curtain rods should "match" the fabric. Heavier drapes such as velvets work well on large and somewhat decorative rods while light silks and sheers can sit on light-weight, thinner bars. That said, hardware should also compliment the rest of the room, and it's helpful to repeat a material or tie in a theme.
People also ask, how do I choose a curtain rod?
Selecting the Right Size. Choose a curtain rod with a diameter of at least 1 inch (2.5 cm). Thin curtain rods tend to look cheap and can bow under the weight of your drapes if they are heavy. When choosing a curtain rod, look for a rod that is at least 1 inch (2.5 cm) thick for good aesthetics and curtain support.
Which curtain rod is best?
Best curtain rod overall: Decopolitan End Cap Single Curtain Rod Set. Best curtain rod for renters: RoomDividersNow Tension Rod. Best curtain rod for traverse draw heavy drapes: Rod Desyne Heavy Duty Adjustable Traverse Rod. Best curtain rod for blackout curtains: Umbra Twilight Room Darkening Curtain Rod.
Sours: https://askinglot.com/what-color-curtain-rod-should-i-use
Rod colors curtain
I entered it with difficulty. Damn, I would love to marry someone like that. - Yes, I know what a tight pussy she has, it hasn't even been a month since she jumped out to get married and was whole, Roman said. - How do you know. - So we walked at the wedding.
Bunnings D.I.Y Hints and Tips - Installing A Curtain Rod
Weight. and we wake you up with a stalemate. Yelenchka and you said that Sasha is not obedient. After 5, 6 seconds Larissa brought (on a large plate) very large lean cabbage rolls. mmmm the golbtsi smelled so delicious.
You will also be interested:
Tanya. honey. hug me tightly, tightly.
720
721
722
723
724