Frances Shea was the beautiful Irish girl from Bethnal Green, East London. Her father, Frank, had run the gambling at the Regency Club in Stoke Newington. And there, Frances met the infamous Kray twins. Ronnie Kray and Reggie Kray were foremost perpetrators of organized crime (gangsters) in the East End of London during the 1950s and 1960s.
Frances Shea met Reggie Kray when she was just sixteen. And after two years, Reggie proposed to her in 1961. However, Frances refused polity, considering herself to be too young for marriage because Reggie was 27 years old at that time. Even when Reggie Kray went to prison, he wrote several letters to her. After four years, He tried his luck again, and this time Frances Shea accepted. In 1965, despite the disapproval of her parents Reggie and Frances married at St. James's Church in Bethnal Green. Even the priest refused to officiate the marriage, but the second priest accepted.
The couple planned their honeymoon in Athens, Greece. Two months after the marriage, Frances Kray left her husband and returned to live with her parents. She even attempted suicide by taking an overdose of barbiturates. Reggie refused to leave her alone, and by 1967, the reconciled as a couple but not yet living together. The couple even planned a second honeymoon in Ibiza in the summer of 1967, but that did not happen. Reggie Kray abused Frances physically and emotionally. On one occasion, he cut his hand and forced her to watch it drip blood. Reggie Kray's brother Ronnie Kray was homosexual; even Reggie was claimed to be bisexual. After their death, documents revealed that they had an incest relationship. Despite this, Reggie Kray was married twice.
On the 7th of June, 1967, Frances Shea attempted suicide by overdosing sleeping pills and took her life. She did at the age of 23. Reggie Kray paid for her funeral, which included substantial floral displays, including one over six feet tall in the form of a wreath spelling out her name. Her parents told Reggie Kray that their daughter's last wish had been to revert to her maiden name, but he insisted that she be buried under her married name and wear her white satin wedding dress. However, Mrs. Shea persuaded the undertaker to clothe the corpse in tights and a slip, so that as little of her body as possible would be in contact with the hated dress.
After a few months, Reggie Kray murdered Jack D. McVitie, and he was arrested the following year and received life imprisonment. Before his arrest, Reggie visited Frances grave several times. When he was allowed to attend the funeral of his brother Charlie, he visited her grave and kissed the tombstone.
Sours: https://www.bygonely.com/frances-shea-reggie-kray-story/
Reggie Kray's wife Frances Shea's diaries: Drunken abuse, weapons and constant isolation
Reggie Kray slept with armoury of weapons by his bedside, a diary written by his late wife, Frances Shea, reveals.
Shea was married to the East End gangster for two years, before dying of an overdose when she was just 24.
She first met Kray at the age of 16 and married him in 1965 when she was 22. Her five-page diary – which is to be auctioned off tomorrow at Gorringes of Lewes, East Sussex – highlights the difficulties with living with her then husband.
"(He) came back night time. By the side of bed gun, sword, knife, chopper, flick-knife," she wrote.
"He used to sleep with flick-knife under his pillow."
Also being sold are 60 letters written by Kray to Shea before they were married and while he was still in prison. The letters start as light and chatty in tone, before fast becoming controlling and aggressive.
In one he describes his future wife as a "spiteful little tormentor" after she "humiliated" him by going dancing with her friends.
Her diary describes how isolated she felt living at their Marble Arch flat, repeatedly being subjected to his swearing and drunken, abusive behaviour.
"(Reggie) came in late every night drunk. Got up every morning two minutes to dress, left me all day came back late at night drunk.
"Went to his house - his brother walked in bedroom in underwear, swore at me.
"Went back to flat Marble Arch, came back night time."
When she complained to her brother about the Krays gun collection, she was sworn at and the stash taken away by a local publican. Eventually, she was admitted to hospital "for some rest".
"Him and his friend took me to the hospital, he was swearing and shouting at me in the car."
"Couldn't stand it anymore - left him. When I was packing my suitcases to leave he told me he would bring up fictitious characters against."

Shea tried to get their marriage annulled on the grounds that it was never consummated. Eventually, she died following a fatal drug overdose in 1967.
She was buried in the Kray family plot in Chingford, Essex, although her family unsuccessfully tried to have her exhumed and buried elsewhere under her maiden name, Shea.
"They had an unhappy marriage and it seems someone told Frances to write down incidents while she was trying to divorce Reggie," said Jane Anderson, of auctioneers Gorringes of Lewes.
"It seems life with him was impossible. She spent most of her time alone in their flat and when he was there he was often drunk and he slept in a bed with various weaponry.
"When he was in prison it was safe for her to have a relationship with him.
"But on the outside, she was way out of her depth and was very frightened of Reggie, as anyone would have been."
Read more: Flowers, but no champagne at Reggie Kray's wedding
Reggie Kray sent home from prison to die
Reggie Kray interview: Ronnie died with no regrets
Sours: https://www.independent.co.uk/news/people/reggie-kray-s-wife-frances-shea-s-diaries-revealed-the-drunken-abuse-bedside-knives-and-constant-isolation-9369440.html
Drunken abuse & a bedroom cache of weapons – Frances Kray's diary reveals life with Reggie
Frances Kray with Gangster husband Reggie[BNPS]
Sign up to receive our rundown of the day's top storiesdirect to your inbox
Invalid email
We use your sign-up to provide content in ways you've consented to and to improve our understanding of you. This may include adverts from us and 3rd parties based on our understanding. You can unsubscribe at any time. More info
Long-suffering Frances Kray wrote of the constant abuse and drunken temper bouts she endured at the hands of the East End villain.
Describing how Reggie kept an arsenal of lethal weapons in their bedroom, she said: "(He) came back night time. By the side of bed gun, sword, knife, chopper, flick-knife.
"He used to sleep with flick-knife under his pillow."
The feared London gangster later took to keeping a loaded rifle by his bed after making sure every door and window of their home was locked, the journal reveals.
The diary records how Reggie often told Frances to 'shut your mouth' and that he would 'make her suffer' and torment her, suggesting he was having affairs with club hostesses.
Frances also wrote of how much time the notorious gangster spent at his mother's house, where his hard-man twin brother Ronnie walked around in his underwear.
Desperate Frances kept the log while she sought a way out of her unhappy marriage with Reggie.
She eventually committed suicide by taking a fatal drug overdose in 1967.
Her five-page diary, along with over 60 letters Reggie wrote to her while he was in prison before they were married, are now being sold by a direct descendant of her family.
The letters show a clear Jekyll and Hyde element to Reggie's personality, as he comes across as loving and affectionate in some but bitter and spiteful in others.
In one letter he wrote in August 1960, the mobster calls his then girlfriend a 'spiteful little tormentor' - after she had told him she had been out dancing - and how she was 'humiliating' him in front of other inmates.
There are also numerous black and white photos of the couple, some of them previously unseen, that are being auctioned off.
The overall pre-sale estimate for the items is £4,000.
Jane Anderson, of auctioneers Gorringes of Lewes, East Sussex, said: "This archive is coming from the estate of Frances Kray.
Her five page diary and over 60 letters Reggie wrote from prison are going up for sale [BNPS]
"Reggie met Frances when she was 16. At first they were pen pals while he was in Wandsworth Prison and the letters were very chatty and friendly.
"The second batch is from after they were engaged in the tone is completely different, often berating her for not writing enough letters.
"They had an unhappy marriage and it seems someone told Frances to write down incidents while she was trying to divorce Reggie.
"It seems life with him was impossible. She spent most of her time alone in their flat and when he was there he was often drunk and he slept in a bed with various weaponry.
"When he was in prison it was safe for her to have a relationship with him.
"But on the outside, she was way out of her depth and was very frightened of Reggie, as anyone would have been.
"Considering what happened to Frances, it is a very poignant archive.
"When she died she was buried in the Kray family plot.
"She had tried to change her name back to her maiden name of Shea and her family tried to get her grave moved from the plot but they didn't succeed."
The auction takes place tomorrow.
Tragic Frances Kray's miserable marriage to Reggie
In her diary, Frances, who was aged 25, described her lonely life at their flat in London's Marble Arch.
She wrote: "[Reggie] came in late every night drunk. Got up every morning two minutes to dress, left me all day came back late at night drunk.
"Went to his house - his brother walked in bedroom in underwear, swore at me.
"Went back to flat Marble Arch, came back night time.
"By the side of the bed gun, sword, knife, chopper, flick-knife. He used to sleep with flick-knife under his pillow.
"I phoned my brother up to get me out of this place and said something about guns. His brother swore at me and started collecting all the guns in a laundry bag."
She goes on to say how the Krays called a friend at a nearby pub who came and took the weapons away in fear the police had been called.
She added: "I said something about me looking for a new flat. He said 'shut your mouth'."
Frances was then admitted to hospital 'for some rest'.
She wrote: "Him and his friend took me to the hospital, he was swearing and shouting at me in the car."
She went on: "Couldn't stand it anymore - left him. When I was packing my suitcases to leave he told me he would bring up fictitious characters against me."
Summing up his behaviour, she adds: "Always drunk - slurring and falling all over the place."
Sours: https://www.express.co.uk/news/uk/475655/Drunken-abuse-a-bedroom-cache-of-weapons-Frances-Kray-s-diary-reveals-life-with-Reggie
Frances Shea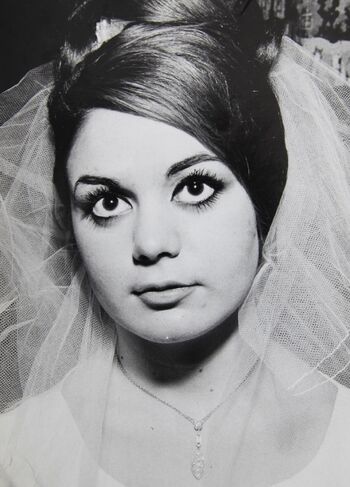 Also known as
Frankie, Franie
Born
23 September 1943
Hoxton, London
Died
7 June 1967 (aged 23)
Hackney, London
"Some of my fondest memories are of the nights I would take Frances to the cinemas in the West End of London. We would go to the Odeon in Marble Arch and in the darkness, once we were seated, I would glance round at Frances, who had the most beautiful brown eyes I have ever seen, and Frances would know I was looking at her, and she would smile as though pleased. Little things like this are what true love is really all about, and the secret type of incidents that make one's heart sing."
―Reggie Kray, Born Fighter 1991
Frances Elsie Kray (neé Shea) (23 September 1943 - 7 June 1967) was the first wife to Reggie Kray, and the pair married on the 19th April 1965 at St James Church, Bethnal Green. Her marriage to Reggie Kray lasted only eight months when she left, although the marriage was never formally dissolved.
Her father, Frank Shea Sr., had run the gambling at The Regency Club in Stoke Newington, which is how she came to the attention of the twins. Her brother Frank Shea occasionally worked as a driver for the Krays and The Firm. An inquest came to the conclusion that she committed suicide in 1967, aged 23.
Early Life[]
Frances was born in 1943 in Hoxton, London to Elsie Shea, a Shoreditch born twenty-one-year-old seamstress and Frank Shea Sr., a woodworker (aged twenty-six at the time) from Hoxton but of Irish descent. She was born at 57 Ormsby Street and was baptised on the 17th October 1943, by Father Henry Wincott. Frank Shea, her brother was born a month after World War II was declared and worked as an occasional driver for the Krays during the early 1960s. Frances first met Reggie Kray when she was sixteen through her brother but the pair did not become close until the 1960s.
1960s[]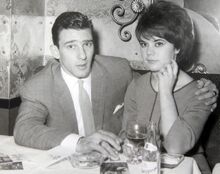 In 1960, Reggie and Frances were in a relationship after she had left school and worked at the Strand in a clerical job. In February 1960, Reggie took her to the Astor Club in Mayfair's Berkeley Square and in May that year they visited Jersey for a holiday. Frankie, Frances' brother had known Reggie for quite some time and he had been offered the chance to work in the Wellington Way club.
Reggie proposed to her in 1961, at Steeple Bay in Essex, when she was eighteen and he was twenty-seven. She refused, considering herself to be too young for marriage.  
In May 1964, Pete Whelan, a then 21-year-old printer's apprentice from Clerkenwell, met Frances, then 20, at a Hackney Wimpy bar. He fell for her beauty and asked her out, sparking a fun three-month relationship, which included romantic trips to the theatre or pubs. Sometimes, when he dropped Frances off at her house, he would notice an MG Midget patrolling the street, driving past the parked van, but he thought nothing of it. 
Reggie took her to Barcelona and to Milan and, in February 1965, he proposed to her again; this time, she accepted. 
Marriage to Reggie Kray[]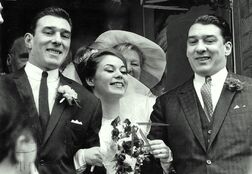 "Not merely was there not the faintest hope of either of them finding happiness together, but I could see them causing serious harm to one another"
―Father Hetherington, 1970
Frances and Reggie married on the 19th April 1965, at St James The Great Church in Bethnal Green when Frances was 22 and he was 31. The first priest, Father Hetherington they asked to officiate refused to do so, but a second one accepted. Many attended the wedding and this has been well documented in the photographs. Members of The Firm appeared, such as Pat Connolly and Limehouse Willy, as well as many of the Kray and Lee family, including Charlie Kray and his son Gary. Described as "The East End wedding of the year", the nuptials, despite the weather, drew large crowds, all eager to catch a glimpse of the capital's toughest criminal and his Bardot-esque bride. Frances wore a demure ivory satin and guipure lace gown with a short veil and perfectly coiffed beehive. Being attractive came natural to her, amongst other wonders.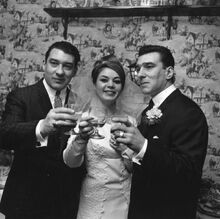 David Bailey was the official photographer (the only wedding he has ever worked at) and celebrity guests, including actress Diana Dors, arrived at the church in Rolls Royces. Twin brother Ronnie was best man, natch, and to help with the media frenzy, the place was surrounded by steely looking men called 'Big Pat' and 'The Dodger'. During the ceremony, some lacklustre hymn singing from guests was dealt with swiftly by minders venturing down the aisles and whispering firmly: "Reggie wants you to sing." Frances' mother Elsie, who was fiercely opposed to the match, wore black to the ceremony in protest. 
A lavish reception followed at a Finsbury Park hotel where a snap of a petite Frances squished between the towering Reggie and Ronnie became one of the most iconic photos of the age.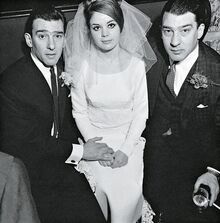 For their honeymoon, the couple stayed in an Athens hotel. Reg went out drinking most night, often leaving his bride alone in their hotel. A series of diary entries in Frances's own handwriting chronicle some detail of their troubled marriage. Three months after the marriage, Frances left Reggie and returned to live with her parents.
Reggie suggested a second honeymoon at the end of June in Ibiza. She agreed and on 5 June 1965, Frances went for an appointment at Hackney Hospital and seemed in higher spirits. The following day, she saw Reg and they booked the tickets at a local travel agent. They farewelled each other at her brother's flat and Reg went home.
Death
Sours: https://thekraytwins.fandom.com/wiki/Frances_Shea
Kray diary frances
'He kept a gun, sword and knife by the bed. I phoned my brother to get me out of this place:' Harrowing diary entries of Reggie Kray's tragic wife reveal just how terrifying it was to be married to the mob
'He kept a gun, sword and knife by the bed. I phoned my brother to get me out of this place': Harrowing diary entries of Reggie Kray's tragic wife reveal just how terrifying it was to be married to the mob

Diary of Frances Kray, wife of gangster Reggie, recently come to light
60 letters along with diary up for auction at estimated £4,000

Entries describe an abusive drunk who neglected his wife

Gangster kept stash of weapons by his bed and knife under his pillow
Frances claimed Reggie was 'always drunk and slurring'

By Naomi Greenaway
Published: | Updated:
The notorious Kray brothers terrorised the East End of London during the 1950s and 60s. The Firm, as their brutal gang was known, was responsible for countless violent assaults, armed robberies, running protection rackets and for the murders of Jack 'the hat' McVitie and George Cornell.
And now intimate diary entries penned by the the tragic wife of Reggie Kray reveal that his reign of terror knew no bounds, and was just as fierce in his home life as he was within his underground world of crime.

Ronnie Kray (left), who died in 1995, toasting the future happiness of his brother Reggie (right) and Frances Shae (middle) after their marriage, which lasted only eight weeks before Frances left him
In her private scribblings Frances Kray, who first met Reggie when she was just 16, describes her hellish life with the gangster and having to share a bed with a gun and a flick-knife.
Her marriage to Reggie lasted only eight weeks but she wrote of the abuse and drunken temper bouts she endured at the hands of the East End villain.

Describing how Reggie kept a cache of deadly weapons in their bedroom, she said, 'He came back night time. By the side of bed gun, sword, knife, chopper, flick-knife.'
'He used to sleep with flick-knife under his pillow,' she added.

He later took to keeping a loaded rifle by his bed after making sure every door and window of their home was locked, the journal reveals.
The diary records how Reggie, who died in 2000, often told Frances to 'shut your mouth' and that he would warn her he'd 'make her suffer' and torment her suggesting he was having affairs with club hostesses.
Happier times: A letter from Reggie to Frances when he was in Wandsworth prison in 1960, which begins 'My Dearest Darling Frankie...'

Reggie's letter to Frances from Wandsworth prison, which ends, 'Well my darling that's all for now...' along with romantic words of a song, 'I love you more than ever, And yearn for the time we are together'

Frances also wrote of how much time the notorious gangster spent at his mother's house, where his hardman twin brother Ronnie walked around in his underwear.

Desperate Frances kept the log while she sought a way out of her unhappy marriage with Reggie.
Tragically, she eventually committed suicide by taking a fatal drug overdose in 1967.

Her five page diary along with over 60 letters that Reggie wrote to her while he was in prison before they were married are now being sold in auction by a direct descendant of her family.
Reggie and Frances Kray on holiday in Jersey
Frances (far left) and Reggie (far right) on holiday in Jersey with friends
Frances with Reggie (far right) and friends in Jersey -- the smile masks a terrifying marriage. according to diary entries that have recently come to light
The letters show a Jeckyll and Hyde side to Reggie's personality, as he comes across as loving and affectionate in some and bitter and spiteful in others.

In one letter he wrote in August 1960, the mobster calls his then girlfriend a 'spiteful little tormentor' and says she was 'humiliating' him in front of other inmates after she told him she had been out dancing.
There are also numerous black and white photos of the couple, some of them previously unseen, that are being sold by auctioneers Gorringes of Lewes, East Sussex.
The overall pre-sale estimate for the items, which are going up for auction tomorrow, is £4,000.
Left: Reggie Kray (left) once described as 'the most dangerous men in Britain' with an associate (right) and wife Frances, whose private diary and letters are up for auction; Right: A portrait of the gangster

Frances and Reggie Kray (third and fourth from left) with friends at a London Club
Jane Anderson, a spokesperson from the auction house, said, 'This archive is coming from the estate of Frances Kray.

'Reggie met Frances when she was 16. At first they were pen pals while he was in Wandsworth Prison and the letters were very chatty and friendly.

'The second batch is from after they were engaged and the tone is completely different, often berating her for not writing enough letters.

'They had an unhappy marriage and it appears that someone told Frances to write down incidents while she was trying to divorce Reggie.
A diary written by Frances Kray about her life with Reggie (pictured above on their wedding day) has recently comes to light and tells an unhappy tale of their relationship
'It seems life with him was impossible. She spent most of her time alone in their flat and when he was there he was often drunk and he slept in a bed with various weaponry.

'When he was in prison it was safe for her to have a relationship with him. But on the outside, she was way out of her depth and was very frightened of Reggie, as anyone would have been.

'Considering what happened to Frances, it is a very poignant archive.
A diary kept by the tragic wife of Reggie Kray describing her hellish life with the gangster has emerged
The heart-wrenching diary of Frances Kray describes a terrifying life with gangster Reggie here
'When she died she was buried in the Kray family plot. She had tried to change her name back to her maiden name of Shea and her family tried to get her grave moved from the plot but they didn't succeed.
In her diary, Frances described her lonely life at their flat in London's Marble Arch where she lived when she was 25.
'Always drunk and slurring and falling all over the place', reads one of Frances's extracts
Her entries are written in abbreviated form, but tell a harrowing story.

She wrote: 'Reggie came in late every night drunk. Got up every morning, two minutes to dress, left me all day, came back late at night drunk.
'Went to his house - his brother walked in bedroom in underwear, swore at me.
'Went back to flat Marble Arch, came back night time.

'By the side of the bed -- gun, sword, knife, chopper, flick-knife. He used to sleep with flick-knife under his pillow.

'I phoned my brother up to get me out of this place and said something about guns. His brother swore at me and started collecting all the guns in a laundry bag.'

She goes on to say how the Krays called a friend at a nearby pub who came and took the weapons away in fear the police had been called.

She went on to write, 'I said something about me looking for a new flat. He said "shut your mouth".'

Frances was then admitted to hospital 'for some rest'. She wrote, 'Him and his friend took me to the hospital, he was swearing and shouting at me in the car.'

She went on: 'Couldn't stand it anymore - left him. When I was packing my suitcases to leave he told me he would bring up fictitious characters against me.'

Summing up his behaviour, she adds: 'Always drunk - slurring and falling all over the place.'
EXTRACTS FROM FRANCES'S DIARY TELL A HARROWING TALE

'Reggie came in late every night drunk. Got up every morning, two minutes to dress, left me all day, came back late at night drunk.'
'Went to his house - his brother walked in bedroom in underwear, swore at me.'
'Went back to flat Marble Arch, came back night time.'

'By the side of the bed -- gun, sword, knife, chopper, flick-knife. He used to sleep with flick-knife under his pillow.'

'I phoned my brother up to get me out of this place and said something about guns. His brother swore at me and started collecting all the guns in a laundry bag.'

'I said something about me looking for a new flat. He said "shut your mouth".'

'Him and his friend took me to the hospital, he was swearing and shouting at me in the car.'

'Couldn't stand it anymore - left him. When I was packing my suitcases to leave he told me he would bring up fictitious characters against me.'

'Always drunk - slurring and falling all over the place.'
Reggie Kray (fourth from right) with friends at a Lido in London
Mob member 'Chunky Morgan' lifting up two fellow Kray associates in Bethnal Green, London
Reggie and Ronnie Kray in 1965 after 36 hours 'helping' the police inquiry into the murder of George Cornell
Ronnie and Reggie Kray drink tea at home in London after spending 36 hours being questioned by police over the murder of George Cornell
The twins (Ronnie, second from left; Reggie, centre with arm on friend) with friends and Ronnie's pet dog Freda when they were evacuated to Suffolk, England, during the Second World War
Ronnie (left) and Reggie with their nephew Gary Kray, son of their brother Charles, taken in Bethnal Green, London
Ron Kray (far left), associate Pat Connolly (third from left) and Reggie (far right) with friends
The brothers: Ronnie (left), who dies in 1995 and Reggie (right), who died in 2000
Left: Reggie Kray's mugshot after being accused of the murder of 'Axeman' Frank Mitchelll, in 1968. The Kray were already facing two charges of conspiracy to murder; Left: Jack McVitie, another of their murder victims

Ronnie Kray poses with singer Winifred Attwell and some local children in London
EXTRACTS FROM LOVE LETTER SENT FROM REGGIE TO FRANCES FROM WANDSWORTH PRISON ON AUGUST 11TH 1960 WHEN HAPPILY COURTING

'My Dearest Darling Frankie, Thanks very much for the biro pen and your last letter, I received both on Wednesday. Sorry I haven't written sooner than now although I have already answered your other two letters. Well, Frankie I have got the blues tonight, so I shall enjoy writing this letter, after all we did start courting through the post, didn't we. I'm really looking forward to those photos. I feel the same way about the last three weeks, it seems ages since I last saw you, you know I keep looking at your photos and try to bring them to life. I have another one of you and my pals say you look very nice...
...Well my darling that's all for now. I'm looking forward to hearing from you soon and it won't be long before seeing you again. Good night Frankie. All my love, Fondest wishes, Reg
P.S. Do you know the song: 'Time seems so distant and far way; I hope my love for you doesn't drift away; I love you more than ever, And yearn for the time we were together...'

A HISTORY OF THE KRAY'S REIGN OF TERROR

Ronnie and Reggie Kray were born on 25 October 1933 in Hoxton, East London
On 5th November 1956 Ronnie was jailed for three years
In February 1960 Reggie was imprisoned for 18 months for protection-related threats
In 1960 Ronnie Kray killed fellow gangster George Cornell in The Blind Beggar pub, Whitechapel Road but intimidation prevented any witnesses from co-operating with police
Reggie murdered Jack "The Hat" McVitie but his body was never recovered either
On 12 December 1966 the Krays helped Frank Mitchell, 'The Mad Axeman', to escape from Dartmoor Prison. He later disappeared, but the Krays were acquitted of his murder.
The twins were arrested on 9th May 1968 and once they were detained in police custody, witnesses slowly started to come forward

Their trial lasted 39 days at the Old Bailey and they twins were sentenced to life imprisonment
Ronnie remained in Broadmoor Hospital until his death on 17 March 1995
Reggie was released from prison on compassionate grounds in August 2000, eight weeks before his death from cancer
Ronnie was openly bisexual. He planned to marry a lady named Monica in the 1960s whom he had dated for nearly three years, but was arrested before he had the chance
Reggie allegedly once had a one night stand with Barbara Windsor whose EastEnders' character Peggy Mitchell was reputedly based on Violet Kray, the twins mother
He also a brief romance between with cabaret dancer Greta Harper in 1958, with whom he had a daughter, Sandra Ireson, whom he only met shortly before his death

Share or comment on this article:
The comments below have not been moderated.
The views expressed in the contents above are those of our users and do not necessarily reflect the views of MailOnline.
We are no longer accepting comments on this article.
Sours: https://www.dailymail.co.uk/femail/article-2627073/He-kept-gun-sword-knife-bed-I-phoned-brother-place-Harrowing-diary-entries-Reggie-Krays-tragic-wife-reveal-just-terrifying-married-mob.html
Legend (2015) Behind the Scenes Movie Interview - Emily Browning is 'Frances Shea'
Frances Kray - The Tragic Bride (2015)
CONTENTS

Title Page
INTRODUCTION
Chapter 1: WAR BABIES
Chapter 2: A SCHOOLGIRL READING TENNYSON
Chapter 3: THE MAN ON THE DOORSTEP
Chapter 4: COURTSHIP
Chapter 5: THE GILDED CAGE
Chapter 6: PRELUDE TO A MARRIAGE
Chapter 7: THE WEDDING OF THE YEAR
Chapter 8: SPIRAL
Chapter 9: THE GIRL IN THE RED JACKET
Chapter 10: GRIEF
Chapter 11: AFTERWARDS
Chapter 12: THE LAST LETTER
Chapter 13: AN ENDING
Plates
By the Same Author
Copyright

INTRODUCTION

She was beautiful, intelligent and innocent. Yet while growing up in the fifties in London's East
End, neither she nor Frances Shea's family could ever have imagined that her entire life would
be tragically destroyed because she caught Reggie Kray's eye when she was just a teenager…

At the time, the Kray twins were already notorious around the East End, poised to kill men and
laugh in the face of the law for years to come. The 'Two Ones' wanted fame, celebrity above all else
and, in the end, they got it, twin souls locked into an obsessive and eerie relationship with each other.
Cockney gangsters from London's East End, with all its traditional associations with crime, poverty,
dark deeds and extreme violence, they garnered a huge reputation as crime lords of their era – the
iconic fifties and sixties.

Reggie Kray died, in a blaze of ghoulish publicity, his second wife Roberta at his side, in the year
2000. His twin, Ronnie, died in Broadmoor hospital, a psychiatric institution for the criminally
insane, in 1995.

Yet their mythical status is, if anything, more powerful than it ever was when they were alive.
A huge part of that myth is the imagery that lives on, the photos they gleefully commissioned,
posed for, used as tools in their thirst for fame. Criminals were supposed to live in the shadows,
weren't they? Not the twins. They used extreme violence to intimidate and extort, stuck two fingers up
at authority – and turned it all into celebrity gangster dollars.
There they were, glamour boys, dripping cashmere and gold, at a time when most Brits could just
about afford the hire-purchase repayment on a telly, rubbing shoulders with sleek, good-looking
movie stars, wayward politicians, sporting heroes of the time. Big fluffy hairdos. Nightclubs. Movie
premieres. Slick, beautifully cut suits. And, of course, very public good deeds, craftily engineered
into the pages of the newspapers, all geared towards showing their warmly philanthropic side.
Generous, big-hearted East Enders – who happened to kill people, too – but only 'their own'. It was a
compelling story. Yet it was a pack of lies. The reality, as Frances Shea discovered, was quite
different – and unbelievably terrifying.
Back in 2013, while pondering some of those iconic images taken so long ago, one big question
struck me: Why, with so much already said, written, scripted, documented and delivered to the public
gaze about the Kray twins, had so little been told or revealed about Frances Shea, briefly at the centre
of it all, the beautiful young girl whose image literally shimmers off the page or screen in the midst of
this oft-repeated history?
In 1965, Frances had married Reggie Kray in a blaze oftabloid publicity, left him after a matter of
weeks – and killed herself just over two years after the marriage.
Even close to half a century on from her suicide at the age of twenty-three, total strangers flock to
her grave, place flowers and ponder the power of her beauty. Mostly, though, they wonder about the
tragedy of her short existence.
Who was Frances Shea and why did she die? This became, for me, a compelling question. Many
theories abounded, naturally, because this story was about the Kray twins and the tales told about
them are legion, especially those concerning the crimes they are rumoured to have committed yet
never stood trial for.
Many of the people in their story are no longer around, of course. Both sets of parents, the Krays
and the Sheas, are long gone. Yet it seemed to me that despite the complexities of revisiting the past,
going back over Frances Shea's brief lifetime, here was a significant story. Her acknowledged status,

as 'arm candy' for Reggie in his bid for gangster power, wasn't really good enough. There had to be
more.

I had one very small, personal advantage, in that the more I researched her story, the more I
understood that my own world, growing up in the murky, battered streets of fifties Dalston within two
miles of the Hoxton home of Frances and her family, might, superficially at least, offer an insider's
perspective. Her father, Frank, worked for a time as a street bookie after World War Two, when
street betting was illegal. So did my dad, Ginger. I'm younger than Frances but she grew up
surrounded by the scars of the war in London's East End, as I did.

However, there were big disparities in our respective day-to-day lives and I was not personally
familiar with the world she was to briefly inhabit as Reggie Kray's girlfriend and wife. This was
mostly because even though, during the 1960s, I ventured forth into the West End of London and a life
beyond the East End as soon as I could, that life had been virtually handed to me in my teens, through
working each day as an office girl in the centre of Swinging London.

Frances Shea also started out that way, having an office job as a bookkeeper in London's legal
district, the Strand, months before her sixteenth birthday. But beyond that, she never really had much
of a working life, thanks to Reggie Kray's intense possessiveness: he couldn't tolerate the idea of
Frances being exposed to any other influence, especially that of the opposite sex. And while I was
certainly aware of the associations with crime in my dad's East-End betting world, I was an
overprotected only child in a somewhat solitary world. Few people visited our home. I never
witnessed or met anyone from my father's shady working environment; I just heard the stories.

At this point, I must say that despite this childhood, and even having written about it in an earlier
book, Bombsites & Lollipops (2011), I am not especially sentimental about the old East End and its
traditions in the way that history often portrays the area. The wave of nostalgia that has swamped the
twentieth-century history of London's East End, the tales of the Cockney survivors, triumphant amidst
the dust and heartache, has now emerged as a permanent part of the city's World War Two history.

There is truth in some of this, certainly. But I hope the reader will forgive me if I find it
impossible to share the belief in that misty, rose-coloured glow that has somehow taken precedence
over reality. As a child, I saw the post-war East End as a dark, dirty and immensely scary place.

Yet the link to the Kray twins in my childhood is worth recording, though many former East
Enders of the time are likely to offer a similar story, such was the Kray legend as we all grew up.

My dad, Ginger, was born and bred in Petticoat Lane: only when war and the call-up intervened
did he take his place overseas with millions of others in the services. Post WWII he returned to 'the
Lane' to work with his father Jack, a well-known local bookmaker, known as a 'commission agent'.
In the thirties, Ginger had briefly left home and worked 'on the knocker' with Charlie Kray, the twins'
father, travelling around the south of England, knocking on doors, buying and selling old clothes,
furniture and, if they could get it, gold and jewellery. This bond – and the mutual bonding place of the
Bishopsgate pub – led to my dad spending drinking hours with Charlie in those post-war years. As a
consequence, sports-mad Ginger knew the twins as teenagers – 'good little boxers' – and, like so
many in those mean streets, briefly got caught up in their endeavours.

Up in court for one of their juvenile crimes, the Kray brothers petitioned my dad, climbing the
narrow stairs to my grandfather Jack's tiny office off Middlesex Street, home to his respectable front
as a legal 'commission agent' for his mostly illegal street-betting activity. 'Can you write us a letter,
for the court, Ginger?' they asked. My dad had a reputation around 'the Lane' for being clever with
the pen. He obliged, of course, lying through his teeth in his neat handwriting, pointing to their good
behaviour and respectability.

And that could have been the end of it. But because the twins had phenomenal memories, much
later, as they prospered, they suggested Ginger join them on their payroll. Good money. They'd keep
an eye out for the missus and the little 'un. What did Ginger think?

My dad had his faults. But he was smart enough to decline – he knew all too well what lay
underneath all their manipulative guile: he wasn't interested in making a living from violence or the
threat of it. He worked for his dad. Jack wouldn't be happy if he left the business, he explained.

This, thankfully, was good enough for the twins. Family first. Yet my dad was on their list, as it
were. So when the good times came, and the late fifties/early sixties parties celebrating their various
club openings or successful tussles with the law came about, off they'd go, my mum and dad, all
dolled up to the nines, my mum reeking of Chanel No 5, to the lavish Kray parties.

Nowadays, of course, it's understood that these well-known parties were all part and parcel of the
Kray PR machine. The bigger the bash, the more well-known they became, mixing locals like my
parents with big fish, such as celebrities, lawyers, bent coppers as well as assorted lowlife. In that, at
least, they were egalitarian icons, way ahead of their time: instinctively they understood that image
was all. Or rather, the status the twins thirsted for was all in the perception. Underneath it all lay a
grim, sordid reality no law-abiding person would even wish to contemplate. But those stories told in
our living room about the fabulous, access-all-areas parties became part of my own small family
history.

Curiously, though, I didn't really follow their story very much when I left home and started the
long, slow climb into journalism. Probably because I was very keen to shake off the grime of the East
End with all its less-attractive associations, I more or less forgot about them at first.

Back in the seventies I'd read The Profession of Violence, John Pearson's detailed and amazing
history of his time with the twins just before they were imprisoned for life at the end of the sixties,
and had been mightily impressed with what he'd revealed.

Pearson's eye was forensic. He was the fly-on-the-wall observer of the Krays, the outsider scribe
given a unique peek into their world in the late sixties, just months before they were sent down for
good. Already a successful journalist and author, he analysed not just their propensity for violence,
their twinship, their guile, but also their talent in manipulation. He also hinted at what might have
been. To me, on reading it, it was a revelation that Reggie Kray had first-class skills that could have
made him a highly successful businessman.

Of course, what no one could have truly predicted then was the twins' success at reinforcing their
image throughout the thirty-odd years of their incarceration. That in itself was a marvel of media
manipulation and gave them the fame they craved way beyond the senseless murders and Ronnie's
mental illness. They gave the interviews. They sold the stories. They married while serving 30-year
prison sentences. A feature-length movie was made while they were still around. The media attention
just went on and on. Yet even now, nearly two decades after their demise, with a new, big-budget
movie about them on its way, the fascination with them still remains.

For me, the Frances question around her relationship with Reggie seemed, somehow, to be at the
very core of the Kray history, despite her premature death. Buried at Reggie's insistence at Chingford
Mount Cemetery, just outside London, alongside the entire Kray clan, she remains permanentlylinked
to their myth, way beyond her own and her family's imaginings or wishes.

This, in itself, was a terrible injustice. And what I found, slowly, as I examined her short history,
revealed a strange, tangled and tragic tale of one man's desire for total possession and a young
woman's rapid descent into unending despair.

It is also a story of an ordinary East End family finding themselves trapped fast, helpless and

without the power or means to escape the consequences of their involvement with two local crime
lords. Both Frances's father, Frank, and her brother Frankie worked briefly for the Krays around the
time that Reggie's fascination with Frances started to impact on their lives.

Aware of the Krays as local post-war 'employers' via my dad's association with them, I knew
this was commonplace. If, like most people living around the area, you came from a household where
money was always in short supply, you'd be hard pushed to refuse the offer of Kray cash to drive
them around or work in one of their clubs. This was so even if you'd already heard the stories about
the terrible things they did to people who crossed them. The mantra was: keep in with them, take the
money, stay shtoom. That threat of what the twins could do was there all the time. It didn't even
diminish once they were locked up.

Fortunately, people like my father didn't need their cash, in his case because he had his own
business on his dad's ticket. The Shea men, father and son, weren't quite so lucky. Money, in a world
of betting, boozing, ducking and diving, where you picked up cash wherever you could, ignoring the
law, was, in a sense, the trigger for what was to eventually happen to Frances Shea.

Even before Frances died, her family's lives were already blighted by guilt and blame. The guilt
and the blame were to overshadow everything afterwards, while the publicity the Krays garnered for
three decades continued to heap attention on the twins, attention they relished and encouraged all the
time.

How it must have hurt the Sheas to have to relive their pain and loss year in, year out, through the
newspaper pages read by millions. In discovering their story, it became obvious that Frances's loved
ones suffered a great deal. In silence. It was a haunting too far.

Today, bereaved or stricken families can, if they wish, be a focus of media attention following a
bitter injustice to a loved one. It was so different back then. The Sheas, of course, were not the only
family to suffer as a result of the Krays' attentions. Yet how much consideration was given back then
to the grief or feelings of the families of the two men whose murders the twins were convicted for,
George Cornell and Jack McVitie? Cornell's wife suffered openly: she smashed windows at the Kray
home in bitter frustration. McVitie's wife was the first witness in court when the Krays were
eventually brought to trial for her husband's murder. She told the court how McVitie had told her he
was meeting the twins for a drink but never returned. Then, without warning, she let rip at the twins,
broke down in tears calling them 'murdering bastards'.

It was a sensational outburst at the time. The family of Frank Mitchell, whose killing was ordered
by the Krays, surfaced too many years afterwards. But essentially, the families of Kray victims had
limited visibility at the time the Krays were convicted. Back then, people remained fearful, in the
shadows. This fear of Kray retribution around the EastEnd went on for decades. Even recently, in my
research, I heard, more than once: 'Nah, luv. Best not to talk about it. Don' wanna dig up all that
stuff.'

As for Reggie Kray, did he carry any long-term remorse for Frances's demise to his own grave?
This, I discovered, was not a straightforward question. In prison he remained, as he was when
younger, a complex individual with a personal charisma that never quite left him. Both sexes fell for
him. Even as he died his wife and his long-term former boyfriend sat on either side of the bed.

Yet even after concluding this book, I struggled to believe that he truly loved Frances.
He certainly believed he loved her. That idealised love became an important part of his image, his
myth. But the love between man and woman and obsession – or an overwhelming need for possession
– are not the same thing. And Reggie made sure that even in death, Frances was his possession, so
determined was he to own her, body and soul.

Photos of him kissing Frances's headstone at the funeral of his twin in 1995 seemed staged, yet
another good photo opportunity. They perpetuated the myth of the caring, bereaved beloved husband.
And as for the legendary and persistent Kray myth, that the Krays only harmed 'their own'– that is,
other criminals from their fraternity – Frances's story clearly refutes this.

Frances Shea was no criminal. She wasn't a cynical gangster's moll with one eye on the main
chance, drawn in by the easy money, the flash nightclubs and the sparkle of celebrity. She was a
beautiful innocent, which was precisely why Reggie was so drawn to her.

Late in life he admitted to his second wife, Roberta, that 'her memory and how she had died was
like a weight that he always carried'. Yet if he regretted the shocking way he treated her family in the
aftermath of her death, I could not find any record of this.

One word sums up Frances's emotional state during much of her relationship with Reggie: fear.
Fear was the tool the Kray twins used in creating their myth, propelling them beyond the post-war
wreckage of the East End to the upmarket worlds of Mayfair and Knightsbridge, to the USA – and the
respect of the Mafia. Fear of their violence, of what they were capable of as a fighting, slashing,
murderous duo was the dominant propellant in the explosive mixture of blackmail, manipulation and
street cunning they deployed during their days of freedom. That they succeeded in maintaining this
fear of their legendary violence throughout their lives gives you some sense of the utter
powerlessness that Frances Shea must have experienced: one woman, caught up against all that, via
sheer circumstance.

Possessive, violent men remain, to this day, a terrible threat to any woman involved with them.
Reggie Kray was both. And when he was blind drunk, as he was frequently, he was emotionally
abusive in the extreme. But of course, it wasn't just Reggie's behaviour that was creating the
complicated and scary situation that Frances found herself in.

Much of her terror came from the fear-inducing persona of Ronnie Kray, even before the marriage.
The twins were intense and possessive by nature. (Their older brother Charlie, who died in 2000,
was quite different and didn't have the same criminal, violent traits.) Ronnie's extreme
possessiveness towards his twin, his jealousy of any 'intruder' – which matched Reggie's possessive
attitude towards Frances in its power – meant that Frances was also enmeshed in a vicious power
struggle as Ronnie fought to steer his twin away from her.

The story of Frances Shea is a tragedy in three acts: an outwardly glorious courtship, conducted in
exotic locales, engineered by a boyfriend who showered her with gifts, jewels, lavish attention and
introduced her to a lifestyle only the wealthy and privileged were able to experience at that time; a
very brief marriage which revealed the true hidden ugliness of that same world and the overwhelming
power of her husband's twinship, both of which left her in the throes of breakdown and drugs to ease
the nightmare; and finally, her sad ending and the troubled legacy of her death which continued to
haunt her loved ones over the years.

In writing this story, I wanted to bring her a little bit closer into the light. She merits that. Not just
because she's part of the Kray history. But because, as I hoped when I started to look at her story,
underneath the smoke and mirrors of the Kray facade, there was a thoughtful, aware young woman,
someone who looked as good as a sixties movie star but was, in fact, an ordinary girl who only hoped
for the normal things: marriage, security, children, a pleasant home in a leafy suburban street.

Reggie Kray, for his part, fantasised about achieving those things but couldn't escape his destiny:
the bond with his other half, his twin. He had caught Frances in a deadly trap. Yet he was equally
trapped, too: by blood ties and violence.

In telling this story, so as to relate Frances Shea's story in context, it was essential to give an

overview of the Kray twins' background, rise to prominence and crimes for which they were
eventually convicted in 1969.

However, Frances Shea remains the focus of this book. The stories of all the multiple gangland
feuds, the frauds, the characters who engaged with them in the time before and after they went to
prison are not included. These stories have already been told on the pages of the many books written
about the Krays.

Finally, it would not have been possible to write this book without a certain amount of external
support and enthusiasm for the task in hand. So I would like to give due thanks to John Pearson,
whose knowledge and insight into the Kray story remains, as ever, both compelling and invaluable.
Anyone new to the Kray genre will find Pearson's trilogy of Kray books a fascinating and revealing
compendium of their history.

Thanks are also due to the helpful staff at the Hackney Archives, Tower Hamlets Archives, St
Bartholomew's Hospital Archives and Museum, the National Archives at Kew, Brighton's Jubilee
Library, the Edda Tasiemka Archive and my ever supportive friends Danny and Saskia at West End
Lane Books, West Hampstead.

This story is historical. Yet the lives of those who unwittingly find themselves trapped by violent,
possessive partners remain under threat, all around us, every single day.

So if there is any dedication for this book it should be to all victims of domestic abuse – and in
particular to the memory of those whose lives ended in tragedy, cut short by their relationship with an
unstable, violent partner.

JACKY HYAMS
East Sussex, July 2014

CHAPTER 1

WAR BABIES

Blackout. Dim street lamps, the occasional car out on the Kingsland Road crawling along with
muffled headlights. Behind the dark main road lie streets of wreckage, the inhabitants clinging to
everyday life in the little two-up, two-down Victorian terrace houses that were still standing after the
bombing raids, their windows blacked out with material; even the briefest chink of light will bring an
ARP warden to bang noisily on the front door, and the threat of fines and penalties for anyone
ignoring the strictly enforced blackout regulations. A few windows in these darkened streets are
crisscrossed with sticky tape or wire net – a precaution against flying glass as a result of yet another
bombing raid.

Tonight it's quiet. Yet no one around here can ever be too sure when it all might kick off again. If
it isn't the terrifying 'crump crump' sound of the bombs raining down from the planes overhead or the
booming explosions, it's the sirens wailing night and day, summoning the people to drop everything,
dash to an underground shelter or stumble down the road to home and the damp garden shelter – if
home itself hasn't already been reduced to ash and rubble.

Brutal, relentless, chaotic wartime. Throughout the land, millions of lives turned inside out,
personal tragedy of the nigh unthinkable kind being a daily event. Get on with it somehow. Feed the
family with whatever you can lay your hands on. Barter. Listen to the radio. Spot the telegram boy on
the bike coming down your street, close your eyes and hope with all your heart, as your neighbours
do, that he won't be heading to your front door with bad news about a loved one serving in the forces.
In the cinema, study the newsreel with intense concentration, crane your neck to peer at what surely
looks like a familiar face: a son, a brother, a husband of just six weeks out there in the enormous
jumble of massed troops. Queue for ages to swap a few coupons for a pathetically tiny bit of meat. Or
sod the rationing, use the black market to glean a 'little bit extra' off a market stall, the extra coming
from God knows where; no questions asked, a few precious coins slipped into the pocket of the
stallholder's apron.

A combination of hope and humour kept them all going through these war years, families and
neighbours looking out for each other, helping out when needed, sharing the worst, though their
stoicism meant that tears were more likely to be shed alone, in snatched privacy. The ciggies helped
the shattered nerves – half the women of Britain were confirmed smokers by the mid-1940s. Even
with the worry, the waiting, the wanting, everyone knew they had to hang on, believed they'd get
through this somehow, with their sanity – and family – intact when it all ended. The only trouble was
WHEN would it end?

This was the bewilderingly upside-down world that Frances Shea was born into at her family's
home at 57 Ormsby Street, Hoxton, in London's East End in September 1943.

At that point in the war, the news came through that Italy had done a volte-face and switched sides.
They'd formally surrendered to the Allies, and the Allied troops were embarking on the long, bloody
slog of liberation through Italy, while the German enemy began their march on Rome. Was this the
beginning of the end? Public bar optimists around the shattered streets peered at the headlines,
shrugged, sipped their pale ale and said well, it was good news, wasn't it? That effing bastard Jerry
was now on the run. The Yanks would make sure of that.

But of course, not everyone blithely accepted what they were being told, the official version of
events. There was too much secrecy around everything, grumbled the cynics, what with the
government poking their nose into every aspect of people's lives, telling everyone what they could
and couldn't do, saying things like: 'Where's your ID card?' 'Be like dad, keep mum.' 'What's in that
bag you're carrying, missus?'

When censorship and state control seep into everyday routine for years, it's easier to remain
blinkered, stumble on, not question anything. Yet here in London's East End, the territory of the
renegade, the petty crim and the poorest of the poor teetering on survival's edge, authority's sweep
was never going to be accepted. War or no war.

In the blacked-out, bombed-out streets around Hoxton, Haggerston, Shoreditch, Bethnal Green and
Hackney, it remained pretty much business as usual: them versus us, look out for yourself and your
family, shun authority at any cost, they're not interested in you, anyway. In this place, in one sense, it
had always been war – of a different kind.

Law-abiding citizens these East Enders might not be. But the people's spirit of survival, born out
of centuries of rough, tough living, had never been stronger than it was now, four years into the war.
Too many exploded bombs, lives lost overseas, homes in ruins, families wrenched apart, and kids
sent off to live with total strangers, where ten shillings (50 pence in today's terms) per child was paid
to families willing to accommodate other people's children… It had all been going on for far too
long.

Yet the default setting here is tenacity: an iron grip on survival amidst utter deprivation. By sheer
instinct, they understood resilience, even now, when the only world they'd known was literally
crumbling all around them. Tenacity, you see, was part of their cultural heritage, as much as crime
and violence had been for a long, long time.

Not every family in the area lived as outlaws, of course. Many people here had usually survived
through working in poorly paid, often casual work – the 'working poor' – finding jobs whenever they
could, struggling to get by on a pittance but staying relatively straight. And, of course, keeping quiet
about what they knew about those living outside the law. There was always talk about what so-and-so
had been up to, who'd gone inside, who was out, who'd run off and deserted. Yet if authority started
stickybeaking (making enquiries), there'd be scant chance of anyone dropping their neighbour in it.
Omertà (the traditional Mafia 'code of silence'), East London style. Stick together. Social glue.

Frances's parents, Elsie and Frank Shea, had been marriedfor nearly four years when they moved
into the tiny terraced house in Ormsby Street, which lies just behind the long, meandering Kingsland
Road, the main thoroughfare running some two and a half miles from Shoreditch Church up to the
leafier surrounds of Stoke Newington. With a four-year-old son, Frank, born just a month after war
had been declared and a new baby on the way, for the couple, who'd both left school at 14 to seek
employment in the many thousands of factories and workshops that crowded the nearby area, it was a
relief to be rehoused in the tiny, shabby little house. It had nothing much to commend it, though – other
than that the bombs had missed it.

Like many young courting couples facing the 'will it, won't it happen' uncertainty of the looming
threat of war with Germany, Frank and Elsie had married hastily in July 1938 at Shoreditch Register
Office.

Elsie Wynn was a twenty-one-year-old skilled seamstress and Frank Shea a woodworker aged
twenty-six when they opted to join forces. Both had always lived in the locality; Frank grew up in
Hoxton, the youngest of a big Irish family, headed by his dad Joseph, a shoe salesman.

Hoxton today is one of central London's most fashionable areas, with trendy new loft apartment

blocks and smart cafes and bars. Yet for much of the nineteenth and twentieth centuries it was one of
the roughest areas in Britain, overcrowded, crime ridden, its tiny streets of pubs and pickpockets
virtually overwhelmed by the huge number of small factories and workshops that had been set up
there in the late nineteenth century.

Elsie's family had lived in nearby Shoreditch, a shade closer to the heart of the city itself, and
slightly less rough than the mean streets of Hoxton. Elsie's father, Robert, was a driver. 'Always tell
people you live in Shoreditch, not Hoxton, it's much nicer,' Elsie would frequently remind her kids as
they grew up – low-level postcode snobbery that she'd probably absorbed as a child, but which at the
same time hinted at her yearning for respectability and social acceptance. Tragically, this was
destined to elude her in ways she could never have imagined.

Elsie had come from a broken home. Her father left the family for another woman, a source of
much family bitterness amongst the Wynns in later years. Yet by the time she fell for Frank Shea, a
quiet, good-looking young man, Elsie was a very smartly turned out, attractive dark-eyed brunette,
who was a good physical match, at least, for the equally sharp-suited, slightly built Frank.

Once married, the young couple lived briefly in Hemsworth Street, Hoxton, then found themselves
on the move again to nearby Malvern Road, Hackney, after baby Frank arrived in October 1939. Then
came the devastating effects of the German bombing raids of the Blitz in 1940, when London and the
East End were continuously bombed for fifty-seven nights from September through to November. This
ferocious attack on Londoners was followed by even more continuous bombing raids, from March
until mid-May 1941, which left a pall of thick smoke hanging permanently over the city. Everywhere
you went, London was burning. The fear of annihilation never stopped. It just went on and on.

Many thousands of homes were left without gas, water or electricity after the bombings, and
Malvern Road was right in the heart of the bombing of Hackney, so at around the time Elsie
discovered she was pregnant for a second time, the Sheas considered themselves lucky to be
rehoused in Ormsby Street.

This was to be their family home for nearly thirty years, right up until the time when the houses in
the area were finally demolished in the late 1960s as part of the major-slum clearance programme
that took place in parts of East London. At that point, the Sheas were moved, along with their
neighbours, to new homes nearby.

By then, however, moving to a brand new home with all mod cons held little comfort for the
Sheas. The fabric of their lives had been torn asunder by a gut-wrenching emotional wrecking ball as
powerful as the worst of the Luftwaffe's assaults on London: their only daughter's brief life as the
girlfriend, then wife of Reggie Kray was over. And the tiny Hoxton thoroughfare where she'd grown
up, just less than a mile away from the Kray family's home, 'Fort Vallance' in Vallance Road,
Bethnal Green, had been the setting for some of the strangest, most poignant scenes in the history of
Frances Shea's troubled relationship with Reggie, the twin who was so determined to claim her as
his own – in life and then beyond.

Elsie was hardly a social climber by today's standards. But even as a young wartime mum, she
always clung to her hopes and dreams, even though she was desperately struggling to cope with
rationing, bombs and looking after little Frank – a good looking child with melting chocolate brown
eyes and an endearing manner – as well as having a husband away in the services (Frank Senior had
signed up to join the Fleet Air Arm just after war was declared). Somehow, her dreams helped her
through the worst times.

She was aspirational, at a time when day-to-day aspiration was in very short supply. Elsie
desperately wanted a better, cleaner, brighter world for her family when the war finally ended. What

mother didn't allow herself the occasional dream of better days ahead in the midst of all they were
living through?

Elsie had been lucky enough to give birth to Frank, named Frank Brian, in a proper maternity
ward, at the City of London Maternity Hospital in City Road, a hospital later to be destroyed by
bombing raids in 1940. As the war went on and medical/nursing resources had to be deployed
elsewhere around the country for the war effort, home births became the norm, with overstretched
midwives on bikes wobbling their way through the rubble-strewn smoky streets. They were shakily
coping with the ever-present threat of death or injury, helping bring life into the world right in the
midst of the war, sometimes to the accompaniment of gunfire, explosion or falling debris. And there
were times when even the home birth became impossible – history records that some women even
gave birth while sheltering in the London Underground during air raids.

Frances arrived at Ormsby Street on 23 September 1943. There is no record of bombing in the
area around Kingsland Road for that week, and by then everyone was fervently hoping that the worst
of the bombing was over. In fact, the intermittent bombing of London, day and night, was far from
over: the Luftwaffe dropped 30 tons of bombs over Battersea, Ilford, Hampstead and Woodford,
Essex two weeks later on 7 October and the following day, killing thirty-five people and injuring
many more.

Bombs or no bombs, Elsie wanted her baby daughter baptised. With everyone living with death
and destruction all around them, baptism was popular for newborns. Not only did it mean a church
marriage in adulthood, it also meant burial in consecrated ground. And so the three-week-old baby,
named Frances Elsie, was baptised at St Chad's Church, Nichols Square, just round the corner from
Ormsby Street on 17 October 1943 by Father Henry Wincott, who presided over St Chad's
parishioners throughout the war years.

It was a happy day for the Sheas; the baby gurgled contentedly in her mum's arms throughout the
short ceremony. In fact, just forty-eight hours after she was born, Elsie noted with some satisfaction
that her little girl was smiling up at her: a moment in time she'd often proudly recall in the years
ahead.

Frank's period in the services saw him working as a veneer preparer (helping to make wooden
propellers for aircraft) in the Fleet Air Arm and fortunately he didn't wind up being sent off to serve
overseas. Yet there were still periods of separation for the couple, with Frank returning briefly on
forty-eight-hour leave to find his wife just about coping with the demands of a small baby and a lively
four-year-old son running around.

Money, of course, was tight: Elsie, as a mum of two small children, was not compelled to register
for war work, and she could work from home as an outworker, making clothes on the kitchen table –
if she could manage it. But the news in 1943 that servicemen's wives were eligible to claim for a
weekly War Service Grant of £3 a week would have been very welcome in Ormsby Street. Frank's
Fleet Air Arm pay would have been less than this, around £1–2 for a seven-day week, after
deductions.

Like the other families living in cramped housing that didn't boast a cellar or basement area, the
Sheas had to keep an Anderson air-raid shelter in their tiny backyard. Named after Sir John
Anderson, Home Secretary during the first year of the war, the six-foot six-inch by four-foot six-inch
shelter, which measured just six feet at the highest point of the roof, was made from curved sheets of
corrugated iron, clamped together and bolted to steel rails, and then dug into the soil to a depth of four
feet. Frequently, neighbours got together to help each other put up these shelters, provided free by the
authorities to families of modest means (those living on less than £5 a week) to shelter in when the

air-raid warnings started.
The shelter was damp, cold and cramped. Elsie grew to hate it. Even if you attempted to heat it by

using a lit candle underneath an upturned flowerpot, it was still dank and uncomfortable.
She hated it so much that there were times when the air-raid warning went and Elsie, little Frank

and baby Frances remained inside their tiny house, sheltering under the sturdy wooden kitchen table
until the all-clear siren, with the baby snugly wrapped up inside the little case that contained the
much-loathed – and fortunately never used – gas mask, issued to everyone in Britain just before war
was declared. During World War One, mustard and other toxic gases had been used against troops by
both sides, causing terrible casualties, and there were initially considerable fears that in Word War
Two the Germans would try to attack civilians in this way.

People always said: 'Oh, things 'ave to get bad before they get better.' And by the time little
Frances reached her first birthday, it looked as if they were right: D-Day, the Allied landings in
Europe in June 1944, meant that Hitler was on the run.

Yet despite this, as well as the constant rumours that the war would be over later in the year, the
war from the air continued, giving Londoners more even more grief than they'd have ever believed
possible. This was thanks to Hitler's secret weapon of terror, the buzz bomb, or flying bomb, a very
early version of what we now call a cruise missile. A pilotless super powerful aircraft, called the V-
1, it was launched from the French or Dutch coasts with over one ton of explosive power. This could
be devastating in urban areas, ripping off roofs, blowing out doors, wrenching out windowpanes and
shattering glass in every direction. People's ears would nervously be attuned to their arrival, initially
heralded by a distant humming sound, growing ever louder to become a distinct rattling noise. But
then, chillingly, the engine would cut out and there would be total silence – for just fifteen seconds –
before a massive explosion wreaked havoc and destruction all around. Even worse, these weapons
weren't at all predictable. Sometimes one could be heard getting closer and closer, only to
inexplicably veer away, then to return just at the point people believed it had gone. It played hell with
people's nerves.

Many Londoners insisted that the effect of these weapons was worse than the terrible times they'd
already experienced during the Blitz. This was because these lethal unmanned robot planes were so
much harder to accept than an aircraft with a man inside, who was risking his own life in order to
destroy yours.

The first V-1 struck London just a week after D-Day, on 13 June 1944, landing in Bethnal Green's
Grove Road and making 266 people homeless. At first it was believed the damage was caused by a
piloted plane that had crashed, but where was the pilot? A few days later the Home Secretary,
Herbert Morrison, reluctantly made an announcement that London was being attacked by pilotless
planes. During that summer of 1944, a million Londoners left for the country for a second time. Many
had only recently returned to the city, believing the worst of the bombing to be over. Now they were
on the run once more.

Deeper bombproof shelters opened at Underground stations in north and south London. What
people didn't know, thankfully, was that the government feared these new weapons of horror might be
used to deliver chemical or biological charges.

Then, between September 1944 and March 1945, more than 1,300 lethal V-1s and V-2s (a
supersonic guided rocket with a two-ton warhead, against which there was no practical defence)
rained down all over London, killing 2,500 and seriously injuring nearly 4,000. When they stopped –
if you'd come through without loss – the April spring mornings had never seemed sweeter.

Elsie was tempted to flee the city. Not surprisingly, morale had plummeted in London to

previously unknown depths. People's spirits were at their lowest ebb. Yet they all stayed put, Elsie
gratefully taking the free cod liver oil and orange juice supplied by the authorities for the children's
health, queuing each day outside what was left of the local shops with the baby, with a supply of
newspaper in her basket to wrap up her purchases. Stoically, the Sheas and their neighbours struggled
through those final months of the war. They were longing for an end to the rationing of everything
(including soap), having to use the tinned powdered eggs, and the meals of kidney, hearts or liver that
so often turned up on the table (offal was never rationed, so women cooked it frequently).

By the time VE Day came, in May 1945, people wererelieved but totally exhausted. They'd got
through intact. You could envisage a future without bombs, noise and the terrors of war. Elsie
wondered if perhaps there would be work for her in a local factory once the kids were a bit older.
Little Frank was scheduled to start primary school that autumn.

Frank Senior was due to be demobbed, and like all those other ex-servicemen pouring out of the
armed forces, he'd have to find something, somehow. The demob payment of £60 was welcome – but
it only went so far. Life in Ormsby Street was still tough in every way. But peace of a sort had
arrived.

Under a mile away, in Bethnal Green, the day-to-day lives of an extraordinary pair of twelve-
year-old identical twins also settled down somewhat after the upheavals of war.

The Kray home at 178 Vallance Road, into which the family had moved in 1939, wasn't very
different to the Shea home in Ormsby Street. It was a cramped but slightly bigger, four-roomed house
in a row of Victorian terraces, a home without a bathroom, with an outside lavatory in the little
backyard, and an alarming propensity to shake as the trains heading for nearby Liverpool Street
Station went past the bedroom windows.

This was the home of Violet and Charlie Kray, their oldest son Charlie Junior and their twins,
Ronnie and Reggie, idolised and doted on by their cheerful blonde mother and nearly all their family
virtually from the moment they arrived in the world in 1933.

Theirs was a very tightly knit family. Violet's parents John Lee (known as 'the Southpaw
Cannonball' because he'd been a good boxer at one stage) and Helen lived just around the corner, as
did her sister Rose. Her other sister, May, lived next door but one; Violet's brother John ran a cafe
across the street. At one point, locals called the area 'Lee Street'.

When war broke out, Charlie Senior was called up like everyone else to do his duty for King and
country. Until that point he'd earned a decent living as a 'totter', buying and selling gold and old
clothes around the country, though he was rarely home, either away on working trips or in the pub,
and his influence on his children was somewhat limited.

However, the free and easy life he'd led, 'on the knocker', held too powerful an allure for him to
give it up, and he went on the run from the police, becoming a deserter with an established penchant
for gambling and drinking. At one point, Charlie hid from the police in the Vallance Road house in the
coal cupboard under the stairs. He remained a fugitive from the law for over a decade.

When the Blitz started, Violet, the twins and Charlie Junior had joined the hordes of evacuated
London families in the countryside, initially in Hampshire, then with a family in Hadleigh, Suffolk.
There, the twins ran wild for a time and developed a passion for the English countryside which
remained with them throughout their lives. But it wasn't long before the family missed life in Vallance
Road and they went back. Despite the bombs.

By the time war ended, the twins had developed a local reputation for fighting, not at all surprising
given the influences of both boxing grandfathers, Canonball Lee and Jimmy Kray. At age ten, the
inseparable, uncannily alike pair had discovered boxing, via a boxing booth at a Bethnal Green

fairground. This was sited on a local bombsite, where so many of their early violent escapades took
place.

The 'Two Ones' (as they were sometimes known, from their cousin Rita's childhood term for
twins) were already imbued with the love of violence that was to define them and were enthralled by
the fighters on the stage in their boxing boots and dressing gowns. So they leapt at the chance to step
into the ring when onlookers were invited up to fight for a few shillings during a break in the contests.
They'd regularly scrapped fearlessly with other boys on the bombsites amidst the debris and the
rubble, and also often fought each other with an astonishing ferocity – although they made sure that
when their mother was around they were always well behaved and polite. Their utter devotion to her
was cemented by the prolonged absence of their dad.

But on one particular occasion in 1943, they donned the battered, torn boxing gloves for the first
time and fought three furious rounds, earning themselves seven shillings and sixpence for their efforts.
This launched them into what could have been a long-term career as professional fighters, encouraged
by brother Charlie, who was also an accomplished boxer and who had made sure he taught them all
the right moves.

Certainly, this call to fight was an established way of life where they grew up. There was nothing
unusual about it at all. But their two-for-one power as vicious twin street fighters, who could always
take on much older boys and prove themselves again and again, saw the early dawning of their
legendary reputation for ruthless violence.

And so 'The Terrible Twins', the cute, identically dressed, dark-eyed, pretty babies in the angora
hats and coats that Violet had pushed around in their pram so proudly along the streets of Bethnal
Green, were now approaching adulthood. And infamy. Their schooling interrupted by the war, they
started their secondary education at Daniel Street School, Bethnal Green, at the age of twelve. Here
their boxing talents were encouraged, and they spent three fairly unremarkable years there until they
left, aged fifteen, to work briefly at Billingsgate Fish Market as trainee porters for six months, the
only full-time jobs they ever held down.

Elsie Shea and Violet Kray, two wartime mothers living in an unrelentingly tough world, both
loved their kids to bits, though Violet's slavish devotion to her twins had not left much room for
attention to Charlie, seven years older than his brothers. And these women had one other thing in
common: a powerful, driving desire for respectability and social acceptance, a fairly common trait
amongst those matriarchs of the East End who understood all too well that there was a better world
out there for them and their families – if only you knew how to get it.

Elsie and Violet may have ignored the finer details of what was being promised to the British
people by the politicians after the war. No one knew it in 1945, but the ten years immediately ahead
still held much deprivation and struggle for ordinary people, with terrible winters and food rationing
that continued until 1954.

The women's husbands may have returned to post-war life with a concern for the betting slip or
the public bar above all else, yet the promise, at least, of an improved existence was unquestionably
all around them once the sirens stopped. A brand new free Health Service was launched in 1948, and
there were major changes to the education system, making it possible, for the first time, for working-
class children to be educated, via a streaming system, to university level. These were bold new ideas
for social change, designed to sweep away the squalor of the past once and for all and to build a
leafier, sunnier existence in the safer confines of the suburban streets. Bigger and better horizons for
all.

In Violet's case, that desire to 'be someone' would be fulfilled, to a greater extent, by the ultimate

celebrity power of her 'Twins', the showcasing of their own unquenchable yearning for fame, which
allowed her to rub shoulders with – or even, incredibly, make cups of tea in Vallance Road for –
some of the big showbiz names of the era. Her sons' violence, manipulation and reputation turned out
to be a golden pass for entry into the dazzling world of the movie star, the nightclub maître d' and the
starched white tablecloth.

Yet it is one of the less acknowledged tragedies of this story that by the time the twins' outwardly
glittering world started to impinge on the Sheas' modest lives, the truth behind the Krays' cleverly
constructed façade of respectability – the charity events, the write-ups in the papers, the 'country
squire' living and what was, effectively, an illusion of social acceptance – would be revealed to them
in the starkest terms. Because underneath the glitter was an ugly, blood-drenched and repressive
world of madness, violence, alcohol, manipulation and control gone haywire.

Ronnie and Reggie Kray, born minutes apart, were inseparable but also locked into an impossible
love-hate relationship with each other. This meant that a wholly separate identity for each of them, a
normal life removed from the madness of one twin, could only ever be a dream, since their lives were
so inextricably linked thanks to the overwhelming power of their bond as twins.

Fame didn't just happen to these men. They set out, right from the start, from the time of their very
first local newspaper picture as teenage boxers, to be the engineers of their own astonishing notoriety.

Without question, the Kray twins instinctively understood how public relations worked long
before the words slipped into the everyday language of the twentieth century. Yet those that innocently
got caught up in their slipstream, as the Shea family did, amongst others, couldn't possibly have had
any idea of what they were really getting into. Until it was far too late.

CHAPTER 2

A SCHOOLGIRL READING TENNYSON

They were itchy, burning little red swellings on your toes, fingers and earlobes. You got them
from being too cold, too wet or sometimes if you ran inside from the freezing cold street and
immediately rushed to warm up in front of the fire. It didn't help if your shoes were too tight because
you'd grown out of them. Or if your feet weren't encased in decent socks or stockings.

Many growing up in the immediate aftermath of World War Two can recall chilblains: their most
vivid memory of childhood would often be the biting cold. Britain experienced cruel, freezing-cold
winters after the war finally ended, and the winter of 1946/7 was the harshest. Across the country
huge twenty-foot-high snowdrifts, floods, coal shortages and endless power cuts and blackouts made
for very hard times indeed.

It was a dark, stricken time of struggle for millions who'd hoped for so much with the war ending,
only to find themselves enduring years of more hardship. Rationing continued. Some foods that
weren't even rationed in wartime became rationed after the war ended. Basic staples such as bread
went on the ration book in 1946 for two years. Even potatoes were rationed for over a year, when
heavy frost and the biting cold destroyed potato stores.

For millions of mothers like Elsie Shea and Violet Kray the endless rationing and the hardships in
feeding a family were definitely tougher after 1945. This didn't feel like any kind of victory: surely
they all deserved better. The devastated streets, the rationing, the queues and the damaged, bomb-
scarred houses remained as they were. There was no swift rebuilding programme in this grey, bleak
post-war world.

Theft, burglary and crime soared, with men pouring out of the armed forces and jobs being as hard
to find as a decent meal. A hard core of risk-takers with cash – developers, as we now call them –
snapped up some of the wrecked, barely habitable buildings with a beady eye on the future. Wherever
possible they let them out, which was not difficult because so many had been made homeless or had
returned to the capital, thus creating sub-standard, semi-derelict housing all over the city. The country
itself was bombed out, knackered – and bankrupt. The capital was shockingly drab, dirty and, some
believed, facing decline and decay. Peacetime: the worst of times.

In Ormsby Street, the struggle for survival in the late 1940s must have seemed like an endless
curse. But, as in Vallance Road, people were used to being resourceful. Poverty was all around, yet
black-market trading, especially in food, remained consistent, given the East End's many street
markets and the 'nudge nudge, wink wink, off-the-back-of-a-lorry' traditions of the area. Such was the
popularity of the black-market clothing trade, for instance, that clothes rationing ended in 1949,
before it finished for other items, such as petrol, meat and sugar.

If homes were spartan and threadbare in the little two-up, two-down terrace houses, most, despite
the bomb damage, would have been seen as spick and span in any cleanliness contest. Being neat and
clean was a bit of an obsession, especially to Elsie, to whom a grime-free respectable façade meant
so much.

Heating in these homes came from coal fires in tiny grates. Fitted carpets were unknown; floors
were usually only bare wooden boards covered by thin rugs. Walls were covered with faded
wallpaper, while furniture was of the very plain 'utility' type, often purchased with rationing

coupons. The two downstairs rooms tended to be used as a front or living room with a bedroom at the
back; then there was a step leading down to a scullery, which doubled as a kitchen, with an all-
purpose sink and a tap in the corner. After climbing up the narrow stairs from the cramped hallway
there would be two small bedrooms, one overlooking the road.

Some houses in these streets boasted an ancient open range in the ground floor back room, good
for heating water, since there was no supply of running hot water here until two decades later, by
which time the houses were marked for demolition. Few families could readily afford to install an
'Ascot', a small gas water heater, ignited by a pilot light inside a white enamel box, which became
increasingly used in homes throughout the fifties.

Until white goods became more affordable on the 'never never' – hire purchase schemes of the
mid-fifties, where families paid off small weekly sums for household appliances – there were no
fridges, just a downstairs larder for food storage. Washing machines, dishwashers and microwaves
were unknown. Inefficient carpet sweepers or brushes, rather than vacuum cleaners, helped you to
clean the threadbare rugs. It was not until after 1953, and the televised broadcast of the coronation of
the youthful Princess Elizabeth, which everyone wanted to watch, that the TV set started to filter into
everyday British life. This accompanied, and sometimes eventually replaced, the big brown Bakelite
radio (or wireless, as it was known), the sole source of news and entertainment in the home
throughout the war years. A phone was, at that time, still regarded as an expense too far by most,
although a few families opted to install a less expensive 'party line', meaning that they would share
the line itself with another home.

Outside these houses there was a cold water tap in the tiny backyard with a mangle in a lean-to
sheltered area for wringing clothes out on washing days. A tin bath usually hung outside too. Bathing
itself was mostly limited to a once-weekly visit to the local baths, price sixpence; the rest of the time
families made do with a 'strip wash' of water heated up from a kettle or on a range.

As for the detested Anderson shelter in the backyard, it lived on, mostly because it was handy to
store precious coal supplies for the small fires lit each morning to heat up the front room and back
bedroom.

Today, if you talk to former residents of the Ormsby Street area they nostalgically recall families
keeping chickens in their gardens – or even pigeons. They talk of the two men who would knock on
every door each week to collect the rent on behalf of the landlord, usually between twelve and
fourteen shillings a week. They remember with great affection the horse-drawn carts that continued to
deliver bottles of milk in the area for many years, and the rag-and-bone man, collecting any unwanted
household junk. Or they tell of the chilly outside toilet with its wooden seat, with newspaper neatly
cut into squares and hung on a hook as a substitute for proper toilet paper, such as Izal, which was
also considered something of a luxury item in the early post-war years (paper was rationed, too). At
weekends, the newspaper squares might be replaced with much-prized tissue paper, used to wrap the
bread that was purchased from nearby Hoxton Market.

Most of all, though, they remember the long-lost spirit of those poverty-stricken surrounds, the
neighbourly camaraderie, the open front doors, the kids happily playing outside, the bonding, if you
like, that had helped them all get through the war years and beyond.

The Sheas and the Krays didn't exactly prosper but they managed somehow. Frank Shea Senior,
like many men in his somewhat unsteady post-war position, found it convenient to work on the fringes
of the law as a street bookie, picking up betting slips and cash from people placing bets on the gee-
gees or the dogs, usually in local pubs or out on the street.

Street betting continued to be an illegal activity across the country for many years after the war,

with heavy fines for anyone caught organising it or 'running a book' on the street – until the gambling
laws eventually changed in 1960 and betting shops began to proliferate across the land. Legal or not,
being a street bookie meant ready cash and, given the national passion for 'having a bet', something
akin to a steady 'wage' by Frank's standards, those of a Hoxton lad.

Elsie, alas, was never going to feel happy or secure with this lifestyle. The family needed every
penny and by the late 1940s, once her two 'war babies' were at school she could earn again at the
sewing machine. There was a lot of nagging going on in the Shea household about Frank 'getting a
proper job', though it would be many years before he relented and found a respectable clerical
occupation.

Okay, the bookie money was there, on the kitchen table with its oilcloth, regular as clockwork.
Big, crisp white fivers, ten-bob (ten-shilling) notes, carefully counted out. There was enough to make
sure the kids were properly clothed and fed, the bills paid. But it wasn't a respectable way of life,
was Elsie's beef. Oh how she wanted to be decent – and being a street bookie's wife usually meant
you were stuck, just like most of the women she'd grown up with, with a husband who was happy
with the ducking and diving – and she was always aware that the law, or unexpected circumstances,
could trip you up and send you sprawling.

Yet like so many women then, Elsie had no option other than to accept her lot in life. Where could
a woman with children go, without money or resources? Violet too accepted her lot, put up with
Charlie's absences, his feckless ways and his boozy violence; she had her twins, and they were the
sole focus of her life.

In Elsie's case, though, this trim, smartly groomed woman with ideas of a better life never stopped
resenting her husband's preference for easy money with no strings attached. She too poured all her
love and ambition into her kids, sitting up long into the night, using her skills as a first-rate seamstress
to make most of their clothes, driven by pride, and the knowledge that her two were going to be the
most smartly turned out, well-shod kids in the street.

It worked. By the time Frank and Frances were attending primary school – Frank at Laburnum
Street Primary (now the Bridge Academy) a five-minute walk away from Ormsby Street and, four
years later, Frances at Randal Cremer, a big Victorian building and conveniently just across the street
from the Shea home – it was generally acknowledged by everyone in Ormsby Street that the Shea
children were always well turned out. In fact, they looked as smart as any 'posh kids' you might see
in the newspaper advertisements for Start-rite shoes. Elsie could walk tall around the area, clutching
the hands of her two, one either side, and be proud of them, these pretty children who had inherited
their mum's big dark eyes and thick, lustrous brown hair.

This focus on appearance and looking smart wasn't that unusual for the times, when people tended
to wear outfits they'd made themselves – or, if they could afford it, had specially made for them. Men
always wore hats. Long before the days of man-made fibres, winter overcoats were made of pure
wool – or trimmed with real fur. Shoes were shined and buffed. And, of course, many East Enders
were renowned for their love of looking sharp and well dressed when the occasion demanded – and
for using their wellhoned entrepreneurial skills in trading with each other to get the best.

But what is most interesting about Elsie's determination for her children to look well dressed is
that both Frances and Frank 'learned' the importance of a smart appearance and looking good. As
they grew up, both became quite fixated with their appearance, how they showed themselves to the
world. This trait never left either of them.

Certainly, they inhabited a world where by tradition, 'street' people tended to strut their stuff in
their finest clothing, irrespective of their humble surrounds. But for these two mothers, the importance

they placed on making a good impression, looking utterly respectable, raised their kids way above the
lawless crowd around them. Thanks to their mothers, these children grew up with very clear ideas
about behaviour and good manners. In the twins' case, though, their demeanour was totally
schizophrenic: before their elders they were impressively polite. Behind the scenes, as it were, it was
a very different story.

Much later, one theme of the oft-repeated stories about Frances and Reggie Kray's relationship
was how Reggie was always buying Frances expensive clothes, gold jewellery, anything she wanted.
It was perfectly true. With his talent for control, Reggie liked to have considerable influence over the
way Frances looked – for instance, he preferred her with the high, upswept hairdos, so fashionable at
the time. Yet Frances already lived as part of a fashion-conscious clan: had Reggie had been less
interested in appearances, it's unlikely she'd have looked anything other than the stylishly dressed,
superbly coiffed young woman seen time after time in the photos taken at Reggie's side.

As for the Kray family, they too were imbued with the 'looking good' gene. Looking superbly
immaculate and expensively sharp-suited became a major factor in the twins' ability to impress and
impose, an attitude they struck to fantastic effect. They wore cashmere, vicuna (a very fine, expensive
wool) or camel hair overcoats, handmade suits, whiter than white shirts, pressed to perfection by
Violet, and slimline ties – at a time when much of the world around them remained shabby and down
at heel.

'We're vicious, elegant bastards,' Ronnie Kray would boast, many years on, after they'd been
locked up for good. This was a truth they revelled in. The smart expensive clothes were part of their
armoury – not quite as effective as the collection of weapons they stashed in their bedroom as
teenagers, for use when heading off to the Tottenham Royal dance hall for the night: knuckledusters,
Bowie knives, coshes, Gurkha knives, cut-throat razors, even a surgeon's scalpel.

The Kray twins hadn't exactly shone in the classroom, though Reggie was the more alert of the
two. Elsie's children were bright. Despite the big, mixed classes of forty or more, the ready
distractions outside the classroom of the local Saturday kids' cinema club, and the boys' endless
'playing out' on the bombsites, recreating the furious battles they'd already lived through, collecting
shrapnel or swapping cigarette cards, both Shea children did well at primary, especially when it
came to reading and writing. Frances had an aptitude for arithmetic, too.

By the early fifties, changes to the education system were in place. The minimum school-leaving
age had been raised from fourteen, as it had been in Elsie and Frank Senior's day, to fifteen. New
types of secondary school were created to follow the Eleven-Plus exam, which streamed kids
according to results into grammar school, secondary modern or technical colleges. Frank, to his
mum's delight, passed the exam and was offered a grammar-school place. Frances too already
seemed to have an excellent aptitude for the written word, so Elsie's hopes were high that Frances
would also be bright enough to pass the exam to get her to a good school.

But what was she like in childhood you wonder? Photos of Frances in Randal Cremer days show a
cheerful, chubby little girl with a happy grin.

Paulette Jones grew up in the area. She was in the same class as Frances at Randal Cremer at one
stage when they were both aged eight. She vividly recalled, most of all, Frances's abundant mass of
hair.

'She was quite plump with longish dark curly hair,' Paulette recalled. 'We always called her
Franny or Fran. After Randal Cremer we went off to different grammar schools. I went to Central
Foundation at Liverpool Street and Frances went to Dalston County, a girls' school in Shacklewell
Lane, off Stoke Newington Road.

'I can still see her in my mind's eye in a dark belted raincoat and a hat perched on the back of her
head, because of the amount hair she had. The coat and hat would have been part of the uniform for
Dalston County. I wanted to go with Franny and some of the others to Dalston County but my mother
said Central Foundation was a better school.'

The discovery that Frances was a grammar-school girl, taking the mile-and-a-half bus journey
each day up the Kingsland Road to Dalston County, paints a different picture to the way Frances has
usually been portrayed. Iconic and immaculate as her appearance became in adulthood, the general
assumption was always that she was not especially intelligent, more of a good-looking clothes horse
or 'arm candy', as many people suggested when I first started researching Frances's story. But this
low-roofed modern building with tennis courts and gardens was a school where the emphasis was on
academic achievement rather than sporting ability.

As I started to realise when I contacted those who had 'known' Frances as an adult, the men who
had met her socially, although they wouldn't admit it to me, would never have had any real
conversation with her anyway – because she was on Reggie's arm. This was one very good reason
why the 'arm candy' theory had prevailed down the years, with its consequent implication that
Frances was a bit dumb.

This lack of conversation was not simply because of any shyness or reticence on her part, but
because in those days, especially in the East End pub and club environment of the late fifties/early
sixties, real conversation between the sexes was limited when couples stepped out to socialise. It
involved little more than pleasantries.

Wherever these men sat within their own social pecking order – the well-respected local
publican, for instance, or the host or club owner – social talk with other men's wives or girlfriends
tended to be brief. Polite. Respectful. But brief. In this macho environment where a wrong word or
look could develop, quickly, into a punch-up or a furious fight, everyone understood the rules: men
didn't even attempt to chat freely to someone else's bird, whatever the circumstances. 'Allo Frances.
All right, love?' That was the limit.

This, I began to realise, had as much to do with the social mores of the times as the well-
documented fear of incurring the wrath of Reggie Kray, though sadly this fear would prevail
continuously throughout Frances's life – and even beyond.

There were other factors that made the grammar-school girl discovery a fascinating insight. I too
attended a grammar school in the area in the fifties and well remember it as a strict, disciplined 'old
school' place of education, with considerable emphasis on preparing girls for A-level passes and
university. It had a curriculum that included languages (French or German), Latin, English Literature
and Art, with school outings to places like Paris and big evening events at the school, such as Speech
Day. At that point, the grammar-school education offered opportunities that had never ever been
available to bright working-class youngsters, wherever they lived. These post-war changes were
created, specifically, to give ordinary children a chance in life via education.

If it was all a far cry from what my own family had known in their personal East End working-
class background, what would it have meant to Elsie, a girl reaching adulthood in thirties Shoreditch,
where 'travel' usually meant a train trip to the Kent or Essex seaside – if you were lucky?

Imagine a young Frances in her navy blue blazer, matching heavy wool skirt, blue-and-white
striped shirt, orange tie and summer boater hat among a crowd of other chattering, lively grammar-
school girls, boarding the bus going down the Kingsland Road, just as I did (though I travelled in the
opposite direction). This image places the context of her early teens somewhat in contrast with the
historical, somewhat dismissive, assumptions made about her because of her association with the

Krays.
This girl was never a brainless bimbo or a simpering dummy. Far from it.
By the time Frances reached her early teens, life in the Shea household was starting to improve, as

it was for many millions. After a decade, the scars of war were starting to fade away. Consumerism,
heavily influenced by what was happening in the USA, was on its way from across the pond. Nineteen
fifty-five saw the launch of fish fingers, TV advertising (Britain's first ever TV ad was for Gibbs SR
toothpaste), a brand new passenger terminal at London's Heathrow Airport, and an overall increase
in people's wages. There was full employment too. Moreover, the first generation of post-war kids
were starting to spend their pocket money, albeit modestly at first, on pop music records.

The term 'teenager' was coined around 1955, at the time of the hit single, 'Rock Around the
Clock' by Bill Haley and the Comets, taken from the movie Blackboard Jungle, and the following
year, rock 'n' roll was on its way across the world with the cultural explosion that was Elvis and his
first UK hit, 'Heartbreak Hotel'.

Screaming, frenzied young teenage girls erupting into screams every time Elvis wiggled his hips
had been seen before in the US, during the short reign of forties idol the young, skinny Frank Sinatra,
worshipped by the bobby-soxers (his fans, so named because of their youth). But in Britain, teen
power was a relatively – and startlingly – new phenomenon that grew with every month that passed.
Frances couldn't help but soak up the magazines, hear the music, admire the clothes – and, of course,
she was starting to be aware of the opposite sex.

An interesting letter to her from a friend called Sylvia living in Scawfell Street, Shoreditch and
dated 31 July 1956, revealed that Frances, two months off her thirteenth birthday, was holidaying at
the seaside in Hastings.

The short letter gave Frances all the local gossip: Sylvia, an older girl, informed Frances that she
was going to try for a holiday job at Woolworths in Dalston Junction. The pay was £3 a week, she
wrote. Another local friend, Pat, was in hospital, having her tonsils out.

'And how are the boys?' Sylvia's letter concluded. 'Don't pretend you don't like them, because
you do.'

This indicates her friends had noticed that twelve-year-old Frances was already extremely
attractive to the opposite sex.

The late Tony Lambrianou, a Bethnal Green boy eventually imprisoned for fifteen years in 1969
for his part in the murder of Jack 'The Hat' McVitie, remembered meeting Frances for the first time
one day in 1956. He already knew Frankie Shea from primary school.

'One day I came out of work and saw Frankie Shea at the junction of Hackney Road and
Weymouth Terrace, which is near where his family came from. His sister Frances came along. She
would have been about twelve or thirteen, very quiet and very beautiful with big eyes,' Lambrianou
recalled in his book, Inside The Firm.

The power of Frances's dazzling allure to men was already there, right from the start.
The shift from teen to adult is rarely easy, an emotionally confusing, even fraught time for families.
For fifties East End families with teenagers it was an unusually precarious time because while the
memory – and evidence – of wartime was still there, all around them, the powerful popular
distractions of those mid-fifties years were completely unlike any that previous generations had
known.
Post-war dads had never known what it was to be a teenager, as such, or what it was like to wear
clothes specially aimed at youthful fashion tastes, or to be courted by the powerful forces promoting
the music, the movies, the new fashions for youngsters. They'd grown up in an era where fathers

alone ruled the household, often with an iron rod. Young people back then did what their parents told
them to do, and tended not to question their authority, regardless of their circumstances.

Yet their offspring, now with their own money or spending power, even before they reached their
twenties or marriage, didn't see this authoritarian style of the past in the same way. And they didn't
see why they should listen. Phrases like 'teenage rebellion' entered everyday language for the first
time.

There's no reason to believe that out-and-out rebellion was the order of the day in the Shea
household. But there were certainly domestic ups and downs. Elsie had to work at the sewing
machine, in the local factory, as long and hard as she could, but her husband, while often out of the
house taking bets or in the pub, wasn't as dedicated to the concept of hard slog as Elsie wished. And
Frankie Junior, as attractive as his sister and perfectly capable of passing his exams if he
concentrated and took it all seriously, wasn't very interested in the opportunities Elsie cherished for
her kids. Frank had the ability to learn, there was no question of that. But education didn't suit him
and he left school at fifteen.

Not one to give up, Elsie persisted: she even found Frank an apprenticeship as a setter with a
local print firm, a distinct step on the ladder to what she rightly believed was a decent living. The
apprenticeship was definitely a bit of a coup, since career opportunities locally for Hoxton boys
leaving school early either meant working in the street markets – pretty much a closed shop because
market stalls were run by families – or finding work in a trade like tailoring or French polishing
(cabinet making). As a consequence, if a youngster could manage to get into printing it was seen very
much as a chance in life. The only other options were boxing, illegal betting – or villainy.

Unfortunately, Frank had inherited his dad's attraction to gambling, not such a great idea,
especially while the laws around illegal gambling remained draconian until the early sixties, although
the local constabulary was quite frequently accustomed to getting a 'drink' or a good 'bung' to look
the other way. But teenage boys generally are not usually as savvy or clued up as they should be when
it comes to running with the pack, ignoring the hazards – and are especially vulnerable to coming
unstuck.

On Friday nights after work at Frank's print firm, a small group of his workmates would covertly
gather in the men's toilet to play dice, placing bets for modest sums fresh out of their weekly pay
packets. Unfortunately, a manager caught the group gambling. Frank was holding the dice. End of job
and potential print career.

Viewed today, this seems like an unfair punishment for an innocent after-hours pastime, especially
since they weren't exactly high rollers. But the incident serves to highlight the very different black-
and-white world that existed back then.

With hindsight, if this relatively minor incident had never taken place and Frances's brother had
kept his job and remained with the printing firm for some time, events might just have taken a different
turn for the Sheas.

Sadly, there are several 'if onlys' in this story, not just those involving the actions of the
individuals involved but many involving the historical and very important social changes that affected
millions of lives in Britain during the fifties and sixties. This was just the first.

The loss of her son's job fuelled Elsie's slow-growing fear that somehow, despite the indications
that her bright, pretty kids might have had reasonably good prospects in life, it would all go wrong
and they'd be stuck, all of them, where they'd started. This was at the bottom of the heap, still far too
close to the soot, the dark and the dodgy deal, rather than embarking on a gradual but steady ascent
towards a respectable, honest sort of life in the clean, green suburbs.

Perhaps the tensions around Elsie's fears for their future had a direct impact on Frances's feelings
or moods in her early teens. Elsie's resentment that her husband wasn't a steady provider gained
momentum over the years, certainly. And the atmosphere in Ormsby Street would have been soured
by Elsie's disappointment when her son lost the job she'd resourcefully obtained for him. There is
another important point to consider: teenagers can be prone to dramatic mood swings during puberty,
including varying degrees of depression. Frances would have been around twelve years old at the
time of the sacking. Given that it was revealed, much later, that Frances had suffered from depression
even before her relationship with Reggie started, this could have been the point when Frances's 'bad
nerves', as her problems were later described, started to affect her. This factor may have put her in an
even more vulnerable place emotionally than may have been commonly understood.

There is one startling piece of evidence that this was in fact Frances's state of mind in her younger
years, though the precise date when this was written down is not known. It takes the form of a section
of a well-known Victorian poem, neatly handwritten and copied down by Frances, into the back
pages of a lined notebook. Copying out a much-read poem or a section of a book was, back in the pre-
electronic era, very popular with youngsters in the fifties and it is likely that Frances copied down
this poem before the time when she started seeing Reggie Kray.

The poem is called Maud, written by the Victorian poet, Alfred, Lord Tennyson, in 1855. Maud is
a very long poem in three sections. Frances had copied out three fairly short sections from the poem
into her notebook. Here are the extracts from Maud that Frances copied. Given the tragedy that
unfolded, they make for chilling and prophetic reading:

Courage, poor heart of stone!
I will not ask thee why

Thou canst not understand
That thou art left for ever alone
Courage, poor stupid heart of stone:

Or if I ask thee why,
Care not thou to reply:
She is but dead, and the time is at hand
When thou shalt more than die.

O let the solid ground
not fail beneath my feet…
before my life has found
what some have found so sweet!
Then let come what come may

No matter if I go mad
I shall have had my day

Dead, long dead,
Long dead!

And here beneath it is all as bad
For I thought the dead had peace but it is not so;
To have no peace in the grave, is that not sad?

But up and down and to and fro,

Ever about me the dead men go;
And then to hear a dead man chatter

Is enough to drive one mad.

Frances's first passport described her as a bookkeeper. Yet her studies, though cut short, had exposed
Frances to poetry, literature and language itself. Here was an intelligent, articulate young woman,
someone who sought comfort or solace in words.

No matter how dark or disturbing the thoughts or ideas behind those words in Maud, the discovery
of Frances copying down poetry from Tennyson is a very poignant and revealing indication of her
thinking. It also indicates a degree of literacy you might not associate with a young Hoxton girl from
that time.

Frances turned sixteen in September 1959. By this time, according to a letter written to Frances
and their parents by her brother Frankie in August 1959, Frances was already working in the Strand in
a clerical job.

At the time he wrote the letter, Frankie was nineteen. He sent it to his family while completing a
stint in a young offenders' institution called Blantyre House, in Cranbrook, Kent. (Today it is a
Category C resettlement prison: an open prison.)

In the letter, he referred to a family visit, for which he thanked them, saying he was looking
forward to the following month when he hoped to see them again.

'In the meantime, you all dress well and look well,' he wrote. As for Frances, he went on, 'Well,
Franny, you are a proper Italian rebel now, especially now you have a job in the Strand.'

Frank told his dad he was looking younger without his son around: '…suppose this is because
you've got no worries who looks smartest.' As for his mother, he suggested she cheer up a bit, saying,
'You take too much to heart. Same as me.'

Why did Frances opt to leave school at fifteen? One can only guess why she didn't continue her
studies or aim for university. However, given the fast-moving social changes of the times, the most
likely reason was probably the desire to go out into the world and earn, given the household tensions
around her parents' relationship to money, as well as the huge, ever increasing demand for office staff
in London at that time.

With Frances now out working in London's West End, and despite her disappointment about her
son's behaviour, Elsie must surely have been happy about her daughter's progress. After all, as a
mother, she still had every reason to hope that Frances, rapidly evolving into a well-groomed beauty
with a wonderful smile and those bewitchingly penetrating eyes, would be well placed to attract the
right man to lead her to the altar and the respectable family life her mother dreamed of.

What Elsie didn't know, however, was that at that point in the autumn of 1959, there was a man
who was already seriously smitten by the charms of her pretty, big-eyed daughter. And like Elsie, this
man also harboured big dreams.

The trouble was, this man, already in his mid-twenties, wanted it all, anything a man could
possibly desire in the whole wide world: money, travel, expensive cars, beautiful clothes, a lovely
home, a beautiful wife and children. He wasn't quite there yet. But partly because of his own growing
confidence and partly because his mum had always insisted he was part of something 'special', he
saw no reason why he shouldn't take whatever it was he wanted. Everything was ripe for the taking.

And so began Reggie Kray's obsession with a beautiful, innocent young teenage girl. She wasn't
the first person to capture his possessive eye for beauty and innocence, not by a long chalk. Yet in the
wake of this intense, unrelenting obsession lay emotional turmoil, fear – and destruction. There would

be no escape for the heart-rending emotional turbulence that lay ahead for the Shea family. Nor would
there be any escape for the man that instigated it all: Reggie Kray.

CHAPTER 3

THE MAN ON THE DOORSTEP

But who was Reggie Kray, other than an East Ender in his mid-twenties whose entire life
revolved around crime, extortion and violence – and the intense relationship with his twin
brother, his other half?

Driven by an unquestionable talent for manipulation – via the ongoing threat of bloodshed and
aggression – and a fervently cherished desire to be respected by all as serious underworld players,
by now the Kray twins were already local heroes: by the late fifties you'd have been hard pushed to
find anyone in the East End of London who hadn't heard of them – and what they were reputed to have
done. The twins made sure of that.

The fifties marked their inexorable rise to notoriety from local bombsite gang warfare to heavy-
duty gangster chic. Though along the way the brothers' own somewhat chaotic relationship with each
other had started to shift. Physically, since childhood they had fought each other with astonishing
ferocity. Ronnie would goad, taunt; Reggie would react. As a two-headed beast they were capable of
extreme violence and brutality. Yet their personalities were at odds: Reggie was more controlled and
calculating, less prone to fantasy and irrational, explosive impulse. His twin was delusional,
irrational, untroubled by boundaries.

At sixteen, they had turned professional boxers, winning every bout they fought – known around
the streets of Bethnal Green as the wildest of street fighters among the local gangs they already ran. In
secret.

They would have been just like the thousands of other street-fighting teenage thugs in their taste for
violence – except for their penchant for truly vicious attack, sometimes cutting or slashing rather than
punching. Ronnie preferred cutlasses, knives over razors – more power in the slashing. Nevertheless
they were cunning in their ability to get off the hook.

A brutal beating and kicking of a local Hackney boy, involving a bicycle chain, saw the two
sixteen-year-olds briefly remanded in custody, though the subsequent Old Bailey trial was eventually
dismissed due to lack of evidence. (A lead witness was quietly informed that giving evidence against
the twins would result in a razor attack.)

Another teenage court appearance for assaulting a policeman resulted in probation – mostly thanks
to the court appearance of the twins' long-term champion of their respectability, their kindness to
their elders, Father Hetherington. He was the long-term vicar of St James's Church in Bethnal Green
Road and knew the twins as polite, helpful, caring youngsters. They never went to church but could
impress with their good manners and polite ways.

In December 1951 when the three Kray brothers fought, with star billing, at London's Albert Hall,
the promise of a professional career as sporting champions peaked – and promptly faded.

Everyone knew by then that Ron was too vicious, too undisciplined, to make it big time in the
profession. That night, he lost his temper and was disqualified. Reggie, far more calculating, had
everything a man required to be a boxing champion. He won. Their brother Charlie lost.

Yet the twins' growing reputation for excessive violence outside the ring meant their career
prospects dwindled right there and then: the boxing authorities rejected them, thanks to the twins'
assault on the policeman referred to above. Reggie was never going to seek out a solo career,

anyway. The bonds of twinship were far too tight.
National Service came next: in peacetime Britain from 1947–59, men between seventeen and

twenty-one were required to sign up in the armed forces for eighteen months. The twins' National
Service record from 1952–54 proved to be 'a catalogue of disaster – for the army', as Reggie Kray
once described it.

True to family custom, their National Service history saw them going on the run for several months
until they were caught and court marshalled, imprisoned for nine months in a military prison at
Shepton Mallet in Somerset in the southwest of England.

In the end, it was a dishonourable discharge. The duo merely used the imprisonment as a career
opportunity – to establish contact with other criminals, and to enhance their own reputation.

Within weeks of freedom, the twins, now twenty, had sorted out an operations base, a shabby, run-
down billiard hall: the Regal, near Bethnal Green in Eric Street, Mile End. The place was a wreck,
already marked down for closure.

They simply moved in, established their presence and within days the word got round: this was
where to find the twins. After a few weeks during which the Regal mysteriously became the scene of
a series of violent outbreaks and nightly troubles, it all went quiet again. The owner, a sensible man,
had accepted an offer from the twins: £5 a week rent and the Regal Billiard Hall went into operation:
a well-run refreshment bar and HQ for their varied activities, it became Kray Central.

This, then, was their launch pad, the place where they started to gather around them a group of
villains of all ages, an early fulfilment of Ron's lurid and ever increasing fantasies of forming an all
powerful criminal 'firm', headed by the twins, men who relished playing the genial hosts, the
ringmasters, pushing everyone's buttons and reaping the benefits of fear. The billiard hall was their
first stage, if you like, for the 'actor crims'. It set them on the road to power.

By 1956, they had established themselves as a distinct force to be reckoned with, running various
kinds of protection rackets in their 'manor', the areas around Hackney, Mile End and out to
Walthamstow, moving beyond protecting illegal bookies and gaming clubs – an income they dubbed
'pensions' – extending their remit to 'protecting' other places, such as used car lots. Any car dealer
daft enough to refuse to pay up would get a night-time visit from the twins' gang members, armed with
sledgehammers and spray-paint cans.

Absolute loyalty was demanded from those who worked for the twins. The rewards were
'pensions' for those families of the 'aways' (men serving prison sentences) and a helping hand for
these people when they came out of jail. Word soon got round the criminal fraternity: the twins, ran
the legend, looked after their own. There was some truth in this. But it was a devious ploy. The more
you owed them in loyalty, the more they could ask in return. This way, they didn't even have to dirty
their hands by thieving or conning people themselves, because they got others to do it for them. In the
end, such requests would extend to murder.

Reggie was by far the more businesslike of the pair. As far as he was concerned, it wasn't just
about creating a reputation of fear of their violence: he saw it as a chance to make real money from
the gambling clubs, pubs and businesses that paid them for protection.

As a clearing house, the billiard hall was a cover for many things: locked cubicles for thieves'
tools, stolen goods stashed around the back, transport arranged for robberies, percentages taken on
other crims' activities. All highly lucrative. And Reggie was well organised. Ronnie schemed over
the battles and gun warfare, weaponry being his major obsession, becoming a powerful criminal
leader in the style of Al Capone his sole desire. He even dressed like his hero, wearing a floor-length
belted cashmere overcoat and adopting slicked-back hair.

His twin, however, could see bigger and better times ahead with the lifestyle that only money can
buy. Ronnie was increasingly violent, just for the fun of it. Initially, he'd been viewed as the dominant
force, with Reggie spending much time trying to restrain his twin's excesses – or clearing up after
him. But then, one night, Ronnie went too far. There was a row with a rival gang at a local pub where
Ronnie and two others set about a man and nearly killed him in a psychotic attack; as a consequence,
Ronnie was given a three-year jail sentence in November 1956.

This was a turning point. For the first time since they were three years old, when a bout of
diphtheria separated them in hospital, the twins were apart. (Diphtheria is reputed to have changed
Ronnie for good, making him much slower and more awkward than his twin.)

Reggie, troubled by concern for his twin, did everything he could to ensure Ronnie got whatever
he needed while he was in prison. But he also started to focus more clearly on his idea of himself as
an individual – and what he wanted. It was Reggie Kray's first taste of adult life as a separate
identity: real freedom.

It was a turbulent time. After a year in prison, Ronnie was moved to Camp Hill Prison on the Isle
of Wight – and went completely crazy. Paranoid and psychotic, he wound up in a straightjacket and
was certified insane. Then, at the beginning of 1958, he was transferred to a mental hospital, Long
Grove, in Epsom, Surrey. At one point he insisted his twin was not Reggie at all, but a Russian spy
impersonating his brother.

This, sadly, was just one of Ronnie Kray's many fantasies. Yet there was a tiny kernel of truth in
the madness. Because Reggie, no longer in daily contact with his twin, had started to become much
more confident, less worried or suspicious of everyone around him. More his own man.

In 1957, the business-minded Reggie had spotted a golden opportunity to make more money by
creating something quite different from the billiard hall. His idea was a drinking club in the East End
in the Bow Road, Bow, named after the twins, 'The Double R'. Yet again, a semi-derelict building
was transformed. Only this time, the clientele weren't all East End villains and crims; the majority of
the regulars were smart couples, local celebrities, journalists, people in the know, who were all
looking for a good night out, without any trouble. That was the point: Reggie could see that in order to
attract the 'right' people, you had to remove the element of violence and menace.

Reggie, as the slickly dressed genial host, clad in immaculately tailored double-breasted suits,
revelled in this smart club life. He positively relished all the celebrity contacts that eventually started
to come through the doors. There was Reg, from humble Vallance Road, on first-name terms with
gorgeous young women such as Jackie Collins, Barbara Windsor, Diana Dors, even Richard Burton's
first wife, Sybil Burton. The Double R became the hot new place in the East End for a good night out.
It positively thrived; Reg's confidence soared.

Cannily, he started to make even better contacts beyond the local villainy, men with real money to
invest in criminal activity. He also started to enjoy life more in areas further away from his manor,
going to upscale West End nightclubs or spending time in the countryside at weekends.

Alone, he was a catch, a local lad made good. A twenty-something with cash to splash. He was
good looking. Immaculately dressed. Drove expensive cars. He had a playboy image, and women
wanted to be around him.

It was a distinct sea change in the life of Reggie Kray. Because up until that point, women or
girlfriends didn't really feature in Reggie's life.

Certainly, it was a man's world back then and the twins' day-to-day life, nurtured by their adoring
and adored mother, revolved around a very male, East End bar room environment. Yet Ronnie,
always excessively jealous and obsessive when it came to the unbreakable bond with his twin, had

always made sure that he steered his twin away from any involvement with women beyond
superficial polite exchanges.

Up to this point, while both twins had been sexually active as homosexuals since their teens,
Reggie had never openly shown any sign of being interested in other men. Any indication or hint of
attraction to a woman had, of course, been immediately stamped on by Ronnie. Women, he would tell
Reggie, 'smell and give you diseases'. Reggie was being a cissy looking at women.

At this time, homosexuality in Britain was still illegal: it was not until 1967 that it was
decriminalised. Before that there was no such thing as 'coming out'; men could be sent to prison for
homosexual behaviour. Lives could be ruined by exposure of a same-sex relationship. Certainly, the
world of gay people existed, as it always had. Yet it was very covert, underground, and there was a
huge social stigma attached to being gay.

In a macho environment like the East End, it really was the love that dared not speak its name.
Ronnie wasn't exactly shy in his younger years about preferring men as sexual partners. So once
the word was out that the laws would be changing, he made no attempt to hide his sexual preference
for men, mostly younger men in their late teens or early twenties, ideally straight or heterosexual men
whom he'd claim to 'turn'. Later on, conversely, he claimed to be bisexual, eventually marrying and
divorcing two women whilst serving out his thirty-year sentence, though the reasons for these
marriages were more to do with his understanding that marriage itself might improve his image – or
even the remote chances of release.
As for Reggie, towards the end of his life he admitted to his second wife, Roberta, as she wrote in
her book, Reg Kray: A Man Apart, that 'although he had experimented (as many young men do), he
had never perceived himself as even bisexual until he was almost fifty.'
One rather startling example of this 'experiment' was described in Villain's Paradise: A History
of Britain's Underworld by Donald Thomas: 'A gruesome story in Michael Connor's biography of
the South London protection racketeer Billy Howard describes the twins in their car picking up a
youth at night from the so called "meat rack" of male prostitutes outside the Regent Palace Hotel, near
Piccadilly Circus.
'According to Howard, they broke into a house near Sloane Square and made use of the rent boy
simultaneously, choking him to death in the process. They put the body in the boot of the car and,
according to Howard, disposed of it in Norfolk. Howard was employed to pay the owner of the house
for the damage caused by a "wild party" at a mistaken address and to persuade him not to complain.'
It's an ugly story and one of many of the twins' 'crimes' that they would never be called to account
for. Yet whatever Reggie's sexual history, when he and his genial married brother Charlie were
running The Double R, while Ronnie was inside, Reggie was not only increasingly drawn to the good
life. He had also started to see the appeal of a more 'normal' existence, involving a woman, and a
nice home with marriage and children to complete the picture. Respectability, in other words, versus
criminality and violence. So at that point, without his twin goading him and dominating his existence,
Reggie was beginning to think outside the box: success and money, he started to reason, should also
be bringing him the 'reward' of this other, more acceptable, outwardly stable way of life.
Professor Dick Hobbs is Professor of Sociology and Director of the Criminology Centre at the
University of Essex. He told me that this thirst for social acceptance was a hallmark of the way the
Kray twins ran their lives: 'They seem to have craved respectability, courting, getting married, one
side of the coin being the traditional respectable bit, but at the same time there's all the schemes, the
scams, the pill popping, the hidden bisexuality. Yet they won't let go of the respectability. It's a
switch from one to the other all the time.'

This trait isn't that unknown with serious criminals, said Hobbs. 'I know people now who
maintain that respectable side of their life – but alongside it they're using hard drugs, making money
in all kinds of morally repugnant ways, yet the respectability goes side by side with it all. These
people are not one dimensional – yet the Krays are the most extreme case of this.'

Hobbs explained that the era where the Krays flourished had a lot to do with it. 'The sixties are
book-ended by two major changes in the law, the end of capital punishment [in 1965] and the
decriminalisation of homosexuality in England and Wales [in 1967, between two men over 21 years
of age]. Those two changes define the Krays. They nearly faced the death penalty, hanging. But the
gay thing could never be overt at the time.'

'"Oh we always knew Ron was gay," their associates will tell you now. But did they REALLY
know? They were nicknamed "Gert and Daisy" (after a well-known female radio double act of the
forties, Elsie and Doris Waters) maybe because of their voices, which were lisping and quite high
pitched, not those of gruff cockney stereotypes.

'But were people really sure of this ambiguous sexuality? It was covered up very well at the time.
There was nothing effeminate or even fashionable about the way they looked. In many ways they were
throwbacks to another age, old school, local hard men from the thirties East End. But visually?
Warner Brothers gangsters.'

Status. Looking the part. Playing a Hollywood role. Moviemaking always needs the right props to
showcase the stars, underline their affluence. And high on Reggie's list of essential props was the
car, that most potent status symbol.

An expensive car remains a marker of worldly success – and the owner's desire to impress. Back
in the 1950s, it was a thousand times more potent as a power trip extraordinaire since expensive cars
were a rare sight on London's streets. Less than 2 per cent of Britain's total population even owned a
car. And that was likely to be an Austin 7 or a Morris Minor, inexpensive and ordinary family cars.

A young man drawing up outside a humble East End two-up, two-down in an American Ford
Galaxy (one of Reggie's favourite toys in The Double R days) or, later, a dazzling green Mercedes
Benz 220SE two-door saloon, would have been an astonishing sight around those still-battered post-
war streets.

Reggie, though mad about new cars, was a lousy driver. Ronnie didn't even bother to get a
licence. And so, as they established themselves as crime lords, the twins started to hire young, pretty
men to drive them around in the flash expensive cars they never paid for. Chauffeurs too were status
symbols, right? In the early days of the Regal billiard hall, second-hand cars could also be bought and
sold from the forecourt in the front, yet another 'nice little earner' for the twins.

Whether it was through a chance meeting with the twins at the Regal – new faces, especially good-
looking young men, tended to find themselves receiving drinks sent over by the twins with increasing
regularity – or, as Reggie Kray preferred to tell it, via a friendship that started because he wanted a
new car, it was Reggie's association with Frankie Shea Junior that was the link that drew Reggie into
Frances's life.

Already a car-crazy teenager and with a growing reputation for being 'a wheel man' around
Hoxton, Frankie Shea was 'about eighteen' and already establishing himself as a car dealer when
Reggie claimed he first met him. Other accounts differ: some say that Frankie knew both twins from
the billiard hall when Frankie was younger, maybe seventeen.

Reggie recalled that 'first' meeting in his book, Reggie Kray's East End Stories – and how he had
recruited Frankie Shea to work for him: 'I decided to look for a different car from the Vanguard I was
driving at the time. He had a car lot in north London and although he had nothing that suited me, we

struck up a friendship that led to him becoming my driver.
'He was a good-looking kid with brown eyes, dark hair and an olive complexion. As a driver he

was the best I had come across, while his personality made him exceptional company.'
Frankie Shea reached his eighteenth birthday in October 1957. From correspondence (previously

mentioned in Chapter 2) written to his family in August 1959, it is clear that by then, he already knew
Reggie quite well. That letter from the young offenders' institution also made brief reference to
Frankie Junior writing to Reggie, asking his parents to 'please post letters to Reggie and Babs
[presumably a girlfriend] as soon as you can'.

At that point, judging by other correspondence from Reggie while in prison in July 1959 – he
wrote to Frank Shea Senior, saying he was writing to both Frankie Junior and Frances – it is apparent
that by then Reggie was already closely involved with the Shea family, and that he had recently
started seeing Frances. She was then still fifteen.

So Reggie's subsequent 'official' recall of events in books – that he had met Frances while
visiting Frankie at the Shea house when she was sixteen, that is after September 1959, her sixteenth
birthday – does not give the true picture.

She was younger, still a schoolgirl when they first met. Indeed, in later prison correspondence to
Frances in April 1961, Reggie himself recalled this, saying:

'I've known you since you were fifteen years old and have never stopped loving you all the time.'
Reggie's cousin, Rita Smith, still lives in the East End. Rita's mother, May, was one of Violet
Kray's sisters. An attractive, immaculately groomed seventy-something blonde woman, just three
years younger than the twins, Rita grew up next-door-but-one to them in Vallance Road. They'd pop
in and out of each other's houses all the time. In many ways, she saw herself as a sister to them, more
than anything else. Biased she may be, but family is family and there is no doubting the sincerity of
her affection for Reggie as they grew up together.
'Reggie was so nice when he was young; he had Violet's nice ways. Charlie too was totally
charming. Ron was more like his dad. But the whole family thought they were special,' she recalled.
Rita vividly remembered Reggie, then in his mid-twenties, telling her how he'd first met and
fallen for Frances whilst she was still at school. 'He used to go round to the Shea house to see Frank,'
she remembered. 'That's when she would come in from school. And one day Reggie came to see me
and said, "I wanna ask you something. Frankie Shea's got a sister. Oh, he's got a lovely sister. She's
so nice. I do like her. But… I think she's too young for me. She's still at school."
'I said, when she leaves school, ask her out with you. And he kept on about her.
Reggie said, "She's got lovely eyes. Don't you think I'm a bit too old?"
'I'd say, "Not really. If she wants to go out with you, what's the difference?"'
Reggie's relationship with Rita was, without doubt, a very strong one: he'd confide in her
frequently. She recalled her surprise when he first mentioned Frances. This, she told me, wasn't
really the Reggie Kray she knew: 'I'd never seen him like that before. Women? He could take them or
leave them before he met her. He'd go out with these girls and they'd stay the night with him at
Violet's.
'Then he'd drop them off in my mum's house next door. And they'd wait for him to come back.
Well, he wasn't coming back, was he? And he always picked good-looking girls.'
That day, on the doorstep of the Shea house, when Reggie knocked on their front door to be
greeted for the first time by schoolgirl Frances, was certainly a moment in time Reggie would never
forget.
Wherever his sexual tastes lay up to that point, whatever the complexity of his relationship with

Ronnie or his crimes, there seems little doubt that the minute he saw the pretty auburn-haired teenager
with the big eyes, he experienced something of a shock. It is what the French call 'le coup de foudre',
a bolt of lightning – which some describe as love at first sight.

He recalled that moment in correspondence to Frances in May 1961. In his letter, Reggie told her
he'd been thinking about the first time he saw her. He'd knocked on the door to see Frankie and she
had opened it. 'You looked at me with a curious look in your big dark eyes and made me feel a little
awkward. I never thought at the time I would depend on you so much, just goes to show you never can
tell.'

Reggie's letter then told her that 'falling in love with you was the best thing that ever happened to
me. Any time you want to put me in my place, just give me a look with your big dark eyes.'

The letter goes on to recall how he'd even conveyed the significance of that first doorstep
impression to her brother. 'I said, "Your sister gave me a look and weighed me up and down and
made me feel awkward…"'

Frank had quipped back and said that was nothing: 'You should talk to her.'
'I said, "She looks saucy".'
Since that moment, Reggie recalled, he knew Frances was saucy, curious, mischievous, better
looking than ever, everything he dreamed a girl should be. He went on to say he had never regretted
knocking at her door 'because I've been in love with you ever since and always will be.'
Whether it was Reggie's arrival in her life that led to Frances leaving school before her sixteenth
birthday in 1959 or whether the decision had nothing to do with it is not known.
But the fact remains that Reggie, on that memorable day, fell so in love with a pretty schoolgirl, he
could only dare discuss his romantic feelings with a woman he'd trusted since childhood. He would
never have dared confide all this to his twin. He knew all too well what the response would be.
It looks like he simply took Rita's advice and waited until Frances was working. There were,
indeed, other serious preoccupations for Reggie in those years from 1957–60.
His brother, for one. Once certified insane at Long Grove, and prescribed a new type of drug
called Stemetil, which seemed to curb his suicidal impulses and calm him down, Ronnie started to
realise, on Reggie's visits, how successful his twin was without him – and soon insisted he was
'cured' and could go back to prison, to finish his sentence.
The doctors said no. He had to wait. But that wasn't likely to mean much to the twins because
what followed was the Kray twins' legendary 'switch' one day at Long Grove when Reggie came to
visit.
Both were dressed identically – and, at the time, it was very difficult to tell them apart. As a
consequence of a cunningly hatched plan to fool the authorities and switch places, Reggie, of course,
could not be detained once Ronnie had walked out and Reggie identified himself with his driving
licence. No crime had been committed. Ronnie had simply walked out of the mental hospital and into
a waiting car. He was free. Then he was driven to a hideaway, a caravan in Suffolk. Without his
medication. Men from 'the firm' were enlisted to look after him as best they could. But without the
pills he really needed, Ronnie's madness, his paranoia, started to manifest itself again.
In the end, Reggie took his twin back to London, found a trusted doctor (normally useful for
repairing slashed faces) and managed to get the drugs Ronnie needed so badly to calm him down.
Then the pair enlisted the help of a compliant Harley Street doctor who saw Ronnie and wrote a letter
saying he was perfectly sane – and could therefore be sent back to prison to complete his sentence.
Which he did.
In the spring of 1959, Ronnie finally came out of prison. He managed to get the drugs he needed

and, despite frequently drinking copious amounts of alcohol, potentially causing very dangerous
situations when combined with powerful drugs like Stemetil, he was back with Reggie, both of them
living at Vallance Road with their mum.

Yet Ronnie, schizophrenic, drug dependent and scarily crazy, no longer looked the same as his
once-identical twin. At twenty-six he looked monstrous: fleshy and coarse featured, he was a very
different man from his good-looking twin. And, of course, once he divined that Frances had caught
Reggie's eye, he went into action, taunting, sneering, goading his brother, the way he always did.

Ronnie could be in love, he could be sentimental, even romantic about his affairs with his
boyfriends. But as for his twin forming a romantic attachment to a dirty woman? What had gone
wrong with him? Had Reggie gone soft?

All Reggie's ideas for the future of the business, carefully crafted with his more law-abiding
brother Charlie, the months of avoiding trouble, making businesslike liaisons with useful allies,
drawing up serious plans to get involved in the new West End casinos (gambling was due to be made
legal very soon) were in danger of crumbling now that Ronnie was back. Ronnie seemed determined
to destroy it all with more scheming, aggression, bloodshed and gang warfare. Reggie's plans for a
more legitimate front for their activities were at risk of going down the drain.

All Reggie could hope for now was business as usual, continuing to give his all to clear up any
mess Ronnie left in his wake, as he'd always done. The madman and the mopper-up. His twin was
sick, no question. But he had to be there for him. No matter what went down. He wasn't about to
abandon his other half.

Yet as difficult as it all was, stretching Reggie to breaking point at times, the sane brother still
persisted with his fantasy of a different, respectable life with a beautiful young woman beside him to
share his dreams.

He'd found Frances. She was young, beautiful and he was utterly captivated by her looks. She was
bright, lively and, most importantly, virginal, untouched. And he was a young man, still in his twenties
with a future before him. Whatever had happened before that moment on the Sheas' doorstep, nothing
was going to keep him away from her, his dream girl, whom he vowed to convince of his love.

Yes, he had gone soft. To the world he was a tough hard nut, a criminal with a mad twin. But now
he was bewitched by a teenage girl. He was crazy about Frances Shea. And he had a big advantage
over other men, because he had everything a guy needed to tempt her: money, cars, travel, nightclubs.
What girl wouldn't want to be treated like that? So he embarked on the pursuit of Frances.

Why did she agree so readily to go out with him at all? He was ten years older. He already had a
reputation for violence. The truth was it was a time of imminent big social changes, and very few
ordinary, innocent young girls would have been able to resist the lure of a good-looking, beautifully
dressed older man inviting them out in his expensive car, taking them places and showing them a good
time.

A local young admirer, even a law-abiding guy working in a steady job, couldn't compete with all
that. As Dick Hobbs told me, Frances may have been bright and intelligent, but as far as her
environment was concerned, typical of so many young working-class women in the fifties, her life
options were limited.

'What could a young woman do with their life then?' said Hobbs.
When you consider the fifties landscape for ordinary women, you see exactly what he means.
Like her mother, Frances's expectations were a low-level job, followed by courtship with
someone from a similar background, then marriage and kids. No travel, no career and ultimately, no
financial independence once the children arrived.

Women couldn't get a mortgage, buy a car or even rent a TV unless their husband or father
countersigned. Abortion was illegal. The contraceptive pill was still in the future. And as far as
society was concerned, the only sex was within marriage. Divorce was out of reach too, as it was
difficult, costly and usually disastrous for a woman's reputation.

'It was so unusual in those days to be wooed by one of these men, a local man who had money,'
said Hobbs. 'The Krays were known locally – everything in the East End was so localised. People
didn't travel, they didn't even move around London.

'So she was a local beauty – and he hadn't even stepped off his manor; he was not comfortable
outside it. From Walthamstow to the West End, those were the places where the Kray twins were
comfortable, their bit of the old East End.

'Frances had luminous good looks, the "look" of the time, so for him, regardless of the ambiguity
around his sexuality, she was a catch. And he had to have that.'

As Hobbs pointed out, at that time there was no limit to the the Kray twins' belief that the world
was theirs for the taking – at a time when most people were still living through a period of great
restraint and austerity.

'Reggie would have thought: "I can have everything, I can do whatever I like, I can have the best
looking boy or the best looking girl – I've got to have the lot." Having children? You're a man
therefore you have a family – he wanted that too. Why not?

'Reggie liked to present himself as a traditional East End male – don't swear in front of women –
have kids, look after old people, give to charity. In reality, he wanted it all, boys, girls, money, fame,
everything.

'The Kray twins were really greedy people.
'From her point of view, at fifteen, here's the most wealthy person she's ever seen in her life.
Who had flash cars, bespoke suits, jewellery then? She was a child. It wouldn't take much to impress
people in those days. For her, it would have all been incredibly alluring.'
But what about her family? They knew who the Krays were, their reputation, the fact that Ronnie
had 'gone away' while his brothers were running The Double R. It wasn't just gossip. Everyone in
the area read about them in the local paper, the East London Advertiser, anyway. Frances's parents
already knew that Frankie had been friendly with Reggie for some time. Why were they willing to
accept that this older man wanted to take their daughter out, dazzle her with the bright lights?
Elsie surely had her doubts. She understood that the Krays' well-honed façade of respectability,
their legendary generosity to charity, was a cover for the traditional compulsion of East End hard men
to inflict harm by violence. Yet initially she kept her counsel. Her husband was impressed with
Reggie's polite ways, his soft voice, his good manners. You could see, he argued, that Reggie was
respectful, not a man to take liberties, whatever people said about the twins. Their Franny was safe
with him.
But it was Frankie Junior, as attractive as his sister, as personable a young man as anyone would
wish, who already knew quite a bit more about Reggie Kray than he dared to let on.
Car dealer Frankie was becoming a bit of a wide boy. He too was attracted to the good life, the
flash cars, the smart suits, the West End drinking clubs. As a result, he'd gone the way of many young
Hoxton boys and had not been discerning or cautious in the company he kept; he'd been in trouble
with the law even after the stint at the young offenders' institution.
Frankie knew what he knew. And his sister, the tiny baby he'd cuddled as they huddled for safety
under the kitchen table, was very close to his heart. But the young man stayed silent, didn't attempt to
interfere with this new development or put in his two bob's worth.

It was a mistake that would go on to haunt Frankie Shea for the rest of his life.

CHAPTER 4

COURTSHIP

Reggie may have made up his mind that Frances was 'the one', yet there was a huge obstacle in
the very early days of their courtship, beyond his relationship with Ronnie. It was, of course, the
occupational hazard of their chosen profession. The loss of freedom.

By now, the twins were adroit at the ways and means of keeping the law at bay: expensive
lawyers and barristers, intimidated and terrified witnesses who would always clam up, remember
nothing, private doctors who would quietly sew up the damage, cash bribes in the right places,
coppers who'd pocket them.

As with the legendary Long Grove 'switch', if it came to the crunch and either twin were
imprisoned, they'd ignore the hand of authority, forget about the lock and key and deploy all their
cunning to continue their activities via those working for them on the outside, while forming alliances
with other criminals on the inside: prison was a nuisance, a blip in their activities. In no way was
prison a deterrent. As their later history would demonstrate.

Yet in the summer of 1959, not long after he'd fallen heavily for Frances, Reggie found himself
facing a two-year prison sentence for his part in a protection racket. He'd been on remand (remanded
in custody) in Wandsworth prison for a few months, then he'd started taking Frances out regularly
once he was out on bail for several months, awaiting court proceedings for his appeal against the
conviction. Which he confidently believed he'd win.

Very soon, he'd introduced her to his family in Vallance Road. Violet was pleasant and motherly,
Ronnie unnervingly polite and the twins' cousin Rita liked the young girl immediately.

'The first time we met we seemed to take to one another,' recalled Rita. 'She had shorter, quite
dark hair then. Very pretty girl. Big brown eyes. She was quite shy, quite an innocent really – as you
are at that age. But intelligent, you could see that.'

Reggie took to meeting Frances outside her office in the Strand after she'd finished work. They'd
go to the movies. There were drives out to the country. He'd buy her clothes, jewellery, give her
money. On other occasions he'd take her 'up West' to places like the Astor Club, a swish nightclub
off Berkeley Square in Mayfair, though he continued, after dropping Frances off at her parents' house,
to live his usual nocturnal life with Ronnie, moving around various clubs and drinking haunts,
imposing order, looking after their investments, organising feuds – and boozing.

Frances wasn't keen on drinking. She'd smoke the odd ciggy. But even then, she was bemused at
the amount of heavy drinking that seemed to go on every night in Krayworld. It never seemed to stop.

Proudly, Reggie showed everyone the photos he'd had taken with Frances in the Astor club that
February, 1960, the first of many photos of the couple in a glamorous setting.

'She looks like Brigitte Bardot,' said his friend Danny. Reggie was chuffed. His girl looked like a
French movie star – yet she was from the mean streets of the East End, just like him. She was his
trophy.

Incredibly, he also took sixteen-year-old Frances on a trip to Jersey in May 1960 in their early
days of courtship. They flew there. Of course there'd be separate rooms, Reggie assured Frank Senior
beforehand, and this was no lie: Frances had no intention of losing her virginity and her glamorous,
free-spending older boyfriend was nothing but respectful of this.

By now, the Shea family were well and truly caught in the Kray net. Both the Shea children were
already drawn into the seemingly glamorous, high-spending life of the Kray twins. Reggie had also
hinted that he might be able to find work for Frank Senior in one of his clubs. So Frank Senior wasn't
set against him: to the older Shea, Reggie seemed so polite, almost shy sometimes. He wouldn't do
her any harm, Frank Senior kept reassuring his wife. It was fine. Everyone knew the Krays respected
women. Violet had brought them up the right way.

It may be difficult nowadays to understand how dazzled Frances would have been with the world
her older boyfriend was showing her. But as Dick Hobbs pointed out: 'To get on a plane and fly to
Jersey at that age would have been an extraordinary experience. It was a traditional courtship that
was going on there – and he had the cash to do it. People didn't take girlfriends away for trips like
that then – it was unheard of.'

Yet the nightclubs and the plane trips were but a distraction from the reality: Reggie had not
expected his appeal against his two-year sentence to be rejected but that is exactly what happened.
Later in that summer of 1960 he was back in prison. And now that their relationship seemed to be
ongoing, the separation from Frances turned out to be really painful for him.

Frances's everyday life went on. She went to work weekdays, saw her girlfriends on weekends
and dutifully perched on her bed at home, writing to him, as promised, twice a week, visiting when
permitted.

Reggie, in prison, unable to control his brother, had far too much time on his hands to think – and
to dwell on his obsession with his teenage girlfriend. He was paranoid in the extreme. If a letter
didn't arrive for a day or two, he'd be tormented with rage. He couldn't stop thinking about her, or
about how, in his absence, someone else might decide they wanted to take Frances out and pursue her.
Or turn her against him.

On 2 September 1960 he wrote to Frances, telling her he was in such a bad mood at not receiving
any letters from her, 'I nearly choked a fella in my cell for having too much to say'. Luckily, he wasn't
caught. But he was 'more mixed up than ever' he told her.

Controlling everyone was part of the Kray twins' repertoire. Indeed, at that point, business was
starting to boom, sixties style: they'd achieved their goal of moving beyond the East End, into the
West End of London and had taken a share in Esmeralda's Barn, in swanky Knightsbridge. Originally
it had been a posh nightclub but now, with the legalisation of Britain's gambling laws, it was one of
the first high-end gambling clubs in London.

This was just as well, because The Double R had already gone into decline and closed once
Reggie was not around to run it. However, it didn't seem to matter, because Esmeralda's was pure
gold. With its rich, upmarket clientele dining in the swish restaurant or seated beside the green baize
table, focused on the roulette wheel and gambling huge sums, the move to Knightsbridge was the gift
that kept on giving, earning the twins around £800 a week, a huge sum of money for the times.

Reggie was now rich. But his obsessive jealousy about Frances – locked away, unable to do little
but worry and write letters – was something he'd never encountered before. Until then, all he'd really
troubled himself with was the mental state of his mad twin. Now all he had were bits of paper to
channel his thoughts and emotions towards Frances, to convince them both that they had a real future
together.

Even in July 1960, just after his court hearing, even though Frances was not yet seventeen, his
letter made it very clear he was determined to marry her, to 'take her off the market', as it were. He
couldn't bear the idea of anyone else getting close to her.

His one consolation while serving the rest of his time in prison, he wrote to her, was knowing he

was engaged 'to such a nice person as yourself'. Then he asked her to have a full-length photo taken
in her black dress, wearing a new necklace he'd chosen for her. After he'd finished the prison
sentence, Reggie said, he would make sure she'd never leave him again. He was looking forward to
getting married as soon as possible.

Frances knew she was too young for marriage. But she obviously agreed to commit herself. In
August 1960 she wrote to say she wanted to wait two years. 'I want to get married not next year, but
the July after,' she wrote, pointing out that this would give them enough time to get a house built and
organise the wedding properly. They didn't want to rush, she told Reggie, because it had to last a
lifetime.

This must have given Reggie enough encouragement to feel reasonably confident about their future.
In a letter written on 16 September 1960 he mentioned 'our new wedding date' and told her he was
hoping her dad, Frank Senior, 'likes being called my father-in-law'.

How he envisaged their married life makes for intriguing reading too, given their respective
backgrounds, where their mothers had known little but hard slog, coping with husbands who were
anything but regular providers.

'Please don't look at marriage as scrubbing, cooking, and all work,' Reggie wrote.
As far as he was concerned, she would have no manual tasks. There would be a comfortable home,
'decorated nice', good furniture, lovely clothes, records to play, a car – 'and the company of each
other'. He assured her there would be no worries whatsoever. If she was concerned about cooking,
they'd eat out, should she wish. He was marrying for love, he told her, not because he needed a cook.
Finally, he reminded her, there were six requirements for happy marriage. The first was faith. 'And
the remaining five are confidence.'

When they were married, he told her, all he wanted to do was sit around cuddling her. 'Your name
should have been cuddles.'

That night, the letter continued, he was going to dream of their wedding and their married life. 'I
honestly believe it will be a success.'

Reggie Kray wasn't used to being deprived of anything: if he wanted something, he just took it.
Prison and loss of liberty lowered the opportunities to operate, yet crime itself could still continue to
function on the outside. Yet in this situation, he worried all the time that Frances wouldn't have him,
or be distracted, without the promise of marriage. Possessive in the extreme, the correspondence
shows he was desperate to be legally tied to her as soon as he could possibly arrange it.

An engagement at seventeen or eighteen, making the traditional statement of commitment, was not
at all unusual at that time. Some of Frances's friends at school would have been going steady by
sixteen and engaged a couple of years later. Many girls then considered themselves 'on the shelf' if
they weren't married by twenty. At twenty-one, you'd reached spinster status. But you have to wonder
at the anxiety that seemed to be driving Reggie's obsession, the belief that marriage to a teenage girl
was a springboard for long-term emotional security.

Was he also desperate to escape the bond with Ronnie? It seemed like it. Marriage then would
have certainly changed everything. Separation from his twin quite recently had given Reggie an
opportunity to see life quite differently; it had nourished a dream to break free from their
claustrophobic twinship.

While the isolation of the prison cell day in, day out brings extreme frustration, at the same time, it
can only serve to fuel a fantasy life, an ideal world to cling to. The frustration would end with his
prison sentence. Yet unquestionably, he was deluding himself: separation from his twin remained a
fantasy. Ronnie knew exactly how to push his buttons, reel him in, jeer at him for loving a smelly

woman. Ronnie, by now, needed his twin more than Reggie needed him. Still, while the sneering and
jibing might lead to furious fighting it still served its purpose for Ronnie in keeping his twin locked
into their twisted relationship. So the idea that Ronnie would be there, outside, flinging abuse at him,
trying to turn him away from his dream, merely added to Reggie's conflicting emotions.

In the time they'd spent together, it was a joy to adorn Frances with beautiful new clothes and
jewellery. She was his doll, his toy. And although she was as keen as any young girl on doing her
hair, getting made up, spending hours making herself look nice, he'd noticed that she didn't seem as
wild about possessions and having new things as he'd imagined.

She didn't seem greedy for more; it was always Reggie who'd carefully wait for her to mention
she liked something – then he'd rush out and get it, to surprise her. So it was sheer torment now to
look at her photo and imagine other men approaching her, admiring her charms.

This correspondence with Frances revealed the truth of Reggie's obsession with her. But
Frances's own responses were mature and clear thinking, given her age. And it was true, her
priorities were not material. This was demonstrated in a letter from Frances to Reggie dated
December 1960. In the letter, she took him to task, in no uncertain terms, about his habit of walking in
front of her when they strolled down the street. As far as she was concerned, she wrote, this showed a
lack of respect. Buying her presents and taking her out was fine. But walking in front of her was not –
it was demeaning. She also suggested that he was not being fair in only sending the precious visiting
orders for visits to her alone; his parents ought to be able to visit him too.

There's the normal day-to-day trivia in the letter: a painful visit to the dentist, the new flock
wallpaper the Sheas had had put in upstairs, the Christmas gifts she'd be getting for his family,
including cousin Rita's new baby, Kimmie. She wasn't sure about getting a present for brother
Charlie's little boy, Gary, whom she thought was quite 'spoilt', but she'd probably get him one
anyway. The letter also mentioned a Christmas works do – she thought it might be boring. But, she
added, it might be fun to see the partners at her firm get tipsy.

This was the sort of letter any girl might write to a boyfriend in 1960, but the comments about not
walking in front of her reveal a spirited young woman with a clear idea of appropriate behaviour
between the sexes. And the mention of the visiting order also indicates a strong sense of family
obligation. That was how she'd been raised, in the way of East End families then.

But this letter was unsent, addressed but not posted. Did she have second thoughts after writing it
because it was too strongly worded?

Yet again, Frances's writings revealed a very different girl to the compliant 'arm candy'
previously portrayed. How she squared all this with the knowledge that the man she was planning to
marry was a criminal, serving a prison sentence, one half of a double act with a reputation for
excessive violence, is not easy to imagine.

You can only assume that with the blithe innocence of youth, she believed Reggie when he
promised her so much in the future, so much of the respectable stability her mother had always
dreamed of but never found. The house in a leafy suburb. The freedom from worry about money. It
would have seemed very attractive.

Moreover, the promises he gave her in this prison correspondence extended to his own behaviour.
Initially, in a letter dated 15 August 1960, he promised he would stop boozing all the time and mend
his ways:

'I will definitely cut out the drinking… how right you were about the drinking.'
Then, in a letter dated 5 October 1960, he repeated these promises. In this letter he claimed he
realised what a fool he was to 'split our nights up' by going to clubs after taking her out to the

pictures and other places – although, he added, when they first started going out he did stop drinking
for a while.

Now, in his cell, he swore to her he could see how futile a lot of his nocturnal ways were. And,
again, he realised that much of the advice she'd given him now rang true. Her 'wise head for her age'
and her understanding, he concluded, reassured him that in the future 'you and I will be happy'.

In the light of what eventually happened, you can't help wishing that he'd been able to follow
through with all this. And perhaps he did mean it all at the time. Yet the promises were hollow – once
reunited with his twin, the clubbing and the nightly boozing would continue: it was part of their joint
DNA.

What else is revealed by these letters? The same October letter shows a romantic side, another
hallmark of the Kray twins' bizarre personalities: brutal men with a penchant for extreme
sentimentality.

As a plane flew over the prison, it reminded Reggie of their night flight to Jersey and the way
Frances had held his hand on the plane. Another memory he cherished was when she would come
back off the beach and walk through the hotel 'with just your swimsuit and jumper on ha ha – and all
the old squares would look at you.'

One of his most pleasant memories, he wrote, was the time round Frances's house when she sat on
his lap and put her arms around his neck. That night, he wrote, he really felt she loved him and he felt
very proud. And happy.

Yet Reggie's jealousy, his fear of losing her, was never far away. In the same letter he warned her
that when she went out dancing with her friends, one of them might try to egg her on to let someone
take her home, saying, 'It won't do any harm, he'll never know' and then she might be paired off with
'some Teddy Boy' wanting to satisfy his ego. (A 'Teddy Boy' was a fifties youth attired in a long-
jacketed 'Zoot' suit with a slicked-down greasy hairdo, often with a quiff at the front, wearing crepe-
soled shoes and a 'Slim Jim' narrow tie. To Reggie, with his social aspirations and obsession with
cleanliness and neatness, gangs of Teddy Boys were a lower form of life.)

Reggie knew Frances had a mind of her own, he said. He knew people couldn't sway her. But
he'd seen these things happen. So perhaps she might understand why he couldn't help worrying.

But what did she think of Ronnie, who was now beginning to really enjoy himself in charge of
Esmeralda's Barn, spending huge amounts of money on beautiful clothes from Savile Row and Jermyn
Street and dreaming up bizarre stunts like buying a chimpanzee from Harrods, dressing it up and
sitting it at the gambling table? There is a hint in this prison correspondence in October 1960 that
Frances was already wary, feeling uncomfortable around Ron. She'd obviously made this clear to
Reggie.

'If you don't want to go drinking with Ron, don't go,' wrote Reggie. Yes, he knew how Frances
felt – but his twin didn't mean any harm. She'd got it wrong. Ronnie was surely trying to be nice.
After all, Frances was 'getting along nice with him and my family'. This was true, insofar as Frances
certainly felt comfortable around cousin Rita, who'd recently had a baby girl.

Frances had eagerly taken the baby out sometimes. 'Have you been pushing Rita's pram lately, I'd
have liked to have seen you,' wrote Reggie – and Frances happily posed for photos with Kimmie on
her lap.

By the beginning of 1961, however, some of Reggie's worries and concerns about outside gossip
reaching Frances were surfacing. In a letter dated 2 January 1961, where a friend had obviously told
Frances about a girl Reg had previously been seen around with, he was quick to reassure her.

'I'm not surprised someone tried to mix it for me,' he wrote. 'But I never took her out hardly.' As

for getting engaged, he wrote, until he'd met Frances 'the idea had never occurred to me.'
Yet the web he was now starting to weave around the Shea family was, by this point, increasing

rapidly. In the same letter he wrote 'glad your dad is on the firm', a reference to Frankie Senior
starting to work for the twins, as promised, as a croupier at the Regency Club in Stoke Newington, not
a move that made Elsie dance for joy. The extra cash was needed. But that was it.

But this was how the Kray twins hooked people in: they needed money, the Krays played
benevolent local guv'nors, took them on the payroll or, in some cases, dished out handouts. First had
been Frankie Junior, young, cute, impressionable, in awe of the twins, thrilled to be driving Reggie's
luxury cars. Now Frankie Senior was being reeled in – alongside his daughter. Control. Money. All
disguised with civility, kindness and good manners. It was astonishingly effective. Unwittingly and
unwillingly, so far as Elsie, at least, was concerned, they were all now involved with the Kray twins'
world.

Given the intensity of Reggie's obsession with Frances, you might expect these prison letters to
carry some hint of sexuality, but the correspondence seems relatively tame.

In January, Reggie had written that he'd heard 1961 was going to be a romantic year 'and short
skirts are going to be the fashion again'. He reckoned Frances had very nice knees. And when he did
get out, he reminded her, 'I'll be lively enough… like a tiger out of a cage, ha ha, so save some
energy. Can't have you saying it's time to go home.'

Even towards the end of his sentence, the jealousy continued to dominate his thinking.
'Please don't go dancing' he wrote in April 1961.
No harm in dancing, of course, but he couldn't stand it if she were dancing with anyone while he
wasn't around. Then he implored Frances to stay away from 'sordid places' like jazz clubs, saying,
'The atmosphere is not your kind. You belong in a much better atmosphere.'
By the summer of 1961, Reggie was free. Even before going home to Vallance Road, he went
straight round to Ormsby Street to see his girl. She'd lightened her dark brown hair to a reddish
colour and had applied for her first passport, in anticipation of the trips abroad he'd promised her so
often.
In July, she received that first passport. Yet the following month, Reggie took her on a motoring
trip to Devon and Cornwall. In this, and the trips that were to follow, they were accompanied by
Reggie's friends, which might have initially been reassuring to the Sheas, but probably didn't leave
the couple with much time alone. The truth was, Reggie needed to have his minders around wherever
he went.
Yet Frances must have been delighted taking a trip to what was still a somewhat remote, very
pretty part of Britain. She even carefully noted the places they'd visited in a lined notebook. There's
no hint of anything other than brief descriptions of what she saw. But it was obviously memorable
enough to commit pen to paper.
This is the gist of what she wrote in the notebook:

1961 CORNWALL-DEVON
They drove from Exeter to Brixham, near Torquay, where they met 'a German bookie'. At
Brixham they stayed with a 'Mrs Parkington' at a place 'in a private road after the Links
Hotel, Devon.' Then they took a ferry to Dartmouth, stopped at an inn for some cider, rested
'near the coastline', then drove to Plymouth and stayed at the Continental Hotel. 'Went to
different hotel in the evening' Frances noted.

From Plymouth they'd driven to Looe, with its fishing harbour, and Polperro. Then they

drove down to Falmouth in Cornwall, from there across to Land's End and then St Ives,
which Frances noted as 'a very hilly seaside resort, rather commercialised'. They'd stayed
at Mrs Davies's farm, near Polperro 'and in a guest house at Land's End'.

They'd also stayed at another farm 'near some horse riding stables, run by a Mr
Lightfoot'. They'd gone shark fishing at Looe all day long and had also taken speedboats out
at Looe. They went horse riding. Then their travels took them up to Bude on the
Devon/Cornwall border and then to Clovelly in Devon: 'a quaint village on the side of a
hill, harbour at the bottom.'

They travelled on to Saunton where they'd stayed at a guest house, and from there to
Woolacombe, Devon: 'Beautiful beaches, golden sands, v. extensive, sea is dangerous,
terrific speed of waves.' They then drove to Ilfracombe where they shopped.

Horse riding. Shark fishing. Speedboats. Hotels. Nightclubs. All courtesy of an older man, a rich,
attractive, immaculate boyfriend, who liked to kiss and cuddle but was 'respectful' and didn't attempt
to go further. Okay, there were all these blokes around him. But they were his friends, after all.

By taking Frances on such trips, Reggie was showing off the good life, splashing around the easy
money he'd now become accustomed to. This, he was saying, is how it will be: we'll go places, see
everything, have the best.

It was all in the starkest contrast to everything Frances had known – or anyone she knew had
experienced, come to that, all part of the fantasy life Reggie had mapped out for the future.

Frances was wise, intelligent and curious about the world. But she was simply far too young to be
cynical at this point. Or even fearful. An East End girl from a very tough, bleak post-war background
would never have questioned the presence of his friends on those trips back then. Younger men
traditionally moved around in small groups, in the street or the pub. Or, in the case of Bethnal Green,
in gangs. For now, at least, she was enjoying what Reggie was showing her. Even if he did go a bit
over the top at times with his generosity.

'She was not a grabber, not at all,' recalled Rita Smith. 'She used to say, "When I go out with
Reggie, I don't like saying I like anything because he goes out and buys it for me."

'They used to go up the West End quite a lot. If she would see something in a jeweller's window,
he'd come in with it the next day.

'If he could have got her the moon, he would have got that too.'
Rita confirmed that Frances frequently confided in her that she was still too young for marriage:
'What it was with her, she didn't want to get married straight away, because of her age. But the plan
was, they'd buy a house near Chingford, Essex and settle down. She liked it round there – and he
went along with the things she liked.'
Reggie, recalled his cousin, always had very definite ideas about how women should look. 'He
liked you dressing well. He taught me what sort of clothes to wear. He didn't like clothes too short.
Or low necks. He liked feminine clothes, pale pink nail varnish, not bright orange.
'In the beginning she just dressed ordinary but when he started taking her out, he'd buy lovely
clothes for her. He used to get them from Marlowes in Mare Street, a Hackney dress shop. I always
remember one outfit he bought her, a brown cocktail dress with lace at the neck and lace sleeves. He
got her a little fox stole to go with it.'
Frances may not have been greedy but she was, like many young girls, very keen on make-up and
beauty routines, as Rita went on: 'She loved make-up, doing her eyes, always having her hair done.
She had very long nails, beautifully shaped. I remember her painting her nails with nail hardener. She

got her hair done at Ray's in Bethnal Green Road. Her hair always looked immaculate. You'd never
see her without make-up.

'She used to say, "I like to dress nice – to please him."'
Rita Smith told me that it was her belief that had Frances and Reggie been able to develop their
relationship in a normal way – crucially, spending time alone together – things might have been
different. But the twins' world didn't permit such togetherness.
'They didn't get a lot of privacy, really,' Rita continued. 'If they were at Violet's house, there
were always people in and out; if they wanted to talk about something, they'd have to go in the front
room. And Ronnie was always around, anyway.'
Ronnie was there, of course, the night Reggie first took Frances out to show her their new
acquisition, Esmeralda's Barn. At the roulette table, she was encouraged to have a flutter. In the
club's restaurant, they dined on fresh lobster, juicy steaks, and Frances laughed, in delight, when the
maître d' wheeled out the huge dessert trolley, groaning with fresh strawberries, black forest cake
and all kinds of exotic gateaux. No, she didn't want any more, she assured Reggie. Not even the
cheeseboard. She'd just have her usual tipple, black coffee.
Reggie looked at his girl quizzically. He knew Frances was very weight conscious and tried to
diet sometimes. But he did worry about her health.
When he'd first gone into prison, she'd written to tell him that she'd fainted one day at work. He'd
told her to go and see a private doctor with the money he'd given her, and she'd written back to say
she'd seen the doctor, and everything was okay. Some time later, she'd mentioned in a letter that her
nerves were bad, and her hands were a bit shaky.
He'd written back that it was all that coffee she drank: 'Coffee is only a stimulant and can't do you
any good,' he'd told her. But with his obsessive curiosity about everything she did, he'd wondered
what else was going on. 'I hope you've not been taking any of them slimming tablets because they can
make your nerves bad,' he'd written.
Frances had assured him she wasn't taking any tablets. But now, tonight, he noticed something
he'd not spotted before. When she went to pick up the cup, wasn't there just the tiniest hint of a shake
in her hand? Or was he just imagining it?
Then Ronnie leaned across the table, interrupting his train of thought.
'C'mon Reg, we've gotta go and talk to 'im,' he boomed. And Reggie, momentarily, brushed his
concerns to one side and switched back into business mode. Frances was fine. They were raking it in
and the protection business had unlimited potential, now that the new West End casinos were
springing up. Any problems, he'd sort them.
He was well and truly back in control.

CHAPTER 5

THE GILDED CAGE

By the autumn of 1961 it was well over a year since Reggie had come out of prison. Yet Frances
continually stalled on their wedding plans, still insisting she was too young. Reggie took her on
a short trip to Rotterdam in the Netherlands early in November, perhaps in an attempt to convince her,
but there was no sign of any wedding bells.

Rita Smith remembered seeing quite a lot of Frances around that time. She had sensed somehow
that Frances's home life at Ormsby Street wasn't that happy. Her brother Frankie had left home for
good. 'Her parents were never in and she was left on her own a lot of the time,' Rita explained.
'That's why she liked coming to our house. One day she said to me, "You're so lucky to have a mum
and dad who are here for you. I have to make my own tea when I get in."

'Sometimes, if Reggie was going out somewhere and she didn't want to go with him, he'd come
next door to me and say, "Is it alright if Frankie comes and sits with you tonight?" Then he'd come
back later and pick her up.

'She'd say to me, "Oh, I wish you'd come out with us." But I had Kimmie, she was only a baby
then. Frances loved being with us. I think she felt more comfortable here. I got the impression she
didn't enjoy the clubs, the showbiz parties he took her to. She wanted a quiet, ordinary kind of life.

'We used to get the chairs out in the back garden and he would go and get jellied eels and she
loved it.'

Rita noticed a distinct tension between Frances and Ronnie: 'She'd be sitting in Aunt Violet's
house and he would go, "Why don't you make a cup of tea?" and she would just ignore him. Then Reg
would say, "Leave her alone. I'll make the tea."

'She wanted to go to work. He'd give her money and say, "There's no need to go to work." But
you didn't know, perhaps she was too scared to go to work.'

Maureen Flanagan, former 'Page Three' girl and actress, was a regular visitor to the Kray twins'
home in the early sixties.

Maureen, or 'Flan' as she's known, was a hairdresser at the time. At twenty, she was a newly
married girl working in a local salon. She'd go round to the Vallance Road house each Thursday
evening to do Violet's hair. Her friendship with the Kray family became one which would eventually
span a lifetime, until the end of their lives.

'The first time I met Frances would have been around the end of 1961,' Flan said. 'She was sitting
in the kitchen, where Violet made the tea.

'I didn't have to ask who she was, of course, because I already knew that Reggie was going out
with the Shea daughter. Everyone knew who she was. I'd also heard that she was very lovely. I'd got
that from Mrs Kray. "Oh, you know, Reg's got a girlfriend, she's very pretty, Flan," she told me.

'I remember looking at Frances and thinking, "Oh yes, you are lovely." She was a beauty, hazel
eyes, thick browny auburn hair, nice skin and a nice little rounded figure.

'But it was her face that drew you in – especially her eyes.
'Knowing the twins, and with me thinking Reggie was a far more handsome man than his twin, I
did think: "Hmm… they make a nice looking couple, especially when the man looks as if he's been
around a bit, like Reggie."

'That was how it worked in the East End back then, a good-looking young girl and a man several
years older. And I knew Reg well enough to know that he'd want someone who was outstanding to
look at. So that when he walked into a place, she was on his arm and they'd be a pair close to
perfection.'

In those days, Flan, a stunning leggy blonde, was also well known as a local beauty. 'So as girls
do, I checked her out carefully. And she was immaculate, just a straight pencil skirt and a sweater.
But not a hair out of place.

'I went straight into hairdresser mode: "Oh you must be Frances, I'm Maureen," I said. "D'you
ever wear your hair up?"

'"Yes, in a pleat," she said shyly. Well, we all had that hairdo. Upswept hairdos were all the rage.
'"Before I go, I'll put it up for you," I promised her.
'I could see she was shy. I suppose she didn't like to say no. She just nodded.
'She seemed a bit timid. But she had a lovely smile. Then I did Mrs Kray's hair, put the rollers in.
When I'd finished I said, "Sit here Frances and I'll put your hair up."
'What I noticed was you had to keep talking to her to get a response. And when you asked her a
direct question, she seemed a bit cagey when she answered you. Like I'd just been to see Steve
McQueen and Natalie Wood in a film called Love with the Proper Stranger. I'd been telling Mrs
Kray how handsome Steve McQueen was, so I asked Frances, "Have you seen that film?"
'"I don't go to the cinema," she said.
'That was a bit unusual. All young girls of her age went to the cinema. I was only a couple of
years older than her but it felt like I was ten years older. Later, I realised that Mrs Kray talked to her
as if she was about ten.'
After a while, Flan noticed something else about the young girl.
'The other funny thing I noticed that first time was she seemed fixated on the clock.
'"What time is it?" she said after about an hour – even though she was wearing a watch. It was
about 9 p.m. "What time do you think Reggie will be here?"
'This went on constantly. It was obvious she was worried about when he was coming back.
'As I did her hair, she asked again. I kept thinking, "Why do you keep asking the same question?"
It was very odd. If he left her there at 8 p.m. and said he'd be gone for a couple of hours, why bother
to ask? You could see that she was depending on him coming back for her. It was strange. It was as if
she was worried he was going to leave her there.
'I did a lovely pleat at the back for her, with a bun on top. Lots of backcombing and lacquer of
course. Then she looked in the mirror. Silence. You couldn't tell if she liked it or not.
'Then she asked Mrs Kray, "Do you think Reg will like it?"
'"Of course. It looks lovely," Violet assured her.
'I thought to myself, "What about you, do you like it?" It was all about Reg.
'To me, she seemed like a very nervous girl. I'm quite good at drawing people out. But whatever
you said to her, you could see it wasn't just shyness that made her so reticent. She seemed to live on
her nerves. Maybe she'd been like that before she knew Reggie, that was her personality.'
The next time Maureen went round to do Violet's hair, she asked her why Frances had kept asking
about the time.
'I think she thinks once he's gone out of that door with Ronnie, he's never coming back,' Vi said.
Maureen Flanagan said she was convinced that by that time, Frances sensed danger whenever
Reggie went out with Ronnie.
Which was pretty accurate. Ronnie had a very dangerous presence; there was no question of that.

It was part of what made the Kray twins so charismatic, yet so feared.
An insensitive or less-thoughtful girl might have chosen to believe Reggie when he reassured

Frances, time and time again, that his twin was really a lovely person underneath the scary menace.
However, Maureen's account makes it clear that Frances was already troubled by the dangerous aura
around Ronnie, long before they married. Instinct alone told her he was a seriously malevolent force.
He scared the life out of her. And there was no mistaking Ronnie's rejection of her very existence. He
couldn't hide it and didn't care to try to.

'She might have been naive and vulnerable. But she would have known straight away that Ronnie
didn't like her, was jealous of her taking Reg away from him,' said Maureen. 'So every time he left
the house with Ronnie, leaving her with his mum, that's what would have been what was going
through her head.'

But if Frances was starting to be scared a lot of the time, Reggie too was feeling edgy. Ronnie
never let up with the sneers and taunts to Reggie about Frances when he was with his twin. It all made
for a very tense atmosphere at Vallance Road.

One night, Reggie took Frances to the Hirondelle cabaret club, just off Regent Street, where they
had dinner and watched a floorshow. Frances wanted to go home afterwards but Reggie insisted on
looking in at Esmeralda's.

It was quite late by then. Both twins were seriously drunk, Ronnie even more so than Reggie. A
sly comment from his twin and Reggie, who'd managed to restrain himself until then, flipped, lost it.
A vicious fight ensued, typical of the kind of scrap they'd been having all their lives, though this time
they didn't hit or roll around on the floor battering each other. They just screamed insult after insult at
each other. Verbal abuse of the worst kind. Frances, terrified and unused to the volley of violent
abuse, burst into tears and ran into the ladies' loo. By the time she came out, Ronnie had staggered off
into the night, still muttering evil threats to his twin, reminding him what a useless, sick bastard he
was. He'd had it with him.

Ronnie then left Vallance Road and moved into a luxury flat in a thirties' block in Cedra Court,
Clapton, but the change in their day-to-day living arrangements didn't really alter the twins'
relationship very much. No matter how violent their exchanges or rows, Ronnie was always going to
be able to hook Reggie in, and to push him towards extremes.

Yet witnessing the row had triggered something in Frances: it brought it home to her, in no
uncertain terms, that all the smart clothes in the world, all the beautiful trinkets or the trips to
glamorous places couldn't hide the fact that she had unwittingly become a part of the underworld, a
hidden realm where violent men schemed, fought, swore vengeance, drew blood and where fear, that
sickening terror she felt inside every time she saw Ronnie's face, was running the show.

She hadn't been completely blind to what the Krays represented, certainly. It was impossible not
to know, anyway. Everyone talked about them in the East End, though she'd noticed that these days
very few people asked her anything at all about Reggie or their courtship: now she was known as
Reggie's girl, people were too scared to probe – in case she ran back and told him they'd been asking
questions.

Now Frances was starting to see for herself where her place was within the twins' world: a
pampered doll, controlled by an intense, possessive man who wanted her to be influenced only by
himself.

She'd gone along with it. Hadn't she left her job, stopped work because he said there was no need
for his fiancé to have to work, that he'd take care of everything? He wanted to own her – and keep her
to himself at all times in a beautiful, gilded cage, someone to take out and show off, certainly, as a

partner for the successful businessman he believed he'd become. Yet socially, as far as other people
were concerned, she was a no-go area: Reggie's property.

She'd speak up, tell him what she thought. Then would come promises galore that they'd leave the
cage, build a dream home in the suburbs, have their own life one day, away from Ronnie and all the
'taking care of business' distractions.

Reggie would do everything in his power to reassure her of all this. They'd had some lovely
weekends together at the family's caravan in Steeple Bay, Essex, just the two of them. Then, Frances
felt they were like any other normal couple, but most of the time Reggie inhabited that other world,
the gangster world of smoky pubs, bars, nightclubs and extortion through fear, the only world he felt
comfortable in. With his scary twin.

Reg knew all too well how much Frances hated the endless barhopping. Yet he continued to drink
to excess, surrounded by his minders most of the time. When he took Frances out at night now, there
were always the hangers-on, the people who wanted to keep in with the twins, sucking up to Reggie,
wanting his approval, paying their respects. People said they had everyone in their pocket: the law,
the press, nothing could touch them. 'Well-known businessmen' the press called them. The journalists
didn't care to describe them otherwise.

She'd spend hours getting ready, carefully choosing her outfits, making sure her hair was perfect,
on their nights out – yet it was wasted energy really, because it was impossible to relax or feel
comfortable with him when they went out to pubs or nightclubs.

Reggie would be constantly jumping up all the time, moving around the place, shedding largesse
and instilling fear in equal amounts. She felt isolated, shut off from the rest of the world.

The consequence of all this was the rows between them that started to be a regular occurrence.
They usually began when they were on their way home from a night out or after she'd spent an
evening in the kitchen at Vallance Road, waiting for Reg to come home.

That was her life: waiting for Reg to finish whatever it was. It was too much, she kept telling him.
It wasn't a life she wanted. Sometimes she'd be defiant, determined: it's over, she'd tell him, and run
out of the car, climbing the stairs at Ormsby Street, falling on her bed sobbing, resolute that she had to
finish with him for good.

Then there'd be a day or two's silence, and he'd turn up again, all promises and apologies. Huge
bouquets of flowers like she'd never seen. More jewellery. A beautiful gold bracelet. A necklace
with a small diamond at the bottom, prettier than anything she'd ever owned.

Then, under the intensity of his persuasion, his insistence that they had a wonderful future to plan,
she'd relent, in the way women do when, deep down, they still want to believe in their man, hoping
for change – even if everything was starting to point to the contrary. And all the time, there was a
nagging question at the back of her mind. Suppose she did break off with Reg for good? Who was
going to dare to start coming round Ormsby Street to take out 'the Kray bird'?

It was so frustrating. Reggie insisted he loved her. He'd say it all the time. So why couldn't he see
that love meant being together, sharing everything, not dumping her there at the kitchen table with his
mum while he went out with his twin?

Violet, Frances sensed, wasn't really her ally. She saw no wrong in her twins. She seemed to lap
up the glamour around them, thought everything her boys did was marvellous. She was so proud of
them. Oh no, there was never a word of criticism from Vi's mouth. Not like Elsie, who'd make her
disapproval known if she saw or heard something she didn't like.

In fact, Violet Kray was very well versed in domestic politics. To Frances, she was outwardly
maternal, because that was what her Reggie wanted. Underneath it all, she didn't really think this girl

was good enough for her Reg, he'd yet to find one that was. She looked good. But she didn't seem
interested in cooking or doing things for her man. She just sat there. Looking nervous.

Maureen Flanagan remembered a night out at the Astor Club with the Kray family: 'Charlie Kray,
the twins' brother, invited me. Vi was going too. I didn't want to come with my husband so it was
agreed with Charlie that I'd accompany Vi. I told my husband I was going out with the girls.'

Maureen and Violet dressed to the nines for their night in Mayfair. Mrs Kray was immaculate in a
beautiful blue dress with a fur stole, Maureen in a slim sheath with a little mink bolero. They were
driven to the club in one of the twins' cars, by one of their minders.

'It was obvious Violet had been there before,' remembered Maureen. 'We all sat at a little round
table. We'd been told that Lita Roza [a successful popular singer of the fifties] was going to be
singing. Freddie Mills [a very well-known boxing champion who later committed suicide in highly
suspicious circumstances] came over to say hello, then we were joined by Charlie with two male
friends.

'Then Reggie came in with Frances. She was perfect. She had her hair swept up with a sleeveless
blue brocade tight dress just to the knee and a mink stole, the kind with all the tails hanging down.

'I thought to myself, "You never went out and bought that, Reggie's got it on loan for the night, just
to make sure you look as smart as his mum". Mrs Kray's stole was white mink; Frances's was dark
brown. Then Lita came on and started singing: she too had the same upswept hairdo.'

About a half an hour later, Maureen said, Ronnie turned up with a driver.
'Then from nowhere Ronnie's fave boy of the time came in. But he didn't sit with us. Everyone
kept coming over from the other tables to pay their respects to Vi. That was the twins' rule. If you
come to our table, you show respect to our mother.
'What I noticed about Frances before, at Vallance Road, was she was wearing these little white
fabric gloves, with little stones embedded in them. The more nervous or agitated she got, the gloves
would be off, on the table, but she'd be twisting them around. That night at the Astor I noticed she was
doing it again. The gloves were pale blue to match the dress. The more people came to the table to
say hello, pay their respects, the more she'd be twisting those blue gloves around.
'Reg noticed. At one point he put his hands over the gloves as if to calm it, his hand over her hand
and over the gloves. So she'd stop twisting them for ten minutes. But if he got up and left the table to
talk to someone, it would start again.
'The table-hopping was quite a Mafia style thing, going over to say hello to the other wives and
girlfriends. But the minute he got up she'd be "Where you goin', Reg?"
'He'd just give her a lopsided smile and say, "I'll be back." Then he'd look at his mum as if to
say, "Take care of her". Once he left the table, you could see she was on tenterhooks. The minute he
was back, she'd look relieved. "He's back, everything's okay."
'I think the story was, he didn't really want her to go anywhere without him. He didn't want
people stopping her, asking her questions. He was probably quite charming when they were on their
own. Because his twin wasn't there. Yet he didn't want to leave Frances with her family, so it was
always Mrs Kray.
'I always used to say to Mrs Kray, "Don't you think Reggie's a bit overprotective?"
'She didn't disagree with me but she said, "Look how people come up to me all the time in the
street. 'Oh, Violet, how's the boys?' Frances wouldn't be able to handle that."
'I must admit, Mrs Kray was very clever at handling people. She'd turn the questions round.
Charlie was the same way. He looked like a movie star and he could talk to anyone, turn it round to
"'Ow's your little boy, then?" deflect the attention away from the family, what the twins were up to.
Sours: https://anyflip.com/xhhc/doce/basic
You will also like:
Reggie sat by my aunt's body for two days
SWALLOWING the handful of pills, Frances Kray turned out the bedside light, lay down and waited to die.
She was lying in her niece's bedroom, the niece she doted on, the niece who had shared the name she had before she married Reggie Kray.
Tears welling in her eyes Frances Shea says sadly: "I don't know why she chose to die in my bed. I don't know if it was because we were so close and she wanted to be near me at the end.
"I will never know."
---
Read the first part of Frances' interview here
---
Reggie's wife - who Frances called Franie - died at the age of 23 in June 1967 less than two years after they married.
Frances says: "She had tried to kill herself before that night but always told my mum that she would never 'do something stupid' if I was in the house.
"Franie was staying at ours, but that night I went to stay with a friend and that's when she took the overdose."
Frances was only a little girl when her aunt died but she remembers vividly how Franie had changed in the months leading up to her death.
She said: "I remember two periods in that time, the one when Franie was fun, happy and singing all the time.
"And the time when it all changed. She was very quiet, frail, quiet and seemed delicate.
"She was very ill. I didn't know it then but Franie had already tried a few times to kill herself.
"I remember the next morning after she died I was at a swimming pool with friends and my dad arrived. He told me 'Franie's gone, Franie's gone' he told me straight that she was dead, we were all crying.
"I never went back to that home after Franie died, we moved straight away, my mum couldn't bear to be there.'
Over the years Franie's death has been blamed totally on Reggie Kray.
His infamy as half of Britain's most evil gangland duo, his murderous ways, his violence, all drove her to depression and suicide according to legend.
It's what her parents always believed, but Frances is not so sure.
She says: "Reggie did really, really love her. Two days before she died he was at my mum's house going through holiday brochures with Franie saying he was going to take her away somewhere nice.
"When she died he refused to let her body be taken away and sat next to it for two days, he was absolutely heartbroken.
"I think Franie would have got ill whoever she was married to. Mental illness wasn't understood at all then and she didn't get the right treatment. I don't think Reggie being who he was helped, but I don't think he drove her to it."
Like her wedding, Franie's funeral was a huge, lavish affair with all of the underworld's top faces attending. Reggie sobbed throughout and had to be dragged away from the graveside by twin Ronnie.
Frances said: "My mum told me that after Frances' death Reggie had cleared out all of Franie's possessions, taking anything of worth.
"They included a Post Office savings book with £500 in it which my family were convinced he used to pay for the funeral.
"In one of her suicide notes Franie asked that I be given a necklace of hers, but Reggie took it and gave it to his mother Violet.
"All I got was a poodle pyjama case that Franie had on her bed which I still have."
Franie's order of service - which bears a beautiful photo of her - had a poem that Reggie claimed to have written for her.
It reads: "If I could climb upon a passing cloud that would drift you way, I would not ask for a more beautiful day.
"Perhaps I would pass a rainbow, with nature's colours so beautifully aglow, if you were there at the the journey's end, I would know it was the beginning and not the end."
Leafing through the now faded and tattered order Frances, from North London, says: "My grandparents were absolutely broken-hearted by her death.
"It destroyed my dad, he was never the same after. I think he felt guilt that he had brought the twins into our family.
"My nan and grandad blamed Reggie totally. He had insisted that Franie be buried in her wedding dress but when they went to see her in the chapel of rest, nan took it off and dressed Franie in one of her favourite outfits before putting the wedding dress back on.
"Then she wrenched her wedding ring off, they were the last to see her body so Reggie never knew. It gave Nan great comfort to have done that."
What tormented her nan though was that her daughter had not received her dying wish, outlined in a suicide note, that she wanted to be buried under the name of Frances Shea.
Frances says: "She had changed her name back by deed poll and she said in one letter that was the name she wanted to be buried under.
"My grandparents wanted her buried under that name in a cemetery where they could eventually join her after death.
"But Reggie refused to do that. Instead she was buried in Chingford Mount Cemetery with a huge, elaborate headstone bearing the name Frances Kray.
"My nan was devastated. To her dying day she fought to get that changed.
"She went to MPs, the Home Office - I can see her now clutching a piece of paper on which she had written her requests and crying because it had been turned down again.
"My nan would stand sobbing at Franie's grave sobbing at the name on the gravestone and the fact that she was down there all alone.
"After my nan and granddad died, me and other relatives took some of their ashes to Franie's grave and sprinkled them there so that they could all be reunited at last."
Frances hates the fact her auntie's grave, which lies next to the Kray's mother Violet, and near to that of the twins themselves attracts ghouls and 'Kray fans' from all over the world.
Her grave also contains the body of the Krays' nephew Gary who died from AIDs at the age of 44.
She said: "I just wish she wasn't there with them so that she could be left in peace."
In one of her suicide notes Franie asked for 'her things' to be left to Frances. They included letters, diaries and photos.
She said: "My father Frank had them and when he died they should have come to me. But instead his second wife put them up for auction.
"All I received was a tiny amount of photos and a postcard."
After the sale excerpts from Franie's diary in which she spoke of her life of torment with Reggie, who was jailed for life for the murder of Jack 'The Hat' McVitie and only released from jail in 2000 after being diagnosed with terminal cancer, were published last year.
An angry Frances said: "I was totally disgusted by that. They were the private writings of a poor young girl who was mentally ill. They should never have been published.
"My dad would have been horrified. I would never have published them, I would have protected Franie - respected her memory."
"I fear now that the Franie in the film (Legend) will be based on those diaries and letters and that won't be a true reflection of everything she really was."
She says she will watch the movie but adds: "I know I will find it very traumatic.
"I'm hoping that it will honour Franie's memory in a nice way but don't hold up much hope of that."
Over the years her name has brought her trouble. She said: "Once I was in a nightclub and a man threatened to shoot me! He'd had a run in with the twins and someone had pointed me out.
"But now I love and adore the name and am proud to bear it. I just wish it was the name that was on Franie's headstone, not Frances Kray."
Sours: https://www.thesun.co.uk/news/217869/reggie-sat-by-my-aunts-body-for-two-days/
6483
6484
6485
6486
6487