Guide to Hanging Plant Hooks
Hanging your plants has serious perks. Indoors, it helps avoid cluttered counters, adds interest to otherwise bare spaces, and puts pet owners and parents at ease. Outdoors, hanging plants stay out of reach from hungry animals and enhance patio style. Unfortunately, setting up hanging plant hooks can be a pain. Variables that go into hanging plants include weight of the plant, location, ceiling or wall material, and type of hook. We're here to help you figure these details out. Soon enough, you'll have no problem hanging beautiful plants in your home.
close-up of hanging plant
Ceiling Hooks for Hanging Plants
When filled with soil and water, hanging plants can be pretty heavy, so err on the side of caution by purchasing a hook that can hold a weight heavier than your plant's.
To install hanging plant hooks in the ceiling, you'll probably need a step ladder. Use a stud finder to locate a ceiling joist (one of the beams that supports your ceiling). If you don't have a stud finder, knock on the ceiling and listen for a short, firm sound—that's where the joist is.
Buy it: Wideskall Steel Screw Cup Cooks, $5
Mark the location of your hook with a pencil. Select a drill bit about the same diameter as your hook screw's threaded shaft. Drill a hole into the ceiling slightly deeper than the length of the threaded shaft. Push the screw into the hole, gently twisting to tighten until the base of the hook is flush with the ceiling.
Hanging a Hook from Drywall
Hanging plant hooks from drywall is a different process than installing ceiling hooks into joists. Instead of a hook screw, you'll be using a toggle bolt with a hook. Plastic toggles are good for hanging on walls, but do not use on ceilings.
Buy it: Swag Hook Kit, $10
Use a stud finder to locate a hollow spot in the ceiling or wall and mark it with a pencil; toggle bolts cannot be screwed into wall studs. Drill a hole the size of the base of the toggle (usually around half an inch). Pinch the wings of your toggle together and insert them through the hole. When the wings reach the hollow area, they'll open inside of the hole. Tighten the bolt to ensure that the wings are secure against the inner surface of the wall or ceiling. Suspend your plant from this hanging plant hook and delight in your green decor.
Where to Hang Your Plant
The location of your indoor hanging plant hook depends on the plant. Think of it as if you were designing your outdoor garden: Pay attention to sunlight needs. For example, if your plant needs full sun to survive (like an orchid), hang it in front of a south-facing window. Buy swivel ceiling hooks for sun-loving plants so that you can turn the plant, ensuring that sunlight reaches all sides of it.
Buy it: Swivel Ceiling Hook, $6
Credit: Image courtesy of Wayfair
Types of Plant Hooks
An extender hook is a great option for hanging plants on a porch—the sturdy wrought iron will easily hold heavy hanging baskets. Place the extender hook on a wooden beam on your porch and slip the plant onto the hook. This versatile hook can be easily moved. Another hook option for outdoor plants is an iron bracket. This plant hook can be screwed into wooden walls on a porch, fence, or shed.
Buy it: Extender Hook, $18
Buy it: Black Iron Plant Bracket, $4
Image courtesy of The Home Depot
If you're looking for a decorative hanging plant hook, there are plenty to choose from. Swirly wrought iron evokes a cottage feel in this hanging plant hook for indoor or outdoor use. Or, try an ornate bronze hook in the ceiling for an elegant touch.
Buy it: Black Iron Decorative Plant Bracket, $10
The simplest type of plant-hanging mechanism is an S hook. S hooks fit snugly on exposed pipes, rods, or over ledges. They're easily moveable, making them a great option for hanging herb gardens. Also, you don't have to deal with stud finders, a drill, or any other tools—that's a win in our book!
Sours: https://www.bhg.com/gardening/how-to-garden/hanging-plant-hooks/
While Kendall Jenner and Kaia Gerber might be the It girls of fashion, in the interior world it's plants that are stealing the limelight! From large Palms and Fiddle Leaf Figs to smaller Chinese money plants and asparagus ferns, anything goes in the urban jungle! Last month we explored indoor climberswhich have been slowly winding their away up the inside of windows across the continent. And this month I thought we could get into the swing (get it?!) of hanging plants. These guys have been hanging around (this is fun) for a while now and look set to stay! In fact, new and exciting ways to suspend your greenery to new, lofty heights are, er, on the rise! I caught up with my green-fingered friends Igor Josifovic, author of Urban Jungle: Living and Styling with Plants, Hilton Carter, who's incredibly green home I featured here and the Arctic Gardener to get the complete low down and find out more about how we can create our best hanging garden game!
So what makes the best hanging plant? Igor advises "any trailing plant is perfect for a hanging pot as they prefer space to grow freely."


5 great hanging plants
1. English ivy*
2. Heartleaf philodendron
3. Spider plant
4. Devils Ivy*
5. Boston Fern
* the leaves are toxic so keep away from children and pets.
Tip: If you have a ground floor window plants make a great 'natural' screen
.
But Hilton warns "be mindful to not block too much light coming into your windows so that your other plants, sitting away from the window can still benefit."
Hanging plants can be really heavy so you need a sturdy hook and a drill in order to make sure they stay up. Alternatively look for natural places to hang them in your home - like handles, knobs and ledges.
They also make great table decorations. In this space there were no pots necessary as branches were simply hooked over a long cane suspended from the ceiling. The beauty of this is you can update it depending on your mood, the occasion and what you find in the garden / local flower shop!
Continuing on the same theme... using a rail (or in this case, a vintage ladder) is ideal if you're looking to hang lots of plants (and add to the collection as time goes on). This also means less holes in the ceiling (in a bathroom that's always good!).
For a more relaxed look it's good to use a variety of blooms. "I like to mix and match hanging planters choosing different hangers and pots as well as various lengths creating a more lively hanging garden," Igor tells me. "Of course this depends on personal preferences. But usually I would say hanging plants look lovelier when grouped together unless you have one big hanging statement plant."
As long as the plant is suitable for hanging, there are no rules to the types you group. "I like to go free and wild listening to my guts. You can get playful and pair a trailing Tradescantia with purple leaves with a green Bird's Nest fern and romantic ivy plant," enthuses Igor.
When it comes to keeping your plants healthy, Hilton advises hanging them in places you can easily get to. "The easier they are to get to, the more likely you'll keep them alive and healthy."
And to water them; "take them to the shower or kitchen sink, water them and then let them drain out for about 15 minutes before putting them in back in the water," he adds.
You might want to forgo the traditional hanging planter in favour of a Kokedama. Of Japanese origins, a Kokedama is a ball of soil, covered with moss from which a plant grows. Word of warning - these guys need a lot of water and a shady place.
To care for them check the weight and if it feels light, it's time to submerge the ball in water.
Another great option is the hanging terrarium or 'air plant' (source a similiar glass here). The beauty of these is that they are lightweight and can therefore be hung from the branches of other plants.
And finally, the best hanging plant for a beginner? The Artic Gardener suggests opting for a spider plant. "It's really easy to grow so if you're a newbie gardener, you should give it a go."
Now that we're armed with the know-how, all that's left to do is invest in a few planters. Here are some of the prettiest out there:
1. Woven Palm Leaf Hanging Basket
2. Concrete Hanging Planter
3. Raj Hanging Planter Set
4. Mistana Nanette Flower Pot
5. Affiti Hanging Clay Planter
6. Macrame plant hanger
7. Hanging Planter
I hope this has been helpful! I for one, feel much more equipped to create my own hanging garden. I quite fancy one over the bath! Do you have a spot in your home ready and waiting?!
Niki
Sours: https://www.myscandinavianhome.com/2018/05/the-ultimate-guide-to-indoor-hanging.html
Indoor hanging plant pots are a great way to bring the outside in and display houseplants in every room, even where space is limited. Hanging planters are perfect for small, compact spaces, as it taps into the vertical planting trend; using the wall and ceiling to save on floor space.

Hanging plant pots are ideal for dried flowers, and for real plants too (especially trailing plants), just ensure you use an inner plant pot to catch the water. If the planter has a solid bottom, the plant needs to be in a plastic pot with drainage holes first, then placed on top of a dish/saucer inside of the main pot. This is of course dependent on the plant and the size of your hanging pot.
Decorating your home with hanging plants will add instant greenery to your abode, improve your overall health and wellbeing, and add a sense of height to your space. With an array of styles, designs and colours to choose from, you'll have no difficulty in choosing a hanging pot to suit your plant and room scheme.
Here we take a look at two types of planters: hanging plant pots (which can suspend from a ceiling, pole, rack or similar, or against a wall using a hook) and wall hanging planters (which are often mounted and fixed on a wall to appear as if it's floating).
Take your pick from a selection below.
• HANGING PLANT POTS

This chic rope hanging planter will look perfect in a contemporary or modern rustic space. We recommend buying three of these for a cohesive look.
La Redoute
Macramaté Woven Rope Hanging Planter
AM.PMlaredoute.co.uk
£32.00
SHOP NOW
2. Sleek and contemporary
With a curved metal in a brass finish, this ceramic hanging pot is ticking all the style boxes. Easy to mount on the wall or ceiling, it's perfect for ferns, succulents and other greenery.
John Lewis & Partners
Umbra Bolo Hanging Planter, Black/Brass
Umbrajohnlewis.com
£40.00
SHOP NOW
Stay on trend with a brass plant hanger. To create a calming oasis, group a few of these together and add in some colourful foliage to create a contemporary look.

Cuckooland
Dutchbone Oasis Plant Hanger
Dutchbonecuckooland.com
£49.00
SHOP NOW
There's no better way to bring colour to your space than with these hand-painted, splattered hanging plant pots. You can choose the pot colour and splatter colour to personalise it. The pot hangs on a leather cord, which is also available in a range of three colours.
Notonthehighstreet.com
Hand Painted Round Splatter Hanging Planter
HELLO MARILUnotonthehighstreet.com
SHOP NOW
Keep things natural with this beautiful jute hanging basket from Garden Trading. It's perfect to bring some colour to the corner of your kitchen.
Garden Trading
Hanging Plant Pot
gardentrading.co.uk
£10.00
SHOP NOW
This simple and stylish hanging frame can transition from being two to three-dimensional in a single movement. It's available in white, orange, green, yellow and blue.
Lime Lace
Italian Designer Swinging Plant Pot Holder
notonthehighstreet.com
SHOP NOW
Create an eye-catching display for your succulents, cacti and other smaller houseplants with this trio of hanging planters. These hand-finished pots boast a dimpled texture and a dipped glaze in three shades: grey, aqua and blue.

John Lewis & Partners
Burgon & Ball Baby Dotty Hanging Plant Pot Trio, Set of 3, Blue/Grey
Burgon & Balljohnlewis.com
£18.99
SHOP NOW
Isn't this planter gorgeous? Fill the copper bowl with your favourite plants for a luxurious look.
Notonthehighstreet.com
Brass Orbit Hanging Planter
London Garden Tradingnotonthehighstreet.com
SHOP NOW
This super stylish and minimalist iron hanging plant pot is perfect for succulents and trailing plants. It's available in three colours: Antique Gold, Dusty Pink and Jade Green.
Notonthehighstreet.com
Art Deco Style Hanging Plant Pot
POSH TOTTY DESIGNS INTERIORSnotonthehighstreet.com
SHOP NOW
Oliver Bonas' terracotta hanging plant pot in eye-catching cobalt blue, is finished with metallic gold foiling at the base which creates an unique artisanal feel. It's complete with a chunky rope.
Oliver Bonas
Tierra Blue & Gold Foiled Base Terracotta Hanging Plant Pot
SHOP NOW
Boasting an eye-catching chevron pattern that has been etched by hand, this striking planter is the perfect backdrop for luscious green plants.
Nkuku
Kavari Ceramic Hanging Planter
SHOP NOW
The brass trend is here to stay. This indoor hanging planter is perfect for bringing some warmth to your living space.
MADE.com
Beaumont Hanging Plant Pot, Brushed Brass
SHOP NOW
---
• WALL PLANTERS
We're obsessed with this handmade geometric wall planter. Perfect for displaying succulents and cacti, these wall hung antique brass planters provide a unique and stylish backdrop. The frames are hand forged with solder marks evident on the joints and corners, making it all the more charming.
Nkuku
Api Wall Hung Planter - Round
SHOP NOW
Bring a subtle pop of colour into your space with this cute, block metal wall mounted planter.

La Redoute
Uyova Colour Block Metal Wall Planter
SHOP NOW
Sleek and minimalist, this ceramic vessel in a diamond shape wire frame makes for the perfect wall planter.
John Lewis & Partners
Umbra Trigg Large Wall Planter, White
Umbrajohnlewis.com
£20.00
SHOP NOW
This unique concrete circular wall planter is ideal for herbs, trailing plants and succulents. It comes in a range of sizes.
Etsy
Concrete round wall planter
PETULAPLASetsy.com
SHOP NOW
Perfect for a monochrome room scheme, these metal wall planters are both contemporary and stylish.

La Redoute
PAVO Metal Wall Planters (Set of 3)
Product Descriptionlaredoute.co.uk
£60.00
SHOP NOW
---
Like this article? Sign up to our newsletter to get more articles like this delivered straight to your inbox.

SIGN UP
This content is created and maintained by a third party, and imported onto this page to help users provide their email addresses. You may be able to find more information about this and similar content at piano.io
Sours: https://www.housebeautiful.com/uk/decorate/display/news/a288/7-indoor-hanging-planters/
Hey guys! I'm glad you're here today because I'm sharing some really Clever Ways To Hang Your Plants. I've been into hanging plants recently. One, because I have small children and two, because I'm running out of room. The plant struggle is real! I follow some really inspiring people on Instagram and below are some of my favorite hanging plant ideas.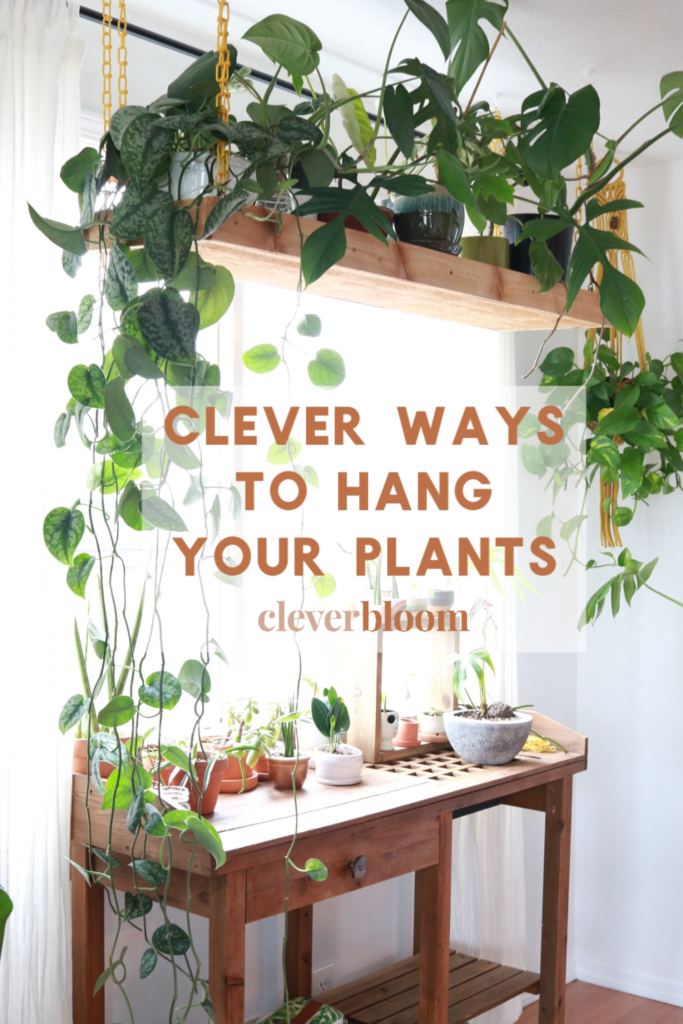 Be sure to read to the end for product links to get some of these looks! Affiliate links may be used in this post.
Clever Ways To Hang Your Plants
This is Deanna's house. She shares her vintage style and love for plants on Instagram @habitpattern.sf. I need to visit her home someday (for obvious reasons) but I'm sharing this picture today because I LOVE this tension rod ( similar to this one or this one) she uses to display her hanging plants. It's perfect for someone in an apartment or temporary living situation.
This photo is from @tribeandus. I have a total crush on them. Their house is so amazing and their little family is SO CUTE! In their bedroom, they've used S hooks to hang macrame plant hangers on everything from existing light fixtures to hung wall art. It's a great way to hang plants without putting too many holes in your walls. They also just started a blog tribeandus.com with plant DIYs and Inspiration!
Shay shares her craftiness and her plant obsession at @stitchandtape. I love what she did here by using the plant's own macrame hanger as a trellis of sorts. It looks like the plant is growing up and right back down! Shay also uses S hooks on her curtain rod to hang these plants. Easy peasy!
Scott is the KING of balcony gardens. I mean look at this place! It's his own little tropical oasis. My favorite thing about Scott's balcony is how he uses all different styles of plant hangers to really create the perfect eclectic jungle vibe. Follow him on Instagram @tropicaloco
Welcome to my home! This hanging shelf is something I had my husband build for me. AND I LOVE IT! It took an afternoon and some time to hang it but that's it! It's just unfinished wood but the plants will eventually cover it up 🙂 Check out this video to see how to make it!
Ohh Chi…this girl has so much style! Owner of simplychivintage.com, she has a way of finding vintage pieces and mixing them to create a boho eclectic style. She incorporates a lot of plants into her home and work. In this photo, Chi shows us how you can take just about anything and make it into a planter. With a little bit of string and a sturdy decorative branch, now you have a funky plant display that's so unique! She has tons more inspiration on Instagram @simplychivintage
Morgan from @plantingpink has done something so simple here but I love it! She took two macrame plant hangers and hung them on the same hook. That's it! It makes for a fun grouped together look that you can always switch out from time to time.
Laney from @pineandbirch makes really amazing, quality wood signs. In this picture I love how she's hung a leather planter from a coat rack. It's such a fun way of displaying plants in your entryway.
Jeannie Phan is an illustrator and a plant lover. She shares her plant love and decor on Instagram @studioplants. I love how she mixes a bright white modern looking home with plants housed in vintage baskets (similar to this one). In this photo she hangs vintage baskets on the wall with vining plants like philodendrons.
Sabrina has an awesome Instagram account full of beautiful plants. This picture in particular made me stop scrolling and go back. I've always been a fan of exposed beams. There is something very industrial about them that I love and when I saw that she hung plants from one, I was like, WHAT?! It just looks so cool. She used hook lag bolts to hang her macrame plant hangers.
@theoperatingsystem is one of my favorites to follow on Instagram. Olena has an eye for fancy foliage and really proves that in her photography. She's in a NY apartment and finds brilliant ways to hang and display her huge plant collection. Here she's using a coat rack (I believe) to hang her plant hangers. It's a great idea especially if you live in a place where you can't put holes in the walls or ceiling.
I hope you were able to find some Clever Ways To Hang Your Plants today! Follow all these plant lovers on Instagram for daily inspiration. You might also like this post where I share some of the best plants to hang in your home. Below are some links to help you get these looks. They are affiliate links so check out my disclosure policy if you have any questions. Have a great day!!
Sours: https://cleverbloom.com/clever-ways-to-hang-your-plants/
Plant hooks hanging indoor
The 6 Best Hooks For Hanging Plants
Each plant has its own unique needs, so it's important to find a spot with enough sunlight and out of reach from curious pets. That's where plant-hanging hooks come in. Whether you're looking to find the best light for your plant, keeping them away from pets, or just simply decorating, the best hooks for hanging plants should be strong enough to hold your plants (pot and all) and easy to install.
There are tons of hooks and other contraptions that can hold up your pots, but you first want to consider the best environment for your plant. Will it thrive indoors under a lamp? You may want to opt for a ceiling hook and chain combo so it can dangle beneath the light. Also consider if your plant will hang indoors or outdoors on a porch or in a backyard. That will dictate which hook is right for you.
You also want to consider your own personal style. While metal wall hooks may look gorgeous in your farmhouse-style kitchen, you may not love the look as much if you're into more modern decor. And while pulley hooks make caring for your hanging plant so much easier (you can lower your plant easily, water it, and then return it to its place), they are a bit bulkier and less decorative than other options out there.
No matter which way you go, having a study plant hook that looks great indoors or outside is key. Here's a round-up of some top notch picks to choose from.
Sours: https://www.bustle.com/p/the-6-best-hooks-for-hanging-plants-21780447
How To Hang Indoor Plants From the Ceiling
Little green flying saucers. But now I hear Stepka's rude voice and my night fears, dreams and thoughts have disappeared, what are these idiots up to. Let's get up. In a quiet, disembodied shadow, I slid behind them in my soft Chinese sneakers, trying not to crunch a dry twig. Although they were flying ahead like a herd of wild boars.
Similar news:
I worked in the place Vitaly, my husband, although he is not my boss, but today he. Was also with us, he belonged to the financial department and in a place with the commercial director Galina Petrovna, a very plump woman, but smart, today he was sitting all day and considered. In recent years, he has become disgusting, then this is not so, sometimes it infuriated me, for the second year he finds fault that we have not a house, but.
A hotel, but what did he want if I was constantly on business trips, he himself insisted, almost forced me to work for factory. Probably he was annoyed by the fact that sometimes I earned more of him and was a little more free than he himself.
448
449
450
451
452