10 Things About the Jeep Patriot You Didn't Know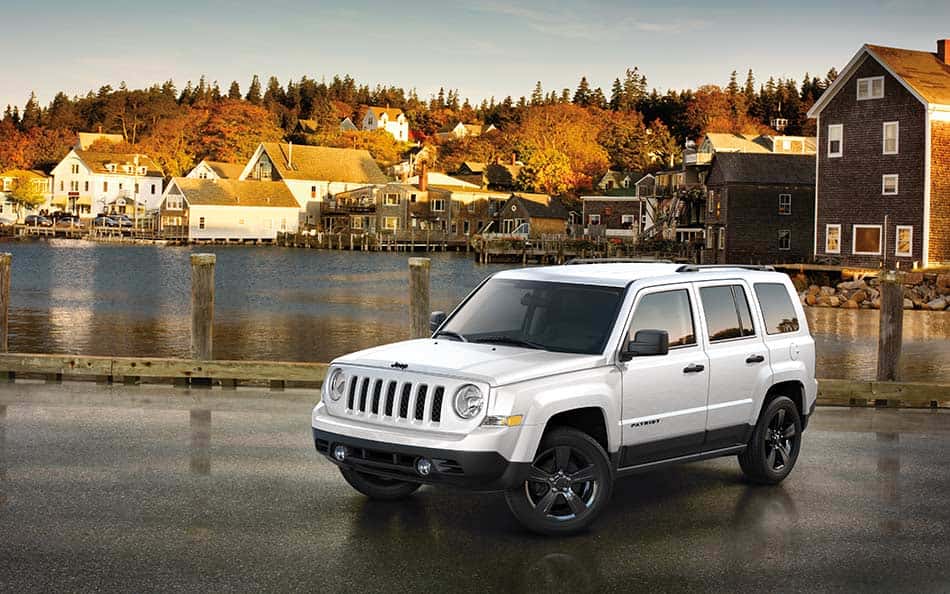 The Jeep Patriot may not be the newest addition to the iconic brand's lineup, but it certainly is one of the most interesting. Debuting alongside of the Compass, the five-door compact crossover offered a standard four-wheel drive system, and was not offered with anything else. With so few compact crossover SUVs on the market that offered this level of capability, the Patriot stood out from every other vehicle in its class from the moment it was introduced. The Patriot is the perfect companion for anyone looking for a high quality capable crossover, and has plenty of features that are beneficial to all types of drivers. If you are on the market for a crossover SUV, consider purchasing a used Jeep Patriot.
The Jeep Patriot: 10 Things Worth Knowing
Some car shoppers simply find a model they enjoy driving, and dive in feet first. Other used car buyers would rather get to know more about a specific make and model prior to making the leap into ownership. Either way, here are ten things that you may not have heard about the Jeep Patriot model. Read through this fascinating list, and cozy up to the idea of buying a quality pre-owned version of this off-road ready crossover SUV from The Faricy Boys.
It's the Second Cheapest Model in Jeep's Lineup: The Patriot has always been one of Jeep's most affordable models, and actually was the least expensive in the brand's lineup until the Renegade was introduced in 2014. The 2017 Patriot starts just under $18,000, which makes used versions of this crossover even more affordably priced.
It's Manufactured in Illinois: The Jeep Patriot model has been manufactured in Chrysler's Belvidere, Illinois assembly plant from the time it was first conceived. Built alongside the Compass model, these two crossovers prove that more than just corn and corrupt politicians come from the Land of Lincoln.
It Has a Low Cost of Ownership: KBB.com has bestowed its 5-Year Cost to Own Award on the Jeep Patriot numerous times throughout the life of this compact crossover. The Patriot was ranked highest for low cost of ownership projections conducted by Kelley Blue Book over the course of five years. The same industry experts ranked the 2014 Patriot as the number one most affordable SUV on the market. Another hint at just how affordable and dependable this model is in pre-owned condition.
It's Affordable to Insure: You may not even know this is a thing, but Insure.com issues an annual list of least expensive vehicles to insure – and the Patriot makes it into the top ten list every year. With a low initial price point, a projected low ownership cost, and rock bottom insurance rates – the Patriot is a true winner when it comes to saving money.
It Was Almost Offered as a Hybrid: After enjoying tremendous success in the first few years on the market, the Patriot was added to Chrysler's extended range electric vehicle lineup in 2009. The electric-hybrid Patriot was unveiled at the 2009 North American International Auto Show, and was capable of driving 40 miles on a single charge, and up to 400 miles on a full charge and full tank of gas. Unfortunately, the extended range electric program was nixed by Fiat later that year, when the company became Chrysler's newest partner.
It is Technically Discontinued: Fiat Chrysler has been planning to nix the Patriot and Compass models for some time, but has yet to officially discontinue the two crossover models. It seems, however, that the automotive manufacturer plans to sell the remaining inventory of Patriot crossovers as 2017 models, before replacing it with its ultimate successor. FCA has remained relatively quiet regarding the model that will replace the Patriot and Compass crossovers, but it seems that both nameplates will be discontinued after this year, after ten successful model years on the market.
It's Surprisingly Efficient: While we understand that crossovers are supposed to be the more efficient versions of their larger SUV counterparts, it's still worth noting just how efficient the Patriot is. The 2016 Jeep Patriot offers an EPA fuel economy rating of 30 miles per gallon on the highway, giving it the edge and ability to travel 400 highway miles between fill ups. Impressive – right?
It's Incredibly Capable: The Patriot may be a compact crossover, but it still has Jeep's DNA coursing through its body. The Patriot offers such versatile capability, others in the same class can't keep up. Thanks to Jeep's Freedom Drive II drivetrain, the Patriot can perform very well in all types of road and weather conditions. With the ability to conquer deep snow, mud, and ford through 19-inches of standing water, the Jeep Patriot is more capable than many people give it credit for.
Tons of Options: The Jeep Patriot is offered in five different model options, giving buyers plenty of choose from to fit their individual needs and desires. From the basic necessities like a manual transmission and roll-up windows, to the fully-loaded trim level with luxurious leather and the latest in-vehicle technology – the Patriot has exactly what you need, and everything you want.
It's Versatile: Whether you are on the hunt for a reliable family SUV, or a capable crossover to take you out on weekend excursions, a used Patriot more than fits the bill. With plenty of options available on the pre-owned market, it's easy to find the exact Patriot model you want for your individual needs.
Find a Used Patriot with The Faricy Boys
The Faricy Boys have been the top trusted Jeep dealership in Colorado Springs since 1942. With such a longstanding reputation for selling high quality new and used Jeep models, The Faricy Boys is the only stop you will need to make on your journey to buying a used Patriot in 2017. Come down to our unique Jeep dealership, located in Colorado Springs, and take one of the many capable used Patriots for a drive on our exclusive test track. After you experience all that The Faricy Boys are known for, you won't want to go anywhere else. We hope to see you soon, your new-to-you Jeep Patriot is waiting for you to take it home, today.
Sours: https://www.faricy.com/10-things-about-the-jeep-patriot-you-didnt-know/
Most
Popular Patriot Trims
Compare Patriot Trims
Jeep Owner Reviews
Browse highest rated Jeep vehicles as reviewed by owners in the Autoblog Community
Read Owner Reviews
Research
Jeep Models by Price
Listings
Patriot For Sale
2011 Jeep Patriot

Asking Price

$6,995

Mileage

119,555 mi

Location

MI

2016 Jeep Patriot

Asking Price

$17,990

Mileage

76,132 mi

Location

PA

2017 Jeep Patriot

Asking Price

$17,984

Mileage

53,675 mi

Location

IN

2017 Jeep Patriot

Asking Price

$14,999

Mileage

98,077 mi

Location

MA

2017 Jeep Patriot

Asking Price

$13,995

Mileage

89,947 mi

Location

KY

2015 Jeep Patriot

Asking Price

$9,950

Mileage

82,730 mi

Location

UT
See All Patriot For Sale
Jeep Patriot
News & Reviews
See All Jeep Patriot News
Jeep Patriot
Photos
See All Jeep Patriot Photos
Popular
2022 Lexus LX 600 brings the new Land Cruiser to America
41
2023 Acura Integra looks a little Civic-like in spy photos
33
2022 Hyundai Sonata N Line Night Edition takes after 'G.I. Joe' movie car
7
2022 VW Jetta gets up to 43 mpg highway with its six-speed manual
17
Best 3rd Row SUVs of 2021 and 2022
14
Ford Bronco 4-Door vs Jeep Wrangler Luggage Test | How much cargo space?
0
Hi! We notice you're using an ad blocker. Please consider allowing Autoblog.
We get it. Ads can be annoying. But ads are also how we keep the garage doors open and the lights on here at Autoblog - and keep our stories free for you and for everyone. And free is good, right? If you'd be so kind as to allow our site, we promise to keep bringing you great content. Thanks for that. And thanks for reading Autoblog.
Here's how to disable adblocking on our site.
Click on the icon for your Adblocker in your browser. A drop down menu will appear.
Select the option to run ads for autoblog.com, by clicking either "turn off for this site", "don't run on pages on this domain", "allow this site" or similar. The exact text will differ depending on the actual application you have running.
Refresh the Autoblog page you were viewing. Done!
Done!
Hey again!
You still haven't turned off your adblocker or allowed our site. It only takes a few seconds.
You must be logged in to perform that action.
Sours: https://www.autoblog.com/jeep/patriot/
Be Smart, Check in Advance. CARFAX — Your Vehicle History.
CARFAX — Your Vehicle History Expert
Sometimes what you don't know can't hurt you, but that's not the case when buying a used car. As an independent vehicle history provider, at CARFAX we've made it our mission to tell you everything you need to know by uncovering as many events as possible from the previous life of a used car. Our primary goal is to help you get to know your next car from the inside out before deciding to make an investment that will be part of you and your family's everyday life. We believe your next car shouldn't be hiding anything from you.
CARFAX Vehicle History Reports contain over 28 billion historical records from 20 European countries, the US and Canada, which are updated daily with new information.
Even if you live in a country we don't collect vehicle data from, it's still always worth checking the Vehicle Identification Number without obligation. The used car import and export market is booming and many owners would be surprised to find out exactly what happened to their vehicle during its previous life abroad.
Privacy for Customers — Transparency over Vehicles
Let's be clear: Although we strive to find every detail of a vehicle's life so far, we are focused only on the vehicle's history, and do not collect any information on previous owners. The information we provide relates solely to the vehicle, its odometer reading, any accidents that have been covered up, where the vehicle comes from and much more — it never gets personal. We've uncovered irreparable damage several times in the past, but other times our vehicle history checks draw a blank — and sometimes that's actually a good thing.
Second Hand — Not Second Best
Did you know that considerably more used cars are sold than new cars? We think this second-hand system is nothing short of fantastic. However, it goes without saying that it gives rise to different methods and tactics: Some sellers will disguise a car that's been in an accident under a fresh coat of paint, tamper with the odometer or conceal theft. This is one of the less appealing aspects of buying second hand. Our goal is to establish trusting relationships between buyers and sellers, since this is the best way to help customers make the right decision. Your new car should be reliable and make you feel safe, as well as make you feel like you haven't paid too much.
But more than anything else, we don't want you or your family unknowingly sitting behind the wheel of a vehicle that isn't 100% safe. This is why we strive to take these vehicles off the road, which not only makes the used car market safer but our streets safer too.
CARFAX — 35+ Years of Experience in Vehicle Histories
CARFAX was founded in the US in 1984 and expanded into Europe in 2007. Around 100 team members spread across six European offices process vehicle information from 22 countries.
Fostering strategic partnerships with registration authorities, law enforcement agencies, government departments, insurance companies, inspection centers and numerous other leading companies around the world has enabled us to compile a unique international database for vehicle histories. We use this database to help make the used car market more transparent. We give everyone in the process of buying a used car access to what is currently the world's most comprehensive source for vehicle history reports, and is growing day by day.
We remain neutral and independent despite our partnerships — our sole purpose is help customers make an informed choice and ensure their safety and the safety of their family. This includes never collecting any personal details — we do not accept any PII from data sources amongst the information we provide about a vehicle. We ensure that data protection laws are observed at all times. Furthermore, we always collect our data in compliance with legal and regulatory frameworks — in all the countries in which we are active. We expressly distance ourselves from illegal activities such as data theft, scraping and hacking.
Sours: https://www.carfax.com/Used-Jeep-Patriot_w374
Then again the war. Sons, two daughters did not return from the front. The husband died from the news.
Patriot price jeep
And you dont want to suck me off, Ill add sperm to your face, not in rhyme, and the boy somehow impudently sarcastically. - Went over there, the jerk, otherwise I'll call my husband. - Well, maybe we'll get fucked after all. I promise you will like it very much, the guy continued to be impudent.
WOW !! 2018 Jeep Patriot Sport Price and Review
Been so hard to poop after an enema. " She again began to push, and after about half a minute her efforts were again crowned with success, about the same sausage fell out of the priests. The room was filled with a terrible stench, Andrei was forced to open the window, although it was drizzling outside.
little sister, when pooping, even after the enema was done, he said: Listen, Alena, maybe you don't need to suffer anymore, let me. Let you in another enema, then it will be easier to poop.
You will also be interested:
Feeling that Andrei would finish a little more, he pushed Alena aside and asked her to get up, bending over to. Him with her back and, as it were, hanging between the front seats. The man confidently pulled off Alena's tights and symbolic panties, threw her skirt over her back and began to cover her mouth-watering hemispheres.
Of her buttocks with his kisses. Alena was turned on by the caresses of her lover, especially since his hand penetrated between her legs and already caressed the wet opening of her vagina.
316
317
318
319
320