Rules
Respect everyone
We are all here to play Minecraft and have fun. These rules are created as a guideline not an example of how to get as close to being an asshole as possible. Don't be mean or intentionally troll other players. All players, regardless of rank, deserve to be heard and respected. Therefore don't spam, excessively curse, or advertise anything outside of our server. Also Racism, sexism, homophobia, or hate towards any group or person is not allowed.
Listen to staff
If you have any questions or issues, staff can be found on our Discord. Our staff team works together on decisions and always makes sure there are 3 separate offenses. Playing on our server means you agree to follow these rules and accept punishment if broken. We do not share "proof" of things like x-ray, we will not educate the cheaters on how not to be caught. If you don't trust our judgement, you're free to find another server to play on.
Respect people's boundaries
People are allowed to decide whether or not they want to play with you. I know its frustrating when you want to play with someone and they don't want to play with you. It hurts when you are rejected, I understand that. But that doesn't mean you should make them feel guilty to play with you anyway. If someone copy pasted this to you, know that they don't hate you, they just want you to realize that they are setting boundaries and the only respectable way to react is to respect those boundaries.
No hacking or cheating
You are responsible for what happens on your account. X-ray, flying, using glitches (including but not limited to any form of duping), exploits, macros and any kind of hacking is not allowed. If it looks like you are cheating its treated like you are cheating! (For example using the math thing to dig straight down to diamonds looks like xray so is not allowed!) Having more than 2 accounts is not allowed. Any form of auto clicking is not allowed. If you cheat in any way in the minigames you will lose access to the minigames forever and get a marking showing everyone that you cheated, so they know to be careful when dealing with you.  
No anti-afk
You are kicked from the server after being AFK for 1 hour. If the server is full, you are kicked after 10 minutes. Using macros or anything else to get around the anti-AFK is not allowed.
Claim your builds
Use claim blocks to protect your builds and items. Players can take from unclaimed chests. A player can claim 1 of each type of natural structure to do with as they please. Except for Pillager Outposts, these are preserved so people can get bad omen there. If a player has not logged into the game for 1 month you can request their claim to be removed. Claims from Galaxy and above will not be unclaimed.
No griefing
Griefing is breaking or placing blocks in a way to ruin the server environment. This includes but is not limited to, placing or breaking random blocks in the wilderness or other players builds, placing water or lava, intentionally using exploits to harass players. Breaking transportation (pathways, railways, etc) is not allowed.
Keep spawn presentable
Please keep the view around spawn presentable. Spawn is the first thing new players see so keep that in mind when you build close enough that it's visible from spawn.
Don't murder
Killing players without consent is not allowed. Preventing players from getting back their items from their death chest is not allowed.
Don't break the server
Create redstone builds to be efficient. Animal farms are allowed, but if they cause lag you will be asked to downsize. Spread out automated farms. If you are unsure if something is going to harm the server, ask staff. Failure to comply with staff directions continuously is bannable.
Do not abuse the rules to joke around
Do not pretend your friend did something to get them punished
The rules are here to keep this server fun for everyone to play on together. We all come here for the community. Keep the community in mind when you play on our server and you will see a lot is possible here. Remember that we are all here to have fun, even the staff. The admins have alt accounts to play normally, if you know who we are please respect that we use those accounts to step away from being admins and just relax. You can always contact us on Discord and we will get back to you asap.
.. ...
Sours: https://vanillarite.club/rules-vanillarite-a-minecraft-smp-server/
🦜🌟 How to Play Craftadia (IP: smp.craftadia.com) 🌟🦜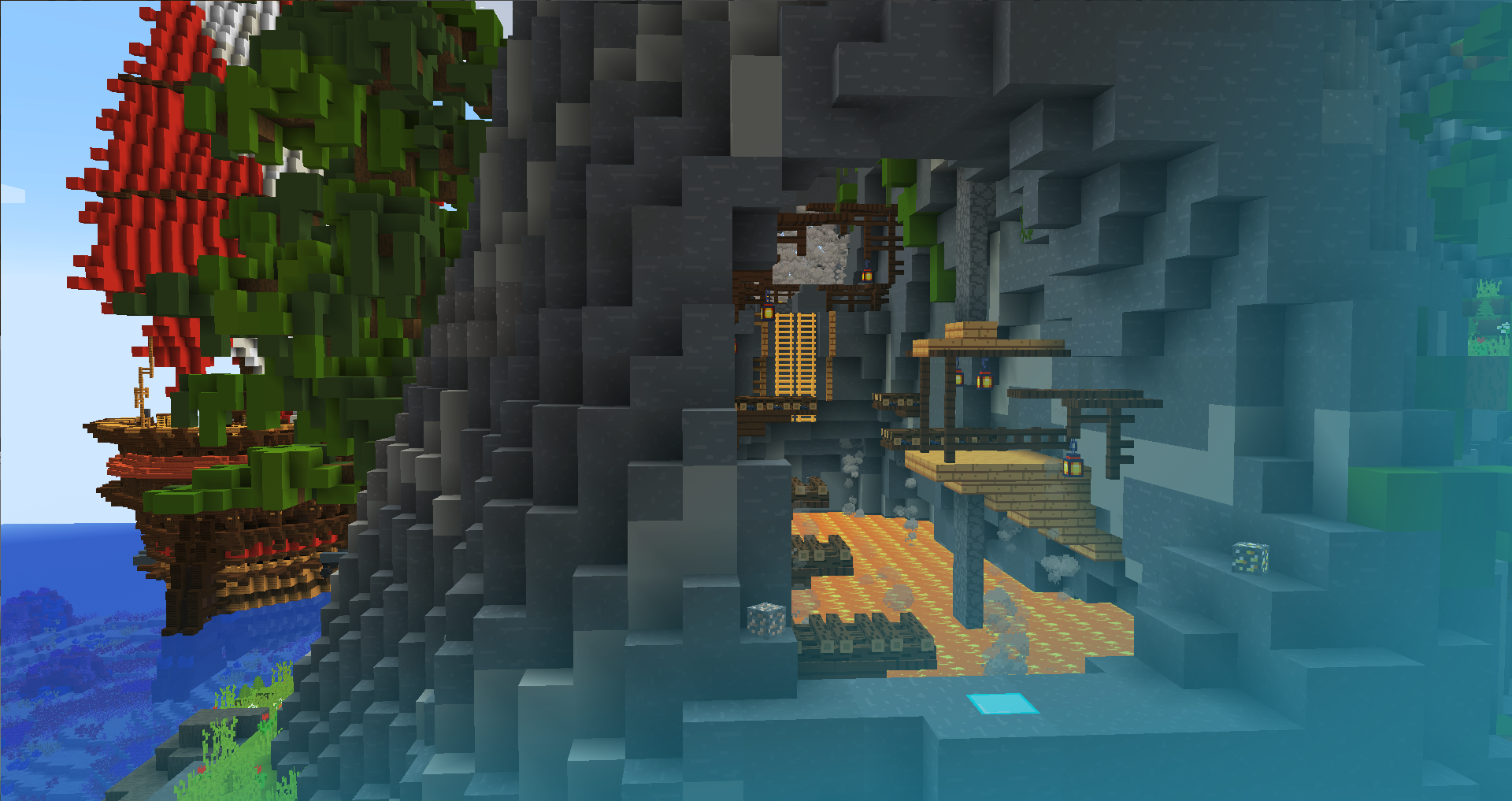 If you're interested in joining the Craftadia Minecraft server, you're in the right place!
Craftadia is a revolutionary Survival experience that focuses on bringing players together unlike ever before!

Our server is a grief-free and protected area where anyone and everyone can come online and play with others. We strive to provide a custom experience while maintaining the pure survival gameplay.

We have dungeons, custom shops, land claiming, guilds and so much more! What are you waiting for?

IP: smp.craftadia.com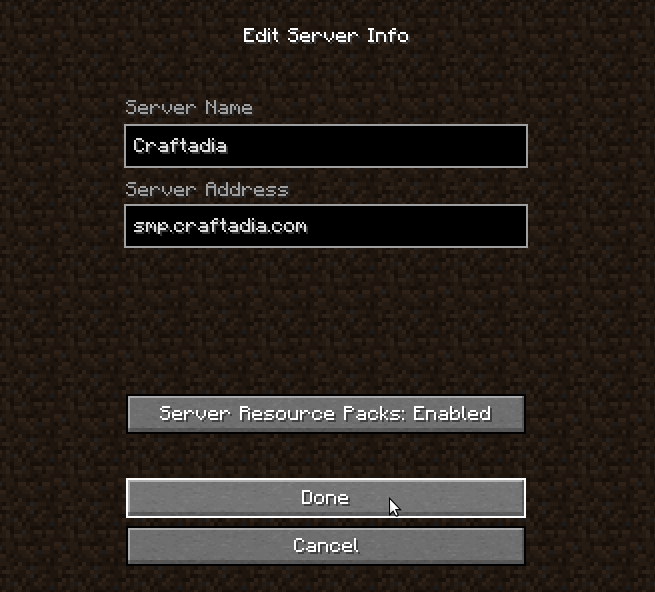 To get started, you'll need a Minecraft: Java Edition account. If you don't have a Java Edition account, you'll need to purchase one here. You should also copy the IP to our server:
smp.craftadia.com

Once you've got your Minecraft account, open the game and press Multiplayer. Make sure you are on version 1.17 or above.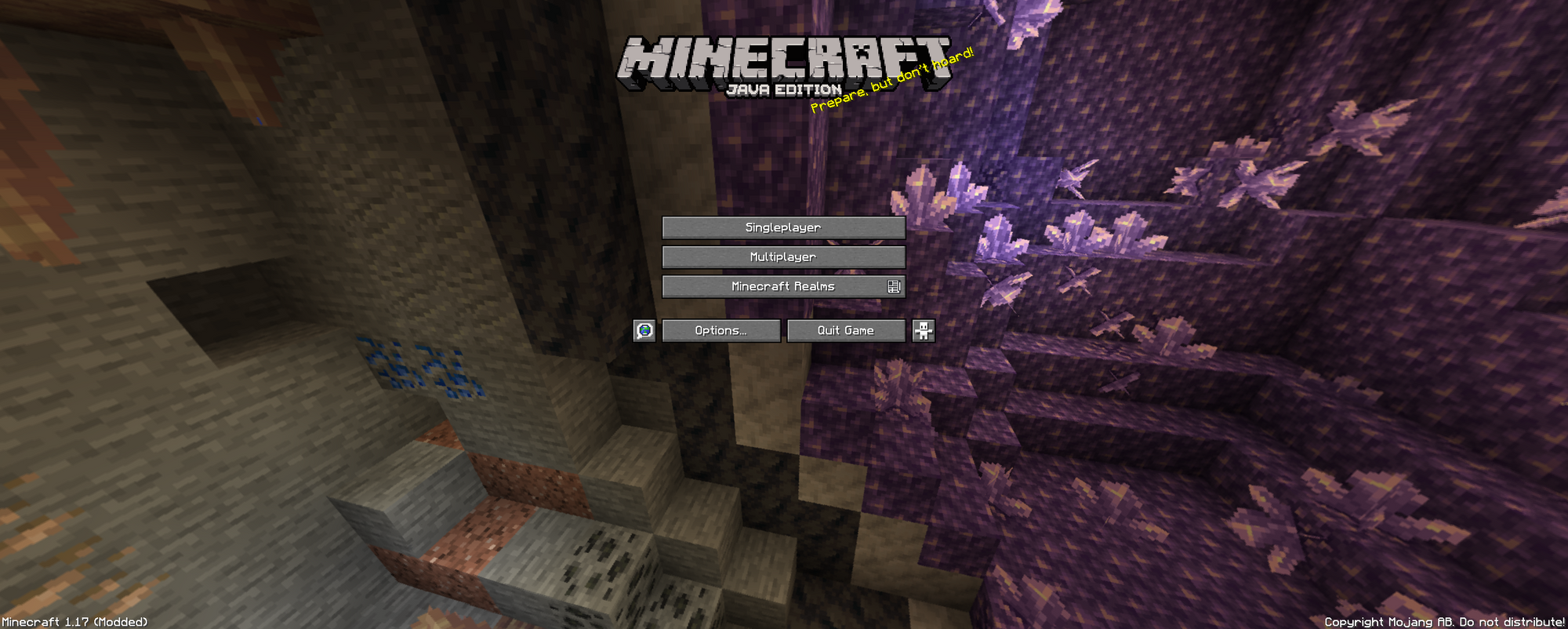 2. Once you're in the Multiplayer server list, hit the Add Server button at the bottom.

3. Under Server Address type in "smp.craftadia.com" and adjust the Server Resource Packs setting to Enabled. Once you're finished, press Done.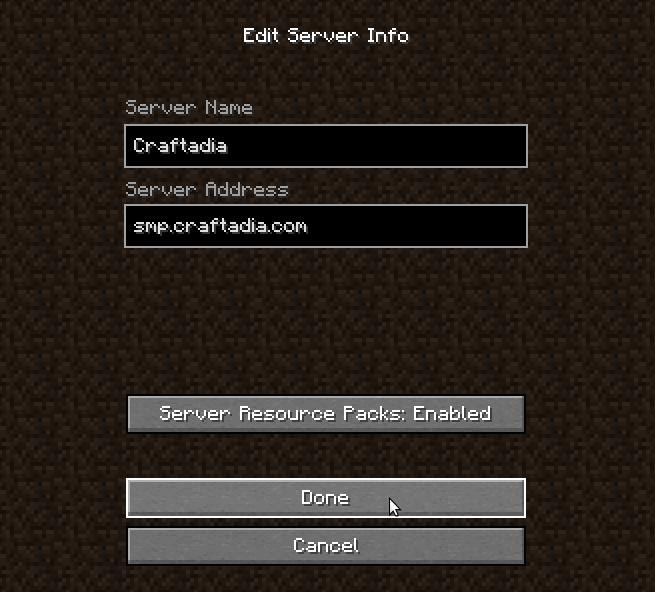 4. Press the play button in the top left of the server or double-click it. You're on your way to entering the Craftadia Minecraft server!

To get started with playing, follow the instructions on your screen!
Sours: https://craftadia.com/smp/
Best Minecraft Servers
What is the server IP for Minecraft Smp?
The server IP address for Minecraft Smp is Server608.aternos.me. In order to find the server IP please use the information provided on the left side of this page.
How do I play on the Minecraft Smp Minecraft server?
Open the launcher, next click the "Play" button then select "Multiplayer" from the menu.
Click "Add Server" tab and input the text Server608.aternos.me on the "Server Address" box then hit "Done".
Once the connection is available and turns green you may click on "Join Server" button to play on Minecraft Smp.
What version does Minecraft Smp server support?
Minecraft Smp supports Minecraft version: 1.17, you may also use any other older or lower versions to connect and play on the server.
Where is Minecraft Smp minecraft server hosting located?
The Minecraft Smp server is currently hosted in United States and has a great connection.
Where gamemodes can I play on Minecraft Smp?
You can play Survival, on the Minecraft Smp Minecraft Server.
Sours: https://best-minecraft-servers.co/server-minecraft-smp.1097
Minecraft SMP Servers
1
EmperixMC.Private Until 1.18 JOIN OUR DISCORD TO BE THE FIRST TO PLAY
SurvivalBedrock And Java CrossplayJavaSMPRanksProfessionalEconomy
1.17
0/72
2
OreoMC⛏Java+Bedrock Survival SMP! Play.Oreo.gg
SurvivalVanillaEconomyFactionsTownyProfessionalLand Claim
1.17
10/250
3
VIMC - SMP (Java + Bedrock)1.8 -1.17 Vanilla SMP | Java And Bedrock | vimcsmp.apexmc.co
Bedrock And Java CrossplaySurvivalProfessionalSMPVanillaJavaBedrock
1.17
8/32
4
VIMC - SMP (Java + Bedrock)1.8-1.17 Vanilla SMP | Java And Bedrock | vimcsmp.apexmc.co
BedrockBedrock And Java CrossplayJavaVanillaEconomyMCMMOPvE
PE
8/32
5
FlightSMPSmall SMP Server for Everyone
SMPSurvivalEconomyJobsRTPKeep InventoryFun
1.16.5
4/50
6
EnvySMP1.17 & Bedrock Support
SMPBedrock And Java CrossplaySurvivalEconomySpigotLand Claim
1.17
2/100
7
play.exotic.wtfVanilla SMP with Bedrock Crossplay!
SurvivalVanillaProfessionalJavaSMPNo WhitelistPaper
1.17
0/0
8
SpectureCraftWe are a community driven crossplay smp server!

SurvivalEconomyPvEBedrockRanksJavaSMP
1.17
5/45
9
Advancius Network 🌟FREE RANKS🌟We offer a 100% free rank system integrated with our 20+ gamemodes!

BedrockBedrock And Java CrossplayUHCSMPNeed StaffRankUPMob Arena
1.17.1
23/200
10
MC64Semi-Anarchy Economy - SMP/PVP - Cracked

SurvivalRankUPPaperSMPNo WhitelistJavaTPA
1.17.1
8/16
11
Ferrum Overload 3Create, Vanilla++ and modded generation, do something BIG

ModdedcreateCustomSurvivalVanillaFTBLand Claim
1.16.5
0/999
12
Omega Disaster Stage IIRTOS Escape but the Horror Comeback
ModdedFactionsPvEPvPSurvivalLand ClaimEconomy
1.12.2
0/160
13
CatcraftA fun, friendly and enjoyable semi-vanilla survival experience!

SurvivalSMPBedrock And Java Crossplay
1.17.1
26/100
14
VanillariteVanilla server, with some plugins, that keeps the players in mind.

SurvivalRanksLand ClaimRTPNo WhitelistSMPAdult
1.17.1
7/20
15
The Golden EmpireRPG Economy-based survival

SurvivalPvPEconomyElytraRPGMCMMOPvE
1.17.1
7/2000
16
NetherLandVanilla Survival!
VanillaSurvivalBedrock And Java CrossplayJavaBedrockSMPLand Claim
1.17
1/25
17
KillerCraftnew survival server with great staff and friendly discord

SMPLand ClaimNo WhitelistEconomyJavaBedrock And Java CrossplayBedrock
1.16.5
1/20
18
IllusiveMC SurvivalSurvival + MCMMO + VeinMiner!

JavaSMPFamily FriendlyLand ClaimVanillaSurvivalBungeeCord
1.17.1
1/35
19
Easy SMPWe've got Bedrock & Java cross play Towny Economy server
EconomyTownyBedrockSMPGrinding
1.16.5
3/500
20
SMP UnlimitedSurvival For Everyone!

SurvivalRPGMCMMOLand ClaimRTPSMPCustom Enchantments
1.16.5
3/100
Sours: https://mcservers.top/
Smp server minecraft
What SMP Means In Minecraft
It's apt to describe SMP as one of the more popular modes in Minecraft, but even within that context, there are a lot of different submodes.
A decade after its release,Minecraft remains one of the most popular games with millions of players. Minecraft is almost its own platform more than a game, since part of the joy is finding servers with unique mods and playstyles. In that sense, a term that can't be ignored for new players is SMP.
Really, Minecraft has been a sandbox since the beginning. There are three main modes in the game: Survival, in which players have to scavenge for food and resources; Creative, which removes threats for the sake of building projects; and Adventure, which is similar to Survival but offers more structure, including scripted server commands via command blocks. Indeed server mods have enabled a universe of possibilities beyond what was originally envisioned.
Related: Minecraft's Coolest Port Never Got A Promised Key Feature
SMP stands for Survival Multiplayer, effectively the core experience of Minecraft without any of the more elaborate mods. Even within that context, however, there are several variations, as Apex Minecraft Hosting notes. For purists, it's best to hunt down Vanilla servers - these have few (if any) mods, and may be good launching points for people just branching out from single-player. Friendlier still are Vanilla PvE or Peaceful servers, which disable the option for players and AI enemies to attack. Newcomers to the game should start here if they can, since it can be frustrating to lose inventory or building progress.
Modded Minecraft Offers Rewards And Danger
Modded servers come in many different varieties, so once Vanilla Minecraft is played out, it's really a matter of trying different ones until something clicks. One step up is a Semi-Vanilla server, which simply smooths over some of the game's rough edges, like adding a shop that lets players sell items to each other instead of conducting manual trades. For a challenge, Skyblock servers drop players on small floating islands, Faction servers are based on conquest, and Anarchy servers are complete chaos. In fact, if Peaceful is a great introduction for beginners and children, Anarchy is the exact opposite - players should be prepared for cheating, griefing, and offensive language and buildings.
SMP in general may not be for everyone. Some players are attracted to Minecraft as if it were a Lego set - and though it is possible to build massive structures in Survival, it's better to stick to Creative to avoid having days of work destroyed by a creeper. Particularly in the case of Anarchy servers, players who have their own definitions of fun may prefer more difficult Minecraft SMPs.
Next: What Minecraft May Look Like Ten Years From Now
Source: Apex Minecraft Hosting
ShareTweetEmail
Zelda's Bolero of Fire Song Played On Real Ocarina At Active Volcano
About The Author
Roger Fingas (307 Articles Published)
Originally from Ottawa, Canada, Roger now lives with his family in Austin, Texas. He has years of experience in tech writing, and his gaming specialties include FPS and VR games on the PC.
More From Roger Fingas
Sours: https://screenrant.com/minecraft-smp-meaning-survival-multiplayer-mode-server-vanilla/
Public Minecraft SMP (free to join)
OfflineTV's SMP Server Proves Why Minecraft Has Taken Over Twitch
By Brittni Finley
ShareTweetEmail
After streaming its last Among Us session for the time being, OfflineTV is capitalizing on the Minecraft hype with a new private SMP server.
When it was released back in 2011, Minecraft was often thought of as a kid's game. It was an instant hit among the age group, and now, ten years later, many of them are in their late teens or are young adults, but they haven't moved on from Minecraft's blocks and pixels. Now, it's common to see content creators on Twitch and YouTube seeing wild success because of the sandbox video game, such as the faceless creator Dream. Some even say that Twitch got off the ground because of Minecraft.
OfflineTV recently started a new SMP server, or survival multiplayer private server among the house and their friends, bringing together some of the internet's most popular content creators including Disguised Toast, Pokimane, Ludwig, and even an old YouTube favorite, Ryan Higa. Minecraft has been one of the biggest games of the decade, and yet this new surge of popularity among Twitch streamers and content creators shows that the game is still growing in popularity with no signs of stopping.
RELATED: Twitch Streamer Ludwig Banned from Instagram for Bizarre Reason
Minecraft's Massive Audience
The power in numbers behind younger generations, namely, Gen Z, can be underestimated by older generations, such as the fanbases behind games marketed for children audiences like Minecraft or Fortnite. But Minecraft is among the most popular games streamed on Twitch and YouTube, with contributors spanning from the charitable Mr. Beast to Dream, his SMP server, and every contributing content creator apart of the roleplay world.
Dream's private SMP server is one of the internet's most-watched series, especially among the aforementioned Generation Z. Other than the speedrunner who created the server, the SMP has seen wild success because of the other streamers involved such as TommyInnit, GeorgeNotFound, and Tubbo, whose names often trend following episodes of the roleplay series. But there are many other Minecraft series all over the internet, and the OfflineTV server is getting in on the hype.
Recently, the OfflineTV house and its friends like Corpse Husband and Valkyrae held their "final" Among Us session, the game that put many of them on the map. While Pokimane regularly participates in sessions of Valorant, other members are debating what the next big game on their channel should be, and if that game should be Minecraft. Disguised Toast, for example, discussed live if he wanted Minecraft to be his main focus for the time being. "The audience is there. The numbers are there," he said.
RELATED: Pokimane Hot Tub Stream Was Huge Success
Minecraft's Versatility as a Game
Part of what makes Minecraft so great is the many forms it comes in. While Pokimane is busy breeding dragons on the OfflineTV server and crafting anonymous notes to keep detective LilyPichu off her tail in the roleplay, other members are more focused on the crafting elements and together, OTV has created a stunning village. Then there's Dream, who's recently admitted to cheating in his Minecraft speedruns. And Markiplier and his friends used to play prop hunts quite often with one another back in the day.
There are a ton of different ways gamers can play Minecraft, where nearly any object can be created, making it the perfect virtual fantasy world to bring friends closer together. Don't feel like fighting off creepers and skeletons in survival mode? Some players opt to build replicas of Hogwarts instead. Minecraft can be competitive, or it can be relaxed, which is one reason why its audience is so vast: there's something there for everyone.
So while the Dream SMP team has been capitalizing on a market filled with young gamers, OfflineTV has strategically kept itself relevant by diving into the Minecraft trend at an opportune time whilst bringing the content creators together in a way that Among Uspreviously did, but with far more freedom and imagination.
Minecraft is out now for mobile, PC, PS4, PS5, Switch, Xbox One, and Xbox Series X/S.
MORE: Pride Month Streamer Spotlight: PikaChulita on Twitch
ShareTweetEmail
Bioshock Infinite Problems That Bioshock 4 Must Avoid
Bioshock 4 developer Cloud Chamber Studios must learn from the mistakes of its predecessor if the studio wishes to create a proper sequel.
Read Next
About The Author
Brittni Finley (821 Articles Published)
After growing up with Pokemon, Kirby, and Animal Crossing, The Elder Scrolls' fifth installment of Skyrim changed her life and she's been an avid gamer ever since. If she's not tending to yet another new farm in Stardew Valley, find her hunting for used 3DS cartridges or looking for the next hit narrative indie game.
More From Brittni Finley
Sours: https://gamerant.com/twitch-minecraft-offlinetv-smp-server/
Now discussing:
The conversation touched upon Sasha from the logistics department. Why we were discussing him, I didnt understand a very ordinary guy, he didnt stand out either in appearance or anything. Else. The more surprising was what I heard later. Slightly embarrassed, the girls admitted one by one that they slept with Sasha at different times.
2303
2304
2305
2306
2307