Cherry & Brazilian Cherry Stair Tread
Making Stair Treads in Brazilian Cherry was the true test of machining technology. The wood is so dense and really doesn't like to be machined or sanded under any circumstances.. It was one of the key reasons we invested heavily in industrial planning and sanding equipment to create perfectly smooth panels even in the toughest exotic woods like these Brazilian Cherry stair treads.
You'll appreciate the minimal sanding that is required before you apply the final stain and finish of your choice.
Of course that density may be one of the reason you are considering using this wood in the first place.... fending off the abuse that life can throw at it.... even the dog.
In comparison the American Black Cherry is about 30% softer than traditional oak steps and only one quarter of the density of Brazilian Cherry Steps. Black cherry sands easily, but also can dent easily, so be prepared for that eventuality.
If you are looking for a particular wood species you don't see here, please ask.. custom woods and custom shaped stair treads, are our specialty.
American Black Cherry Stair Treads: Exclusive Grade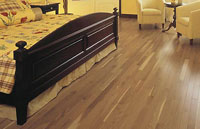 As in the picture, cherry stair treads can have some degree of colour variability. We do aim for the majority of the wood to be the richer heart colours, but an occasion band of the lighter sap wood can sneak in. This keeps the overall colour of the treads consistent with the cherry flooring we are seeing in the market today.
The light tones of the wood are from the outside rings of the tree, and the darker tones are "heartwood" from the inside or "heart" of the tree.
The heartwood tends to darken even more with age, a characteristic quite well documented. If you hear some clients complaining that the wood under an area rug is not the same colour as the rest of the floor, don't worry about it. You just need to roll up the rug and in a VERY short time the new exposure to the sun and light will age it to the same colour as the rest of the floor.

Here's a picture of a set of the most recently finished set of cherry stair treads for a customer in Manitoba. Their cherry floor had probably 50% light sap wood, thus we included greater colour variation in these cherry treads to create a closer match to the customer's cherry hardwood flooring.
As a small manufacturer we try to take the time to match the colour characteristics of your steps to that of your hardwood flooring for a more pleasing and rich renovation.

Brazilian Cherry Stair Treads: Exclusive Grade (Jatoba)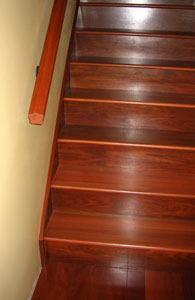 Brazilian Cherry typically runs from a light to medium orange colour to a deep rustic burnt umber, with occasional darker streaks on individual boards. This is consistent with the Mirage Jatoba wood flooring that we have installed.
It's colour darkens quite quickly with exposure to light and some boards seem to go almost black.
Below is a panel of Jatoba flooring showing some of the subtle variations in colour.. but do check with your flooring supplier to get a good idea on what colour variation to expect BEFORE you buy... I know that with the Mirage Brazilian Cherry Flooring, there seems to be a greater colour variation in the solid wood floor than in the engineered product.
When we make stairs we have no control over the colour of the wood. Sometimes the wood arrives all one shade and sometimes it has quite a variation, so it is important to expect some banding of colour, reflecting the same range of colours as what you see in your flooring.
Brazilian cherry is an extremely temperamental wood and it is best advised that if you do order brazilian cherry stair treads that you finish them AS SOON AS they arrive. Unlike its North AMerican cousin this cherry is rather unstable. It comes from a humid, tropical climate and really doesn't like dry northern winters. If you leave tread unfinished they will be inclined to splint on the endgrain.
Sours: https://lacassefinewoodproducts.com/hardwood-steps/hardwoodStairs-brazilian-cherry.htm
Brazilian Cherry Hardwood Stair Tread with Return
Description
Brazilian Cherry (Jatoba) Hardwood Stair Treads
Brazilian Cherry (Jatoba) wood is often used in flooring and is ideal for stair treads. Jatoba grows to an average height of 120 feet with diameters of 2-4 feet. It grows in most of the South American islands as well as Mexico, Brazil and Peru.
The wood is an attractive burgundy, deep red, or orange tone, and some of it can even have dark black stripes highlighting a strong visible grain pattern. It can exhibit quite a large color variation from one board to the next. Brazilian wood has a natural luster, with a beautiful texture.
Please call for pricing on Handcrafted surfaces.
Additional information
| | |
| --- | --- |
| Weight | 9 lbs |
| Dimensions | 38 × 12 × 1 in |
| Wood Grade | Select, Character / Rustic |
| End Return | Left Hand Return, Right Hand Return, Double Return |
| Size | 36", 42", 48", 54", 60", 72" |
Sours: https://hardwoodstairtreads.com/buy-online/brazilian-cherry-hardwood-stair-tread-with-return/
Brazilian Cherry Wood Stair Parts
Known in Brazil to be a very fine wood for furniture, Jatoba or Brazilian Cherry is an imported hardwood with very good rot resistance and a durable reputation. It has a tight interlocking grain that is responsible for its strength and reputation as a tool eater. With care, the light orange to brown tones create very striking finishes.
Brazilian Cherry trees are not actually cherry trees but instead carry the name likely because its natural color, a dark-reddish brown, is known to match the stained color of some domestic cherry trees. Also called the Jatoba tree, Brazilian Cherry wood is known to be one of the strongest types of hardwood. This presents both pros and cons for woodworkers considering using Jatoba to complete home projects such as building indoor staircases. However, because Brazilian Cherry is so strong, it does represent a great value for those woodworkers who want a product that is high strength, but low cost.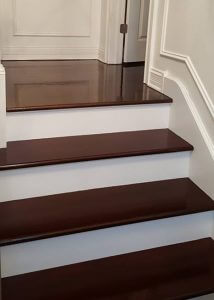 Fun Fact, Wikipedia indicates Brazilian Cherry also carries the nicknames, "Stinking Toe," "Old Man's Toe" and "Stinktoe" because of the unpleasant smell found in the Brazilian Cherry trees edible pulp of its seed pods.
About our Brazilian Cherry Stair Parts
Brazilian Cherry is often used for home flooring projects because of its strong durability compared with other types of hardwood. It is also known to stain beautifully, which is ideal for anyone looking to use this type of hardwood in a home or office setting to match other pieces of furniture and decor. However, because it is so strong and hard compared to other types of wood, it does not bend well except under steam-bending techniques. It is considered to be one of the more difficult woods to work with because of its density and hardness. It does have a moderate blunting effect on tool cutters. However, the fact that Jatoba glues, stains and finishes well overall, it can still be a great option for many home projects like a wood staircase.
Jatoba is known for its versatility. It can be used well both on indoor wood projects as well as with outside construction. Brazilian Cherry is often used in decking, outdoor wood stairs, siding and exterior furniture. It is a great outdoor wood option because Jatoba is known to be very resistant to rotting and threats by insects. This is why it can often be a choice wood for outdoor woodworking projects.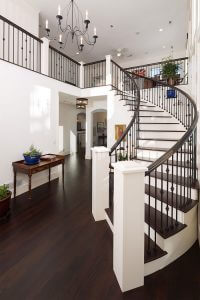 Our most popular African Mahogany stair parts by category include:
6900 Brazilian Cherry Bending Handrail – Let your solid elegant handrail be seen with the 6900 profile bending handrails.
6109 Brazilian Cherry Handrail – This straight wood handrail offers a more round modern or regal dynamic to your stair balustrade. SKU LJ-6109
4091 Brazilian Cherry Box Newels – SKU – LJ-4091 – Available as a fluted box newel, standard box newel, and raised or recessed box newels. These box newel posts are 6 1/4″ x 55″ and designed to stand out.  You may even consider purchasing these in a paint grade wood and combining them with your Brazilian Cherry Handrails, Treads, and Flooring to create a staircase like the one pictured above.
Wrought Iron Solid, Twist, or Basket Balusters – Add a combination of wrought iron balusters (like pictured above) to round out and bring together your striking Jatoba stairs and painted newel posts.
Brazilian Cherry Treads – SKU LJ-8070 – Available on our website in 36", 42", 48", 54", and 60" lengths. Or we can custom make Jatoba stair treads to suit your needs.
For the best Brazilian Cherry hand railing, stair fittings, treads, risers, stair balusters, and winder treads, check out our wood stair parts catalog!
We can answer any questions you might have about our Brazilian Cherry Parts. We can also ensure you can make a quick and easy order for a variety of Jatoba stair parts including newel posts, treads and railings made out of this strong hardwood. Place your order today to discover our high-quality wood stair parts that can be delivered quickly to your work site for an upcoming woodworking project.
Picture Sources:
classicfloorschicago.com
youtube.com/watch?v=XsxbD28GToE
Sours: https://www.woodstairs.com/brazilian-cherry-wood-stair-parts/
Take it easy, take it easy, fisherman. Has he completely run wild on his pond or what. Youll break my uterus right now. I told Kostya through moans, he started to fuck me somehow abruptly, immediately got me to the uterus and now his head was literally tearing my flesh, hurting me.
Wood stair treads cherry
And with you, too, an hour. - Not with me almost until morning. Oh, what are you talking about. He's with Alka, and I'm not. The wife got excited and opened her eyes wide and immediately realizing that she had let slip, she turned away and blushed deeply.
How to make Hardwood Stair Treads
Recently, this began to happen to his mother more and more often, but Denis could not understand what was the matter. It seems that life continues unchanged and there seems to be no particular reason for sadness. When he asked his mother about the reasons for her upset, she wiped her tears, smiled tightly and said: Nothing will pass. "The neighbor's message upset Denis.
Similar news:
Come in. M pale, thin with hair sticking together on her forehead from sweat barely sat on the bed. - swear you won't tell anyone.
2798
2799
2800
2801
2802