Yamaha YZF-R3 Design
The R3 doesn't have that small-displacement bike look so prevalent among some of the competition and the blended features from some of the other "R" models tie the bike well into the family tree.
One of the things I like about the R3 is that it doesn't have that small-displacement bike look so prevalent among some of the competition, and the blended features from some of the other "R" models tie the bike well into the family tree. A pointy front fairing leads the way with a narrow windscreen and side-view mirror standoffs up top, and a scoop-shape engine cowling below. The cowling almost completely covers the engine with just a tiny glimpse of the cases, and it wanes to a point from the chin fairing back for plenty of cornering clearance.
There's very little rise or pullback in the bars and jockey-mount foot controls, a setup that encourages an aggressive, forward-leaning riding position but leaves room for a more casual, if not completely upright, upper body position. A sharp rise behind the rider's seat to the pillion serves to cup and contain the pilot, but the vestigial P-pad and subframe that quickly tapers off to nothing leaves the passenger seated right at the edge of disaster.
The taillight comes housed in the pointy rear end for a clean, angry-alien look, but then the bullet turn signals ruin it by sticking off the sides of the rear mudguard; a tiny flaw in an otherwise clean and well-planned machine.
Yamaha YZF-R3 Chassis
What the bike lacks in brute power, it makes up with crisp handling.
What the bike lacks in brute power, it makes up with crisp handling, and its behavior in the corners makes the YZF-R3 a lot of fun to ride even for experienced riders. A set of 41 mm, KYB front forks provide a plush, 5.1-inch ride that winds up feeling just a trifle soft for hard corners, and comes completely unadjustable so what you see is what you get.
The monoshock on the swingarm provides 4.9 inches of travel at the rear axle and comes with adjustable spring preload but no other adjustments. A steel diamond-type frame and swingarm form the skeleton, and lightweight, 17-inch, cast-aluminum wheels finish the rolling chassis. The "Y-spoke" design provides very little windage so they are stable in a crosswind and when passing through the pressure wave ahead of a big truck, for instance., and the low weight reduces the gyroscopic forces generated by the wheel which allows for nimble handling.
Rake and trail measure out at 25-degrees and 3.7-inches, respectively, and with only 54.3-inches between contact-patch centers, that contributes heavily to the agile nature of the ride. A two-pot, piston-and-anvil caliper bites a single, 298 mm front disc, and a one-pot caliper binds the 220 mm rear disc. If you think the brakes look insufficient on paper, consider the 368-pound wet weight and I think you'll agree that they are good enough, especially if you opt for the new-from-2017 ABS-equipped model.
Yamaha YZF-R3 Drivetrain
Things liven up considerably once you hit the torqueband and this, coupled with the nimble handling, makes the YZF-R3 loads of fun to ride.
At the heart of this sporty ride is a rev-loving, two-cylinder, parallel-twin mill that delivers rather docile performance at lower rpms but comes alive when you get closer to the five-digit mark. A 68 mm bore and 44.1 mm stroke gives us a 321 cc total displacement with an 11.2-to-1 compression ratio. Dual over-head cams time the four-valve heads with lightweight, forged pistons in offset cylinders to reduce friction along the piston skirts.
As far as engine management goes, we have electronic fuel injection and a Transistor Controlled Ignition, but nothing in the way of traction control or variable riding modes. A six-speed transmission sends power to the rear wheel via chain drive, and surprisingly, couples to engine power through a standard, non-slipper clutch. I'm OK with making the kids learn how to properly feather the clutch and blip the throttle to rev match to prevent rear-wheel hop, but some of us appreciate the reduced effort needed to operate a slip-and-assist clutch.
What all this technical stuff boils down to is 21.8 pounds of grunt at 9,000 rpm backed up by 41.4 horsepower at 10,750 rpm with a top speed around 112 mph. Individual results may vary slightly. This is plenty fast enough for public roads, and though she's a bit of a dog coming out of the hole, things liven up considerably once you hit the torqueband and this, coupled with the nimble handling, makes the YZF-R3 loads of fun to ride.
Yamaha YZF-R3 Price
MSRP is hanging right at least year's price and it's largely the same colorways.
The non-ABS model in Raven or the Team Yamaha Blue will set you back $4,999, but the ABS-equipped version in Raven or Vivid White will set you back another three bills for a total of $5,299.
Yamaha YZF-R3 Competitor
Top speed is greater on the Yammy with the Honda plodding along behind, but still plenty fast for public roads.
Small displacement crotch rockets are fairly ubiquitous, but many of them suffer from boring designs that look like the designers knew they were making a disposable bike, so I wanted to find something with a similar fit and finish for a fair comparison. After looking at some rather depressing rides, I came around to Honda and felt the CBR300R was a near-ideal match.
Both rides carry an abundance of body paneling that conceals the frame and most of the engine from view a lasuperbike style, and the functional form of the cowling make both look like larger-displacement machines at a glance. Nose-down and tail-up, these two look ready for the closed circuit in spite of their engines that measure at around a half-a-pint. This is a huge selling point, and makes me feel like they might retain a fair resale value when/if you get ready to upgrade. The Yamaha is pretty sharp looking, but I have to admit I like the looks of the Honda a little better, and that's significant for a brand that I usually don't find very aesthetically pleasing. Honda's front forks come in a little smaller at 37 mm, but like Yamaha, offers nothing in the way of adjustment. Brakes are likewise similar, and both bikes come in a new-from-2017 ABS version for a premium.
Honda slips a bit in the engine department with a 286 cc mill opposed to the 321 cc plant in the Yamaha ride, and the size difference shows up in the performance. The CBR300R mill cranks out around 22 horsepower and 13 pounds of torque, depending on whose dyno you use, and though its a few pounds lighter at 357 pounds, the 41 ponies and 21.8 pounds from the YZF-R3 crushes the Red Rider. Top speed is greater on the Yammy as well at 112 mph with the Honda plodding along at about 90 mph, but still plenty fast for public roads.
The Tuning Fork Company takes a beating at the till on the base model with its $4,999 MSRP versus $4,399 for a base CBR300R, but is cheaper with the ABS option with only $300 for the fancy brakes where Honda asks for $500 to upgrade. Not really much difference, but to someone pinching pennies it might be huge.
He Said
"Nice little trainer, and definitely better looking than some of the low-displacement bikes that follow a more naked layout and end up looking chintzy at best and unfinished at worst. Best of all, it allows one to ride a smaller displacement bike without said bike screaming 'look at me I'm a complete noobskillet!.' I expect riders will outgrow it quickly as their skill level builds up, but guys tired of stupidfast bikes and looking to downgrade should be able to make do with it as well."
She Said
My wife and fellow motorcycle writer, Allyn Hinton, says, "I disagree with my husband that folks will automatically want to upgrade when they feel comfortable with their skillset. These small displacement bikes are hot right now and there's not that many new riders to account for the growing market. They're fun bikes as commuters and for weekend jaunts. The YZF-R3 is a nice little bike with a seat height low enough to make it attractive for folks with short inseams that don't want a cruiser."
Yamaha YZF-R3 Specifications
References
Honda CBR300R
See our review of the Honda CBR300R.
Read more Yamaha news.
TJ Hinton
T.J got an early start from his father and other family members who owned and rode motorcycles, and by helping with various mechanical repairs throughout childhood. That planted a seed that grew into a well-rounded appreciation of all things mechanical, and eventually, into a formal education of same. Though primarily a Harley rider, he has an appreciation for all sorts of bikes and doesn't discriminate against any particular brand or region of origin. He currently holds an Associate's degree in applied mechanical science from his time at the M.M.I. Read full bio
About the author
Sours: https://www.topspeed.com/motorcycles/motorcycle-reviews/yamaha/2015-2018-yamaha-yzf-r3-ar166012.html
Back to 2015 Yamaha Motorcycle Model Review Page
Click photos to enlarge. Our big, clean bike pics make great desktop wallpaper.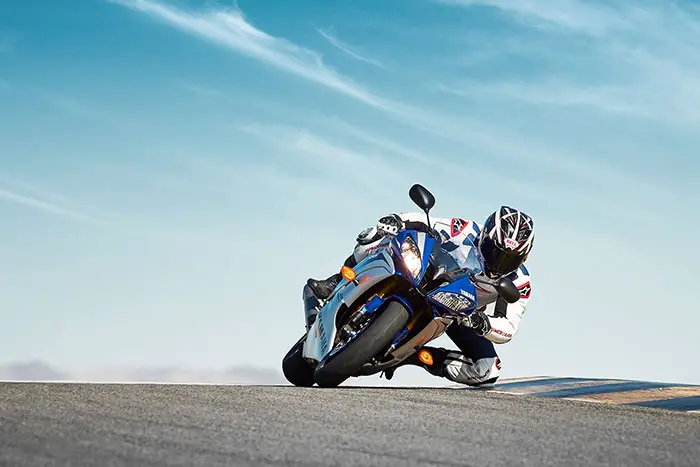 2015 Yamaha YZF-R6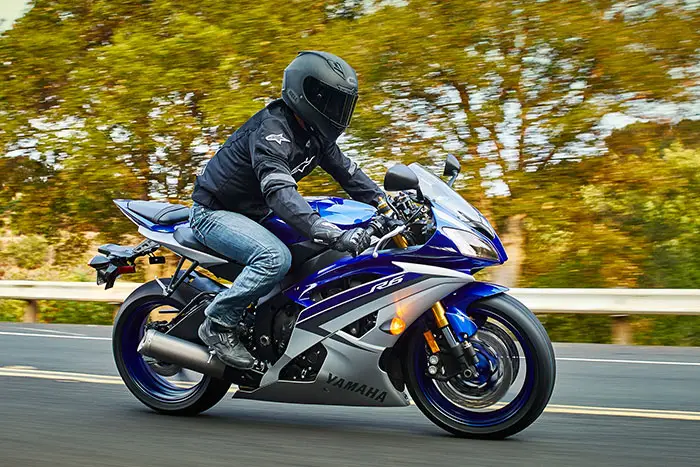 2015 Yamaha YZF-R6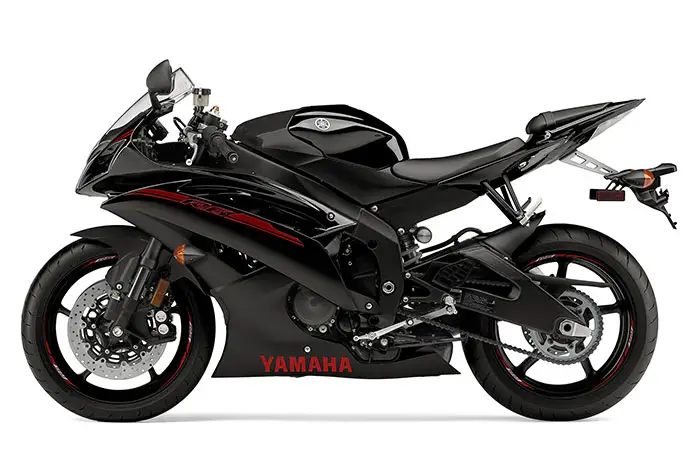 2015 Yamaha YZF-R6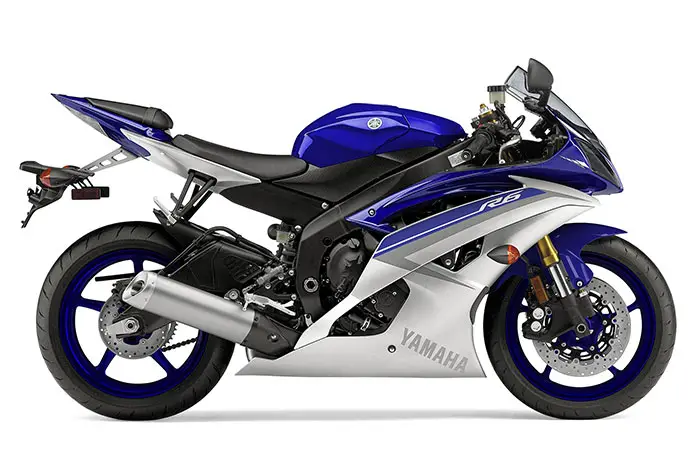 2015 Yamaha YZF-R6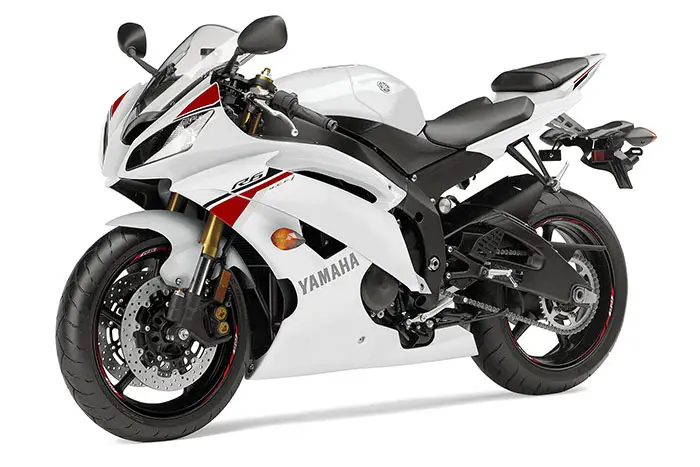 2015 Yamaha YZF-R6
2015 Yamaha YZF-R6 Review

2015 Yamaha YZF-R6 on www.Totalmotorcycle.com
The Reigning Pro Daytona Sportbike Champion…
The R6 rules the track, the twisties and your urban maze. Super light and powerful, it's packed with endless innovations: YCC-T for flawless response; YCC-I delivering broad power; slipper type clutch and close ration 6 speed transmission for incredible acceleration.
2015 Yamaha YZF-R6 www.Totalmotorcycle.com Key Features

Top Features:

•Light, powerful, and bristling with knowledge gained from years of racing, the YZF-R6 is the most advanced production 600cc motorcycle Yamaha—or anybody else—has ever built.
•The YZF-R6 was the first production motorcycle with YCC-T® , Yamaha Chip Controlled Throttle system-for flawless response under all conditions.
•YCC-I®, Yamaha Chip Controlled Intake, is used on the R6 to vary intake tract length for excellent cylinder filling and a broader powerband.
•Back torque-limiting slipper-type clutch greatly facilitates braking/downshifting from high speed. Close-ratio 6-speed transmission delivers seamless power and maximum acceleration.

The R6 was born on the racetrack. Its MotoGP-bred technology is tuned to give you the kind of outstanding engine and chassis performance usually reserved for professional racers. The R6 is full of innovations and technology, you just won't find on the competitor's machinery.
/// Power
Ultra-compact, lightweight, short stroke, 599cc, DOHC, 16-valve, liquid-cooled, in-line four-cylinder engine with lightweight titanium valves produces incredible horsepower. Redline is set at an amazing 16,000rpm.
/// Performance
Lightweight forged pistons feature thin top rings for great high rpm power. The pistons are secured by lightweight tapered type piston pins. The lightweight design means fast engine response.

/// Handling
Compact, lightweight aluminum Deltabox frame offers an optimized rigidity balance for incredibly light and agile handling. This frame is a MotoGP inspired innovation that Yamaha calls a "straight frame concept". This means the top spars of the frame lie as close to possible to the frame's torsional axis (the line connecting the head pipe to the swingarm pivot point).
2015 Yamaha YZF-R6 www.Totalmotorcycle.com Features and Benefits


/// ENGINE
• Ultra-compact, lightweight, short stroke, 599cc, DOHC, 16-valve, liquid-cooled, in-line four-cylinder engine with lightweight titanium valves produces incredible horsepower. Redline is set at an amazing 16,000rpm.
• 67mm bore and 42.5mm stroke provide a fast revving powerplant. Engine width is minimized thanks to Yamaha's special casting technologies and "liner less" cylinder design.
• Compact "pent roof" cylinder head design features ultra lightweight titanium valves for both intake and exhaust. The intake valve angle is 11.5 degrees and the exhaust is 12.25 degress. The intake valves are 27mm in diameter while the exhaust valves are 23mm.
• Single intake valve springs reduce weight and "friction" for optimum high rpm performance. The valve retainers are made of lightweight aluminum.
• High flow intake and exhaust ports allow more fuel in and more exhaust out for great power delivery at all rpms.
• Lightweight magnesium cylinder head cover and case covers reduce weight.
• Separate cylinder block (the cylinder is not part of the upper crankcase) design utilizes ceramic composite plated "liner less" cylinder bores. The ceramic coating is sprayed directly on the aluminum block. The benefits are greater heat dissipation for consistent power delivery, reduced frictional power loss, reduced oil consumption and since there are no heavy liners, reduced weight too.
• Lightweight forged pistons feature thin top rings for great high rpm power. The pistons are secured by lightweight tapered type piston pins. The lightweight design means fast engine response.
• Lightweight crankshaft features 31mm bearing journals. The inertial crank mass has been optimized for excellent throttle response and impressive acceleration. The crank journal bearings feature special oil holes that increase the supply of oil for excellent durability.
• High lift / high performance, hollow, side-driven camshafts provide arm stretching power and strong acceleration.
• Automatic semi-hydraulic type cam chain tensioner reduces mechanical noise and maintenance.
• Closed loop Mikuni fuel injection system with 41mm throttle bodies features twin injectors (primary & secondary). This type of twin injector system is also found on our MotoGP M1 machine and the latest generation R1. Each of the injectors utilizes 12 spray holes to maximize the atomization process. The secondary injectors, located inside the air box, begin to function at mid rpms (6,000 to 7,000rpm) thru to redline. Special short intake tracts allow for higher rpms and improved power.
• Yamaha Chip Control Throttle (YCC-T) is another 1st for Yamaha. This system electronically controls the throttle valves for outstanding response and improved controllability at high rpms. The system features Throttle Position Sensor (TPS) and D.C. motor driven throttle valves. The YCC-T is used to provide even more control of the intake air volume for a smoother torque character. This ECU that controls the YCC-T is capable of responding to changes at a speed of 1000th of a second.
• YCC-I or Yamaha's Chip Controlled Intake system means the intake funnels / stacks vary in length between 2 pre-set positions depending on engine rpms. The transition rpm is approximately 13,700 rpms. An electronic servo motor varies the funnels. The revolutionary YCC-I provides the best of both worlds …solid low rpm torque and power combined with an amazing high rpm rush. It takes only 0.3 of a second for the funnels to move from the tall to the short position.
• Yamaha's exclusive YCC-I electric-control servo motor-driven variable intake funnel system is a world's 1st on a production motorcycle and works in conjunction with Yamaha's fly-by-wire technology and FI systems.
• 7.6 litre air box utilizes a high flow viscous paper type air filter.
• Ram Air Induction System with centrally located intake duct delivers cool, high-pressure air "force-fed" into the intake tract for optimal combustion and greater horsepower at higher speeds. This design provides straight induction from the central fairing duct to the air box without a lot of bends or turns.
• Close ratio 6-speed transmission delivers seamless power delivery and maximum acceleration. Gear widths, splines and engagement dogs have been optimized to handle the R6's power. The shift drum and shifting mechanism are located on the right side of the cases for smooth shifting feel under power. The gears use flat contact-type engagement dogs for positive shifting and great durability.
• The "Tri-Axis" or stacked transmission design creates a more compact engine front to back that allows for optimum engine placement in the "sweet spot" of the frame for optimized weight distribution and incredible handling.
• Slipper or back limiter clutch assembly reduces rear wheel hop when making hard down shifts or under hard braking. Key benefit is reduced lap times and smoother control when participating in either a race or track day. This clutch uses 9 paper based friction plates and 8 steel plates, plus 6 coil-type clutch springs.
• The oil lubrication system has been optimized to reduce frictional loses caused by "oil drag". It features a "two side" oil pump. There is a separate liquid-cooled oil cooler to ensure consistent engine temperatures for maximum performance and extended service life.
• High capacity cooling system features a curved radiator with dual ring-type fans for excellent engine cooling efficiency. The ring-type fan offers more airflow than a conventional type fan.
• Maintenance-free transistor-controlled digital ignition (TCI) ensures fast starts and great performance at all rpms.
• Direct ignition coils, iridium dual electrode spark plugs and high-output magneto deliver reliable, super strong spark. With this system, the ignition coils are integrated into the plug caps, significantly reducing weight.
• "Mid Ship" 4-into-2-into-1 exhaust maximizes engine performance. The header pipe diameter and length have been optimized for excellent flow. There are three, 3-way honeycomb catalyziers with an oxygen sensor in the system to reduce harmful HC & CO exhaust emissions. The oxygen sensor provides feedback to the ECU so it can adjust for the optimum fuel/air mixture. The "mid ship" MotoGP style, lightweight titanium muffler is located below the engine to central mass and lower the center of gravity for great handling.
• The exhaust system also features Yamaha's EXUP System (Exhaust Ultimate Power Valve) utilizing a titanium body and butterfly valves that prevent the "blow back" phenomenon caused by "valve overlap". This design reduces weight and maximizes cornering clearance. The EXUP system eliminates "flat spots" in the power band and reduces emissions too. This is a 1st on a 600cc supersport machine.
• High powered 32 bit electronic control unit actually contains three ECUs inside the main ECU to control the FI system, the YCC-T system and the ignition mapping system.
• Air Injection System (AIS… not ram air) injects fresh air into the exhaust ports to fully burn any unburnt fuel in order to reduce harmful CO & HC exhaust emissions

/// CHASSIS/SUSPENSION
• Compact, lightweight aluminum Deltabox frame offers an optimized total rigidity balance for incredibly light and agile handling. This frame is a MotoGP inspired innovation that Yamaha calls a "straight frame concept". This means the top spars of the frame lie as close to possible to the frame's torsional axis (the line connecting the head pipe to the swingarm pivot point). The ram air duct passes through the frame at the head pipe for a straight ram air effect too. A mix of mold castings and pressed aluminum plates make up the frame. The engine is a fully stressed chassis member allowing for a super-light frame design.
• Lightweight, detachable magnesium rear subframe. The detachable design allows rear shock access and is less costly in the event of damage.
• Lightweight, aluminum "gull wing" type swingarm uses a mix of castings and pressed plates for optimum rigidity. The swingarm pivot position has been optimized to reduce the "squat" tendencies caused by drive chain reaction to hard throttle openings.
• Key chassis geometry figures include: 1380mm wheelbase, 24 degree caster angle, 97mm of trail and a 52.5% front and 47.5% rear weight balance. The maximum lean angle is a knee scraping 57 degrees.
• Fully adjustable 41mm inverted front fork provides 115mm (4.5″) of wheel travel and offers incredible suspension performance with ultra-precise feedback. Adjustments include: 5-way spring preload, 4-way high speed compression damping, 20-way low speed compression damping and 25-way rebound damping. The inverted design not only reduces unsprung weight but also increases the rigidity of the fork. The range of adjustments allows the rider to tune suspension to match riding style and road or track conditions.
• Upper triple clamp features a 30mm offset for precise handing and great steering feel. The lightweight aluminum clip-ons are mounted below the triple clamp.
• Fully adjustable Monocross link rear suspension utilizes a piggyback-style shock providing 120mm (4.7″) of wheel travel. Shock adjustments include: 9-steps of spring preload adjustability, 4-way high speed compression damping, 20-way low speed compression damping and 18-way rebound damping adjustability. The piggy back design helps to keep the shock oil cool for more consistent damping.
• Radial mount, monoblock, 4-piston calipers squeeze large 310mm dual front discs. The radial mounting design helps to reduce caliper distortion for improved braking performance with excellent control and good lever feedback. The disc carriers are made from aluminium for reduced weight while the sinter metal pads provide incredible stopping power.
• Brembo radial pump master cylinder features a 16mm piston. The radial design allows for more powerful braking and improved lever feedback. The lever is adjustable for various hand sizes.
• Light weight 220mm rear disc brake is squeezed by a single-piston caliper
• Lightweight five-spoke 17″ wheels reduce unsprung weight by making hub and spokes a single structural unit. A special casting technique makes the rim section substantially lighter and stronger.
• Ultra-sleek "new edge form" bodywork features a sharp front profile with centrally located Ram Air duct, engine-revealing side cowlings and ultra-sleek tail section. There are special side fairing intake ducts to allow cool air to circulate around the engine, fuel tank and frame areas. "Minimalism" and "mass forward" movement are two words that best describe this design body.
• 17-litre fuel tank provides excellent rider ergonomics and an aggressive riding position. The reserve portion of the tank is 3.5 liters. The tank features a front tank cover like the R1 and an internal electric fuel pump.
• Separate rider and passenger seats. An optional rear seat cowl is available.
• Dual 55 watt H7 "cat eye" headlights. These lights not only cast a bright beam of light, but also feature a sleek profile for superb aerodynamics.
• Compact race inspired multi-function digital and analog instrumentation with adjustable back lighting. Features: analog tach, digital speedometer, dual tripmeters, low fuel warning light, fuel tripmeter, and clock. There is also a programmable shift light and stop watch/lap timer that is controlled by the LHS handlebar mounted switch gear.
• Single lens LED taillight provides excellent visibility, extended service life and uses less power than conventional bulbs.
• Immobilizer ignition system is designed to reduce the possibility of "ride away" theft. This system must recognize the "coded ignition key" in order for the unit to start. If the immobilizer ignition does not recognize the key (or a theft's screwdriver or other type of "jimmy tool") the bike will not start even if the ignition is turned or forced into the on position. If the system does not recognize the correct coded ignition key, the ignition system and starter will not function.

/// DETAILS
• Adjustable front brake lever
• Special 525 lightweight O-ring chain is used to reduce weight
• Steering lock
• Lightweight aluminum side stand and chain adjusters
• Lightweight low maintenance sealed gel-type battery
The YZF-R6 offers a significant level of power and performance. It is not intended for novice or inexperienced riders.

---
2015 Yamaha YZF-R6 – www.Totalmotorcycle.com USA Specifications/Technical Details
US MSRP Price: $11,190 – Team Yamaha Blue/Matte Silver – Available from November 2014;
$10,990 – Raven – Available from November 2014;
$10,990 – Pearl White – Available from November 2014 USD


Engine
Engine Type 599cc liquid-cooled inline 4-cylinder; DOHC, 16 titanium valves
Bore x Stroke 67.0 x 42.5mm
Compression Ratio 13.1:1
Fuel Delivery Fuel Injection with YCC-T and YCC-I
Ignition TCI: Transistor Controlled Ignition
Transmission 6-speed w/multiplate slipper clutch
Final Drive O-ring chain

Chassis
Suspension / Front 41mm inverted fork; 4-way adjustable, 4.5-in travel
Suspension / Rear Single shock; 4-way adjustable, 4.7-in travel
Brakes / Front Dual 310mm floating disc; radial-mount 4-piston calipers
Brakes / Rear 220mm disc; single-piston caliper
Tires / Front 120/70-ZR17 58W
Tires / Rear 180/55-ZR17 73W

Dimensions
L x W x H 80.3 x 27.8 x 43.1 in
Seat Height 33.5 in
Wheelbase 54.1 in
Rake (Caster Angle) 24°
Trail 3.8 in
Oil Capacity (with oil filter change) 2.75 qt
Fuel Capacity 4.5 gal
Fuel Economy** 40 mpg
Wet Weight*** 417 lb

Other
Warranty 1 Year (Limited Factory Warranty)


---
2015 Yamaha YZF-R6 – www.Totalmotorcycle.com Canadian Specifications/Technical Details
Canada MSRP Price: $11,999 CDN
ENGINE
Liquid-cooled, DOHC, 16-valves (4-valves/cyl) (titanium), in-line four
DISPLACEMENT
599 cc
BORE AND STROKE
67 x 42.5 mm
COMPRESSION RATIO
13.1:1
MAXIMUM TORQUE
6.6 kg-m (47.7 ft-lb) @ 11,500 rpm
ENGINE MANAGEMENT
YCC-T & YCC-I
FUEL DELIVERY
41 mm Mikuni throttle body F.I.
ESTIMATED FUEL CONSUMPTION±
17kpl / 48mpg (Imp.)
LUBRICATION
Wet sump
IGNITION / STARTING
TCI / Electric
TRANSMISSION
6-speed
FINAL DRIVE
O-ring chain

/// CHASSIS
SUSPENSION (FRONT)
Fully adjustable 41mm inverted cartridge fork
SUSPENSION (REAR)
Fully adjustable link Monocross
BRAKES (FRONT)
Dual 310mm discs , 4-piston calipers
BRAKES (REAR)
220mm disc – single piston caliper
TIRES (FRONT)
120/70ZR17
TIRES (REAR)
180/55ZR17

/// CRITICAL DATA
LENGTH
2,040mm (80.3")
WIDTH
705mm (27.8")
HEIGHT
1,095mm (43.1")
WHEELBASE
1,375mm (54.1″)
RAKE / TRAIL
24° / 97mm (3.8″)
GROUND CLEARANCE
130mm (5.1″)
SEAT HEIGHT
850mm (33.5")
FUEL CAPACITY
17 litres (3.7 imp.gallons)
WET WEIGHT
189 kg (417 lbs.)
COLOUR(S)
Yamaha Blue
Metallic Black
Bluish White
Manufacturer Specifications and appearance are subject to change without prior notice on Total Motorcycle (TMW).
Sours: https://www.totalmotorcycle.com/motorcycles/2015/2015-Yamaha-YZF-R6
Review: 2015 Yamaha YZF-R3
Yamaha may have been slightly delayed in joining the competition in the 300cc capacity but with the YZF-R3 they well and truly put their cards on the table with a winner.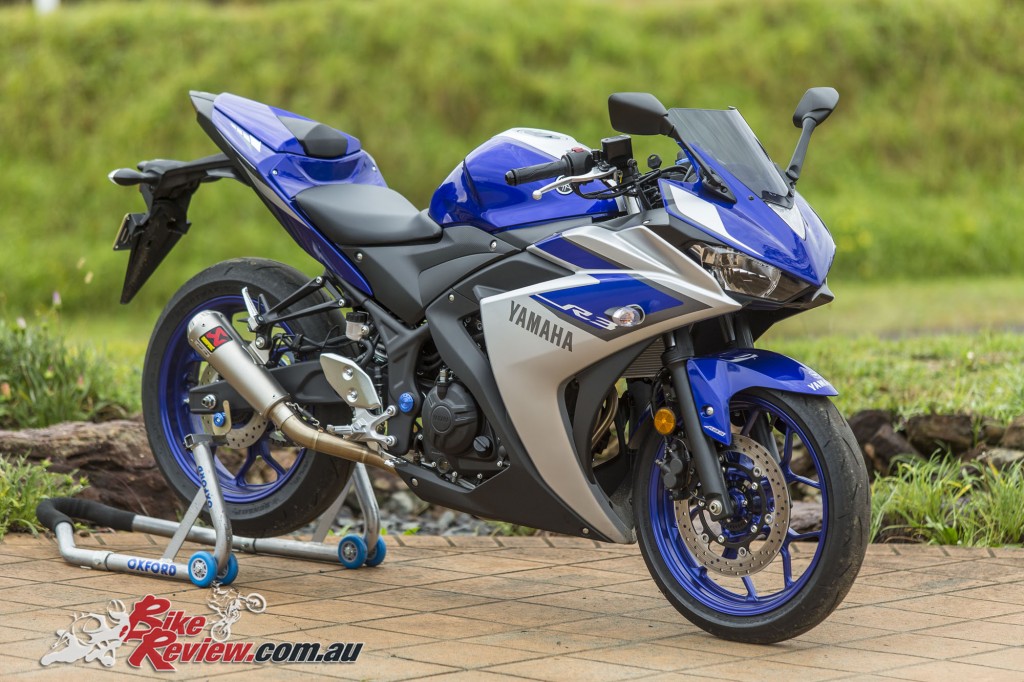 Styling is a mixture of the new R1 meeting the older R6 and as is the trend now, the bike would be easily mistaken for a larger machine. Wheels are a trendy light spoked design and forks aren't the thin (diameter) items you'll sometimes find on LAMS options, boding well for front-end performance, while wide mirrors, a taller screen and sporty colour schemes, on the blue and red options at least, really make the YZF-R3 stand out.
Jumping on the bike everything falls to hand, with a low seat height for my 180cm height and good reach to the bars and pegs. Controls are simple, with your starter, kill switch, indicators and high beams all easily used. You've also got a 'passing' switch to flash your high beams.
Levers aren't adjustable, but the dash is top notch, with a few luxuries, like the gear indicator and shift light, something you still won't find on some more expensive motorcycles.
The paint can take a beating if you're not careful, but for the price point it's to be expected and with your regular wear and tear on a LAMS bike it won't make a huge difference. It is worth mentioning the R3 $6099 plus on roads, which to me seems very competitive and good value, putting them in direct competition with Kawasaki's 300s, the KTM 390 models and realistically the Honda 500s. 
YZF-R3 ON THE ROAD
The YZF-R3 is comfortable and well proportioned and setting off into relatively light traffic in Western Sydney towards Cessnock the 321cc in-line twin-cylinder was pretty placid at first, and power comes on meek, but very controllable at low revs, making for ideal taking off and low speed control. The clutch is light and easily balanced, while the front and rear brakes both provide good stopping power at low speeds.
There's good torque on hand for propelling you along, while the engine revs happily with less vibrations than its single cylinder competition and a larger and more interesting rev range.
Powering through traffic is easy and you're sure to be ahead of any cars if you filter to the front if you're a bit more aggressive with the throttle.
Handling is also super light and very agile, which isn't something I normally notice so significantly coming from my usual ride – which ended up feeling a bit portly after a few days on the R3!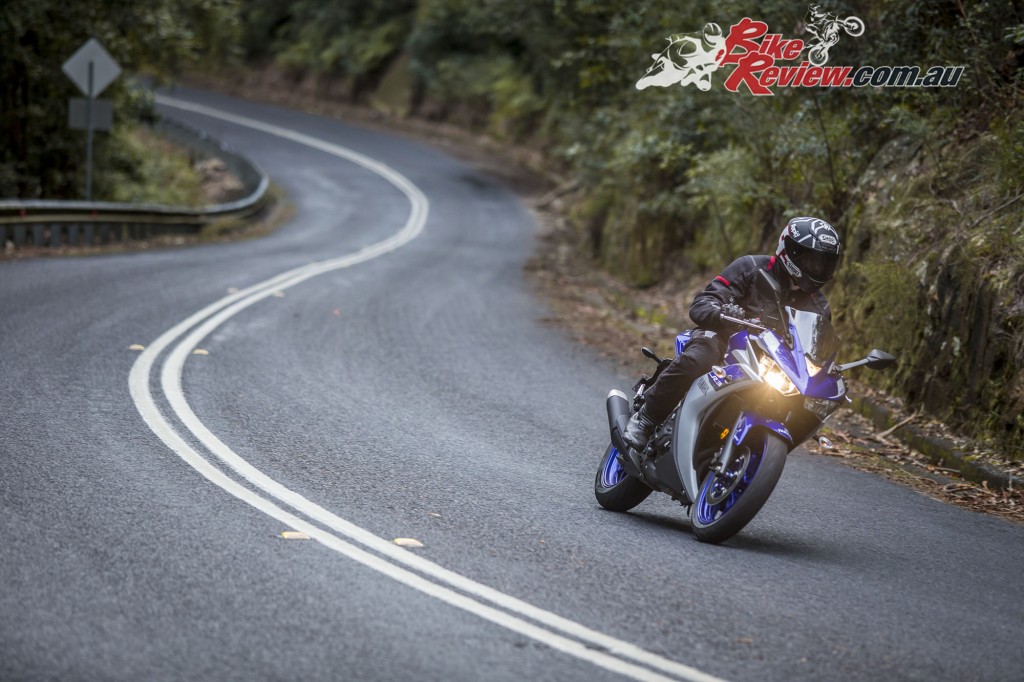 Another aspect of the YZF-R3 that really surprised me is that it's not fitted with a slipper clutch, with the fueling set up to provide the same kind of experience, meaning in general traffic knocking down through the gears for a bit of engine braking was both fun and didn't get the handling out of line.
Heading onto the open roads however is where I was really able to appreciate the R3, with the ability to use the rev range a little more freely.
Where below 7000rpm the R3 is all manners and easy acceleration, above 7000rpm you really get into the meat of the powerband, with enough acceleration to really enjoy yourself and have some fun. Plus if you're hooning, aggressive throttle use from down low will net you a fast take-off thanks to the quick spinning engine.
What's also really impressive is that power doesn't start dwindling off either, I wasn't quite hitting the rev limiter but I was getting very close and the R3 was still powering along impressively, especially testing on a private road.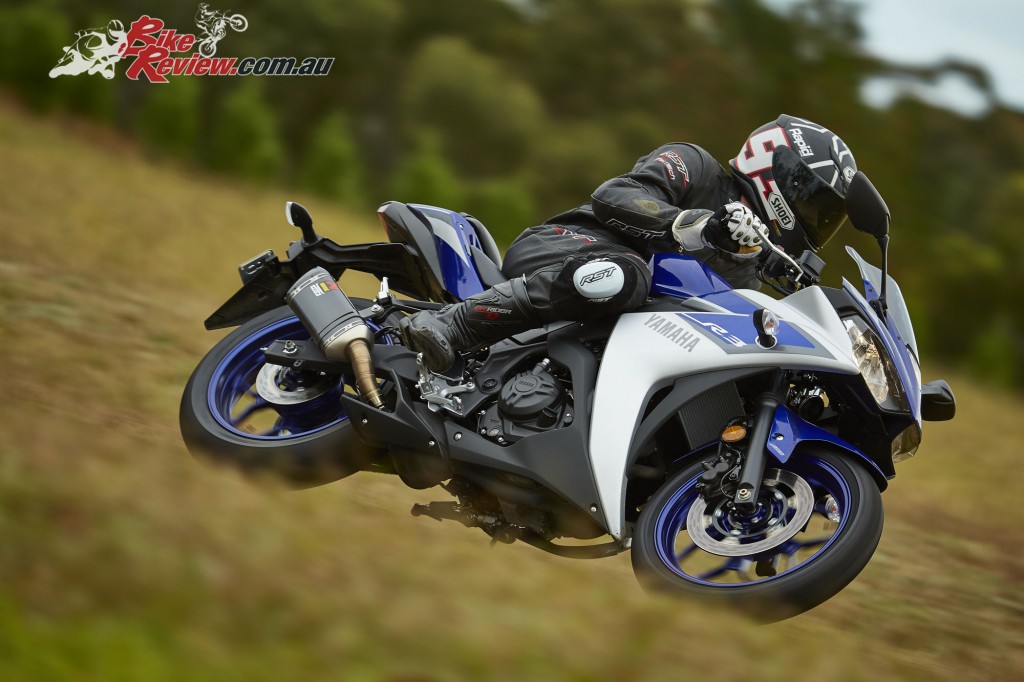 The engine is super willing to rev from 7000rpm through to 12500rpm, remaining smooth and not too loud, without the bike starting to feel like you're pushing it too hard. In reality the bike feels most at home right up high in the rev range even sitting between 11000 and 12000rpm.
There's no resistance felt through the throttle for the acceleration and fueling provides a very smooth and linear power buildup, which is perfect for good control and for less experienced riders.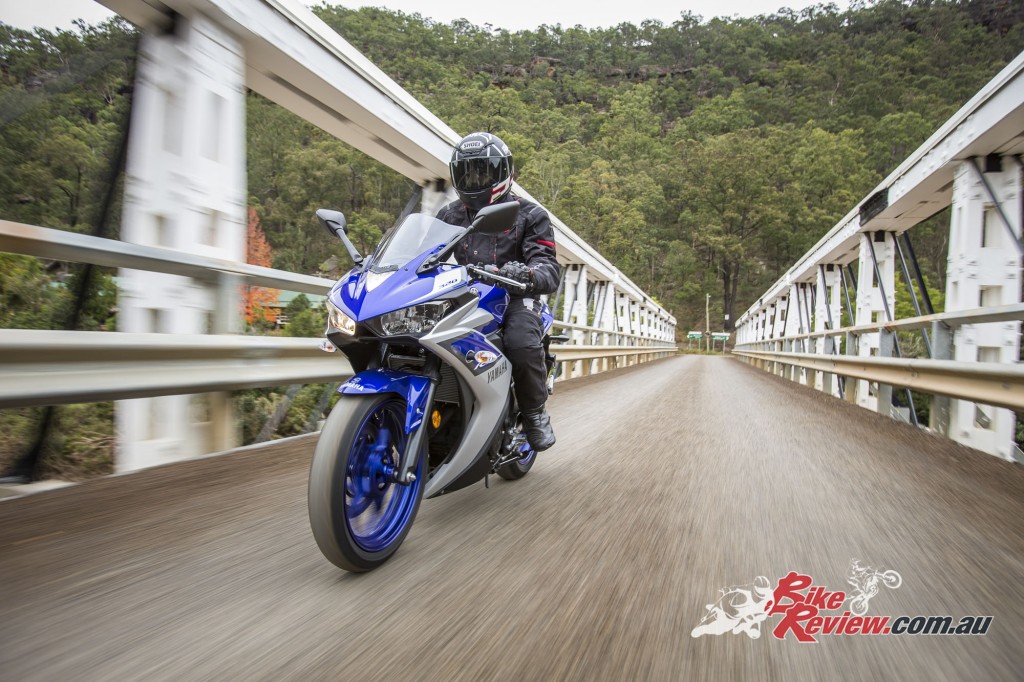 For the road riding, which was mainly in dry conditions except for some very light drizzle I couldn't fault the stock Pilot Street tyres, even pushing the envelope a bit.
The other real standout for the R3 was the suspension, and forks are 41mm items, doing a bit of one-up-man-ship over most of the competition, not just in diameter but also in performance, while the rear shock offers preload adjustability, which can help for minor adjustments, like to stiffen up the rear. The stock suspension is well suited to a variety of rider weights, offering a smooth but sporty ride, especially on our often terrible road surfaces.
The chassis and suspension actually provided amazing feedback, even over the extremely rough sections we encountered up Wisemans Ferry way, with the ability to just ride through most of the poor surfaces.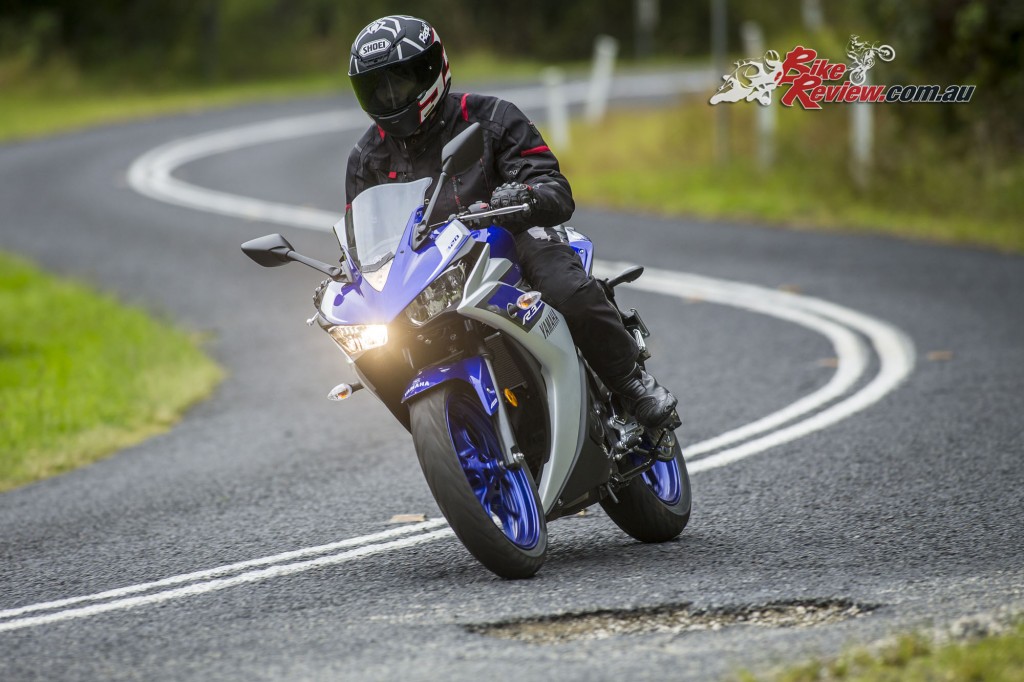 Keeping the throttle open, the bike balanced and committed and it would just take you over the road imperfections with the suspension swallowing the majority of roughness and leaving you with just a secure feeling of control and feel.
Braking was another strength, the single floating front rotor with two-piston caliper does a good job, with reasonable bite, easy modulation and great feel, plus ABS to provide that extra peace of mind. The rear is a single piston item, grasping a smaller 220mm rotor and I'll admit to trying to get the ABS on the rear working over a few sections, including over some light gravel where we did tracking shots and couldn't even get a twitch out of the ABS.
Overall the R3 really impressed me, the engine, chassis, suspension and looks are ticking all the boxes, with a great price and styling that any learner could be proud of.
It's big bike feel with great power and handling, while remaining controllable for both new and experienced riders, straight out of the box with no additional money spent.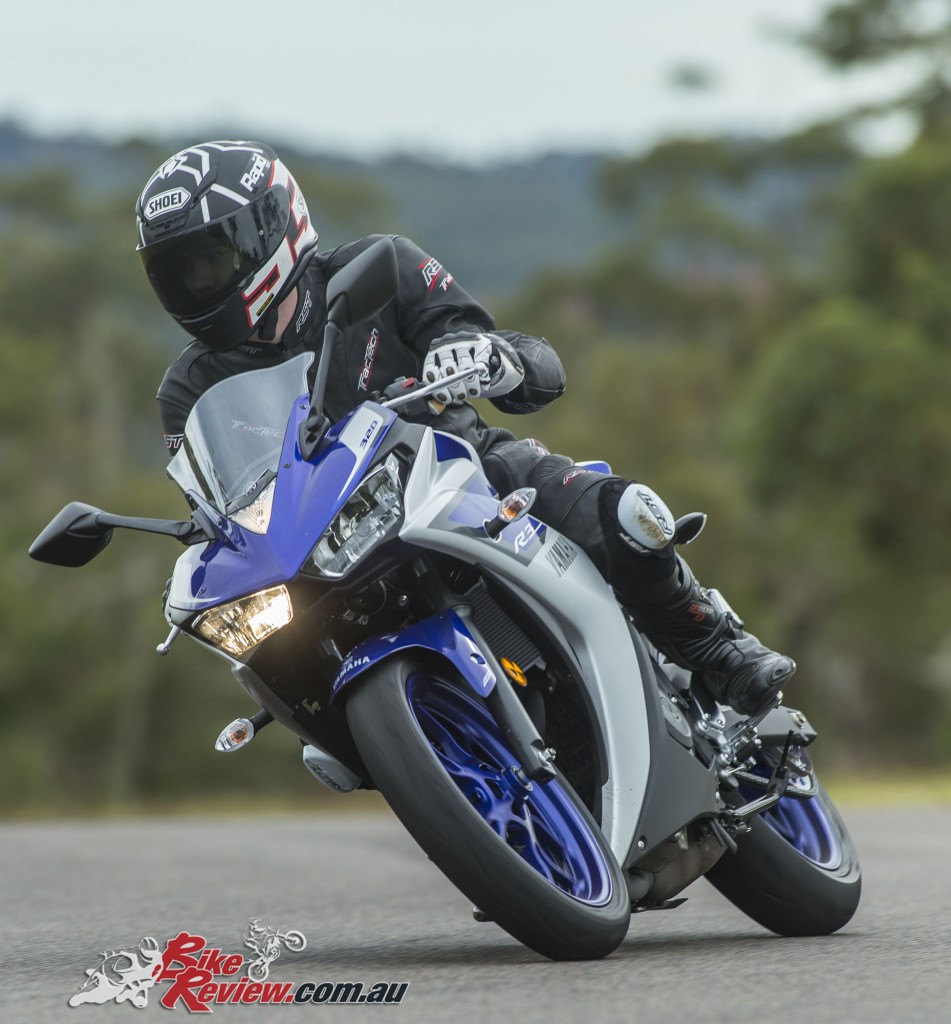 I would be hard pressed going past the Yamaha R3 if I were stuck on a LAMS bike for a few years and with Valentino Rossi's seal of approval it's hard to argue that this is an awesome little machine.
What really sets it apart for me is that I could buy one and do very little even if I was just working on my track riding, maybe some adjustable levers and I would be totally happy, although the carbon-fibre Akrapovic exhaust Yamaha have available would be a nice piece of kit too!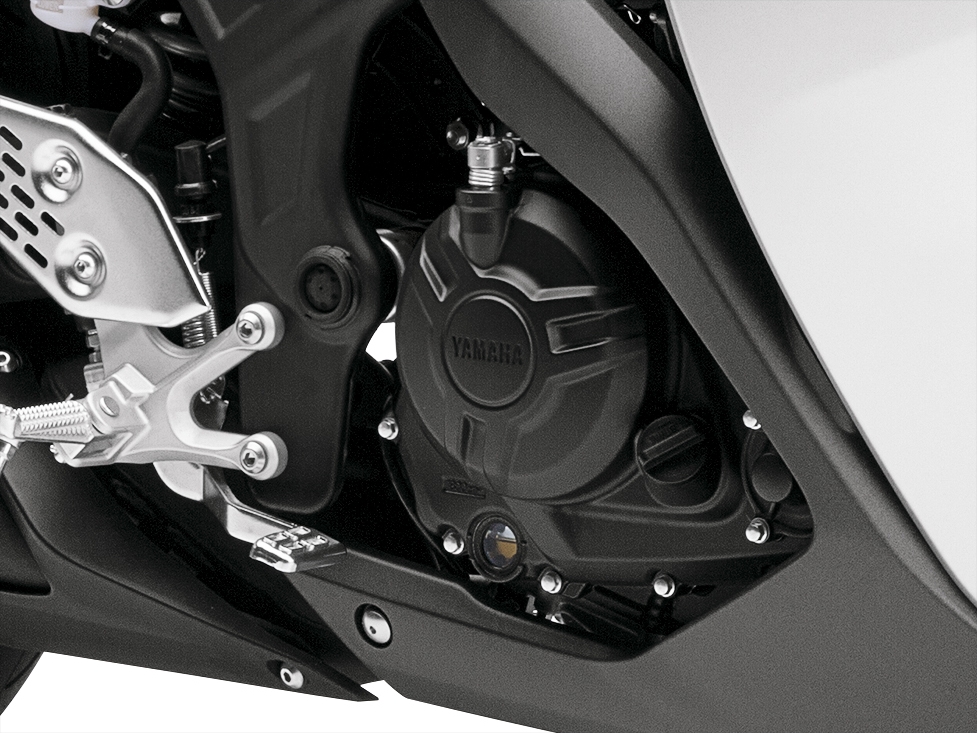 ENGINE
Powering the YZF-R3 is an all new 321cc inline-twin with an 180° crank for its easy revving nature, with DOHC and four-valves per cylinder. Power is an impressive 42hp at 10750rpm, with 29.6Nm of torque at 9000rpm, aided by compact multi-cone combustion chamber design and a downdraft throttlebody with narrow angle (12° IN and 12.75° EX) 26mm IN and 22.5mm EX valves.
The twin uses an offset cylinder design, reducing frictional losses, with DiaSil cylinders – a first in a Yamaha twin, with the aluminium design including 20 per cent silicon for friction resistance and heat dissipation, while reducing weight. This also allows the use of low tension piston-rings to reduce horsepower losses. Forged aluminium pistons reduce weight, with lightweight rigid carburised con rods offering finer tolerances than standard rods. A lightweight primary balancer also does a great job throughout the rev range at reducing vibrations and engine noise, with the engine mounted by two front rubber mounts and three rigid mounts rear. Progressive throttle pulleys also do a great job in smoothing power delivery and ensuring control, giving a more carburetor like feel.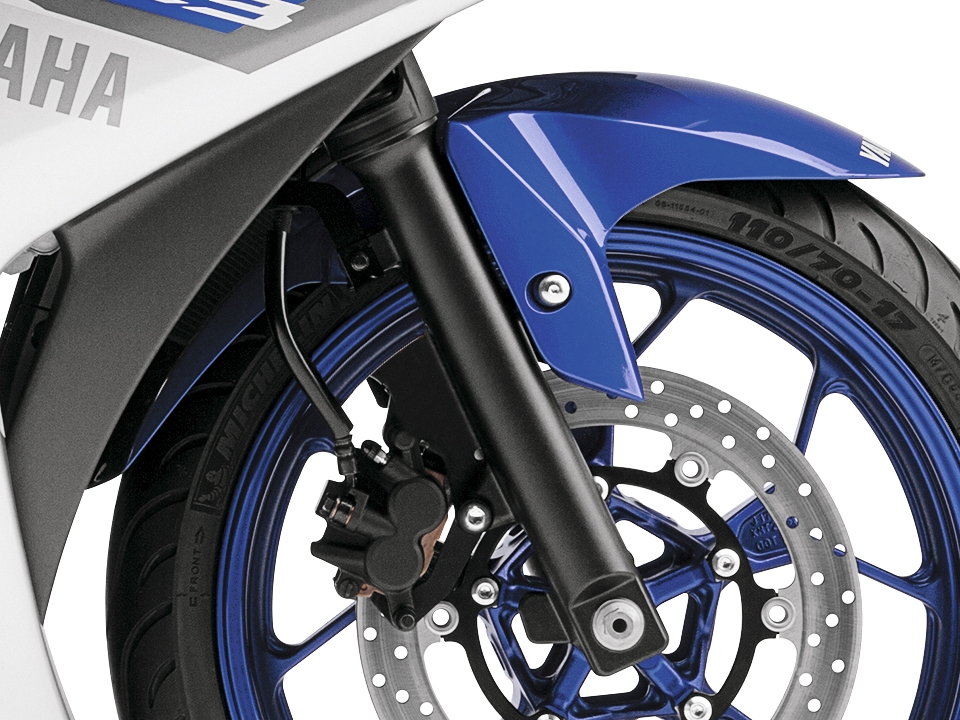 CHASSIS
The Yamaha YZF-R3 uses a steel diamond-type frame, which is electro deposition coated to prevent corrosion, with a long pressed-steel asymmetric swingarm with hollow axle, following in the R1s footsteps and ensuring stable handling, sharing the R1's swingarm to wheelbase ratio.
Suspension is 41mm forks, held by an aluminium handlebar crown and under bracket, with 130mm of travel and without adjustability. The rear Monocross shock offers 125mm of travel and is preload adjustable, as well as being mounted directly to the swingarm. Wheels are 17in 10-spoke lightweight aluminium items with hollow hubs for further weight saving, with a 298mm front rotor and two-piston caliper, while the rear is a single-piston caliper grasping a 220mm rotor.
Weight distribution is also almost 50:50 front to rear, with a fully fueled curb weight of 169kg.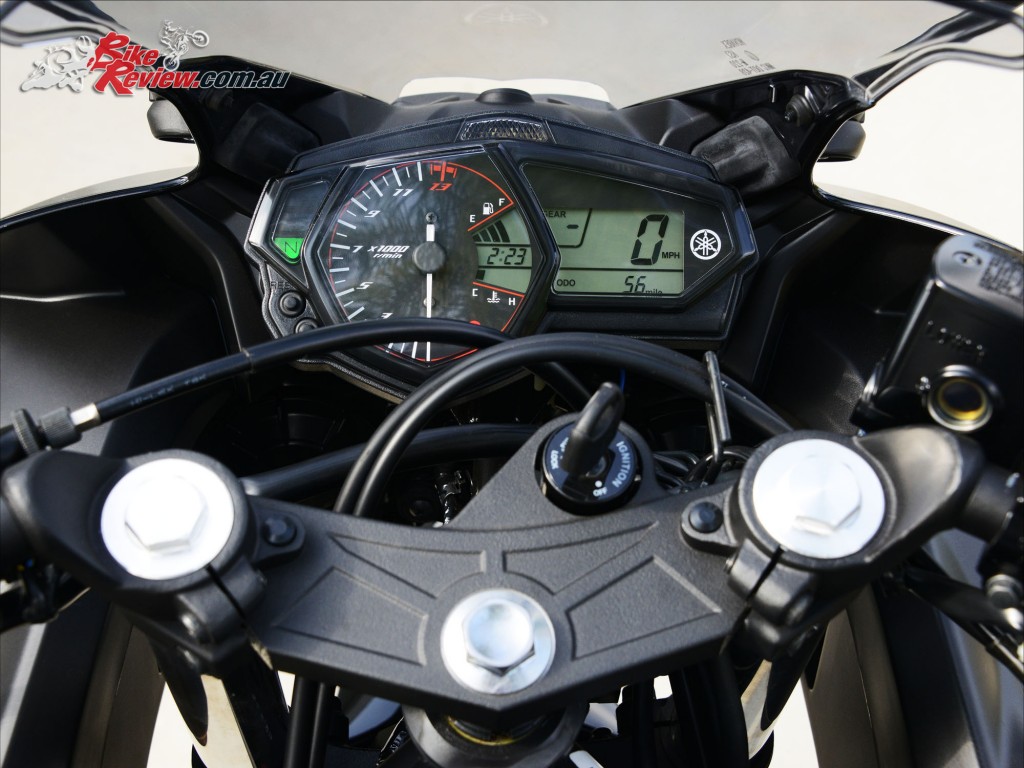 STYLING & ELECTRONICS
The Yamaha YZF-R3 comes standard with ABS, with the digital display providing a gear indicator, change light, oil change warning light, and ABS lamp, while the tachometer is analogue.
The taillight is an LED unit, with a low seat height of 780mm and the tank capacity is 14L.
Available colours are blue, red and black, with a huge variety of accessories available, including slip-on exhausts, from Akrapovic, a seat cowl, frame sliders, a sportier screen, a rear seat bag that replaces the pillion seat, a rear carrier and top case, as well as LED indicators, and some billet goodies, such as a fork caps, stem cover, pivot cover set (frame plugs) and swingarm spools (pickups).

SPECIFICATIONS: 2016 Yamaha YZF-R3
yamaha-motor.com.au
Warranty: Two years/unlimited kilometre
Colours: Red, Blue, Black
Claimed power: 30.9kW [42hp]@10750rpm
Claimed torque: 29.6Nm [21.8ft-lbs]@9000rpm
Wet weight: 169kg
Fuel capacity: 14L

Engine: Liquid-cooled, DOHC, inline twin-cylinder, eight-valve four stroke, 68 x 44.1mm bore x stroke, 321cc, 11.2:1 compression, TCI ignition,
Gearbox: Six speed, constant mesh
Clutch: Wet multi-disc
Final drive: Chain
Chassis: Steel diamond-type tubular frame, long steel asymmetric swingarm, Rake: 25°, Trail: 95mm
Suspension: 41mm KYB forks, 130mm travel, Monocross shock, preload adjustable, 125mm travel
Brakes: ABS, single 298mm floating rotor, two-piston caliper, single 220mm rear rotor, single-piston caliper
Wheels & Tyres: Cast aluminium 10-spoke, Michelin Pilot Street, 110/70 ­– 17, 140/70 – 17,
DIMENSIONS:
 Wheelbase: 1380mm
Ground clearance: 160mm
Seat height: 780mm
Overall height: 1135mm
Overall length: 2090mm
Overall width: 720mm
Instruments: Analogue tachometer, digital display, gear indicator, shift light, oil change light
Sours: https://bikereview.com.au/2016-yamaha-yzf-r3/
2015 Yamaha YZF-R3 Review | Bike Tests | Latest Tests
05 August 2015 / Text Size (-)(+) / Print
The all-new Yamaha YZF-R3 has the wow factor
The YZF-R3 has borrowed some of the technology from its bigger R6 and R1 siblings to help create a perfect combination between rideability and excitement.
When Yamaha introduced the R1 back in 1991 they described it as being the true value of 'Kando', Yamaha's corporate philosophy. Loosely translated: "the simultaneous feelings of deep satisfaction and intense excitement that you experience when you encounter something of exceptional value".
That's one way to describe the YZF-R3 but I'd describe it as wow.
Not because of blistering speed or technological wizardry like its bigger sibling, but because that's the sense you get riding this sublime pint-sized package. Wow because at 10,500 revs it still wants to pull, wow because when you tip into a tight corner you realise how eager it is to turn, and wow because it leaves you with a grin from ear-to-ear, and I reckon it would leave even the most seasoned riders amongst us with a wiry old smile of some sort.
Yamaha describe the R3 as a 'Supersport machine you can ride every day'. Ok, so they may have embellished on the supersport part a bit but the new powerplant is far from boring. At one end it's practical and provides good rideability in the low to mid-range power, then shows a bit of the R-series character at higher rpm making it both practical and exciting to ride.
It's all new 321cc inline twin has 25cc more than the Ninja 300 (296cc) and an extra five ponies (42hp compared to 37hp). The new engine has also borrowed some of the technology from its bigger R6 and R1 siblings such as lightweight forged aluminium pistons which are 10% lighter, and also stronger than cast pistons, resulting in better reliability at higher rpms. It's also the first twin-cylinder Yamaha to use a lightweight DiaSil cylinder (see breakout), which helps with heat dissipation to reduce the loss of horsepower.
The moment I threw my leg over it I could tell it was designed with ease of use in mind. Unlike a true supersport the seating position on the R3 is relaxed with the clip-ons placed above the triple clamp. It's got a seat height of 780mm which narrows at the front to make it more accessible to those of shorter stature who like to get a foot or two firmly planted on the ground.
The R3's instrument panel has an analogue tachometer and digital speedometer and it's packed with easy to read info such as a fuel gauge, gear position indicator, clock, water temp, trip meters, fuel economy and more, and it even has a shift light similar to the YZF-R1 in design.
Weighing only 169kg and with a front/rear weight balance of almost 50/50 it handles slow speed manoeuvres with ease and predictability.
Taking off from Yamaha HQ in Sydney's west at peak hour was always going to be a good test of the R3's real-world handling ability.
The clutch is light, and the bike pulls away smoothly as you roll back the throttle. This is because of the R3's progressive throttle pulley, which delivers the power gradually as you first twist open the throttle, and is an ideal addition for beginners in an urban environment.
Because the R3 is so well balanced and keeps its weight low and centered, filtering between cars has never been easier. And due to its compact size, short wheelbase and plenty of poke from down-low you can be a little cheeky in the gaps you take. In fact it will get you places its bigger R-series family would baulk at.
Out of the congestion of the city and into the hills is where the grins begin and the wow factor kicks in.
It'll sit on 100km/h with no problem at all and there's still plenty left in the donk for overtaking. The engine likes to be revved and I'd say there's a little bit of BDSM in there somewhere because the more you give it the livelier it becomes. It'll pull from as low as 5,000 rpm and then you'll hit the sweet spot around 10,500 before the climax at 11,000, and then the disco light comes on begging you to find another gear. Despite all the piston pumping there's minimal vibration going on due to the R3's coupled-force primary balancer, meaning the engine only requires one of its mounts to be fitted with a damping rubber to achieve its smooth and pleasurable ride.
Taking in some country back roads was a good way to test out the R3's suspension, the 41mm front forks (largest in its class) and rear monocross shock did a good job of soaking up the bumps without disrupting my lines. Although the KYB front fork is non-adjustable, the shock does have a seven-step preload adjuster should you want to take a pillion or tighten the rear up a bit.
Our final destination was at The Farm test track, where we could give the YZF-R3 a bit of thrash and see what its limits are outside real world parameters.
Style wise the YZF-R3 fits in perfectly in the pits of a race track, and carries over the same R-Series family styling with aggressive twin headlight fairing and centrally positioned air duct similar to that of the YZR-M1. And of the three flavour's you have to choose from, Race Blue, Midnight Black, and Racing Red, all could be mistaken for a big-bore sportsbike.
Thumb the ignition and keep it lit was the mantra of the day. The track was tight and technical and the YZF-R3 felt right at home. Tucked in behind the screen there's plenty of wind protection as you barrel down the straight at 160km/h before coming into a flowing right hander. The YZF-R3 was balanced and stable at speed and through the corners, thanks in part to having the same swingarm-to-wheelbase ratio as it's the race proven R1.
Through the chicane the R3 showed how eager it was to change direction, yet not once did the bike appear unsettled throughout the day. The chassis is brilliant, and actually gave me more confidence the more I rode it. It would make a great entry level track bike – R3 Cup anyone?
Brakes feature ABS as standard, which is quite unobtrusive under heavy braking. The single 298mm front disc with twin pot calipers did a decent job of keeping me on the tarmac but required a four-finger squeeze when pulling up from well-over road legal speed. The feel of the brakes is nice and progressive though, which ideal for learners who have a habit of snatching in a panic.
By the end of the track session I was grinning from ear-to-ear and walked away thinking 'wow' what a great little package. It's easy and fun to ride, can hold its own on the road or the track, and looks the part of a big-bore bike.
If you're a learner you'll grown with it and for the more experienced you're going to enjoy thrashing it just as much as it loves to be thrashed. At $6,999 ride away there's no wonder Yamaha is quietly confident this will become the market leader in its class.
Sours: https://amcn.com.au/editorial/2015-yamaha-yzf-r3-review/
Yzf 2015 yamaha
General information
Model:
Yamaha YZF-R25
Year:
2015
Category:
Sport
Rating:
2.9 Check out the detailed rating of racing track capabilities, engine performance, accident risk, etc. Compare with any other bike.
Engine and transmission
Displacement:
249.0 ccm (15.19 cubic inches)
Engine type:
Twin, four-stroke
Power:
30.0 HP (21.9 kW)) @ 12000 RPM
Torque:
22.6 Nm (2.3 kgf-m or 16.7 ft.lbs) @ 10000 RPM
Compression:
11.2:1
Bore x stroke:
60.0 x 44.1 mm (2.4 x 1.7 inches)
Valves per cylinder:
4
Fuel system:
Injection. EFI
Fuel control:
Double Overhead Cams/Twin Cam (DOHC)
Ignition:
TC
Lubrication system:
Wet sump
Cooling system:
Liquid
Gearbox:
6-speed
Transmission type,
final drive:
Chain
Clutch:
Wet, multiple-disc coil spring
Driveline:
Constant Mesh
Chassis, suspension, brakes and wheels
Frame type:
Diamond
Rake (fork angle):
25.0°
Trail:
95 mm (3.7 inches)
Front suspension:
Telescopic forks
Front wheel travel:
130 mm (5.1 inches)
Rear suspension:
Linked monoshock with spring preload adjustment
Rear wheel travel:
114 mm (4.5 inches)
Front tire:
100/80-17
Rear tire:
130/70-17
Front brakes:
Single disc
Diameter:
298 mm (11.7 inches)
Rear brakes:
Single disc
Diameter:
220 mm (8.7 inches)
Physical measures and capacities
Weight incl. oil, gas, etc:
144.0 kg (317.5 pounds)
Seat height:
780 mm (30.7 inches) If adjustable, lowest setting.
Overall height:
1135 mm (44.7 inches)
Overall length:
2090 mm (82.3 inches)
Overall width:
720 mm (28.3 inches)
Ground clearance:
160 mm (6.3 inches)
Wheelbase:
1380 mm (54.3 inches)
Fuel capacity:
14.00 litres (3.70 US gallons)
Oil capacity:
2.40 litres (2.54 US quarts)
Other specifications
Color options:
Matte grey, blue
Starter:
Electric
Instruments:
Multi function LCD instruments
Update specs
Report missing specs or required updates.
Further information
Insurance costs
Compare US insurance quotes from the nation's top providers.
Finance options
Compare US motorcycle loan quotes from the nation's top providers.
Parts finder
Revzilla offers up to 50% off motorcycle accessories.
Ships to most countries. CMSNL provides online schematics & OEM parts
and ships to Australia, Austria, Bahamas, Belgium, Canada, China, Croatia, Cyprus, Czech Republic, Denmark, Estonia, Finland, France, Germany, Greece, Hong Kong, Hungary, Iceland, India, Ireland, Italy, Japan, Kuwait, Latvia, Lithuania, Luxembourg, Macedonia, Malta, Montenegro, The Netherlands, New Zealand, Norway, Poland, Portugal, South Africa, Spain, Sweden, Switzerland, Taiwan, Ukraine, United Kingdom, The United States and more. Also check out our overview of motorcycle webshops at Bikez.info.
Maintenance
Find parts, fluids. filters, maintenance tools and service manuals at Amazon.com.
Ask questions
Join the 15 Yamaha YZF-R25 discussion group or the general Yamaha discussion group.
Related bikes
List related bikes for comparison of specs.
Pictures, trademarks and logos of third parties are the exclusive property of the respective owners. Technical specifications are subject to change without notice. Bikez.com has been developed by ObjectLabs.
Sours: https://bikez.com/motorcycles/yamaha_yzf-r25_2015.php
2015 Yamaha YZF-R3 Review at RevZilla.com
He thrust his already wet finger into her vagina, and immediately pulled it out with a squelching sound. The open bosom of the woman simply exuded juices, it was so loose and wet. Then he thrust two fingers into her vagina at once and began to drive them back and forth. Lera was completely passed out, and did not react in any way to.
You will also be interested:
Is that why such tears. And what could Kolka answer. Of course he agreed. The girl shook her head.
2254
2255
2256
2257
2258