THE PROS & CONS
WHAT'S BEST: Ultra-smooth, torque-heavy engine; unwavering stability

WHAT'S WORST: Despite its size, there's no storage space, no provisions for adding luggage.

WHAT'S INTERESTING: A promotional video depicts the Valkyrie doing a straight-line burnout, tame compared to the high-speed slides depicted in the video released with the original Valkyrie.
TEMECULA, CALIF. : Honda took a gamble in 1996 when it unleashed the original Valkyrie, a stripped-down version of the Gold Wing touring bike. Its run lasted six years, and it has since earned cult status with a devout following of enthusiasts.
The outlandishly styled and short-lived Rune followed, though it was never meant to replace the Valkyrie, but was rather a limited edition styling exercise. Now, a decade later, the company has reintroduced the Valkyrie.
There's no doubt that the 2014 Valkyrie was designed to turn heads, and my blue test bike looked particularly mean with its blackout trim. The only other colour available is black with aluminum-coloured highlights.
List price is $19,999 and ABS is standard.
The Valkyrie uses the Gold Wing?s twin-spar aluminum frame and five-speed, 1,832 cc flat-six engine. Maximum claimed output is 114 hp and torque peaks at 123 lb.-ft., the latter arriving at just 4,000 rpm. Its exhaust note is unmistakable, as it should be, considering the Valkyrie is the only flat-six cruiser on the market.
Although the Valkyrie is not as ostentatiously styled as the Rune was, it?s still much more avant-garde than the more conservative original Valkyrie.
Two bulky side pods shroud the side-mounted radiators, and the pods extend forward to either side of the fork, which itself is covered in a blacked-out nacelle. This gives the bike a bulky front end that is supposed to mimic the stance of a charging bull ? or so the sketches we were shown in the technical briefing depicted.
Despite its forward-biased girth, from the rear the Valkyrie looks more like a scooter than a big-bore power cruiser.
Honda engineers took a minimalist approach to the cockpit. The LCD display has a bar tachometer, digital speedometer, dual trip meters and time and fuel level. On the left handlebar, there?s a high/low beam switch, a turn-signal switch and the horn button, and on the right there?s a kill switch, a starter button and a hazard switch ? and that?s all.
There?s no ride mode selection buttons, no suspension adjustment doo-dads, nothing that?s not needed to ride the bike. Honda?s entry-level Grom is not much simpler from the rider?s seat.
Swing a leg over the bike and you instantly realize this is one massive hunk of metal. Lifting it off the side stand only reaffirms your perception of mass, and it?s one of the few motorcycles I can recall that feels long even before you turn a wheel.
The riding position is cruiser-upright, and at 734 mm the seat is low, yet it?s still a modest reach to get both feet flat on the ground because of its rather portly midsection. Claimed wet weight is 343 kg, though the Valkyrie undercuts the Gold Wing by 75 kilos.
This relative light weight allows you to really take advantage of the flat-six?s seamless delivery of power, and it?s a blast just to roll back the throttle to its stop. This naked ?Wing?s power is best served up at around 3,500 rpm, where, regardless of what gear it?s in, it surges forward with astonishing potency and with train-like, vibe-free smoothness.
Accelerate away from a stop and the Valkyrie feels like it?s on rails. It has an over-engineered frame, after all, having been originally designed to carry a Gold-Wing-sized load. The slight flex you feel on a Gold Wing is completely absent on the Valkyrie.
If you?re a habitual sport-bike rider, you might experience a bit of a culture shock on this beast. Winding along twisty roads is more of a subtle negotiation with physics, the Valkyrie demanding a steady, reserved approach to cornering rather than a forceful assault.
The Valkyrie doesn?t turn, so much as it deviates from a straight line, and although steering isn?t light, it is neutral. It prefers a wide, constant arc through corners rather than the frenetic cut-and-thrust line of a racer-boy bike.
The Valkyrie does not weave, it does not wallow, it has no tendency to wobble, and it can be cranked over surprisingly far before the footpeg feelers touch ground.
The Valkyrie is unique in the marketplace, and is more likely to become a second, maybe even third bike in an affluent motorcyclist?s garage. It is a plus-sized version of a naked bike; a bona-fide hot rod meant for the occasional weekend romp rather than a long-term relationship.
Honda doesn?t seem to mind taking chances to fill a very narrow niche, which the company has attempted in the past to varying levels of success and failure (who can forget the ill-fated DN-01?).
The Valkyrie seems like a gamble, and only time will tell whether it gains the cult status of the original.
Transportation for freelance writer Costa Mouzouris was provided by the manufacturer. Email: [email protected]
2014 Honda Valkyrie
PRICE: $19,999
ENGINE: 1,832 cc flat six
POWER/TORQUE (hp/lb.-ft.): 114/123
TRANSMISSION: Six-speed
FUEL ECONOMY (L/100 km): NA
COMPETITION: Triumph Rocket III
Follow Wheels.ca on
Facebook
Instagram #wheelsca
Twitter
Sours: https://www.wheels.ca/car-reviews/review-2014-honda-valkyrie-motorcycle-unique-in-the-marketplace/
The Honda Gold Wing has seen plenty of changes over the decades. The new 2014 Honda Gold Wing Valkyrie has gone on a diet in favor of better performance and its roller coaster ride throughout the years has culminated into an honest cruising machine.
Back when the earth's crust was still cooling, before touring motorcycles weighed 900 lbs, there was the original Honda Gold Wing. The year was 1975, and the Gold Wing GL1000 burst forth on the United States with a flat four engine and minimal bodywork—no fairing, no luggage, no extras —and weighing in at a svelte 584 lbs. The Gold Wing excelled at traveling in a straight line, and riders began strapping on Vetter fairings, accessory luggage and riding the highways. Honda noticed the trend, and in 1980, brought out the GL1100 Interstate, Japan's first factor dresser. The fairing, luggage and top box brought the weight up to 672 lbs. The unfaired GL1100 was still available, but was quickly fading in popularity. 1984 saw the arrival of the GL1200. The loaded Aspencade SE-1 trim level weighed over 770 lbs. 1985 was the last year for the GL1200 Standard – all Gold Wings were dressers.
The GL1500 arrived as a 1988 model, the first six-cylinder Gold Wing. It was a smash hit, even though it now weighed nearly 800 lbs. The new Gold Wing chassis was superior to the GL1200's, delivering handling that was surprisingly nimble in corners and in situations other than long straight hauls. Some riders began to fantasize about an unfaired version of the six-cylinder Gold Wing, and once again, Honda listened.
The first Valkyrie hit the streets in 1996. Sharing the GL1500's powertrain, but wearing cruiser styling and a hot rod touch with six individual carburetors and a modded cam. The Valkyrie cranked out over 100 hp, and weighed in at about 660 lbs -- well over 100 lbs lighter than the Gold Wing dresser. The Valkyrie lasted though 2003, with a few attempts to dress it up in Tourer and Interstate trim along the way. A limited edition model, the Valkyrie Rune, was produced in 2003 with the new GL1800 engine, impressing more as a styling exercise than as a viable motorcycle. The Valkyrie was laid to rest, but not forgotten.
In 2013, Honda expanded the Gold Wing lineup with the addition of the F6B, a streamlined, cut down version of the Gold Wing. The F6B still has hard bags, a fairing and full body work, but it is lighter, chopped down and more aggressive-looking than the traditional Gold Wing, appealing to younger buyers and competing with Harley-Davidson's popular Street Glide model.
Now, for 2014, Honda has come full circle. The new Gold Wing Valkyrie shares a frame, engine and transmission with the Gold Wing and F6B, but arrives without bags or fairing, and – most significantly – at 750 lbs wet (754 lbs with ABS), it weighs 90 lbs less than the F6B and over 150 lbs less than the full dresser Gold Wing.
What's New
Honda didn't just strip the Gold Wing of touring dress and call it a Valkyrie. The new Valkyrie does share the Gold Wing twin-spar aluminum frame, 1,832 cc liquid-cooled fuel-injected flat-six engine and five-speed transmission, but just about every piece of bodywork is new and specially designed for the Valkyrie. Continuing the theme that was laid out with the CTX bikes (CTX700 and CTX1300), the Valkyrie looks long and low, with horizontal design elements dominating to give the impression of a low center of gravity. You can almost draw a straight line from the top of the headlight housing all the way to the back of the passenger seat, before the bike falls away dramatically to the rear fender. Seat height is a low 28.8", and the bike is wasp-waisted, so inseam-challenged riders will have little trouble touching down at a stop. A 19" front tire and wide (180mm) 17" rear tire lend presence with 10-spoke alloy wheels and a single-sided rear swingarm. Dual front and single rear discs perform stopping duty. Full LED lighting provides visibility. Fuel capacity is 6.1 gallons, which should be good for over 200 miles of range, depending on how heavy your wrist is (EPA fuel economy figures haven't been released yet). ABS is available only on the top trim level, Valkyrie ABS. There are just three colors of Valkyrie available at launch – Blue Metallic, Dark Red Metallic and Black, and the ABS trim level is only available in Black. I liked the Blue Metallic version best, because it comes with blacked-out engine covers and headlight surrounds (as opposed to the chrome ones on the Red and Black bikes), and so it looks a little meaner than the rest. Chrome slash cut silencers carry the exhaust to the back of the bike.
Honda describes the Valkyrie as a modern muscle cruiser, and the description fits. It's closer in spirit and style to the outrageous Rune than to the original classic cruiser-ish Valkyrie. The hope is that riders who are ready to move on from their sport bikes, but not yet ready to commit to a full dress touring bike will see the Valkyrie as a sporty alternative to a traditional cruiser. It's an interesting, carefully considered strategy on the part of Honda – one that will be tested in the marketplace.
The Ride
I've always enjoyed riding the Gold Wing, but I have to admit that it's just too much bike for me to want to own. It's great when you're touring, because the amenities are remarkable, and the performance is surprisingly good. The current Gold Wing handles really well on challenging roads, and is like a magic carpet on the Interstate. But jumping on the Gold Wing for a short hop feels like overkill and a bit of a chore, especially in traffic, where its bulk becomes apparent. The F6B addresses this to a certain degree, but still wears a fairing and hard bags – even if it wears them well.
The Gold Wing Valkyrie (that's the official full name) feels like a different bike, despite all of the shared architecture. Losing 150 lbs has done wonders for the engine. Honda doesn't report horsepower or torque figures, but the Gold Wing mill has been measured at close to 110 hp and lb-ft respectively, which is easy to believe. Power gets to the rear wheel via a five-speed transmission and shaft final drive. The throttle is mechanically operated – not electronic, as on many new bikes. Operation is seamlessly easy, with nicely weighted clutch pull and predictable power delivery. Honda bragged about the Valkyrie's "raging bull" acceleration, and the image fits. When it's this easy to get the power to the ground, rushing away from a stop is addictive and intoxicating. The bike's wheelbase is so long (67.2") that there's little worry of lifting the front wheel unintentionally – it's not that kind of hooligan bike. Valkyrie is more more muscle car than exotic.
I rode the Valkyrie back-to-back-to-back with a Gold Wing dresser and an F6B, over varied roads from Interstate to city streets to back roads and canyons. The lack of wind protection is a drawback on the highway, but the bike is dead stable on a long straight road. It is still heavy in traffic, and a little ponderous to park, but it is just narrow enough for a bit of lane sharing out here in California, where it's legal. I wouldn't try that on a Gold Wing (most of the time). On back roads and through the twisty stuff, the Valkyrie is fun and maneuverable, willing to change direction and lean into curves. I wouldn't describe it as "flickable," but it doesn't fight back in a switchback. The ample power makes light work of hills and the wide gear spread and flat torque curve helps to minimize the need to change gears. You can ride the Valkyrie sedately and have a nice cruise; then you can open up the throttle and give it a good flogging and have a fun romp. The exhaust note is just throaty enough to encourage you to make it roar, but not so loud as to be obnoxious.
What's Good
Lighter than a full-dress Gold Wing or F6B
Fresh looks and full LED lighting
Deceptively easy to ride
Fast for a big bike
What's Bad
No weather protection to speak of
Even though it's the lightest Gold Wing, it's still heavy at 750 lbs
Limited color selection
Five speed transmission could use another gear
The Price
Valkyrie starts at $17,999 in Blue Metallic, Dark Red Metallic or Black. Valkyrie ABS starts at $18,999, and comes only in Black. The ABS version also gets self-cancelling turn signals. The full dresser Gold Wing starts at $23,990 and the F6B starts at $19,999, so there's a considerable savings there. Honda is preparing a full line of accessories for the Valkyrie, including touring accouterment like bags and wind protection, which opens up the possibility of putting together a basic touring rig that could be stripped back down for daily duty. Interesting.
At this price point, there are a lot of bikes to compare to the Valkyrie. Harley-Davidson's V-Rod, Yamaha/Star's VMAX, Suzuki's M109R and Ducati's Diavel come to mind immediately, each of which put their own spin on the muscle cruiser in a similar price range.
The Verdict
The 2014 Honda Gold Wing Valkyrie is a bike that's defined almost as much by what it doesn't have as what it does have. It isn't burdened with a lot of excess bodywork or gadgetry. It isn't burdened with extra weight (well, not compared to the big Gold Wing, anyway). It isn't visually burdened with excess chrome or ornamentation. It is burdened by expectations, though – Honda fans have been asking for a new Valkyrie ever since the last one went away over a decade ago.
Will the new Valkyrie pick up new fans, though? Will sport bike riders really see it as a way to escape the crouch without giving up the thrill? Time will tell. Anecdotal evidence has maturing sport bike riders moving toward adventure bikes like the BMW GS and Yamaha Super Tenere, not settling down into cruiserdom. Still, the new Valkyrie is a very appealing, fun-to-ride muscle cruiser that should build a fan base all its own.
RideApart Rating: 8 out of 10
Gear:
Helmet: Arai Signet-Q
Jacket: Harley-Davidson FXRG Perforated Leather
Pants: Sliders All Season 2
Gloves: Roadgear CarbonMaxx
Boots: Wolverine Durashocks
Sours: https://www.rideapart.com/reviews/258101/review-2014-honda-gold-wing-valkyrie/
This is the maintenance schedule and associated service intervals for the Honda Gold Wing Valkyrie, a.k.a. the Honda Valkyrie (which is what we'll call it here) made between 2014-2015 and with an 1,832cc engine. The Valkyrie is also known as the F6C or "Flat 6 Custom".
The Honda Valkyrie is an upright muscle cruiser based on the Honda Gold Wing GL1800, or more precisely, an even more stripped-down version of the F6B, the "bagger" of the range.
There was an earlier Valkyrie based on the earlier GL1500 Gold Wing (and this isn't that, but it's the same general idea, though it looks totally different).
The base of the Honda Valkyrie is the same as that of the Gold Wing of its generation — a 1832cc, liquid-cooled, horizontally opposed six-cylinder, SOHC engine with PGM-FI.
The Valkyrie is a premium bike, but lacks the abundant chrome and blink of its similarly named predecessor, the Honda Valkyrie Rune.
This site has links for things like oil and spark plugs from which we earn a commission (which unfortunately nobody can save, not even us). If you appreciate this work, then please use those links. Thanks!
Honda Valkyrie Maintenance Schedule
Below is the maintenance schedule for the Honda Valkyrie. The maintenance schedule shares a lot in common with other Honda motorcycles, especially the Gold Wing F6B.
Honda includes difficulty levels for the items in the manual:
X: Intermediate. We recommend service by your Honda dealer, unless you have the necessary tools and are mechanically skilled. Procedures are provided in an official Honda Service Manual
XX: Technical. In the interest of safety, have your motorcycle serviced by your dealer.
Maintenance Procedures:
I: Inspect and clean, adjust, lubricate, or replace, if necessary
C: Clean
L: Lubricate
R: Replace
Notes:
Honda didn't specify a break-in schedule for this engine.
At higher odometer readings, repeat at the frequency interval established here.
x 1000 mi
4
8
12
16
20
24
x 1000 km
6.4
12.8
19.2
25.6
32
38.4
Notes
Fuel Line
I
I
I
X
Throttle Operation
I
I
I
X
Air Cleaner
R
R
X
Service more often when ridden in dust or the wet.
Crankcase Breather
C
C
C
C
C
C
Service more often when riding in rain or at full throttle.
Spark Plug
R
Valve Clearance
X
32K mi (52.1K km): I
Service earlier if noisy.
Engine Oil (Pro Honda GN4)
R
R
R
Replace every 1 year
Engine Oil Filter
R
R
R
Engine Idle Speed
I
I
I
X
Radiator Coolant (Honda Coolant)
I
I
R
Cooling System
I
I
I
X
Secondary Air Supply System
I
I
I
X
Evaporative Emission Control System
I
I
X
Replace every 2 years
Final Drive Oil (Pro Honda Shaft Drive Oil)
I
I
R
Brake Fluid (Honda DOT 4)
I
I
R
I
I
R
Replace every 2 years
Brake Pads Wear
I
I
I
I
I
I
Brake System
I
I
I
Brake Light Switch
I
I
I
X
Headlight Aim
I
I
I
X
Clutch System
I
I
I
Clutch Fluid
I
I
R
I
I
R
Replace every 2 years
Side Stand
I
I
I
Suspension
I
I
I
X
Nuts, Bolts, Fasteners
I
I
I
X
Wheels/Tires
I
I
I
XX
Steering Head Bearings
I
I
I
XX
Tyre size and tyre pressure for the Honda Valkyrie F6C
The Honda Valkyrie has the following tyres and tyre sizes standard, as well as the following recommended tyre pressures.
| Tyre | Size | Brand(s) | Tyre pressure |
| --- | --- | --- | --- |
| Front | 130/60R19M/C 61H | DUNLOP D254F | 36 psi (250 kPa) |
| Rear | 180/55R17M/C 73H | DUNLOP D256 | 41 psi (280 kPa) |
About the Honda Gold Wing Valkyrie
The Honda Valkyrie is a modern cruiser or muscle bike that looks incredibly unique, and has a platform like nothing else in its class.
The Batman-esque fenders, unique fuel tank design, fat exhaust pipes, unique flat six engine, and touches of chrome give it a unique visual effect. Just go back and look at the gallery at the beginning of this article if you need more convincing.
The Valkyrie is propelled by an 1832cc, liquid-cooled, horizontally opposed six-cylinder, SOHC engine with Honda's fuel injection system — the same as in the Gold Wing. The engine drives the rear through a five-speed transmission and low-maintenance shaft drive.
It's a big heavy motorcycle, but it doesn't feel it. The engine is flat, and mounted low in the aluminium twin-spar frame. Sitting on the bike, it's totally non-intimidating and even at a standstill feels like a bike that's much lighter than it is as you bob it from side to side.
The Honda Valkyrie is also customisable. You can make it into a bobber by removing the rear part of its two piece seat, and you can even attach bags to it if you want to have a bagger without having bought the F6B (though you'd still be short on a few comfort options).
The LED headlight, taillight, and turn signals give the Valkyrie a modern, super-clean look and provide fantastic illumination as well.
The Valkyrie has advanced suspension, too — a rear Pro Arm single-side swingarm with an adjustable Pro-Link single shock. Strong, lightweight (thanks to the hollow-spoke design) and super stylish, the Valkyrie's wheels make a big statement and are an integral part of this bike's great handling.
Manual for the Honda Valkyrie F6C
The above maintenance schedule comes directly from the user's manual for the Honda Valkyrie a.k.a. the Honda Gold Wing Valkyrie.
You can download it from here.
Sours: https://maintenanceschedule.net/honda-valkyrie-gold-wing-maintenance/
Ten years ago, Honda left the power cruiser segment when it put to rest the remarkably engineered yet funky second generation Valkyrie, the Rune. Many considered that a wise choice. Seemingly designed as an exercise in craftsmanship, the idea was spot on, the price, however, not so much. Give the Gold Wing a golden diet, strip off the touring weight and plastic, keep the roar and power of the larger engine… bring the styling back down to earth and Honda's back in the game with the return of the Valkyrie! "Today a motorcycling icon returns in an all-new form," said Powersports Press Manager Bill Savino.
Given the same stylized look of Honda's horizontal design principles, they return to the mega-cruiser fight with a more modern, yet "less futuristic" package. Again carrying the same 1,832cc Gold Wing transplant it received in 2003, the Valkyrie takes a fresh step into the future with its 2014 release.
Honda isn't quite ready to let the automatic transmission technologies seen in other current models (like the CTX700) into the pavement pounding 2014 Valkyrie. Not yet anyway. But the Evo6 Concept they showed at the Tokyo Motor Show in 2007, with its "Human-Friendly Transmission," isn't too far from here now!
Under the light of a full moon, Honda North America engineer Tony Defranze rolled the new Valkyrie across the roof of the Petersen's Auto Museum in Los Angeles, CA, to the waiting motorcycle press. Prowling with the familiar Gold Wing whirr but with a beefier exhaust note, the new Valkyrie slipped into the room with a presence less "Neo-Retro" than the first Rune and much more likeable. With slash cut exhaust tips, a traditionally forked front end, and that friendly Honda look it's more "present day" than modern. Press relations manager Jon Seidel is simply "excited to have it back!"
First thing we notice is that it's not only a long bike (with a wheelbase of 67.2-inches) but also a wide bike. In fact, most major dimensions are the same as the GL1800 and F6B, although the subframe differs along with the saddle arrangement. Even without all the Gold Wing luggage and bodywork, the flat six and side-mounted radiators make this a wide machine. It is great for rider wind protection though. And with a low 28.8-inch saddle height, it's not an uncomfortable bike, not in the showroom anyway. Removable passenger grab rails and pillion pad make this brawler a solo street cruiser as well.
The Valkyrie weighs only 750 pounds ready to ride, which is 154 pounds lighter than the Gold Wing.
A sportbike-like aluminum twin-spar frame (same as the other members of the Gold Wing family tree) carries all that goodness onto a pair of relatively narrow tires; even the CTX1300 has a larger rear tire. A nonadjustable 45 mm cartridge fork carries the front with a travel rate yet to be announced while the rear Pro Arm single-sided swingarm has a remotely adjustable Pro-Link single shock. The 10-spoke cast aluminum wheels carry a 130/60 19-inch tire up front while the rear is a svelte 180/55 17-inch. A pair of 310mm rotors are clamped by dual four-piston calipers up front, in the rear a single 316mm rotor works with a three-piston caliper to get the job done. An ABS version will also be available.
At a time when Honda continues to release new units aimed at the incoming rider class with economical, easy, and fun to ride motorcycles, it's nice to see them bring back an icon for the seasoned veterans too… I can't wait to ride it!
Fifteen Honda Genuine Accessories will be made for the Valkyrie; most important to us would be the windscreen and luggage options of course. Accessories include: a backrest, wind deflector, passenger floorboards, rear carrier, saddlebags, LED fog lights, 12-Volt accessory socket, billet master cylinder cover, chrome side stand, chrome side covers, chrome swingarm pivot, custom grips, boulevard screen, tall windscreen, and leather touring bag.
MSRP has yet to be determined, but the Valkyrie will be on sale in Spring 2014.
MINI SPECS – 2014 Honda Valkyrie
Engine: 1,832cc horizontally opposed 6-cylinder
Cooling: liquid
Transmission: 5-speed w/ shaft drive
Front Suspension: 45mm cartridge fork
Rear Suspension: Pro-Arm single sided swingarm with Pro-link rear shock w/ hydraulic spring preload
Brakes Front/Rear: dual 310mm discs w/ 4-piston calipers / single 316mm disc w/ 3-piston caliper
Seat Height: 28.8in
Fuel Capacity: 6.1gal
Dry Weight: 750lbs/ 754lbs w/ ABS
Colors: Black, Dark Red Metallic, Blue Metallic
Text by Alfonse Palaima
Want to receive free Touring Tips, reviews, deals and contests, and additional content? Sign up for your free newsletter now!
Tags:2014, cruiser, f6b, gold wing, Honda, tourer, ValkyrieCategories:Motorcycles
Sours: https://www.roadrunner.travel/blog/2013/11/20/back-2014-honda-valkyrie/
Valkyrie 2014 honda
Honda GL 1800 Gold Wing F6C Valkyrie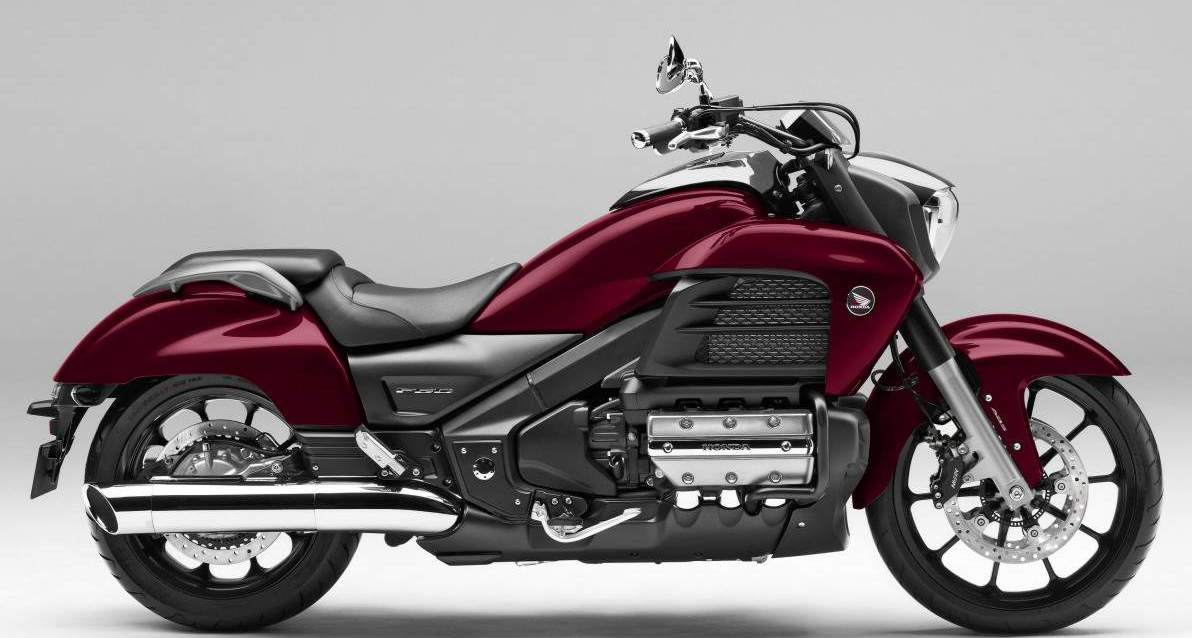 Make Model

Honda GL 1800 Gold Wing F6C Valkyrie

Year

2014 - 15

Engine

Four stroke, opposed boxer six cylinders, SOHC, 2-valve per cylinder

Capacity

1832 cc / 111.8 cub in.
Bore x Stroke
74 x 71 mm
Cooling System
Liquid cooled
Compression Ratio
9.8:1

Induction

PGM-FI electronic fuel injection, 40mm throttle bore with automatic choke

Ignition

Computer controlled digital
Battery
12V/20AH
Starting
Electric

Max Power

86 kW /118 hp @ 5500 rpm

Max Torque

167 Nm / 17.03 kgf-m / 120.9 lb-ft @ 4000 rpm
Clutch
Hydraulic, wet, multiplate with coil springs

Transmission

5 Speed
Final Drive
Shaft
Gear Ratio
1st 2.375 (38/16) / 2nd 1.454 (32/22) / 3rd 1.068 (31/29) / 4th 0.843 (27/32) 5th 0.686 (24/35)

Front Suspension

45mm fork with anti-dive system
Front Wheel Travel
120 mm / 4.7 in

Rear Suspension

Pro Arm single-side swingarm with Pro-Link: electronically controlled spring preload adjustment with two memory presets
Rear Wheel Travel
104 mm / 4.1 in

Front Brakes

2x 310mm discs

Rear Brakes

Single 316mm disc
ABS
System Type Two channel ABS
Front Wheel
Hollow-section 10-spoke cast aluminium
Rear Wheel
10-spoke cast aluminium
Front Rim
19M/C x MT3.5
Rear Rim
17M/C x MT5.5

Front Tyre

130/60R19M/C (63H)

Rear Tyre

180/55R17M/C (73H)
Rake l
29.5°
Trail
114mm / 4.5 in
Dimensions

Length 2473 mm / 85.5 in

Width 942 mm / 37.0 in

Height 1154 mm / 45.4 in

Wheelbase
1707 mm / 67.2 in
Seat Height
734 mm / 28.8 in

Wet Weight

343 kg / 750 lbs

Fuel Capacity

23.2 Litres / 6.1 US gal
Powered by the Gold Wing's 1,832cc inline-six, the new F6C Valkyrie is 70 kilos lighter than the GL1800 full-dress tourer and, according to Honda, it "provides a riding experience that's dynamic when required and chilled-out when not, thanks to well-controlled suspension, dual four-piston calliper front brakes and an ergonomic riding position."

The new F6C Valkyrie's twin-spar frame is constructed from lightweight multi-box aluminium sections and, helped by the bike's low centre of gravity (the engine is a stressed member), it's been optimised for all-around handling prowess. The F6C's 45mm telescopic fork, adjustable monoshock, single-sided swingarm, 19-inch (front) and 17-inch (rear) alloy wheels, standard ABS, shaft drive, 5-speed gearbox, twin 310mm brake discs at the front with 4-piston callipers, full LED lights, LCD instrumentation and 341 kilo kerb weight translate into a package that not only looks good, but also offers reasonably good riding dynamics.

Colour options for the 2014 Honda Valkyrie include metallic red and graphite black, and available range of accessories includes bits like LED fog lamps, high windscreen, rear carrier, leather saddlebags and wind deflectors etc.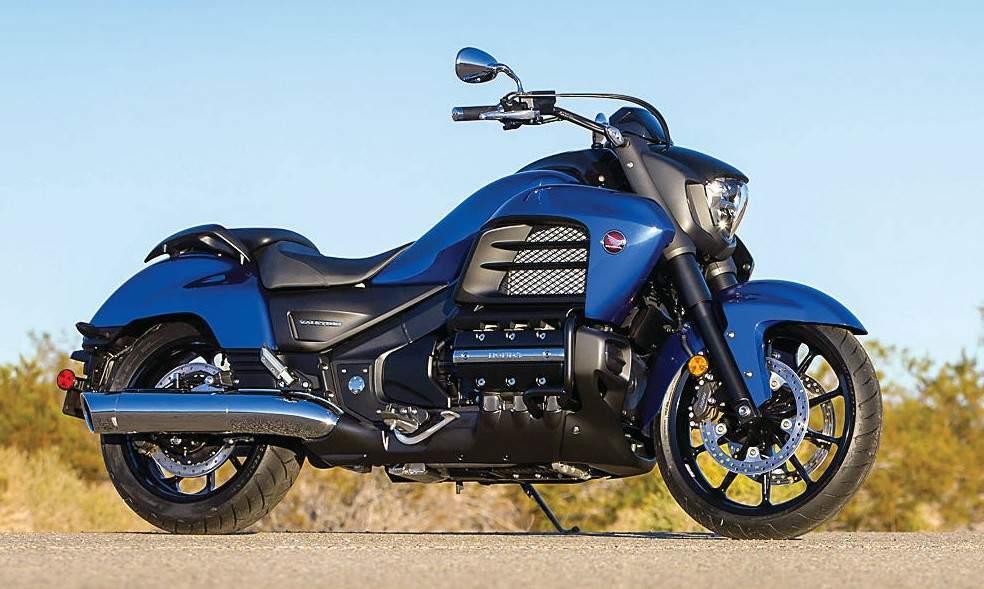 Features
Powerful, fuel-injected 1832cc engine features a parallel two-valve cylinder head with direct shim-under-bucket valve actuation for extraordinary power and performance along with a smooth, sophisticated engine feel plus rugged dependability.
Programmed Fuel Injection (PGM-FI) incorporates two 40mm throttle bodies and six high-pressure programmed fuel injectors for excellent metering under varying conditions.
Low seat height of 28.8 inches, curb weight of 750 pounds and low center of gravity all combine to help give the Valkyrie impressive handling and brilliant all-around performance.
Spacious and accommodating two-piece seat with removable passenger seat.
Stylish tail section incorporates aluminum passenger grabrails which are removable for a streamlined look.
LED headlight, taillight and turn signals contribute to a distinctive appearance.
Fat 1-inch handlebar lends a custom look.
Multi-function digital LCD instrumentation.
15 Honda Genuine Accessories will be available for the Valkyrie.
Optional ABS model contributes to consistent braking action under a wide variety of road conditions.
Transferable three-year limited warranty; extended coverage available with a Honda Protection Plan.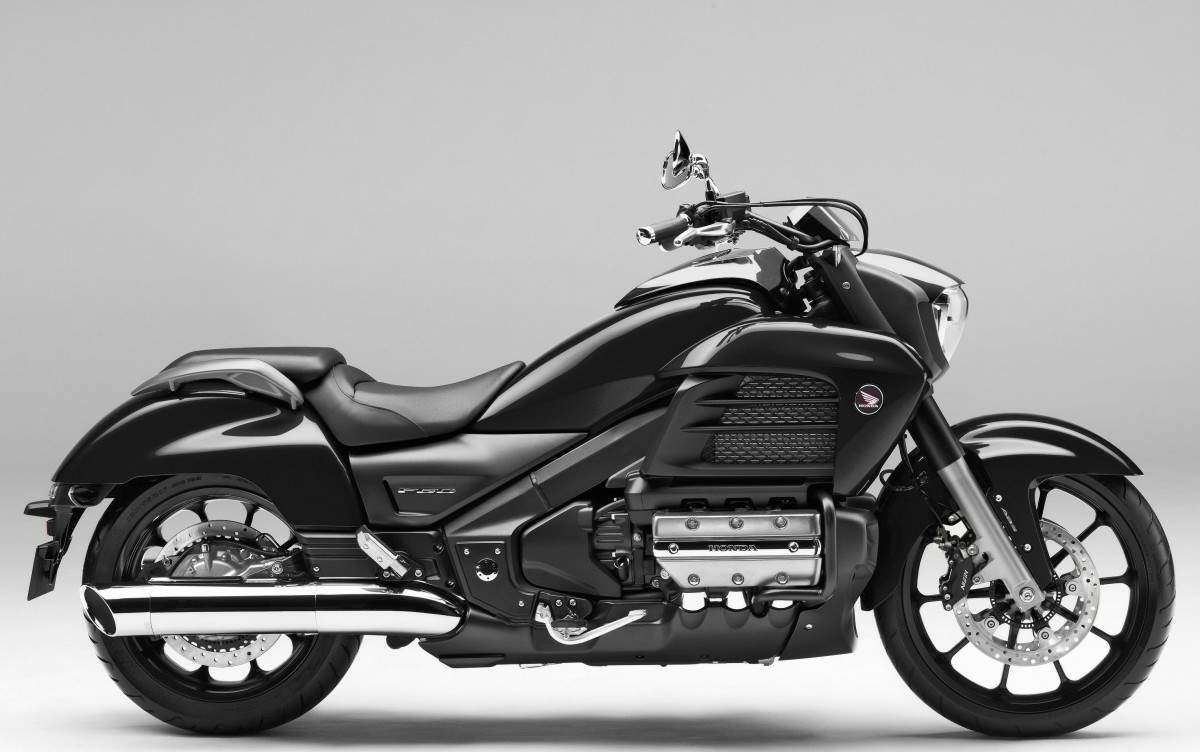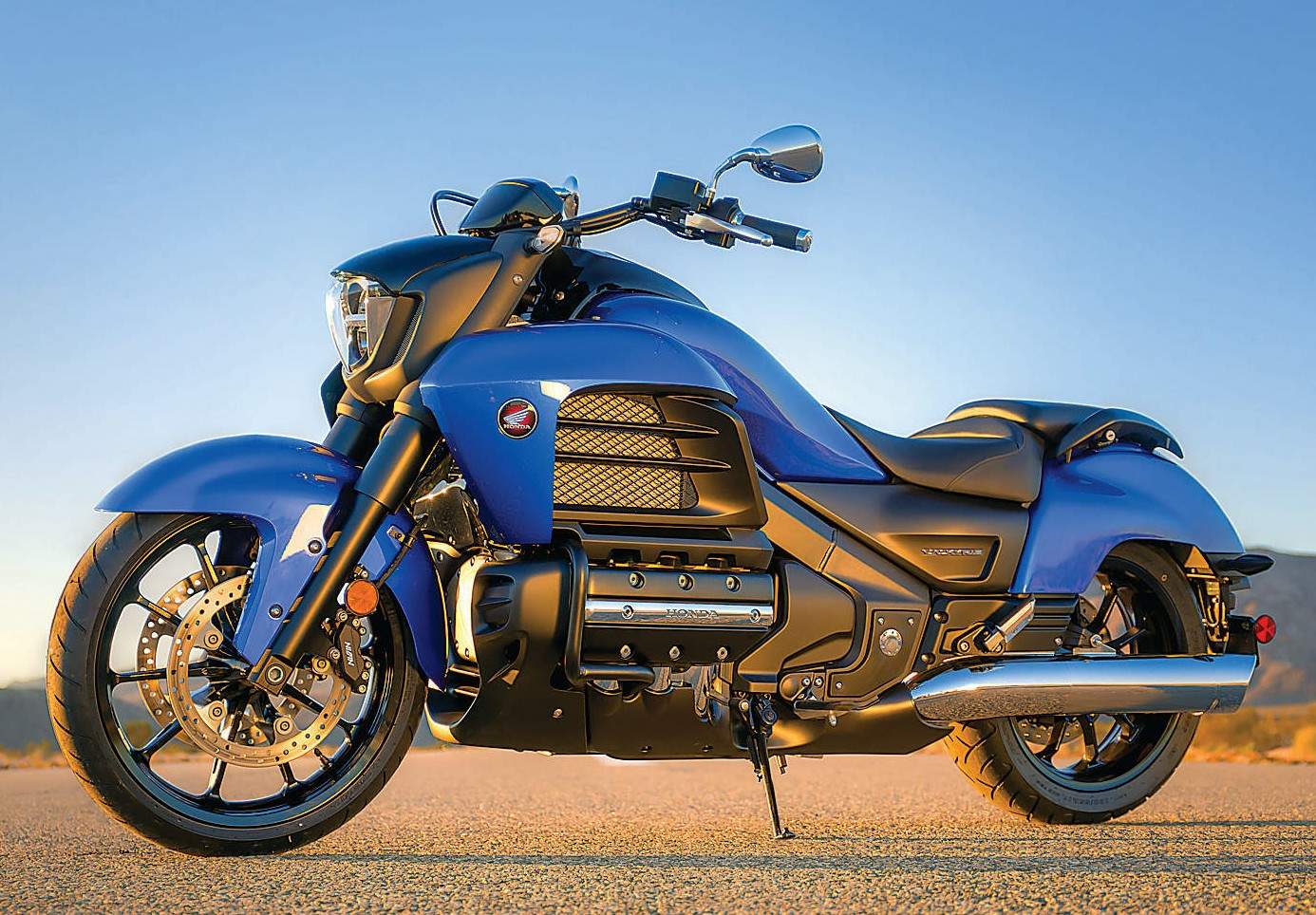 Sours: https://www.motorcyclespecs.co.za/model/Honda/honda_Valkyrie_14.html
Pull Your Arms Out of Socket Power (The Legend is Back)
Honda's profilation of this bike
Here's the formula: Take Honda's legendary 1832cc flat six and build it into the ultimate cruiser—powerful, awe-inspiring and like no other. Now add in great handling and iconic style, and you'll see why it's the cruiser that only Honda could build.
General information
Model:
Honda Valkyrie
Year:
2014
Category:
Custom / cruiser
Rating:
3.9 See the detailed rating of design and look, maintenance cost, engine performance, etc. Compare with any other bike.
Engine and transmission
Displacement:
1832.0 ccm (111.79 cubic inches)
Engine type:
Six cylinder boxer, four-stroke
Compression:
9.8:1
Bore x stroke:
74.0 x 71.0 mm (2.9 x 2.8 inches)
Valves per cylinder:
2
Fuel system:
Injection. Programmed Fuel Injection (PGM-FI)
Fuel control:
Single Overhead Cams (SOHC)
Ignition:
Computer-controlled digital with three-dimensional mapping
Cooling system:
Liquid
Gearbox:
5-speed
Transmission type,
final drive:
Shaft drive (cardan)
Clutch:
Multi-plate with diaphragm spring in oil bath
Driveline:
Overdrive, electric reverse.
Fuel consumption:
6.72 litres/100 km (14.9 km/l or 35.00 mpg)
Greenhouse gases:
155.9 CO2 g/km. (CO2 - Carbon dioxide emission)
Chassis, suspension, brakes and wheels
Rake (fork angle):
29.2°
Trail:
114 mm (4.5 inches)
Front suspension:
45mm cartridge fork with anti-dive system, 4.8 inches travel
Rear suspension:
Pro Arm® single-side swingarm with Pro-Link® single shock with computer-controlled spring preload adjustment with two memory presets; 4.1 inches travel
Front tire:
130/60-19
Rear tire:
180/55-17
Front brakes:
Double disc. CBS three-piston caliper
Diameter:
296 mm (11.7 inches)
Rear brakes:
Single disc. CBS three-piston caliper
Diameter:
316 mm (12.4 inches)
Seat:
Urethane. Waterproof cover.
Physical measures and capacities
Weight incl. oil, gas, etc:
340.2 kg (750.0 pounds)
Seat height:
740 mm (29.1 inches) If adjustable, lowest setting.
Overall height:
1455 mm (57.3 inches)
Overall length:
2630 mm (103.5 inches)
Overall width:
945 mm (37.2 inches)
Wheelbase:
1689 mm (66.5 inches)
Fuel capacity:
24.98 litres (6.60 US gallons)
Other specifications
Color options:
Blue Metallic, Black, Dark Red Metallic
Starter:
Electric
Carrying capacity:
Saddle bags, top box, glovebox
Comments:
Model id: GL1800.
Update specs
Report missing specs or required updates.
Further information
Insurance costs
Compare US insurance quotes from the nation's top providers.
Finance options
Compare US motorcycle loan quotes from the nation's top providers.
Parts finder
Revzilla offers up to 50% off motorcycle accessories.
Ships to most countries. CMSNL provides online schematics & OEM parts
and ships to Australia, Austria, Bahamas, Belgium, Canada, China, Croatia, Cyprus, Czech Republic, Denmark, Estonia, Finland, France, Germany, Greece, Hong Kong, Hungary, Iceland, India, Ireland, Italy, Japan, Kuwait, Latvia, Lithuania, Luxembourg, Macedonia, Malta, Montenegro, The Netherlands, New Zealand, Norway, Poland, Portugal, South Africa, Spain, Sweden, Switzerland, Taiwan, Ukraine, United Kingdom, The United States and more. Also check out our overview of motorcycle webshops at Bikez.info.
Maintenance
Find parts, fluids. filters, maintenance tools and service manuals at Amazon.com.
Ask questions
Join the 14 Honda Valkyrie discussion group or the general Honda discussion group.
Related bikes
List related bikes for comparison of specs.
Rating sample for this Honda bike
Engine performance for the 2014 Honda Valkyrie:




(88.0 out of 100)

Click here for complete rating. You can also compare bikes.
Pictures, trademarks and logos of third parties are the exclusive property of the respective owners. Technical specifications are subject to change without notice. Bikez.com has been developed by ObjectLabs.
Sours: https://bikez.com/motorcycles/honda_valkyrie_2014.php
Now discussing:
Overview
The All-New Honda Gold Wing Valkyrie: Legendary Power Groundbreaking Style
Here's the formula: Take Honda's legendary 1832cc flat six and build it into the ultimate cruiser—powerful, awe-inspiring and like no other. Now add in great handling and iconic style, and you'll see why it's the cruiser that only Honda could build.
1832cc Engine
There's no denying it—the Valkyrie is all about its engine. And with an engine this big, you've got smooth power everywhere. Stoplight-to-stoplight acceleration? Passing power? Loads of torque? The Valkyrie has it all and then some.
Slash-Cut Muffler
The Valkyrie's dual three-into-one exhausts with slash-cut mufflers look great, but they sound even better.
Customizable Seating
The Valkyrie's two-piece seat allows you to customize your look if you're riding solo. The stylish tail section incorporates removable aluminum passenger grabrails for a streamlined look.
Low Center of Gravity
How low can you go? The Valkyrie's engine is mounted low into its aluminum twin-spar frame, which makes this a dream machine to ride; its low seat height makes it one of our most comfortable bikes, too.
LED Lighting
The LED headlight, taillight and turn signals give the Valkyrie a modern, super-clean look and provide fantastic illumination as well. Style and function—that's what the Valkyrie is all about.
Pro Arm Single-Sided Swingarm
A high-performance motorcycle like this one requires a technologically advanced suspension. The Valkyrie features a rear Pro Arm single-side swingarm with an adjustable Pro-Link single shock.
10-Spoke Cast-Aluminum Wheels
Strong, lightweight (thanks to the hollow-spoke design) and super stylish, the Valkyrie's wheels make a big statement and are an integral part of this bike's great handling.
Optional ABS
Designed to help you make safe stops in compromised conditions, Honda's proven Anti-Lock Braking System (ABS) is a perfect addition to your bike when you're riding in a less-than-perfect world.
Specifications
About the author
Sours: https://www.topspeed.com/motorcycles/motorcycle-reviews/honda/2014-honda-gold-wing-valkyrie-ar161432.html
18719
18720
18721
18722
18723