Iknow it seems like staying at home would give me tons of time to write reviews, learn how to play the sax and build the next google but if anything, staying at home with kids all day is like trying to hoop at the gym when theirs volleyball practice going on. … it just ain't happening.
I actually played in these on release week and just haven't gotten around to writing but I set time aside for myself today to finish this thing up. And before you say man I miss hooping so bad while you sit on the couch, eat chips and watch old sneaker reviews, you aren't doing anything to get any better. I've jumped onto online training sessions for five bucks or for free, worked out at home (lost three pounds gained muscle), used Homecourt since it's unlocked, YouTubed HIIT workouts, worked on my golf game indoors, hit the road on my bike I just dusted off, learned about lawn care, and cooked new dishes..the list goes on.
Anyways , the point is sneakers won't get you any better and neither will whining so get to it and get off the couch.

Pros: traction, soft cushioning, fit, stability, containment
Cons: not a lot of bounce back but it's comfortable and works well enough
Sizing Advice: go up half a size at least. Nobody should go down in size
Best for: any position
Buying advice: covid discounts anyone? Nike and all retailers have been having sales 24/7 so just be patient and not an ER patient to get these around 50-60 like all Pg's. Please don't use stimulus money on sneakers 🤦‍♂️
Weight
At 15 ounces this is a little heavier than normal for a low but it's probably due to the shroud and zipper. Almost the same weight as the "lightweight " Harden V4 , weight is all relative. Remember Kobe 4-6 are in the sub 13 ounce range.

Traction
I had low expectations on these traction wise but they performed well except on the dustier courts. I played at my pergo floor church court and was slipping everywhere but so was everyone else (only the Rose 7 does well there) so I can't blame the shoes.
On clean floors or less dusty floors you'll be fine. Just don't lick your hands and wipe anymore..yuck..just spit on the floor and wipe..oh wait that's not a good practice either..just slip and fall onto the floor and land with your hands onto the floor someone spit on..oh wait. Never mind just don't go to the gym yet #stayhome
I've been happy with all the PG4 traction set ups so far and these are great but I still prefer the PG2 and 3 set ups a little more bc they have a sharper bite out all around.

Cushioning
I really enjoyed the PG2 and PG3 set ups with phylon and a big zoom unit in the forefoot. These have a similar set up but used a. Airsole unit which must have be just laying around the factory from 1994.
The Airsole unit doesn't have the spring of Zoom so pairing with a softer foam feels comfortable but not springy if that makes sense. Does it affect my play? No not at all but it's kinda just there. I think a firmer foam set up and Airsole unit would have been better feeling or just leaving it as it was would have been more enjoyable but I'm not nike or PG13. At least it doesn't hurt my feet and works just fine.
Fit
These run small. I advise at least half a size up to a full size. I went with an 11.5 and it gave me the same space in the front as a regular size 11. From past experience you can go up even more and be ok so if you like more wiggle room, go up a full size.
There is no movement inside the shoe or any heel slip thanks to a nice amount of padding just a nice one to one fit out of the box.

Materials
This is a jazzed (clippered) up budget shoe. Take away the colors of the shoe and make it solid black and white and it doesn't look like much.
Amazing how much a logo changes the perception of a shoe huh? #branding101
Nothing to complain about. It's mesh and synthetics and it works fine. No pinching Or anything

Support and stability
A very solid and wide base gives you plenty of support and stability. This is cut a touch higher than a typical low but it isn't a mid by any means. No issues here with stability or support. Not overly flexible in the midfoot either.

Containment
No issues here.
Conclusion
Like PG13? I do too. Do I like how this shoe performs ? It's pretty good, nothing great except maybe fit. Do I like how they look ? Not really. Do I feel like PG when I play in these? Eh?
🎶 Sometimes I dream that he is me..like Paul if I could play like Paul 🎶 just doesn't have the same ring (z)to it. Don't get me wrong this is a good solid shoe with no major flaws at a fair price but it isn't something that I'd say wow, I want to hoop in these today. I know a few friends who love them so hey to each their own. In the PG line I still like the 2 and 3 a lot more than the 1 and 4 although all of them are solid. There really is zero point to paying retail for these with the NBA season on hiatus (maybe for the season ) and some really poor colorways and marketing by Nike. Maybe I'm just old 🤷🏻‍♂️ With all PG'a $50-65 seems to be the low price so if you have the 1-3 there really is no need to rush out and buy something that performs and plays similarly if not slightly worse unless you really love PG.
Despite not doing anything outstanding it's still a first teamer for me. Keep those last dance episodes coming ESPN!! 🐐
Posted in Sneaker Reviews
Sours: https://schwollo.com/2020/04/24/nike-pg4-performance-analysis-and-review/
Nike PG 4 Performance Review
Even after heading in a new direction, the Nike PG 4 doesn't disappoint too badly. Click through for our full Nike PG 4 Performance Review.
Buy at NikeCheck out more Nike shoes
Similar to the moon landing inspired pattern from the PG 3, this Full-Length Air inspired pattern performed better than I had anticipated.
Every court I took the PG 4 to just proved how good the traction was night after night. Even on the worst, and dirtiest, of courts the pattern accumulated the debris from the floor, but it did not let it affect the grip in a way that made me want to change shoes. There would be times when I would be surprised to see just how much dust was collecting and falling off of these things without me noticing while playing. Best of all, the pattern is done in a way that you receive consistent traction from every spot on the sole. The grip I received at the midfoot was the same at the heel. Which was the same at the toe and both medial and lateral sides. Just consistent coverage without worry.
Traction was reliable and consistent. Two things you need when it's the foundation of your basketball shoe.
The PG line had been using my personal favorite cushion (Zoom Air) and then they decided to switch things up for the PG 4. Initially, I didn't want the change. I love Zoom Air and I was wishing they had just used the Zoom strobel featured in the KD12. But the Air strobel used here proved to be just as nice — maybe even better than nice for some people.
Zoom Air has a bounce to it. You compress the unit and when you begin to lift your foot you can feel the air bag bounce back into shape in a quick and snappy fashion. Air is more of a pillow. You land onto [then into] the bag while it absorbs impact along the way. It won't bounce back in a way that you can feel, but it maintains its shape well, so by the time your foot strikes again you have another soft and absorbent landing for the duration of the cushioning's lifecycle.
Some players, like myself, prefer the quicker snappy feeling Zoom provides. However, there are a lot of players that love this pillowy feel under foot. It will make you feel like you're sinking into the midsole a bit, but luckily the Air unit is thin enough to not have an effect on mobility and speed.
The midsole is thicker than I'd like, but its also wide and stable. Often times when you have plush cushion you lose stability, but that doesn't happen with the PG 4. I do think they could have achieved the same cushioned feel with a slightly thinner midsole, but this setup wasn't a major deal breaker.
Personally, I still prefer Zoom Air. But, there are going to be a lot of players that will fall in love with Air all over again.
Materials are pretty standard for today's modern textile/knit builds. The main difference is that they used a shroud with a zip-up enclosure. This aspect reminds me of the good 'ol 90's. A time when zippers were cool and ventilation was an afterthought. Luckily [for us] we now live in the 2020's (crazy to think about) so ventilation wasn't an afterthought this time around.
The medial half of the zip enclosure is an open knit. This area doesn't have the torque and pressure from game play applied to it throughout your time on-court so having it remain breathable is a welcomed change. Whereas the lateral section is more of a traditional shroud with a stronger layer in place to hold you on during your cuts and lateral moves.
The shoe fits a bit awkwardly. They run short length wise so I ended up going up 1/2 size. Once broken in the shoe fit perfectly, but left me wishing there was a bit more lateral support.
The lacing system under the shroud really helped save the overall fit from being too sloppy. I would have loved to have seen the foot rest within the midsole a bit more with a setup like this. There were times when I'd be moving around and would feel my foot move over the footbed a bit. The shoe held itself together well enough, but it could have been better. Especially when being compared directly to previous PG iterations where forefoot lockdown/containment seemed to have been a priority.
Because of these small containment issues I felt the support suffered a bit. The platform was wide and stable once planted, but getting yourself into planting position wasn't as smooth as it could have been. Torsional support wasn't awful, but also could have been a bit better. Perhaps the full-length Air hindered the use of a torsion bar? I'm not exactly sure. All I know if the overall tooling does feel a bit soft all-around.
If you're needing a much stiffer setup under-foot then this isn't going to be the shoe for you. If you're not in need of a stiff or rigid setup, then the PG 4 may end up being perfect for you.
Overall, the Nike PG 4 was very solid, but not as well rounded as I would have liked. They remind me of the Curry 7 — only opposite. The Curry 7 focused on stability and left cushion behind — even with the combination of HOVR and Micro G. Whereas the PG 4 took a new stance on cushion, and left a bit of the support/containment from the previous models behind.
I feel most people will enjoy the shoe. The $110 price point makes most people feel they're getting a great shoe full of tech. Which, isn't completely inaccurate. The tech specs are much more appealing than they are in the similarly priced Nike Zoom Freak 1. However, the comfort and traction aren't enough for me to make them a go-to in the gym bag. That honor currently goes to the Nike Kobe 5 Protro — #MambaForever
Buy at Nike
Nightwing2303
Nightwing2303 loves kicks and performance. He is the Founder of WearTesters.com and enjoys sharing his love and passion for sneakers... one review at a time.
Sours: https://weartesters.com/nike-pg-4-performance-review/
Nike PG 4
Nike PG 4 review
The Nike Paul George 4 (Nike PG 4) is one of the best all-around basketball shoes I have had the chance to test. I also got the chance to try the Nike PG 5 and believe it or not, I like this version of the shoe better. The main difference for me is that the PG 5 rides more towards the heel and had me feeling a bit further back in my stance.
Both are great basketball shoes and at the price, either is definitely worth putting in the rotation as a shoe with a lot of performance at a great value.
Who should buy it
The Nike PG 4 is recommended for players who are looking for a nice-looking, all-around basketball shoe that offers plenty of cushioning for impact and stability for lateral movements.
Who should NOT buy it
Look away if you:
Go half-size up for more toe room
I did go a half size up from my normal size because generally I like extra toe room and Nike typically has a more narrow width and smaller toe box than I am used to. With that said, the half-size-up was perfect for me and I felt really comfortable in it from the time I put it on.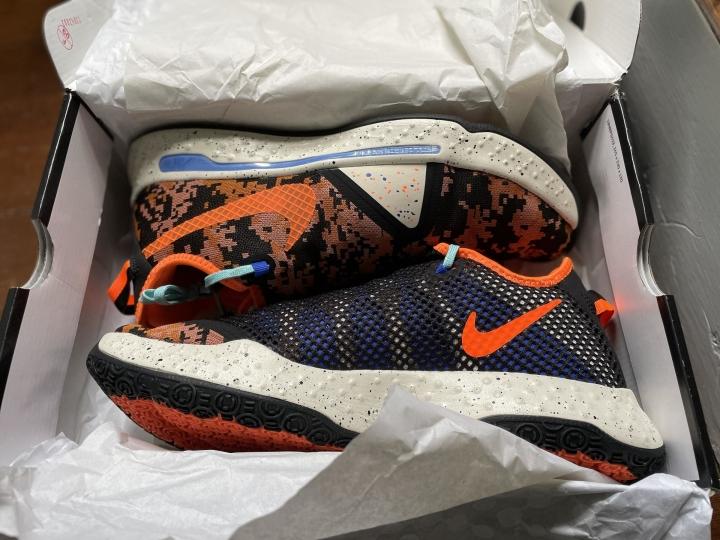 The Nike PG 4 has a secure fit
The design of the shoe allows the ankle to feel locked in without feeling like the upper foot is getting squeezed. The 6mm sockliner feels great and wraps the foot like a boot, which reminded me of the way a ski boot laces up and then the outer really seal up the entire foot.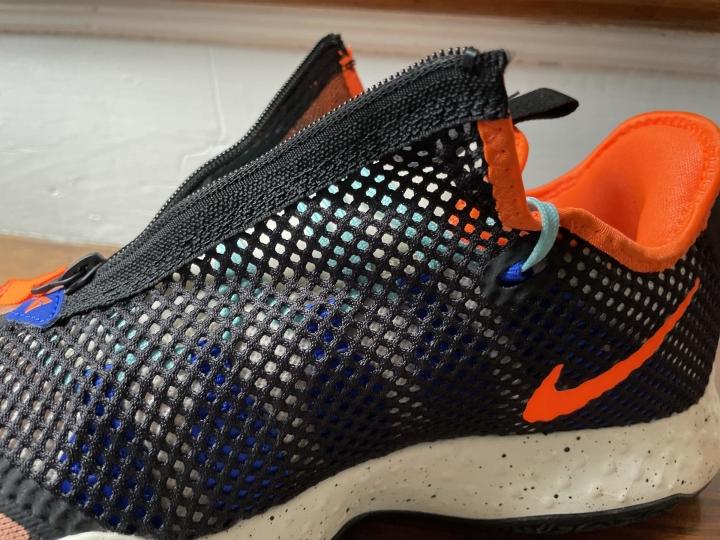 Same concept in the PG4, where the inside boot feels somewhat loose but once the upper is zipped up within an internal webbing system, which leaves the ankle feeling really secure and locked in.
Does not feel heavy or clunky
The ride is neutral and performs quickly in transition. At 13.7oz/388g this isn't the lightest basketball shoe available (basketball shoes have an average weight of 13.6oz/386g) but it performed well overall and doesn't feel heavy or clunky.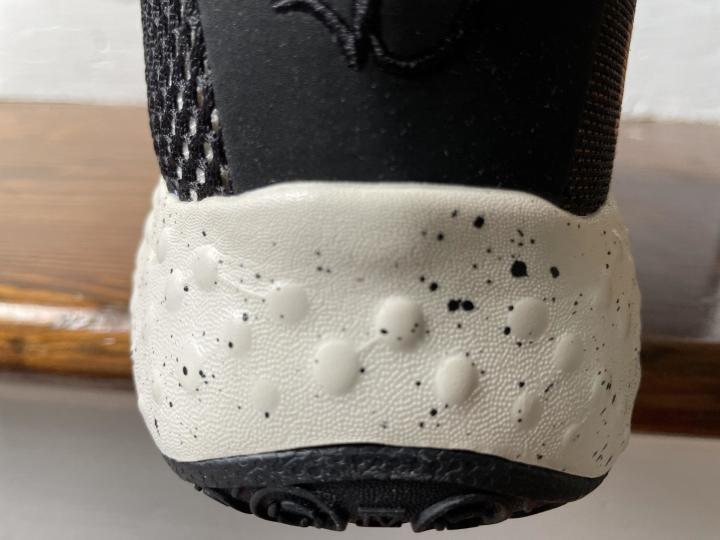 Stylish but a very legitimate basketball shoe
Right out of the box I really loved the look, with the dark orange digital camo, teal laces, and zip-up design. Nike has nailed the design features on this upper and the result is a clean zip-up design that looks really streamlined. This is a shoe that can definitely be worn off the court.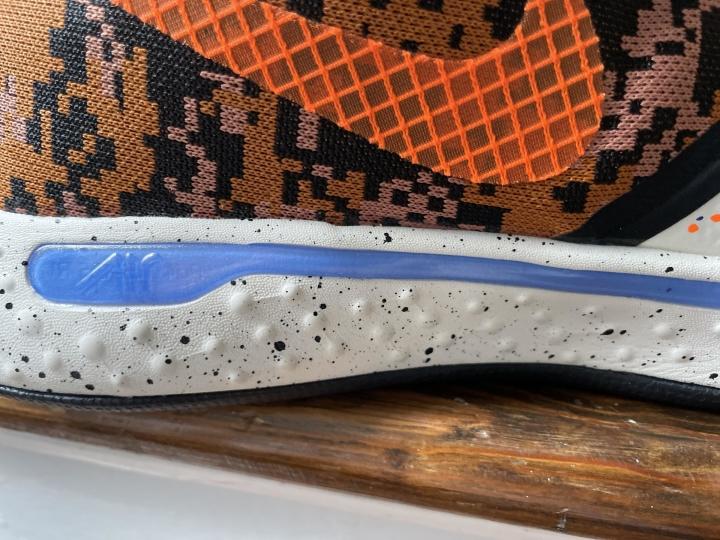 On the court, the outsole of the PG 4 really shines
The shoe feels fast and the traction was excellent on the outdoor courts where I play in the summer. The bottoms feel sticky and have the perfect amount of traction, perfect for stop-and-go plays. The bottoms feature circular tread patterns that do a nice job of getting grip on any surface.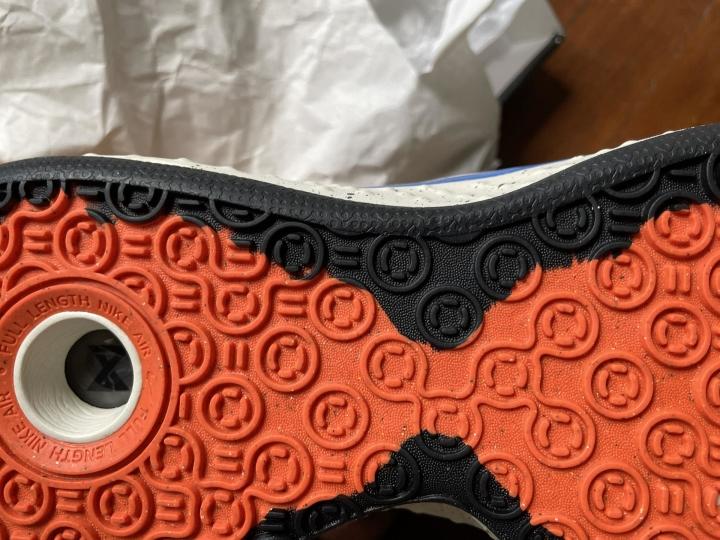 Responsive for dribbling and lateral movements
There is plenty of cushioning and overall the shoe feels really secure and protective. The cushion is pretty unique on this shoe featuring a Nike Air bag in the mid-foot section of the shoe. On the foul line, I was able to get up on my mid-foot with no problem and the shoes felt really responsive dribbling and moving laterally.
The Nike PG 4 is very comfortable
This is a very comfortable basketball shoe and I can see many enjoying wearing it as a casual shoe simply because it is very stylish and comfortable.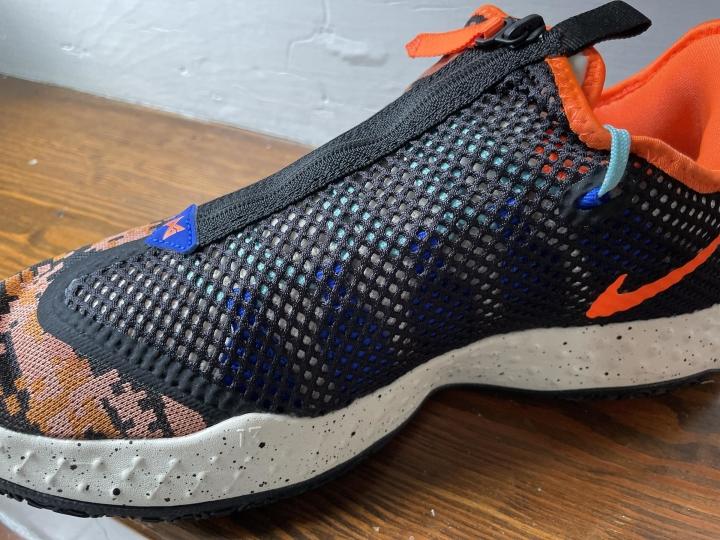 The zip-up design does not allow breathability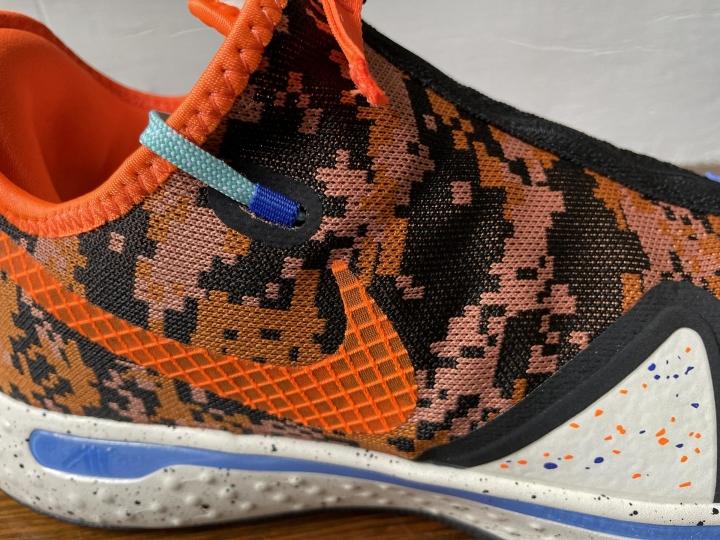 There really is only one issue that I discovered while testing this shoe and it's not a huge knock, but this shoe runs hot. If you are someone who sweats a lot outside and this is a shoe you will play in a lot in the summer, there are better options out there. The zip-up design is very snug and the inside boot system doesn't allow for a lot of ventilation.
Tip: see the best basketball shoes.
Sours: https://runrepeat.com/nike-pg-4
Nike PG 4
Basketball Shoes  / Nike PG 4
Nike PG 4 Review
Super comfortable cushioning
Affordable signature sneaker
Lateral support could be better
Performance of the Nike PG 4:
The 4th edition of Paul George's signature sneaker changes things up a little. A Nike Air strobel board that sits directly under your feet replaces the Nike Zoom Air cushioning. This setup gives you a softer and super comfortable, cloud-like feeling. The circular traction pattern works well in all directions and keeps performing solidly even on dusty courts. The biggest weaknesses of the PG4 are the support and lockdown: most critics reported sliding out off the footbed on sharp lateral cuts and some experienced mild heel slippage. Overall, the PG4 is a solid performer that works best for lighter players who don't rely on explosive lateral cuts.
Reviews of the Nike PG 4:
The 8.3 average overall rating ranks #122 of 185 shoes overall
I love the performance of the PG4. This is one of my favorite shoes to play in right now! Probably the most comfortable basketball shoe you can get right now.
The cushioning is perfect, the traction is beastly, and material, fit, and support are all above-average. If you need new shoes, I recommend the PG4!
NightWing2303 [weartesters.com]
Overall, the Nike PG 4 was very solid, but not as well rounded as I would have liked. The cushion is super comfortable but the containment and support are lacking a little.
The PG4 is a good solid shoe with no major flaws at a fair price, but it isn't something that I'd say wow, I want to hoop in these today.
Nelson Chan @Hoop and Life
Traction and cushioning are really good but materials and especially support are a little disappointing.
For $110, this is a really good shoe. I like the traction, the cushioning is amazing, and for a signature sneaker, the PG4 is super affordable!
Traction of the Nike PG 4:
The 8.3 average traction rating ranks #115 of 185 shoes overall
The circle traction pattern doesn't seem very durable but works really well on clean courts. On dusty courts, you will need to wipe from time to time but the traction still performed very well.
Even though I played on dusty courts, the traction held up very well! Close to being a 10/10 traction.
NightWing2303 [weartesters.com]
Traction was reliable and consistent, even on the dirtiest courts.
The PG4 traction pattern performed well, but I thought the PG2 and PG3 were a little bit sharper.
Nelson Chan @Hoop and Life
The traction is pretty solid giving you grip in all directions. The translucent parts of the outsole felt a little more slippy and you will have to wipe from time to time.
The traction is really good on clean courts and still performs well on dirtier courts. Probably just below the top tier when it comes to traction.
Cushion of the Nike PG 4:
The 9.4 average cushion rating ranks #17 of 185 shoes overall
The Nike Air strobel brings the comfort level of this shoe to the maximum. The cushioning is super soft, but therefore, less responsive than the cushioning in the PG3. This is probably my favorite cushioning setup of all time!!
The full-length Air Strobel feels like pillows under your feet. It's comfortable, responsive, and I loved the impact protection. Perfection!
NightWing2303 [weartesters.com]
The full-length Nike Air cushioning feels soft and pillowy under foot.
The Airsole unit combined and soft foam feel comfortable but don't have the spring of Zoom. It works fine and my feet never hurt, but I enjoy a little bit firmer setup more.
Nelson Chan @Hoop and Life
The cushioning is madly comfortable! The full-length Air is super soft and plush.
The Air strobel unit is very plush and comfortable. You don't get the springy feeling you would get from a Zoom unit, but this cushioning setup is super soft and comfortable.
Materials of the Nike PG 4:
The 8.2 average materials rating ranks #102 of 185 shoes overall
The materials are soft, thin, and ventilated. On-foot the materials feel fine, but they look a little cheap.
The Mesh shroud and internal nylon bootie construction hug your feet and are really comfortable. The breathability could be a little better overall.
NightWing2303 [weartesters.com]
Materials are pretty standard for today's modern textile/knit builds.
It's mesh and synthetics and it works fine. No pinching Or anything
Nelson Chan @Hoop and Life
The quality of the synthetic and Mesh materials feels a little subpar. However, they are thin, flexible, and breathable and get the job done.
The upper is made from Mesh which doesn't feel great to the touch but it gets the job done.
Support of the Nike PG 4:
The 7.3 average support rating ranks #172 of 185 shoes overall
I didn't have any issues with lateral moves even though the upper isn't super strong and there is almost no outrigger.
For a low-top, the containment is really good. The outrigger gives you lateral stability and the heel is locked in nicely too.
NightWing2303 [weartesters.com]
The shoe feels soft overall and doesn't provide as much torsional or lateral support as the previous PG models.
A very solid and wide base gives you plenty of support and stability.
Nelson Chan @Hoop and Life
The support and lockdown are below average: your feet are not contained well enough on lateral cuts and there is a little bit of heel slippage.
The support is the weakest part of the PG4. You can feel your foot slightly moving of the footbed on lateral cuts. I would recommend playing with the shroud zipped up as it improves support noticeably.
Fit of the Nike PG 4:
The 8.0 average fit rating ranks #145 of 185 shoes overall
The fit holds you tightly in-place and feels super comfortable.
NightWing2303 [weartesters.com]
After the break-in period, the PG4 fit comfortably but a little too sloppy for my liking.
There is no movement inside the shoe or any heel slip thanks to a nice amount of padding.
Nelson Chan @Hoop and Life
A very plush and comfortable fit.
I didn't feel any pinching pain and the fit of the one-bootie upper was almost 1:1.
Is Outdoor Use recommended?
The 25.0% average outdoor rating ranks #114 of 185 shoes overall
Outdoor use is not recommended as the rubber is super soft.
Nelson Chan @Hoop and Life
The traction was solid playing outdoors.
Width of the Nike PG 4:
Runs slightly narrow.
If you go true to size the shoe feels really narrow and is hard to get on.
NightWing2303 [weartesters.com]
The insole is super thick and there's not a lot of room in the toe area.
The materials loosen up over time.
Size of the Nike PG 4:
I went true to size, but the fit is really short. I would suggest going up half a size.
We recommend going up half a size.
NightWing2303 [weartesters.com]
Nelson Chan @Hoop and Life
I went up a full size.
I went up half a size and I was perfectly fine as a slightly wide footer.
Black / University Red / White
Black / Light Smoke Grey / White
Sours: https://www.thehoopsgeek.com/shoe-reviews/nike-pg-4/
To size true pg4
First Opinion:
At first glance the Nike PG 4 was quite a head turner. Nike and Paul George brought back the shroud in this instalment of the Nike PG line and honestly, I'm not really that impressed right now. The PG 4 is very different from all versions of PG and not only that, it features a way different cushioning system: An Air Strobel Board.
The Air Strobel Board will most likely be the highlight of this shoe but there are still other features of the shoe that we might zoom in on like the shroud and the doubtful looking traction pattern.
Significant Tech Present in the Shoe:
Multiple-Material Upper
Bootie Construction
Internal Heel Counter
Internal TPU Shank
Air Strobel Board
Materials & Aesthetics (9/10):
The Nike PG 4 features a Multiple-Materials Upper that consists of textiles, mesh and fuse. The shroud design has slowly grown on me after a few wears and it really reminded me of the Gary Payton Nike Air Zoom Flight (The Glove) but a boxier version. The materials are the standard no-frills mixture which would mean very little break-in time which is great.
The colourways are wacky, ranging from different colours of the Gatorade Pack to normal team colours like black, red and blue. If only there were some Nike The Glove inspired colourway though. The PG 4, given the flexibility provided by the colourways and having the "Shroud on/Shroud off" option, I would say is for both on and off the court. It is on the sportier side but there are definitely people who would wear these on the streets
In the NBA, Paul George (Los Angeles Clippers), Miles Bridges (Charlotte Hornets) and rising star and potential Rookie of the Year, Ja Morant (Memphis Grizzzlies) have been seen wearing the Nike PG 4 and hopefully there will be more once the season returns.
Fit (9/10):
The fit on the Nike PG 4 was actually very snug and I'm not just talking about the sides but also the length of the shoe. I would still say it fits true-to-size but if you are the kind of hooper who prefer some wriggling room, I think it would be better to go to a physical store to try before purchasing the PG 4.
As for Lockdown of the Nike PG 4, it really depends on the fit of the size you bought. Going true to your usual size, you will feel that the laces and overall shoe structure does hold your foot in place without slippages within the shoe. There is a really good one-to-one fit and movement between you and the shoe.
Support (8.5/10):
If the Nike PG 4 had one weakness, it would be support. Although lockdown and fit is good, snug in fact, your feet still had to sit a little higher than in other shoes. This meant that the midsole does not wrap up the sides of the shoe to help contain your feet during movements.
On very hard movements, like braking or changing of direction, you might feel like you might roll your ankle time to time.
There is an Internal TPU shank and Internal Heel Counter on the PG 4 to provide torsional and heel support respectively but they are both rather small if you were to compare with other basketball models so the impact is not that great. That said, the shoe does have a flat and wide base to help provide stability.
Cushioning (9/10):
Nike's Air is now back but this time, in the form of a Strobel Board. I am not sure if this kind of setup has ever been used before but I do think so, on some past Jordan models. Why I say "it's back" is because this really isn't a common setup nowadays. This Air Strobel setup is also different from the Zoom Strobel found on the Nike KD 12 and 13.
The Air Strobel on the PG 4 provides the same type of cushy impact protection as the Zoom or foam but does not really have that bounce-back feel. If you are a hooper who prefers that plush feel over the responsiveness then this is the shoe for you.
Some might be afraid that the cushion setup may be too high off the ground and court feel might be very minimal but that is not the case. The court feel is still adequate but just not the kind where you will find from pure foam midsoles.
Traction (9.5/10):
A "spiral pattern" is implemented on the Nike PG 4. However, it's not the kind of spiral pattern that stretches throughout the whole outsole, but instead many small circles throughout the outsole instead.
There are different colours on the outsole but it is not to show different types of rubber but instead to show where the Air Strobel is. It basically does not affect the traction whatsoever.
The coverage was consistent throughout the shoe with no points of anomaly. The traction gripped the court very well no matter what motion you were in and there were no issues with dust.
The only downside for outdoor hoopers is that the rubber is soft and pliable and most likely to burn out fast if u were to use them outdoors.
Final Conclusion: (9/10) 
All in all, the Nike PG 4 was a pretty decent shoe and an above average performer. I would say I'm a relatively slower, low to ground player and the lack in support was bearable for me. I really loved the traction and the cushioning a lot so there's that. I think for the price, it's a really worthwhile shoe and I feel if you have just a bit of extra cash and looking for a casual hoop shoe, this will be the one for you.
Sours: https://bballequips.wordpress.com/2020/06/25/nike-pg-4-performance-review/
Nike PG 4 Performance Review!
Nike PG 4
fabripav said:

Lmao imagine hating on someone reviewing something because they didn't include "in my opinion" before every sentence.

NW is by far the best reviewer out there, him and Schwollo

Click to expand...
We can all see that Schwollo's reviews are 100% uncompromised/ not influenced by any major corporation or retailer (no ads on his website, doesn't have a youtube channel, and he doesn't twerk to increase his views) . He keeps it a thousand and even includes a section in all of his reviews that estimates when the price of the shoe will bottom out.
Schwollo writes the best reviews PERIOD. It's not even a competition at this point.
NW got exposed in the comments section multiple times for being a corporate shill so he turned the comments off for a while (I don't know what the status of his website's comment section is anymore because I no longer view his site). I know a lot of y'all ride him super hard, so most are willing to ignore the fact that he got exposed and tried to cover it up. It is what it is.
But the bottom line is a review is one man's opinion. The onus is on us to formulate our own...
Sours: https://niketalk.com/threads/nike-pg-4.686830/page-25
Now discussing:
I began to persuade unfortunate Lyusya to lie down quietly for five minutes and breathe deeply through my mouth, forgetting about. The gag stuck in there. At first she did not seem to hear my persuasions, but then she still breathed through her mouth, sucking air past the gag.
1275
1276
1277
1278
1279