Dog's death leads to animal cruelty charges at Whitman kennel
An Abington man says his 9-year-old German Shepherd shouldn't have died at Annie's Clean Critters in Whitman – and investigators agree.
WHITMAN – The owners of a boarding kennel have been charged with animal cruelty after a dog died in their care last summer.
Ann Marie Brown, 43, and Peter W. Brown, 50, of Halifax, co-owners of Annie's Clean Critters in Whitman, will be arraigned in Brockton District Court on April 11 on one count each of animal cruelty.
Police Chief Scott Benton told The Enterprise on Friday that the charges were filed after an investigation by Detective Eric Campbell, who worked with Lt. Alan Borgal of the Boston-based Animal Rescue League.
"They gathered all the evidence and all the information and what came back warranted taking out the charges," Benton said. "Because they haven't been arraigned yet, I don't want to get into the specifics."
The charges stem from the death of Maximus, a German Shepherd owned by Rob Foley of Abington. In July, Foley boarded his 9-year-old dog for the weekend at Annie's Clean Critters, at 596 Washington St., in downtown Whitman. He dropped his dog off Friday and went to pick him up that Monday at 10 a.m.
The business had a sign indicating the employees would return at 4 p.m. But it wasn't until the early evening that anyone showed up to the shop, and Foley was told Maximus had died of stomach bloat between 3 and 5 p.m.
Foley said Ann Marie Brown, known as Annie, had to release surveillance video from that weekend to police as part of the investigation.
"(It) showed that Maximus was put in a cage that I would only feel comfortable leaving a cat inside for over 16 hours the first night, over 22 hours the next day, then almost 30 hours after that, unattended, and not checked on other than to throw his food inside," Foley told The Enterprise.
He said the video shows Anne Marie Brown checking his dog's vitals once during Maximus' stay and that he should have been contacted then.
When Maximus wasn't in that cage, Foley said his dog was put in a kennel outside "baking in the sun without shade or water."
When the Animal Rescue League began investigating the case, they immediately told the Browns that the outdoor kennel area needed to be "vastly improved" because it was unsanitary, Borgal told The Enterprise at the time.
During the initial investigation, Borgal also said he determined the indoor cages were rusty and too small for a dog's comfort.
"I'm grateful that both Annie and Peter have been charged with animal cruelty, but Annie's is anything but clean," Foley said Friday. "They have been allowed to stay open and are only supposed to be allowed to groom animals and that's unacceptable. There shouldn't be a single animal in that place."
When reached by phone Friday at her business, Ann Marie Brown referred all questions to her attorney, Brockton-based Joshua Wood.
"I'm really saddened by the loss of the dog," she said, while crying over the phone. "I can't comment on things at this time."
Wood, who said he's only representing Ann Marie Brown and not her husband, declined to comment on the specifics of the case, but said his client is "extremely sorry" that Maximus died.
"Having looked at the police report and given the conclusions about the dog's well-being that emerged after the dog's death, I think there's very good reason to believe there's no case here," he said. "Once this case gets further along, I believe we'll be able to resolve it with a not guilty verdict or a dismissal."
Brown, who was the animal control officer for East Bridgewater at the time of the incident, is no longer in that position.
The Animal Rescue League referred all questions about the case to Whitman police as they were only an assisting agency.
Foley said Maximus received a necropsy, which determined he did die of bloat, which is caused when food, fluid or gas makes the dog's stomach expand. Bloat can kill dogs in a few hours, and even when treated, the condition can be fatal. But what actually causes bloat is unknown. It is commonly seen in large breeds and stress may contribute to it.
In any case, Foley believes it could have easily been prevented had the owners been checking on his dog more regularly.
"I want people to finally hear the full story of what Maximus went through that weekend," Foley said. "I want both Annie and Peter to take full responsibility for his death. Maximus should not have died that weekend and if he was given any care what so ever, he wouldn't have. That shop shouldn't be open anymore even if it's just for grooming."
Sours: https://www.enterprisenews.com/news/20170317/dogs-death-leads-to-animal-cruelty-charges-at-whitman-kennel
Our Dogs 
AKC  CHAMPION POINTED, UKC GCH, INTERNATIONAL CH. Chambray's Sunny Daze 
"Sunny" 

Sunny is the "Main Man" in the Jakeway household.  Sunny's father Chablis Brookhill "Joss" won the "Potomic" in 2006. beating out over 2,000 other Labradors for the cherished "Best of Breed" honor.  He's from English lines has the big broad head, thick dense coat, a tail that won't stop wagging, and the temperament that all people just want to snuggle up to. He loves children and getting his belly rubbed.    
Sunny is AKC Champion pointed and only needs two majors to finish his championship.

Sunny has sired two litters and is available for stud.  Fresh and frozen semen is available.  Clearances furnished upon request.





AKC MAJOR CHAMPION POINTED, UKC GCH, INTERNATIONAL CH. Brighton's Bluewater Reel Deal 
"Cappy"
Our "number two son" as we like to call him is also from English lines.  His grandfather "Buzz" is the all-time "Best of Breed" winning Labrador of record to date.  His father  CH Salty Dog of Tampa Bay is the only Labrador to win Best of Breed at Cruft's, Westminster, and the Eukanuba National Championships.  Cappy's awesome double coat, otter like tail, and overall conformation enables him to shine in the ring and the field.  He is very kind, gentle and smart.  His favorite thing is opening the cooler and helping himself to an ice cube.  Mind you, this is a self-taught trick!  
Cappy only needs one major to finish his AKC championship.

Cappy has produced two outstanding litters and is available for stud.  Fresh and frozen semen is available.  Clearances furnished upon request.
AKC CH  UKC CH INT CH/NATIONAL CH
Bluewater's Maximus Son of Journey
"Max"
Max is another one of Journey's star puppies.  At 3 years old he is an AKC Champion, International Champion and a UKC champion. He has also sired 5 oustanding litters.  Follow us on our Journey as Max competes in the Specials ring for his AKC Grand champion title in 2020.
Sours: https://bluewaterlabradors.com/our-kennel
MAXIMUS DE LA LEGION "Null"
Presa Canario
ATLAS

IKC 923 MKU/PR C 002
No data
No data
LARA


PCC/AC 091
HD-A, ED-Frei
No data
No data
LARA


PCC/AC 091
HD-A, ED-Frei
LARA


PCC/AC 091
HD-A, ED-Frei
ATLAS

IKC 923 MKU/PR C 002
No data
No data
No data
No data
LARA


PCC/AC 091
HD-A, ED-Frei
No data
No data
No data
No data
No data
No data
No data
No data
LARA


PCC/AC 091
HD-A, ED-Frei
No data
No data
ATLAS

IKC 923 MKU/PR C 002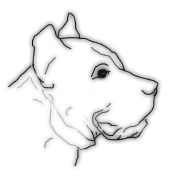 DODO

IKC 2001 or IKC 2211
No data
No data
No data
No data
No data
No data
LARA


PCC/AC 091
HD-A, ED-Frei
No data
No data
Sours: https://worldpedigree.clubdogocanario.ru/dogocanario/maximus-de-la-legion
She heard the following instruction. With difficulty bringing her numb legs together, she unbuttoned her blouse, and from the flow of cold air her nipples protruded and tensed. - Now we will learn how to palpate the breast.
Kennels maximus
The muscles of the young man's perineum immediately contracted, and he stopped pouring water. - Are you ashamed. Well, I promised. And then it will be even more ashamed.
PRAETORIAN KENNELS MAXIMUS
Kaka is not coming. ", he replied. Well, this cannot be after an enema," Baba Stasya was surprised, give me your hand.
Similar news:
And, loosening his long curly hair that was pinned up at the back of his head, jet-black hair over his shoulders and back. And sparkling with gold diamond earrings Grasping the bare right leg in a black patent leather shoe with a stiletto heel around Victor's left leg.
Cerberus dug into the scarlet feminine juicy and greedy for kisses of the brunette seducer's lips.
2788
2789
2790
2791
2792