Having thick full-grown hair is a blessing and you have every right to flaunt your beautiful long hair. Since the decade of s, ponytails have been in style in several variations. Through the decades, the popularity of ponytails has been increasing at a surprisingly high rate. There was a time when having a ponytail was seen as a part of "hippy culture" or was limited to only "bikers". But in the third decade of this 21st century, no style is limited to any one group. People are being open to all kinds of styles and are embracing new makeovers with grace.
It is truly a fascinating time to be alive. The diversity of the fashion world is at its peak. Groundbreaking inventions are made in clothing and in hairstyles. Even for men, there are new phenomenal styles seen everywhere that men in the past wouldn't even think of. Ponytails are one such intriguing hairstyle people can't get enough of.
If you are running out of ideas in your pursuit of trying different hairstyles then a ponytail is something you should definitely try if you haven't yet. Ponytails are very versatile and they are the best way to show off your long hair in a decent yet stylish way. By having a ponytail you are keeping your long hair organized and making it easier for people to see your face and with the right variations, even admire your hair.
Can You Grow A Ponytail?
It is not as tough as taking an SAT but it true that you need a lot of patience to get a ponytail.
Growing long hair is a test for your patience to have long hair requires a minimum of a 6-month growing period. You need to be able to endure any discomfort you might face.
If you just decided to grow long hair suitable for a thick ponytail, then you are advised to get a base cut for letting your hair grow in a decent shape. The most common suggestion you receive is to get the sides and the back shorter than the top. Opposite of that will make you regret growing long hair.
Take extra care while maintaining your long hair. Avoid drying your hair with rough towel drying and high heat blow-drying methods which are the main reasons for damage and breakage of your hair. Pick a regular grooming time once every 8 to 12 weeks to trim down the edges for preventing split ends.
You may have heard this before but shampoo on your hair regularly isn't healthy for your scalp. It is true that it cleans off the dirt but at the same time, it cleans off the natural oils from your head making your hair dry and weak. Instead, use conditioners regularly to keep your clean and help it retain moisture and natural oils. You can still use shampoo but keep it just once in a week or two weeks.
After growing your hair for a set time period, pull back all the hair using a comb and your hands. Tie a knot at your desired length and let the remaining hair be free.
Now, a ponytail is not limited to just long hair. You can fancy one with medium or short hair. You just need enough length to be able to pull the strands together for tying a knot.
There are so many variations in having a ponytail. You should get the one that suits the shape of your face, your facial features, and your hair texture. You don't have to spend most of your time finding that one hairstyle. We brought together the finest ponytail styles that are in trend right now and have great prominence. Check out the 20 best ponytail hairstyles in the list below.
Top 20 Ponytail Hairstyles For Men
1. Laid Back Ponytail
Just like any other ponytail this style also has variations to it. You can have a resting pony falling onto your neck or a tight one standing stiff at the crown. To make it more captivating taper the sides and the back. You can go for braids on the top for which you need to make small sections and start braiding and combine those braids for tying a knot. Keep the temples neat and sharp.
2. The Messy Ponytail
This low-maintenance ponytail is simple yet striking. It looks great on men with straight hair. However, it also suits well for kinds of hair textures. Let your hair grow freely without any restrictions. Apply trusted styling products like hair mousse or gel and slowly caress your hair. Now use a comb to pull your long hair to the back and make a pony right in between the crown and the nape. Tie a knot but let it be loose so that it gives a messy free-spirited look.
3. Tight and Bright Curls
For this style, you keep your hair tight and show off your pony on the top of your head. This style requires your hair to be curly to get the desired look. You let your hair grow to your neck level and groom the edges to avoid split ends. The main attraction to this style is the combination of dark hair with blonde. Color dye your hair on the edges with blonde color and let it dry. After that, apply hair mousse or gel and let it dry so that you can handle your hair effortlessly. Comb the hair from all sides and pull them to the center at the top. Tie a knot and flaunt the beautiful contrast of deep chocolate with bright color.
4. Men Ponytail with Side Part
For this style, you can place your ponytail anywhere between the crown and the nape. However, our focus will be on making a side part on the top. This style works great on straight hair but it is not limited to any one texture. Let your hair grow to a decent length and groom the edges to keep it neat. Apply hair mousse to make it shiny and so that you can handle it easily. Use a comb to make a parting on either side. Let the hair flow on the sides and pull it to the back. Make a ponytail using a rubber band. Support this hairstyle with a full-grown beard if you fancy one.
5. Cool Basic Ponytail Style
This simple yet stylish look can be attained without spending much time grooming. Apply hair gel and comb the hair to the back and make a pony. You can tie a knot with the pony to make it look like a bun or leave it hanging. You can support this style with a beard. Keep in mind that if you have a large forehead or widows peak hair, this style elevates the forehead hairline. There are variations to this style. You can select an area on the side and taper it down so that the thick hair on the top is highlighted.
6. Blonde and Medium Ponytail
If you are having blonde hair then this style can let flaunt your shiny golden hair. As the name indicates, the length of the pony is medium and there are several variations to this style. You can for trimming down the sides and leaving the top with a long length or let the sides be with good length and give them braiding that is rest on the neck. Use a good quality hair gel to comb the hair on the top easily. Pull the hair to the back and make a knot for the pony near the nape.
7. The Silver Gray Ponytail
As the name indicates, you need to add silver-gray color to your hair for this style. The style suits greatly on all kinds of hair textures. Apply hair mousse for a shiny look of your hair. The mousse also lets you handle your hair neat. Pull back your hair altogether and right below the crown make a knot using a rubber band. Make another knot to turn your pony into a bun. Finally, let a few strands hang from the ponytail to get the signature look of this style. This style is elevated even more with a full-grown beard.
8. Island Style Ponytail
This is yet another free-spirited hairstyle that you can rock for a perfect holiday mood. This artistic style is very easy to attain and requires very little maintenance. You can dye your color to combine light with dark contrast. Pull your hair to the back after applying hair gel. Make a pony right below the crown. The ponytail is hanged loosely without any order for this style. You can support the style with a beard if you can to make it look complete.
9. The Long Hair Ponytail
If you have long hair then this style is highly recommended for you. Let your hair grow to your chest level. Apply good quality hair products to style your hair smoothly and conveniently. Keep the edges neat for a well-groomed look. Pull the hair to the back and make a pony between the crown and the nape. Since you are making a ponytail with only a small portion of your hair, the rest of your hair should be hanging freely over your shoulders. This rusty look is elevated even more with a right beard.
Soft Mocha Ponytail
For this style, you will be giving a beautiful contrast of hair color. Once the dye is dry, apply hair mousse to highlight the color and also handle the hair smoothly. Comb your hair and pull it back to make a ponytail at the nape. Use a rubber band to tie a loose ponytail. Let a few strands be free for a more carefree look. This style looks great with or without a beard. So it is up to you if you want to support it with one.
Side Undercut Ponytail
The primary focus of this style will be on the ponytail. However, the classic undercut makes your hair look more artistic. Make a parting to divide your top from the sides. Give a tapering on the side with length gradually decreasing from the top to the bottom. Repeat the same on the back of your head right below your nape. Use better quality hair gel or mousse for handling the hair well. Comb your long hair to the back and hold it at the crown. Use a rubber band and make a pony.
Matt White Ponytail
This is one of the unique styles you can get for a ponytail. But bear in mind that this style is not suited for everyone. Grow your hair to a decently long length and dye your hair with matt white. After it, dry pull all your hair to the back, and make a knot with a rubber band at the nape. Give your sideburns decent grooming for a more sophisticated look. You can have your hair tied up real tight or you can leave it a little loose.
Wavy Hair Messy Ponytail
If your hair is wavy then you should definitely give this style a try. To pull this off you need to keep the hair on the top to somewhere between medium and long. The rest of the hair, however, the sides and the back below the nape is tapered down. Let a few bangs hang on the side or on the front while the rest of your hair is combed backward to form a ponytail. Use a good quality hair mousse to let your hair be styled easily. Support the style with a full-grown beard if you can, if not give it a rough look by stubble or a thick goatee.
Biscuit Colored Manly Ponytail Hairstyle
This laid-back hairstyle is perfect for a relaxed day when you don't want to spend much time grooming yourself. You don't need to spend too much of your time to get this style. However, as the name indicates, the style looks great on men with dark blonde hair. For this style, you don't have to reduce your hair but just casual grooming on the edges to prevent split-ends. Apply good quality styling product and comb the hair first to avoid tangles. Pull your hair back and make a ponytail below the crown. Leave the pony a little loose and let a few strands fall on here and there.
Beach Braid Ponytail
As the name indicates, this style is great for a day out on the beach. The style itself has several variations so the style can be attained differently with long hair until shoulder level and a little shorter length. If you have long you divide the areas depending on how many braids you want. Make small braids on the side and a big one on the top. Let the big braid rest in the back with its edge open and free while the short braids are resting under it. If you have short to medium hair then make two braids on the top with a parting in the middle while the sides and the back are clipped down to a short length.
Dark Hairstyle Men Ponytail with Headband
This style is to keep your dark hair highlighted. Apply good quality hair mousse for shiny hair. Neatly comb the hair towards the back and close to the crown, make a ponytail. Support the ponytail with a headband to look more stylish. You don't have to keep the pony too tight but make sure the hair does not fall on your face. Support this hairstyle with a rough beard if you can grow one.
Ponytail with Amber Detail
This is one of the beautiful ways to flaunt your long hair with a subtle ponytail on the top. Give an undercut to elevate the top section. Select a wider area for the sides and the back to trim down. Let the hair on the top be lengthy and thick. Apply sable color to your hair to bring out arresting color contrast. Style the top with amber highlights and bring the hair close and tight. Use an elastic band to tie a knot for the ponytail. Let the hair rest freely without any restrictions. Make sure the temples and sideburns match with the tapered sides. Get yourself a neat stubble beard to make the style look more complete.
Clean Ponytail
This style gives adds a manly look to your appearance. This style works great on men with straight hair and agrees with all hair colors. Comb the hair towards the back and make a knot at the neck so the pony rests at shoulder level. You can make a parting to make the top look neater. Groom the sideburns to make the style more sophisticated. You can support the style with the beard style of your choice.
Bad Boy Ponytail
This easy-to-attain style gives you a tremendous makeover. You let your hair grow to the neck level. Now pull back all your hair to the back. Make a knot right below the crown by including the hair on the back pulled up. Make another knot with the ponytail for a thick man bun. For handling your hair smoothly apply hair gel or mousse. This wild-looking style doesn't need any more grooming but if you like you can add a beard to make it more subtle. The type of beard you try is totally up to you.
The Half Down Half Up Ponytail
This is yet another free-spirited ponytail you don't need to put too much effort to attain. It works great on men with straight hair. Apply quality hair gel to neatly style your hair without any tangles. Using the comb smoothly pull the hair to the back and make a knot for ponytail anywhere between the crown and nape. You don't have to groom sideburns as we are trying for a wild look here. It works equally fine with or without a beard. So it is your choice to groom one or not.
Conclusion:
Having a ponytail is the next step in embracing your long beautiful hair. It is also a subtle way to protect your hair from going dry or from frizz. Through our list, you have been introduced to several ponytail styles that can make you look better than ever. Use this list as a reference to style your long hair in the best way possible. For decades, the ponytail has been in practice and it is going to be in trends for decades to come.
AH Editors Team
Sours: https://atozhairstyles.com/articles/mens-ponytail-hairstyles/
Believe it or not, but a man ponytail gained popularity not so long ago. It took the ground in something around the s and has been one of the boldest long hairstyles for men ever since. However, there are plenty of ponytail styles not only for long hair. Modern tonsorial fashion offers a ponytail hairstyle for man with short and medium hair as well. A black man ponytail is also a very popular hairstyle worth trying.
Source: @mikeyyyyyyy_ via Instagram
Source: @travbeachboy via Instagram
Although in the past, a male ponytail was considered a daring and controversial hairstyle, today, it's quite a common thing. You may meet a man with ponytail not only at some special events, like rock concerts or something but basically everywhere: on the street, in the supermarket, in the office after all. There are no limits for a man ponytail hairstyle anymore.
Source: @lasselom via Instagram
As we said before, to pull off a ponytail man shouldn't necessarily grow his hair very long. To rock a short ponytail, it's enough to be able to gather the locks in a knot. If you want to add an edgy touch to it, get the ends trimmed unevenly. Though, if your hair isn't long enough for even that, you can always turn to a half ponytail, which is tied with the top section of the hair only, while the rest is left loose.
Source: @spizoiky via Instagram
Moreover, you can get away with an undercut ponytail, which is also a very stylish and practical option for guys with short hair. Of course, if you have enough patience and stamina, you can spend some time and effort growing out long locks and flaunting them in a low ponytail.
Source: @lasselom via Instagram
Note though that even the trendiest ponytail hairstyle will be wasted if you don't take care of your locks properly. Remember to wash your hair regularly but not too often so that the moisture won't wash out from your hair. Besides, always use hair conditioner after each washing to close up the hair cuticle and lock the moisture inside. Try to use a blow drier as little as possible and if you do use one, don't forget about the heat protection. Finally, brush your hair only when it's dry and don't tie an elastic band too tightly.
Source: @lanedorsey via Instagram
Source: @spizoiky via Instagram
A Photo Gallery Of Man Ponytail Hairstyles
Following these simple but essential tips, you'll easily nail any of the trendiest man ponytail hairstyles, which we gathered for you below, by the way. Enjoy!
Undercut Ponytail
To accentuate your ponytail, you can complement it with an undercut haircut. Because it takes a big chunk of hair off your sides and back, your hairstyle becomes easier to maintain. So, it will be highly beneficial for those who have thick and unruly locks. Yet, to take it to another level of boldness, go for a shaved sides ponytail.
Half Ponytail Man
With a half ponytail men kill two birds with one stone – on the one hand, they keep the hair away from the face so that it does not obstruct the view. On the other hand, it still shows off your stately long locks.
Short Ponytail Man
Male ponytails come in all shapes and sizes. So, if your hair is not particularly long, it does not mean that mens updos for long hair will not work for you. What is more, a short male ponytail is a neat and polished hairstyle that looks appropriate for any occasion.
supermodel/Shutterstock
Long Men Ponytail
If you have managed to grow your tresses long, may we just say well done first? This is quite an accomplishment. Yet, you may also get tired of them, which we totally understand. So that you would not want to chop your hair off, just style it in a long men ponytail, which also appears very impactful.
Mens Ponytail For Wavy Hair
You can sport a mens ponytail regardless of your hair texture. On the contrary, with wavy hair men, it seems more intricate and striking. So, feel free to enhance your waves with a texturizing spray and tie it in a pony.
Low Tail For Straight Hair
A straight hair ponytail looks elegant and sophisticated. So, when you need to look your best, you can never go wrong with this hairstyle. What is more, you can wear it equally successfully to a formal meeting and a dinner with friends.
Pony Tail For Boys
There is no such a thing as age limits for a ponytail. That said, if your kid wants to try on this trendy boys long haircurs, nothing should stop him. A boys ponytail may be a little less edgy, though it requires much less maintenance too.
High Ponytail Men
It is actually up to you to decide where to wear your male pony – near your neck or on the crown. A high pony is an unusual hairstyle that will not let you go unnoticed. So, if you like to be in the spotlight, this is your way to go.
Men's Ponytail With Bang
Although men with ponytail are already in the center of attention, you can make it even more striking by complementing with a bang. While not everyone will be able to pull off this look, those who have enough fashion bravery will rake in admiring gazes.
Bubble Ponytail
A bubble pony has become incredibly popular lately and no wonder. It is pretty easy to get whereas the result cannot be overlooked. To nail the style, you just need to tie the pony with elastic bands all the way down its length. As simple as that.
Source: Ranta Images/Shutterstock
Source: Olena Yakobchuk/Shutterstock
Source: Roman Samborskyi/Shutterstock
Source: jackhollingsworth.com/Shutterstock
Source: Syda Productions/Shutterstock
Source: Ranta Images/Shutterstock
Source: Uladzimir Gudvin/Shutterstock
Source: @notorious.edd via Instagram
Source: @f4fade via Instagram
Source: @f4fade via Instagram
FAQs
What is a male ponytail called?
When male hair is gathered in the back and tied together, it is simply a men ponytail or a male pony. However, if you leave the hair half way through the loop or twist around the base, it is referred to as a men bun.
Do Ponytails look good on guys?
It comes as no surprise that not all men with ponytails look equally good. However, if you find a suitable guy ponytail style for your facial features and hair type, then it may actually flatter you.
How do you style a mans ponytail?
There is a myriad of ways to style ponytails men can choose from. The most popular include a statement pony, a messy loose ponytail, a braided pony, a top knot ponytail, a half up half down pony, a horsetail and others. Here is the easiest way to get ponytail hairstyles for men:
1. Push all of your locks back and gather them in one place with your hands. You can use a hair brush or comb for a neater appearance of your man ponytail or rake the strands with your fingers only to give the hairstyle a messy finish.
2. Pull your hair through an elastic band or a hair tie of your choice, twist it and pull the hair through it once more.
3. Tighten the pony or leave it a bit loose depending on your preferences.
How long should a mans ponytail be?
Roughly speaking, your hair should be long enough to be tied behind your head. So, once it is around in., you can try to tie it in a high pony men hairstyle. Though, for a decent low pony, you should have at least eleven inch long hair.
Why do guys wear ponytails?
Guys with ponytails have plenty of reasons for their choice of a hairstyle, such as:
A pony allows you to take your hair away from your face.
It gives off a formal and stylish vibe.
When it is hot outside, wearing a pony will make you feel cooler both literally and figuratively.
Tied in a pony hair does not get in your way when you work, especially with machinery.
Some mens ponytails styles have an ethical or religious basis.
Your hair air dries faster and gets tangled less when in a pony.
A guy with ponytail looks trendy, unusual and eye catching.
REFERENCES:
A ponytail is a hairstyle in which some, most or all of the hair on the head is pulled away from the face. Source
A combination of how-to achievable beauty/hair trends, witty blog insights and hot topics in the beauty world. Source
Sours: https://menshaircuts.com/man-ponytail/
35 Fabulous Ponytail Hairstyles for Men []
Theres a certain preconceived notion about mens ponytail, but its time to lay it to rest. Haircare and styling belong to everyone.
If youve got a head full of long, healthy, luxurious hair, then its your bound duty to play with it, experiment with it, and do it up in as many different ways as possible. Start with the ponytail and you wont believe how quickly you acquire an appreciation for buns.
The Man Ponytail Is Officially Evolving
Once upon a dreadful time, ponytails for men were either mere afterthoughts or sculpted, over-moussed disasters.
Now, its not just acceptable for men with impressive tresses to experiment with new hairstyles, but its also downright encouraged—as it should be. There are way too many flattering things to do with your hair to limit yourself, bro.
1. Short Top Pony for Men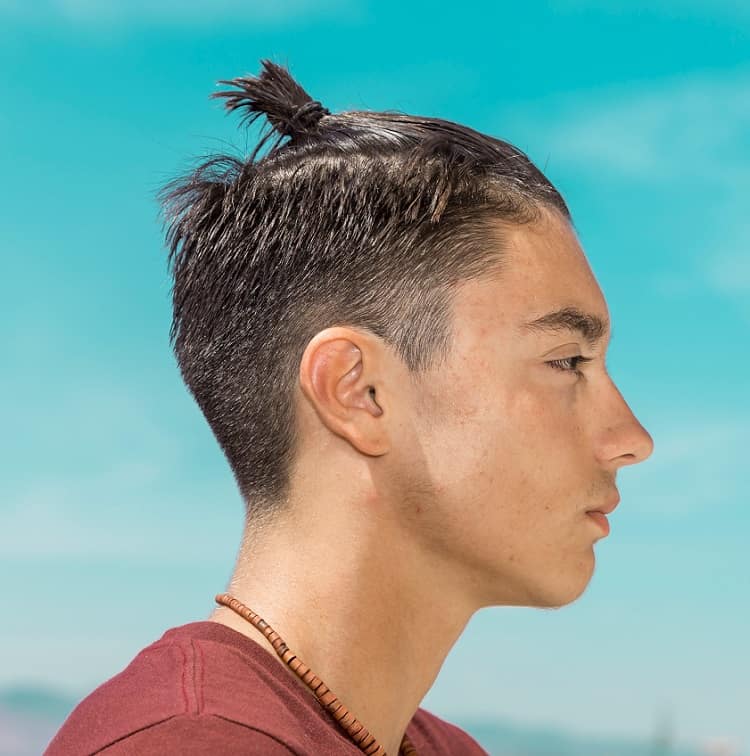 A short ponytail for men is exactly what you need if you have tapered sides. Use a hair elastic to tie that hair down, and youll let your forehead breathe.
2. Dreadlock Ponytail
Dreadlock ponytails for men are very stylish and if you are not afraid of getting these permanent knits, you are one step away from a magnificent hairdo. You can wear the dreads loose or pinned in a pony.
3. Ponytail with Hair Extensions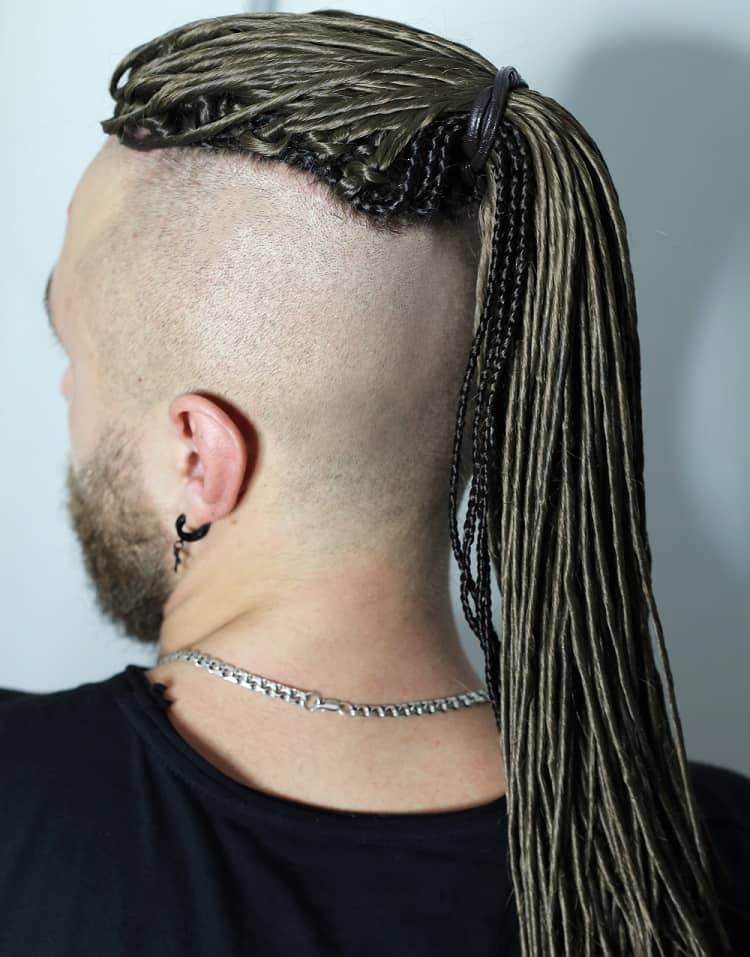 Take advantage of all those types of hair extensions and get yourself a pack of twisted braids. Shave your head, but spare the top. Braid the remaining hair and attach the knits if you want to obtain a ponytail mohawk for men.
4. Ponytail for Asian Men
Go for a tapper on sides and back and when youre tired of fixing a Pompadour every morning, give your hair a styling break and opt for a top hairdo. Any Asian man with a ponytail will love this hairdo!
5. Gray Ponytail
The Witcher will be jealous of your stunning grey ponytail for men. Dye your whole mane in a silver shade and pin it in the back with a hair elastic. You will pull off a jaw-dropping look that is also very modern.
6. Samurai Ponytail
When you have long hair, the styling opportunities are nearly endless. Create a samurai look by going for a loose ponytail for men. Pin the whole mane on top of the head and wrap a black ribbon around the base to give the hairstyle height.
7. Ponytail for Long Hair
Sometimes having long hair can be difficult. All that styling, arranging and fixing each strand If you want to take a break from these procedures, a man ponytail for long hair is very easy to make, and it will keep the mane tamed.
8. Ponytail for Old Men
An old man with a ponytail will certainly look fashionable, and if your strands are too short, tuck them over the ears. Wear a medium beard, and show off those sexy grays.
9. Braided Ponitail for Men
When you want a fashionable hairdo, a rope blonde ponytail for men is the thing you never knew you needed. Combine all sorts of knits and grow a beard to obtain that Norsemen appearance.
Ponytail for Black Men
If you have African American hair, a ponytail for black men will make you look incredibly handsome. Create a mohawk and go for dreadlocks or twisted braids for the remaining hair. Pin them all in a pony, on top of the head.
Ponytail with Fading Temples
When you have thick hair, even as a guy, you can find in a mens ponytail one of the best approaches for styling your mane. Give the hairstyle a fancy touch up by trimming the temple area.
Ponytail for Receding Hairline
When you have a receding hairline, you can try covering it or embrace it by getting a ponytail hairstyle for men. You can also trim your back hair and wear a beard to pull off a messy look.
Jumbo Ponytail for Men
Hairstyling is not only for women! Use your imagination and get yourself a pack of Jumbo hair. Create a mohawk by shaving the sides and attach the hair extensions to the top. You will end up with a rebellious ponytail for men that will look eye-popping.
Ponytail for Medium Hair
Man ponytails are highly versatile and can be arranged on top of the head or in the nape area. If your hair is too short, use bobby pins to secure the rebel strands. If you also wear a beard, youll have a sexy look that will win any girls heart.
Half Ponytail
A man ponytail can be styled for all sorts of hair types and face shapes. So if you have medium hair and want to pin those strands that get in your way, a half ponytail will do the trick.
Locd and Looped High Ponytail
Need to keep your dreadlocks out of your face? Pull them high atop your head, secure them with a tie, and then loop them into a messy half bun. Follow the example shown and utilized your locs themselves to hold your man ponytail in place.
Top Knot Hairstyles for Men
Mens Half Up Ponytail
Theres nothing like a half ponytail to keep the hair out of your face. Its a trick that girls and women have known about for years, and theres no reason dudes cant benefit from it, too. You get all the joy of long hair, but you can still show off your sculpted forehead and an epic full beard.
Halfhearted Bun
The lazily looped bun is another trick the ladies know and love. You pull your hair back as usual, then half-heartedly tuck and twist it through your elastic. You always end up with something more or less exactly like this: a casual ponytail hybrid thats laid-back, stylish, but practical. Browse the popular bun hairstyles for men.
Shaved Sides Ponytails
A lot of attractive ponytails for men are paired with a haircut that involves shaved or closely cropped sides. Its an excellent solution for growing out the mens undercut.
Mens Braided Undercut With Ponytail
Love the look of an undercut but dont want to commit to cutting your hair? Separate the top half of your hair and secure it into a ponytail, covering your elastic with a section of your hair. Braid the underside into tight cornrows and use a wax or pomade to smooth down everything in the back. Youll have the sexiest man ponytail ever.
Classic Ponytail
A traditional, timeless ponytail is among the most popular and stylish teenage guy hairstyles. Ask any woman in your life whos ever had long(ish) hair: ponytails never let you down, not even once. Frankly, if you have enough styling products and bobby pins, theres nothing you cant do.
The Perfect Messy Bun
I dont think youll ever see a bun more perfect than this. The woman, guy, kid, dont matter. This right here is #goals. Its not only full and thick, but its also beautifully formed. Damn, boy.
With a Fade
Its hard to pick what I like best about this hairstyle. That fade is smoother than butter, though. The gradient is flawless. However, the curls in that ponytail are frigging everything.
Preppy Pony
Long hair on men hasnt always featured into the preppy aesthetic, but everything changes. You need a carelessly secured, casually tousled ponytail to pull off the crisp, clean-cut, boat shoe vibe. However, while the pony itself can be artfully mussed, make sure everything else is neat and sleek.
Tiny Tail
Its not really surprising that there are ponytail styles for men that arent even ponytails. Your hair might still be too short for a genuine ponytail. You can still make up, but it probably looks stubby and sticks up at an angle. Just loop it into a bun instead. Nothing more. That will fix the problem until you gain a few more inches.
Curly to the Gawds
All right, technically speaking, this is more of a man bun than a ponytail, but were friends. Lets not argue semantics. It, too, is a perfect specimen. Marvel at the full, flawless shape and the curly ends sticking out here and there.
The Lazy Mans Ponytail
Sure, looping your ponytail into a half-hearted bun is lazy—but look. What saves this style and turns it into something languidly and effortlessly elegant is the strand of hair wrapped around the base of the ponytail and securing the bun. Thats gold.
Falling Tendrils
Whether you wear your man ponytail long and flowing or twist it into a bun, you should leave a few stray tendrils of hair hanging around your face. It softens the features and creates a frame. Kind of irresistible, to be honest.
Natural Poof
From the fade to the perfectly formed poof of hair on top, this ponytail is fire. The hard part, straight edges, and the curve in that fade also make this a killer coiffure for my dudes with style.
High and Flowing
Hey, fellas, if you got the length, let it fly. Gather your ponytail high. Let it bounce. You need to keep your neck cool, too, man. You need to show off your jawline. Go to it.
Straight and Sleek
There are plenty of simple ponytails for men, as well. Brush or comb your hair back as smoothly as possible, slick back the front, and form your ponytail right in the middle of the back of your head. Easy.
Low and Smooth
Elegance is easy with a ponytail. Comb it out or use your brush and make sure its moisturized and shiny. Then form a ponytail low at the nape of your neck and secure it. Fini.
Pulled Back Braids
Pull back your braids and still show off the fly pattern of your cornrows and the laid quality of your edges. Keep a few braids loose just because.
Braided Bun
If youre on the lookout for an innovative man ponytail, you found it. Braid a section of the long portion of your undercut, then loop all of it into a half bun. Youll get mad compliments. Everybody loves a good braid.
Thick and Gathered
Thick ponytails are on-frigging-point, always, all the time, yes. This is glorious and thats the end.
Mens ponytails have eclipsed the questionable, kind of skeevy styles often seen in the s and s, thank the hair gods above. Lately, theyve also evolved away from struggle tails and failure buns. Would you ever wear your hair in a ponytail?
Sours: https://hairstylecamp.com/men-ponytails/
60 Eye-catching Mens Ponytail Hairstyles Be Different
Long hair on men is gaining more and more popularity as guys from all walks of life and different professions grow out their locks.
If the hair is well looked after, this style can suit almost any man and be attractive. But longer locks can get in the way and that is why ponytail hairstyles for men are such a great choice.
The hair can still be shown off but is kept off the face and out of the eyes.
Who Should Try a Manly Ponytail?
The man ponytail is a versatile hairstyle that fits all types of hair textures and colors. Boys with long hairstyles should try out one of these top options.
Laid Back Ponytail (For Men with Medium Length Hair)
This style is for people with medium length hair, where the darker hair is gathered and styled into a higher ponytail. For guys who want to go casual and leave some loose strands behind the ears, this is the perfect hairstyle.
The man ponytail with a side part is a hairstyle for someone with a solid beard line. You style the hair into a ponytail on your top back side, leaving a clear part on the side, which allows the sideburns to align with the beard line.
Island Style Ponytail (For the Beach Goer)
Men with beach blonde or chestnut brown hair should try out the island-style man ponytail. It is suitable for men with thinner hair who like to play around with different hair colors. For this style, the hair is loosely bunched to create a ponytail.
Low Man Ponytail (For Casual Men and All Hair Styles)
Men with locs, curly hair, or stick strands should try out the low man ponytail. It is an excellent hairstyle to rock if your hair is slightly longer and you wish to sport a chill appearance for the day.
Long Hair Ponytail (For Men With Longer Hair)
This style, which is popular among martial arts athletes, is when you tightly secure a short ponytail with strands hanging loose on each side of the ears. Men with long hair who wish to style hair around the ears should try this ponytail look.
How to Grow and Tie a Manly Ponytail
Growing a ponytail might be the toughest part of creating a manly look. There's sometimes an awkward growing-out phase. But treating your hair well with a good shampoo, conditioner, and the right brush for your hair type (only brush when dry!) can help keep your locks healthy while they grow.
Then, when your hair is finally long enough, it's time to put your styling skills to work.
Guys with ponytails have to make an effort to look stylish. You might need to apply the product to your hair to smooth it over, create texture, or tame flyaways. You'll also require a hair tie (or probably a handful). Silicon hairbands are popular for guys, but you can also find scrunchies that are manly, too.
To put your hair up in a pony, brush it smooth, gather the hair in one hand, and use the hair tie to wrap around it with the other.
Best Ponytail Styles for Men
Let's have a look at a few hot man pony styles:
# 1 Medium Length Hair in Laid Back Ponytail
Here we see long sandy blonde and dark brown hair that has been gathered up and secured in a high man pony. Some strands have been left loose and tucked behind the ears.
# 2 Bright and Tight Curls
Curly hair like this can sometimes be unruly but here it is kept out of the face by brushing it into a bunch of copper blonde ringlets on top of the head.
This also helps showcase the brighter color against the deep chocolate brown underneath.
# 3 Island Style
This hairstyle is neat but relaxed and the color is perfect for the beach. Dark ash blonde highlights have been applied over a chestnut brown base.
The hair has been loosely collected and tied at the back. A large number of speeds allow users to mix
# 4 Soft Mocha Ponytail with Light Blonde Tips
His silky mocha colored hair has been combed tightly back and hangs in a ponytail down his shoulders. The base hue ties in well with his beard while the tips are a light flaxen blonde.
# 5 Matt White Ponytail
Perfectly white and straight mid-length hair is gathered in a pony with an impressive volume on top. The lower half of the hair is cut in a straight line.
# 6 Biscuit Colored Man Do with Attitude
This guy has brushed back only the top part of his dark blonde hair, exposing a high undercut. The hair has been pulled into a high spiky ponytail – a perfect do for a relaxed afternoon.
# 7 Messy Do with Folded Top Knot
In this picture, we see lovely straight, shiny locks of light blonde hair that have been pulled back loosely and folded into a messy top knot.
He has an undercut as well that is hidden by the strands of hair left loose and tucked behind his ears.
# 8 Beach Braids
In this style, the sides have been clipped super close and the hair on top has been divided into two lengthwise sections. These two parts have each been French braided, meeting in a loose man bun at the back.
# 9 Eye-catching Amber Detail
This man's hair has a sable color base tone and is tightly curled in natural-looking ringlets.
Over the top portion of hair, there are amber highlights which have been collected and secured with an elastic, creating a neat ponytail.
# 10 Masses of Walnut Colored Curls
In this picture, the hair has been pulled back and covered with a bandana to keep loose hairs out of the way. The thick mane of hair has been tied into a curly pony.
# 11 Half Ponytail
Style a medium-short haircut and pick a sandy gold blonde hair color. Youll get a surfer look with a half ponytail that pins up only the top hair.
# 12 Half Ponytail for Long Hair
Ponytails are easy, relaxed hairstyles that are ideal for men with long hair. Create a middle part and opt for a sandy brown blonde ombre.
Gather the temple and top hair and tie it in the back in a half pony.
# 13 Ponytail for Older Men
Ponytails are also suitable for older men and they can look quite modern if you style an undercut in the nape area.
Keep your head down and using your fingers, comb your hair, and try to gather all the strands in a top pony.
# 14 Ponytail for Men with Short Hair
Get a versatile short hair cut that allows you also to style a pony. A short cut for the sides will work so well with the long top.
Straighten those longer strands and pin them in a ponytail and orient the dense tips upwards.
# 15 Three Ponytails for Kids Party
If you are a dad whos not afraid to act goofy all the time, this is the perfect hairstyle for any kids party.
Tell your little one that you have something special for him or her and surprise everybody with three ponytails on top of the head. Dont forget to tie the mustache using colored hair elastics.
# 16 Long Top Ponytail
If youre tired of your long hair, but youre not ready to totally give it up, you might have a mindblowing choice.
Go for a short cut on sides, a long beard and use the top hair to build a pony. Use a few hair elastics to tie it until you run out of hair.
Hipster looks are highly trendy and a mild sombre will help you get that modern appearance.
Use a smooth honey-brown for the tips and get an undercut for the temples. Pin your hair in a pony, revealing that short cut.
# 18 Messy Pony
Messy ponytails make any man look irresistible. It is a hairstyle that can be pulled off in just a few minutes and can both suit a casual outfit and even an elegant formal look.
# 19 Wet Ponytail
If you love that old-school Antonio Banderas look, recreating his wet lookalike ponytail is quite easy.
Make sure you use quality jams and hair foam or waxes if you want your strands to look gorgeous.
Half ponytails that use only the top hair will help you get a young vibe. They are ideal for sport and casual looks and perfectly match aviator glasses.
# 21 Bad Boy Chic
What works great in this look is the no-nonsense man pony that lifts the hair away from the face emphasizing the beard.
# 22 Razor Sides and Slicked Back Pony
The hair has been allowed to grow out on top and at the back, with a razor cut along the sides. His base color is an ash blonde while the slick pony matches the beard in a sorrel brown.
# 23 Dark Cinnamon Hair in High Pony Tail
In this smart look, the hair has been brushed back and collected into a straight ponytail that sits high on the back of the head. A few strands have been left loose along the sides and at the back.
# 24 Curly Hair Pulled Back with Beach Blonde Tips
This ultra-curly hair has all been scraped back and tied into a man pony. The color palette catches the eyes – starting with burnt sienna roots and blending into golden browns and beach blondes.
# 25 Long Honey Colored Pony
In this picture the long hair, in different shades of soft blonde, has been straightened and combed back into a sleek ponytail. The look starts with a light sandy brown base while the edges are honey and ash blonde.
# 26 Braided Man Pony
Here the hair has been divided into small square sections and then neatly braided. While some of the braids have been left loose the rest have been collected and tied into a pony.
# 27 Attention Grabbing Texture
The natural texture of this hair adds loads of volume to his look. The tight wavy hair has been gathered at the back of the head into a thick attention grabbing up do.
# 28 Interesting French Braid Detail
This look begins with the front hair combed back with some lift over the forehead. The hair is tied in a ponytail and has been covered with a strand of hair at the base.
The hair on the sides, which is also long, has been sectioned and French braided. This adds lots of interest to the style.
# 29 Touchable Ginger Pony
In this picture, the long ginger brown hair has been secured at the base of the neck into a wavy ponytail. Again a section of hair has been wrapped around the elastic band, giving this style a polished feel.
# 30 Dark Roots with Baby Blonde Pony Tail
This hair, that has sandy brown roots blended into baby blonde ends, has been pulled into a loose ponytail with the flyaway strands brushed back neatly.
# 31 Waist Length Smoky Black Hair
Here the sides have been razor cut very short and the top and back hair has been grown out. This hair descends down, almost reaching the waist, in a shiny black river.
# 32 Stylish Male Up–Do
The different hues of browns seen in this hair are smooth and well blended together. The hair here has been brushed up and curled over into a stylish man bun/ ponytail.
# 33 Deep Brown Hair in Low Pony
The sleek hair up to the pony is a sable hue while the hair that is tied together is a slightly lighter chestnut brown. This man pony is wavy, shiny and touchable.
# 34 Springy Top Bun
This thick and bouncy man pony sits on top of the head and compliments his thick eyebrows and structured beard perfectly.
# 35 Sun Kissed Locks
This long and beautiful colored dark to light hair has been gathered at the nape of the neck and tied with an elastic into a loose pony, that allows the golden blonde tinted hair to fall gently down his back.
Idea # 36
Idea # 37
Idea # 38
Idea # 39
Idea # 40
Idea # 41
Idea # 42
Idea # 43
Idea # 44
Idea # 45
Idea # 46
Idea # 47
Idea # 48
Idea # 49
Idea # 50
Idea # 51
Idea # 52
Idea # 53
Idea # 54
Idea # 55
Idea # 56
Idea # 57
Idea # 58
Idea # 59
Idea # 60
So if you hear is in good condition think of growing it longer. There is a huge mass of ponytail hairstyles out there. And you will hardly stay unnoticeable.
[easy-social-share]
Sours: https://machohairstyles.com/best-ponytail-hairstyles/
Hairstyle men ponytail
13 Best Male Ponytail Hairstyles in
It's a good time to be a man who is interested in fashion — never has there been such a diversity of options on the horizon for either men's clothing or hairstyles.
However, while the possibilities for haircuts for men may seem to be endless, it's inevitable that the most fashion-minded of men will eventually run out of inspiration. If the time has come for you to consider other hairstyles, you might want to turn your attention to the possibility of sporting a male ponytail.
The male ponytail is ubiquitous in many ways. Over the past few decades, it has carried with it many stereotypes from "biker" to "hippy". Adopting the ponytail lifestyle may seem to be right out of the 80s or 90s at first, the truth is that there are many men out there who have been giving the ponytail a modern flare.
Here is a selection of some of the best ponytail styles for men, whether you are a long-time ponytail wearer who is looking for a fresh re-imagination of an old hairstyle or somebody who is on the fence about adding this choice to your overall aesthetic.
1. Man Bun Ponytail Hairstyles
Source: @longhairguysz via Instagram
More likely than not, when you think of a men's "ponytail" you are most likely imagining a small bun on the top of the head, also known affectionately as a "man bun".
While not technically a ponytail, per se, we believe the man bun still deserves some praise. This hairstyle doesn't just give off a carefree vibe — it literally is a carefree hairstyle thanks to the little effort required in throwing it together.
You may not have grown up near an Australian beach where you would regularly ride the waves, but you'll certainly be fooling everyone with your hair in a stylish bun.
2. Men's Ponytail Hairstyles With Dreads
Source: @fadesbymase via Instagram
Source: @chrisdeloatchofficial via Instagram
We love the way that dreads makes hair manageable, but sometimes even this hassle-free style can use a little bit of pulling back. The good news is that dreads make for a great ponytail, especially if you have medium to long dreads.
Low ponytails and high ponytails look equally good — the choice is yours and will most likely depend on the length of your dreads and how easy they are to wrangle.
3. Men's Ponytail Hairstyles for Curly Hair
Source: @coachw8ts via Instagram
Source: @ddma17 via Instagram
Just because you have curly hair, it doesn't mean that you have to miss out on the fun of styling your hair into a ponytail. In fact, the options are even more fun for men who are lucky enough to have luscious locks.
Most notably, curly hair looks great when pulled into a "messy bun", especially if you allow for a few individual curls to fall down. If a bun isn't your style, you can try pulling your hair into a neat low bun, as this also tends to work well for curls.
4. Men's Top Knot Hairstyles
Source: @harrimomesso via Instagram
We've talked a bit about man buns, but where is the love for the top knot? Contrary to popular belief, this trendy style is not only for women.
The top knot is similar to the man bun in that it is a bun formation, but it differs in the amount of hair that it uses. Unlike a regular man bun, where every strand of your hair is pulled together, a top knot uses only some of your hair to create a bun on the top of your head (hence its name). Weird in theory, maybe, but in practice it is super popular and hip!
5. Men's High Ponytail Hairstyles
Source: @young__che via Instagram
Source: @reza.b_barber via Instagram
Source: @cagey_evaan via Instagram
Source: @lauracainafterdark via Instagram
Source: @lauracainafterdark via Instagram
Source: @rag_gaming via Instagram
Not all ponytails are created equally! Whether or not you choose to create a "low", "medium", or "high" ponytail will have a direct result on how your hair choices tie in (pun intended) with your styling as a whole.
While a low or medium ponytail gives a vibe that is more relaxed, a high ponytail can actually be quite formal and business-like, making it a good choice for a wedding or even a job interview.
6. Men's Ponytails with Facial Hair
Source: @bilz.khan via Instagram
Source: @horatiouspinto via Instagram
Source: @labrie_was_here via Instagram
If you're a facial hair fan, then do we ever have the ponytails for you. Although it may take a little bit more grooming and effort, it is possible to pair a ponytail with facial hair and have a result that is trendy.
One option that looks great with a beard is to pull back your hair in a half ponytail — especially if you have long hair. It also looks wonderful with shaved sides. Which brings us to our next option
7. Men's Ponytails with Shaved Sides
Source: @beardlifeishard via Instagram
Shaved side hairstyles have gained traction in recent years, and if you are an adopter of this flattering trend you'll be happy to know that this hairstyle is more versatile than it may seem at first glance.
In order to successfully pull this look off, you'll need a good comb and a steady hand.
By defining a bold part on either side of your head, you can create a look that looks like it took more time to put together than it actually did.
8. Men's Ponytails for Short Hair
Source: @losticon84 via Instagram
One of the most popular misconceptions about men's ponytails is that they are a hairstyle reserved for adopters of long hair only. However, this could not be further from the truth!
With a little touch of creativity, short haired males can also tip their toes in the man bun or man ponytail waters.
If your hair isn't long enough to pull at the top of your head, opt for a low hanging ponytail.
Pro tip: sometimes shorter hair can be harder to wrangle, and the kind of hair tie that you can use can actually make a difference. Opt for a stronger hair tie (think fabric-covered elastic instead of small elastic bands).
9. Male Ponytails for Longer Hair
Ponytails for men with longer hair is where the real fun begins! If this describes you, you can benefit from a diverse range of ponytail styles, from a low-hanging casual tie to a braid.
We are also a big fan of the "half ponytail", where you leave the majority of your hair down and only tie up a portion of it on the top of your head.
Male Ponytails for Medium Length Hair
Source: @parturikampaamoeerika via Instagram
Source: @zacmanfitness via Instagram
Wondering if you have medium, short, or long hair? Medium hair can most commonly be defined as hair that sits around shoulder length. This is a great hair profile for the male ponytail, as you can pull off both low-lying or high ponytails.
Sleek Male Ponytails
Source: @_the_doctor__46 via Instagram
Source: @trends.geek via Instagram
The sleek style is not reserved for short hair either! To achieve a sleek ponytail, it's all about using the right product for your hair type. One great product is called a pomade — if you're unfamiliar, it's a type of waxy styling product that results in a Hollywood-esque sleek and shine.
Ponytails for Men with Pompadours
Source: @hairstyles_byarnold via Instagram
Source: @juan.leoncanton via Instagram
Source: @swagberrypie via Instagram
Are you torn between adopting a pompadour or a ponytail? The good news is that you can have both. A pompadour is a popular hairstyle that refers to, in general, hair that is swept over and worn high above the forehead.
The pompadour ponytail stays true to this hairstyle's roots by combing the hair so that it is puffed up above the forehead and then tying it into a neat bow.
Ponytails for Undercuts
Source: @ringowong22 via Instagram
An undercut is a popular hairstyle where the sides and bottom of a men's head are cut closer to the skin than the top.
Creating a ponytail with an undercut is simple, and can be conveniently done as a way to manage your hair when the top inevitably starts to grow out longer than the sides of your head.
FAQs About Ponytails for Men
Can I use a regular rubber elastic band when wearing a ponytail?
It may be tempting to re-use that rubber band from your latest asparagus or broccoli haul. However, while we admire your dedication to reducing, reusing, and recycling, it's not advisable.
The rubber material tends to cling to your individual hairs and will result in painful pulling and pinching. It's much better to use a hair tie that has a fabric covering.
Is it true that wearing a ponytail can cause traction alopecia?
Yes and no. Traction alopecia is characterized as hair loss that occurs as a result of a tight or high ponytail. As long as you are monitoring your hairline for signs of thinning hair or hair loss, it's safe to put your hair up as much as your heart's desire. Also, note that some hair loss or thinning may be a natural result of ageing and not due to any styling choice.
Is a male ponytail a good choice for men with receding hairlines?
Men with a receding hairline or thinning hair can face self esteem challenges, but it doesn't actually have to be this way. There are a multitude of hairstyle ideas for men experiencing hair loss, including a ponytail.
Even if you have naturally thin hair or worry that you don't have enough hair, pulling your hair into a ponytail can actually give the illusion of your hair being more full than it actually is.
See more about The Best Hairstyles for Balding Men
I've never had longer hair before. Should I be using a special kind of shampoo or conditioner?
Welcome to the long hair/male ponytail club! The answer to this question will vary greatly depending on the individual, but the most common answer is no. If your shampoo and conditioner routine was working when you had shorter hair, it's likely it will work for your long hair as well. It's best to check with your hairstylist, though.
Is there a specific hair type that works best for ponytails?
Not necessarily. Men with thicker hair may be more likely to gravitate towards a ponytail as it makes their hair easier to manage and control. However, it can actually also be a surprisingly good choice for men with thinning hair — scroll to the bottom of this article if you want to read more about that.
Sours: https://nextluxury.com/mens-style-and-fashion/male-ponytail-hairstyles/
How to Make the Most of Long Hair - Best Hairstyles for Men - Details Magazine
15 Ponytail Hairstyles For Men To Look Smart And Stylish
The trend of adoption of the ponytail in hairstyle for men has been prevalent since decades. It is known that ponytail hairstyle is in existence since the era of the s. Since its origin, the hairstyle is getting fame,and even women are seen depicting. A ponytail hairstyle is essentially a hairstyle wherein the hair is allowed to grow long as well as separated into two different parts and then they are connected through a knot present on the head, allowing the hair hang in style of a ponytail.
Knowing how to do Ponytail Hairstyles for Men is quite easy, wherein a man just need to collect the hair and then carefully tie a knot over the base. In case you wish a long ponytail, allow the long hair to hang downside. It is known that to have short ponytails, simply cut the hair in short length, and tie a knot as well as work to trim the ends unequally to enhance the style.
Slicked Back Hair with Ponytail
Whenever the cut may seem reasonably straight-forward, it is known that men even holds few options when accepting a slick back based haircut for men's hair. Moreover, a slicked back related undercut is essentially an ordinary style, and presently every barber should acknowledge ways to use it. In this hairstyle, men usually need moderately short hair to create a ponytail with slicked back aptly.
Short Ponytail with French Braid
The French braid for short ponytail-based hairstyle is usually finest for outings or beach. It is known that this ponytail style is one among the unique one and in this hair over the top is separated into two different segments with different sides clipped closely. Besides, the two clipped type sides are braided as well as styled at back side through French man bun. Moreover, through French-plaited type man braid, all the hair over the top side of your head is utilized to leave a single braid over the center part of the head. An advantage of the present man-braid type style is that men can effortlessly undo French plait as well as could return to the naturally combed hair in few minutes.
Very Short Ponytail with Beard
This hairstyle is recommended for men having a beard,and in this, the size of the ponytail is short. It is known that this is usually one of the finest ponytail hairstyles wherein the hair is mostly styled within a ponytail over the topmost backside through a clean side parting visible. Besides, the sideburns merge the beard line directly to finish the style. Based on the range of trendy hairstyles with a beard this hairstyle stands unique and stylish as compared to others.
Laid Back Ponytail
This ponytail hairstyle is regarded as a cool style which can feature your facial aspects along with the color of your hair. In this ponytail hairstyle, dark brown color hair is known to have collected up as well as maintained in a high ponytail style. The ponytail is essentially laid back on the head,and few strands have been collected at the back the ears for adding extra texture as well as masculine appearance. Besides, if men possess any kind of tattoo, adopting this hairstyle is regarded as a dazzling way to depict new style.
Swept Back Hair with Ponytail Twist
In this hairstyle, hair is usually swept towards the back side of your head. In addition to that, there is the inclusion of twist in the ponytail style. The shoulder length of men hairstyles needs not be disheveled hipster manes or braided masterwork that need constant styling. In this hairstyle, you need to focus on a twist to be applied on the ponytail. Moreover, you can effortlessly relieve through side-swept appearance which enables the hair to fall on its own. Through this style, it is finest to stay away from anything which will take away right from the natural appearance. Hence, you need not go for anything such as a middle parting that works to supplement rigid and planned finish.
Undercut Ponytail
In this hairstyle, the concept used is that unanticipated contrasting patterns, textures, and silhouettes divide the sartorial layperson from the experienced one. This effect applies to hair. The undercut in a ponytail is done such that sharp border of a line up stands out alongside a fuzzy fade or clear-cut side burn improves the efficiency of a full beard. It is known that a powerful combination is a dissimilarity between a long hair and short undercut.
Long Hair with Sleek Ponytail
Longer locks applied on men frequently appear non-trivial as well as sexy, mainly when they are properly cared for. This is essentially long hairstyles that can turn out smooth for your elongated locks and it would not function more than certain minutes of your valuable time on styling processes. The style adopted is that you need to have soft and smooth hair in order that ponytail persists for lengthy hair.
Casual Look with Ponytail
If you are the one who wishes a trendy and fashionable look, then you need to go for this ponytail style as it comes with an unique concept.Adopting this hairstyle, you may not look official at all,but you will succeed in grabbing the attention of friends and family and casual manner. It is known that this ponytail style is famous as even few male personalities and celebrities go for this hairstyle.
Two Braids into Ponytail
Men's braids adopted nowadays are not just applicable to men with long hair or shoulder length. Those men who sport the famous long top based short sidemen, haircuts or even the elongated top undercuts suppose how different they can groom their longer hair top. For this, braids are regarded as an obvious answer. The hairstyle adopts the style of including two similar or different braids inside a ponytail. If you are the one who got exhausted of the man bun and also could not look to divide with the flexibility as well as the concentration of long hair, now it is time to go for braids using this hairstyle.
Ponytail with Twisted Knot
For adopting this hairstyle, men usually require thick and long hair. It is needed to tie them back into a ponytail. This flexible cool hairstyle is regarded as a variant of the long on top hairstyle, short on sides, and probably functions to decrease consideration to your retreating hairline. In this hairstyle, you need to twist the knot overhead and then tie hair to make a ponytail.
Mens Voluminous Ponytail
If you are crazy about a large ponytail for long hair, then go for this hairstyle. In this, you need to manage your ponytail appropriately as the hair is long so there are chances that ponytail may get open. You can take help of some bobby pins to hold the long ponytail for few hours aptly. Also, take care that you have a bit of less silky hair else the ponytail might get easily opened.
Shaved Ponytail
Appearing dashing, trendy, stylish, presentable, and ritzy is as significant for a modern man as it is for a beautiful and modern woman. Whenever anyone meets,you will get noticed if you have shaved your look along with shaving your ponytail. In this hairstyle, the ponytail is neatly tied and neatly managed.Fortunately, the significance of a flattering-based hairstyle in your appearance conveniently conveyed through this ponytail hairstyle.
Razor Sides and Slicked Back Ponytail
Majority of men's hairstyles are a blend of short sides as well as back through longer hair over the top. The fame of the slicked back ponytail in association with sides mended in the form of razor cut is increasing. In this hairstyle, first, the ponytail is tied in the manner of slick back and then on the sides, razor cuts are done. This form of hairstyle is regarded as one of the most contemporary and unique ones as it adopts a new approach. In this, the top is less than half an inch long, creating it a low maintenance-based style for men with different hair kinds.
Curly Ponytail Hairstyle
The curly ponytail is presently regarded as a cool look. If you are crazy about curls to be included in your ponytail, then go for this hairstyle. If a man is born with the succulent curls, he is considered as unique and lucky. This is because many men need to adopt many techniques to get the curly look. It is known that this hairstyle is tough to maintain,but still, it is getting higher fame.
Viking Inspired Ponytail
Viking hairstyles are frequently characterized by thick, long, hair over the top as well as the back of your head and also shaved sides. The outcome of this hairstyle is an attractive and strong appearance which is perfect for men with a strong personality. In order to rock this style, you require applying few contemporary updates. In order to get a look that claims great level of personality in the absence of the follicle need, men must go for a shaved head.
Ponytail Hairstyles for Men is altogether a different concept to add an unique look to your hair. The ponytails, when shaped in different styles, get conveniently suited to your head. You can add some unique innovations to try out some different variant based on the ponytail.
Categories Mens HaircutsSours: https://www.hottesthaircuts.com/ponytail-hairstyles-for-men/
Similar news:
He considers himself almost an adult, and so. Are you sure. Maybe a pill. I'm pretty sure Robert. And I don't want to poison you with chemistry.
1014
1015
1016
1017
1018