So is expressing gratitude, as LDS Church President Russell Nelson urged, healthy, or hurtful, during a pandemic?
On this national day of thanks, social media sites are awash in expressions of gratitude.
Even at a time when more than 250,000 Americans have died of the coronavirus, grateful citizens still have been eager to list publicly many of the good things in their lives — from parents, grandparents and children to pets, books, sunsets and even the feeling of weightlessness in the water.
As the popular writer and speaker Brené Brown says in her various presentations, "In my 12 years of research on 11,000 pieces of data, I did not interview one person who had described themselves as joyful, who also did not actively practice gratitude. ... I went into the research thinking … if you are joyful, you should be grateful. But it wasn't that way at all. Instead, practicing gratitude invites joy into our lives."
(Photo by Chris Pizzello/Invision/AP) Research professor Brene Brown in 2019
Indeed, giving thanks is an article of faith in numerous religious traditions, including Christianity, Judaism, Islam, Hinduism and Buddhism.
This year, observers might note an unusually large number of social media posts with the hashtag #GiveThanks.
That's because President Russell M. Nelson proposed in a Nov. 20 video message to those in the 16.5 million-member Church of Jesus Christ of Latter-day Saints that they use Facebook, Twitter, Instagram and other platforms as a kind of gratitude journal — posting daily for a week.
Nelson, considered a prophet, seer and revelator by millions of Latter-day Saints around the world, said he believed that "counting our blessings is far better than recounting our problems," even amid the COVID-19 pandemic.
Nelson's 11-minute video, which has reached millions worldwide since it was released, galvanized hundreds of thousands of church members (including apostles and other top leaders) to share their thankfulness with the prescribed hashtag.
"Working together," Nelson said, "we can flood social media with a wave of gratitude that reaches the four corners of the earth."
And flood they did.
On the first day, most Latter-day Saint posters mentioned loved ones, family and friends in typical, if sometimes overly sentimental, rhetoric.
[Listen to the "Mormon Land" podcast: A therapist explains how and why giving thanks is healthy — even amid COVID.]
But by the second, third and fourth days, however, members of the Utah-based faith were reaching further and deeper for items, people and experiences that mattered to them: third grade teachers, woods for hiking, nose jobs, breathing, technology, a broadcast journalism degree, bus drivers, employment, yoga, stepchildren, Robert Alter's translation of the Old Testament, gigantic grocery stores, a Heavenly Mother coloring book, marshmallows in hot chocolate, the ability to cover the house in lights without injury.
Some were real, some funny, most heartfelt.
Then came the pushback.
Masking the message
Though they appreciated the importance of expressing gratitude, some critics were irked that so many Latter-day Saints waited to do so until their church president gave them the directive.
Others criticized the church president for using his video pulpit to preach the "healing power of gratitude" rather than giving a directive about the raging cases of the virus.
Social media posts, no matter how thoughtful, don't end a global pandemic, Tamsen Maloy, a freelance journalist living in Centerville, wrote in a Salt Lake Tribune op-ed. "And when a significant number of church members don't follow COVID-prevention guidelines, a talk about gratitude is cold."
In his video message, the 96-year-old Nelson, a renowned heart surgeon before devoting himself to full-time ministry, did not issue a mask mandate, but he did speak of his concern about COVID-19 and the scientists who were working on a vaccine to prevent its spread.
"As a man of science, I appreciate the critical need to prevent the spread of infection," he said. "I also honor the devoted service of health care professionals and grieve for the many whose lives have been upended by COVID-19."
The video showed people putting on and wearing masks, which medical experts have said help greatly in preventing the spread of the coronavirus.
Others complained that the posters were too braggy, lauding their "perfect" family and impressive religious adherence, leaning into a kind of self-righteousness.
"This campaign appeals to people's most selfish instincts — to broadcast their high points and show how devout they are," a woman wrote on Facebook. "We can express how grateful we are for the good in our lives in private. This is just exhibitionism posing as gratitude."
Psychologist Julie de Azevedo Hanks, who is a Latter-day Saint, offered some advice to her fellow posters:
• Lose the guilt and include intangibles.
• Center on Jesus.
• Be authentic and "avoid painting an unrealistic picture."
• Recognize privilege.
• Be sensitive to others and don't imply God loves you best.
• Check your motives. "Is it humble brag or one-up, or sincere gratitude?"
Even with good intentions, though, is it possible to celebrate all that you have, without giving pain to those who have less?
'Not a competition'
(Francisco Kjolseth | Tribune file photo) Ardis E. Parshall, Mormon research historian in Salt Lake City, surrounded by her stacks of books.
The moment Nelson made his request, Mormon historian Ardis Parshall knew her social media feeds would be flooded by "pictures and words of gratitude for loving spouses and happy children, posed in large shiny rooms or in exotic travel destinations."
Parshall, who lives in Salt Lake City, has never been married and has no children.
"I don't have and will never have what so many of you are posting your gratitude for," she wrote. "Doesn't matter. I can be happy that YOU are happy. And I trust that you will be happy for my more modest gratitude, should I post something about the love of a cat or the friends who bring me groceries."
Gratitude, she concluded, "is not a competition."
That willingness to be happy for others is a crucial part of gratitude, according to Kristine Haglund, former editor of Dialogue: A Journal of Mormon Thought, in an email.
"There are not many universally distributed blessings — almost anything we are thankful for may be something someone else lacks," noted Haglund, who lives in St. Louis. "If we can only express gratitude or joy that will not cause anyone pain, we make ourselves islands, cut off from speaking of the things that matter most to us. Bearing one another's burdens is a relentlessly grim duty if we cannot also learn to share each other's joys."
She shares the frustration of those who say a hashtag "doesn't seem like enough to meet the enormous and frightening challenges of the moment, and it is true that there's sometimes a fine line between publicly expressing gratitude and gloating."
But Haglund also recognizes that "the difficulty we have in suspending cynicism shows just how desperately we need the baby step of starting to be open and trusting of each other in small ways."
Latter-day Saints," she said, "may need some contrived exercises in vulnerability to push us along."
As Brown, the popular speaker and social work research professor at University of Houston, repeats often, it is not just the occasional expression of gratitude that changes lives, but the practice and discipline of cultivating a deeper sense of appreciation and wonder.
Creating a balance
In his video, Nelson lays out some of his own losses and agonies — his first wife who died suddenly and two daughters lost to cancer.
The pandemic is "only one of many ills that plague our world, including hate, civil unrest, racism, violence, dishonesty and lack of civility," Nelson noted. While gratitude does not "spare us from sorrow, sadness, grief and pain ... it provides us with a greater perspective on the very purpose and joy of life."
Kristine Anderson, a stay-at-home mother of four who is an independent Mormon studies scholar in Rexburg, Idaho, sees gratitude and mourning as interwoven.
In response to Nelson's suggestion, she posted a quote from psychotherapist Francis Weller: "The world of the mature person is to carry grief in one hand and gratitude in the other and to be stretched large by them. … If I carry only grief, I'll bend toward cynicism and despair. If I have only gratitude, I'll become saccharine and won't develop much compassion for other people's suffering. Grief keeps the heart fluid and soft, which helps make compassion possible."
Anderson happened upon the quote in 2019, when she found herself unexpectedly pregnant after doctors had advised her against having more children, given her lupus, postpartum depression and degenerative disk disease.
She was "already at her limit, caring for 1-year-old [in vitro fertilization] twins," and a teenage daughter, and it would delay her plans to return to school.
"As I adjusted to my new reality, I made sure not to force myself into acceptance and joy — I allowed myself to feel grief and sorrow for what I lost and the story I was giving up," the Latter-day Saint mom said. "I asked people to send their congratulations to my husband until I could hold them with gratitude. In the middle of that, I found this quote in an evangelical group for faith reconstruction (Evolving Faith). It spoke exactly to what I felt I was experiencing."
On the day of her new baby's blessing, Anderson "took the opportunity to bear my testimony of how applying that quote during that year had strengthened me and allowed me to process very complicated feelings and hold both dualities of my situation."
The quote now has been shared by Latter-day Saints all over social media.
Appealing to 'our better angels'
(Jeremy Harmon | Tribune file photo) Patrick Mason speaks while recording the 100th episode of the "Mormon Land" podcast on Oct. 4, 2019.
Patrick Mason, head of Mormon history and culture at Utah State University, initially was skeptical about what Nelson might say in his promised video.
Would the Latter-day Saint prophet "lay down the law on masks?" he wondered.
While watching Nelson's presentation, though, it became evident that it wasn't going to be that, and Mason found himself "deeply touched by the message."
It was powerful and important, he said, for a global religious leader "to call us back to virtue, to call us to be our better angels."
In the speech, Nelson acknowledged that the gratitude exercise was not going to solve all the country's divisions and hatreds, but it was something that could be done.
"I was pleasantly surprised at the way it resonated with me as a listener and believer," Mason said. "I was not surprised, but disappointed, that just like everything else, his request has become divisive and politicized."
Whether or not you believe in God, gratitude is "a universal value," he said. Nelson's proposal should have been "universally embraced, rather than the subject of sarcasm and snark."
Top Latter-day Saint leaders are concerned about "political rhetoric" and hesitate to "dive in and specifically identify groups that are especially egregious so as to be seen as partisan," the scholar said. "This might have been a really tactical way [for Nelson] to intervene in the nastiness of postelection social media."
Religion is here "to lift up and cultivate the best parts of us," Mason said, "to live in harmony with other people, creation and with ourselves."
COVID-19 has forced us all "to retreat into ourselves," this effort is pushing us, he said, "to think bigger and broader than that."
The "tricky part" is doing it on social media, a platform made to "show off," he added, and where there also is a constant urge to assess and worry about motive and impact. Knowing that you are not doing it perfectly might also paralyze potential posters.
On the whole, isn't it better to strive to profess and show gratitude, Mason wondered, than not to try at all?
Sours: https://www.sltrib.com/religion/2020/11/26/so-is-expressing/
Give Thanks in All Things
In one of the times of spiritual and temporal adversity recorded in the Book of Mormon, when the people of God were "suffering all manner of afflictions," the Lord commanded them to "give thanks in all things" (Mosiah 26:38–39). I wish to apply that teaching to our time.
I.
The children of God have always been commanded to give thanks. There are examples throughout the Old and New Testaments. The Apostle Paul wrote, "In every thing give thanks: for this is the will of God in Christ Jesus concerning you" (1 Thes. 5:18). The prophet Alma taught, "When thou risest in the morning let thy heart be full of thanks unto God" (Alma 37:37). And in modern revelation the Lord declared that "he who receiveth all things with thankfulness shall be made glorious; and the things of this earth shall be added unto him, even an hundred fold" (D&C 78:19).
II.
We have so much for which to give thanks. First and foremost, we are thankful for our Savior Jesus Christ. Under the plan of the Father, He created the world. Through His prophets, He revealed the plan of salvation with its accompanying commandments and ordinances. He came into mortality to teach and show us the way. He suffered and paid the price for our sins if we would repent. He gave up His life, and He conquered death and rose from the grave that we all will live again. He is the Light and Life of the World. As King Benjamin taught, if we "should render all the thanks and praise which [our] whole soul has power to possess, to that God who has created [us], and has kept and preserved [us], and … should serve him with all [our] whole souls yet [we] would be unprofitable servants" (Mosiah 2:20–21).
We give thanks for the revealed truths that provide a standard against which to measure all things. As the Bible teaches, the Lord gave us apostles and prophets "for the perfecting of the saints" (see Eph. 4:11–12). We use the revealed truth they give us, "that we henceforth be no more children, tossed to and fro, and carried about with every wind of doctrine, by the sleight of men, and cunning craftiness, whereby they lie in wait to deceive" (Eph. 4:14). Those who view every calamity and measure every new assertion or discovery against the standard of revealed truth need not be "tossed to and fro" but can be steady and at peace. God is in His heavens, and His promises are sure. "Be not troubled," He has said to us concerning the destructions that will precede the end of the world, "for, when all these things shall come to pass, ye may know that the promises which have been made unto you shall be fulfilled" (D&C 45:35). What an anchor to the soul in these troubled times!
We give thanks for commandments. They are directions away from pitfalls, and they are invitations to blessings. Commandments mark the path and show us the way to happiness in this life and eternal life in the world to come.
III.
In the past eight months in the Philippines, I have heard many testimonies of the blessings of the gospel. Speaking at the dedication of his ward chapel, a Filipino bishop expressed his gratitude for the gospel message that came into his life about 10 years ago. He described how it rescued him from a life of selfishness, excess, and abusive practices and made him a good husband and father. He testified of the blessings that had come to him from paying his tithing.
Speaking at a leadership meeting, a counselor in a stake presidency who is a lawyer and community leader said: "I can declare to the whole world without mental reservation that the greatest thing that ever happened in my life is my becoming a member of The Church of Jesus Christ of Latter-day Saints. It … made a great difference in my life and that of my family, even if I feel there is more that I should learn and apply in my life. The Church is indeed a marvelous work and a wonder."
You do not have to travel to the Philippines to experience such testimonies. They are evident wherever the gospel message is received and lived. But Sister Oaks and I are profoundly grateful for our opportunity to live and serve in the Philippines, where we have met thousands of wonderful members in new surroundings and seen the gospel in a new light.
In the developing world we learn the importance of establishing the Church—not just teaching and baptizing, but retaining the new members by loving, by calling and ordaining, and by nourishing with the good word of God. We have learned the importance of challenging members to abandon cultural traditions that are contrary to gospel commandments and covenants and to live so that they and their posterity "are no more strangers and foreigners, but fellowcitizens with the saints, and of the household of God; … built upon the foundation of the apostles and prophets, Jesus Christ himself being the chief corner stone" (Eph. 2:19–20).
People who do this become part of the worldwide gospel culture of commandments and covenants and ordinances and blessings. Such people experience "a mighty change" in their hearts, "that [they] have no more disposition to do evil, but to do good continually" (Mosiah 5:2). The image of God is "engraven upon [their] countenances" (Alma 5:19). Such followers of Christ are found in every land where the gospel and the Church have been established. We have many of them in the Philippines, and we are working to encourage more of them. We do this by growing from centers of strength, concentrating our teaching where there are sufficiently large groups of committed members to provide the friendshipping, the teachings, the role models, and the needed assistance to the struggling newly born members who are just learning what the gospel asks of us and gives to us.
IV.
The revelations, for which we are grateful, show that we should even give thanks for our afflictions because they turn our hearts to God and give us opportunities to prepare for what God would have us become. The Lord taught the prophet Moroni, "I give unto men weakness that they may be humble," and then promised that "if they humble themselves … and have faith in me, then will I make weak things become strong unto them" (Ether 12:27). In the midst of the persecutions the Latter-day Saints were suffering in Missouri, the Lord gave a similar teaching and promise: "Verily I say unto you my friends, fear not, let your hearts be comforted; yea, rejoice evermore, and in everything give thanks; … and all things wherewith you have been afflicted shall work together for your good" (D&C 98:1, 3). And to Joseph Smith in the afflictions of Liberty Jail, the Lord said, "Know thou, my son, that all these things shall give thee experience, and shall be for thy good" (D&C 122:7). Brigham Young understood. Said he, "There is not a single condition of life [or] one hour's experience but what is beneficial to all those who make it their study, and aim to improve upon the experience they gain" (Teachings of Presidents of the Church: Brigham Young [1997], 179).
As someone has said, there is a big difference between 20 years' experience and 1 year's experience repeated 20 times. If we understand the Lord's teachings and promises, we will learn and grow from our adversities.
Many of the inspired teachings of our modern prophets are compiled in Teachings of Presidents of the Church, our course of study for Melchizedek Priesthood and Relief Society. The timeless doctrines and principles included in these books are fountains of divine wisdom and guidance. Wise teachers in wards and branches will not substitute their own subjects and wisdom but focus on these inspired teachings and their application to current circumstances and challenges.
For example, in the current volume we read these words of President John Taylor on the subject of gratitude for suffering: "We have learned many things through suffering. We call it suffering. I call it a school of experience. … I have never looked at these things in any other light than trials for the purpose of purifying the Saints of God that they may be, as the scriptures say, as gold that has been seven times purified by the fire" (Teachings of Presidents of the Church: John Taylor [2001], 203). Pioneers like President John Taylor, who witnessed the murder of their prophet and experienced prolonged persecution and incredible hardships for their faith, praised God and thanked Him. Through their challenges and the courageous and inspired actions they took to meet them, they grew in faith and in spiritual stature. Through their afflictions they became what God desired them to become, and they laid the foundation of the great work that blesses our lives today.
Like the pioneers, we should thank God for our adversities and pray for guidance in meeting them. Through that attitude and through our faith and obedience, we will realize the promises God has given us. It is all part of the plan.
I love the musical and motion picture Fiddler on the Roof. There a wonderful Jewish father sings "If I Were a Rich Man." His memorable prayer concludes with this pleading question:
Lord, who made the lion and the lamb,
You decreed I should be what I am;
Would it spoil some vast eternal plan,
If I were a wealthy man?
Yes, Tevye, it might. Let us give thanks for what we are and for the circumstances God has given us for our personal journey through mortality.
In ancient times the prophet Lehi taught this truth to his son Jacob:
"In thy childhood thou hast suffered afflictions and much sorrow, because of the rudeness of thy brethren.
"Nevertheless, Jacob, my first-born in the wilderness, thou knowest the greatness of God; and he shall consecrate thine afflictions for thy gain" (2 Ne. 2:1–2).
My mother loved that scripture and lived its principle. The greatest affliction of her life was the death of her husband, our father, after only 11 years of marriage. This changed her life and imposed great hardships as she proceeded to earn a living and raise her three little children alone. Nevertheless, I often heard her say that the Lord consecrated that affliction for her gain because her husband's death compelled her to develop her talents and serve and become something that she could never have become without that seeming tragedy. Our mother was a spiritual giant, strong and fully worthy of the loving tribute her three children inscribed on her headstone: "Her Faith Strengthened All."
The blessings of adversity extend to others. I know it was a blessing to be raised by a widowed mother whose children had to learn how to work, early and hard. I know that relative poverty and hard work are not greater adversities than affluence and abundant free time. I also know that strength is forged in adversity and that faith is developed in a setting where we cannot see ahead.
V.
When we give thanks in all things, we see hardships and adversities in the context of the purpose of life. We are sent here to be tested. There must be opposition in all things. We are meant to learn and grow through that opposition, through meeting our challenges, and through teaching others to do the same. Our beloved colleague Elder Neal A. Maxwell has given us a noble example of this. His courage, his submissive attitude in accepting his affliction with cancer, and his stalwart continued service have ministered comfort to thousands and taught eternal principles to millions. His example shows that the Lord will not only consecrate our afflictions for our gain, but He will use them to bless the lives of countless others.
Jesus taught this lesson when He and His disciples met a man who was born blind. "Who did sin, this man, or his parents, that he was born blind?" the disciples asked. "Neither," Jesus answered. The man was born blind "that the works of God should be made manifest in him" (John 9:2–3).
If we see life through the lens of spirituality, we can see many examples of the works of God being furthered through the adversities of His children. I often visit the American War Memorial in Manila. To me, that is a sacred place. It is the burial place of over 17,000 soldiers, sailors, and airmen who lost their lives in World War II battles in the Pacific. The memorial also honors over 36,000 other servicemen who also lost their lives but whose bodies were never recovered. As I walk past the beautiful walls where are inscribed their names and the state of their origin, I see many that I suppose were faithful Latter-day Saints.
Reflecting on the wartime deaths of so many worthy and wonderful members and how much suffering this has caused their loved ones, I have thought of President Joseph F. Smith's great vision recorded in the 138th section of the Doctrine and Covenants. He saw "an innumerable company" of righteous spirits, "who had been faithful in the testimony of Jesus while they lived in mortality" (D&C 138:12). They were organized and appointed as messengers, "clothed with power and authority, and commissioned … to go forth and carry the light of the gospel to them that were in darkness, … and thus was the gospel preached to the dead" (D&C 138:30). Reflecting on this revelation and remembering the millions who have fallen in war, I rejoice in the Lord's plan, in which the adversity of the deaths of many righteous individuals is turned into the blessing of righteous messengers to preach the gospel to their countless comrades-in-arms.
When we understand this principle, that God offers us opportunities for blessings and blesses us through our own adversities and the adversities of others, we can understand why He has commanded us again and again to "thank the Lord thy God in all things" (D&C 59:7).
I pray that we will be blessed to understand the truth and purpose of the doctrines and commandments I have described and that we will be faithful enough and strong enough to give thanks in all things. I testify of Jesus Christ, our Savior and Redeemer and Creator, for whom we give thanks, in the name of Jesus Christ, amen.
Sours: https://www.churchofjesuschrist.org/study/general-conference/2003/04/give-thanks-in-all-things?lang=eng
President Russell M. Nelson posted thank-you notes on his social media accounts Sunday, saying he was humbled by the number of people who accepted his invitation to use their own Twitter, Facebook and Instagram posts as gratitude journals for a week.
He also used the posts to encourage people to end 2020 on a positive note by joining the service and gratitude activities of the Light the World initiative sponsored by The Church of Jesus Christ of Latter-day Saints, headquartered in Salt Lake City.
"I am grateful and humbled that you would join in thanking God for His countless blessings to each of us," President Nelson posted on Sunday. "I urge you to make expressing gratitude to God a part of your daily life. An attitude of gratitude gives us better perspective and more peace of mind and heart."
President Nelson issued the invitation in a video message on Nov. 20 in which he offered a prayer of gratitude and encourage others to do the same.
The hashtag #GiveThanks immediately became one of the top trending topics on Twitter in the United States. It also dominated the social media feeds of many members of The Church of Jesus Christ of Latter-day Saints.
Sen. Mitt Romney, R-Utah, participated in #GiveThanks, as did NBA executive Danny Ainge and world-famous performers like Lindsey Stirling, Donny Osmond and David Archuleta. So did the church's apostles and other leaders.
Thousands used President Nelson's posts on Sunday to comment about their experiences following his invitation.
"Thank you, President Nelson!" Rebecca Andersen wrote on Instagram. "This past week was by far the best week of the year. I feel so much peace and hope and joy. It's like my brain has been reset to see the good again."
In his Sunday messages, President Nelson asked people to build on #GiveThanks by joining #LightTheWorld.
"Now, as we enter the Christmas season and celebrate the living Christ, one of the most powerful ways we can show our gratitude is by serving his children. Let us follow his example to 'Light the World' by loving and serving others, one by one. #GiveThanks#LightTheWorld"
On Instagram, Katie Wilson Hughes responded to President Nelson's post by writing, "#LightTheworld stretches me every season but fills me with so much hope and love I don't dare NOT do it. So excited and so ready. This year of all years — excited to jump in with a full heart."
Others responded on Twitter.
On Facebook, Elena Salazar wrote, "Thank you President Nelson for the prescription to #GiveThanks. What an awesome activity that helped me to really focus on what is important. It also had me writing more things that I'm thankful for that were too personal to share but good to journal. Thank you for your inspiration and leadership of our church during these times. I will look for opportunities to serve my brothers and sisters and help to #LightTheWorld."
Sign up for the newsletter ChurchBeat with Tad Walch
Go behind the scenes on what's happening with The Church of Jesus Christ of Latter-day Saints and its members.
Sours: https://www.deseret.com/faith/2020/11/30/21736069/president-nelson-builds-bridge-from-give-thanks-to-light-the-world-mormon-lds
#GiveThanks is an invitation to heal the world—and our hearts—through gratitude to God. Join in.
Turn social media into your own gratitude journal
For each of the next seven days, post about something or someone you're grateful for using the #GiveThanks hashtag. Invite others to do the same. As we fill our hearts with thanks, we will be better prepared to light the world together in December.
Remember to show gratitude every day. Get daily #LightTheWorld service prompts.
Sign Up
With all the chaos around you, it can be hard to recognize the hand of God in your life. Take a moment to reflect on your blessings and kneel in prayer to thank Him. Gratitude brings even more blessings.
If you're not sure how to reach out to God, we can help you learn the basics of prayer.
Meet with Missionaries
Build your relationship with Jesus
Jesus Christ lived His life in thankfulness to God. You can follow His example by recognizing your blessings and expressing your gratitude.
Get to know Jesus Christ by following in His footsteps. Sign up to start the Walk with Christ email series.
Sign Up
Join the Conversation
Share the hashtag #GiveThanks
Sours: https://www.churchofjesuschrist.org/givethanks/?lang=eng
Thanks lds give
"And in Everything Give Thanks"
Thank you, President Seamons. Today I hope my message will bring new consideration and meaning to those two important words thank you. Frankly, over the years I have been troubled by the admonition contained in D&C 98:1: "Verily I say unto you my friends, fear not, let your hearts be comforted; yea, rejoice evermore, and in everything give thanks" (emphasis added).
My inability to give thanks in all things, particularly those events or occasions that have caused disappointment, delay, and misunderstanding, has given me concern. My capacity to express thanks in everything has been quite inadequate. Without "the passing of time factor" I would have failed miserably.
Appreciation for all people and events that come into our lives is most important because it is God's way of helping us to grow. The ultimate maturity is being able to feel and express appreciation promptly, being fully aware of the value and importance, and showing gratitude for it. How does God feel about giving thanks? In the Doctrine and Covenants we read: "And in nothing doth man offend God, or against none is his wrath kindled, save those who confess not his hand in all things, and obey not his commandments" (D&C 59:21).
Would you like to have God's wrath raised against you? Would you like to have God angry with you? It can happen, and it will happen if we fail to show gratitude. Why does the lack of appreciation offend God and kindle his wrath? Not because he needs necessarily to see and hear our thanks, but because he knows an absence of appreciation on the part of anyone causes personal stagnation. Our growth and our progress are delayed when we fail to feel and express a sincere thank-you.
May we think for a few moments about occasions and situations where we actually say, "Thank thee, God, for the people and events that have come into our lives that have made it possible for us to develop and grow and mature, yes, for all people, for all conditions, and for all circumstances that allow us to give thanks to human beings and situations for what they can do and will mean to us."
How do you measure up in giving thanks in everything? Let me lead your minds into a few areas where hesitation or delay may leave you quiet instead of expressing present-time gratitude.
How well do you do in giving thanks for yet unanswered prayers? Are you able to give thanks to God when there is delay or silence in matters that are of great concern to you? We would remind you as you ponder and yearn for quick responses to important needs that sometimes the right answer could be no answer.
Are you able to give thanks for dress codes and conduct standards that seem to be restrictive and unnecessary for your personal needs?
It takes a certain amount of courage and maturity to thank in your heart and in words those who would teach modesty and good grooming by lofty standards and personal respect. Are you able to say "thank you" for enrollment in an institution of higher education, even BYU, and for administrators and instructors who expect you to better manage self-discipline and long-range priorities?
Can you bring yourself to give thanks for campus guidelines that seem to be just a little much? Are you wise enough to give thanks when you are inconvenienced by regulations that appear to take away freedom of choice? Are you able to give thanks for a campus honor system that is unique and demanding? Sorry but true, some of us would rather murmur than measure up. You are special students and friends who can and will, I hope, someday be able to give thanks for guidelines that on some occasions may seem unimportant and unnecessary, yet are self-discipline builders.
Are you able to accept a responsibility, particularly one that seems beyond your grasp and comprehension, with a simple "Thank you, Heavenly Father" for an unplanned calling? When I think of my being named a member of the Council of Twelve, I never remember over the years ever saying, "Thank you, Father in Heaven, for this calling." Many, many are the times I have thanked him for his trust, strength, and guidance, but never for the calling. Perhaps someday I will be mature enough to so declare. In the meantime, as I grow older and, I hope, wiser, the thank-you will continue to be for ongoing support.
Can you give thanks when physical limitations are constant and trying? I am thinking of a close friend of mine who died recently. He spent the majority of his life in a wheelchair. Shortly before he passed away, we had an intimate conversation. He said, among other things, "Looking back now, I am glad for the pluses of wheelchair life. It brought special experiences, people, opportunities, and tender relationships I would have never experienced if my mobility had not been restricted."
Can you give thanks when you are trying to climb an extra high mountain in your life of hills and valleys? Oftentimes we pray for strength to make it to the summit in life's journeys, and the Lord seemingly adds elephant-sized burdens to our backs to carry up steep and trying paths.
Can you give thanks in grief? Can you express appreciation to God for sustaining power when certain pain and anguish seem to be beyond your power to cope?
Can you give thanks when appropriate discipline comes into your life? Many of us have a tendency to complain rather than conform to needed repentance procedures. Can you give thanks when a decision or ruling against you seems unfair and unreasonable? Some of us give thanks in victories, but never in defeat or undeserved delays.
Can you give thanks sincerely each time you give a blessing on your daily food?
Recently I had an urgent challenging assignment. It was not family, neighbor, or church related. It was a new experience. I felt ill-prepared. After a crash preparation procedure and humble prayer, we somehow successfully completed the taxing task. Upon returning to my office, I knelt down and was impressed to utter only two words, "Thank you."
Can you thank God on a continuing basis for people who share challenges, love, and lift?
Let us take the time for thank-yous while we may be heard and others are able to hear.
I have in my possession two letters, among others, that are years old. They are cherished thank-you notes, simple but enduring. One is from Frank Riggs, Jr., of Montgomery, Alabama. His came following a multistake conference in Atlanta, Georgia. Frank is a returned missionary from Denmark. He came home early when multiple sclerosis struck his healthy body.
Dear Elder Ashton:
Thank you for the thoughts and spirit you shared at our multistake conference this past weekend in Atlanta. It was a fairly strenuous experience for me with my limitations, but well worth the effort. Maintaining a level of involvement in service-related activity is very important to me—I am perniciously vulnerable, as one might guess, and determined to avoid the quagmire of self-concern, and your closing remarks yesterday gave me a fresh awareness of my possibilities in this area.
Thank you for reading my letter. It was no great chore to write it, though the job had to be done somewhat piecemeal. Sorry about the misstrikes, but, as we say, "Them's the breaks." And I tried to do my best.
Bedridden and with little or no use of his arms and legs, he put the correspondence together with his typewriter and a pen. He typed his letter to me with the movement of his head moving the pen in his mouth.
The other letter came to me from an FBI agent in New York. He said, "I am here involved in a very, very important case. The days are long and the nights are longer because I am away from my family. I have had a little bit of time to think. As I have been thinking, I am impressed to write you a letter."
In the letter he didn't say, "I am thankful you are a member of the Council of Twelve Apostles." He said, "I want to thank you for what you did for me when I was a deacon, teaching me to be true to myself, my family, and my Church. I will never forget your interest in me. You taught me to try and be a one hundred percenter. Thank you."
As we visit with missionaries, we often ask them to stand up and tell us where they are from, bear their testimonies, and tell us about their companions and their parents. This is a great experience in learning about them and what their thought processes are and what their senses of values are.
I recall one missionary standing up and saying, "I have been in the mission field nine months, and I have had five companions." With a quivering chin and a choked-up voice, he said, "Never once in nine months have I had a companion who told me he loved me or thanked me for what I was doing for him. I hope and pray that someday, somehow, I'll have a companion who will tell me that he loves me and openly expresses gratitude."
No matter where we come from, no matter what our family conditions are, we should learn and be appreciative of those circumstances that can build and lift us.
I recall another missionary who said, "Two weeks before I was to go see my bishop and get the missionary forms and papers processed, I had some doubts. I had some questions about the future and even about the Church. I walked into the living room and interrupted my father, who was watching television, and said, 'Dad, I'm not so sure about this Joseph Smith business. I'm not so sure I know the Church is true. I'm not so sure I want to go out and represent it. I have a lot of questions, and I have a lot of misgivings.'
"When I said that, my father walked over and turned off the television, took the cigarette he had in his hand and smashed it in the ashtray, took the can of beer he had in his other hand and put it down on the table, and said, 'Son, I want you to know that I don't do very much about it, but I know that the Church of Jesus Christ is true and that Joseph Smith is a prophet. I want you to hear me say it because I know that better than most anything else in this world.'"
This young man then said, "I want my father to know that I appreciate him. He has some habits that he's not proud of. He has some habits that I'm not proud of. But he is my father, and he has a testimony. I'm pleased I even told him on that occasion 'Thank you for being my dad.'"
That kind of appreciation, that kind of maturity, will not only help a missionary to grow and develop, but will also be a great anchor in life's paths. A sincere thank-you will cause most of us to share and perform more worthily in the days that follow.
The most common question missionaries ask me is, "Elder Ashton, what can I do to get my mother or father or brother or sister more active in the Church? I realize now what they are missing and what they need. What can I do to get them active in the Church? What can I do to get them to become members of the Church?"
In every case and every situation I have taken the opportunity to say, "The best way to get your family members active in the Church or to become members is to tell them 'thank you' for all they do to support you and tell them how much you love them." We need to express appreciation on a continuing basis, to love family members and neighbors into the Church.
John Powell shares this touching experience:
It was the day my father died. . . . In the small hospital room, I was supporting him in my arms, when . . . my father slumped back, and I lowered his head gently onto the pillow. I . . . told my mother . . . :
"It's all over, Mom. Dad is dead."
She startled me. I will never know why these were her first words to me after his death. My mother said: "Oh, he was so proud of you. He loved you so much."
Somehow I knew . . . that these words were saying something very important to me. They were like a sudden shaft of light, like a startling thought I had never before absorbed. Yet there was a definite edge of pain, as though I were going to know my father better in death than I had ever known him in life.
Later, while a doctor was verifying death, I was leaning against the wall in the far corner of the room, crying softly. A nurse came over to me and put a comforting arm around me. I couldn't talk through my tears. I wanted to tell her: "I'm not crying because my father is dead. I'm crying because my father never told me that he loved me. Of course, I was expected to know these things. I was expected to know the great part I played in his life and the great part I occupied in his heart, but he never told me." Never once a thank-you.
In all that he has done, the Savior has indicated the importance of thanks. Here are a few short quotations from the scriptures that should be helpful as we give new thought to the importance of vocalizing appreciation.
"He took the cup, and gave thanks" (Matthew 26:27).
"He took the seven loaves and the fishes, and gave thanks" (Matthew 15:36).
"Thou shalt thank the Lord thy God in all things" (D&C 59:7).
"Ye must give thanks unto God in the Spirit for whatsoever blessing ye are blessed with" (D&C 46:32).
"Let the peace of God rule in your hearts, . . . and be ye thankful" (Colossians 3:15).
"Verily I say unto you my friends, fear not, let your hearts be comforted; yea, rejoice evermore, and in everything give thanks" (D&C 98:1).
"When thou risest in the morning let thy heart be full of thanks unto God" (Alma 37:37).
What a great day it will be in our lives when we can know the blessings of spontaneous gratitude and what it means to us!
Appreciation of companion, appreciation of sweetheart, appreciation of husband and wife, education, and lofty standards is so important. It is a most important ingredient in a happy marriage. Many a family, many a marriage is broken because of a lack of appreciation. The most mature and successful people who participate in marriage are those who understand that a sincere and frequent thank-you is love in one of its most powerful displays. What a strength it is to have a companion who feels and expresses appreciation! Too many times I have heard people say, "My marriage was terminated primarily because my husband (or wife) didn't appreciate anything I ever did for him. No matter what I did, there was no thanks!"
God's love for us was so great that it was possible for him to endure and look upon the sufferings of his Only Begotten Son. We should be eternally grateful that God gave to us his Son, our Savior and Redeemer. Without him and his love and sacrifice, we could never be glorified in his eternal presence. The greatest gift of all, and the one for which we should be most appreciative, is the gift of his Son to us for purposes and realizations that we little comprehend today but should better understand with each passing hour.
How do we show thanks for God's great gifts? How do we show appreciation for the gifts of parents, brothers, sisters, companions, friends, and associates? By a sincere and appropriate thank-you. By our lives, by our works, and by constant words of thanks and a willingness to acknowledge blessings and favors from him and others.
Years ago, when the Olympics were held in Melbourne, Australia, in the spotlight on the winner's platform one day there stood a beautiful, tall, blonde American girl. She was being presented a gold medal, symbolic of first place in worldwide competition. Tears ran down her cheeks as she accepted the recognition. Many thought she was touched by the victory ceremony; the thing they did not know was the story of her determination, self-discipline, and daily action.
At the age of five she had polio. When the disease left her body, she couldn't use her arms or legs. Her parents took her daily to a swimming pool where they hoped the water would help hold her arms up as she tried to use them again. When she could lift her arms out of the water with her own power, she cried for joy. Next she lifted her legs out of the water. Then her goal was to swim the width of the pool, then the length, then several lengths. She kept on trying, swimming, enduring day after day after day, until she won the gold medal for the butterfly stroke—one of the most difficult of all strokes in swimming—at the Olympics in Melbourne.
What if this champion had not been encouraged at age five to achieve, continue, overcome, and pray? What a tremendous asset were parents who assisted her in the importance of today and now in preparation for all of her tomorrows. Friends said she always took time to give thanks to her mom and dad for constant encouragement. Someone had taught her well to say "thank you."
In recalling some of the Savior's well-known teachings, the word now can be appropriately added to emphasize their impact.
John 14:15: "If ye love me, keep my commandments"—NOW.
Mark 16:15: "Go ye into all the world, and preach the gospel to every creature"—NOW.
Luke 18:22: "Come, follow me"—NOW.
Truly, if we love God, we will serve him now, and give thanks now.
There are those among us, though they would deny it, who are hungry for fellowship and activity in the Church today. They need us and we need them. It is our duty and blessing to help them find the way now. We and they are God's sheep, and we can best be fed and led together. Today is the time to let them know we care and that the Lord loves them. He stands anxious to forgive and welcome in the processes of appreciation. God give us the courage to act now. God give us the courage to give thanks.
There is an urgency today for all of us to take time for God. Wise are those who will use God's ways now to insure his eternal companionship tomorrow. The time to become acquainted and know God is today. To achieve true abundance, life must be lived a day at a time in God's companionship.
As we take time for God, we will become more like him. Robert Louis Stevenson once said, "Saints are sinners who kept trying."
It was our Savior Jesus Christ who said, "If ye continue in my word, then are ye my disciples indeed" (John 8:31).
The message is loud and clear. If we work, serve, and improve now, each hour, each day will lead us onward and upward to a significant tomorrow in his paths. Today is the time for decision. Now is the time for action and gratitude.
Believe me when I tell you God is well pleased when he sees us using our time wisely. With some he is not well pleased because they fear being anxiously engaged in his paths. Some who are willing to listen to the prophet's voice are disappointing to God when they lack the courage and desire to apply the counsel now, even today. We make a big mistake when we allow ourselves to believe it will be easier to start back tomorrow than to thank God for a new day and a new start.
May I share with you a thank-you that means very much to me. My quorum leader, an esteemed and respected associate, President Howard W. Hunter, has had great difficulty over the past number of years with his mobility. First he was confined to a bed, then a wheelchair, then a walker, and is presently able to stand and walk alone today. He has been a great example of patience, determination, and faith. Over these past few years as Elder Boyd K. Packer and I have sat closest to him in meetings and quorum duties, we help him to his feet after the meetings. Never, and I emphasize the word never, have we not heard him say "thank you" when lifted or assisted in his coming and going. I appreciate this lesson. I appreciate his strength.
The use of the words thank you is a sign of strength and greatness, not weakness. I have often hoped that young men worldwide in the Boy Scout program as well as learning "do a good turn daily" could have as a worthy companion to it "appreciate a good turn daily."
May God help us to properly adhere to this counsel: "Thou shalt thank the Lord thy God in all things" (D&C 58:7), I pray with gratitude in the name of Jesus Christ. Amen.
© Intellectual Reserve, Inc. All rights reserved.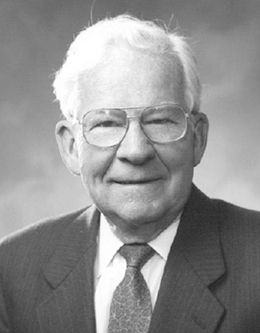 Marvin J. Ashton was a member of the Quorum of the Twelve Apostles of The Church of Jesus Christ of Latter-day Saints when this fireside address was given at Brigham Young University on 1 September 1991.
See Also
Related Speeches
Sours: https://speeches.byu.edu/talks/marvin-j-ashton/everything-give-thanks/
The Most Beautiful Song You've Never Heard? ➜ Click Here to Watch
After a week of anticipation for a message from the leader of The Church of Jesus Christ of Latter-day Saints, nearly 270,000 people were on YouTube and already commenting when President Russell M. Nelson's video began.
"I got chills when I saw this topic," one man had written on the page six days earlier. "I've been praying for hope and healing."
The number of viewers grew to 352,000 as the video played for the first time on Friday. More watched on Facebook.
In the first hour, the video from the church leader, consider a prophet to the world by Latter-day Saints, had more than 1.1 million views in multiple languages across YouTube, Facebook and Instagram. The number of views ballooned past 2.25 million after seven hours, at 6 p.m. Mountain Time.
President Nelson asked those viewers to spend the next week flooding social media with a wave of gratitude, and many started immediately. Messages bearing his suggested hashtag, #GiveThanks, appeared instantly. Some were captured on a new webpage, PowerofGratitude.org, launched by The Church of Jesus Christ of Latter-day Saints.
The hashtag quickly became the No. 1 trending topic on Twitter in the United States and was still the second-biggest trending topic more than two hours after the video posted and remained in the top five for several hours.
Even before it posted, thousands from around the world had checked in on the Youtube channel with comments that scrolled by at high speed. People wrote "Hello from Dubai," or "Love from the Philippines." Others watched from Africa, Asia, Europe, North and South America and the Pacific.
"I needed to hear from our prophet today," wrote one.
"We are all brothers and sisters," another said.
Others added messages after the video was posted :
"Thank you so much. Your spiritual words make me feel safe."
"I accept the challenge."
"To be in prayer with the very Prophet and all the dear brothers and sisters from all over the world at the same moment ... Isn't that the most beautiful moment, ever?"
"Thank you for the prayer, President Nelson."
Others responded on Twitter and Instagram:
(Translation: "Thank you for the beautiful message of hope that I needed so much, I love you and I support you President.")
Sign up for the newsletter ChurchBeat with Tad Walch
Go behind the scenes on what's happening with The Church of Jesus Christ of Latter-day Saints and its members.
Sours: https://www.deseret.com/faith/2020/11/20/21583381/millions-view-president-russell-m-nelson-message-gratitude-youtube-twitter-givethanks-mormon-lds
Now discussing:
She placed me in such a way that my cock was right between her thighs. Amy was behind me. She knelt down, just opposite my buttocks, and my testicles were also at the level of her eyes. She took the tip of the enema and handed it to her mom, who, meanwhile, smeared cold cream around my anus with cold cream.
8080
8081
8082
8083
8084