Forms Designer App for Office 365
SharePoint Forms Designer web part update 09/2018
Virto SharePoint Forms Designer was updated to v.1.3.14. We added ability to place field name above a field value, custom format option for DateTime field, ability to reset all forms, themes for Tabs and Accordions, and CheckIn button in form for checked out items.
The newest update for SharePoint Forms Designer web part for SharePoint 2013/2016 has a bunch of features!
Ability to place field name above the field value
The "Field name above the field value" option allows you to put the name of a field above the field box. For example, "Title" field is shown with this option applied....
Blog
Office 365 Forms Designer update 08/2018
Virto Office 365 Forms Designer app has new control "Panel" and ID field for Accordions, Tabs, and Panels usable in built-in JavaScript Editor.
Panel can contain list fields and any controls, including other panels, accordions, and tabs.
You can also define security permissions for a panel, as it can be made for tabs and accordions.

The second new feature is ID/Name field. Accordion, tab, and panel have this additional field with an ID. This code is used, when you enhance your forms with built-in JavaScript editor.
Learn more about all features of Virto SharePoint Forms Designer on the product page!...
Blog
Office 365 Forms Designer app update 07/2018
Virto Office 365 Forms Designer app was updated with option to save your SharePoint forms as a draft and show preview.
Now, instead of the "Save" button you have 3 options:

Click "Save draft" to save the form and continue work with this form draft later.
Click "Preview" to open the form preview in a new window. If you want to preview Edit or New form, your form draft must contain at least one item.
Click "Publish", if your SharePoint form is ready for publishing on the site.

If your form is saved as a draft, you'll see the info "Draft document" on the app header. When the form is published, you'll see "Published document" status on the header.
Learn more about all features of Virto SharePoint Forms Designer on the product page!...
Blog
The SharePoint Forms Designer Feature Overview
The Virto Forms Designer allows you to create complex SharePoint list forms, enjoying the user-friendly app interface with a rich set of customizing features.
With the Forms Designer, you can transform a SharePoint list into a well-srtuctured form with sections, tabs, buttons, and other elements to create a perfect layout.
1. Custom Forms for Each SharePoint List View
How to create separate views for New, Edit, and Display forms in SharePoint: Go to the required list in your SharePoint, and switch to the Library or the List tab. Click on Forms Designer icon on the ribbon to open the app in a new window. On the Virto Forms Designer interface, click the Change form option and select a form type you
2. Drag-and-Drop SharePoint Form Building
You have all the existing item fields displayed on top, and the basic Forms app's controls below. Now, you can rearrange, delete, or add fields and elements, and set up specific permissions to the created view. Drag and drop SharePoint list fields and ready-to-use controls to create a form in a few minutes. To transform long SharePoint lists into a compact form view, place the list fields into tabs and accordions....
Blog
Get Free TrialDownload Documentation
Sours: https://www.virtosoftware.com/sharepoint/forms-designer-app-for-office-365/
SharePoint lists and libraries contain list forms that allow users to display, edit, and add items to a list or library. With Microsoft SharePoint Designer 2010, you can create and customize these forms to make it easier for users to add and update items in a list. If the list form is part of a solution you've designed, you'll want to customize the form so that it's targeted toward the solution and collects the relevant data to support your solution.
In a custom list form, you can show or hide certain fields, reorganize those fields, change the layout of the form, add formatted text and graphics, and ultimately, change the XSL, HTML, or ASP used by the form. You can only perform these tasks by creating a custom list form in SharePoint Designer 2010.
This article describes the default forms associated with a list and how you can create your own custom forms for the list or library.
Note:  If you're using SharePoint Online, and the information in this article doesn't match what you're seeing, you may be using Microsoft 365 after the service upgrade. Some features in SharePoint Designer are not supported in the next version of SharePoint Online. See What's changed in SharePoint Designer 2013.
In this article
Review the default list forms
List forms are located in the same folder as their associated SharePoint list. Using SharePoint Designer 2010, you can quickly and easily review the default list forms associated with the list.
The easiest way to view the default forms associated with a list is to open the summary page for the list.
With your site open in SharePoint Designer 2010, click Lists and Libraries in the Navigation pane.

Click the desired list from the gallery, for example, Announcements.

On the summary page, under Forms, you see the forms associated with the list.
Another way to view the default forms associated with a list is to open your site hierarchy using the All Files tab in the Navigation pane.
With your site open in SharePoint Designer 2010, click All Files in the Navigation pane.

Note: If the All Files isn't visible, contact your site administrator about enabling your web site structure in SharePoint Designer 2010.

For SharePoint lists, click the Lists folder and then click the desired list, for example Announcements.

From here, you see the forms associated with the list as well as any views associated with the list, like AllItems.aspx. (Find links to more information on views in the See Also section.)

Note: In addition to viewing and opening forms from here, you can use the site hierarchy that displays below the Navigation pane to explore the list. Just click the click the plus sign (+) to expand the Lists folder and the plus sign (+) to expand the desired list.

For SharePoint libraries, open the Shared Documents folder and then the Forms folder to find the associated forms.
Top of Page
The DispForm.aspx, EditForm.aspx, and NewForm.aspx list forms
By default, there are three forms associated with a list: DispForm.aspx, EditForm.aspx, and NewForm.aspx. The following three illustrations show the default list forms for an Announcements list.
The DispForm.aspx page provides the Display Item form that appears when you view a single item from a list.

The EditForm.aspx page displays the Edit Item form that appears when you edit an item in a list.

The NewForm.aspx page displays the New Item form that appears when you add a new item to a list.
Note: SharePoint libraries use a different form, Upload.aspx, instead of NewForm.aspx to add new items to the library.
Top of Page
Create new list forms
The default list forms (the Display Item form, the Edit Item form, and the New Item form) are stored in a Web Part called the List Form Web Part (LFWP). The LFWP uses CAML (Collaborative Application Markup Language) to render the form, and this cannot be customized in SharePoint Designer 2010.
To customize the form, you insert a Data Form Web Part (DFWP). It uses XSLT that can be customized in SharePoint Designer 2010. In sum, you're replacing the default form with a DFWP, and there are two ways to do this.
Create a new list form and associate it with a list
The easiest and quickest way to create a custom list form is to create a new form and make it the default form for the list.
With your site open in SharePoint Designer 2010, click Lists and Libraries in the Navigation pane.

Click the desired list from the gallery, for example, Announcements.

On the summary page, under Forms, click New.

Note: Alternatively, you can click List Form in the ribbon on the List Settings tab.

In the Create New List Form dialog box, specify a file name for the new form. (Do not use names that will conflict with the default forms: DispForm.aspx, EditForm.aspx, and NewForm.aspx.)

For the type of form, specify New item form, Edit item form, or Display item form.

To make this form the default form associated with your list, click Set as default form for the selected type. When you do this, your custom form will be used for this list instead of the original default form.

For advanced options, choose the content type to use for the form, typically the one that corresponds with your list.

Note: Every list or library can be configured to allow multiple content types, which then appear in this menu. You can use a distinct set of custom list forms for each content type available for a list or library. For example, if your list has both a Press Releases content type and an Industry News content type, you can create and use two separate sets of custom list forms, one for each of the two content types. The advantage to using a separate set of custom list forms for each content type is that then each custom list form is designed to display only the fields that are appropriate for that content type. Find more information about content types in the See Also section.

To add a custom link to your form, select the option Create link in List Item Menu and Ribbon and specify a link and command name.

Find links to more information about custom actions associated with a list in the See Also section.

Click OK to create the new form and return to the summary page for your list.

Your new form appears with the other forms associated with the list.
Top of Page
Edit an existing list form
Another way to create a custom list form is to directly edit one of the default forms associated with the list. When you do this, you insert a new form (the Data Form Web Part) on the page that replaces the default form on the page.
Note: You could, in effect, perform these steps on any ASPX page in SharePoint Designer 2010. The advantage of editing an existing form is that it is already associated with the list.
With your site open in SharePoint Designer 2010, click Lists and Libraries in the Navigation pane.

Click the desired list from the gallery, for example, Announcements.

On the summary page, under Forms, click the desired form, for example NewForm.aspx to open it for editing.

With NewForm.aspx open in the page editor, place your cursor immediately below the default form and press Enter a few times to create a extra spaces below the form.

Another way to quickly place your cursor at this location is to click on the default list form and press the Esc and right-arrow key at the same time.

On the Ribbon, click the Insert tab and in the Data Views & Forms group, click the desired form, for example New Item Form.

Choose the list or library you want to associate the form with, for example, Announcements.

The New item form appears on the page, directly below the default form.

The next step is to hide the default list form so that only your new form appears on the page. This also ensures that the page's connection to the SharePoint list is intact, and the link to this page works correctly on the site.

Click the default list form to select it.

Click the Format tab in the Ribbon and in the Web Part group, choose Properties.

Alternatively, you can right-click the default web part and choose Web Part Properties.

In the Web Part dialog box, click the plus sign next to Layout, check the option Hidden, and click OK.

Do not delete the default web part in the page; you must only hide it. Deleting the default web part will break the page's connection to the list. Find links to more information about hiding Web Parts in the See Also section.

Both forms display on the ASPX page in SharePoint Designer 2010. When you preview the form, however, you see only your new form.
Use Office InfoPath 2010 to replace default forms
As an alternative to using the list form editor in SharePoint Designer 2010, you can use use Microsoft InfoPath 2010 to create, edit, and design forms. InfoPath 2010 is a powerful tool used to create highly customized forms that can be used for SharePoint lists, libraries, and workflows.
Find links to more information about Office InfoPath 2010 forms in the See Also section.
Top of Page
Next steps
Once you've created a custom form for a list or library, the next step is to start customizing the form to suit your needs. You can add or remove columns, change the layout of the fields, apply different fonts or styles, add custom images, and so on. You can use the Ribbon in SharePoint Designer 2010 to perform this customization. If there's a change you can't make by using the Ribbon, you can edit the form XSL directly in Code view. Find links to more information about customizing list forms in the See Also section.
To delete a form, highlight it on the summary page and then in the Ribbon, choose Delete. This deletes the form from the server, and it can no longer be accessed by users.
Sours: https://support.microsoft.com/en-us/office/create-a-custom-list-form-using-sharepoint-designer-917d8fdb-ee00-4441-adb3-a94612d1d105
Design classic* SharePoint forms with tabs, complex tables, accordions, sub-lists, and 3rd party columns Watch video
Rich well-styled forms
without programming
Form targeting rules built on user membership or field values
Support of all SharePoint editions
including SharePoint Online in Office 365
*Looking for modern forms? Check out Plumsail Forms
for SharePoint 2019 and Office 365 instead
Rich well-styled forms
without programming
Form targeting rules built on user membership or field values
Support of all SharePoint
2010 / 2013 / 2016 / 2019 editions including Foundation and Online in Office 365
Design
Personalize
Style
Connect
Code
Publish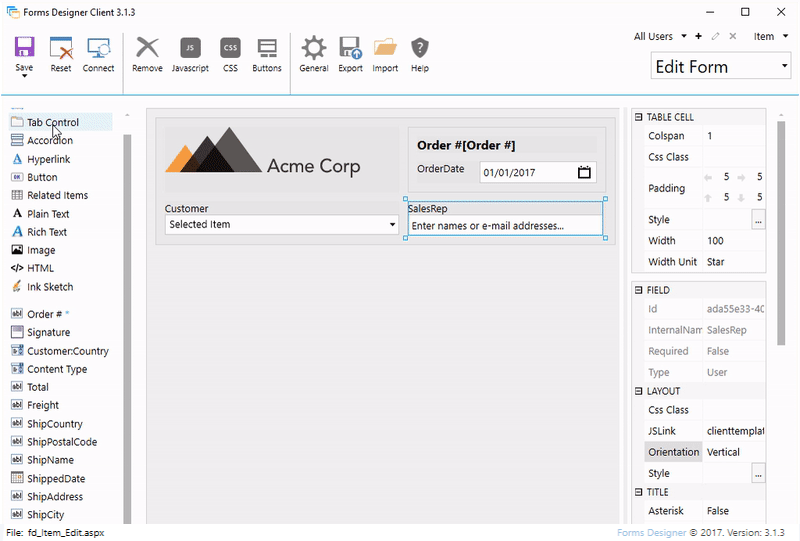 Design forms for specific content types quickly without programming and using any skills in HTML and ASP.NET.
You can customize forms of:
Regular SharePoint lists
External lists
Document libraries including new forms of Document sets.
Forms Designer is fully compatible with any custom or 3rd party columns.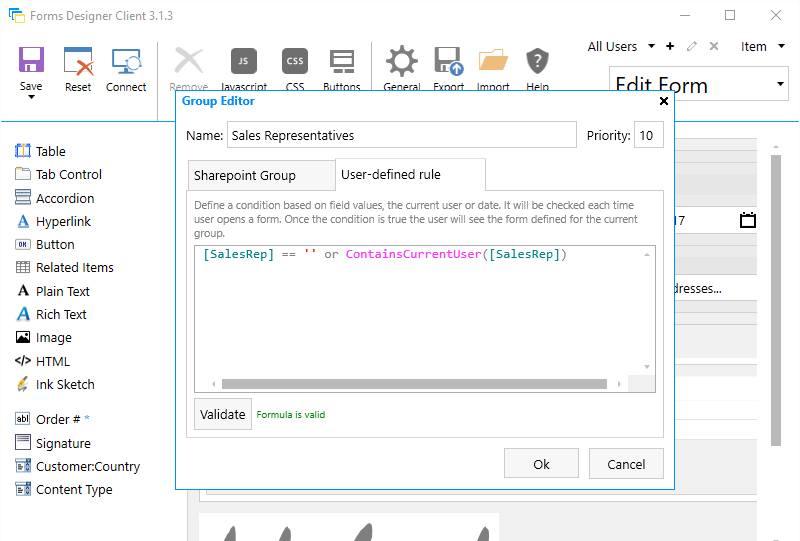 Create specific forms for different SharePoint groups or conditions based on field values, the current user or date.
You can hide certain fields or tabs from visitors or display them to owners only. Conditions allows to create completely unique forms for the user that the task is assigned to, for overdue or completed issues, etc. Please, see our documentation for more info.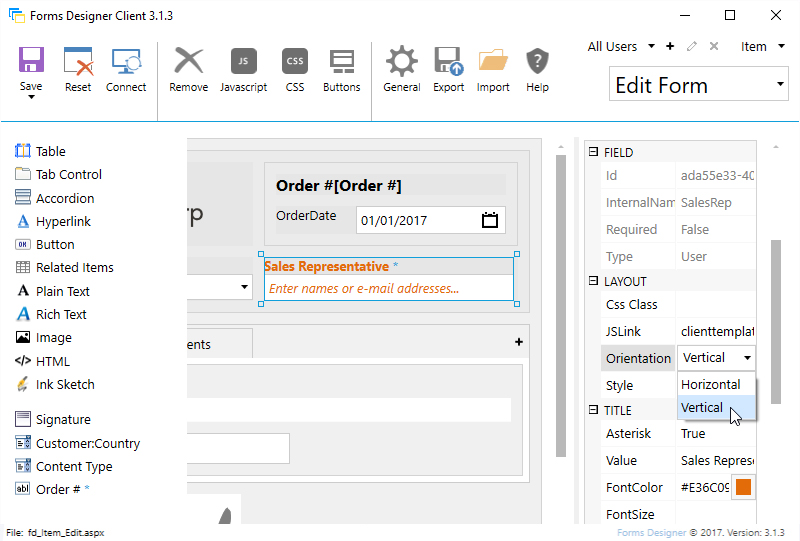 Setup properties to customize design of certain controls and fields according to your needs and company brand book.
You can hide labels of fields or distribute them vertically, change the size of table cells and titles, make fields read-only, define additional CSS-styles or override defaults.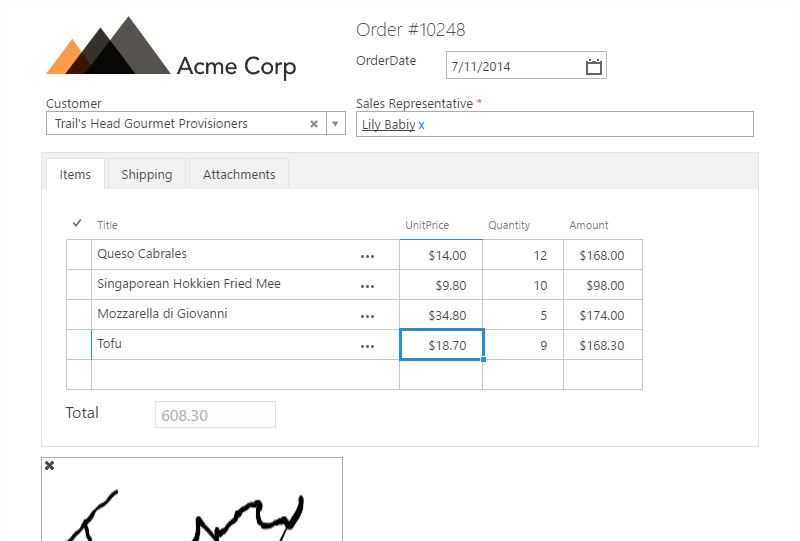 Link lists from different sites with Cross-site Lookup column and edit related items directly from parent form.
Cross-site lookup column allows you to link SharePoint lists and libraries from any sites. Forms Designer provides Related items control which helps to distribute the list or the document library filtered by the lookup column in the form. This functionality is very efficient for presenting parent-child relationships.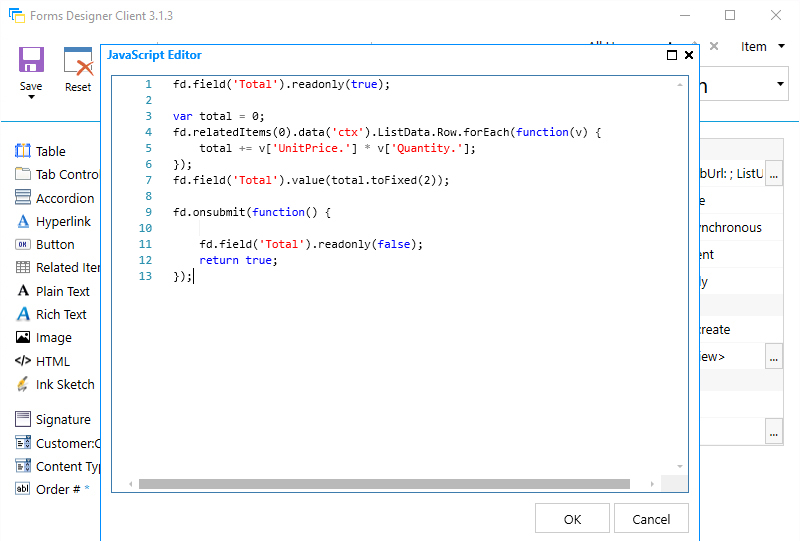 Make your form dynamic with JavaScript.
Forms Designer provides rich JavaScript framework based on JQuery library that allows you to add validation, conditional visibility, autofilling and other features in a short time.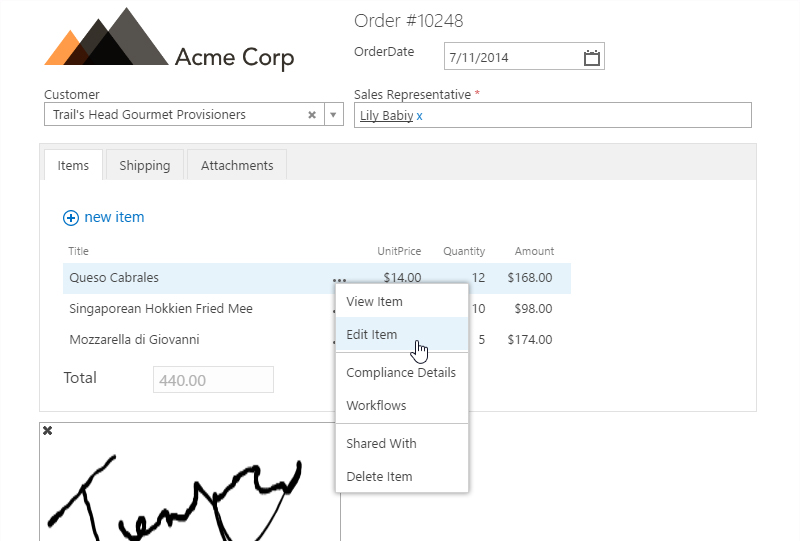 Have your own form!
The designed form is fully compatible with standard SharePoint forms, so you can make further customizations with SharePoint Designer.
---
Cross-site Lookup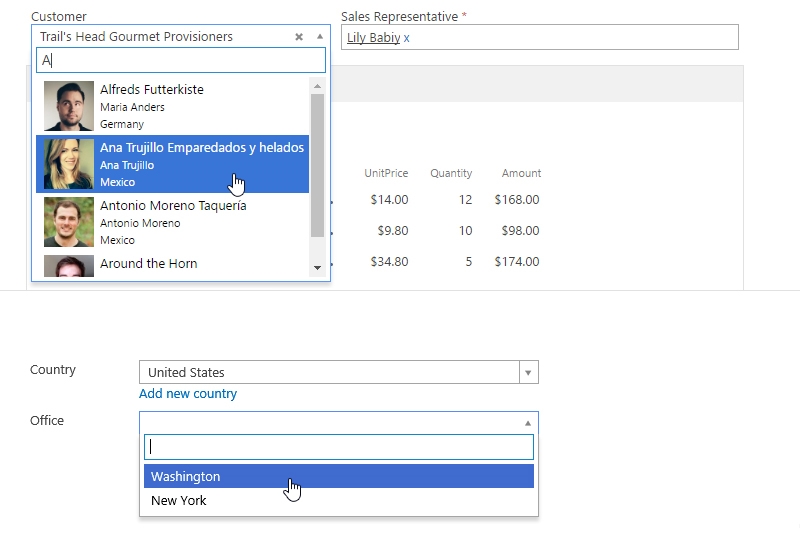 Cross-site Lookup column for SharePoint 2013, 2016, 2019, and SharePoint Online in Office 365
Cross-site lookup column allows you to link SharePoint lists and libraries from any sites within a site collection. It provides an easy-to-use select box for quick search of related items, supports lists with thousands of elements and has a great potential for tuning e.g. cascading drop-downs, filtering and sorting results, adding new items to the linked list, etc.
Watch videoRead moreDownload Trial

Clint Lechner
Manager of Information Architecture at Minnesota Lawyers Mutual
Greater Minneapolis-St. Paul Area
---
First off, I just want to say that your Forms Designer product has saved me a TON of time already and I have only been using it briefly. Trying to modify SharePoint's out-of-the-box forms are time consuming and frustrating to say the least. Instead of taking hours trying to recreate what your product does with content editor web parts, javascript, and jquery, I'd much rather pull up Forms Designer and spend a few minutes. I simply can't overstate how impressed and happy I am already with your product. You have a customer for life.

Steven Summone
SharePoint Consultant at IRW Systems Ltd.
Glasgow, United Kingdom
---
This a pretty amazing product. Its so simple to use and it creates ASP forms with greater ease than InfoPath forms. The price point is also fantastic for what you get considering most SharePoint enterprise products cost thousands of pounds/dollars.

Geir Mathisen
Advisor / Project Manager at Skill AS
Oslo Area, Norway
---
Being a non-programmer Forms Designer has enabled me to build intelligent and nice looking end user forms just utilizing standard functionality and code examples picked up from the superb articles available on the web. And when I was stuck, a post to the Forum gave fast and accurate response and help. Keep up the good work. This product is included in my standard bag of tools from now on.

Matt Schuessler
SharePoint Engineer at McCarthy Building Companies, Inc.
Greater St. Louis Area
---
Since becoming a customer, I have been very pleased with the product and the support for the product. This tool is a great InfoPath Alternative and I would highly recommend it to others looking for form solutions...

Bill Burke
SharePoint Devloper/Adminstrator at LSI Inc.
Jacksonville, Florida
---
Forms Designer is one of those SharePoint products you hope you'll find one day. Easy-to-use, affordable, reliable and stable. I can now do the things I can't in SP and Infopath and you can use those 3P columns you purchased, javaScript, CSS integration is easy with lots of examples! Support: Response time, clarity of the answers, reference material are of the highest quality. Many times I have said "This is the best SharePoint money I have ever spent". Contact me for a detailed review.

Simon Lane
CISA, CISM, CISSP, ITIL, Director, IT at Haivision
Montreal, Canada Area
---
I can highly recommend SharePoint Forms Designer as a product that is simple to use, yet highly flexible. Using Forms Designer has enabled us to create attractive forms for our users that extend the basic functionality of SharePoint in a simple to use and powerful manner. Out of the box, the forms are great to use; throw in a little java_script and you can do amazing things in no time at all. All that and the support is excellent.

Patrick Notz
Selbstständige Fachkraft im Bereich IT und Services
Basel Area, Switzerland
---
SharePoint Forms Designer is an amazing product to build sophisticated forms for the end user in an easy, intuitive way. I was using Forms Designer to customize the Document Set "New Form" (/_layouts/NewDocSet.aspx) and the "Edit Form" page. SharePoint Forms Designer is extraordinary because this is probably the only tool which allows customizing the Document Set "New Form" page. Using jQuery and the build in jQuery library makes it even more extraordinary. The support and service they give is excellent! When I had problems, Dmitry was responding very fast with helpful examples and even created a new solution for me within a few hours. This is a support and service I never got before!
Sours: https://spform.com/
SharePoint Forms Basics. What are SharePoint Forms?
SharePoint Forms have been serving as an outstanding collaboration and management tool for many years. Using this tool, one can process corporate data of all types, volumes, and purposes.
A SharePoint Form is a window (screen) with a number of fields with labels for users to enter their data: first and last name, address, email, phone number, etc. SharePoint forms are created to simplify all business processes, workflows, and also to make working with a database more pleasant and well-organized. In addition, the forms with labels help users to prevent incorrect data from being entered.
There are a lot of solutions and tools to make working with SharePoint forms easier and to create attractive and advanced forms to increase the chances to be filled out by users.
Forms Customization: How to Do It Right
While using lists to store various information, which is one of the fundamental purposes of SharePoint, there are occasions when we wish to make stylish and impressive forms or increase their efficiency. In fact, the configuration and customization of SharePoint lists is quite problematic, as various forms for them are designed and implemented by custom coding, InfoPath, and third-party vendors' tools. There are different ways for creating forms for SharePoint, some of which we will examine in this article.
What Do SharePoint Forms Stand for?
Forms are designed to depict, hide, and optimize data from users. They enable data exchange between users and data sources in a browser. Forms can be created in any application and are then linked to the relevant list in SharePoint. Some tools allow you to design forms inside the SharePoint environment; however, it sounds easier than it actually is. Without special skills or the help of a developer, it could be a real challenge.
Nonetheless, by means of some methods, one can simplify the process.
The Best SharePoint Forms Customization Practices
Although a native SharePoint interface provides the essential tools to create custom forms, such as a custom list view, one may still need to make more specific changes to the design. Let us explore various methods so you can choose one that will perfectly match your needs.
SharePoint Lists
This method is ideal if you do not need extensive modifications and are mostly satisfied with the main functionality of the SharePoint forms. On list creation, a corresponding form is available by default and enables:
Field order optimization
Input validation
File attachment
Access limitation
Workflows
All the features are available on the List Settings menu and are supported with a tutorial when necessary. However, if you need to run business logic on the fields, it is not the ideal choice.
InfoPath
This tool was developed by Microsoft specifically for advanced management of SharePoint forms.
It has much more functionality compared to its predecessor (XDocs), including:
Multiple form view creation
Ability to work with structured data
Extended text fields
Calculations
Business logic and workflows
The biggest problem with Microsoft InfoPath is that it won't be supported by Microsoft in the near future. One more drawback is a lack of intuitiveness, requiring considerable time for a tutorial.
SharePoint Forms Designer
This powerful tool enables not only SharePoint form customization, but also configuration of different web parts' interfaces. Just add a Data View to your page, and it will give you access to insert fields from a data source as forms. The diversity of Designer features provides the ability to:
Hide/show fields
Change the layout
Work with the form code
Use data controls
Add graphics and text
First and foremost, SharePoint Designer makes it possible to directly influence SharePoint files and properties. That is why, in order to gain the most value from it, one should be aware of the SharePoint structure basics and file storage. This is a free tool distributed by Microsoft. At the same time, the product is rather tricky and often requires special expertise and coding skills.
Visual Studio
In case no one off-the-shelf solution meets your needs, it is time to consider designing a customized one. Visual Studio is a full app development environment, able to implement almost every one of your ideas. Due to its integration with SharePoint, you can extend its forms with all the necessary features. However, it is a costly affair that requires hiring programmers as well as some time for development, testing, and documentation creation. You can consider such solution when you have resources to maintain a full-blown software project to only add a few forms in your SharePoint. 
Beyond Microsoft
Today, most of the solutions provided by Microsoft and SharePoint are inconvenient to use or require special skills for a non-power user. To overcome this problem, many side solutions with a user-friendly interface have appeared on the landscape. One such solution is an app called Forms Designer by SharePoint VirtoSoftware, created to meet all the needs of a business and provide a highly intuitive interface. It allows the creation of custom extended forms right in SharePoint, without the setup of additional applications. The tool doesn't require any coding skills, it works as a SharePoint app or web part, and it's cost-effective while doesn't demand installation of an additional full-scale Microsoft package. Virto Forms Designer is available for Office 365, and for SharePoint 2016, 2013, and 2010 platforms. SharePoint Forms Designer online add-in or web part are fully integrated with SharePoint environment and work directly with SharePoint lists.
A flexible design enables the customization of colors, text styles, and field appearance, and the layout feature offers an ability to create different layouts of the same SharePoint list for various users or user groups. This feature is essential to secure the company's sensitive information and allow access to certain data for users with permissions only. Also, the layouts improve usability by displaying the same list's form in distinct views and set of list fields for each department.
You simply need to drag and drop the ready-to-use controls, tabs, panels, and accordions to design your own sophisticated forms for SharePoint lists. Save your completed forms and use them later by simply exporting and importing the necessary templates.
The tool allows users to create specific edit, display, and create forms for different content types available in a list. For example, you can create distinct item edit form, item new form, item display form, and folder edit/new/display forms really quick in the same interface.
Moreover, here you can define CSS styles and extend your form with HTML or JavaScript additional coding, using build-in editors. In a word, Forms Designer eliminates the drawbacks of standard solutions and embraces most of their best features. The user-friendly and intuitive interface doesn't require any particular skills or training by form creation, so even a novice can easily create complex forms in SharePoint.
The Best Customization Should Meet Your Product's Needs
All in all, SharePoint integration options provide users with great flexibility. It is up to you what solution to choose for your business, either standard free tools with the limited solution or professional and intuitive apps, like Forms Designer.
You can learn more how to create a form in SharePoint with Virto Forms Designer or download the trial version SharePoint Online Forms Designer for Office 365 or SharePoint Forms Designer for SharePoint 2013 and 2016 and check how it fits your own SharePoint environment.
✓ USEFUL LINKS ON OFFICE 365 FORMS
About the author
Tatiana Sushchenko is the product owner at VirtoSoftware. She started her IT career with the famous ABBYY Lingvo back in 2006 in Moscow. Then she moved to Microsoft performing strongly in various marketing management roles across Visio, SharePoint, Office 365 and Project for almost 10 years. Tatiana is a graduate of the Institute of Business Studies and holds a mini-MBA degree. She also graduated from Microsoft marketing excellence university.
All publications of the author Tatiana Sushchenko
o365 formsoffice 365 formssharepoint 2013sharepoint 2016sharepoint formssharepoint forms designer
Sours: https://blog.virtosoftware.com/sharepoint-forms-basics/
Online designer sharepoint forms
Create flexible Office 365 forms for SharePoint lists in a user-friendly interface with drag & drop feature.
Office 365 Forms Designer for SharePoint Online helps you to modify default SharePoint Online list forms into compact and stylish custom forms with many adjusting options. An intuitive interface allows end-users without any coding skills to create rich and impressive SharePoint item forms in a few minutes.
There's no need to scroll large SharePoint lists up and down! The ability to design distinct forms for creating, editing, and displaying items can be used for working with only a few list fields in a convenient view. With Virto Office 365 Forms Designer, users can configure highly customized complex SharePoint forms for reports, invoices, product details publishing, requests handling, contact information gathering, and any other business process requirements.
Virto Forms Designer for Office 365 key features:
- Create custom SharePoint Online list item/document forms with additional sections and blocks, using drag and drop feature.
- Add images, lookup columns, buttons, links, and many other elements to your form.
- Customize form text fields and hide labels of fields if needed.
- Ability to apply the same view for creating, editing, and displaying forms without individual adjustment.
- Define colors, text styles, and design the appearance of the fields.
- Enhance forms with build-in additional tools (Rich text formatting, HTML, CSS, JavaScript editors).
- Export\import saved form templates and apply the same or slightly modified view for different lists.
- Use different layouts to display different Forms for different people/groups according to their permission levels.
Product documentation on how to create a form in SharePoint: https://virtostorage.blob.core.windows.net/download/Manuals/virto_forms_designer_office-365_installation-and-user_guide.pdf
Please share your feedback about Virto O365 Forms Designer and share your ideas at [email protected], so we can make it even better for you.
====================================
Note: this particular Forms Designer Add-in contains only installation instructions of the required Forms Pro App, that will allow you to understand how to create a form in SharePoint. In order to open the page for installation instructions for Forms Pro, please go to https://forms-app.virtosoftware.com/Install
====================================
This Office 365 add-in works in conjunction with another add-in, which is only available from the provider. This requires installation on your environment outside of the Microsoft Office Store processes due to the level of required permissions. A tenant administrator will need to deploy this specific add-in to the tenant manually so that it can be installed in your environment. When apps are installed outside of the Microsoft Office Store, they may bypass any, and all, safety and security checks provided by Microsoft.
If you have not done so already, it is recommended that you establish contact with the provider before proceeding with the installation. Consider trying this add-in on a separate SharePoint Tenancy before installing it on your primary SharePoint site(s).
====================================
With feature requests on Office 365 Forms Designer please email us at [email protected]
Find more great Office 365 Add-ins on https://www.virtosoftware.com/sharepoint-web-parts/office365-apps/
Sours: https://appsource.microsoft.com/en/product/office/WA104380136?tab=Overview
Creating Forms for SharePoint Online
SharePoint Online Forms Overview
March 15, 2021
byMichael Bose
SharePoint lists are a popular way of storing information in SharePoint as tables. When creating SharePoint lists, the best approach is to use custom forms. But you might be thinking: How do I create a form in SharePoint Online? How do I create a fillable form in SharePoint? Can Microsoft forms be used in SharePoint? This blog post covers SharePoint forms basics with a focus on SharePoint Online and tries to answer all your questions about the topic.
The Definition of Forms
A form is a window with a number of fields and labels to enter data and fill tables stored as SharePoint lists. Users fill a form and feed information into SharePoint. If you design forms perfectly, users can enter data with higher accuracy. Forms are displayed in the web interface of SharePoint.
Microsoft Forms is used to create a survey in SharePoint. It allows you to write questions and provide different fields to enter answers. You can allow users to answer the questions in a free mode and enter any word or sentence, enter only digital values, and select one or multiple provided answers. Microsoft Forms can be shared and published on a SharePoint site. Then you can view your survey results as charts, diagrams, lists, etc. Microsoft Forms is a web-based application in Office 365 that is easy to use and is integrated with SharePoint and Microsoft Flow (Power Automate). Forms are also used to create purchase order forms, vacation request forms, company polls, quizzes, checklists, SharePoint site requests, etc.
SharePoint forms are used to enter information to SharePoint lists and can be highly customized by special tools to build business logics, use dynamic fields and use conditional formatting. For example, you can create a form to register users to an event that saves attendees to a SharePoint list, highlight fields with colors depending on entered data, etc.
Dynamic fields allow you to show or hide a particular column depending on certain conditions. For example, you have a mandatory column of the Choice type that is called Company, and two choices are provided:
The Choice column is named VMware products with a list of VMware software solutions.
The Choice column is named Microsoft products with a list of software products developed by Microsoft.
When you select the Microsoft value from the Company column, the Microsoft Products field should be displayed in the form, and the VMware Products field would be hidden.
When you select the VMware value from the Company column, the VMware Products field should be displayed, and the Microsoft Products field would be hidden.
Tools to Create Forms
By default, SharePoint provides you a default list form. This form allows you to create lines and columns, set data types and requirements for them, and enter data to a SharePoint list. For most new users, this out-of-the-box functionality is enough. The advantage is that users don't need to configure anything to use default forms. Just define the needed fields and enter data. Default forms for SharePoint lists support input validation, file attachment, field order optimization, and access limitation. Experienced SharePoint users who need advanced functionality, such as creating business logics or dynamic fields to create SharePoint forms, can use special tools.
InfoPath
Microsoft InfoPath is an application included as part of the Microsoft Office applications. It was developed especially for the advanced management of SharePoint forms. This is one of the most popular solutions to create large and complex SharePoint forms.
InfoPath can create multiple form views, work with structured data, perform calculations, work with extended text fields, and create business logics and workflows. This tool is intended only for editing forms and doesn't provide features to edit web pages. The interface is not the most intuitive, and users must learn documentation and read tutorials to understand how to use this tool to create forms. Programming skills are not required though.
Unfortunately, Microsoft will end support of InfoPath in 2023. Microsoft recommends that you use more modern solutions to create SharePoint forms because InfoPath has some disadvantages:
Forms created in InfoPath are saved as XML files stored in SharePoint form libraries.
Big forms can slow down the working process when loading a form, especially if attachments are added.
SharePoint Forms Designer
SharePoint Designer is a powerful tool to customize SharePoint forms and configure different parts of a web interface. This is a website editing tool. You can add a Data View and insert fields from data sources as forms. You can open an existing SharePoint list and create an .ASPX web page to render and control the form.
With SharePoint Forms Designer you can change the layout, show/hide fields, use data controls, create workflows, work with the form code, and add graphics and text. This product is distributed by Microsoft for free but requires basic programming skills and knowing the structure of SharePoint, including SharePoint file storage.
Power Apps
Power Apps is one of the frameworks for Microsoft Power Platform. This tool uses the platform as a service concept and is a part of the Office 365 suite. Power Apps is positioned as substitution for InfoPath.
The advantages of using Power Apps:
You can develop SharePoint forms from scratch and customize them
More than 200 connectors allow you to connect Power Apps across the platforms
Drag and drop controls
Good support of almost all web browsers and community support
Integration with Office 365 Dynamics family
Creating dynamic fields in forms
You can access Power Apps by using the link
https://powerapps.microsoft.com/en-us/
or from the menu of an existing SharePoint list in SharePoint Online.
Visual Studio
Microsoft Visual Studio is the ultimate solution for software development intended for programmers. If the previous tools don't meet your needs, consider using Visual Studio. It can be used to develop almost anything. There is integration with SharePoint and programmers can create any functionality needed for SharePoint forms. Use Visual Studio to pass limitations of other solutions to create SharePoint Forms. Visual Studio is a paid solution. If you don't like any of the mentioned solutions to create SharePoint forms, try solutions from third-party vendors.
How to Create a Poll by Using Microsoft Forms?
It's time to go to the practical part and look at how to create a form in SharePoint by using Microsoft Forms. Let's use the simple example of creating a poll.
Open a new page on a SharePoint site, or create a new page. As we're beginning from scratch, I'll show first how to create a new page before going on to create a new form for a poll.
Log into your Office 365 account, open SharePoint, and open your team site. Read more about SharePoint in this blog post.
Go to the home page of your SharePoint site, click New, and hit Page.
Select a template for a new page. There are three templates in our case: Blank, Visual, and Basic text. Let's select the third one and set the title for our page – SharePoint Online Forms. Then hit the Create page button.
A page is created. Click Edit (the pencil icon) to add Microsoft Forms to a SharePoint site page. Once you have entered the edit mode, hover the mouse over existing web parts to see the plus icon to add a new web part in the selected place.
Click the plus icon and, in the menu that opens, hit Microsoft Forms.
A new Microsoft Forms part is created on a page, and it contains two buttons. As we create content on a SharePoint site from scratch, we click New form. In the window that opens on the right side of the web interface, enter a new form name, for instance, Microsoft forms example, and hit Create.
A new form is created in SharePoint, and a form web address is displayed. You can select which data to display:
Collect responses
Show form results
Click Edit current form.
As we create a form for a poll, we select the Questions tab. Below you can see a panel with the plus icon to add a question and buttons to select options for answers. You can allow users to select one of the provided answers, write any text, rate a position, select date, etc. I will select the first option and write the question with the possible answers.
You can set the option that allows users to select multiple answers and set the answer as mandatory so that a user cannot skip answering this question. Once you have created the first answer, hit +Addnew to create the next answer.
Use the Publish button once you are sure that the poll has been created successfully without mistakes. We are going to publish a page that contains the poll; hence we are not pressing the Publish button now. In our case we created three questions in our poll as shown on the screenshot below.
Go back to the page of your SharePoint site where you inserted a web part with a poll. Check your page, and hit Publish to publish the page (the SharePoint Online Forms in our case) that contains the poll on your SharePoint team site.
How to Create and Edit SharePoint Forms
Let's find out how to create a form in SharePoint to add data to a list by using an example. This part is a little more complicated than creating a poll. You should create a SharePoint list, add columns, and then customize a form in Power Apps.
In order to create a list, open your site in SharePoint Online. Hit Site Contents in the navigation pane, click New, enter a name, for example, Forms SharePoint Online (because we are creating this list to explain SharePoint Forms creation), and click Create. As an alternative, you can call your list Warehouse (which works for the example below to make the name simpler).
Once a new list has been created, click +Add column. In the window that opens on the right side of the web interface, enter parameters for each column, then click Save. In this example, I create a table to reflect the items stored in a warehouse.
The table contains the following columns:
Title (is present by default): Represents the name of the item stored in the warehouse.
More Info (Type: Yes/No): Set to Yes if you have additional information about the item. Otherwise set to No.
Quantity (Type: Number): The number of items available in the warehouse for the current positions.
Color (Type: Single line of text): Allow users to set any colors in any format.
Price (Type: Currency): The price for the item must be entered in USD.
Notes (Type: Single line of text): Use notes to define additional information about the item.
The idea of this table is that a user should enter detailed information only if the Yes value is selected in the More Info column. If a user doesn't have any detailed information about the item and selects No, fields to enter detailed information are not displayed in the form that is used to enter data to a SharePoint list. By default, after creating a form all fields are displayed for all users. Using Power Apps allows you to configure more options for fine-tuning SharePoint forms.
In the screenshots, you can see the parameters set for columns when we create them for a list (called Forms SharePoint Online in this example) in SharePoint Online.
A new SharePoint list with all needed columns is now ready. Now you can edit your SharePoint form. Go to Power Apps > Customize forms. Office 365 users who have permissions to manage, edit, or design a list can edit the associated form.
Power Apps opens in a new tab. Wait for the content to load. You can skip the Welcome to Power Apps Studio dialog.
In the left pane of the web interface, you see the tree view with elements of a SharePoint form. In the center of the screen, you see the existing fields. You can drag and drop fields to change their position (order) in the form, create fields, and delete them. The Attachments field is added by default. If you don't want users to save attached files in a list, delete this field (hover over the field, click the three dots, and hit Remove). In this example, I won't delete the Attachments field.
In the right pane (the Edit pane), you can edit the properties of selected items, display fields as columns, edit layout settings, etc.
Now you can configure conditional formatting. In this example, we have to explore the MoreInfo field related to the MoreInfo column. Depending on the data (Yes/No) in this column the logics should define whether to display other fields to enter data to other columns. Expand the MoreInfo_Datacard1 item, and remember the name and number of the DataCard value (the switch icon is displayed at this item). In our case, the value is DataCardValue2.
The names of fields related to entering data to the appropriate columns are:
Title_DataCard1
MoreInfo_DataCard1
Quantity_DataCard1
Color_DataCard1
Price_DataCard1
Notes_DataCard1
Attachments_DataCard1
Now you have to configure displaying other fields depending on the data selected in the MoreInfo field. Let's start from the Notes_DataCard1. Click Notes_DataCard1 in the tree view and, in the drop-down menu, select Visible. In the fx field, enter the formula:
If(DataCardValue2.Value = true, true)
After entering this formula, the appropriate field vanishes from the form. Don't worry, that is what we need.
Do the same for Price_DataCard1, Color_DataCard1, Quantity_DataCard1, and Attachments_DataCard1.
On the screenshot below, all additional fields disappear after editing.
We have configured all the needed fields in the form to be displayed only if we select Yes in the MoreInfo field. Now it's time to save our form edited in Power Apps to be able to use it in SharePoint Online.
Go to File > Save, and hit the Save button.
Once all changes are saved, hit Publish to SharePoint. You can see a link to your SharePoint list.
Now you should set the SharePoint list to use your customized SharePoint form. Go back to SharePoint Online, and open your list (we open our list created to display items stored in the warehouse that is called Forms SharePoint Online). Click the settings icon, and hit List settings.
On the Listsettings page, click Form settings.
On the Form settings page, select Use a custom form created in PowerApps, and hit OK.
Let's open our SharePoint list and add a new item to the list by clicking the +New button. Our customized form opens on the right side of the web interface. The More Info switch is turned on (equal to Yes), and all the fields intended to add more information are displayed.
If we select No and turn off the More Info switch, no additional fields are displayed.
We have added two items to our SharePoint list. When we added the first item, we defined additional information unlike the second item. You can see on the screenshot below – there is no additional data in columns for the second item.
We can modify our SharePoint form by using Power Apps and use custom colors and images to make the form more attractive.
Open your form in Power Apps. Select SharePointForm1, which is the main element in this case. A border with circles is displayed around the selected element. Click the circle, don't release the left mouse button, and change the size of the element. We reduce the size of the main element to free space for an image and change the background color of the form to light-blue.
In order to add an image, go to Insert > Media > Image.
Image1 is now displayed in the tree view. Select this image and, in the Properties tab, click + Add an image file. Browse an image file. Let's open the image of NAKIVO Backup & Replication.
After opening the file, you can stretch the image, move it to the needed location, and set the transparency and other options.
Let's edit the form and make the Quantity field change color depending on the entered number. If the value is less than 1, then the field is filled with red, otherwise the field is green. This approach can attract the attention of a user editing a SharePoint list if there are no items left in the warehouse and it may be needed to order more items for this product.
In the tree view, expand the Quantity_DataCard1, and select DataCardValue3, which is the field where a user should enter the number of items remaining in the warehouse. Once you have selected the needed field in the form, select the Fill option in the drop-down menu above the Tree view. You can see the default value of fx:
RGBA(255, 255, 255, 1)
This value means that the white color is set to the background of the form.
Change the default value of fx to:
If(Parent.Default<1,Red,Green)
Save the form in Power Apps as explained before (File > Save), and publish the form to SharePoint Online.
The form is published after editing. Add a new item to the list, and then edit this item. If you enter 1 or a higher value into the Quantity field, this field will be green.
If a value is entered that is less than 1 in the Quantity field, this field will be red.
This is the end of the tutorial on creating SharePoint forms. You can create workflows by using Microsoft Power Automation (formerly known as Microsoft Flow) and send an email message when quantity is 0 for any item, for example. This approach allows you to use customized SharePoint forms with Power Apps and automate business processes with Power Automation.
Conclusion
This blog post has covered Microsoft forms and SharePoint forms that are used to enter data in SharePoint Online with SharePoint forms examples. Microsoft forms are usually used to create polls, surveys, and quizzes. They allow you to display results on a SharePoint site page. SharePoint forms are web-based applications used to enter data into SharePoint lists. SharePoint forms can be created in InfoPath, SharePoint Forms Designer, Power Apps, and Visual Studio. In this blog post I've explained how SharePoint forms can be customized with Power Apps and provided a basic example. Customized forms offer you more flexibility and advanced functionality compared with defaults forms. Conditional formatting, formulas, and integration with Microsoft Power Automation give you a lot of power when working in SharePoint.
Don't forget to back up your data in SharePoint and Office 365 to protect against disasters and data loss. Download the free edition of NAKIVO Backup & Replication, which is a universal data protection solution for virtual, cloud, physical, and Office 365 environments.
SharePoint Online Forms Overview
5(100%) 1vote
Sours: https://www.nakivo.com/blog/sharepoint-online-forms-overview/
Similar news:
How to design modern SharePoint forms for Microsoft 365 or SharePoint 2019 on-premises¶
Connect to a SharePoint list or library¶
SharePoint Online¶
After following all the steps of SharePoint installation instruction (Office 365), download and run the designer application. Simply enter the URL of the site that you want to modify forms for:
You'll then need to go through standard SharePoint authentication, make sure to use login with Full Control permissions on the site.
Note
If you want to logout from the previously selected user, just connect to the site once again and press Sign Out button:
SharePoint On-Premises¶
After following all the steps of SharePoint installation instruction (SharePoint 2019), you can launch the designer app from desktop or use Design Forms button in the ribbon (make sure to activate Site Collection feature first):
Enter the exact URL of the site that you want to customize list for. Unless your Windows desktop login is the same as your SharePoint login, you'll need to remove the mark from Login as current user and use your SharePoint credentials instead:
Depending on the type of authentication you have on your site, you might need to try different types:
New, Edit, and Display forms¶
Once you connect to a SharePoint List, you can select which form you want to edit in the upper right corner of the editor:
New Form - only available for SharePoint Lists, not available in SharePoint Libraries. Form that you see when you click +New Item.

Edit Form - form that allows you to edit values stored in an item, or properties of an uploaded file in SharePoint Library.

Display Form - form that only allows you to see what values are stored in an item or check properties of an uploaded file, cannot edit.
Saving a form or multiple forms¶
Saving a form is easy - just click the Save button. Once the button is pressed, it gets grayed out and you'll see a message that says that the form is saving. Please, wait until the process is complete. Meanwhile, you can continue working in the designer, but if you want to see the results in SharePoint, you need to wait until you see Layout has been successfully saved message:
You are also able to save multiple forms at once if you want them to share functionality. For example, if the form has no custom logic, it's often easier to save New, Edit and Display form at the same time. Just click the arrow symbol on the Save button and select which forms you want to replace with the current one:
Be careful when saving more than one form, it's easy to forget that two forms might have different JavaScript attached to them and overwrite existing code.
Content Type¶
You can select which Content Type you want to customize forms for - each Content Type has its own forms:
Editing layouts: PC, Tablet, Phone¶
In the designer, on the left, you have Containers, Controls and Fields that you can use on the form:
Adding them to the form is easy, just drag and drop the desired elements to the form. You can change individualy configuration of each Field, Control and Container by selecting it with a click and then adjusting its properties in menu on the right:
By default, each element is placed inside a Grid. By adjusting PARENT GRID properties of each element, you adjust element's layout in regards to all other elements. You can learn more on how to work with form layout.
Note
We do not recommend adding Common Fields to SharePoint forms unless you know what exactly you want to do with them. By default, only SharePoint Fields store data when Item is saved, Common Fields lose all the data. If you want, you can use Common fields to perform some calculations on the form or submit certain data to MS Flow using Plumsail Forms connector.
CSS and JavaScript¶
If you want to change the appearance of elements on the form, you can either edit Style property of the elements or apply custom styles with CSS editor. Don't forget that you can give each element a class and then use it in CSS editor to apply styles by class.
Another thing that you can alter on any form is JavaScript and with our rich JavaScript API there is a lot that can be done with it.
Please, make sure that you are familiar with the events present in JavaScript API as these events need to be used in order to get access to all forms elements. You can check out the practical examples of using JavaScript API to make forms more dynamic:
Sours: https://plumsail.com/docs/forms-sp/design-sp.html
108
109
110
111
112