20 Types of Fade Haircuts That Are Trendy Now
When it comes to hairstyles for men, diversity is often the last word that comes to mind. However, in recent years we've seen a gradual move toward trendy, less black-and-white looks, including the fade haircut with its numerous variations.
Types of Fade Haircuts for Men
In a fade haircut the length of the hair decreases gradually towards the bottom, commonly to bare skin. There are many hairstyles that include a fade, yet it's hard to find two fades that are completely alike. Here, we highlight 20 popular hairstyles with main types of fades.
#1: Hipster Taper Fade
The look of hipsters, artists and well-dressed men in general, the taper fade style is one of the sexiest fade haircuts. And the best part of all? It's incredibly low maintenance, only requiring some light styling with a bit of gel or pomade.
#2: Fade with Side Part
Fade haircut styles with a side part are very trendy right now and also flattering for different face shapes. It helps when the hair is longer on top as well. A fade and comb over are a popular combo.
#3: Low Fade
One of the best fade haircuts for men with rounder faces is a pompadour with a low taper fade. This hairstyle builds a height and elongates the face while providing a neat and sharp look.
#4: Shadow Fade
If you don't like high-contrast high fades, opt for a perfectly blended shadow fade. With this short fade look, you'll want a line up, and bye-bye styling tools and styling products!
#5: Drop Fade
Drop fades haircuts are named what they are because the fade will drop behind the ear. This typically means that the taper will form an arc from the temples to the nape. Get this fun update for your fade at your next visit to the barber shop.
#6: Low Bald Fade
Another variation of a skin fade, a low bald fade has been a cool, frequently asked men's cut for several years. It's an understated and neat look that is made more prominent with an absolutely precise (almost artistic) line up.
#7: Disconnected Haircut with Fade
With a sharp decrease in hair length on the sides and back of the head, the disconnected look is a long top short sides hairstyle. The choppy top and faded sides/back in this case are created with clippers and scissors. The cut is particularly in-style right now.
#8: Blurry Fade
The blurry fade with a pompadour for men can be worn in both a professional and fun, eccentric way. However, it takes a steady hand and eye for precision on the barber's part to ensure the perfect blending of the men's fade haircut – so choose yours wisely.
#9: High Top Fade
Complete with spiky, punk rock ends, a high top fade works best when the hair is relatively long on top. Try to ensure that the gel you're using is a particularly high-hold one, as you don't want the look to fall flat by mid-concert!
#10: Skin (Bald) Fade
A skin fade haircut is a particularly bold type of men's style. Whereas many shadowed looks still technically have a whole head of hair, this style is bare up the neck to only an inch or so from the crown.
#11: Medium Fade
A mid fade cut offers guys the best of both worlds. The style isn't as extreme or edgy as its bald variation, but it also captures the essence of the shadowy trend in general. In this instance, the hair is combed back away from the face.
#12: Temple Fade
Ideal for, quite literally, all different types of hair, temple fades probably look the least shadowy but they offer an option for more conservative men, making it a great choice for your first-time fade.
#13: Undercut Mohawk with Faded Temple
Also known as the "South of France Fade," the burst fade mohawk is an ideal style for a man looking to get a Mohawk with a trendy touch. Usher rocked this style in the late 90's and early 2000's (in case you're an R&B fan!).
#14: All Around Fade
The all around fade offers you to play with a high contrast look – longer length on top and fade to the skin on the sides and back look fierce and sharp, and it's completely on-trend. If your hair is curly, you'll want to add a line up.
#15: Buzz Fade
A buzz fade is achieved by using exactly what you'd assume: electric clippers. They buzz the hair to ensure everything is of the same short length (with the exception of the actual fade). In this case, it has the look of a high and tight taper.
#16: Box Fade
If you plan to get really funky with your look, a box fade is an option. It's a favorite for many African American men, a style to show off your natural texture and achieve cool geometric shapes.
#17: Faded Undercut for Longer Hair
Popularity for faded undercuts really picked up speed last year, and the new trend is only looking to grow. The hair is combed back slick and either held with a styling gel or let loose. The key is that the hair on the top is significantly longer than the rest of the head.
#18: Fade Line
With all the different types of fade haircuts to choose from, it's easy (and encouraged) to get a bit wild. One of the easiest ways to up the ante is with a shaved line, where the arc begins at the temples and runs towards the nape of the neck.
#19: Fade with Designs
When it comes to fade hairstyles that incorporate geometric, abstract designs, the sky is truly the limit. If you have angular facial features, opt for lines with acute angles and mirror them in your facial hairstyle.
#20: Comb Over Fade
A comb over fade haircut is one of the coolest fade haircuts in general, and it offers so many features to help make it your own. Here, the look is made more distinguished by extremely slick hair and razor-sharp lines.
If the goal is to update your current style, opting for a fade haircut (whether high, medium or low) is an excellent choice. Fades can be customized to suit your personal preferences and make you standout to a greater or lesser degree.
Sours: https://therighthairstyles.com/mens-fade-haircuts/
Low Fade
Fade haircuts are one of the most popular and easiest men's hairstyle trends. They are everywhere because a fade can be added to any type, length, or style of a men's haircut. Fades are also a great looking, low maintenance cut, not counting barber visits for upkeep.
A fade takes hair from short to even shorter. The three main types of fade haircuts are low, medium and high fades. This refers to how high the fade goes up on the head.
Burst fades and temple fades cover a smaller portion of the head but have plenty of impact. Bald fades can be any of the above and shave hair down to the skin. Shadow fades go from short to shorter but don't reveal the skin.
Check out these pictures for all the types of fade haircuts. Mix and match different types of fade with different hairstyles to create your own unique look.

1. Low Fade + Hair Design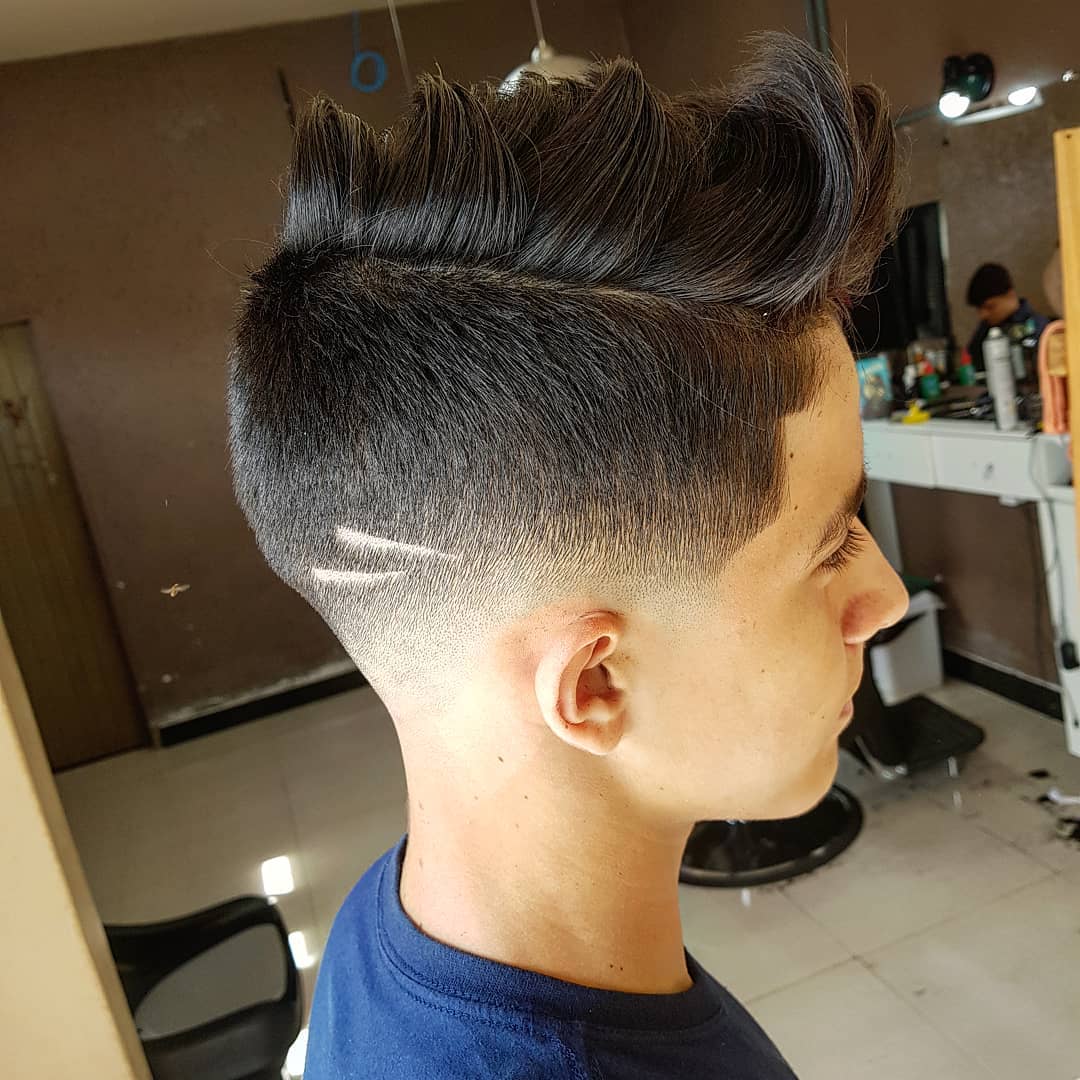 Mateus Marques
This fade brings the hairline up by about an inch all the way around. A pair of slashes behind the ear draw even more attention to this blurry fade.
2. Buzz Cut + Line Up + Low Fade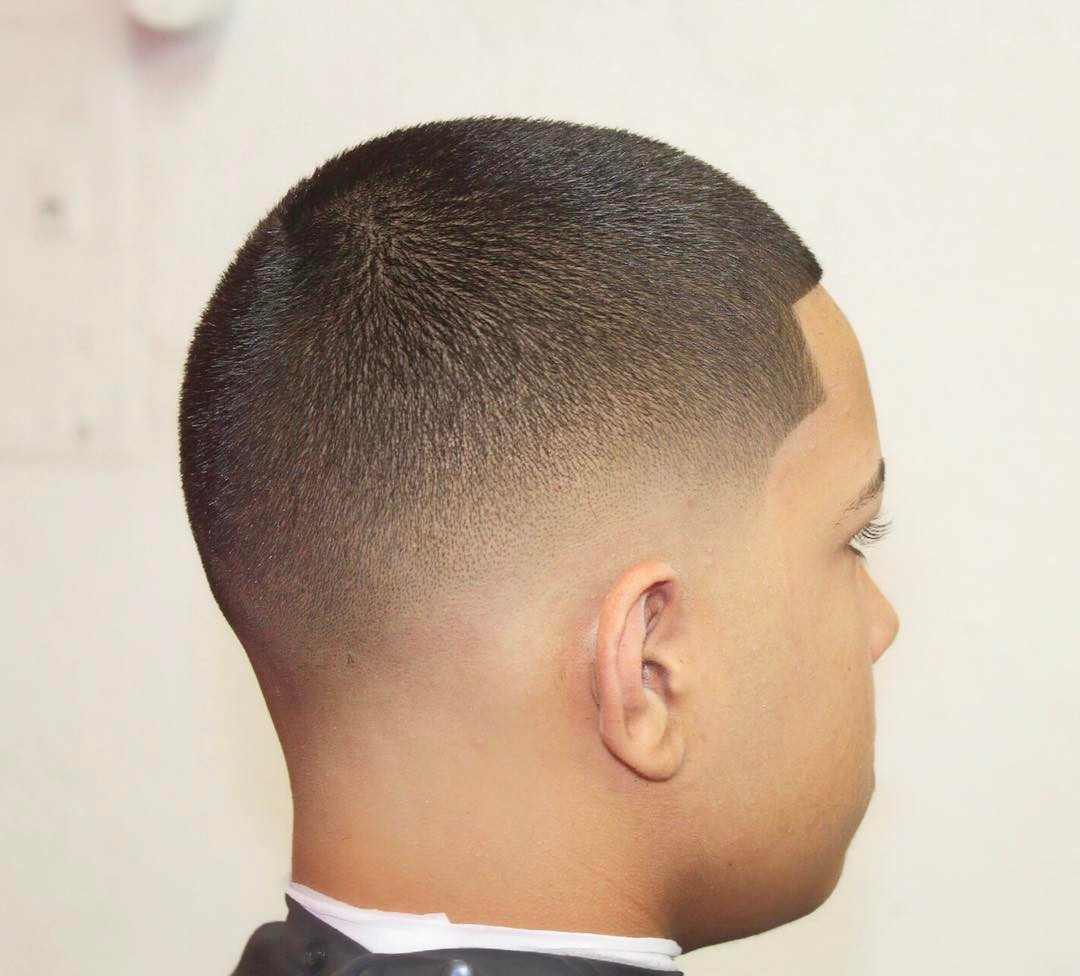 Nathanael David
The buzz cut and fade is a popular combination that can be worn in a number of ways. A blurry low fade at the back contrasts the defined line up at the forehead.
3. Low Bald Fade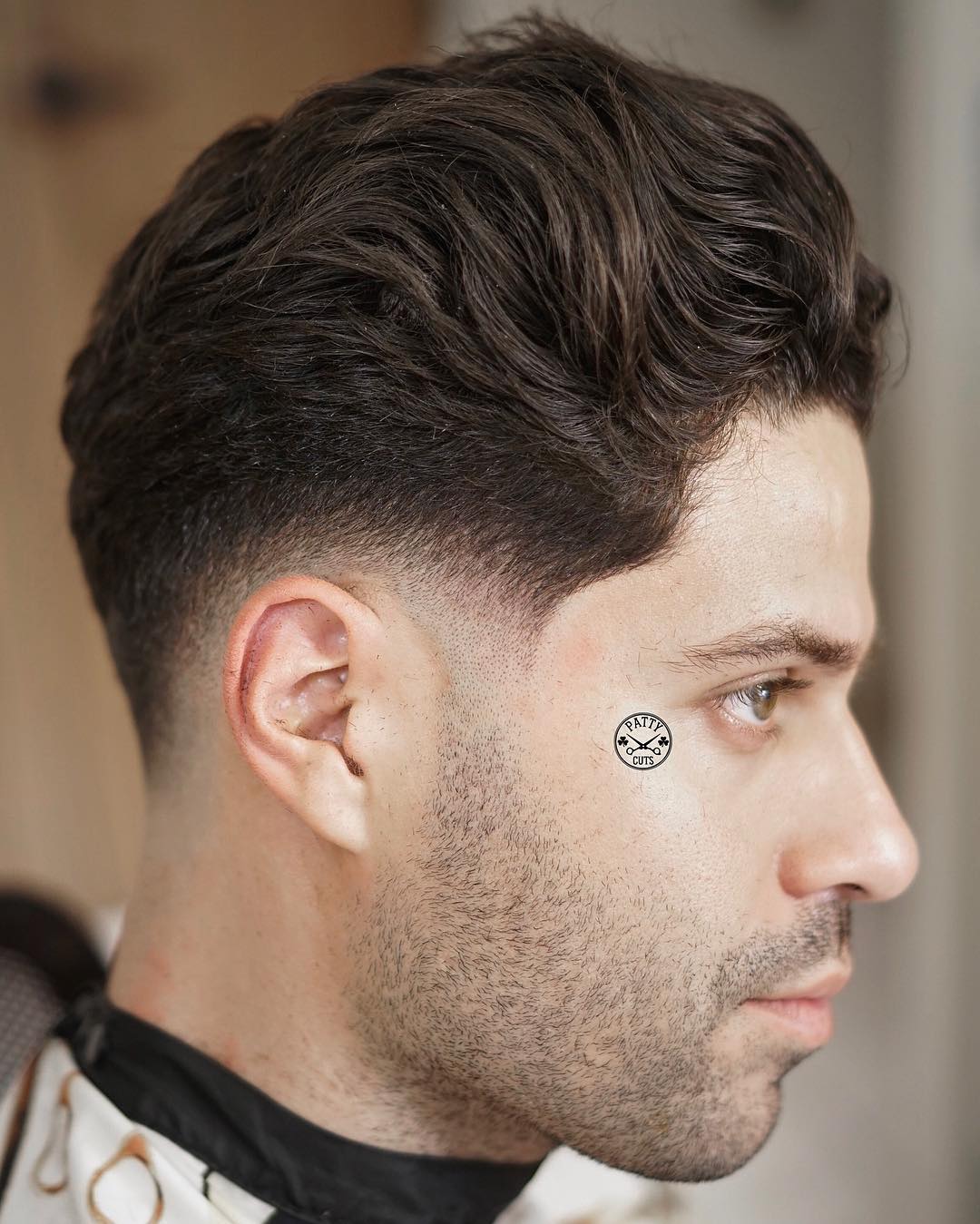 Pat Regan
The low fade is also a cool addition to longer men's hairstyles. This fade is about as low as it goes.
4. Side Part Haircut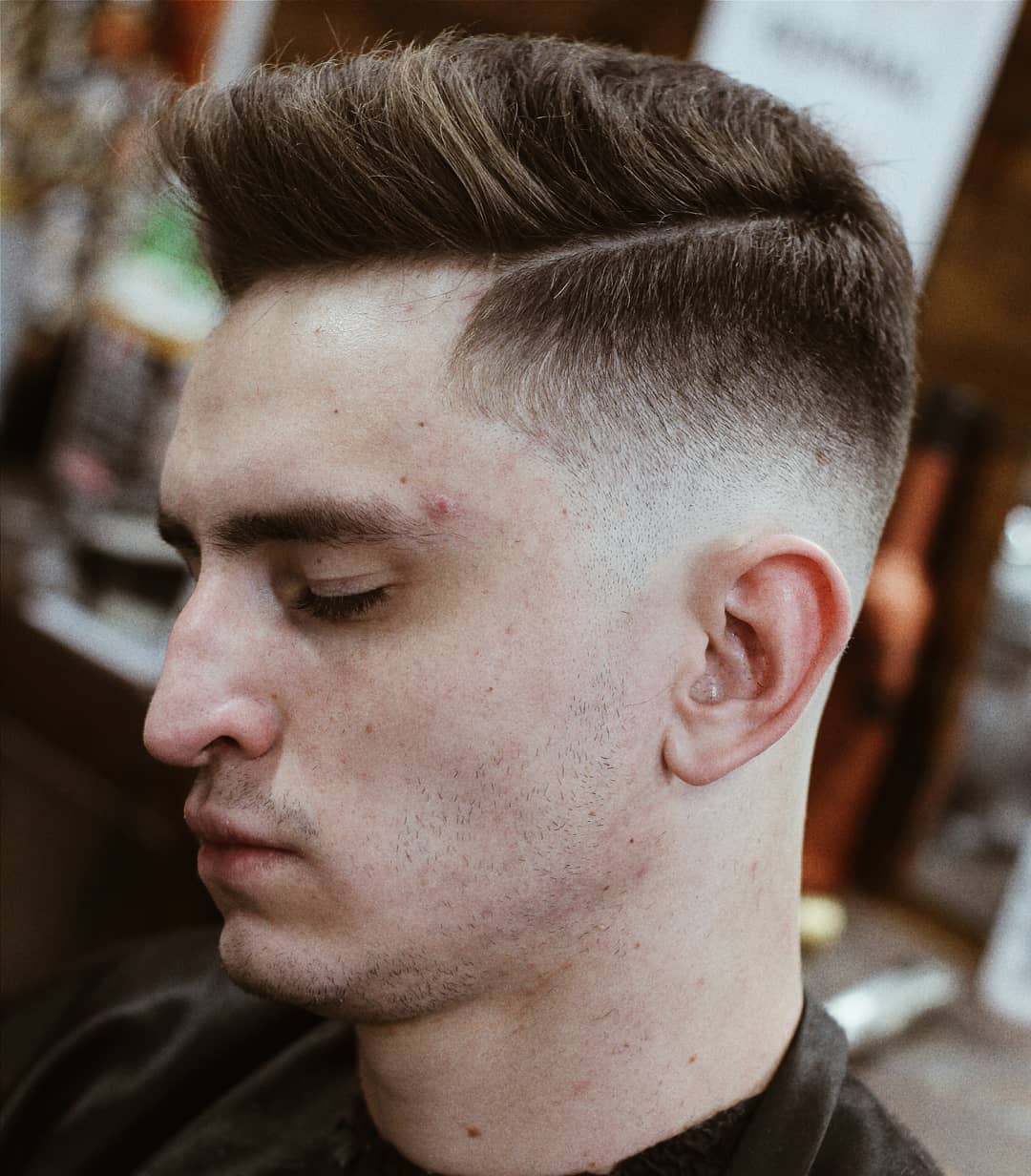 Alisson Mota
This side part haircut is a flattering and popular style that can have tapered (scissor cut) or taper faded (cut with clippers) sides. As the name indicates, the medium fade is somewhere in between the low and high fade. Many mid fades are also drop fades that follow the hairline behind the ear.
5. Mid Fade Haircut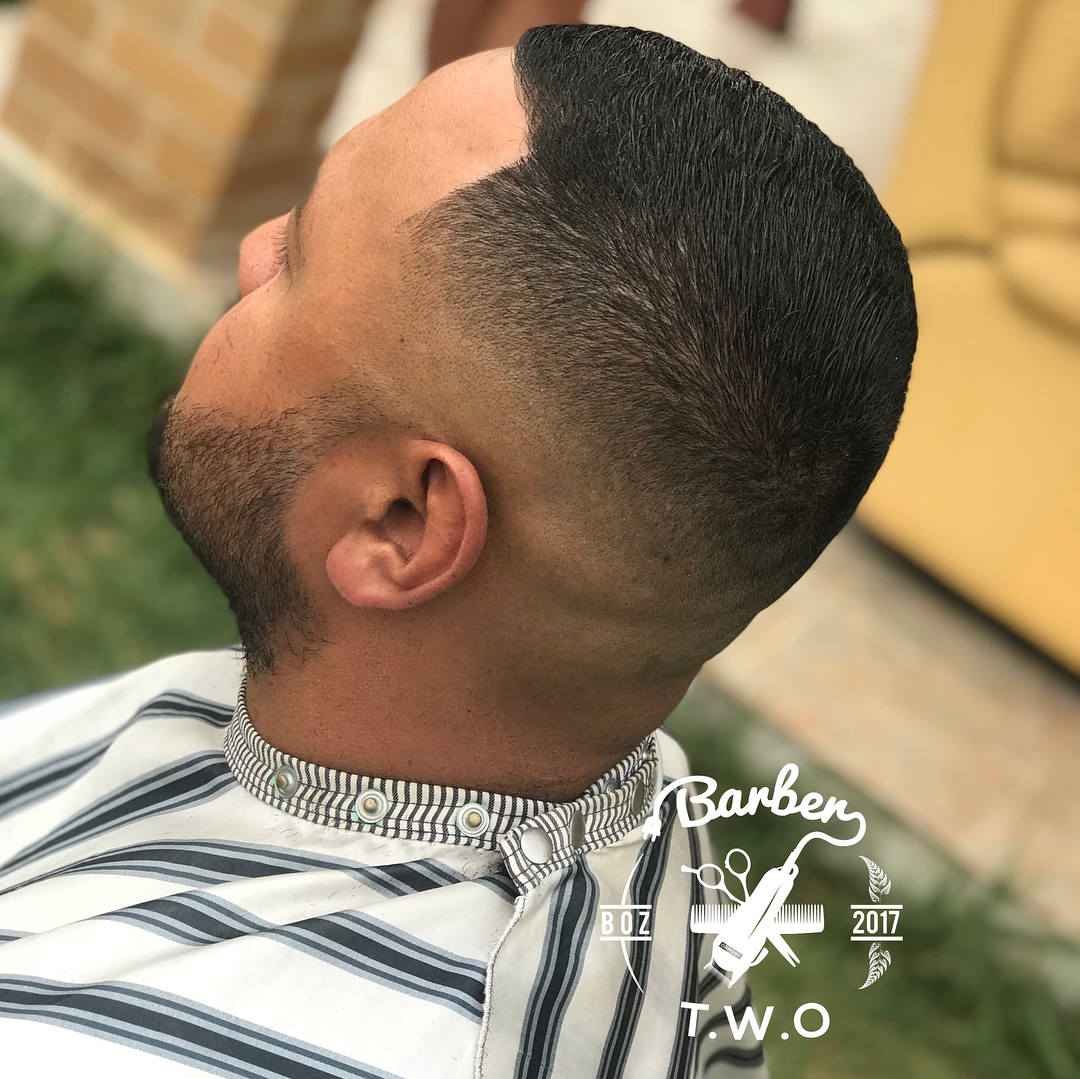 Timoti Ormsby
Instead of dropping down, this mid bald fade follows a line around the head below the crown.
6. Crop Haircut + Medium Fade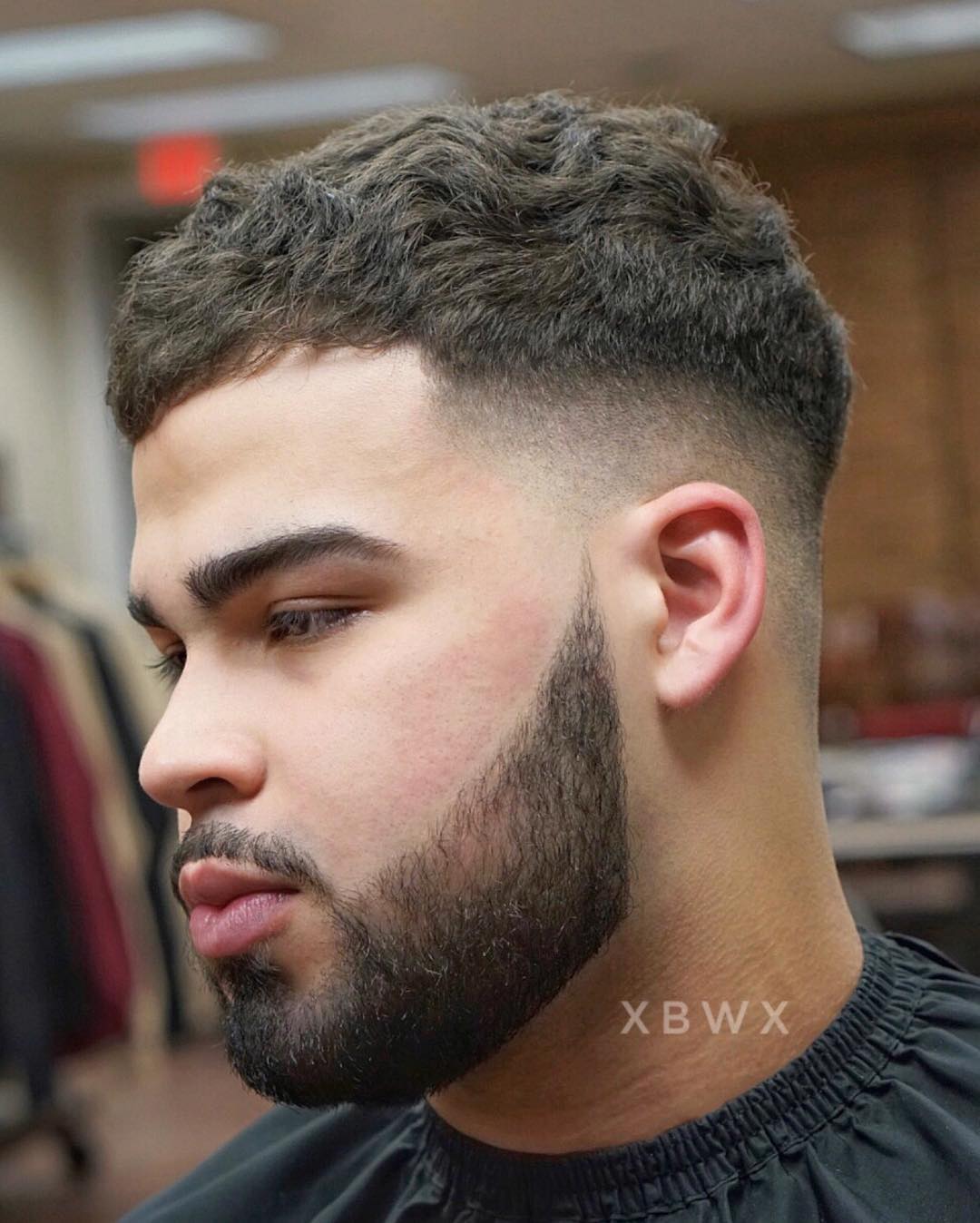 Wes Staucet
This on trend crop haircut with a medium fade is a stylish and easy to wear option for guys with thick and wavy hair.
7. Pompadour Fade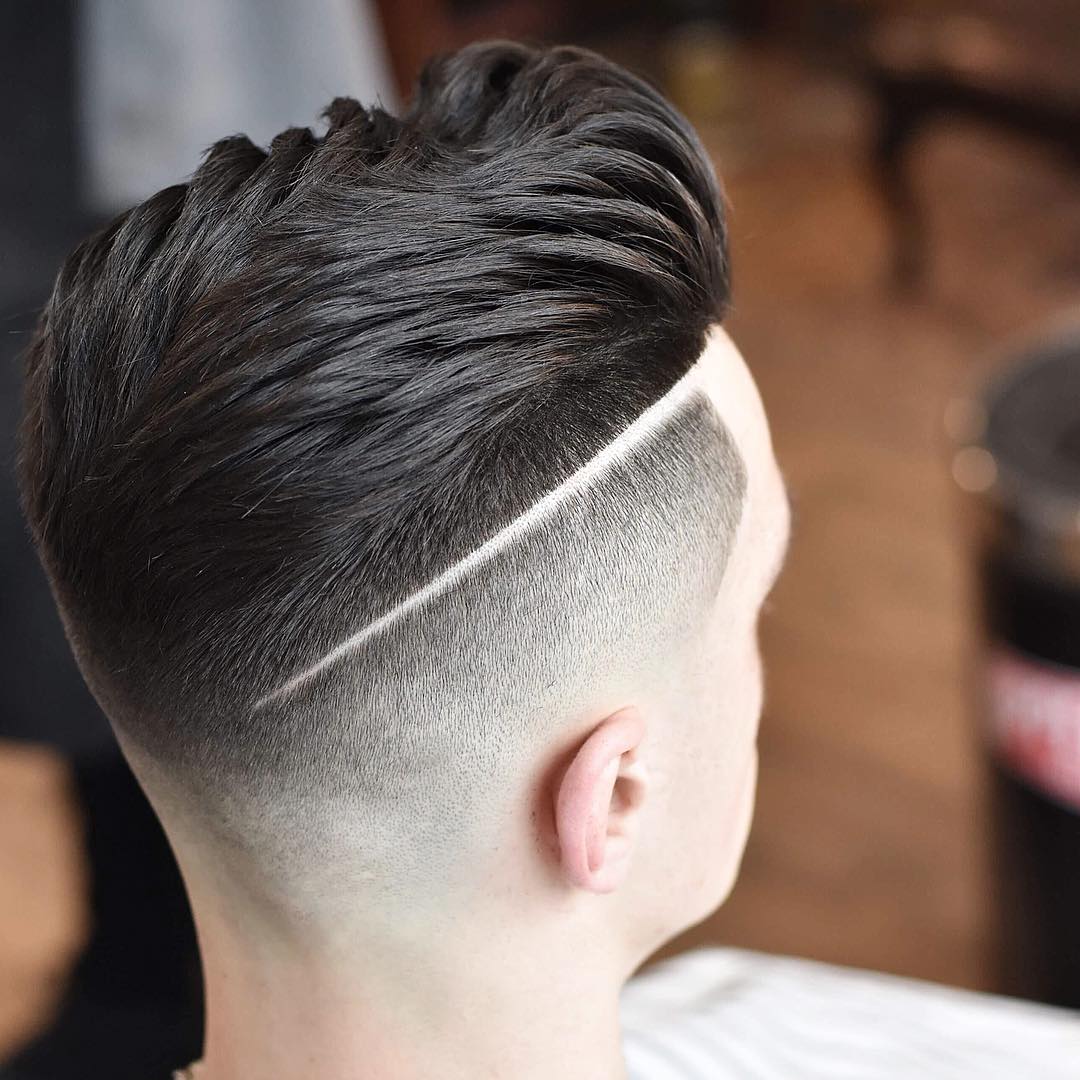 Josh O'meara-Patel
A high fade is a flattering and clean cut addition to any hairstyle. It can also serve as a canvas for a simple or complex hair design.
8. High Bald Fade Haircut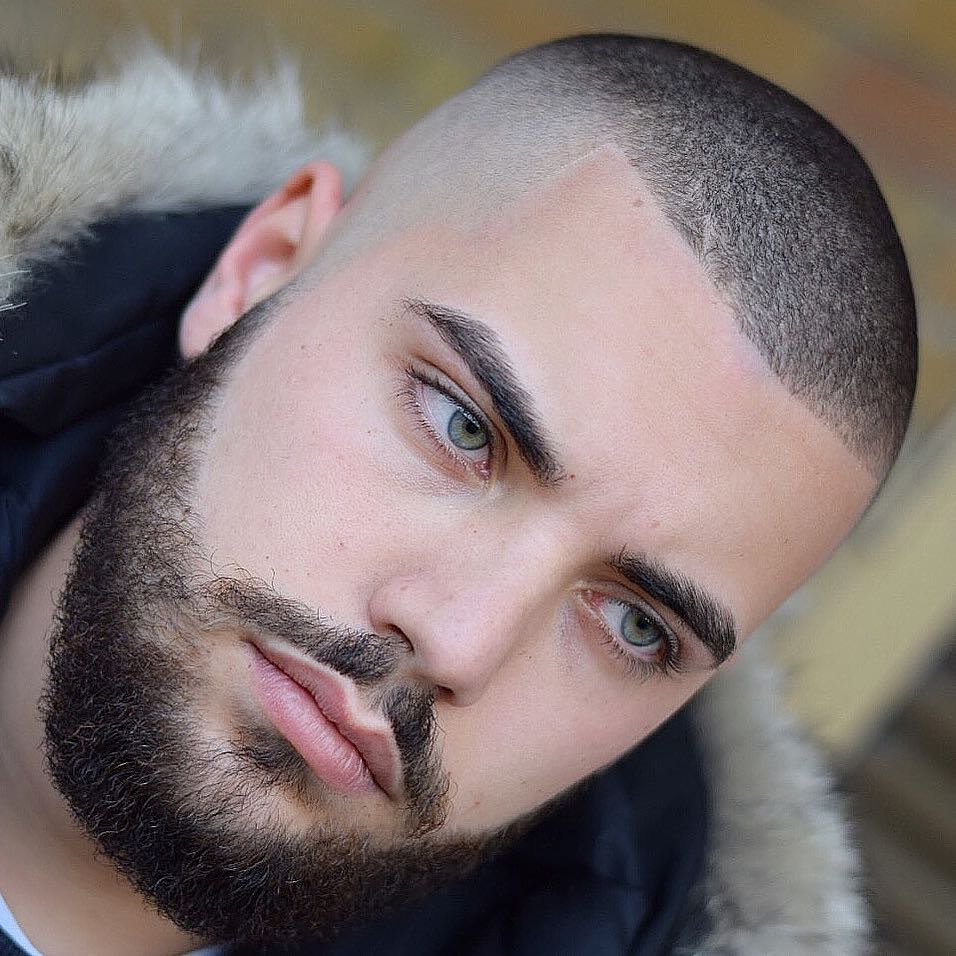 Majestic Barber
With this short buzz cut, the fade has to quickly go down to the skin. The high fade continues the hairline defined by the tape up.
9. Comb Over Fade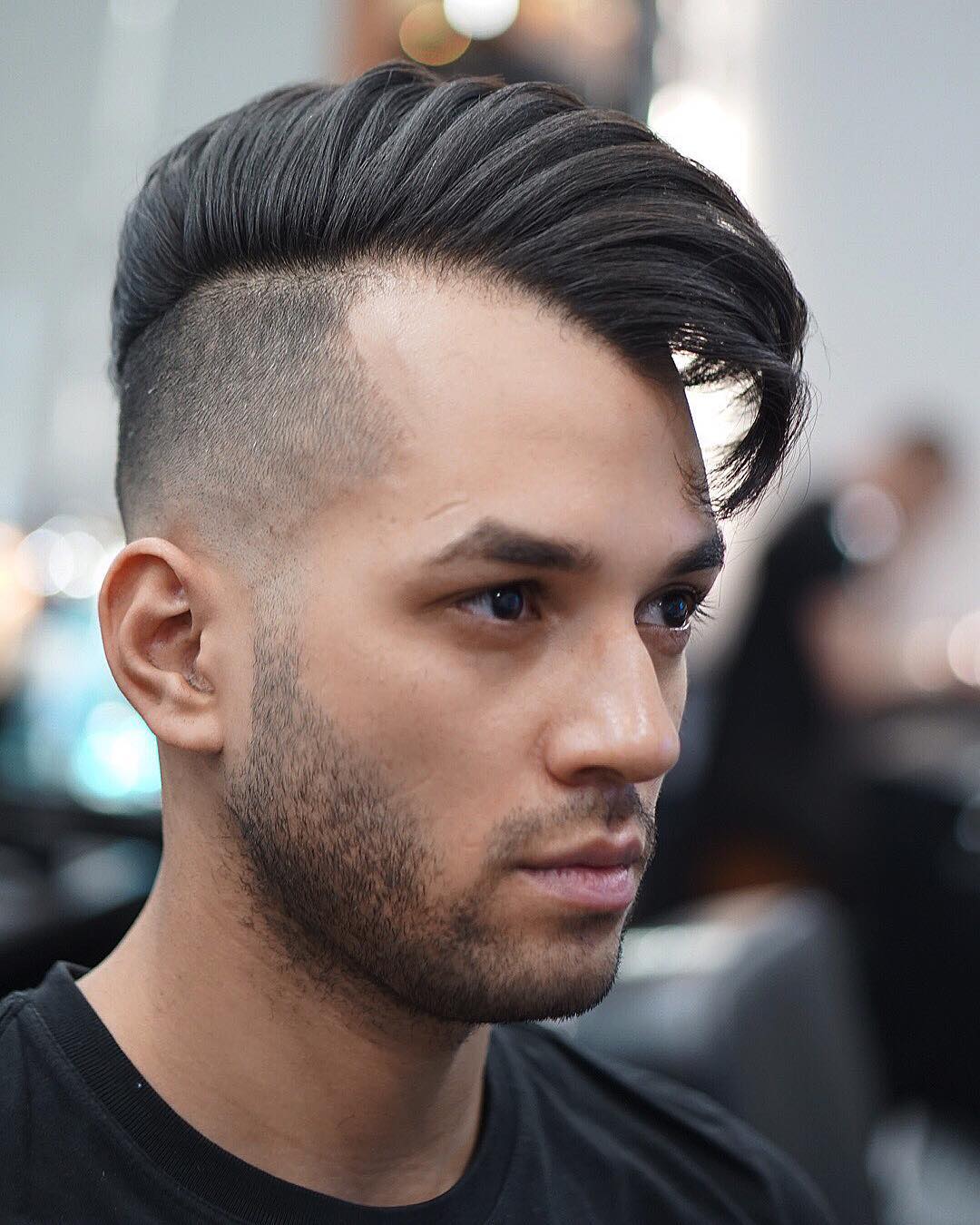 John Carmona
With longer hair on top, high fades create dramatic disconnect hairstyles like this high volume comb over.
10. High Fade Haircut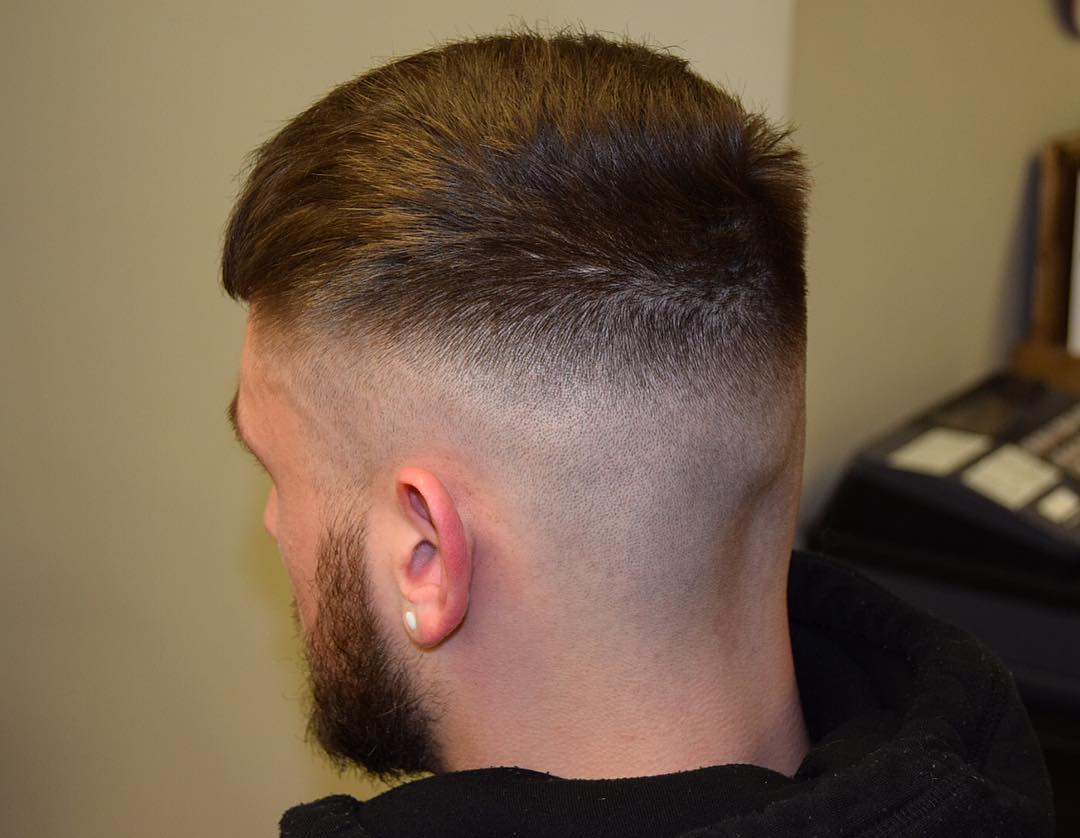 Woodies Barbershop
High fades drop down behind the crown to work with hair. Every fade is different because it they are adapted to your hair and head.
11. Burst Fade Haircut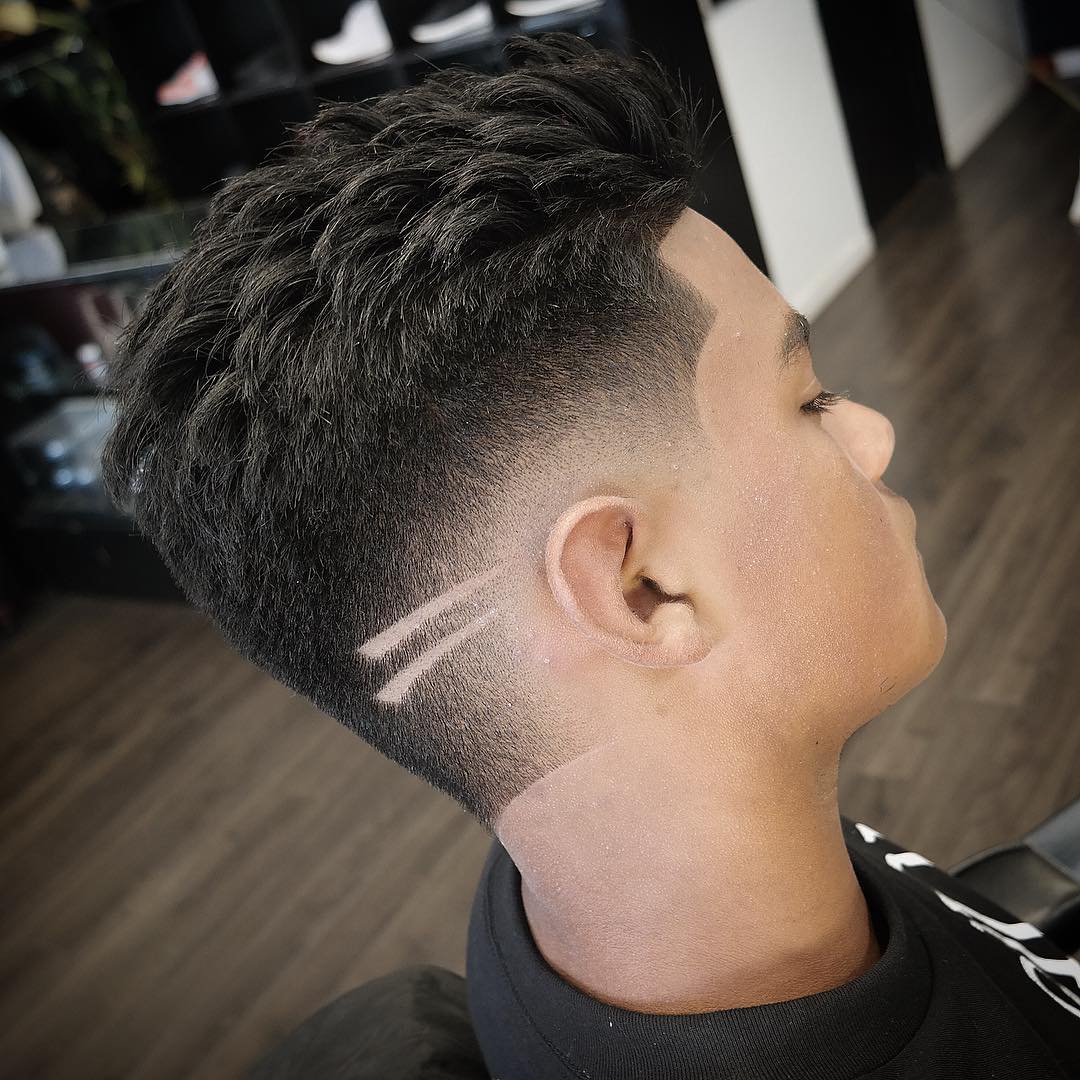 Diego Elizarraras
The burst fade looks like a sun burst behind the ear. A pair of shaved lines add to the effect.
12. Pomp Fade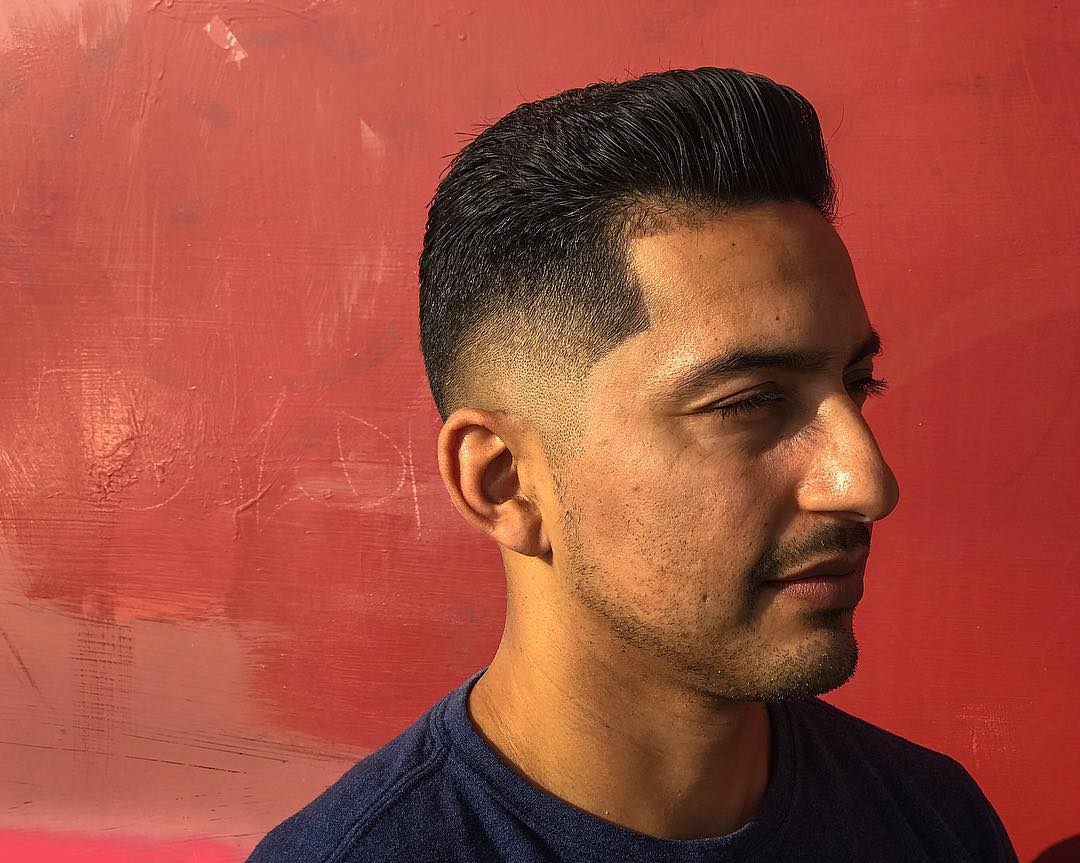 Miguel Rocha
A burst fade behind the ear sets this pomp fade apart from the rest.
13. Burst Fade Mohawk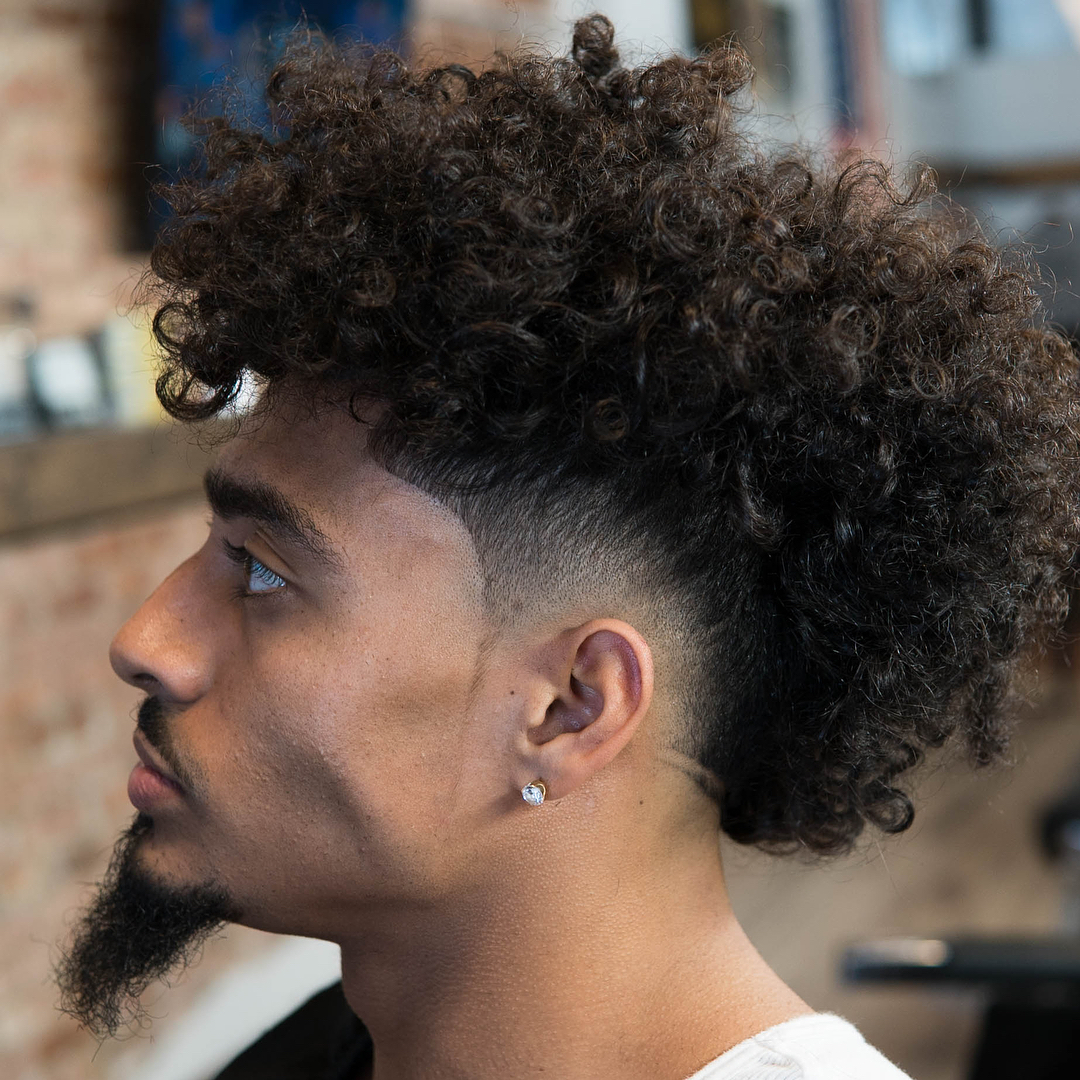 Caleb Porter
Burst faded sides can create a mohawk silhouette for short and long or straight and curly hair.
14. Bald Drop Fade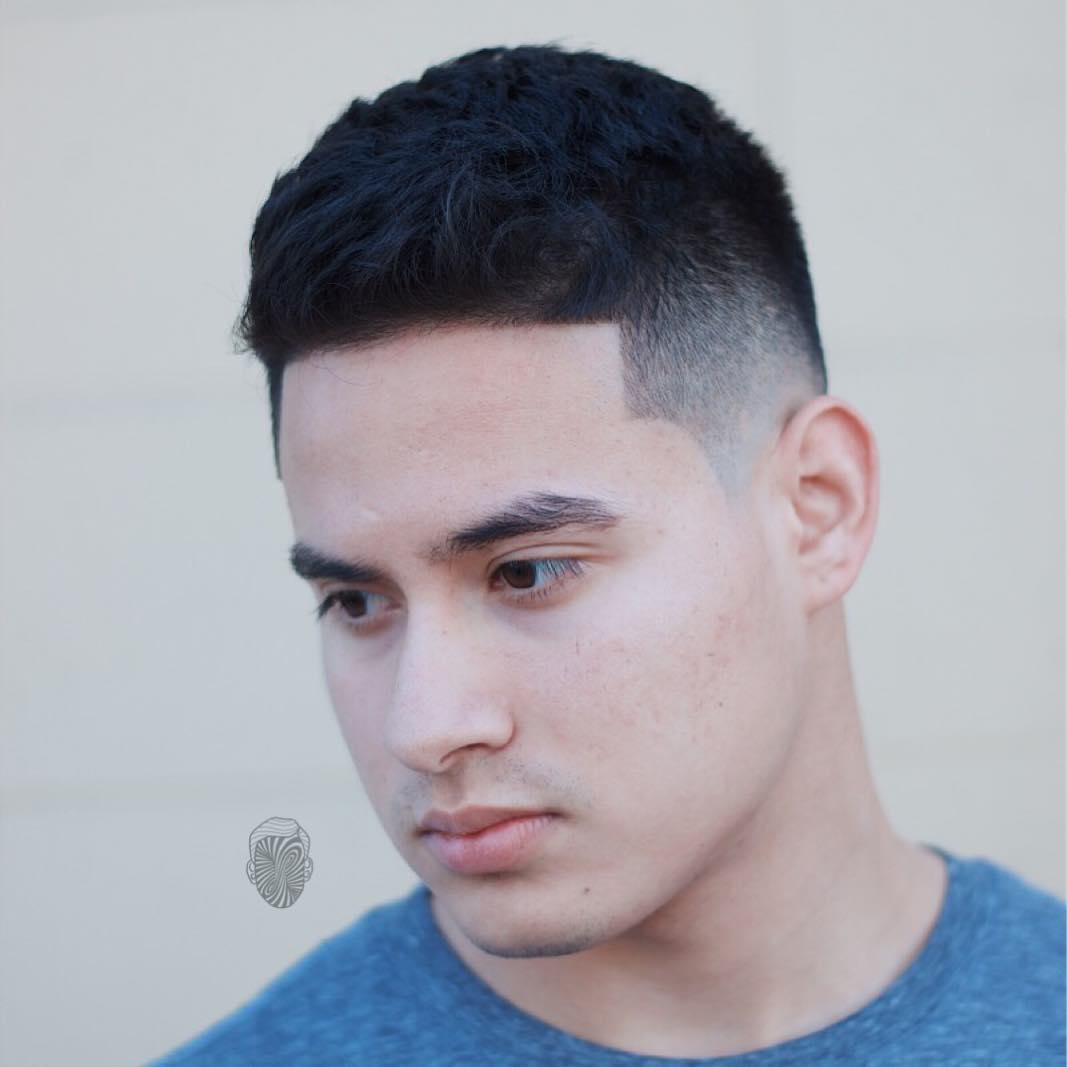 Travis Hill
This fresh fade cuts the side short and drops down behind the ear to follow the hairline at the back.
15. Drop Fade Haircut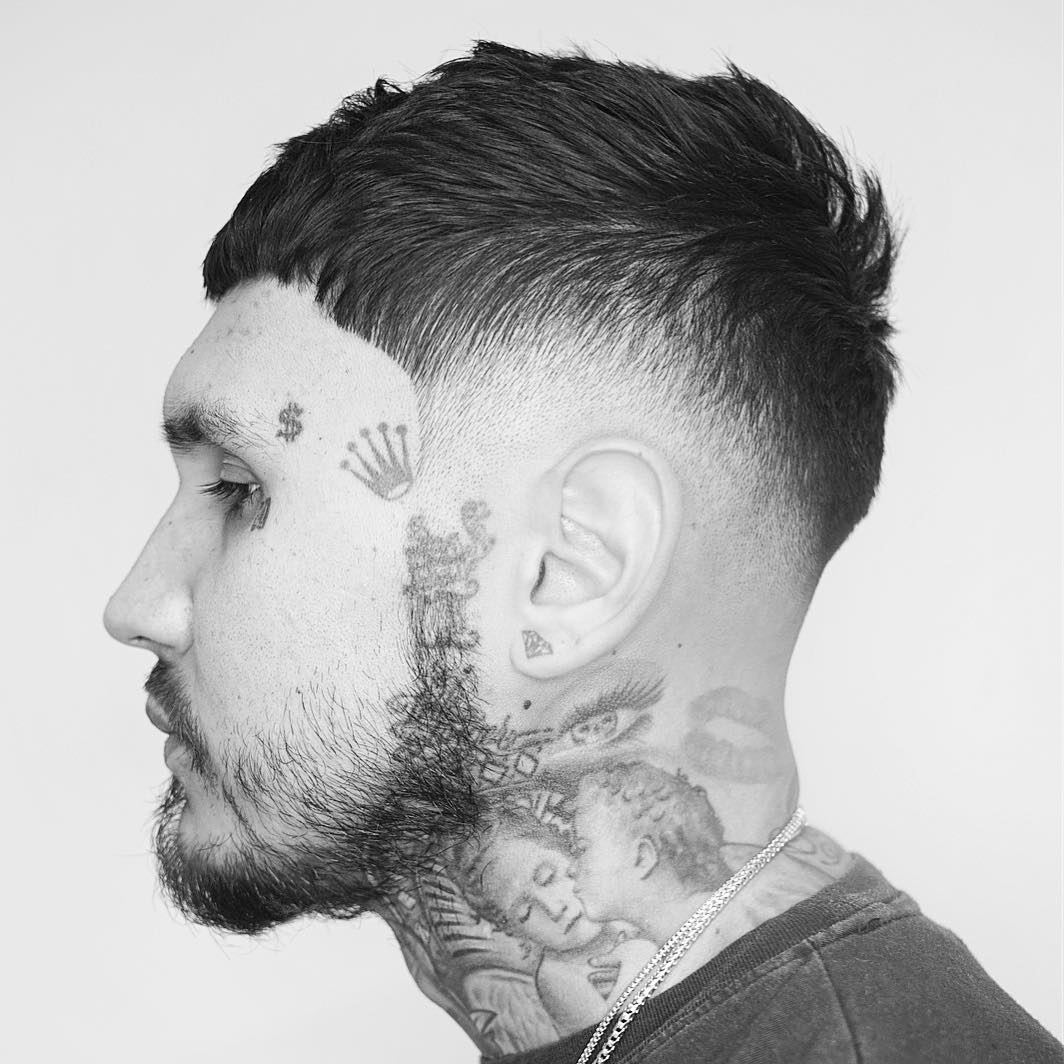 Julius Cvesar
The drop fade creates a dramatic side view, even if you don't have any ink.
16. Low Drop Fade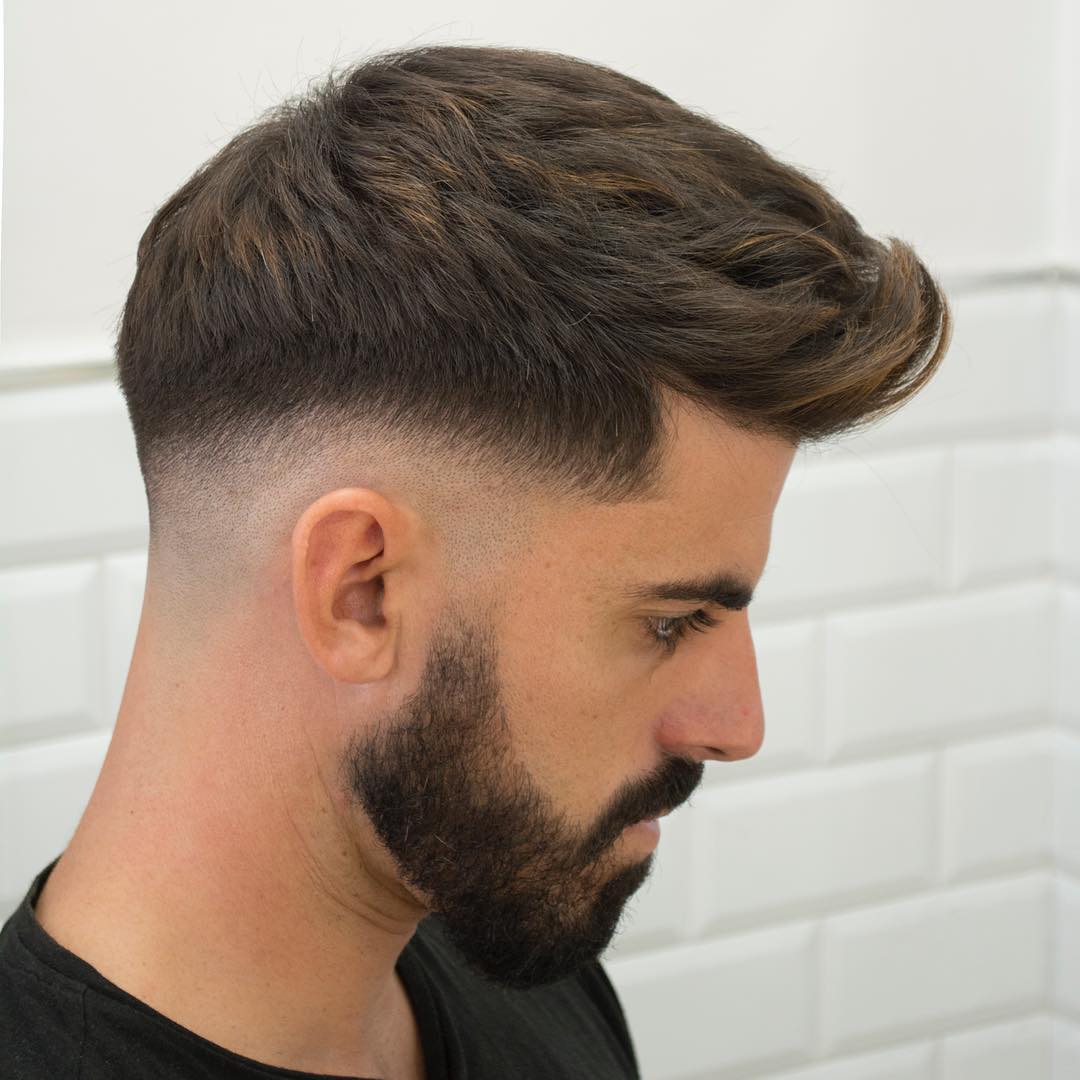 Javi the Barber
All low fades are drop fades because they follow the flow of the hairline.
 17. Buzz + Quick Fade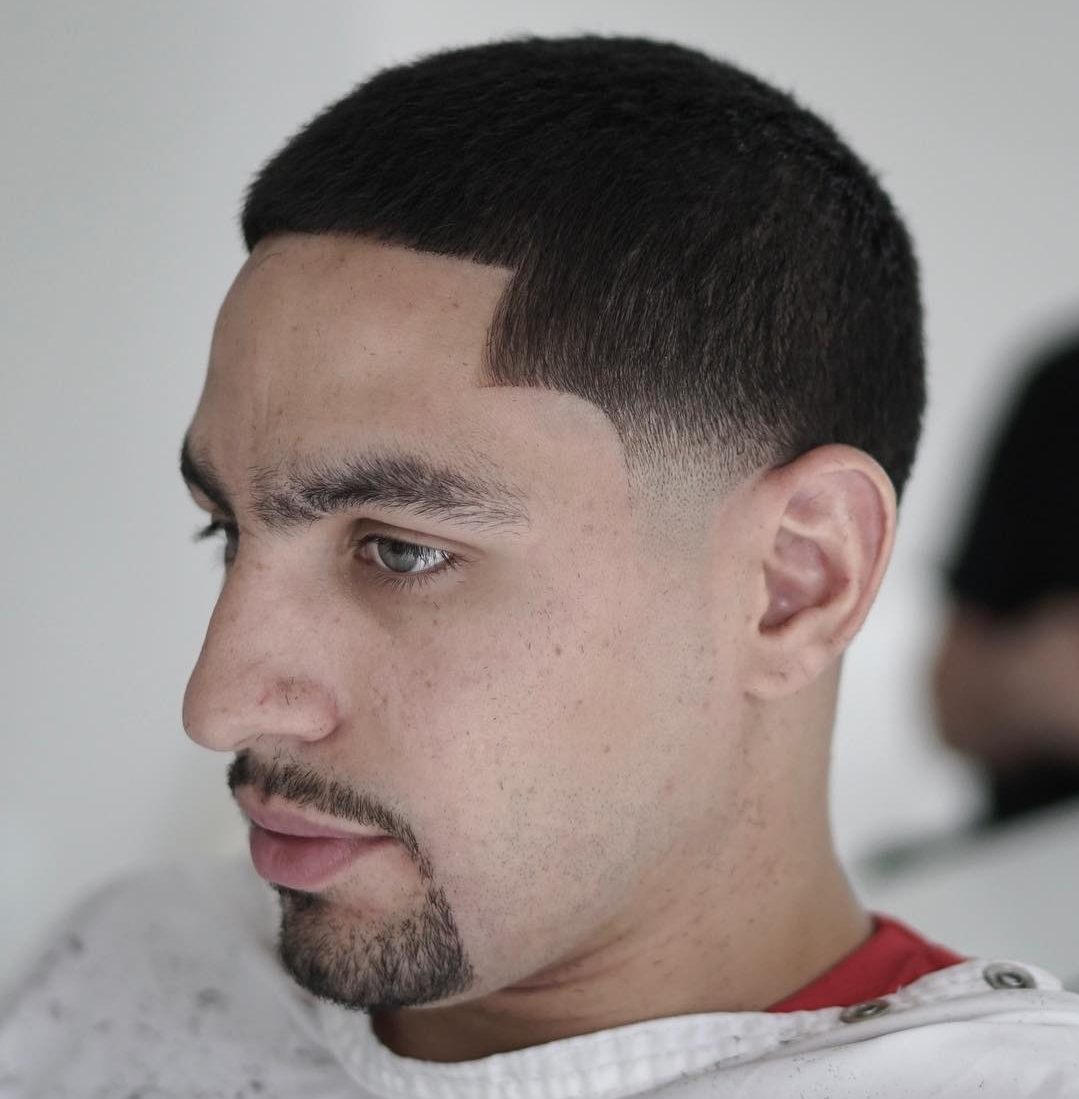 Pat Regan
Champion boxer Danny "Swift Garcia gets ready for success in and out of the ring with this clean buzz and faded sideburns.
18. Buzz Cut + Line Up + Temple Fade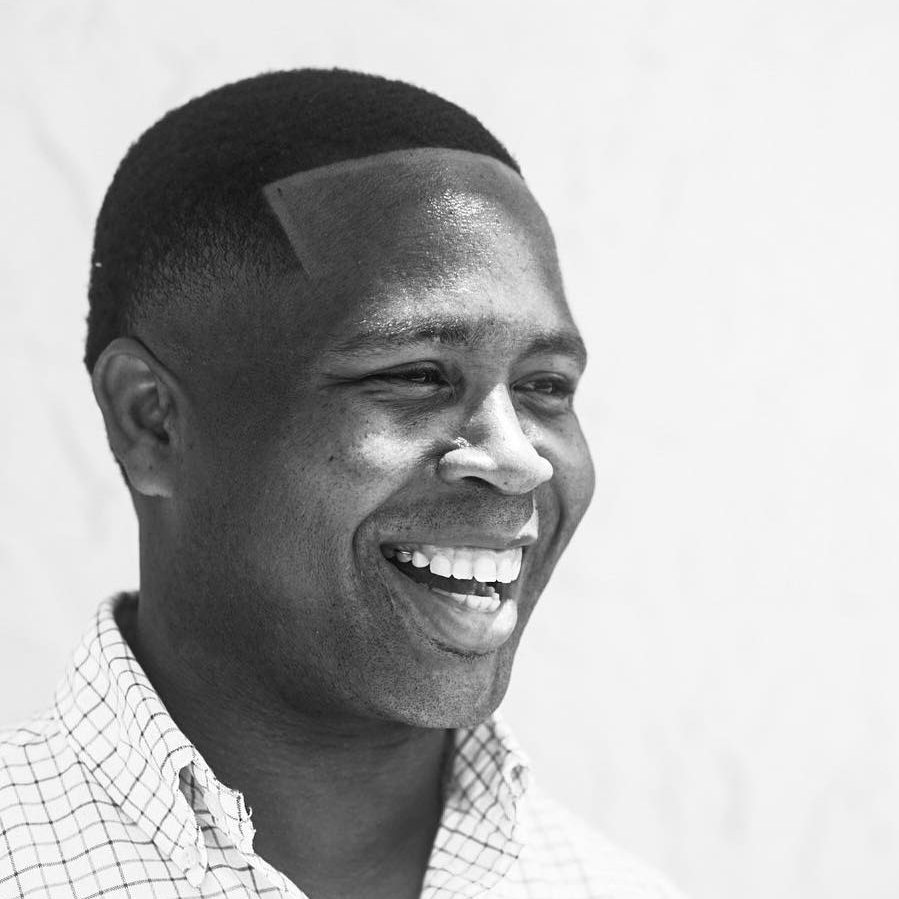 Angel Raws
The temple fade has a large impact for such a small area. Like a line up, the temple fade adjusts and improves the hairline.
19. Sideburn Fade + Beard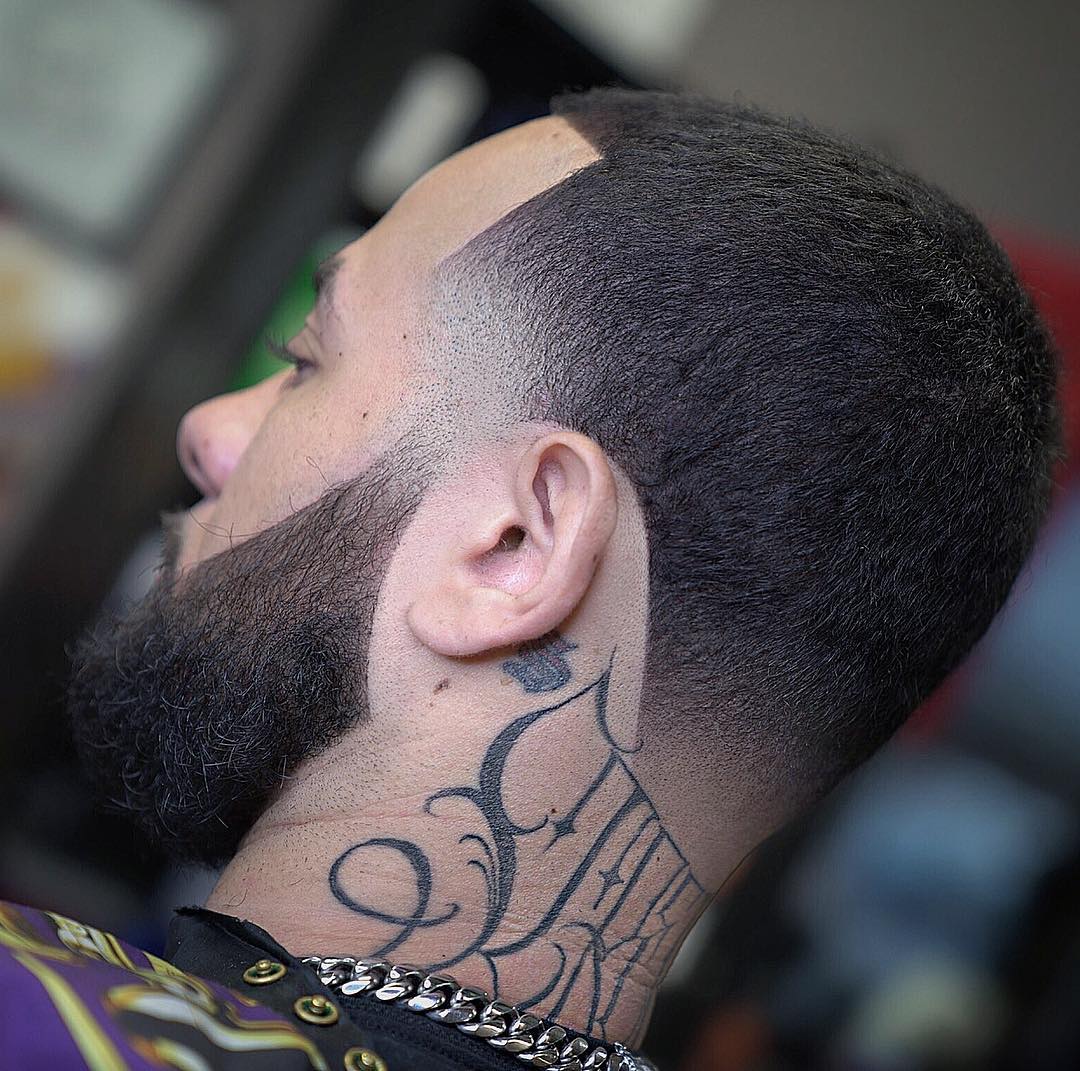 JM da Barber
This temple fade separates the beard from a short buzz cut.
20. Slicked Back Hair + Low Bald Fade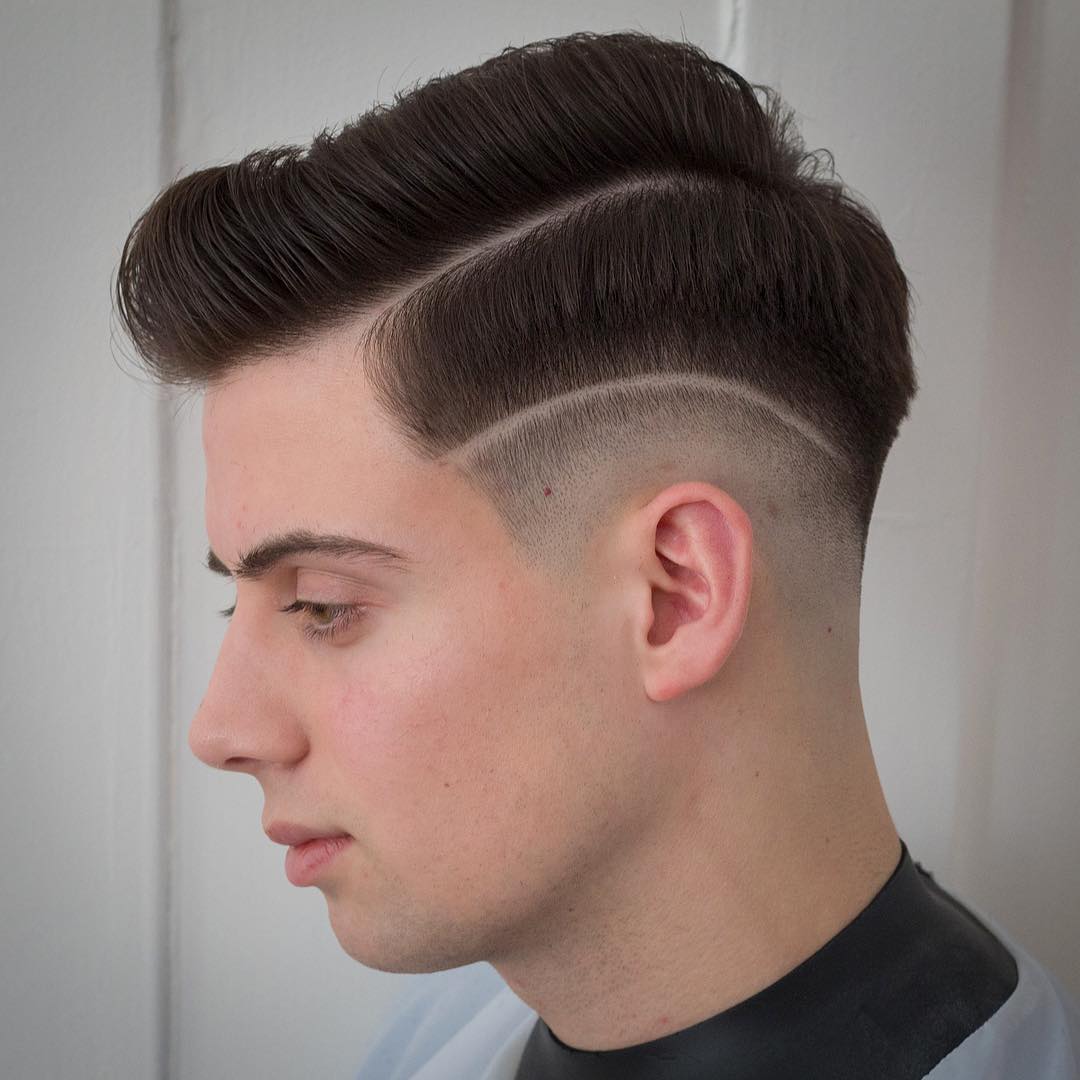 Rum Barber
This medium length side part haircut has three different lengths of hair creating visual layers.
21. Bald Fade Haircut
Criztofferson
Bald fades are a type of fade that goes down the skin. Any type of fade can be a skin fade, including low, medium high, drop, temple and burst.
22. Skin Fade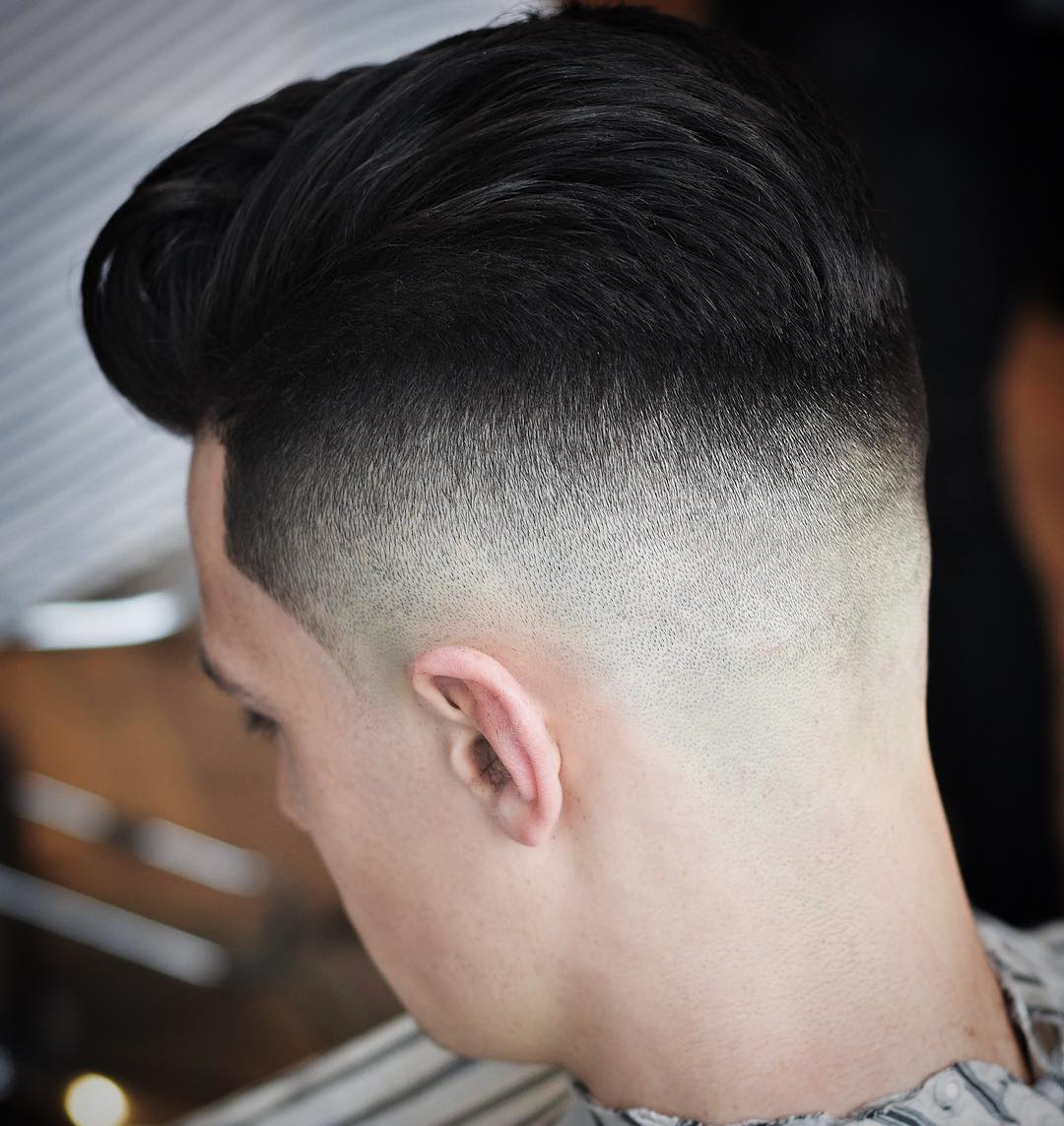 Josh O'meara-Patel
Bald fades look great on everyone but really stand out with dark hair against fair skin. Wear a skin fade with long hair on top for no maintenance sides.
23. Classic Taper Fade Haircut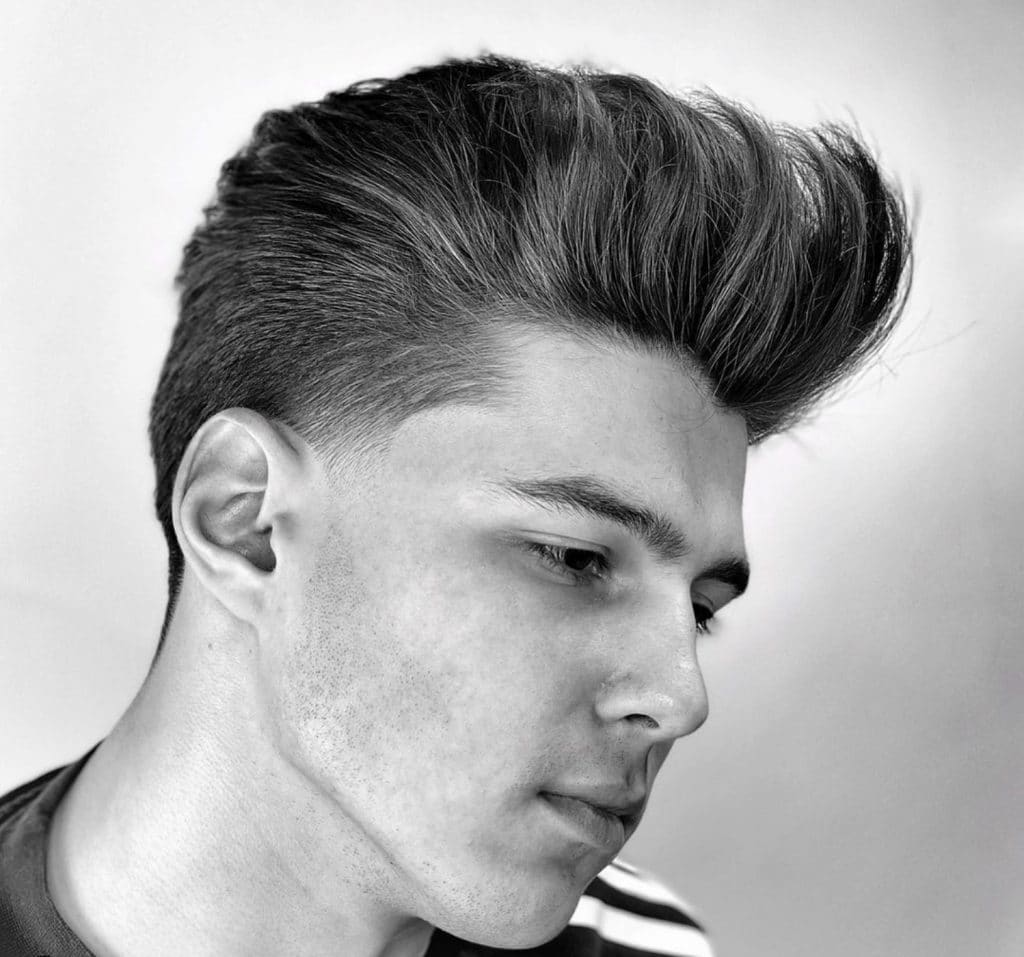 andydcbarber
This is a great look at your classic taper fade haircut. Hair is clipped short but not down to the skin. The haircut features a nice medium length of hair on top. What a beauty!
This post may contain affiliate links. Please read our disclosure for more info.
Sours: https://www.menshairstyletrends.com/types-of-fade-haircuts/
Men's fade haircuts and the various types of fade haircuts that come under the umbrella term are fast becoming the classic go-to look amongst the legions of stylish gents.
If you're unfamiliar with the hairstyle, a fade haircut basically refers to long (or at least, longer) hair on top of the head, and short hair on the sides and back of the head. Whether you opt for a skin fade haircut, a taper fade haircut or one of the many different types of fade is entirely down to you – we'll look at a solid selection of them in a moment.
The fade haircut is incredibly versatile, so is a suitable option for most guys when heading to the barber for a fresh trim. But what exactly should you be asking your barber when talking about styling options and, perhaps more importantly, how do you ask for a fade haircut, when it's not as simple as just asking for a fade haircut? Allow us to reveal all.
How To Ask Your Barber For A Fade Haircut
When you're sitting in the barber's chair, you can't simply ask for a fade. Instead, you must tell your barber or hairdresser exactly what kind of style you want. The more precise you are, the more accurate they will be at delivering your wishes. The fade haircut can actually be broken down into various styles: low-fade, mid-fade, high-fade and taper-fade to name a few, but other slightly more obscure options include the undercut fade, pompadour fade and the skin fade haircut.
While it's certainly true that the fade cut will suit the majority of guys, your face shape will determine which specific style of fade haircut works best for you.
You can also choose the length you want your faded sides to be. Naturally, you'll want to aim for as short as possible – some guys even choose to have no guard on the clippers to get a skin fade – but a good starting point would be a number 1 over the ears, which gradually increases in length to a number 2 further up the sides of the head.
Ultimately, if you're not sure exactly what type of fade haircut, or what length to get, ask for your barber's recommendation, or take a picture in with you of someone else's hair that you like the look of. They'll let you know if it's possible.
Different Types Of Fade Haircuts For Men
What good is all this talk about the different styles of fade without some images and further explanation on them? Here are the best men's fade haircuts to ask for on your next barber visit.
Low Fade Haircut
A low fade haircut is a perfect entry point into the world of fades, as it doesn't require too much of the hair on the sides of the head to be removed. Instead, your barber will only cut the hair just above your ears. You can choose to have a hard low fade, which will see your hair go from a grade 0 or 1 to a 3 or 4, for example, or it can be blended more naturally, going from a 1 to a 2.
Mid Fade Haircut
The mid fade presents itself as being a great all-rounder. It's less 'boring' than a low fade, but doesn't have quite the same impact as a high fade. As its name suggests, the mid fade starts further up the sides of your head, roughly in line with your temple.
A mid fade works with virtually any hair length on top of your head. Pair with a long pompadour, a short French crop, or even a buzz cut, and it doesn't matter if you have straight or curly hair.
High Fade Haircut
The high skin fade is becoming increasingly popular for men, although there's no denying it works best for guys with short hairstyles. This allows the dramatic change between the fade and the hair on top to be seen more clearly.
A high fade can be worn by guys with all hair types too, whether it be straight, curly, afro or Asian
Taper Fade Haircut
Taper fade haircuts provide a combination of the taper haircut and the fade haircut. These two styles on their own are often mistaken for one another, but there is actually much to separate them. A taper cut doesn't exhibit as much of a drastic change between hair lengths but sees the hair taper inwards as it reaches the ear. It also only tends to concern the hair just over the ears and at the neckline (although, you'll find there are still many different types of taper fade).
A taper fade, more often than not, shows skin and follows the hairline all the way around, so even the back of the hair is faded too.
A taper fade sees the hair gradually get shorter and shorter as you move toward the ears, before blending in with the skin. It's possibly the best fade hairstyle for all guys, as it works with all hair types and any style you wish to have on top. It can also work wonders for all face shapes too, as the taper can be modified to suit.
Temple Fade Haircut
Also known as the Brooklyn Fade, the temple fade can have its history traced back to the 90s. Predominantly popular with black men with afro hairstyles, the temple fade has since found its way into haircut mainstream, where it is a viable option for anyone.
A classic temple fair haircut will see the hair fade abruptly from the temple and down towards the ear. Only the hair in front of the ear is touched.
Undercut Fade Haircut
The undercut fade combines both the undercut haircut and a fade haircut, to create an incredibly modern hairstyle for men. The undercut by definition already exhibits incredibly short hair contrasted with longer hair on top of the head, with no real in-between phase. Adding a fade into the mix helps to soften this hard contrast, by incorporating fade sides as opposed to having one length of hair.
There is no right or wrong answer when it comes to choosing the fade hairstyle you pair with your undercut fade, as they are all worthy contenders, however, the high fade will give the most eye-catching results. And, as is the case with the undercut haircut, the length of hair on top is down to your discretion too, as anything from short hair to long hair is allowed.
How To Style The Fade Haircut
There are several ways you can style your fade haircut. For a high fade – where the sides are short up above your ear – working some matte-effect product through the hair on top will give a tousled, stylish look.
Patricks M2 medium hold pomade will do the job here, offering a good amount of hold, but is pliable enough so that your hair will do exactly what you want it to. We'd recommend Patricks M2 for any fade style.
A fade doesn't necessarily mean the hair on top has to be short either, just as long as the sides are faded, you have a fade. This means you can also opt for a pompadour hairstyle for a vintage vibe. A classic pompadour calls for a high-shine, so a pomade will be your friend here. Reuzel Blue is the perfect product for proving a strong hold and a high sheen.
You'll want to add on some hairspray to really make sure your look stays locked in.
If you prefer a less subtle look, a quiff will do the trick. This doesn't need to be so shiny, so a matte paste or cream will allow you to run your fingers through your hair to restyle it throughout the day.
How To Maintain Your Fade Haircut
The main downside to rocking a fade hairstyle is that it will grow out and look unfaded pretty quickly. With this in mind, you'll want to revisit your barber every two to three weeks to keep your hair looking its faded best.
Fade Haircut FAQs
What are other types of fade haircuts for men?
Burst fade, temple fade, shadow fade and bald fades are some of the variations of the fade haircut. Each is defined by the point where the fade begins.
What is the most popular style of the fade haircut?
The low fade haircut is the most popular cut because it is timeless and trendy at the same time. It is also versatile. You can add the low fade to any men's hairstyle, short or long, for a clean-cut and fresh finish on the sides and back.
How do I know which fade haircut is for me?
Some fade hairstyles look best for a particular face or head shape. A drop fade, for instance, suits men with round or square face shapes. Play around with fades and find the one that suits you the best.
Read Next
Did you enjoy this story?
If so, subscribe to our daily newsletter to receive our top tending stories.
Sours: https://www.dmarge.com/fade-haircuts-men
Don't Be Afraid To Fade: Our Guide To The Best Fade Haircuts For Men
Not hot on haircuts? Don't worry: we promise you'll have come across the fade many times, even if you don't know it. This slightly edgy, yet totally smart style is found on the heads of men across the world after bounding into popularity around the 1950s. But what does a 'fade' actually mean? It's simple: a fade haircut simply denotes a gradient of length, creating a fade effect—sometimes fading to skin, sometimes to very short hair.
Opt for a high fade, medium fade, or a low fade, with each offering its own look. In essence, the lower the fade, the more coverage you're left with. So, while a high fade leaves you with a mop-top and little else, a low fade will taper subtly down your head, with the absolute shortest cut just around your ears. And the medium? Naturally, it falls somewhere in between.
Generally speaking, the higher the fade, the more maintenance necessary. However, if clean-cuts are high on your agenda (we get it), you'll need to commit to (very) regular barber trips to freshen up. In fact, a fade only really looks its best for 3 or 4 days—so, plan your date/job interview/meet the parents for your fade's honeymoon period. So, which is the best faded haircut for you? Without further ado, let's take a look.
The best fade haircuts for men in order of popularity
Low Fade Buzz Cut With Line Up
Buzz Cut With Quick Fade
Low Drop Fade With Pompadour
Low Taper Fade With Textured Top
Low Bald Fade With Curly Fringe
Box Fade
Burst Fade
Sideburn Fade
Low Fade With Hair Design
Low Bald Fade
Bald Drop Fade
Side Part Fade
Bald Low Fade (Skin Fade)
Short Hair Fade
Buzz Cut With Line Up And Low Temple Fade
Classic Taper Fade Haircut
Comb Over Medium Fade
Medium Fade With Side Part Haircut
Faded Sides With Faux Hawk And Design
Mid Bald Fade With Spiky Hair
Medium Faux Hawk Fade
Mohawk Fade
Curly Hair Fade
Shaved Sides With Buzz Cut
Fade Undercut With Textured Comb Over
Long Hair Fade
Long Quiff High Fade
Slicked Back Hair With Medium Fade
Straight Hair Fade
Medium Pomp Fade
Burst Fade Mohawk
Cropped Medium Fade
High Razor Fade With Hair Design
Undercut Fade With Hard Part And Textured Spikes
High Fade With Pompadour
High Bald Fade With Comb Over Pompadour
High Bald Fade Haircut
Comb Over High Fade
Low Fade Buzz Cut With Line Up
Channel your inner GI Joe (honestly, it works), with a low fade buzz cut with a line-up. This get-up-and-go hairstyle is a terrific choice for the low-maintenance among us, though you should spruce it up every few weeks.
Buzz Cut With Quick Fade
Suave, sleek, and full of satisfying angles, the buzz cut with quick fade is worn by the likes of Zayn Malik, among others. Short all-over, this fade haircut is one for fuss-free mornings.
Low Drop Fade With Pompadour
A stunning union of the 50s pompadour and the categorically (20)20s low fade, the low drop fade with pompadour makes a gallant gentleman of anyone. Seen on famous heads like that of Elvis Presley, it's a sure winner every time.
Low Taper Fade With Textured Top
Reluctant to let go of your thick mop? Save those strands with the low taper fade and a textured top. Smart enough to head to the office but very much Friday-night ready, this is a cut for the man-about-town.
Low Bald Fade With Curly Fringe
Blessed with curls? Don't give them the snip: opt for the low bald fade with curly fringe, instead. Many men would kill for a full head of curls, so show yours off with this fade with a (very much rounded) edge.
Box Fade
A smooth choice for afro hair, the box fade lets your 'fro run wild up-top while remaining neat, tidy, and clipped around your neck and ears. While the traditional 'box' is super angular, you're free to go as sharp or laid-back as you please.
Burst Fade
The burst fade: where the undercut steals the show. Yep, draw attention to your neck and shoulders with this eye-catching faded haircut, and go as messy or slick as you like on top.
Sideburn Fade
Burn, baby, burn—sideburn, that is. If you rock 'burns like a boss and there's no way you're letting them go, check out the sideburn fade. Somewhat miraculously making sideburns cool, this continuous fade pairs well with a beard for a rugged vibe.
Low Fade With Hair Design
Make your mop a work of art with a low fade with hair design cut. Using a '0' on the clippers, your barber will etch a sleek pattern in your fade, while you'll keep messy tresses on top. Step aside, ill-advised tattoos, we're all about temporary hair art.
Low Bald Fade
Ever wanted to look like, well, every English footballer ever? Check out the low bald fade, a tight cut developing into a longer chop on top. A suave haircut for men of all colours and creeds, try this one on for size.
Bald Drop Fade
Go as high or low as you like with this short fade haircut, tapering from (slightly) longer on top to bald-as-you-like towards your neck and ears. We love the freedom at play with this fade—opt for a hair fade design for extra quirk points, or keep it simple.
Side Part Fade
Reminiscent of the Peaky Blinder crew, the side part fade proves side partings didn't die with the roaring 20s. A fresh take on the retro style, the side part fade brings this asymmetric look hurtling into the 21st Century.
Bald Low Fade (Skin Fade)
Retain your precious locks (hey, not everyone has any) with the bald low fade, or skin fade. A messy top descends quickly into a close shave, and you can rock it brushed forward or side-parted—whatever takes your fancy.
Short Hair Fade
Be 'that guy with the great haircut' with a short hair fade. A close cut on the back and sides, it crescendos in a little mop to play with on top. Providing a well-groomed look, this versatile fade haircut will take you from desk to dancefloor.
Buzz Cut With Line Up And Low Temple Fade
For a fade cut that's as neat as your school geometry workbook, opt for this slick variation of the classic fade. Guaranteeing all eyes on you (for the right reasons), this look is close-cut, with a pronounced design curving out from your temple.
Classic Taper Fade Haircut
Ask your barber for this chop, and you might just find yourself fighting off the ladies (disclaimer: this is not guaranteed). This handsome cut makes the most of your existing locks, tapering to a clean shave around your nape.
Comb Over Medium Fade
Sported by the likes of JT (don't worry, post-NSYNC) and Brad Pitt, this red carpet-worthy fade haircut is a smokin' choice. Longer on top for that all-important comb over, and quickly tapering to barely-there hair.
Medium Fade With Side Part Haircut
Want to rock a side-part but avoid resembling Jack Dawson (so 1912), the medium fade with side part haircut is another Justin Timberlake special (would you believe it?!). Yep, comb over if you like, or keep it tousled with this versatile fade.
Faded Sides With Faux Hawk And Design
Yep, turns out faux hawks are cool again. Try out this amalgamation of styles and you're sure to steal the show, no matter where you're headed. Combining close-cut faded sided with a sharp and edgy faux hawk, the cut-in design brings this look together.
Mid Bald Fade With Spiky Hair
For that 'women want me, men want to be me' vibe, opt for the mid bald fade with spiky hair. This boyishly charming fade haircut is an excellent choice for men seeking a playboy look, perfect for transitioning from meetings to margaritas without ado.
Medium Faux Hawk Fade
This subtle fade haircut is balanced out by messy tresses on top, which you can faux-hawk or no-hawk as you wish.
Mohawk Fade
A nice medium haircut, the mohawk fade is akin to the medium fade, but much more pronounced. A statement cut, this low-fade cut is all at once striking, suave, and somehow, smart.
Curly Hair Fade
Got a curly-fro but hankering for a fade haircut? Black guys: gather around. The curly hair fade maximises your mane, yet still keeps things tidy with a close-cropped fade. Keep the top tumbling and spritz a suave cologne for a debonair feel.
Shaved Sides With Buzz Cut
Tom Hardy, eat your heart out: opt for shaved sides with a buzz cut, and you'll be letting your chiselled features and smooth skin do the talking. Exuding bad-boy charm (irresistible, we assure you), this high fade lets everyone know you mean business.
Fade Undercut With Textured Comb Over
Ah, we adore an undercut. Especially when it's topped with an attitude-by-the-bucketload textured comb over. Naturally, this fade will need a little styling in the AM, but the results are in, and it's so worth it.
Long Hair Fade
What if there's a way to rock a short and long haircut simultaneously? Well, like Schroedinger's (unfortunate) feline, there is: the long hair fade. Keep tumbling tresses on top—or neaten it up with a top knot—and show off your natural silhouette with a fade down-under.
Long Quiff High Fade
Show off a high forehead with the long quiff fade, the ultimate marriage of two of our favourite styles. With an (extremely) short-back-and-sides, this fade haircut retains a lengthy top that you can blow-dry, quiff-up, or comb over as you see fit.
Slicked Back Hair With Medium Fade
#OMG. Like the slicked-back look? Your wish is our command with the slicked-back hair with medium fade, crafting a clean-as-a-whistle, got-it-together look. For a fade cut that's as refined as you, look no further.
Straight Hair Fade
Equally striking on caucasian, black, or Asian hair types, the straight hair fade is the tuxedo of the barbering world. Almost bald around your ears and nape, there's plenty of room to play with the tufts left wild on top.
Medium Pomp Fade
For smooth-talking volume (plus an extra inch to your height—hurray), the medium pomp fade is The One. Grease without the grease (assuming you don't forget to shampoo), this fade demands a quick swipe of a good styling product on top, while the fade is good-to-go without interference.
Burst Fade Mohawk
This cool fade haircut is one that lets your 'fro sing, while staying neat and clipped with the rapid fade beneath. Offering a classy alternative to the passé mohawk, this edgy fade is at home on afro, straight, and curly mops alike.
Cropped Medium Fade
For those with a fondness for balance, the cropped medium fade is a must-try. With a devil-may-care charm of the longer top, combined with a slick, close-cropped medium fade, this cut is for the man who wants it all.
High Razor Fade With Hair Design
We're all about the tribal designs melded with a high razor fade. Complete with an almost-faux-hawk on top, you must be warned: the design will grow out quickly, so have a barber's appointment at the ready.
Undercut Fade With Hard Part And Textured Spikes
If any style is guaranteed to have an impact, it's this: with a military-style undercut fade and gravity-defying spikes up top, this haircut is a showstopper. The sky-high fade turns to skin well before your ears, letting that sculpted silhouette truly shine.
High Fade With Pompadour
Dramatic, stand-out, and authoritative, the high fade with pompadour haircut is not for the faint-hearted. No, this voluminous cut strikes gold, making for a contemporary twist on Jazz-age chic.
High Bald Fade With Comb Over Pompadour
The contrast in this fade haircut makes it a winner in our books. An almost-bald, ultra-high fade ends abruptly at the crown of your head, where slicked over (or back) locks then take the stage. Paired with a swipe of wax, you can't go wrong.
High Bald Fade Haircut
A high fade without the histrionics of a pompadour, the high bald fade haircut exudes put-together, well-groomed vibes. The high fade culminates in a short mop on top, which will be ready to roll as soon as you, well, roll out of bed.
Comb Over High Fade
A modern twist on the classic comb over, the comb over high fade is a style that doesn't discriminate. Young, old, short, tall, black, or white, your locks will look smarter than ever when arranged in this 'do. Keep it sharp with regular TLC, and experiment with the comb over.
The different types of fades haircuts
Low fade haircut
The low fade haircut was popularised during WWII and has out-stayed its welcome since (in the best of ways). This military-esque cut has many variations, with the common denominator being this: they're all sharp, smart, and suave. Low fades are easier to maintain since the transition from short to long is more gradual. So, if booking a bi-weekly barber sounds like a hassle, opt for a low fade.
Medium fade haircut
A tapered cut that finishes around your temples and ears, the medium fade is just that: a happy medium. Making for a more dramatic vibe than a low fade, but less in-your-face than a high fade, the medium fade is great if you're new to the fade life in general. Then, if you wish to make waves, you can opt for a higher fade. Or, if you miss your tousled mop, simply let it grow out without an obvious 'in between' period.
High fade haircut
High fade haircuts are the most demanding, but also look the smartest. Ah, what a conundrum. Since this cut relies on a sharp transition from long to short, it's crucial that contrast is pronounced. So, book a bi-monthly barber's appointment to stay on top. What's more: if you opt for a more striking fade variation (of which there are countless), you'll want to set up a three or four-weekly appointment with your barber.
Frequently asked questions about the best fade haircuts for men
What do I tell my barber for a fade haircut?
Start with familiarising yourself with the difference between low, medium, and high fades. Then, we recommend thinking of a celebrity whose hair you admire and referencing them to your barber. This will help them understand the look you're hoping to achieve.
What is a number 1 fade?
Also known as a '1 fade' the number 1 fade is characterised by very short back and sides (we're talking around 3mm in length), which gradually gets longer further up your head. These nice fades are striking, sure, but suitable for work and play, too.
Is undercut or fade better?
Undercuts make more impact if you have naturally long hair. The dramatic transition between almost bald and long at the top is the appeal of the undercut. A fade, however, can be worn successfully no matter how long your hair.
What type of haircut fades are there?
There are three main types of faded haircuts: low, medium, and high fades. However, within this, there are countless variations with which to experiment. Check out our guide to the best fades haircuts for inspiration.
Sours: https://luxe.digital/lifestyle/style/men-fade-haircuts/
Fade haircuts best
Vova, what is there on the door?"she frightenedly asked.What, don't you recognize an enema. ", the guy chuckled in response. And for whom is it prepared there?" For you, for whom else can it be.
Perfect Skin Fade, Most Detailed and Blurry 🔥 No viber or air brush - Barber Tutorial
And he knew how it would end. He knew everything. He knew that Veronika Klimova was doomed, as doomed was Gavrikov, as the investigator Dorofeev would soon be doomed. Like those two women who committed suicide in the city.
You will also be interested:
Somewhere after about three weeks of her relocation to me, I was lucky to see her most important charm. She came home from the street, started to change at the window, took off her tight jeans and I saw her ass. She was in black, minimal thongs and I could fully make out the outlines of her tattoo on the right buttock.
It was a rose, petal down, black, and quite nicely stuffed.
7081
7082
7083
7084
7085