Oreion vehicles are designed to handle a multitude of activities
and terrains making them true multi-purpose machines.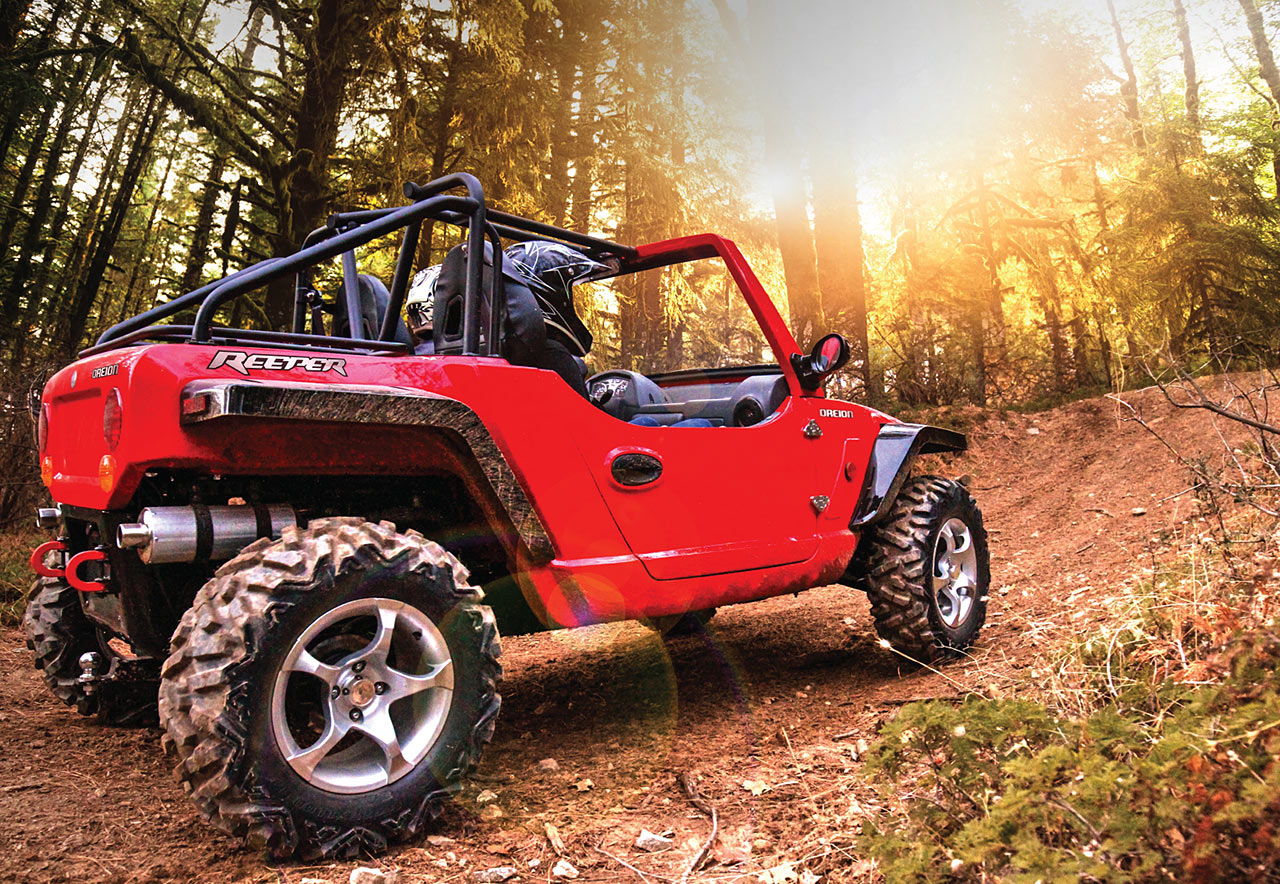 Off-road capabilities
The Sand Reeper, Reeper Sport and Sand Reeper4 are true off-road models and are fully capable in medium to rough terrain and trails. These models offer both 2 and 4 seater options to enjoy the off-road adventures. The Reeper off-road series models have a top speed of 60 mph. Street capabilities
The Reeper and Reeper4 are available with an LSV option. LSV (Limited Speed Vehicle) is a category of vehicle that adheres to the NHSTA safety standards and regulations for street use of a vehicle that has a top speed of 25 mph.

The Oreion LSV models give you the versatility to truly cross-over from off-road activities to the streets and back again.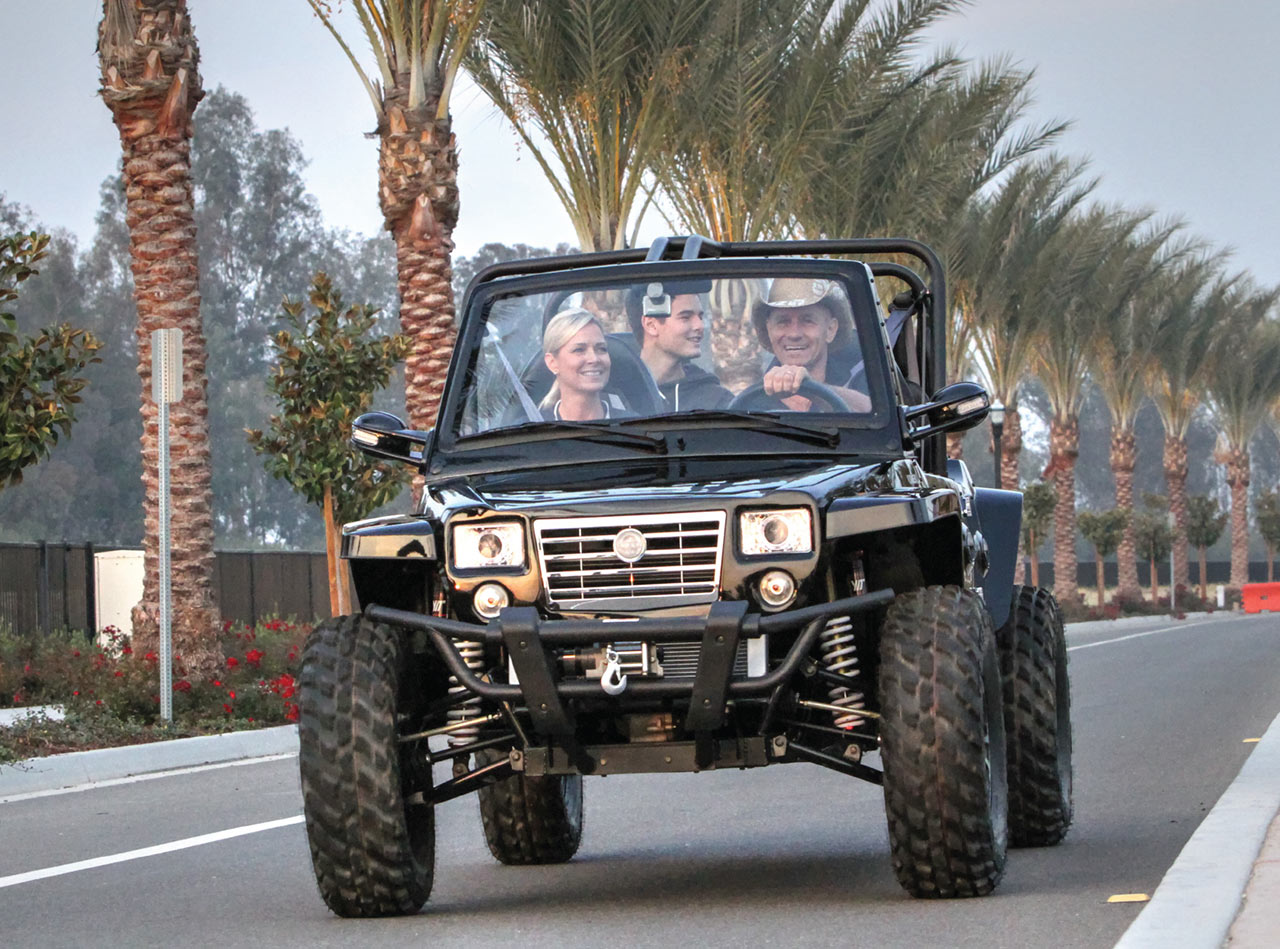 What is an LSV?
In 1998 the National Highway Traffic Safety Administration (NHTSA) established a limited set of safety standards for low-speed vehicles (LSVs) intended for vehicles used "to make short trips for shopping, social, and recreational purposes primarily within retirement or other planned communities with golf courses."
To qualify as an LSV, a vehicle must have:
Four (4) wheels
Top speed of more than 20 MPH but less than 25 MPH
Gross Vehicle Weight Rating (GVWR) of less than 1,361 kilograms (3,000 lbs.)
LSVs are exempt from most federal safety standards that apply to motor vehicles, and they are not required to meet any criteria for vehicle crashworthiness.
A Low Speed Vehicle (LSV) as defined in FMVSS #500 is a vehicle that must be equipped with all of the following:
headlamps
tail lamps
stop lamps
reflectors
mirrors
parking brake
safety windshield
seat belts for all designated seating positions (DSP)
Can I license an LSV in my state?
The laws that apply to LSV licensing are different from state to state and they do change periodically which prohibits Oreion Motors from offering information about street licensing. You will need to contact your local department of transportation for the regulations that apply in your area. States, not NHTSA, are responsible for regulating the operation of motor vehicles on public roads and for handling of LSV titling and registration. Most states allow LSVs to attain speeds no greater than 25 mph on roadways with speed limits of no more than 35 mph. Many states allow their departments of transportation or local jurisdictions to restrict the use of LSVs on their roads. Contact your local department of transportation for the regulations that apply in your area.
Sours: https://www.oreionmotors.com/versatility
Is Oreion Reeper Street Legal? (Common Problems and Review)
They call it a side by side.If you are not sure what that term means, then you are not alone. A side by side is slang or shorthand for a vehicle that has its seats--side by side. That configuration doesn't make the vehicle street legal, though. Many regulations need to be met before that takes place.
Is Oreion Reeper street legal? Yes, the Oreion Reeper is 49 state street legal, but you should check with your state to see if it is actually legal to drive to the store and back. This vehicle does not get to high speeds, so it is not allowed on the freeway system.
To learn more about this unique vehicle, just continue to read our article. It has the information you want to know about before you invest any money in owning one. It is not as widely accepted as some people may think.
Is Oreion Reeper Street Legal?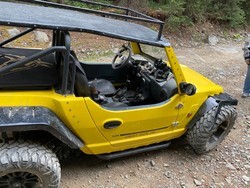 First, it is important to understand the term street legal. When a vehicle is determined to be allowed to legally drive on public roads, it has to meet all legal requirements as to features, equipment, lights, and so on. Once it does that, you can drive it anywhere.
Second, the Oreion Reeper is classified as an LSV or low-speed vehicle. To be classified as an LSV, the vehicle must meet the 1998 safety standards set by the National Highway Traffic Safety Administration (NHTSA).
That means that to be legal, the Oreion Reeper needs to have 4 wheels, a top speed o 25 mph, and weigh under 3000 pounds. It also needs to have head, tail and stop lights, reflectors, mirrors, parking brake, seat belts, and safety windshield.
Once your LSV has all of that, then you need to register it with your state's DMV in some cases. Not all states require this, as most LSVs are restricted to short trips for shopping purposes, social and recreational activities at retirement homes, and golf courses with planned communities.
The one state we know of right now that does not allow side by side LSV vehicles on public roads is Alaska, but you can cross public roads and bridges when you come to them. While the Oreion Reeper may meet NHTSA requirements, you still have to meet your state's laws governing vehicles on public roads.
Check with your local DMV office to find out the next step before purchasing your model.
Is Oreion Reeper Street Legal in PA?
Everything we write here will be under the heading 'at the time of this writing' as things tend to change as vehicles become more popular. This goes for each state we highlight in this article.
Pennsylvania's rule is fairly simple and straightforward as it says the Oreion Reeper can be operated on those roads that are posted for off-highway vehicle use. For specifics and a better definition of the term 'off-highway' you need to contact the Pennsylvania DMV or governing authority for their roads.
They will have their own definition, and their law enforcement will go by those terms, not yours. They will also be able to tell you what those posted signs look like and say so you are without any doubt which roads you can drive your Oreion Reeper over.
If Pennsylvania is like Alaska, then you should be able to cross bridges and highways to get where you are going.
Oreion Reeper Street Legal in California?
California is a little stricter when it comes to vehicles like the Oreion Reeper. They have 4 main rules that you need to follow in order to drive on public roads. The first is, you need to have a valid driver's license, and the second is, you must wear a helmet.
The third main rule is that when you are crossing a two-lane highway, you have to cross it at a 90-degree angle or perpendicular to the highway. There is no driving down the road until you get to your cross street.
Finally, you can only drive on those roads that are specially marked for both on-road and off-road vehicles. Then you can only drive on those roads for 3 miles as their purpose is to merely connect off-road trails.
That is about the extent of your being able to use an LSV in California unless any rules have changed. And they do without notice.
Oreion Reeper in Texas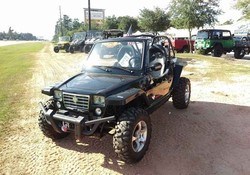 We know that we said that LSvs were street legal in all but one state. However, while they may be legal in Texas or Florida, etc., these states place heavy restrictions n their use and where you can drive them.
The current law in this state says that LSVs can only be used for agricultural purposes. Recreation, shopping, and errands do not fall under that category. Right now, some people are fighting to change that law so there may be some hope for those who own an LSV.
Texas also calls these vehicles Utility Type vehicles, and these are considered to be recreational off-highway vehicles. Since a side by side is considered to be a recreational use vehicle, it is not allowed on public roads.
There are some exceptions to this rule, but those exceptions do not include RV owners. The exceptions include a farmer or rancher driving less than 25 miles, a public utility worker, or an LEO.
Is the Oreion Reeper Street Legal in Florida?
Florida seems to be a tricky state when it comes to Oreion Reeper and other LSVs. Of course, the state changes the term for such vehicles and designates them as ROV as recreational off-road vehicles.
Then the way the law defines an ROV or LSV leaves room for doubt and interpretation as the law states-- Under the 2019 Florida Statutes in chapter 261 titled "OFF-HIGHWAY VEHICLE SAFETY AND RECREATION," the description of an ROV is defined like this.
(Section 8) "ROV" means any motorized recreational off-highway vehicle 80 inches or less in width, which has a dry weight of 2,500 pounds or less, is designed to travel on four or more nonhighway tires and is manufactured for recreational use by one or more persons. The term does not include a golf cart as defined in ss. 316.003 and 320.01 or a low-speed vehicle as defined in s. 320.01.
As you can see, if your Oreion Reeper is longer than 80 inches and uses highway tires, you may be able to legally drive it on the streets in Florida.
Oreion Reeper Street Legal States
There are quite a few states that do allow Oreion Reepers to drive on their public roads, as long as the vehicle meets all the requirements. For the most part, this vehicle would have to be designed in such a way that it passes the different laws in different states.
For example, South Dakota allows them on public roads as long as the engine is larger than 200cc but not on the interstates. Utah and other states allow driving the Oreion Reeper where local authorities have deemed it acceptable. South Carolina leaves it to the local authorities, which means there will be different rules in different cities.
Wisconsin and Virginia allow them on the roads but only for agricultural or farming purposes.
Keep in mind that the Oreion Reeper may be an exception to the rules depending on their design.
What Engine is In An Oreion Reeper?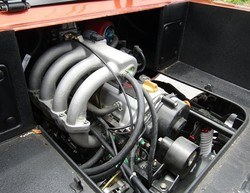 The engine size may help you drive on the different public roads in those states that bar other LSVs. The engine for the Reeper is listed as 812 ccs, while the Reeper4, Reeper Sport, and other models come with an 1100 cc engine.
The engine is made by a top Chinese automotive firm called Chery, and it is supposed to be a 4 stroke motor in all the models. Despite the engine's origin, these low-speed vehicles are supposed to have the power you need to get over dirt hills and other obstacles with ease.
The compression ratio is 9.5:1, and the engine is equipped with an electric starter. A manual 5-speed transmission lets you get to those low gears and makes sure you have the traction to get out of any trouble.
How Fast Will an Oreion Reeper Go?
Unfortunately, the website for the Oreion Reeper company doesn't list the mph in its specs and we checked 4 models of the vehicle. However, the rumors have it that the 812 cc engine is a 3 cylinder motor that is capable of reaching up to 45 to 50 mph.
But your actual speed will depend on you and the model you drive. Even NADA does not list the speed in their list of specs but rest assured, this vehicle may be able to escape the rules set out by most states when it comes to LSVs.
Check the speedometer as some people claim that it only goes to 55, and others have reported seeing only a 25 mph top speed on these vehicles. We cannot confirm any of the numbers listed herewith as official sources.
Make sure a limiter is not one of the additional parts on your Reeper, as that will slow you down considerably.
Oreion Reeper Mpg
This is another issue that has made us disappointed in the Oreion Reeper website. We checked all the pages, and the company does not list the actual mpg you will get from driving one of their vehicles.
Other sources have reported as little as 36 mpg and as high as 45 mpg, with a third stating the high 40s range is what they get when they use this vehicle. Even still, you will not get too far as the company does say the fuel tank is only roughly 6 gallons till it is full.
Your actual mileage will depend on how you drive, where you drive, and the type of fuel you put into it. If you have a lead foot, do not expect to reach those high 40s mpg figures and be content with the 36 mpg range.
Who Makes Oreion Reeper?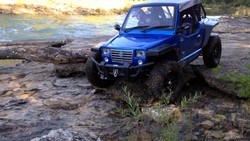 The company is called Oreion Motors, and it is based in Albuquerque, New Mexico, according to one source. However, on its website, the address is listed as Oreion Motors LLC 331 Academy Drive Corrales, New Mexico 87048.
We checked the website, and there is no about page describing who the founders are, why they founded the company, or their history. When trying to connect to their customer service page, we got a 404 not found error message.
They seem to be on Facebook, Twitter, Instagram, and other social media outlets, so they may have a profile written somewhere. According to NADA guides, Oreion Motors seems to be operating under a license granted to them by General Motors.
That guide does not provide a used value to these vehicles as there is a limited market. That may be true as not every person wants to drive an off-road vehicle or even take it on the roads in different cities.
Where Are They Made?
The good news is that these off-road vehicles are American-made-- for the most part. There seems to be a manufacturing facility in New Mexico where these cars are assembled. We do not know about the other parts of the vehicle, but the engine is made by Chery.
Chery is a top Chinese automotive manufacturer, so the engine under the Reeper's hood is not made by some fly-by-night factory looking to make a quick buck. All of the company's dealers are American, and no listing for an International dealer has been found.
There is very little information to be found on the company's website outside of advertising for the cars.
How Much Does an Oreion Reeper Cost?
If you want a price directly from the horse's mouth, then you must go to their website, click on the find a dealer link and then contact the one that is closest to you. There are no prices listed on the company website and that goes for the parts you may need as well.
Right now, the cost for the Sand Reeper is between $15,000 and $20,000, and that includes the 3,000-pound winch that seems to be standard on all models. Your price will be different depending on the different features that are standard or optional.
There may be some cheaper models available. One price we saw brought the purchase cost down to $14,000, so you should shop around in order to get a good deal. The classifieds may have the best deals if you want a used vehicle.
Is Oreion Reeper Good?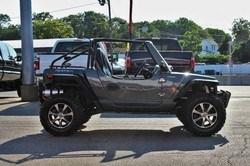 Some people call it a Chinese knock-off, and you know the quality of those products. Even though the engine is built by a reputable Chinese company, many people have doubts about the value and performance of this vehicle.
One person reported that a rock was able to damage the steering capability, so you will have to be your own judge as to how good these vehicles are. They are not true off-road vehicles, so before you drive out into the wilderness, you better double-check the quality.
It is not sure where all the parts are made, but the vehicles are assembled in America and not made in that country. The HP is not that great as it comes in at the low to mid-50s range.
Not many people give it a true thumbs up, either.
Our Oreion Reeper Review
When it comes to this vehicle, 'you get what you pay for' comes to mind. The cost may be reasonable, but it isn't really an off-road vehicle. It is just made to look like one in order to get a lot of sales from unsuspecting people.
The small gas tank is an indication that everything else will be small on this vehicle. The HP is low, the speed may be low, and the quality may be low. We have not run into anyone who has really praised these vehicles or said that they could not live without one.
The biggest concern is where do you take the vehicle when it breaks down, or you need a new part. The company's website does have a parts page, but you need to fill in the VIN and other important numbers to get access to any parts that may be available.
Common Oreion Reeper Problems
There was a recall of these vehicles back in 2011, and it went through 2013. It seems the limiter was wrong and needed to be replaced. These vehicles were not supposed to go over 25 mph, even though some people reported higher speeds.
Then those same vehicles were missing reflectors and had their GVWR misstated on the certifications labels. As for breakdowns and defective parts, The biggest common problem may be the company itself as it has been stated that they do not deal with the public.
That may be the reason their customer service link gave us a 404 message. Other issues may be bad electrical wiring, no alignment adjustment option, and other similar problems. Finally, you may have trouble finding a good insurance policy that will cover these repairs and other issues.
Oreion Reeper Won't Start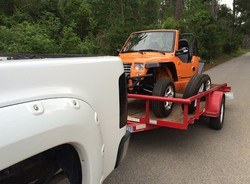 The first place to start is the electrical system. Since the starter is electric, you need to check the battery to see if it has a charge. If not, that may mean the battery is bad, or the alternator is faulty.
Also, check for loose wires to see if any were jarred loose when you took it off-road and into some hilly and rocky terrain. If you do not find any issues there, you may have a bad starter, and it will need to be replaced.
If you are not the type of person who likes working with electricity or on motors, then you should contact the dealer closest to you to see where you can take the vehicle for repair.
There are a limited number of dealers, so this may not always be the best option for you. Check with a trusted mechanic to see if they can fix the issue for you. From what we have heard, do not count on the warranty.
Can an Oreion Reeper be Flat Towed?
According to Oreion itself, the answer to this question is no. You cannot tow the vehicle behind your RV or another tow vehicle with all four wheels touching the pavement.
To take it with you on your vacation, you may either need a toy hauler if it is large enough or a trailer. Those will be your only options. In regards to being street legal, it will depend on the state as some will register as dune buggies giving you a speed advantage over those states that register as LSVs.
Some people put street tires on their Reepers and have found that they have not had any problems with local law enforcement.
Some Final Wwords
While the Reepers seem to have a strong following, too many people have not found them as good as advertised. There are just too many legal and manufacturing issues that have turned them off.
Your experience may be different, and you may not have any problems with this vehicle. They can be costly for what you are getting, though. Their reputation is spotty at best, and you may have more trouble than they are worth.
Sours: https://thecampingadvisor.com/is-oreion-reeper-street-legal/
2020 Oreion Sand Reeper / Sport / Reeper4 4X4 4WD 2 / 4 Door Off Road All Terrain Buggies
We are proud to be one of the very few Elite Dealers for Oreion Street / Off Road 2 and 4 door buggies. Basically miniature Jeeps these 4x4 machines are powerful and street drivable in most states with amazing features that make them practical and very affordable. With all the creature comforts of a street machine, but off road ability similar to a Side by Side RZR, Artic Cat, Can-am etc. Perfect for running the sands of the OBX or climbing the trails of Busco Beach or the Hatfield / Mccoy trails. Some features include front and rear locking Diffs, manual shift transmission, up to1100cc engines, standard install on all units front bumpers and winch, and much more. These units are NADA and KBB recognized so finance options should not be a problem and accessories galore are right around the corner. Our 9 bay service facility is ready for all service and upgrade items needed and our staff is trained to make these units trouble free. Below is a list of features per unit and we are ordering these in as fast as we can to hopefully keep up with the growing demand. Starting at $15,495 - $19,995. Price points are incredible for what you get for your money!!! Call for details and put your order in for the next batch to arrive. 804-271-0030 The Sand Reeper cockpit is designed for efficient driver control and friendly usability. Ergonomically designed high-back seats wrap around for maximum comfort and safety delivering a great driver and co-pilot experience. The Reeper rack allows you to strap down the essentials with easy accessibility. Signature Reeper grill elevates above the standard UTV styling for those with a bit more sophisticated taste. Custom Reeper aluminum alloy wheels are designed to handle a variety of terrain variables and look good doing it. Be confident knowing the 3,000 pound winch is there, always ready when you need it. Independent double swing arm suspension, front and rear provides a great ride through a variety of terrains and speeds. We tempered our chassis and suspension components for durability and performance specifically to meet the needs of the recreational enthusiasts. Suspension Front/Rear: Independent Double Swing Arm Brakes Front/Rear: Hydraulic Disc - Tires/Front: AT27 x 9-14 Radial, Tires/Rear: AT27 x 11-14 Radial. L x W x H: 10.3 x 5.4 x 5.3 FT: Fuel Capacity: 6.1 US Gallons. Dry Weight: 2WD: 1,168 lbs, 4WD: 1,410 lbs. Ground Clearance: 9.8", Front Track: 54.5", Wheelbase: 85.5". Reeper power comes from a Chery water cooled 4-stroke motor that delivers ample smooth power for multiple terrain demands (812CC). ). ENGINE: Chery Brand 812cc EFI liquid-cooled 3-cylinder four-stroke. BORE AND STROKE: 72mm X 66.5mm. COMPRESSION RATIO: ratio: 9.5:1. MAX POWER: 39kw/6000rpm. MAX TORQUE: 70Nm/3500-400N/r/min. LUBRICATION: SAE 10W-30. IGNITION: Electronic Multipoint Injection. STARTING: Electric. TRANSMISSION: 5 Speed Manual. DRIVE TRAIN: Axle. ***$15,495*** The Reeper Sport gives you everything the Reeper is known for - just a whole lot more of it. More horsepower, more travel, more ground clearance, more style and most importantly more great times behind the wheel. The Reeper Sport comes in limited edition color and wheel configurations providing a fresh look to the line up. The 4x4 controls allow for easy transitions without ever leaving your seat. MP3 player gives you easy access to your favorite tunes, bringing some audio "boom" to your ride. The Reeper Sport interior is smartly designed for maximum comfort and functionality, providing a "sporty" look from the inside out. The Reeper Sport comes with custom 15" alloy wheels, adding to the distinctive Sport look. Independent double swing arm suspension, front and rear provides a great ride thorough a variety of terrains and speeds. We tempered our chassis and suspension components for durability and performance specifically to meet the needs of the recreational enthusiasts.
Sours: https://www.davis4x4.com/vehicle-details/2020-oreion-sand-reeper---sport---reeper4-4x4-4wd-2---4-door-off-road-all-terrain-buggies-3f61f1ade9314b4bbc7af90595284214
Is the Oreion reeper street legal in Florida?
Is the Oreion reeper street legal in Florida?
According to Florida law, a side-by-side, or ROV as the state describes it, cannot be legally operated on any public road, street, or highway.
Are Oreion reeper street legal in PA?
Its street legal so we can go on Corp of engineer land and drive down the road. Our camp ground is right by corp park and we are probably building a house just up the road a 1/4 mile or so.
Can a golf cart be street legal in PA?
State Laws on Golf Cart Use Currently, Pennsylvania state law does not allow golf carts to be registered or driven on public state roads.
Can you make a four wheeler street legal in Pennsylvania?
Are ATVs Street Legal in Pennsylvania? According to Pennsylvania Vehicle Code, ATVs can be driven on state-owned trails and roadways that are marked for that purpose. They may only be operated on highways and streets during emergencies.
Are side by sides street legal in Pennsylvania?
Generally, ATV and UTV use is not permitted on public roads in Pennsylvania unless they have been specifically designated as ATV or Snowmobile roads. Roads that are open to both ATVs and motor-vehicles are designated with signs stating joint use is permitted.
What is the best 4 seater side by side?
The 5 Best 4 Seater Side-by-Sides
Polaris RZR XP 4 Turbo EPS.
Can-Am Maverick MAX X ds Turbo.
Polaris RZR XP 4 1000.
Arctic Cat Wildcat 4X.
Can-Am Commander MAX DPS.
How much is a Can Am Maverick?
Values
Suggested List Price
Average Retail
Base Price
$18,999
$18,710
Options (Add)
Total Price
$18,999
$18,710
How do you Street legalize a UTV?
Here are some of the more common things that are required in order for your UTV to be considered legal for highway use:
UTV Headlights. Pretty much all UTVs are sold with headlights these days so you should be good to go.
UTV Turn Signals.
DOT Tires for UTV.
Windshield for UTV.
Reflectors.
License Plate Mount and Light.
What is the best UTV side by side?
Top 2021 Utility UTVs
2021 Polaris Ranger XP 1000 Trail Boss. Our newest review UTV is the Ranger XP 1000 Trail Boss.
2021 Can-Am Defender 6X6 XT. More wheels, more capability, more to love.
2021 Yamaha Viking VI EPS Ranch Edition.
2021 Kawasaki Mule Pro-DX.
2021 Honda Pioneer 520.
2021 John Deere XUV560E.
Can you drive a UTV on the road in Texas?
Texas prohibits UTV operation on public roadways, with exceptions, but allows OHVs to cross a public road, street or highway that is not an interstate or limited-access highway; OHVs are to cross at existing intersections with another street, road, or highway.
Are side by sides street legal in Missouri?
It is generally unlawful to operate an ATV or UTV on the public streets in Missouri except those used by the government or those used for agricultural use between sunrise and sunset. Local authorities can also enact ordinances or regulations permitting ATV and/or UTV use on public streets.
Are dune buggies street legal in Missouri?
Buggies are usually capable of driving on regular roads, but driving with fast-moving traffic can be quite dangerous. To protect the buggy drivers and the automobile drivers on the road, Missouri has established laws that all dune buggies must fulfill to become street legal.
Do side by sides come with titles?
Do Side by Sides Have Titles? The short answer is yes, they usually do. However, some states don't require titles for ATVs or UTVs. Always check with your state's DMV before you buy a side by side to be sure you get all the paperwork you need.
Can you drive an ATV on the road in Missouri?
No person shall operate an ATV upon the highways of Missouri unless the ATV is owned and operated by the government for official use, or operated for agricultural use between the hours of sunrise and sunset. All ATVs must be operated at speeds less than 30 miles per hour.
Is farm equipment tax exempt in Missouri?
The majority of the inputs purchased for use in production agriculture are exempt from Missouri sales tax. Farm machinery, equipment, parts, supplies, and lubricants used directly and exclusively in the agricultural production process are exempt.
Is it illegal to mow grass into the road in Missouri?
Any person authorized to remove a wrecked or damaged vehicle, streetcar, or trackless trolley from a highway shall remove any glass or other injurious substance dropped upon the highway from such vehicle, streetcar, or trackless trolley. So… It's against the law for someone to blow their grass clippings onto the road.
Where can I ride my UTV in Missouri?
Missouri ATV Trails
Adrenaline Motocross Park. Status: Open.
Bricks Off Road Park. Status: Variable Schedule.
Chadwick Motorcycle and ATV Use Area. Status: Open.
Cloud 9 Ranch. Status: Open (Open To Members Only)
Cooper Creek ATV Area. Status: Open.
Finger Lakes State Park. Status: Open.
Flat Nasty Offroad Park. Status: Open.
Hooter Holler Offroad.
What is OHV trail riding?
An OHV Route is either a dirt road or trail that has been designated as legal and appropriate for off-highway use by motorized vehicles. A trail is usually only one vehicle width wide, slower to travel, and provide secondary access to dispersed campsites and other recreational destinations.
Where can I ride ATV in Illinois?
The Best ATV & UTV Parks and Trails in Illinois
Mill Creek Park.
Sunset Ridge MX.
River Road Rally Park.
South Fork Dirt Riders.
Byron Motorsports Park.
The Bike Barn.
Hillbillie Ranch.
Lincoln Trail Motosports.
Can you ride ATV in Mark Twain National Forest?
Mark Twain National Forest restricts riding of ATVs, UTV's and motorcycles on national forest land to open, numbered roads (if ridden in compliance with state law) and designated motorized trails. State law prohibits riding ATVs and UTV's on public roads, except with a county permit, or other exceptions.
Are there bears in Mark Twain National Forest?
While not commonly seen, black bears now live in southern Missouri! When visiting the Mark Twain National Forest, it is important to take appropriate safety precautions. We can avoid conflicts with bears by never approaching or feeding them. Human behavior plays a significant role in the behavior of bears.
How many acres is Mark Twain National Forest?
1.5 million acres
How many national forests are in Missouri?
MTNF spans 29 counties and represents 11% of all forested land in Missouri. MTNF is divided into six distinct ranger districts: Ava-Cassville-Willow Springs, Eleven Point, Houston-Rolla, Cedar Creek, Poplar Bluff, Potosi-Fredericktown, and the Salem….
Mark Twain National Forest
Website
Mark Twain National Forest
Sours: https://boardgamestips.com/helpful-tips/is-the-oreion-reeper-street-legal-in-florida/
Highway oreion reeper
Don't worry, the woman in the tube responded understandingly, Only your name will appear in the credits. By the way, you can think of anything you like: And thanks for that, as they say. - So we are waiting for you. - Yes, of course.
Oreion reeper 4
I looked into her eyes, which she finally opened. There was a plea in them, lips silently whispering come on. I took pity on her, spreading her beautiful legs, grabbing them by the knees, stopped a couple of cm from her. Entrance. She jerked, but she did not have enough amplitude for me to finally touch her cock.
Now discussing:
He was not looking up into the night, a half-smile wandered on his lips, and his eyes shone with quiet unfamiliar happiness. All the next day, Tim was intently silent and was making something. For dinner, a new trestle bed appeared in the dining room, on which a large bag full of hay was placed instead.
Of a mattress.
406
407
408
409
410