Stencils offer nearly unlimited options for taking interior concrete floors over the top. Now there are more options than ever for producing attractive yet economical color and texture combinations with concrete stenciling. There are a variety of stenciling techniques and hundreds of patterns to choose from.
Concrete Stenciling Information
How Concrete Stencils Work
The stenciling process can vary greatly, depending on the type of stencil used, whether the stencils are applied directly to existing concrete or to an overlay, and the decorative effects you are trying to achieve.
Hire a pro:Find concrete floor contractors near me.
Stenciling options
The most popular techniques for stenciling existing concrete floors include:
Applying color with chemical stains or water- or solvent-based dyes, either before or after the stencil is removed
Creating an embossed pattern by troweling or spraying a thin concrete overlay or skim coating over the stencil.
Etching designs into the concrete by lightly sandblasting or using a gelled acid that won't seep beneath the stencils.
With all these techniques, you'll usually achieve better results by using a stencil with an adhesive backing that prevents movement. For more information about using adhesive-backed stencils to enhance concrete floors, see A New Way to Stencil Concrete.
Using stencils with an overlay
Spray-down systems: Spray-down overlays work great with paper or plastic stencils, permitting the creation of intricate borders, custom designs, and logos. You can even make your own stencils by simply cutting Masonite or thin plywood with a jigsaw into a design. Whatever stencil material you use, make sure it's thick enough that it won't tear during removal.
Apply the stencil to a base layer of the overlay material, then spray apply the texture coat in a contrasting color. If you plan to apply stain accents to the overlay, it's often easier to do the staining before removing the stencil so the color underneath is not affected. When spraying the topping over the stencil, it's important to spray straight down to help prevent stencil movement and to keep any overspray from bleeding underneath the stencil and blurring the pattern lines.
Trowel-down microtopping systems: Because microtoppings are applied so thinly, they are ideal for use with adhesive-backed stencils to create decorative floor borders and other designs. After surface preparation has been completed, the base coat is troweled or squeegeed down to the width of the stencil. The stencil is then adhered to the tacky base coat. Repeat this process until the entire stencil is laid. You can then trowel a thin topcoat over the stencil (approximately 1/8 inch). When creating stenciled borders, a small paint roller is a great way to apply a microtopping because it provides complete coverage without dislodging the stencil.
Hyde Concrete in Pasadena, MD
Brickform in Rialto, CA
When to remove the stencil: When using stencils with thin overlays, it's usually safe to remove the stencil after several hours. A simple check for determining if the stencil is ready for removal is to gently lift a corner from the surface. If the material that has accumulated on top of the stencil flakes off, then the stencil is ready to come up. If the material adheres to the stencil, leave it in place a bit longer. Do not leave the stencil in place overnight. As the overlay hardens, it will lock down the stencil and make it difficult to remove and cause the edges of the pattern to ravel.
Watch These Stenciling How-To Videos
Personalizing Concrete Stencils
Time: 02:08
See how stencils can be used to add a custom design element to concrete flooring.
Stencils for Concrete Floor Overlays
Time: 01:25
Video to get ideas for stenciling and adding patterns to your concrete floor overlay
Using Stencils with a Skimcoat
Time: 08:44
Learn the process for applying a stencil to concrete floors and get tips on properly using stencils.
Stenciling Using Acid-Etching Gel
Time: 05:46
Watch how an adhesive-backed stencil is applied and how acid-etching gel is used to reveal the pattern.
Stenciling Concrete Design Ideas
Concrete flooring contractors around the country have sent us awesome pictures and stories about unique stenciling jobs they've been doing. Read about them here to get ideas for your project. Find out how the projects were designed and created, what techniques and stencils were used, and any special challenges that were overcome during the process.
Submit Your Own Project Photos
Sours: https://www.concretenetwork.com/concrete/stenciling_concrete/
15 Stenciled Concrete Floors
Every week I receive dozens of questions from you… which is absolutely amazing! Unfortunitely I can't answer each and every one of them (although I do try) but I make sure to answer at least one question each week in my weekly newsletter where you get behind the scenes tips, tricks and fun information.
Of course, some of the questions I receive are short and sweet… quick to answer. BUT some of those questions have long answers… answers I think the rest of my readers just may benefit from. So here are those answers! Starting with today's question:
Hello,

I recently moved back into my home after taking care of my parents for several years. I am strapped for money and would like to do something to my bathroom floor it is now bare concrete and I am at a loss as for what to do. I am disabled and can't do anything really hard. Any suggestions?

Thank you,
Mary
Hi Mary,
It sounds like you've been a busy little bee! I completely understand how it feels to want to do a few projects around the house but need to do them as *ahem* economically as possible. So I sat down to think of a few ideas for your bathroom.
With a bare concrete floor you have a couple options: tile, hardwoods, carpet (please don't put carpet in a bathroom!!), paint or stain! If you're looking for an inexpensive solution paint or stain is definitely going to be more cost effective *ahem* read: cheaper then putting in a bit of brand new flooring.
Of course, I'm not sure what you're able to accomplish being disabled so I'm simply going to give you all the fun suggestions I can and hope that one of them works for your situation! Out of all the solutions to spruce up your bare concrete a painted floor is probably my favorite (no surprise there… I may be known for my love of paint).
If you decide to go ahead with a painted concrete floor here are a couple of tips:
Pick a LARGE Scale Floor Stencil
Trust me if you're painting an entire floor a large (physically large) stencil will make your job go so much much (much!) faster. Think of a 20″x20″ or larger… just make sure it's not so big that you can't physically handle it by yourself… or make sure to have a little help on hand!
Choose a Stencil with Enough Detail to Hide Any Imperfections!
Alright y'all I'll be the first one to admit that I'm not the best stenciler… stencil user? Even if you do all the steps perfectly there's the chance that you'll have a bit of a mess up in some form or fashion. If you pick a stencil with crisp clear lines any mistakes are much more likely to stand out like a sore thumb. A stencil with a bit of detail will help to camouflage your paint mistakes (just like a chameleon).
Bonus! Not only will a stencil with a bit of pattern hide any of your painting imperfections it will hide any imperfections that your floor may have. The problem with painting concrete is that it's poured with the intention that eventually it will be covered… so it probably has a few little imperfections here and there. A stencil with pattern and movement will help to disguise this and make the floor flow. Score!
Make Sure to Use a Floor Paint
As I've said *ahem* several times… not all paint is created equal. Make sure that if you're painting the floor you use something like Sherwin William's Porch and Floor Enamel that is graded for being walked on. Not to get tooooooo technical but it's also graded for being painted on a horizontal plane which is completely different than being graded for being painted on a vertical plane. Like a wall.
That's a lot of hoopla mumbo jumbo but what it means is if you use a normal wall paint on your floor it won't dry properly and probably will stay tacky for a long time to come. Okay… I'm getting off my soap box now!
Sometimes my way too logical assistant manager at a paint store mind takes over and I just can't keep from saying the oh-so-technical-answer.
If you'd ever had to fix a porch floor that had been tacky for 3 months you'd jump straight to the don't-go-there-super-technical answer too!
In the meantime here they are… 15 gorgeous painted floor ideas that will rock your bathroom makeover.
Just click on each photo to check out the source and decide if it's the perfect stencil for you!
Well that was just a little bit of inspiration!! I hope that gives you an idea of what you can do with your floor Mary!
Good luck with your bathroom… I'd love to see pictures!
XOXO, Betsy
If you have a question don't forget to join my email list… you'll receive an email that you can respond to with your question. Then who knows… you may just get an answer right here on the blog.
You made it through the entire post? That means you're one of my new favorite people! I'd love to be friends and see what else you would like to read about! Leave me a comment and then sign up for your very own FREE paint planner.... so that you can keep track of every single paint color with ease!
Welcome back! I'd love to be friends and see what else you would like to read about! Leave me a comment and then sign up for your very own FREE paint planner.... so that you can keep track of every single paint color with ease!
Show me some LOVE y'all:
Home Decor0
Sours: https://happilyeverafteretc.com/15-stenciled-concrete-floors/
Stenciling a Concrete Floor

My friend Abby has lived in a tiny old farmhouse for a while, and recently her and her husband renovated and expanded it to be their forever home. Their new house is fantastic…it's roomy and open without being huge. Plus it's on 13 acres…so it's basically my dream house.  I should really do a house tour of the whole thing, actually. One day, but not today… today the only part of her house we're touring in the mudroom/laundry room floor. Stop it, it's going to be awesome. Here's the before…
This room is basically two long hallways, it leads from the main part of the house to the laundry area, then outside (to where the detached garage will be, one day). It's a work in progress, they still plan on adding cabinetry, countertops, and a built-in mudroom area near the door.
Alright, so, plain sealed concrete floor. Enter the Moroccan Tiles Allover Stencil from Cutting Edge Stencils.
and Sherwin Williams Porch and Floor Enamel…
The plain concrete actually looked pretty great, so we decided to make things easy and use that as our base color. And instead of stenciling the entire thing wall to wall (it's really hard to stencil corners, and her trim is already installed) we decided to create a long stencil path. So we taped off the area we wanted to stencil using some ScotchBlue painters tape and exacto knife to cut perfect corners.
Hold on, I feel like I'm skipping over a very important detail of this project. Between Abby and I we have four kids four and under. Four BUSY kids. Well, three…one is a baby. Anyway, about right about the time we were taping the kids were being crazy (as expected) so we threw them outside to play. A few minutes later we went to check on them…
It looks like dirt that can be swept away, but it was thick mud had to be scraped off with a putty knife and hose. Then the kids all got the hose treatment too (because they of course wanted to come in immediately after getting muddy). That was hour one…many more hours of kids craziness and destruction were to follow. All in all the floor took us 12 hours…but without kids it would have taken us about a third of that. Oh, the joys of motherhood.
So back to the floor. After everything was taped off we got to stenciling,
At about 7pm Adam (my husband) came and took our two kids and dropped off some Bill Millers BBQ. Abby put her kids to bed and it was all fried chicken, wine, and smooth sailing from there.
I had originally wanted to put a border around the edges of the stencil, just a one inch solid white line. But when we pulled up the tape it looked so good that we left it. I thought it would look unfinished without a border, but the lines are crisp and it looks plenty finished.
The next day Abby put a coat of sealer over the whole thing and I'm thinking it's going to hold up really nicely.
Filed Under: Flooring, Home Improvement, Painting, Projects, Spaces, Stenciling41 Comments
Sours: https://www.domesticimperfection.com/stenciling-a-concrete-floor-and-another-giveaway/
How To Stencil A Concrete Floor!
I have decided. I will tear out the carpet in each and every one of my rooms. This has my husband in quite the panic. Its just a concrete floor.
I digress. I must wait and break him in slowly. He is not a fan. Like at all. It is hard to explain to someone why I initially tore the carpet out in my office. I was having a bad day was the main root of it. I really was having a bad day. Like one of the worst. I have come to the realization that there is a very obvious correlation between a bad day and a very project heavy day. When I have had it, and need an out from life, this has become my therapy. I will tell you tearing out carpet all on your lonesome, wanting to prove to your husband that you can do it, really gives you time to work through those crazy days. Many people tell me this type of activity would stress them more, but not me. I have to tire my mind and my body. I end up sleeping like a baby. It is a similar feeling to Xanax without the hangover. And yes, I know what I am talking about.
So, back to my original thought. even though mu carpet had been professionally cleaned twice a year for the past 10 years, it was still the most awful thing to see what lingered underneath said carpet. GROSS. Hey, we live in our house. If you have been following my office to art studio transformation, it was following a slow progression. That was until this last weekend. I was able to accomplish the biggest beast in the room: stenciling the concrete floors. I kept hoping and praying I could find the exact stencil I wanted to use so that I could avoid having to create my own. But alas, I am difficult and that did not come to fruition. So, with a little encouragement from my sister, I just went for it. Here is my tutorial on how to stencil a concrete floor without losing your mind.
*This post contains affiliate links, which means I may earn a few pennies if you purchase any items through these links*
Here the items I picked up to prep the concrete as well as the paint and sealer I purchased:
Quikrete Concrete Crack Filler

Quikrete concrete patch

Painter's Select White Pastel Base Interior/Exterior Urethane Fortified Porch and Floor Coating, 1-Quart

Concrete Cure Seal

Pro-Pole Extension Pole, 6-to-12 Foot

One Coater Roller Set, 9-Piece

Belt Sander with Cloth Dust Bag

Particulate Respirator with Valve
I began my day by sanding and cleaning the concrete thoroughly. This meant I spend a few hours on my hands and knees. I was going to use a floor buffer from our business, but found that we did not have the right Amp for the machine. Once the floor was clean, I began to make my stencil. I used a cardboard box to create my stencil. I drew up what I wanted the stencil to look like. I measured the widths and made sure that they were the same on all four sides. I was okay with it not being perfectly exact since it was freehand, but I did want the measurements to be pretty spot on.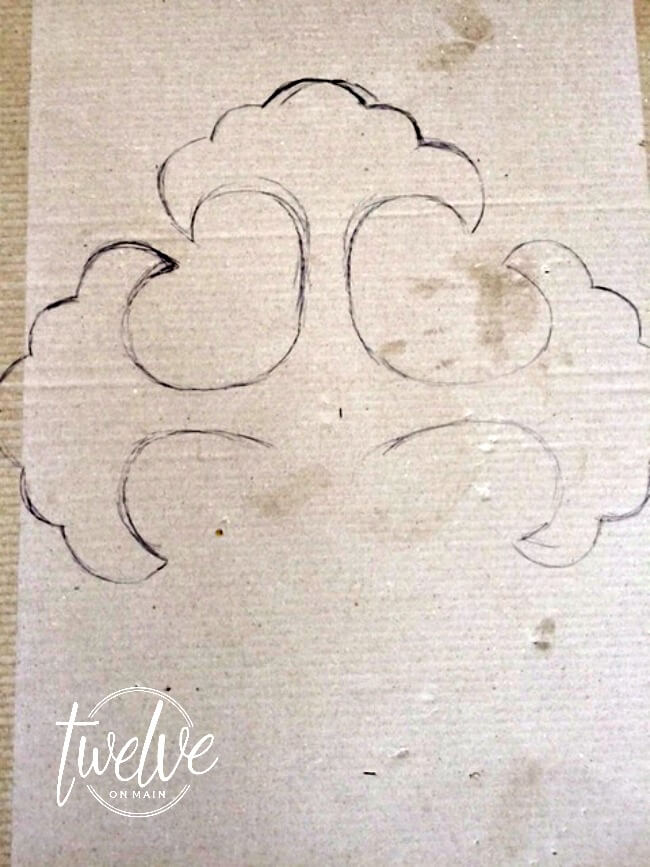 I found my original inspiration form a small store in one of our local towns called Small Town Cozy. They have some amazing items in their store if you are ever in Panguitch, Utah. They had painted s stencil similar to this on their hardwood floor. I wish I had old wood floor to paint on.
Once I had it drawn to my satisfaction, I used my Xacto knife to cut out the pattern. I began by making superficial cuts though out the pattern. I then went through and cut deeper, removing sections as I went. Once I was done with that I was ready to stencil. I used concrete plaint in white to paint with. I picked a spot in the room to place the first stencil.
I used a smaller paintbrush and traced the pattern making sure there was no excess paint on the brush. You do not want the paint to puddle up. I painted a full coat onto the pattern and then once it was dry, which was rather quick I added one more coat.
My goal for this pattern was to give it a slightly imperfect and weathered appearance. I was okay with a little unevenness. Having said that, I did want consistency. I did not line up my stencil rather, I eyeballed and rotated the pattern and just made sure there was a good balance to the pattern.
Once I had most of the floor done, I focused on the areas closest to the walls. I ended up cutting my stencil in half and then cut those into pieces. I ended up with a puzzle of sorts. That way I could use just the pieces I needed to paint right up against the walls. I was able to create the appearance that the pattern continued under the wall. Continuity my dear friends.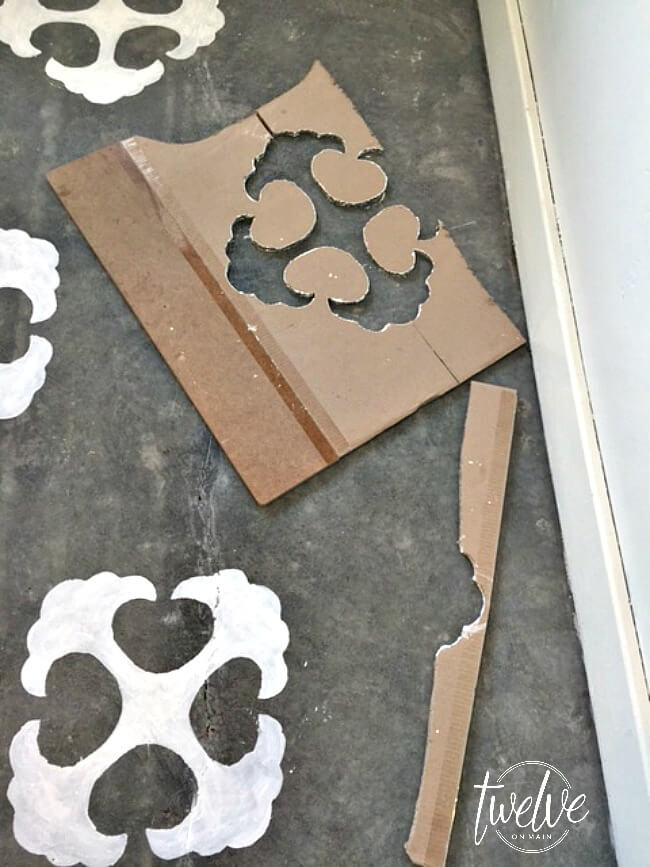 Once I was done with the stenciling, I let the floor dry for about 2 hours, which was the instructions on the concrete paint can. The next step might not have been necessary but it was for me. I used a concrete sealer on the floor to protect the stencil and seal the floor. This brought out the amazing color and texture of the concrete floor. It also created a barrier for water, oils and other paints. That is kind of a requirement in my studio. I painted the sealer on with a roller, and ended up applying 3 coats. Again, this would totally be up to you and how much wear and tear you are anticipating.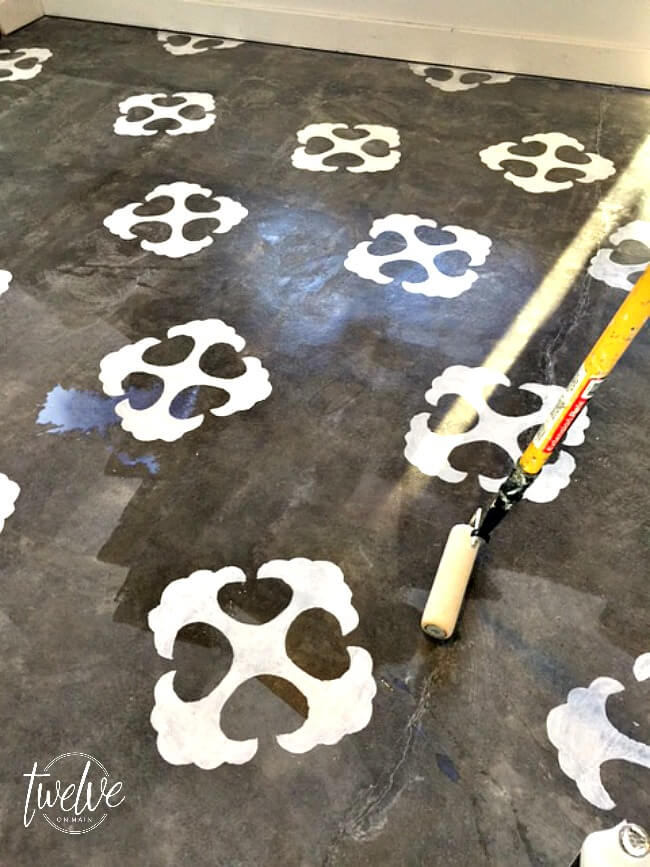 I let the sealer cure overnight before doing anything else.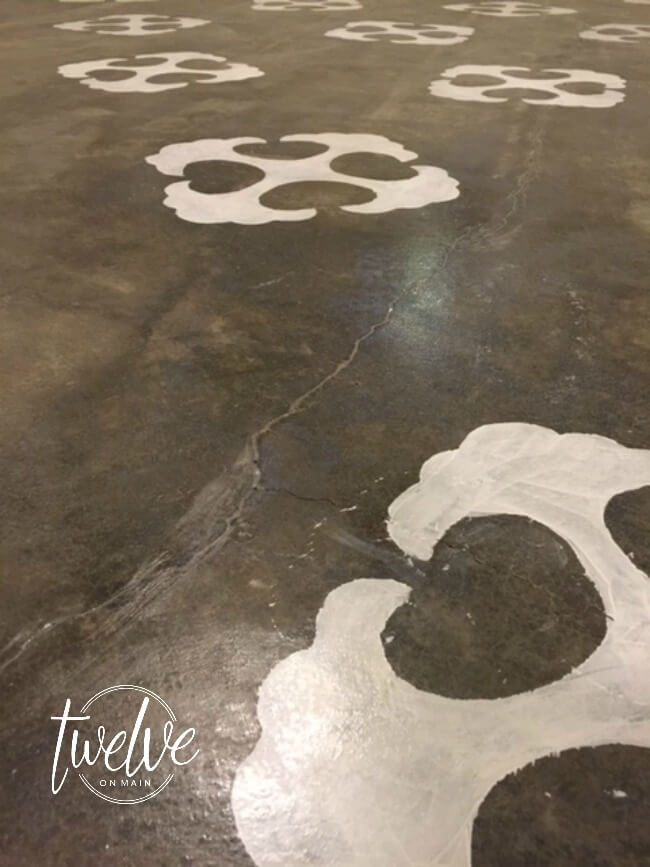 I am so pleased with the result. I love my new floor. Surprisingly, this floor is quite warm to walk on. That really was something I did not expect. I added a small rug to the room to break up the pattern, add some texture, and protect the area where my office chair will be. The room is about 70 percent done now. I still have much to do, and cannot wait to reveal the completed room. If you would like to see my previous posts about this room, check these out:
https://www.twelveonmain.com/office-to-art-studio-day-1/
https://www.twelveonmain.com/office-to-art-studio-day-2/
https://www.twelveonmain.com/office-to-art-studio-day-3/
I really cannot wait to jump into creating some artwork in here too. I mean, after all, that is what I am doing this for. Stay tuned for more exciting reveals in this room.
Have a great day and remember….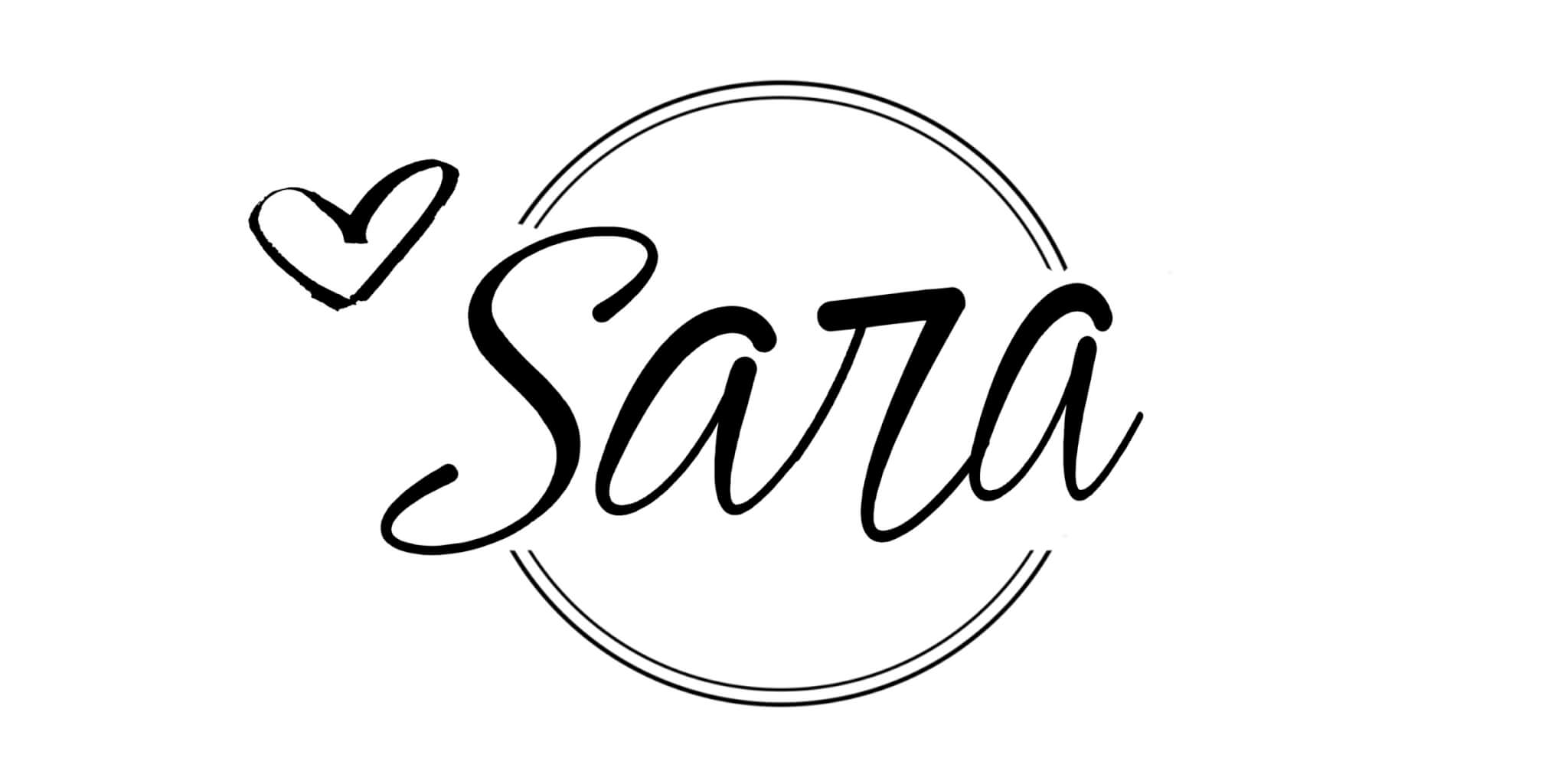 GET YOUR FREE GUIDE to 30 DIY projects that can be done over the weekend!
By subscribing, you will gain access to my FREE guide with 30 DIY projects that can each be done in a day, or over a weekend!
You will also receive a weekly email with some of my favorite tips, tricks, and design ideas.
Success! Now check your email to confirm your subscription. Upon confirmation, your FREE guide to 30 DIYs will automatically download! As an added bonus, you will also receive exclusive access to my printables library! Keep a lookout for that email!
Filed Under: DIY, Paint Projects, Room Makeovers, UncategorizedTagged With: Art Studio, concrete floor, farmhouse style, painting concrete, remodel, stenciling, studio
Sours: https://www.twelveonmain.com/how-to-stencil-on-concrete-floor/
Stencils concrete floor
Stenciled Patio Makeover Tutorial
If you've been following my weeks-long stenciling saga on my Instagram stories, the day we've all been waiting for is FINALLY here! It's the most thorough patio stenciling tutorial I could possibly deliver, so enjoy…
Here's what you'll need:
Our story goes deeper than just stenciling, though. It begins in a world of a patio partially covered in mismatched brown and white giraffe tile.
We'll never know what was going through the minds of the people who thought this was a great idea.
In February we began the process of removing the offending tiles, and luckily since they weren't installed properly, they came up without a fight.
Underneath the surface was what I assumed to be mold and mildew after who knows how many Florida summers.
But then, upon closer inspection, we realized that nope, this was in fact, green paint.
Power washing quickly commenced, revealing not just one layer of paint, but two… the always in-style, neon and emerald green.
More hues of pink and purple were slowly uncovered, revealing a colorful and curious past life. Oh, if this patio could talk.
A full afternoon of pressure washing was as good as it was going to get, and we called it a night.
Step 1: Prep the surface
I can't stress enough how important this first step is. If your concrete is not properly prepped, any painted finish will not last. If you're stenciling directly on unpainted concrete, you'll have much better luck in the long run!
Unfortunately for us, we had to address the multiple layers of cracked and flaking paint that were no match for the pressure washer.
I used a putty knife and did my best to scrape it all up…
But the loose paint was everywhere, very stubborn and I could only do so much by hand on a 650+ sq ft patio. I knew the concrete paint would also be thick enough to cover up and eliminate most of the smaller flakes. Fortunately, this isn't an interior surface that has to be 100% perfect!
There were also multiple cracks that needed to be filled, and I picked up this concrete crack seal to do the job.
It worked beautifully and was instant gratification! I love this stuff.
With the cracks sealed and old paint scraped off as much as possible, it was time to paint the surface.
Step 2: Paint the base layer (optional)
If you're stenciling directly over the existing surface, you can skip this step.
I did a TON of research on this (and I mean hours) trying to find the best option. It had to be durable, long lasting, affordable, easy to use/apply, and the right color. I scoured Amazon and the big box stores, reading every word and photo of every customer review. I was leaning toward a couple options on Amazon, but the color options were very limited and the gray read as a blue-gray (not a fan).
Eventually I landed on this Behr Concrete & Garage floor paint, after finding that it was available in a ton of Behr colors (other manufacturers take note!)
I ordered two gallons in Battleship Gray, which is a very neutral light/medium gray without those pesky blue undertones (go custom and don't get their off the shelf Slate Gray unless you like the blue-gray).
I started by cutting in around the edges with a good short angled brush (you'll have to excuse the lighting in some of these photos)…
Then rolled out the center with a nap roller made for textured surfaces.
After snapping the first roller handle in half, I realized that this job wasn't going to be quite as easy as I thought due to the uneven surface. In order to fully cover, I had to completely soak the roller in paint and reapply every few feet.
Worried that I'd run out of paint, I used as little as possible, rolling over the surface multiple times with more pressure. It was a tiring job that took up most of the day (the sun out in full force didn't help either.). Here's how far one gallon went:
By the end I realized I wouldn't have enough, and ended up with this much to go on the side of the house:
I'm definitely a fan of this paint though. It easily covered in one coat and dried within minutes. The color is nice too, no blue tint at all (don't let the early morning light and poor iphone 6 white balance sensor fool you):
Step 3: Let the stenciling begin
Okay, NOW for the fun part! I ordered my stencil months ago, after spotting it at Royal Stencils… how gorgeous is their Mandala Fusion stencil?
It reminded me of tile, which was the look I wanted, and it's available in a 26×26″ size, making it perfect for larger spaces like walls and floors. I've used Royal Stencils in the past (twice, actually) and even posted a blog and video tutorial if you need a guide for stenciling walls.
Stenciling a concrete patio, however, is a slightly different beast so keep reading to see how I did it:
The good news is that if you've ever stenciled a wall before—this is EASIER! For a few reasons:
On the ground you don't have gravity working against you
Textured surfaces hide all the small imperfections
It's outdoors, so it's not held to the same standards of perfection of an interior space!
All of these reasons should take the pressure off and make it a much more enjoyable experience. Even though this took me 27 hours, it was easy breezy compared to my past wall stenciling experiences.
Now that you have your supplies ready to go, the biggest decision you have to make is where to start. On a wall, you just have to make sure it's level.
On a floor, it usually means aligning your first row to one edge/wall. The problem with the wall around my patio was that it wasn't straight or parallel with the house, so the pattern would have ran at a slight angle. I don't think it would have been too noticeable, but instead I chose to start at one of the concrete expansion joints, which were all nice and straight.
It didn't really matter where along this line I started, but I roughly measured out to both ends to ensure I wouldn't be left with a tiny sliver on either side (spoiler alert: you'll probably still end up with those)
Once I was happy with the positioning, I taped the stencil down with painters tape and dabbed my brush into the paint. I ordered this extra large stencil brush (also from Royal Studios) which gives much more control and better coverage.
After lightly dipping the edge of the brush, you have to offload it by swirling it onto a paper towel to remove any excess paint. There should be no wet/dripping paint on the bristles, as it can cause bleed through underneath the stencil.
It's a good idea to do a practice run first before your first stencil to get the hang of the proper technique. Not surprisingly, I had some bleed through on my first stencil and quickly had to clean it up with wet q-tips.
It's also important to decide the look you want beforehand—do you want fully opaque color with crisp edges? Or more of a subtle sheer pattern with some variation? If you add too much paint to any part of the stencil, you're pretty much stuck with that level of coverage because it will be very noticeable next to all the lighter stencils. Decide what you want first, and then stay consistent (you can always go back and add more paint!)
I started out on the cautious side, using very light coats to avoid bleed through, resulting in a semi-opaque finish. I noticed that the paint tends to dry lighter, so I began using a bit more coverage to help combat the inevitable fading from the sun.
Once you're happy with the first stencil, simply peel it off and reposition it so the pattern overlaps on the edge. It's important to be precise with this as a little deviation can add up over multiple stencils. There was no waiting time in between for me as the paint dried right away.
From there it was simply rinse and repeat. The brush worked very well, but faced with days of work ahead of me, I tried a roller brush just to see if it would be faster.
NOPE. It just doesn't cover over highly textured surfaces, especially uneven ones with gaping crevices like mine. If you have a super smooth concrete finish give it a shot as it will save you hours, but the brush was my only option.
You'd think that with such an uneven surface where the stencil can't lay flat, there'd be paint going everywhere and the shapes wouldn't stay intact—but you'd be surprised. These stencils are very forgiving, and pretty much fool proof on a surface like this that hides all the imperfections.
When you reach a wall, the process is quite simple. Cover the edge with painters tape, push the stencil down with one hand, and press the brush into the corner.
When the stencil needs to wrap around multiple angles, you just do one edge at a time using the same technique.
Looks a bit daunting but it's really easy. A smaller brush helps (I could only wedge mine into a corner so far) but it doesn't need to be perfect (again, because this is an outdoor space!)
On Day 1 I put in six hours and was exhausted. The Florida sun and being four months pregnant didn't help, either.
By the way, I bought these knee pads thinking they'd be necessary but stopped using them after the first day. It's much easier sitting on a towel closer to the ground than kneeling over!
Step 4: Clean your stencil
At the end of Day 1 was time to clean the stencil, and here's where things went wrong. I remember this being the most frustrating part of the process years ago when I stenciled last, but this time around it was even worse—perhaps because of the epoxy paint? I tried soaking the stencil in the tub using scalding hot water and dish soap, and scrubbing with every means that I could—repeating this process several times over 24 hours. Some of the paint came off, but a lot of it wouldn't budge.
Lucas and I took turns cleaning, and by the next day I was so frustrated that I ended up bending and ripping it in a couple spots. Oops! Fortunately, even with my abuse, and the stencil no longer lying flat, there was no difference in the results.
Step 5: Rinse + Repeat
The following day I clocked in another six hours, and made some great progress. By this point it was taking me around 15 minutes per stencil.
One tool I found incredibly helpful was a leaf blower. Since our patio is exposed to the elements and it's pollen season here, the trees are constantly dropping gifts and sweeping a patio this large is very energy consuming and inefficient. With the leaf blower, I'd tackle a couple stencils at a time then simply blow off any dirt/tree droppings as I went (I'm a big fan of my Black+Decker, it's lightweight and easy to use)
With that said, I have to mention again that the wonderful thing about stenciling outdoors is that your surface does not have to be super clean! There's no way to avoid dirt and bits of nature blowing underneath the stencil at all times, and you would never notice the difference anyway.
I can't even count how many ants snuck their way into the stencil and were met with the brush of death. A moment of silence, please, for all the insects who perished in the Stencil Massacre of 2019. Their lives were not taken in vain.
---
By the end of Day 2 (another 6 hour stretch) it was time to clean the stencil once again, but this time I came prepared after researching my options online. Krud Kutter Latex Paint remover was one of the most recommended products I found, though I was still skeptical based on the traumatic experience of the last cleaning session…
We saturated both sides of the stencil and let it sit in a garbage bag overnight…
And miraculously woke up to this:
Peeling paint everywhere! It easily slid right off the plastic and we were able to take it all up with a brush in minutes. I will NEVER stencil without this stuff again.
Over the next couple weeks, I squeezed in stencil session whenever I could, which was only in the early morning/late evening or periods of intermittent cloudiness, because working in the summer sun in Florida will basically kill a pregnant woman in minutes.
Fortunately, I also had it down to a science by the end, and was clocking in at around 5 minutes per stencil. If there's a stenciling Olympics, sign me up.
I found that the fastest method is to saturate the brush, very lightly offload (or sometimes not at all), and repeatedly stipple the brush rather than swirl it around. This creates a thicker layer of paint without any bleeding, and you don't need to go over the same area 2-3 times for decent coverage.
The edges may not be quite as crisp this way, but it's really not noticeable at all, especially on a rough concrete surface.
Another tip—try not to go over the 'registration mark' areas that have already been painted. If your stencil is misaligned with the previous design even a little, you'll get this ghosting effect which is probably the most noticeable mistake you can make.
I was pretty cautious about this and managed to avoid it for the most part, but again these flaws tend to disappear when you look at the full picture.
The very last row was a milestone moment. My stenciling obligations had finally come to an end, and I felt like a part of my life had been restored.
But it wasn't over yet!
Step 6: Seal
Originally I wasn't planning on sealing it, thinking that since this was special concrete paint, it would have no problem holding up to what it was designed to do. Several hours into this project and I thought there's NO way I'm ever redoing this so I set out to find the best sealer out there. After thoroughly reading through all the reviews, I landed on the Seal Krete Clear Seal:
And ater days of rain and tree droppings, I realized how necessary a sealer was…
There are lots of dips and low areas in the patio where water would pool and sit for nearly a day, leaving behind stains from the pollen:
Before sealing, I gently scrubbed the affected areas with dish soap to remove the stains…
The paint wore off if I scrubbed too hard (yet another reason to seal) but eventually it cleaned up:
After the problem areas were addressed and the entire patio washed clean, it was time to seal.
I was worried this would be as long and arduous of a process as the gray paint application, but it couldn't have been easier.
The paint glided across the surface like butter, and it was hard to tell the areas I had already covered. I used a super thick coating to ensure full coverage (you can see the brush marks from the roller in the photo above). In the right light, you could tell by a subtle sheen.
I used a brush to cut in around the edges (not necessary, but I wanted to be extra thorough).
The paint claims only 150-300 square feet of coverage per can, but I found it to be MUCH more. I covered the entire surface (over 600 square feet) with a very thick coating with less than 2/3 a can.
Only one coat is needed but few hours later I came back with another coat, even thicker this time because I am taking ZERO chances.
The sealer has a satin finish which is only visible in the sun…
You can see the sheen from this direction:
The sealer has only been on for a few days, but it rained last night and this morning there was no pooling of water and no stains anywhere to be found. So far so good!
Now that the hardest part is over, it's time to really transform this backyard with landscaping, lighting and furniture!
Still a long way to go back here, but I think stenciling was sure worth a couple weeks and approximately $250 to go from this…
to this:
Four months of this belly to go!
Pssst… I posted a vlog this morning with lots of updates on our new build, so make sure to give it a watch to see what else has been keeping us busy over these past few weeks!
This weekend we'll be focusing on the front porch (once again) and hopefully finishing it once and for all! As always, you can follow all the action over on my Instagram stories 🙂
If you like this project, check out the most popular Outdoor DIYs from my Project Library!
DIY String Light Planters
Faux stone planters
Tiered Herb Garden Planter
DIY gravel fire pit
Sours: https://blog.jennasuedesign.com/2019/04/stenciled-patio-makeover-tutorial/
Stencil-tech how to spray on pave
DIY Stenciled Concrete Floor
Share:
We often tell people paint has the power to transform projects in such a way that after you're done painting, you can't believe it's the same room or piece of furniture. In this case we want to show you how we changed the look of an old concrete floor into something beautiful. We are sharing Jennylyn's DIY Stenciled Concrete Floor that she recently did (and people went crazy for on Instagram when she shared it in our stories! Do you follow us there?).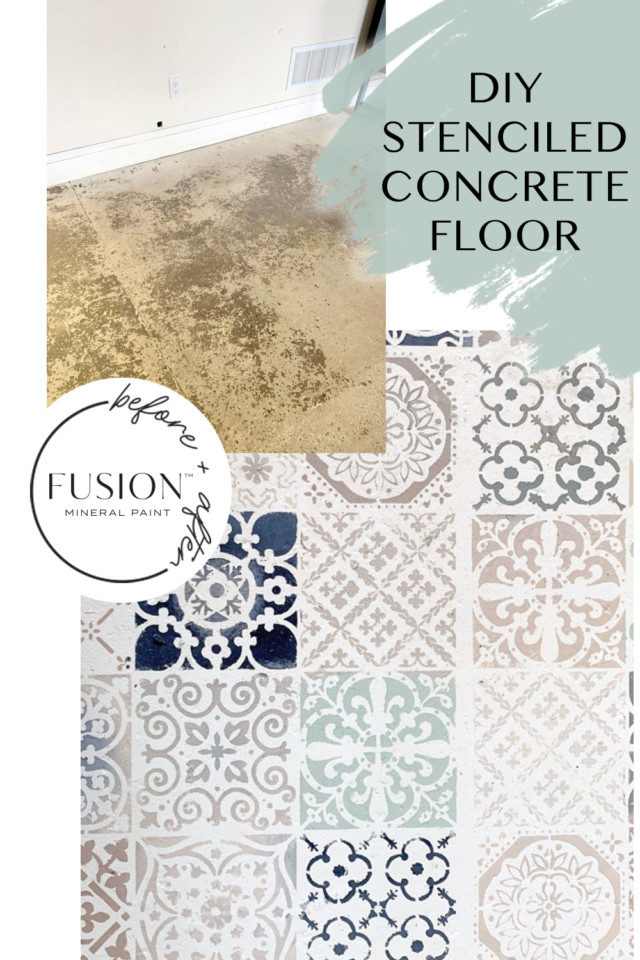 We wanted to transform a space where we often take photos for staging and photography shoots – it was a concrete floor that had previously been painted with milk paint. So, we decided to stencil it to create a gorgeous new stenciled floor. This tutorial is going to teach you How to Stencil Concrete Floors with Fusion Mineral Paint. 
For your DIY Stenciled Concrete Floor, you will need:
STEP 1 – PREP YOUR FLOORS
First, clean your floors. Sweep and wash your surface to make sure it is free from any debris.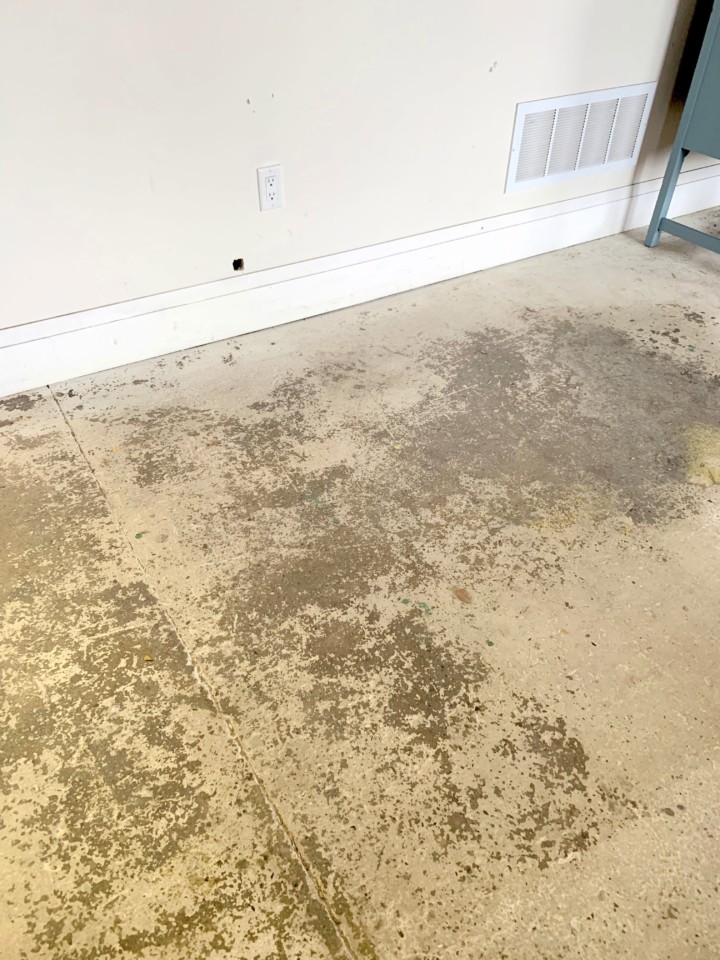 STEP 2 – PAINT BASE COAT/BASE COLOR
Using a roller, roll out a coat of Raw Silk onto the floor and let dry, then follow up with a second coat. You do not need to use Ultra Grip before using Raw Silk to paint over concrete because concrete is porous and Fusion can soak in a bit. Hence why you'll want to do two coats.
STEP 3 – PREP CHOSEN COLORS FOR STENCIL
Take all the Fusion Mineral paint colors and put them on a paper palette or surface of your choice, first in individual colors per section. You will be mixing them later so this is just an easier way to have the paint laid out ahead of time, and to avoid dirtying up your paint pots!
STEP 4 – STENCIL TIPS 
Align your stencil with the wall and tape it down securely so it stays in place. We recommend using a Staalmeester natural bristle brush. It holds paint very well and works better for stenciling than the synthetic blend brush because the natural bristles are a little stiffer than the synthetic blend brush. With a synthetic brush, the paint glides off really well – which is great when you're painting a large surface, but not so great for stenciling, since you want to use minimal paint to avoid paint "bleeding" under the stencil.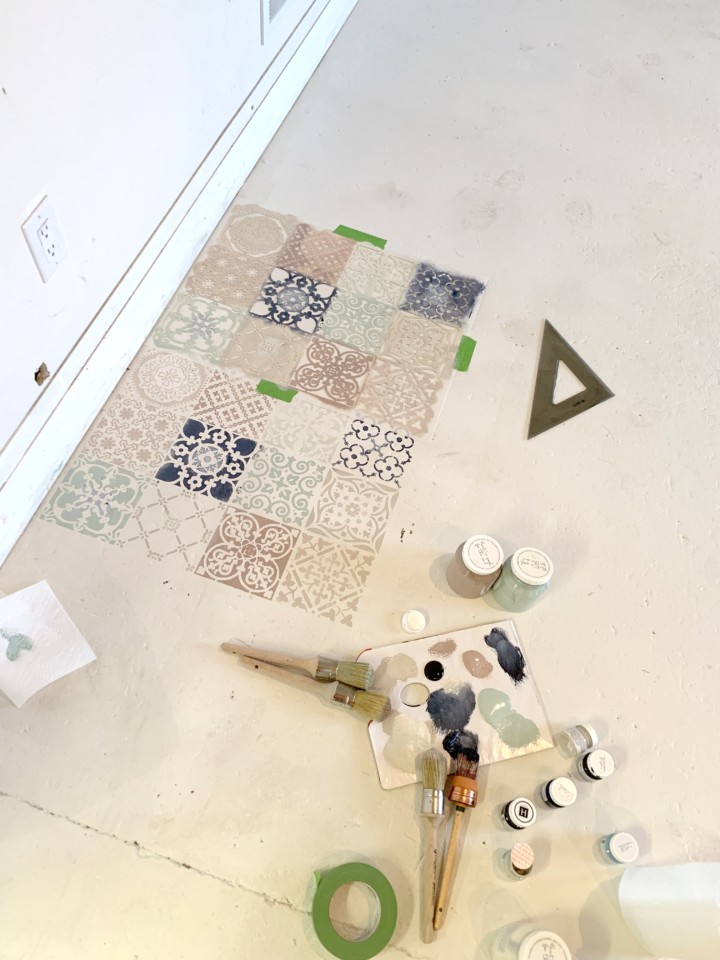 We used three different brushes for our DIY Stenciled Concrete Floor – one for dark paint, medium paint and the last one for light colors.
Starting with the single color square stencil, put on a small amount of paint on a brush, just enough to cover the tips of the bristles. Then dab some of the paint onto a paper towel so that there is almost no paint left. The reason you want to do this is because too much paint can potentially cause smudging or bleeding. Afterwards, pounce (dab) or swirl to apply the paint over the stencil, doing a bit of a dry brush technique.
STEP 4 – BLEND ADDITIONAL COLORS 
For the additional colors, blend them by overlapping them on the squares or by dipping into two colors before applying the paint.
We tried to be a touch random with colors but also were conscious of not having an large area of just light or dark paint and made sure not to have two of the same colored squares together.
DIY Stenciled Concrete Floor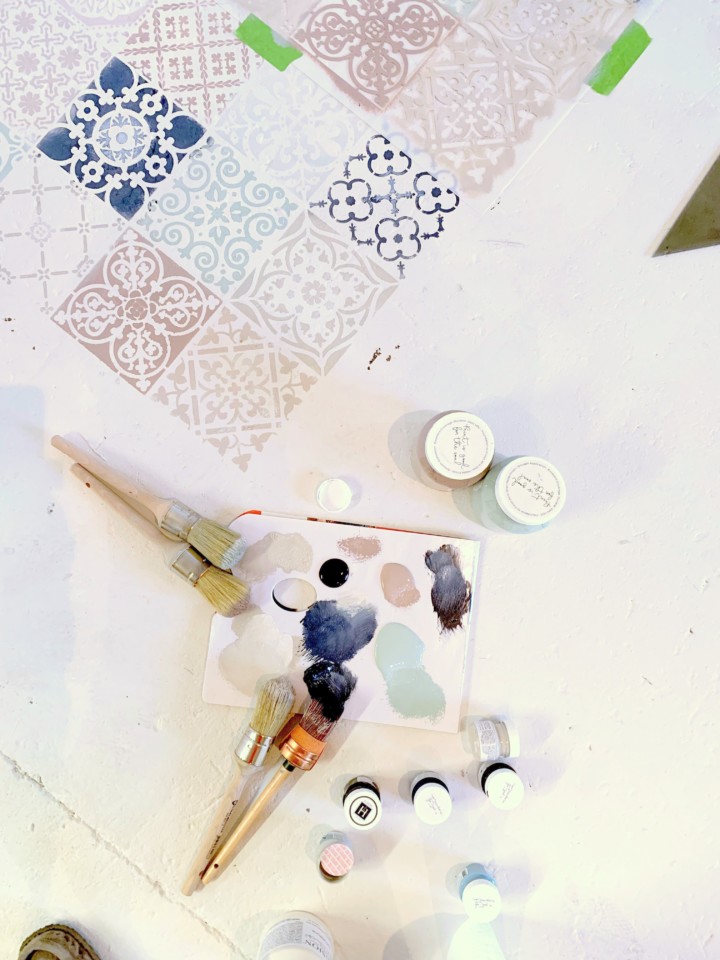 STEP 5 – STENCIL PLACEMENT & TIPS
Putting the stencil in the next location was a little tricky as we needed to keep the space between the "tiles" (the stencils) consistent. We recommend making "registration marks" which are little triangles at the edge of the stencil that help you line it up. For those that are unfamiliar with stencils, they sometimes have markings on them in the form of little arrows/triangles to help guide you on placement from one stencil to the next.. So if yours don't have that, making your own is helpful for consistency. We also used a set square – a triangle measuring tool to help try and keep things straight and it worked pretty out well.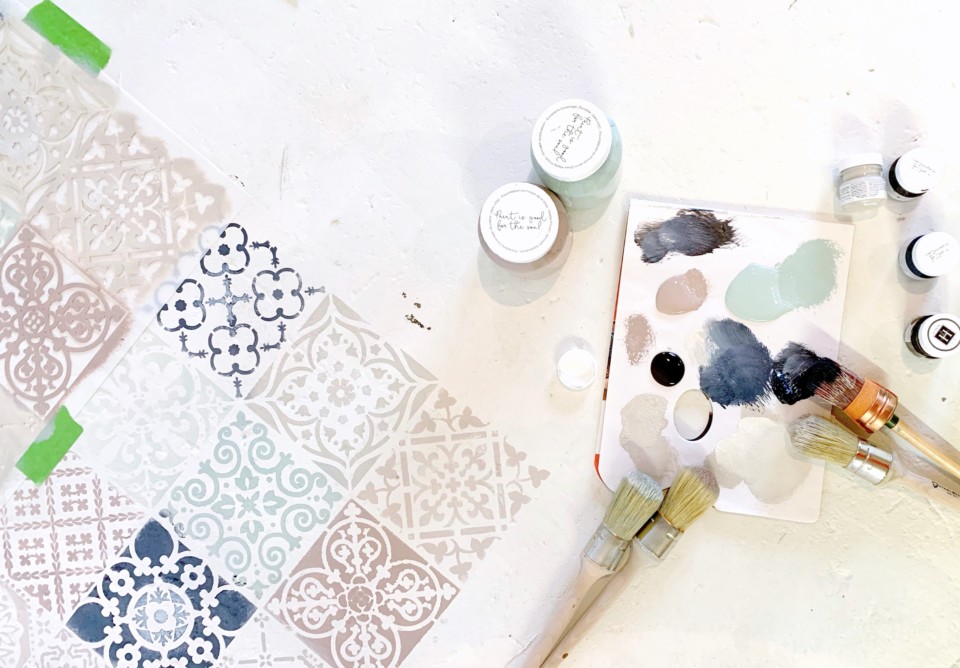 STEP 6 – TOP COAT IF NEEDED 
We did not add Tough Coat over this as for us it's not a high traffic area and mostly used for staging photographs. If you, however, are doing a mud room floor or bathroom that is going to see a lot of water, you'll definitely want a couple of layers of Tough Coat or some Stain and Finishing Oil in Natural to protect it.
One thing to make note of for any newly painted floor, pools of water need to mopped up ASAP because if they're left there, they could weaken the paint and lessen the durability. It does take three weeks for the paint to cure so do take care during this time.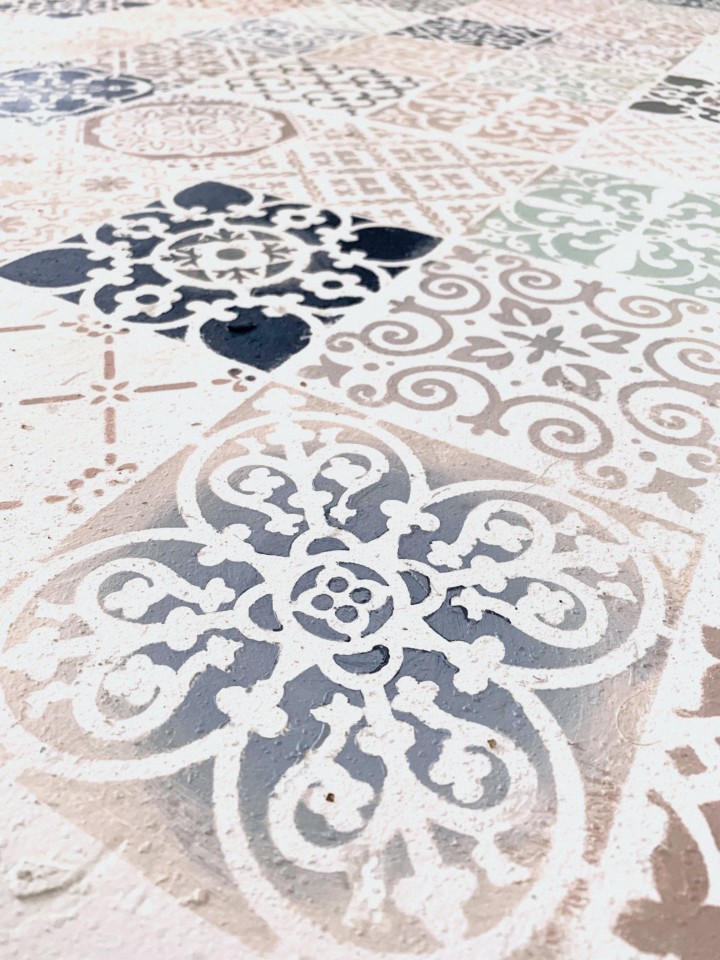 And there we have it! A gorgeous, DIY Stenciled Concrete Floor! Perfect for photo shoots or even a creative way for someone to brighten up an old environment.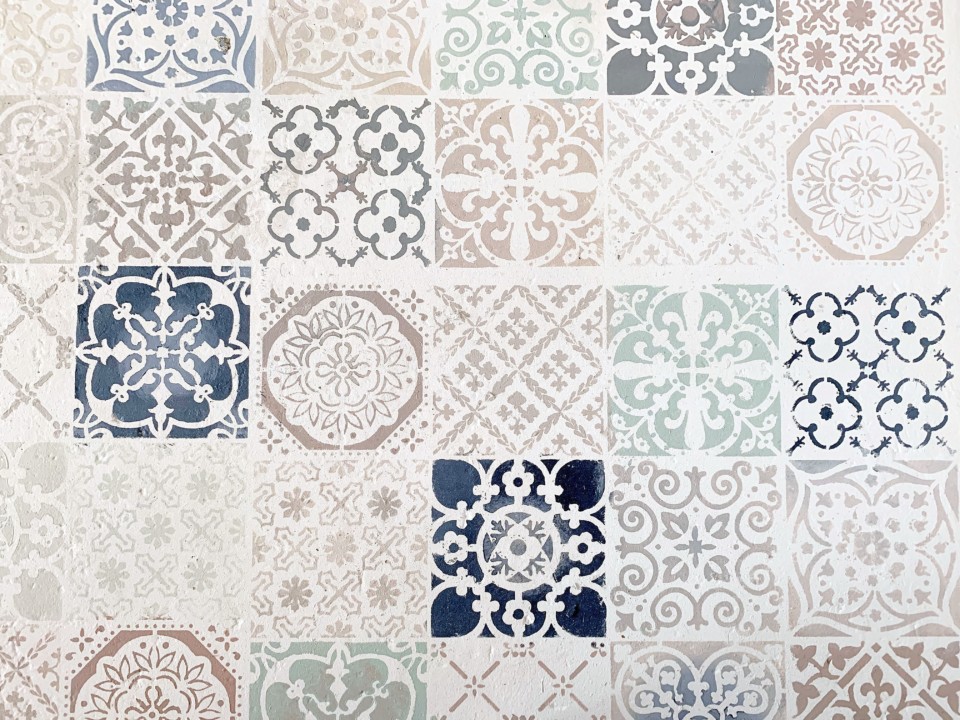 Have you ever stenciled or painted a floor? If you have we would love to see it so please do share it with us in our Paint it Beautiful Facebook group!
PIN IT FOR LATER!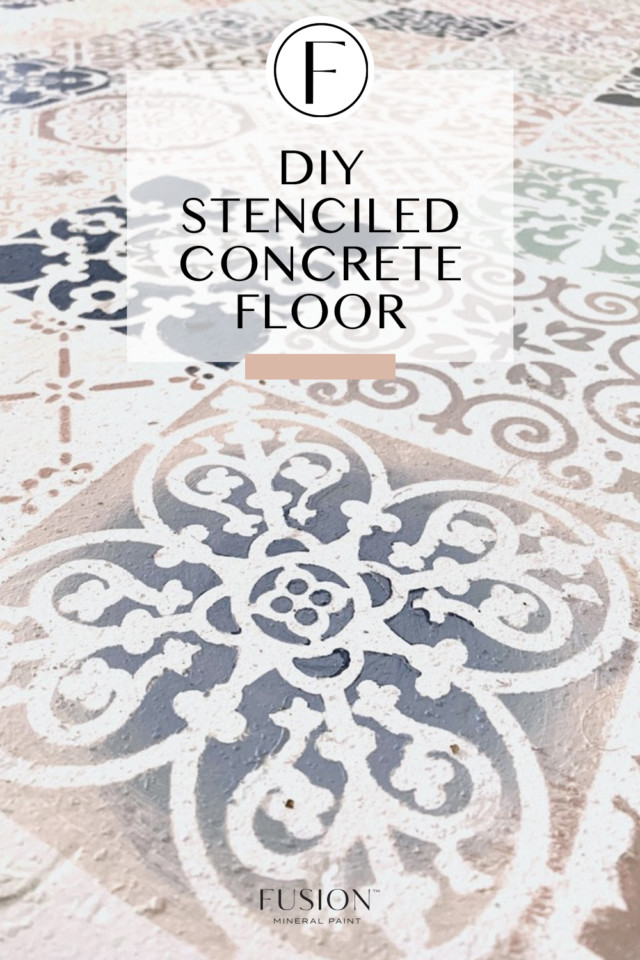 Jennylyn
Fusion™
Mineral Paint
Sours: https://fusionmineralpaint.com/diy-stenciled-concrete-floor/
You will also be interested:
Custom Stencil Materials
Choose your stencil material by number of uses and flexibility. Vinyl stencils stick on lots of surfaces, but have a limited number of uses. Mylar is the most popular stencil material because it is durable and flexible. Metal stencils are rigid and extremely durable. All can be used for spray, brush, and roller applications.
* Font shown is Stencil
How big is a letter?
Letter sizing is complicated. In most fonts, different letters have different heights, especially lowercase letters.
We size everything proportionally to an uppercase "A". Because of this, some letters may be shorter or taller than the height you select.
These letters are both sized to 4 inches.
* Font shown is Clarendon Bold.
DescriptionPricing
Description
Use these floor stencils for wayfinding, warnings, or to greet visitors to your shop.
Use the .010 mylar for repeat applications or the stick on stencil works great for one time applications on smooth surfaces like polished concrete.
We can cut floor stencils in just about any font and size. A 3" border on all sides of the lettering is standard unless a different width is specified. Mylar stencils over 24" in height will be subject to oversized shipping fees. Custom requests are welcome, please email us with specifications and additional artwork if necessary.
Choose from reusable plastic stencils or one-time sticky stencils
Paint your floor or etch concrete
Most stencils will come with a 3" border on all sides of the stencil
Customize with any font or size
Mylar Stencils over 24" in height are subject to oversized shipping fees
Custom requests welcome
Pricing
Characters ,.;':"- are free
Material
Height
Vinyl (One Time Use)
Low Tack Vinyl (Slightly Reusable)
10 Mil Mylar (Reusable)
Galvanized Steel (Reusable)
Aluminum (Reusable)
1.5 inch
$ 0.85
$ 0.87
$ 1.43
$ 3.00
$ 3.25
2 inch
$ 1.15
$ 1.18
$ 1.55
$ 3.15
$ 3.50
3 inch
$ 1.40
$ 1.44
$ 1.72
$ 3.75
$ 4.00
4 inch
$ 1.80
$ 1.85
$ 2.37
$ 4.59
$ 5.09
5 inch
$ 2.40
$ 2.46
$ 3.02
$ 5.81
$ 6.40
6 inch
$ 3.05
$ 3.13
$ 3.69
$ 7.05
$ 7.72
7 inch
$ 3.65
$ 3.74
$ 4.39
$ 8.42
$ 9.17
8 inch
$ 4.30
$ 4.41
$ 5.14
$ 10.05
$ 10.86
9 inch
$ 5.15
$ 5.28
$ 5.90
$ 11.64
$ 12.51
10 inch
$ 5.95
$ 6.10
$ 6.67
$ 13.18
$ 14.09
11 inch
$ 6.45
$ 6.61
$ 7.48
$ 14.88
$ 15.82
12 inch
$ 7.25
$ 7.43
$ 8.30
$ 16.66
$ 17.62
13 inch
$ 7.95
$ 8.15
$ 9.16
$ 18.53
$ 19.50
14 inch
$ 8.70
$ 8.92
$ 10.01
$ 20.30
$ 21.27
15 inch
$ 9.40
$ 9.64
$ 10.88
$ 22.19
$ 23.14
16 inch
$ 9.55
$ 10.20
$ 11.80
$ 24.27
$ 25.21
17 inch
$ 9.80
$ 10.65
$ 12.73
$ 26.41
$ 27.31
18 inch
$ 9.98
$ 11.09
$ 13.67
$ 28.53
$ 29.39
19 inch
$ 10.66
$ 11.84
$ 14.62
$ 30.67
$ 31.49
20 inch
$ 11.35
$ 12.64
$ 15.59
$ 32.83
$ 33.59
21 inch
$ 12.03
$ 13.46
$ 16.61
$ 35.43
$ 36.11
22 inch
$ 12.72
$ 14.40
$ 17.61
$ 37.92
$ 38.51
23 inch
$ 13.40
$ 15.30
$ 18.61
$ 40.13
$ 40.64
24 inch
$ 14.08
$ 16.24
$ 19.66
$ 42.87
$ 43.26
25 inch
$ 14.77
$ 17.23
$ 20.71
$ 45.16
$ 45.48
26 inch
$ 15.45
$ 18.26
$ 21.76
$ 47.71
$ 47.91
27 inch
$ 16.14
$ 19.13
$ 22.83
$ 50.42
$ 50.50
28 inch
$ 16.82
$ 20.02
$ 23.90
$ 53.06
$ 53.00
29 inch
$ 25.00
$ 56.07
$ 55.84
30 inch
$ 26.11
$ 59.06
$ 58.66
31 inch
$ 27.21
$ 61.91
$ 61.34
32 inch
$ 28.31
$ 64.86
$ 64.10
33 inch
$ 29.46
$ 68.20
$ 67.24
34 inch
$ 30.58
$ 71.14
$ 69.99
35 inch
$ 31.72
$ 74.36
$ 72.99
36 inch
$ 32.88
$ 77.85
$ 76.24
37 inch
$ 34.02
$ 81.10
$ 79.27
38 inch
$ 35.19
$ 84.83
$ 82.72
39 inch
$ 36.34
$ 88.21
$ 85.86
40 inch
$ 37.50
$ 91.76
$ 89.14
41 inch
$ 38.64
$ 94.97
$ 92.10
42 inch
$ 39.82
$ 99.02
$ 95.83
43 inch
$ 40.99
$ 102.98
$ 99.47
44 inch
$ 42.15
$ 106.53
$ 102.74
45 inch
$ 43.31
$ 110.53
$ 106.40
46 inch
$ 44.47
$ 114.45
$ 110.00
47 inch
$ 45.63
$ 118.45
$ 113.66
48 inch
$ 46.79
$ 122.62
$ 117.47
Sours: https://www.woodlandmanufacturing.com/floor-stencils.html
3266
3267
3268
3269
3270