4 Ways You Can Decorate Like Your Favorite "Gossip Girl" Character
HBO Max is dropping Gossip Girl, a reboot of the original show, on July 8th and we can't stop thinking about it. As a nod to the classic characters we loved (and loathed, depending on what season!), online interior design service Modsy reimagined what their homes would look like in 2021. So before you binge watch the new series in one sitting (don't forget the cocktails!), check out how Alessandra Wood, Modsy's VP of Style, says you can get the OG Gossip Girl characters' style for your space.

---
Blair and Chuck
This flirty, classic, and vintage design says "Blair" all over it. "For Chuck and Blair, we tried to envision where they are now, which is an Upper East Side townhouse for sure," Wood says. The mix between the French, cool-toned base and dark, metal details are a total fit for B and C. "Combining these two styles in a way that we felt could suit both of their grown-up selves tastes was a fun design challenge."
It's All in the Details:

A photo of Blair and Serena on Blair's nightstand
A chic crib in the corner for their growing family
A luxe dog bed for Chuck's pup
Photo of Paris on the bookcase
A photo of Audrey Hepburn in Blair's favorite movie, Breakfast at Tiffany's
Get the Gossip Girl Look
"To speak to Chuck's style, we leaned toward dark metal accents and minimal silhouettes," Wood says. "To capture Blair's more refined style, we painted the room a gray with subtle hints of lavender and incorporated this color into the rug." Don't underestimate the contrast and lightness that upholstery and decor can bring!
Serena and Dan
While Blair and Chuck thrive in the Upper East Side, Serena and Dan would swap it for somewhere more hip and relaxed, like the West Village. "They'd surely be following Instagram design influencers and their space would have a mix of old and new," Wood says. "We looked at the popular California Casual style and incorporated cool-toned oak hardwood floors, high-contrast colors, and comfortable yet polished furniture." With bold pops of color and saturated details, the space is perfect for summer afternoons curled up with your favorite book.
It's All in the Details:
A reading nook and shelves to house Dan's favorite books, plus a copy of the New Yorker, where his first article was published.
The Marfa Prada photo is still a favorite of Serena's and incorporated into her dining area.
Get the Gossip Girl Look
"For inspiration, we looked to Serena and Dan's homes growing up and pictured who they'd be today to come up with ideas for what their space might look like," Wood says. "Together, we think they'd lean towards a relaxed feel with a slightly tailored vibe that speaks to both of their backgrounds." Incorporate leather chairs and woven stools for a modern edge, and choose an earthy paint color that will give your space a sense of calm.
Dorota and Vanya
"We were really inspired by the episode where Dorota designs Blair's office at Waldorf Designs," Wood says. "From there, we wanted to define her eclectic style and the color palette for the space." Even though we didn't see much of Dorota's space throughout Gossip Girl, we know she's got a killer decorating style.
It's All in the Details:
A framed photo of Cindy Lauper (one of Dorota's favorites)
A famous Polish modern art piece that hangs above the sofa as a nod to her homeland and showcasing her love for art and exceptional taste.
Get the Gossip Girl Look
Pick a bright and vibrant wall color, and match your sofa for a sophisticated look. "Wallpaper is a great way to accent a space that may not have much architectural character on its own," Wood says. Add colors that are complementary (blue and orange, purple and gold) for some drama, and a statement piece that will tie everything together (like a rug). Accent pieces will give your space eye-catching layers and make it feel more upscale.
Jenny
As a fashion designer, Jenny is definitely a trendsetter. "We wanted to create a space that was trend-forward and oh-so-cool but also functions as an office," Wood says. "We designed the space to have a Maximalist vibe with high drama."
It's All in the Details:

J for Waldorf bag, which was in the series finale and suggests Blair and Jenny now have a professional relationship
A fashion mannequin to bring her ideas to life
Get the Gossip Girl Look
"The older, cool-girl Jenny chooses a moody dark wall color," Wood said. "Her updated space speaks to her teenage room, with gold accents and a dress form. The pink is swapped out for black and white patterns and gold tones to create a sophisticated yet bold look!" Add in light colors and black and white decor for high contrast, as well as metallic pops for luxury. "These pieces feel like works of art on their own and are the perfect way to spark creativity, as well as create a space to wow clients."
Are you excited to watch the Gossip Girl reboot? Which space is your favorite? DM us on Instagram and let us know!
Brit + Co may at times use affiliate links to promote products sold by others, but always offers genuine editorial recommendations.
Related Articles Around the Web
Sours: https://www.brit.co/living/home-decor-inspo/gossip-girl-reboot-decor/
Good news, Upper East Siders! Gossip Girl is back—and the interiors of the new reboot (which just premiered on HBO Max) are certainly in a league of their own. Some highlights include a West Village townhouse that any antique-loving maximalist would love, a rustic-yet-cool Dumbo loft (not to be confused with Dan Humphrey's Brooklyn loft from the OG GG), and an ultramodern Tribeca penthouse with sweeping cityscape views.
To get the full scoop on the luxe pads of Manhattan's new and improved elite, we spoke to production designer Ola Maslik and set decorator Rich Devine, who brought these lavish interiors to life.
When it came to sourcing inspiration for the sets of the Gossip Girl reboot, Devine says he and Maslik "drew inspiration from Ryan Korban, Diana Vreeland, Thomas O'Brian, Neal Beckstedt and Mario Buatta." Ultimately, they sought to incorporate furnishings and color palettes that best reflected the characters who lived in these spaces.
Below, take a look at the sumptuous residences of Max Wolfe, Obie Bergmann, and Julien Calloway. And fear not—this is a spoiler-free zone!
XOXO, Gossip Girl.
Max Wolfe's West Village Townhouse
Although Max Wolfe's townhouse is meant to be located in the West Village, its interiors were actually created on a man-made stage at Steiner Studios in Brooklyn. Wolfe lives here with his father, Gideon, who Devine describes as an "old school New York avant-garde denizen. Gideon is "unencumbered by societal expectations," so it only makes sense that the interiors of his home reflect his free-spirited nature. Some furnishings that echo this sentiment include a fringed green velvet sofa designed by Alexa Hampton for Theodore Alexander Furniture and an eye-catching floral chair from GP & J Baker. Devine and Maslik brought in pieces from a number of antique stores, auction houses, and overseas markets to decorate this maximalist dwelling.
Obie Bergmann's Dumbo Loft
Just like Max Wolfe's West Village townhouse, Obie Bergmann's Dumbo Loft was built on a stage set, in Brooklyn. Maslik says that she and Devine looked to Bergmann's German descent for inspiration when designing his home. "We were very mindful to keep an aesthetic heavy in austerity, but with very high-end taste in artwork and furnishings," Maslik tells House Beautiful. As for the artwork seen in this abode, Maslik and Devine made sure to incorporate creations by artists of German descent, like Neo Rauch and Candida Hoefer.
In real life, the structure that acts as the exterior of Bermann's pad is actually a former factory in Dumbo, built in 1869. The design of this building was meant to highlight certain architectural elements, including the original arched windows and the heavy, framed timber, both of which were used to "enhance the ambiance of this space," adds Maslik.
In the show, Bergmann lives on the top two floors of the building, mostly by himself, given that his parents are rarely home. Devine says that the idea behind this loft was that his parents bought the building as an investment. "Left to his own whims with an unlimited budget, he would have used a top young designer and picked most of the furniture and art himself," adds Devine. "It's all very playful and young, yet lush and textured."
Julien Calloway's Tribeca Penthouse
Julien Calloway's Tribeca penthouse was one of few residences in the Gossip Girl reboot that was actually filmed on location, in the heart of Manhattan. Best of all, you can even stay here yourself, as this pad is actually part of the famed Beekman Hotel. "The views from Julien's apartment would be almost impossible to capture on a stage set," as Maslik points out, "and they were so amazing that we decided to take full advantage of the location." The sprawling pad occupies the entire 52nd floor, and it boasts 360-degree views of New York City.
Follow House Beautiful on Instagram.
Mary Elizabeth AndriotisAssociate EditorMary Elizabeth Andriotis is House Beautiful's Associate Editor, where she covers historic homes, entertainment, culture, and design.
This content is created and maintained by a third party, and imported onto this page to help users provide their email addresses. You may be able to find more information about this and similar content at piano.io
Sours: https://www.housebeautiful.com/design-inspiration/a36983119/gossip-girl-sets-hbo-max/
The disembodied voice of scandal once said, "You know you love me," and we do—enough to bring back Gossip Girl, the much-loved aughts-era TV show, for a 2021 redo. While the update, airing every Thursday starting this week on HBO Max, picks up where the original left off and still includes that same Kristen Bell–voiced Gossip Girl, it features a new, more diverse, more Internet-savvy cast as well as all-new fashion trends (RIP, headbands). The interiors of the New York elite—from a sleek DUMBO loft to a classic Upper East Side penthouse, created by production designer Ola Maslik—also reflect the changing times. Here, we break down some of our fave looks. Xoxo.
---
Obie's DUMBO Living Room
This sprawling industrial loft with water views in Brooklyn is a major upgrade from the artsy living quarters of the OG Brooklyn boy, Dan Humphrey. Obie, a politically active son who protests his real estate developer parents' every move, proves that living across the East River no longer makes you an outcast.

The Sectional
Floyd Homefloydhome.com
$2,310.00
SHOP NOW
Arco Mid-Century Table Lamp
Magnoliamagnolia.com
$132.00
SHOP NOW
Club Leather Chair
SHOP NOW
Misses Armchair
Industry Westindustrywest.com
$695.00
SHOP NOW
Customizable Hand-Braided Jute Rug
Williams-Sonomawilliams-sonoma.com
$4,810.00
SHOP NOW
Mina Collection Coffee Table
West Elmwestelm.com
NT$699.00
SHOP NOW
Archer Floor Lamp
Y Lightingylighting.com
$621.00
SHOP NOW
La Mamma Up5 and Up6 Chair
B&B Italiaeinrichten-design.com
$3,822.75
SHOP NOW
---
Max's Upper East Side Living Room
As the self-proclaimed bad boy of the friend group (think: a toned-down Chuck Bass, minus the hotel fortune), Max has an Upper East Side pad that matches his moody disposition. Rich jewel tones and pattern play prove that he is not one to be trifled with.
Miramar Fringed Sofa
Serena & Lilyserenaandlily.com
$6,298.00
SHOP NOW
Utopia Table Lamp
Circa Lightingcircalighting.com
$709.00
SHOP NOW
Cheetah-Print Throw Pillow
Looly Elzayatsociety6.com
$20.99
SHOP NOW
Distressed Faux Zebra Hide Rug 5' x 8'
SHOP NOW
Capri Dolce Vita Book
Assoulineassouline.com
$95.00
SHOP NOW
Animal-Print Velvet Pillows
Zoffanychairish.com
$551.00
SHOP NOW
Coffee Table With Lucite Frame
SHOP NOW
Antique Arch/Crowned Top Wood Traditional Beveled Venetian Wall Mirror
Astoria Grandwayfair.com
$399.99
SHOP NOW
---
Audrey's Upper East Side Dining Room
Drenched in pastel hues and traditional silhouettes, this is the dining room we conjure up when we hear old money. Audrey is the ideal mix of Serena and Jenny, and her Upper East Side space perfectly combines the modern and the classic.
Craftsman Inlaid Sideboard
Councillkaiyo.com
$864.00
SHOP NOW
Twining Powder-Blue Wallpaper
Graham & Browngrahambrown.com
$82.50
SHOP NOW
Floral Cascade Golden Pearl Rug
Tufenkiantufenkian.com
$600.00
SHOP NOW
Parma Gray Paint
Farrow & Ballfarrow-ball.com
$27.00
SHOP NOW
English Traditional-Style Dining Table
Brown Jordanchairish.com
$2,475.00
SHOP NOW
Saxon Large Table Lamp, Blush
Kate Spade New Yorkonekingslane.com
$559.00
SHOP NOW
Large English Framed Oil Painting, Circa 1908, Country Landscape by A. Watts
SHOP NOW
Chippendale Dining Chairs
Baker Furniturekaiyo.com
$539.00
SHOP NOW
---
Julien's Downtown Walk-In Wardrobe
As the reigning queen bee, with a famous music producer father, Julien is all about controlling her brand. With floor-to-ceiling shelving housing the season's latest fashion trends, the wardrobe is Julien's command center, whether she's scheming or just decompressing after closing Christopher John Rogers's fictional fashion show (casual).
Alberto Chandelier
Visual Comfortcircalighting.com
$1,899.00
SHOP NOW
Dimmable Backlit LED Mirror Round, 40" x 40"
IBMirroribmirror.com
$869.00
SHOP NOW
Malone Oval Writing Desk
Arhausarhaus.com
$1,899.00
SHOP NOW
Mongolian Bench
Jonathan Adlerjonathanadler.com
$1,595.00
SHOP NOW
Kate McGregorKate McGregor is the Market Assistant for ELLE Decor covering all things home decor, design, and style.
This content is created and maintained by a third party, and imported onto this page to help users provide their email addresses. You may be able to find more information about this and similar content at piano.io
Sours: https://www.elledecor.com/life-culture/a36957718/gossip-girl-reboot-2021/
For the remainder of the sets, set decorators Rena DeAngelo (episodes one and two) and Rich Devine (episode three onward) filled New York City soundstages with an abundance of high-end furnishings. For Julien's boyfriend Obie (Eli Brown), who has impossibly wealthy German parents and an interest in social justice, they created a cool and trendy warm-toned Dumbo loft. Max Wolfe (Thomas Doherty), the party boy of the group, lives with his father in an eclectic, antique-filled townhouse Devine calls "my favorite set I think I have ever done." Then there's Audrey (Emily Alyn Lind), who may remind viewers of Blair Waldorf (Meester in the original): She lives with her mother in an elegant house with Scalamandré curtains and wallpaper and plenty of bold colors.
The drama in the show happens so quickly, and there are so many characters, that it's easy to blink and miss the home sets in the first few episodes. But one place where the show comes together and lingers for a moment is Dumbo Hall, the fictional members-only club loosely based on Soho House, where the teenage characters are all—somehow—able to meet and order martinis without question. (Julien prefers a twist to an olive, she tells the naive Zoya, who has never had a drink.) Maslik looked to the design of restaurants Veronika and Le Coucou (both done by AD100 designers Roman and Williams) for further inspiration. "We went for eclectic, homey, warm tones," she says, adding that if, post-pandemic, they ever film at real NYC locations, they wanted to make sure their Dumbo Hall "is very much in style with the rest of New York."
If this all seems extremely, even unusually opulent for a television show, it is. "We had a good purse [to work with]," says Devine. "It is real estate porn, lifestyle porn."
Sours: https://www.architecturaldigest.com/story/the-gossip-girl-reboot-furniture
Bedrooms gossip girl
Hey Upper East Siders, Gabrielle here. Your one and only source into the glamorous bedrooms of Manhattan's elite. You didn't think I'd forget the final bedroom in the Gossip Girl series, did you? 'It' girl; Serena Van der Woodsen's posh pad screams glamour, while still managing to remain refreshingly low key. This article will give you some great bedroom inspiration, as well as some tips to achieving the look of her effortlessly chic hideaway!
Serena Van Der Woodsen Bedroom by gabriellecapes
Cushions are a central feature of Serena's room, helping to tie together the overall colour palette comprised of; cream, gold, silver and ice blue. Glimmering tones scattered throughout the space epitomise the youth and glamour that have come to define Serena, while still remaining effortless and chic. The bed's headboard in gold polka-dots is quite difficult to track down, so I recommend incorporating spots into the cushions or bedding instead. The photograph of the eye ('Frostbite' by Marilyn Minter) is a one off. However, you could always purchase a print, or even find another artwork that ties together the room's central colours. At the foot of Serena's bed, a table holds every girl's favourite things; shoes, bags, magazines and make-up!


I also incorporated into the Serena inspired space a butterfly mural, which hangs in her bedroom at the Waldorf residence. I think it adds a unique and personal touch! And while the original butterfly wall was created by Paul Villinski, many DIY replicas exist online, made out of card instead of metal. You can find these for sale on Etsy here.
Rather than tracking down the exact furniture, Serena's chic space can be replicated through sticking to her distinctive colour palette, as well as adding a signature mural above your bed. My personal favourite item however would have to be the bed-side tables, with their elegant hint of gold. I don't know about you, but I am SO ready to move in already.
Spotted: Lonely Boy and S having a heart-to-heart. Back off Dan, this room is mine!
You know you love me,
XOXO
Sours: http://gabrielleandclaire.blogspot.com/2015/08/serena-van-der-woodsen-room-gossip-girl.html
Funny Blair Waldorf (Gossip Girl)
Emmy's Gossip Girl Bedroom Design Debut
Sharing is caring!
When we built our previous home in 2015, the home that started this entire journey we are on, I designed Emmy's room. Truth be told, it was one of my favorite rooms in the house to design and I did a VOGUE, glam-themed girls bedroom. She was only 7 years old at that time and we both absolutely loved this room…..Here is what it looked like when we first moved in.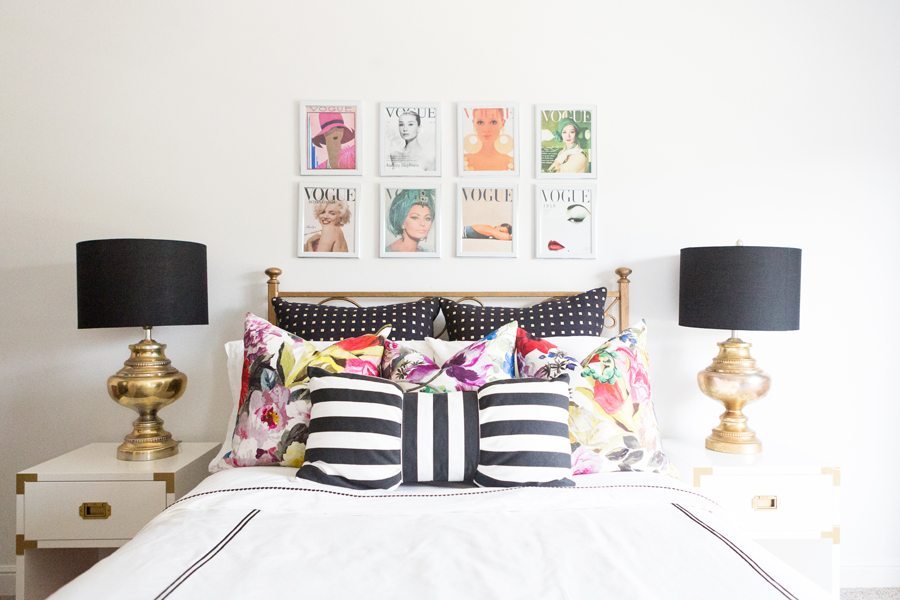 As we lived in the house Emmy grew up, of course, and developed her own style and her own ideas about what she wanted her room to look like. The little girl glam room that her mom designed for her was no longer speaking her language. She came to me one day with a plan — Mom, I want a New York Gossip Girl Themed bedroom. She had just finished watching the hit CW series based in New York City, of course, featuring Blair Waldorf and Serena Van Der Woodsen. To say she was smitten was an understatement. She was so smitten, in fact, that she decided she wanted her room to reflect her current passion – Gossip Girl. I was skeptical to say the least, especially about the New York City Themed wall mural she wanted to do on her wall, but I told her if she designed the room and presented me with a plan, we could discuss it.
Here is the design plans my daughter presented me with by the next day. Yes, she designed this all on her own when she was only 14 years old, using our design software that we use. Pretty impressive. I mean, how could I say no to this!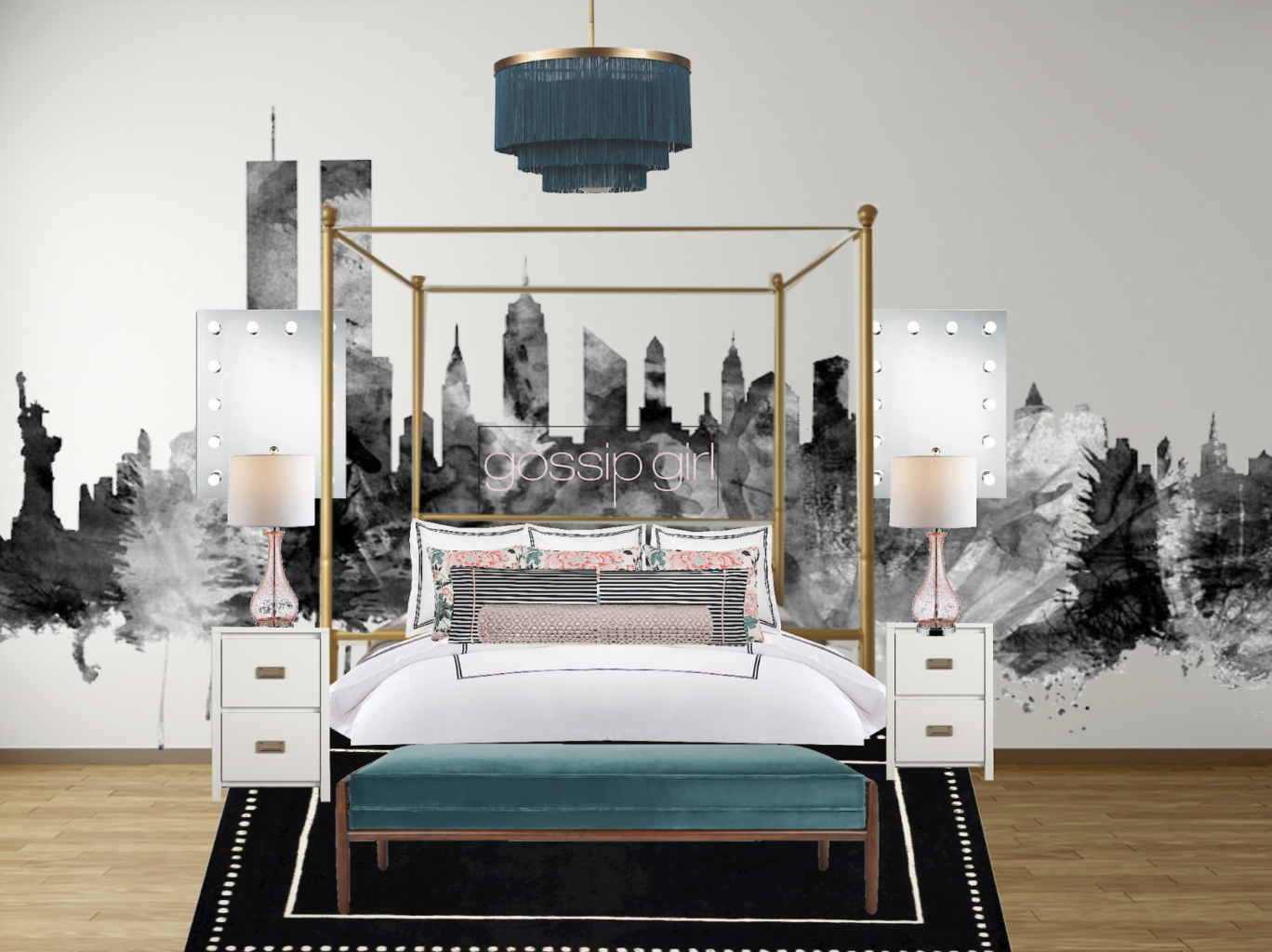 So obviously, the most dramatic statement in this room was the wall mural. Emmy designed the entire room around the New York City skyline wall mural which we got from Photo Wall Sweden. They were great to work with and have so many awesome murals you can choose from! They also offer a service where you can upload a photo and create your own wallpaper or mural which is so cool.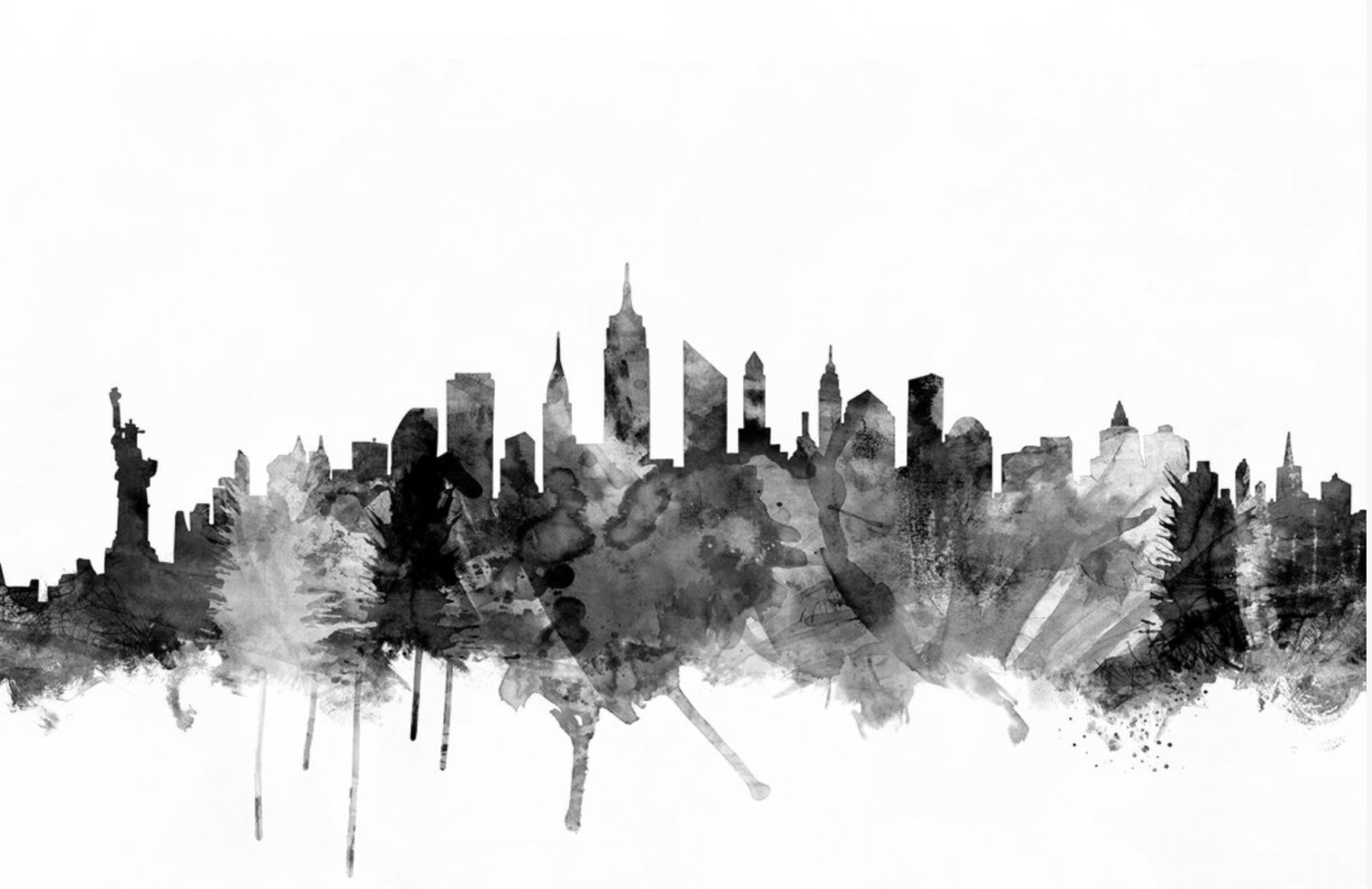 After Emmy selected the wall mural, it was time for the bed. She very specifically wanted a gold canopy bed. I was worried we weren't going to be able to find one that didn't break the bank but boy was I ever wrong. We started looking at Walmart and realized they had an amazing selection of gold canopy beds for under $350! Here is the bed we ended up selecting:
If you'd like to shop some other gold canopy bed options from Walmart, we've also rounded up some of the other options that we looked at while planning Emmy's bedroom. There are so many incredible options for under $300!
SCROLL AND TAP TO SHOP GOLD CANOPY BEDS FROM WALMART:

I also have to mention this Jenny Lind canopy bed I recently found while sourcing beds for another project. Just because, holy cow you guys, this is an absolute beauty and I'm dying to use it in a design. This is an incredible find at only $340 for a queen. It is also the DHP brand which is the same brand as Emmy's bed. They have some really cute furniture options that is for sure!
This bed also comes in a white version! I think it's amazing for all ages – kids, teens, and even adult master bedrooms!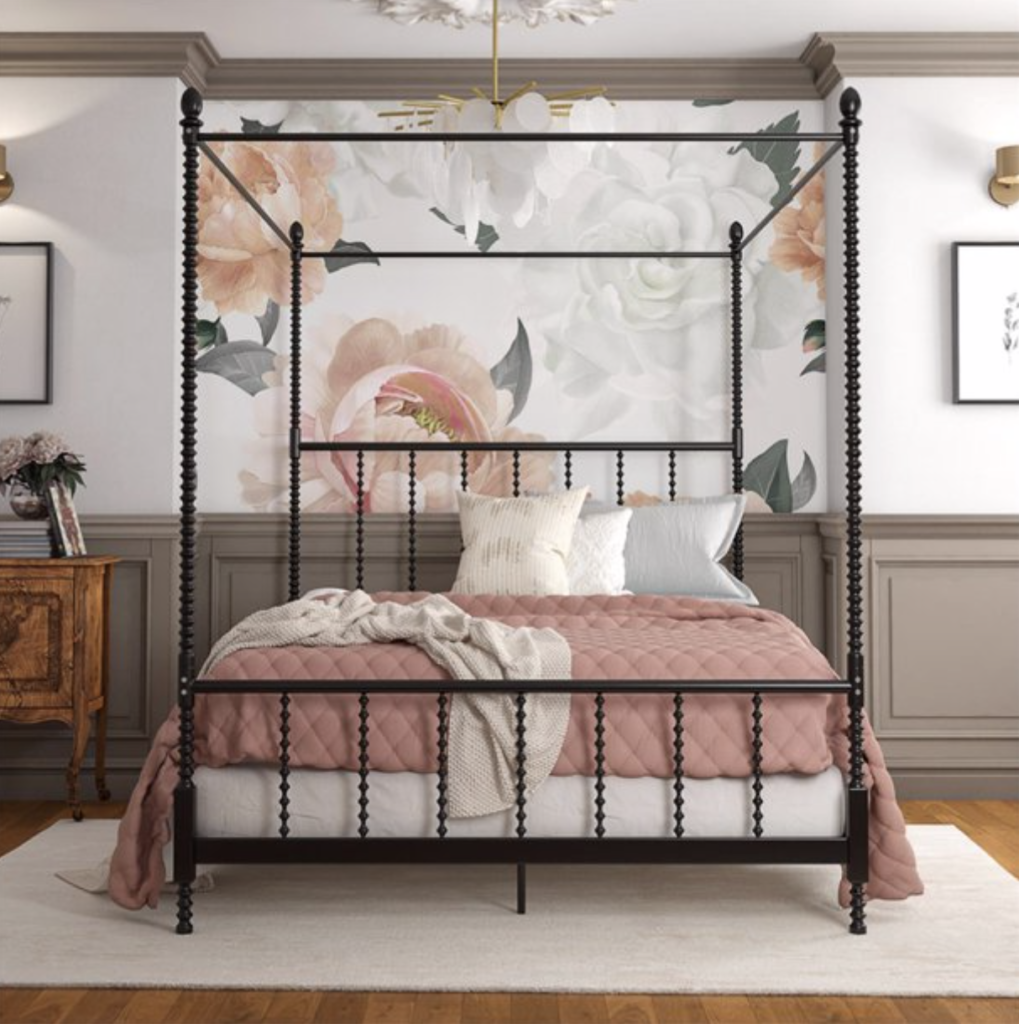 After choosing the photo mural and bed, Emmy chose the rug which will be available in November in CC and Mike the SHOP, accent furniture, and of course, pillows and accessories! I wasn't sure how it would all come together to be honest, but of course she completely amazed me. Oh, and did I mention that she designed, styled, AND photographed this herself? Yep. Turns out I had my photographer scheduled to take photos of her room the week before we moved out but then I got COVID and had to go into quarantine. We had to cancel the photo shoot and I was heartbroken that we weren't going to be able to reveal Emmy's beautiful room and all her hard work. Well, Emmy just stepped right up and got the entire room styled and ready to photogrpah herself, AND took the pictures.
Look out world. This girl has big dreams, a heck of a lot of God given talent, and a mom who is in her corner all the way. I can't wait to see where she's going to go!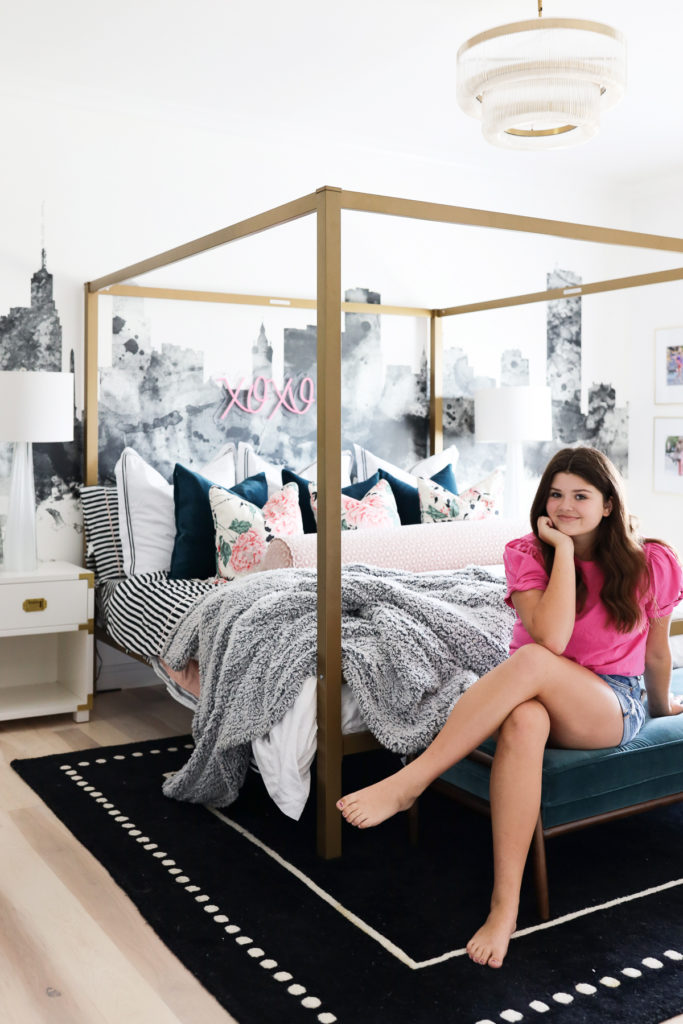 THE DETAILS:
The black and white sheets from Pottery Barn pair perfectly with the Hotel Duvet bedding for this glam look. The hotel bedding set is something that I use in nearly all my projects. I love the black border lines on the euro shams and duvet. I also have to mention that throw blanket because it is so cozy and it's something that we use quite frequently and also I like to give it as gifts when I put together gift baskets for for people as well.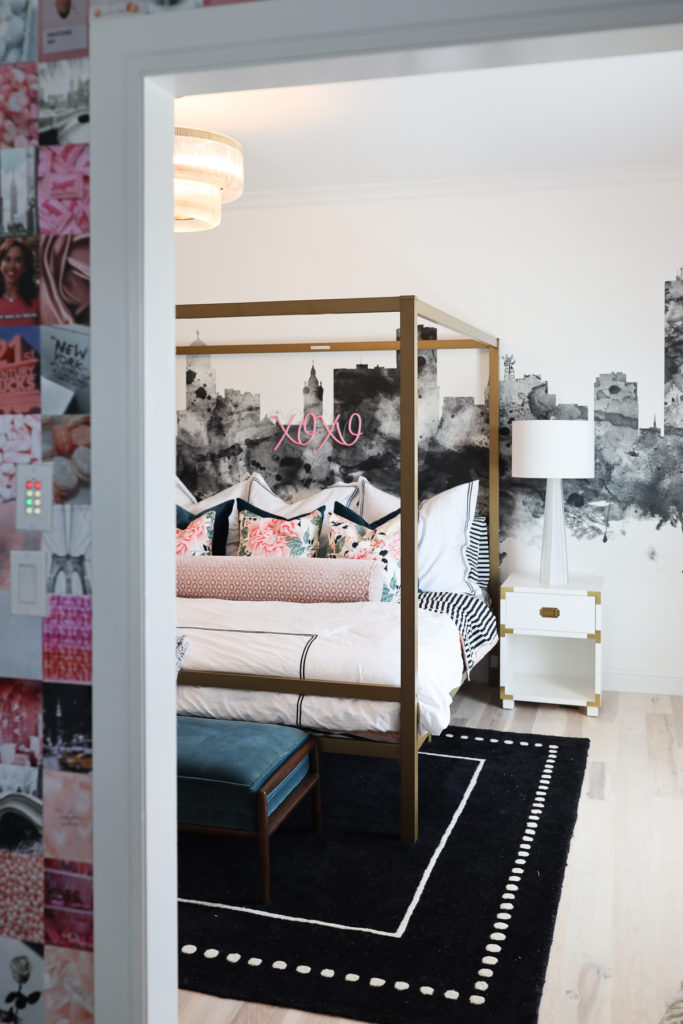 Some of the other products that definitely have to be mentioned are the campaign night stands, glass star table lamps, and XOXO sign. The campaign night stands were from Pottery Barn 6 years ago and they no longer have them but I've found an almost identical option for you that are only $109! And there is a matching desk that comes with the line. I don't know if you've heard of the Little Seeds line but it is so affordable and SO CUTE. That is what brand the $109 night stand option is!
TAP ON THE PRODUCT TO SHOP: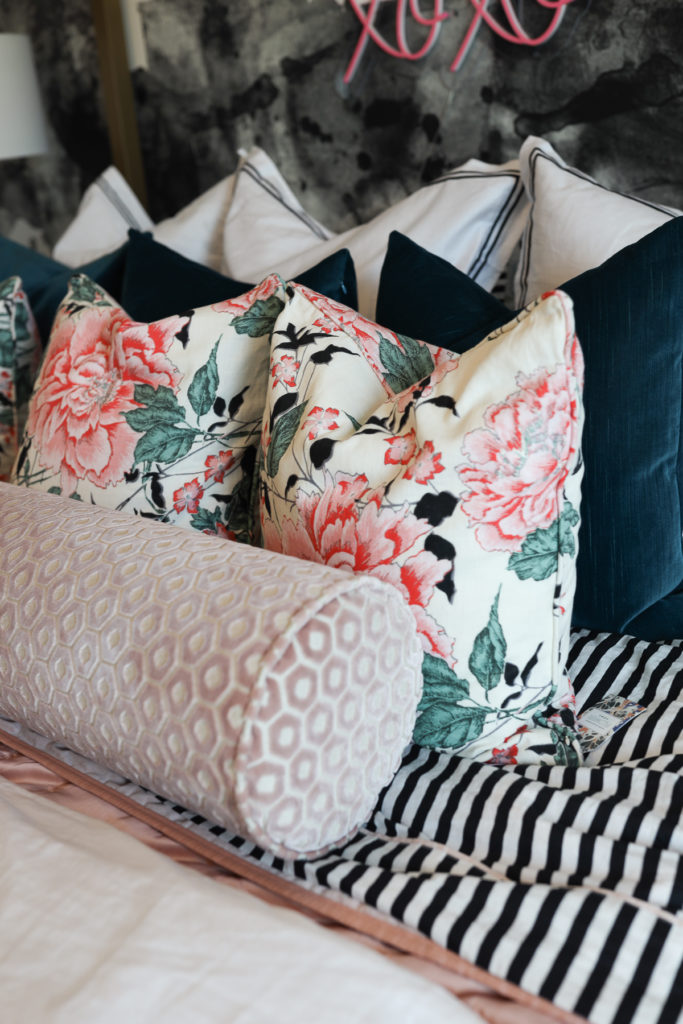 Off Emmy's bedroom in our previous home was a sitting room. When we redid her bedroom we decided to put in a daybed so that when she had friends over, it would provide more sleeping! She also had the idea of doing a photo wall and she printed off all these photos and made the wall herself.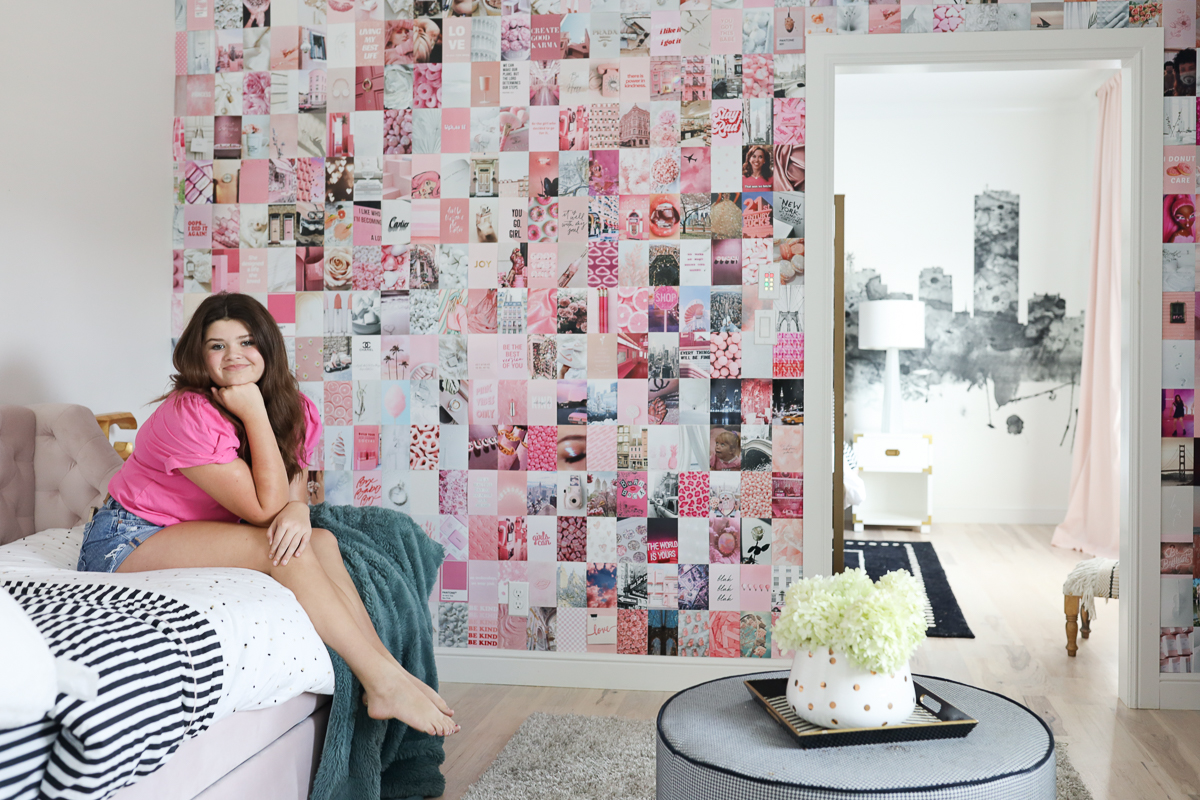 SCROLL AND TAP TO SHOP ALL OF EMMY'S ROOM AND SITTING ROOM PRODUCTS

As I mentioned before, we put a velvet daybed in Emmy's sitting room. Daybeds are such a great option for smaller spaces because they can be used as a little sofa but can also turn into a space for extra sleeping! Here is the daybed we selected. It comes in multiple colors and is a great price.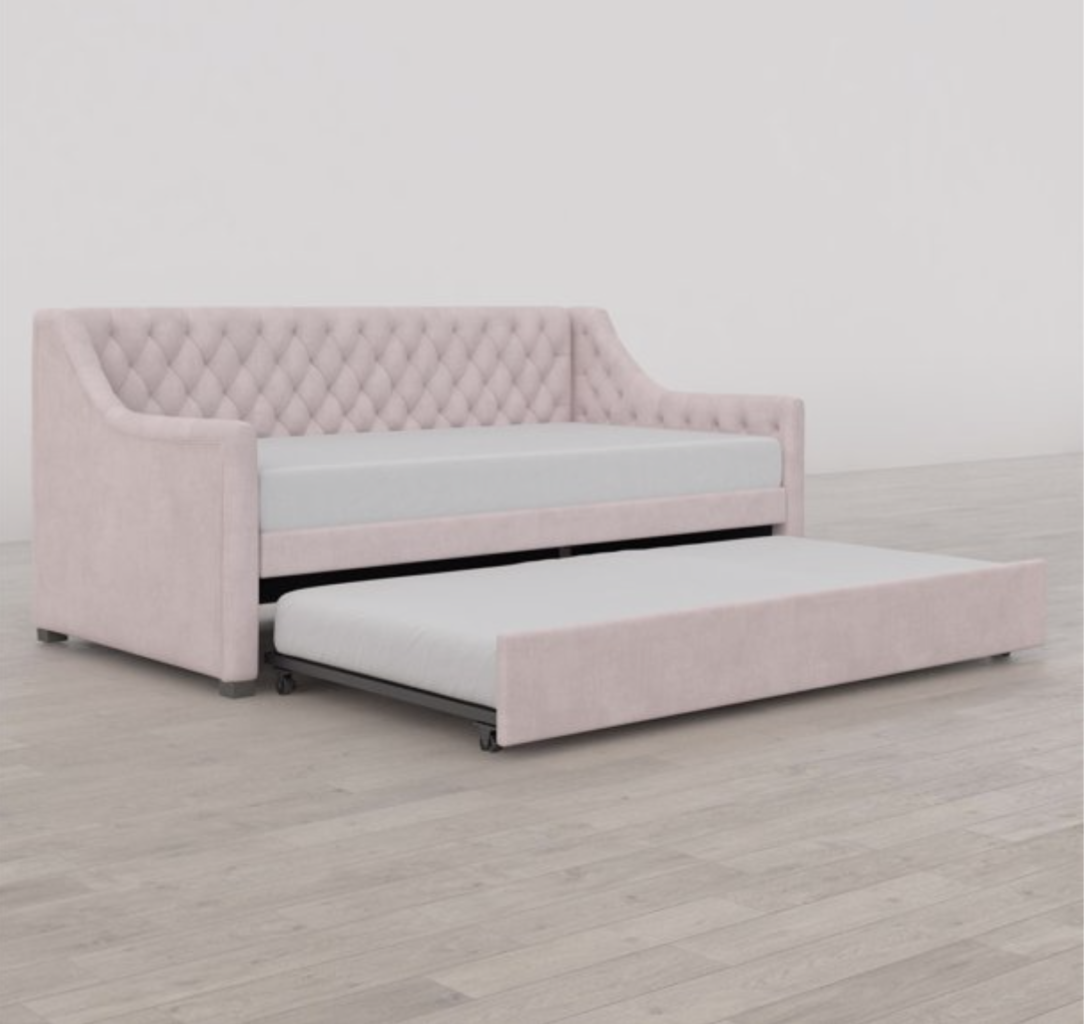 Here is a look at Emmy's sitting room. It was a fun little space in between her bedroom and bathroom. She styled it and decorated it all herself!
I also have to mention this fun sherpa chair in Emmy's sitting room! Her and I found it on one of our mother daughter shopping days but I was able to find an almost identical option for you guys with acrylic legs. This chair really is perfect for a teen girls bedroom!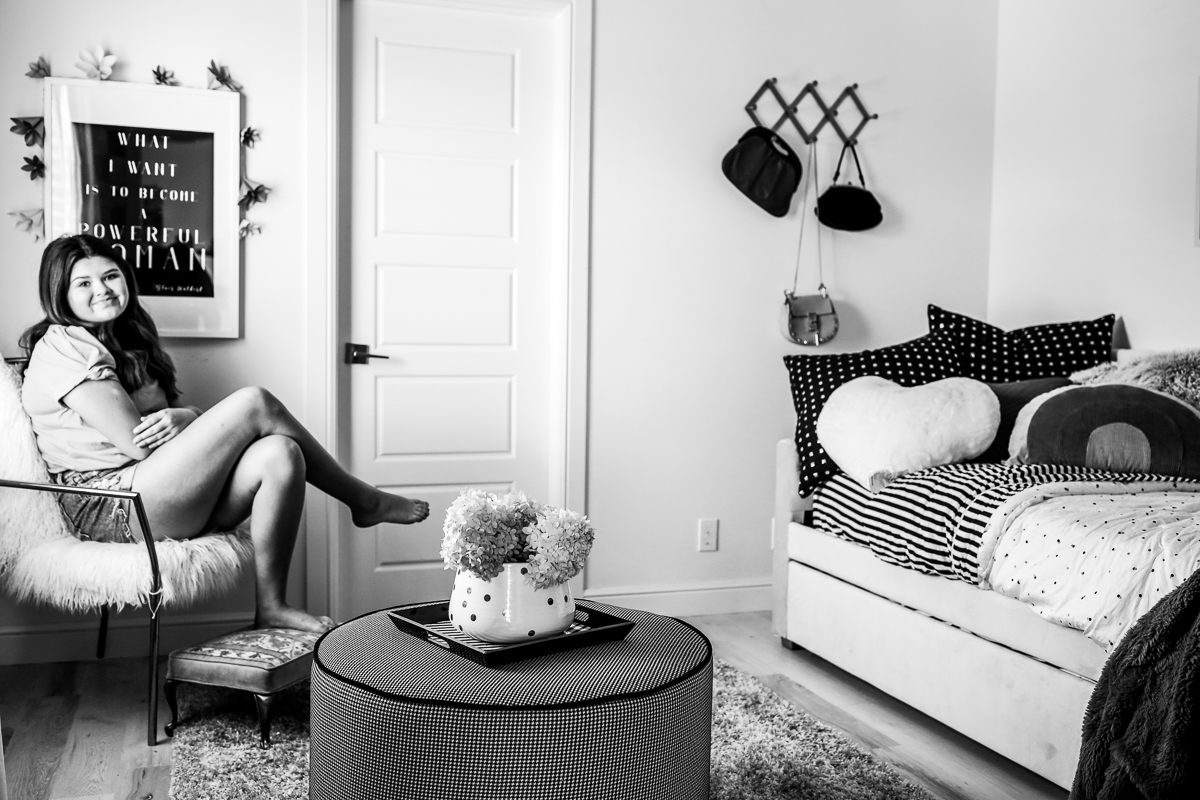 Sherpa chair options – so fun for girl and teen bedrooms and teen spaces! I've found a chair option and a foldable lounge chair option as well for you guys!
The last thing I will mention is the XOXO LED sign and also some other GOSSIP GIRL themed art. We framed pictures of Serena, Blair, and Chuck in gold frames from Target! If you've watched GOSSIP GIRL, then you know that the narrator always says XOXO, Gossip Girl at the end of the show. So Emmy wanted an XOXO LED sign above her bed and we were able to get that on Etsy. Here are some other art options if you want to create this look for your daughter!
SCROLL AND TAP TO SHOP GOSSIP GIRL ART/DECOR: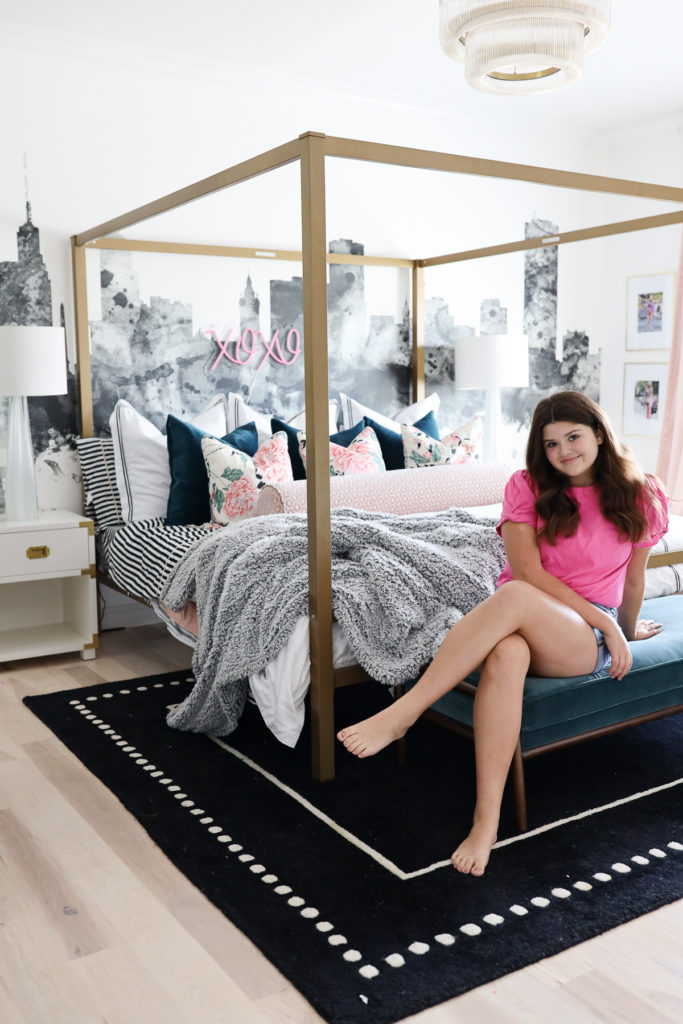 So before I go, I will leave you with some thoughts on teen parenting. I am no expert by any means, but there are a few things I have definitely learned the last few years. One of those main lessons is this: You gotta know when to get in the backseat and let them drive.
Here is a little something I wrote on instagram in that regard:
THIS GIRL. @emmymillerr. She's growing up on me. She asked to take the reins and design her own bedroom and sitting room and I gave them to her. There were things I questioned (that full wall NYC mural – just wait til you see how amazing it is) and several other things I didn't understand. But you know what… it was HER VISION, not mine. People ask me sometimes for my teen parenting advice and I'm like hold up WHAT?? 🙅🏻‍♀️. I'm just figuring this out as I go and you don't want advice from me 😂😂. But I will say this… one thing I've realizeD is that, you guys, It's THEIR journey not ours. We have to know when to get in the back seat and let THEM drive. And it was definitely time to let Emmy drive (not really just figuratively y'all.) But here's the point… we have to know when they are ready. Sure, it's scary as heck. I mean SCARY to give them the wheel. But you can't be a backseat driver who constantly is reaching over the seat trying to grab the wheel. You have to let go, get in the backseat, give them the wheel, then trust and pray to God they don't crash. And maybe cover your eyes a little bit. Here's all I know… how will they ever go anywhere in life if we don't let them drive? #dontbeabackseatdriver
Emmy, you can drive your own car. I'll get in the passenger seat. But if you ever need me I'll always be here to support you, guide you, give you gas money, help you navigate, but you know what….you don't need me to drive anymore baby girl. You got this.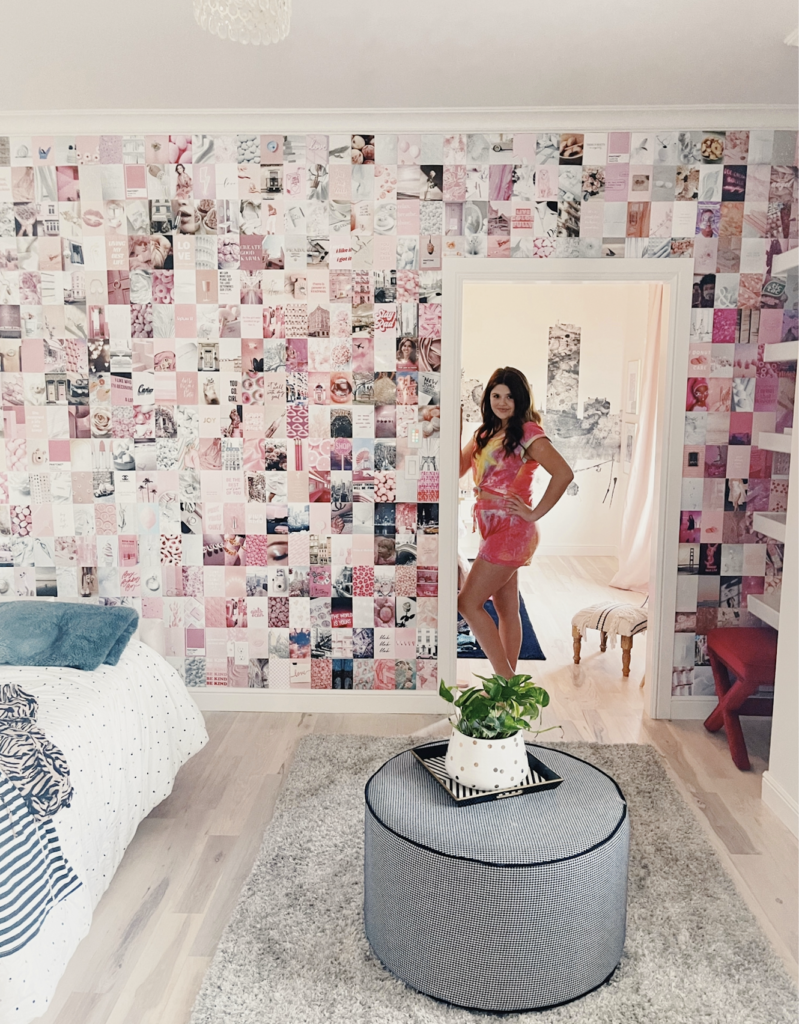 Sours: https://ccandmike.com/emmys-gossip-girl-bedroom-design-debut/
You will also like:
Lucky, do you hear, dear, drag these two love doves here. Here, it's much more interesting, guys. Cap considers him alive. The planetoid publishes what -that sounds and signals. Cap wants to explore the planetoid.
1619
1620
1621
1622
1623