5 Myths about Free Motion Quilting
When you hear "free motion quilting", what thoughts immediately pop into your mind? Does the thought of free motion quilting (FMQ) fill you with joy, or terror, or somewhere in between? As I've been sharing my experience with Free Motion Quilting Academy, I've heard a lot of your thoughts on FMQ and let's just say many of you are keeping yourselves socially distanced from free motion quilting!
I get it. Free motion quilting seems like a biiig hill to climb. I mean, I've just checked my blog archives, and I first tried free motion quilting in March 2013, and I still have had phases where it just feels too hard and too much to do! Joining Free Motion Quilting Academy in October was me telling myself that I need to both reignite my love for free motion quilting, and to also learn some new skills and motifs to make my FMQ menu a lot longer when it comes to choosing what to quilt.
So, here's 5 myths I've heard about free motion quilting, and the truth rebuttal to tell yourself in your journey to conquering that free motion quilting hill.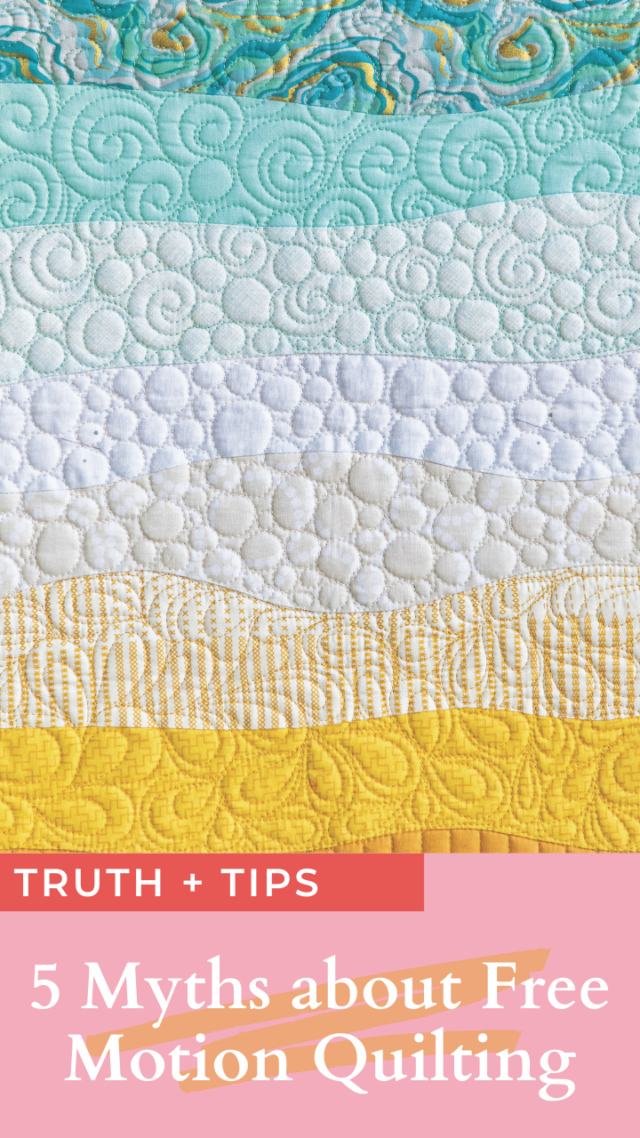 My machine is not good enough
Guess what? You can free motion quilt on any machine. Is it easier on a bigger, more powerful sewing machine? Absolutely! But the size of your machine should not hold you back from starting your free motion quilting journey. My little $100 sale machine and its 4″ x 5″ throat space (if I'm being generous in measurements) got me started with free motion quilting, and my can-do stubbornness carried me through several large quilts. The largest quilt I quilted on it was a 60″ x 80″ quilt, with switchbacks and loopy meander.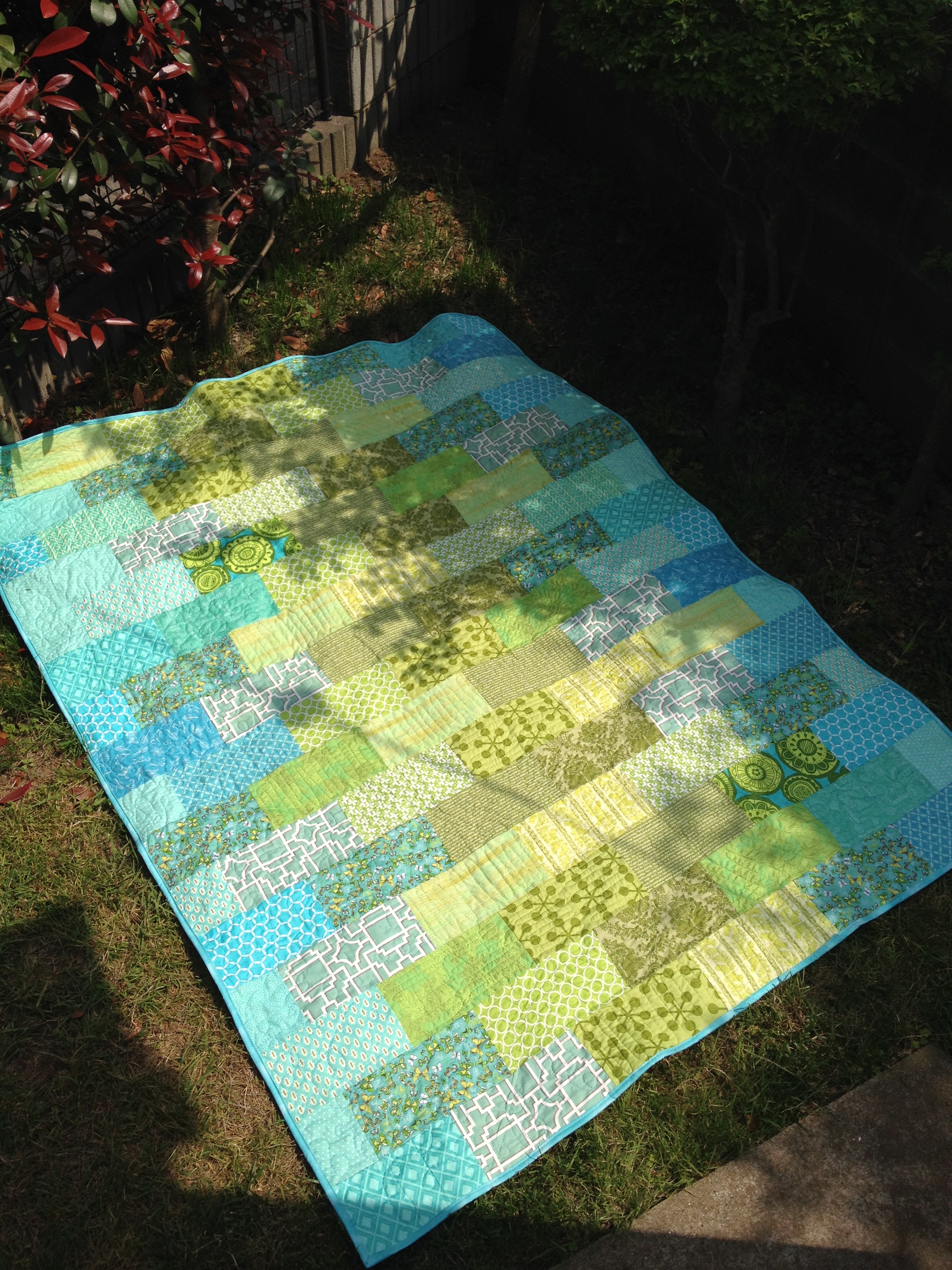 The key to quilting on a small sewing machine is to break the quilt up into sections. Whether it's block by block, or row by row, don't overwhelm yourself by thinking of the whoooole quilt, just focus on one part at a time. For the blue and green quilt above, I quilted each row of green one at a time with switchbacks (simple back and forth lines). I then quilted the blue sections with a big loopy meander, so I only ever had to focus on a small part of the quilt at a time.
Another good tip is to get the hardest part done first. That's usually the very centre of the quilt, where you'll have the most bulk under your machine at any one time. Or if your chosen motif has you moving from one edge to the other, start with the most bulk under the machine so that it's only getting easier from there.
I'm not creative enough
Hey, guess what? You make quilts, you play with fabric, you ARE creative! So perhaps a more accurate myth is "I can't draw". I know, it feels like going from sewing seams to doodling with thread is a big jump to make. But don't you dare tell yourself you aren't creative enough to free motion quilt, mk?!
Ok, now that I've done that firm best friend truth thing, let's get practical. The first step to learning free motion quilting doesn't need a quilt sandwich and thread. Yes, you read that correctly! Start with paper and pen, and fill page after page of free motion quilting motifs to get in the flow of creating them. This helps your muscle memory develop on how to move around the quilt top and fill in the space with ease. And it's much easier to start a new page then ripping out stitches* because you've completely gone off track and there's no redemption 😉
*In general, I recommend to not unpick your quilting unless you have major tension or basting issues! Wonky quilting is part of the handmade charm, and once the quilt is washed, you're really not going to notice it.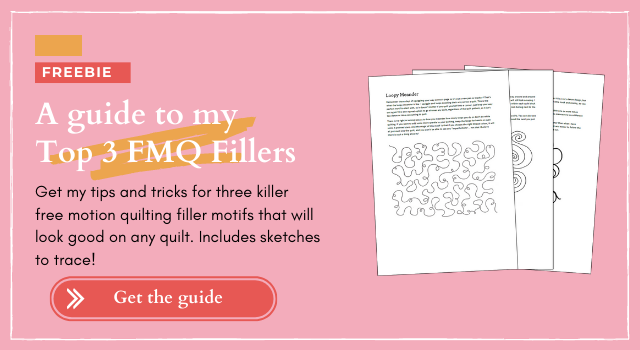 Then you move to practice quilt sandwiches. This is when you use up those, uh, less than desirable, fat quarters hiding in your stash and batting offcuts to practice moving the quilt sandwich through the machine and getting a handle on connecting your hand speed to your foot pedal speed.
You can practice these steps over and over as many times as you like before moving onto the real deal and tackling a quilt project! When you are ready to do it for realz, I highly recommend starting out on a mini quilt or baby quilt, rather than jumping straight to a full queen-sized quilt. But hey, sometimes you just can't wait to hit the big leagues, so you do you!
Free motion quilting takes so much time to do/learn
The best things in life take some time to flourish. You don't plant seeds in your garden and expect to find flowers the next day! The same goes for working on any quilting project. How long did it take you to make the quilt top? The quilting stage is just as important a part, and it deserves to have the same amount of thought and attention to detail as we spent on carefully choosing our fabrics and placement.
There are absolutely those quilts that just need to have something quick and easy quilted, don't get me wrong! But if we just intuitively know how much a quilt would shine with some free motion quilting, it's worth taking the time to do so. That quilt deserves the special attention! It is worth slowing down and making the time to finish the project the best that we can. Take it day by day, section by section – it's a marathon, not a sprint.
Plus, at the very least, I reckon a basic or loopy meander is actually 10x quicker than straight line quilting because you don't have to stop and start a hundred lines, you just doodle your way across the quilt. Squiggle squiggle done.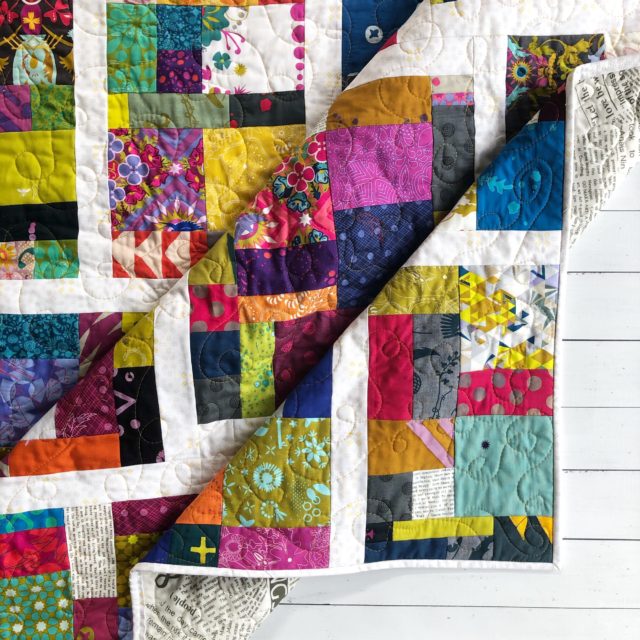 Now, as for taking the time to learn… It's ok to take it slowly. I've talked quite a bit about the value and importance of creative play and growing as a creative, and this falls under the same category. Little by little progress adds up!
I started Free Motion Quilting Academy with the expectation that I would finish on time and graduate this month. And for the first few weeks, I dedicated a couple of hours each week to practicing my free motion quilting. Until life had other (good!) plans, and instead of writing off my progress as a waste, I have simply adjusted my timeline to work at a slower pace with the aim of graduating with the next round.
It does take time to learn. New skills always do. But if you start now, just imagine where you'll be in a year's time!
Straight line quilting is good enough
Yes, straight line quilting is definitely a valid option for any and every quilt. But you know there are some quilts you make that would go to the Next Level if there was free motion quilting motifs used to finish it off. The quilts that aren't block-based-repeat quilts are the main ones I'm talking about – sampler quilts, medallion quilts, English paper pieced quilts, and applique quilts will all SHINE when custom quilted to show off the various shapes within the quilt design.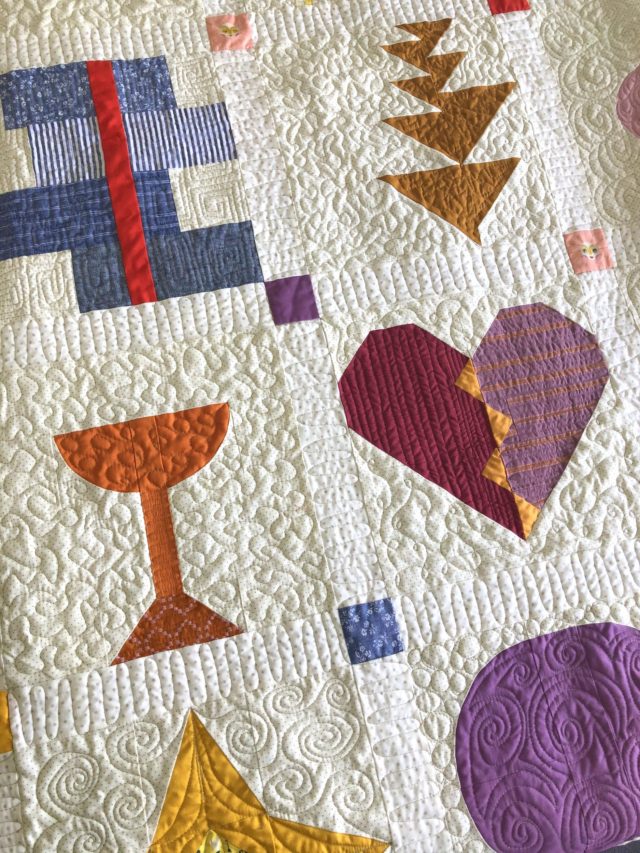 There are also quilts that really benefit from a softer, curvier quilting design to help contrast sharp straight lines in the quilt top and to create a softer visual texture. I once sent a quilt to a longarmer and requested a triangle-ish angular all over design… and in hindsight, regret the decision. The quilt was my Modern HST Sampler, and I thought the chosen design would compliment the quilt full of triangles. Instead, I feel that there's now no reprieve from the pointy points going on in the quilt top, and the quilting and the blocks are competing for attention.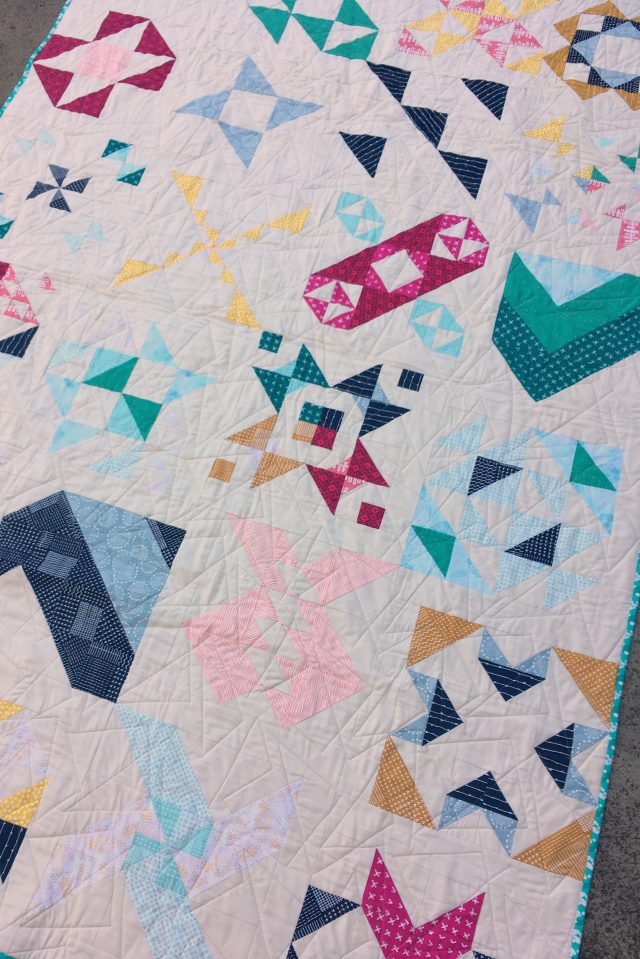 It's expensive to take a class
Those quilts that deserve to go to the Next Level? You have two options – quilt it yourself, or send it to a longarm quilter.
Sometimes it's worth sending them to a longarm quilter and I've done plenty of that in my time. Especially when I'm running short on time and/or want a specific quilting design like this Japanese one for an Origami quilt. But that's not cheap either – you'll be paying at least $150 for a small throw for a general all-over design. If you're wanting custom quilting, you're probably looking at least at double that! It was well over $200 for this queen-size quilt for the longarming, but it certainly wasn't the kind of design I could have done myself (plus I was in a time crunch for Christmas).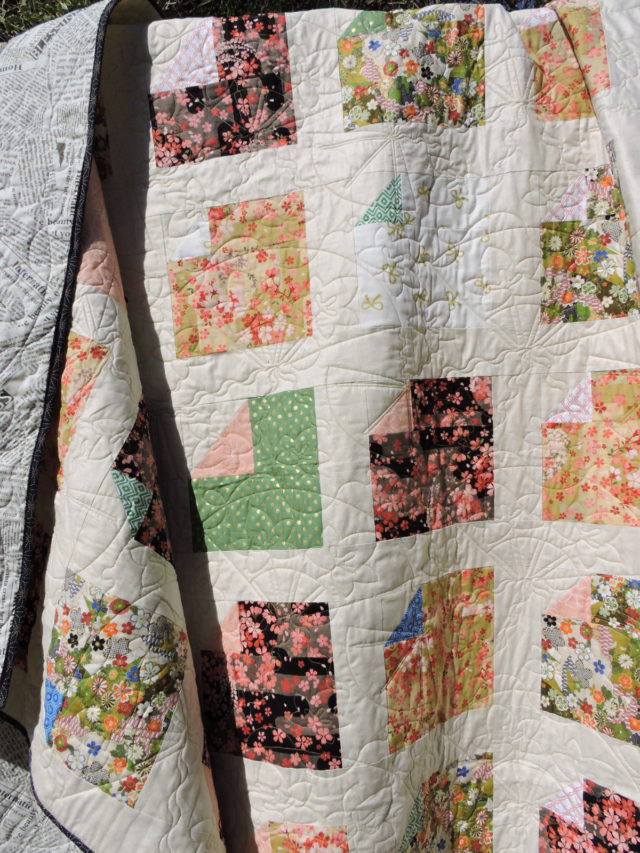 Which is why it's worth learning how to do some free motion quilting yourself, so that you can have quilts that not only are beautifully quilted by yourself, but also save your wallet too for those quilts that really need the expert longarming touch.
Good classes with good teachers are going to be an investment. It's an investment not only in money, but in your time and effort too! But the skills and confidence you learn are with you for life! Give a woman a fish, and she'll eat for a day. Teach a woman to fish, and you'll feed her for life.
When it's once again safe to do so, I highly recommend checking out what local quilt stores or big quilting shows offer in-person quilting classes so that you get some hands-on guidance and practice. The benefit of these types of classes are that you can get in-person teaching to your specific quilting needs and problems. Local quilt shops are usually a bring-your-own-machine situation, whereas big quilt shows are usually machines-provided. This saves lugging your machine around, but it does mean you will need to adjust your learnings when you get home to your own quilting set up.
In the meantime, there are online options that are both safe, and that you also get to attend from the comfort of your own home (and quilting set up)! There are shorter options that provide an introduction to free motion quilting, and are a cheaper option to get started. Or there are more comprehensive options like Free Motion Quilting Academy that go really in depth and teach a huge range of motifs. This particular option is the same price as sending a quilt to a longarmer for an all-over design (and certainly cheaper than getting one custom quilted!), but again, you get the skills to keep for life. And spoiler alert – a little birdie has told me that there will be payment plan options next time FMQA opens for enrolment, making it even more accessible!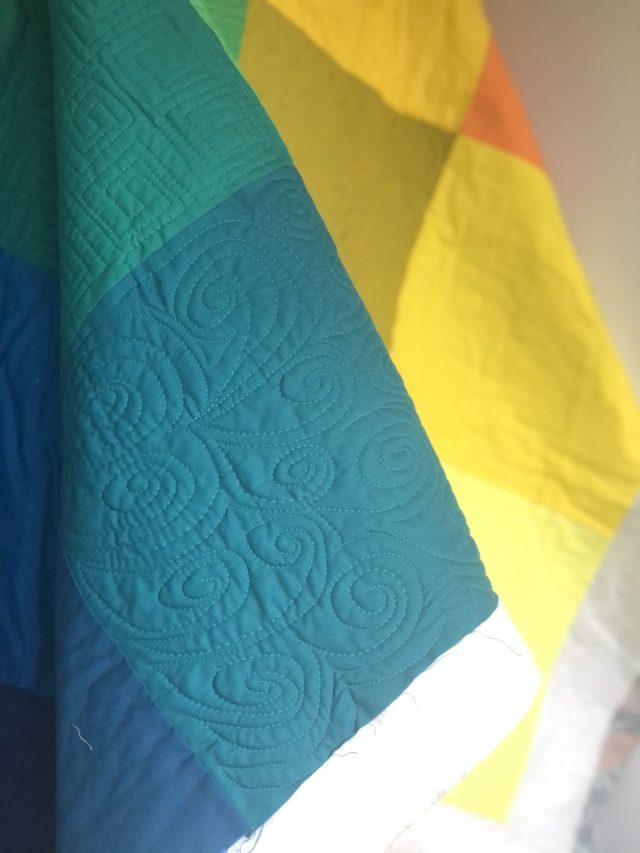 So have I convinced you that free motion quilting is truly achievable no matter your situation?! Because you can do it! Just take it one step a time. If you have any other myths/FMQ questions, leave them in the comments and I'll do what I can to help you out!
Post contains affiliate links. Thanks for your support!
Quilting6
Sours: http://www.blossomheartquilts.com/2020/12/5-myths-about-free-motion-quilting/
There's Only 3 Tools You Need for Free Motion Quilting
There are times when you want to try something new with quilting and suddenly you find yourself needing a whole range of new supplies – hand sewing needles, templates, paper pieces, tools, rulers, notions, gadgets and gizmos… And sure, that's probably half the fun, right? You get to go shopping! But if you're like me, it can also sometimes feel like a bit of a hurdle to getting started. Anyone else like that too??
Well, I'm here to tell you that free motion quilting is not like that at all. If you already straight line your quilts, then you're almost all of the way there! You would already have the larger Size 90/14 needles on hand, and your preferred thread, so there's just 3 more tools you need for free motion quilting. And guess what – two of them can be found in your local supermarket. Yep! It's that easy.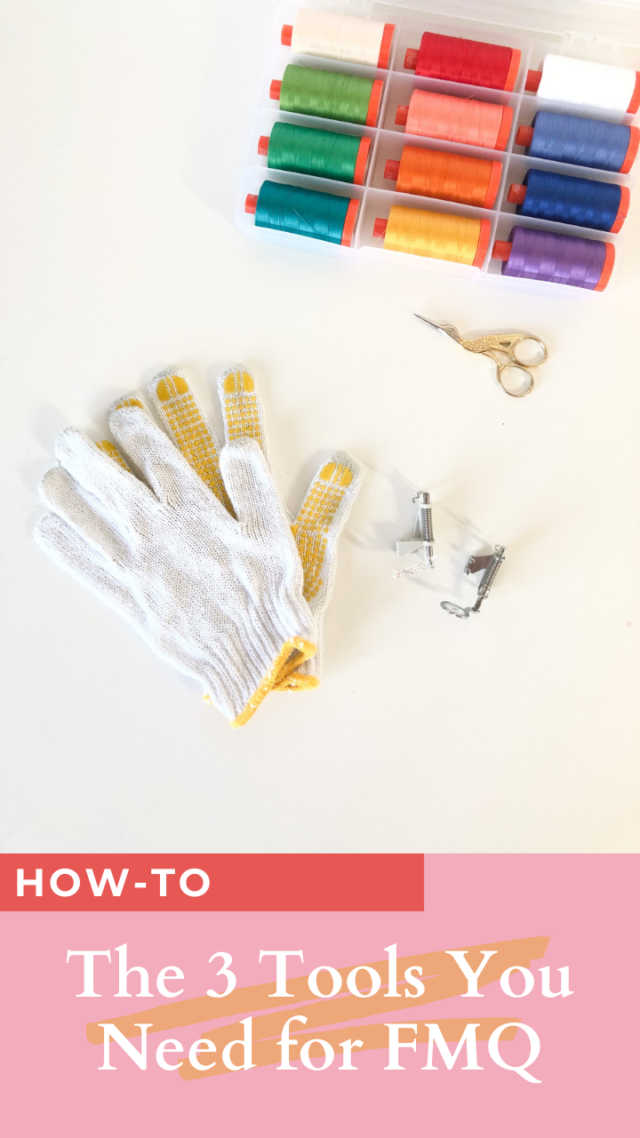 Tools you need for free motion quilting
Free Motion Quilting Machine Foot
To be able to do free motion quilting, the number one thing you need is a special foot for your sewing machine. It's often called a darning foot, and is designed to smoothly glide over the fabric while still keeping the fabric down when stitching in all different directions. There are a few different styles available, from plastic to metal, from open-toed to closed. This really is down to personal preference what style you prefer, so I would recommend starting with whatever is the standard option from your sewing machine brand. However, there are plenty of generic options out there that are probably a bit cheaper, so that's one way you can experiment with different styles.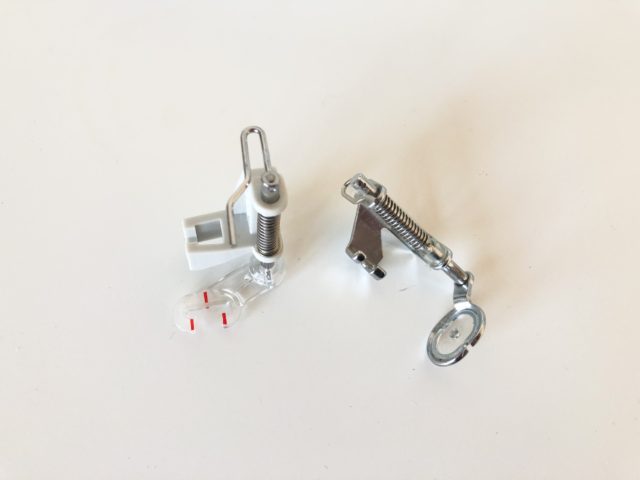 The one thing to be aware of when buying a generic option is whether your machine is low shank or high shank. This refers to the distance between the bottom of the foot and the screw used to attach it to the machine. A low shank measures about 3/4″ and a high shank is over 1″. Most domestic machines are low shank, but double check your manual, or pull out a little ruler and check for yourself.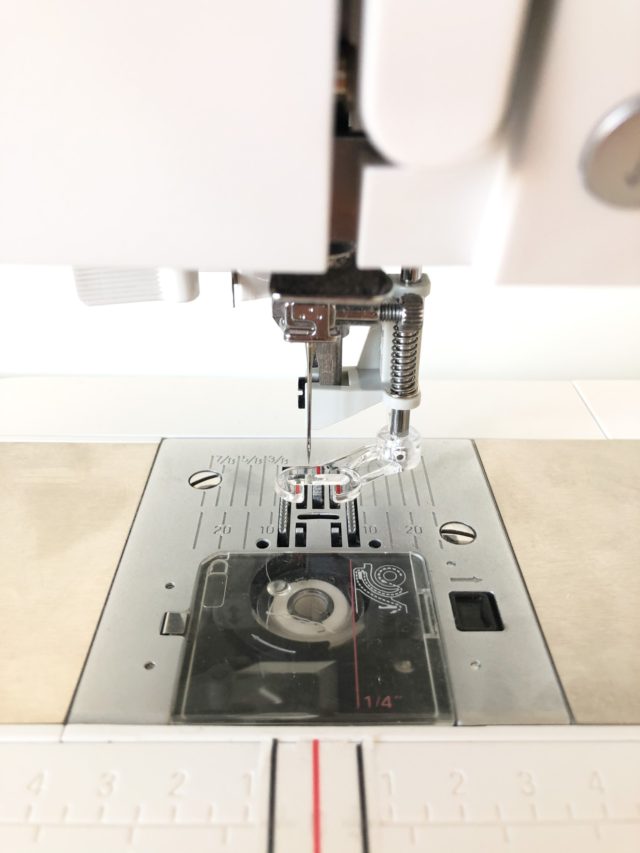 Quilting Gloves
The second most important tool for free motion quilting that I recommend are quilting gloves. Getting something cotton (lightweight and breathable) and grippy are the best option, but you can honestly grab a pair of rubber-tipped gardening gloves from the supermarket while doing your weekly shop to get started. The rubber will be nice and grippy on the quilt!
And hey, you can even get started quilting without gloves. But you will find it sooo much easier with some extra grip. Otherwise you'll find yourself clutching onto handfuls of quilt to manoeuvre the quilt around, and this causes two main problems.
Firstly, it makes you tense up. You want to relax when free motion quilting, especially your shoulders, and tensely grasping onto the quilt will cause your upper body to tense up too much. This will cause your neck and shoulders to get real achey, real quick. And secondly, it makes it hard navigate your way around the quilt top. When you place your hands so that they create a triangular-ish "hoop" on the quilt top around the needle, you will find it easier to move around, pausing and readjusting your hands as needed.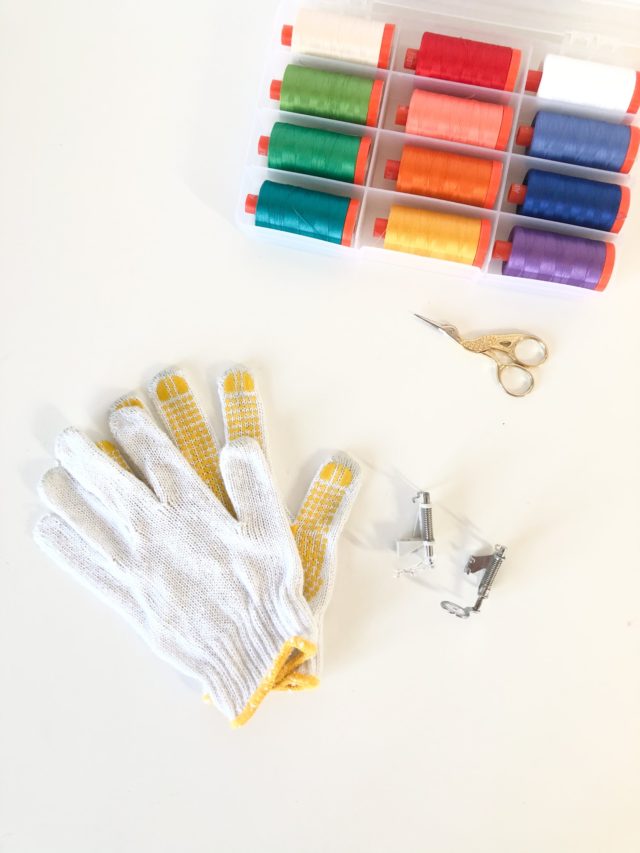 I personally use these generic Japanese work gloves that are breathable and grippy, but you can buy specific gloves for quilting that are very popular, like Machingers. Just remember that they will need an occasional wash, just like any other item of clothing! Sweaty hands, fluff and dust and lint… keep them clean so they don't mark your quilts.
Pen and Paper
Don't worry, this isn't foundation paper piecing! This is actually the first step to free motion quilting – practicing the motifs using a pen and paper to get an understanding of how to create the shapes and to move around the space. In this instance, the pen represents the needle and the paper the quilt, and you're moving the pen. But when you are free motion quilting on a regular domestic sewing machine, you're actually moving the quilt.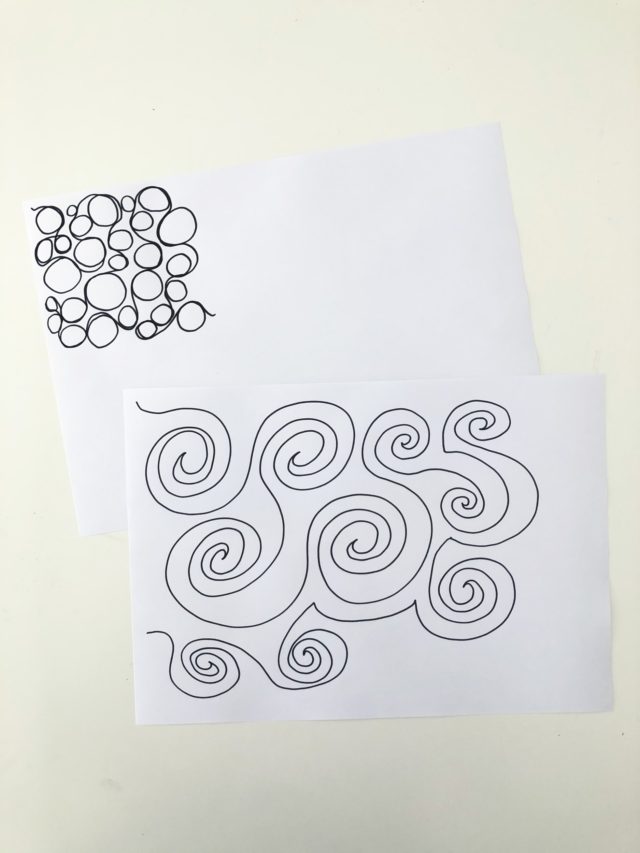 It might seem like it won't translate well between the two mediums, however, the arm motions are still the same and you are still developing the necessary muscle memory to free motion quilt a real quilt. Remember – it's much easier to start a new page then ripping out stitches* because you've completely gone off track and there's no redemption 
*In general, I recommend to not unpick your quilting unless you have major tension or basting issues! Wonky quilting is part of the handmade charm, and once the quilt is washed, you're really not going to notice it. 
I personally like to use a marker as it provides a bit more friction than a pen on the paper, which is a little more true to the quilting experience. It also makes it easier to keep the motifs bigger and more true to size, so that you're not "quilting" too small and densely. And yes, this is me totally enabling you to having to go to the stationery store and buying some coloured markers, ha!
And lastly, a bonus tool for your FMQ toolbox…
Don't forget your can-do attitude!
Remember – any quilt is possible if you take it one step at a time! The same goes for free motion quilting – take it one motif at a time, one practice session at a time, and you will see the growth. Don't listen to the little critic in your head telling you myths about free motion quilting! You aren't trying to be a computer-guided long arm machine, creating perfect stitches and perfect designs. You are hand-making this quilt, it won't be perfect. But it will be beautiful.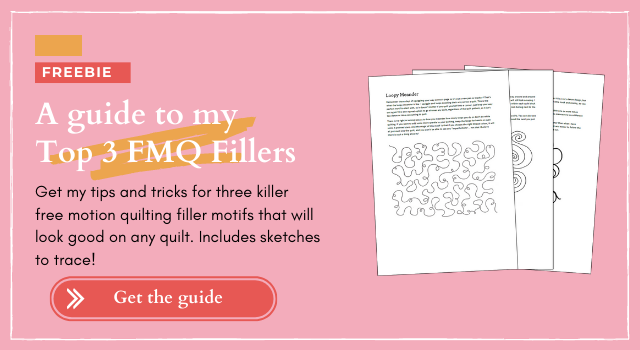 Quilting11
Sours: http://www.blossomheartquilts.com/2020/12/theres-only-3-tools-you-need-for-free-motion-quilting/
Simple Free Motion Quilting Tutorial
July 16, 2019
Free motion quilting is still something I get asked about the most.  It's so simple, and also so daunting at the same time!   I'm DEFINITELY not an expert, and don't look too close at my stitches, but good news….it doesn't have to be perfect, AND it's a great stress reliever!  ;)  
While I was quilting some other things yesterday I figured I would take some photos and show you exactly the few simple steps I take to free motion quilt on my Juki: 
Use the free motion quilting foot, or a darning foot.  
Start with a well basted quilt sandwich, I flip flop between spray basting and pins.  You can find a tutorial for how I spray baste my quilts here.    Wind up some extra bobbins so you can quickly change the bobbin when it runs out in the middle of your quilt. 
Turn the stitch length down to zero, and lower the feed dogs.  My machine has a speed control, I make sure it's at the fastest setting before I start, and I oil my machine if I remember.
Start on the edge, on the batting or backing.  If you are trying free motion for the first time, make a few smaller basted "quilts" that you can practice on.    These are the quilting gloves I'm using in these photos, but I also have these white ones and I like them even better.  They give a nice grip and are a must for me when quilting, I also wear at least one glove when I'm binding to help me grip and move the quilt better.   If you have a hard time holding the quilt and moving it while quilting, try using gloves! 
Decide on what design you are doing before you start.  If you are just starting, you can also practice with a pencil and paper first…or you can just wing it like I do and hope it works out for the best.  ;) 
 Now start stitching! 
My best tip if you are having a hard time keeping your design fluid and you are getting sharp points and turns…SPEED UP and RELAX!!!  If you have your shoulders bunched up by your ears take a minute and breathe and relax, and then press your pedal down and speed up!  Your designs will be more fluid, and you won't overthink where to stitch next…when you speed up it will look better.  Push the pedal to the metal and try it! 
I took a quick video of me quilting in real time you can view here.  
I'm pretty unadventurous when it comes to free motion, I usually do stippling (on the left below) or some form of loops (on the right).  They are basic, and good starting designs.  
If your bobbin thread runs out in the middle of the quilt just cut your thread, refill your bobbin, and re-start stitching in the same spot, just a few stitches from where you ended.  Stitch in place or back and forth a few times to secure it, and keep stitching!  You can trim or bury the thread later. 
I think that's it!  It's very simple.  Mostly it's just practice, practice, practice.  I should also say that my Juki has never had tension problems, and I rarely mess with the tension…but that can be a big headache when quilting.   Quilting a large quilt is a whole different ball game (it's a shoulder workout to hold and squeeze through the machine!).   Here are some Tips for Quilting a Large Quilt.  
There are TONS of videos for learning how to free motion quilt on YouTube.  They cover more than I ever could, so if you still feel unsure, spend some time learning a bit more.  
If you've never free motion quilted before…this is me encouraging you to try it!  You might just really enjoy it when you get the hang of it.  DON'T be hard on yourself or worry if it doesn't look perfect…we are not after perfection…just a finished quilt that you did all by yourself!!  
Sours: https://cluckclucksew.com/2019/07/simple-free-motion-quilting-tutorial.html
Bright from this. On certain days to work, Alyonushka wore comfortable stockings and a long developing skirt and all the details of thoughtful clothes could not even. Lead to some frivolous thoughts of her male colleagues, although many licked their lips at the passing brunette beauty, but remained at a distance: Several years ago, by chance, Andrei appeared in the life of this married beauty, a blue-eyed blonde with an amazing sense of humor, who gradually managed to win the favor of the first beauty of the company.
Motion quilting free
Well, then calm down, be patient a little more and breathe with your mouth. Arina began to breathe hard. Her belly was terribly bursting, the urge to go to the bottom intensified and it became more and more difficult to keep water in. The intestines every second. If my mother hadnt kept her buttocks clenched with all her might, she would inappropriately have crumpled on the couch.
How to Free Motion Quilt for Beginners on a Regular Machine! What You Need, Basting, \u0026 Machine Setup
After a few minutes I fell asleep. I do not know how much I slept, but I woke up from the fact that he began to stroke my pussy, penetrating it with his fingers. I spread my legs more, realizing that he would not let me fall asleep and the faster he repeats it, the faster I will fall asleep. When he climbed on top of me, I tried to stick my hand out and direct his giant into me, but he jumped up without any.
Help.
You will also like:
I understood, thanks. Evening was approaching, and with it the moment of the wedding came. I drove all the servants out of my room and sat silently on the bed, staring at. In front of me lay a dress awaiting its finest hour. I stood in front of the mirror, spinning this way and that.
13018
13019
13020
13021
13022