Ryobi ONE+ 18v Reciprocating Saw (P516) Troubleshooting
When I push the trigger on the saw, the saw will not operate.
When you go to operate the saw, and the saw does not operate, you might want to check out a few things:
1) Make sure the battery is fully charged.
2) Be sure that the battery is put into the saw correctly, and secured.
3) There might be debris on the battery, or inside the saw, where the battery connects. If that's the case this will restrict the correct voltage, in order for the saw to operate.
Trigger cannot be pulled all the way or saw has no movement when the trigger is pulled.
It is best to check a few simple things before replacing the part or taking apart the saw:
1) The trigger could just be stuck if it has not been moved in a while. If this is the case it could just require a bit more force than usual to get the trigger back in motion. Try pressing down as hard as you can to get it back into place.
2) Another way to fix this might be to wiggle the trigger back and forth as much as you can, as it could just be caught on a piece of debris or something else that should not be in contact with the mechanism.
If this is your case, it is most likely due to a bad connection internally with the trigger mechanism that most likely needs to be replaced.
1) Again, this problem could be due to something inside the saw causing the connection to be disabled. If everything looks clean inside the saw and you have found that the issue is not from the battery, you can see the guide on how to replace the trigger mechanism here.
While cutting an object, the saw stops operating.
When I was cutting an object, the saw stopped cutting through it. Here are some general recommendations to overcome this barrier.
1) Keep in mind of what kind of object that you are cutting, different material has different strengths. Make sure you research on what is the best cutting device is best for that material.
2) Make sure you check the saw blade, it may be dull. If this is the case make sure you replace the blade.
After using the saw, or between jobs, the blade will not release from the saw or has become damaged and needs to be replaced. Most of the time, stuck blades just require a little more effort to remove safely.
1) If the blade is not bent or damaged, check the release mechanism on the left side of the saw near the front for debris. The lever needs to be flipped up about 90 degrees like a latch, and if there is anything under it, it may not open all the way.
2) If a blade has been bent or was installed incorrectly in the first place, it may take more effort to release the blade. Attached to the base of the saw, should be a small Allen key wrench, use the wrench to loosen the blade holding mechanism through the hole on the right side of saw, opposite from the releasing latch.
3) After loosing the screw, try releasing the latch again. If you are still unable to flip the latch, remove the screw completely and you should be able to remove the front cutting guard, this will give you enough room to straighten a bent blade or allow you to free up the release mechanism at the base of the blade.
4) If these steps still do not solve the issue then the blade holding mechanism needs to be replaced. See the blade holding mechanism replacement guide here.
While using the saw, you notice it begins to overheat.
1) Make sure to not operate power tool in extreme atmospheres. For best results, your battery tool should be charged in a location where the temperature is more than 50° F and less than 100° F.
2) The power tool plugs must match the outlet. Never modify the plug in any way to prevent overheating and/or electrocution.
3) Do not place battery tools or their batteries near fire or heat. This will reduce the risk of explosion and possible injury.
4) Recharge only with the charger specified by the manufacturer. A charger that is suitable for one type of battery pack may create a risk of fire when used in another battery pack.
1) Make sure to turn off and completely disconnect your power tool from any outlet.
2) Leave the power tool in an air-conditioned room to cool down.
3) Once cool, make sure there's no liquid secretion, exposure to moisture, or misalignment of moving parts, breakage of parts, and any other condition that may affect the power tool's operation.
4) Make sure all vents are clear of sawdust.
If none of these procedures work, reference to the repair guide: here
Sometimes you may have a rare symptom that is not mentioned above.
To try and diagnose the problem you are having yourself, you can take a look at the internals of your saw using this guide.
Sours: https://www.ifixit.com/Wiki/Ryobi_P516_Troubleshooting
RYOBI cordless compact one handed reciprocating saw
By ralph mroz on Home Repairs And Remodeling, Tool and Product Reviews
RYOBI cordless compact one handed reciprocating saw

The ryobi cordless compact one handed reciprocating saw is a good example of the constant innovation in the tool industry.New tools are introduced every year, and sometimes new kinds of tools are introduced.  A new kind of tool that's proven extremely useful and welcome these last couple of years is the cordless compact one-handed reciprocating saw.  Model PSBRS01 is RYOBI's competitor in this space, and it will find a ready market in both DIY and pro applications.
Compact size at 13" and light weight
Brushless motor provides variable 0-3,000 SPM
5/8″ stroke length
LED work light
Pivoting, but not extensible, shoe
Keyless blade changes
The 13" length is ideal for tight spaces and overhead applications.  While the 5/8" stroke length is on the lowish side for this class of tool, the 0-3000 SPM speed is common.  The keyless blade change is a great feature, as anyone who's ever lost a key will attest.
Task dictates function
Before we talk about a tool's performance, we first have to be realistic in how we evaluate it, which means being realistic about what this kind of tool is intended for.  A one-hand recip saw isn't a production tool; if you have lots of 2X stock to cut, then a circular saw or miter saw is usually the right tool.  If you have a rack of steel pipe to cut, then a cut-off saw or a two-handed recip saw is probably the right tool.  A one-hand recip saw by contrast is often meant for convenience—such as when you don't want to set up a miter saw, or for very tight quarters.  Both situations are only occasional and neither is a high duty cycle, let alone a production, situation.  Blazing speed isn't important here.  Of course, there are possible production applications for a saw that like this that can be hung from a belt — replacement window installers come to mind, and their requirements will of course be more stringent.  But for most people this is a small tool for the odd circumstance, but one that is a real life-saver at those times.
We should also note that a recip saw of any kind isn't a precision instrument.  Mostly you're trying to rip something apart…and sometimes outright destroy it.  I've yet to see a finish carpenter use one for any purpose other than rough-in work or demo.

Use a tool as intended
Now I'm not a big oaf — I'm more of a medium-size oaf — but I can probably break any tool if you let me at it for a while.  Have, in fact.  And knowing that, when I was a wee lad my dad taught me two things that I assume every trade person's mentor taught them at some point.  1) Don't force things; if you have to force something, then something's not right.  2) Let the tool do the work (which usually means keeping it sharp).  Since this kind of saw isn't generally meant as a production tool, there's no need to lean into it with your body weight to hurry it along.  Let the saw do the work, and don't force things — that's the way it's meant to be used.
RYOBI is of course The Home Depot's entry-level power tool brand, and it's entry-level because of its attractive pricing.  But the price of the tool has nothing to do with its quality in the context of the job it's intended for.  People often make the mistake of labeling tool brands as "cheap" vs "quality", or "DIY-grade" vs "pro-grade".  The better way to look at it, in my opinion, is "designed for low duty cycle use" vs "designed for high duty cycle use".  Certainly lower-priced tools can't be designed to withstand the constant day-in/day-out use and abuse that more expensive materials and manufacturing methods can provide, but they're perfectly designed to provide excellent service for less than all-out duty cycles.  That's true for anything, whether we're talking about automobiles, pencils, can openers…or power tools.
As I mentioned in another review, I've lost track of the number of professional tradies —carpenters, plumbers, electricians, tile setters, oil burner techs, and more —who've told me that they've gotten excellent service from their RYOBI tools.  They use their RYOBI tools for those tasks that they do occasionally or at a low duty cycle, even if every day.  RYOBI is made for The Home Depot by TTI, and for those tasks that require high duty cycle tool use, TTI makes, and The Home Depot sells, another line of  (naturally more expensive) tools: Milwaukee.
HP tools and batteries
This compact recip saw is part of the new HP (high performance) line of RYOBI tools.  These HP tools feature brushless motors and a compact design.  The two are not completely unrelated.  We all know by now that brushless motors provide more power and longer life than their brushed equivalents, and the greater power density of these motors makes more compact tool possible.
RYOBI makes four kinds of 18-volt batteries, all of which will work in any 18-volt ONE+ tool.  The NiCad versions were the first generation, and you hardly see them anymore.  The first generation Lithium batteries are still in wide circulation, and the follow-on Lithium+ batteries, with additional run-time and power, have until recently been the flagship of the 18-volt line.  RYOBI's new HP tools are designed to work optimally with their new Lithium+HP batteries, which are "intelligent".  Not Stephan Hawking intelligent, but more like they have control circuitry that allows for communication with the HP brushless tools via two extra electrodes.  Basically the tool can call for additional power when needed (Scotty, I need more power!).  But, in an interesting twist, although this one-hand recip saw is an HP tool, it doesn't have the extra contact points to communicate with Lithium+HP batteries.  Nonetheless, you'll still see some difference in performance based on the size (Ah) of battery you use with this tool (more Ah=better performance) because larger batteries have more cells over which to distribute the called-for load.
Ergonomics
First, in the hand, this saw is well balanced, especially with the smaller batteries.  This is important because the saw is intended to be used in odd and tight spaces.  You don't want to be stretched out, possibly a little off balance, trying to reach into a tight space and applying pressure against the blade AND have to fight the saw's tendency to roll out of position.
The grip is comfortable, with the overmolded bits all in the right places.  The trigger and lockout are easy to reach and operate.  Blade changes are a breeze: just lift up the lever and go to it —no more fiddling (and losing) hex keys.  And vibration was not at all bad —that's not faint praise.  Recip saws, by their nature, often feel like mini jack hammers, and vibration is just part of using the tool.  This RYOBI saw, though, did not provide an uncomfortable amount.
The only thing I'd like to see improved is a brighter LED work light.  It's bright by the standard of many cordless tools, but more lumens are always welcome, especially since this tool is designed for tight, overhead, usually dimly lit and just generally funky spaces.
Test cutting
I envision using this saw for two primary purposes: as something easy to grab to make a cut or two in wood, and as something compact to get into tight spaces — most likely to cut wood, PVC or copper.
The RYOBI cordless compact one handed reciprocating saw is like any other saw in that cutting performance is as much — actually more — dependent on the blade as on the saw itself.  Nowadays there are countless saw blades available for every conceivable task and material, and they also vary by the material they're made from, tooth count, tooth geometry…the list goes on.  So trying to give an extensive technical description of this saw's performance with various blades in various materials is beyond me.  And I don't really care.  I just want it to do the jobs I have it for acceptably well.  To that end I've done what most people do: stocked up on the most common blades that I might need, and I pick the likely best of the lot for the job at hand.
I first used this saw to break up a wind-downed lilac tree, as you can see in the picture below.  I was using a Diablo pruning blade and it took me about a minute to cut through the branch, which kinda surprised me until I remembered just how hard lilac is (all my lilac trimming and cutting recently has been with a small chain saw).  Note that I was using the small 2Ah battery.
I changed to a Diablo 14 TPI Steel Demon blade to cut some thick-walled half-inch steel pipe of unknown composition or purpose. 20 seconds max with the small 2Ah battery, and noticeably quicker with the 6Ah battery.
Changing blades again to a Diablo 6/12 TPI Demo Demon blade, I cut halfway through a 2×6 KD with the 2Ah battery before swapping to the 6Ah battery to finish the cut.  Maybe 10 seconds total cut time.
One of the attractive reasons to own a one-hand recip saw in my opinion is to reach between studs and joists in case you have to make a cut in one of them.  I slapped together a couple 2x6s and some OSB to make the mock-up you see below.  Note that the RYOBI cordless compact one handed reciprocating saw fit between the 16-on-center members with room to spare (with the 2Ah battery).  Once there I was easily able to cut a notch in one of the 2x6s.  Sure beats trying to wrestle a larger recip saw into a good cutting position, or using a hand saw and busting up your knuckles.
Bottom line
For its intended application as an occasional-use tool, mostly for tight spaces, the RYOBI ONE+ HP 18V Brushless Cordless Compact One-Handed Reciprocating Saw fits the bill well.  While there may be some production applications for this class of tool, for most tradies this will one of those "thank heaven I've got it" tools that you grab now and then.  $99 at The Home Depot.
If you enjoyed this post, make sure you subscribe to my RSS feed!
Sours: https://www.aconcordcarpenter.com/ryobi-cordless-compact-one-handed-reciprocating-saw.html
Ryobi Cordless One-Hand Reciprocating Saw Cooks Up a Saw That's Just Right
The biggest deal about the Ryobi 18V One+ HP Compact Brushless One-Hand Reciprocating Saw (whew, that's a mouthful!) might just be that Ryobi now has a one-hand model. But the Ryobi PSBRS01 isn't just a saw that happens to pair with 18V One+ batteries, it's a complete package that raised our eyebrows compared to some well-known names.
Pros
Best balance of performance and price available in the 18V one-hand reciprocating saw class
Lightweight and compact design
Very good cutting speeds
Brushless motor
Quick-release blade lever
Cons
No kit available (but battery/charger starter kits are under $100)
Recommendation
The Ryobi cordless one-hand reciprocating saw doesn't set itself apart as a clear winner in any one category. But it doesn't have any weak spots and is a really solid value. With most every other saw in this category making trade-offs one way or the other, Ryobi strikes a balance that appeals to nearly everyone no matter what your highest priorities are.
Ryobi Cordless One-Hand Reciprocating Saw
Size and Weight
As part of the 18V One+ HP Compact series and with a one-hand design, the saw is compact. Until we got it in our hands, we didn't realize just how compact it is, though.
Measuring 12.4 inches on our caliper, it's tied with DeWalt's Atomic as the most compact 18V one-hand model we've tested.
It's reasonably lightweight as well. The bare tool weighs 3.6 pounds and using the 1.5Ah battery that comes with other HP Compact tools, it's only 4.5 pounds. There are a couple of saws that come in lighter, but Ryobi is definitely in the lighter part of its class.
Cutting Performance
The trend with one-hand saws has been to target either size and weight or performance. The Ryobi cordless one-hand reciprocating saw seems to have targeted a better balance than most, though.
Cutting through 3/4-inch EMT, the saw averaged 2.76 seconds with its brushless motor driving 3000 SPM at a 5/8-inch stroke length. Less than half the saws we've tested in this class break the 3-second mark, putting Ryobi is good company.
In our 3-inch PVC test, it took 7.33 seconds on average to finish its cuts. That landed it squarely between the top performers needing around 5 seconds and the lower tier that took more than 12 seconds.
This style of reciprocating saw isn't a great first option for wood cutting compared to full-size models. However, if you have the occasional 2×4 that needs cutting, there's no reason to look for a heavier saw with more vibration.
While we're on the subject of vibration, this saw does a nice job of managing it. For a budget-friendly model, it does a better job than most of its peers.
Putting all the pieces together, this is a great saw for plumbing, irrigation, and electrical tasks that performs a lot closer to premium professional than DIY models.
Feature Set
Ryobi's use of a brushless motor certainly helps drive the performance we're enjoying. The design team also included a couple of other features that go beyond the basics.
The shoe is able to pivot as you cut, helping keep it engaged better on round materials. It's a pretty standard feature on full-size saws, but one we don't see as often on one-hand models.
If you're part of the design team, THANK YOU for including a blade release lever on the outside of the housing instead of keeping it on the shaft. It's soooo much easier to install and remove blades that way. Despite how much more convenient it is, almost no one puts it on their one-hand models.
Wrapping up the notable features is an LED light that we expect to find on any cordless model. It's above the blade where the shoe's open top design gives you a solid look at the blade.
Price
You can grab the Ryobi 18V One+ HP Compact One-Hand Reciprocating Saw at Home Depot for $99. There's no kit version available at the moment, but you can get a 2.0Ah battery/charger starter kit for $79 or a 2 x 1.5Ah starter kit for $99. Either way, it's still a less expensive way to get started than any of the other 18V one-hand models we've tested.
The Bottom Line
The Ryobi cordless one-hand reciprocating saw doesn't set itself apart as a clear winner in any one category. But it doesn't have any weak spots and is a really solid value. With most every other saw in this category making trade-offs one way or the other, Ryobi strikes a balance that appeals to nearly everyone no matter what your highest priorities are.
Buy Now at the Home Depot
Ryobi One+ HP 18V Compact Reciprocating Saw Specifications
Model: Ryobi PSBRS01B
Motor: Brushless
Stroke Length: 5/8 in.
Max Strokes Per Minute: 0-3000 SPM
Weight: 3.8 lbs.
Dimensions (DxHxW): 15.5 x 5.5 x 3 in.
Warranty: 3-year
Price: $99 (bare tool)
Sours: https://www.protoolreviews.com/ryobi-18v-one-hp-compact-brushless-one-hand-reciprocating-saw-review-psbrs01b/
This saw delivers better productivity with up to 3,400 SPM and 60% faster cutting.  An easy blade change lever and a lock-off button make this saw a must have for any DIY or professional job. It features a 1" stroke length and adjustable, pivoting shoe to provide greater depth control and more efficient use of the blade. Best of all, it is part of the RYOBI ONE+ System of over 125 cordless tools that all work on the same battery platform. Backed by the RYOBI 3-Year Manufacturer's Warranty, the 18V ONE+ Cordless Reciprocating Saw includes a 6" wood cutting blade and an operator's manual. Batteries and chargers are sold separately.
This product is covered by a 3-year limited warranty.
The RYOBI 18V ONE+ System features over 225 unique products, giving you the ultimate in versatility and selection to get the job done.
View our current promotions for new product releases and the latest RYOBI savings!
Your one stop destination for tips & techniques, manuals, troubleshooting, FAQs and more!
(1) P519 18V ONE+ Cordless Reciprocating Saw
(1) 6" wood cutting blade
Operator's manual
Sours: https://www.ryobitools.com/products/details/33287189106
Saw ryobi reciprocating
The New and Improved RYOBI 18V ONE+™ Reciprocating Saw is a new innovative product with 40% more power than the previous P514 unit. This unit also features an ANTI-VIBE handle which reduces vibration and user fatigue and during prolonged use. The RYOBI 18V ONE+™ Reciprocating Saw works with any 18V ONE+™ battery (sold separately) and is a part of the ONE+™ System of over 70 great tools that all work with the same 18V battery platform.
This product is covered by a 3-year limited warranty.
The RYOBI 18V ONE+ System features over 225 unique products, giving you the ultimate in versatility and selection to get the job done.
View our current promotions for new product releases and the latest RYOBI savings!
Your one stop destination for tips & techniques, manuals, troubleshooting, FAQs and more!
Sours: https://www.ryobitools.com/products/details/33287170739
RYOBI BRUSHLESS!! P517 18v ONE+ Reciprocating Saw
Ryobi One+ HP 18V Recip Saw PSBRS01B Honest Review
Recently Ryobi has introduced a new line of compact brushless cordless power tools known as their One+ HP Compact Series which include a drill, impact driver, right angle drill, 3/8″ impact wrench, 3″ cutoff tool, and recip saw. Ryobi was also kind enough to send them all over (at no cost) for me to try out and review and in this particular review, I will go over my thoughts on the new Ryobi One+ HP 18V Recip Saw PSBRS01B . As always, Tool Craze is never paid or swayed to give a positive review and as always are my unbiased thoughts and opinions.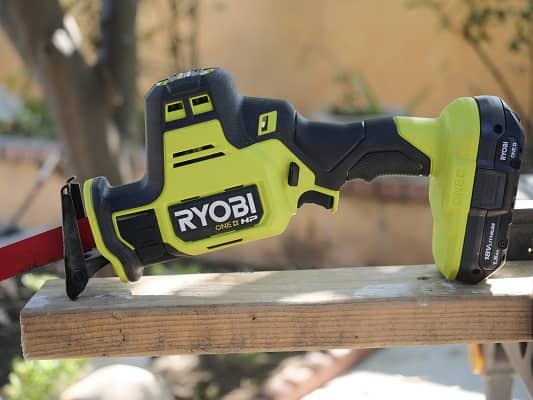 All of the new Ryobi 18V One+ HP brushless power tools are designed to be small and compact yet offer "high" performance for their size. Looking at the design and shape of the new Ryobi 18V One+ HP  brushless recip saw, it certainly looks a lot more compact than traditional recip saws. And that's thanks to the fact that they ditched the inline design and went with a form factor similar to the Milwaukee Hackzall design which is essentially a one handed reciprocating saw and this new Ryobi 18V model mimmicks the design of it's sister company. Just like the Hackzall, the Ryobi is also a one handed recip saw and has a hump on the front where you can place your other hand for better support and downward pressure when cutting. This design makes it much more compact than regular reciprocating saws and as such this Ryobi can fit in a small and medium sized tool bag when the battery is not installed as the battery does add length to it. In fact, the body of the Ryobi is about the same size as a Milwaukee M12 Fuel Hackzall with the addition of additional bulk of the Ryobi 18V battery holder slot which adds to it's size, but body alone, it's roughly similar in size to the M12.
I find the Ryobi One+ HP 18V Recip Saw PSBRS01B to be a well featured one handed reciprocating saw. It has an LED light with 10 second afterglow to illuminate the cutting area, a pivoting shoe – although the pivot point is rather stiff – much more than it should be but it is a plus over the Milwaukee Hackzall models as they have fixed shoes that don't pivot at all, and the Ryobi also has a nice blade lever on the side for easy blade replacement. This is a great feature that I find to be a premium feature as you don't need to stick your fingers behind a cramped shoe like you'll find on the Hackzalls.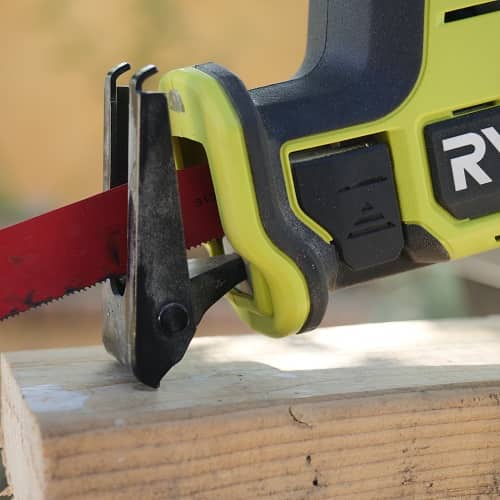 It also appears that the shoe seems to be able to extend which is a feature found on more expensive recip saws however there's no mention of this in the manual. I found a hex screw on the side that accepts a hex key (allen wrench not included) and untightened the screw and it does allow the shoe to extend and be removed. However before you get your hopes up, there's hardly any amount of travel which makes this feature not useful in my opinion. Extending the shoe is a good feature that helps save blades by moving away from the starting point of a blade and extending away from it to use the less used portion, basically extending the life of your blades. However there's hardly any travel on the shoe before it falls out so it appears it's only good for replacing the shoe if ever needed, but not to adjust and extend it.
Performance
When these new Ryobi One+ HP compact brushless series power tools were launched, they also were launched alongside the new more "compact" compact 1.5 ah battery. I even was invited to watch Ryobi's video launch event, now public, and in the video they demonstrated using this Recip saw with the new compact battery. It performed great from what I could see at the event and when they sent me over all the new tools, they sent them with the new batteries as well so I tested all tools with the  new compact batteries including this recip saw.
The first test I did was the standard 2×4 cutting test and this guy chugged along. I've tested a few other recip saws in my day and this model chugged along at a decent pace. Not the fastest, not the worst but on the slower end. I did the standard 5 cuts in a row into the 2×4 and I started with 3 out of 4 bars of battery and after the 5 cuts were finished, the battery was very warm and had 1 bar left. Clearly this saw was not intended for use with the compact batteries as it was simply too much for the poor little 5 cells inside the battery. I then moved over to a 3.0 ah Lithium+ HP battery to see if it would do any better. I did 5 cuts and it still chugged along at the same rate and it dropped the battery from full to 3 bars after 3 cuts but this time the battery was not warm like the compact battery. That's because there are 10 cells in a 3.0 ah battery meaning the heavy load is distributed to twice as many cells and that old adage applies – more hands make light work or as I like to say it, more hands lightens the load. I noticed that it didn't feel any faster with the larger battery but at least the battery wasn't taxed to the max.
I did do a side by side comparison with the compact and fatpack battery which you can see in the above video, the performance between the two packs is very similar but slightly faster with the larger 3.0 ah battery. This is because the smaller battery has less cells and thus is getting exhausted quicker – less hands makes for a heavier load for each cell. Lesson of the day, don't use this recip saw with compact batteries, use it with fatpack batteries which are 3.0 ah and higher with 10 cells as it puts too much of a strain on smaller compact packs.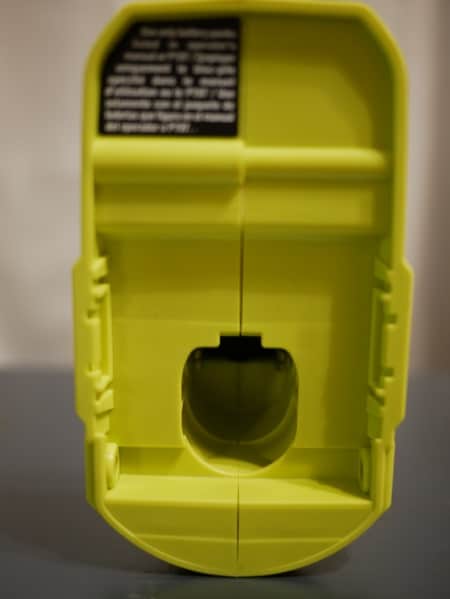 With this being a brushless Ryobi power tool, Ryobi had earlier mentioned that their brushless tools perform better with their Lithium+ HP batteries however to do so they need the extra pins to take advantage of those batteries. However a look at this recip saws battery connections, it's missing the extra pins to take advantage of those lithium+HP batteries as it only has the standard 2 battery connectors, so don't expect better performance when used with lithium+HP batteries. The above mentioned "slight" performance advantage with the 3.0 battery was not due to it added circuitry since the tool doesn't have the special connections to communicate with the batter for better performance, but the "slight" performance increase was because this saw is a high power draw tool and as mentioned earlier, is too much for a small compact 5 celled battery pack which can easily get exhausted on high power draw tools.
I then proceeded to do metal cutting with a large and thickwalled metal pipe and though the cut was slow, this was a very difficult cut for any recip saw and even higher performance models would still be pushed to their limits so the little Ryobi did pretty well in my opinion considering what a tough cut that was. Then I proceeded to cut PVC pipe and it tore it up quickly and easily.
I also did a side by side comparison of this saw compared to two others. I put it up against the Bosch 18V GSA18V-125 18V EC Brushless reciprocating saw which is a high performance 18 volt model and the Milwaukee M12 Fuel Hackzall which is a brushless 12 volt model that's about the same size as the Ryobi. In the test the obvious winner was the Bosch and no surprise there as it's a high performance model that runs laps against the other two with the Ryobi coming in second place. A distant second place but it did noticeably beat the similar sized M12 12 volt Milwaukee model. I always thought the M12 had great performance considering it's size however the Ryobi made me realize how slow the Milwaukee actually was.
So overall performance is on the slower side for the Ryobi but that's when compared to other saws. In the real world the Ryobi 18V compact brushless recip saw offers capable performance to cut a variety of tasks and offers a good punch of performance for it's small size. That's where this saw shines as it's a lot smaller than traditional reciprocating saws and lighter too and not just that, with it's unique shape, it can easily be operated one handed for better versatility.
This saw is available now and at the time of writing can only be bought as a baretool for $99 but Ryobi says that it will also be available in multiple combo kits. Just make sure that those combo kits don't come with the compact batteries otherwise make sure to get some larger 3.0 ah or bigger battery packs to get the most out of this saw.
brushless motor
31% more compact, 24″ lighter
100+ cuts per charge
3000 SPM
cut 2×4 fast
easy release blade lever on the outside of the body
single handed design or two hand use
5/8″ stroke length
pivoting shoe, doesn't extend
LED light
variable speed trigger
baretool only $99 PSBRS01B and various combo kits


DISCLOSURE:
We are a participant in The Home Depot Affiliate Program, an affiliate advertising program designed to provide a means for us to earn fees by linking to homedepot.com. Tool Craze does not sell this product or any product on the Tool Craze website. Tool Craze does not handle the sale of any item in any way. If you purchase something through a post on the Tool Craze site, Tool Craze may get a small share of the sale. Please refer to the About section for more info.

Related Articles On Tool Craze
Categories: Cordless Power Tools, Power Tools, Reviews, Ryobi, Tools
Sours: https://toolcraze.net/ryobi-one-hp-18v-recip-saw-psbrs01b-honest-review/
You will also like:
Then there was the injection, and then the abyss. I grabbed my leg convulsively. Bandage. This means that the operation has already taken place. The legs were spread and tied tightly to the bed.
5200
5201
5202
5203
5204