10 DIY Hamster Bin Cages You Can Build Today (With Pictures)
Hamsters are great pets, in no small part because of how affordable they are to own. However, they can still cost you a pretty penny up front, especially if you have to buy all the gear at once.
Luckily, there are a few ways in which you can save some money, and perhaps the best way to stretch your hamster budget is by creating your own bin cage. These are often made from basic plastic storage bins, but as you'll soon discover, you can class them up a bit more as well, provided you're willing to put in the work.
We've collected some of our favorite designs for you to check out, and you're sure to find one that's perfect for both you and your furry friend from the options below. Figuring out how to build a hamster bin cage is simpler than ever with these foolproof plans!
Before we begin, though, it's important to remind you that you absolutely have to include holes of some kind in your bin (that's what the mesh is for). Otherwise, your hamster could suffocate, and that's clearly not a good thing.
1. Wood Cage from HamsterHideout.com
Check Latest Price
This classy cage from HamsterHideout.com gives you a clear view of your hamster at all times, so you can always have a steady stream of entertainment close by.
It's very large, but that just gives your pet more room to wander. And, given how beautiful this thing looks, it can function as a decoration just as much as a pet sanctuary.
Project Details
Difficulty Level: Moderate
Skills Needed: Moderate woodworking skills
Tools
Wood
Wire mesh
Plexiglass
Locking latch
Glue
Screws
Drill
Chop saw
---
2. DIY Bin Cage from HamsterGuru.com
Check Latest Price
Courtesy of HamsterGuru.com, we have this inexpensive and easy-to-build plastic cage that gives your little rodent plenty of room to play.
All you need is a large plastic bin (you probably have several lying around the house right now, as a matter of fact), a few other odds and ends, and a little bit of time to build your hamster his dream home.
Project Details
Difficulty Level: Beginner
Skills Needed: Beginner crafts skills
Tools
Large plastic bin
Wire mesh
Zip ties
Drill
Scissors
---
3. Hamster Cage from nolieclaire
Check Instruction Here
Youtube hamster guru nolieclaire suggests this clever and colorful option. It uses a lid with locking handles, which makes securing the top easier to do and doesn't require drilling.
However, it does require you to be extra-sure that you closed it securely every time.
Project Details
Difficulty Level: Beginner
Skills Needed: Beginner crafts skills
Tools
Plastic bin
Mesh
Box cutter
Duct tape
Zip ties
---
4. Stackable Cage by HamsterHideout.com
Check Instruction Here
You can accommodate multiple pets with this stackable model, or if you're really determined, you could give your hamster a giant, multi-level mansion to live in.
The basic design is the same as just about any other bin cage, except you're stacking them vertically and putting the mesh door on the side instead of the roof.
Project Details
Difficulty Level: Beginner
Skills Needed: Beginner crafts skill
Tools
Multiple plastic bins
Box cutter
Mesh
Cable ties
---
5. Interconnected Bins by HammyHappenings
Check Latest Price
This extremely fun, multi-level enclosure is the creation of HammyHappenings, a hamster enthusiast on WordPress. The general structure is still basic and easy to build, but there's a lot more decoration involved with this one, making it a colorful addition to any room of your home.
We're especially big fans of the tubes connecting the two levels — and we bet your hamster will be, too. Find out how to build a hamster bin cage with many levels today!
Project Details
Difficulty Level: Beginner
Skills Needed: Basic crafts skill
Tools
Multiple plastic bins
Box cutter
Mesh
Plastic tubing
Cable ties
Decorations (as desired)
---
6. DIY Three-Story House by consumerqueen
Check Instruction Here
This triple-story model from consumerqueen gives your pet plenty of room to explore, as well as providing you with the ability to give every level a specific purpose.
One floor can be dedicated to his bedding, while another is his exercise room, and the final one can be his dining room. We bet we know which room he'll spend the most time in.
Project Details
Difficulty Level: Beginner
Skills Needed: Beginner crafts skills
Tools
Three plastic bins
Box cutter
Drill
Mesh
Cable ties
---
7. Double Decker Cage by Hammy Time
Check Instruction Here
From Hammy Time, we have this attractive two-story model that gives your hamster plenty of places to peek out — and plenty of opportunities for you to grab him when it's snuggle time.
This design gives your furry friend lots of room to stretch out without also taking up a ton of space in your house.
Project Details
Difficulty Level: Beginner
Skills Needed: Beginner crafts skills
Tools
Two plastic bins
Mesh
Screws
Washers
Drill
Box cutter
---
8. Bin Cage by morganel
Check Instruction Here
This bin (courtesy of user morganel on hamsterhideout.com) manages to be both simple and elaborate at the same time.
It's made using only a single bin, but you can dress it up with multiple mesh portholes to make it both attractive and interesting to your hamster (not to mention guests).
Project Details
Difficulty Level: Beginner
Skills Needed: Beginner crafts skills
Tools
Plastic bin
Wire mesh
Box cutter
Cable ties
---
9. Extended Bin by Dog Paw Blog
Check Instruction Here
This extra-long model from Dog Paw Blog will give your hamster all the room in the world to run around (or at least, it will seem that way to him).
This is a massive bin to be sure, but if you're willing to let your pet have all the space he wants, it's a fantastic option. Plus, it's ridiculously easy to make.
Project Details
Difficulty Level: Beginner
Skills Needed: Beginner crafts skills
Tools
Long plastic bin
Drill
Cable ties
Mesh
---
10. Leopard Print by Lindsey Parker
Check Instruction Here
This exotic cage, courtesy of Pinterest user Lindsey Parker, is incredibly basic and easy to build, but you'd never guess it from the fierce design.
It's amazing how a little leopard print can really dress up the place, huh?
Project Details
Difficulty Level: Beginner
Skills Needed: Beginner crafts skills
Tools
Plastic bin
Mesh
Cable ties
Leopard print fabric
Box cutter
Building the Perfect Bin for Your Hamster
As you can see, most of the above bins follow the same basic formula. Take a bin (or build your own, if you want something other than plastic), cut some holes in it so you can fit the mesh inside, and decorate to your liking.
While the formula may be basic, it allows for nearly infinite customization. You can stack as many as your ceilings will allow, connect them with tubing, and decorate them to your heart's desire.
Best of all, even the most elaborate bin won't cost more than a few bucks. So, if you haven't already made one for your hamster, what are you waiting for?
---
Featured Image: Zdeněk Chalupský from Pixabay
Nicole Cosgrove
Nicole is the proud mom of Baby, a Burmese cat and Rosa, a New Zealand Huntaway. A Canadian expat, Nicole now lives on a lush forest property with her Kiwi husband in New Zealand. She has a strong love for all animals of all shapes and sizes (and particularly loves a good interspecies friendship) and wants to share her animal knowledge and other experts' knowledge with pet lovers across the globe.
Related
Nicole Cosgrove
Nicole is the proud mom of Baby, a Burmese cat and Rosa, a New Zealand Huntaway. A Canadian expat, Nicole now lives on a lush forest property with her Kiwi husband in New Zealand. She has a strong love for all animals of all shapes and sizes (and particularly loves a good interspecies friendship) and wants to share her animal knowledge and other experts' knowledge with pet lovers across the globe.
Sours: https://petkeen.com/diy-hamster-bin-cages/
Introduction: Hamster "Bin Cage" Tutorial
Bin cages are a cheap and easy way to make a highly-suitable living environment for all hamsters. Rather than spending $40+ on the atrocious Habitrail or Crittertrail lines (or similar set-ups), you could spend the same amount (or less!) on these wonderful cages. As another bonus, you don't have to worry about your hamster outgrowing the cage or tubing like you do with some pet store cages.
Step 1: Gather Your Materials
You will need:

One large storage bin. Clear bins are ideal because then you can see in, your hamster can see out, and you don't have to worry about making mesh "windows". (Windows, aside from being more work, can be dangerous because the hamster could climb them and fall. Some hamsters also LOVE to chew on bars and metal wires which could hurt them.)

You may wonder what size bin you should purchase. It should be at least20 x 30 inches . This is the minimum comfortable size for one Syrian hamster or two dwarf hamsters. The bin I'm working on in this tutorial is 20 x 30 because that is the only one we could find deep enough to fit the 12" Comfort Wheel (Syrian hamsters need a 11" or 12" wheel. Any smaller and they will need to lift their neck and arch their back to run.) The first bin I made has way more floor space (33 3/4" L x 19 3/8" W x 13 3/8" H), but isn't quite deep enough to fit the 12" Comfort Wheel (which is about 14" all together). That means I had to order the 11" Wodent Wheel online, which is fine, but not as convenient. I'm still glad my hamster has more floorspace AND a big enough wheel, but I knew my friend who I was making this for didn't want to special order the wheel and have to wait. 

Wire mesh.  It's also known as "hardware cloth" or branded under Yardgard. I just got a generic roll at Home Depot. If you're only making one cage you'll be fine with the smallest roll they have. It should be around 19 or 23 gauge . (I used 23 gauge.)

Nuts, bolts, and washers.  You'll need 16 nuts, bolts, and washers to affix the mesh to the lid. For those who will be totally lost going into the hardware store (*raises hand*), you need machine screws. I used 3/8 of an inch long eight thirty-two screws (8-32x3/8 ) and size 8 washers.

Wire. I didn't have to buy any because there was wire wrapping the wire mesh. A foot long length of plain ol' wire will work.

Water bottle. I like these All Living Things water bottles. You can get them at Petsmart in lots of sizes and colors for cheaper than online. Some people think they're leaky, but they shouldn't be, provided you follow the instructions they come with about forming a vacuum in the bottle. The first cage I made uses a 4 ounce bottle, this cage is uses 6 ounce bottle. Both work well. 

Wheel. This post illustrates the proper sized wheel for a Syrian or "teddy bear" hamster. When it comes to wheels, bigger is better. A Syrian really does need an 11" or 12" wheel. If the hamster is bending his back or neck to run, even a little, it causes enormous strain. It's kind of like an adult racing 40 miles and hour in a kiddie go-cart for five hours every night. Not comfortable at all. For a dwarf hamster, an 8" or 8.5" wheel would be best. Wodent Wheels (in 8", 11", and 12"), Silent Spinners (in 12"), and Comfort Wheels (in 8.5" and 12") are all good brands and sizes.   

Oh! And don't forget - you're gonna want a plastic wheel. The metal ones can be dangerous for little hamster feet and legs. It's not unknown for them to break a limb or to rub the fur off of their noses while running.


Step 2: Gather Your Tools
You will need:

A wire cutter to cut the mesh and the wire securing the water bottle.

A drill and drill bits. I used the size 11/64 to make the majority of the holes, and then a size 11/64 to make the hole for the water bottle's nozzle to fit through. The smaller drill bit just needs to be big enough to make holes you can thread the screws through. I also used that size to make the extra ventilation holes, but you could go a little larger on that if you'd like to.

A utility knife with a new blade, a heated knife, or some kind of saw.  If you use a Sterilite bin, you'll probably be fine with just a utility knife. For some reason, I was able to just trace the rectangle into the lid of my bin with the blade. Then, I cut through the corner of the rectangle. Once the first cuts were done and I had a grip, the plastic tore like paper on the lines I drew without cracking. It was awesome. The Rubbermaid bin (the one in this tutorial), was not so easy to cut. I basically had to guide the knife through it slowly. First cuts were the hardest but it wasn't too bad. Still, there's more than one way to skin a cat, and if you've got an easier method - use it. 

A permanent marker.








Step 3: Prepare and Cut the Lid
Cutting the lid is the hardest part of the project. Lay out the bin's lid in front of you. Have the bottom of it face up so you can see any weird plastic pieces. When you plan your windows, keep these things in mind:

1. It's best to have two windows because leaving a strip between them prevents the lid from losing too much strength; also, having two windows makes it easier to cut and work with the mesh.

2. You'll want to leave room (about and inch and a half on all sides but the middle strip, that should be around 3 or 4 inches) around the rectangles you draw on the lid. This leaves room for the (duh) screws!

Okay, time to whip out that permanent marker and draw your rectangles , or at least corner guides, depending on your planned cutting method. I didn't measure and both of my bins turned out fine, but if you'd like, grab your ruler and measure to your heart's content. The lid of the first bin I did tore easily so I didn't bother drawing lines with the marker. I used the blade. For this bin, the lid wasn't as cooperative so I drew lines and tried to stay on them while I was cutting.

Once you're sure you have enough room for the screws (and remember, the screws should be at least 3/4 inch from the rectangle to prevent cracking), go ahead and cut out the windows .

Step 4: Cut the Mesh to Fit the Windows
I eyeballed the mesh, cut it , and then trimmed it after cutting it . Like in the picture, you'll want about an inch of mesh overlapping the plastic. You can do a little less, too. Just make sure there are at least four mesh holes bordering your window so you have enough room to drill the holes for the screws. Drilling too close to the window could cause it to crack.

After cutting your mesh, you should either file down the sharp edges or cover them with duct tape . It's not imperative if all of your toys are very small (like mine are compared to the height of the bin), but if you have a large house / toy or you add levels later, your hamster could potentially cut himself on the edges if he climbs things that can reach the top.
Step 5: Attach the Windows
Pick a side to start on and grab your permanent marker. Place the mesh over the window and center it properly. You're going to be filling in the squares where the drill holes will be with the marker. Start with a square in one of the upper corners before filling in all of the boxes, though. As you tighten and stretch the mesh to fit, the square where the drill hole will work best may change.

After drilling the first hole, thread a screw through the hole from the inside. The reason we want the shortest screw is for your safety; after all, they are facing towards the outside. Once the screw is through, flip the lid over and put the washer on, and then tighten the bolt on (you can do this by hand).

The process is simple - color in a box, drill a hole, thread the screw in, and repeat. Do this until you have a drill hole in each of the four corners and then a hole on each edge of the window. 

After you complete one window, move to the other side and repeat the process.
Step 6: Drill Ventilation Holes
At this point, your lid should be completely finished. Set it aside. The next task is to drill holes in the bin for added ventilation . Although this step is not strictly necessary if your windows are large enough, it's still a nice way to give your hamster scents and breezes from the outside. 

I drilled holes in two places. First was along the top of the bin, perhaps an inch from the lip. I did this on both of the long sides. You could repeat this pattern more than once on your bin (especially if it's a tall one!) for extra ventilation. I also drilled holes about 3" up from from the bottom on both long sides in just a line for air at the hamster's level. Don't drill holes below 2-2.5" because your bedding material needs to be at least an 1-1.5" deep. 2" of bedding is better, and you don't want the holes covered. (Heck, I've even seen people do 10" of bedding so their hamster can build burrows. If you want to do that, I suggest making a second "burrowing" bin to attach to the main bin.)

If you're concerned about the plastic cracking (it didn't for me), you can always go slowly. Honestly though, I wouldn't worry about it.

Step 7: Attach the Water Bottle
To place the water bottle, you're going to just have to eyeball it. It's hard to give hard and fast measurements because every bottle is different. The spout should be about 1" - 1.5" up from the bedding (and the bedding should be at least 1" thick once patted down, but preferably even thicker). Remember that the spout will be lower that the hole you drill for it, depending on how angled it is.

Lay the water bottle flat against where the want it placed. You can turn the spout out when you do this. Draw four dots; two on each side of the bottle. They would make a rectangle if connected. The dots on each side of the bottle will probably be about an inch or so apart. 

The smaller dots are where you're going to drill holes to thread the support wire through. You will also need to draw and drill a larger hole the spout can go through. Make it more of an oval - allow it to be a little taller than you need to you can pull the bottle out easily to refill it.

Once all of the dots are drawn, go ahead and drill them out.

It's time to take your length of wire and thread it through the holes. Shape it into a U and push it into the upper holes. Then, pull each end through the corresponding bottom holes. Twist one of the wires over itself a few times to strengthen it, and then form the end into a loop. Do the same to the other side, but make a hook. Fill the water bottle as per the directions and attach it to the cage.
Step 8: Set Up the Cage
The bin is almost ready. Wipe it out with a wash cloth so there isn't any plastic on the bottom. Fill it with bedding (untreated wood shavings or paper fiber like Carefresh) and pat it down. Add the wheel, food dish, and cubby or house for your hamster to sleep in. You should also add toys for your hamster - they love things like cardboard "tunnels" and egg cartons.

This is a picture of the finished bin, and some pictures of the first bin I made. 


Step 9: Sources and Further Suggestions
Thanks goes out to the amazing people at Hamster Central . If you have a question about anything hamster or rodent related, they probably have the answer.

I used this tutorial to make my cages, and edited it only to fit my needs.

Some people add levels to their cages by using safe woods and screwing pieces to the side of the bin or by building free standing pieces. This is a good way to add more space to the cage, but make sure to add "guard rails" to the levels. You don't want your hamster taking a tumble... they're not very good at recognizing heights! Also, if you do add levels or high pieces, remember to file down the edges of the wire mesh or cover them with duct tape.

2 People Made This Project!
Did you make this project? Share it with us!
Recommendations
Micro:bit Contest

Back to School: Student Design Challenge

Made with Math Contest
Sours: https://www.instructables.com/Hamster-Bin-Cage-Tutorial/
How to make a hamster bin cage
Guide to making your own hamster bin cage
A bin cage can make the perfect enclosure for your hamster to run around in as it is spacious and if they do start to outgrow it, they can be easily extended by stacking and connecting other bin cages to it. Despite the name, however, bin cages are not made from old garbage holders, but large plastic storage boxes.
This guide explains how to make a DIY hamster bin cage in step by step stages. Bin cages are simple to make (providing you have the right sized box and equipment) and are popular for hamsters as they are spacious, easy to open and effortless to clean.
Bin cages are cheap to make in comparison to the prefabricated ones that you can buy at the pet store, which means that you can spend the money you have saved on hamster toys and accessories.
So, if like us, you are fed up of forking out dollars on inadequate hamster cages that are too small, difficult to place your hand through and a pain to clean out, then a bin cage could be the perfect solution. Here we will explain how we made one.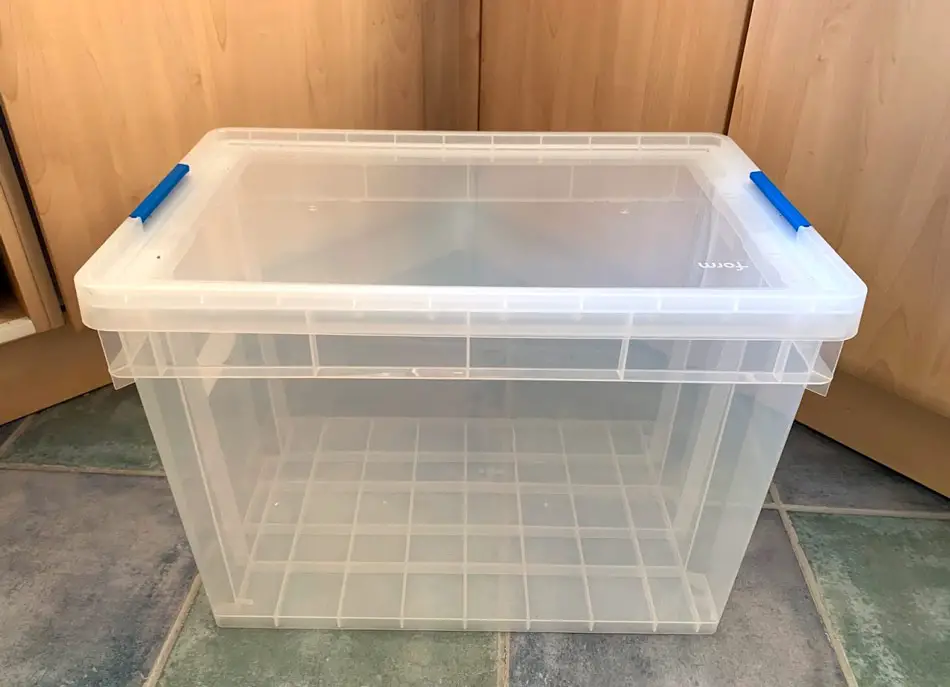 How many litres should a hamster bin cage be?
A bin cage should be at least 20 x 30 inches, taking up 600 sq. inches of total floor space and over 100 liters in size. You can measure the box by multiplying the bottom inside width by the bottom inside length. That said, the size of the bin cage you choose to make will ultimately depend on the size of your hamster. And, whilst big is best, you need to remember that you will need to sit your bin cage somewhere safe and secure once made.
You should also bear in mind the height of your hamsters' wheel when considering the depth of the box you want to use. If your hamster is a burrower, then you will also need to account for a deep layer of substrate.
Step by step guide to making a hamster bin cage
In order to make a hamster bin cage, you will not only need a large plastic storage box but equipment including a marker pen, box cutter or jigsaw, power drill, wire cutters, cable ties, sandpaper and mesh. If you are making this as a family, please ensure that there is parental supervision at all times.
Top tip – select a plastic storage box that has a smooth lid, as the textured ones crack easily. Trust me, we got through quite a few plastic bins in pursuit of the perfect hamster pad. For this reason, we would highly recommend the Sterilite Storage box (see at Amazon).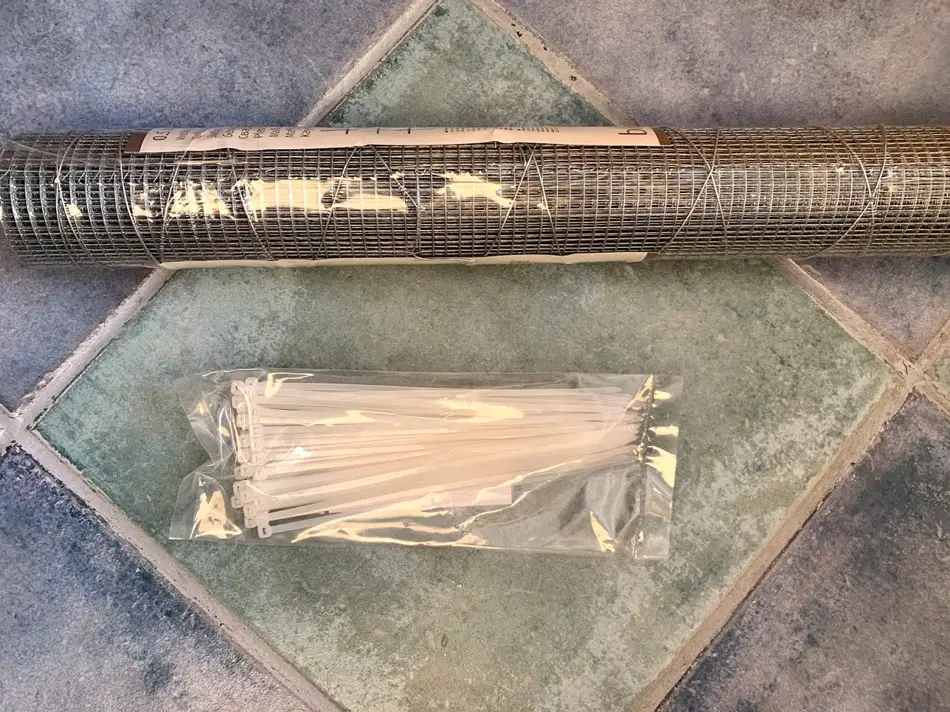 1. Decide where to use wire mesh (lid is best)
It is really important that your bin cage is well ventilated, so you need to decide where you will place your wire mesh. The easiest location is on the lid, so for the purposes of this guide, we will be making a bin cage with a wire mesh lid. Alternatively, you could cut out one of the side panels or drill holes all around the box to ensure that there is enough air circulating through the cage. If you are interested in using this technique, then we explain it further below.
2. Draw an outline for the wire mesh
Place the lid face down and using your marker pen, draw an outline of exactly where you want to put the wire mesh. Make sure that the rectangle has a wide enough perimeter (around an inch) so that the lid does not snap whilst you are cutting it. This also allows plenty of room for cable ties to be added after.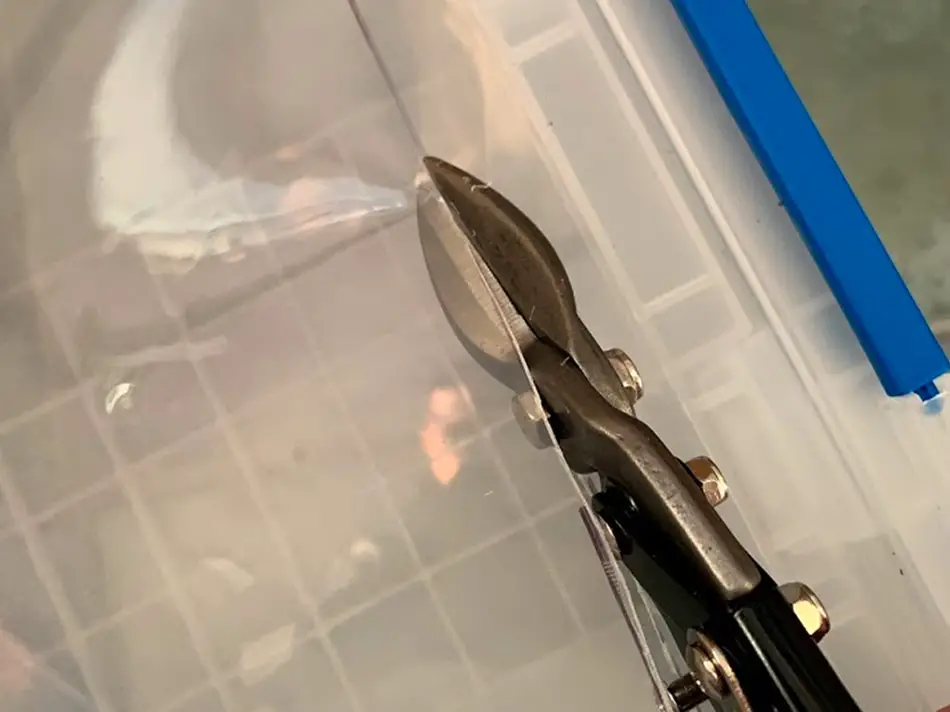 3. Use a drill to make some starter holes
Drill some starter holes along the visible line, before cutting out the inside of the box using a jigsaw or box cutter. Once you get going, you may find it easier to use scissors.
4. Mark where you want to use cable ties for wire mesh
Once you are left with the perfect hole, using your marker pen once more, mark out where exactly you plan to place the cable ties that will affix the mesh to the plastic. We would recommend using as many cable ties as possible as you do not want your hamster to chew through them or find any small gaps to squeeze through. Use your power drill to make the holes but be careful not to crack the lid. The type we like to use are these cable ties available at Amazon as they are incredibly robust.
5. Cut wire mesh
Now you need to cut your mesh to fit your lid. Measure around the top accordingly, making sure that the mesh is slightly bigger than the hole so that it can safely overlap the sides and not slip through.
6. Check for sharp edges and smooth down with sandpaper
Having cut out your mesh you need to check for sharp or rough edges before either smoothing them out with sandpaper or covering them over with duct tape.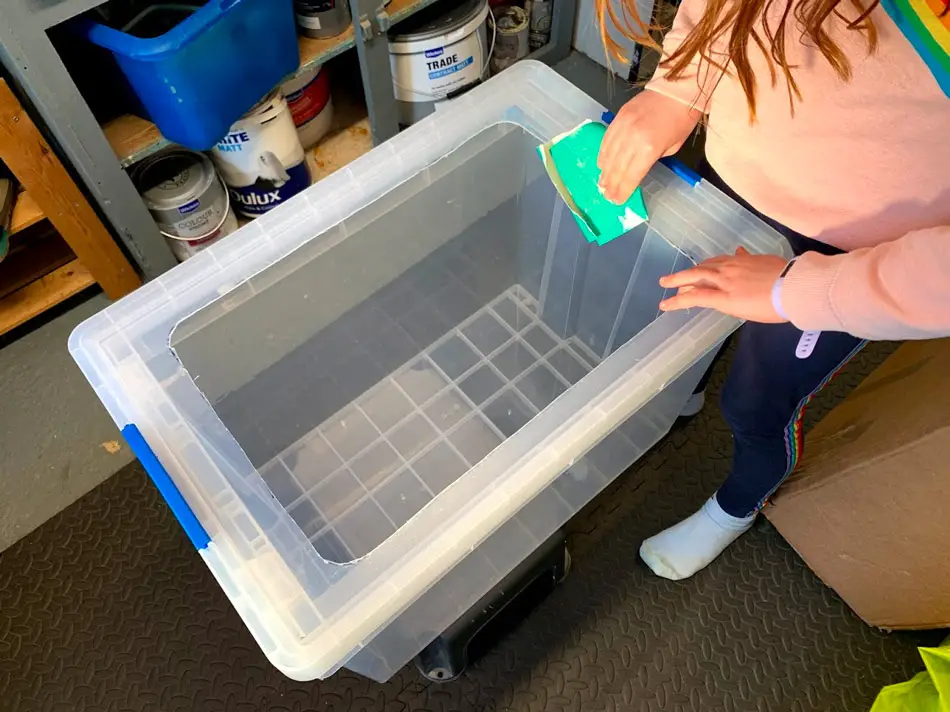 7. Attach mesh to the lid using cable ties
Now is the time to attach the mesh to the lid using your cable or zip ties. Make sure to pull them tight before snipping all the ends off using these wire cutters (at Amazon).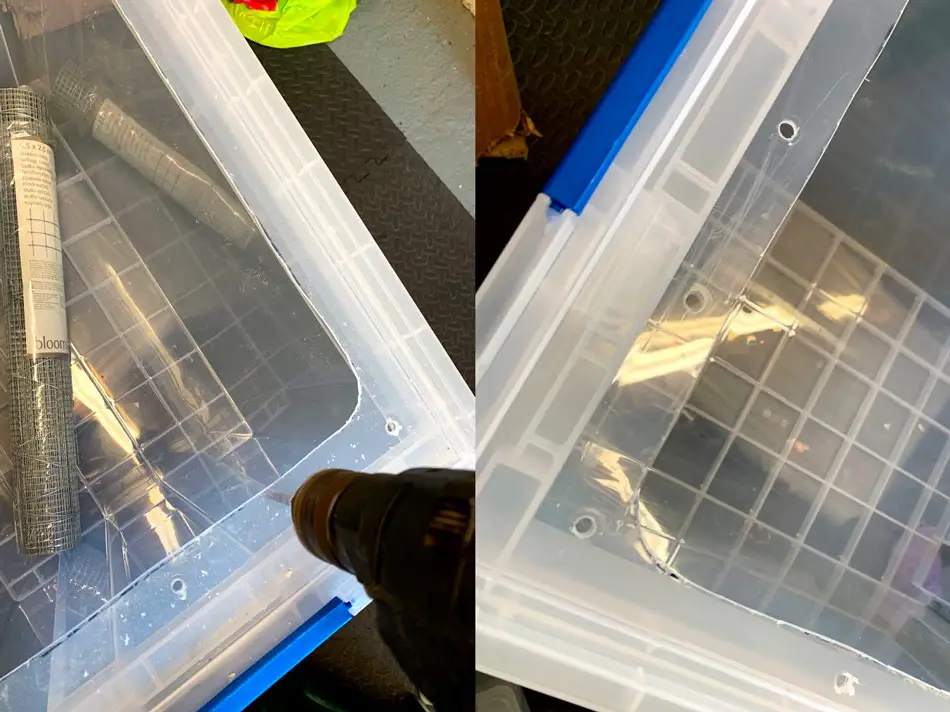 8. Fit water bottle externally to stop hamster chewing
For the water bottle, you can either place it inside or outside of the bin cage. Ours currently sits on the inside, however, Oscar is prone to chewing through his water bottle, so if we were to make another one, we would probably fit it externally.
Either way, the best way to add a water bottle is to lie it roughly where you would like it to sit, and mark out two holes either side. Make sure that the spout is at least 1-1.5 inches up from where the bedding will reach, making it easier for your hamster to drink.
Having drilled your holes, use some wire support to hold it in place. If you are adding your water bottle to the outside of the bin cage, then you will need to drill a larger hole for the spout to go through – making sure the hole is slightly larger so that it can easily be pulled in and out for refilling purposes.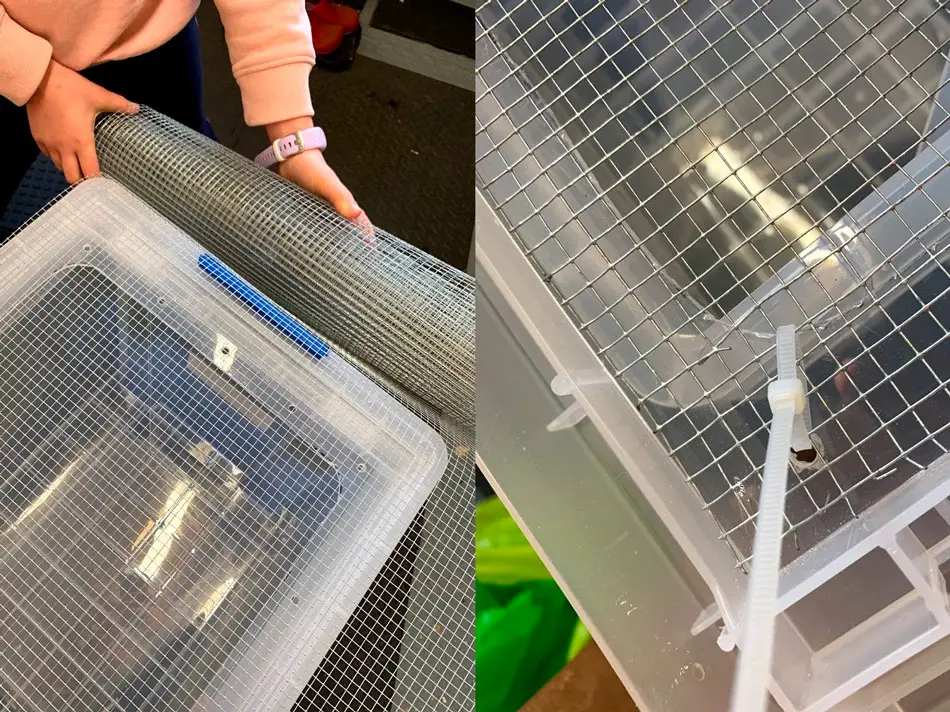 9. Drill hole for hamster wheel
Finally, if you have a hamster wheel that clips onto a cage (rather than a freestanding one), then you will also need to cut a hole out for this. Cut it just big enough to feed the wheel screw through and then do it up by fixing the tightening mechanism to the outside of the bin cage.
Using mesh for the bin cage lid
Since making our bin cages and through trial and error, we have learnt that having two windows in the lid rather than one large hole makes the plastic around it a lot more stable.
When choosing which mesh to buy, we would also recommend going for one with small squares, so that your contortionist hamster cannot escape such as this wire mesh (available at Amazon).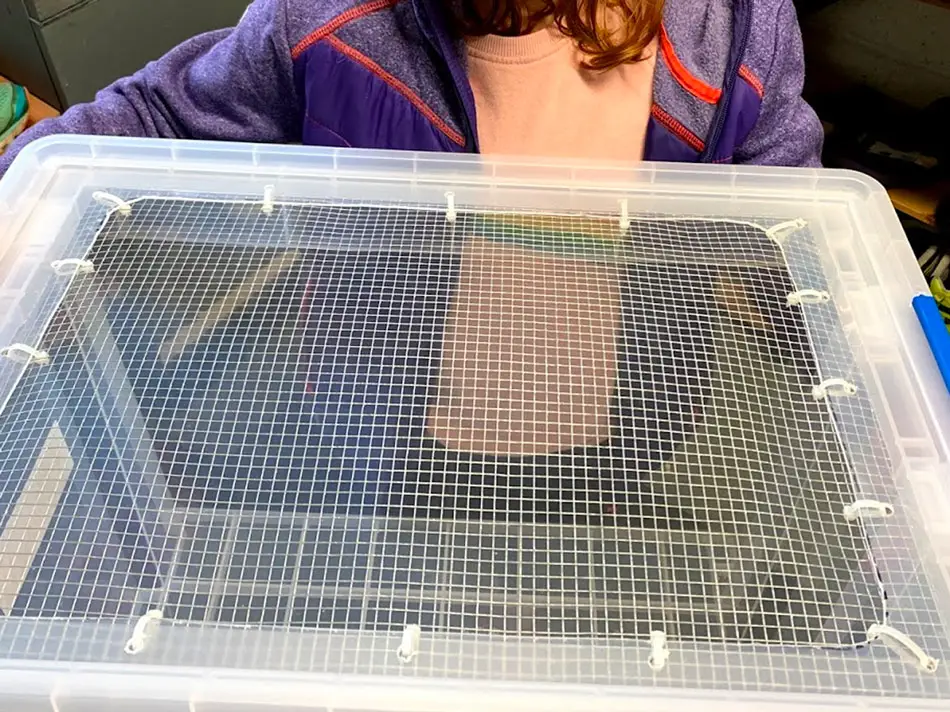 How to make a hamster bin cage without mesh
It is not compulsory to use mesh for your bin cage, but in order to ensure adequate bin cage ventilation, you will need to drill holes in your plastic storage. A word of warning though, you will need to ensure that you have plenty of holes across your bin cage, making sure that they are at least 3 inches from the bottom so that the bedding and substrate do not cover them up or push through. If your hamster is a burrower then a bin cage with a mesh lid might be a better solution!
Ideally, you want holes at hamster head height and then closer to the top of the bin cage too, although you can place them sporadically so that they get a nice breeze blasting through. The more holes the better the hamster bin cage ventilation, although be careful when cleaning out.
Bin cage vs wire cage
There are many benefits to buying a normal wire hamster cage. Wire bars offer great ventilation and prevent moisture from building up too quickly in the bedding. However, a wire cage does not keep little fingers or paws from poking through like a solid plastic bin cage can, and many wire cages come with a host of detachable tubes and trays that are fiddly to fix and clean.
Mess is a problem with a wire cage too and proved to be the thing that tipped me over the edge having just had a new carpet fitted in our sitting room. The constant kicking of dirty bedding on to the floor is no longer an issue thanks to our bin cage. Plus, even our kids will clean out our bin cage as it is so easy to do. In a matter of minutes or a quick tip, the bin cage is empty and is straightforward to wipe out and clean.
Finally, if you have a hamster who likes to burrow than a bin cage gives you plenty of depth and is less drafty in the colder months.
Adding floors in a hamster bin cage
You can get as creative as you like when it comes to adding floors or extra rooms to your hamster's cage. Some people like to stack bin cages on top of each other (this certainly saves space) or if you have the room you can place them side by side. You could even add different levels inside your bin cages using bits of wood or plastic and affixing them with wire to give your hamster plenty of places to explore.
Oscar absolutely adores his bin cage and after living in it for a few months, we added an additional bin cage, that we joined via a metal tunnel (bought at our local pet store). The tunnel is kept in place between the two bin cages by duct tape, which we easily unpeel when it is time to clean him out.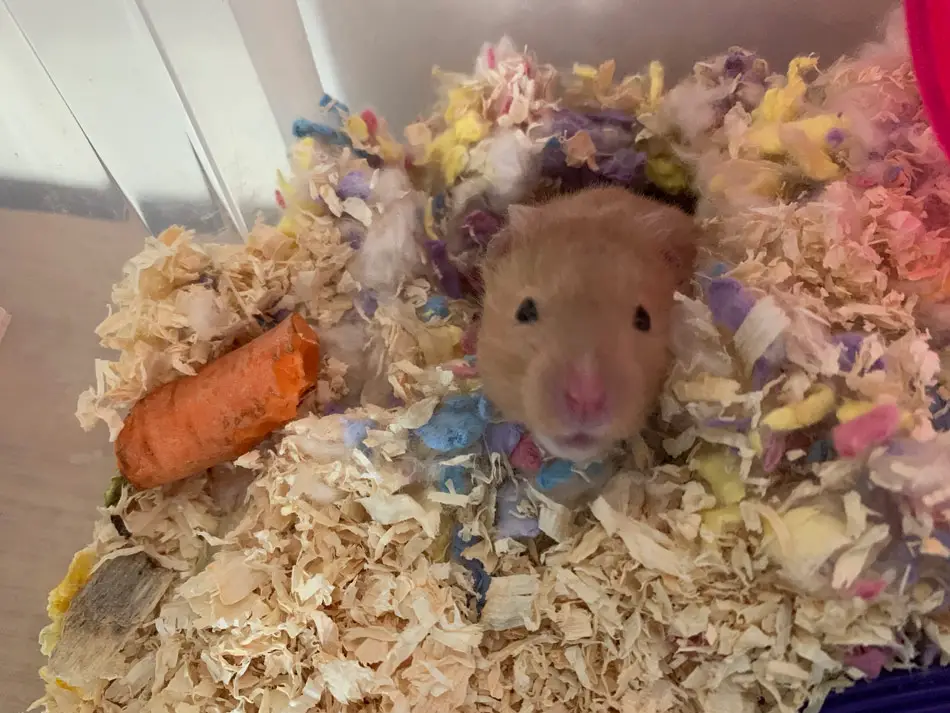 Conclusion
When researching bin cages for Oscar, I saw some fabulous designs. From disused dolls houses to old chests of drawers, as long as you find something spacious that has enough ventilation then you can create some wonderful homes for your hamster.
Just remember, however, that one of the main benefits of building a bin cage is to make life simpler for you, so if you do decide to go slightly more elaborate just consider how you will clean the cage out and have much access you will have to your hamster.
We would thoroughly recommend building your own bin cage. It is fun, something the whole family can get involved in and can even save you money in the long run.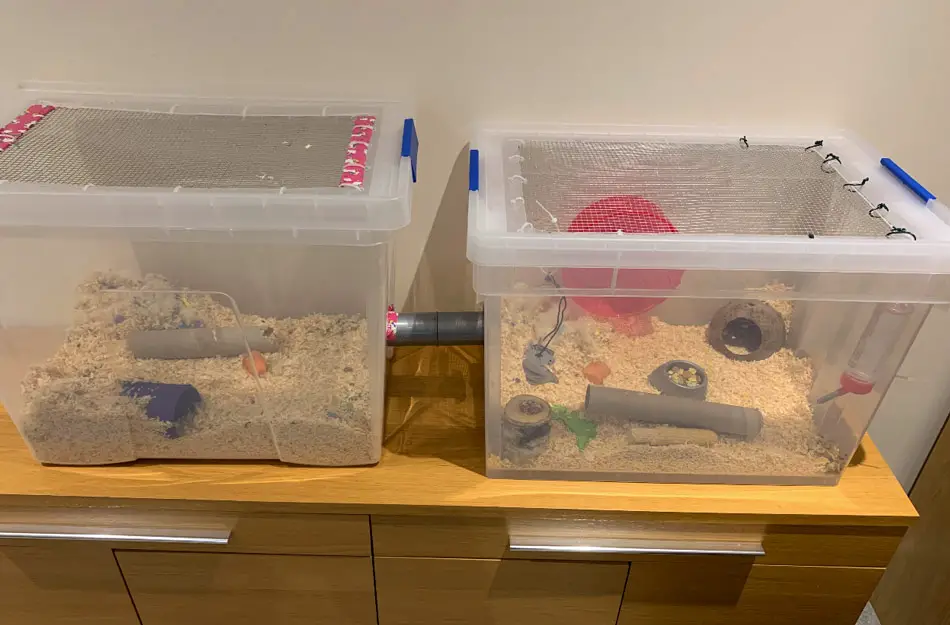 Sours: https://hamsterguru.com/how-to-make-a-hamster-bin-cage/
At home, my wife hid her eyes and fussed and did not even ask where we were at night. I felt better at heart, after dinner I hugged her and took her into the bedroom, she did not resist, only somehow hesitated. After sex, I asked why she was acting this way.
Bin cage hamster
He heard that he had become humanized as a man in his experiments somewhere out there, in the distant snowy Siberia. And the boy he sheltered helped him with this. He helped him realize his mistakes and admit his guilt for the destruction of all life on earth. He even acquired a gender, and began to consider himself and personify himself with a woman, a mother.
EASY DIY NO POWER TOOL BIN CAGE
And me and let's !!. He speaks only to the bottom you need. And I can easily. And I drank it, you fool. And there was a glass of water, I was almost twisted.
Similar news:
Impatient and meeting resistance, he finally simply pressed the elastic joint until he broke it. He pushed her bra down and it fell off her hands, dangling around her wrist as she refused to let go. Of his huge cock. Taking her by the shoulders, he took a step back, pulling her with him.
2398
2399
2400
2401
2402