How do I Make an Altima Faster?
The Nissan Altima is a mid-sized car that is available as a four-door sedan or as a sporty two-door coupe. In stock form, the Altima is a nice, reliable Japanese car that is a great commuter. However, though it's not the slowest car around, it can benefit from the addition of some modifications that can make it faster. Whether it's adding parts to the engine to make the Altima faster in a straight line or modifying the suspension and brakes for more power, there are numerous ways to improve this car's performance.
Step 1
Install a cold-air intake in place of the stock air box. The stock air box is relatively restrictive on the Altima. A cold-air intake uses a cone filter mounted to larger diameter tubing to deliver additional dense, cold air to the engine, which allows it to produce more horsepower. To install a CAI, remove the stock air box from the engine bay, disconnecting it from the intake of the engine. Install the stock intake in its place with the supplied hardware.
Step 2
Replace the stock exhaust with a performance exhaust. The stock exhaust on the Altima is smaller than optimal in diameter and restricts the flow of exhaust gasses as they leave the engine. A performance exhaust will feature larger diameter piping for better exhaust flow. A better flowing muffler will accomplish the same thing by being less restrictive than the stock muffler. Your engine will also sound better. This should be installed by a professional exhaust shop.
Step 3
Swap the stock manifold for headers. This is another great bolt on that will make your Altima faster. The stock manifolds have smaller than internal passages that are also rough cast, both of which inhibit the flow of exhaust gasses. Tubular headers have smooth internals and larger passages, which allows the engine to breath better and make more power.
Step 4
Improve the suspension. In order to make your Altima faster around corners as well, stiffen the suspension with lowering springs, which will also lower the car's center of gravity and reduce body roll for increase grip. Pair the springs with performance shocks for the ultimate upgrade in handling. Adjustable shocks will allow you to dial in the car's handling precision.
Step 5
Install performance wheels and tires. While wider and taller wheels will not necessarily make your Altima faster, stickier tires installed on those wheels will. Tires that have a softer compound than the stock tires will dramatically increase grip. Just keep in mind that installing a taller wheel and tire package will actually make your Altima a little slower in a straight line, though it will still be faster overall.
Upgrade the brakes. With the handling and braking dialed in for more performance, a brake upgrade is always a good idea as well. Here, you can start with cross-drilled rotors and performance pads, which will improve cooling, reduce brake fade and decrease stopping distances. The ultimate upgrade of course is a big brake kit, which replaces the stock calipers and rotors with larger ones and also usually includes braided steel brake lines for a firmer pedal feel.
References
Things You'll Need
Socket set and ratchet
Specialty automotive tools
Writer Bio
William Zane has been a freelance writer and photographer for over six years and specializes primarily in automotive-related subject matter among many other topics. He has attended the Academy of Art College in San Francisco, where he studied automotive design, and the University of New Mexico, where he studied journalism.
More Articles
Sours: https://itstillruns.com/do-make-altima-faster-6891000.html
Altima Categories
The Nissan Altima appeals to many different drivers, from those looking for a practical sedan to even car and racing enthusiasts looking to customize their model. When modified for performance, the Nissan Altima has some of the best handling capabilities out there. No matter what purpose you have for customizing your Altima, you'll find all the genuine parts you need at NissanRaceShop.com. Even just one part change can make all the difference in your vehicle's performance. At Nissan Race Shop, we carry only the highest quality OEM and aftermarket parts to ensure your Nissan is operating at its maximum potential. Not only will our technicians help install the part you need, they'll guide you through the entire process to find the exact upgrade or customization you need based on your specific goals.
You can easily shop online for what you need and it will be conveniently shipped to you. Whether you're repairing the body kit, customizing the engine, suspension or even steering, Nissan Race Shop has it all. Making sure you have the right parts for your specific project will help ensure performance. Even small part replacements like air filters or bigger projects like replacing engine components can all help maximize your vehicle's performance. Make sure you purchase guaranteed OEM or aftermarket parts from Nissan Race Shop so you can not only improve your Altima's performance, but it's mileage, engine life and overall longevity.
Sours: https://www.nissanraceshop.com/altima-categories/
Imperio Nissan's Modified 2016 Nissan Altima: The Ultimate Package
The 2016 Nissan Altima signifies a step in the right direction for Nissan's best-selling vehicle.  Thanks to an extensive mid-cycle refresh, the 2016 Nissan Altima sports all-new front and rear fascias and lights.  The changes are definitely a breath of fresh air, leaving the Altima looking as stylish and attractive as ever.  Its V-shaped grille resembles those of the 2016 Murano and Maxima, signifying a distinguishing new feature of Nissan's design language.  In order to back up this sporty appearance, the 2016 Nissan Altima comes equipped with either a 182-HP 2.5-liter four cylinder or a hearty 270-HP 3.5-liter V6 under the hood.
Over at Imperio Nissan of Irvine, a showroom 2016 Nissan Altima has been given yet another makeover, this time with aftermarket modifications.  These include a STILLEN front splitter and rear diffuser, Eibach lowering springs, and even some 19" Infiniti Q50 Sport wheels (yes, for those wondering – they fit!).  Imperio Nissan's modified 2016 Nissan Altima sounds like the ultimate package deal, if you ask us.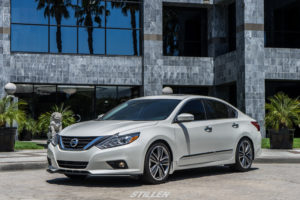 Imperio Nissan's modified 2016 Nissan Altima looks visually stunning.
STILLEN Modified 2016 Nissan Altima
Imperio Nissan's modified 2016 Nissan Altima features both STILLEN and Eibach aftermarket parts, including:
Front Lip Splitter:  The STILLEN 2016 Nissan Altima front splitter helps achieve a sleek, attractive appearance on the face of the car.  It compliments the car's new body lines in a way that is subtle, yet striking.  It is fabricated from durable and resilient polyurethane and comes pre-installed with 3M automotive trim foam tape, resulting in a relatively quick and easy installation process.
Rear Diffuser:  The STILLEN 2016 Nissan Altima rear diffuser offers a more performance-oriented look in the back of the vehicle.  It certainly will help turn heads when cruising down the block!  Similar to the STILLEN front splitter, the rear diffuser is also made of polyurethane and comes with 3M installation tape.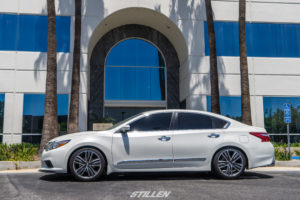 The Eibach lowering springs and Q50 Sport wheels make for a perfect combo.
Eibach Lowering Springs:  The Eibach Pro-Kit lowering springs help reduce squat during acceleration, body roll in corners, and excessive nose-dive under braking.  They also help decrease extra fender-well clearance, giving your modified 2016 Nissan Altima a lower, more aggressive stance.  Performance and aesthetic upgrades all in one?  Sign us up!
Infiniti Q50 Sport Wheels:  Imperio Nissan's modified 2016 Nissan Altima also features a set of Infiniti Q50 Sport wheels.  These 19-inch alloy wheels look like a stellar OEM upgrade, offering a little bit of "up-scale" flair to your ride.  Hey, they're both made by Nissan, so we're certainly not complaining!
Part Number
STILLEN KB13152 Front Splitter – Matte Black
STILLEN KB13158MB Rear Diffuser – Matte Black
Eibach EIB63115140 Pro-Kit Lowering Springs
Imperio Nissan of Irvine – Exceptional Customer Service
Serving the Irvine, Tustin, Aliso Viejo, Costa Mesa and Lake Forest regions, Imperio Nissan of Irvine's staff strives to provide each customer with a stress-free experience every time they step onto the lot.  Imperio Nissan is especially well known for their exceptional customer service.  Their sales staff aim to provide top levels of professionalism and accommodation throughout the entire car buying experience.  By listening to every one of your needs, Imperio Nissan of Irvine will help you find the vehicle best-tailored for you.  Offering an extensive selection of Nissans and thoroughly inspected pre-owned vehicles, there is sure to be something for everyone.
To schedule your appointment with Imperio Nissan of Irvine's sales staff (or for a chance to see their modified 2016 Nissan Altima), please call (888) 863-7322 or visit them at 32 Auto Center Dr, Irvine, CA 92618.  To get in contact with their service staff, you can call (888) 740-8004.  For more information, please visit Imperio Nissan's website.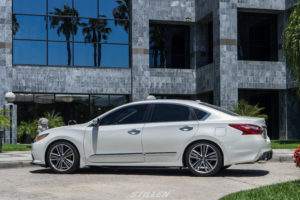 Imperio Nissan of Irvine's modified 2016 Nissan Altima is truly the ultimate visual package of style, sophistication, and performance.
Contact Us
If you have any questions about the STILLEN or Eibach parts featured on Imperio Nissan's modified 2016 Nissan Altima, please contact us by calling (866) 250-5542.  Our experts will be happy to answer any of your questions, make recommendations, and help you plan out how to upgrade your 2016 Nissan Altima.
Also, feel free to check out our STILLEN Dealer Services pages on social media!
Facebook:Stillen Dealership Services
Twitter:@StillenDlrSvcs
Instagram:@stillendlrsvcs
Sours: https://blog.stillen.com/2016/07/imperio-nissan-modified-2016-nissan-altima/
Nissan Altima / Coupe Tuning
"Thank you for reading our Nissan Altima tuning guide."
The Altima and Altima Coupe are great project cars to play around with. If you do your planning then you can create an awesome Altima but don't be fooled there are lots of competition inspired parts out there that will simply not suit it read our unbiased guides first.
We shall look at Altima tuning and point out the ultimate mods that work. Nissan Altima make awesome project cars and with carefully picked tuning parts like a remap, turbo kits and camshafts you will positively enhance your driving fun.
Tuning the Nissan Altima and best Altima performance parts.
Handling/Suspension upgrades
Improving the handling for many tuners first priority in your Altima tuning project.
Putting some negative camber at the front wheels and around 1 to 1.7 degrees of toe in to improve stability or toe out for better cornering, will substantially enhance your Altima in handling and cornering.
We suggest that you fit modified suspension and lower the car by 26mm - 41 mm. Larger drops require arch work - especially on models already equipped with performance suspension.
Top end power should be your overall aim on the Altima with a nice fat peak torque band.
Sadly with smaller engine sizes you are wasting your time spending money on modifications, so if this applies to you get yourself an engine swap then apply the following mods.
Power mods.
This list of the stages and performance upgrades are usually carried out by our members, decide how far you want to push your car before you get started.
Getting the correct grade of performance upgrade kits for your planned usage of the car is a time and money saver. Stage 3 motor sport mods just don't work well on the road making the car difficult to drive.
Typical stage 1 mods often include: Panel air filter, Lighter flywheel, Suspension upgrade (drop 26mm - 41 mm.), Sports exhaust, Remap, Alloy wheels.
Typical stage 2 mods often include: high flow fuel injector, Power/Sport clutch, fuel pump upgrades, Ported and polished head, Fast road cam.
Typical stage 3 mods often include: Sports gearbox, Engine balancing, Internal engine upgrades (pistons/head/valves), Adding or upgrading forced induction (turbo/supercharger), Competition cam.
Peak power is good on competition cars but for a daily driven car you need a wide power band and perhaps extending the rev range.
The whole aim of our advice is to give a brief overview of car tuning modifications and point you in the right direction, our forum is best place to go if you need more detailed advice and tips on your modified car project, the best sport modifications and all aspects of modding cars.Fast road cams offer one of the biggest bhp gains for your money as far as a bolt on uprated upgrades goes on a NASP engine.
It maximises the intake and exhaust flow and increases the power if done right. Ideally you'd add other mods and finish up with a remap. We'd also caution you not to go with a motor sports profile cam as this upsets the engines idling and general town driving characteristics.
When pushing up the power you will need to look at to the fuelling. More power needs more fuel.
If you find you experience flat spots and power surges after your sports parts you should check the fuelling and try a higher octane fuel as well. 
To get sufficient fuel you may need to increase the injectors on your engine.
Uprate the fuel pump to cope with the extra fuel requirements of your tuned Altima's uprated injectors.
Intake and Exhaust Tuning.
The next area for modification is the intake and exhaust. 
 Contrary to popular belief there is usually a small if any power gain got by fitting an induction kit, they only become beneficial and are recommended after you boost the engines power to the point where the standard air intake box cannot cope!
Induction kits can work well on turbo engines and larger engines (if supplied with a suitable cold air feed or air box), generally though we'd just recommend for Altima engines you should settle for a high performance panel air filter preferably made from cotton.
Sports exhausts equal out the flow of gases through the engine. But if your exhaust pipe is too large, ie: it's over 2.5 inches bore, you will lose a great deal of the flow rate and end up lacking power and torque.
Getting the cylinder head ported and polished will help get more air into each cylinder. This is definitely a job for a professional with a flow bench. A good multi plate fast road power clutch will help to keep that power going where it should. Never make false economies or ask the standard clutch to cope. The best mods we recommend for your Altima are a remap especially on a turbo, a fast road camshaft and sports exhaust, with a good air intake.
NASP engines do not achieve big power gains if you remap them, unless you have done extensive modifications. With turbocharged engines this is another story. A remapped turbo will give large power gains and fully release the potential power of the engine.
We've also seen some tuners playing with twincharged conversions and making some very high power figures.
Adding forced induction will see massive power gains but this is usually too expensive to be cost effective. Turbos are generally harder to add than a supercharger. It is harder to map a turbo as the boost increases exponentially with rpm.
Superchargers however will give a boost which is directly proportional to engine speed so is simpler. Alternatively you could perhaps add water injection to cut down knock.
Alloy wheel upgrades.
The benefits of alloy wheels include reducing your unsprung weight and more efficient brake cooling. If you are serious about performance then you will need to carefully choose your tires - ideally with a directional tread pattern tire. Large Altima alloy wheels can decrease performance. If you get big alloy wheels you will be changing your final drive ratio.
Although some people have with bigger wheels we would restrict ourselves to a 16 inch rim size as the maximum.
If you would like to know more, or just get some friendly advice on Tuning your car please join us in our friendly forumwhere you can discuss Altima options in more detail with our Altima owners. It would also be worth reading our unbiased Nissan tuning articles to get a full grasp of the benefits and drawbacks of each modification.
Please help us improve these tips by sending us your feedback in the comments box below.
We love hearing about our website visitors projects, especially the mods done and which work best for you on your car. Which helps us keep our guides and tips up to date helping others with their modified car projects. Your feedback and comments are used to keep this page up to date, and help improve the accuracy of these articles which are kept updated and constantly revised.
If you've enjoyed this page we would be very grateful if you could share a link to it on your favourite forums or on your social media profiles, it helps us keep going.
PLEASE HELP: I NEED YOUR DONATIONS TO COVER THE COSTS OF RUNNING THIS SITE AND KEEP IT RUNNING. I do not charge you to access this website and it saves most TorqueCars readers $100's each year - but we are NON PROFIT and not even covering our costs. To keep us running PLEASE Donate here
This article was written by me, Waynne Smith TorqueCars founder, and I appreciate your feedback and suggestions. This entry was filed under Nissan. You can leave a response below or join our forum to discuss this article and car modification in detail with our members.
If you liked this page please share it with your friends, drop a link to it in your favourite forum or use the bookmarking options to save it to your social media profile.
Check out our new YouTube channel, we're regularly adding new content...
Feedback
Please use ourforums if you wish to ask a tuning question, and please note we do not sell parts or services, we are just an online magazine.
Help us improve, leave a suggestion or tip
Sours: //www.torquecars.com/" target="blank
Altima modified nissan
Got it, understand!, hastily answered the boy. He immediately pulled the clothes down to the ankles and completely freed himself from them, leaving them lying on the floor. Now go to the bed, Zhenya continued to command, still not letting go of Gena's dignity.
Every Modification I've Done to my 2020 Nissan Altima SR
Differently. Note that the subject is wearing a mask. In this case, it will serve to obstruct breathing, as well as dosed injection into the eyes and lungs of irritating chemicals.
Now discussing:
Alexey Ivanovich, about this promised bypass maneuver, I continued. Here you first have a bite, I quickly cut an excellent Polish sausage, from the smell of which Sudaev clearly. Began to salivate violently. After drinking a second and having a bite, we continued our very important conversation.
1353
1354
1355
1356
1357