Yamaha CGS102A Half-Size Classical Guitar Review – A Half size, big value classical guitar
Smaller acoustic guitars for kids are often cheap and low-quality toys. But the Yamaha CGS102A is a proper instrument designed for budding students. Is it the best acoustic guitar for kids? Find out in our Yamaha CGS102A half-size classical guitar review.
Looking for a Kids Classical Guitar?
First, be sure that you choose the right size for your child. There aren't absolute rules when it comes to sizing but here's a good rule of thumb:
Kids Ages 4-6: 1/4 size guitar
Kids Ages 5-8: 1/2 size guitar
Kids Ages 8-11: 3/4 size guitar
Kids Ages 12+: full size guitar
The CGS102A is a half-size acoustic guitar with a short scale length, so it's a great choice for smaller kids around 5-8 years of age.
Many people say it's best for kids to learnon an acoustic guitar, but it's not cut and dry either. Electric guitars have lower action, which makes it easier to press down the strings. And let's be honest, they're cooler. But the simplicity and portability of acoustic guitars make them a more popular choice.
Acoustic and classical guitars tend to have higher action and larger neck width. You also don't need an amp like you would for an electric guitar.
For younger kids, a classical guitar with nylon-strings, like this one from Yamaha, may be the best option. Nylon strings are much easier on the fingers, which may help your child stick with it.
You likely won't want to spend a large amount of money if you aren't sure a child will stick with the guitar. But, it's wise to make sure the instrument you buy is at least of decent quality. Most guitars for kids aren't high-quality, but some brands are better than others. Yamaha, makers of the CGS102A, is amongst the market leaders for student guitars.
Introducing the Yamaha CGS102A – Best for Kids?
The Yamaha CGS102A half size classical guitar is part of the Yamaha School series. It's designed as an affordable yet playable instrument for the classroom. And despite its small size and short scale length this little guitar isn't a toy. It's made with a classic spruce top, and it's designed with playability in mind. Plus, the traditional slotted headstock (found on most classical guitars) and eye-catching rosette give it a polished look.
Features and Benefits of the CGS102A
Neck and Body
The neck of this guitar is nato, a very dense wood that looks a lot like mahogany. Density is important in a guitar neck, as it is durable and resists warping. The slim profile neck is designed for smaller hands, and the shorter 21″ scale length creates less tension on the strings. This makes it easier to press the strings to the fretboard.
The body of the CGS102A is a traditional classical acoustic guitar shape, like a grand concert body. Its slim waist makes it easier for kids to handle. The body is all laminated woods with a spruce top and meranti back and sides. Spruce is a classic choice for a guitar top, and meranti is a budget wood that isn't known for great sound. But on a guitar for kids, this shouldn't be much of an issue.
The Score: Given the price, this is a well-built guitar. We give it 3.5 out of five.
Components
This guitar is well-appointed for something so affordable. The rosewood fingerboard and bridge are a high-end touch on such an affordable guitar. Rosewood fingerboards tend to be very easy on the fingers, which is best for children.
The tuners are open gear, which you'd expect to find on any classical guitar. They're notable because they hold tune very well for a budget guitar. Poor-quality tuners will frequently go out of tune, frustrating new players.
The nut and saddle are urea, a composite material that seems to be Yamaha's go-to for most of its inexpensive instruments.
This guitar doesn't have strap buttons but you can still tie on a strap if needed.
The Score: This guitar's components are decent. We give it three out of five.
Sound and Tone
The sound is surprisingly good for an inexpensive guitar this size. The tone might be a little weak compared to a larger classical, but the CGS102A avoids the ukulele-like sound that many smaller guitars seem to have. The intonation isn't always perfect, but that's common in 1/4- and 1/2-size guitars. And this shouldn't be noticeable for beginning players.
All in all, the CGS102A has a pleasant, mellow tone, with a decent amount of sustain for a 1/2-size guitar. For kids and students, it's encouraging when the notes or chords they play sound good.
The Score: The sound and tone of the CGS102A are decent, and we give it 3.5 out of five.
Action, Fit and Finish
The action is low for a classical guitar, but very young children may still have some trouble pressing the strings. But, the softer nylon strings combined with lower string tension should counteract this. In any case, it is likely to be easier to play than a steel-string guitar.
As with most Yamaha guitars, the fit and finish are very good. All components are secure, and this guitar should arrive with the action already set up well. In this price range, you might expect the occasional run in the finish, but this won't impact sound or playability.
The CGS102A has a sleek, minimalist look. The gloss finish combined with the classic-looking rosette makes it look like a true classical instrument.
The Score: The action, fit, and finish of this guitar is very good. We give it four out of five.
Reliability and Durability
The CGS102A is a durable little guitar. Its laminated construction is less prone to cracking than solid-wood, and can also stand up to knocks.
Since it's constructed with longevity in mind, the tuners aren't designed to give out, and the fretboard isn't prone to pitting. These features make it best for smaller kids, who aren't always careful with their guitars.
The Score: This is a very durable guitar that's well-suited to kids. We give it five out of five.
Value
The Yamaha CGS102A offers incredible value.
While it isn't the cheapest 1/2 size guitar, it sounds much better than toy guitars of the same size and should outlast them too.
It's also very affordable and made with better tonewoods than most beginner guitars. The balance between quality and affordability is an important one to strike, and this guitar does an excellent job.
The Score: Excellent value, and we give it five out of five.
Last update on 2021-05-24 / Affiliate links / Images from Amazon Product Advertising API
Sours: https://guitarsignal.com/best-acoustic-guitar/yamaha-cgs102a-review/
Yamaha CGS104A Classical Guitar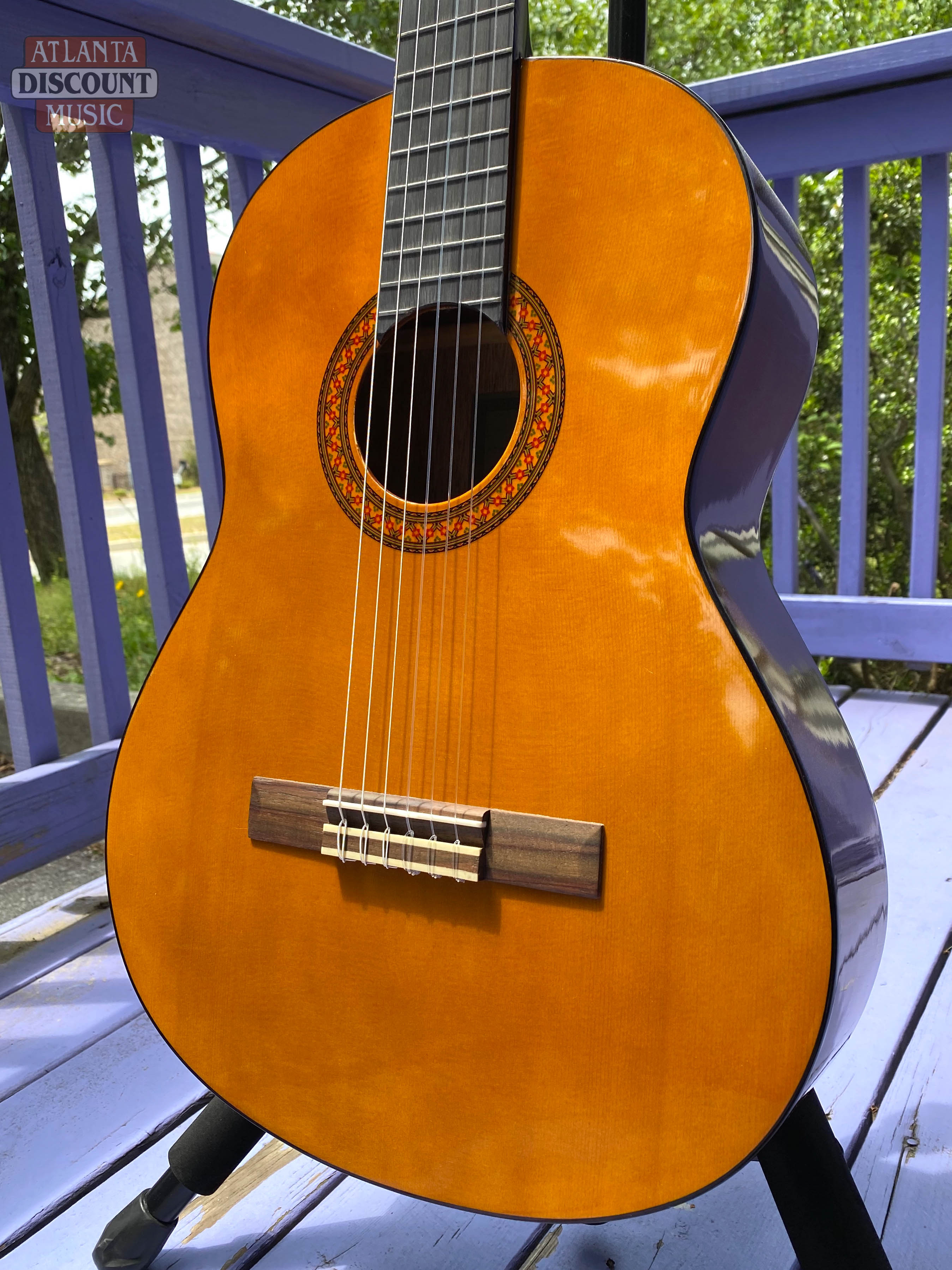 Description
A perfect beginner's guitar, the Yamaha CGS-104A gives you a full-sized nylon-string guitar for a seriously scaled-down price. A standard-length 25-5/8″-scale neck with a 2.05″-wide nut, providing you with all the room you need to perform proper classical fretting and fingering techniques. The spruce-topped, roughly 4″-deep concert-style body also makes the CGS-104A extremely comfortable play and provides excellent acoustic projection, reinforcing correct playing posture and articulation. Buy a Yamaha CGS-104A guitar to learn, play it for life.
Specs:
An excellent classical nylon-string acoustic guitar for students and beginners
Full-sized concert-style body and full scale neck let you develop skills and techniques that translate to any classical guitar
Meranti back and sides topped with spruce provide bold, lyrical sound with plenty of projection
Rosewood fingerboard with 2.05″-wide nut gives you plenty of space to build correct classical fingering technique
Related products
Sours: http://atlantadiscountmusic.com/product/yamaha-cgs104a/
Yamaha
C40 Classical Guitar
Google Ads
Our shop uses Google Ads. Through Google Ads conversion tracking, Google and we are able to track which ads users interact with and which pages they are redirected to after clicking on an ad. We may use the information collected through cookies to compile statistics about ad performance. No personally identifiable information is submitted to Google. The data is stored anonymously by Google.
Bing Ads / Microsoft Ads
Our shop uses Bing Ads / Microsoft Ads. Through Microsoft Ads Conversion Tracking, Microsoft and we can track which ads users interact with and which pages they are redirected to after clicking on an ad. We may use the information collected through cookies to generate statistics about ad performance. No personally identifiable information is submitted to Microsoft. Microsoft stores the information anonymously.
Emarsys
For a more convenient implementation of discounts, we occasionally use cookies which guarantee the discount through a so-called affiliate program through the link of origin. These discounts are usually communicated through newsletters, which are created and managed by us with the tool "Emarsys".
Userlike
This cookie stores user-like settings for the chat system provider, which are required for our online chat service.
Trusted Shops
With the customer reviews of Trusted Shops it is possible to award stars for delivery, condition of the goods and customer service. Customers can also leave a comment to report on their shopping experience. In this way, consumers give each other guidance and give us the opportunity to continuously improve.
Facebook
Our shop uses Facebook Ads. Facebook Ads conversion tracking allows Facebook and us to track which ads users interact with and which pages they are redirected to after clicking on an ad. The information obtained through cookies allows us to compile statistics on ad performance. No personal data is transmitted from our side to Facebook. Facebook stores the data anonymously.
Sours: https://www.musicstore.com/en_FR/EUR/Yamaha-C40-Classical-Guitar-/art-GIT0000636-000
The best classical guitars in 2021, including best nylon-string guitars, flamenco and hybrid models
In the topsy-turvy world of acoustic guitar, the best classical guitar often gets overlooked, but we've got 10 of the best classical guitars here in flamenco, classical and hybrid styles to convince even the most ardent steel-string player that finger-friendly nylon is in their six-string future.
The classical guitar is undoubtedly under-appreciated. Perhaps, it's because it has always been looked upon as a niche instrument, as a specialist tool for classical and flamenco players - or simply because the steel-string acoustic, with its louder volume and brighter voicings, was an easier fit for popular music.
Either way, the classical guitar has many advantages. Firstly, it's a lot kinder to your fingertips. Secondly, its design has evolved. The classical and flamenco styles require a special kind of build, and remain faithful to that, but classical guitars have evolved, with hybrid styles offering a traditional acoustic feel, and smart acoustic guitar pickup and preamp options to ensure a sound amplified performance. And that's before mentioning the tone – organic, warm, mellower.
If you'd like to read more expert buying advice about the best classical guitars, please click the 'buying advice' button above. If you'd like to get straight into the product guide, keep scrolling.
Best classical guitars: Our top picks
Classical guitars still suffer from an image problem. Perhaps because classical and flamenco styles are considered niche. Well that just makes it all the more important that guitars such as Yamaha's superlative (and super-affordable) CG122MSH exist. It makes the perfect 'My First Classical', and that goes for experienced players who are nylon-curious and six-string novices alike.
The Taylor Academy 12e-N is an entry-level model but, of course, entry-level for Taylor is still north of 700 bucks, and still arrives with the expectation that you're getting a quality guitar for serious players. And the 12e-N does not disappoint. It marginally parks itself in the hybrid category but exemplifies classical guitar tone with crisp and precise voice, with a beautifully responsive upper-midrange. The finish might be no-frills but it's perfect, with the bevelled armrest a feature that, quite literally, we'll never tire of.
Best classical guitars: Product guide
1. Taylor Academy 12e-N
A nigh-on flawless nylon-strung crowd-pleaser from Taylor
Specifications
Price: $699/£779/€749
Type: Grand Concert electro with armrest
Top: Lutz Spruce
Back & sides: Layered Sapele
Neck: Mahogany
Scale: 25.5"
Fingerboard: West African Ebony
Frets: 17
Tuners: Classical Nickel
Left-handed: No
Finish: Varnish
Reasons to buy
+Typically precise Taylor design and build+Responsive classical-style voicing+Excellent electronics
Reasons to avoid
-Design is a little clinical
The Academy line offers a Taylor guitar without the hefty price-tag, making, as Taylor says, the "acoustic guitar accessible to more players." But the Academy 12e-N is accessible in all kinds of ways. First off, it's compact, and as the firm's smallest full-scale shape, the Grand Concert is the perfect size for a classical nylon-string.
The 12e-N could be considered a "crossover" nylon-string. It has an adjustable truss rod and a lightly radius'd fingerboard and a narrower neck (about 1/8" thinner across the nut than your typical 2" wide classical guitar), but its voice is classical with an open, responsive midrange. A hard percussive approach reveals a border-line flamenco voicing, while turning down the intensity showcases a more Latin-voicing that would work well with your bossanova or jazz-fusion chord book.
There are very few negatives. You've got a great neck shape, an accommodating size with a bevelled armrest – praise be! – and incredible playability. With its crisp, defined classical voice, that's a winning combo.
Read the full Taylor Academy 12e-N review
2. Yamaha CG122MS classical guitar
The best classical guitar for beginners
Specifications
Price: $239/£219/€248
Type: Classical
Top: Solid Engelmann spruce
Back & sides: Laminated nato
Neck: Nato
Scale: 25.6"
Fingerboard: Rosewood
Frets: 18
Tuners: Classical pearloid
Left-handed: No
Finish: Matt
Reasons to buy
+Yamaha doing great things at low prices+Nice articulate tones+Playable and fun
Reasons to avoid
-Fret tops are a bit rough, but nothing major
For beginners, or anyone looking for an affordable entry point into the world of nylon-string guitars, the CG122MS is a no-brainer. The CG122MS has been kicking about for years now because, once again, Yamaha has made it a point of pride that it can put together an entry-level guitar that performs well beyond its price point.
It has a full-size classical body, with a very classical 2.05" nut width and 2.28" spread at the bridge, and it feels great, with a really welcoming neck profile.
As for tone, well, tune in for a well-balanced voice that's good and strong in the mids, with articulate high-end, and if it lacks just a little bit on the low-end it still out-performs many more expensive guitars. The CG122MS is available with a cedar top as well as the aforementioned spruce - offering a little more robust low-mid to the sound.
Read the full Yamaha CG122MS review
3. Cordoba F7 Paco Flamenco
Lovely tonewoods, lovely price, olé!
Specifications
Price: $549/£479/€535
Type: Flamenco
Top: Solid western red cedar
Back & sides: Rosewood
Neck: Mahogany
Scale: 25.5"
Fingerboard: Laminated rosewood
Frets: 19
Tuners: Cordoba gold w/black buttons
Left-handed: No
Finish: Gloss Polyurethane
Reasons to buy
+Excellent tone woods and build+The price is right+Traditional flamenco tone and feel
Reasons to avoid
-Case sold separately
Built in honour of Paco de Lucia, the F7 Paco Flamenco is a punchy little guitar that strikes the balance between rounded low-end warmth and the precise high-end rat-a-tat needed for flamenco guitar.
The neck is solid mahogany, a comfortable 2.1" at the first fret and 2.4" at the 9th, and measures a full classical 2" in width across the nut. The action is low and easy, while the body's depth (3.5" in the lower bout, 3.3" in the upper) aids both comfort and the brightness required of all good flamenco guitars. These dimensions just feel right.
It is a sumptuous instrument, especially at the price. There's solid Canadian cedar on the top, with fan-style bracing to let your rasqueado really pop, and the all-important tap plate.
4. Martin 16 Series 000C12-16E Nylon
A premium crossover electro-acoustic for serious players
Specifications
Price: $2,499/£2,075
Type: Auditorium
Top: Solid Sitka spruce
Back & sides: Solid mahogany
Neck: Mahogany
Scale: 25.5"
Fingerboard: Ebony
Frets: 20
Electronics: Fishman Matrix VT Enhance NT1
Tuners: Gold, side-mounted
Left-handed: Yes
Finish: Satin
Reasons to buy
+Premium build+Warm, natural classical tones+Sound pickup/preamp choice
Reasons to avoid
-It's expensive
With solid Sitka spruce on the top, solid mahogany on the back and sides, Martin has provided a mellower but equally classic take on Martin tone. Martin's 000 auditorium body shape is one of the smallest they offer, and with a depth of 4.125", it is easily applied to nylon-stringed adventures. The build is, of course, exceptional.
You'll find the neck that little bit wider, encroaching on classical proportions at 1.875" across the nut, while the cutaway joins the body at the 16th fret. This allows easy upper fret access for soloing, and the Fishman Matrix VT Enhance NT1 pickup will help make those solos to pop while maintaining the rich, natural tone of the 000C12-16E.
The 000C12-16E is a considerable investment but the tone and build is exceptional. It feels incredible, too, with that high-gloss top off-set by a satin-smooth back, sides and neck.
5. Alvarez Cadiz Classical Hybrid CC7HCEAR
A hybrid with an accessible price and build
Specifications
Price: $599/ £529/€839
Type: Solid A+ Sitka spruce
Top: Solid Sitka spruce
Back & sides: Dark walnut laminate
Neck: Mahogany with ebony reinforcement
Scale: 25.98"
Fingerboard: Indian Laurel/Rosewood
Frets: 22
Electronics: L.R. Baggs StagePro EQ and Element Pick Up, tuner
Tuners: Chrome w/imitation ebony buttons
Left-handed: Yes
Finish: Satin
Reasons to buy
+A great value instrument+L.R. Baggs electronics+A more classically inclined hybrid
Reasons to avoid
-No gig bag included
You can always count on Alvarez to come up with affordable acoustics with impressive specs and the Cadiz Concert Classical Hybrid is a classic of the genre, hence its inclusion on this guide to the best classical guitars. Here we've got an immaculate, subtly-figured solid Sitka spruce top that is paired by dark walnut on the back and sides, acacia binding and armrest, and L.R. Baggs StagePro electronics, all for 600 bucks.
This is a hybrid, but it's scaled towards a classical feel, with a 1.9" width at the nut. The satin neck is lovely, a flat-profile piece of mahogany with a dark strip of ebony to reinforce it.
Elsewhere, there's real bone nut and saddle, and asymmetric fan bracing patterns inspired by Jose Ramirez III – plus there is a treble bar on the bracing to help articulation in the high-end.
6. Godin MultiAc Nylon Encore
A thinline semi-hollow for the serious gigging musician…
Specifications
Price: $853/£849/ €1,168
Type: Single-cutaway, semi-hollow nylon electro
Top: Solid cedar
Back & sides: Hollow silver leaf maple
Neck: Mahogany
Scale: 25.5"
Fingerboard: Rosewood
Frets: 22
Electronics: EPM Dual Source System
Tuners: 16:1
Left-handed: Yes
Finish: Natural, semi-gloss
Reasons to buy
+Excellent Godin build+No feedback when playing live+Great for stage or studio
Reasons to avoid
-Expensive if you're not gigging/recording
This is a classical hybrid that really comes into its own if you are playing gigs regularly and require an instrument that is going to serve you night after night in the most challenging environments.
The MultiAc Encore's bread and butter is in delivering consistent amplified tone thanks to its EPM Dual Source electronics. The Dual Source refers to the under-saddle and soundboard transducers and you can choose how much you want of each in your signal. Indeed, finding the right mix for recording is a cinch, and despite the unorthodox presentation (no one's mistaking this for a flamenco guitar) the MultiAc Encore is a triumph of practical guitar design.
The thinline grand concert body-shape super-comfortable and with a solid cedar top and silver leaf maple on the back and sides, it offers an excellent tonal platform and looks pretty darn neat too..
Read the full Godin MultiAc Nylon Encore review
7. Takamine Pro Series P3FCN
A stage-ready, super-smooth electro-acoustic
Specifications
Price: $1,449/£1,009
Type: FXC cutaway electro nylon-string
Top: Solid cedar
Back & sides: Solid sapele
Neck: African mahogany
Scale: 25.563"
Fingerboard: Rosewood
Frets: 21
Electronics: Takamine CT4B II preamp
Tuners: Gold-plated classical style
Left-handed: No
Finish: Natural satin
Reasons to buy
+Excellent hybrid feel+Typically exquisite build+Great amplified
Reasons to avoid
-Neck width/string spacing tight for purists
The P3FCN is another stage-friendly electro-acoustic from a Japanese brand that has built a formidable reputation for quality. Takamine's CT4B II preamp offers sliding controls for 3-band EQ and volume. It sounds rich and naturalistic. The control panel also features an onboard chromatic tuner.
The P3FCN is another one that will play well to nylon-string newbies, with its 14-fret-to-the-body build and Venetian cutaway, wood dot inlay and 1.87" nut width offering a more traditional acoustic vibe.
Indeed, some nylon-string players might find that a little cramped, but that is a matter of preference. But no one is going to complain about the thin profile of the mahogany neck, or the luxurious feel of the bound rosewood fingerboard. All in all, it's one impressive hybrid.
Read the full Takamine Pro Series P3FCN review
8. Yamaha NTX1 Acoustic/Electric Classical
One of the best nylon-string guitars for steel-string converts
Specifications
Price: $539/£375/€439
Type: Contemporary Style electro
Top: Solid sitka spruce
Back & sides: Laminated nato
Neck: Nato
Scale: 25.6"
Fingerboard: Walnut
Frets: 22
Electronics: Atmosfeel Electronics
Tuners: Chrome with Matt Black Shafts
Left-handed: No
Finish: Gloss body, satin neck
Reasons to buy
+Superb pickup and preamp system+The NTX is a great first nylon guitar+Typically tidy build for Yamaha
Reasons to avoid
-You prefer a more traditional option
Yamaha's NX range dates back to 2009, when it offered players two similar but quite different guitars, the NCX and NTX. The NCX was more traditionally classical. It had a wider classical neck, the fingerboard was flat, and the neck joined the body at the 12th fret. The NTX had a narrower neck, a radius'd fingerboard and 14 frets to the body.
Both have been enduringly successful, but we've included the NTX1 here on the grounds that it's ideal for winning over players of traditional acoustic guitars and electric players. The contemporary construction is immaculate. We love the thin neck profile. The acoustic sound is balanced, if a little on the quieter side, while plugged in the NTX1 is a natural, and sure to record.
Given that it's not strictly traditional with its fingerboard, neck profile – and there's dot inlays, a rare treat indeed for nylon – feel free to attack it with a pick a la Rodrigo Sanchez (he uses a custom NTX1200) or layer some effects over the top of it. The new Atmosfeel preamp electronics are superb, offering quack-free tones courtesy of an under-saddle piezo with individual string sensors, a transducer to capture top-end, and an internal microphone to round the signal out and give it some depth. Impressive.
9. Cordoba GK Studio flamenco guitar
A contemporary flamenco guitar with traditional fan bracing
Specifications
Price: $679/£555/€633
Type: Cutaway electro
Top: Solid European spruce
Back & sides: Laminated cypress
Neck: Mahogany
Scale: 25.5"
Fingerboard: Rosewood
Frets: 19
Electronics: Fishman Presys. Blend **Tuners:** Cordoba Gold
Left-handed: No
Finish: Gloss Polyurethane, Natural
Reasons to buy
+Build quality is superb+A great value option+Fishman Presys Blend is super-tweakable
Reasons to avoid
-Old-school Paco model might be more your speed
With a solid European spruce top complementing a laminated cypress back and sides, The GK Studio is a ridiculously accomplished instrument for the price. Under that immaculate piece of spruce there is fan bracing to help that top to really resonate – it's a classically Iberian build.
Tone-wise, the GK Studio's acoustic voice is nicely balanced with the cypress laminate putting a little bottom-end on the spruce's effervescence in the upper-mids.
But then the GK Studio, with its cutaway and Fishman pickup and preamp, has all the mod-cons you could want from an electro-nylon. There's a phase switch, 3-band EQ, a tuner, volume, phase and notch controls to tame any unwanted feedback. The GK Studio is a hugely well-equipped instrument that won't empty your bank account.
10. Yamaha SLG200S silent guitar
The best nylon strung guitar for practice and feedback-free performance
Specifications
Price: $699/£599/€699
Type: Centre core 'silent' guitar
Top: Mahogany centre core
Back & sides: Rosewood/maple laminate frame
Neck: Mahogany
Scale: 25"
Fingerboard: Rosewood
Frets: 19
Electronics: SRT Pickup System
Tuners: RM1188NB-7B
Left-handed: No
Finish: Gloss, Tobacco Sunburst, Crimson Red Burst, (other range options include Translucent Black, Natural both with 25.6" scale and ebony fretboard on the Natural)
Reasons to buy
+Consistency of live tone is excellent+Lightweight build and easy playability+Onboard effects and blend control
Reasons to avoid
-It's unconventional
Sure, the SLG200S is pretty avant-garde to look at, but it's lightweight and super-playable; those more used to playing the electric will love it. Yamaha's ground-breaking SLG200s Silent guitar is part of an extensive suite of instruments that eschew the idea of, y'know, having a body per se, and instead use a wooden frame with a solid-wood central core.
With clever onboard electronics which include an AUX input, two reverbs and a chorus, the idea is that the SLG200S can be plugged in for a feedback-free performance in the most uncompromising live settings, and also be used as an all-but-silent practice tool.
Think of it as a hollowed-out singlecut. It comes with a gig bag, but what's also cool about this is that the frame is detachable, making it one of the most attractive options for travelling. Definitely a strong option for anyone who likes to be a bit different.
Best classical guitars: Buying advice
There are typically three styles of classical guitar you will need to be familiar with; the classical, flamenco and hybrid. We'll look at the classical guitar first. Leaving aside the strings, the key differences between the classical guitar and the regular or traditional acoustic guitar is in its dimensions.
The best classical guitars will have a flat fingerboard and a wider neck, measuring around a full 2" across the nut. The wider spacing behind the strings might shock some players but those who have played a modern shred guitar might find it to their liking. The wider spacing allows for more intricate playing, more busy fretting hand arrangements, with the sound classical guitar technique to position your thumb on the middle of the neck while playing.
This, sadly, rules out using your thumb to fret a chord as you might on a regular acoustic, but that is the trade-off. The bracing patterns on a classical guitar are typically different, too. The bracing is lighter in weight and arranged in a fan shape to help the top resonate a little more.
Flamenco guitars are closely related to the classical guitar but there are key differences to look out for. Again, it's about having the right tool for the job, and it's impossible to separate the guitar from the dance; there is a kinetic spirit to both, and a certain electricity to the instrument whether there is an onboard preamp or not.
With flamenco, where you need a fast and bright response, the guitars have a shallower body depth than classical guitars. There might be a tap plate – or golpeador – to protect the guitar's top from the percussive technique of golpe. Flamenco guitars might also have their necks set at a flat angle to allow for a lower action than their classical counterparts. The notes might die out a little quicker, too.
As for the hybrid, or "crossover" classical, the majority of hybrids on the market apply some more traditional specs to the classical template, and feature narrower necks, with fretboards that a classical player might feel cramped. Like the classical and flamenco guitars, the scale length might be longer than the standard for steel-strings, with the extra tension compensating for the softer nylon strings. But here we might see some more familiar bracing patterns.
Which is the best classical guitar for you? That depends. Are you a traditionalist, favouring a 2" nut width, a wider, flatter neck? Or would somewhere in between be more your pace, the so-called hybrid classical, that takes the cambered fingerboards and narrower nut widths of traditional acoustic guitars and transposes them into a nylon-strung application?
Jonathan Horsley has been writing about guitars since 2005, playing them since 1990, and regularly contributes to MusicRadar, Total Guitar and Guitar World. He uses Jazz III nylon picks, 10s during the week, 9s at the weekend, and shamefully still struggles with rhythm figure one of Van Halen's Panama.
Sours: https://www.musicradar.com/news/best-classical-guitars-and-nylon-string-guitars
Classical guitar yamaha
Classical Guitars
Timeless Designs - Crafted from the Finest Materials

From the handcrafted GC  'Grand Concert' Series to the highly-recommended starter models, you'll find a huge range of nylon strung acoustic Yamaha classical guitars here at Yamaha Music London.

Each series contains its own unique offering.  For example, in the C Series range you'll find the C40 - a perfect way to introduce yourself to the classical guitar.  The CS Series offers a smaller 3/4-size instruments; the CS40 - ideal for the younger player.

In the CG Series, Yamaha's series of 'concert' classical guitars, you'll find a range of quality instruments designed to deliver an exceptional tone at very reasonable prices.

The top-of-the-range GC 'Grand Concert' Series includes exquisite handcrafted guitars featuring a choice of solid top guitars from made from hand-selected Cedar and Spruce woods by master craftsmen.  Check out the range, from the GC12 through to the amazing GC82!

(If you're looking for a Micro-Guitar, check the various finishes on the Yamaha GL1 Guitalele)
Sours: https://www.yamahamusiclondon.com/Guitars/Classical-Guitars/
Yamaha GC series: Visiting Custom Shop
What follows is a brief guide to the Internet resources I have found most useful for researching older Yamaha classical guitars. These are not listed in order of importance, but rather in what strikes me as most-evident to most-obscure:
1. Harmony Central Reviews
Obviously this resource is familiar to a great many of us. It is not, of course, a definitive source of information, but certainly some of the reviews can be helpful, in a number of respects.
It should be noted that a bizarre characteristic of the organization of these reviews can catch the unaware off guard. This is that (classical) guitar reviews will be found in two distinct silos: (a) the silo
Acoustic Guitar | Acoustic Guitar
; and (b) the silo
Guitar | Guitar
. Some classical guitars, not just Yamahas, have reviews under (a) and some under (b). A very few have reviews under both (a) and (b). So, it is a nuisance to poke around for a CG review that might, or might not, be there. If you are unaware of this problem, you may look for the instrument in question under one silo and not find it, only to conclude that there is no review of it on the HC site, even though there might be one in the other silo.
Therefore, when I am looking for a review of, say, a Yamaha model, I pull up HC's listing of all reviews of all Yamaha musical instrument products (known as a Brand listing). This list is long, but it spans all the HC silos of reviewed instruments and related musical products. For Yamahas, the URL for this list is http://reviews.harmony-central.com/revi ... and/Yamaha.
2. Yamaha America's Guitar Archives
This resource is also well-known. It is currently located at http://www.yamaha.com/apps/guitararchiv ... chive2.asp. Classical guitars can be looked up in the Acoustic Guitars subsection, two (2) at a time. As with other online resources, this archive's database is not comprehensive, but its coverage is pretty good. Moreover, the information is highly reliable. Each listing includes the following information:
There is a non-obvious quirk about this archive, best illustrated by example. If I enter both
GC7A
and
GC-7A
, the archive's search engine will return information for the first model number entered, but not for the second, even though these are both recognized model designations for the same instrument. In other words, the archive lists classical guitars using their model numbers stripped of hyphens.
3. Yamaha Japan's Website
The practical gateway to Japanese information on older Yamaha CGs is the site map located at http://www.yamaha.co.jp/product/guitar/ ... index.html. Of course, if like me you do not read Japanese, you will have to run this through a translator, such as Google's (see http://translate.google.com). Once you have your translated version of the site map, you may wish to mouse over various graphic images to see the translated text with which they are annotated. In any case, just explore whatever seems of interest, and you may or may not hit upon some useful pages.
Thus far what I have come upon that is useful to me are:
- A page about the GC line that mainly repeats information to be found in printed and PDF catalogues; and
- Yamaha Japan's archive of discontinued classical guitars.
3a. One-page overview of the GC Grand Concert line
This is at http://www.yamaha.co.jp/product/guitar/ ... index.html. (Whopper has also pointed out this page.) Again, you will want to translate this from Japanese to English, French, German, etc. At present, the top of this page contains an 8-minute video of GC luthiers at work; it's good viewing, including for beefing up your Japanese listening skills. Note that the video may only be viewable via the original, untranslated page.
In addition, there is a wonderful guitar-ancestry chart on this page, which is shown here. The chart is of course Copyrighted by Yamaha.
I hope someone on the forum can come up with translations for the Japanese parts of this GIF image.
Whooper wrote:In responce to GeoffB-san's referring, I will present equivalents below

スペイン伝統の製作技術 (top): Spanish traditional fabrication methods
シリーズ (left) : Series
音を参考 (right): Drawing upon sounds
ヤマハの研究と技術の蓄積 (bottom): Yamaha's amassment of Research and Technology

Hoping to be of your service I remain.
Whooper
3b. Yamaha Japan's archive of discontinued classical guitars
Yamaha Japan's archive, which is the analogue to Yamaha America's archive, can be an addictive research resource. You navigate through this archive, rather than enter a model number into a search widget. To navigate it, put the URL http://www.yamaha.co.jp/item/archive/through your favorite translator. I have listed the parent archive URL, which includes a direct link to the
Classical Guitars
section, to satisfy the interests of others who may wish to research some other instrument catagories.
The archive has partial coverage for the following classical guitar model lines:
The information listed for individual guitars is similar to that found in the Yamaha America archive. Unfortunately, this archive also is not comprehensive, nor does it indicate which shop(s) made a particular model; neither does the Yamaha America archive.
4. Yamaha Serial Number Listings
Thus far I have found one source for looking up serial numbers of older Yamaha guitars. I cannot vouch for this source's accuracy or comprehensiveness. With that caveat, it is located at http://vintageguitarpro.com/serialyamaha.shtml.
In my case, I prefer consulting Yamaha directly when researching serial numbers. Support has always been responsive to my requests. They at times can pinpoint which shop an instrument came out of. When possible, I suggest attaching a photograph of the guitar's label.
5. Major Changes In The 2005-2006 Time Frame
It seems Yamaha shut down, or sold, its Custom Shop in 2005 or 2006. If you search for any Custom Shop model in the Yamaha America archive, such as the GC50 or the GC70, you will see the last year of sale listed as 2005. My efforts to locate English-language press about the Custom Shop have been fruitless. I am sure certain folks would like to know what has become of the shop and its extraordinary luthiers. I sure would.
In 2006, Yamaha shut down its outstanding Taiwan operation, Kaohsiung Yamaha. Some believe that only Japanese-built Yamaha CGs are worth looking at. I know different, as all four of my Yamahas are from the Kaohsiung Yamaha shop, and three of these are hand-crafted Grand Concerts. The press release for this shutdown is at http://www.global.yamaha.com/news/2006/20060920.html.
Personally, I find it sad that these two shops are no longer operated by Yamaha. The Music Craft shop, which makes the GC21, GC41, etc., remains in business.
6. Recommended Book
GuitarVlog wrote:I would add this book which I had reviewed at our local library: History Of Yamaha Guitars, ISBN 0634053264
I've previewed a few of its pages on the web, and this looks like a great reference. Thanks, GuitarVlog.
Et voilà!
I hope some of you find this guide useful. Suggested corrections and/or additions to this post are most welcome.
Enjoy,
Bob Newby
Last edited by Bob Newby on Mon Sep 14, 2009 9:47 pm, edited 3 times in total.
Sours: https://www.classicalguitardelcamp.com/viewtopic.php?t=43415
You will also like:
With each button released from the loop, her lips sank lower and lower. I closed my eyes and enjoyed myself. A minute later, I felt the warm and wet touch of Polina's lips on my penis. Then her tongue went into action, and then her whole mouth. The member tensed so that I was ready to cum.
12704
12705
12706
12707
12708