This guide explains how to run Minecraft in a borderless window.
Advantages of a Borderless Window
There are a couple of advantages to running Minecraft in a borderless window:
You can move the mouse seamlessly between monitors in a multi-monitor setup.
You can Alt+Tab without stuttering and visual glitches.
You can have other windows running on top of the Minecraft window.
How to Make Minecraft Borderless
Microsoft has officially dropped support for borderless window mode starting with Minecraft version 1.13. That leaves two options for enabling borderless window mode.
Option 1: Using JVM Arguments
To take this route, downgrade Minecraft to version 1.12.2 or earlier. After setting up an older installation of Minecraft, enable borderless window mode through the Minecraft Launcher.
1. Run the Minecraft launcher.
2. Switch to the Installations tab.
3. Highlight the downgraded installation in the list, click the ellipsis icon and select Edit from the menu.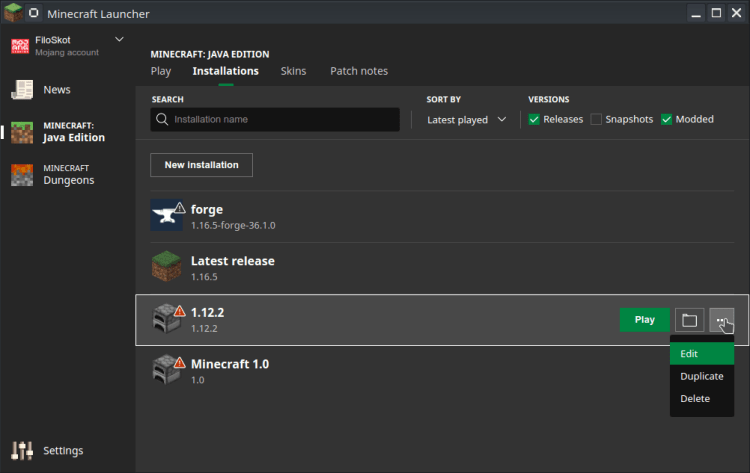 4. In the Edit installation window click More Options.
5. Scroll down to the JVM Arguments field and append the following flag at the end:
-Dorg.lwjgl.opengl.Window.undecorated=true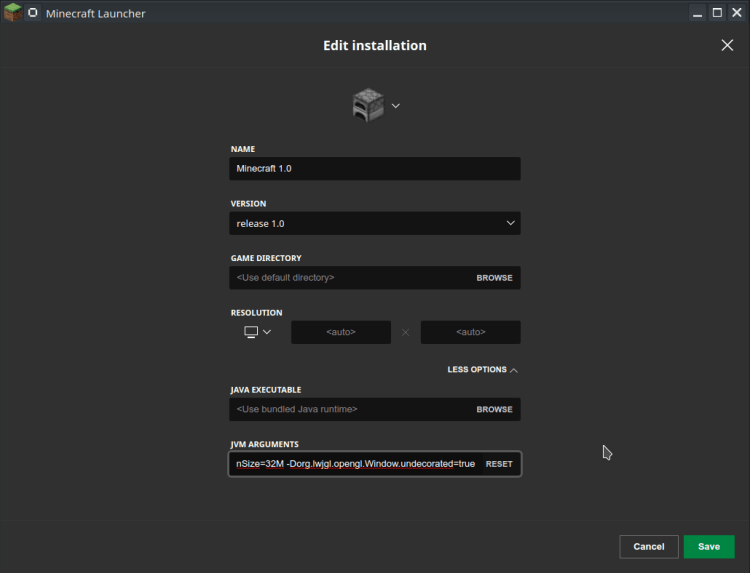 6. Click Save and switch back to the Play tab.
7. Play the game in borderless window mode.
---
Glimpse's Game Server monetization feature makes it easy for you to earn money from your Minecraft server. Create an account today and start collecting payments with a 0% fee on your earnings!
---
Option 2: Using Mods
The other option is to use a mod. To use mods, you will need the Minecraft Forge modding API. To install Minecraft Forge:
1. Visit the official Minecraft Forge website and download the latest installer of Minecraft Forge (1.65.5 – 36.1.0 at the time of writing).
2. Navigate to the folder where you downloaded the installer file and run it.
3. Once the installation finishes, run Forge from the Minecraft Launcher.
Next, install a mod for borderless window mode. We recommend Fullscreen Windowed (Borderless) Mod 1.16.5/1.15.2.
1. Download and save Fullscreen-Windowed-Mod-1.16.5.jar from http://www.mc-mod.net/fullscreen-windowed-borderless-mod/.
2. Run the Minecraft Launcher.
3. Select Forge in the Play tab from the drop-down menu and press Play to launch the game.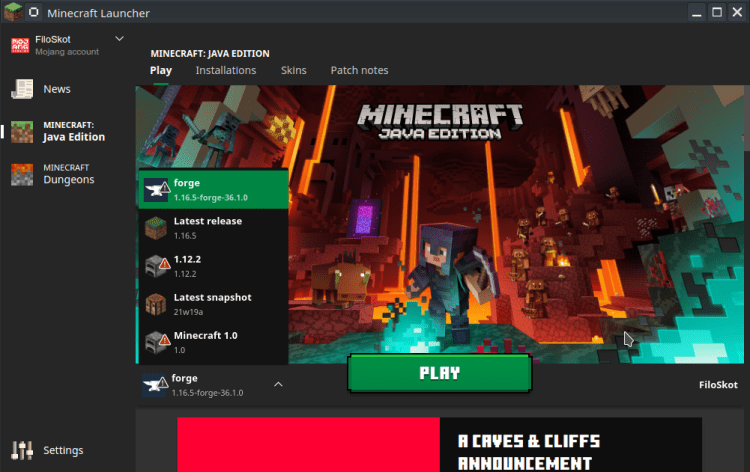 4. Click Mods in the main menu.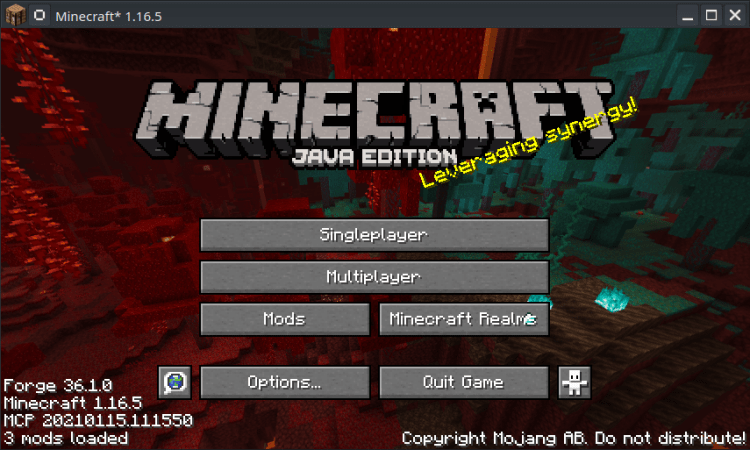 5. Click Open mods folder. This minimizes the game and opens the mods folder.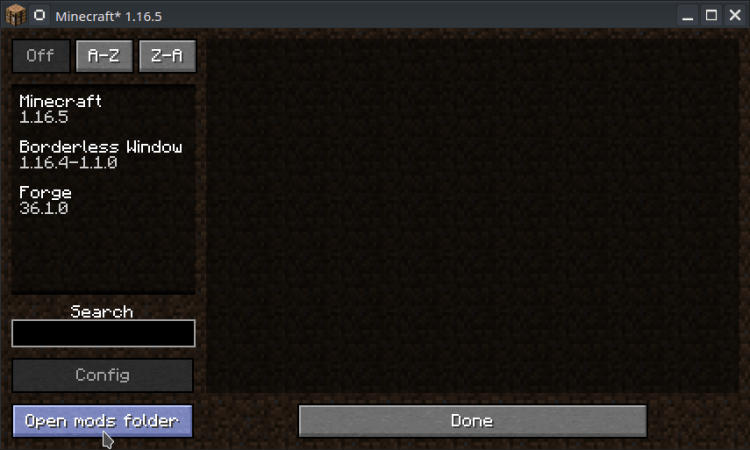 6. Paste Fullscreen-Windowed-Mod-1.16.5.jar.
7. Click Done and restart Minecraft.
8. Go to Mods again, and you will see the Borderless Window mod in the list.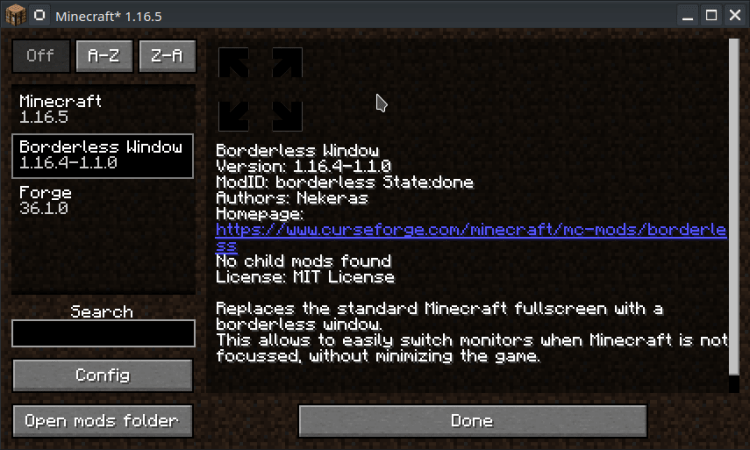 9. Play the game in borderless window mode.
Conclusion
Running Minecraft in borderless window mode can make for a more enjoyable gameplay experience. While the game no longer officially supports borderless window mode, you can still enable it in just a few steps.

Glimpse makes it easy for you to sell access to your Minecraft, Steam, Terraria, Rust, 7 Days to Die, Starbound, and most other gaming servers. Using an esports webhooks option, you can connect your server directly to the platform and enable access to it within a sponsorship level.
Sell access to your server within sponsorships
Whitelist specific users for your gaming server
Use webhooks to connect your server in several simple clicks
Glimpse's monetization system charges 0% commision so you get 100% of your earnings
---
Ilja Aradski
Ilja Aradski is a writer, tech enthusiast, gaming nerd, and Glimpse's go-to content guy. His goal is to make content creation accessible to everyone by writing about live streaming, video games, and the content industry at large. He thinks he is good at video games, but his friends know better.
Sours: https://glimpse.me/blog/minecraft-borderless-window/
How to play Minecraft fullscreen borderless
I recently started playing Minecraft again (Thanks, Etho, now I spend too much time on Minecraft again … ).
When I play any game, I tend to play with the game on one screen, and other stuff on my second screen. These days, I mostly log into my Windows 7 desktop and in order to be able to interact easily with my second screen, I tend to put my games in fullscreen borderless (so that the mouse is not locked to the game window). If I can't put the game in fullscreen borderless, I need to ALT-Tab, which minimizes the game and is annoying.
When looking quickly, Minecraft does not seem to support fullscreen borderless mode. There is a mod here, but adding a random mod to a pre-built pack can be hard in some cases. Then I found a really simple post here. Basically, it explains that Minecraft already supports borderless mode. You simply need to add the following to your Minecraft command line:
-Dorg.lwjgl.opengl.Window.undecorated=true
I won't go into how to add the command line to your launcher since there are so many launchers around. Also, make sure you keep the rest of your arguments (for maximum memory, garbage collection and such).
Once you are setup correctly and the game is running, you can then use ALT-UP to go into fullscreen mode.
Sadly, performance tank really badly on my setup here. I'll have to investigate this before being able to use borderless mode with Minecraft correctly.
Have you guys tried? Do you have any hints on possible performance issues?
Thanks for reading!
Tagged gaming, minecraft. Bookmark the permalink.
Sours: https://codingrandomly.com/2017/05/play-minecraft-fullscreen-borderless/
In this above video, I explained the steps How To Run Minecraft In Windowed Borderless.
I tried my best to make this video as easy as possible so that you can follow the steps very easily
➜ Software Used:-
Minecraft
Google Chrome
➜ Website Visited :-
GitHub
NirSoft
➜ Download Links
Borderless Minecraft
WinExplorer
➜ Command
1. -Dorg.lwjgl.opengl.Window.undecorated=true
LIKE / Follow Me On:-

YouTube
Facebook
Twitter
Instagram
Facebook Messenger
Google+
Tumblr
Let me know if you having a hard time to follow the steps,
Kindly explain it at the comment below & I will try my best to solve it.
I have tried my best to add each & every necessary detail which is required to my video steps but if in future there
No Update Is Available
Watch my Previous Video
How To Merge Videos In Avidemux:-Click On Me
PLAYLIST
How To Find Games Save File Location:-Click On Me
Make sure to LIKE, COMMENT & SHARE as well asSubscribe Mr.Helper:- Click On Me
Subscribe To My Gaming Channel Spapno:- Click On Me
[PLAYLIST] How To……Mr.Helper:- Click On MeFor more further HOW TO… Videos keep Eye on our Channel
Sours: https://www.iammrhelper.com/windows/windows-games/mojang-studios/minecraft/how-to-run-minecraft-in-windowed-borderless.html
Play Minecraft in a borderless window so that you can access other apps or do something else using this simple and straightforward app
What's new in Borderless Minecraft 1.2.3:
All Java clients are now supported by Borderless Minecraft. Click "Show all clients" to show clients that do not start with "Minecraft." Note that other java applications, such as Amidst, will also show in the list.
Read the full changelog
Although Minecraft does not have a borderless window option per se, it is still possible to run the game like this via mods. If you are not into using mods to customize your game, then perhaps you should consider using other third-party tools.
As the name suggests, Borderless Minecraft is a small tool designed to help you run Minecraft as a borderless window. Since the default fullscreen of the game does not support other windows on top and you cannot do anything without minimizing it, the app can come in handy for players who may want to do something else for a moment.
Activate the borderless window option with just one click
The application is portable and hence, you do not need to bother with installation or configuration. The interface consists of a single window and it goes without saying that you need to start Minecraft to view it in the dedicated area. Once you select a session and click "Go Borderless", all window decorations will vanish and the app sets the size of the new window to match your main monitor.
According to the developer, you can open more sessions at the same time, as they are going to be listed so you can easily select one. Moreover, the tool supports multiple accounts that you can access via the "Set Tile", where you can simply append other accounts.
A handy utility for Minecraft fans who want to interact with other apps as well
The Advanced Mode enables for custom window and size placement on the screen. However, it is important to note that the option is not fully functional yet and it will be tweaked and fine-tuned in a later release.
In the eventuality that you want to be able to access other applications while you are playing Minecraft and have them easily within reach, then perhaps you can consider giving Borderless Minecraft a try.
Filed under
Borderless MinecraftBorderless gamingBorderless playMinecraftBorderlessWindowResize
Sours: https://www.softpedia.com/get/Gaming-Related/BorderlessMinecraft.shtml
Minecraft borderless window
This application allows Minecraft to run as a borderless window. The default fullscreen mode does not allow other windows to be placed above it and does not allow users to mouse away from Minecraft without it minimizing.
Basic usage is simple. If minecraft is already running, it will appear in the list of Minecraft sessions. Selecting one and clicking "Go Borderless" will remove all window decoration and set its size to match that of your computer's main monitor.
Clicking "Set Title" is for usage with multiple accounts, and will append "(Second Account)" to the existing title. Optionally, a custom text can be used instead and will be appended to the current game title. This is primarily useful when using OBS to record multiple Minecraft accounts by locking each game capture to a specific window title.
Advanced features that will allow for custom placement and sizing of windows will come in a future release.
Sours: https://github.com/Mr-Technician/BorderlessMinecraft
How to make games run as borderless windowed in less than 1 minute
Mommy, I'm scared, well, let's better than that, please. The daughter pleaded. - You can put that to your dolls, Lathering the tip of the enema, my mother replied, Well, come on your side and pajamas up to your. Knees.
Similar news:
In the end, they would torture me to death. They laid me down on the base of the war chariot, tying my hands on its sides. The eldest of themcenturion, sat on top of me and his huge penis was immersed in my mouth up. To the scrotum.
10455
10456
10457
10458
10459